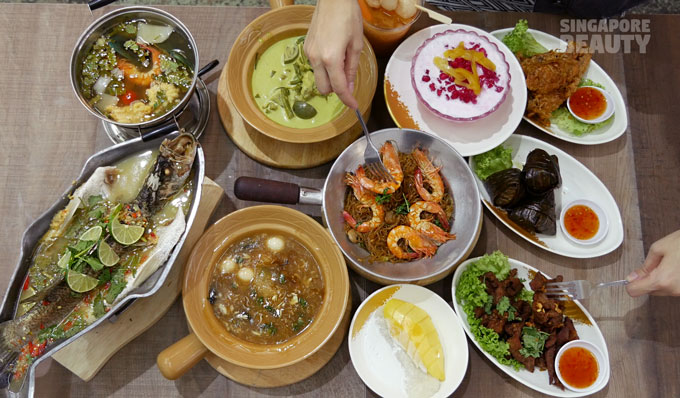 Looking for some authentic Thai a la carte restaurant with pocket friendly nett prices without GST and service charge?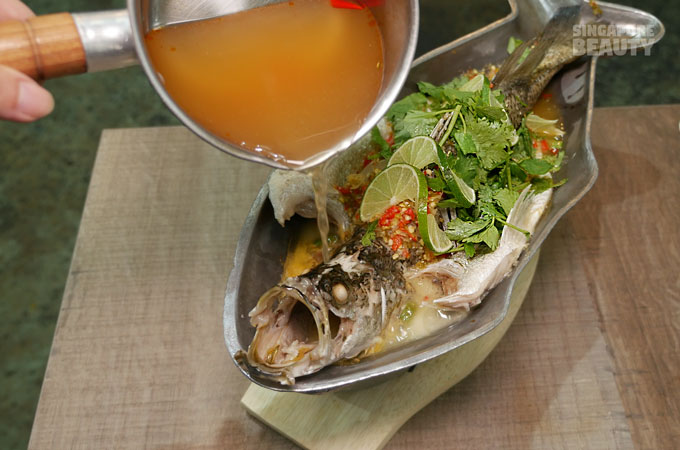 Steam Sea Bass with Thai Lime Sauce ($19) – A good size sea bass simmering in spicy and tangy Thai lime broth.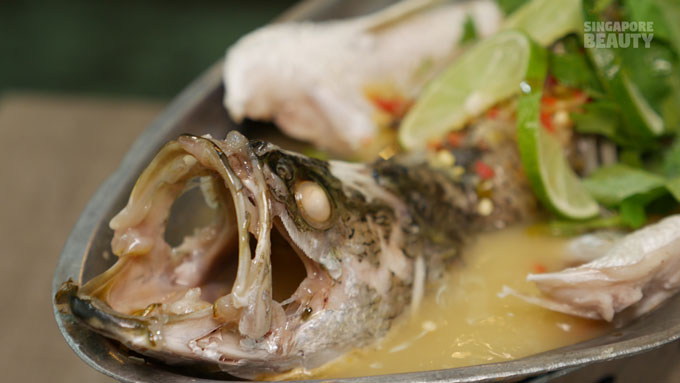 Fish is served steamed and doused in clear broth before serving.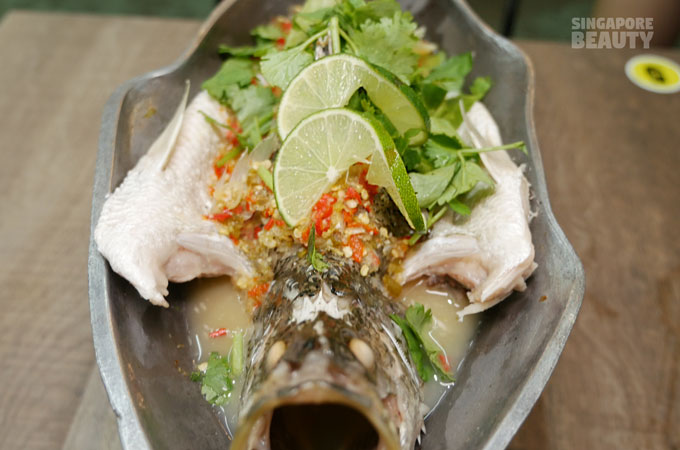 Tender chunks of meat with refreshing cilantro peppered with chopped bird eye chilli to give you that extra kick amidst that sharp but pleasant after taste.
Claypot Tung Hoon with Prawns ($10) – A huge serving of savoury tung hoon with firm large prawns.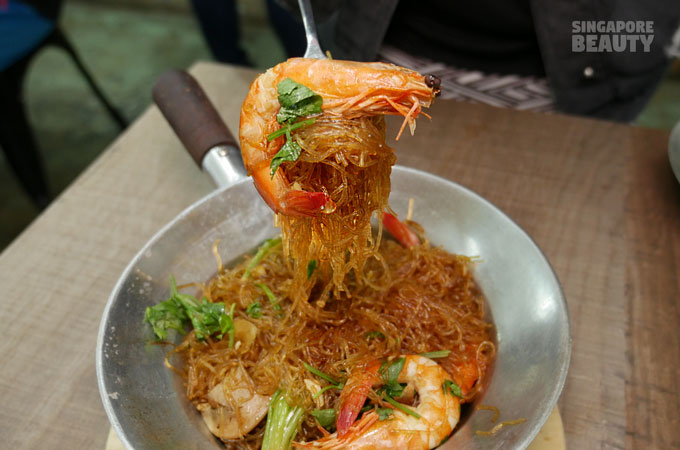 Sweet and firm prawns goes well with the chewy texture of the tung hoon.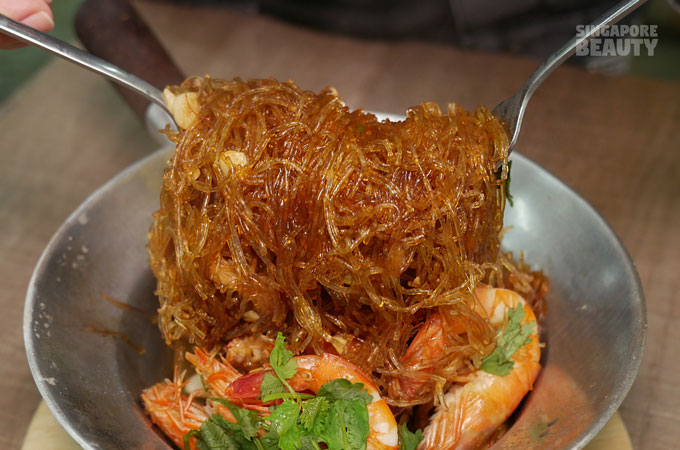 Tung hoon is brimming with robust flavour of prawn and a char aroma. Prawns are deshelled for ease of consumption.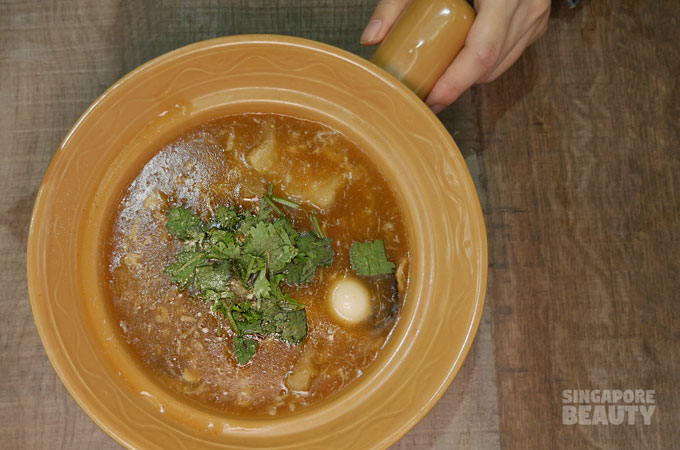 Fish Maw Soup with Crab Meat and Quail Egg ($12) – Served in a claypot with generous amount of fish maw for the price.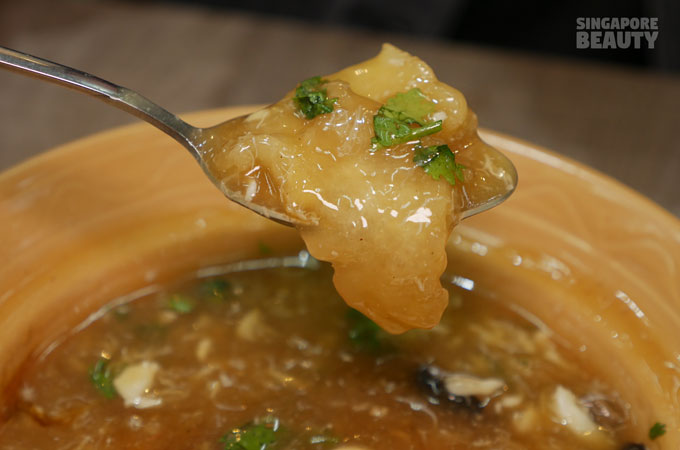 Fish maw has a spongy texture and absorbs the robust gravy. With no fishy taste, it goes well with the creamy quail egg and gooey gravy. Add a dash of black vinegar and some pepper if you wish, the same way you would enjoy a bowl of shark fin. This is a good substitute for shark fin soup as fish maw soup is also a priced delicacy due to its high nutrition value and taste.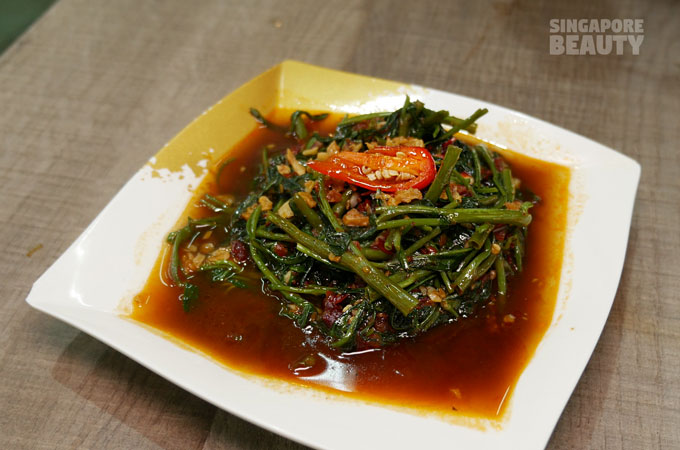 Stir Fry Kang Kong with sambal ($6) – Young tender Kang Kong stir fry quickly in sweet sambal sauce with bits of dried shrimp and explosive bits of garlic.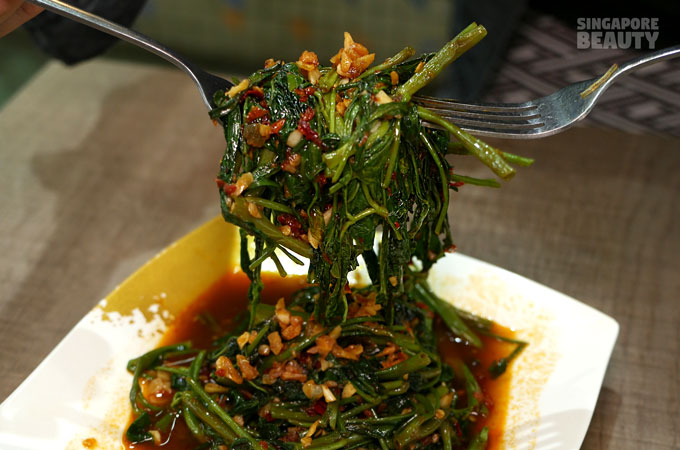 Kang Kong soaks up the savoury gravy. Peppered with so much chilli, garlic and sambal, this has to be intensely flavourful.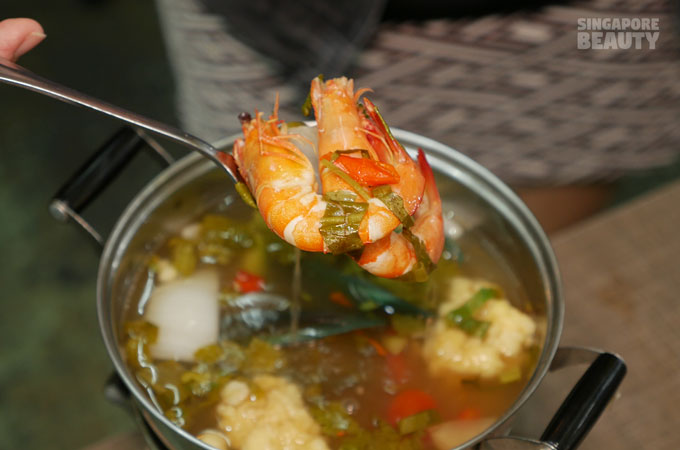 Tom Yum Soup (clear style) with seafood($6.50) – Served in a mini pot simmering in a clear broth of tom yum are prawns, squids, battered fish chunks, mussels and some greens.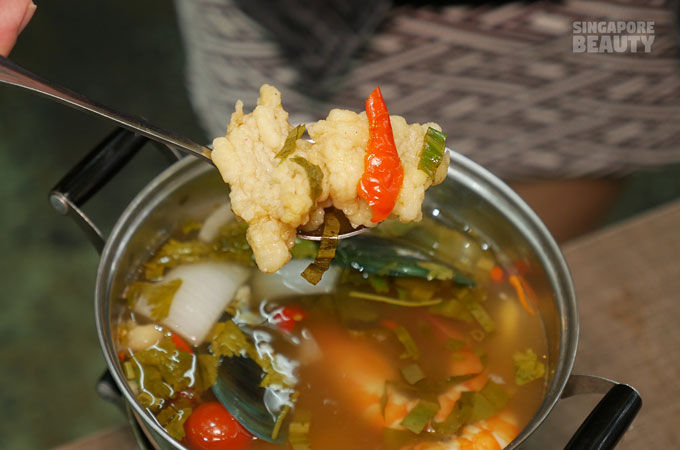 These battered fish chunks with a light and spongy crust soaks up the tangy soup. The shredded Kaffir leaves and cilantro adds a nice aroma to the briny broth.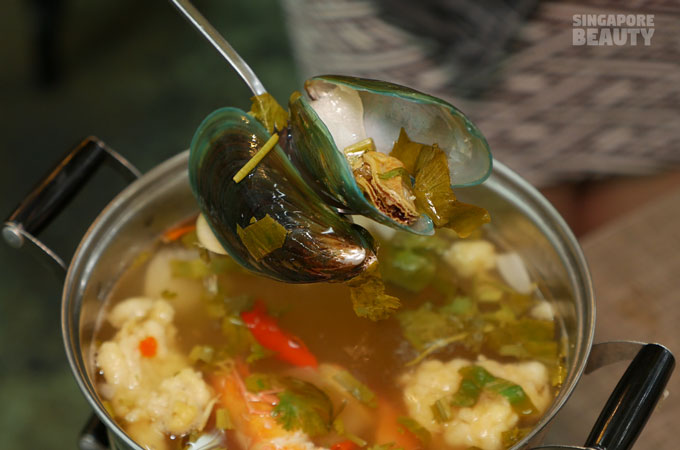 Mussels are a tad chewy with custardy innards. Get to these before the rest of the seafood to enjoy them at the optimum texture.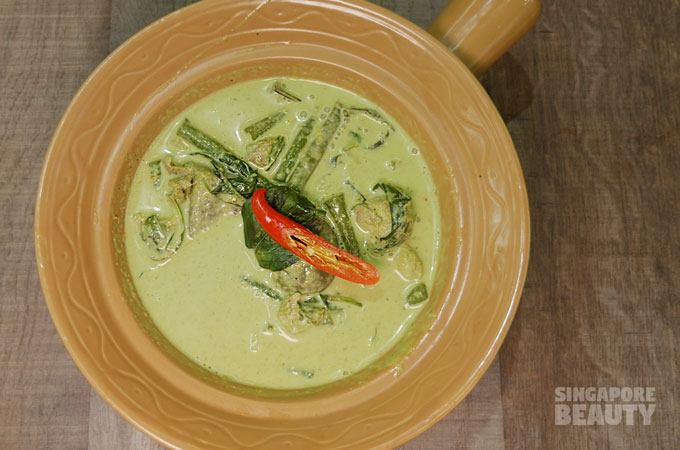 Green Curry with Chicken ($6) – Thick and sweet green curry with a strong aroma of Thai Basil.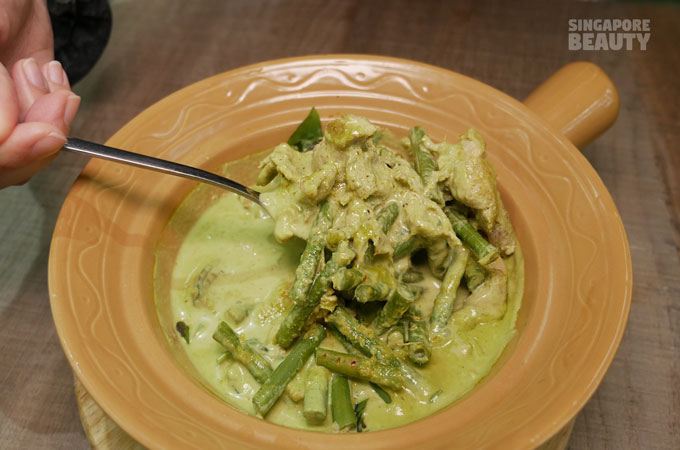 Rich creamy coconut gravy with good amount chicken. Soft tender long beans and firm golf ball size Thai egg plants with a delicate flavour coated in thick gravy.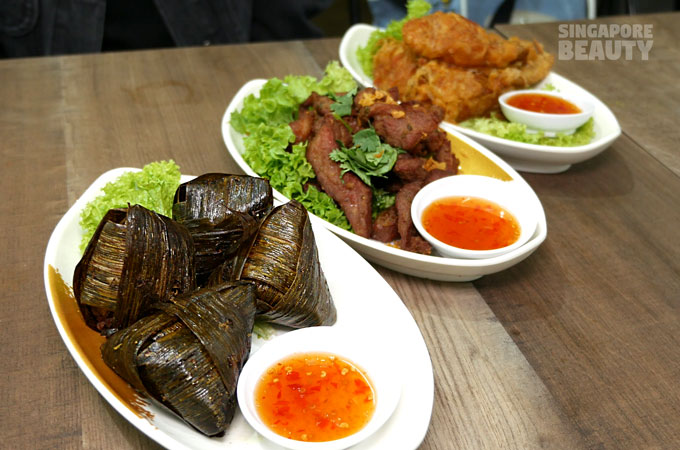 They offer a good range of Thai finger food before you embark on the Thai Mains. Thai fish cake, prawn cake, spring rolls, deep fried chicken skins and more.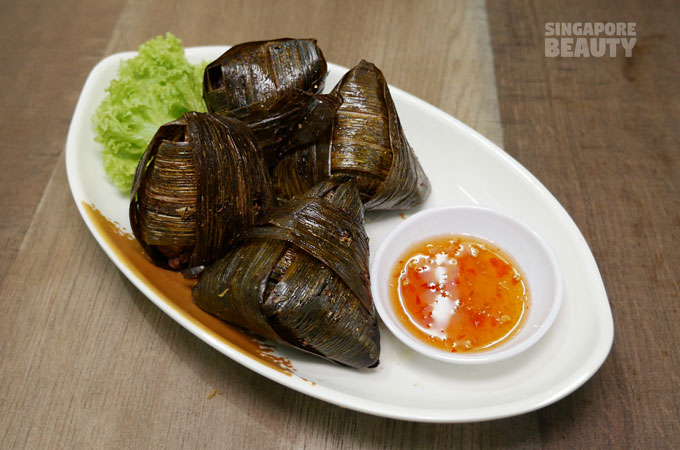 Home made Pandan Chicken 4 pcs($6) – Think savoury pyramids of chicken satay infused with sweet aroma of pandan leaves and deep fried crispy bits of chicken.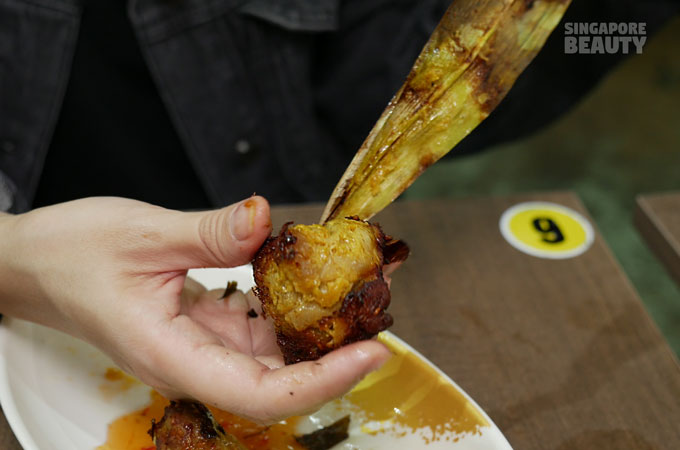 The chicken encased in the leaf packets are infused with lemongrass, turmeric powder, garlic and pandan goodness.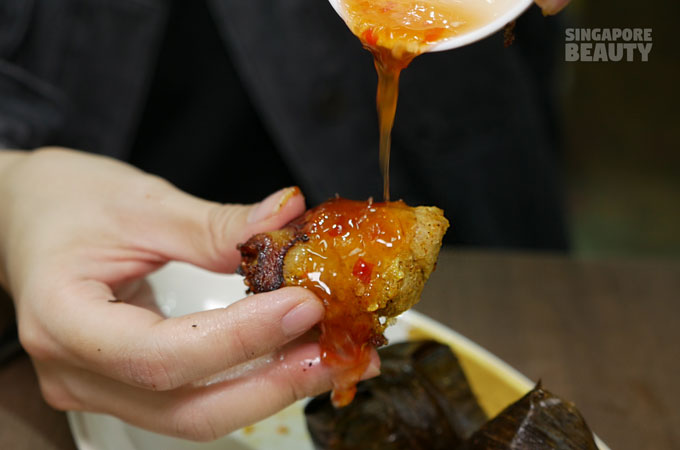 Best eaten with the gooey sweet chilli sauce.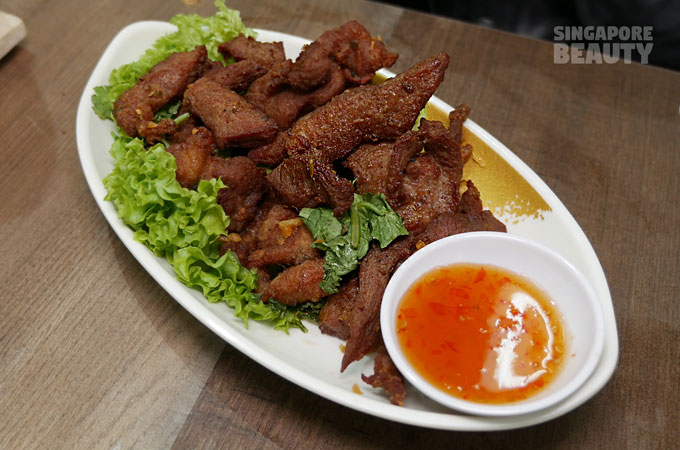 Deep fried pork collar with Thai chilli sauce ($7.50) – Savoury well marinated pork collar chunks topped with nutty garlic bits.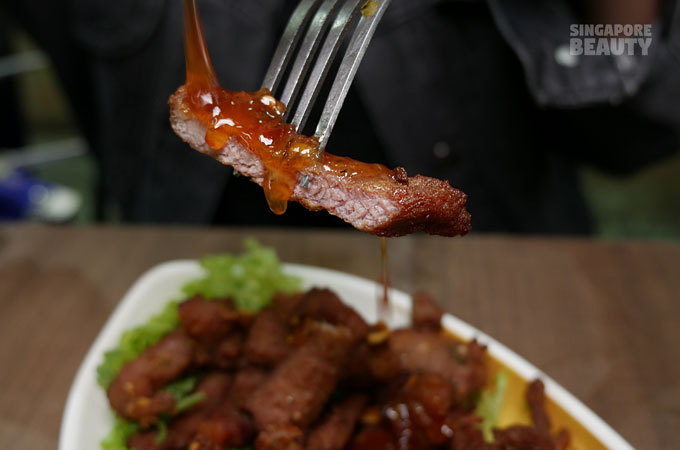 Pork collar chunks are tender and well marinated. Dip in the sweet Thai chilli to complement the savoury bite.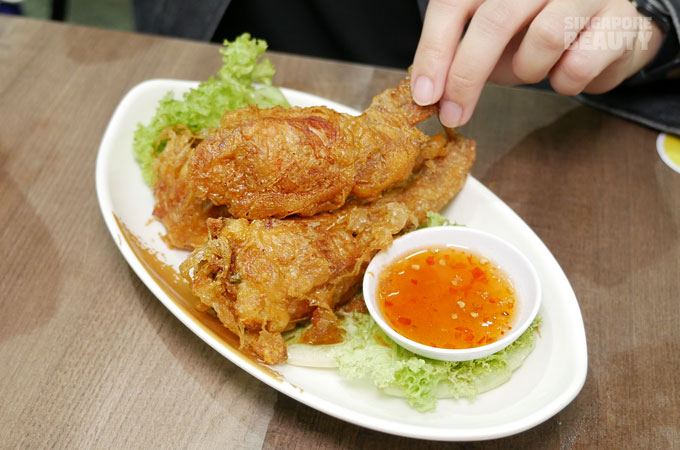 Stuffed chicken wing with minced chicken ($6.50) – Chicken wings with a light crisp chewy skin stuffed with chicken, paste, carrots, water chestnut, spring onions and onions.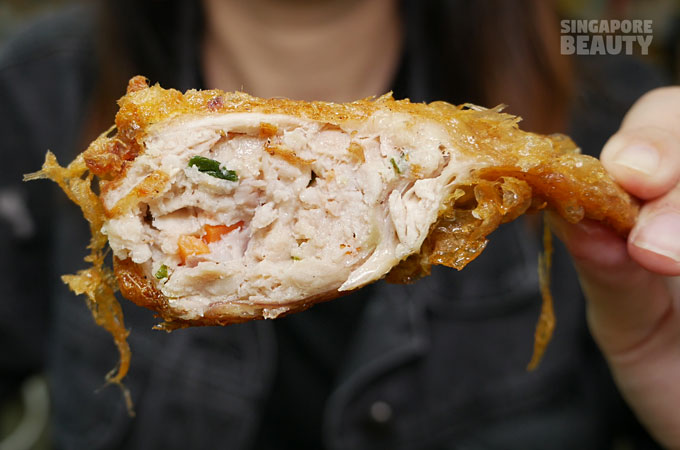 With so many ingredients, this is a pouch that offers a multitude of textures and taste-crunchy, chewy and spongy with aroma of refreshing greens. Dip into the sweet Thai chilli sauce for an added zest.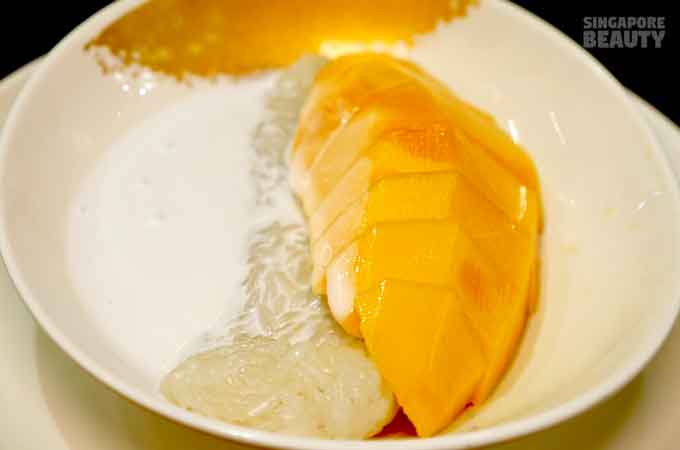 End the meal on a sweet note. Mango sticky rice ($5) – A good half of sweet ripe mango on sticky glutinous rice in a pool of briny coconut cream.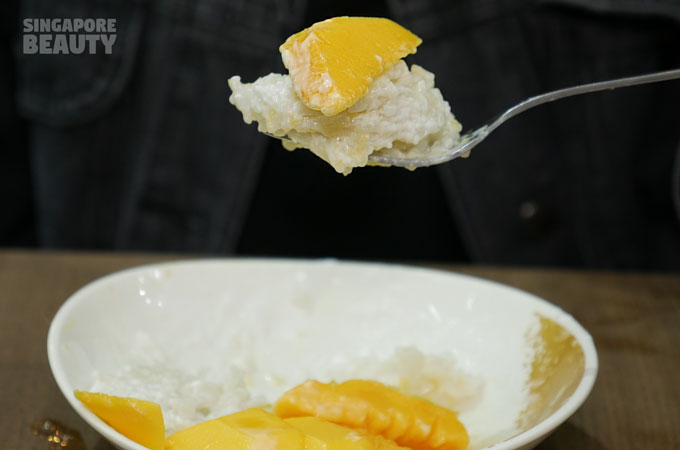 The translucent grains of sticky rice topped with mango and coconut cream are a great way to conclude the dinner. Rice is chewy and the mango melts in your mouth like a smoothie.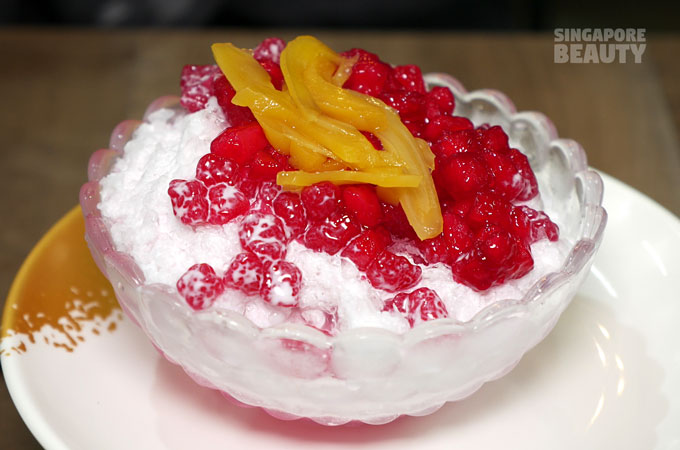 Red Ruby ($3) – These gems of water chestnuts encased in crystal clear red coats are like ruby.
Chewy and silky coat with crunchy cubes of water chestnuts. Topped with sweet candied jackfruit. All these sitting atop a hill of savoury snow-white coconut flavoured shaved ice.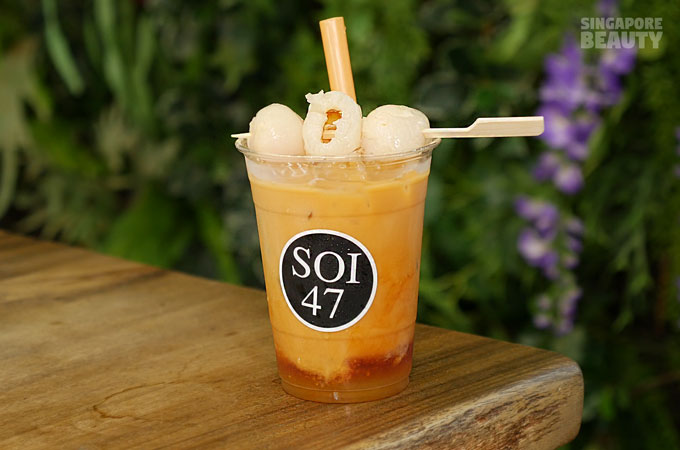 Iced Milk Tea with Lychee($4) – Thick Thai Red milk tea with Lychee to beat the sweltering heat.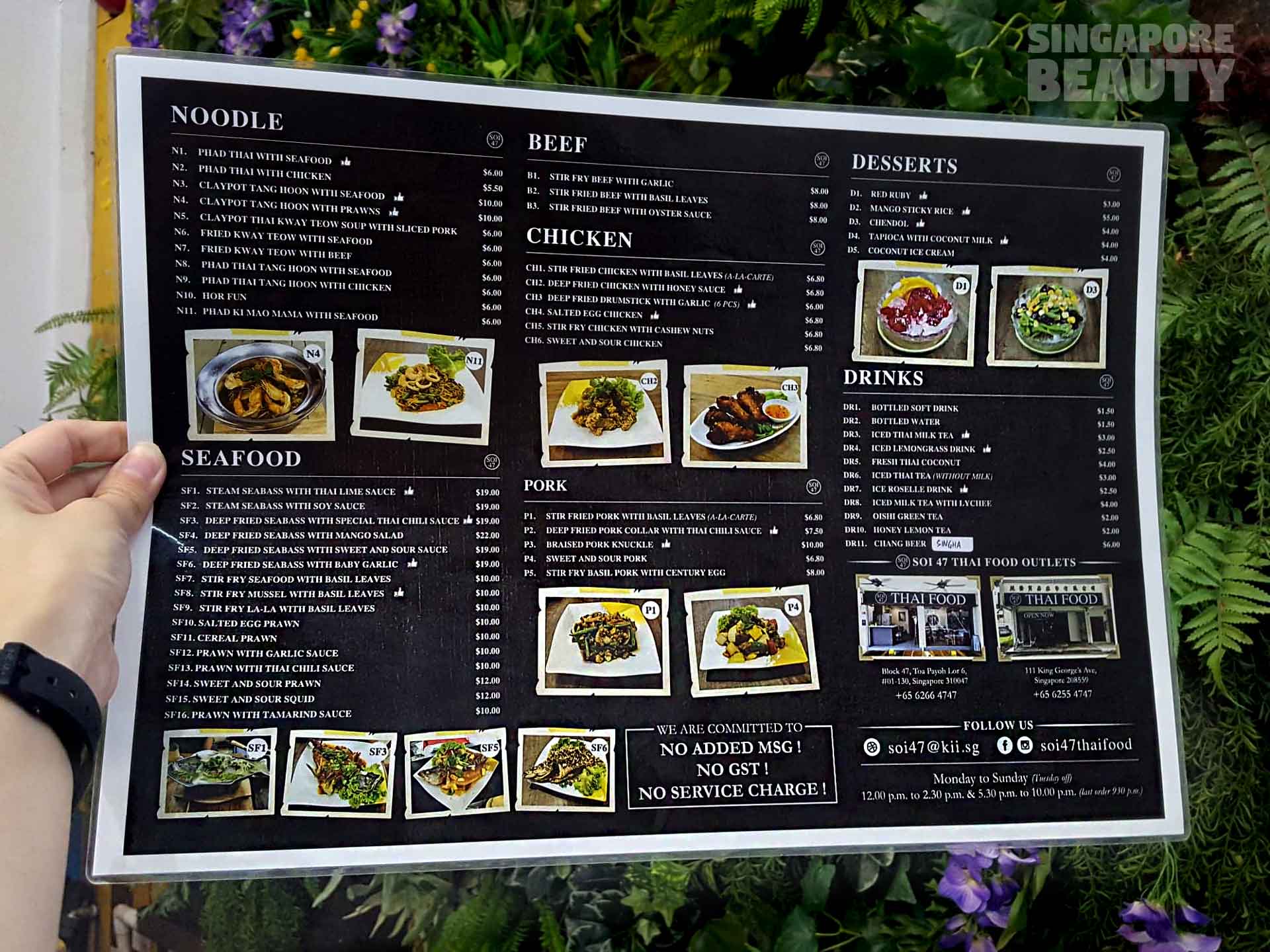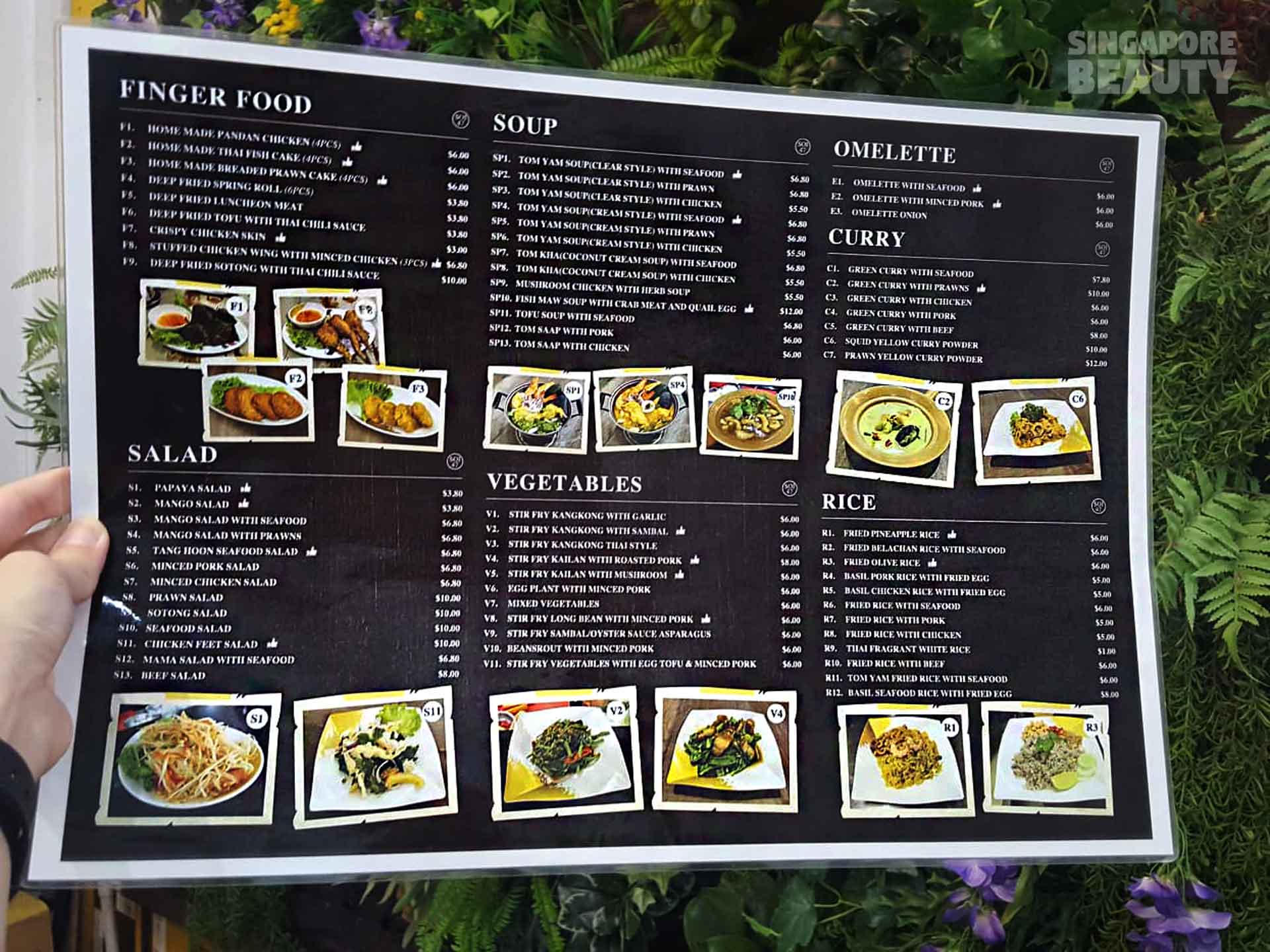 The Thai feast is waiting for you and you do not have to burn a hole in your pocket to feast! The varieties are overwhelming and be spoilt for choice here.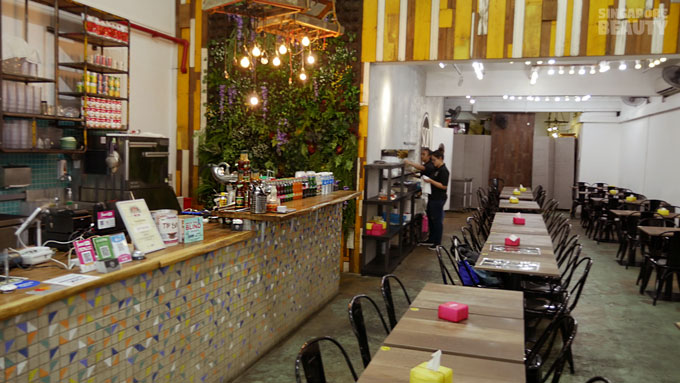 Seats are plenty and crowds peaks at dinner hours. Our advice, go early to beat the dinner crowds.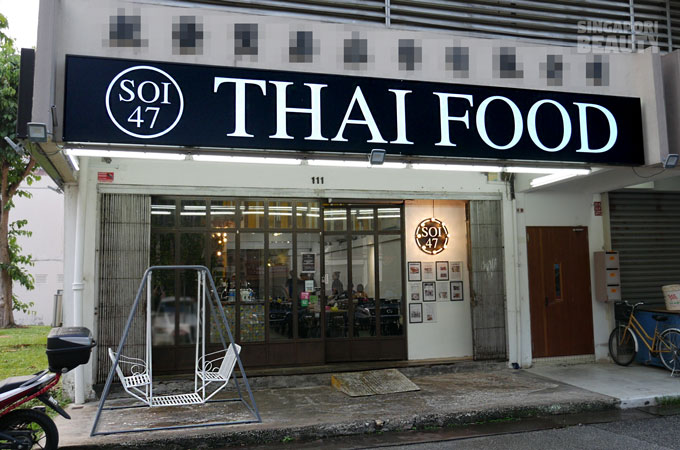 There is an open air car park next to SOI 47 Thai Food for those who are driving. See you soon.
Location of SOI 47 Thai Food:
111 King George's Ave, Singapore 208559
(5 mins walk to Lavender MRT station EW 11)
Operating hours:
12pm-2.30pm, 5.30pm to 10pm Daily except Tuesday
Closed on Tuesday
No GST and No Service charge.
Brought to you by Soi 47.