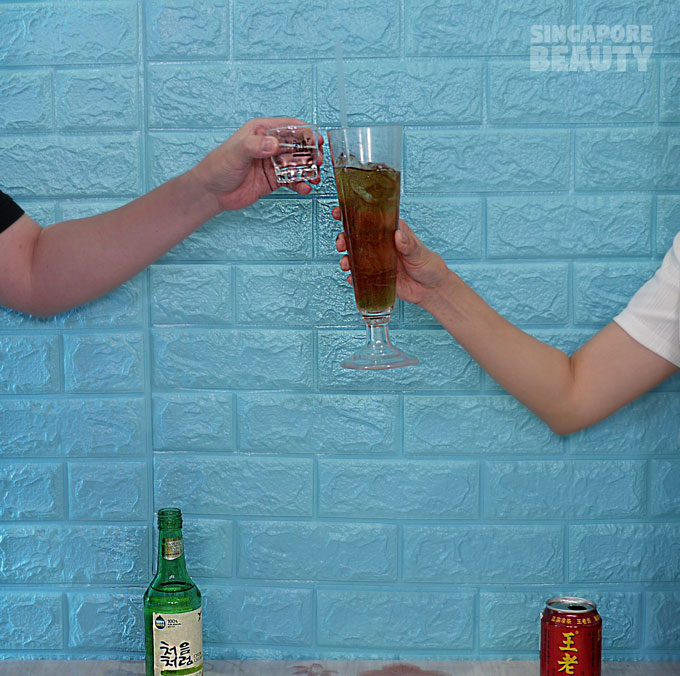 Can't decide between Korean or Chinese Mala spicy steamboat buffet?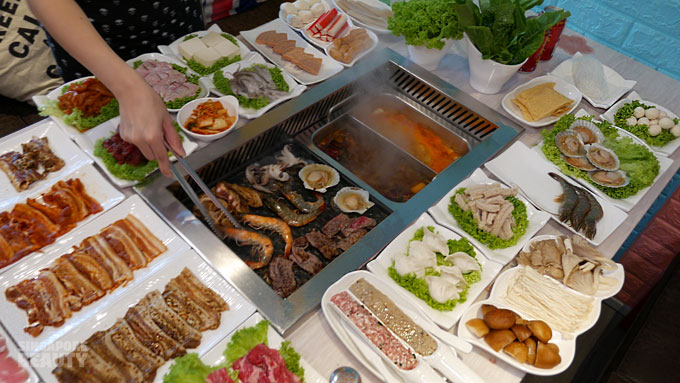 How about having both at the same time at DM Chicken? DM Chicken steamboat with duo soup – Kimchi and Mala spicy soup bases.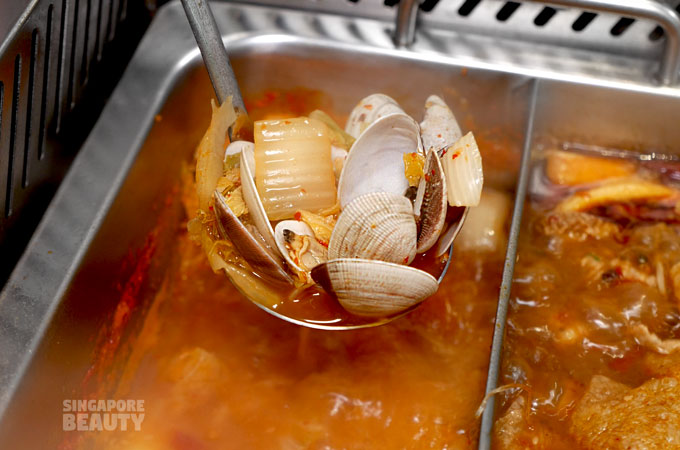 Korean Kimchi soup bases made with Korean hot pepper paste, kimchi, stock, flower clams and leek.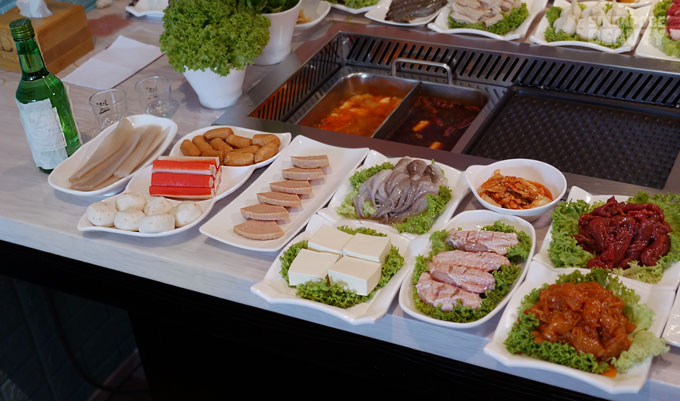 With unlimited sides to go with the Kimchi soup base.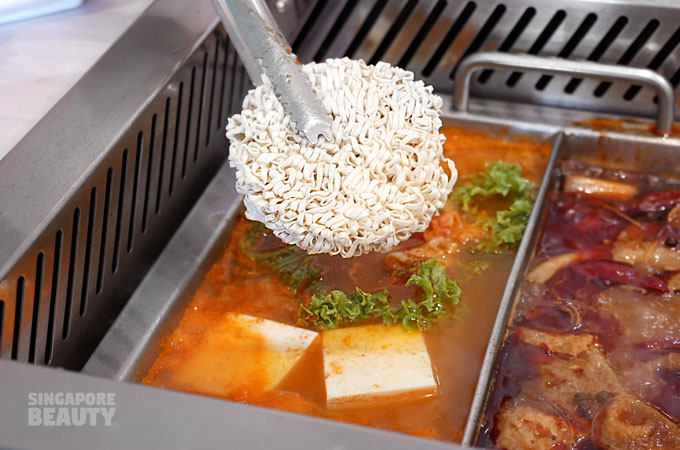 Luncheon meat, vermicelli, crab stick ,sausage , fish ball with roe, tofu ,baby octopus, kimchi ,chicken wings, noodles, marinated beef and chicken. Add-ons Korean Soju at $16+ to complete your Korean DIY army stew.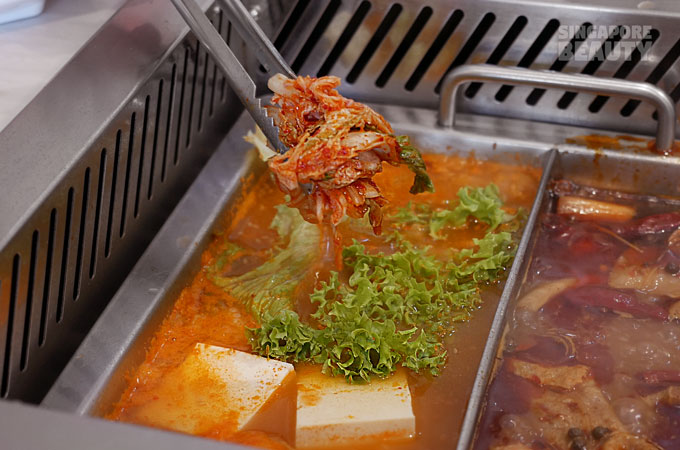 Adjust the intensity of the stew with free flow kimchi from the appetiser counter.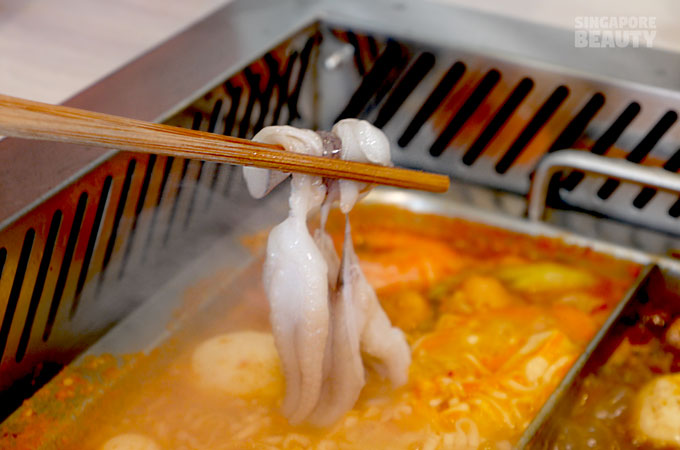 Or make a seafood army stew with their seafood such as baby octopus and cuttlefish.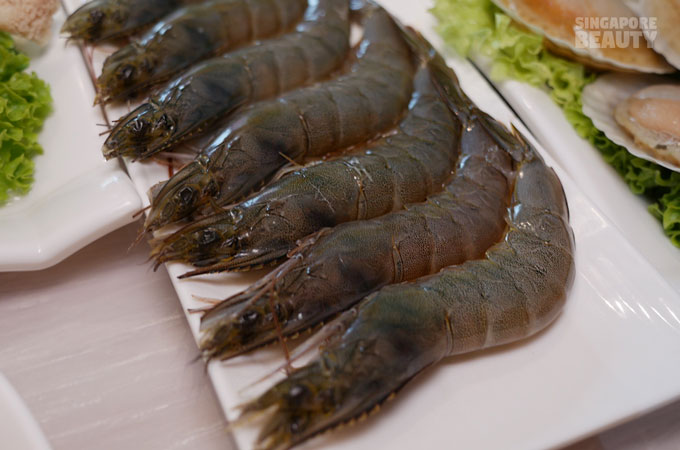 Prawn, fish slices, scallops, mussels and lala are also included.
Add some greens to soak up the goodness of the rich kimchi soup.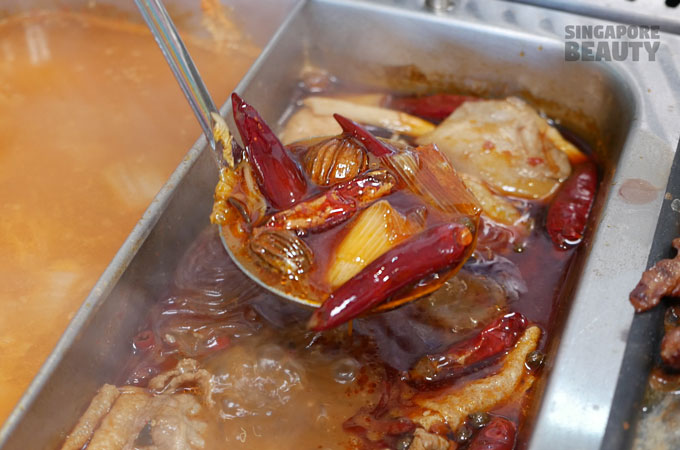 The other chef recommendation is the spicy Mala soup. Robust soup base packed with real spices like Sichuan peppercorns, dried chilli, cardamom and fermented black bean paste.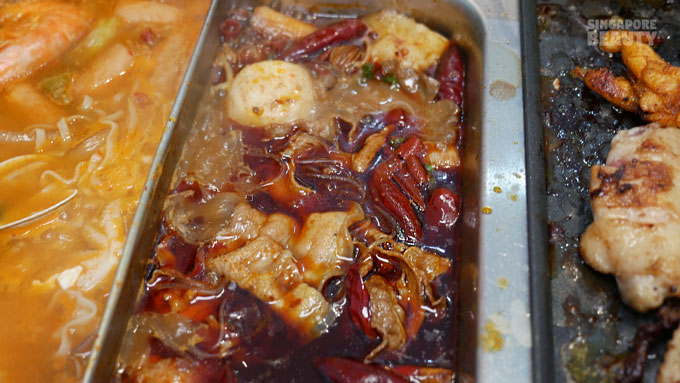 The right amount of peppercorn that explodes like firecracker in your mouth, the numbing sensation is so satisfying. Only Mala lovers will understand.
Add vermicelli to soak up the intense Mala soup, with so many chilli seeds and spices, the noodles has to be packed with explosive flavours.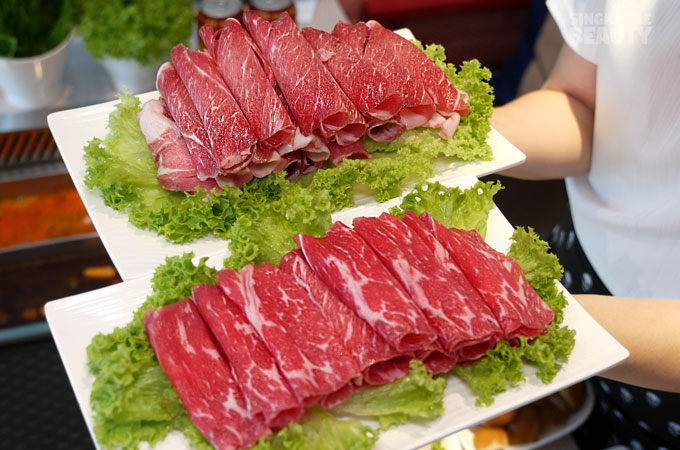 How about some sliced beef and mutton?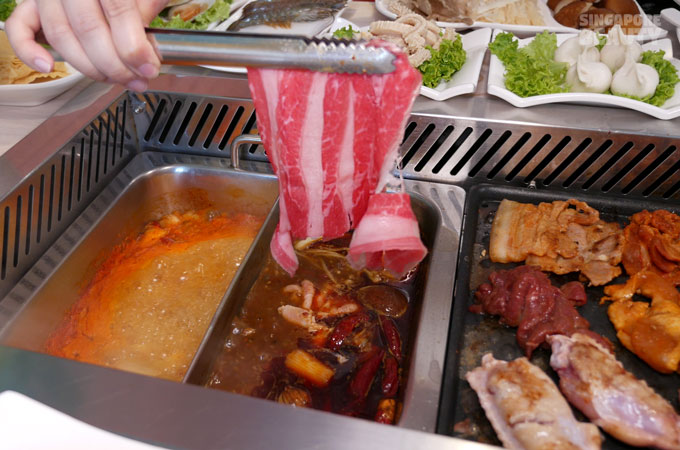 Rich layers of marbled fats and meat to give you the right texture when cooked.
Some handmade dumplings too to go with the Mala soup. Fat pockets of meat, onions and juices when cooked.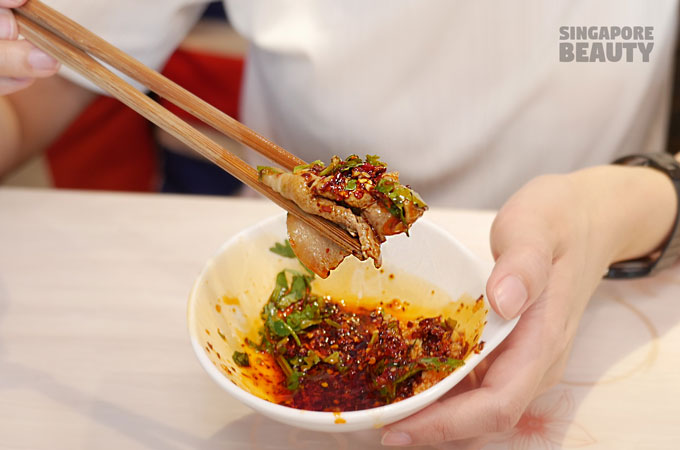 DIY your own sauce to go with the meats at the condiments station.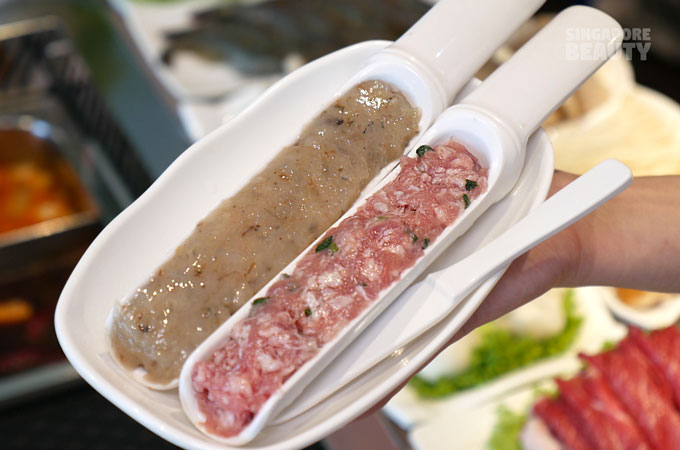 Homemade pork and prawn paste for Mala soup sounds like a good idea too. Make your own meat balls and these are ready when you see them floating on the surface like lifebuoys.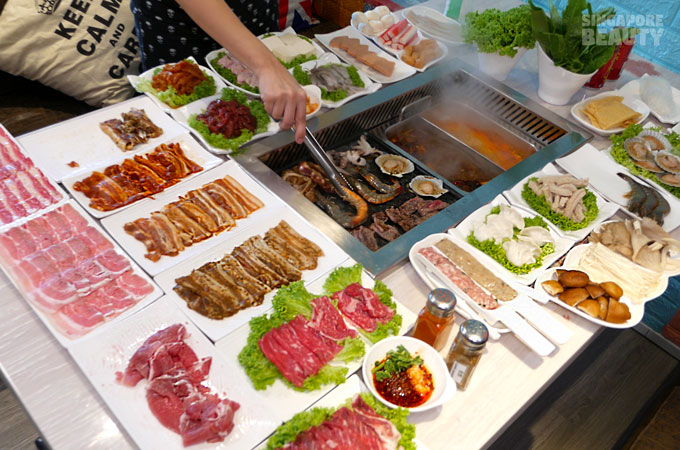 Besides steamboat, there is also an attached BBQ plate.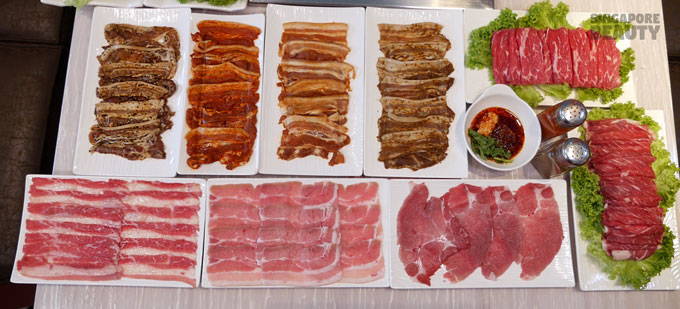 Pork belly (in black pepper, cumin, spicy, plain marinade, honey barbeque), curry pork belly (new addition to the menu), beef, chicken and wings (in secret marinade).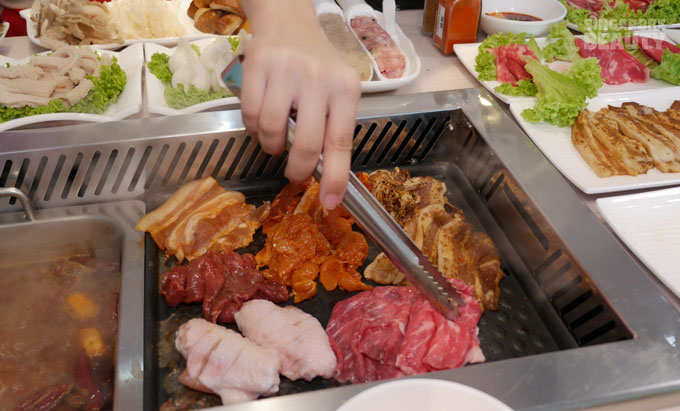 Dust these meats with some cumin powder and chilli powder for the additional kick when these meats are almost done.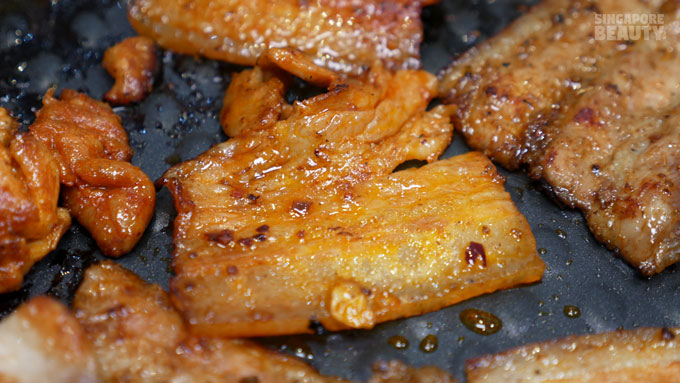 Enjoy these nicely brown and char gelatine-like fats and meat.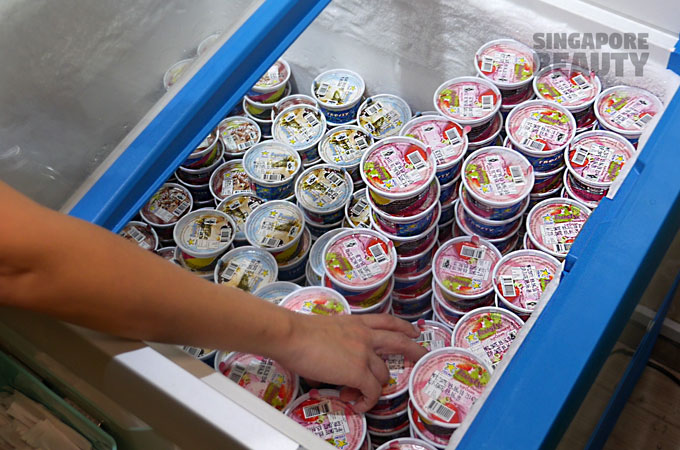 Help yourselves to unlimited tubs of ice cream and fruit of the day after the meal.
Beverage, beers and soup bases are excluded in this Steamboat and BBQ buffet. Meats, BBQ, seafood, vegetables and mains (food) are free-flow. Do exercise caution when ordering, as the servings are big.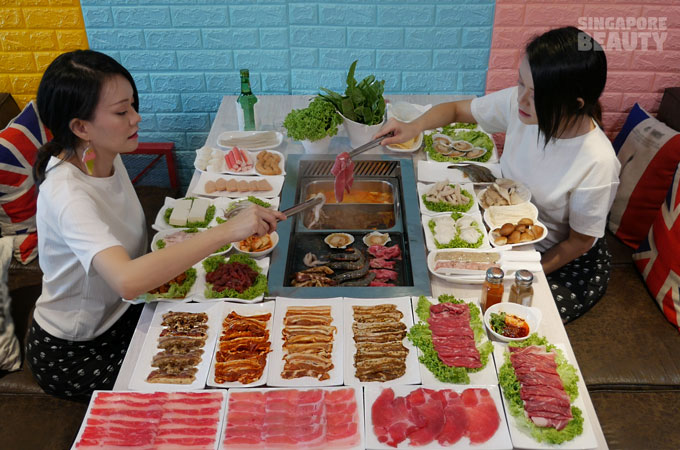 Head over to DM Chicken Steamboat and BBQ today.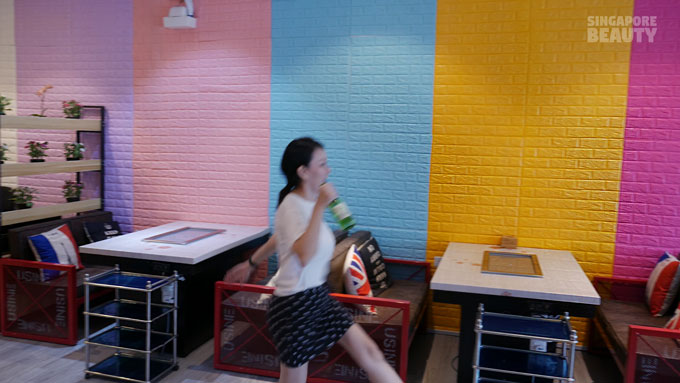 They have added a new section to their dining area (where the 5D movie theatre used to be) and rendered it as a cheerful rainbow instagram-worthy stretch of seats.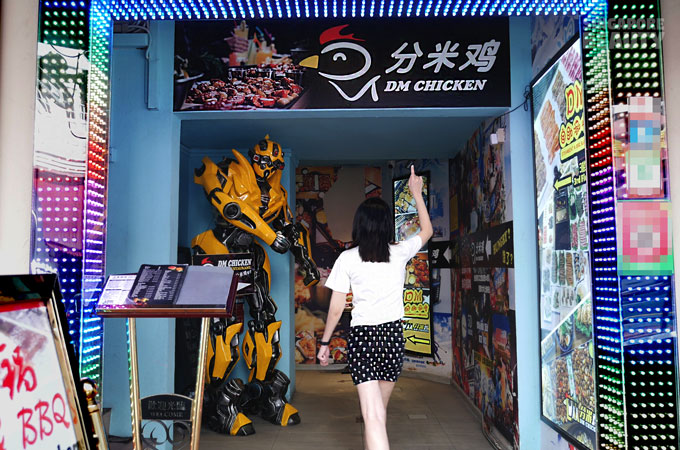 Located at New Bridge Road and conveniently minutes away from Chinatown MRT. This is the entrance to DM Chicken, so prominent you can never miss it. See you!
Monday-Friday Lunch Buffet
Adult at $21.90+
Kids (5-12 years old) at $12.90+
Dinner, PH & weekends Buffet
Adult at $26.90+
Kids (5-12 years old) at $14.90+
Single soup base $6+
Duo- soup base $10+
Table time limit
Minimum 2 pax to dine
Lunch time 11.30-3pm (last order)
Dinner time 3.01pm-1am
Peak hours table time limit
Between 2-4pax – 90 mins
5pax & above – 120 mins
Location:
Exit E or exit A from Chinatown MRT.
191B New Bridge Road (take their lift up to level 3)
Singapore 059423
Operating Hours:
11:30AM – 1:00AM
Reservations:
6909 2758
Brought to you by DM Chicken.