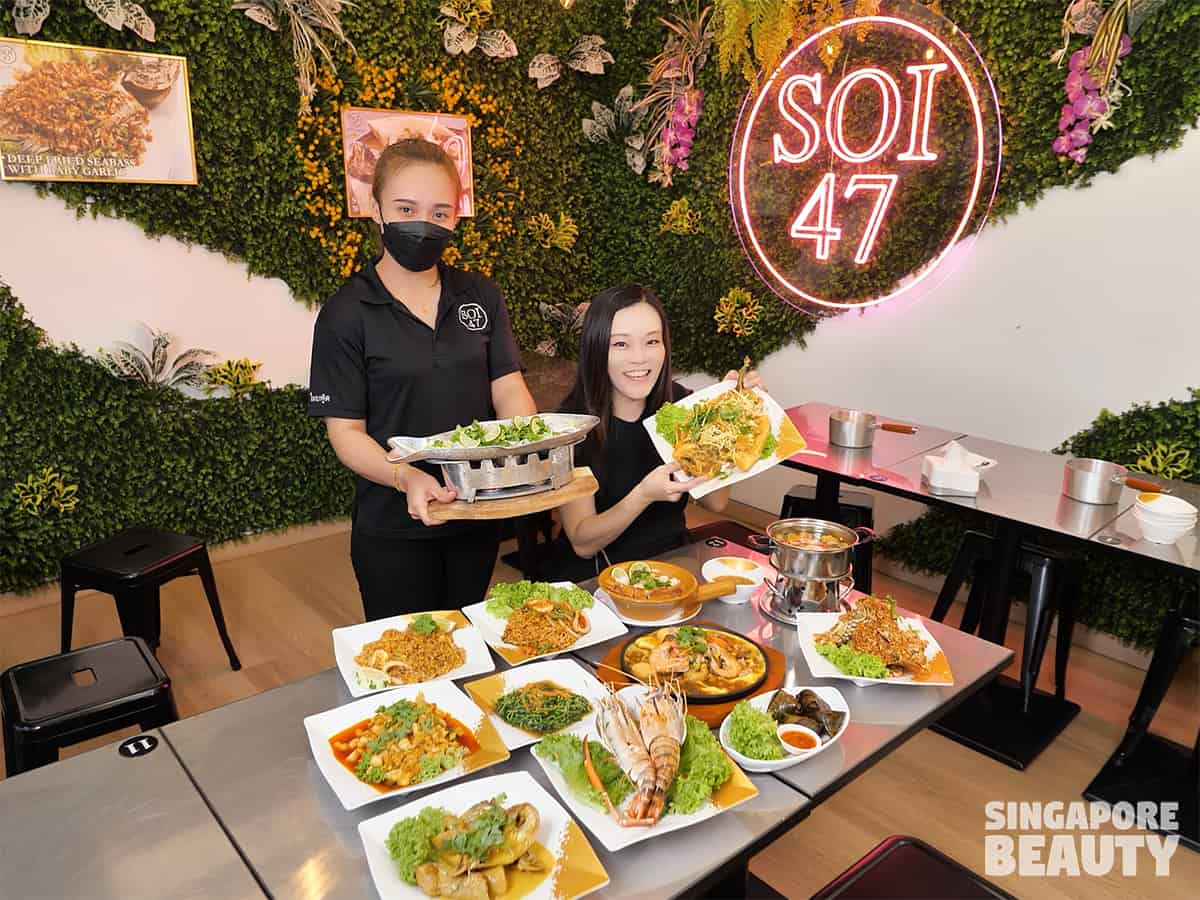 Soi 47 Thai Food latest outlet at Clementi has some authentic Thai seafood feast with over 160 menu items. Enjoy a spread of succulent selections of seafood from river prawns, crayfish, seabass, sotong and crab meat in various flavours and methods. They also have some newly added Thai dishes to surprise your taste buds.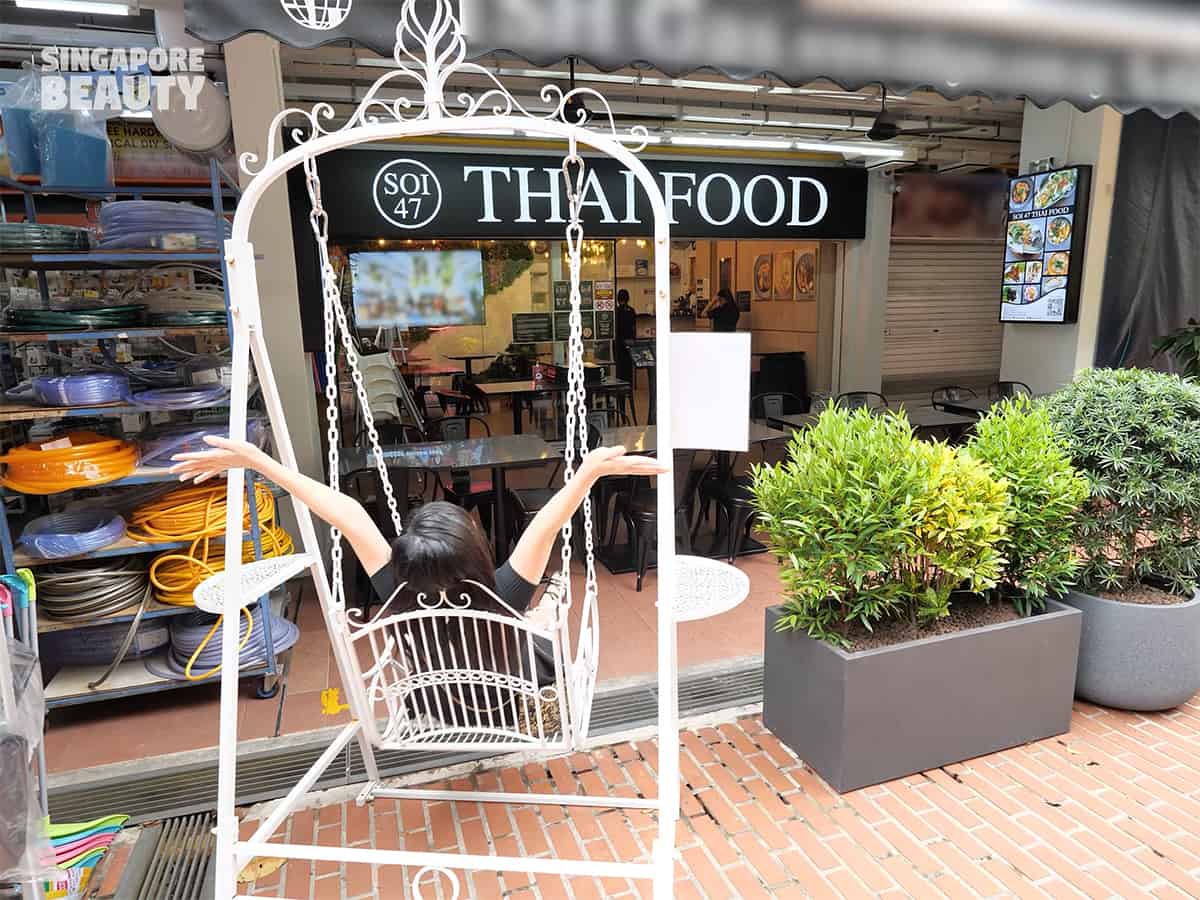 This is Soi47 Thai Food's latest outlet at Clementi with a neighbourhood vibe. This outlet is at close proximity to 353 Clementi Food Centre and Market, about a 2 minutes walk away. It is housed along a stretch of shops offering beauty service. Soi47 Thai Food now has a total of 6 outlets in Singapore. Their other outlets locations are at Orchard Central, Clarke Quay, Tiong Bahru, Toa Payoh and King George Ave near Jalan Besar.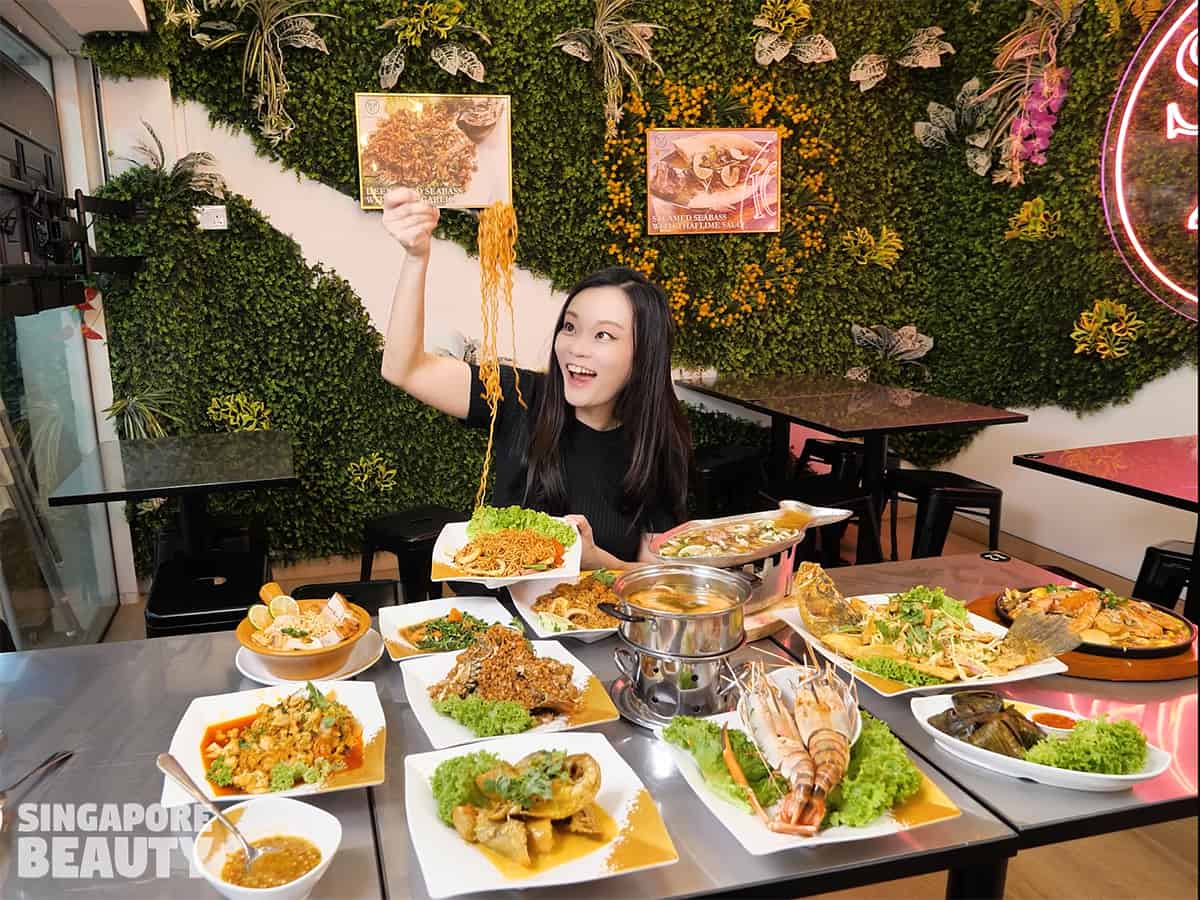 Here's our Soi 47 Thai Food review after trying their authentic Thai seafood feast at their latest outlet at Clementi. We love that the prices are affordable and every seafood items are fixed priced instead of basing on seasonal price. The food are homely Thai food that are neat tasting where you can enjoy the flavours of each element in the dish. The main ingredients and the condiments in each dish are well matched and compliments one another. Seafood are freshly cooked with good control on the doneness, rendering supple and succulent texture. They also have some pretty springy mama noodles that are served in claypot tom yam soup or stir fried to go with the seafood feast.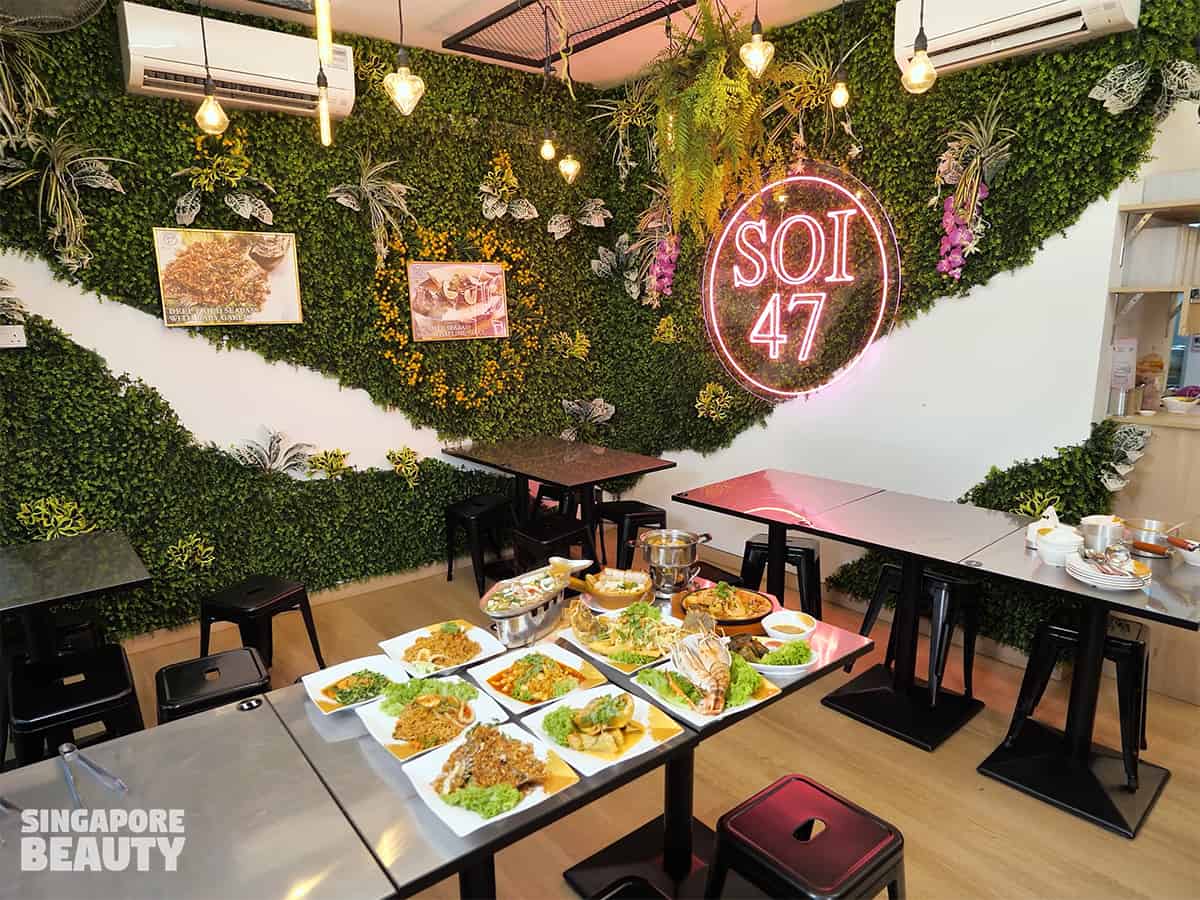 Soi 47 Thai Food at Clementi outlet features both indoor and outdoor dining. The indoor dining are wallscaped with greens and has their signature neon signage Soi47, the perfect backdrop for photo taking. You can take a break from the sweltering heat in this cool air-conditioned dining area indoor, enjoy your meals in a cool and relaxed mood.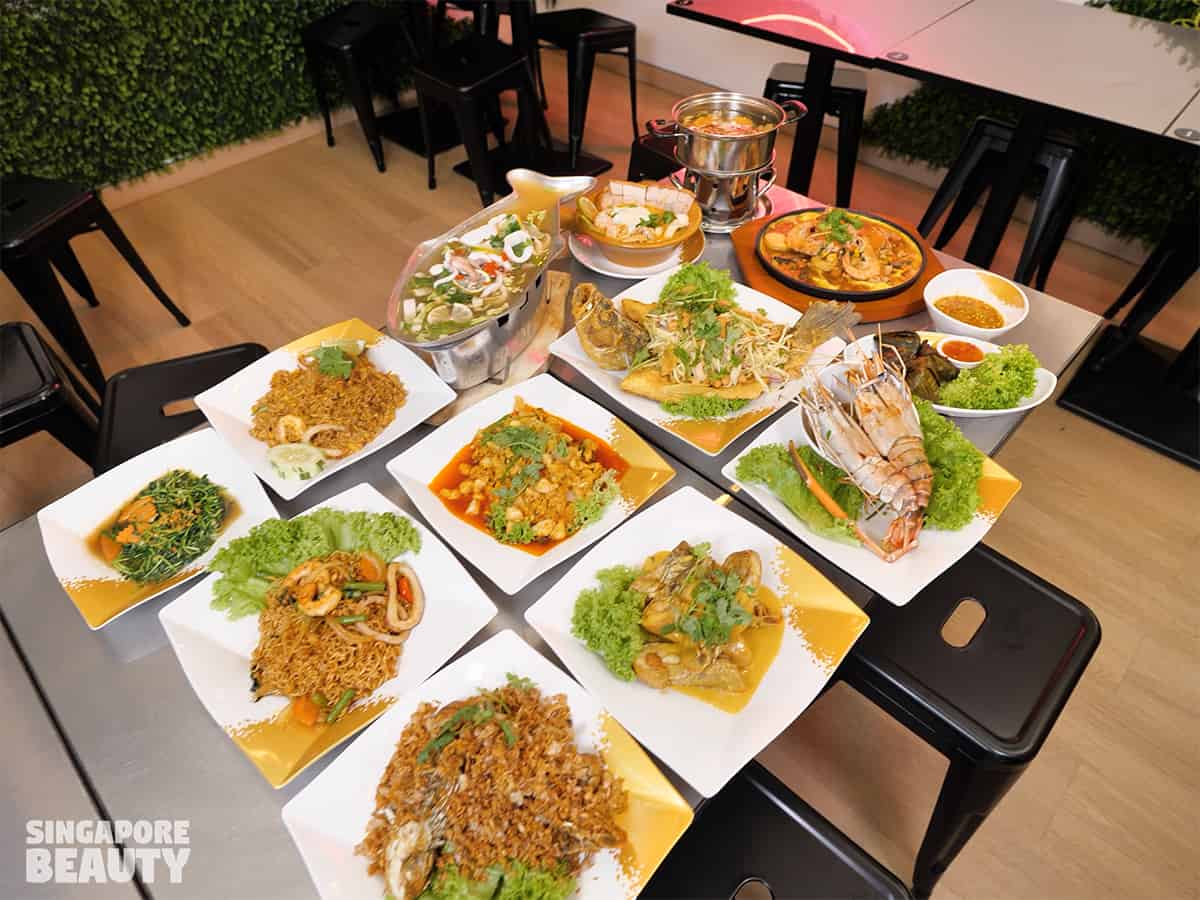 This is what we had for the Thai Seafood Feast. The dishes from top to bottom – stir fried dou miao with garlic, tom yam fried rice with seafood, steamed sotong with Thai lime sauce, claypot tom yam mama with roasted pork, seafood tom yam soup clear style, Phad ki mao mama with seafood, yellow curry with crab meat, deep fried seabass with mango salad, hot plate beancurd with prawns, deep fried crayfish with baby garlic, salted egg crayfish, bbq river prawn and homemade pandan chicken.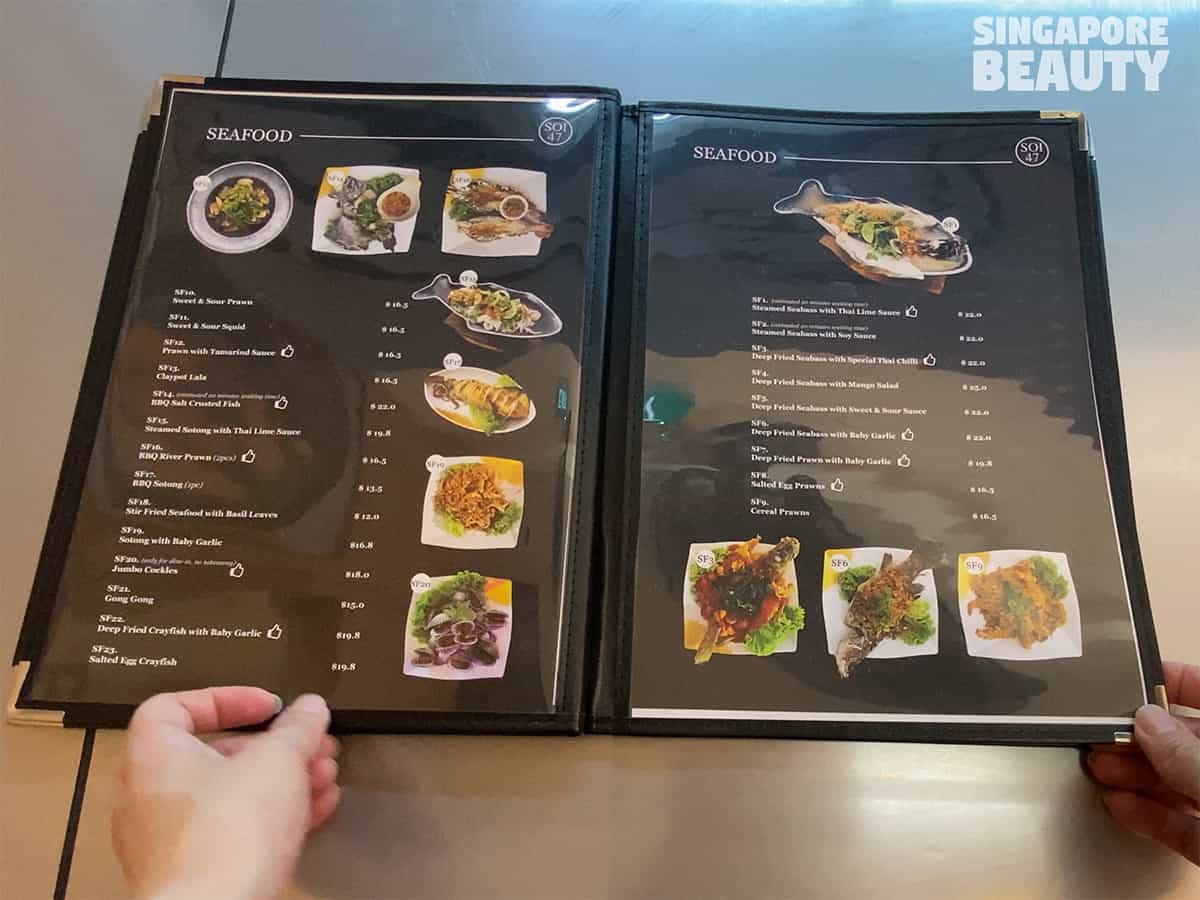 Here's one part of Soi 47 Thai Food menu showing some of the selection of seafood you can expect here. For more seafood dishes, please contact the outlet for the full menu. Besides seafood, they also have a comprehensive menu of finger food, salad, soup, meat dishes with chicken, beef, pork, omelette, vegetables, curry, rice , hot plate, clay pot, noodles, desserts and drinks too.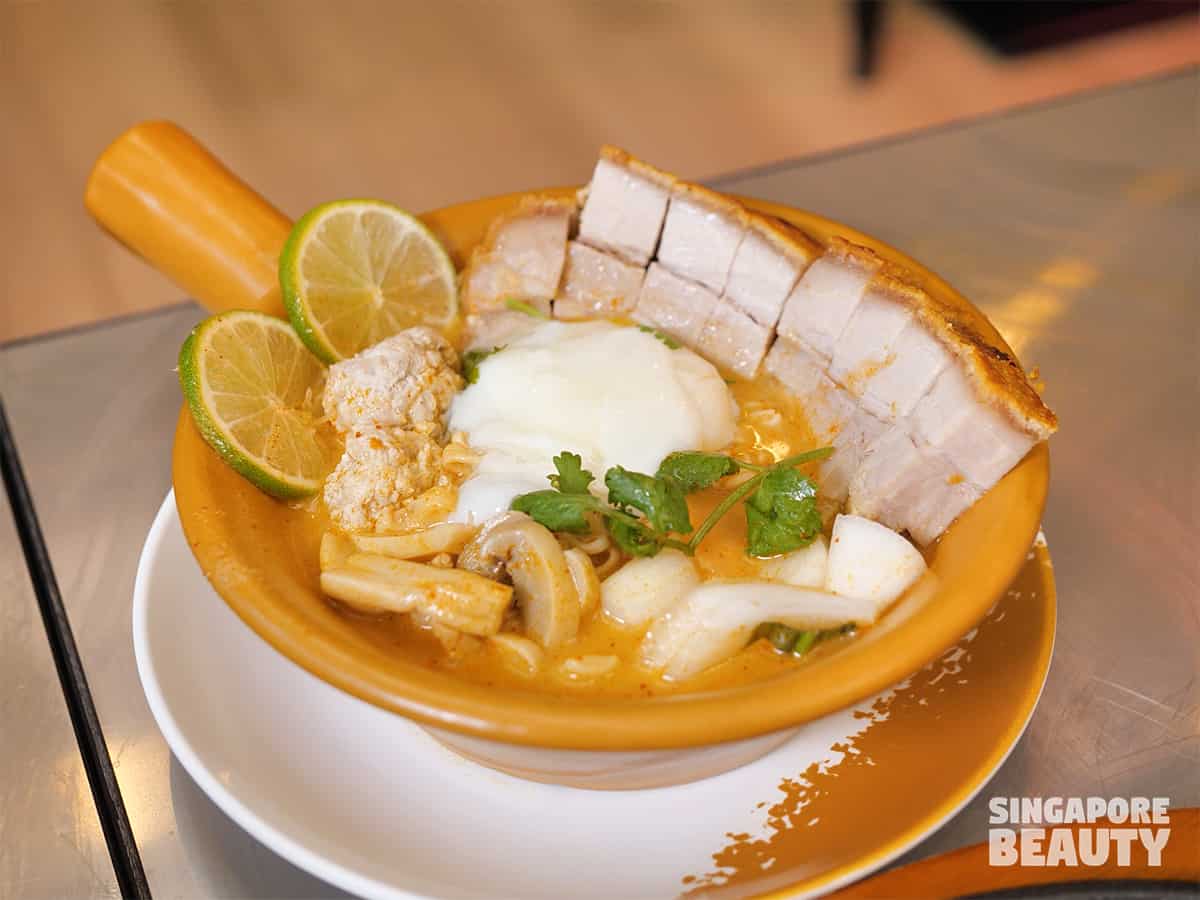 Claypot tom yam mama with roasted pork ($12.80) comes overloaded with moist & fatty sio bak, onsen egg, mushrooms and real minced meat balls atop mama noodles in tom yam soup.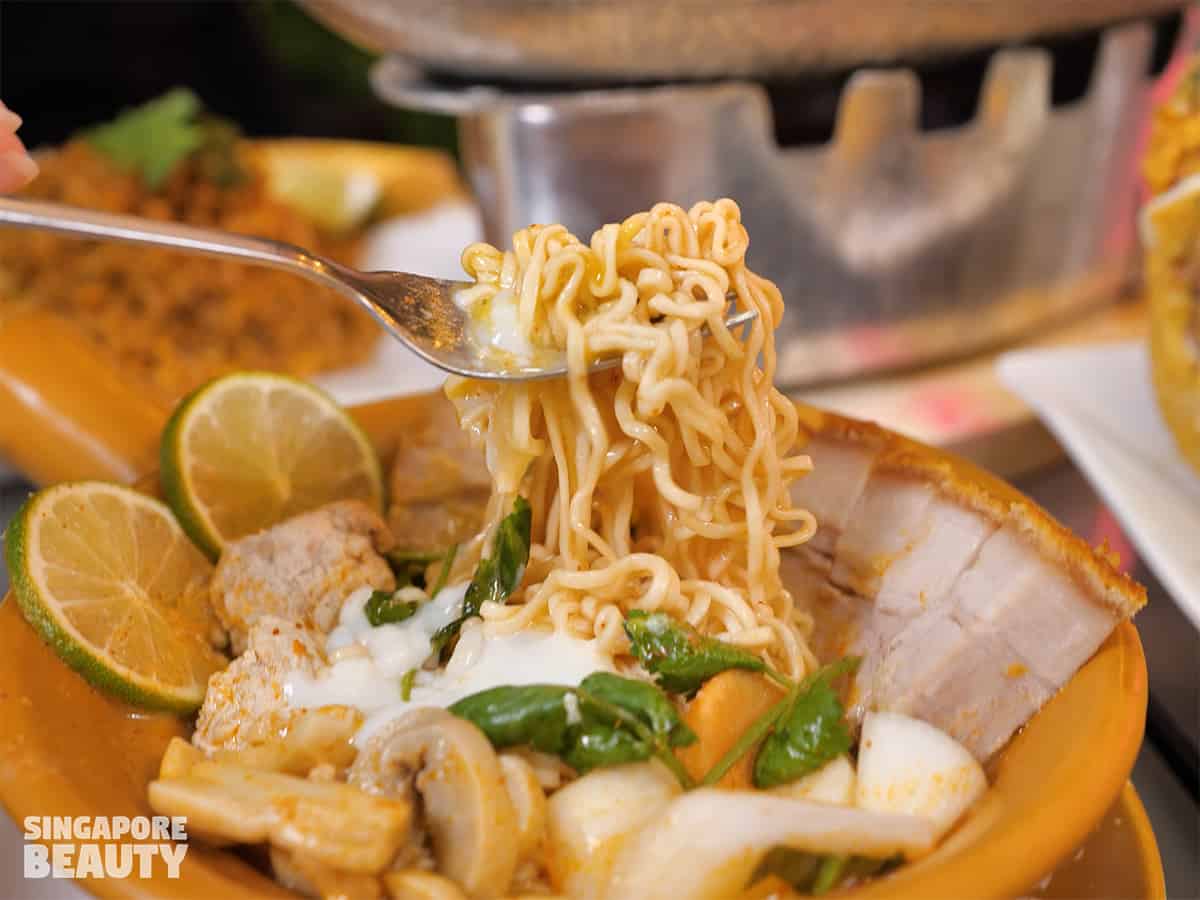 The springy mama mee with a bite goes well with the rich and tangy tom yam soup base. The roasted pork made in house daily by their chef daily has a good balance of fats and briny lean meats. This is also available in claypot tom yam mama with crayfish at $13.80.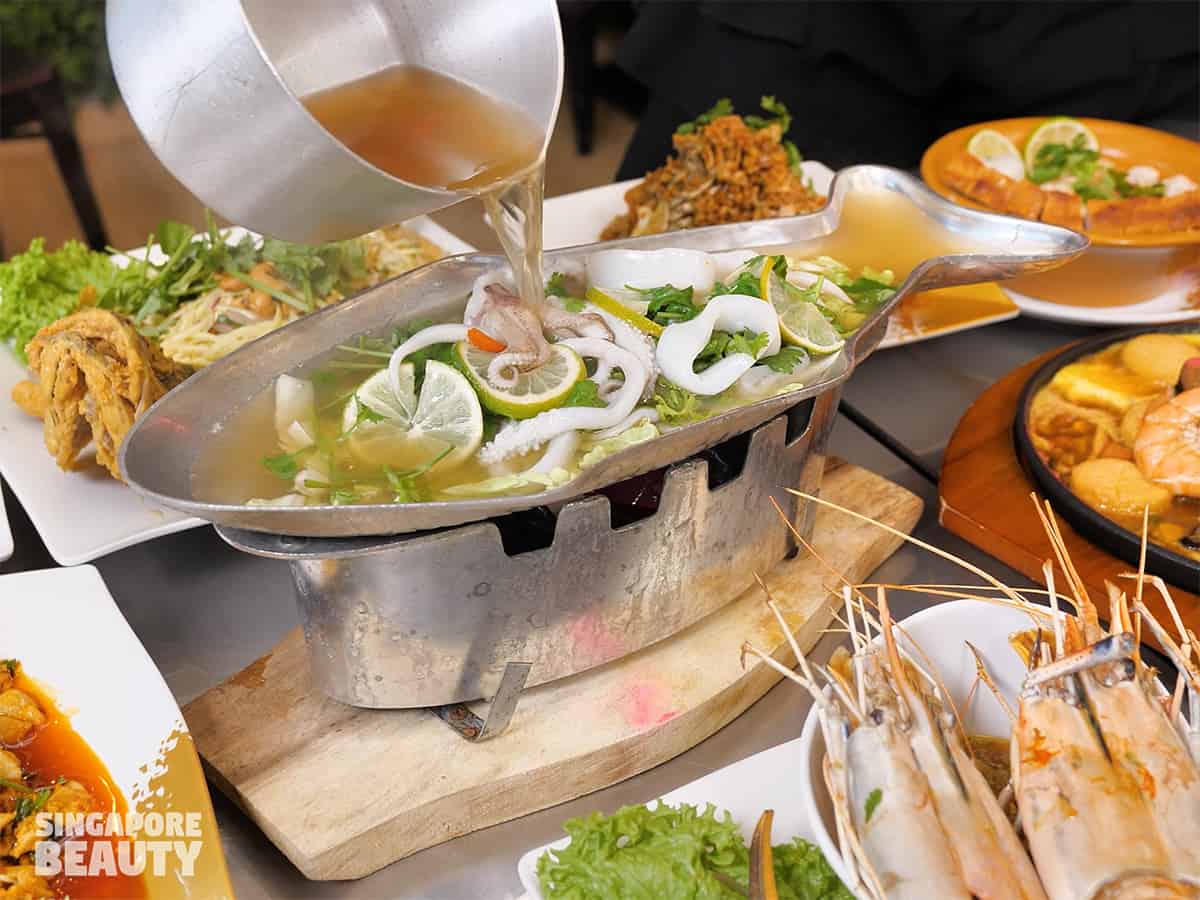 Steamed sotong with Thai lime sauce ($19.80) consist of squid that are steamed on gentle heat to retain the supple snappy texture. The savoury broth of Thai lime sauce is then added to the dish before you. All these are served on a heated fish shaped dish on mini stove, to keep it simmering and nice. The sharp tang from the soup is addictive and goes well with sotong.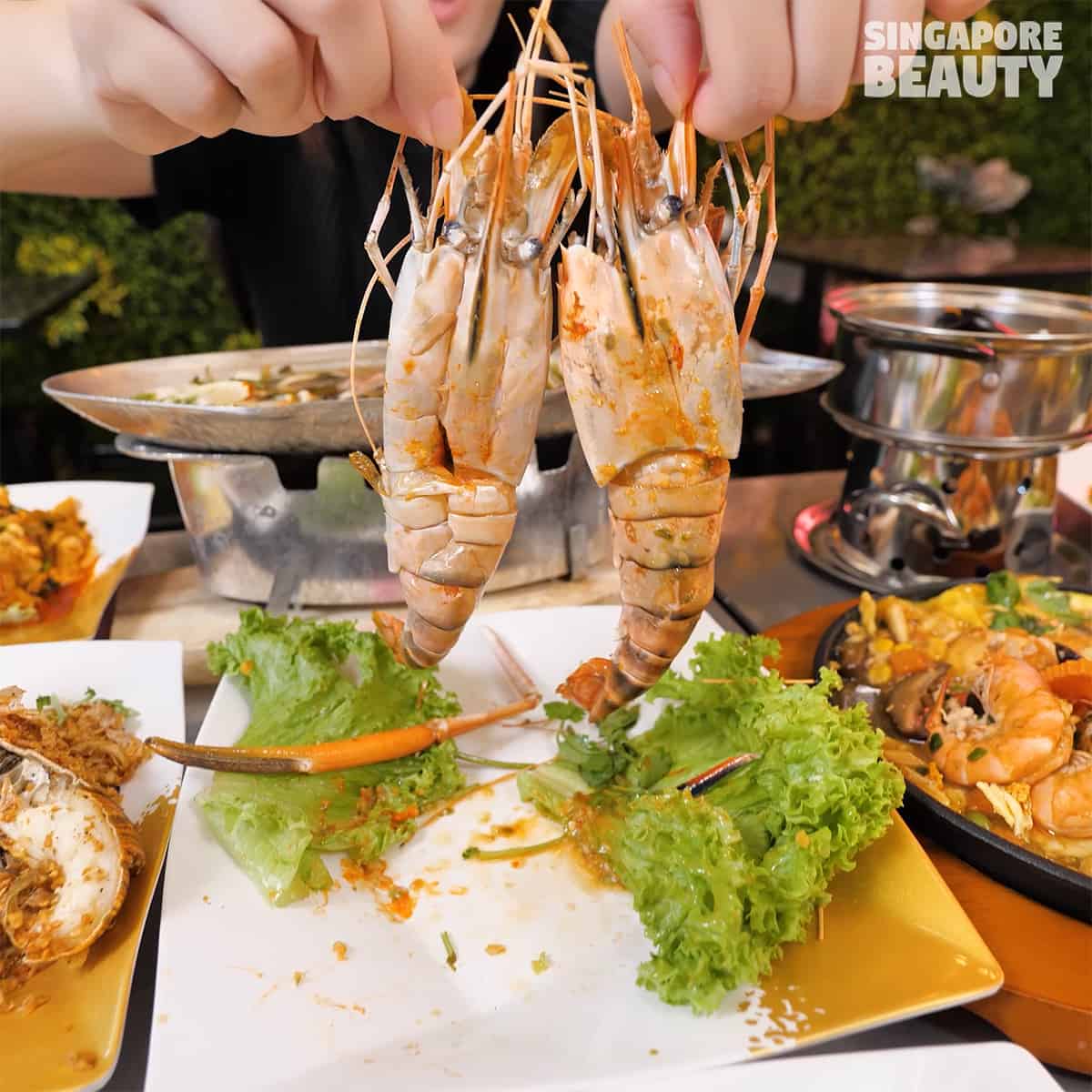 Bbq river prawn ($16.50) meaty & well grilled is our editor's pick! The river prawn is butterflied with some creamy head butter which you use as a dip for the meaty flesh. Add a spicy and sour kick to it with their in-house Thai chilli.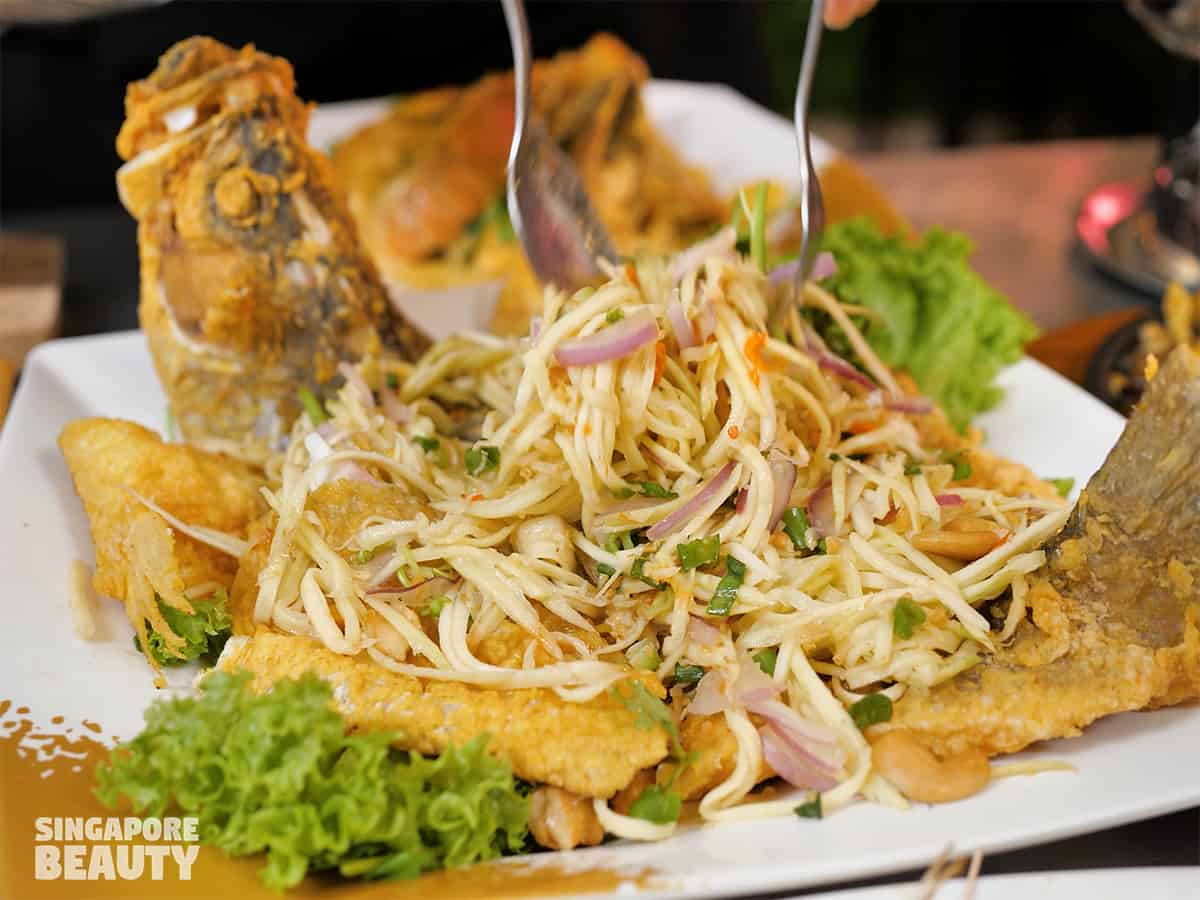 Deep fried seabass with mango salad ($25) is a whole seabass with a light eggy batter deep fried to a crisp. The thin layer of umami crunchy batter holds together some tender and moist fish meat. The mango salad with it sweet and tangy nature, adds a refreshing dimension to a deep fried seabass.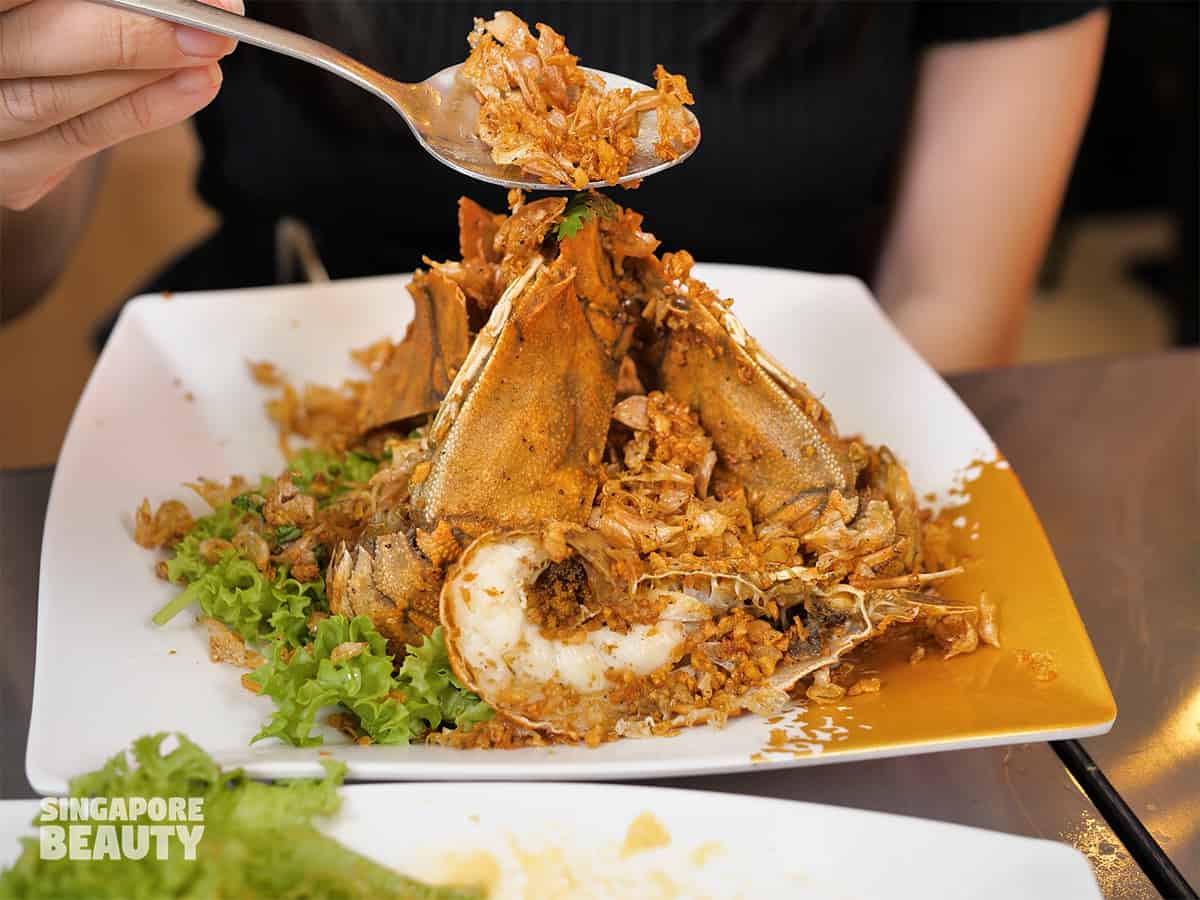 Deep fried crayfish with baby garlic ($19.80) is an aromatic dish that is made by tossing crayfish in fried baby garlic with skin on. The star of the show is the lobster like meat from the crayfish and the fried baby garlic. The baby garlic bulbs with skins are like melt in the mouth garlic popcorns, mildly pungent, nutty and sweet tasting delights. If you are at Soi47 Thai Food, you need to try one of this new dish on their menu.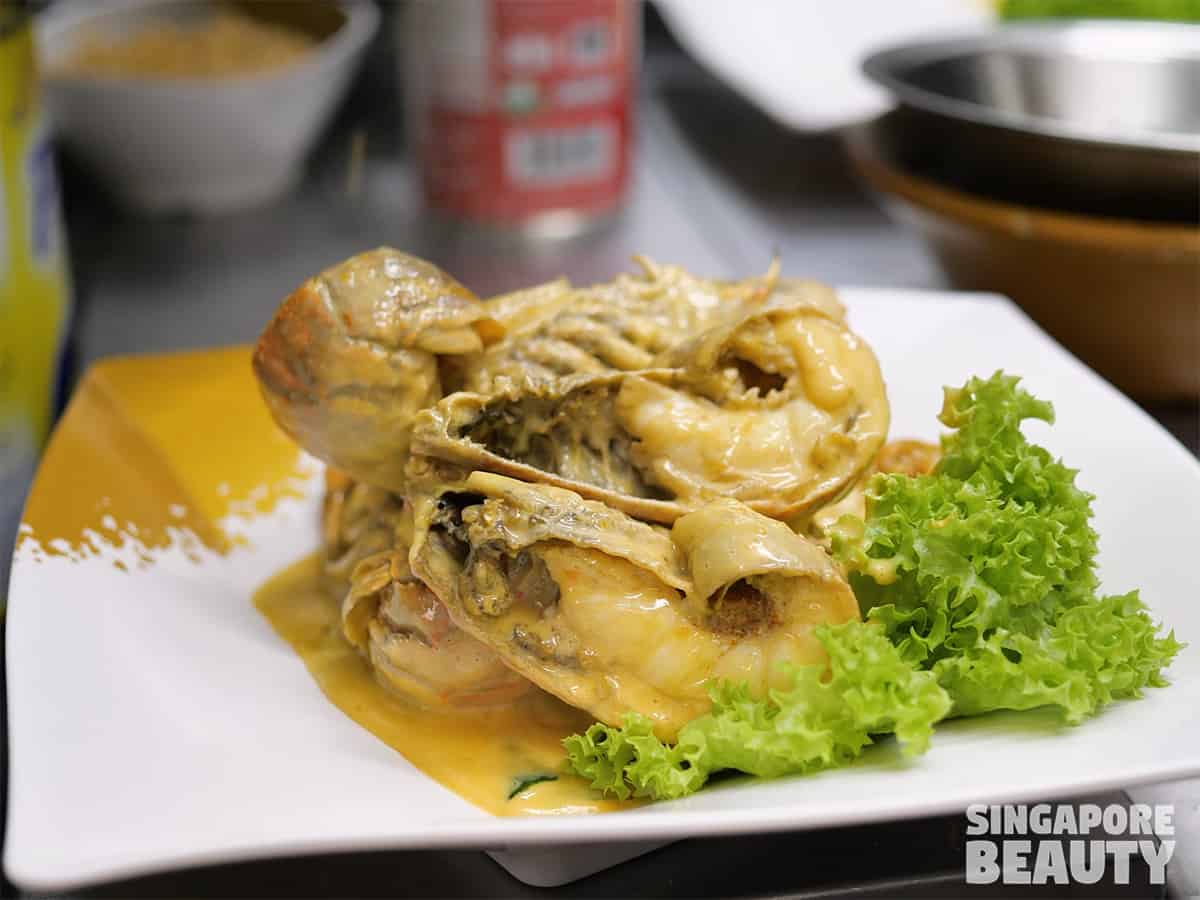 Salted egg crayfish ($19.80) is coated with a rich grainy sauce made from salted egg. This dish is like having delicate lobster tasting meat with the salted egg cream for crabs. You get the best of both worlds and at a fraction of the price of real lobster.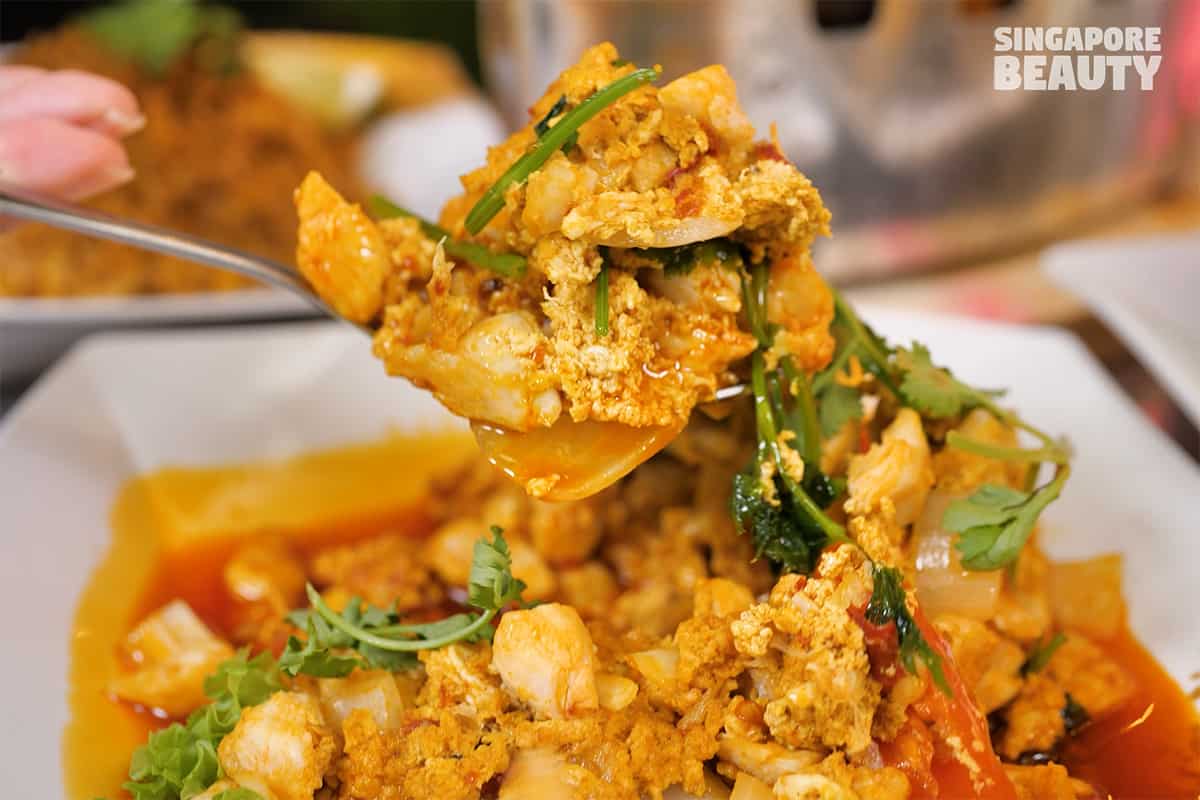 Yellow curry with crab meat ($22) is made with a blend of turmeric, lemongrass, garlic, chilli, coriander and more. Chunks of crab meat are tossed into the yellow curry gravy followed by a custardy egg to enhance the richness of the curry. It is a convenient and hands free dish to order when you are craving for crab and curry. This yellow curry is sweet and aromatic type not the usual spicy butter curry.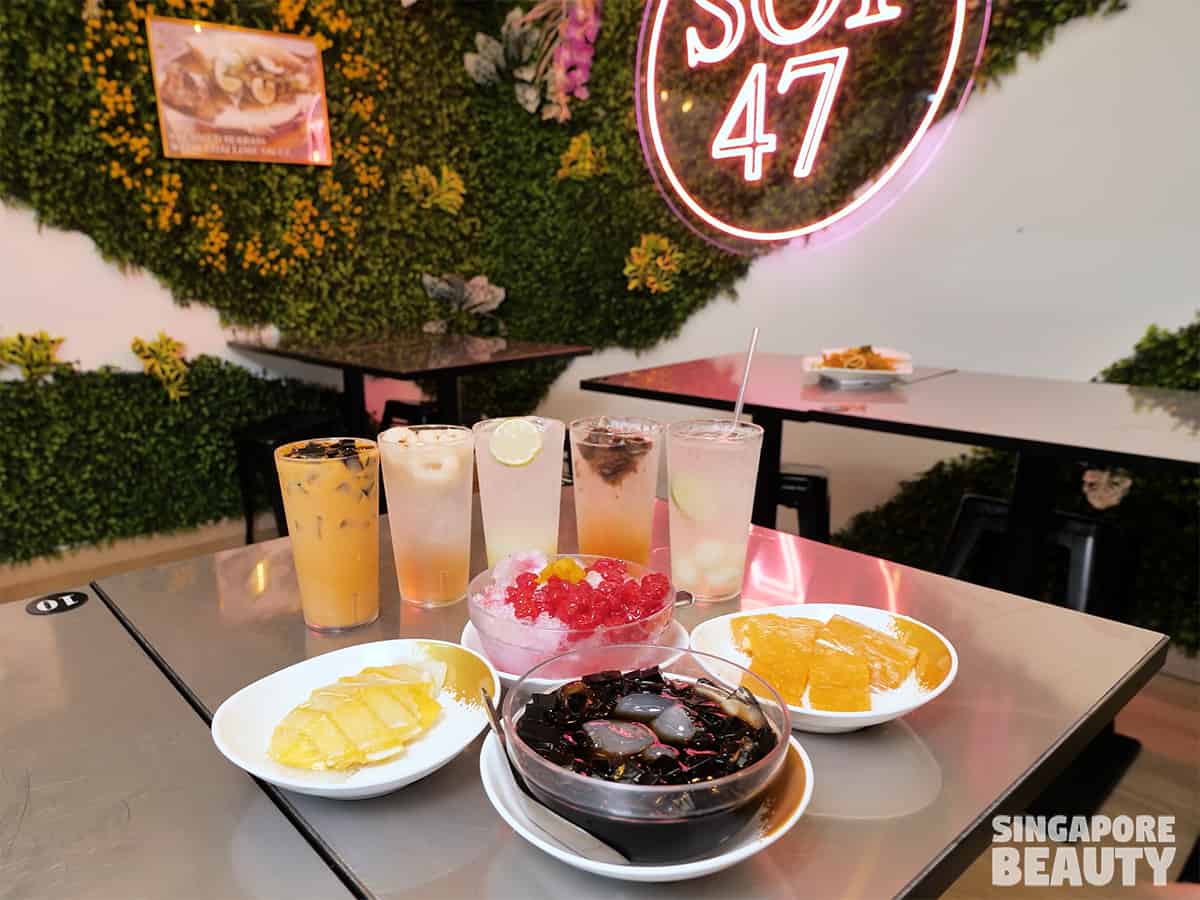 As always, we love to end our meal with some refreshing sodas and sweet desserts. From top to bottom, milk tea grass jelly, lychee soda, lime soda, plum soda, longan soda, red ruby, mango sticky rice, grass jelly with attap seeds and tapioca with coconut milk. The drinks start from $3 and desserts from $3.50 which are pretty affordable and value for money.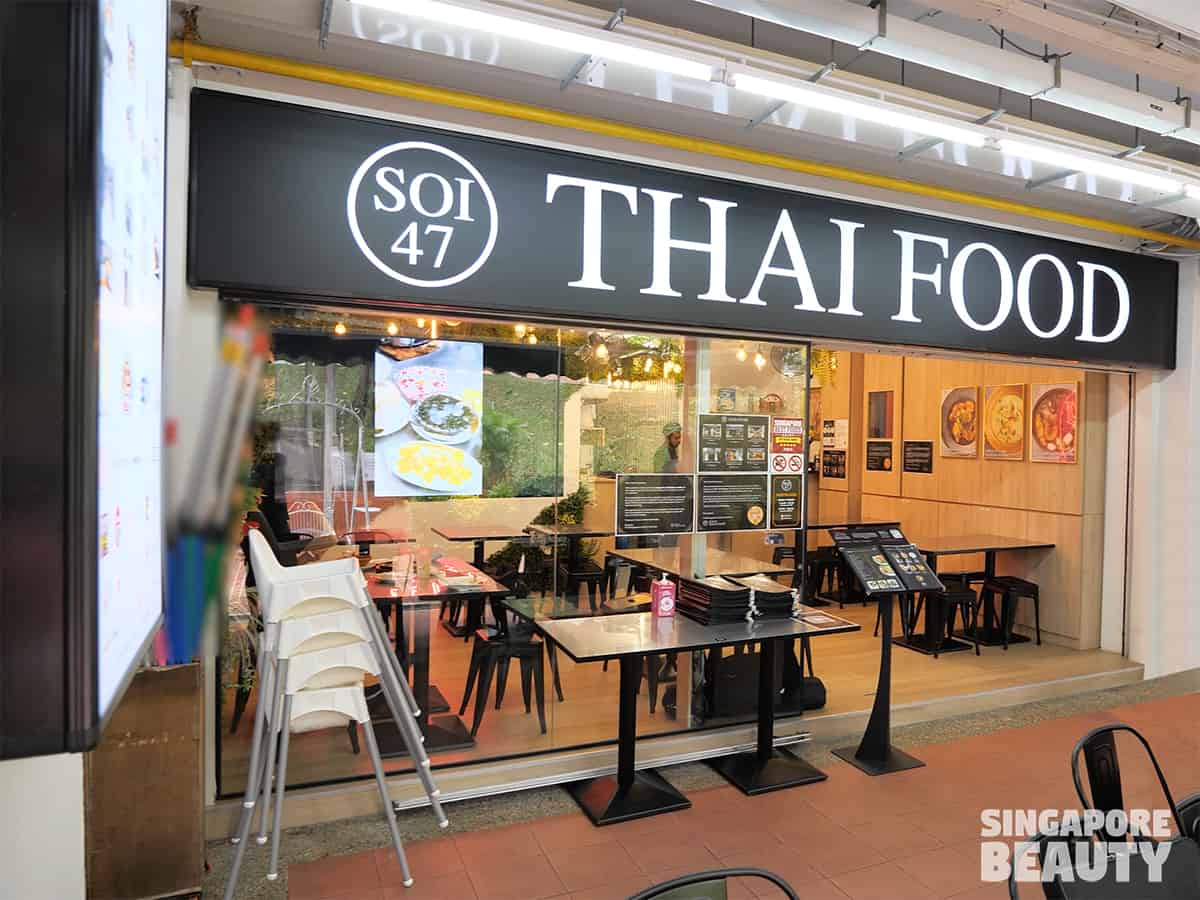 Craving for affordable Thai seafood around Clementi? Head over to Soi 47 Thai Food where every dish is freshly cooked by a Thai head chef. Now with their latest outlet in your hood at Clementi and 5 other outlets, you can enjoy a paradise of seafood in various cooking style at wallet friendly prices.
Address of Soi 47 Thai Food at Clementi (Featured outlet):
354 Clementi Ave 2, #01-235, Singapore 120354
For enquires, pls call 6355 4747
Opening Hours: 11.30am to 3pm, 5.30pm to 10pm Daily
Address of other Soi 47 Thai Food outlets:
⌂ 27 Yong Siak Street, (near Tiong Bahru estate)
S168654
Call: 6588 4747
⌂ 181 Orchard Road, #04-08
Orchard Central, S238896
For reservation, call: 6555 4747
⌂ 6 Eu Tong Sen Street
Clarke Quay Central #02-78
S059817
Call: 6788 4747
⌂ 47 Toa Payoh Lor 6, #01-130
S310047
Call: 6266 4747
⌂ 111King George's Ave
S208559
Call: 6255 4747
Brought to you by Soi 47 Thai Food