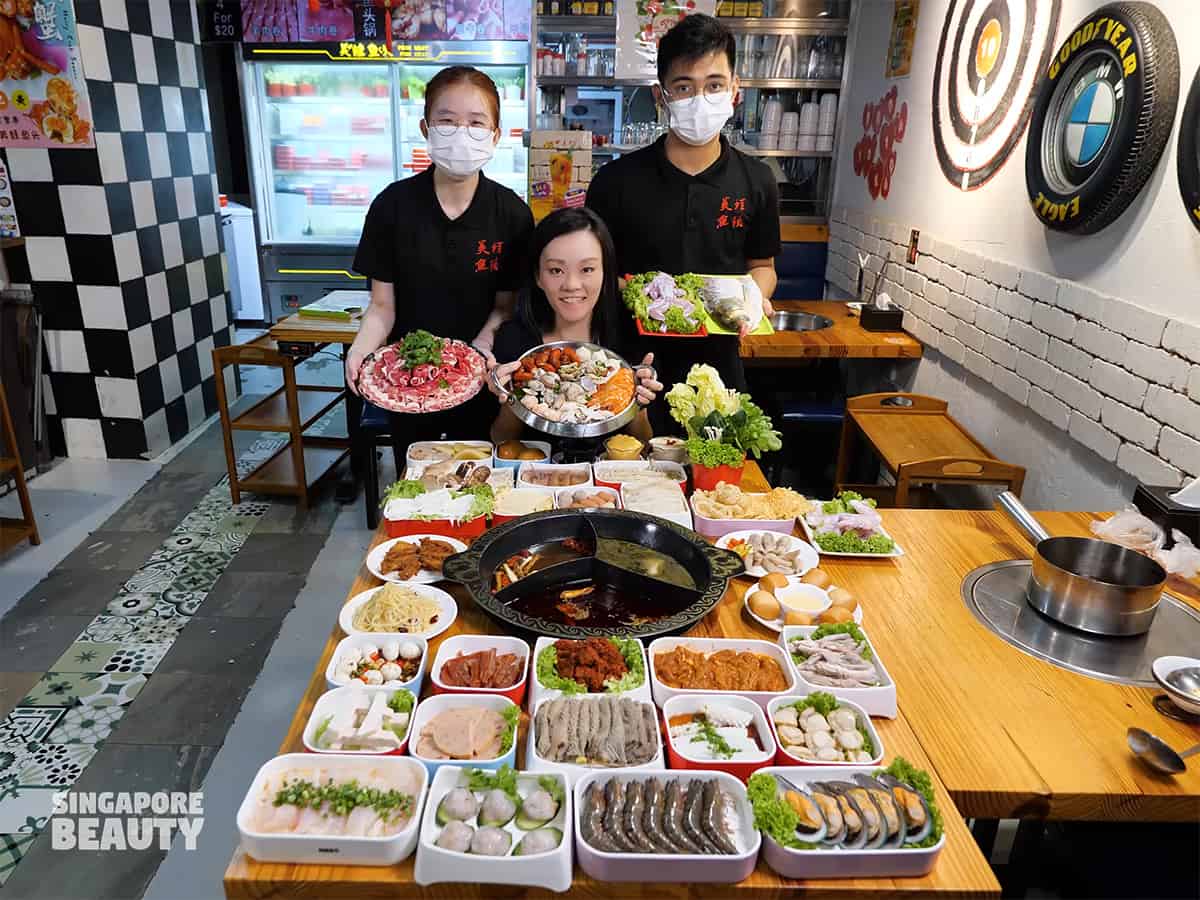 Frog Meat Fish Head Mei Wa Yu Tou is a unique hotpot buffet with more than 60 items type of ingredients. You get to choose the ingredients for soup base such as fish head with frog meat or 8 types of soup base without the fish head and frog meat. With 8 choices of soup bases, customisable 5 spicy levels, unique offals, side dishes and desserts, you will be spoilt for choice. They also have unique add-on such a seafood platter salad, bubble teas, hot tea, pork brain, black beef tripes, large fish head and frog meat.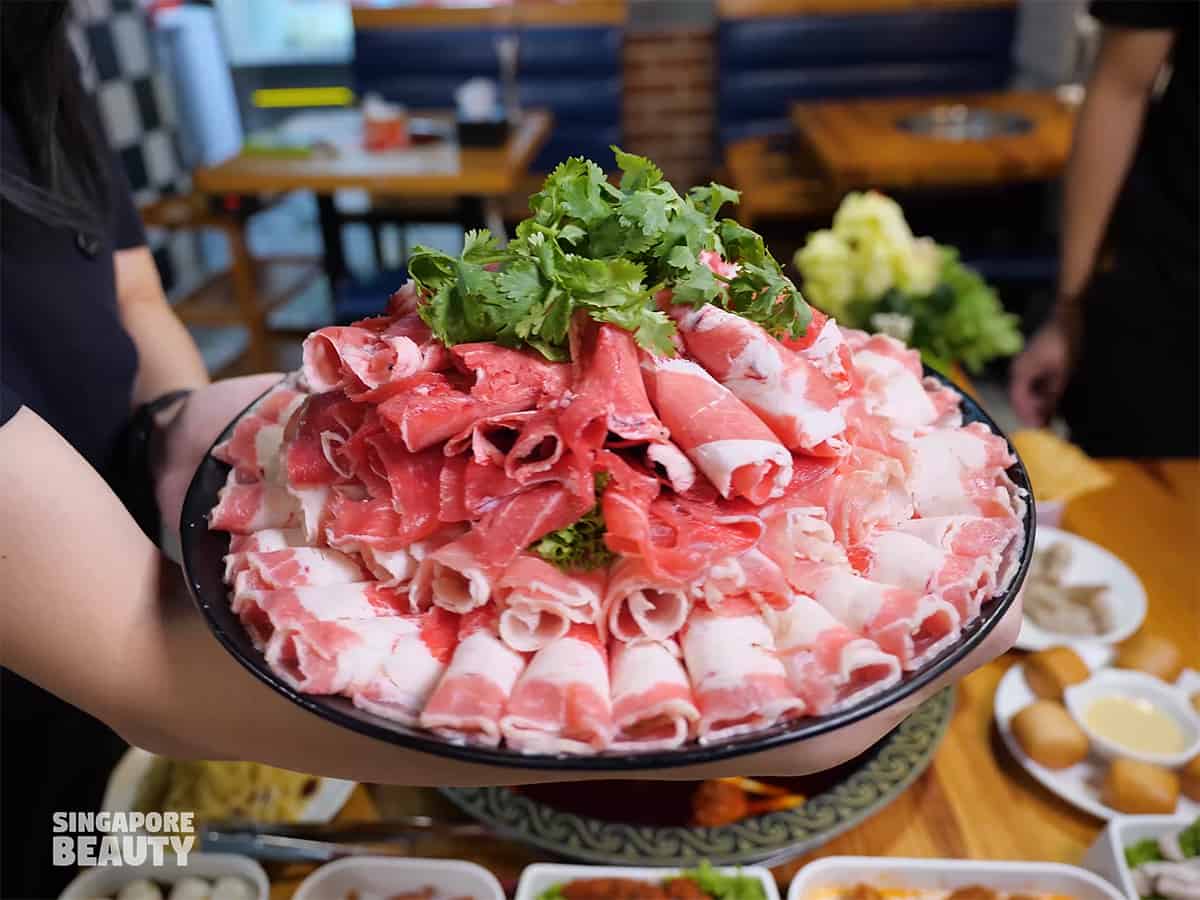 Regulars at Frog Meat Fish Head Mei Wa Yu Tou are familiar with their variety of free-flow shabu shabu meat meat platter with US beef, pork belly, and mutton. These are freshly cut-to-order in the kitchen to ensure the meats are at their premium texture. Therefore, you do not find these meats on display at the chiller buffet display. You can place your order and have them delivered to your table for all the shabu shabu meat items at this buffet. Have a great blast at this meat party.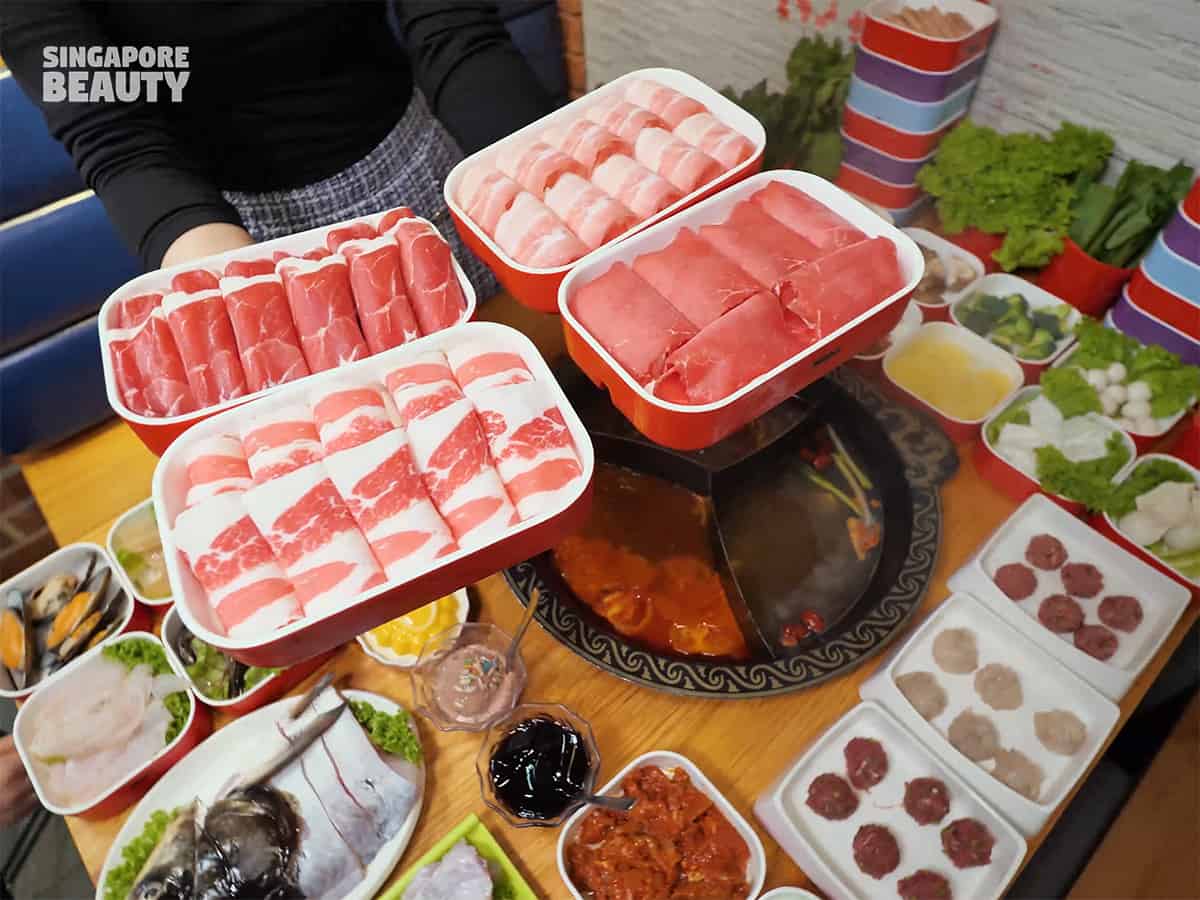 At Frog Meat Fish Head Mei Wa Yu Tou , they have 6 choices of meats such as sliced US beef, sliced beef, sliced pork belly, mutton, flavoured mala beef and chicken fillets. For those who are into fatty beef, the US beef will probably please your palate. For those who love a bite in their beef, try the sliced beef which are leaner.
Frog Meat Fish Head Mei Wa Yu Tou has a good variety of seafood such as prawns, sliced fish chunks, scallops, squid, cuttlefish, green lipped mussels, prawn paste and even fresh fish maw. These seafood are free flow. The seafoods are served in small portions in angular stackable containers so you can have a wide variety of seafood to hotpot with.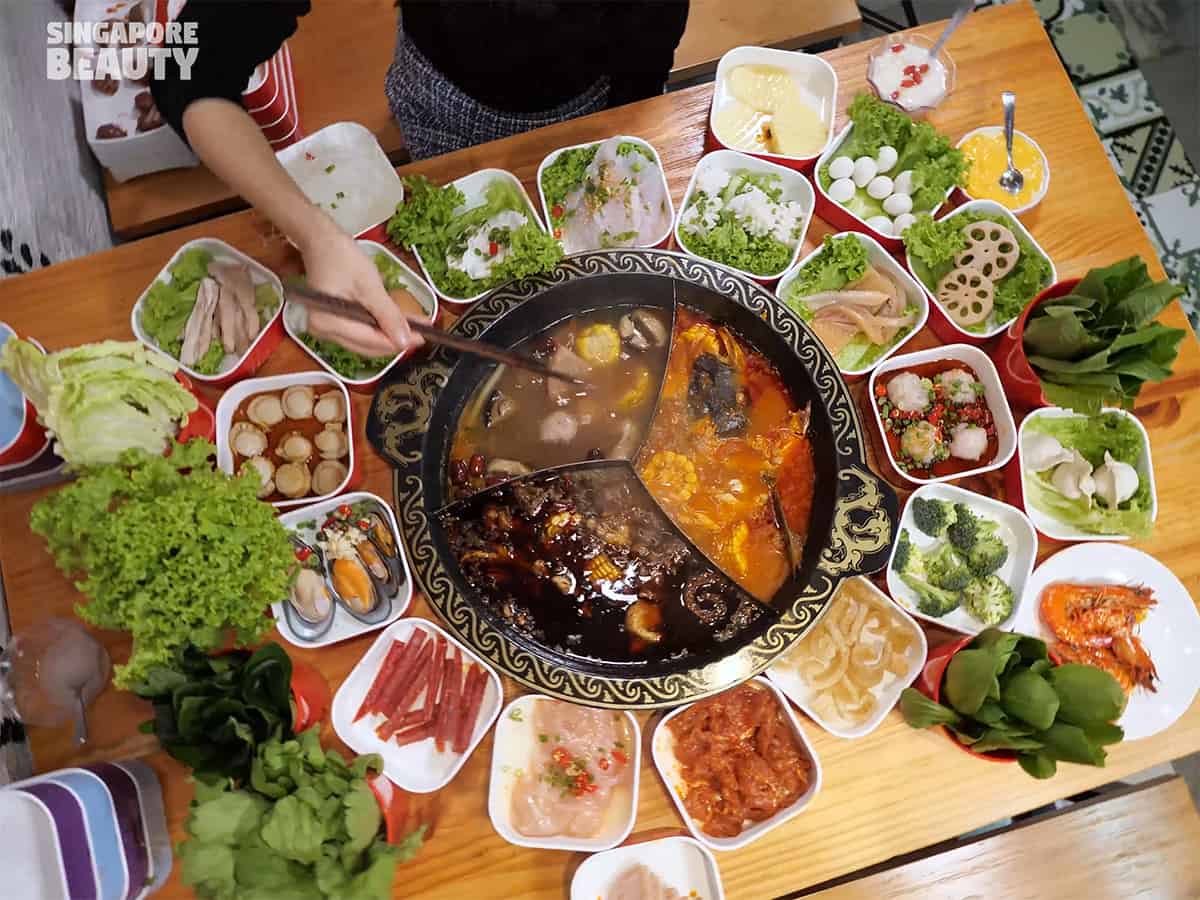 This steamboat aka hotpot restaurant is located in Chinatown, Singapore. They have some unique finds that is uncommon in other buffets. The under the radar items are Cantonese style sausage that has texture like bak kwa but in a sausage form, fried pork rinds, dumplings, pork intestines, pork aorta, pork stomach, layered beef tripes and beef tripes. Offals and intestines are actually great for hotpotting, adding some interesting chew and texture to the experience.  If you are new to these, check with the staff for the cooking time and condiments to pair with them for maximum satisfaction.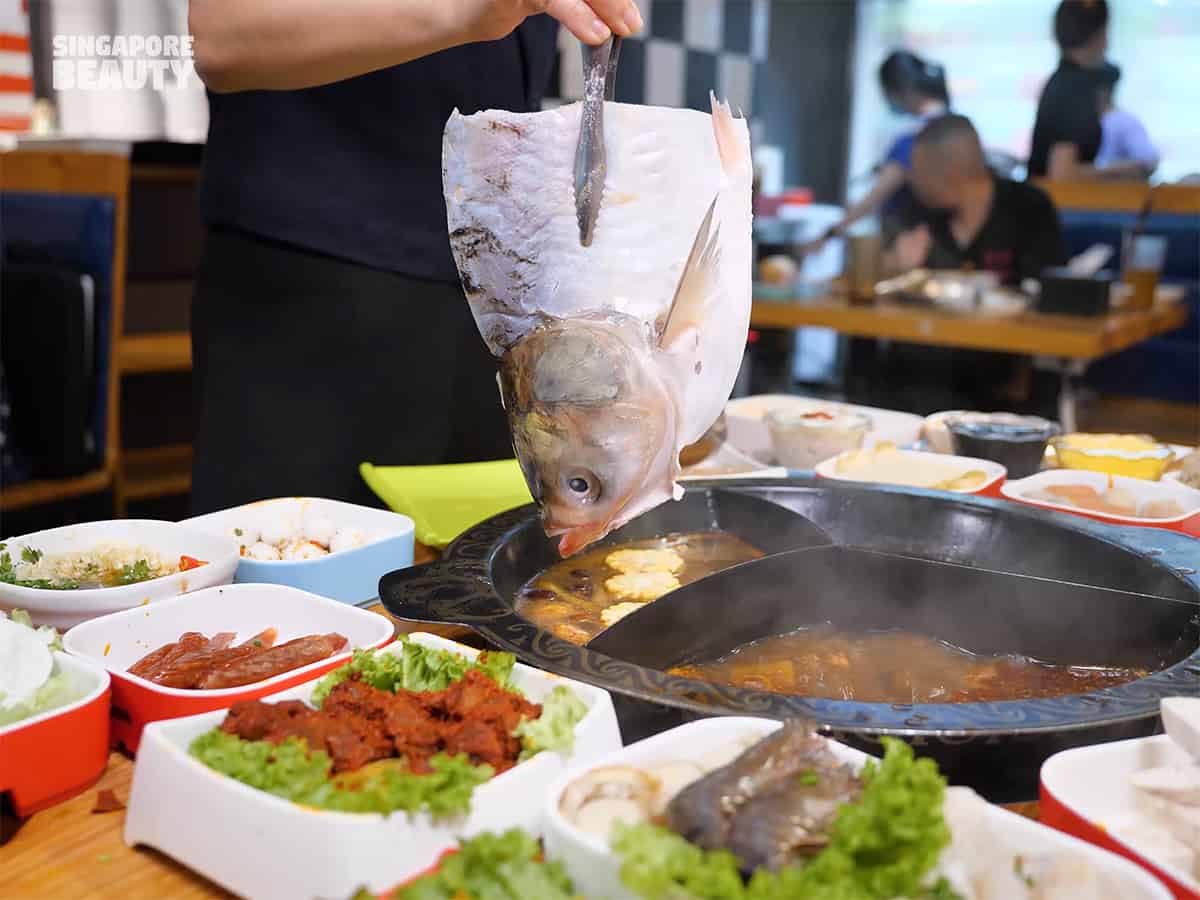 Frog Meat Fish Head Mei Wa Yu Tou as the name implies are famous for their extra large fish head and frog meat. Check out the size of the fish head which fits snugly into one of their 3-slots steamboat pot. Their steamboat pot shown here are those large size ones with three slots for soup.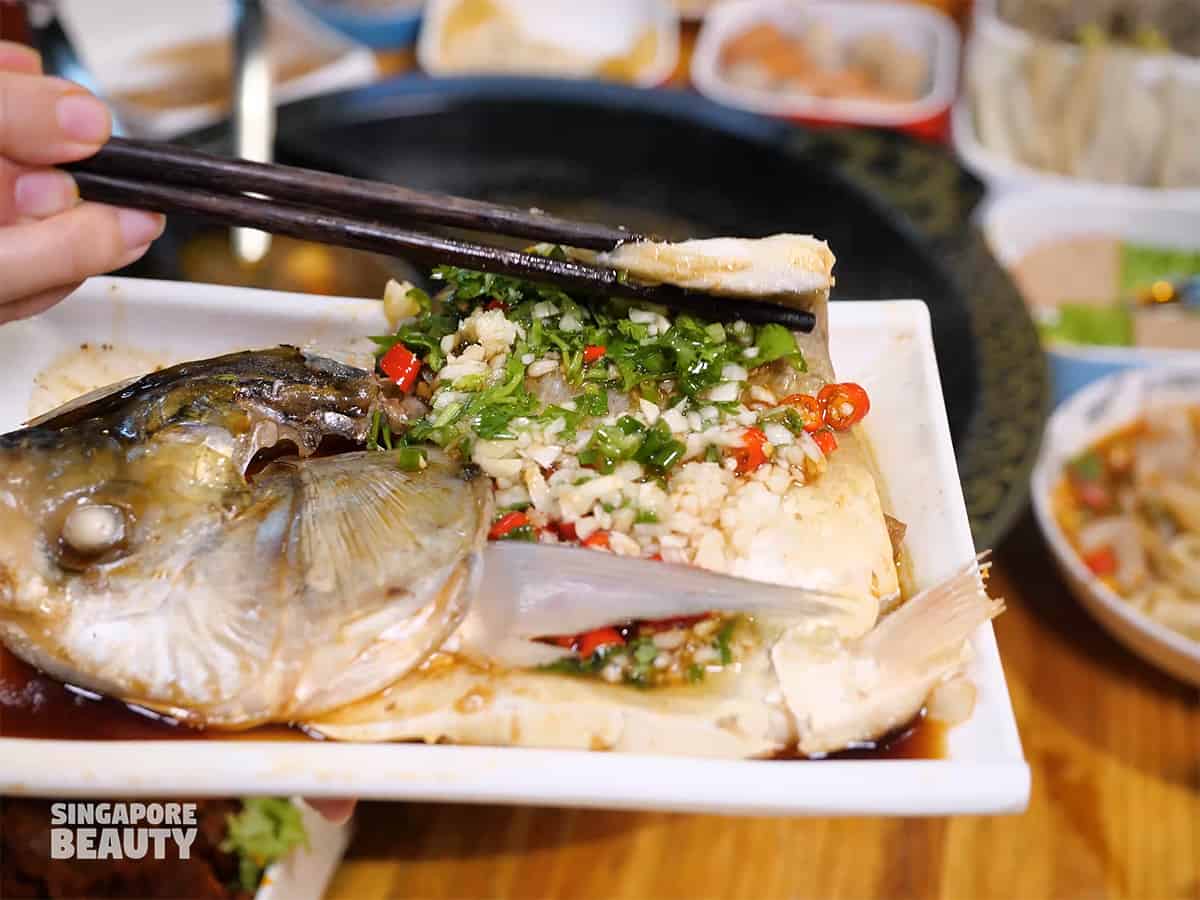 The type of fish head used are Song fish head which are famous for large chunks of meats, plenty of gelatinous fish jaws, larger bones and rich in fish fats. The fish head and frog meat are ingredients to upgrade your basic duo soup base from $28++. For example, $28 ++ soup base includes 2 soup bases of your choice, 2 frogs and half a fish head. The fish head is best enjoyed by dressing it with a DIY sauce from their condiments station once it is cooked. The sauce combo is made up of soy sauce, vinegar, sesame oil, chilli oil, fresh minced garlic, oyster sauce, scallions, chopped chilli, sugar and a little bit of msg for a kick. Mix all these well and drizzle over the hot fish head.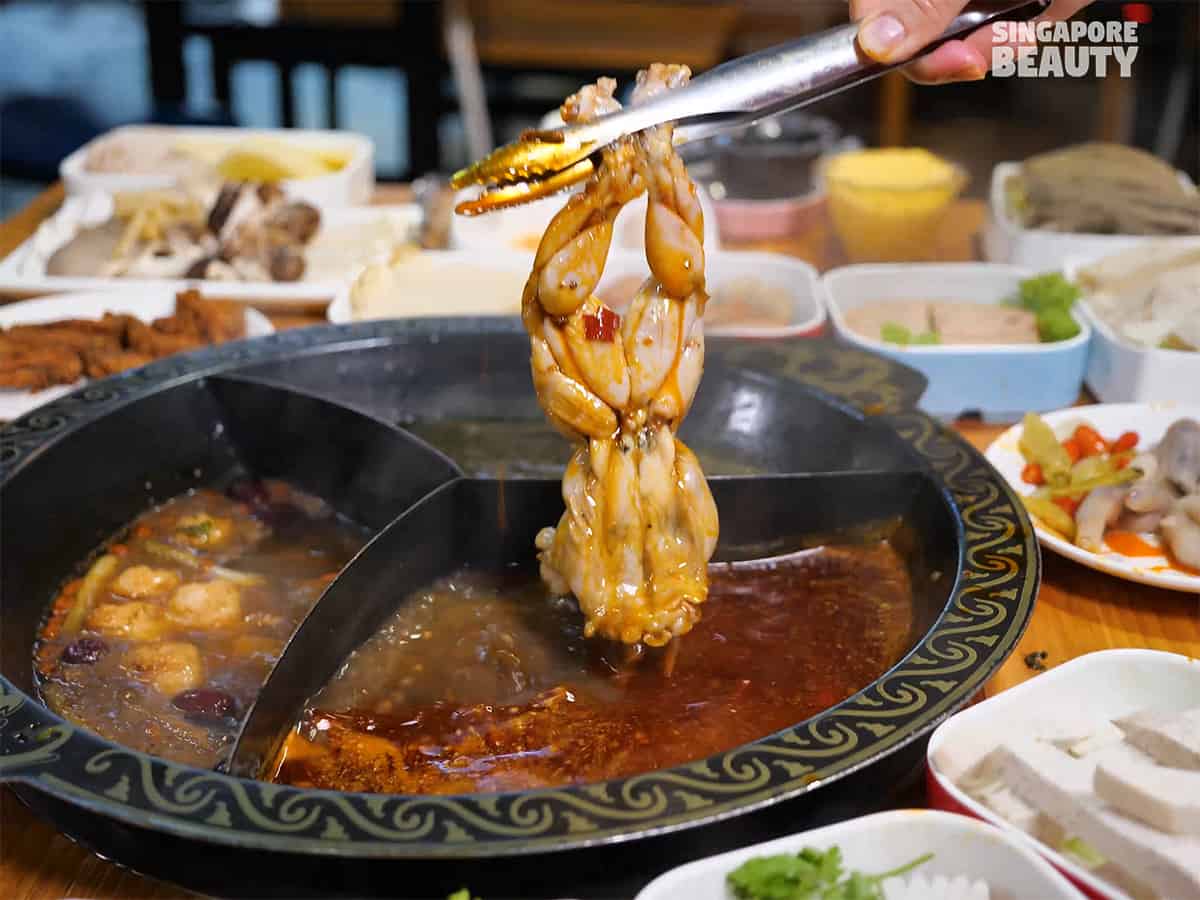 The $28++ duo soup base with 2 frogs and halved fish head is highly recommended as it is a steal. The types of frogs used are farmed bullfrogs. They are larger and meaty than our normal stir fry frogs. To ensure the freshness of the frogs, they use only live frogs. Upon ordering this duo soup base, the frogs are freshly dispatched to order and clean in the kitchen, before serving. The chopped up frog leg meat will twitch a little when you hotpot them as they are freshly dispatched. They also have the three soup base option ($35++) as shown with 2 frog and halved fish head. For those who have not try frog meat before, it is like texture of chicken but more tender, springy and comes with gelatinous tendons.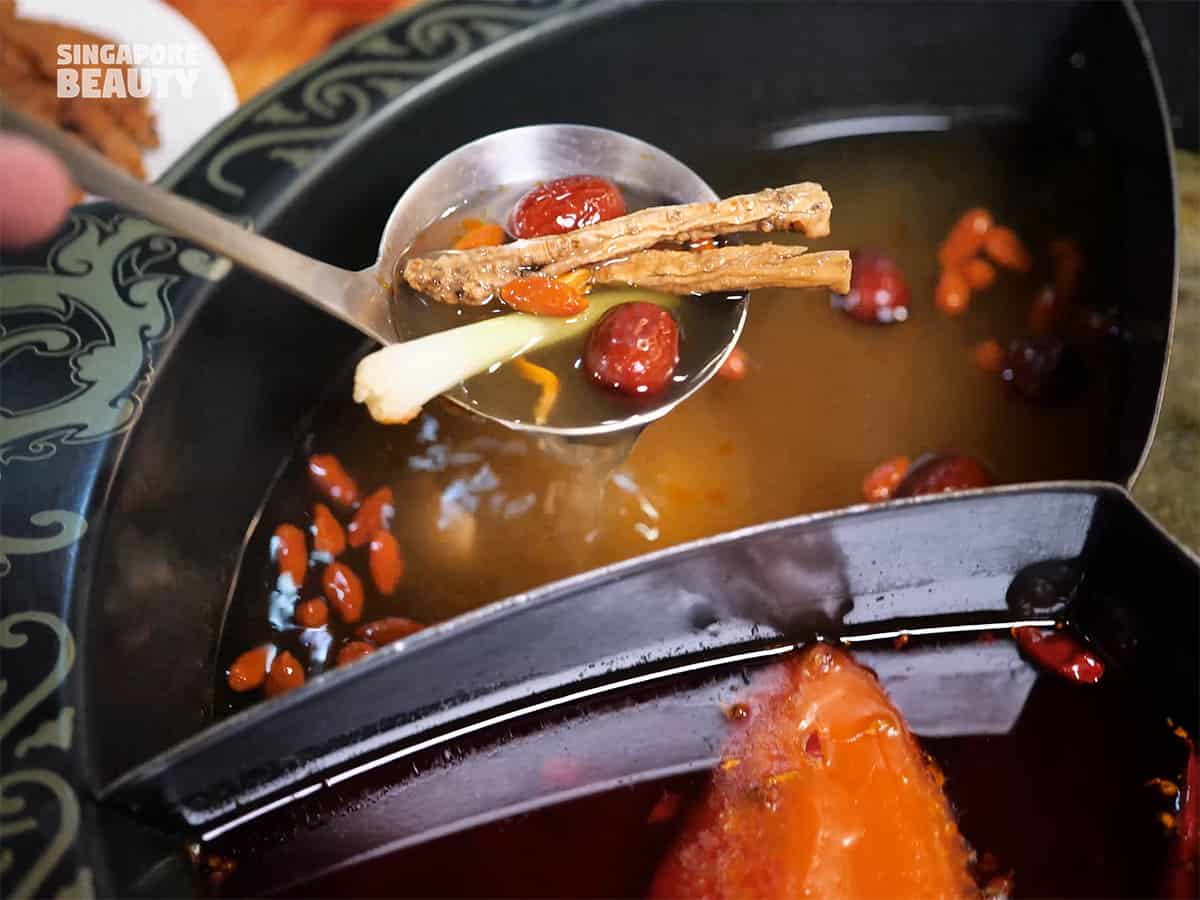 For the steamboat, you can choose single, double or triple soup hotpot. A single soup starts from $10-$15, double soup from $12 for 2 types of soup and $18 for 3 types of soup. There are 8 soup options such as mala spicy, Thai style tom yam, mushroom, pickled fish soup, herbal soup, bone, tomato pork rib and chicken soup. The chef recommendations are mala spicy, pickled fish soup and chicken soup.  The soup shown above is the chicken soup made with herbs such as dang shen, wolfberries, dates, cordyceps flower and more.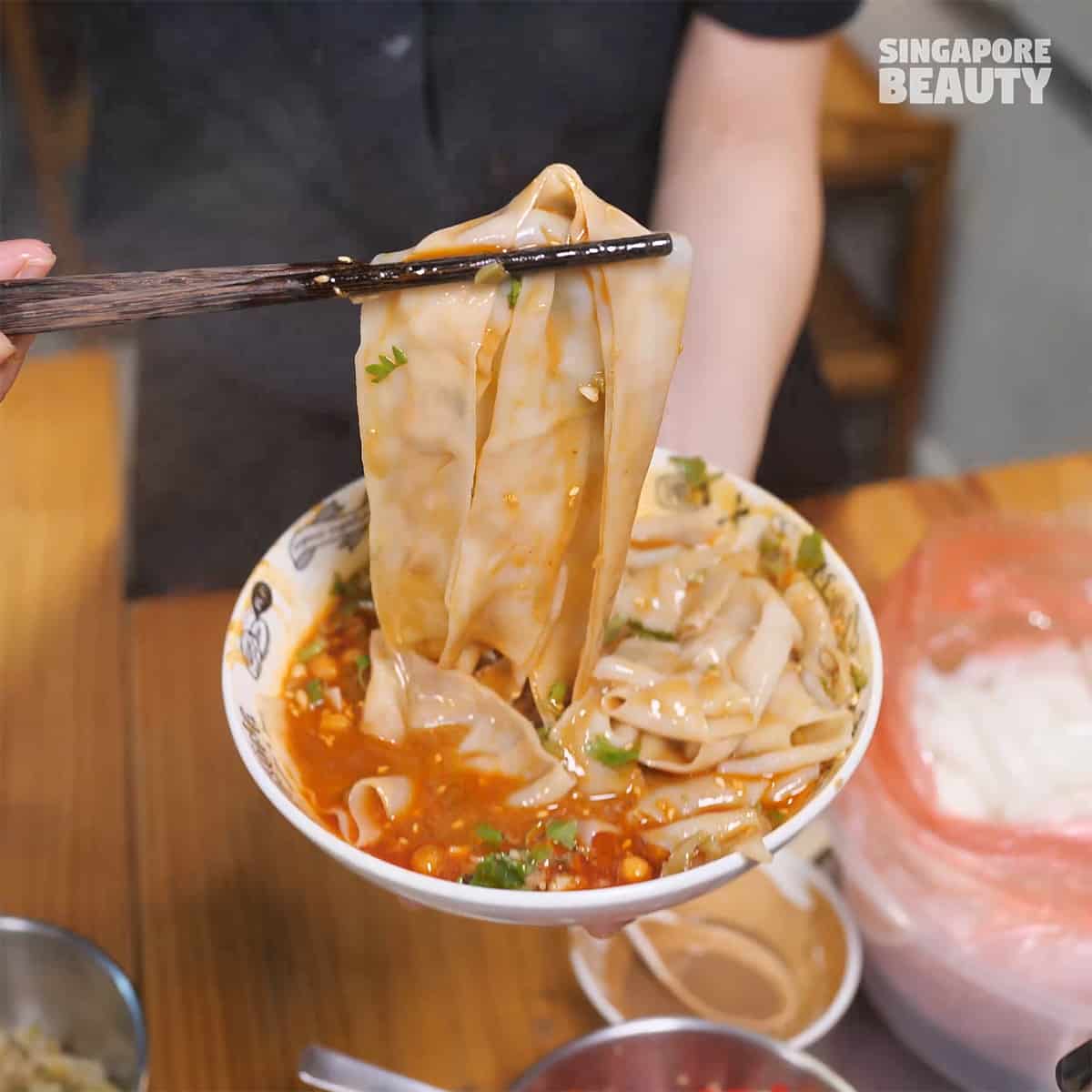 They have unique sides such as rice roll in chilli oil. These are wide rice noodles with a chilli oil sauce. The noodles are tossed and coated with velvety peanut, sesame, chilli oil , soy sauce dressing with subtle crunch from the pickled cabbage.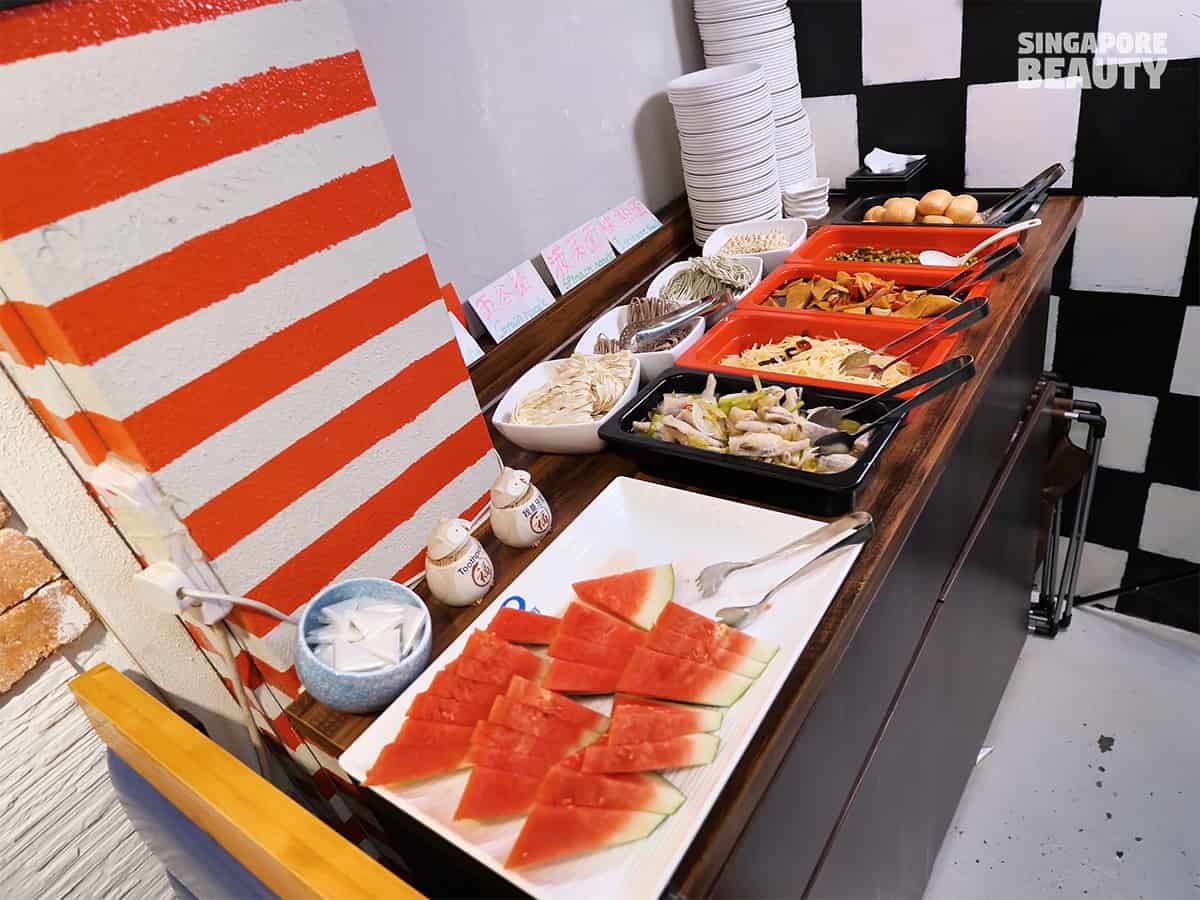 Other appetisers include watermelon, pickled vinegar phoenix claws with green bell chilli, julienned potato salad, fried mantou with condensed milk dip, fried wings with flavour of the day such as prawn paste, mala flavoured and more. These appetisers are on rotational basis daily in this buffet.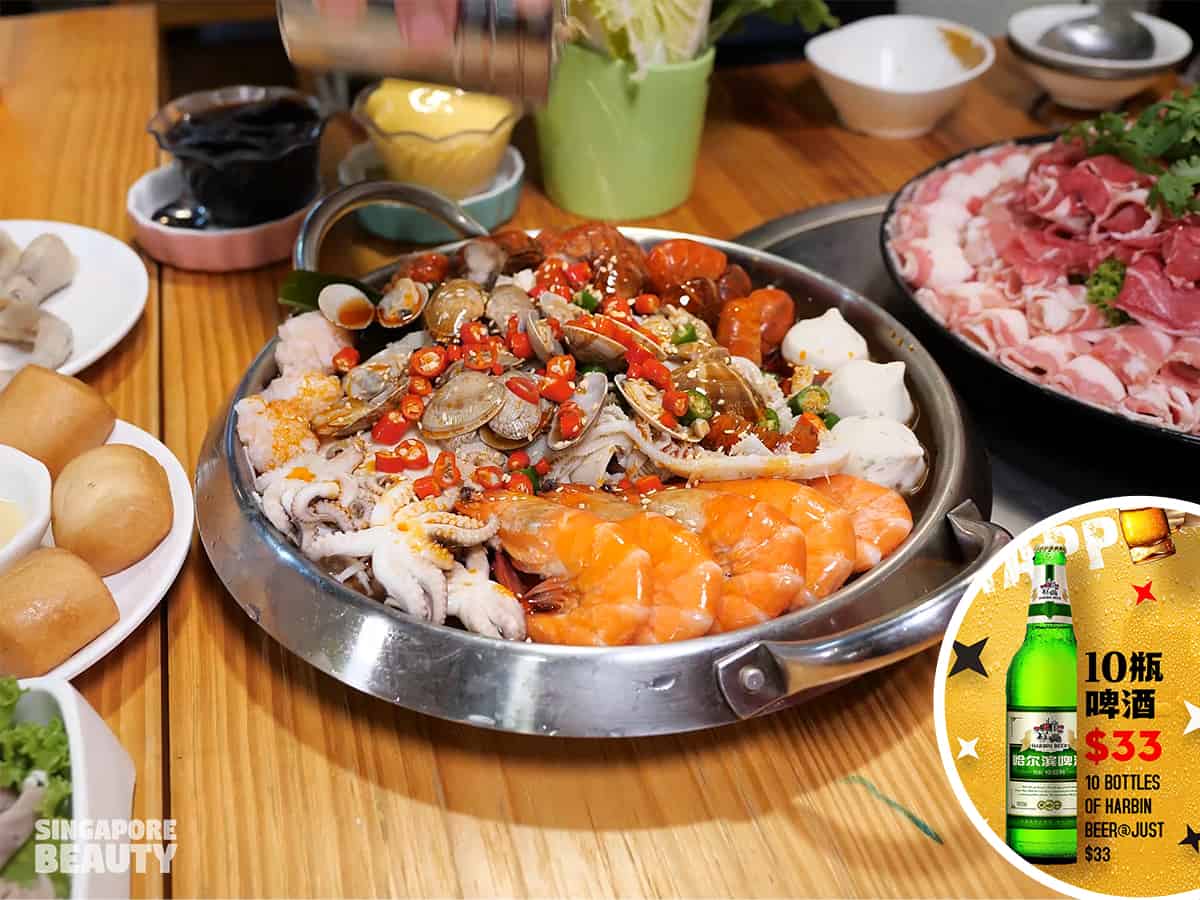 Frog Meat Fish Head Mei Wa Yu Tou has a popular ala carte seafood platter ($45.80) for you to add on to your buffet. These are ready to eat seafood & ingredients such as sweet prawns, baby octopus, asari clams, prawn balls, kelp, mini crawfish, fishballs with roe, beef layer tripes, aorta, cucumber, potato and lotus roots.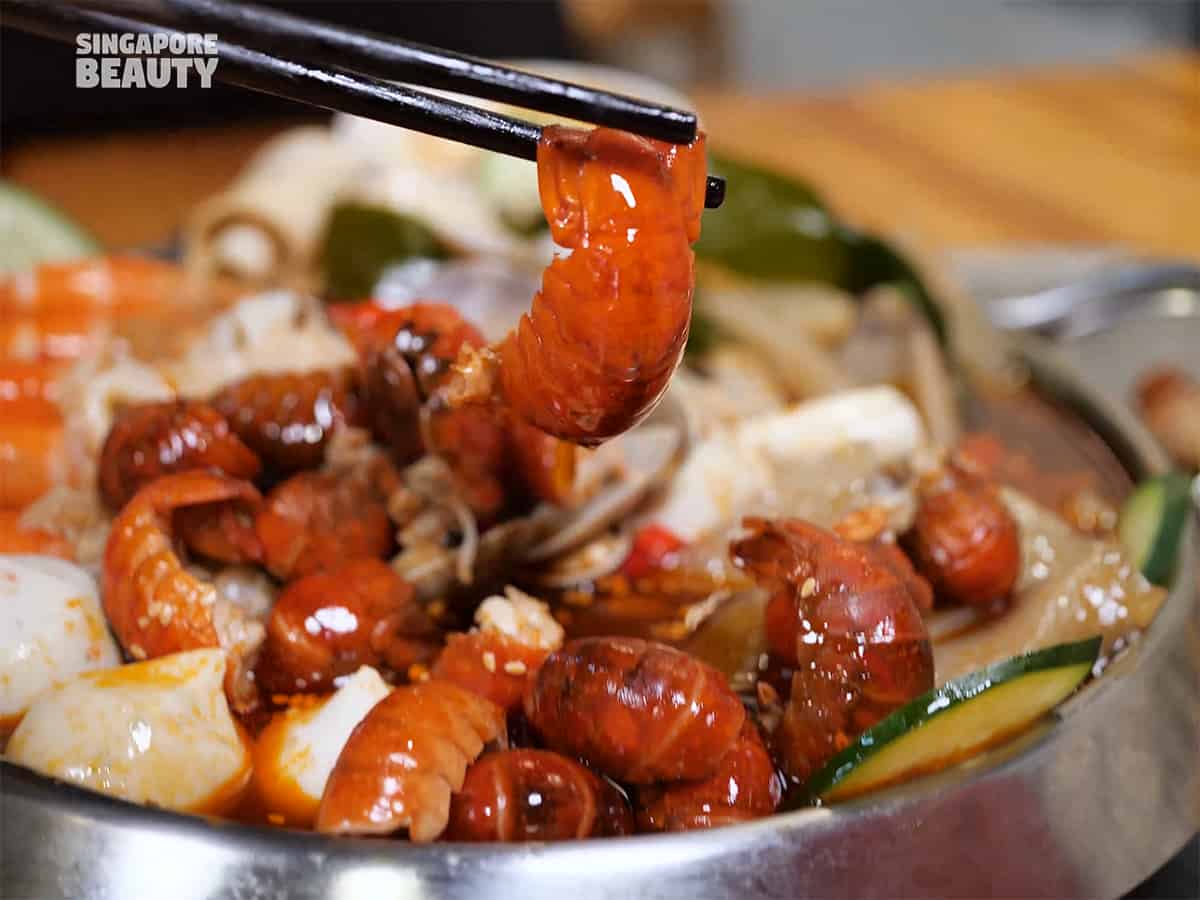 These are assembled in a flat base wok and tossed with a specially made sauce. The sauce is made with garlic, peppercorn oil, chilli oil, dark vinegar, sesame oil, sesame seeds and more. Toss the seafood lightly till the sauce is infused into the ingredients. This dish is good enough for 2-4 pax to share. This is a dish serve cold like a seafood salad with the prized seafood – mini crawfish. This dish is best enjoyed with their in house beer promotion 10 bottles for $33 dollars.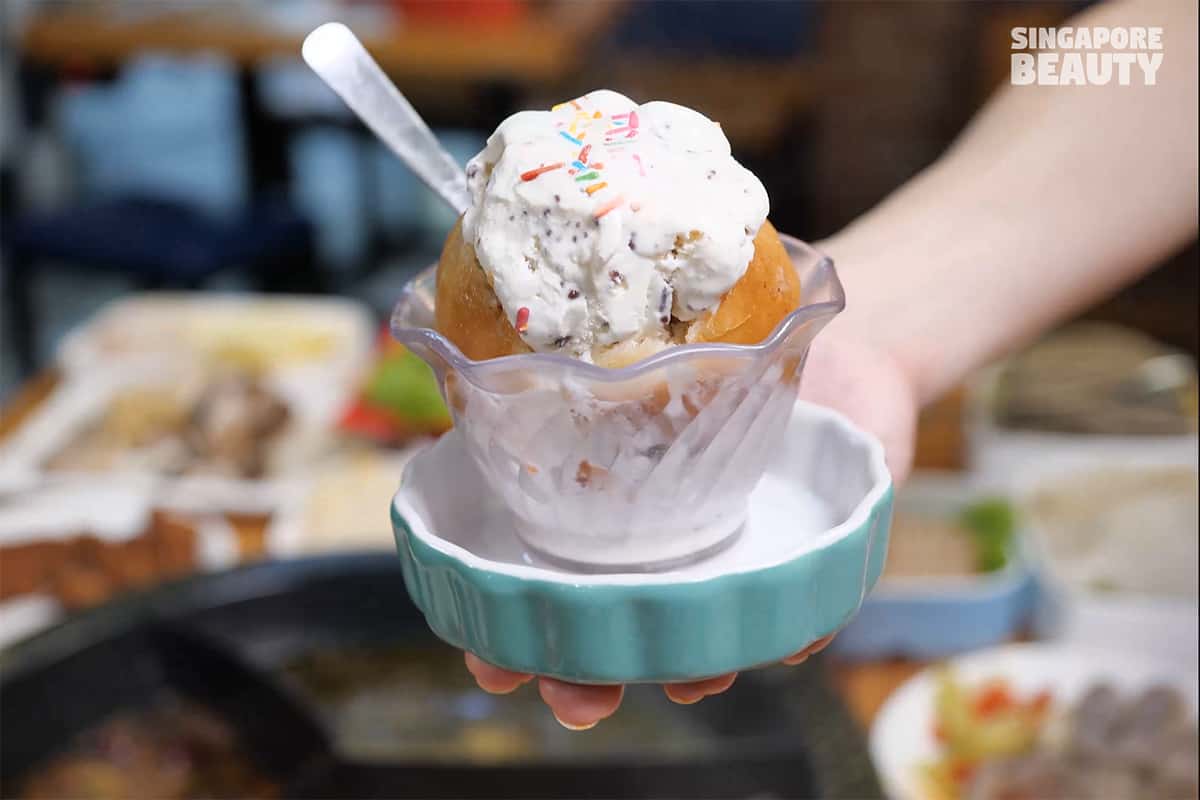 End your meal with various desserts such as soy bean, mango flavoured and grass jelly pudding that is included in the buffet. These desserts are made in house daily and are super wobbly. How about some ice cold cream on hot crunchy fried red bean paste bun? This is their unique in house creation.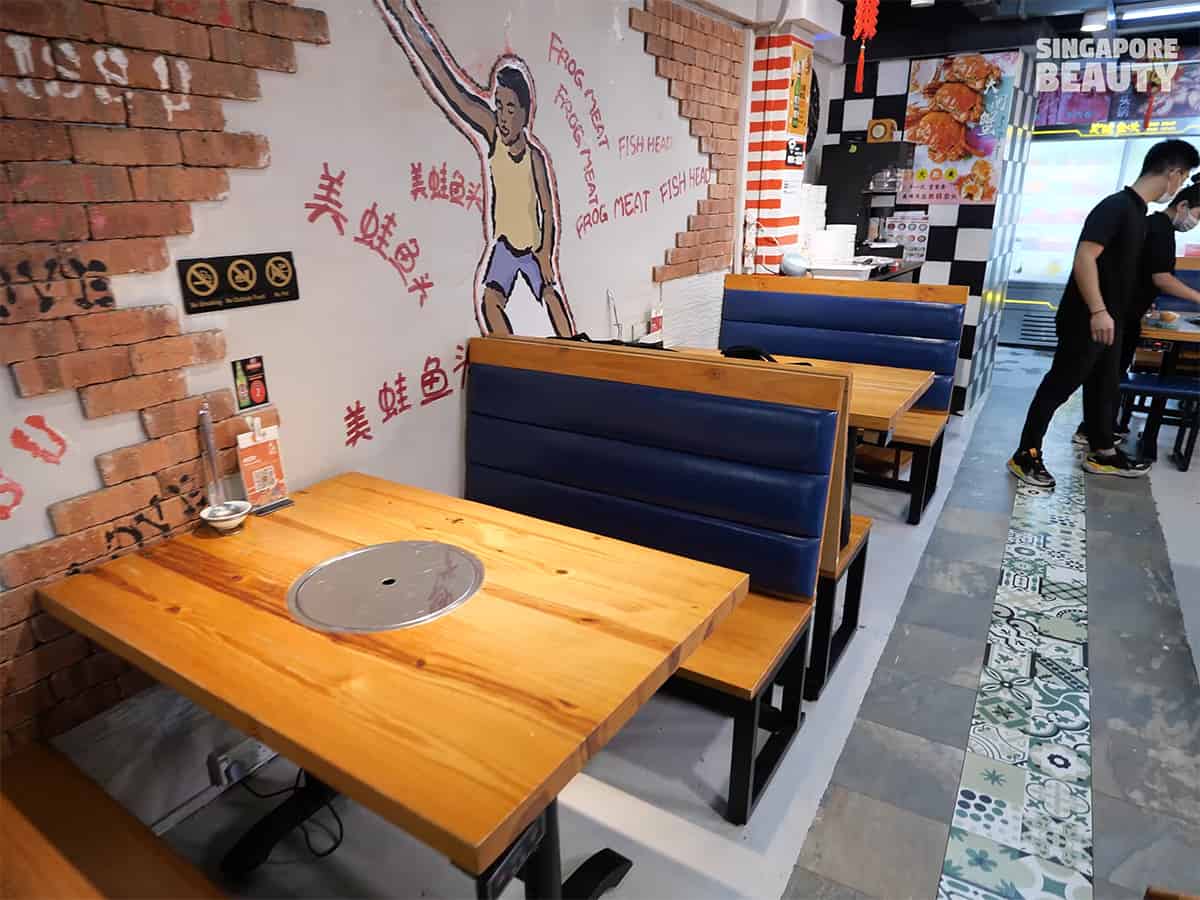 They are housed in a 2 storey shophouse. The first storey is a streetscape design with high back bench seating, hand drawn murals and loud colours with round traditional steamboat pot. The second storey is more casual ambience, sits more with low back chairs and soft cushion with square sunken steamboat.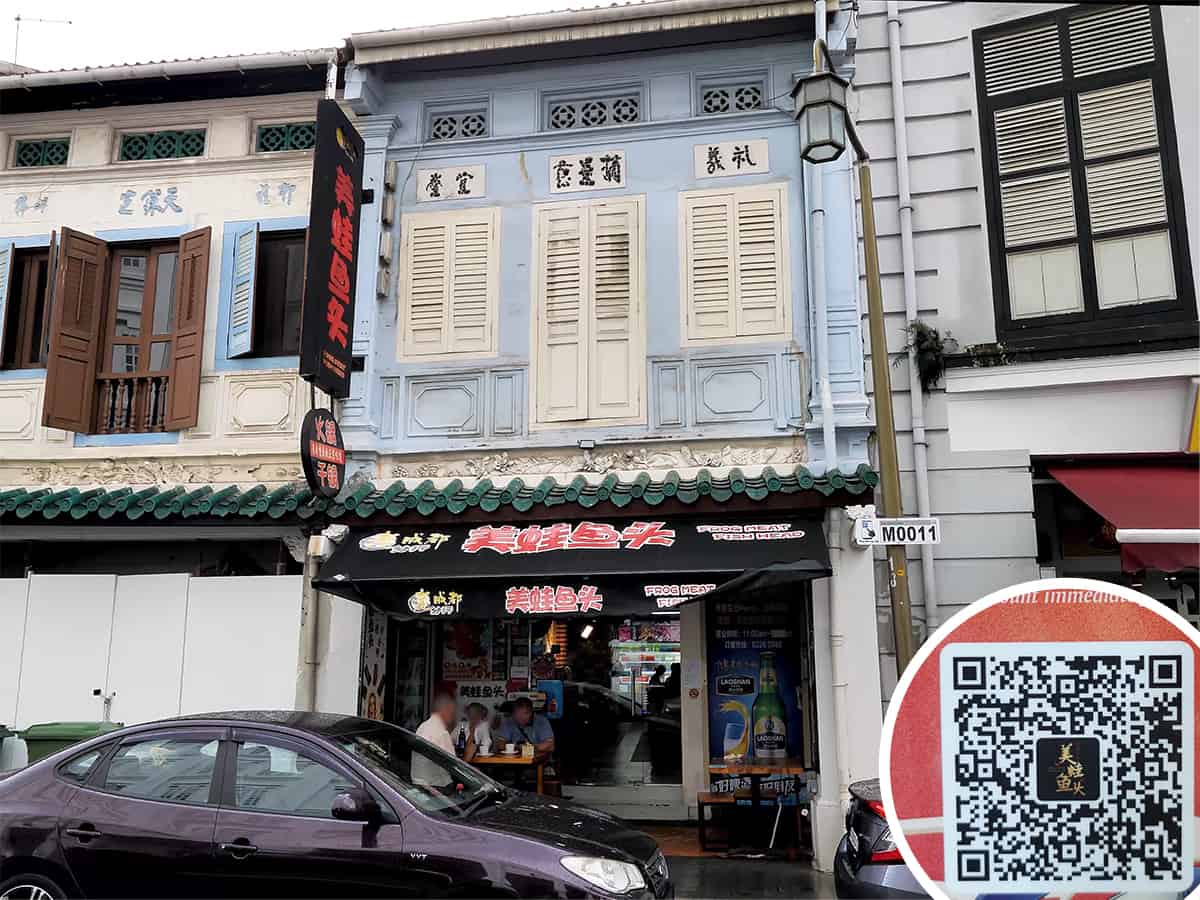 Frog Meat Fish Head Mei Wa Yu Tou currently has 2 ongoing promotions for you to choose from. Get Buffet from 24.80++ from Mon-Thurs and the 5th person eat free with 4 paying adults. 10% off steamboat buffet* with reservations (*does not applies to drinks and soup base), it only applies to adult buffet price. Promotions are mutually exclusive and cannot be stacked. This promotion for reservation can only be redeemed through whatsapp reservation or via their QR code above. Head over to Frog Meat Fish Head Mei Wa Yu Tou now for this unique hotpot experience.
Address of Frog Meat Fish Head Mei Wa Yu Tou 美蛙鱼头 :
5 Mosque Street, Singapore 059485
Buffet price of Frog Meat Fish Head
Adult Buffet Price
Monday- Friday Lunch (11am- 4 pm) $24.80
Monday- Thursday Dinner (4.30pm-11.30pm) $27.80
Friday Dinner $29.80
Saturday & Sunday/PH/Eve, Lunch/Dinner $29.80
Child Buffet Price (3-10 years old) $13.80 daily
Single soup base starts from $10
Double soup base from $12
Triple soup base from $18
Premium soup base with 2 Frog and halved fish head starts from $28
Service charge and GST applies for all price quoted above
Dine in time limit: 2hrs (for peak hours only)
Mon – Thurs: 11am till 12 midnight.
Friday – Sunday: 11am till 4am.
For enquires/ reservation: 6226 0986
Brought to by Frog Meat Fish Head Mei Wa Yu Tou 美蛙鱼头