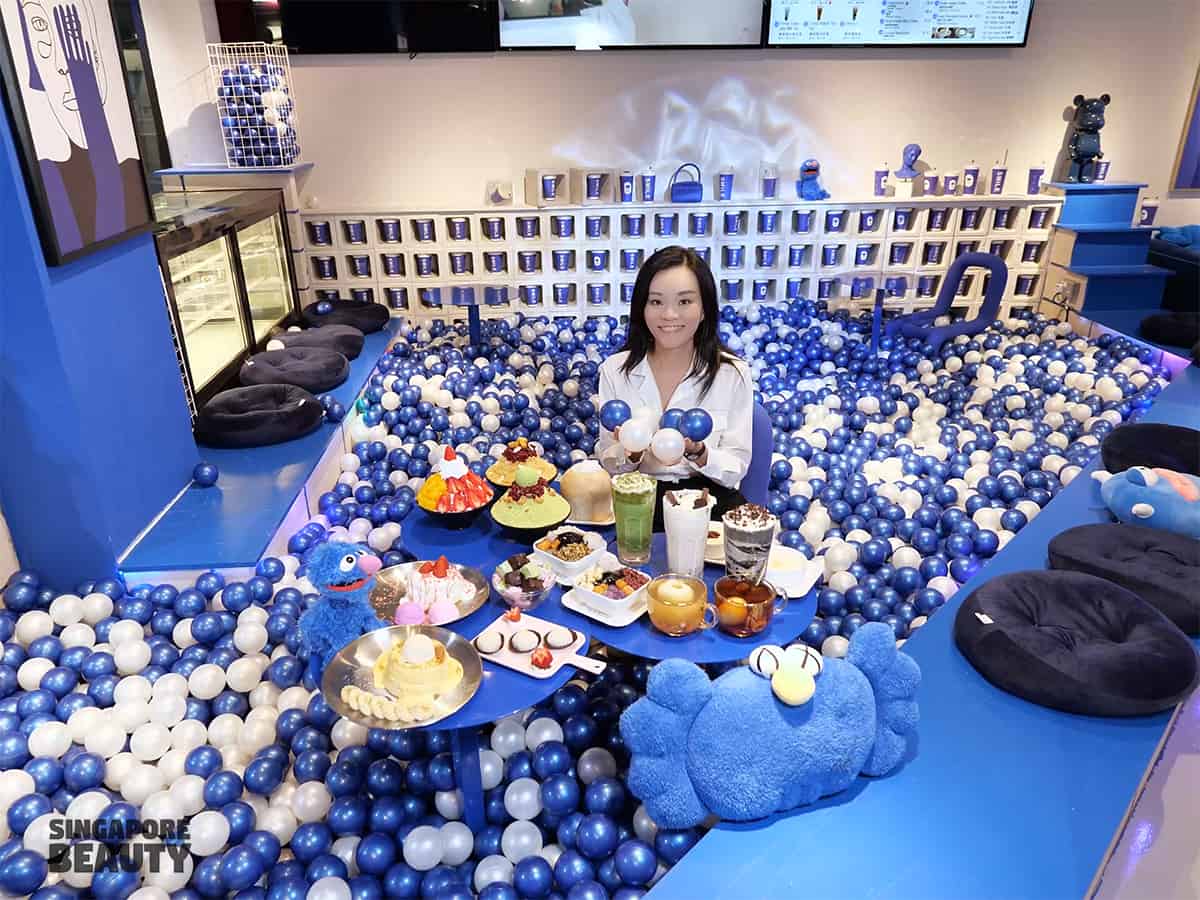 Smile Dessert latest new blue themed dessert café is now opened at new GR.ID mall affectionately known as "Grid" located at Selegie Road near Dhoby Ghaut, Singapore. This is the second branch to the flagship Smile Dessert at Bugis with a pink theme. This is the bluest dessert café around with instagrammable desserts and a playful interactive interior with physical props for the picture perfect shot in store.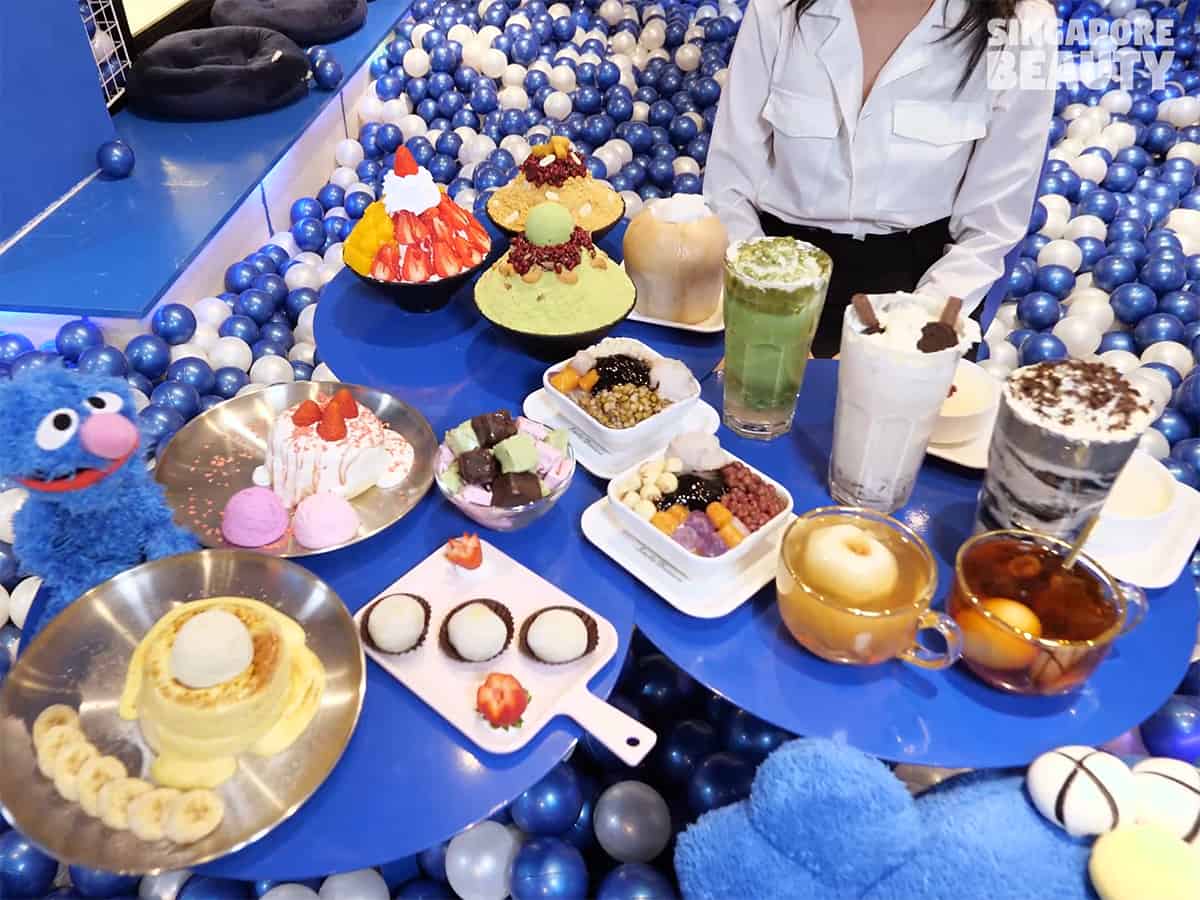 Smile Dessert has added 20 new additions to their dessert menu for this newly opened second branch with a blue theme at Grid. The new additions to Smile Dessert menu are ginger steamed egg pudding, double boiled egg custard, poached pear in rock sugar, red dates boiled egg soup, sesame milk tea, matcha milk tea, Oreo milk tea, coconut ice cream, matcha yogurt, strawberry yogurt, Oreo yogurt, soufflé with strawberry or brown sugar, taro and grass jelly combo, durian mocha and taro desserts.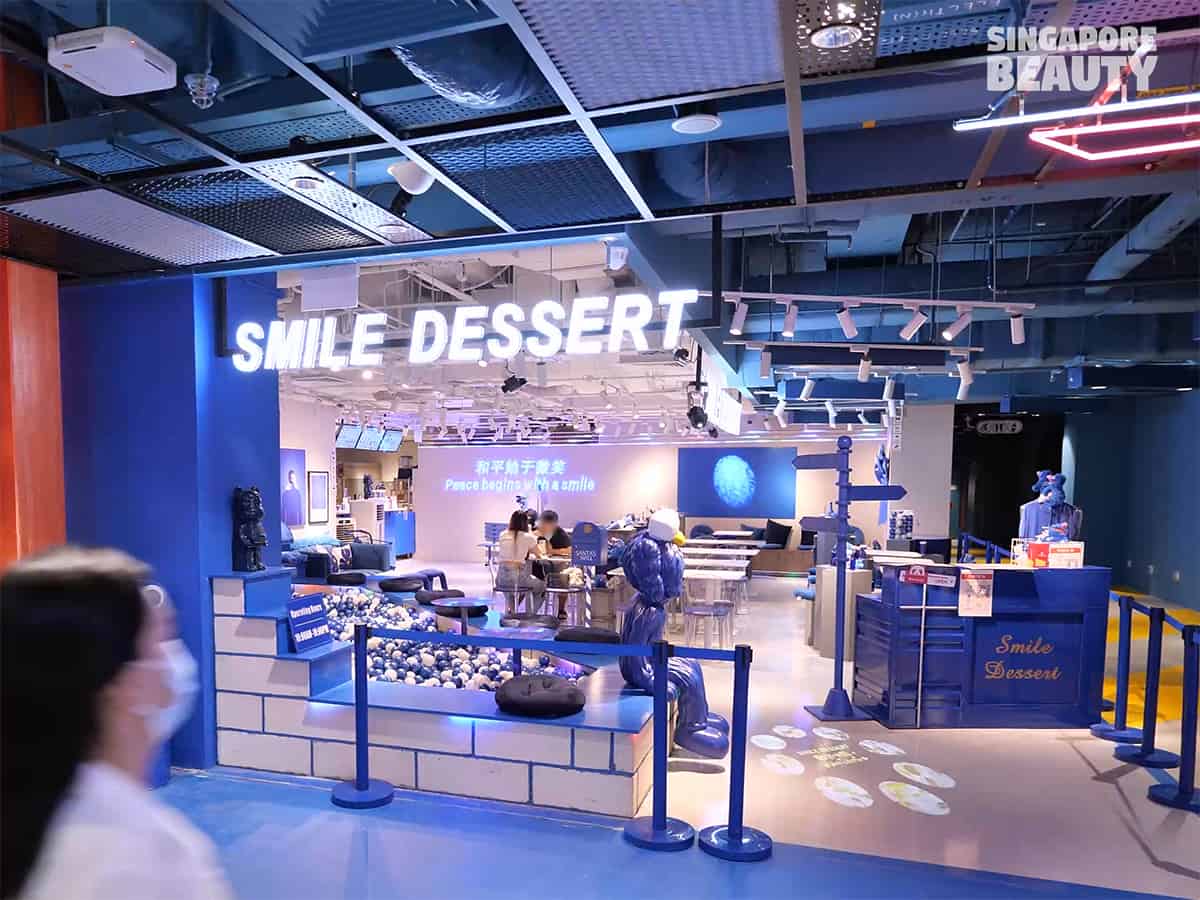 Smile Dessert is located at the basement of GR.ID with a striking blue outlook. Everything here is held together by this unique blue from the entrance with a blue reception counter, blue ball pit, blue mascots, blue sofa, blue trolley and blue wall picture. However, your Monday blue is going to be a lot sweeter with Smile Dessert. Pun intended.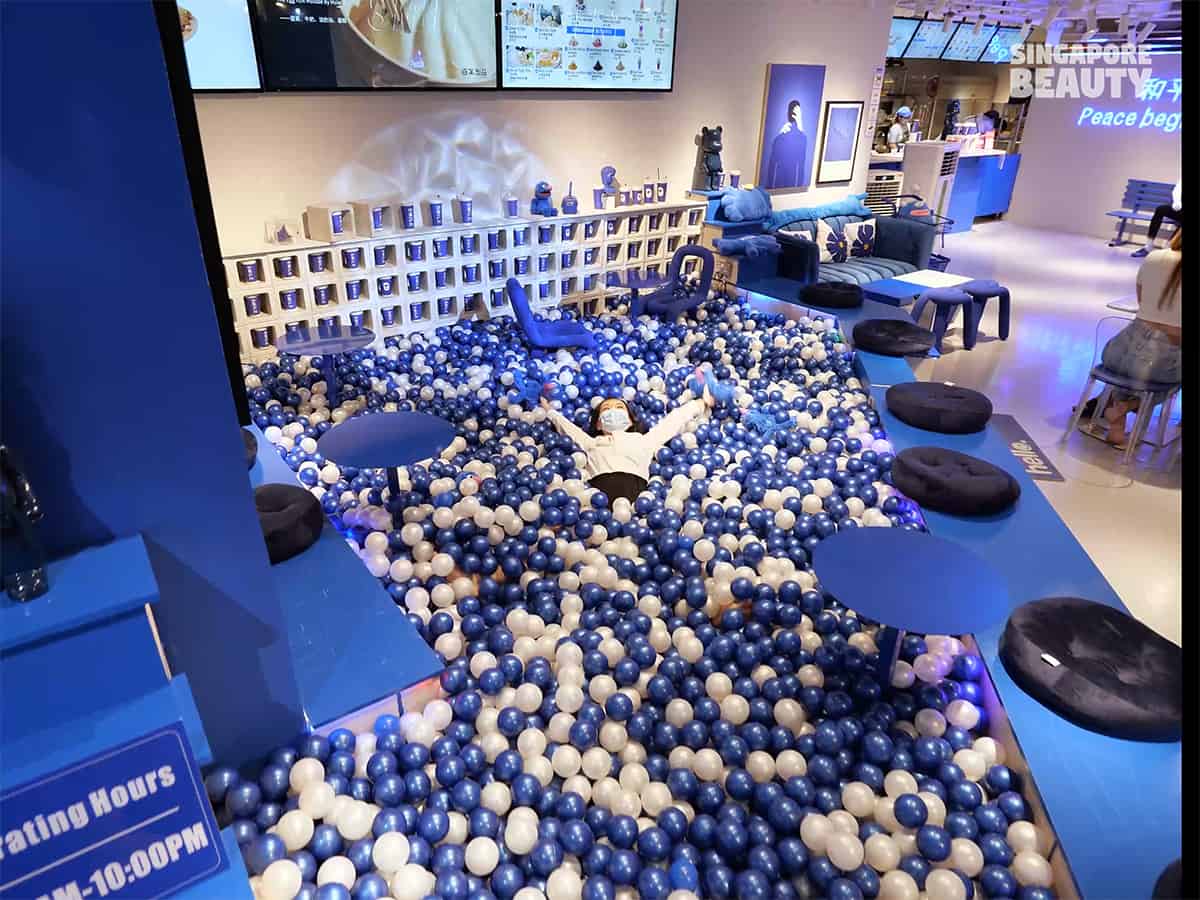 The entrance of Smile Dessert at Grid Selegie is flanked by a good size ball pit. You can reignite your childhood fantasy sinking into this pool of white-blue ball maze. Petite tables are randomly placed within this ball pit for you to snap some dessert with this as the backdrop. There are seat cushion placed around the pit if you decide to just sit and people watch while sipping on your desserts.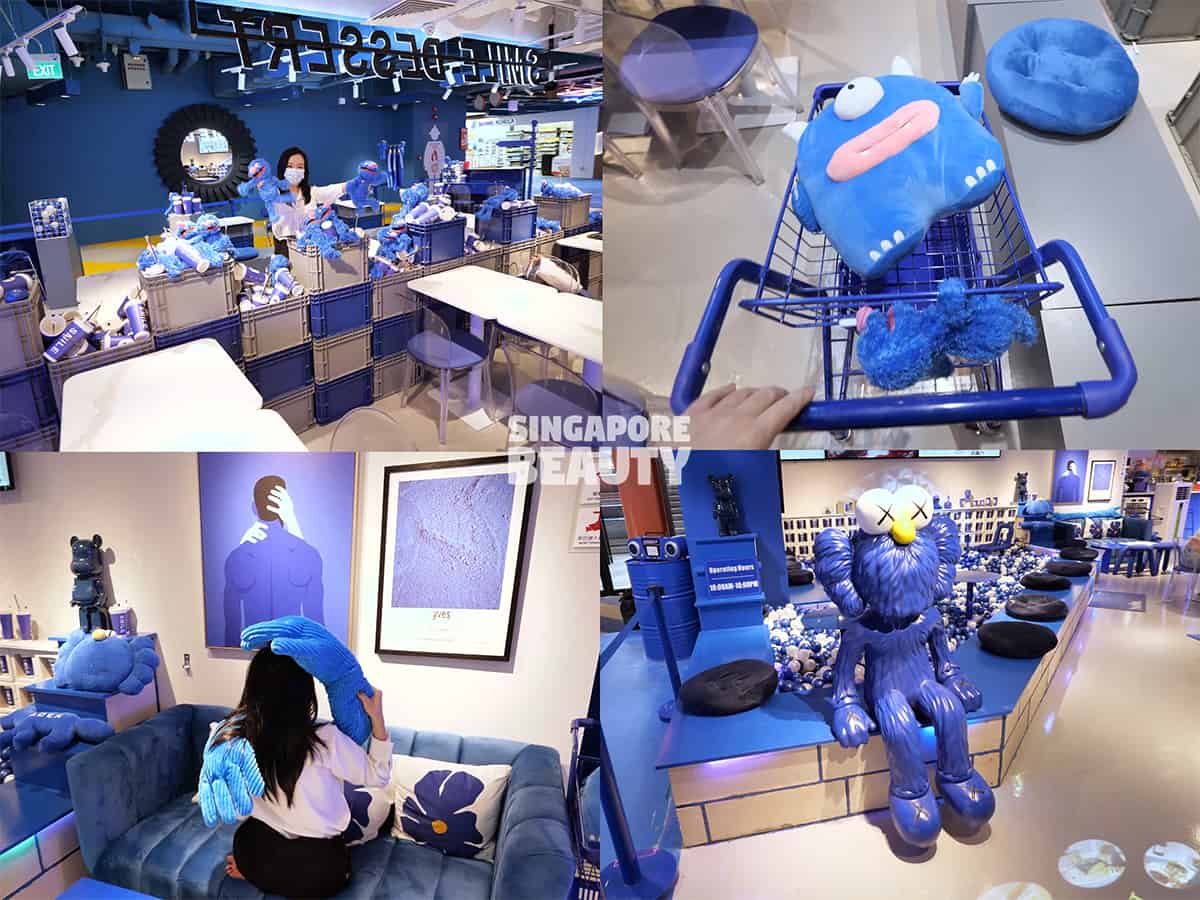 Here's a quick peep into the interiors and props that you can use to take some nice blue pictures. There are a few picture spots within this cosy basement blue dessert café. The center stacked box wall of Elmo cousins, the 2 seater sofa with 2 metre pair of cushion scarf like hands, the diver mannequin with a peace slogan, the deep blue mysterious ocean like projection on the bench seating wall with plushy twisted paper clip like chairs, the blue trolley with soft plushies, the huge mascot at the entrance, the Disney like entrance counter with road signs and the Santa mailbox.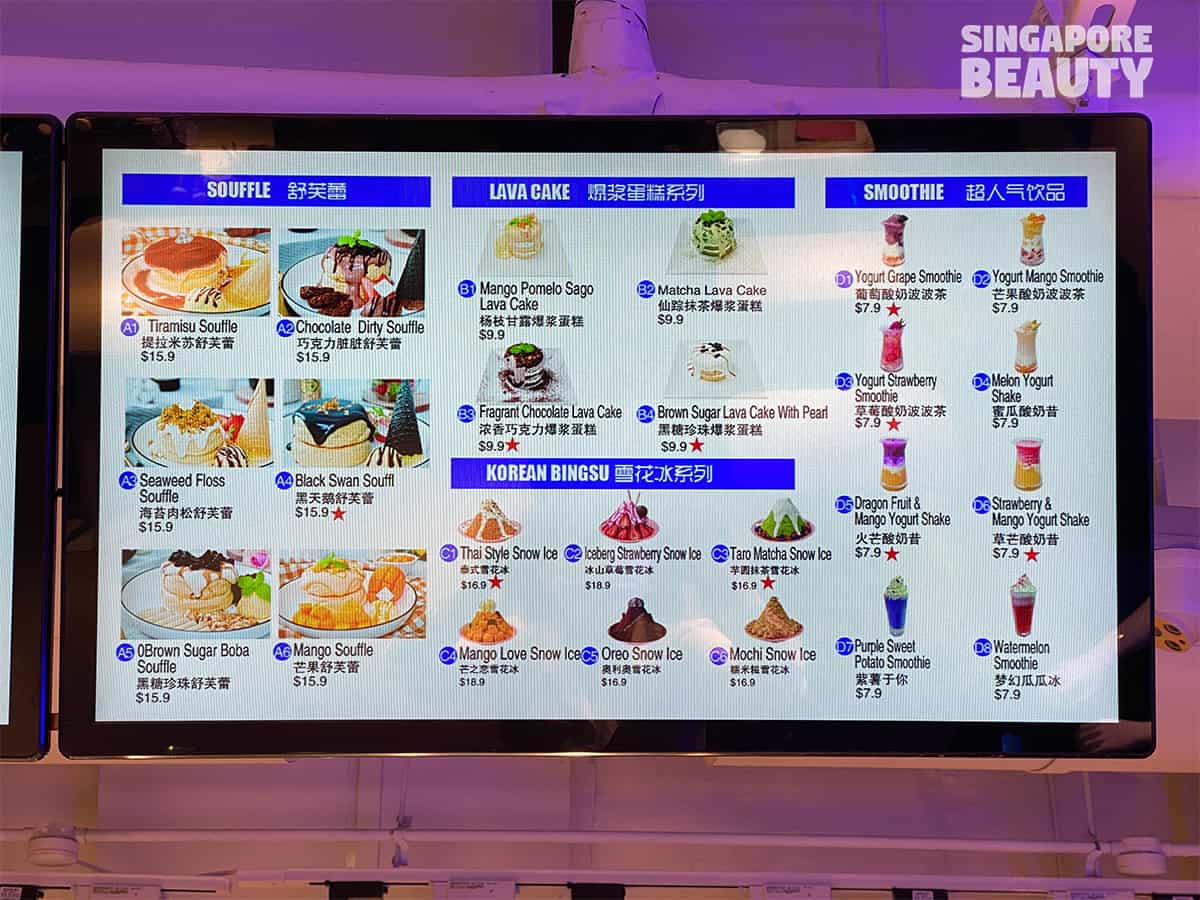 Before you start snapping away, do check out the dessert menu and make your order first. This hidden dessert place can get pretty crowded during peak hours. As with all handmade desserts, do allow for some preparation time for the desserts to be ready.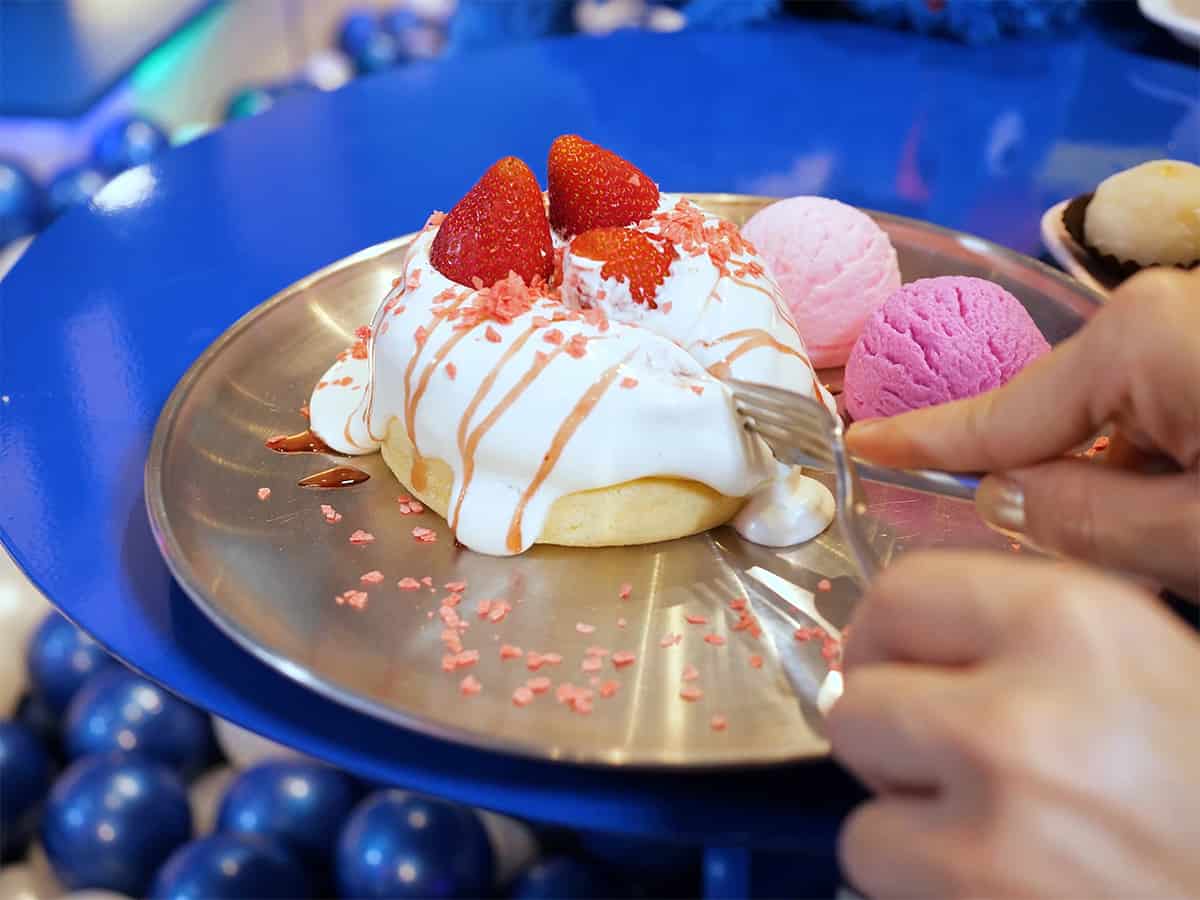 The Soufflés are prepared freshly in house with 8 selections. Soufflé available in Tiramisu, chocolate dirty, seaweed floss, black swan, mango, brown sugar, newly added strawberry and caramelised sugar flavour.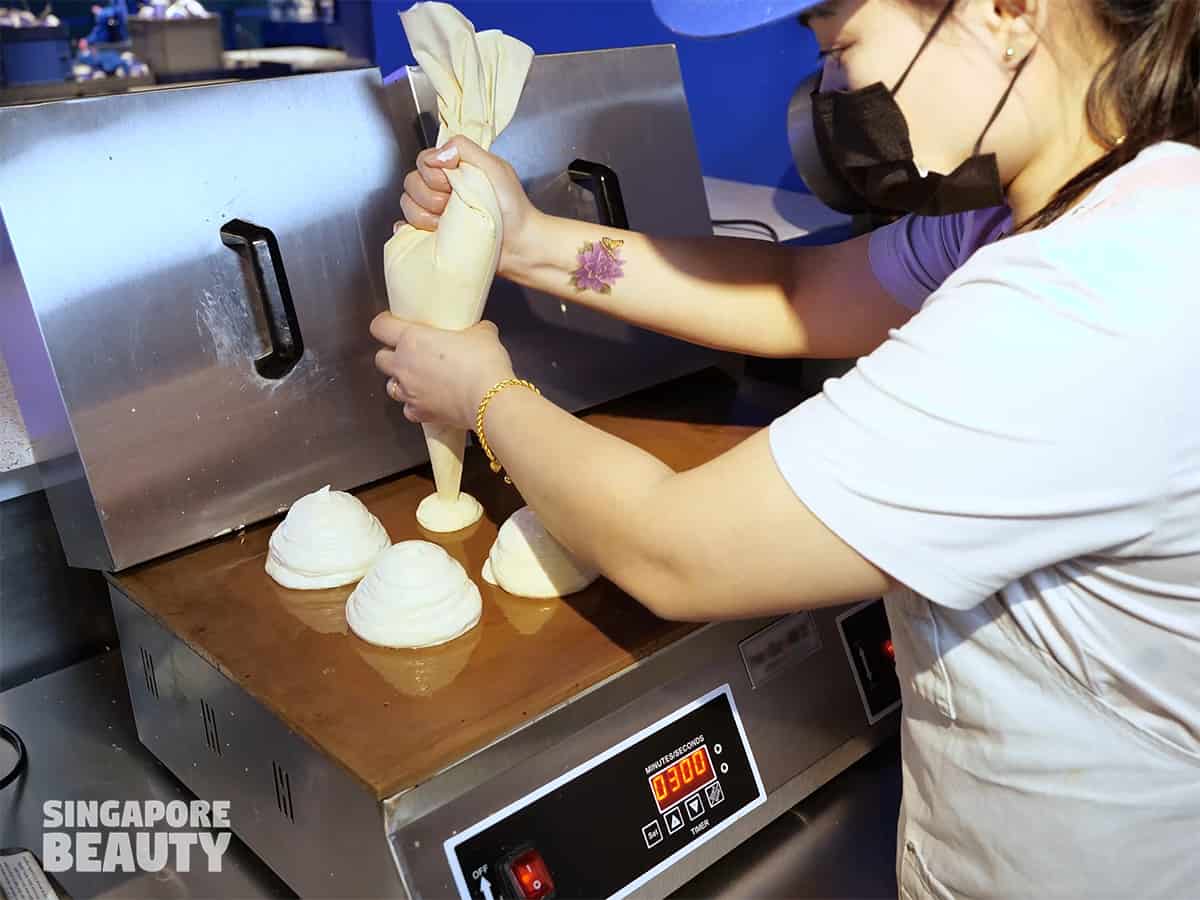 The pastry chef will cooked the soufflé from the stacks of whipped batter on a heated hotplate and cover to "bake" with the low heat from the hotplate. The batter is cooked on each side with a précised timing to achieve the perfect doneness and texture.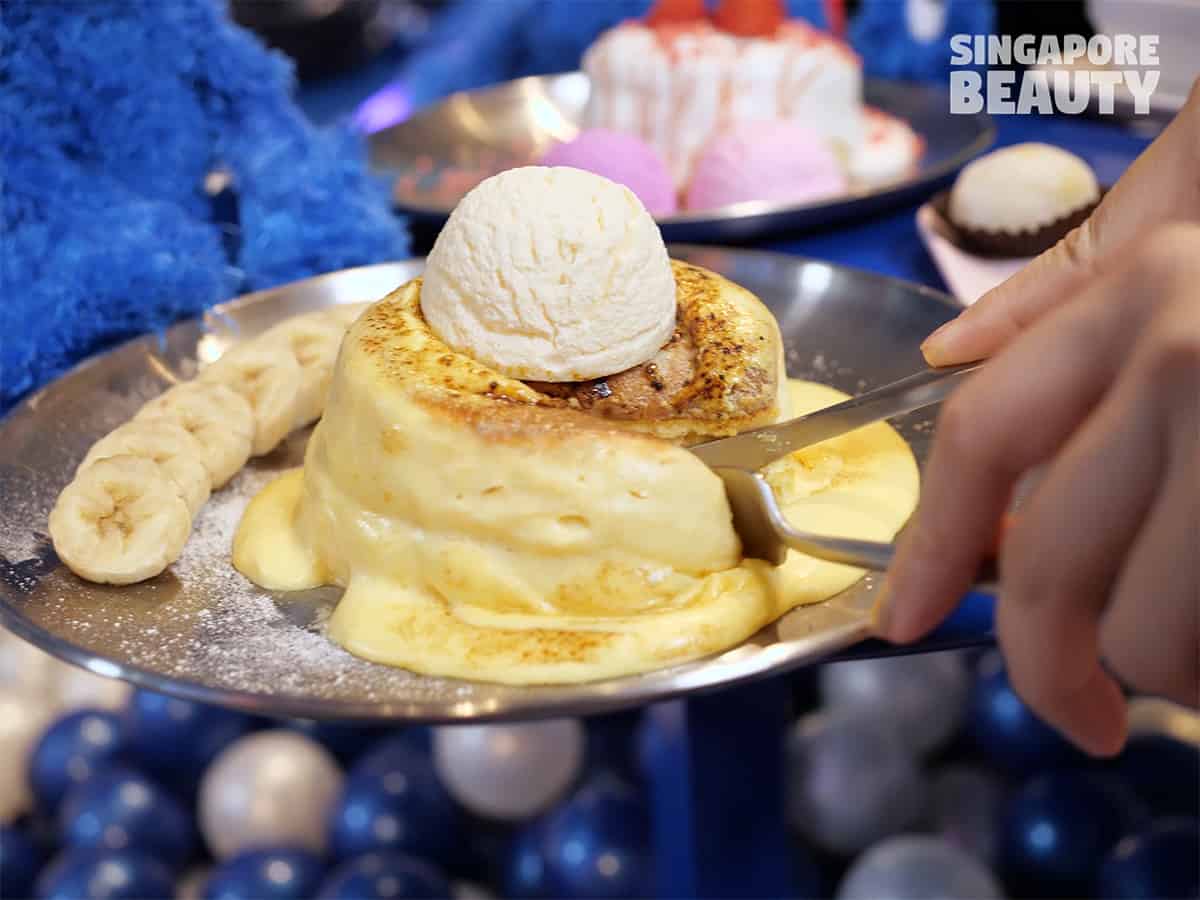 This is the newly added caramelised sugar flavour with a scoop of cold vanilla ice cream to contrast with the warm soufflé. The topping is a lightly browned sugared creamy custardy coat over the soufflé. Freshly cut banana to add some body to the airy and soft texture.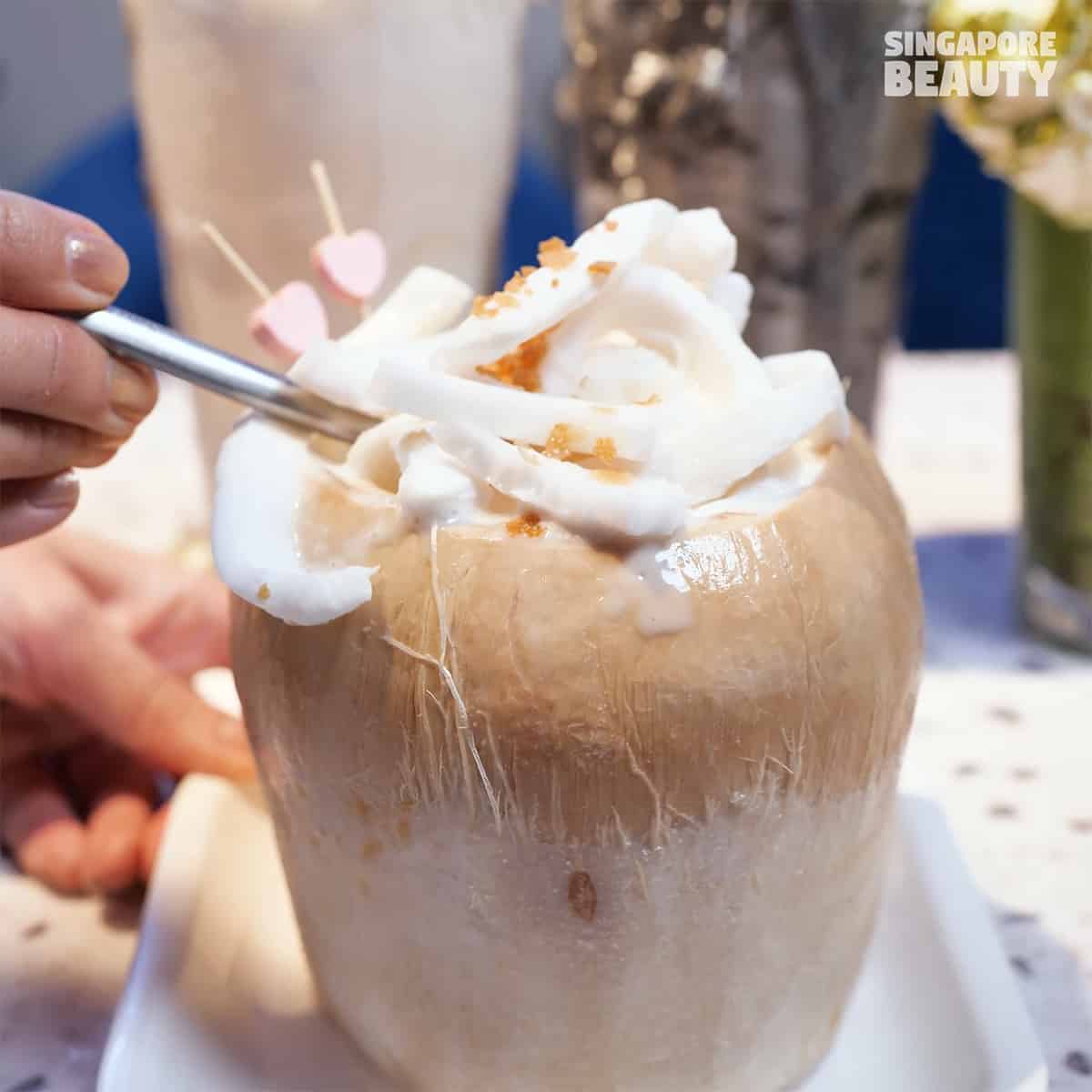 Coconut Ice cream in a shell – the pulp of the coconut is carved out and cut into bite size chunks atop a base of coconut flavoured ice cream in the shell. Some browned crispy bits are added as a finishing touch for some extra crunch.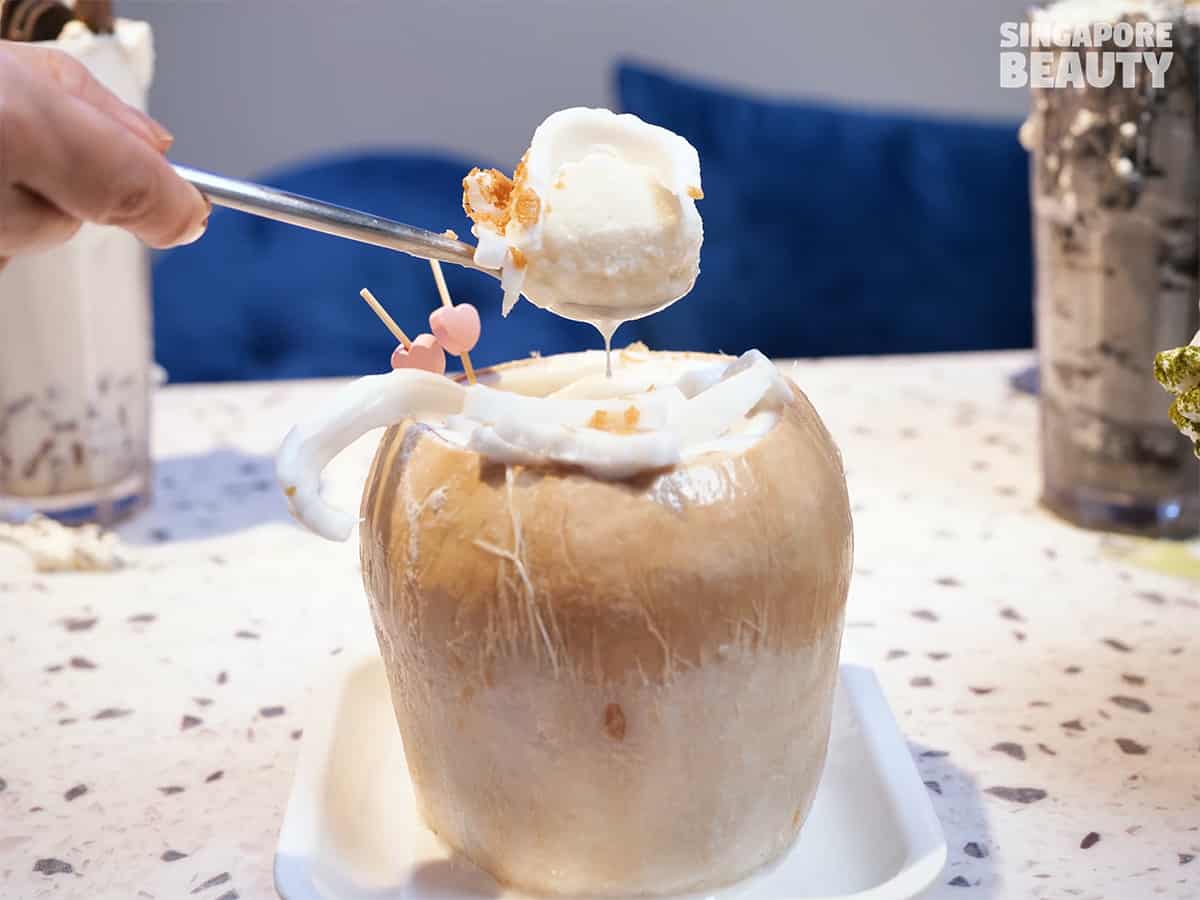 Mix the craved out coconut chunks with the creamy ice cream for an intense experience of milky coconut shiok-ness. Fans of Mr Coconut will probably love this zhng version of visible crunchy coconut pulp with the ice cream.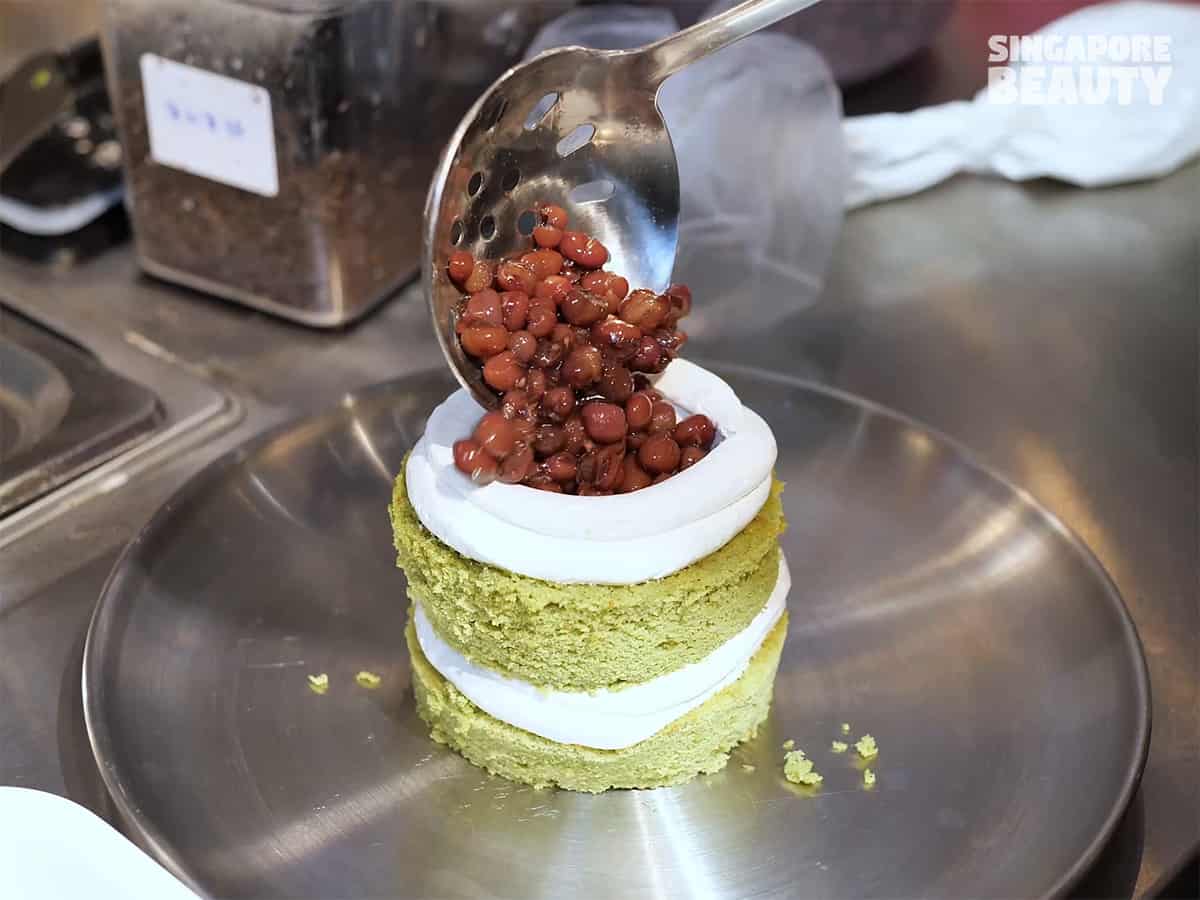 For those who are regulars of Smile Dessert, this is one of the signature instagrammable dessert on their menu. The Matcha lava cake – made up of layers of matcha sponge cake, whipped cream, chocolate crunch, layer of sponge cake, whipped cream, lot of sweet red beans and sponge cake again to complete the cake outlook.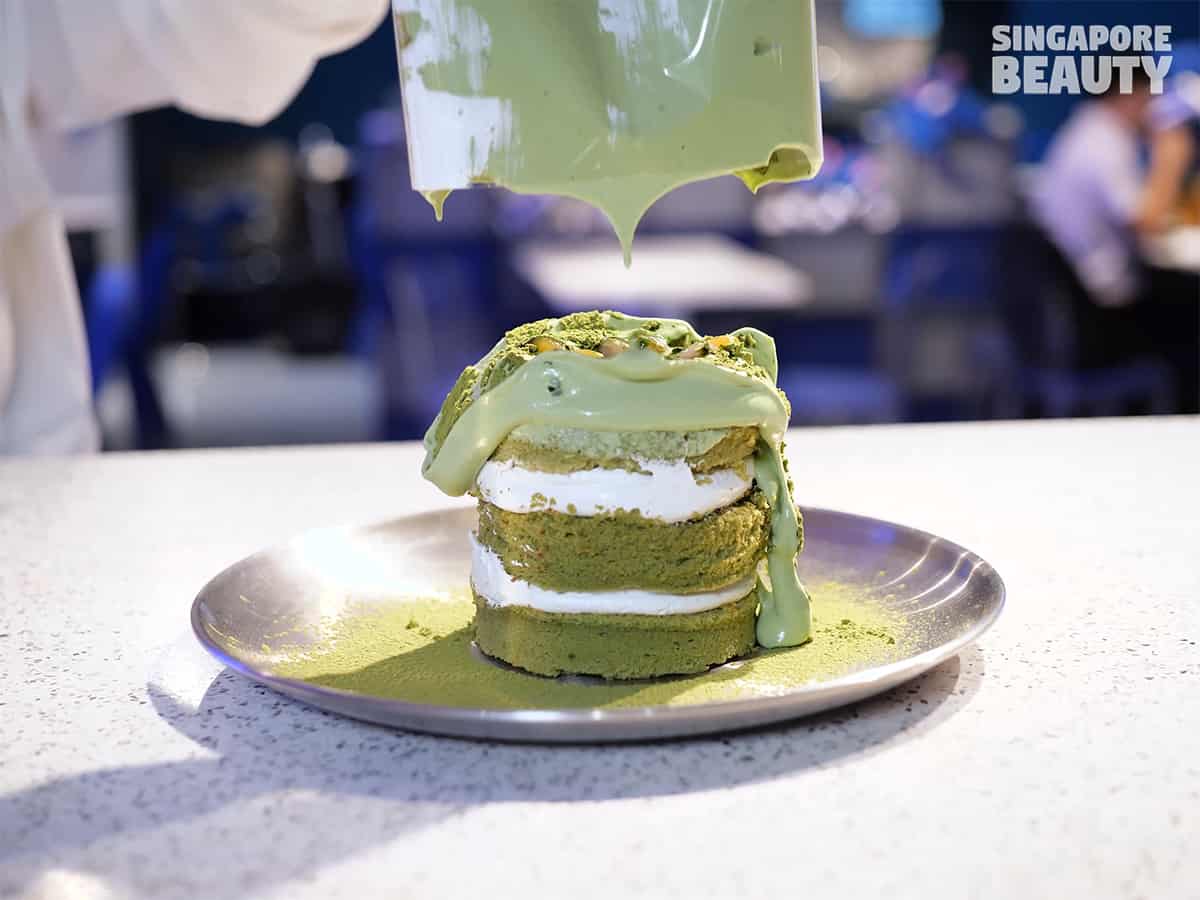 The handmade layered cake is then wrapped tightly with a clear food grade clear film to form a cylindrical top to hold the lava. The cake is then piped with Matcha flavour lava cream and chewy mocha balls. To enjoy the cake, lift up the film and watch the lava cascade over the cake. Capture this moment for your gram!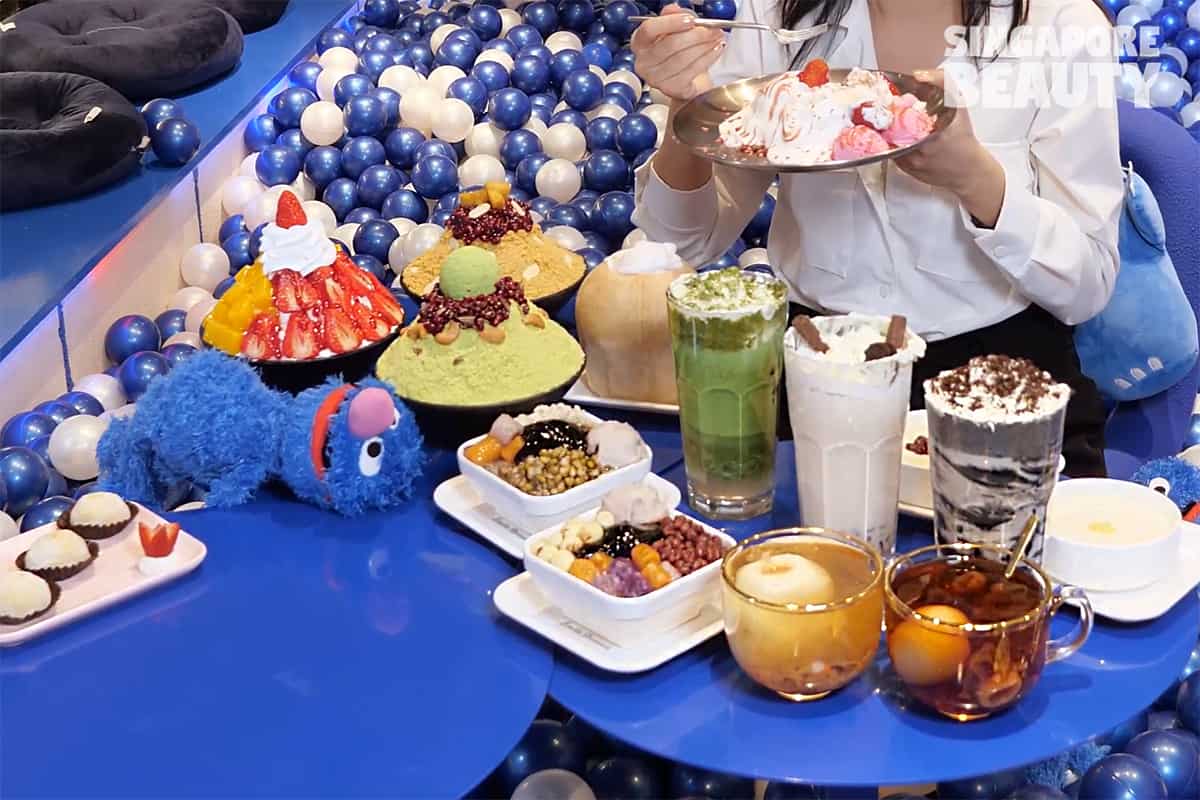 Here are the few sneak peek of the items on Smile Dessert new menu. From matcha yogurt cubes, trio combo of matcha, strawberry and oreo chocolate coated yogurt cubes, yogurt smoothie, steamed egg pudding with ginger and double steamed egg, mochi with msw pulp (seasonal & limited), taro & grass jelly bowls with real taro paste to smoothies.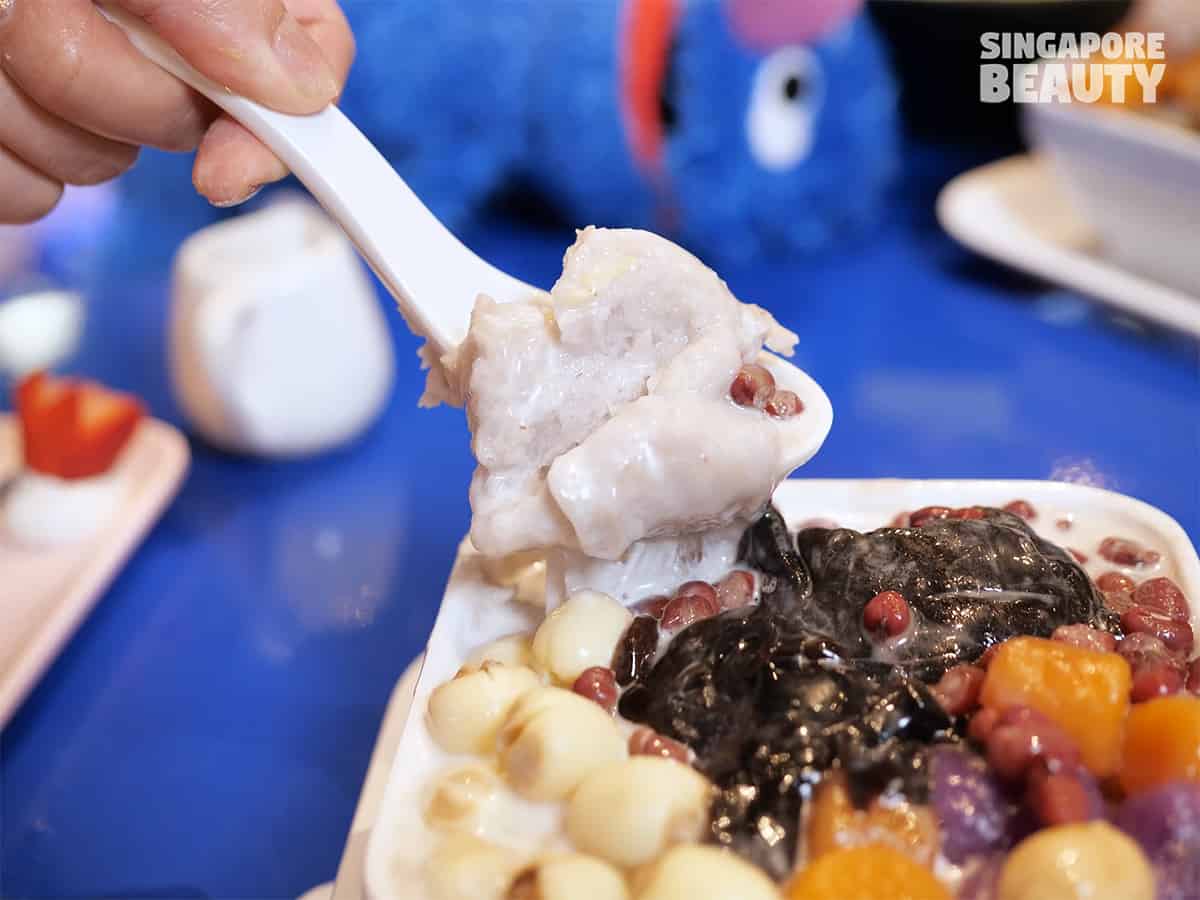 The Taro and Grass jelly bowls are traditional desserts added to their new menu. For those who are looking for Taro paste desserts, they are available in 4 combo. The taro is mashed and blended to form a velvety sweet paste, served as a ball on these dessert bowls. The ingredients used are lotus seed, chewy taro balls, milk balls, black pearl, sweet potato paste, taro paste, grass jelly, red beans, green beans and barley pearls using up to 5 in the combo in a chilled milky base. Mix them well to enjoy!
See you there at Smile Dessert at Grid located in Selegie Road, Orchard. The wide variety of dessert selections and picturesque interiors are the reason for their regular fan base. The price of the Smile Dessert range from $5.90 for a milk tea to $18.90 for a Bingsu Snow Ice. After getting your shopping needs at the Dhoby Ghaut shopping mall, be sure to head over to this dessert place for a sweet end to your day!
Special Promo: Quote SingaporeBeauty to redeem a mango sago with pomelo or a Thai milk tea with minimum $18 spend for a limited time only. Call them for more details.
Address of Smile Dessert :
(Blue Themed)
1 Selegie Road, #B1-12, GR.ID, S188306
Call: 6518 9060
Opening hours : 12pm-11.30pm daily
(Pink Themed)
534 North Bridge Road, #01-01, S188749
Call: 623207801
Opening hours : 11am-6am daily
(White Themed New Outlet opened on 21 Feb 2022)
Funan Mall,107 North Bridge Road,
#02-03, S179105
Call: 65184498
Opening hours :
Monday- Thursday 12pm-10pm
Friday-Sunday 11am-10pm
Brought to you by Smile Dessert