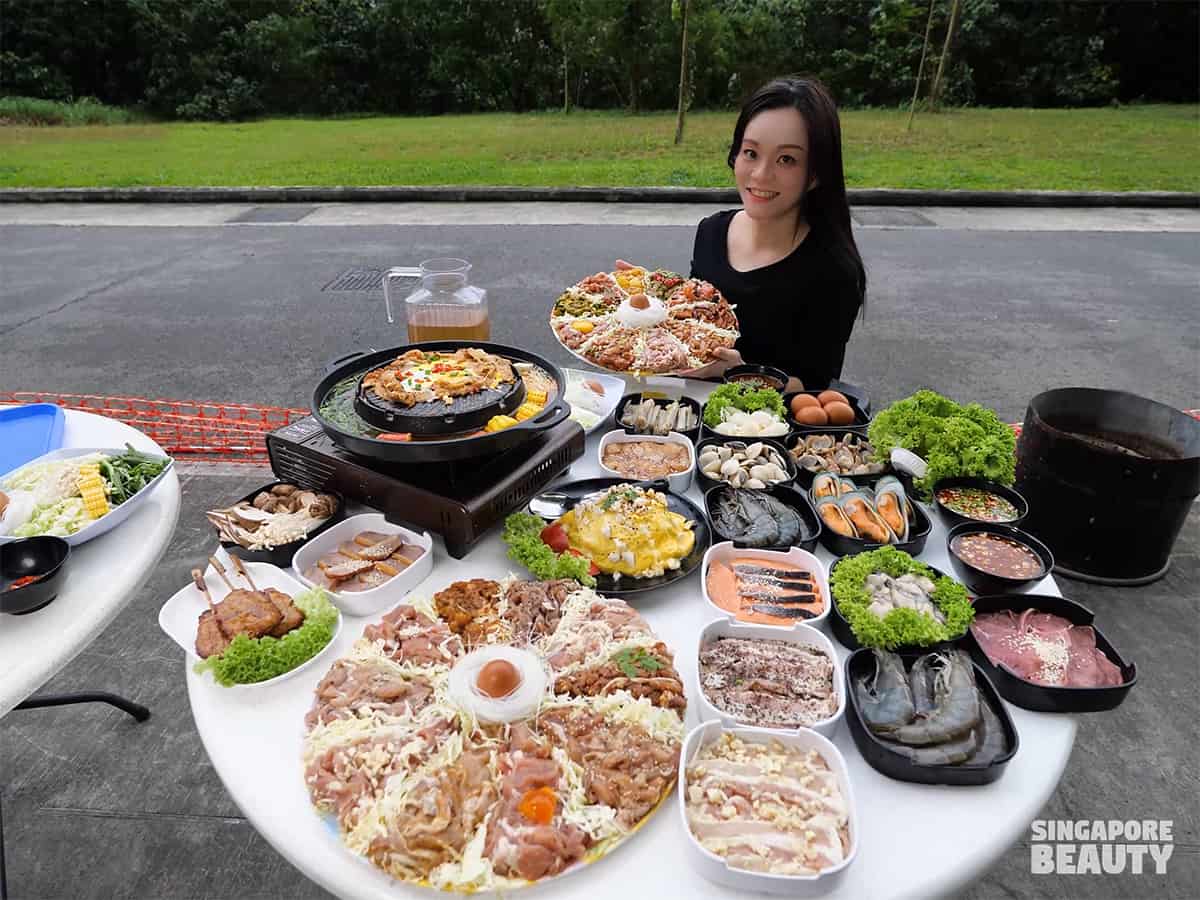 Ja Kin Mukata has opened a new outlet near Kranji specialising in mookata and Thai food. However, Ja Kin Mukata is no new comer to the F&B scene of mookata, they are into their 6 years in serving popular mookata at their Yishun Ring Road branch. Ja Kin Mukata new outlet is located in Carros Centre at Jalan Lam Huat.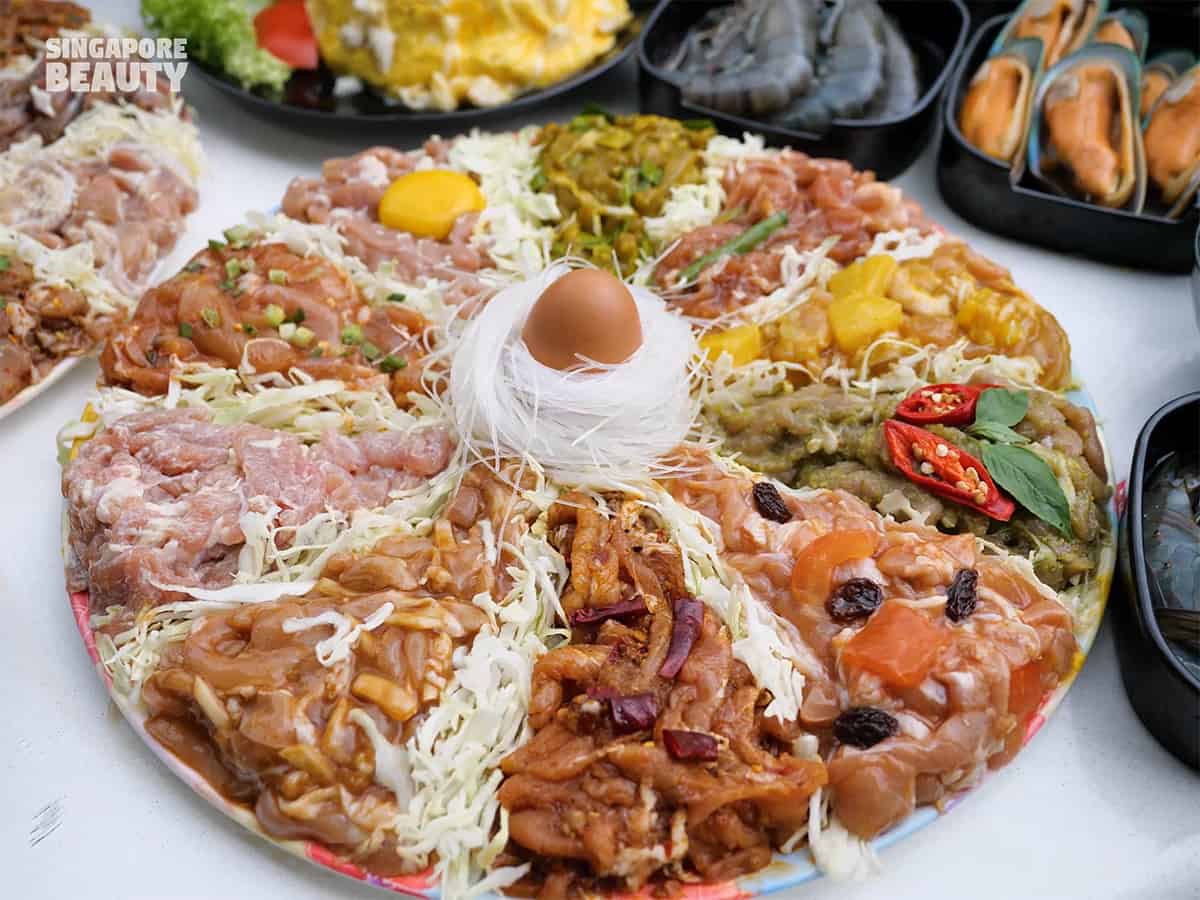 Ja Kin Mukata menu consists of XXL mookata platter and veggi platter that feeds 3-5 pax priced at $53.80 nett. This set comes with 10 customized marinated chicken or pork flavours of your choice. Their chef recommended flavours are Thai curry chicken, tom yum chicken, basil chicken, garlic pork, salted egg pork, black pepper pork, Thai spicy pork & mala pork. The veggie platter consists of 5 types of greens, an egg and glass noodle. They also have a set platter and veggi platter that feeds 2-3 pax at $35. For those who are not into platters, you can also do ala carte ordering starting from $5.80 for marinated meats. Do note that there is a minimum spending of $28 nett per table which includes soup base and usage of gas stove. The prices here are nett and the portion sizes are reasonable and good for sharing.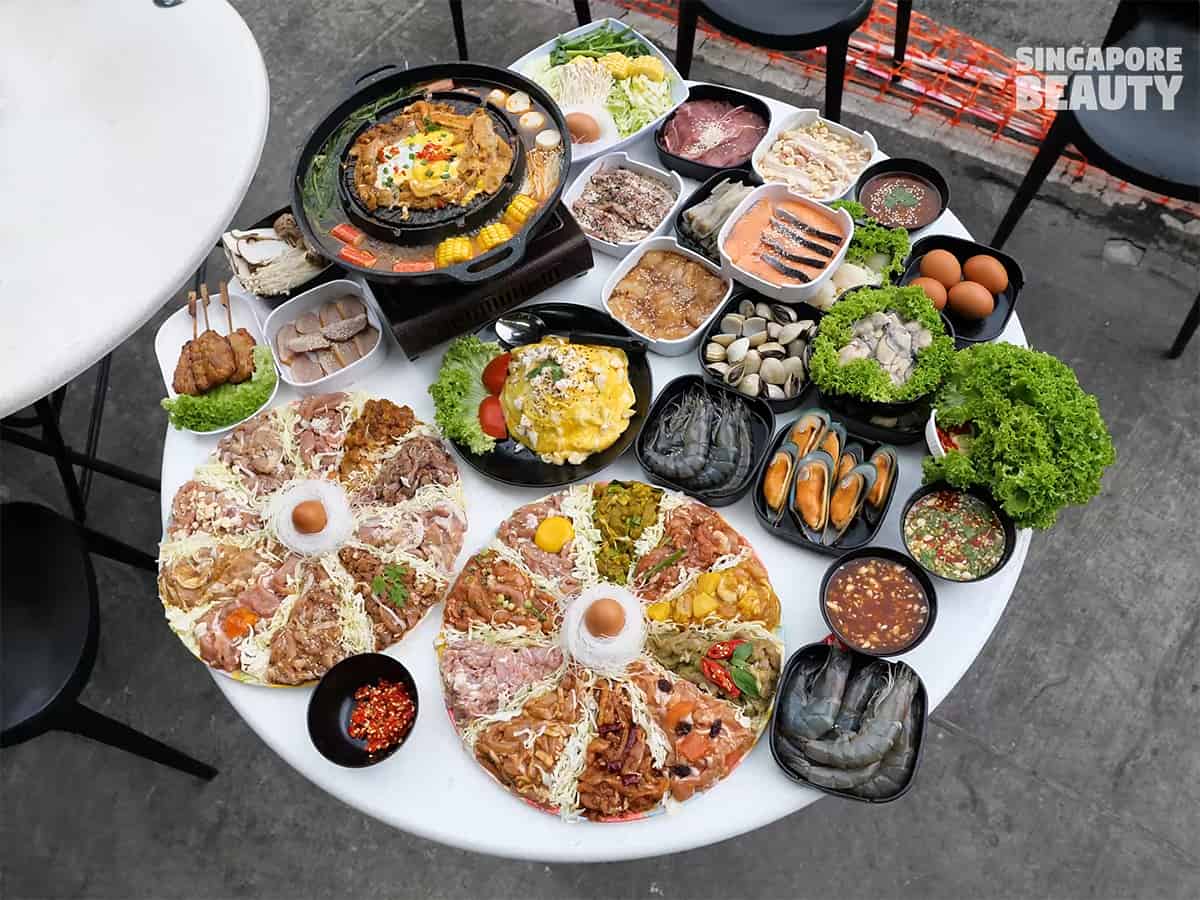 This mookata is helmed and cooked by authentic Thai owner who loves to cook. The chef and her crews speak fluent Thai, it is a mookata with a strong Thailand vibe. You can see them enjoying the preparation and cooking process while swaying to some background Thai music. Enjoy the best of both worlds with steamboat and BBQ with mookata at Kranji. They are situated in Sheng Yuan coffeeshop with spacious indoor and outdoor seating. Their outdoor seating is next to quiet back alley driveway and a stretch of natural trail with blue sky. Here are the spread that is recommended by the chef.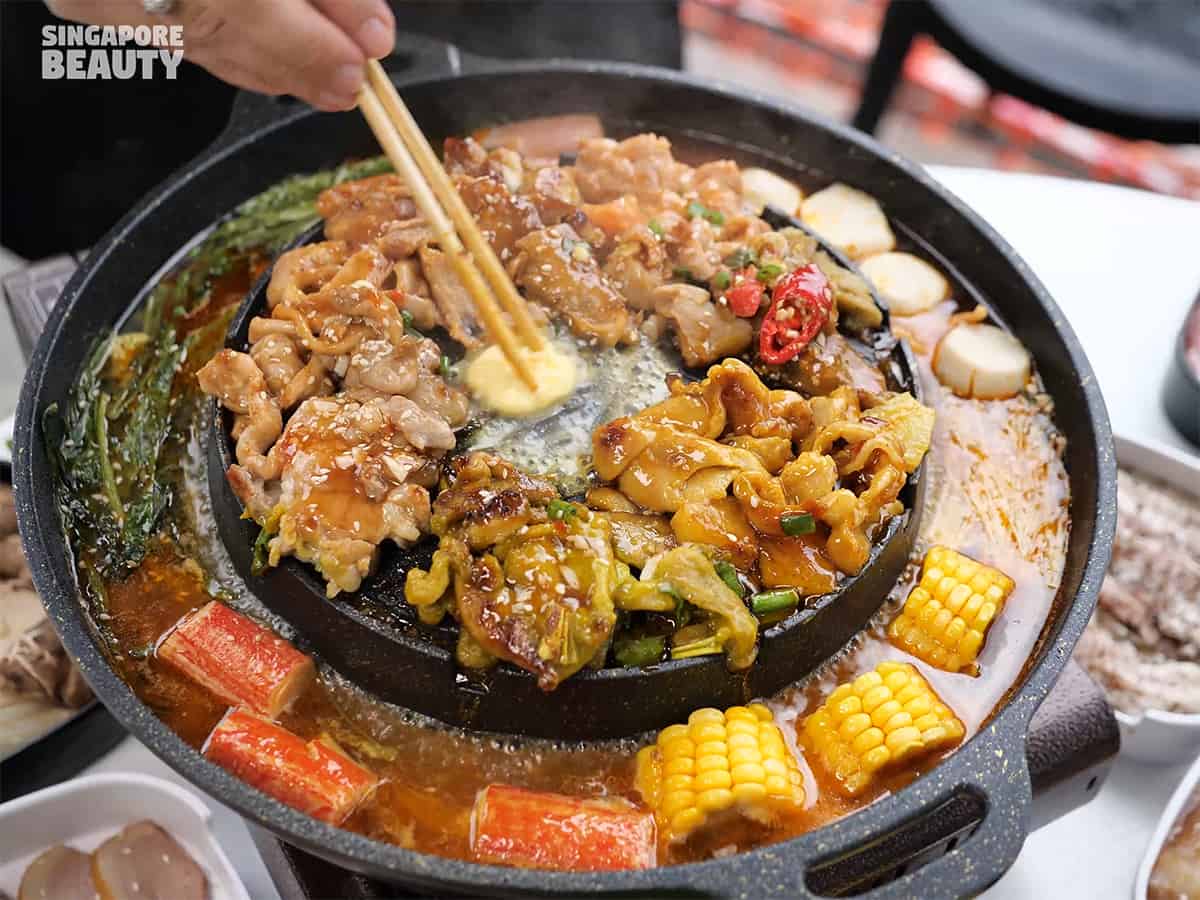 XXL platter with 10 flavours of marinated meats: the top 10 flavours that we think are unique in this mookata are Pad Thai, Pandan, Pineapple, Green curry, Tomato, Garlic, Sesame, Salted egg, Mala pork and Laksa. The meats available are chicken, pork and beef with selected flavours. They also have traditional marinated meats in flavours such as black pepper, teriyaki, basil, tom yum, Thai spicy, butter, Thai curry, kimchi and bbq that are essential in a Thai mookata. For those who prefer non-marinated meats, they also have them in sliced chicken, sliced pork, pork belly, liver, smoked duck and sliced beef. With 60 marinated pork, chicken, beef, you will be spoilt for choice.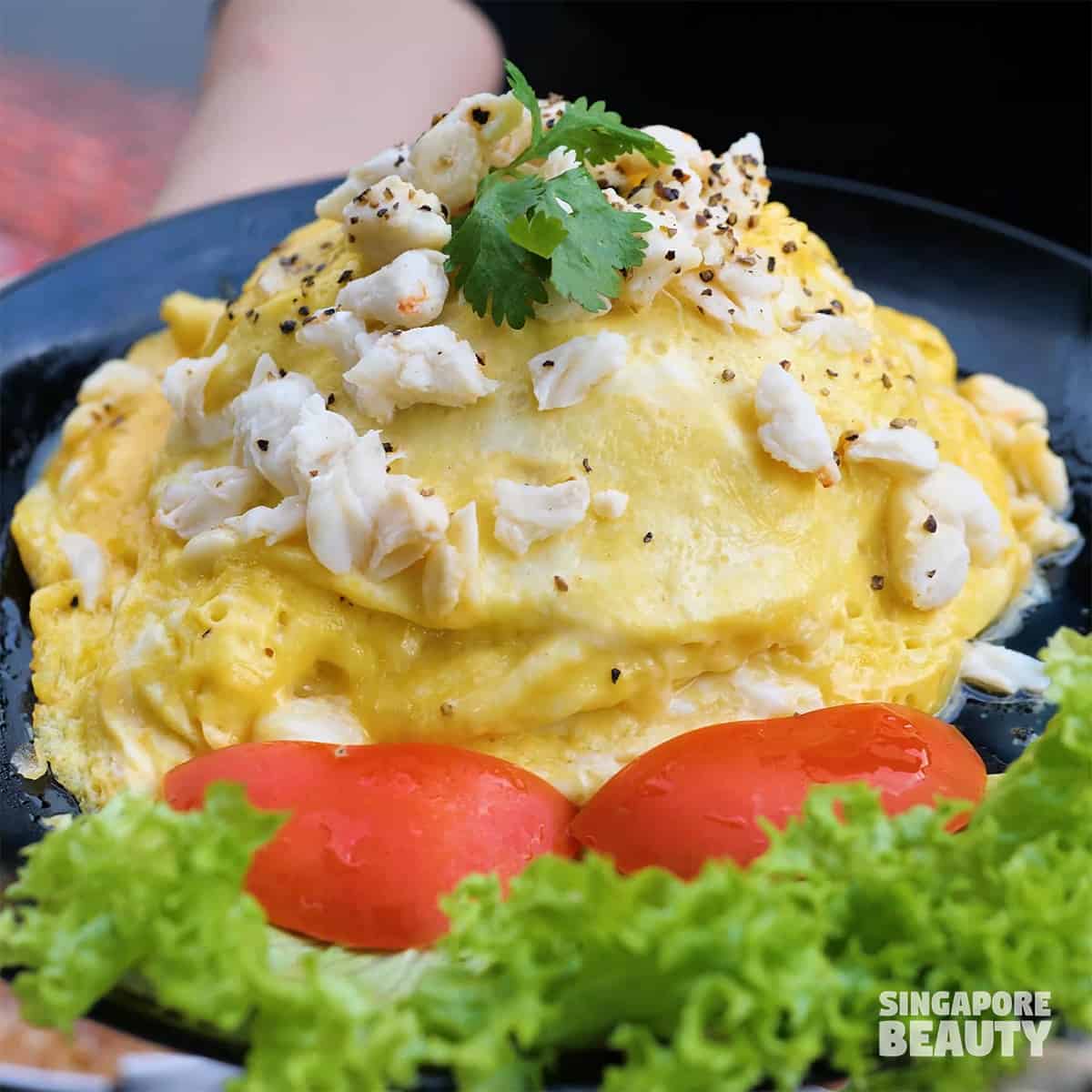 They also have 28 type of Thai food from $5-10 nett each, such as their popular crab meat creamy omelette with rice for those who wants a quick meal of lunch or dinner. The Thai food menu includes tom yum soup with noodle/rice, mango salad, pad Thai, basil pork rice, mama salad, fried mama pork, green curry, pineapple rice, moo ping and more. If you are looking for cheap Thai food at coffeeshop prices at Kranji, you need to try Ja Kin Mukata Thai food.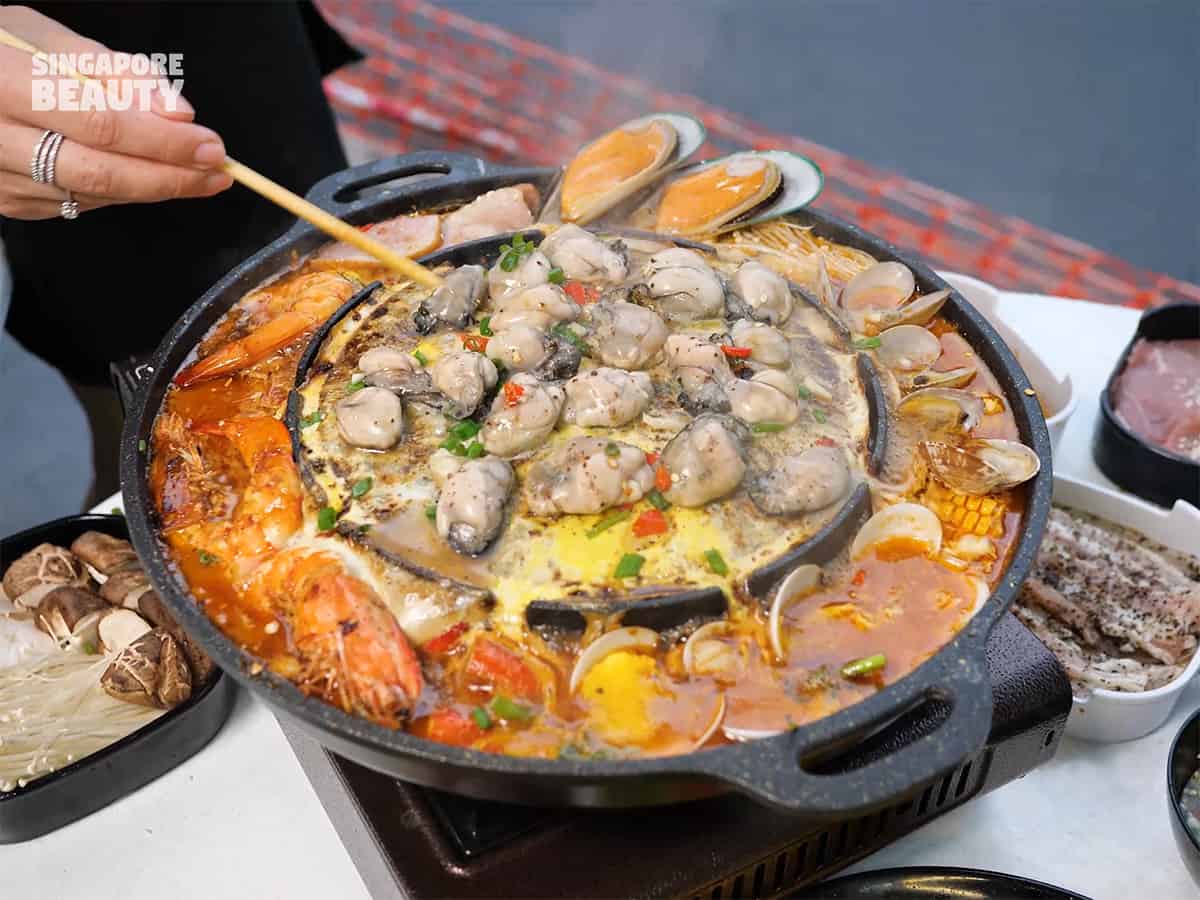 For seafood lovers, Ja Kin Mukata also has a good variety of seafood. They have 14 types of marinated and non-marinated seafood starting from $5-12. The seafood at $5 per plate are fish slices, teriyaki fish, tom yum fish, squid, bamboo clams, lala, abalone slice (mocked) and flower clams. The other seafood are salmon slices($6), prawns($6), tiger prawns($8), mussels($8), oysters($8) and scallops($12). They are generous with the seafood servings, large mussels, fat oysters, XL prawns, thick cut salmon and big chunks of fish for that price range.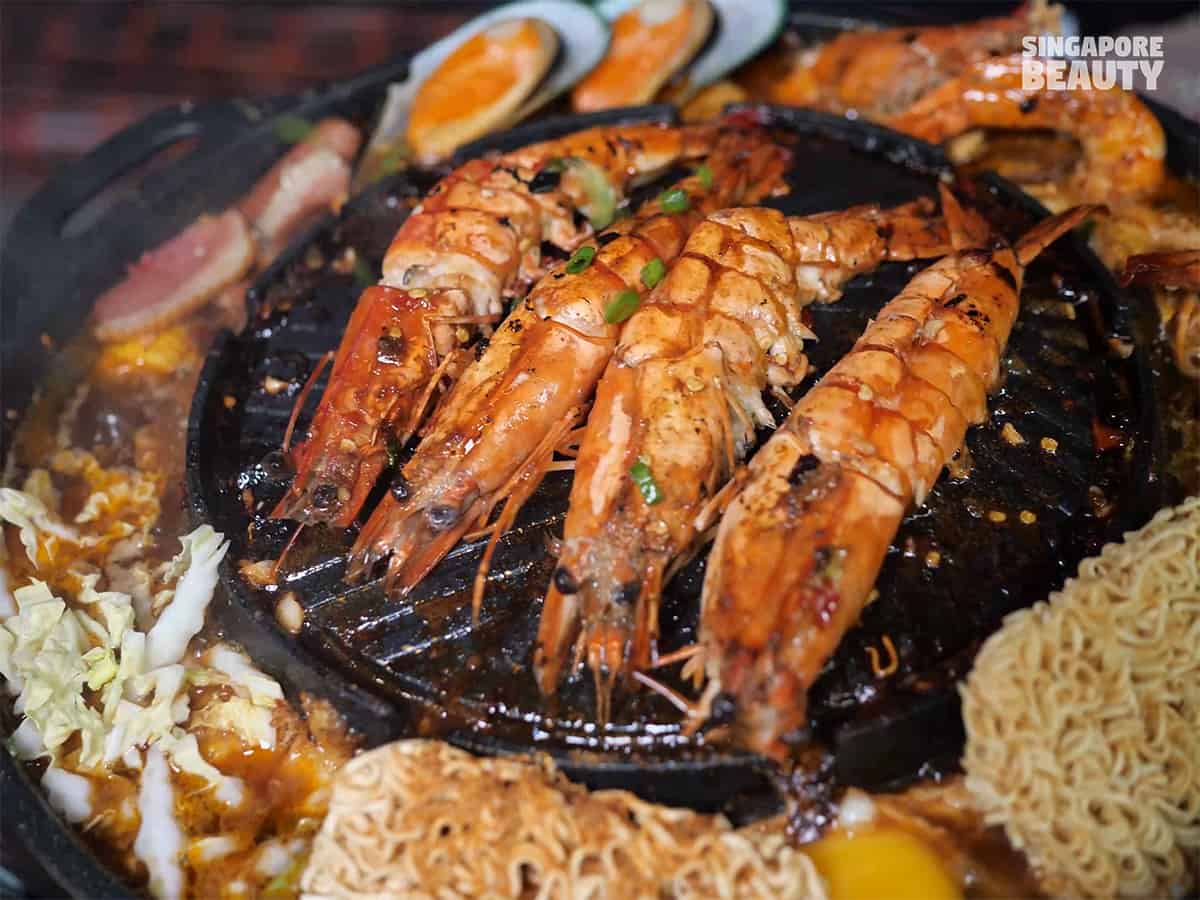 The owner of Ja Kin Mukata prides themselves with using fresh XL prawns from the market instead of frozen one for their mookata. They have received favourable feedback from their regulars after using fresh market prawns compared to the frozen ones. We notice that the prawns are larger than normal ones and the owner comment that they bought XL prawns instead of the regular size. Check out the size of the prawns for scale in comparison to the grill of the mookata plate. These prawns are large enough for you to enjoy some decent head butter and are best grilled with their add-on sides of SCS butter cube.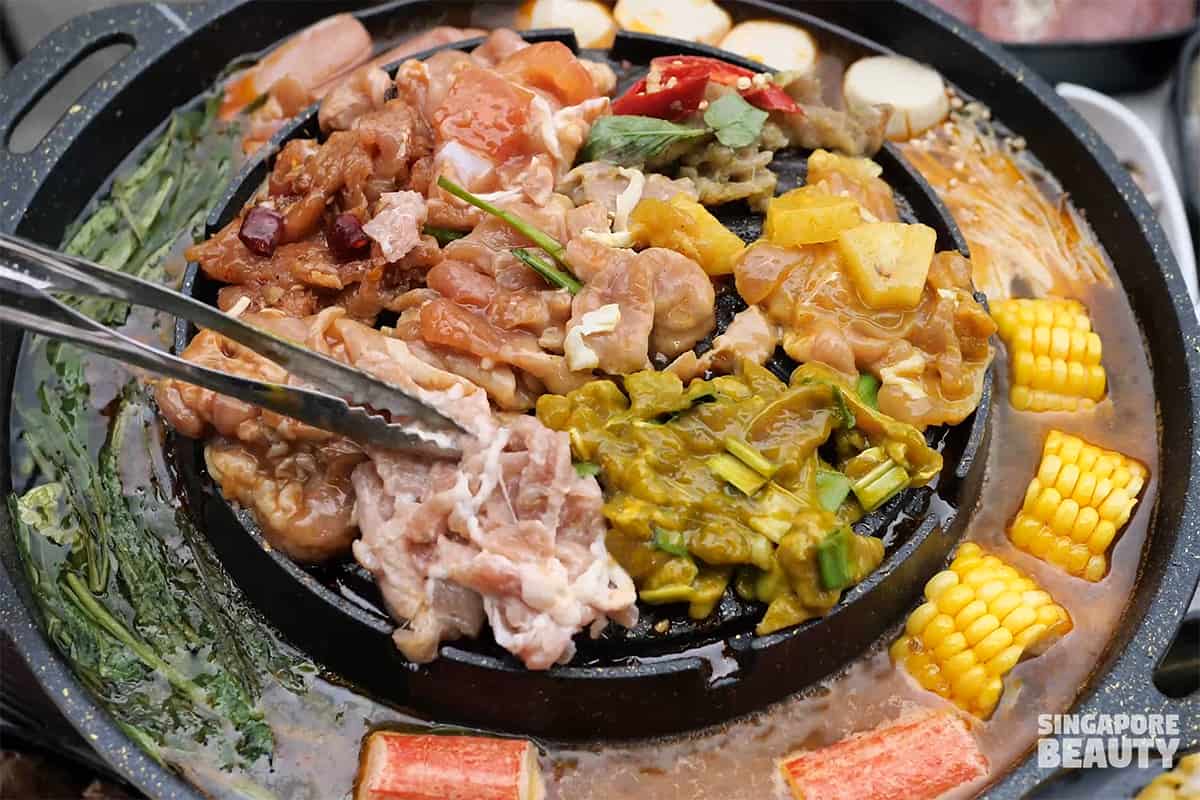 The pandan chicken has a familiar flavour like those chicken ketupat starters in Thai cooked food with a subtle sweet vanilla flavour and more tender. The pad Thai chicken also has a sweet undertone with a caramelised crust after grilling. The mala pork is spicy with a roasted smoky flavour released by the speckles of red dried chilli pepper during grilling. The pineapple chicken has a refreshing sweet tangy to it like toppings in a Hawaiian Pizza. For non-adventurous mookata eater, you probably will love their traditional Thai mookata marinated meat flavours such as garlic pork, black pepper beef, sesame pork and more.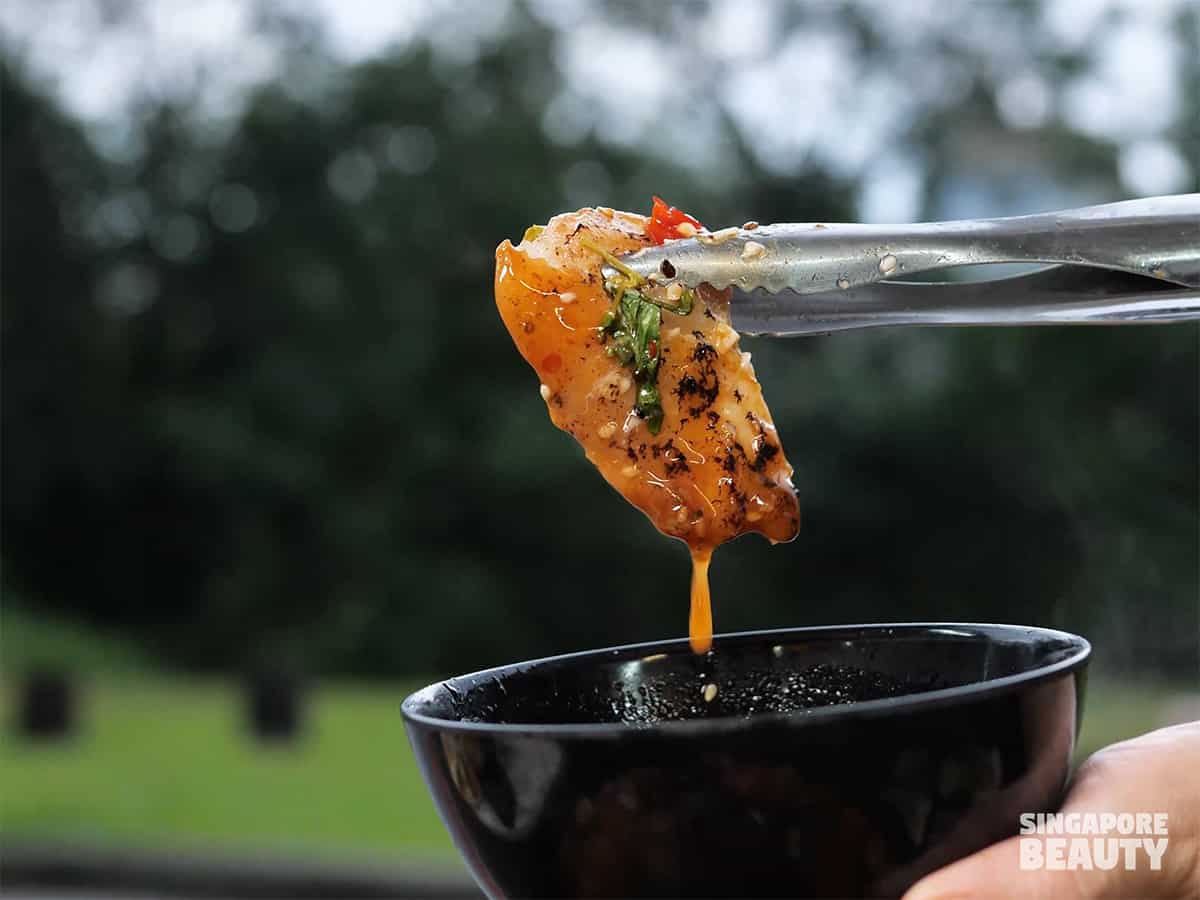 They have 3 signature dips Thai Garlic chilli, Thai seafood chilli and Thai sukiyaki sauce. Enjoy some sweet, spicy and garlicky, sour dips to go with your grilled meats and seafoods. These are also available for sale in 300 ml sauce bottles at 3 for $28. These are the chilli sauce that they used to dip the Moo ping in.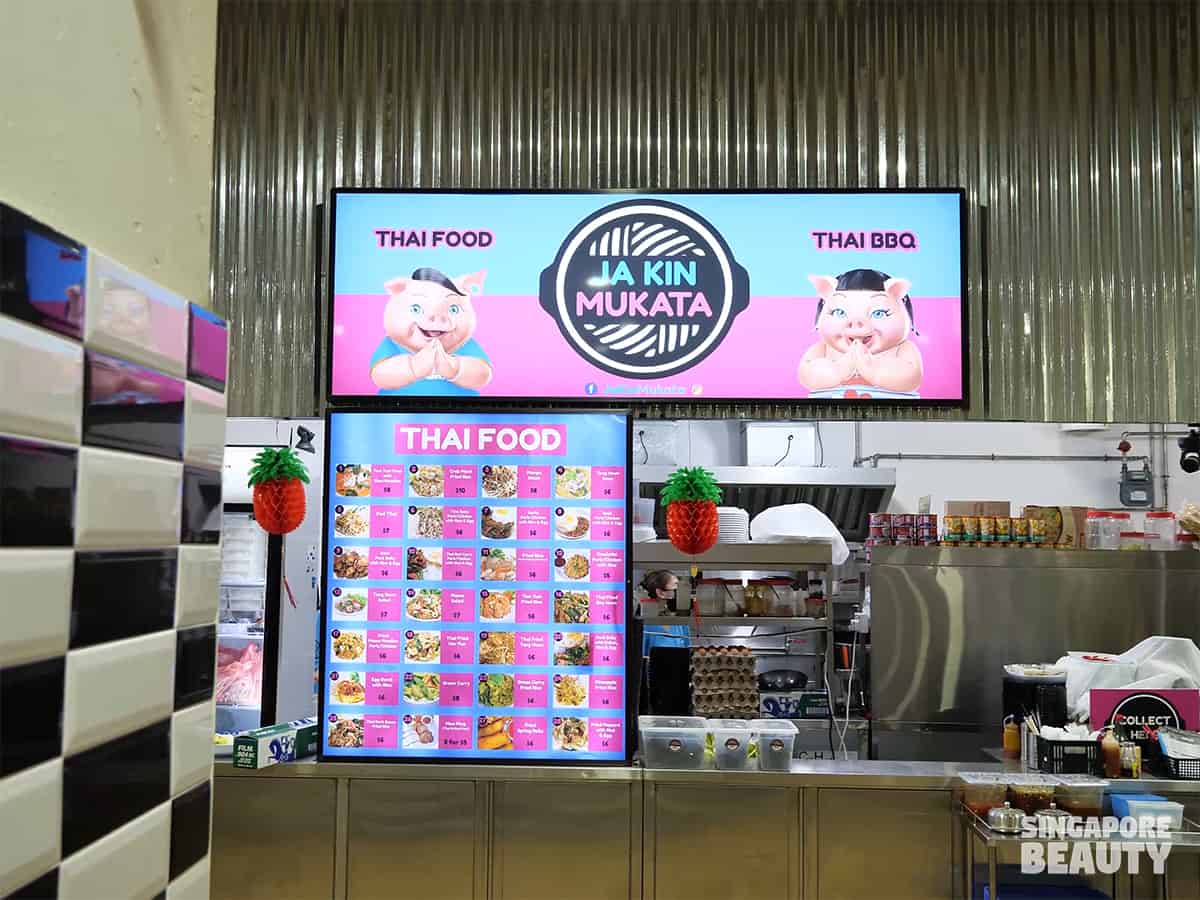 Ja Kin Mukata specialized in XXL marinated meat platters mookata located in a coffeeshop in Kranji with spacious indoor and outdoor seating. For those who are driving, there are plenty of parking space and parking is free. For those on public transport, you may take their free shuttle bus service from pick-up and drop off point at the Kranji MRT station, same side under the bridge. The time table of the shuttle bus to Ja Kin Mukata at Kranji are weekday at 5.05pm, 5.25pm, 6.05pm,6.10pm and 6.15pm. Head over now!
Address of Ja Kin Mukata:
60 Jalan Lam Huat #01-14/15
Carros Centre, Singapore 737 869
Free parking and shuttle bus service
Opening hours : 12pm to 11pm
Monday to Saturday
Sunday and PH closed.
For reservation and enquires call : 8484 5551
Brought to you by Ja Kin Mukata