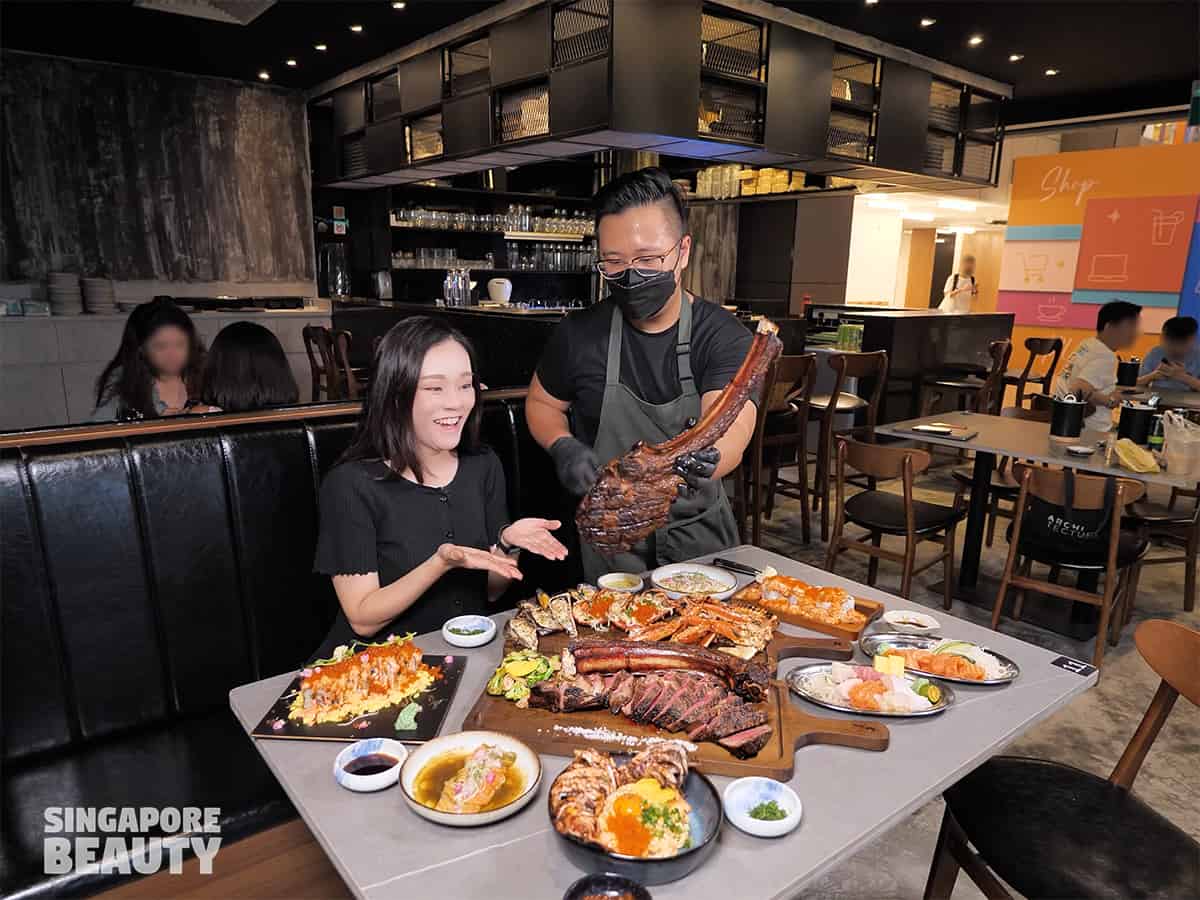 Shujin Master Sushi Bar is a new restaurant that serves some exciting over the top extreme maki, sushi, Donburi, udon, sashimi, appetizers, aburi seafood grills and baked seafood thermidors. If you are looking for a place to eat Japanese food & seafood grills at Orchard, come and experience this new Japanese extreme maki and more.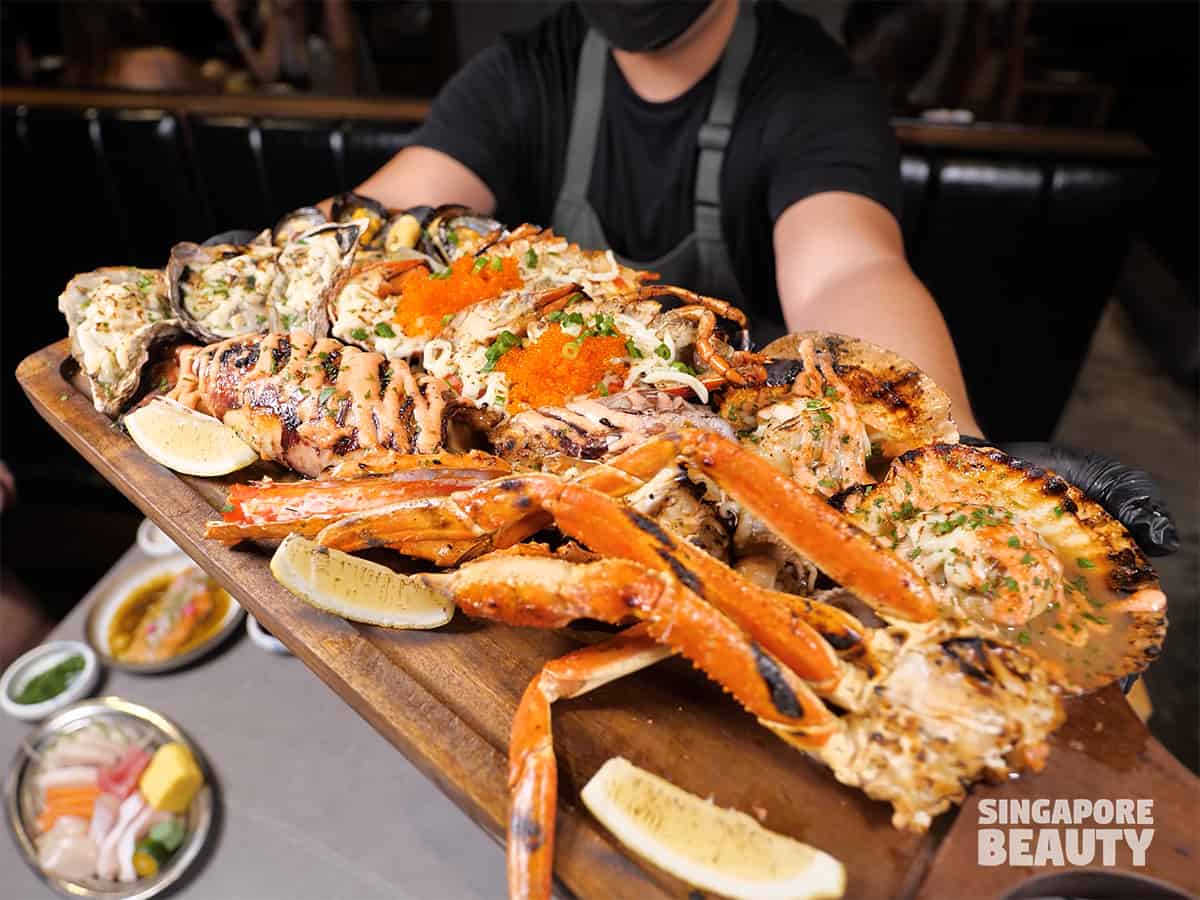 This is Shujin Master Sushi Bar – Japanese seafood grill – Aburi Grill Seafood Platter ($118) that consists of Boston lobster, snow crab cluster, king crab leg, squid, oyster and scallop. These seafood can be grilled with your preferred choice of sauce such as Shiok sauce, cheese mozzarella, Sriracha  mayo, mentaiko and teriyaki sauce.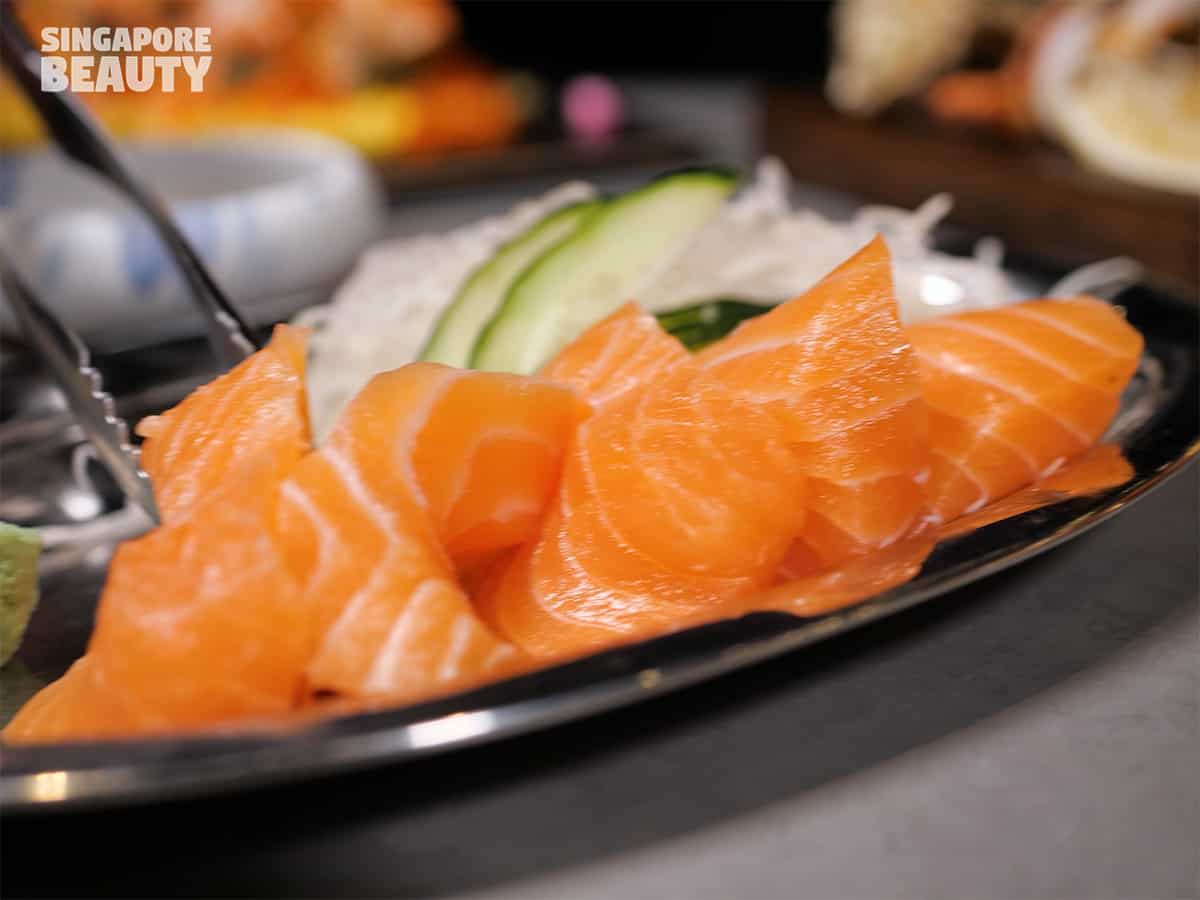 Shujin Master Sushi Bar is currently running a special opening promotion where you can get 5 slice of salmon for only $3. Brilliant orangey salmon that melts in your mouth that is buttery and fatty. The following is Shujin Master Sushi Bar reviews on the items we tried.
They also have this sashimi platter promotion for Shujin Master Sushi Bar Singapore for only $19.90. Think fatty cuts of sashimi – hamamchi, Mekajiki, tuna, salmon – melting in your mouth. This platter also has some tender Hotate and layered tamago, making it even better. These are served in neat izakaya style straight from the chef board so you can taste the original mildly sweet flavour of the sashimi.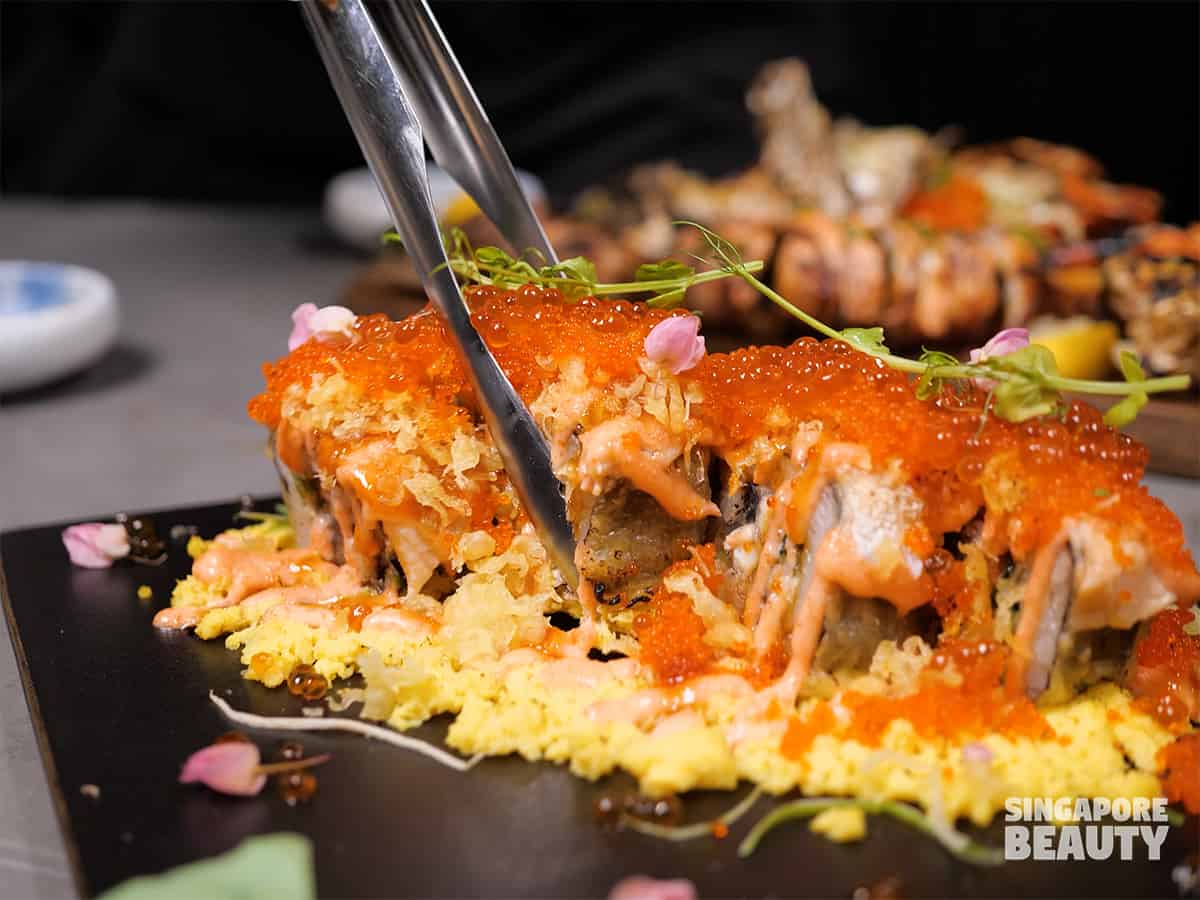 If you are here, this is one of their signature maki, we nicknamed it the Extreme Maki by Shujin. This is a Unagi Tempura Salmon maki ($22.90) that is overloaded with all the good stuff in Japanese maki. They also have various maki such as Flaming Truffle beef maki ($23.90) and Spicy Poke Salmon maki ($28.90).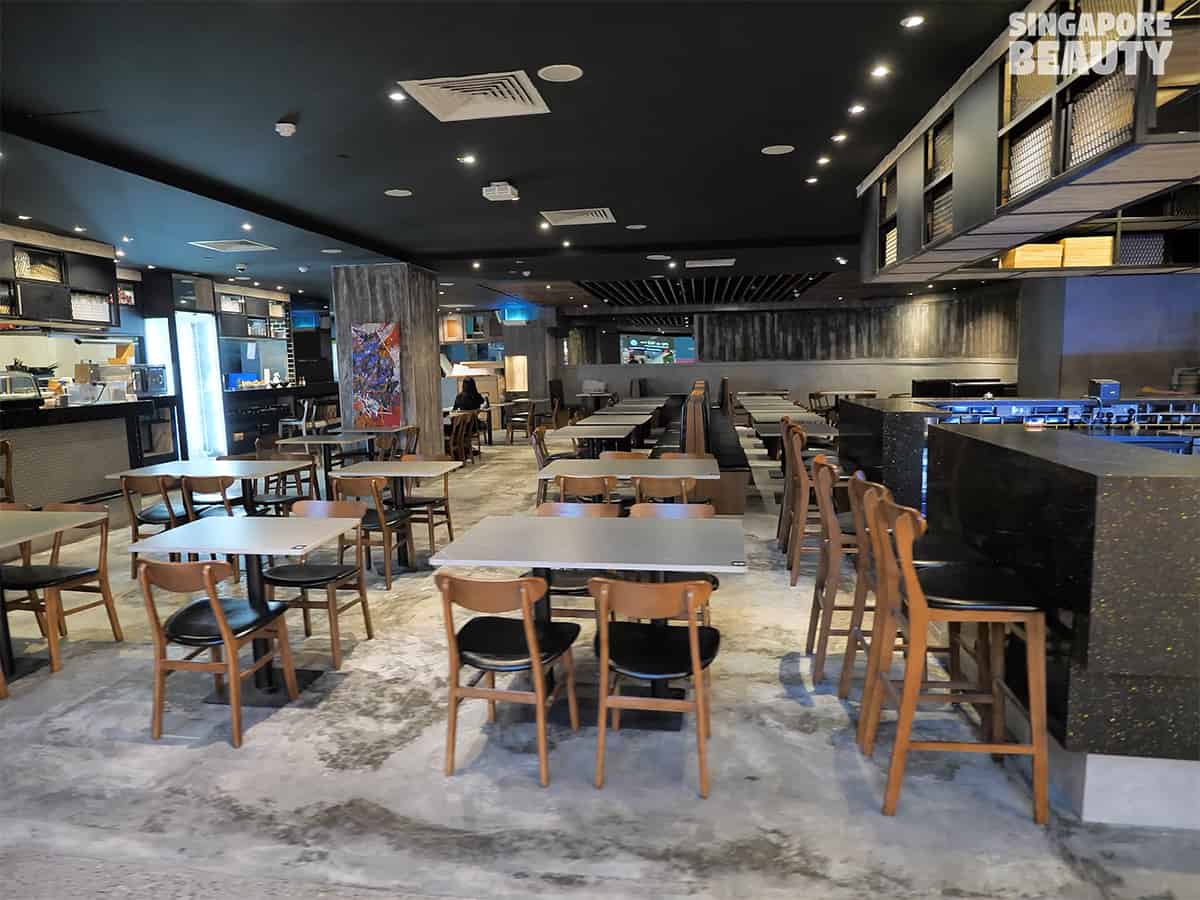 With 100 seaters at this newly open Shujin Master Sushi Bar at Cathay Cineleisure Basement, Orchard Singapore, it is the perfect place to unwind after a shopping haul in our popular shopping district or just chill with some friends after work.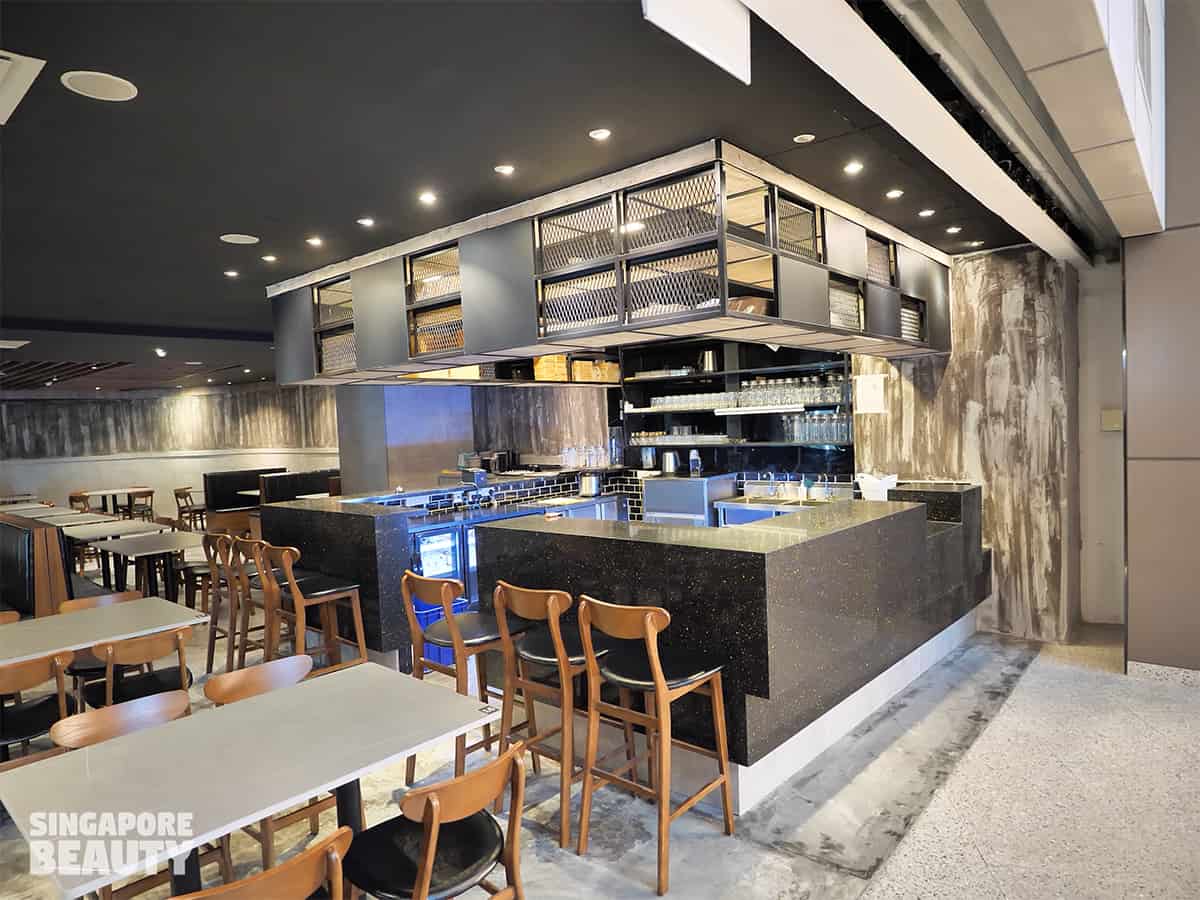 This exciting new boy in town has a masculine industrial interiors with some sexy raw concrete screed flooring for a clean suave look just like the Japanese cuisine served by them. Tropical wood hue chairs with leathery looking cushion seats, backrest and mood lightings. This is also a good place to bring your date for a relaxed Japanese food night.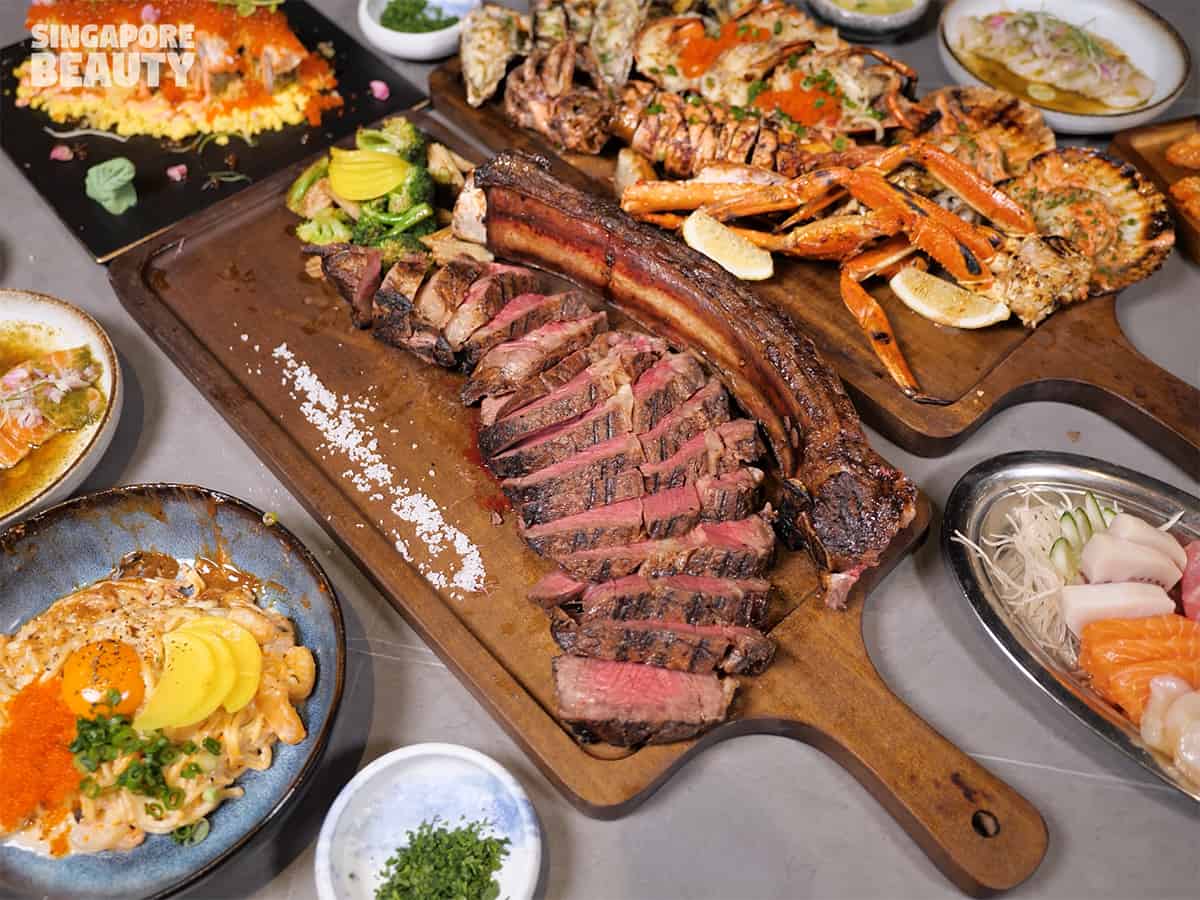 There are many ways to impress your date or your guest at Shujin. This is the Tomahawk Steak ($108)- a ribeye thick steak with at least a 15 inches of rib bone. The rib bones make the steak extra tender with its melted collagen when seared. The Tomahawk also makes this a center piece for any dinner at Shujin with its impressive size and shape.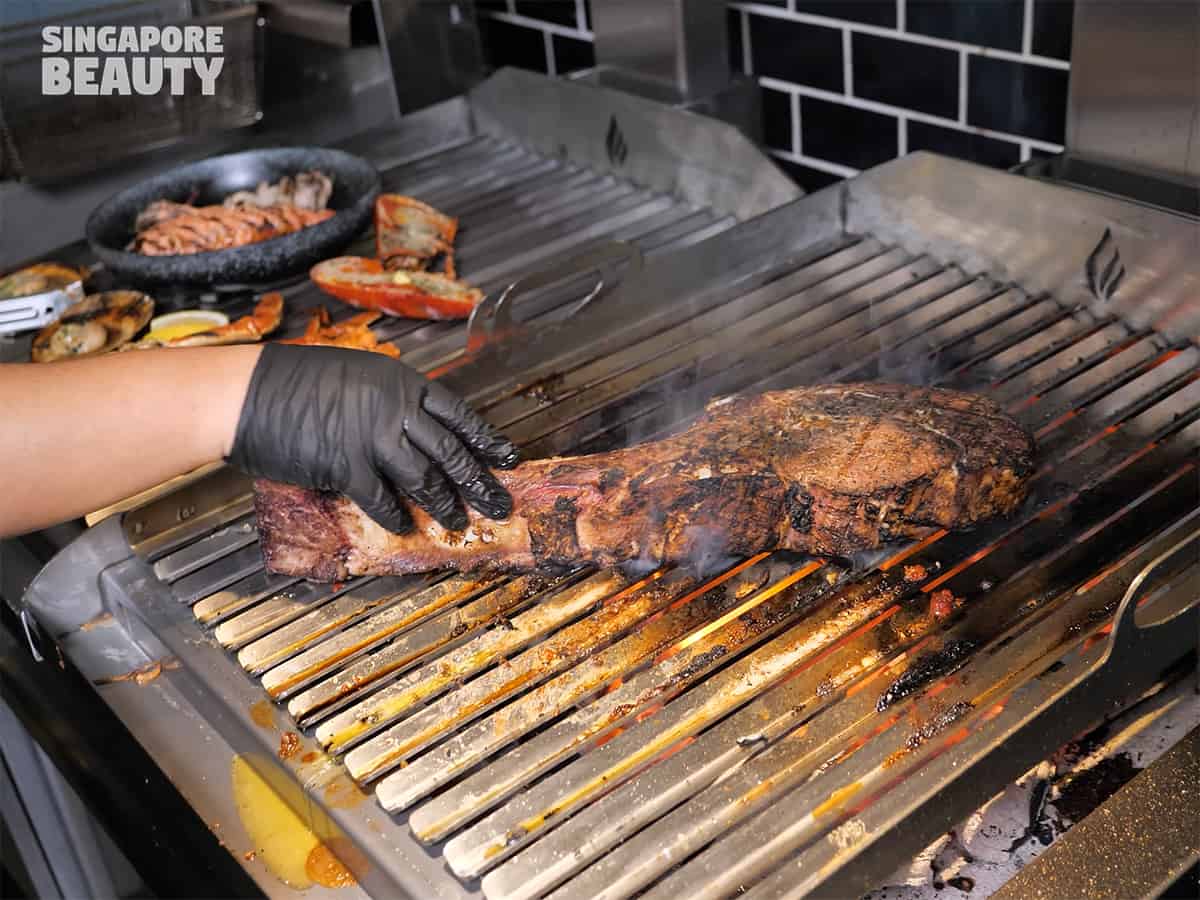 Fun fact to know – grills at Shujin are char grilled with Binchotan by Chef. For tomahawk steak, the charcoal grill is used to sear the meat and lock in the meat juices. They are using a top end roaster used by restaurants that are serious about their grills. It weighs a whopping 220kg. They can adjust the heat with a grill that can be elevated or lowered from the roasting charcoal to get their perfect roast.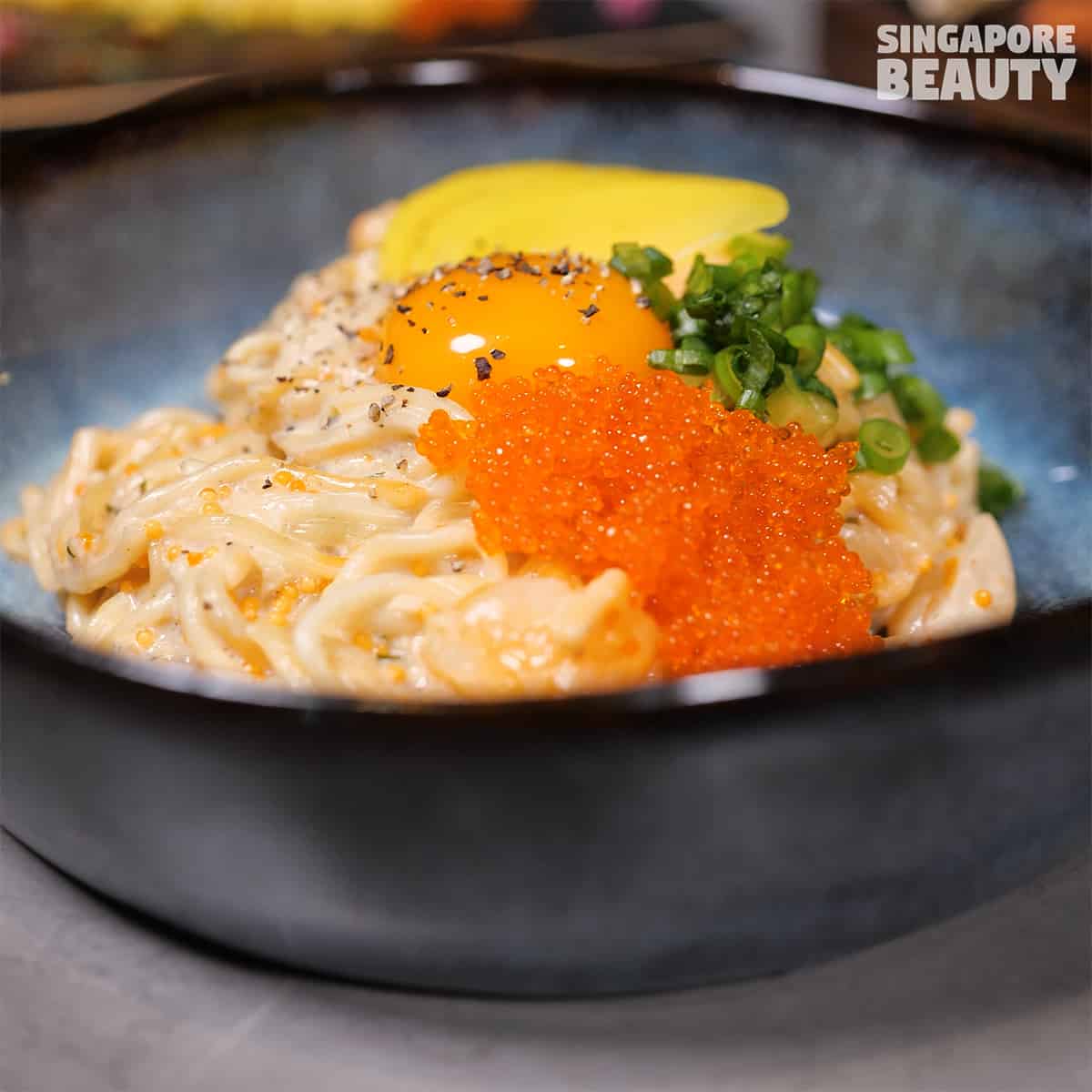 For udon lovers, they have many variety of udon such as Signature Ebiko cream yakiudon plain ($14) featured above, top up $24 for grilled squid, $29 for grilled unagi and $30 for wagyu ribeye cubes. This udon is tossed with cream and ebiko, topped with a runny egg yolk, pickles and a spoonful of delightful popping ebiko.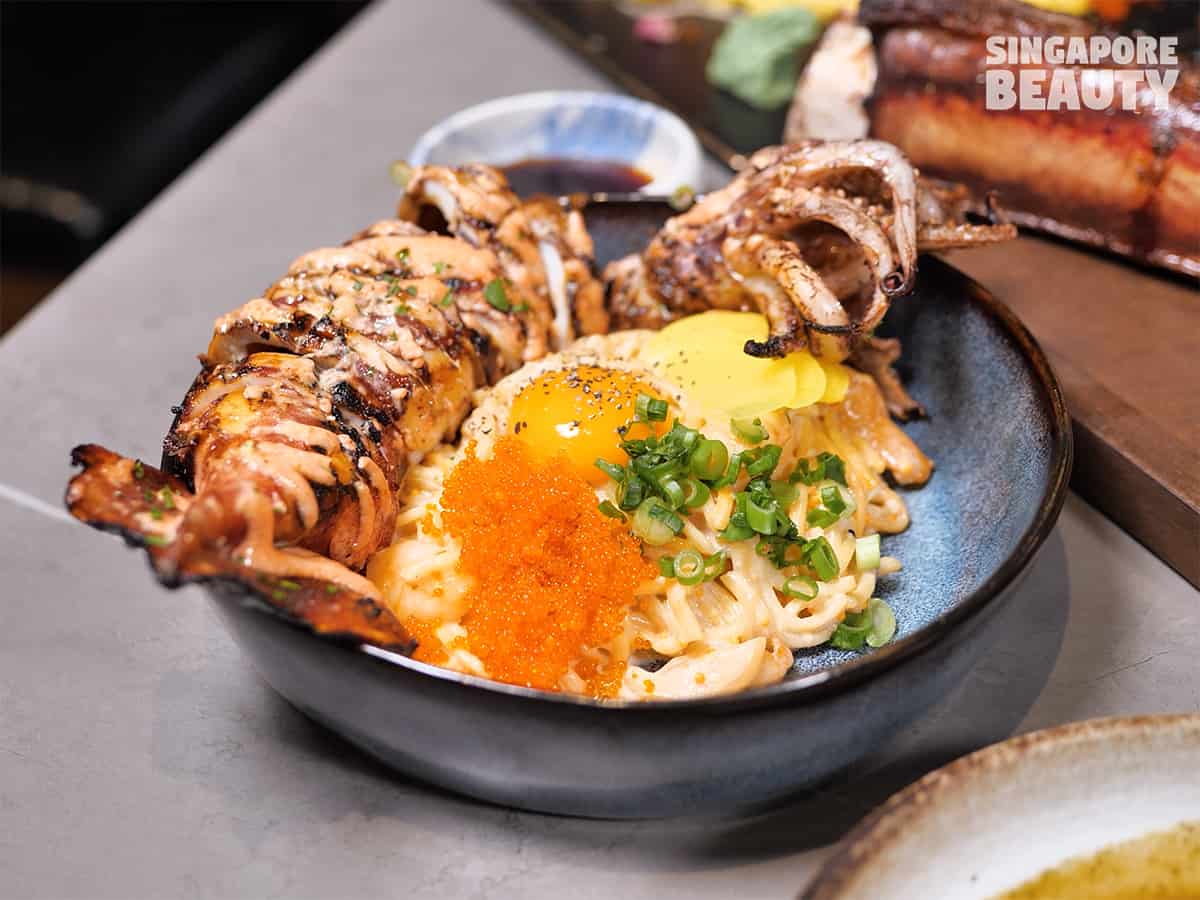 To bring this Signature Ebiko cream yakiudon plain ($14) one notch higher on the rank of enjoyment, top up $24 for grilled whole squid. The char grilled tender squid definitely goes well with the cream base yakiudon – a marriage of the sweet savoury seafood flavour and the saline umami.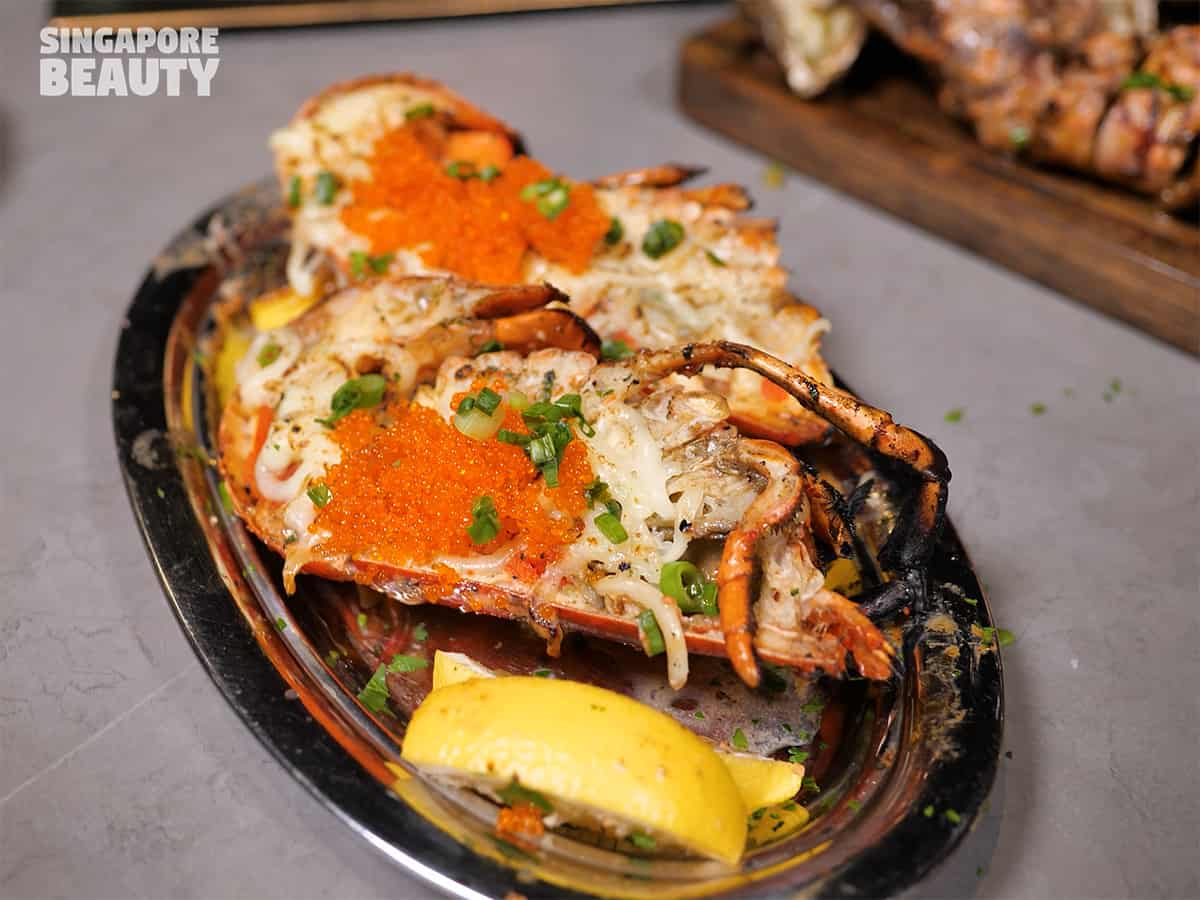 Shujin Master Sushi Bar menu also serves ala carte aburi grills for seafood. If you are having a craving for a particular seafood, you can get it here. The price for aburi grill seafood are half shell scallops ($12.90 for 2 pcs), half shell oyster ($12.90 for 3 pcs), Boston lobster pictured above ($25.90), king crab leg ($24.90 per leg), snow crab cluster ($18.90), full supreme squid ($22.90) and more.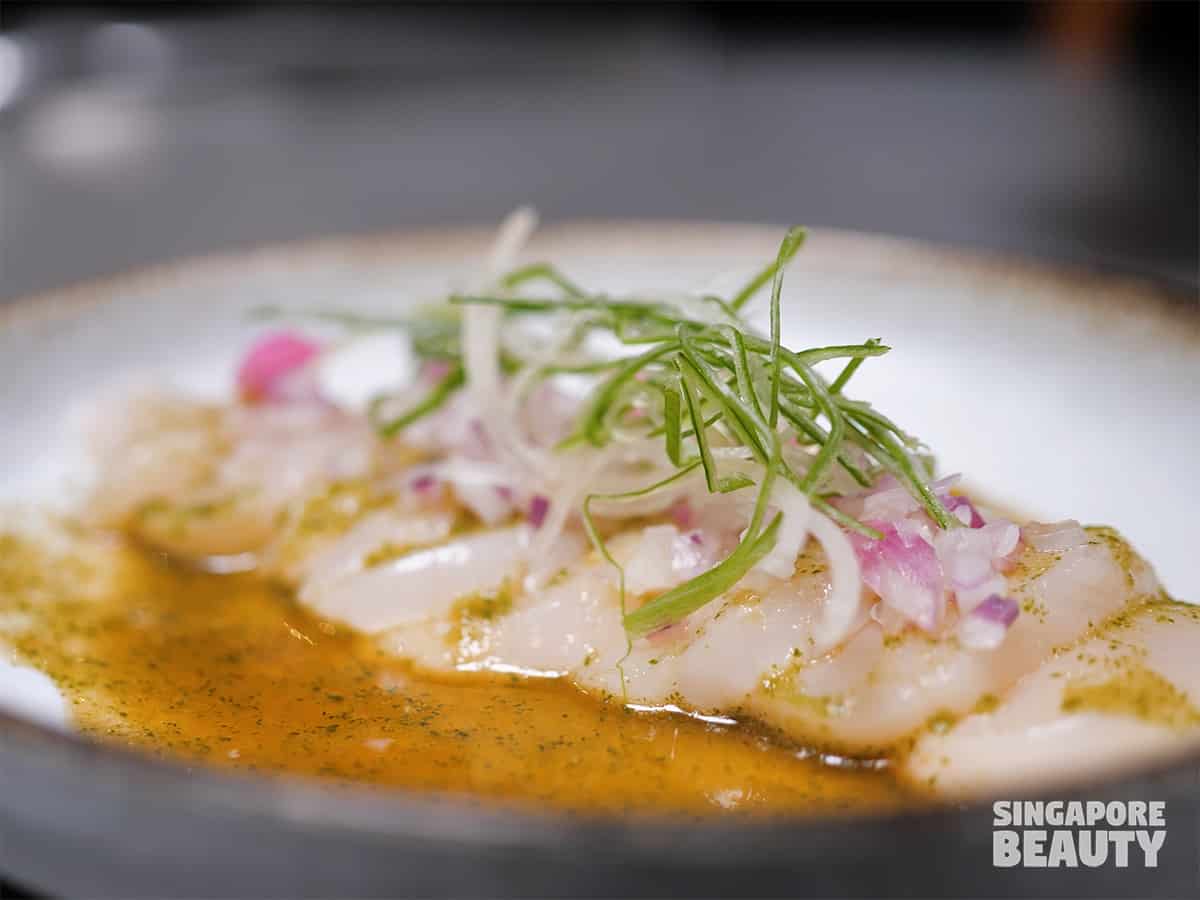 For appetizers, the chef recommendation is either salmon carpaccio or hotate carpaccio ($13.90) in herbed dashi soy dressing. These are melt in mouth fatty sashimi with a tangy sauce with a light herb aroma. Something light and refreshing to kick start a meal followed by either their aburi grill seafood platter or the grand center piece grilled tomahawk.
The chef also recommends this in house specialty Baked Seafood Thermidors available in either platter or as ala carte. We were also told that this could be the first baked seafood thermidor in Singapore with overloaded extreme seafood stuffing. The baked seafood thermidors indeed look very rounded like melted cheese top seafood hill.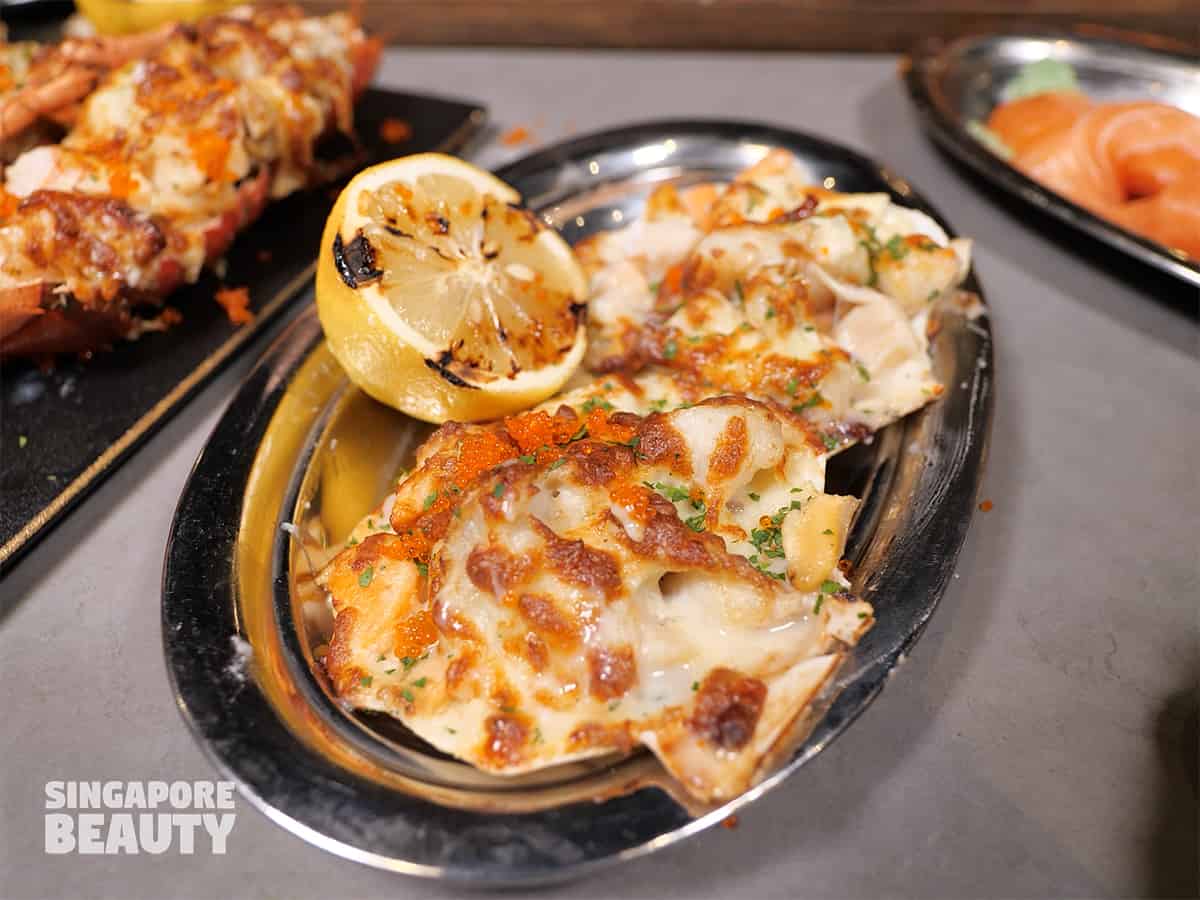 You can also get these bake seafood Thermidors as ala carte orders. Scallop ($17.90 for 2 pcs) stuffed with shallots, hotate and cheese, half Boston Lobster ($20.90) stuffed with prawn, shallots, lobster and cheese, oysters ($13.90) stuffed with oyster, shallots, clam and cheese. These are all topped with a blanket of mozzarella cheese and melted before serving.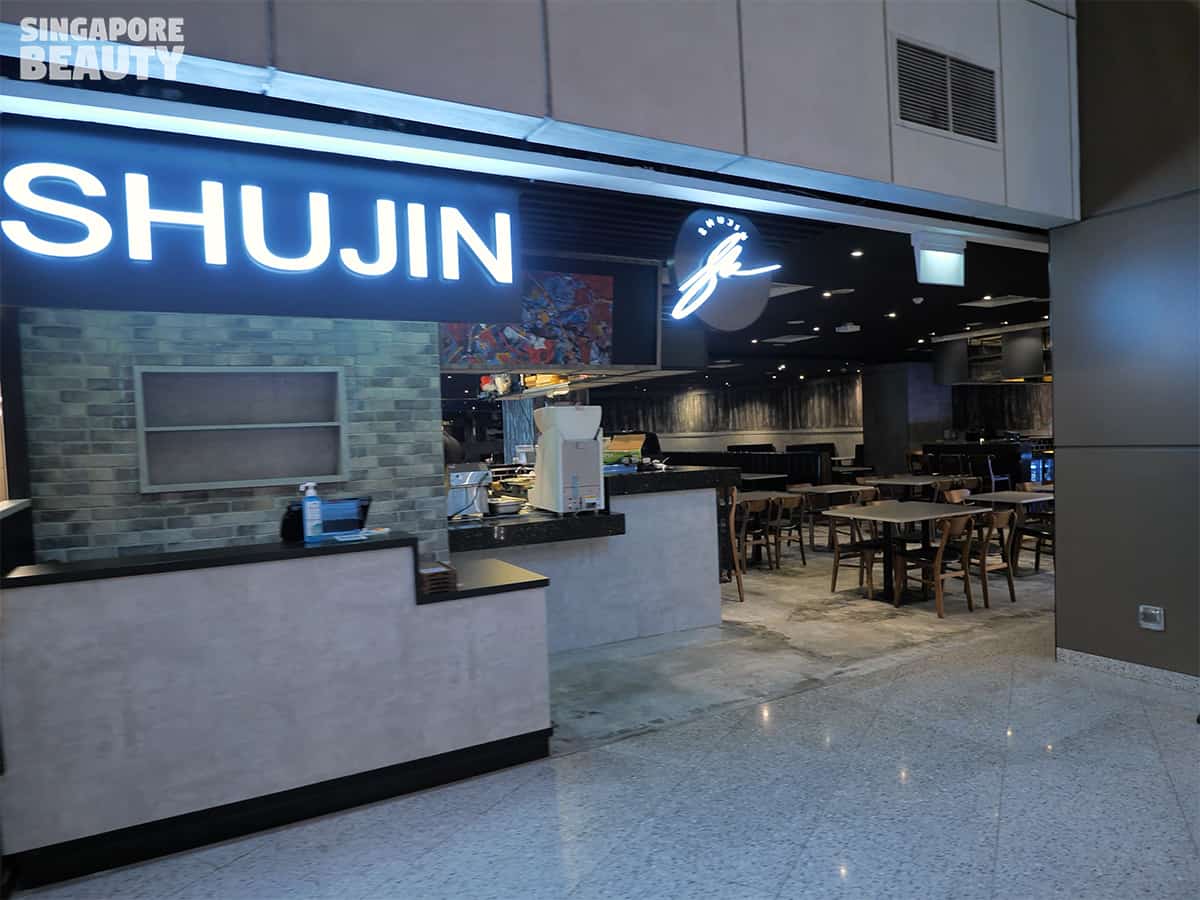 Come Shujin Master Sushi Bar at Cathay Cineleisure Orchard Singapore to check out their aburi grill seafood platters, extreme maki, baked seafood thermidors and the center piece grilled Tomahawk is a must have. To get the full experience, try their appetizers, carpaccio or 8 other appetizers like mentaiko or truffle fries to kick start this Japanese style surf & turf feast!
Address of Shujin Master Sushi Bar :
8 Grange Rd, B1-08/09
Cathay Cineleisure Orchard, Singapore 239695
Opening Hours :
Tuesday – Sunday 11am to 10pm
Monday Closed.
For reservation or enquiry, book through instagram or Goggle Ad.
Brought to you by Shujin Master Sushi Bar