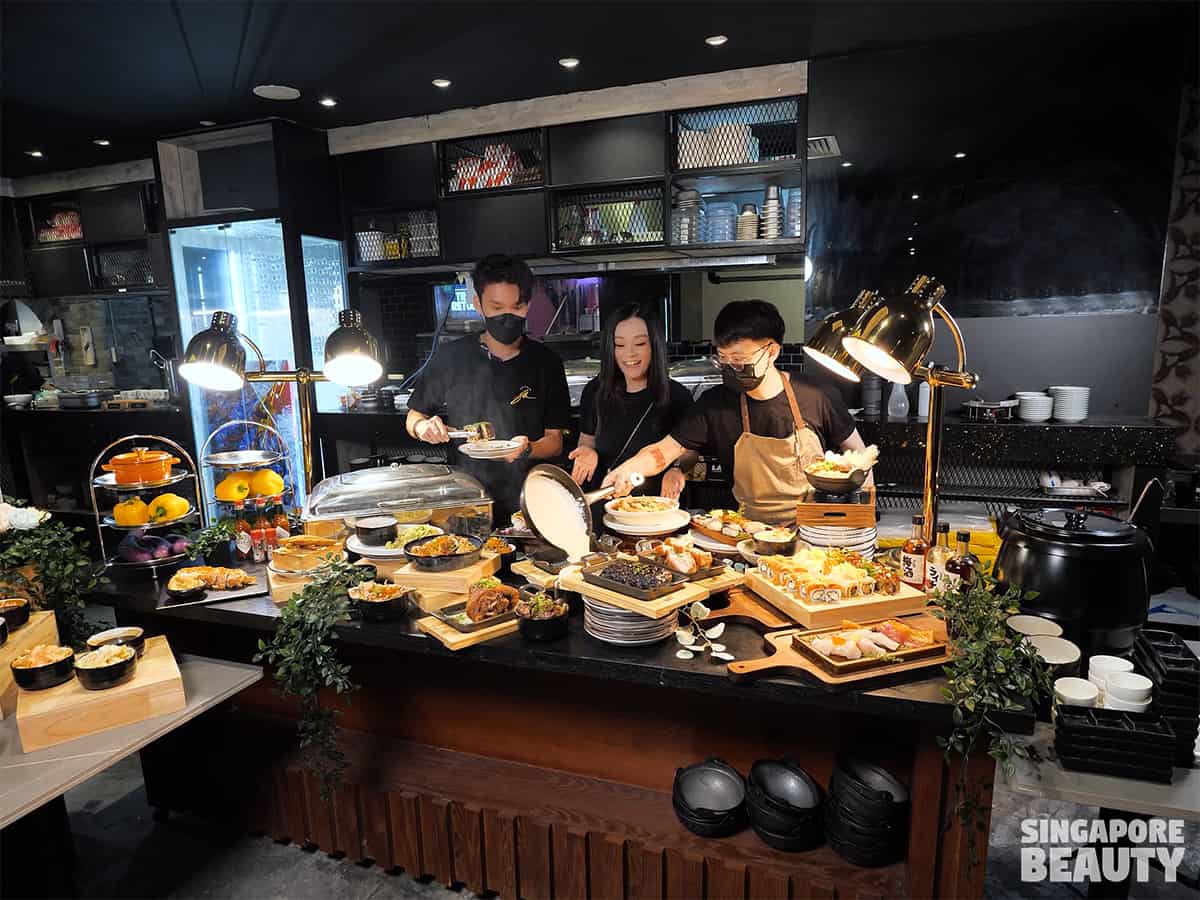 Shujin Master Sushi Bar is now having a new Japanese buffet with over 80 choices for dinner buffet. All you can eat grilled meat, baked seafood, sushi and sashimi. Enjoy Master Sushi Bar's handmade flaming hot maki, sashimi and deluxe nigiri sushi with overflowing ikura. They even have a ready to eat hot food buffet line with Japanese appetisers, sides and more. Meat lovers can rejoice in the hot oven roast & grills served atop a sizzling hotplate of melted bubbling cream cheese.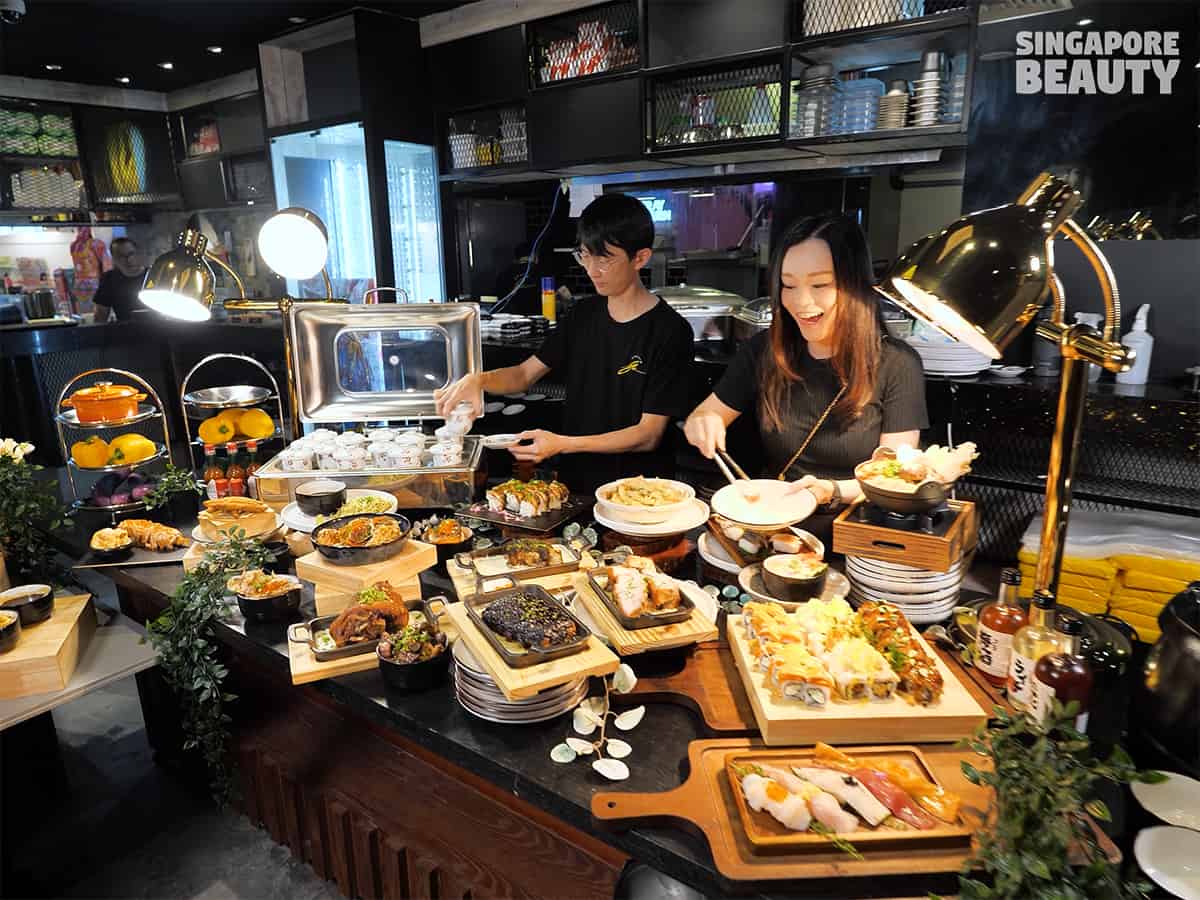 Shujin Master Sushi Bar buffet line consists of various Japanese maki and sushi. Get over the top uramaki with overflowing mentaiko and ikura, nigiri with long train of sashimi and sushi roll of the day with freshest pick of sashimi. There are also various starter dishes of up to 11 chuka sides, appetisers and salad to kick start this Japanese buffet feast.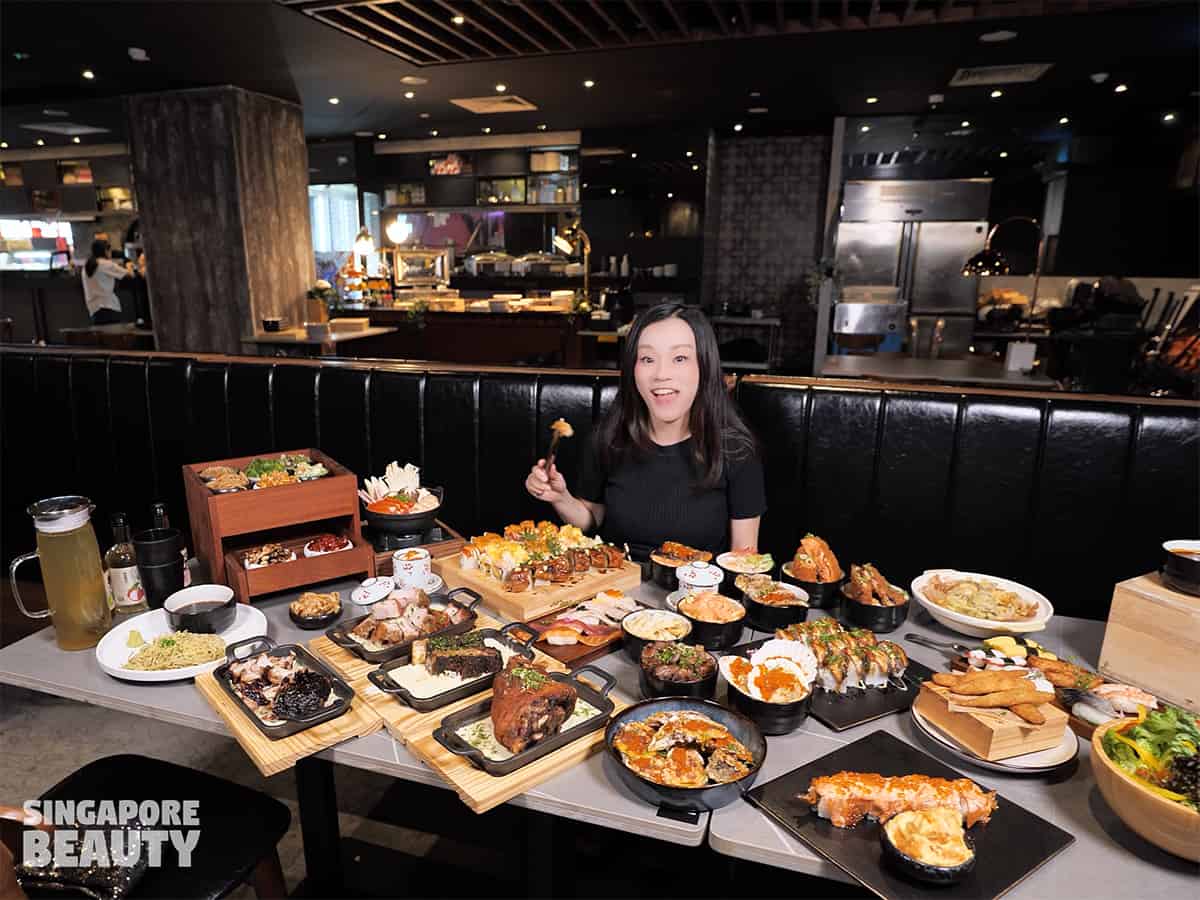 Here's our Shujin Master Sushi Bar Buffet reviews after trying their signature modern Japanese buffet feast for dinner buffet. There are a good variety of sushi and sashimi such as shrimp, salmon, tuna, hamachi, mekajiki, ika and tako. Meat and seafood lovers are also catered to with slow roast, grills, bakes, katsu, sukiyaki and yakiniku style meats. Sit back and chill with Japanese cuisine cook and served to your table. The convenient location of the restaurant along the busy Orchard road shopping belt is making this a pit stop for food after a shopping haul.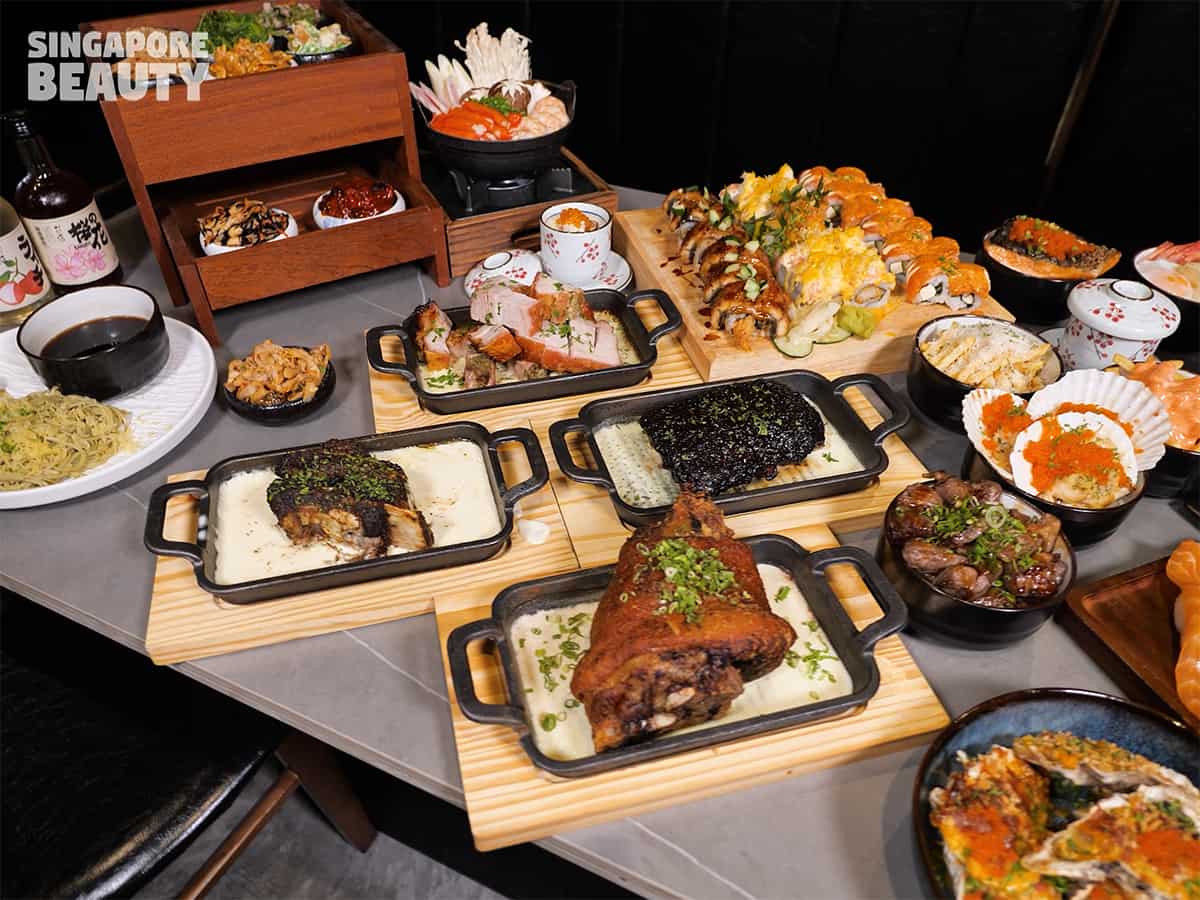 Shujin Master Sushi Bar menu consist of appetisers, salad, tempura, sides, hot food, sashimi, sushi, mini donburi with free flow seafood topping, slow roast pork ribs, beef bone in, burger steaks, sukiyaki beef, chicken katsu, grilled porchette, pork knuckles, marbled beef cubes and more. There are also carbs in soba, ramen soup in hotpot, udon and sushi. Not forgetting the many maki rolls, sushi and signature deluxe nigiri sushi with long sashimi train. For lunch buffet, sashimi salmon, tuna and sushi are included. For dinner buffet, you get to enjoy full menu, sashimi (full range) and baked oysters too. Al carte promotion items such as mentaiko tobiko aburi Boston lobster at 9.90++ and sake is also available.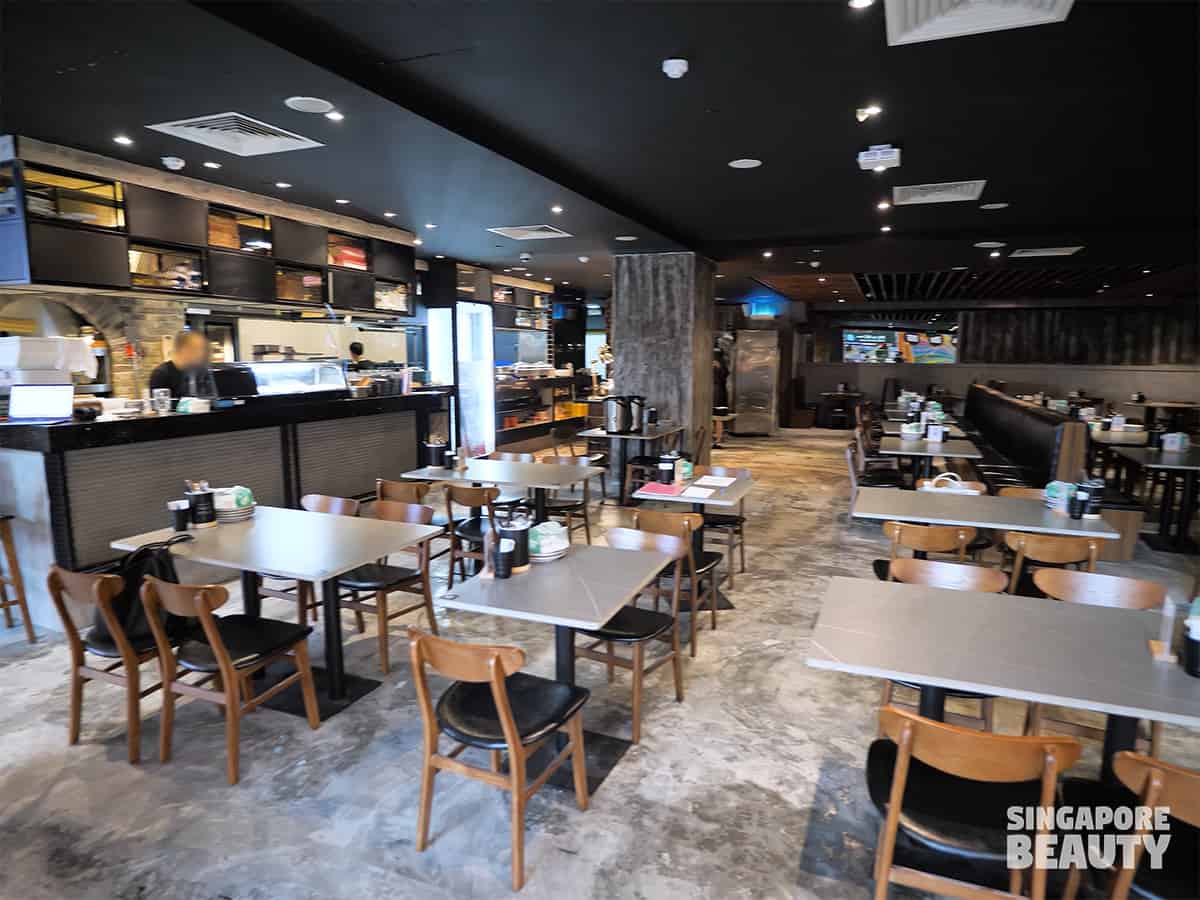 Chill in this spacious, air conditioned buffet restaurant with soft surround ambience music. As this is a table service ala carte buffet, you basically sit back, relaxed after ordering. Enjoy food cooked and served to you by their in house sushi master and Japanese fusion western chef team. While waiting, get your hands on some food at the buffet line spread. This a great place for work gathering or pit stop to eat and recharge after a shopping trip at orchard road. Take advantage of the no time limit dine in during this soft launch period!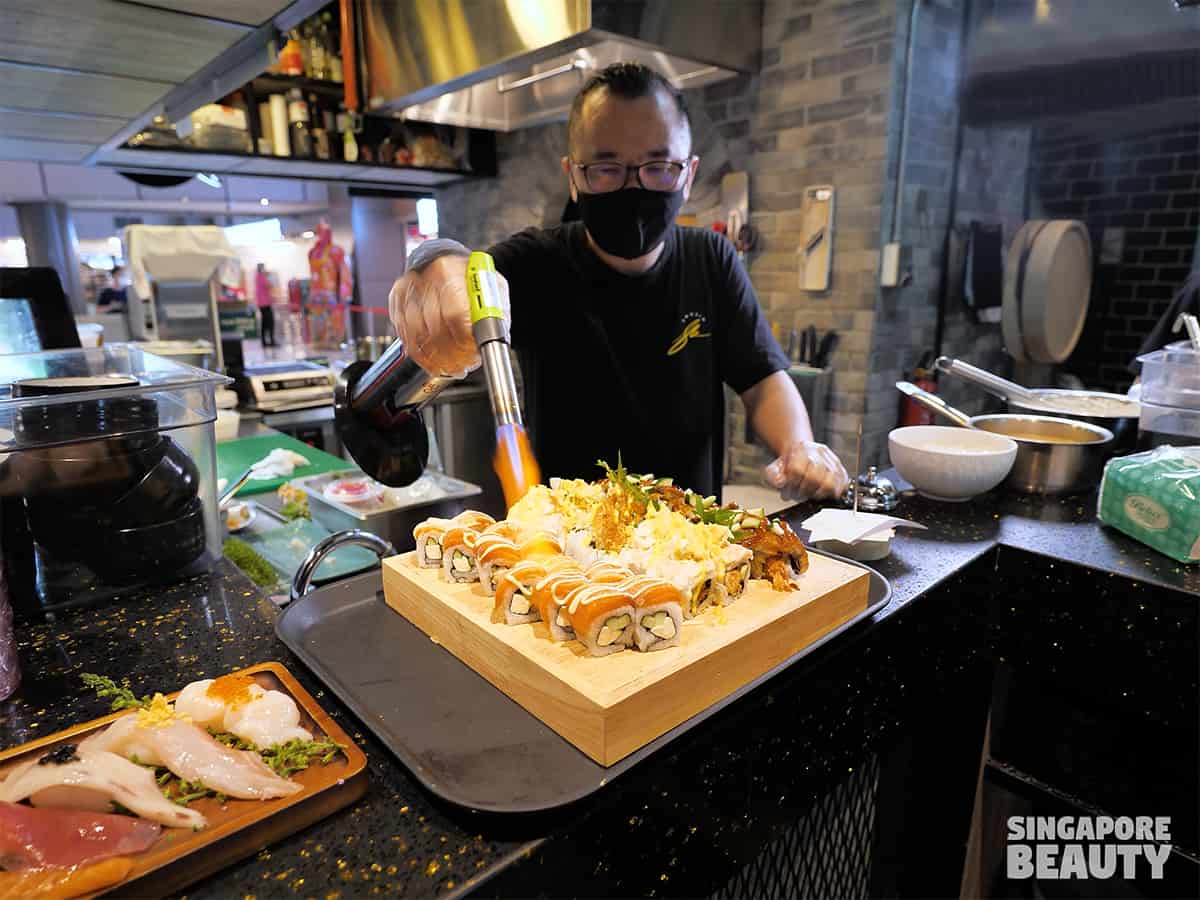 Shujin Japanese buffet in Orchard Cineleisure is famous for their flaming hot maki with overflowing mentaiko, ikura and all things good. These are sushi chef's hand rolled vinegar sushi rice topped with sashimi and glazed with mentaiko, teriyaki, cheese and more special Japanese style dressings. Their maki are one size larger than our usual maki with overflowing luxurious dressing & generous ingredients.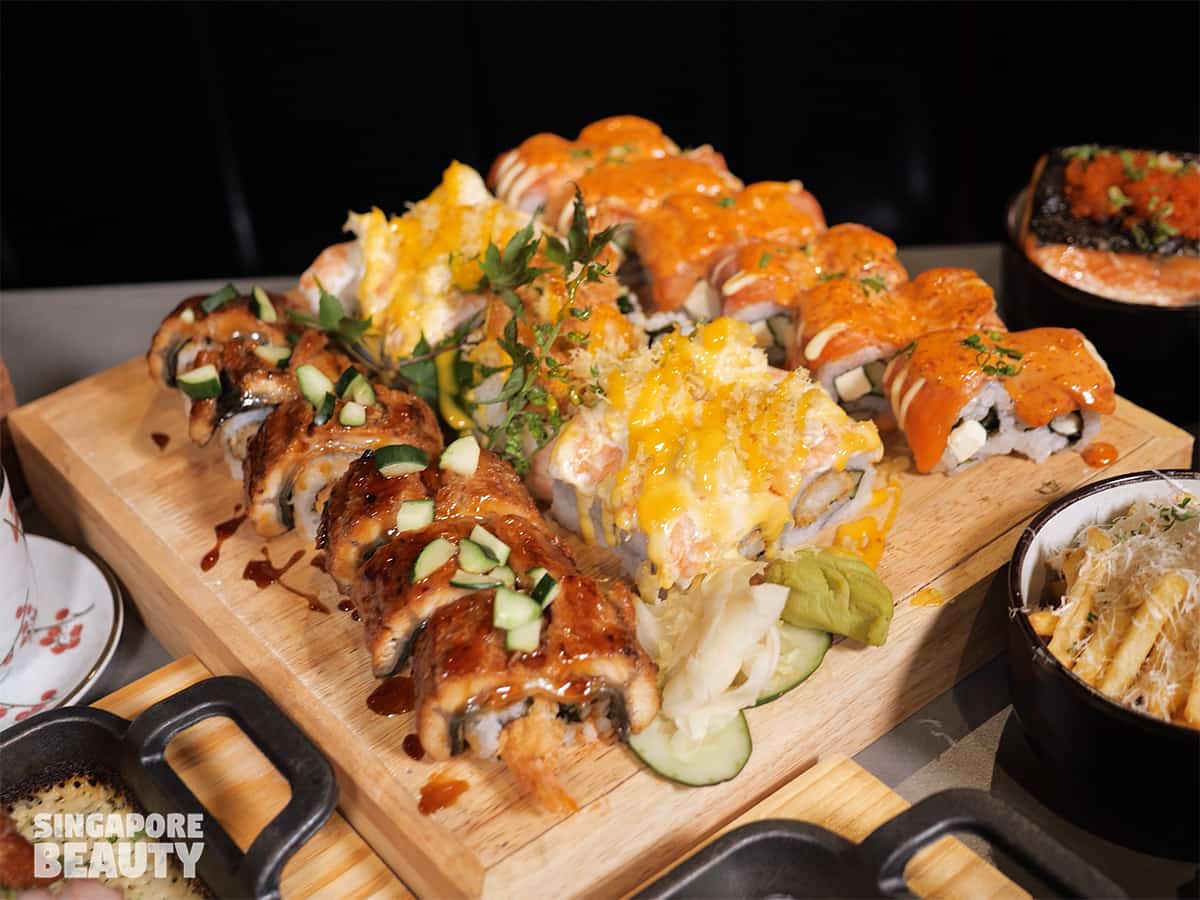 The must try are their Master Sushi Maki Bar's items such as Philadelphia roll with rich salmon and cube of Philadelphia creamy cheese, shrimp tempura roll topped with cheese, unagi ebi roll with grilled glazed unagi and crunchy ebi.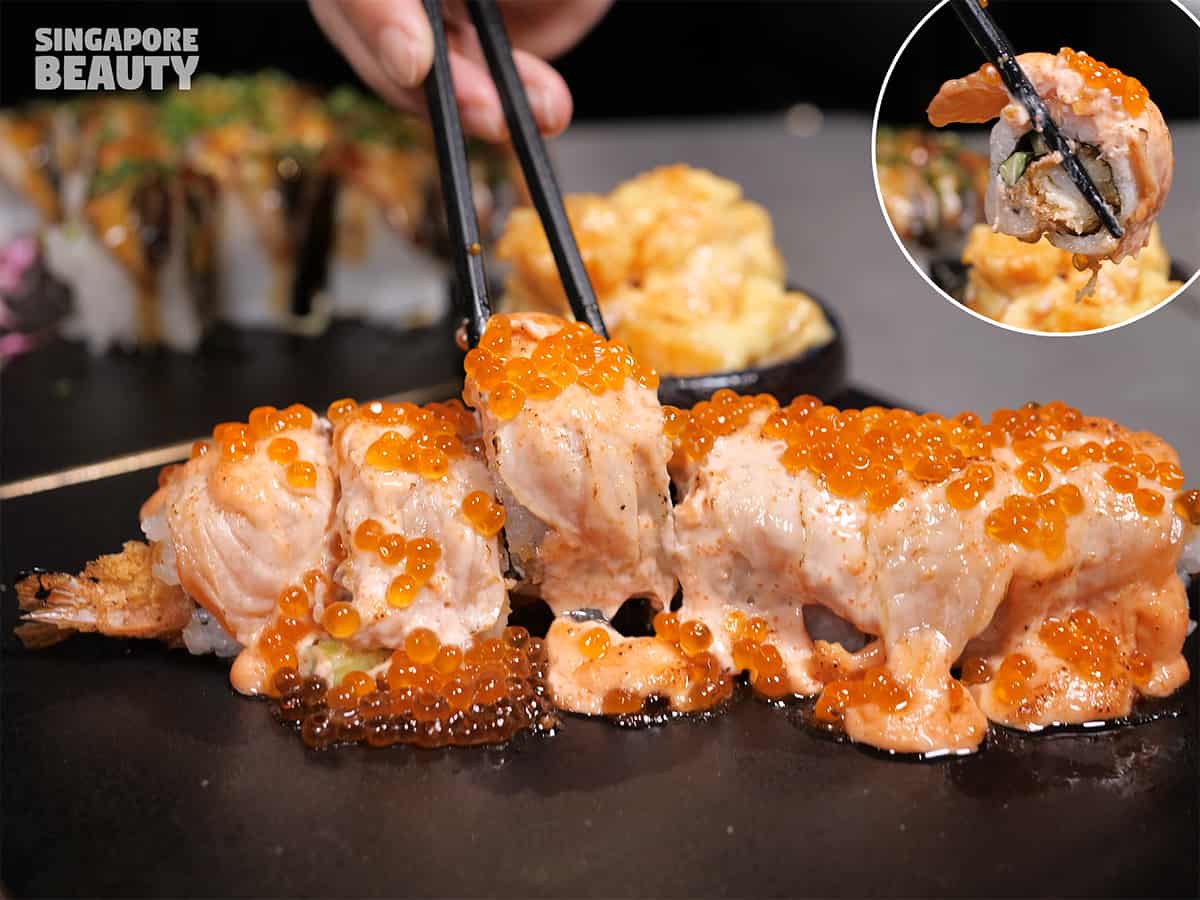 Tempura salmon avalanche with overflowing ikura is one of the special Chef Sushi of the Day with the freshest ingredients to wow your taste buds. Soft vinegar sushi rice is spread on crunchy nori wrapped around tempura shrimp and cool cucumber. Freshly sliced salmon sashimi is laid upon the roll and flamed with creamy briny mentaiko. Load on overflowing fresh ikura as a finishing touch, served to you glistening and beautiful.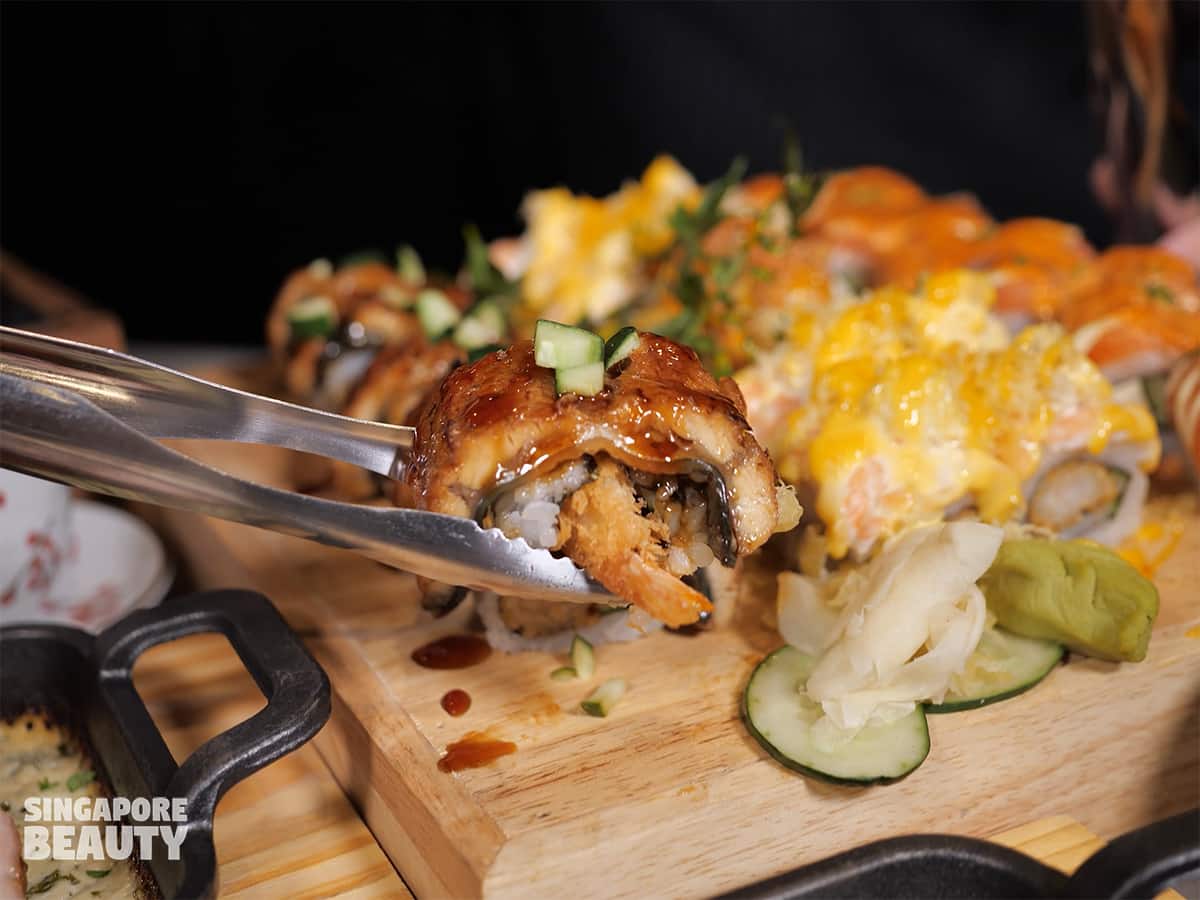 The interesting thing about these maki are the various texture within one type of maki. For instant in this unagi ebi maki roll – the creamy mayo on crunchy tempura shrimp, sweet and savoury unagi with teriyaki sauce balance with some clean tasting diced cucumber – is an explosion of flavours all in one bite.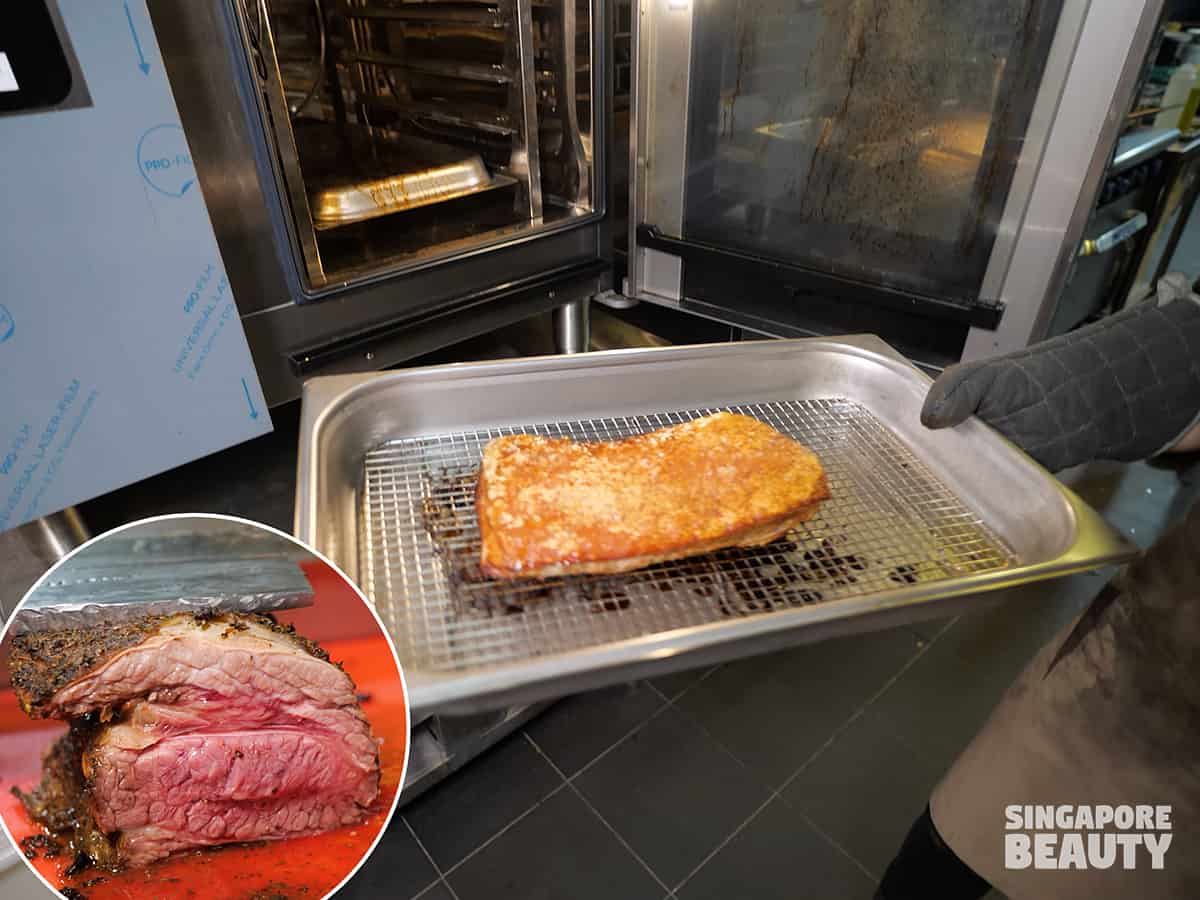 In this buffet, they also have in-house roasted and grill meats. These roasted and grills made daily are labours of love from their Japanese western fusion chef kitchen. Hours of preparations, marinades, drying and finally slow roast for the perfect tender meat textures. You can smell the aroma, visible blistering and browning of the crunchy skin while they slow roast in the combi convection roaster oven.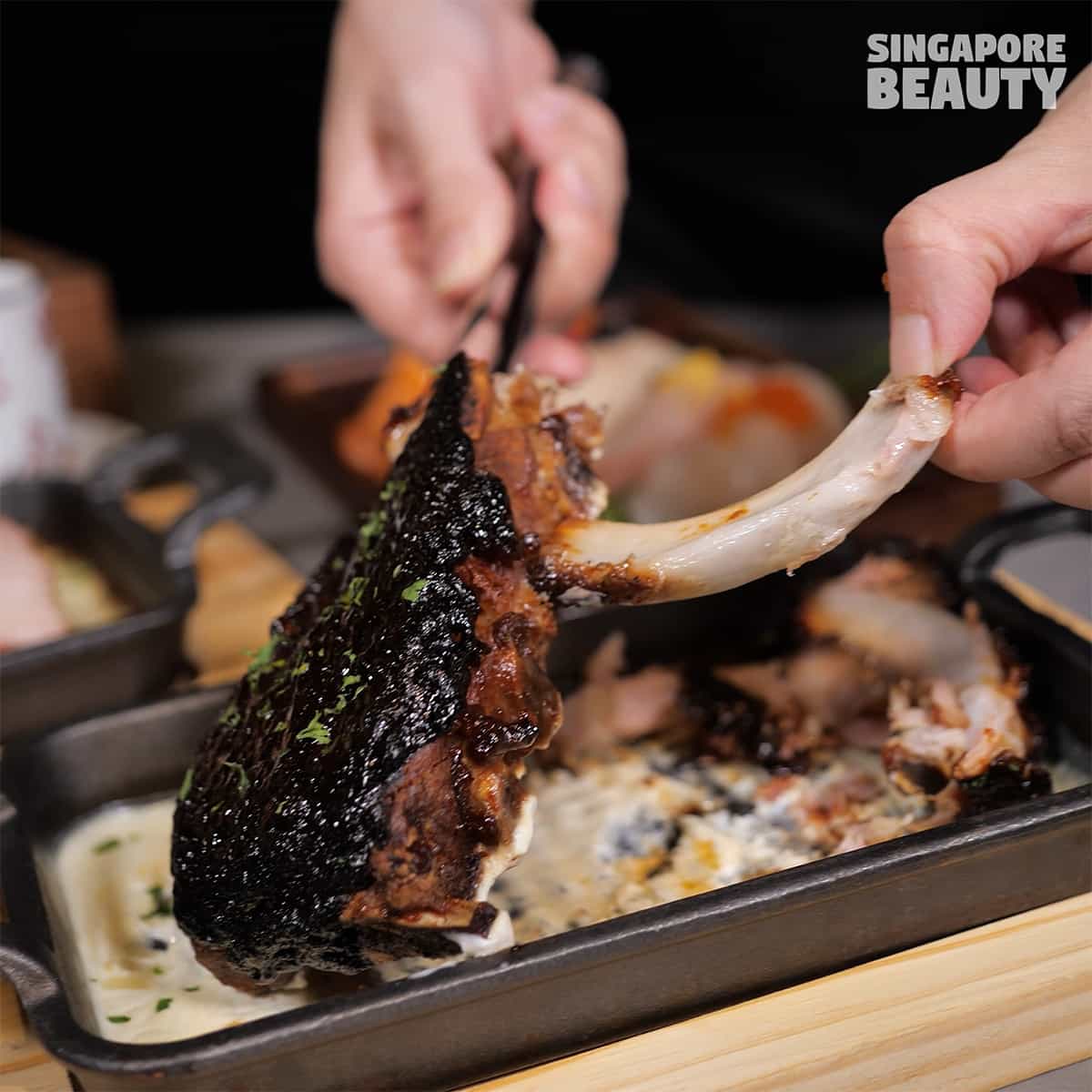 Get your hands on these honeyed char pork ribs that is juicy & fall off bone types. Fork tender meat and you can easily pull out the bones. Sink your teeth into a tender meaty paradise of sweet and tangy bliss. Dip into the sizzling hotplate of melted creamy cheese pool for a rich and creamy coat on your meat.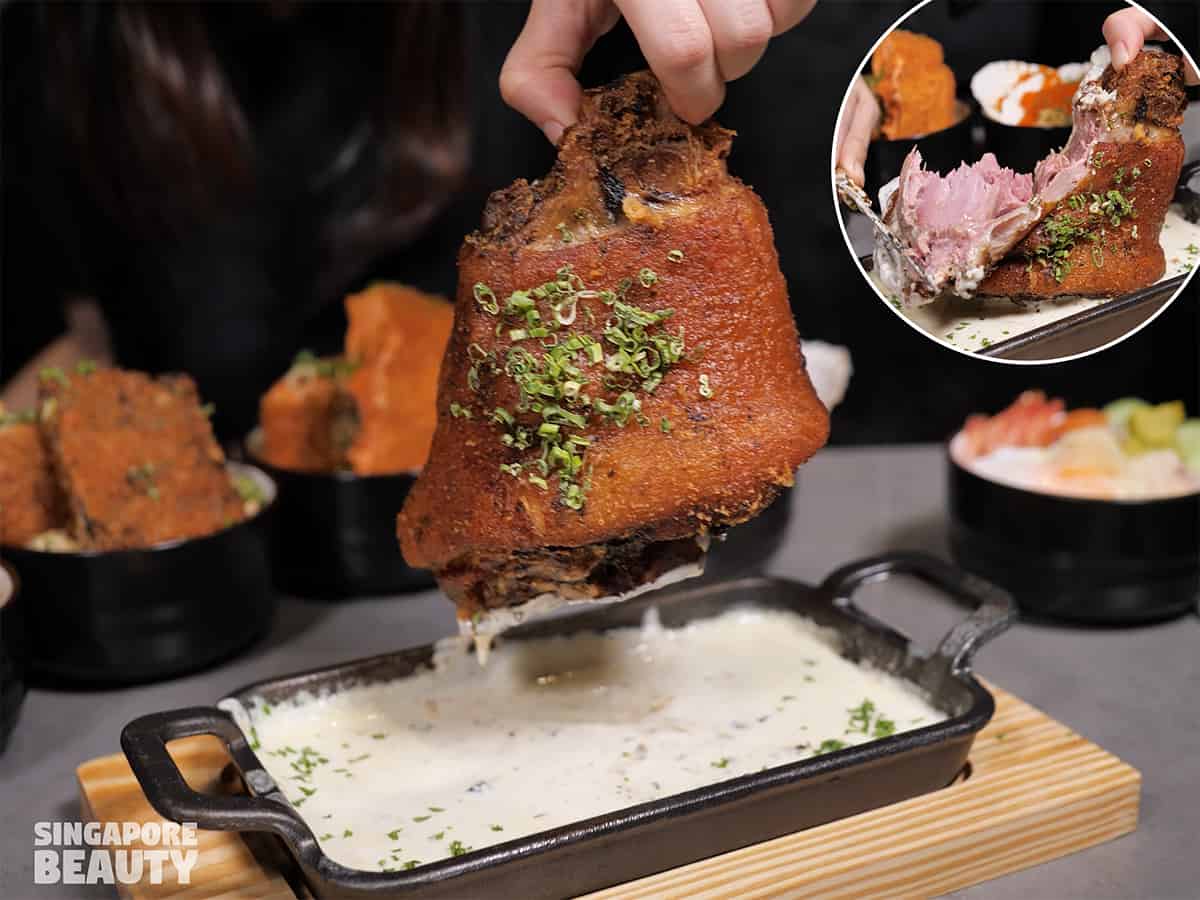 There have a wide variety of meat to choose from such as sukiyaki beef, hamburg steak, chicken katsu, yakiniku beef, tebasaki wings, porchetta, pork knuckle, pork ribs, beef brisket slice, yakiniku beef cubes and bone in short ribs. Check out this giant slow roast pork knuckle on sizzling cheese hotplate – crispy outside & soft inside with soft flaky meat. Add-on their sake to enjoy with this pork knuckle.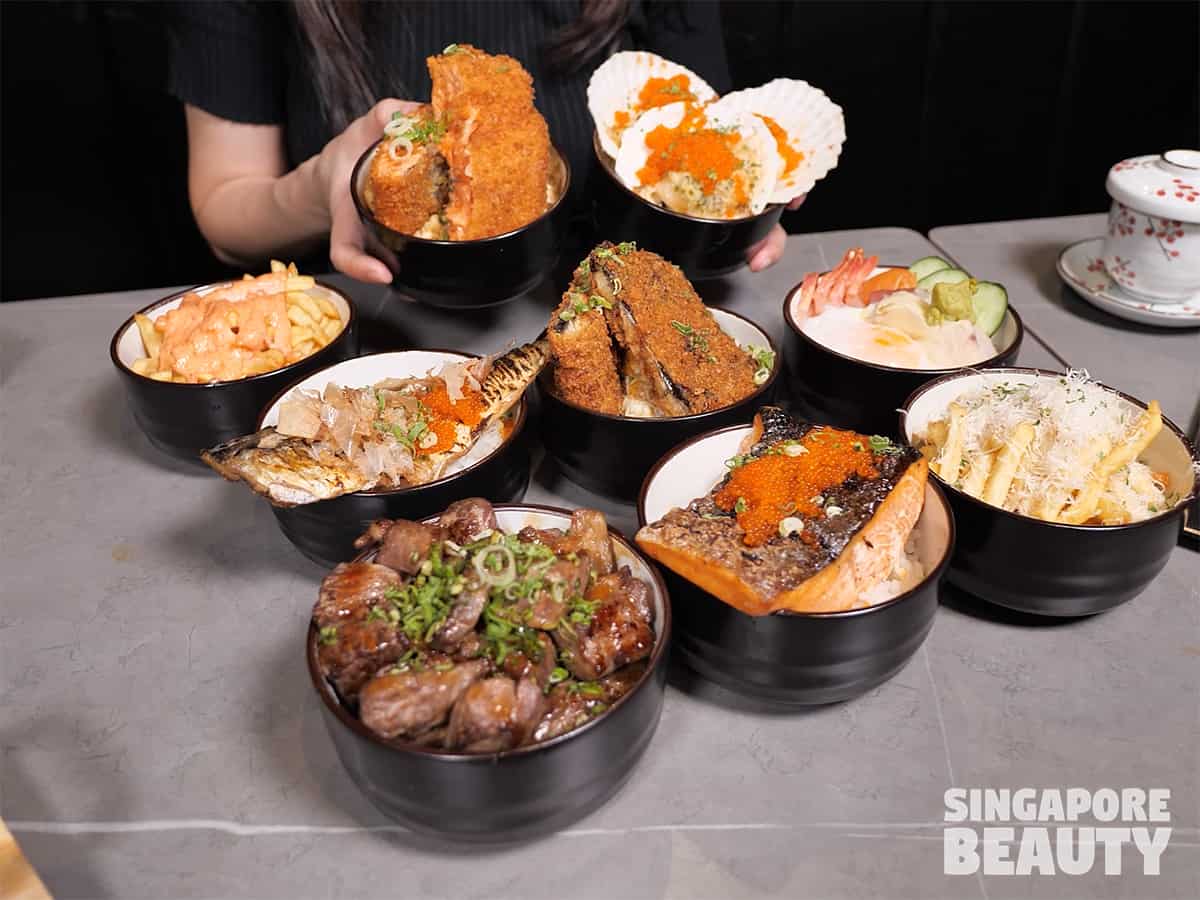 These are mini donburi which are served in the Shujin Master Sushi Bar buffet. The donburi are served mini with some small portion of steamed rice as base but with generous topping of either seafood or meats. Choose your own topping from unagi, marinated salmon poke, pan fried salmon steak, tuna poke, fermented pan seared saba, shishamo, boiled hotate with tobiko, prawns, baked scallops, oyster meats, seabass fillet, unagi katsu, yakiniku marbled beef cubes, salmon steak katsu and more! The topping for seafood on these donburi are free flow too.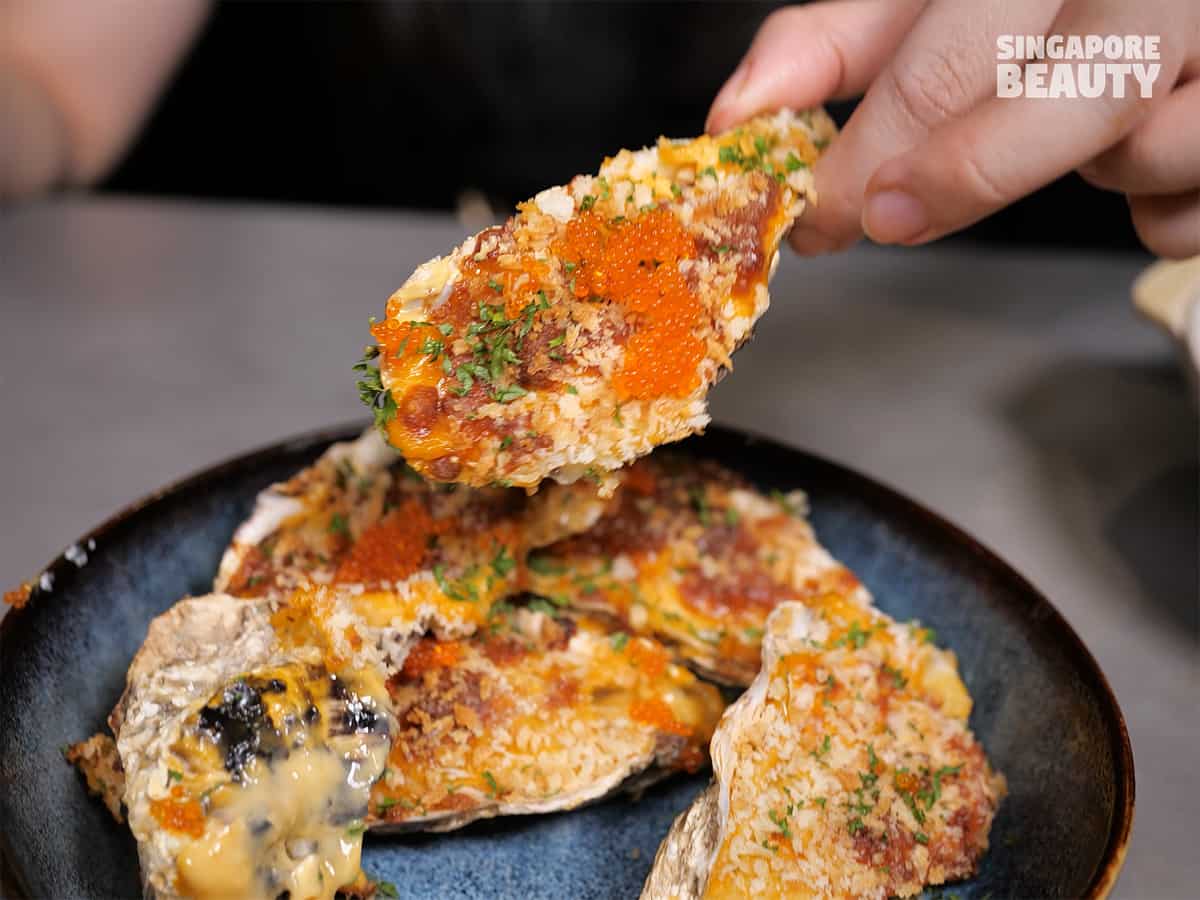 The editor's choice are these freshly baked oysters topped with mozzarella cheese, nacho cheese, tobiko and baked fresh. Cheesy tobiko baked oyster that is briny & fatty. Enjoy succulent oyster meat paired with these rich toppings, available only during their dinner buffet.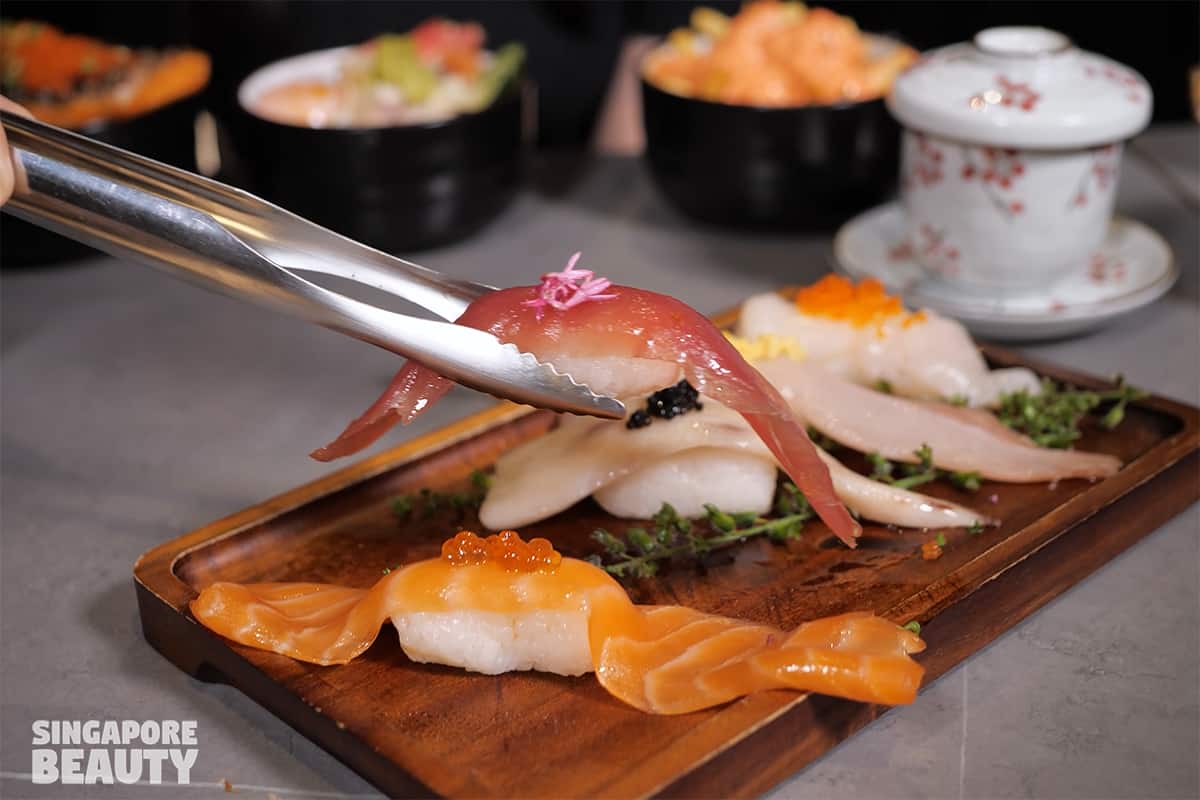 Deluxe nigiri sushi topped with a sashimi train. Held up by a mouthful of vinegar sushi rice, these sashimi toppers for the nigiri sushi are longer than usual. It translates to three times the happiness eating this than a usual sushi. The full range of sashimi topping available for dinner are tako, ika, saba, ebi, tamago, mekajiki, hamachi, hotate and tuna. So if you are a sushi, sashimi lover, go for the dinner aka sashimi buffet.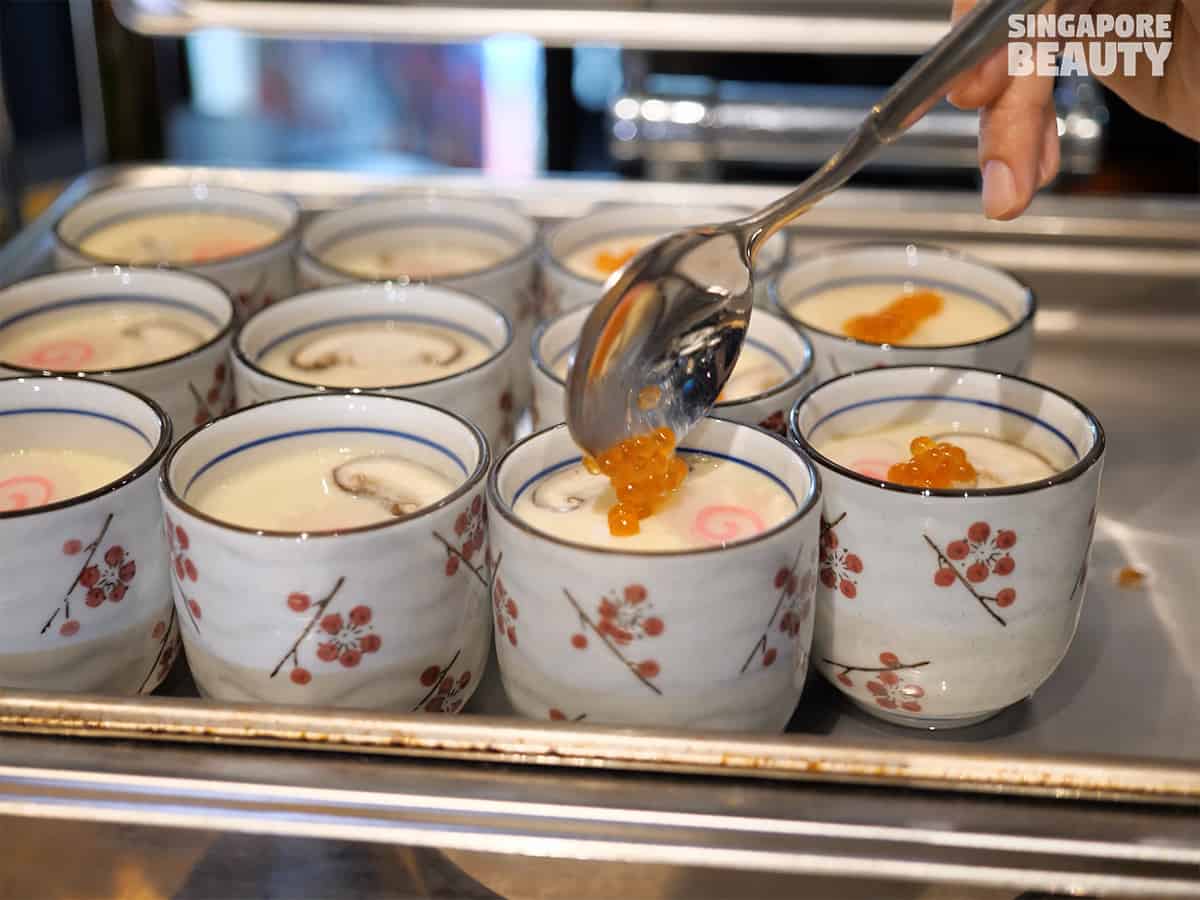 Enjoy hot foods from their buffet line such as ikura chawanmushi and several other Japanese cuisine on a rotated menu. The ikura chawanmushi are served in hotel buffet style in charfing dishes, hot silky egg custard made with dashi, chicken meat, shiitake mushroom and naruto.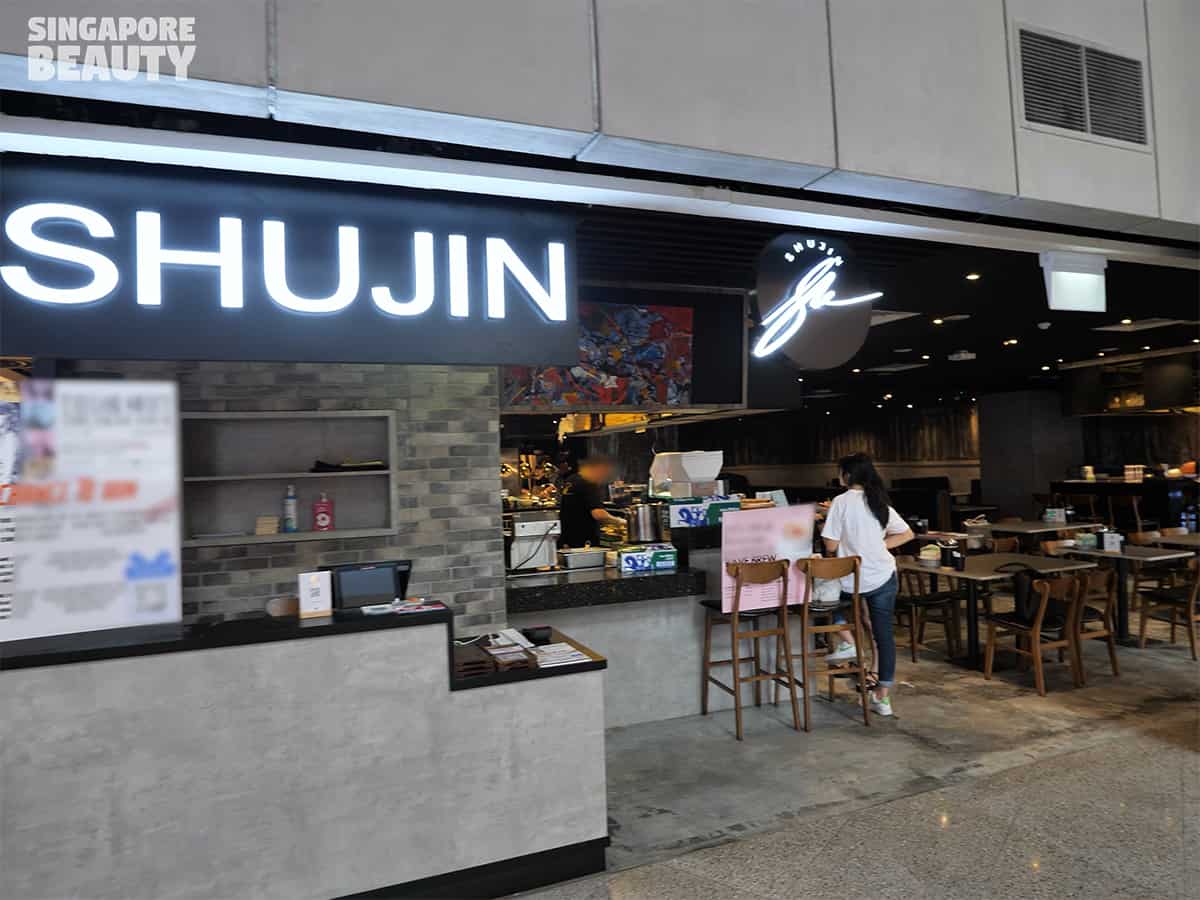 Head over to Shujin Master Sushi Bar for modern Japanese buffet with insane spread of choices such as sashimi, grilled meat, donburi, ramen, appetisers and seafood. Reservation and buffet price for Shujin buffet at Orchard Cineleisure as below.
Shujin Master Sushi Bar buffet address:
8 Grange Rd, B1-08/09
Cineleisure Orchard
Singapore 239695
For reservation enquiries, pls call:
8020 4617
Reservation link:
https://inline.app/booking/-NV3EiS-v7CRHIxheyAI:inline-live-3/-NV3EidZz4UqCpTquvLh
(this link directs to an external website that we are not affiliated with and have no control over it)
Buffet price:
Weekday lunch
Adult: 29.90++ Kids: 22.90++
Weekday dinner
Adult : 45.90++ Kids: 38.90++
Weekend lunch
Adult : 34.90++ Kids: 27.90++
Weekend dinner
Adult: 49.90++ Kids: 42.90++
Wkday (Mon-Thur)
Wkend (Fri, Sat , Sun/PH)
Kids: 7-12 years old, 6 & under eat free.
Updates:
Sashimi salmon, tuna & sushi now included for lunch buffet
Full menu + Sashimi(full range) + oysters only available for dinner buffet.
Free-flow green tea
Opening hours:
Lunch 12-3pm
Last order 2.30pm
Dinner 6-10pm
Lasted order 9.15pm
Dine in time: No limit during soft launch.
Brought to you by Shujin Master Sushi Bar