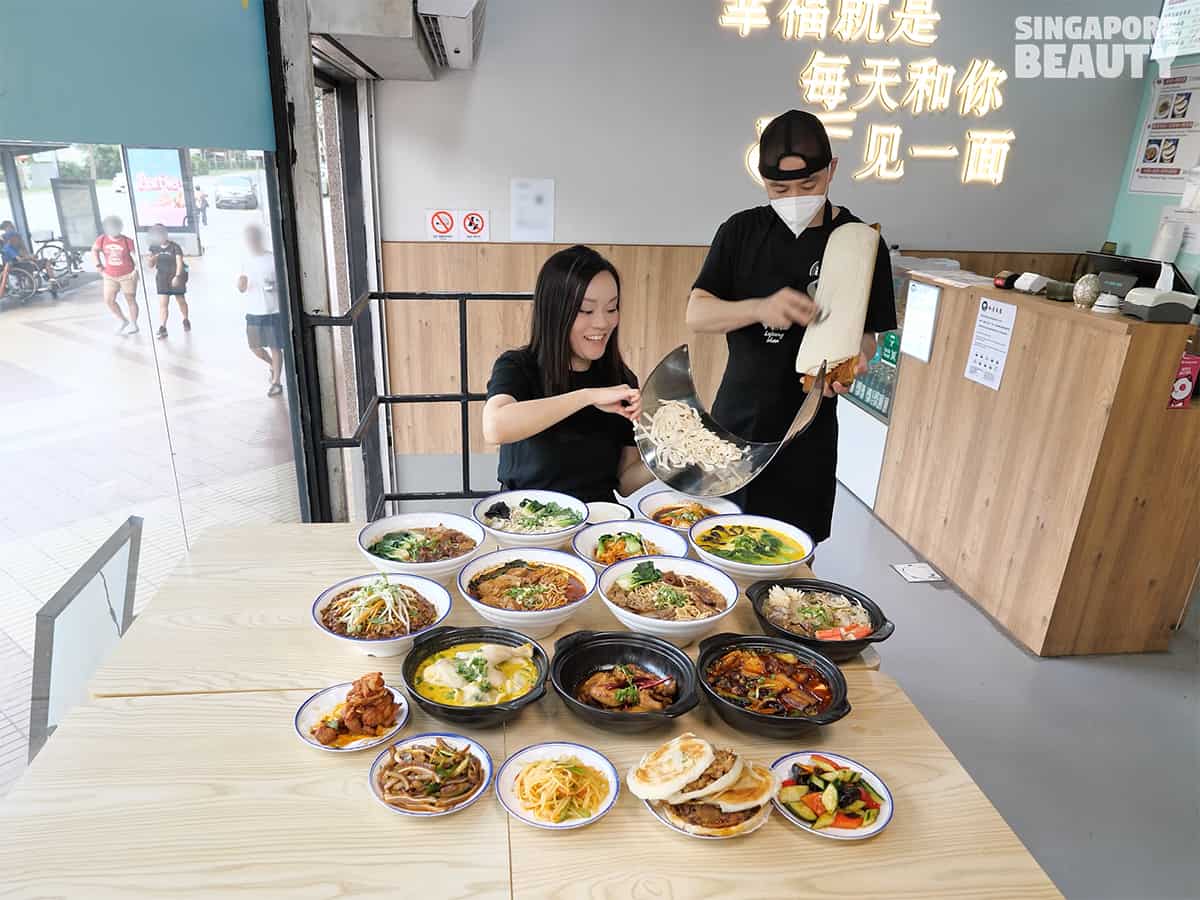 Singapore popular knife sliced noodles Jiang's Noodle House now has new items on the menu. They are popular for their knife sliced noodles and la mian in various soup base and ingredients combination. With the newly added claypot series on their menu, the menu now has more than 50 choices of noodles dishes, claypot and sides to choose from.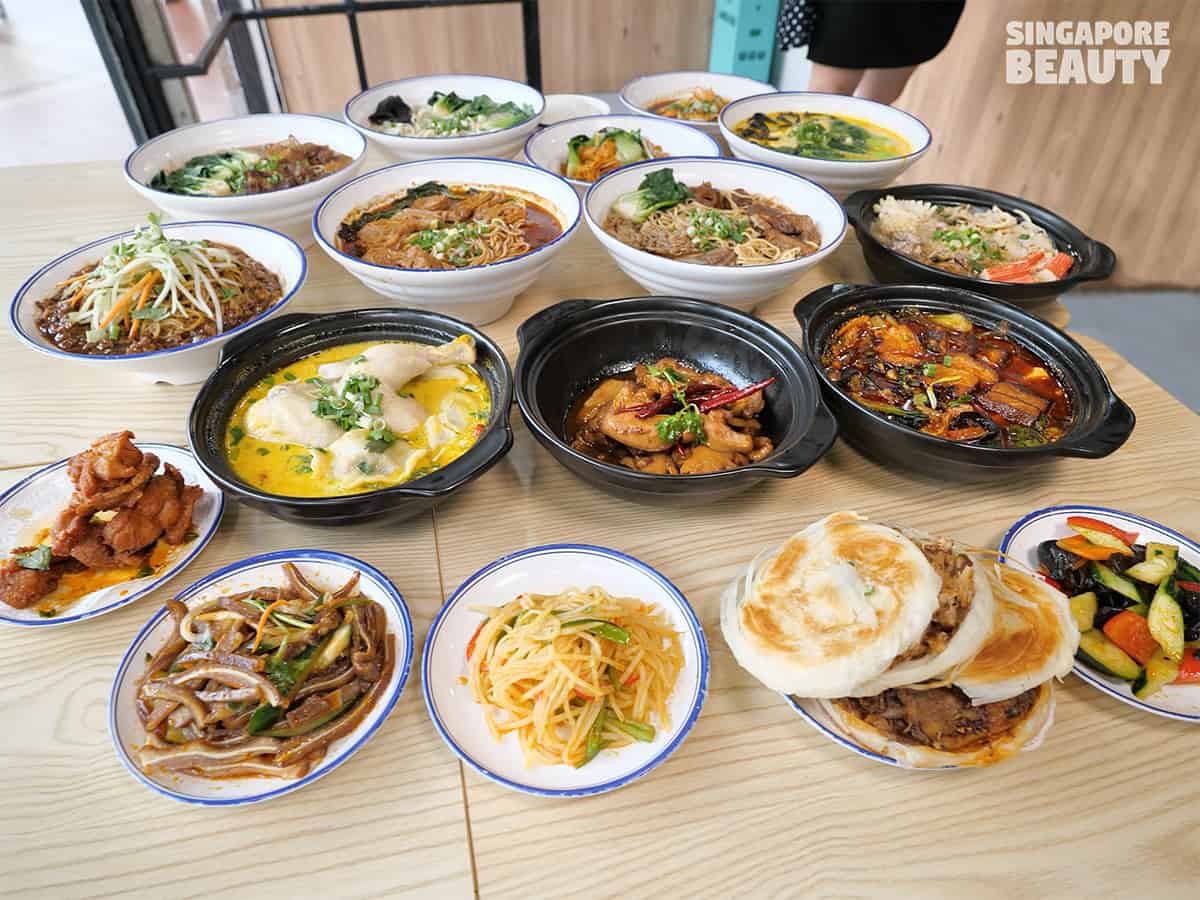 We tried some of the most popular noodles in Jiang's Noodle House. From left to right – mala braised pork ribs noodles topped with pork intestines, Handmade gyoza noodles in signature pork rib soup, red chilli oil wanton, zha jiang mian (fried minced meat noodles), mala soft bone pork ribs cartilage noodles, Spicy Oil knife sliced noodles, Three treasures beef Noodles with 3 beef cuts, seafood claypot, chicken claypot in golden soup, Sesame oil chicken claypot, Mala braised pork belly claypot. Sides (from left to right) includes crispy chicken chop, marinated pork ear, crunchy potato, rou jia mo Chinese Hamburger and cold dish green salad.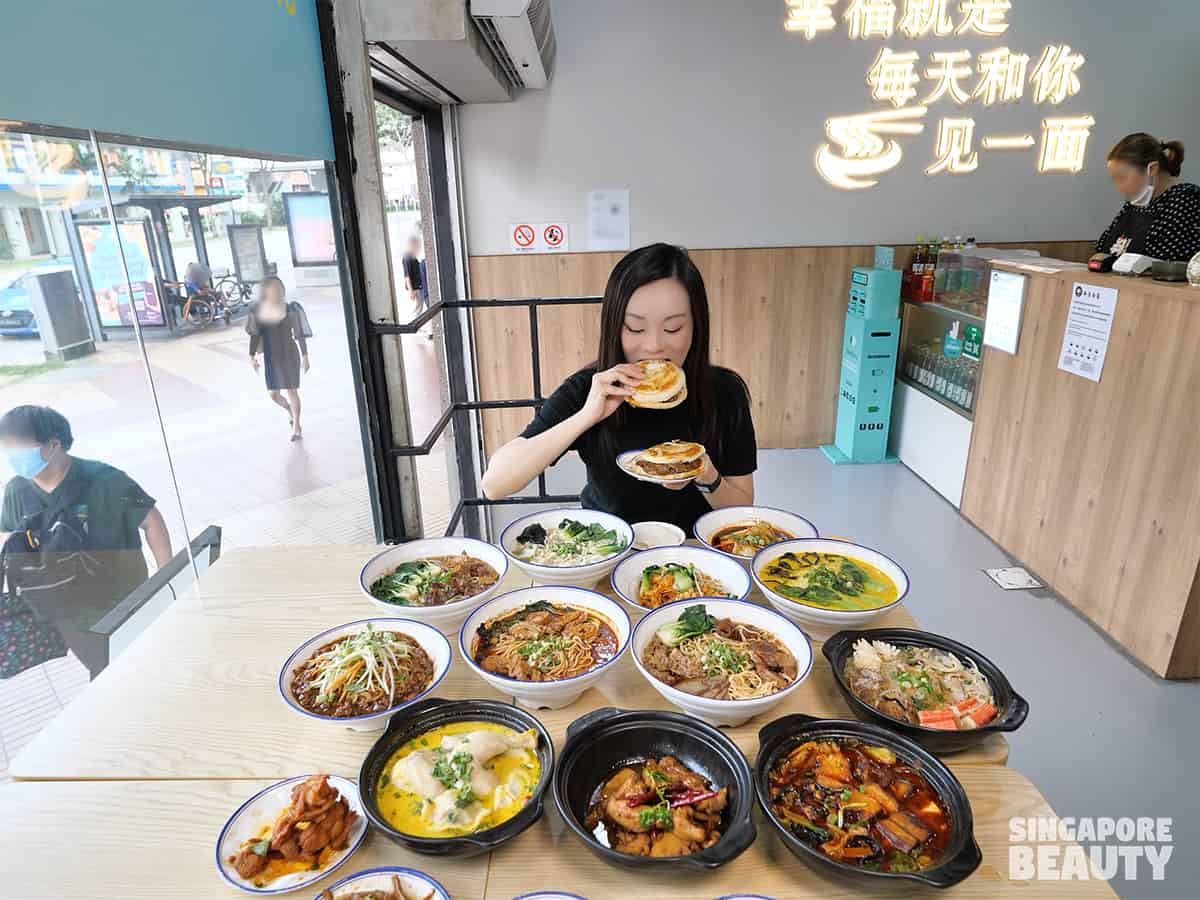 Here's our Jiang's Noodle House review after trying most of their signature dishes. The noodles are well made and cooked with a bite. Their individual serving of noodle is generous and certainly very filling. The meats are well marinated and tender too. The variety of soup bases such as pork ribs soup, braised beef soup, mala pork ribs soup and golden soup are made from scratch with real ingredients and feel hearty enough to be slurp on.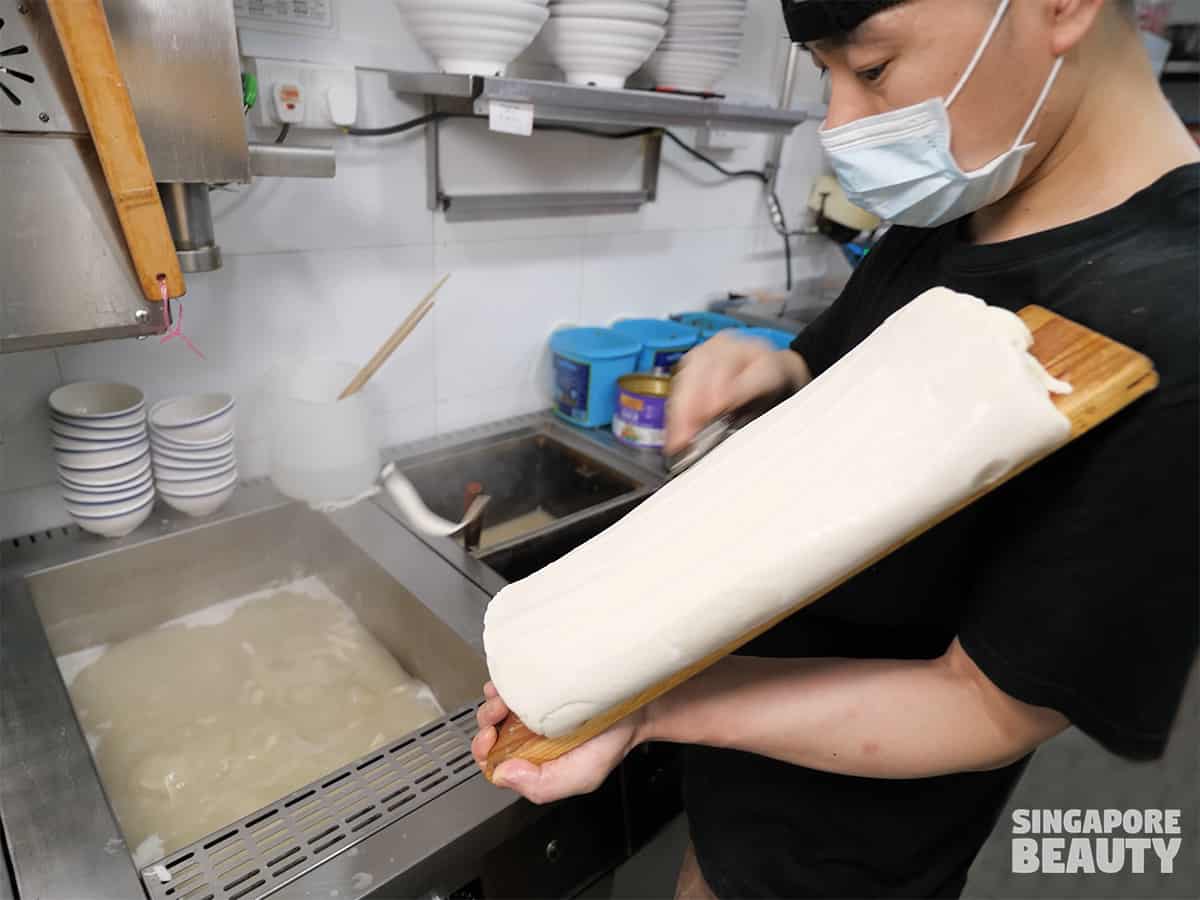 We love that at Jiang's Noodle House, they serve the very rare knife sliced noodles. The chef freshly hand shaved ribbons of noodles from a block of hand kneaded dough with every order. The noodle is shaved directly into the boiling water. This is a special skill that requires skill and experience to get the perfect noodle consistency. The act of shaving is like a form of culinary art and is a joy to watch from their show kitchen through a ribbon window.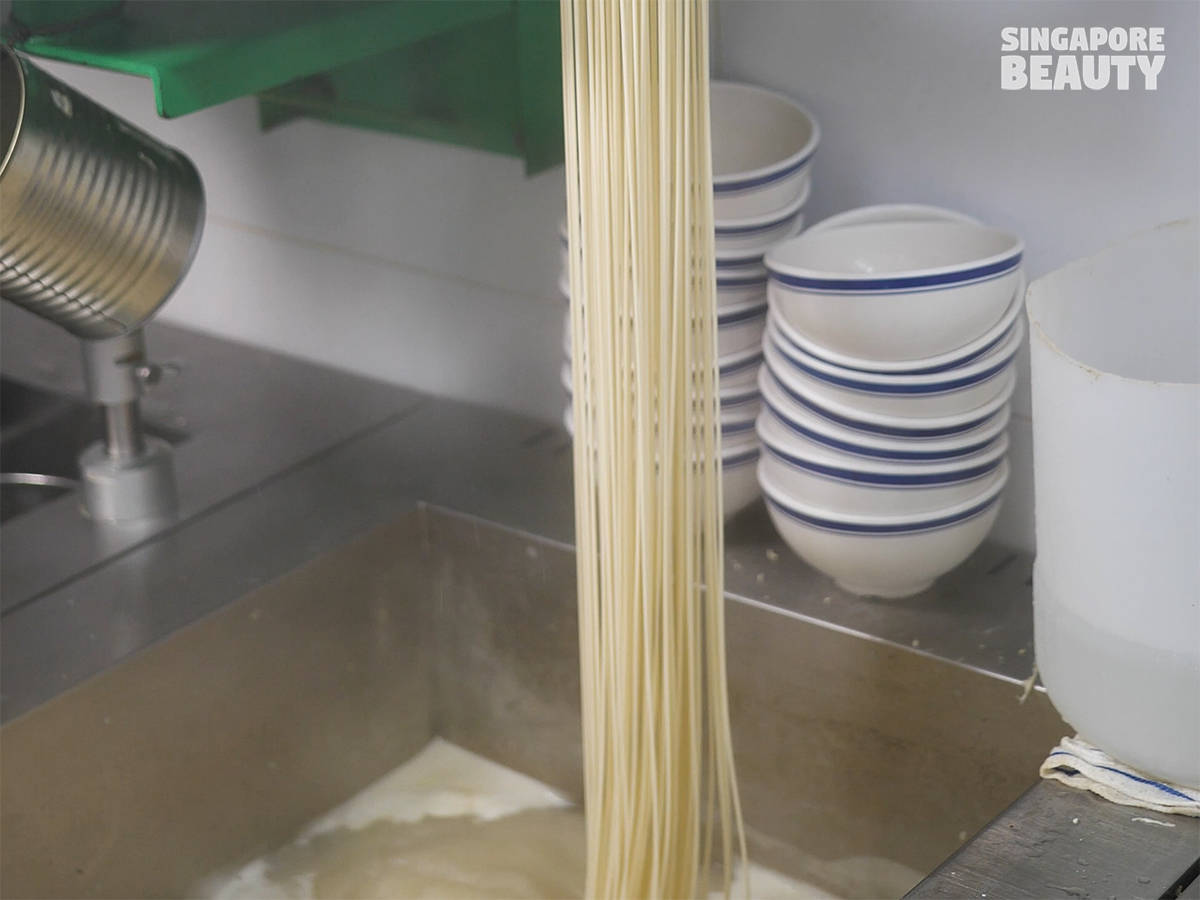 If you are fan of la mian, go for their perfectly made la mian with a bite. We are mesmerised with the process of how these la mian are made. Every strand of noodle is uniformly formed with their desired girth for the perfect bite and texture. These freshly made noodles have a smooth appearance with a springy feel when they drop into the boiling water.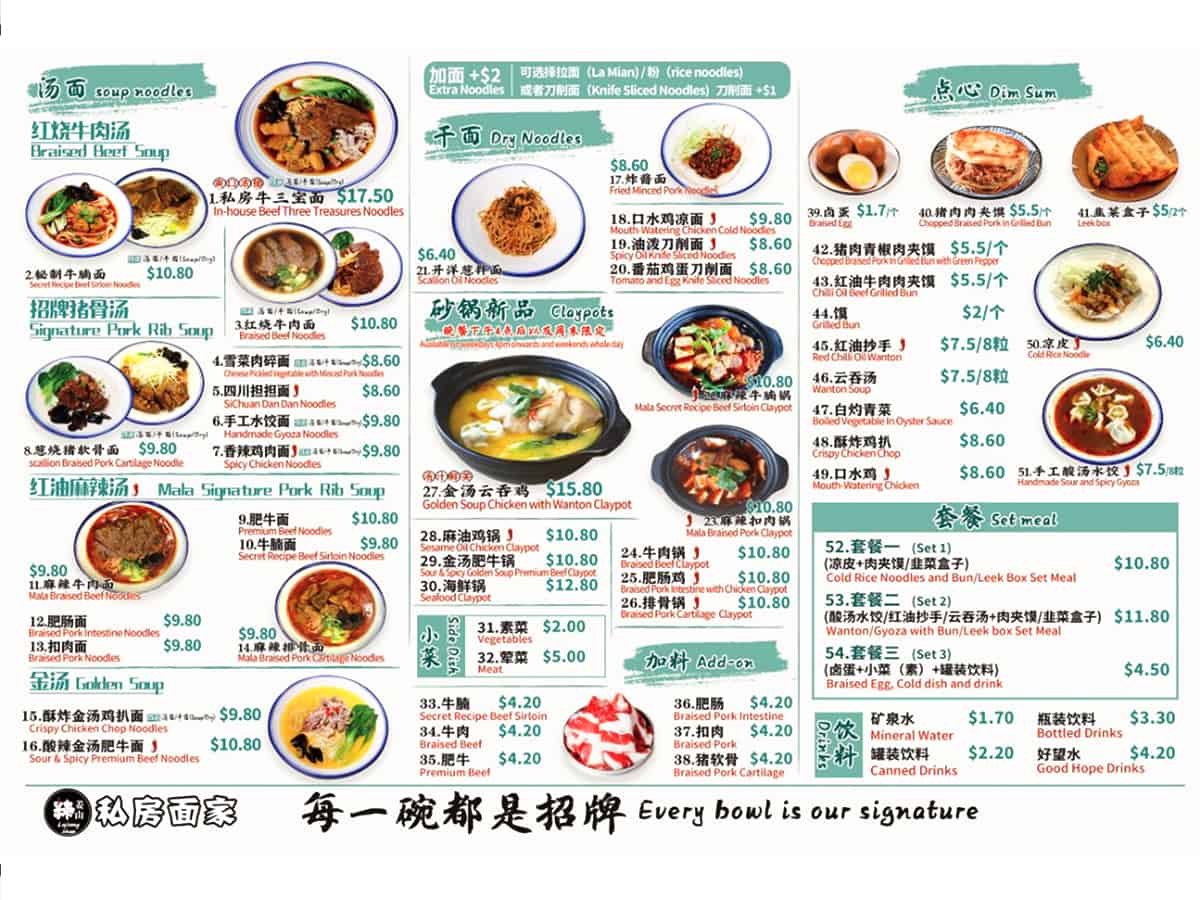 This is Jiang's Noodle House menu with their latest addition – the claypot dishes together with their signature la mian and knife sliced noodles. This noodles house is opened by the famous personal hotpot and BBQ shop La Jiang Shan Hotpot just a few store front away.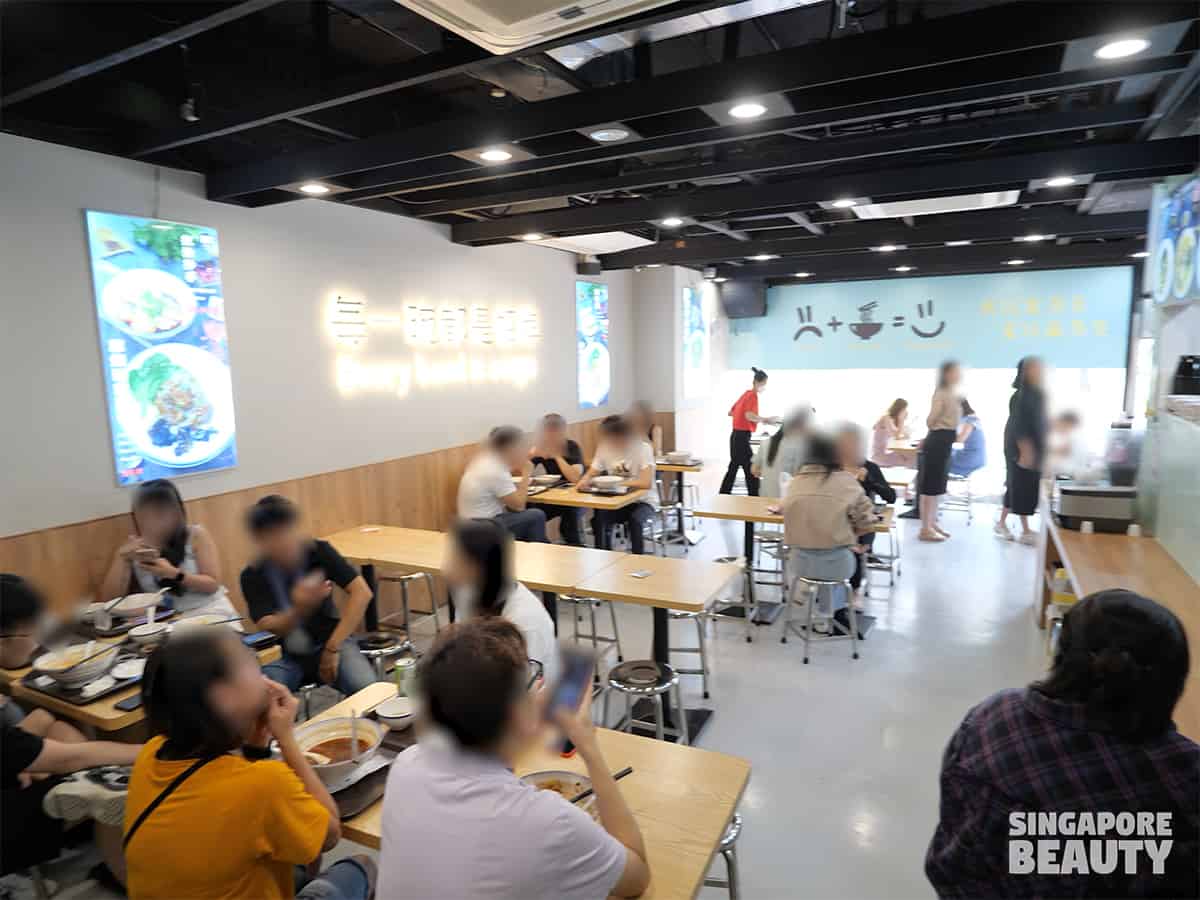 This place is a crowd magnet during lunch and dinner for students and working adults around the Selegie road, Parkland Shopping Mall. Serving authentic China-style noodles in Singapore, it has attracted a large following of Chinese customers who are working and studying in Singapore to relish the taste of noodles back at home. The price of the food is also pretty affordable and considered value for money. The noodles servings are generous in hot piping soup base and it will be a very filling experience. The interiors are neat, clean and air conditioned too. Sit by the window for a street view while you slurp up your noodles or dig into their hot claypots.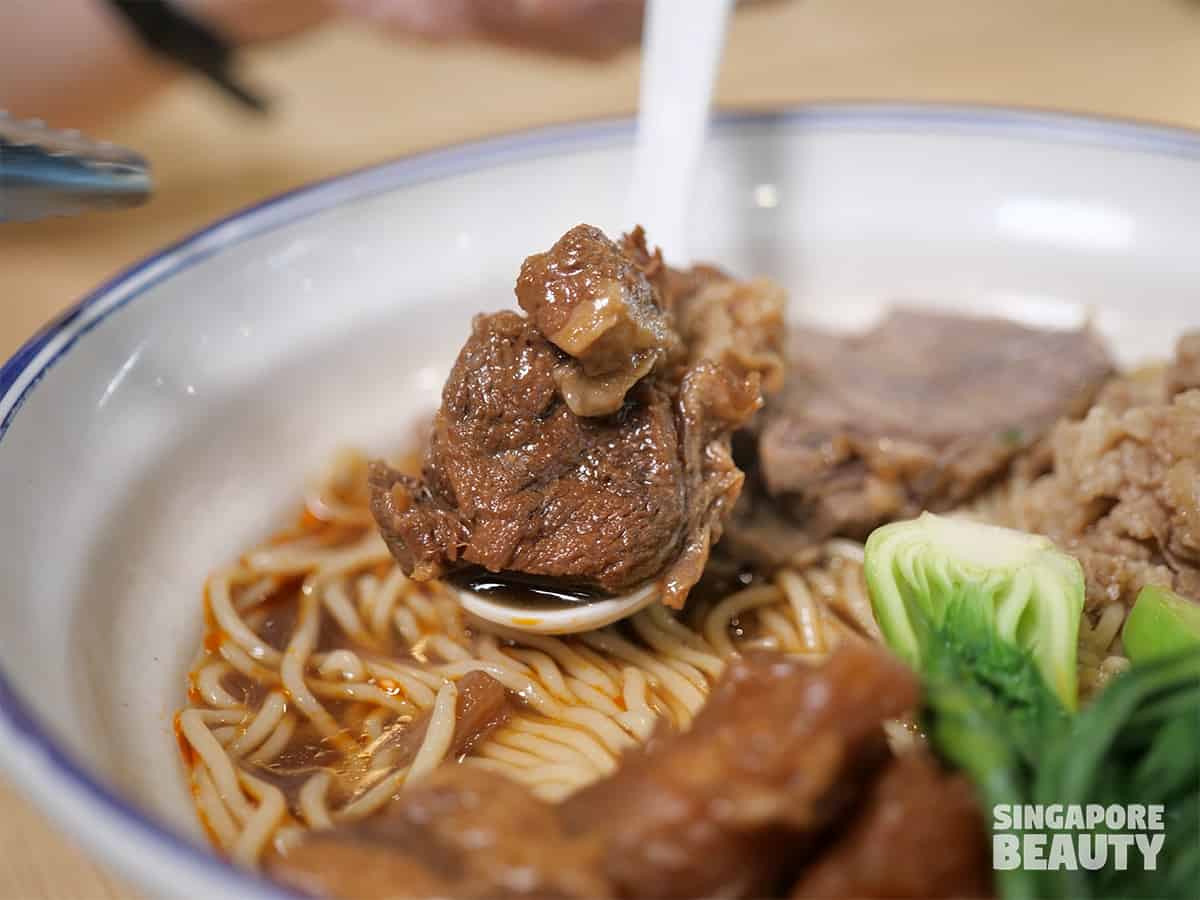 In-House Beef Three Treasure Noodles ($17.50) – consist of la mian noodle, with 3 types of beef cuts. Enjoy braised beef sirloin, beef shanks and springy delicate shabu shabu premium beef ribbons. This is available in dry or soup option. We chose the soup option as we would like to slurp on the braised beef soup. Braised beef sirloin is tender with a good balance of fatty lace holding together the delicate meat.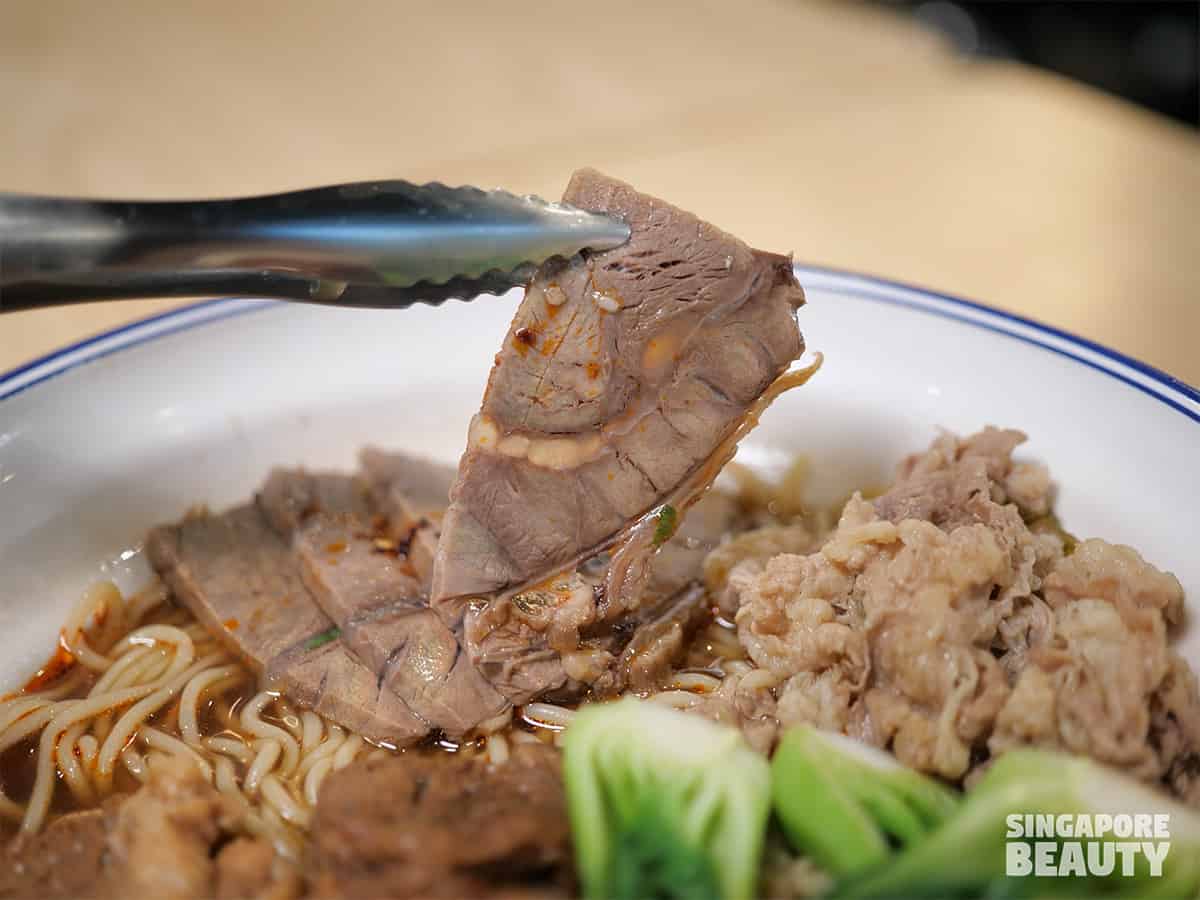 This is the beef shank for In-House Beef Three Treasure Noodles. This is a leaner cut of beef held together with gelatinous tissue and has a stronger and richer flavour that beef lovers enjoy. To retain the meat texture, the meat needs to be cooked in a low simmering braised broth for a longer period.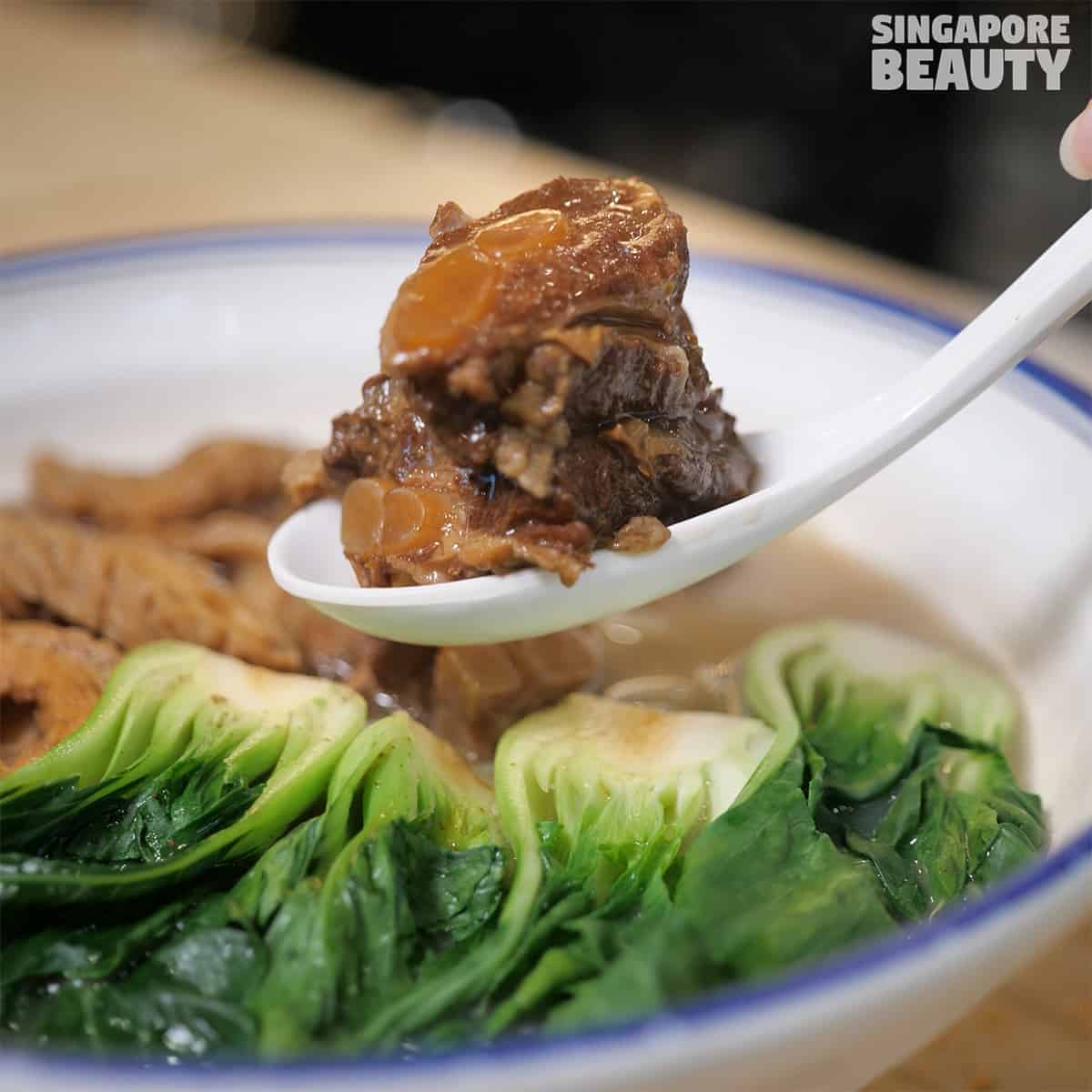 Mala Braised Pork Cartilage Noodles ($9.80) – consists of soft bone pork ribs with la mian in their signature mala pork ribs soup. We added some braised pork intestines ($4.20) and it did not disappoint. The pork ribs are fork tender with a mix of crunchy soft bones and melt in the mouth soft cartilages. The flakes of meats are held together by the gelatinous tissue and have a delightful texture that is just right. The lightly poached xiao bai cai is sweet and crunchy too.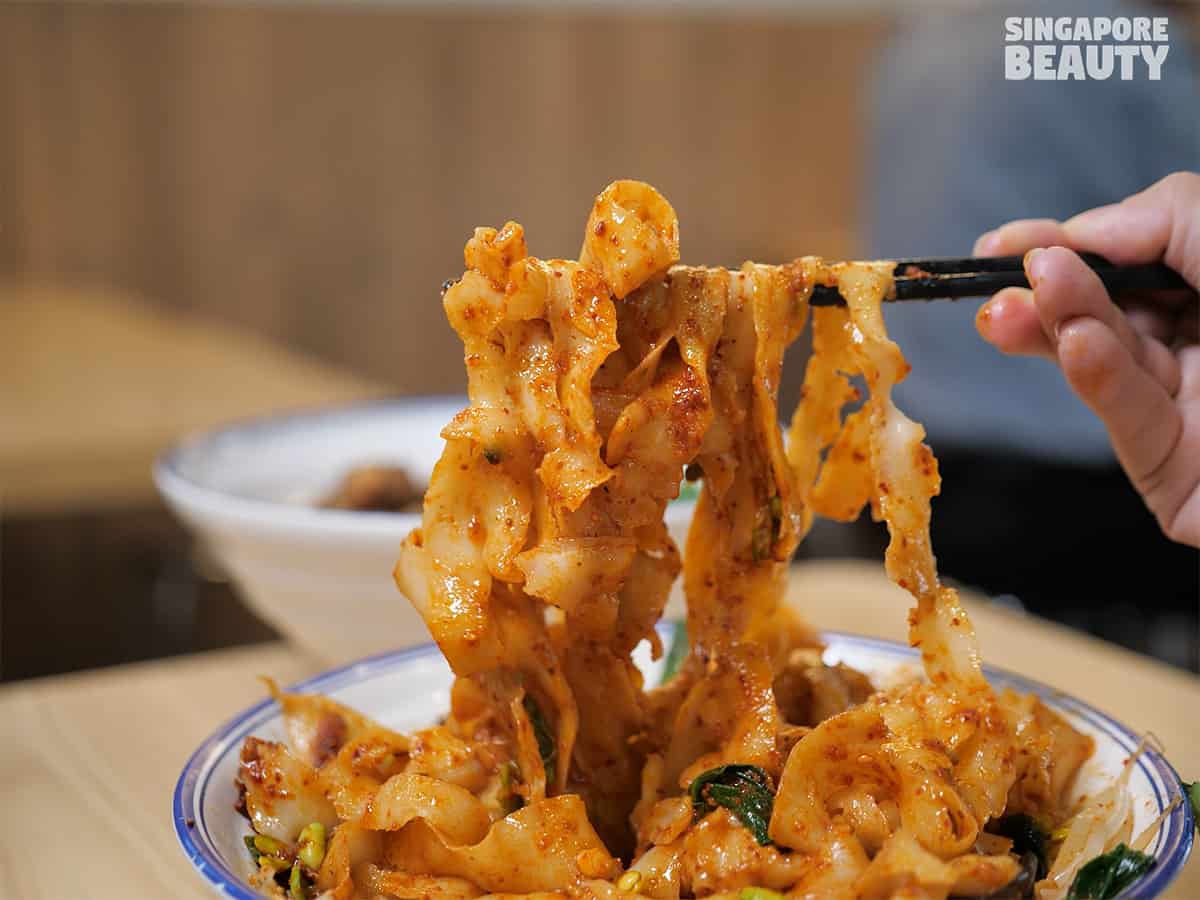 Spicy Oil Knife Sliced Noodle ($8.60) – consists of knife shaved noodles from a block of hand kneaded dough straight into boiling water. This knife cut noodles has to be shaved fresh from the block for each order. The noodles texture is controlled by the experienced noodle chef Jiang for the perfect bite. Each strand of noodle is thicker in the center and has fins like edges that thin out towards the edge. The center of the noodle has a chewy bite with a silky fin like edges that is thin like wanton skin. To bring out the aroma of the chilli, hot oil is poured on the roasted chilli flakes and spices. The sizzling chilli dressing coats each strand with a delicious red hue as you toss and mix with an underlying kick of vinegar.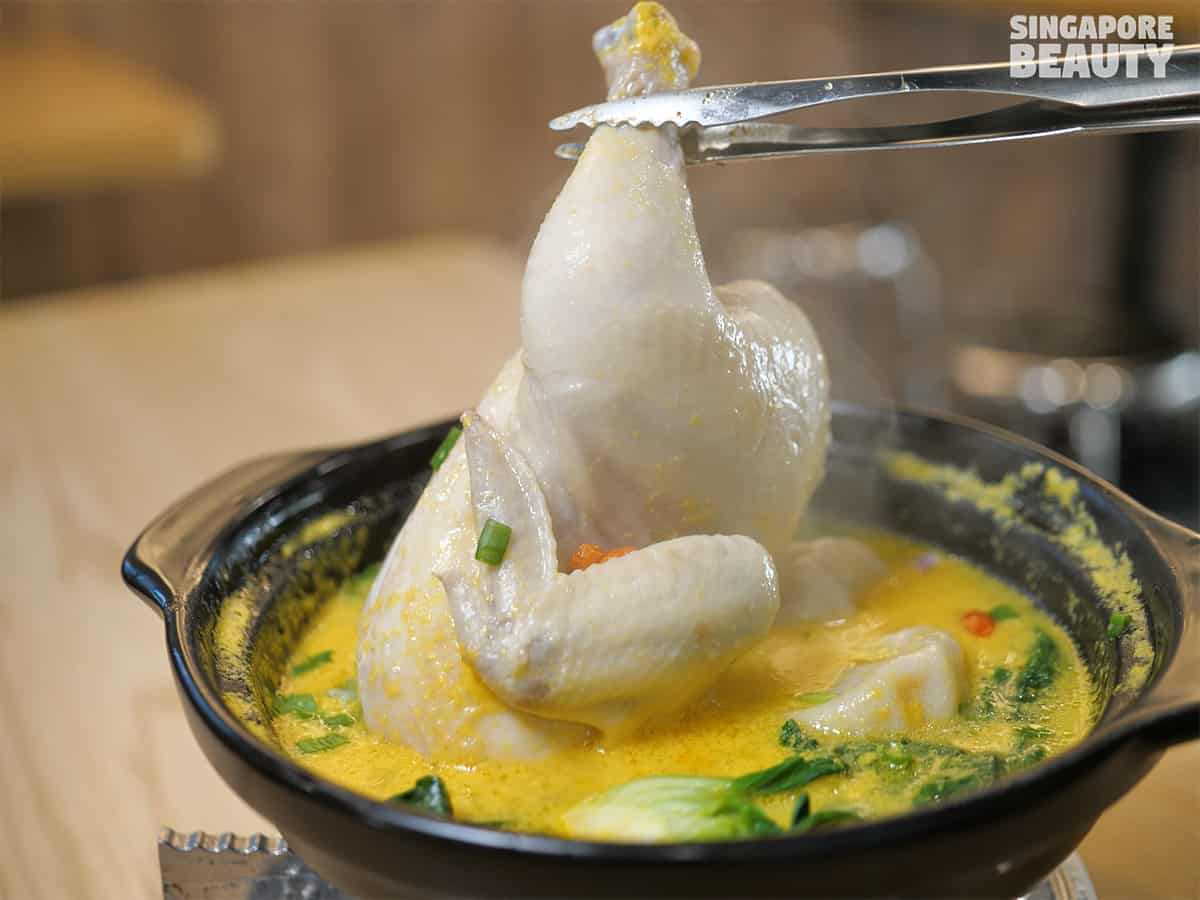 Golden Soup Chicken with Wanton Claypot ($15.80) – consists of a good size half chicken in golden soup made with pumpkin and chicken. The chicken is poached Hainanese style with tender and juicy meat. The skin is silky smooth with a savoury sweet flavour. It also comes with plump juicy dumpling bursting with hot soup. Each dumpling is filled with marinated minced pork with sweet chives, get their signature chilli oil dip with visible chilli flakes for the ultimate spicy oomph. The pumpkin base soup is also comforting to slurp on and feels nourishing too. This is one of the must try claypot dish at Jiang's Noodle House for chicken claypot lovers.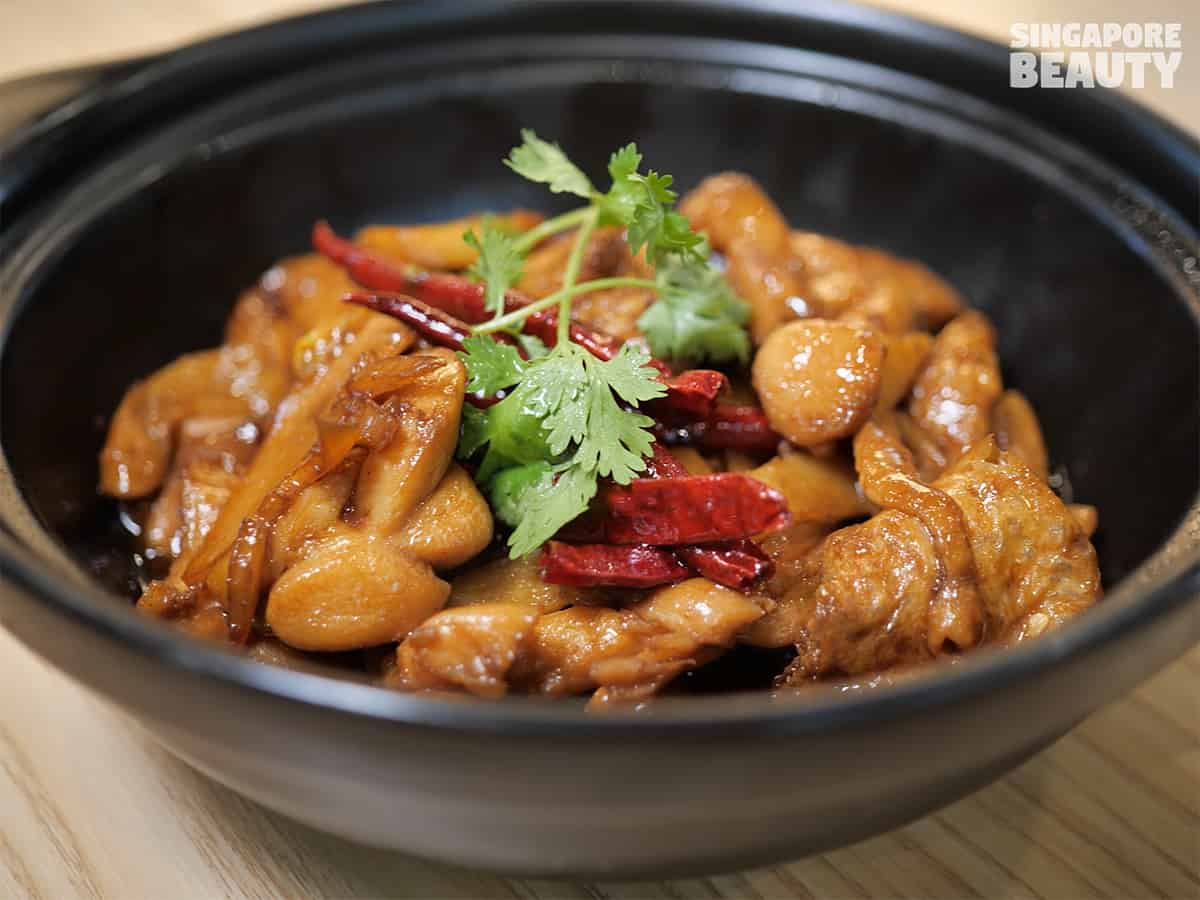 Sesame Oil Chicken ($10.80) – consist of stir fry tender chicken in savoury sesame oil, ginger, garlic, oyster sauce, dry chilli pepper and more. The chicken is infused with the aroma of the sesame oil and dark sauce. This dish is also one of the must try for chicken lovers. Drizzle the sauce over steamed rice to best enjoy this claypot dish. The sauce is thick and flavourful with a collagen like consistency that endows each grain of rice with a glistening shine.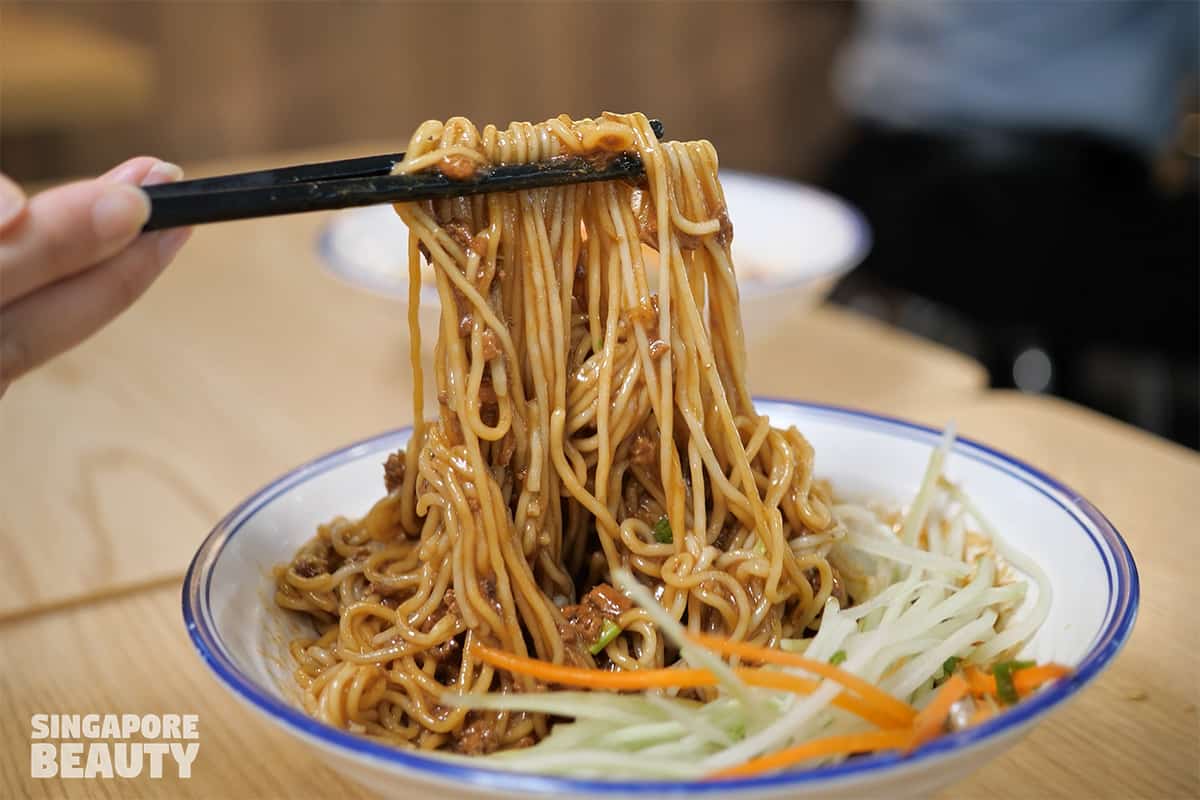 Fried Minced Pork Noodle ($8.60) – consist of a luxurious topping of fresh crunchy cucumber and carrots, chewy la mian coated with a silky sauce of savoury bean sauce minced pork. The sweet and umami noodles pairs well with the refreshing crunch of the cucumber.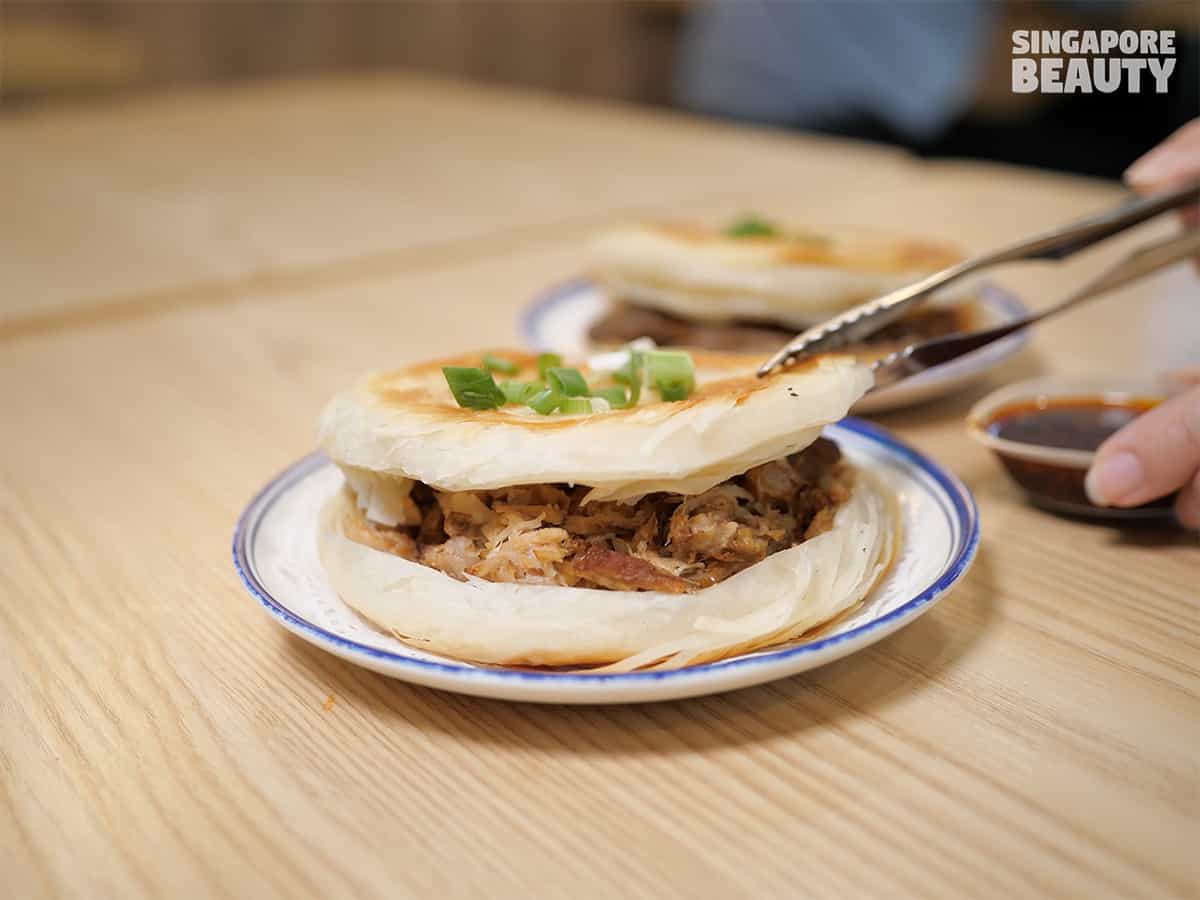 Chopped Braised Pork in Grilled Buns ($5.50) – is rou jia mo Chinese hamburger with chopped almost like pulled pork in a crispy flaky grilled bun. The filling can also be chopped chilli oil beef or chopped braised pork with green pepper. This is a delicacy that is loved by many because of it crispy texture and satisfying meat fillings here. Add a drizzle of their chilli oil for extra kick.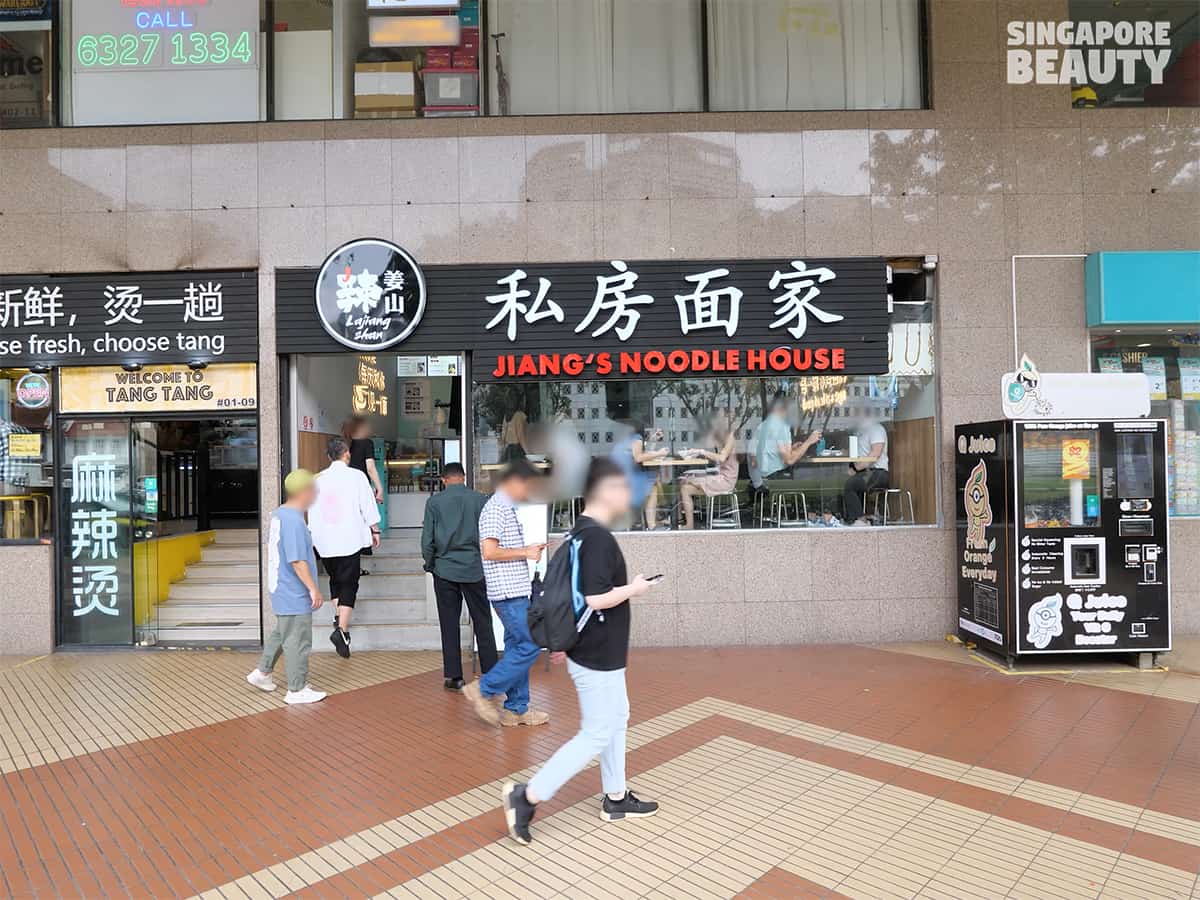 Head over to Jiang's Noodle House today to enjoy over 50 types of braised beef, braised pork la mian, Knife sliced noodles, zha jiang mian, rou jia mo snacks and claypot dishes in authentic China-Chinese style at Selegie Road, Parkland Shopping Mall ground level. If you are looking for affordable noodles near Orchard road shopping belt, this is within walking distance from Dhoby Ghuat MRT station.
Note: There are 3 types of noodles to choose from knife sliced noodle, signature la mian and bee hoon noodle. Choice of 4 types of soup: braise beef soup, pork ribs soup, mala signature pork rib soup and golden soup made with pumpkin and chicken.
Do note that for knife sliced noodles a top of $1 is required.
They also have set meals from $4.50 -$11.80 if you would like to try a variety of their dishes.
Claypots are only available on weekday after 4pm onwards and whole day for weekends. With an order of claypot, steamed rice is free flow for dine in.
Address of Jiang's Noodle House:
35 Selegie Rd, #01-10,
Parklane Shopping Mall, S188307
Opening Hours : 11am to 11 pm daily
For enquires only: 6530 3100
Brought to you by Jiang's Noodle House