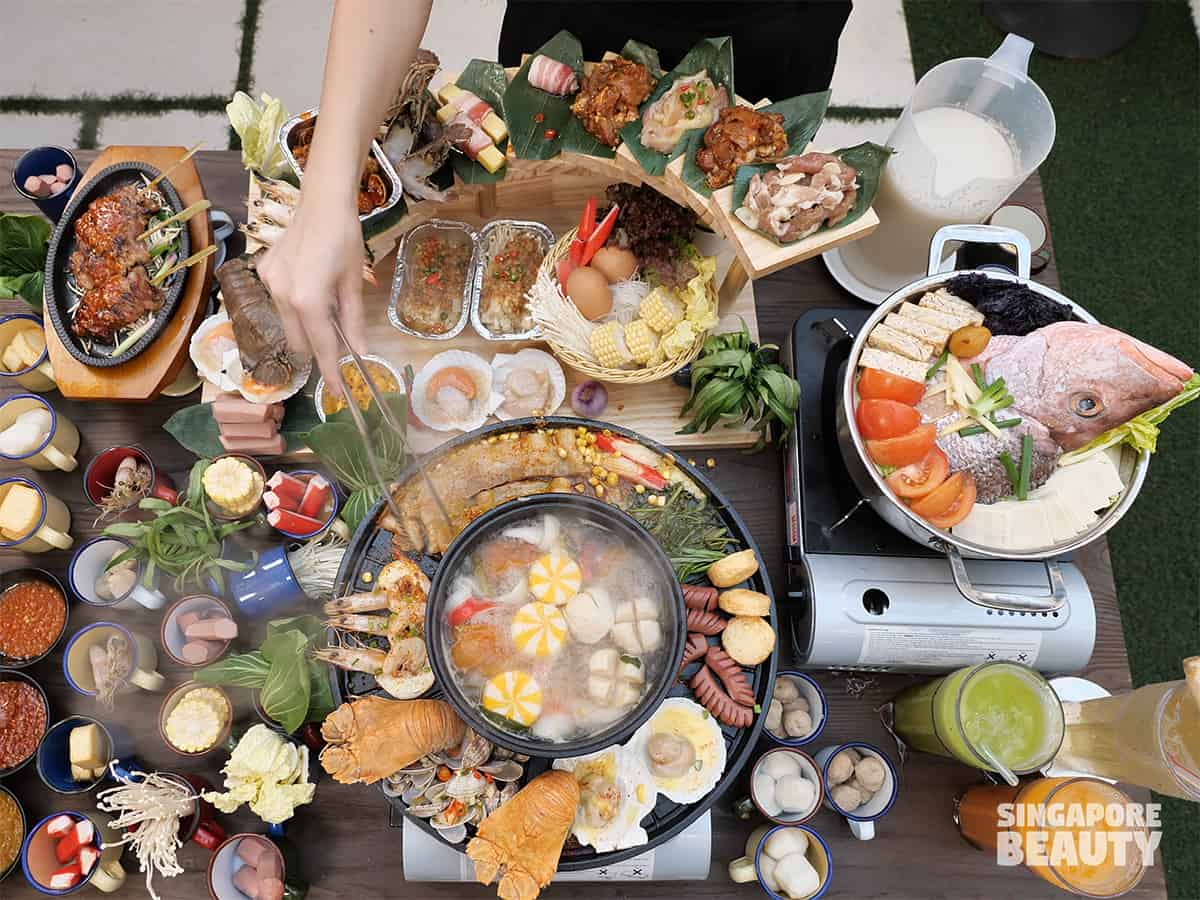 Shine BBQ is a newly opened all in one BBQ, steamboat, Teochew fish head and beer buffet restaurant. The BBQ and steamboat there is a fusion of Thai styled bites, Chinese marinated meats and local Singapore delight.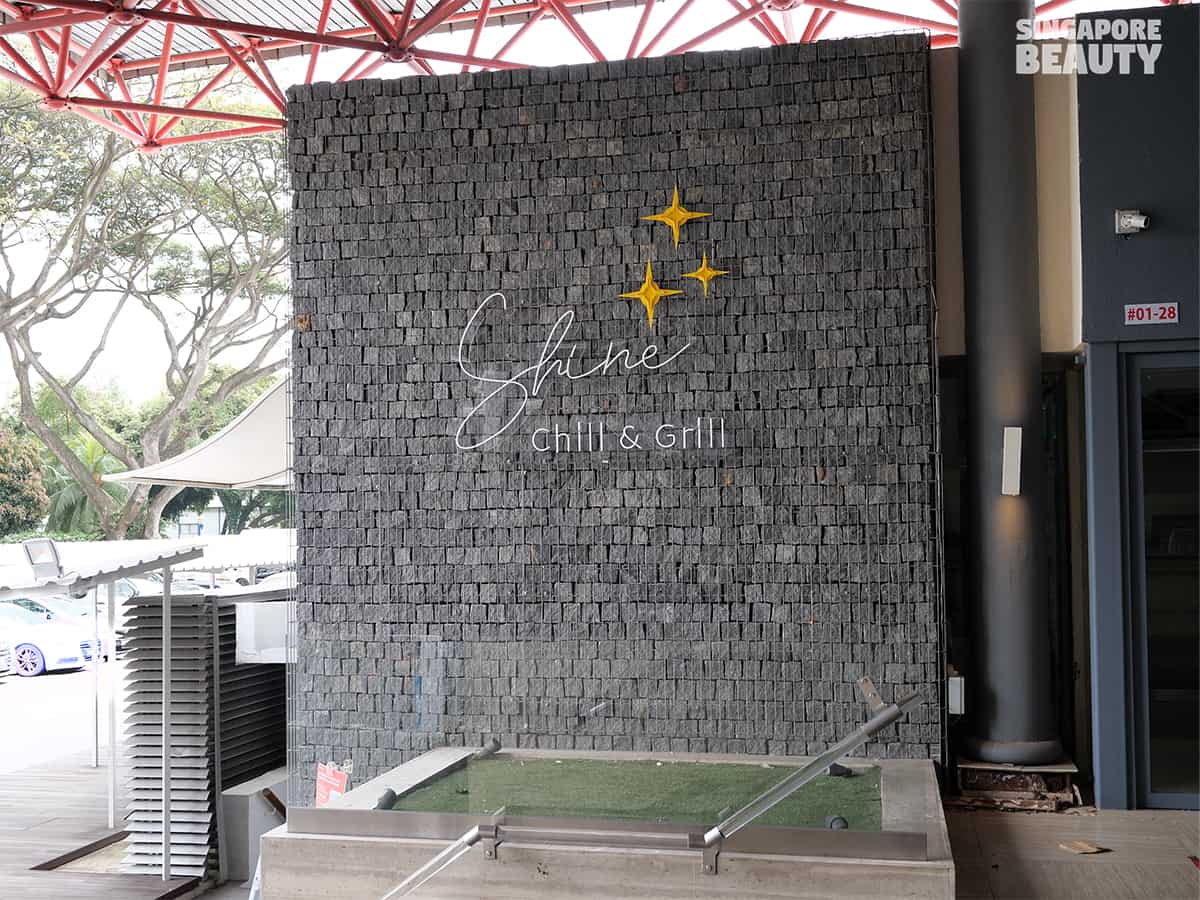 The location of Shine BBQ is a little ulu at Raeburn Park but it is conveniently connected by shuttle bus on weekdays and carpark is of a decent size. It is located right next to an open air carpark, so minimum walking is required if you drive or take the shuttle bus from Outram Park MRT station Exit F.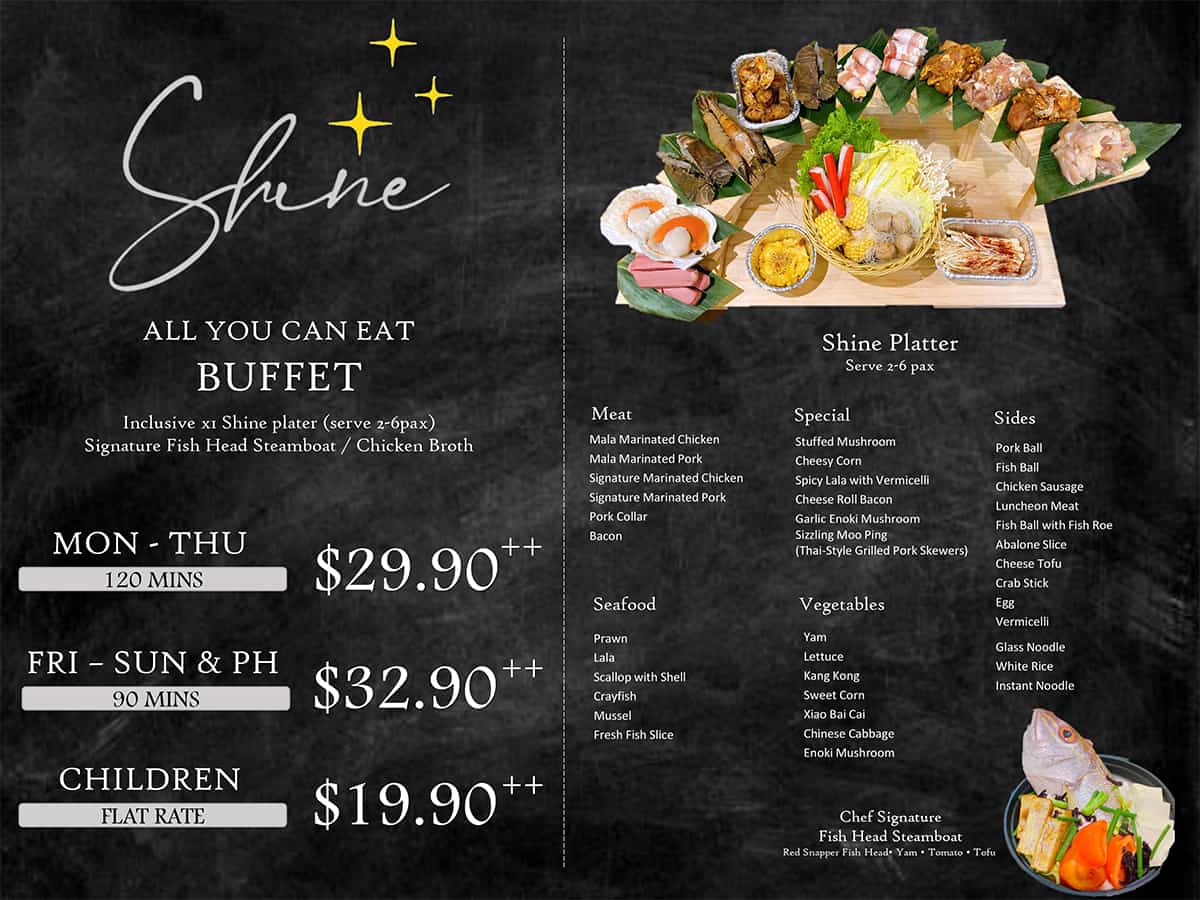 Here is the menu of Shine BBQ buffet (without beer). They have different pricing for weekday and weekends. If you want to enjoy have free-flow draft beer, the buffet will be at 39.90++(Mon-Thur) and 45.90++(Fri-Sun & PH). If you are a small eater, you can go for Shine BBQ ala carte menu.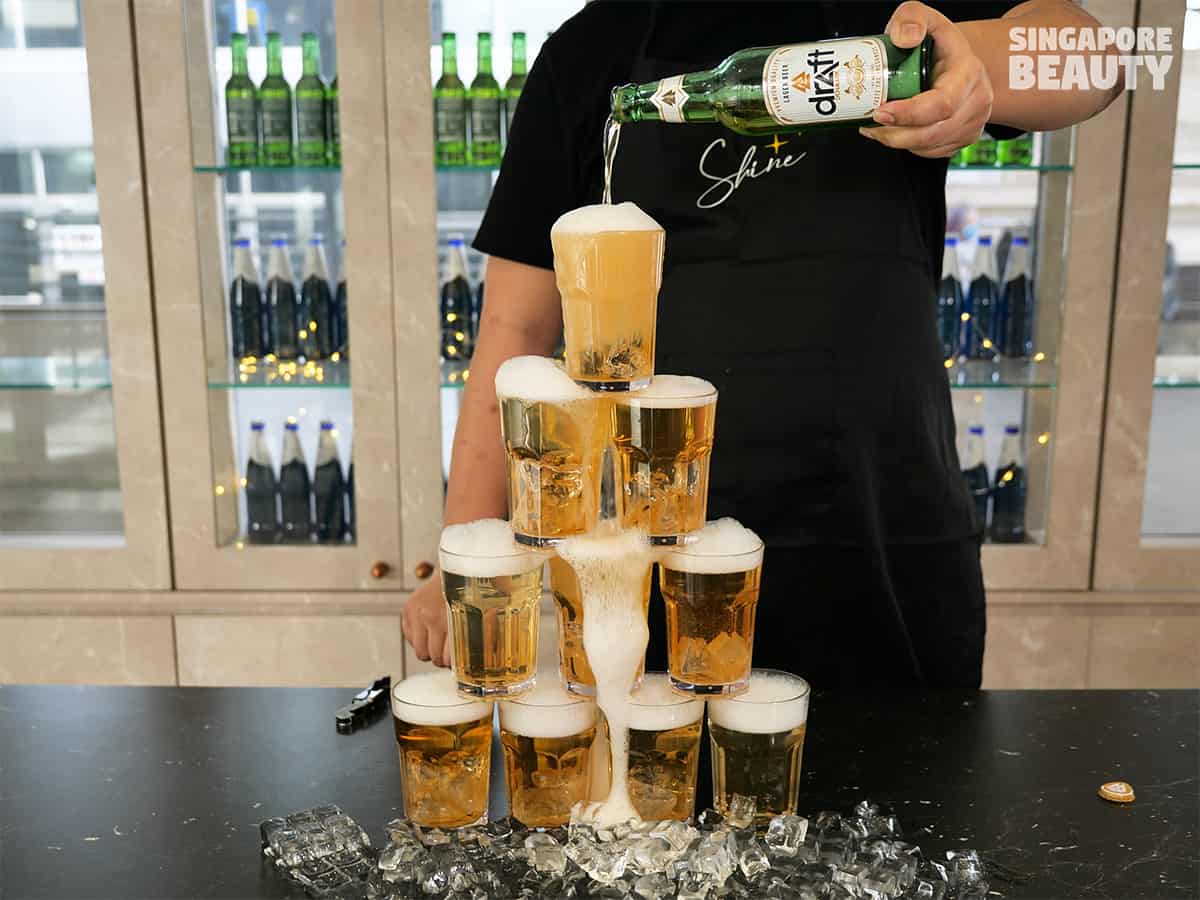 Enjoy unlimited mugs of beer with your BBQ, steamboat and beer buffet at Shine BBQ.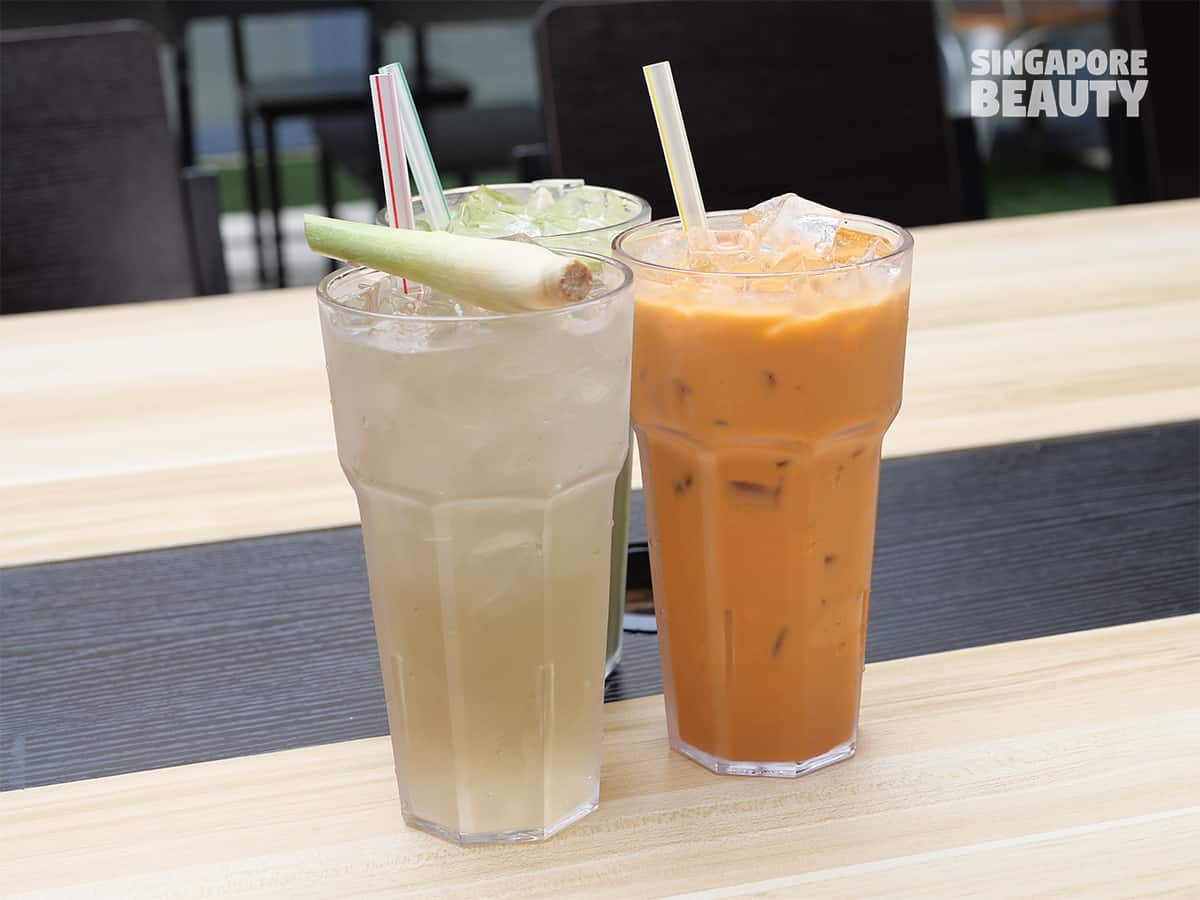 For those who loves some smooth thick and rich Thai green milk tea, milk tea or lemongrass drink, you can order them ala carte as these are not included in buffet.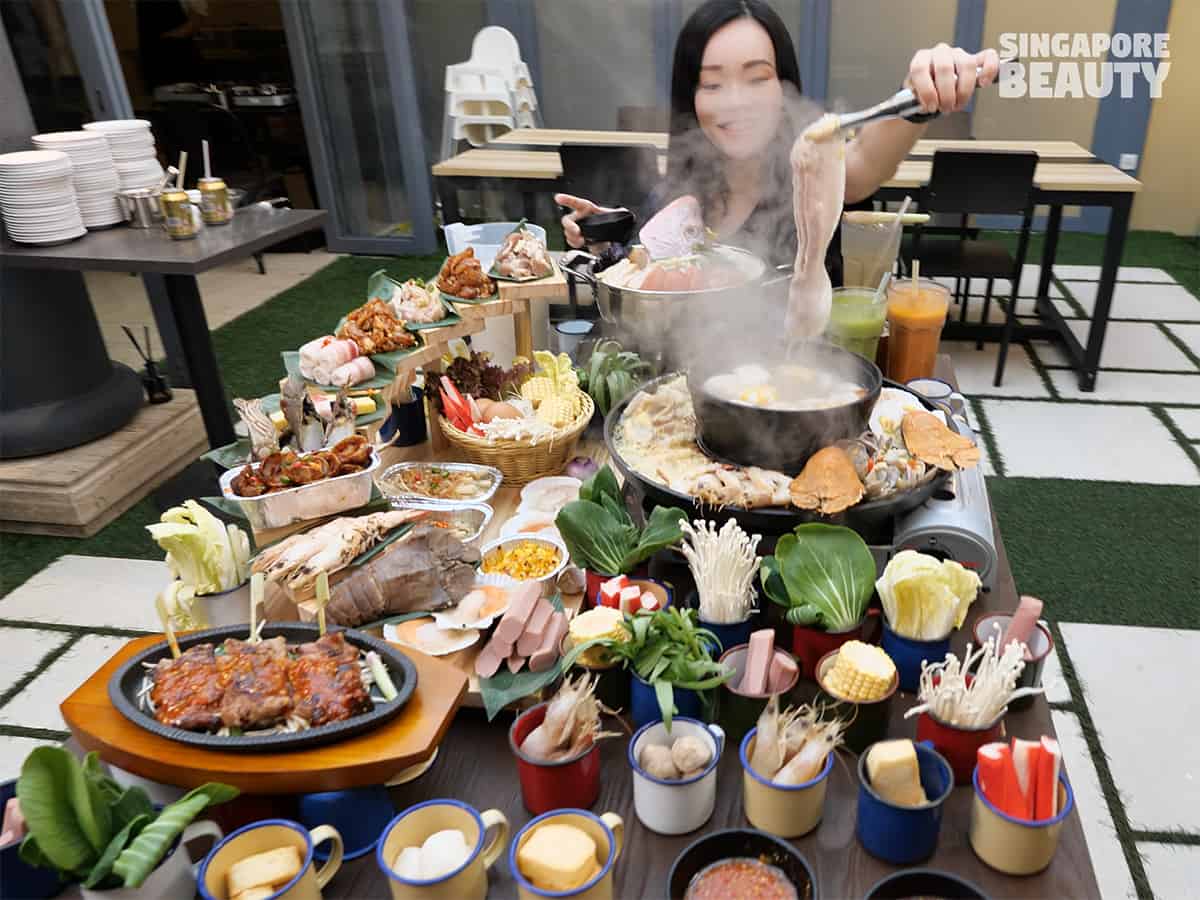 Shine BBQ buffet has more than 40 varieties of ingredients to choose from that comes in colourful enamel mugs for ease of adding into the steamboat. You can just empty the ingredients from the mug all into the bubble steamboat.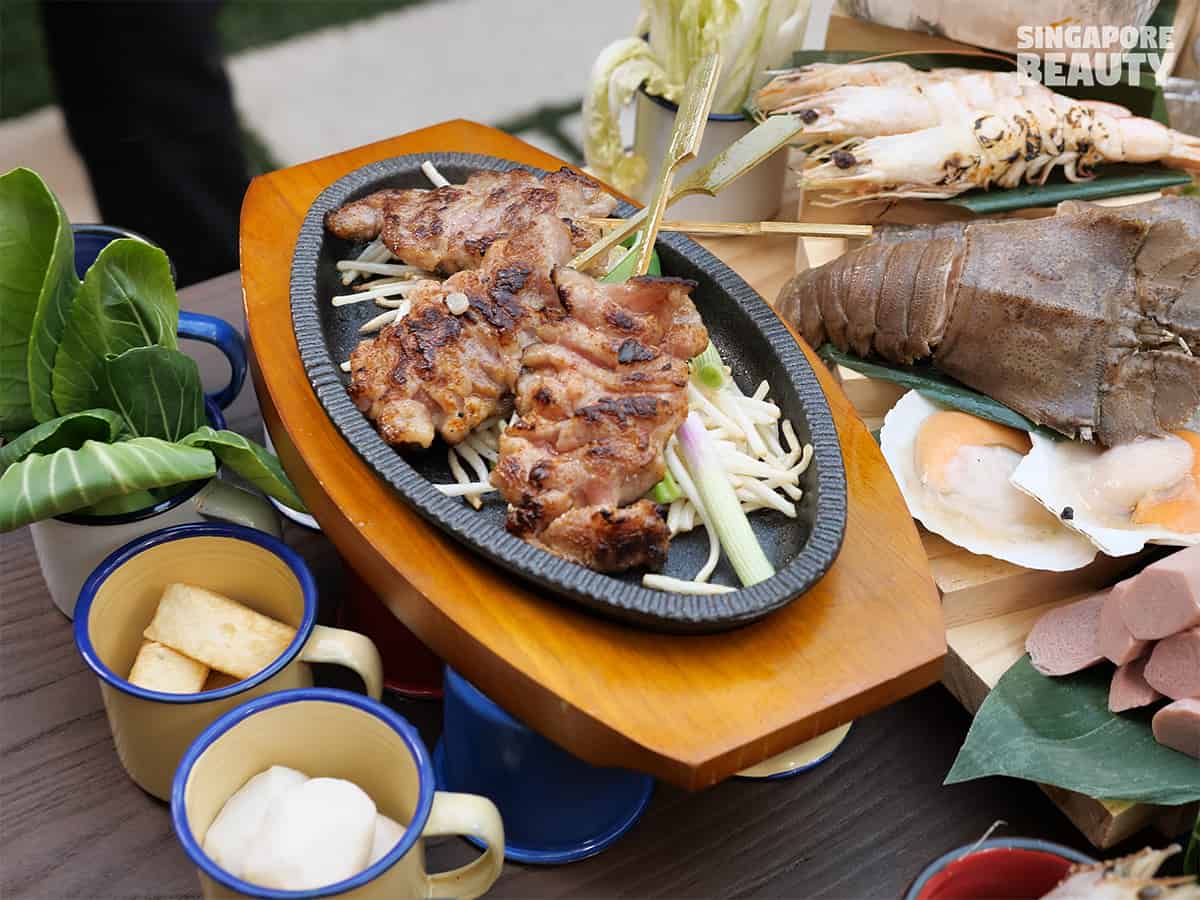 Those who love Thai style moo ping (grilled pork skewers) can enjoy some hotplate style meat skewers here as part of the buffet.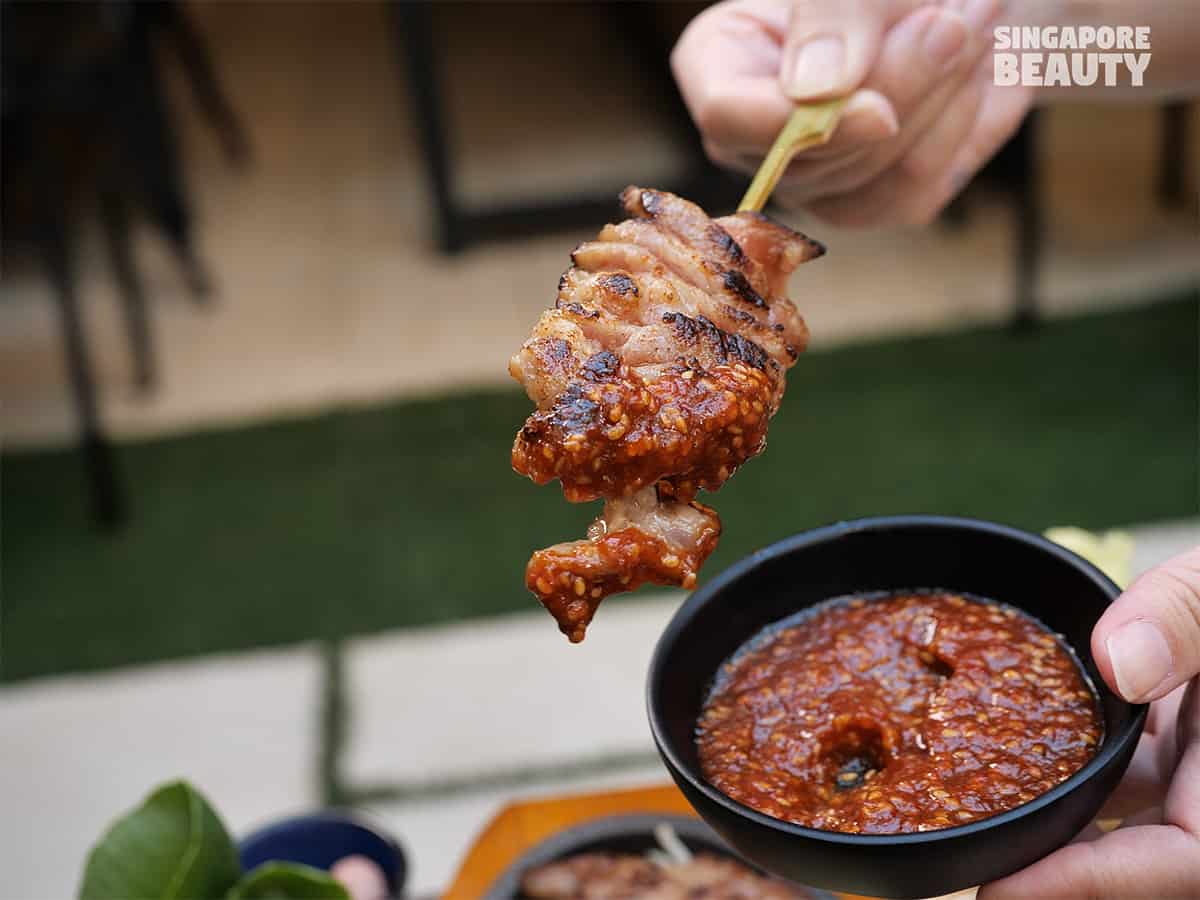 These moo ping are best enjoyed with their in house sweet gooey Thai style chilli sauce that is sweet and a little spicy.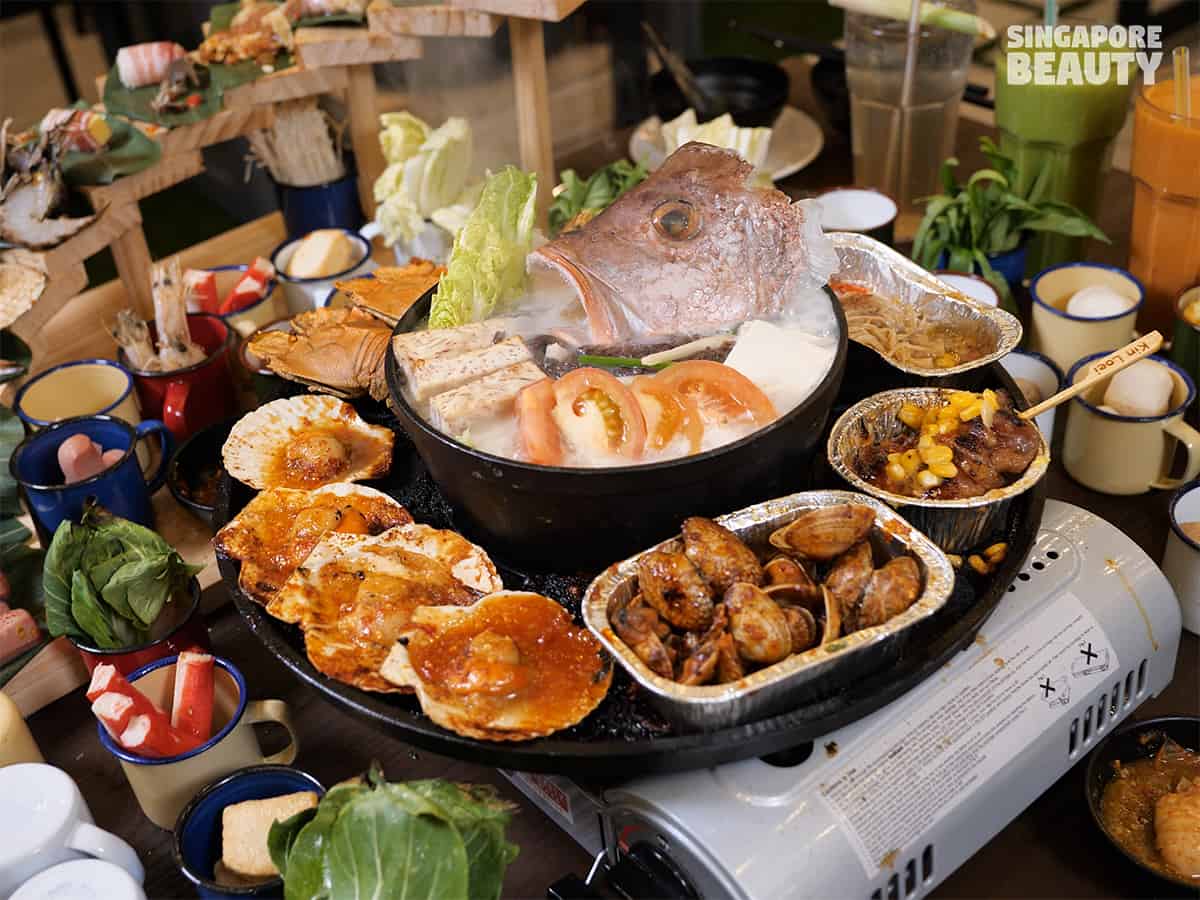 For every table, you will also get a complimentary Teochew Fish head steamboat from 2 pax onwards that is part of the BBQ and steamboat buffet.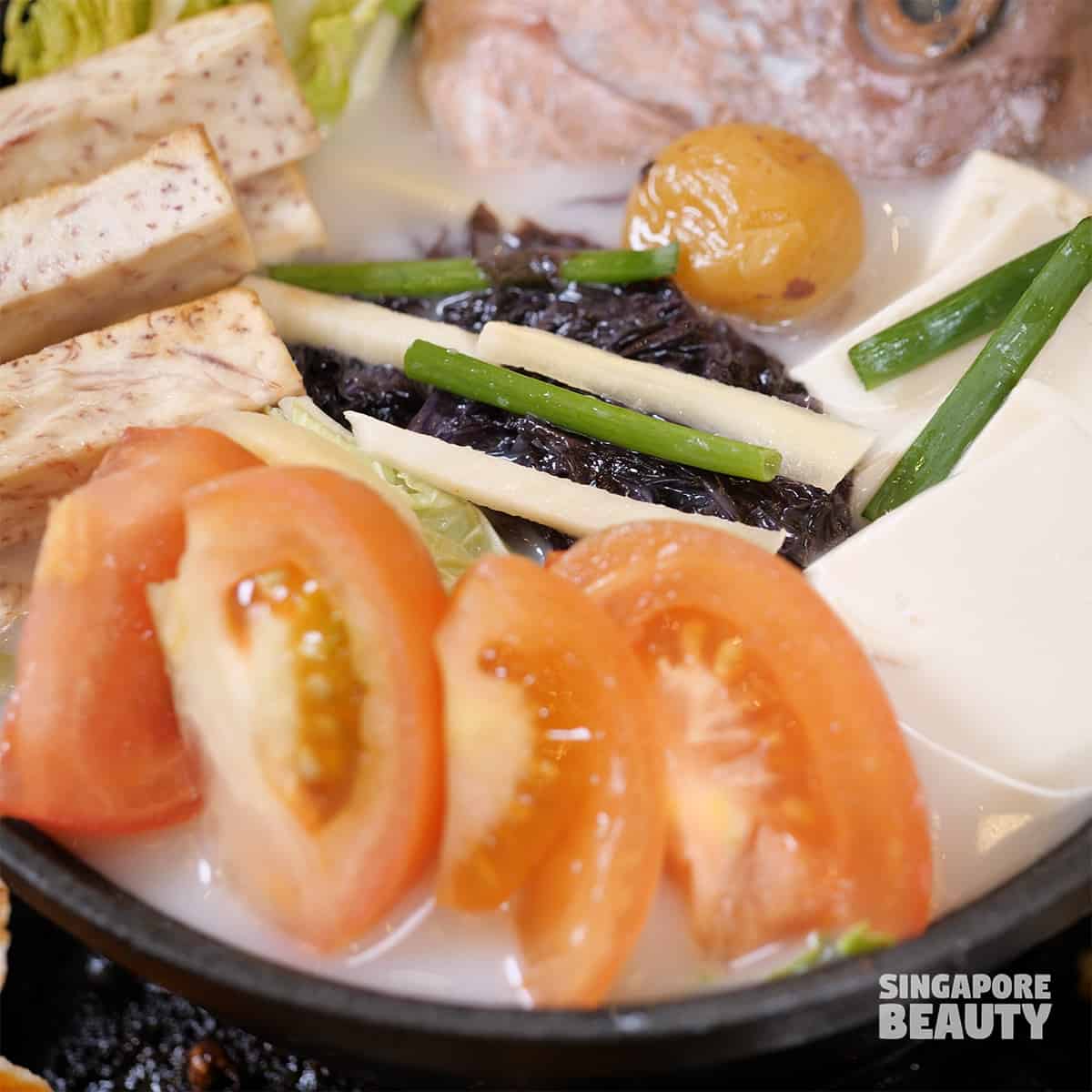 The ingredients for the Teochew fish head are deep fried yam sticks, tangy tomato wedges, sour plum, cabbage, silken tofu, seaweed in a milk savoury fish head broth. They use the red snapper fish head so that you can enjoy the gelatine like parts of the fish jaws.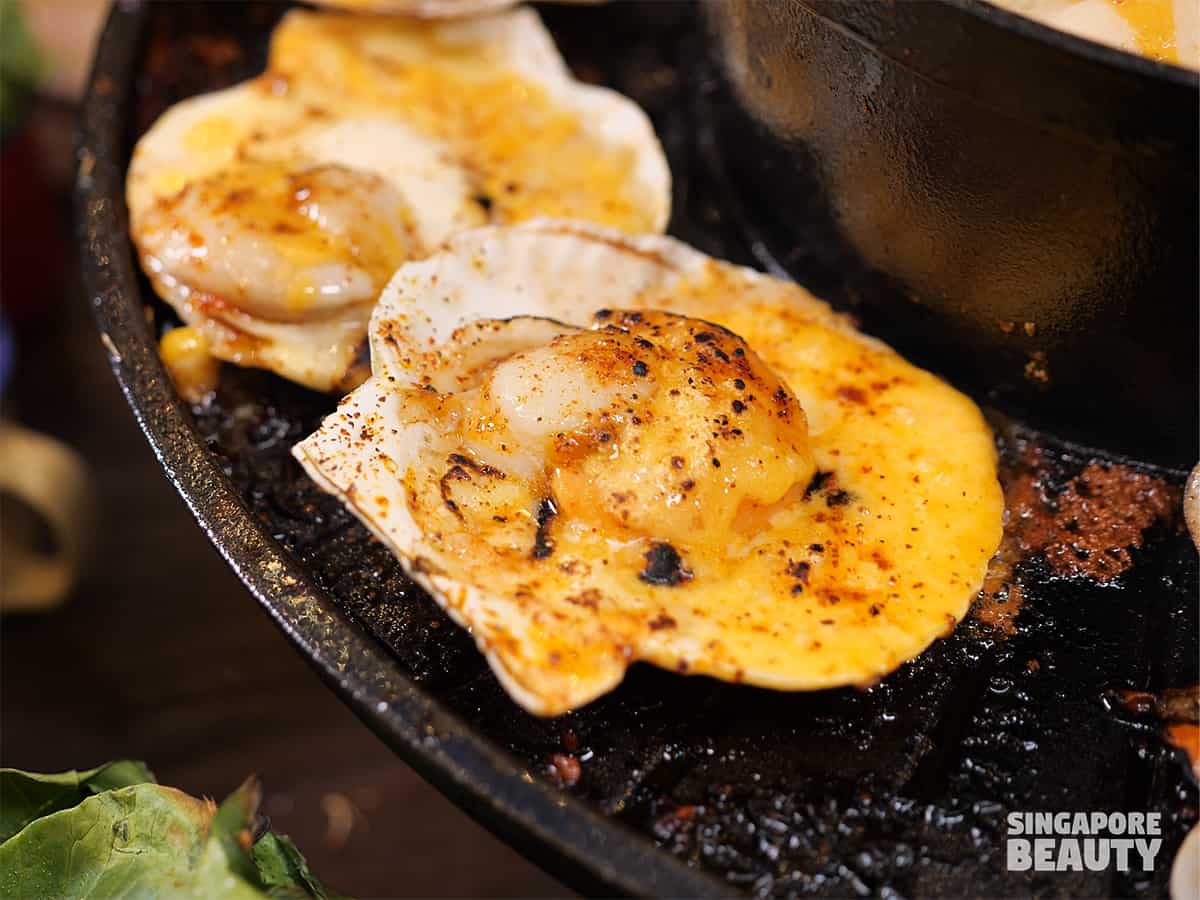 Enjoy some bbq half shell scallops with cheese toppings, slipper lobsters aka crayfish, lala, prawns and fish slice.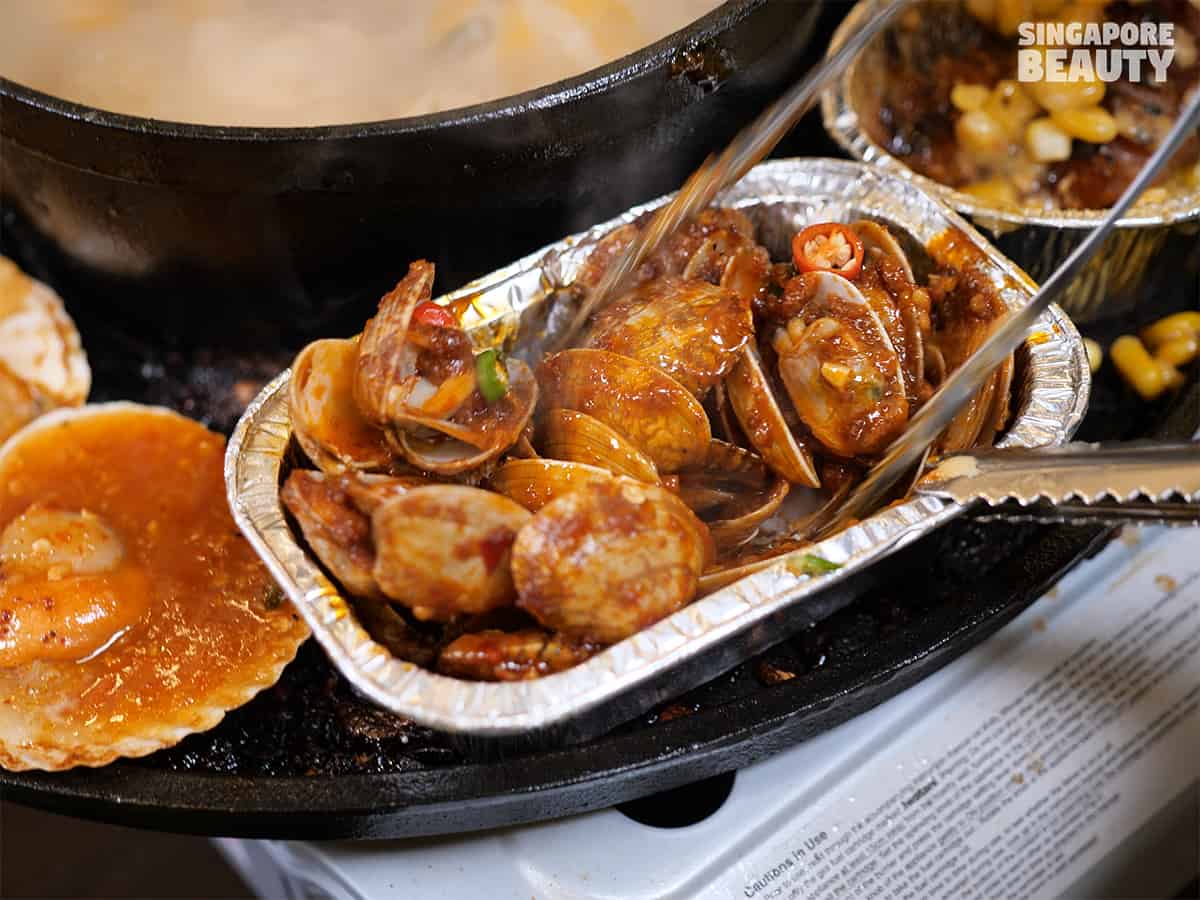 This is an all you eat seafood at Shine BBQ steamboat buffet. All the seafood in the menu is free flow with exception of the red snapper fish head which is only served once in the buffet. Besides bbq of seafood, they also have some marinated seafood such as lala in spicy sauce and cheesy corn in mini disposable grill tray.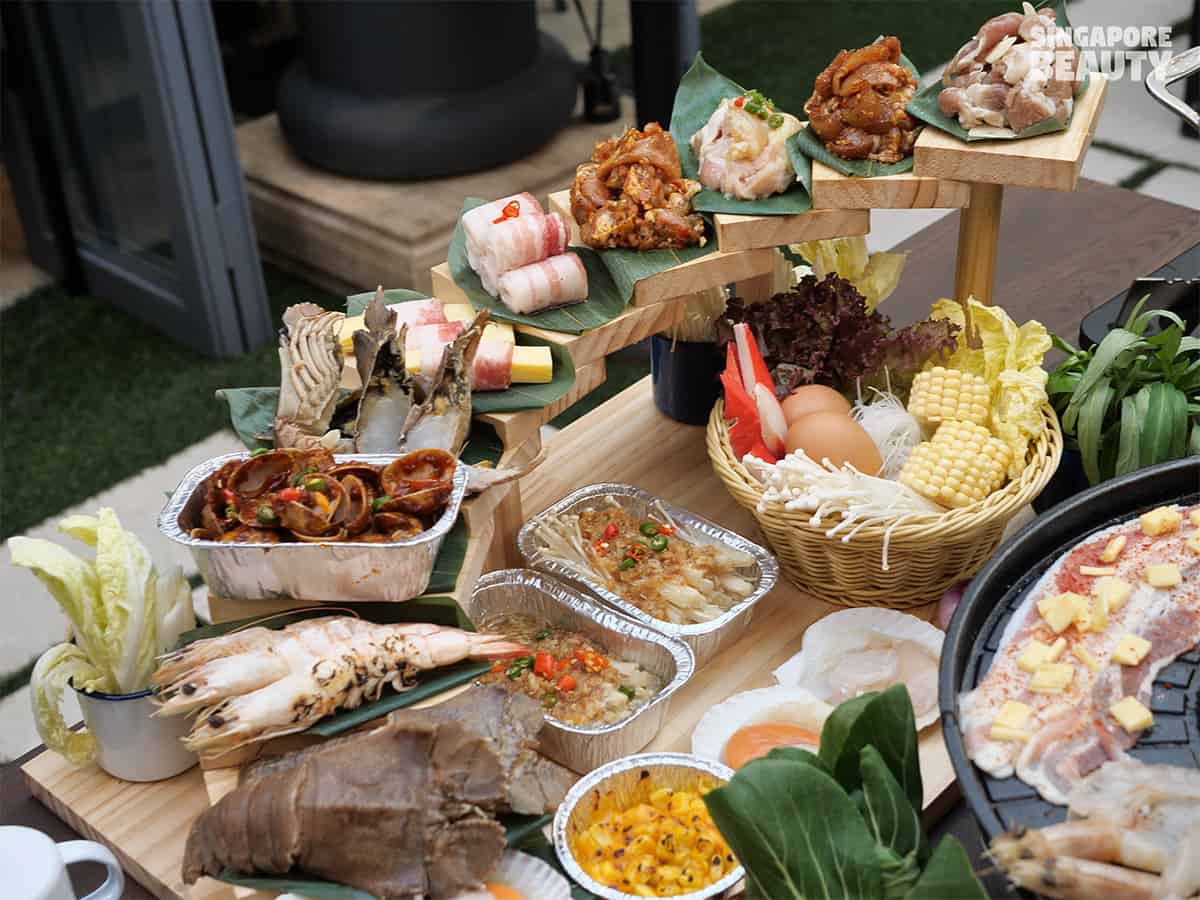 This is their signature Shine platter which consists of a small amount of taster ingredients to get your bbq and steamboat starter. This platter feeds up to 6 pax. For 7 pax and above, you will get 2 of such platters. If you prefer to select your own ingredients or have allergy to any of the ingredients, do let them know in advance to omit this platter.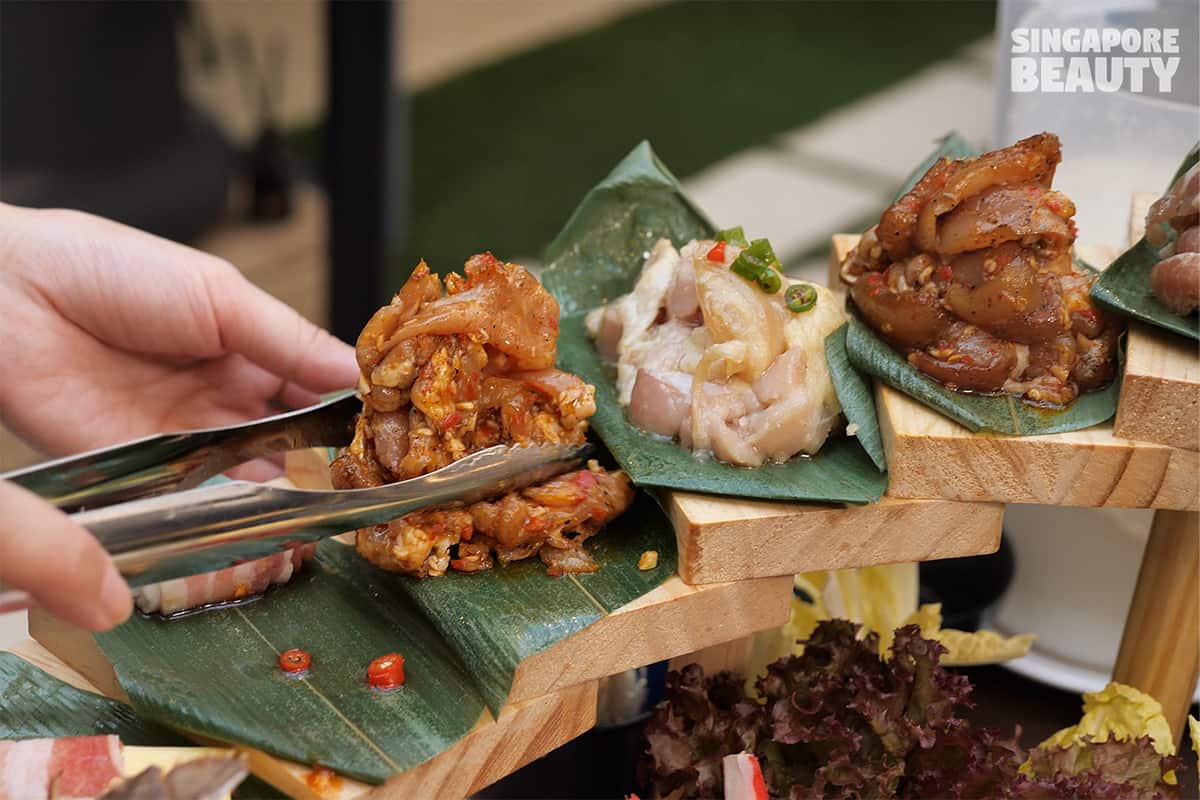 According to the waitress, she recommends this mala marinated meat in chicken and pork flavour. For those who love mala, you can try bbq this mala meats on the sizzling iron mookata style pan.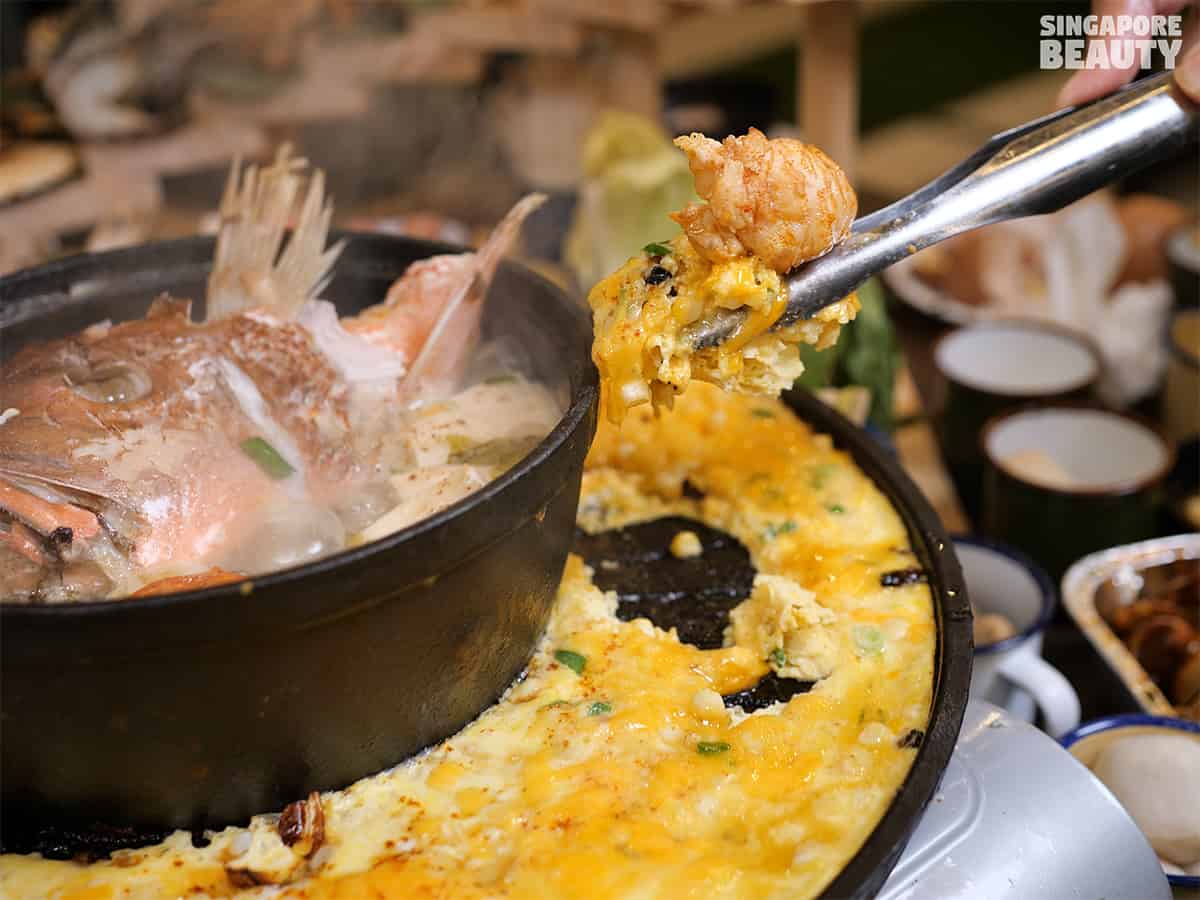 Enjoy a fluffy egg omelette by beating the egg in a bowl and pour them on the iron pan. Top up with any ingredients of your choice, cheese, corn or even seafood.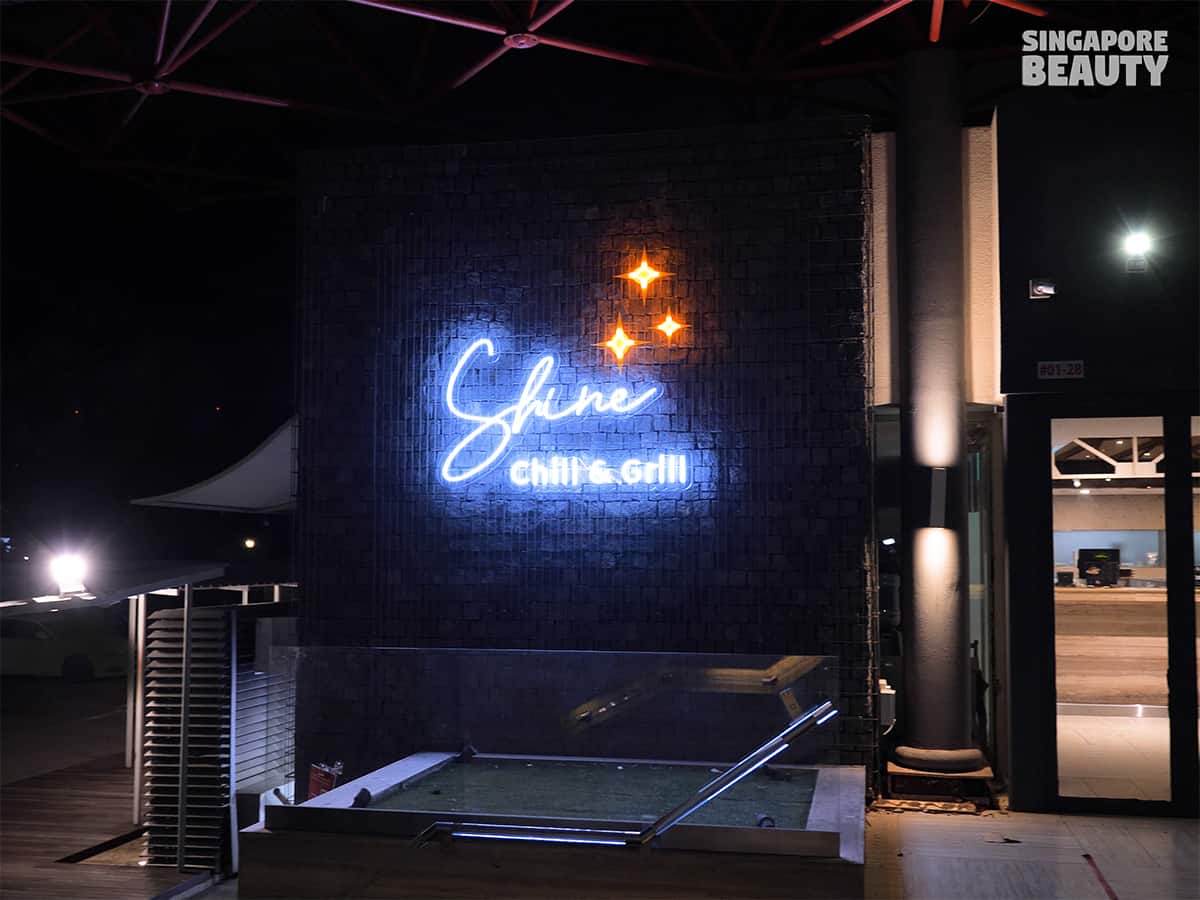 Make your reservation soon at Shine BBQ, steamboat and beer buffet today as seating are limited. This buffet may not be available during CNY period from 1st to 3rd day, however they have some festive menu in house especially for the season. Do check with them!
BBQ + Steamboat Buffet
Mon-Thurs 29.90++
Fri-Sun 32.90++
BBQ + Steamboat + Beer Buffet
Mon-Thurs 39.90++
Fri-Sun 45.90++
Time limit
120mins for Mon-Thurs.
90mins for Fri-Sun.
Shine BBQ Location:
10 Raeburn Park #01-28
Singapore 088702
Shuttle bus available on weekdays from Outram Park MRT Station Exit F
Call: 8383 3648
Brought to you by Shine BBQ Chill & Grill