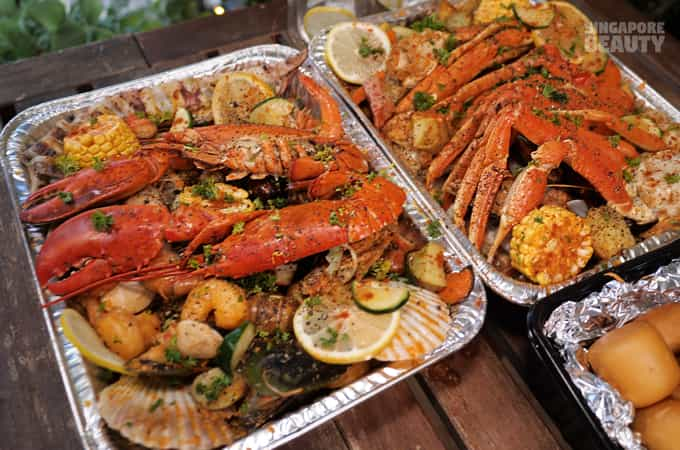 Caving in for your cravings for seafood during this time? Since the circuit breaker is in place, dine in options is not allowed at The Three Peacocks. Fret not, The Three Peacocks are delivering seafood in a bag to your door step, just WhatsApp to order.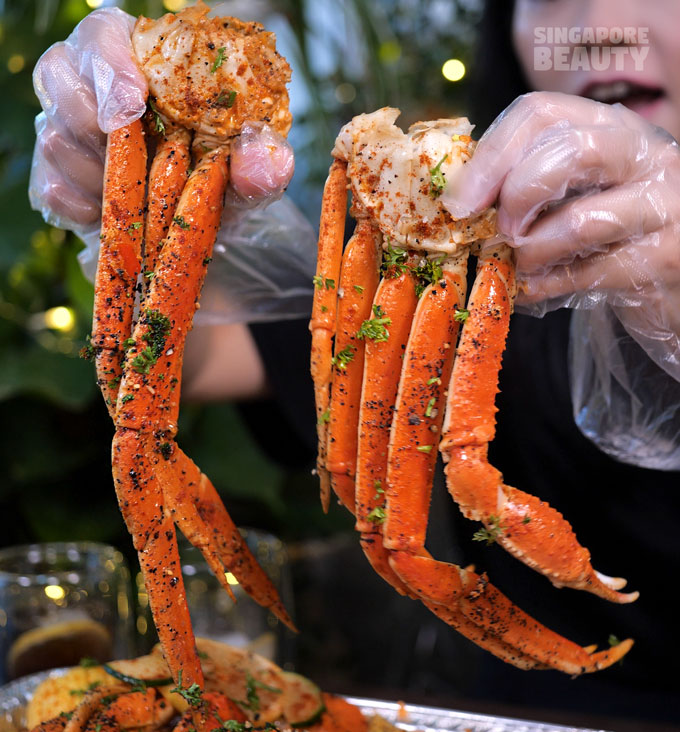 There are 15 items in this seafood in a bag set. Good news for Boston lobsters and snow crab legs lovers out there, choose between lobster seafood in a bag or snow crab seafood in a bag.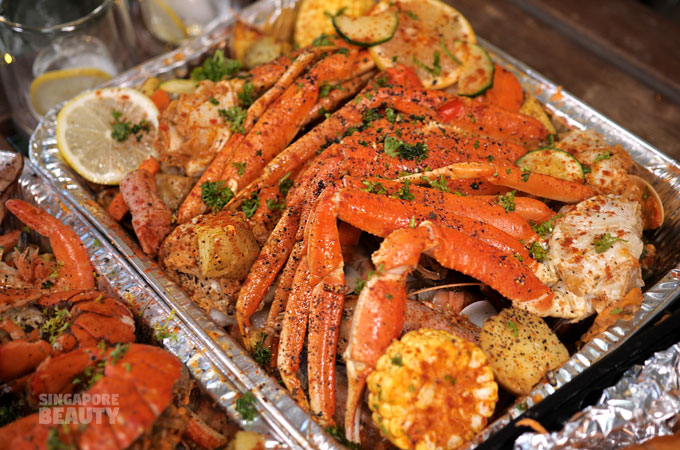 The snow crab seafood in a bag comes in 2 sizes the regular snow crab seafood in a bag for 3-4 pax and the snow crab mania in a bag for 5 pax and above.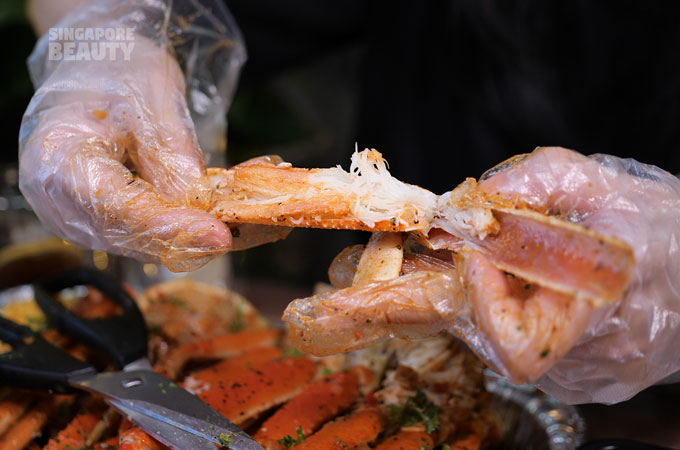 Check out the stringiness of the snow crab legs.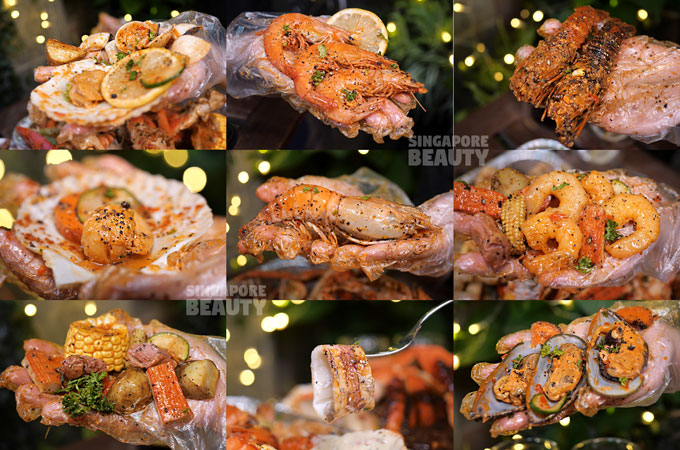 The 15 items in the snow crab seafood in a bag set includes snow crab legs clusters, tiger prawns, mussels, squid rings, half shell scallop, mini lobsters, white clams, river prawns, sweet prawns, potatoes, corn, sausage, crab meat sticks, one dozen of mantou and 1.5 litres of soft drink.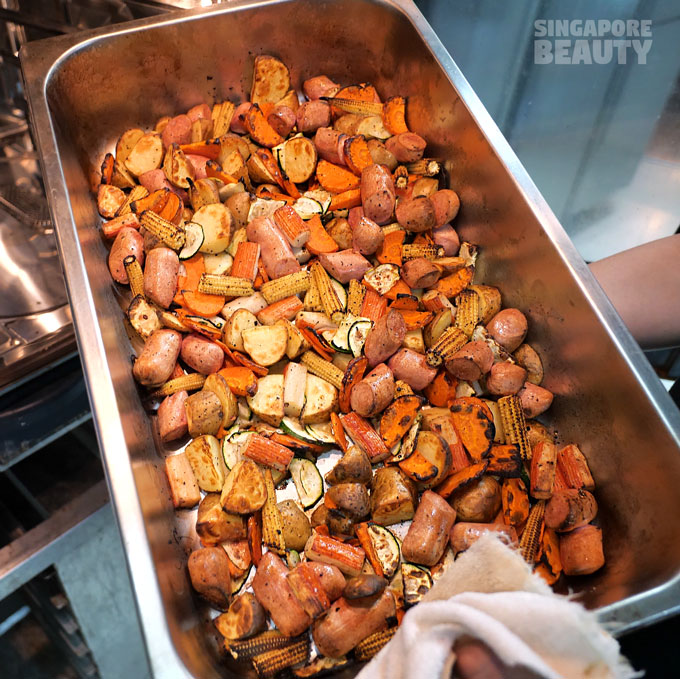 These bags comes with a party of crushed black peppercorn salt baked items- potatoes, corn, sausage and crab sticks to soak up the savoury sauces.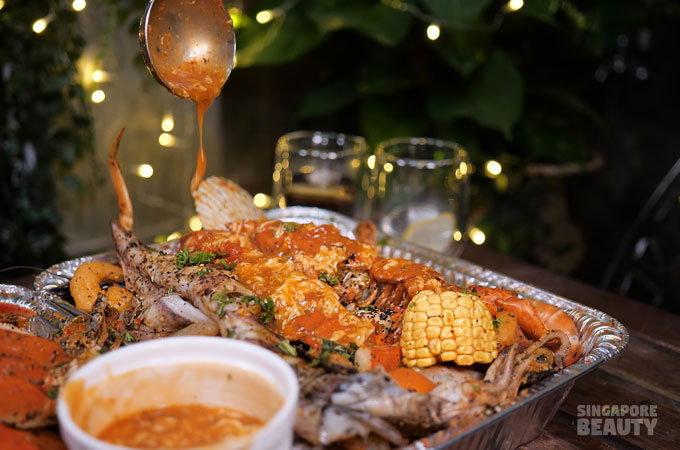 Choose from 7 sauces – arrabiata red, arrabiata white, salted egg, black pepper, chilli crab, butter milk and garlic butter. These sauces are all made in house with ingredients such as butter, garlic, tomatoes, black pepper and milk. The chef's recommendations are the salted egg sauce or the chilli crab sauce. Singapore's favourite sauce to go with seafood is the chilli crab sauce, so if you are a conservative seafood eater, go for the chilli crab sauce.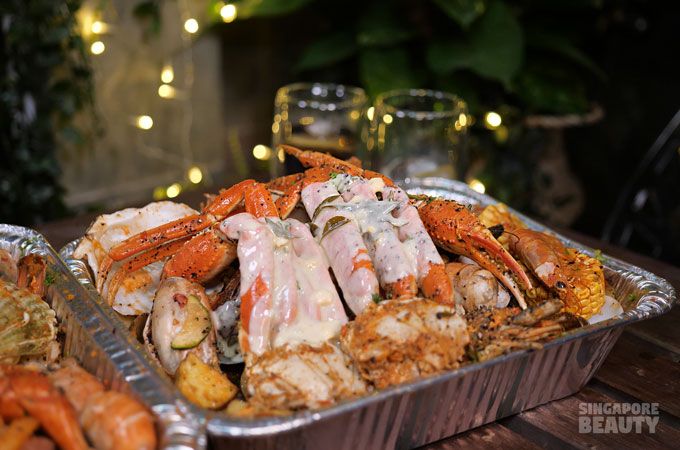 The salted egg sauce is made from scratch in house with real salted egg yolks, those salted duck eggs that are plastered with black soil. The sauce has a rich, sharp, briny intense flavour with the aroma of curry leaves.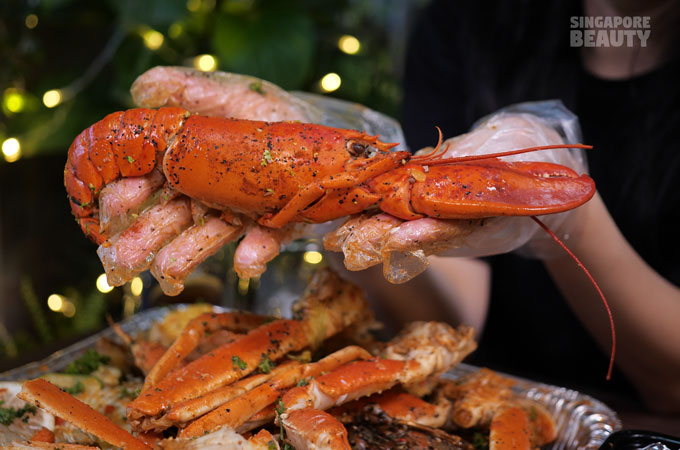 For those whose allegiance lies with Boston lobsters, your choice would be the lobster seafood in a bag or the upsized lobster mania in a bag.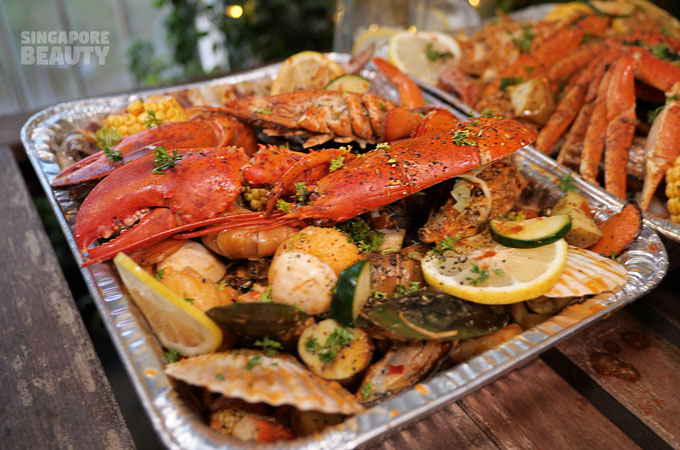 The other seafood items for lobster seafood in a bag is similar to the snow crab seafood in a bag with exception that the main item seafood is Boston lobster instead of snow crab legs clusters.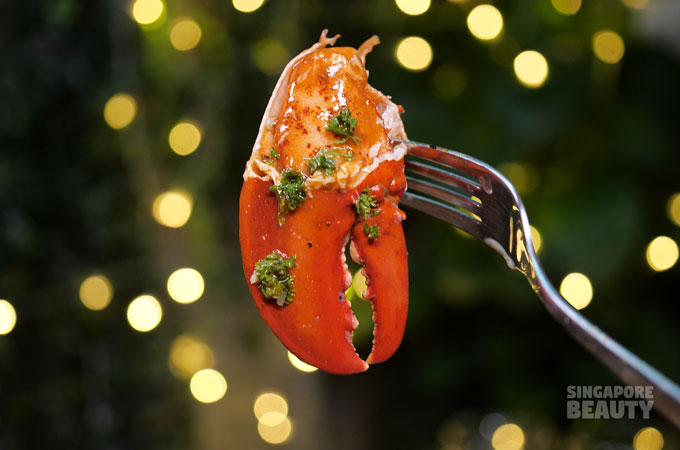 Enjoy some pristine white, soft and succulent Boston lobster claws meat with savoury sauce of your choice.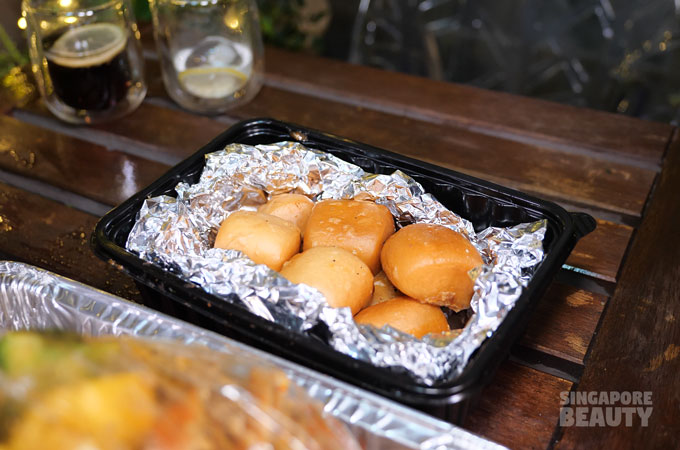 For every seafood bag ordered, it comes with one dozen of crusty on the outside and soft inside mantou.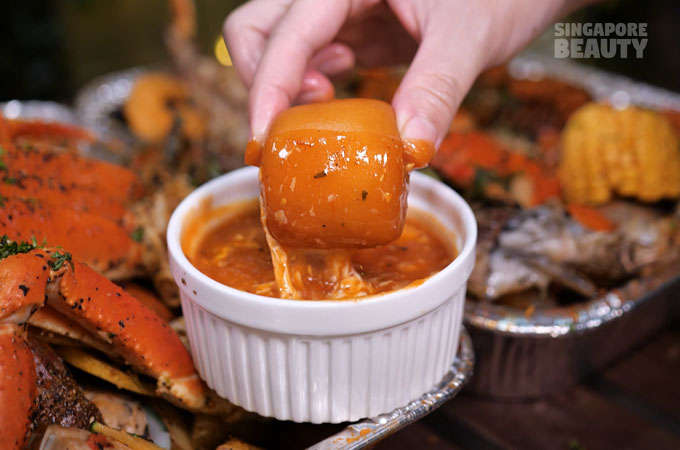 These mantou are perfect with the eggy chilli crab dips.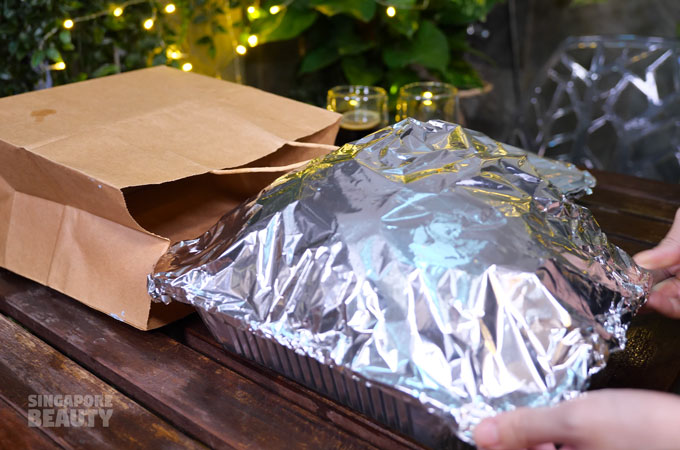 These seafood bags are delivered in a bag within a pan with an assortment of seafood in the sauce of your choice and sealed with a food grade aluminium foil.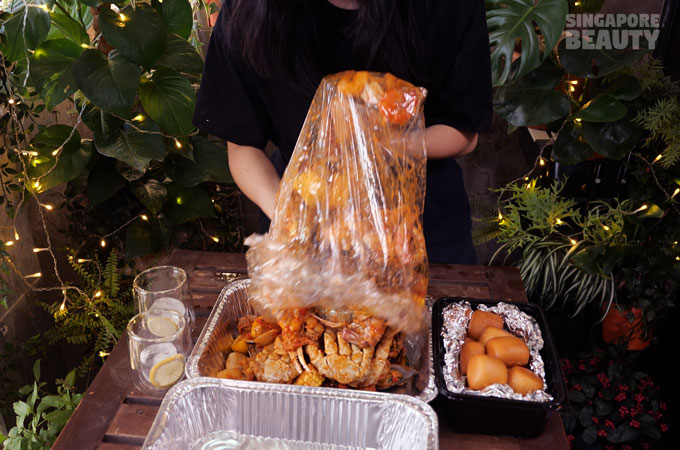 Empty the seafood in a bag into the pan and start your seafood feast in the comfort of your own homes.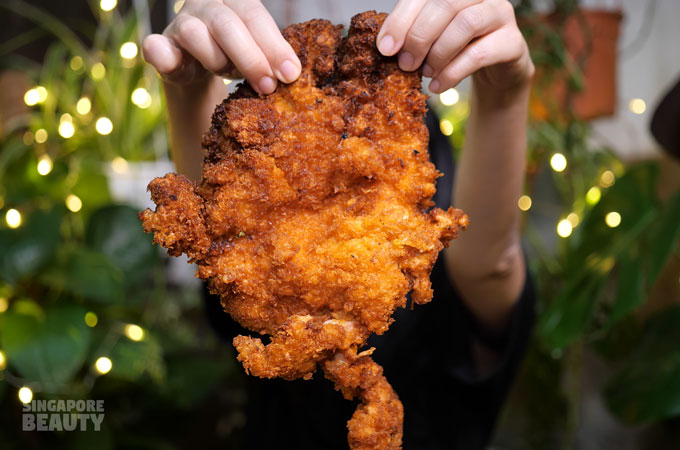 For those who love to have some meat to go with the seafood, you can add-on the huge chicken cutlet for $10.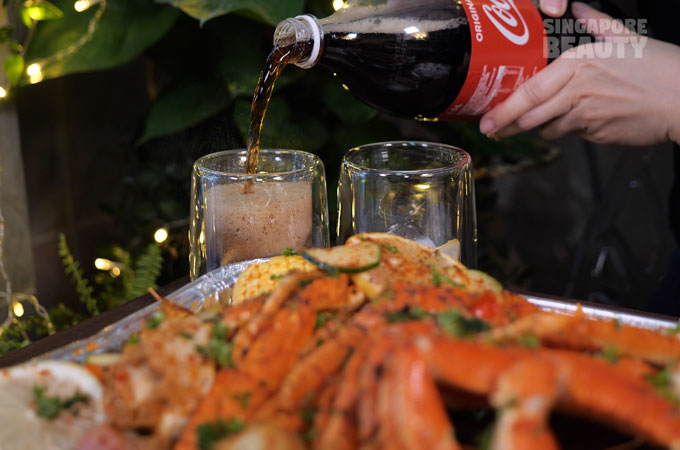 For the seafood bag ordered, you get a 1.5 litres soft drinks to share too. Fizzy soda with succulent savoury seafood, you will be a happy camper during this circuit breaker.

Here's the seafood in a bag menu brought to you by The Three Peacocks for your home delivery. This is how it works: choose the sauce, choose the combo and add on some special items for additional kick to your seafood feast.
WhatsApp to 81802370 to order, the operator will take your orders and return with the delivery date. Order is confirmed upon payment to 98511802. The Three Peacocks – Seafood in a bag has free island wide delivery above $80.