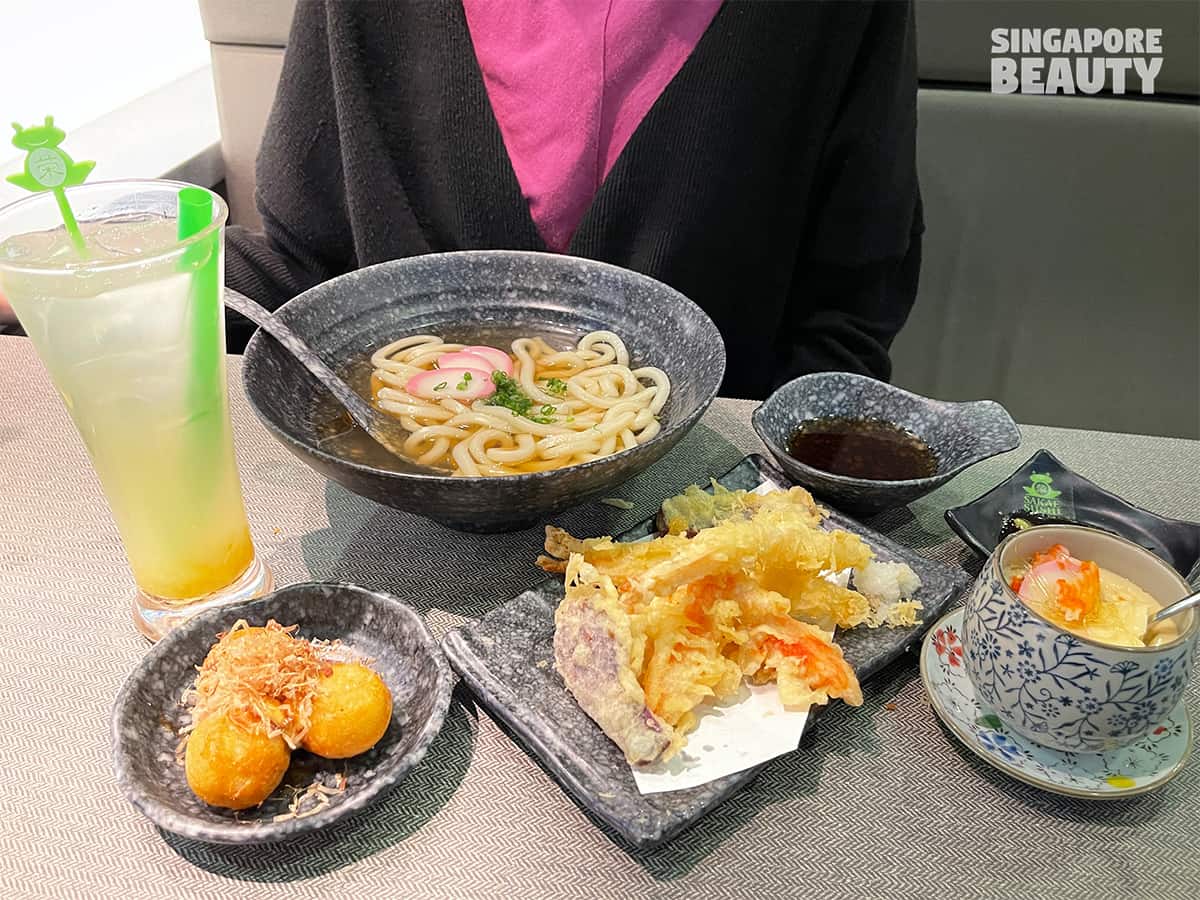 Sakae Sushi Japanese restaurant is having a good value dine in set meal promotion from Monday to Thursday that comes with free dessert at Compass One outlet.
Sakae Sushi Singapore has 5 outlets scattered over the island serving affordable casual sushi on conveyor belts. You can find Sakae Sushi at Compass One, Junction 8, Heartland Mall, Parkway Parade and Woodlands.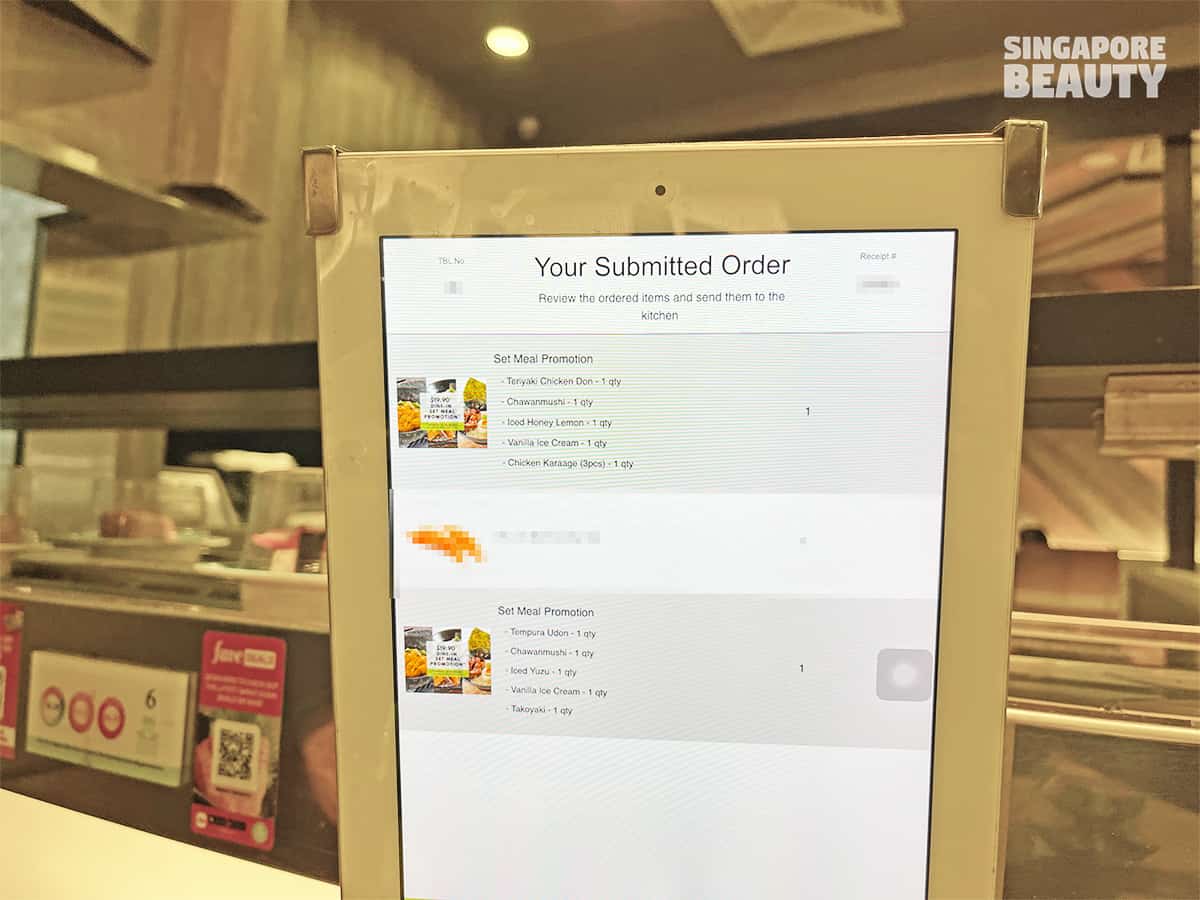 In this Sakae Sushi set meal menu, you get to choose 5 dish of your choice from their set lunch promotion on the touch screen ipad.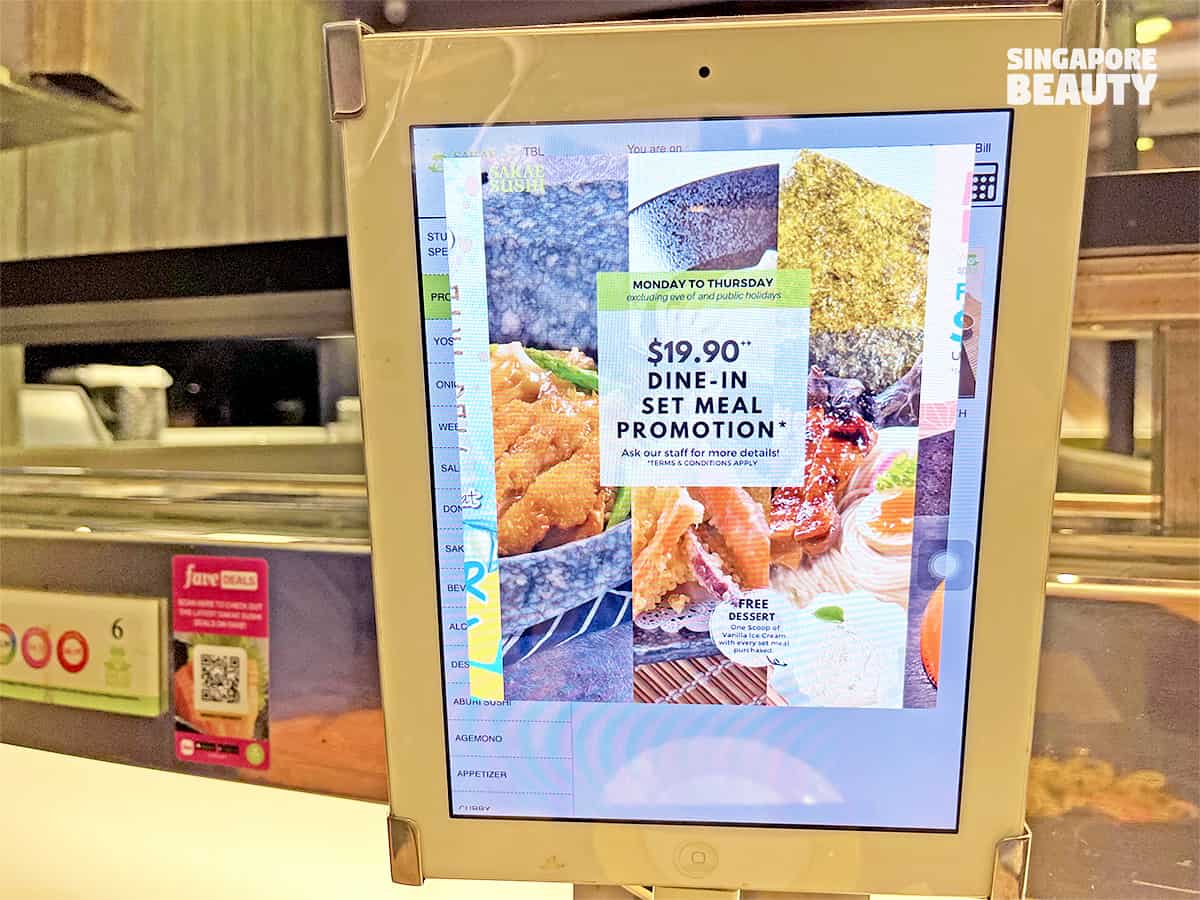 We tried and here are the reviews of Sakae Sushi 2 of the set meals, both are priced at $19.90++ each.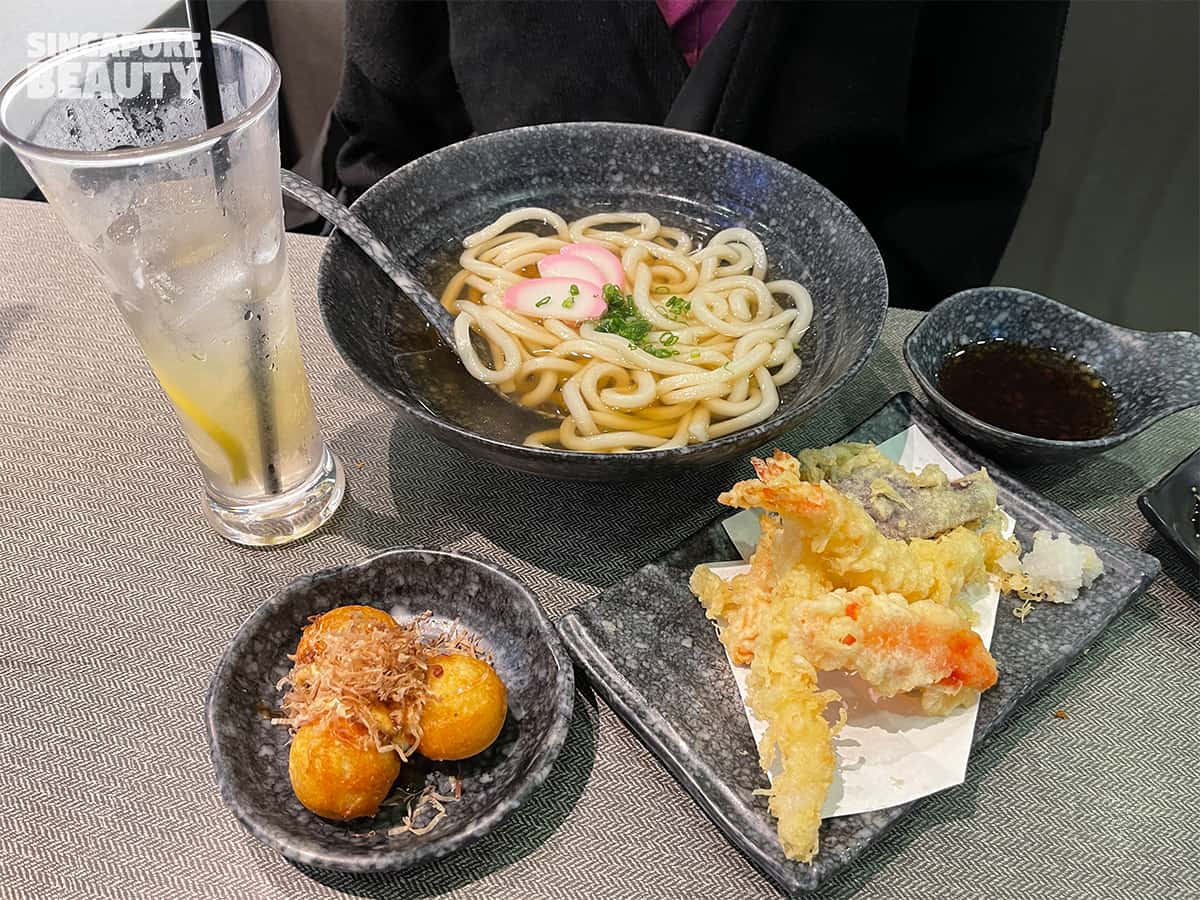 Set meal 1 consists of tempura udon, chawanmushi, iced yuzu, vanilla ice cream and takoyaki. Set meal 2 consist of Teriyaki chicken don, chawanmushi, iced honey lemon, vanilla ice cream and chicken karaage.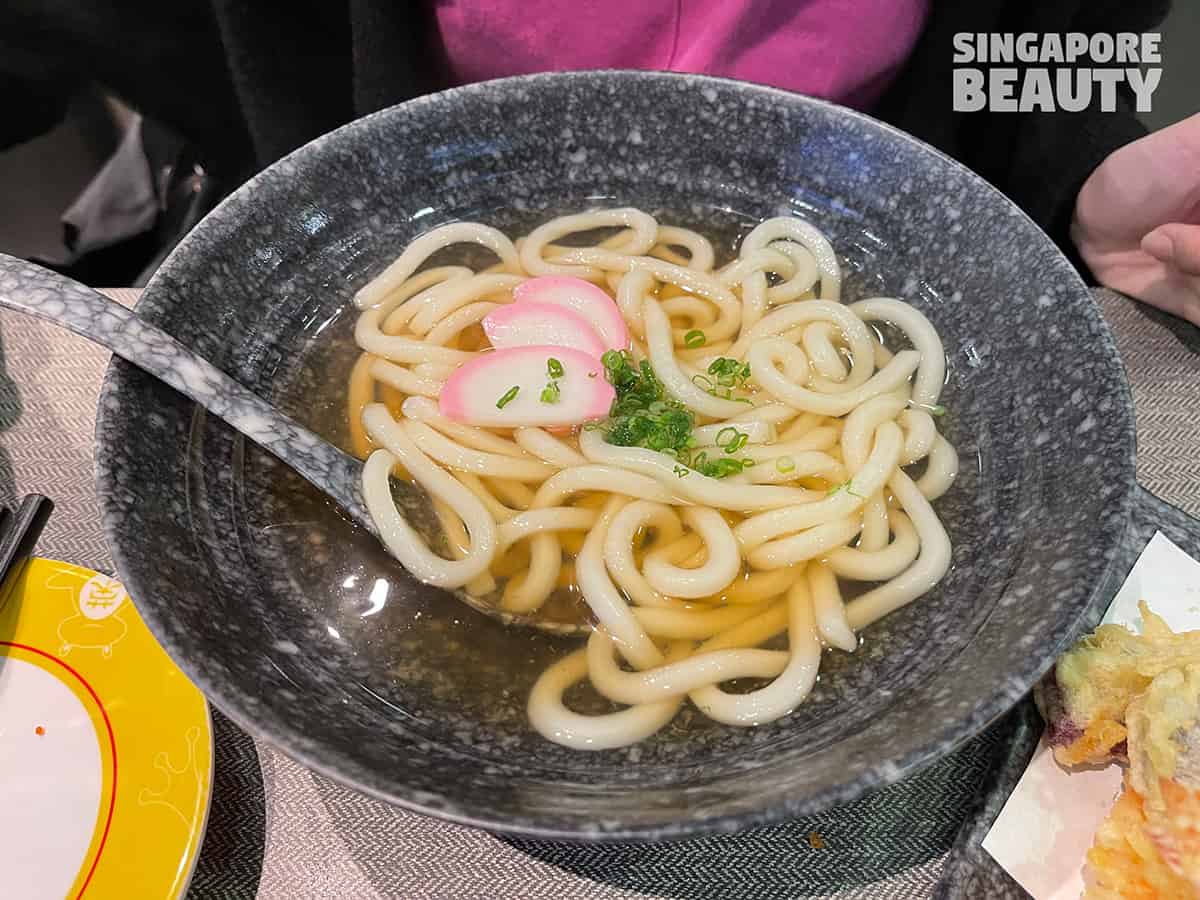 This Sakae Sushi set meals are only for dine in and not available for delivery. Sakae Sushi is not Halal certified but Hei Sushi under the same group is halal. The udon is single portion and cooked to a chewy consistency served in a clear soup with subtle umami flavour.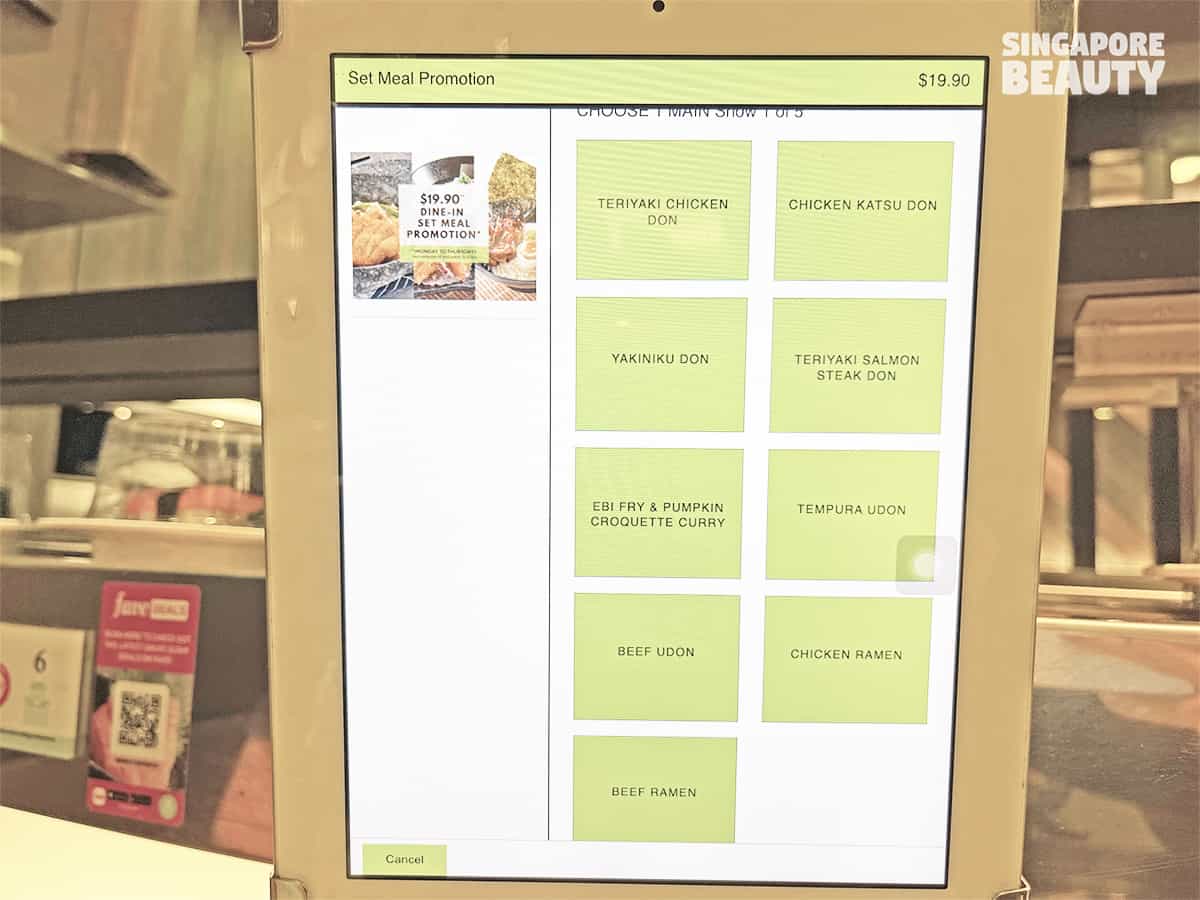 If you are not a fan of udon, you can choose any of these mains in the menu. The mains available are teriyaki chicken don, chicken katsu, yakiniku, salmon steak, ebi fry pumpkin croquette curry, tempura udon, beef and (chicken or beef) ramen.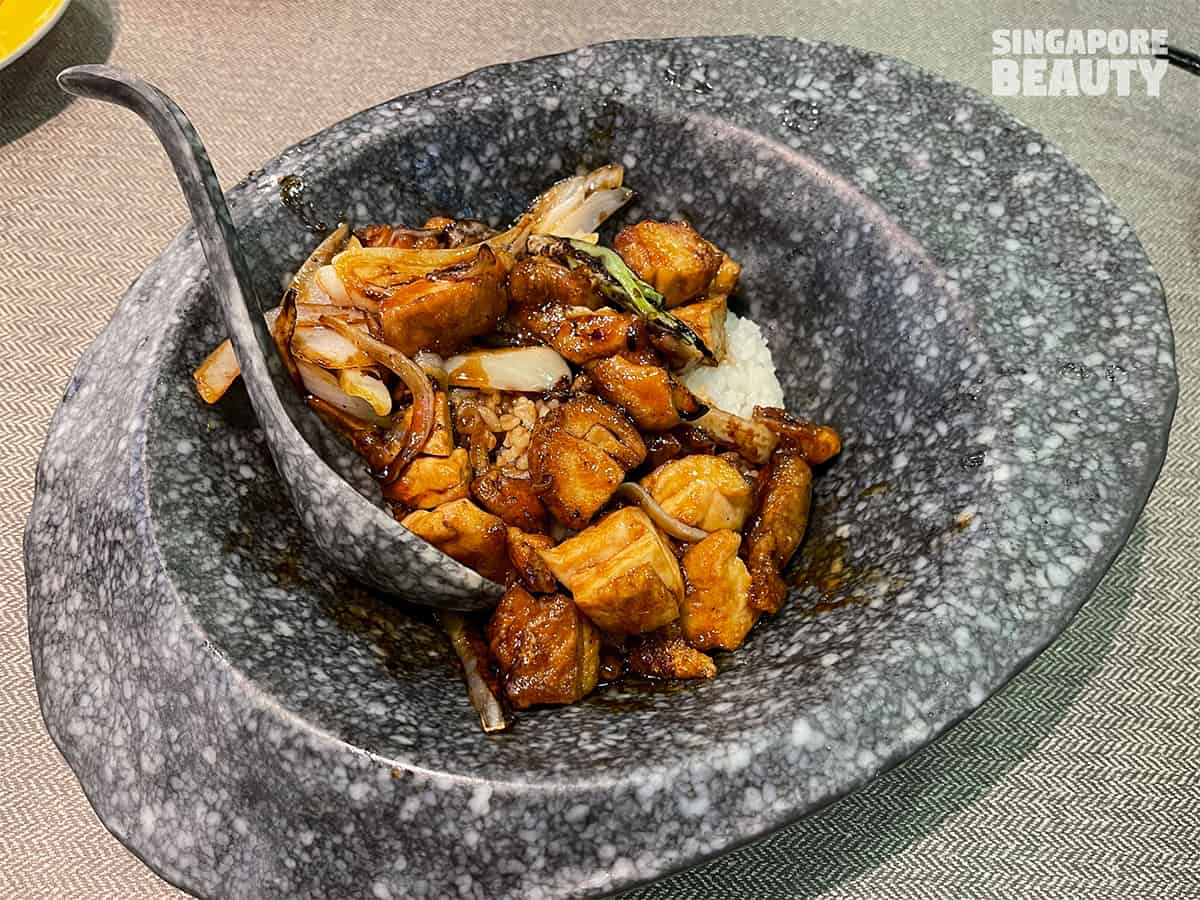 This is the Teriyaki chicken don. Chicken cubes are stir fried in teriyaki sauce with a sweet, savoury and smoky flavour.
The chicken cubes are well cooked and still tender to the bite. Stalks of charred scallions and onion for some sweet caramelised flavour.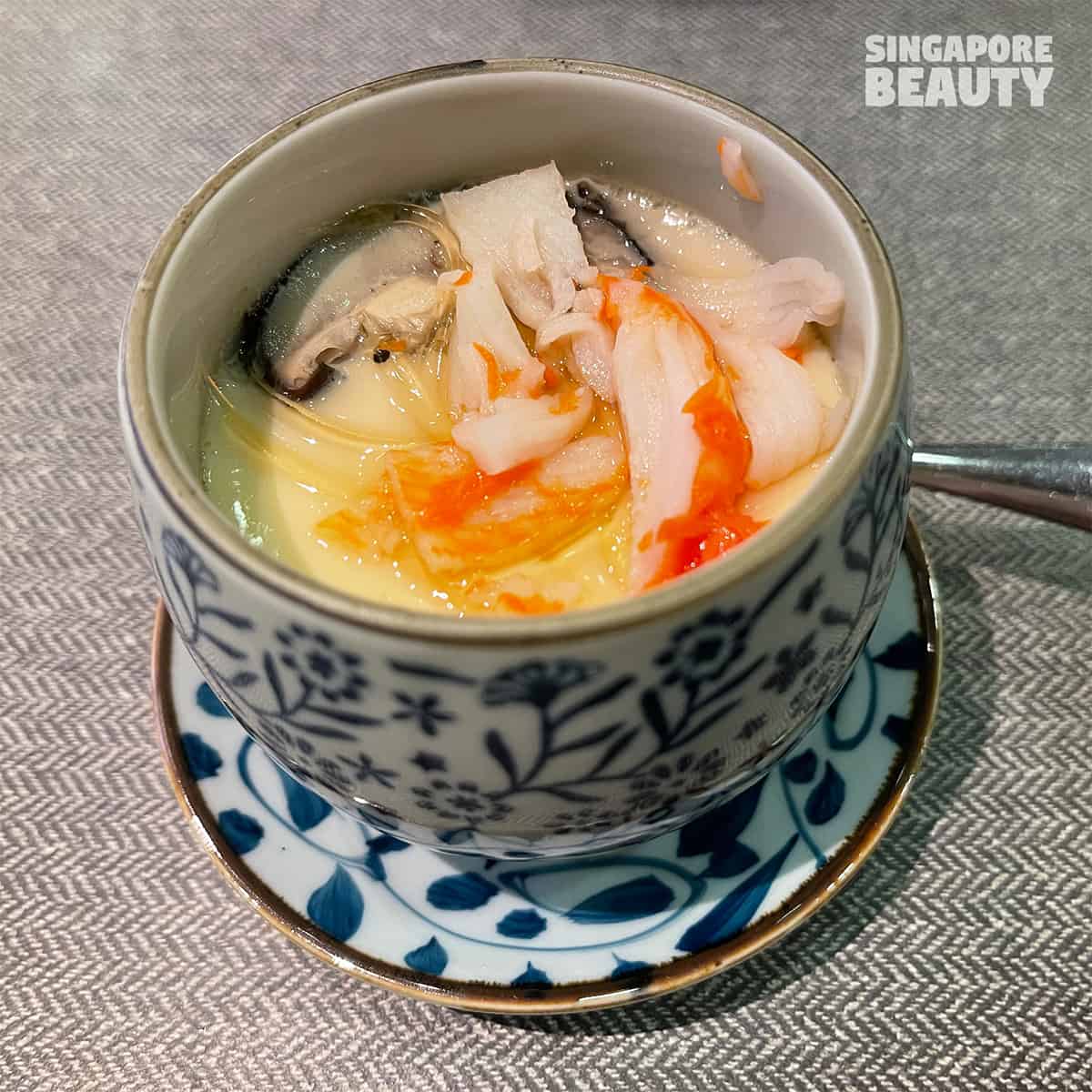 Chawanmushi is steamed egg custard served in a piping hot Japanese style floral teacup.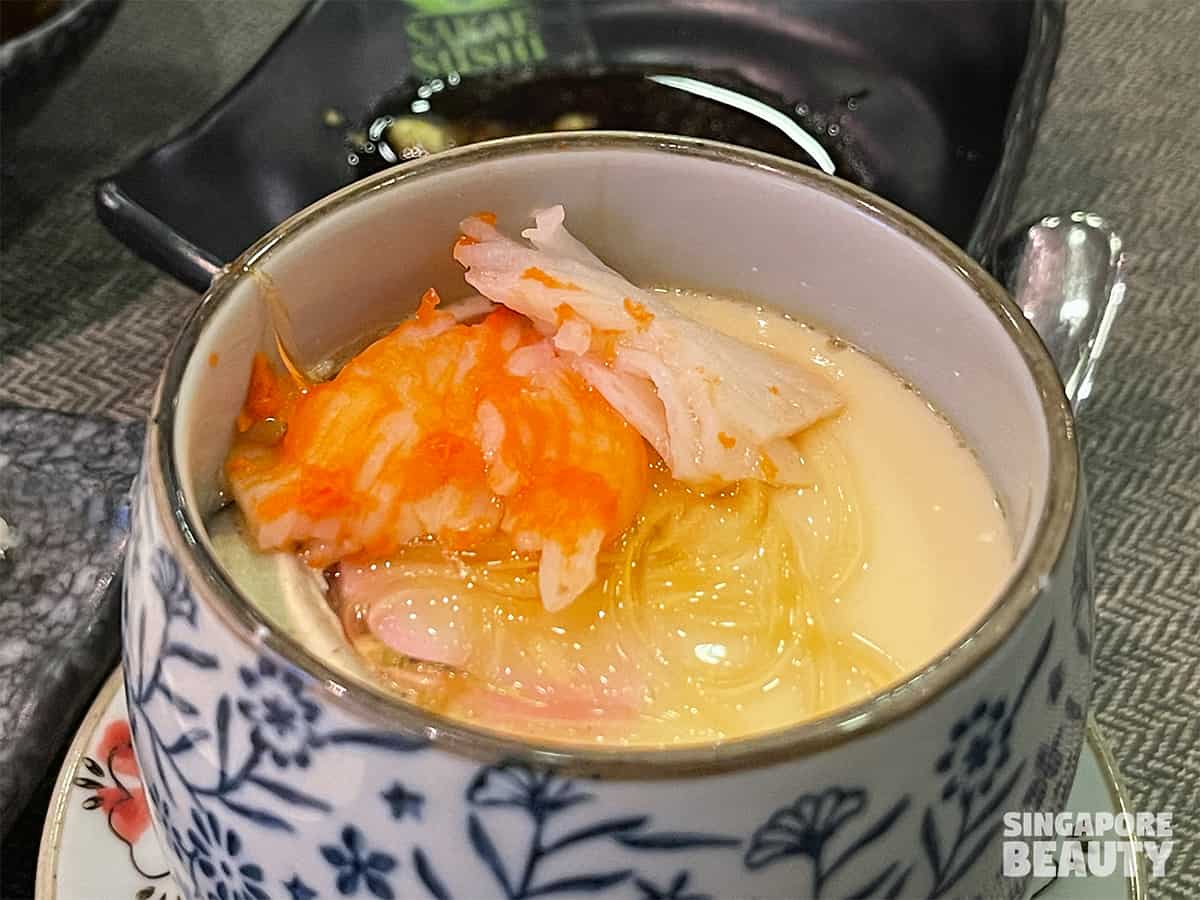 The chawanmushi is topped with a rich variety of ingredients to give it an umami flavour as well as texture. The topping are mock kani crab meat, sliced shiitake mushroom, chicken chunks, fish cake and more.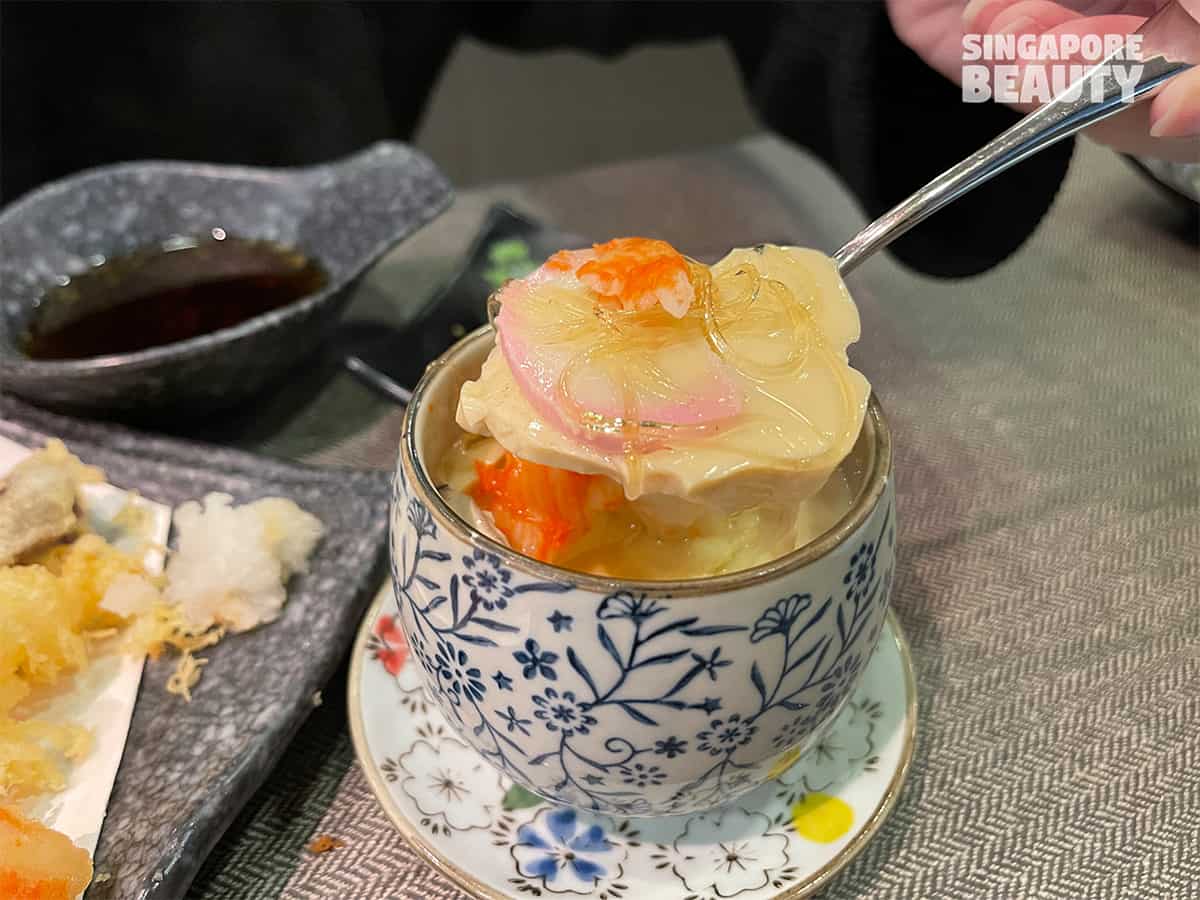 Sakae Sushi chawanmushi is well executed with jiggy melt in the mouth egg custard. The dashi gave the steamed egg a unique umami flavour. When you scoop up the egg from the dainty teacup, the broth runs clear, a sign of a well made chawanmushi.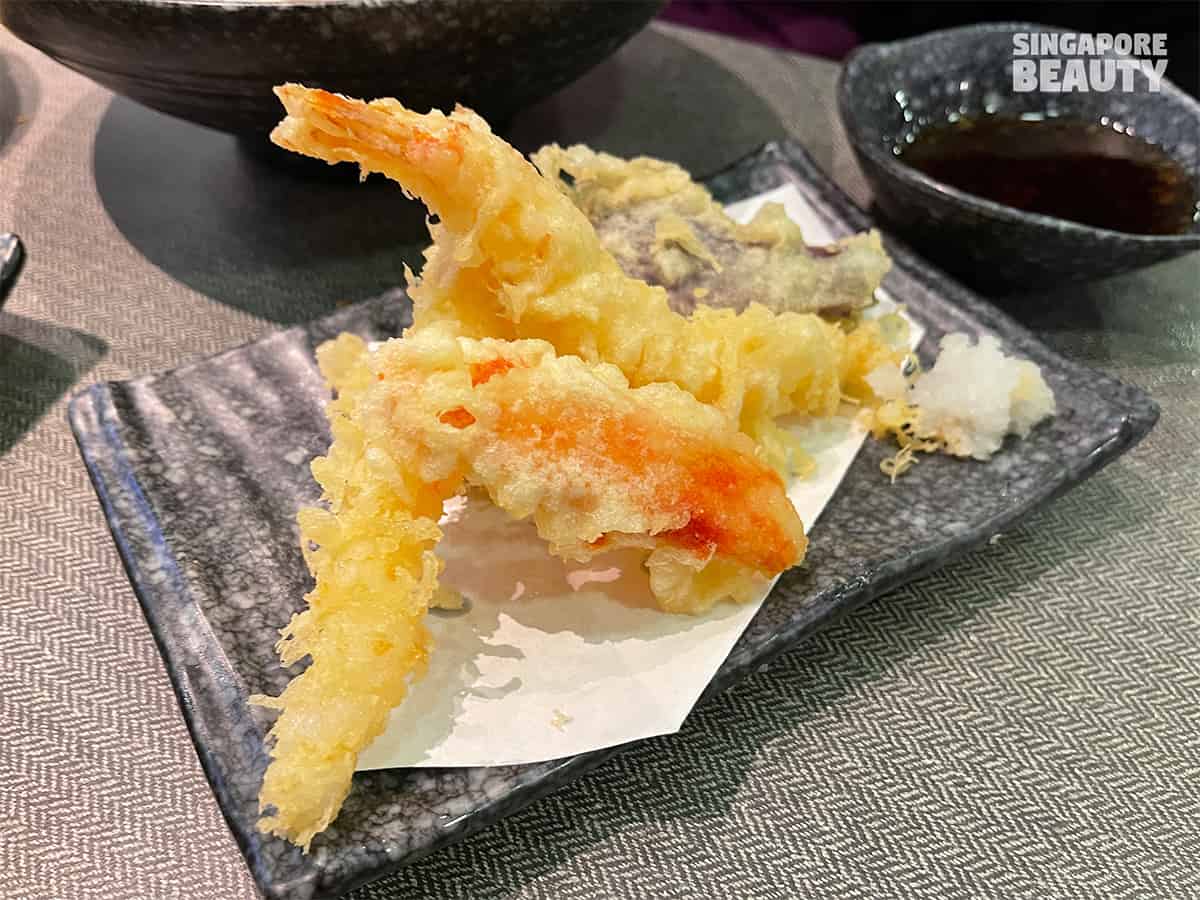 This plate of tempura with mixed greens is part of the udon tempura selection. It consist of light crunchy shrimps, sliced carrot, purple sweet potato and mock kani crab stick served with a dollop of grated radish.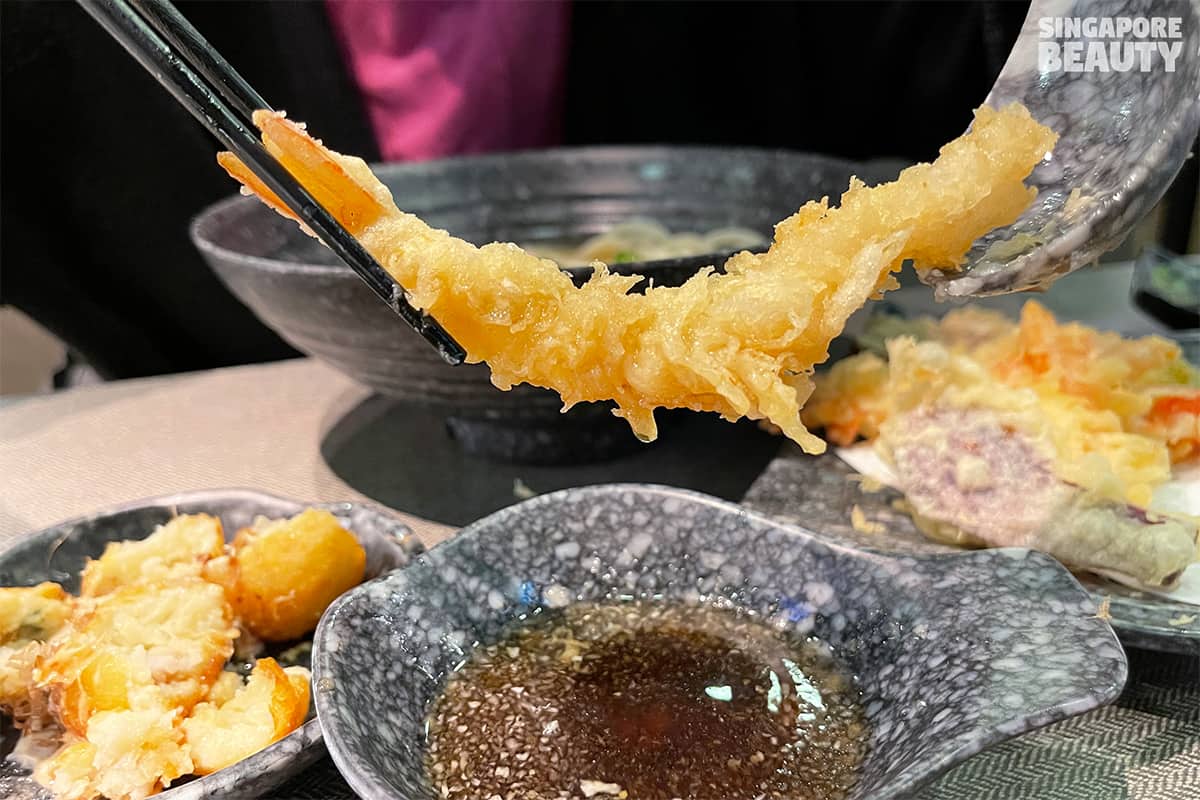 The dip is a light shoyu with subtle mirin and dashi flavour. The dipping sauce also takes away some of the grease when you dip it and making it savoury with a light crisp.
Takoyaki comes with bonito flakes, a rich topping of mayonnaise and savoury tako sauce. The inside is soft and gooey with chopped octopus bits, subtle notes of pickled onion and ginger. The balls are deep fried with a soft centre and light crust.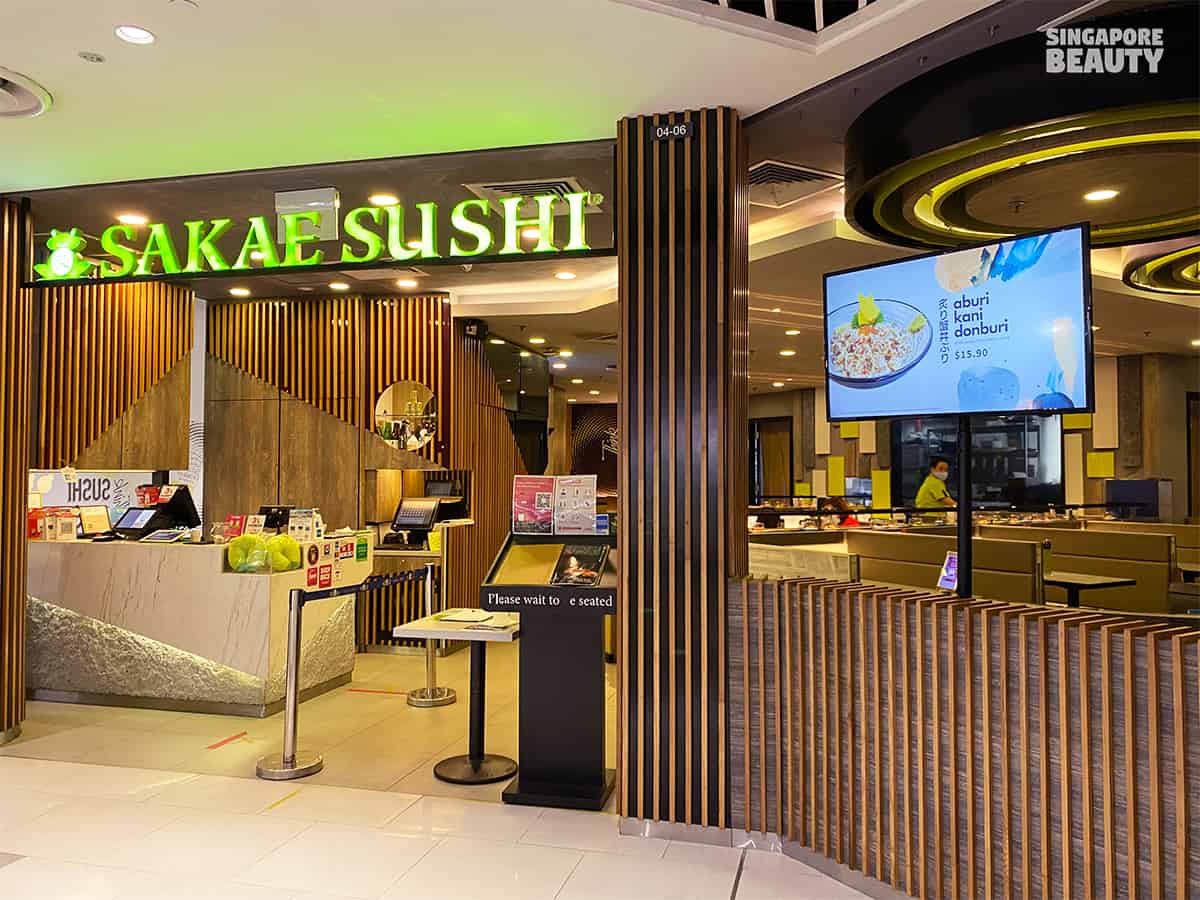 This Sakae Sushi Singapore outlet Japanese styled set meal is considered good value with regards to the quantity of food served. Great lunch choices to please anyone who is looking for affordable no fuss lunch deals.
Sakae Sushi Location:
Compass One
1 Sengkang Square, #04-06, Singapore 545078
Opening Hours:
Mon-Thurs 12pm- 9pm, Fri-Sun 12pm -10pm
Telephone: 6385 6162