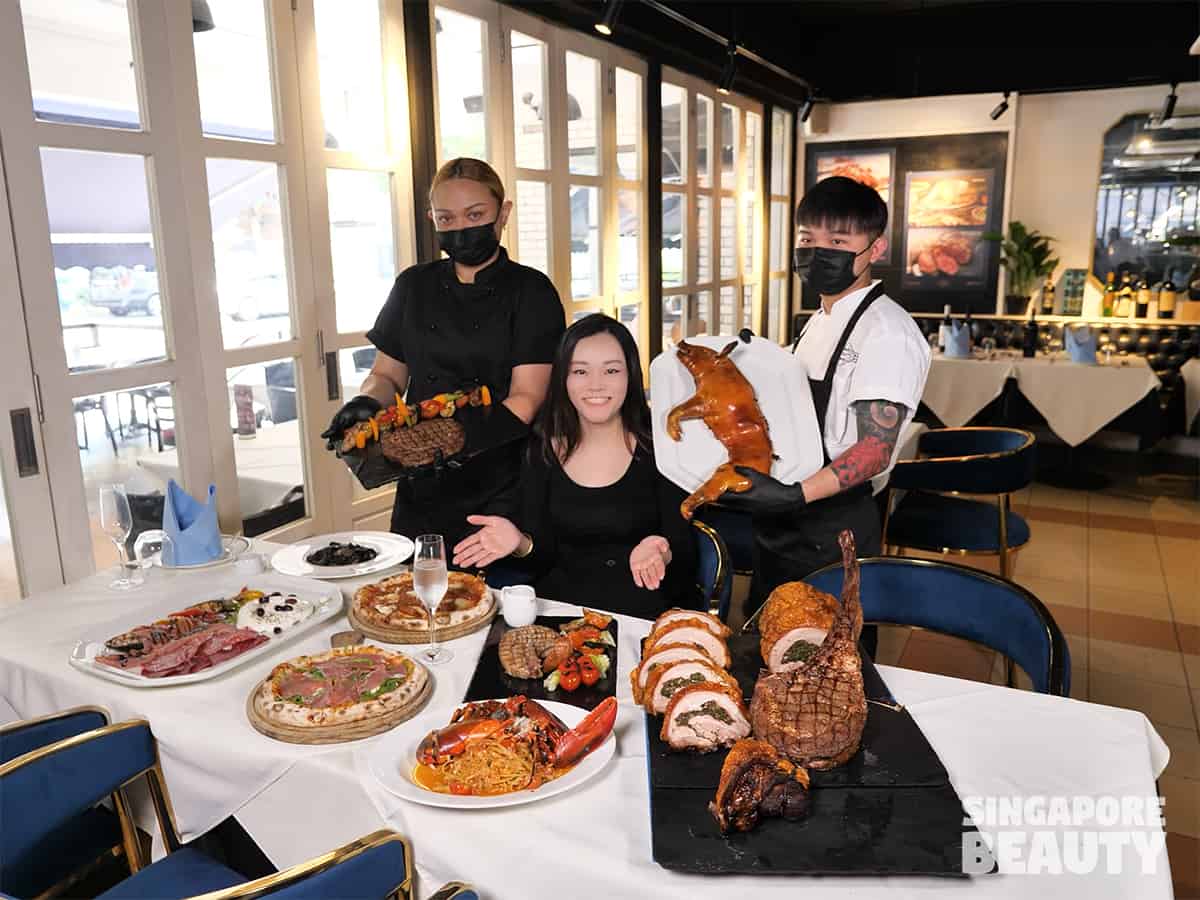 RUBATO at Greenwood is one of the oldest Italian restaurants in Singapore since 2009 with over 100 Italian food on their menu. Popular for their crispy charcoal grilled Iberico Spanish suckling pig and table side dramatic flambé of the tomahawk, this is the go-to-place if you are looking for unique Italian dishes.
The RUBATO GROUP has 3 outlets in Singapore at Greenwood(featured), RUBATO Steakhouse at Teck Lim Road and BBQ under the Stars at Mr Gallop, Turf Club Road. Besides ala carte Italian cuisines, RUBATO at Greenwood also serves daily buffet brunch and even Italian exclusive omakase.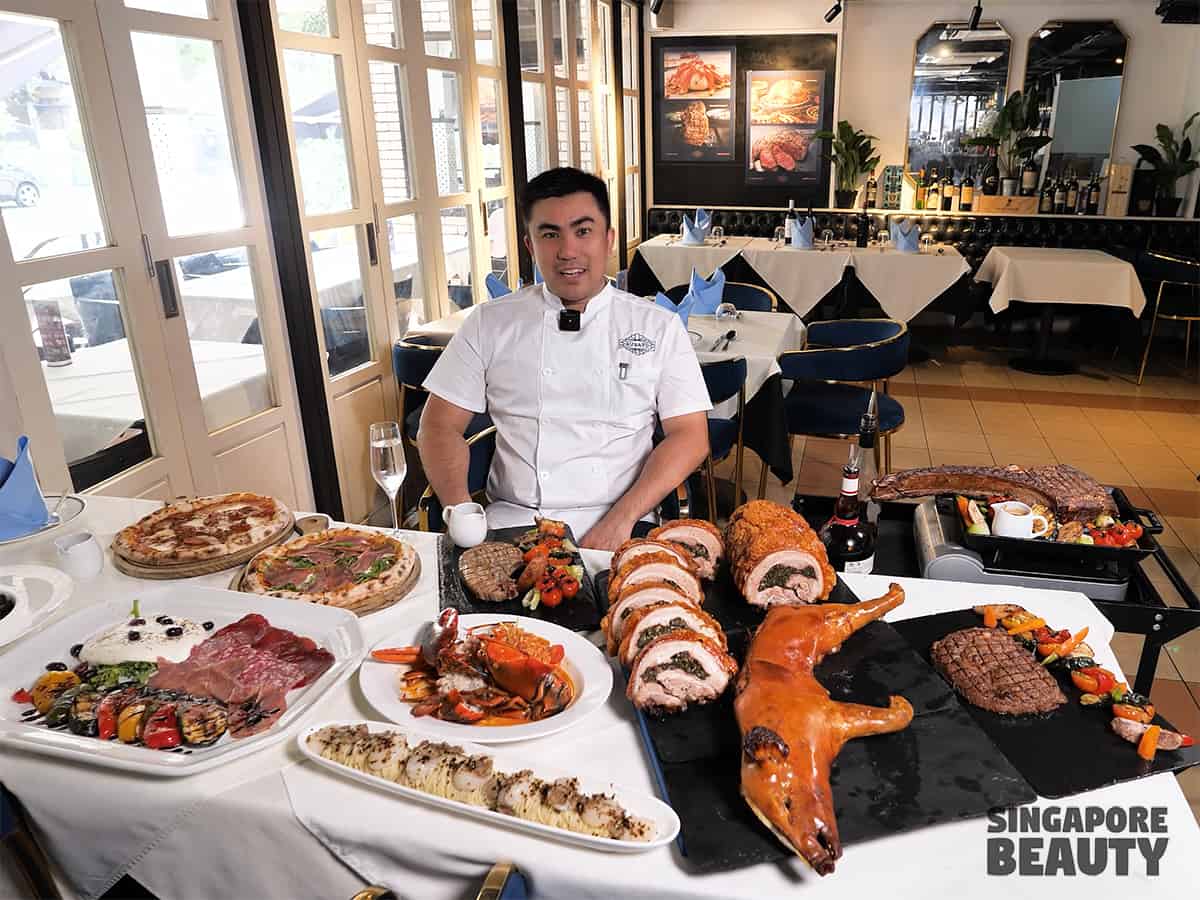 These are helmed by Celebrity chef-owner Mr Marcus who is trained in Australia & Italy for his craft. RUBATO at Greenwood menu consist of a variety of featured roasts, gathering sets, popular recommends by food critics & media, all-day-breakfast, light bites, soup, fresh greens, ultimate burger, pastas, risotto, hand-stretched pizzas, meats, poultry, seafood, home-made desserts and a comprehensive drinks menu.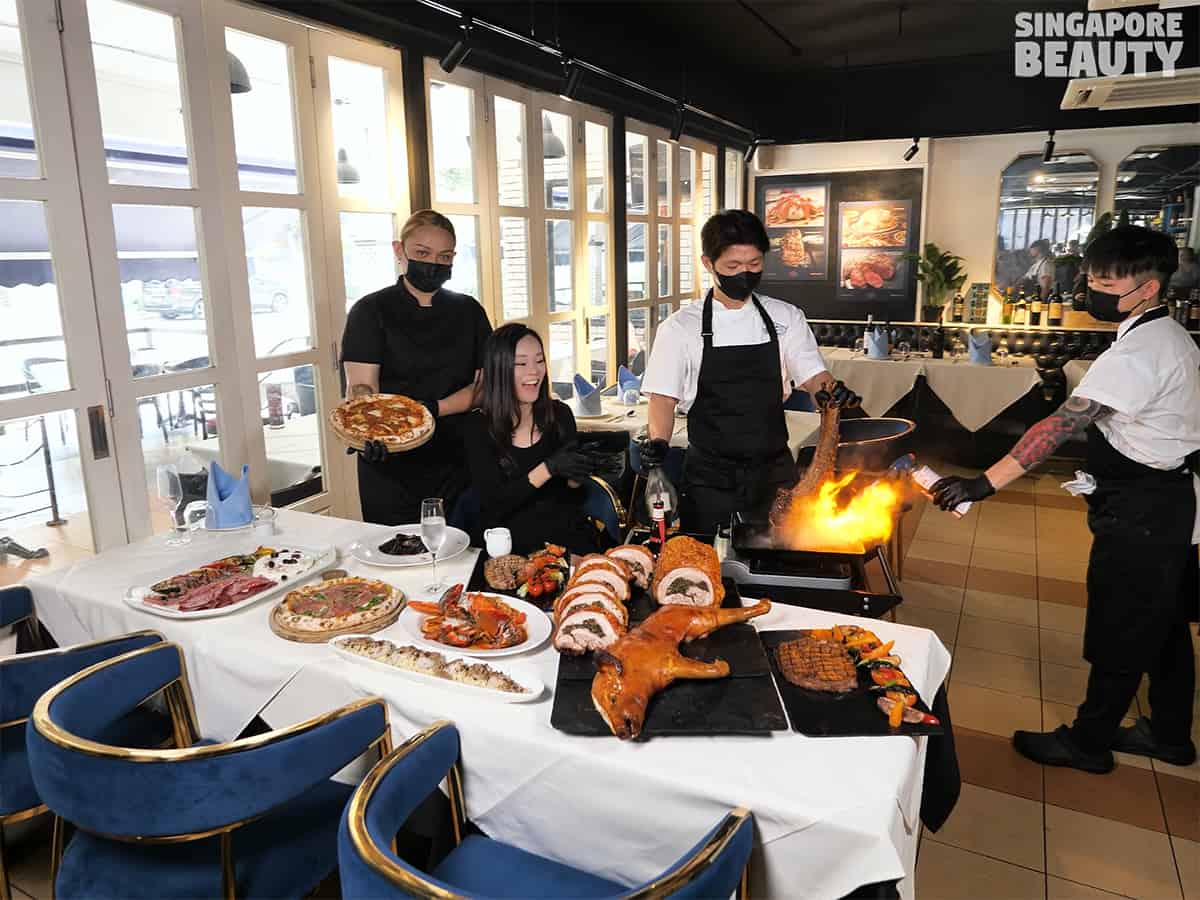 Here's RUBATO at Greenwood reviews after trying their signature dishes. The ingredients for signature dishes used are premium and well executed by the chefs. Besides a pleasant culinary gourmet experience in a semi-fine dining setting, they also have some exciting table side dishes such as flambé tomahawk and table centre piece such as crispy charcoal grilled Iberico Spanish suckling pig.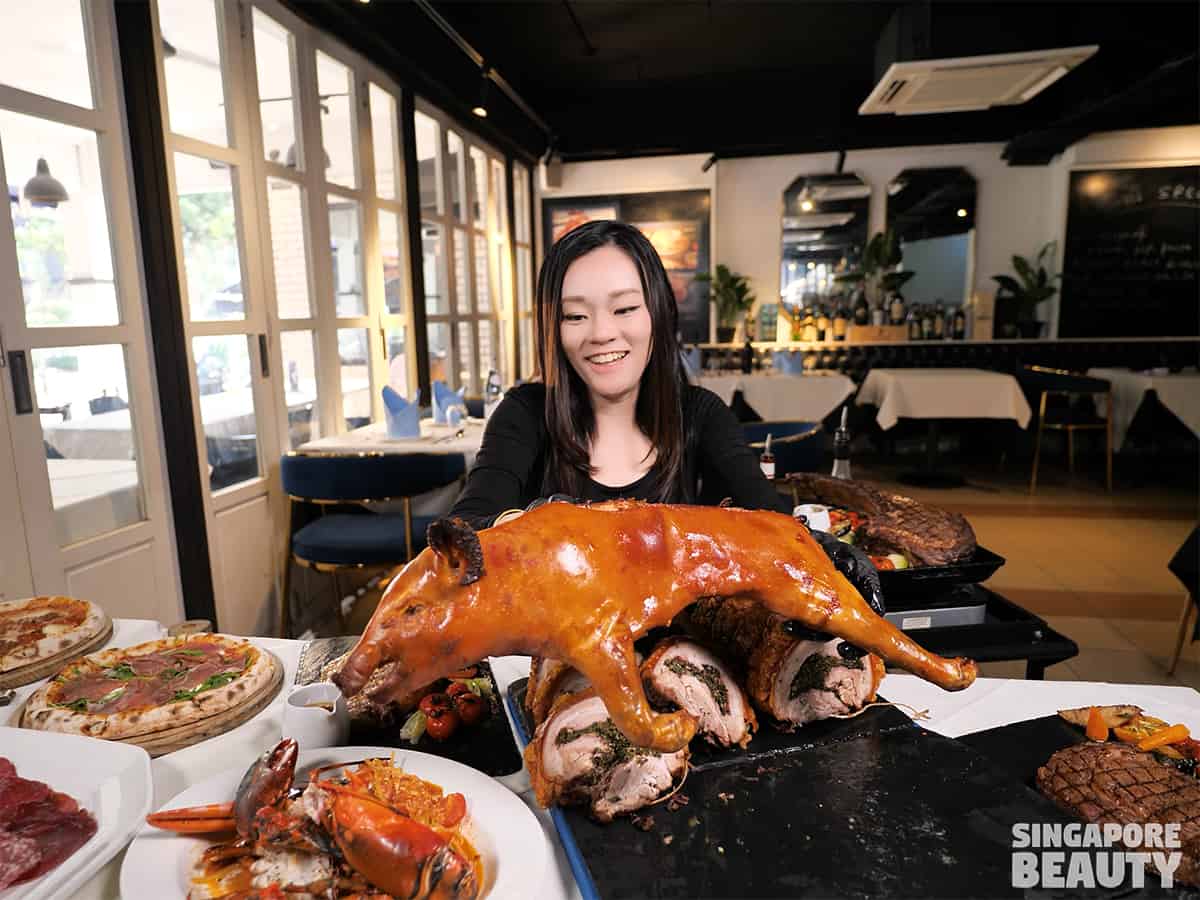 Their chef's recommendation is the crispy charcoal grilled Iberico Spanish suckling pig ($468). Due to the extensive preparation required for this dish, a 2 days pre-order is needed to enjoy this delicacy. This suckling pig coming from Spain grew up eating Mediterranean acorns, wild diet of herbs and mushrooms which gives it a succulent tasty flavour.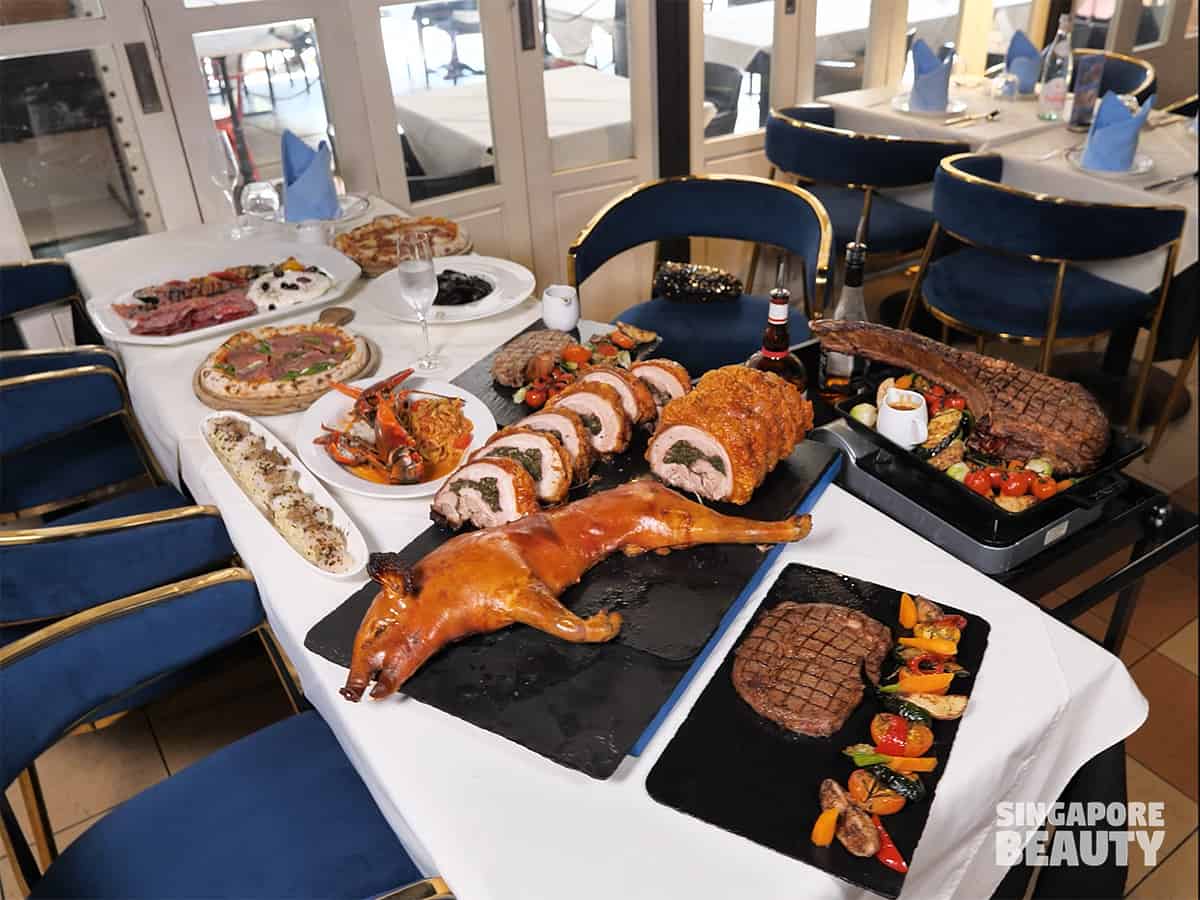 Here's all we tried at RUBATO ultimate Italian feast. From left to right, cold cuts platter, RUBATO's famous burrata pizza, Neapolitan pizza special, Squid ink seafood risotto, Nova Scotia Lobster air-flown daily, A gift from the angels aka chilled angel hair pasta, Special Charcoal Grilled Premium cut wagyu A9, Porchetta, crispy charcoal grilled Iberico Spanish suckling pig, RUBATO's mighty Tomahawk and Pata Negra "The Black Footed Boar" aka Iberico pork loin.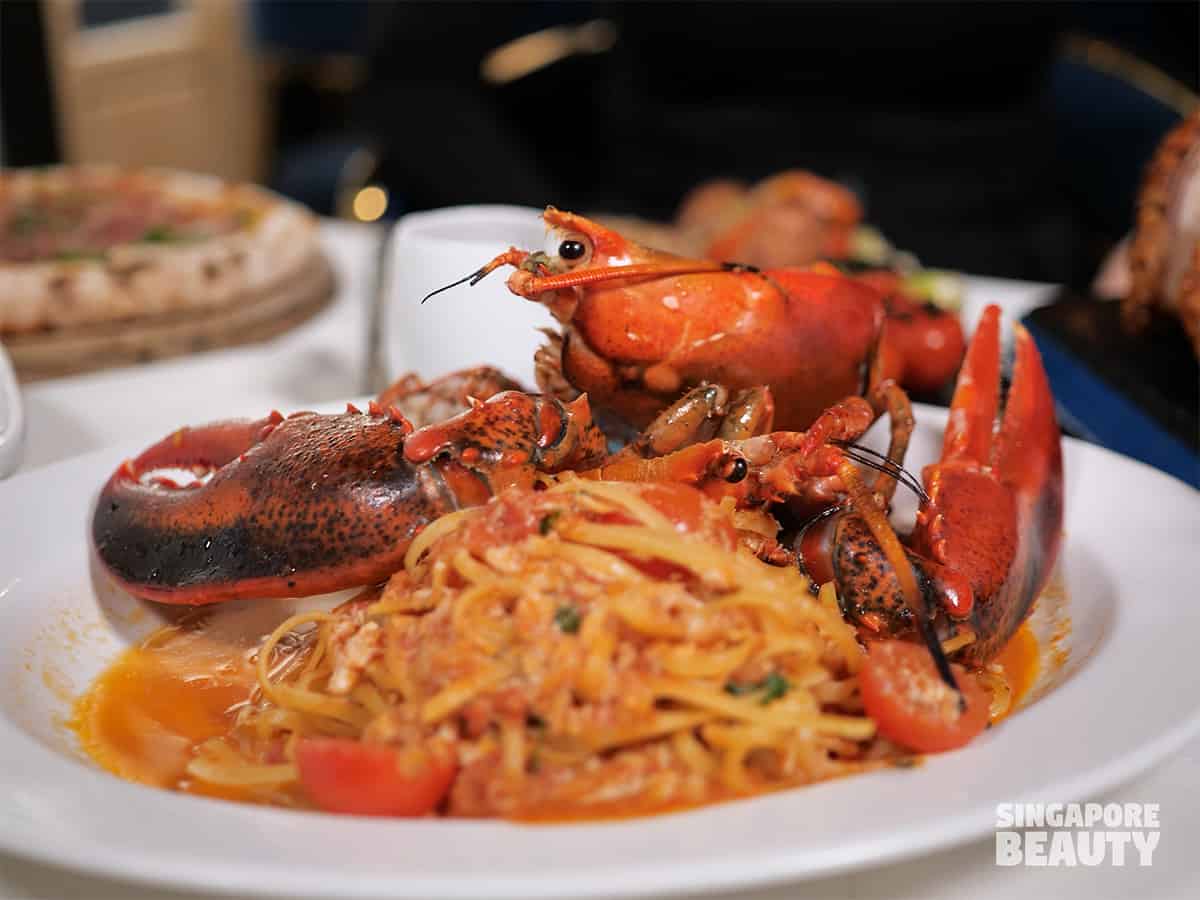 Nova Scotia Lobster Air Flown Daily ($89++ whole) is a lobster pasta. Enjoy some meaty succulent sweet lobsters together with a side of pasta in savoury tomato puree sauce, a secret elixir of seafood stock, curd and a hint of garlicky flavour. We were told they only use live lobsters for this dish.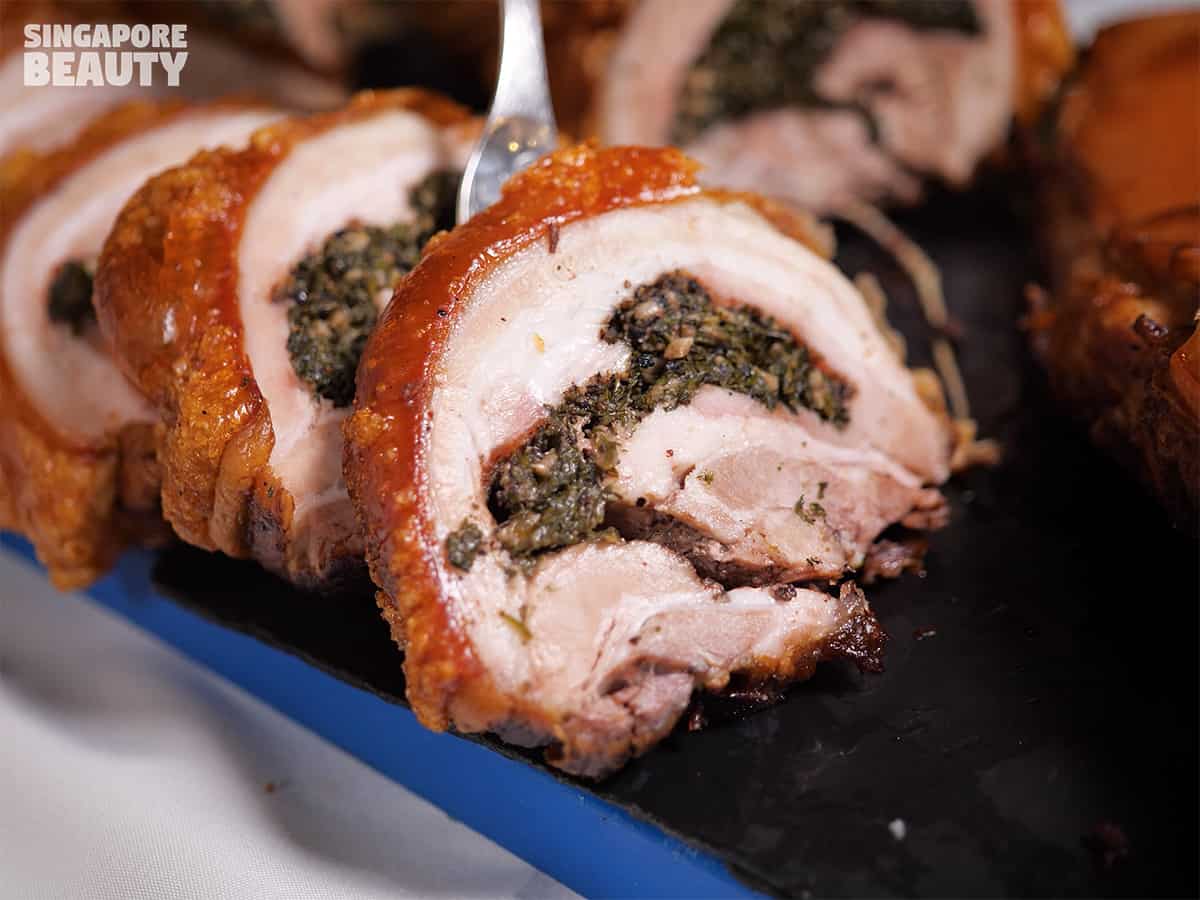 Porchetta are fatty & juicy roasted pork ($42++ for a 250g portion) which is a very traditional festive Italian dish, is stuffed full of Mediterranean herbs that gives it a juicy and tender texture.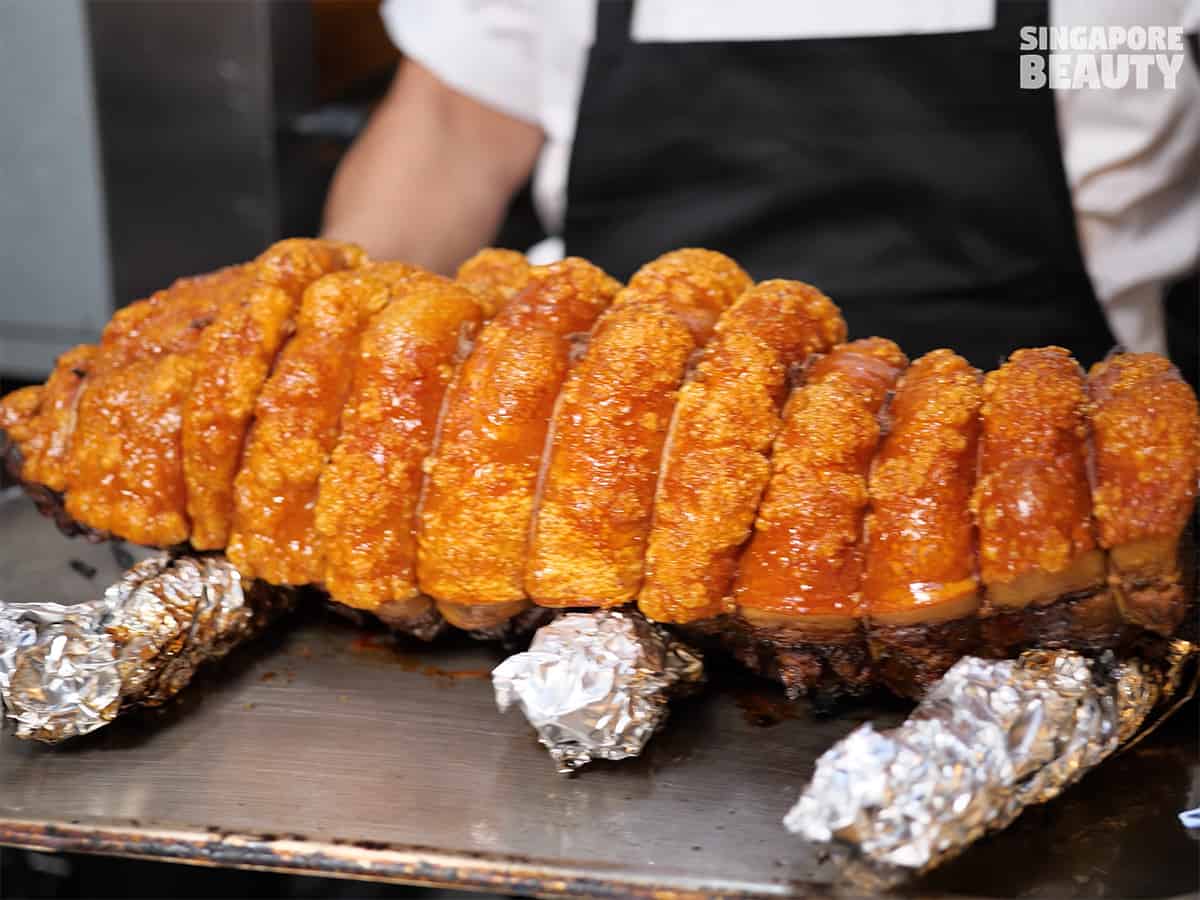 It's bursting with Italian flavours and very alla nonna, which means a very traditional grandmother style. The skin is a delightful crackling with a loud airy crunch to complement the moist and savoury meat.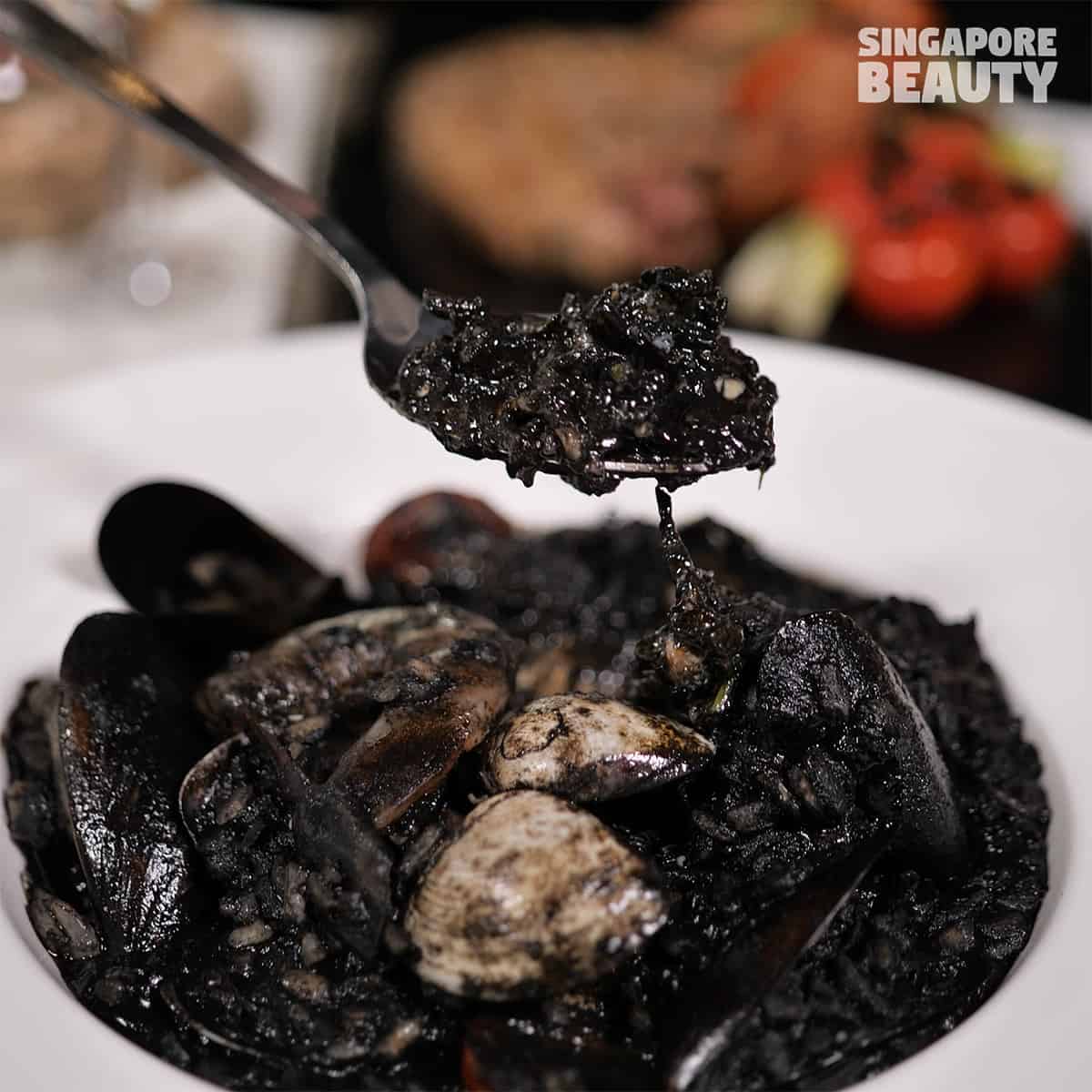 Squid ink seafood risotto / Risotto Nero ($35.90++) which means black in Italian. Fluffy short-grain rice tossed in squid ink sauce creating a dark, dark risotto with a chock full of seafood such as calamari, shrimps, mussels and clams. Creamy and rich risotto with an umami oceanic flavour.
We have here the Chilled angel hair capellini ($68++) topped with exquisite ultra-fresh US scallops. Angel hair are lightly poached and shock in an ice bath. Tossed with some aromatic truffle oil and plated as a graceful bundle of angel hair pasta. To keep the angel hair chilled, even the plate used is pre-chilled, the attention to details here is immaculate. Not to forget the generous shavings of real truffles, that is out to delight truffles lovers with its musky and umami tones.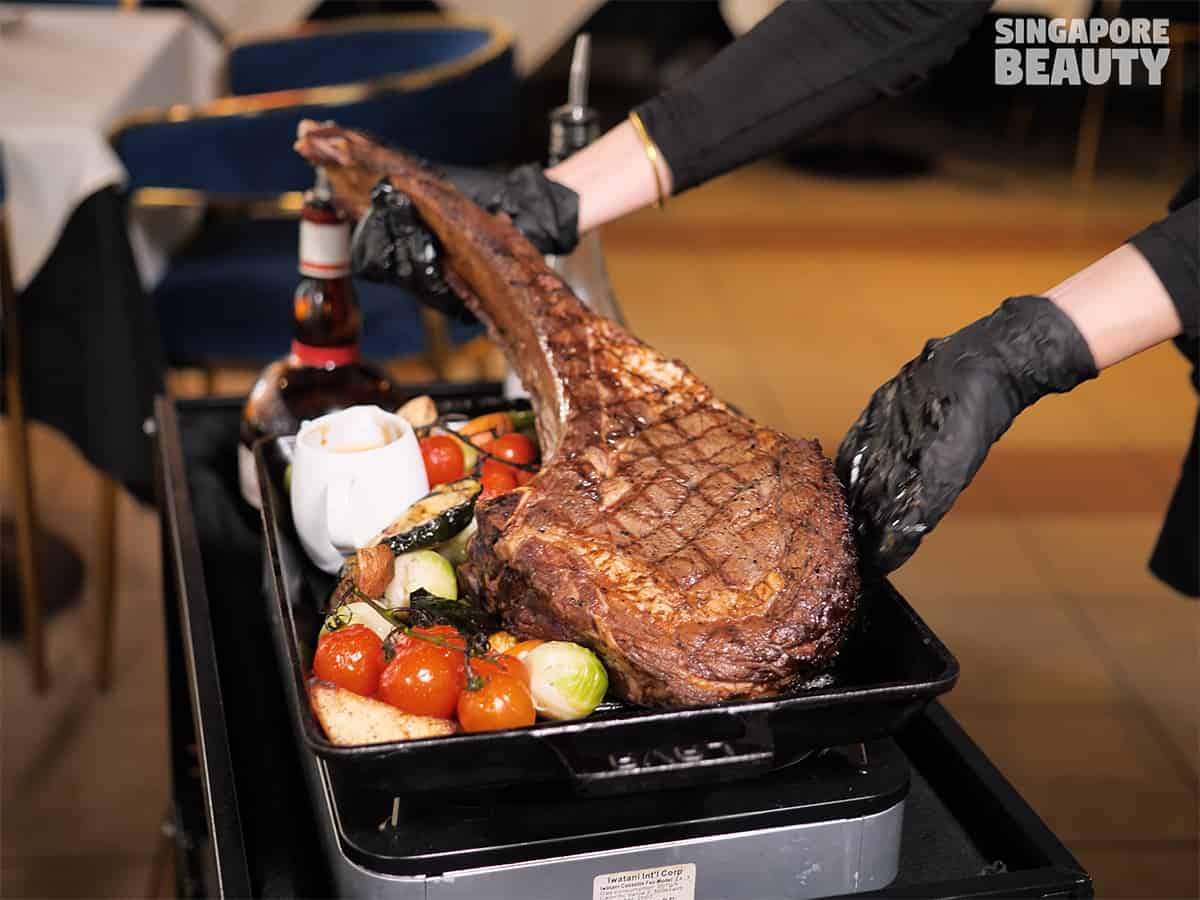 The glorious Tomahawk also known as the King of Steaks ($288++) is great for sharing amongst 2-3 pax. It is such a distinctive show piece on the table and not forgetting the very dramatic table side flambé – truly deserves the title of King of Steak in RUBATO. It comes with a side of roasted summer vegetables and truffle fries.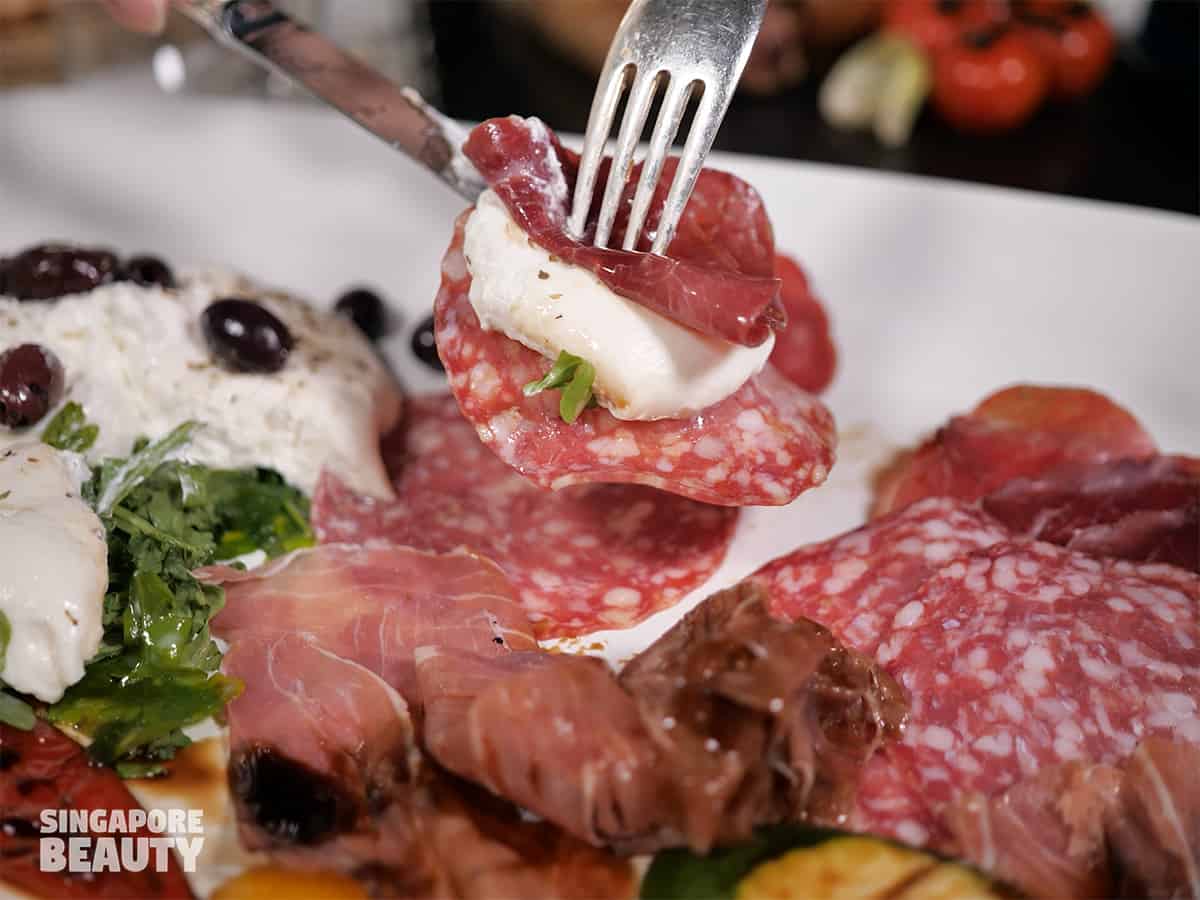 Ultimate Cold Cut Platter ($148++ serves 3-4 pax) – we have an exquisite platter here that's very, very reminiscent of Italy and the Mediterranean. We were told that the burrata has been sourced from the same suppliers that supplied many Michelin restaurants in Italy. This platter is an anti pasti which means a selection of various appetizers, comes with premium hand sliced to perfection cold cuts (spice salami, pastrami, honey ham, premium aged parma ham), Burrata, homemade garlic bread, home cured semi dried tomatoes, mix olives, artichoke, grilled zucchini, bell pepper and more.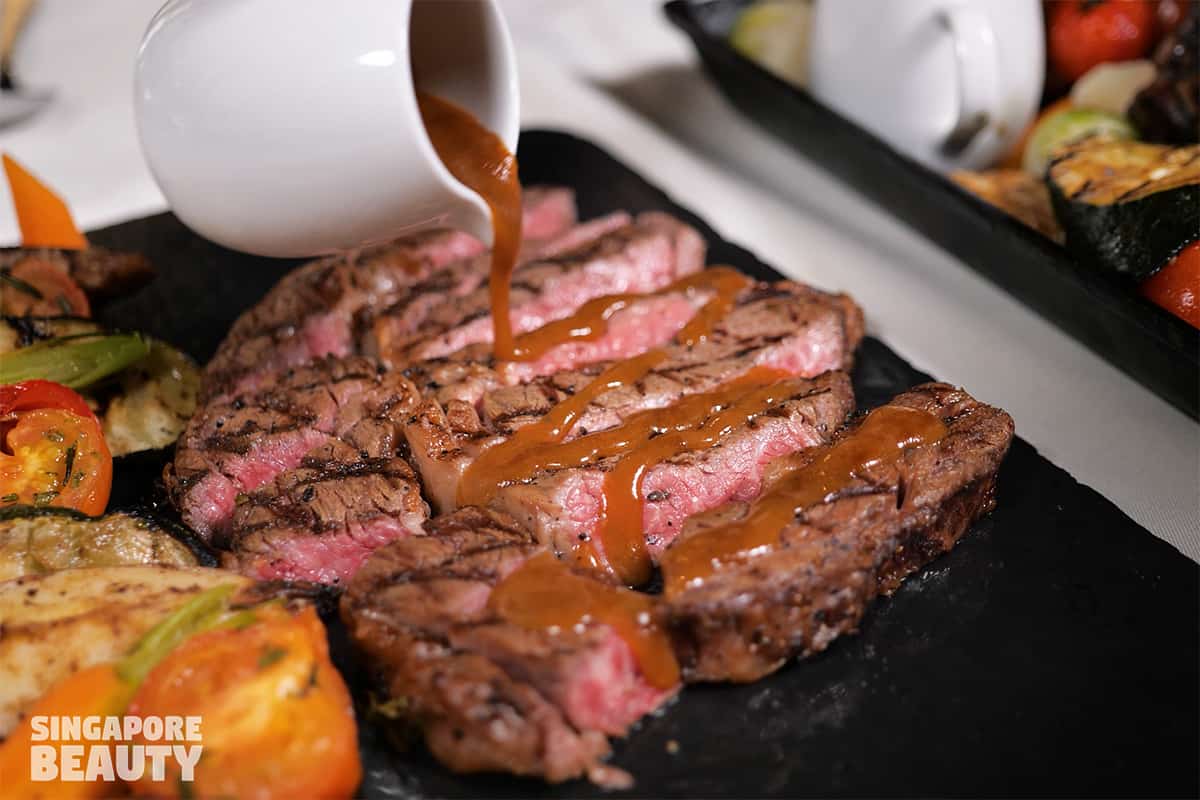 The A5 premium wagyu / Special Charcoal grilled Premium cut wagyu A9 ($128 ++) is smoky charred, melt in the mouth type with supple soft texture paired with the jus from meat juices. The marbling on this wagyu steak is intricate which renders it with a buttery umami flavour. We were told it is from a very, very special small farm all the way from Australia.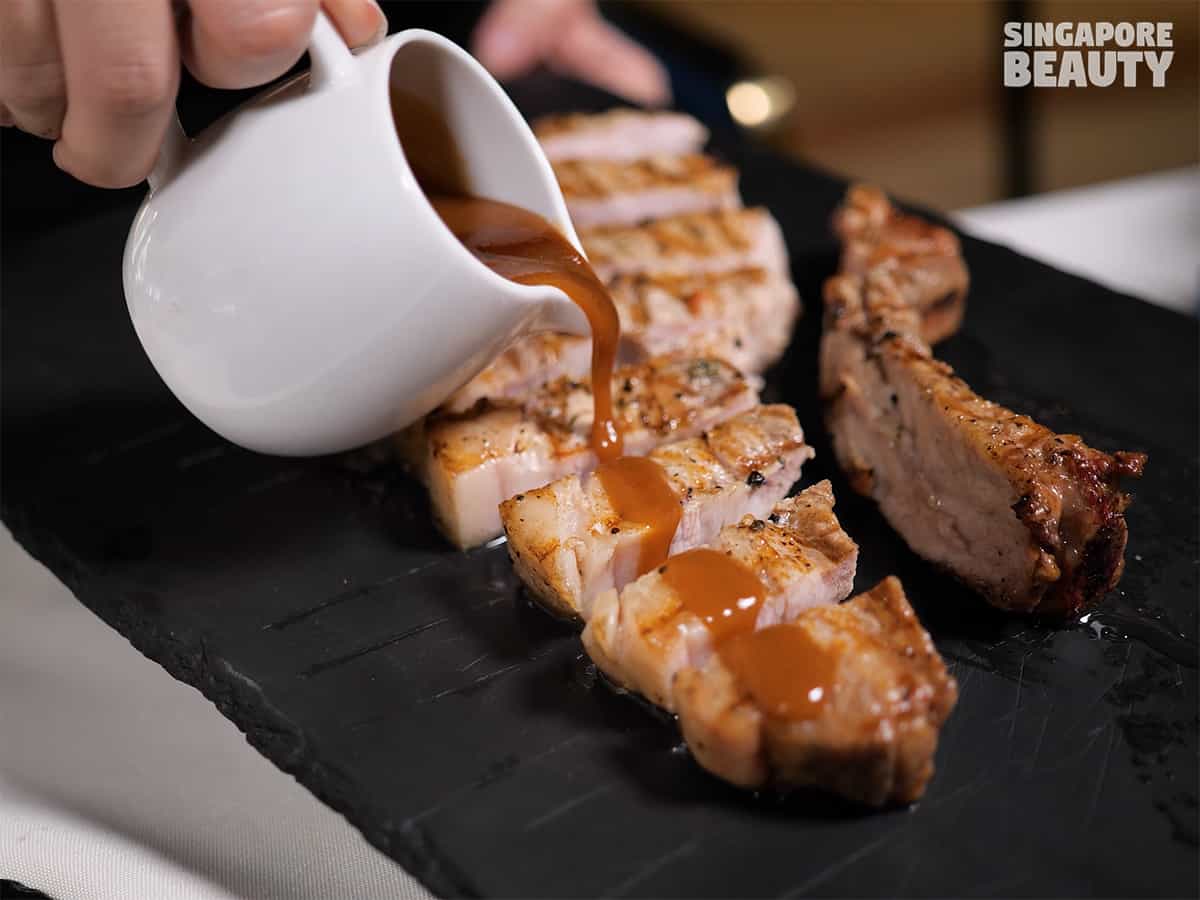 Pata Negra "The Black Footed Boar"/ Iberico pork loin ($52++) got just the right amount of fat packed with meat, which would explode lots of umami flavours in your mouth is also paired with jus. The tenderness and fatty texture of the loin meat is something makes it very delightful.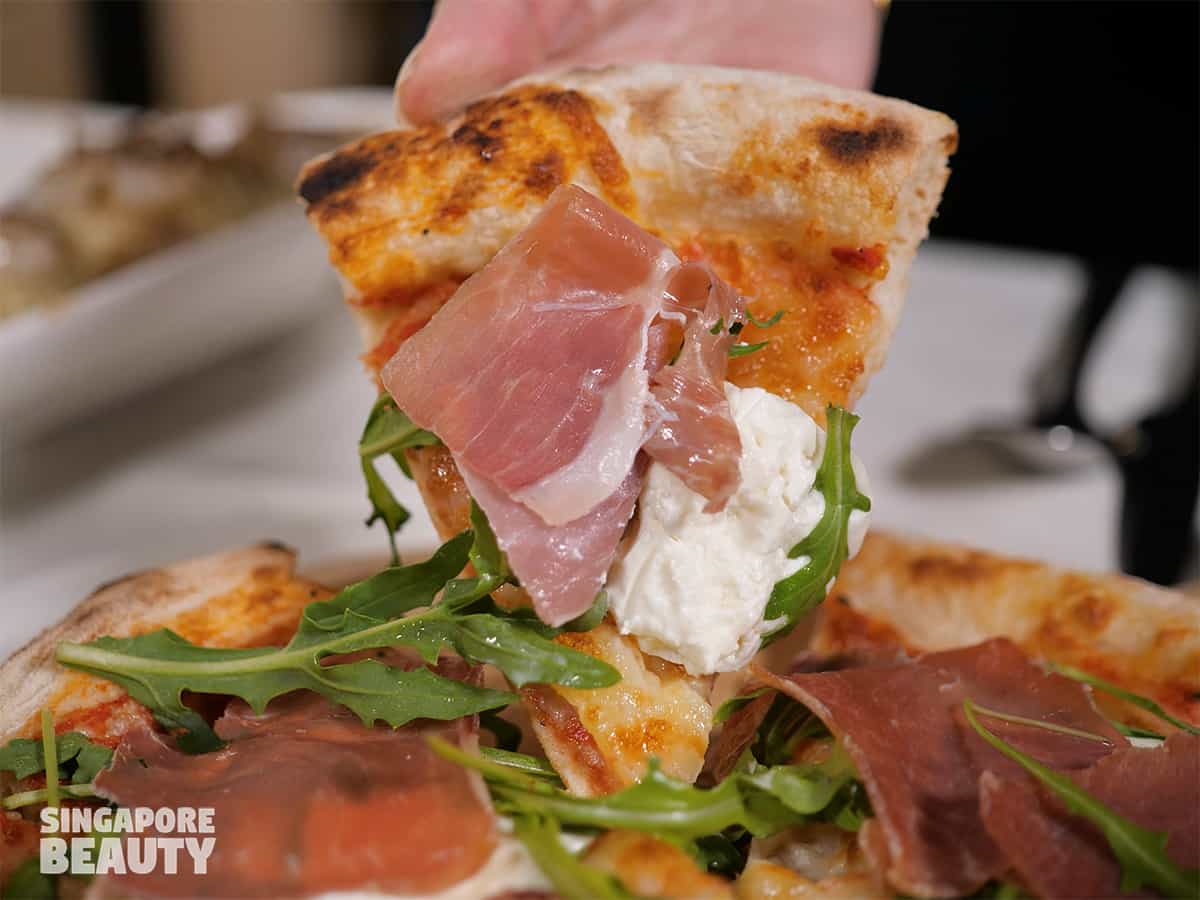 RUBATO has legendary pizzas that are proofed for three whole days with flour imported all the way from Italy. This slow proof technique is seldom seen throughout Singapore. Bite into the crust and be able to experience authentic Neapolitan pizza.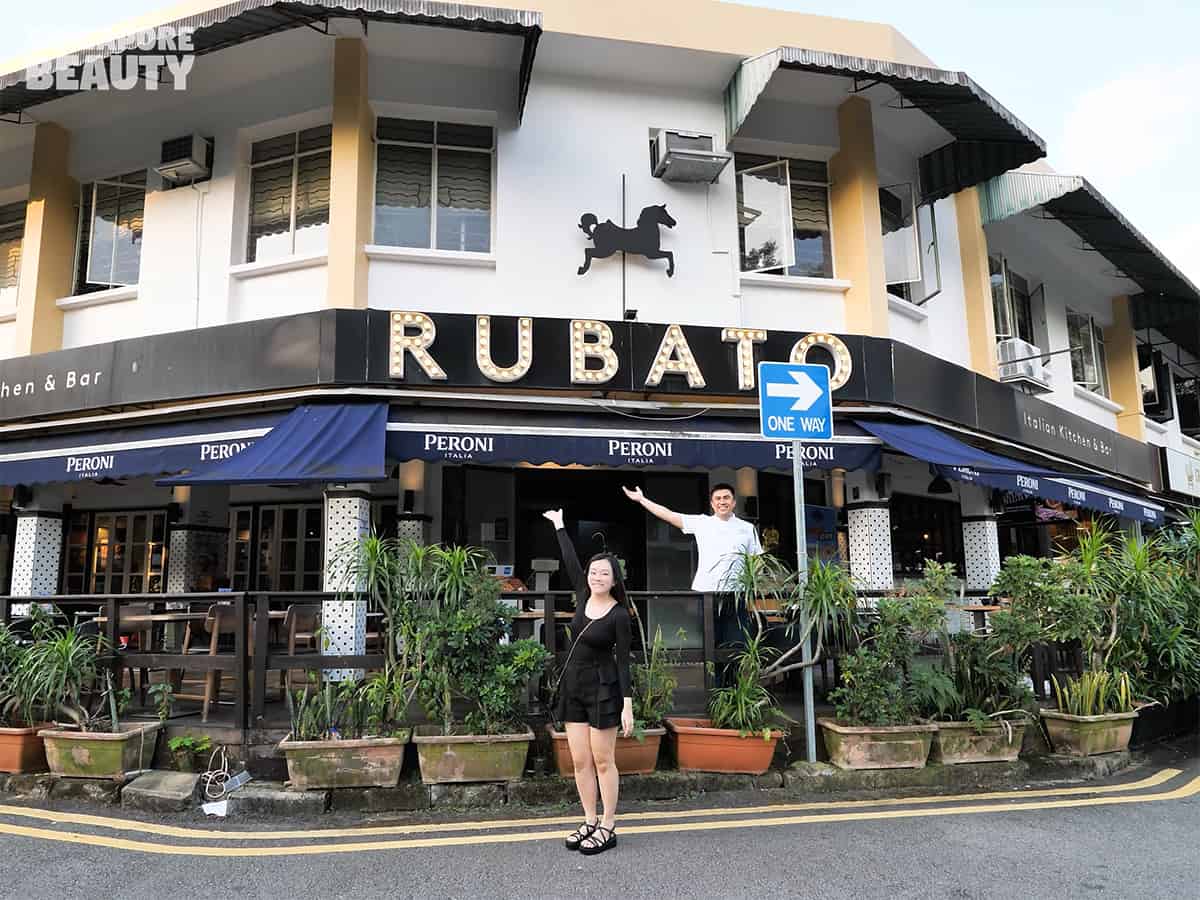 If you are looking for Italian food in Singapore, do try RUBATO at Greenwood – One of Singapore's Oldest Italian Restaurant since 2009 – with over 100 curated ala carte Italian food, not forgetting their exclusive omakase & daily buffet brunch too.
Address of RUBATO (featured):
12 Greenwood Ave, Singapore 289204
For reservations, pls call: 9424 8258
Opening Hours:
Sunday to Thursday – 10am to 11.30pm
Friday, Saturday, Eve of P.H & P.H. – 10am to 2am
Other New outlet:
RUBATO Steakhouse
2 Teck Lim Rd, Singapore 088380
For reservations, pls call: 8453 4519
Brought to you by RUBATO GROUP