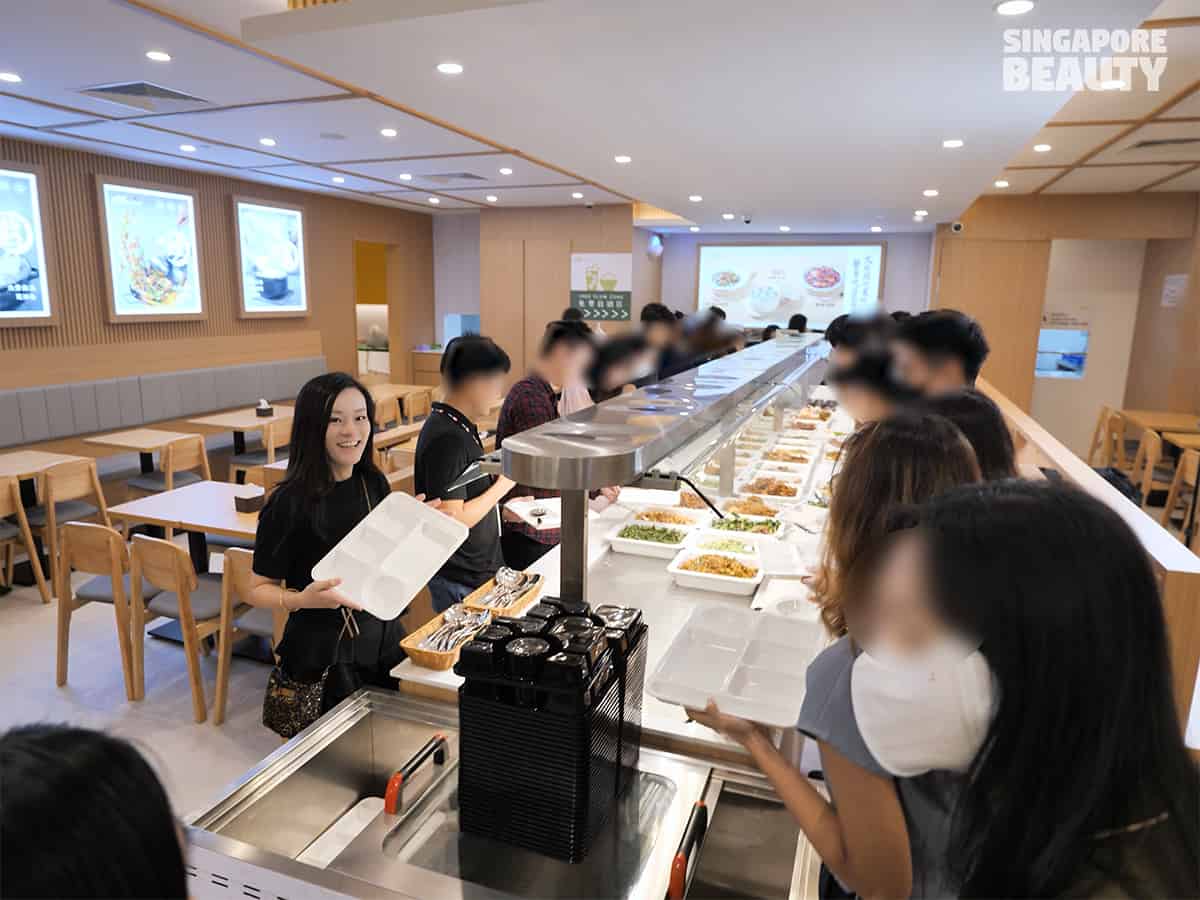 Hundred Grains 百米香 is Singapore first Chinese fast food restaurant with 60 dishes on their menu. You can build your own Chinese cuisine platter and try the entire menu at one go for only $3.98 per 100g. This is restaurant standard food served in a buffet spread style. They have an amazing selection of Hunan, Sichuan and Cantonese food that stretches and spans almost the whole length of the restaurant. It also comes with a free-flow top up food zone.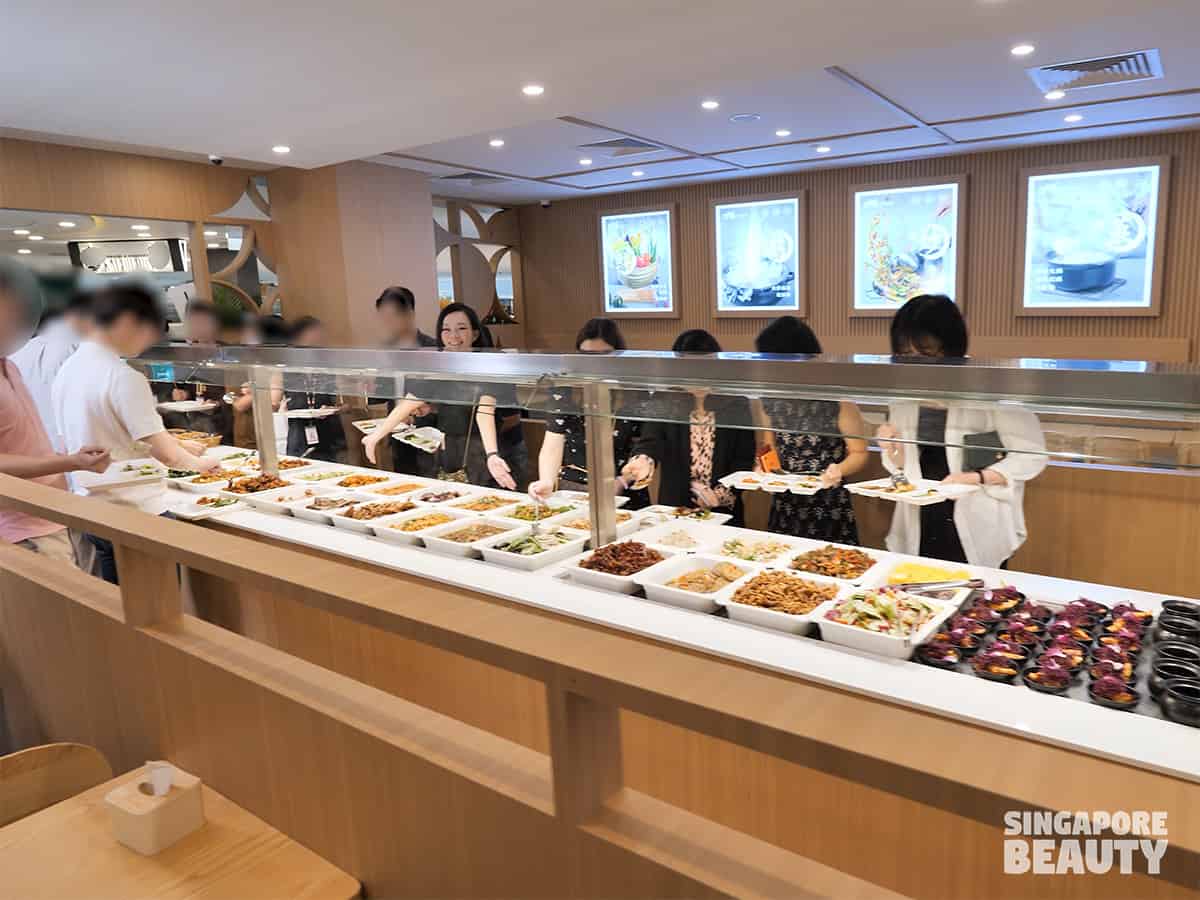 The entire Hundred Grains menu consist of signature Hunan, Sichuan and Cantonese food prepared in various cooking methods and flavours. You can try up to 42 different dishes at one go at the start of the session, with constant top up of new dishes to a max of 60 cuisines.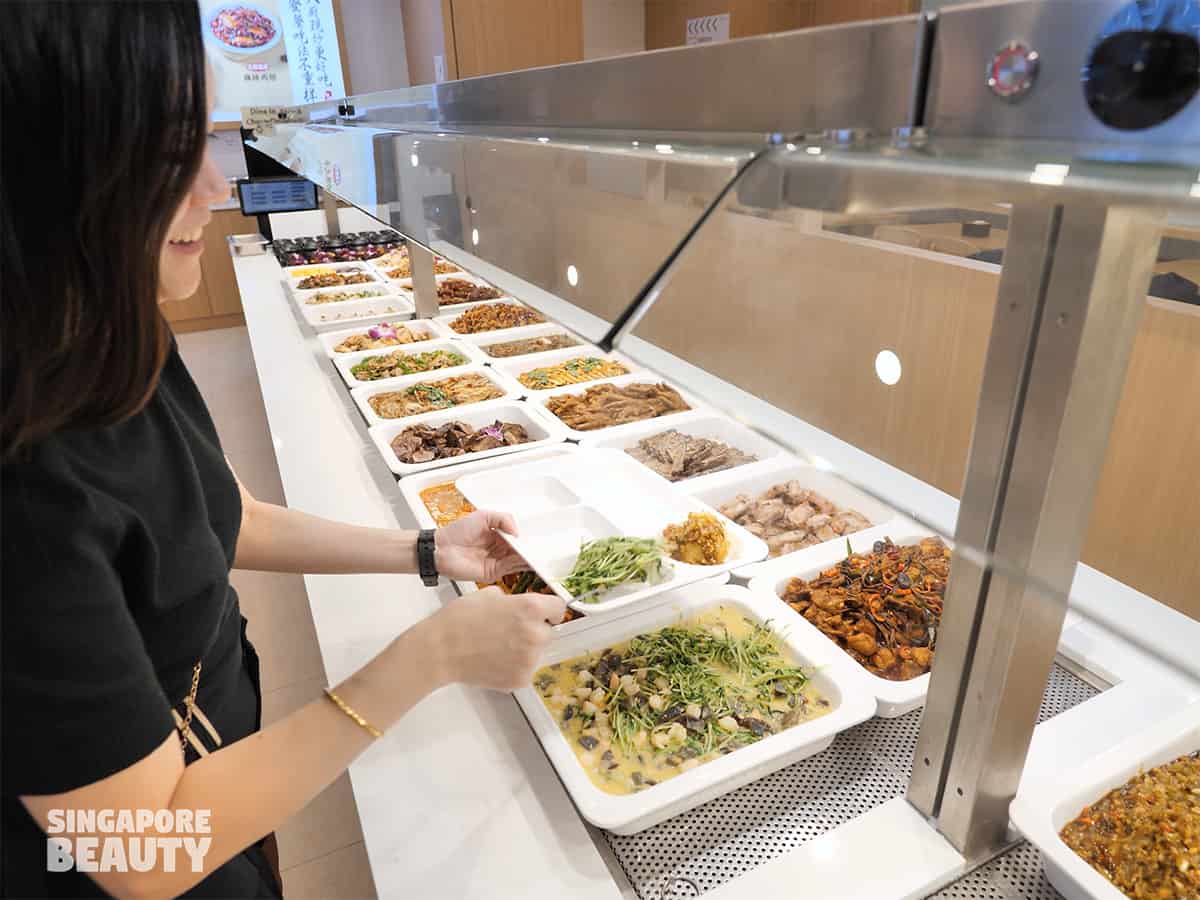 This is Hundred Grains 百米香 Singapore First Chinese Fast Food Restaurant. They are officially open on the 16 Oct 2023 with this build your own Chinese Cuisine platter concept and pay by weight in Singapore. This is the first restaurant in Singapore that has this Chinese Fast Food Restaurant concept charged by weight of the cooked cuisines, where you get to pick, choose and scoop your own portions and types of Chinese food onto your platter.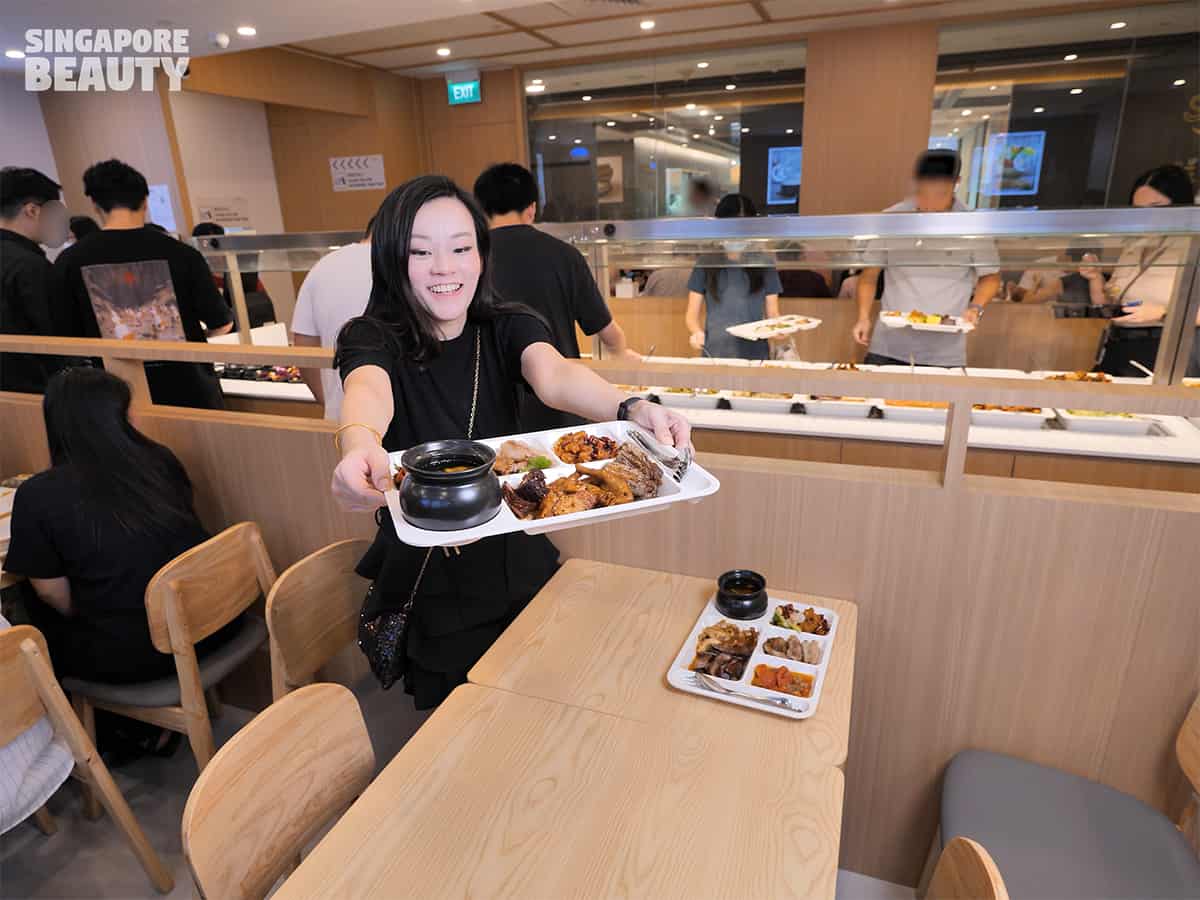 Here's our Hundred Grains review after trying almost their entire menu. They served some authentic Chinese cuisines from Hunan, Sichuan to Cantonese food. The selection is amazing with all types of meats, cooking methods and very tasty too. The food presentation is Chinese restaurant style with Chinese restaurant standard food. You can find all sorts of signature food from Hunan, Sichuan to Cantonese style here, such as Pearl meatballs, Home-style stir fried meat with green chilli pepper, Kung pao chicken, ChongQing Spicy chicken, Mapo tofu, choy sum in oyster sauce and so much more. We also love the new concept of build your own Chinese fast food platter idea, where we check out based on weight of food platter, while trying their entire menu.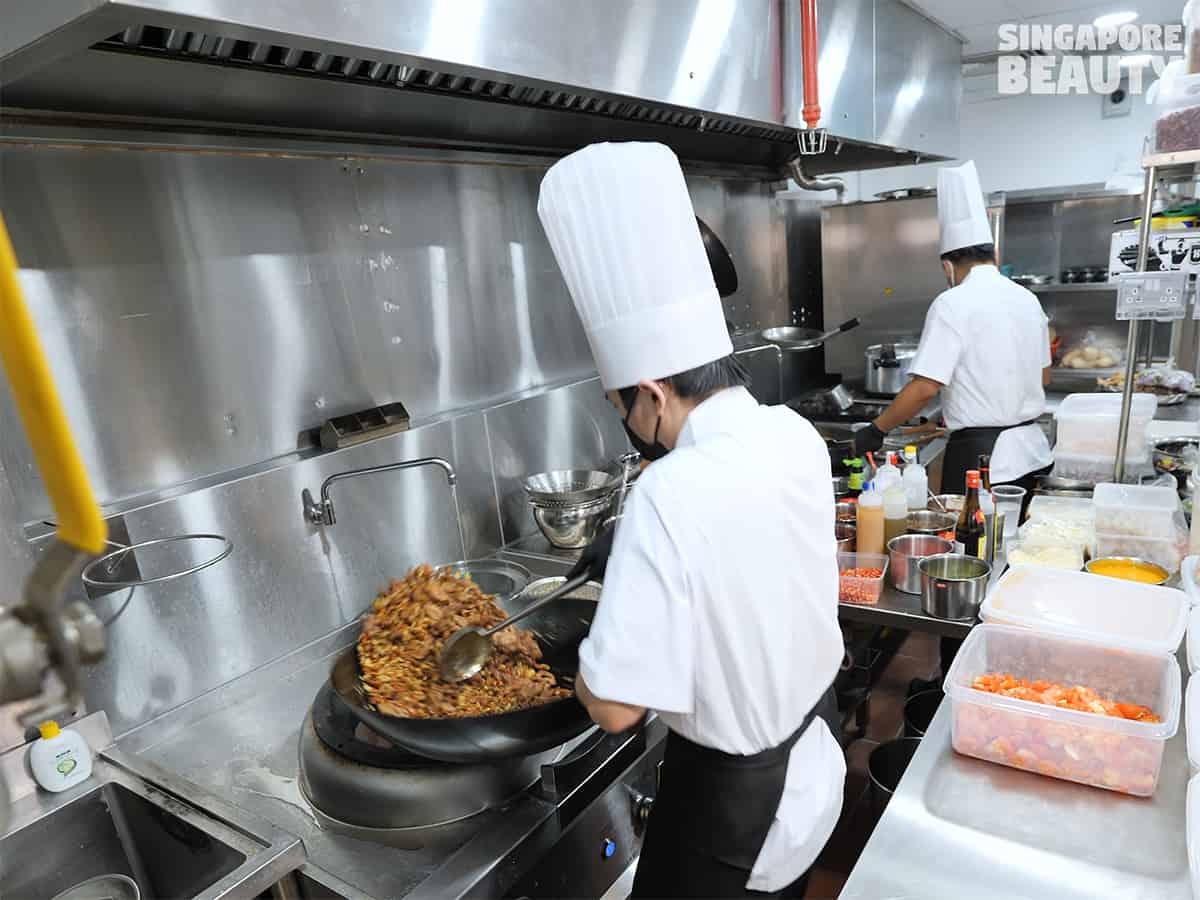 The kitchen is helmed by 2 experienced and skilled chefs with 10 years culinary track records. They are well versed, trained and specialised in signature Hunan, Sichuan and Cantonese food. These chefs are constantly cooking new dishes and signature delights for the buffet style spread display.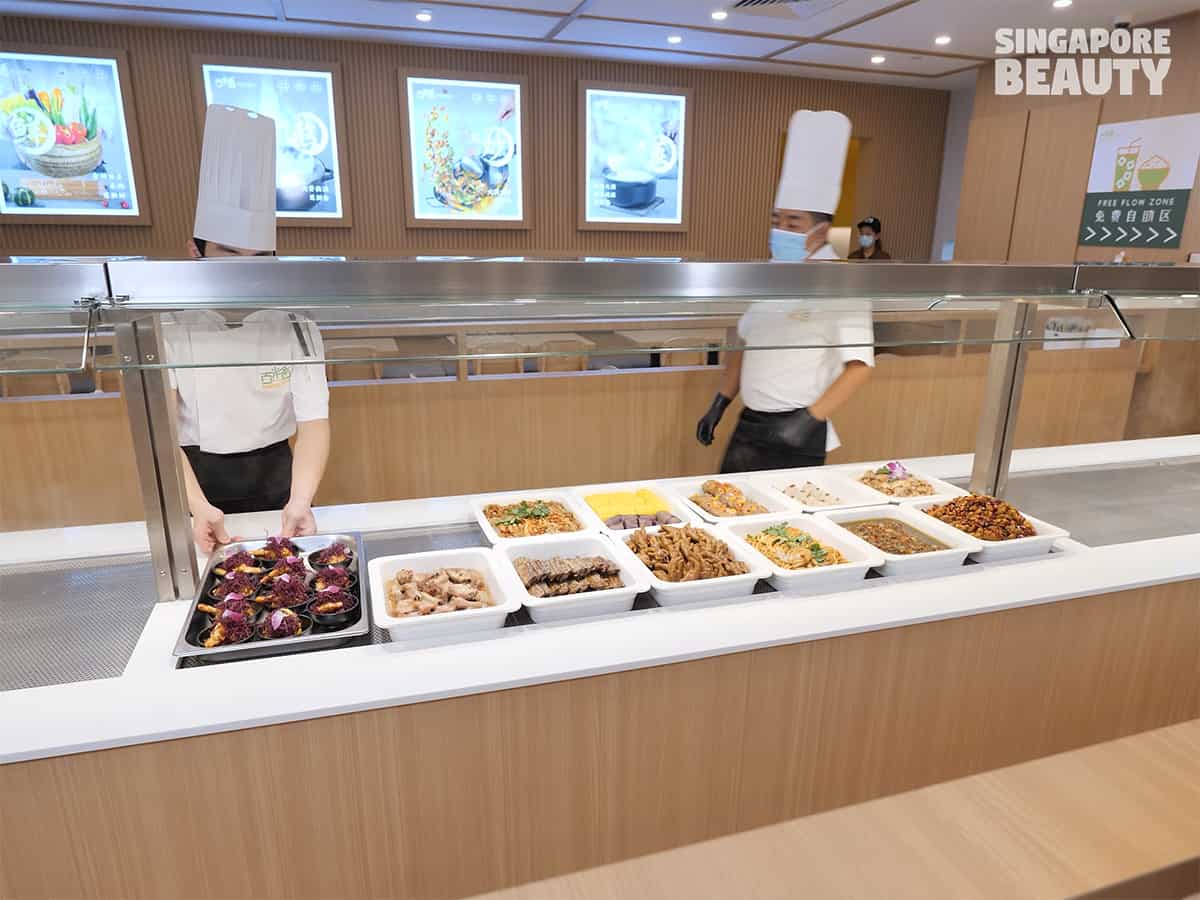 Every dish at Hundred Grains is closely scrutinised by their chefs for presentation色, aroma香 and taste味 before presenting on the buffet spread style display. They serve restaurant standard style food but only at $3.98 per 100g so that everyone can enjoy. Now, you have a good reason to feast on these Chinese cuisines without having to wait for a promotion. The dishes are all served on a piping hot steamer base that stretches almost the whole length of the restaurant, to ensure the food stays at their optimum state.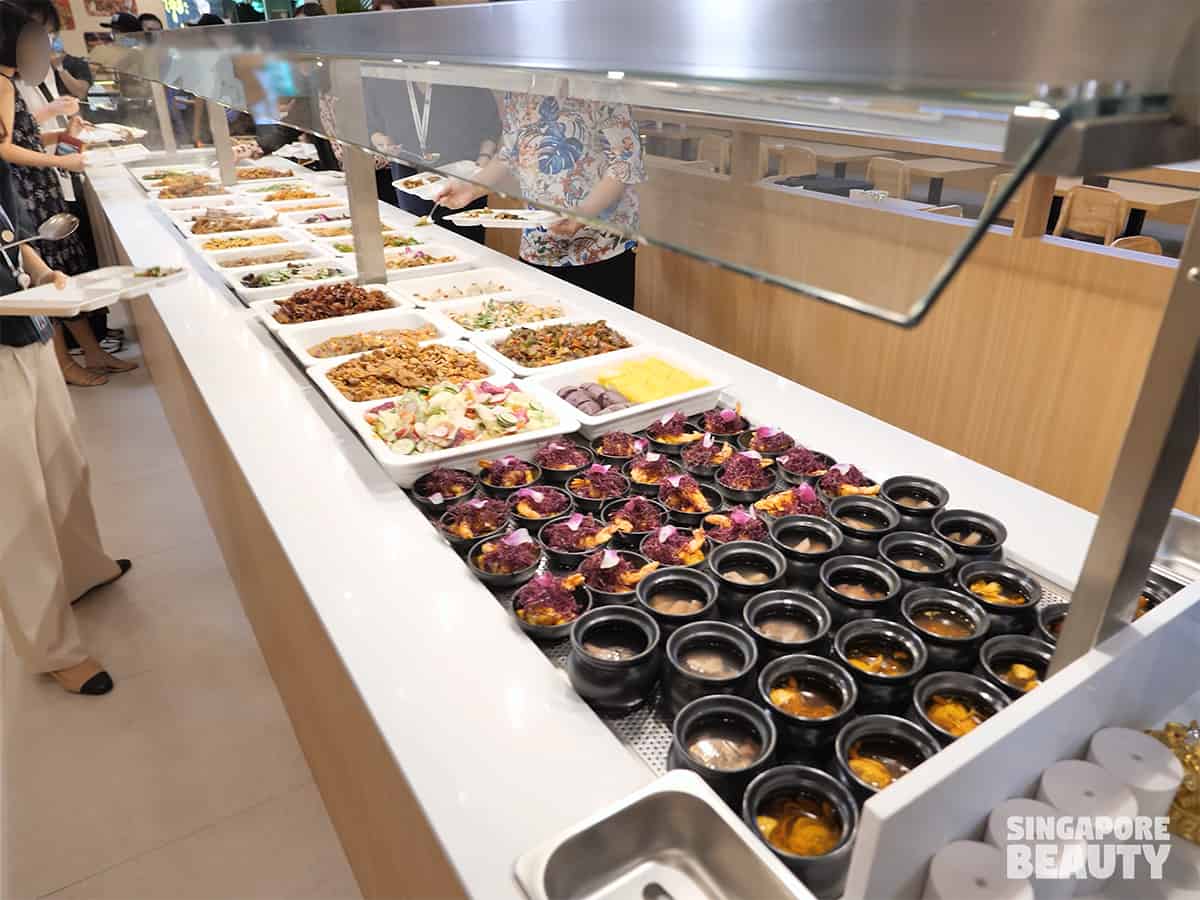 They also firmly believe in freshness of ingredients that is brought in daily. Soup bases are boiled with big pork bones daily for a fresh, clean and neat taste. Steamed dishes are perfectly timed on cooking duration, to lock in the best texture and aroma. You can see their restaurant motto proudly displayed on their walls. Do note that soups and special dishes in black saucers are priced by per unit price instead of weight.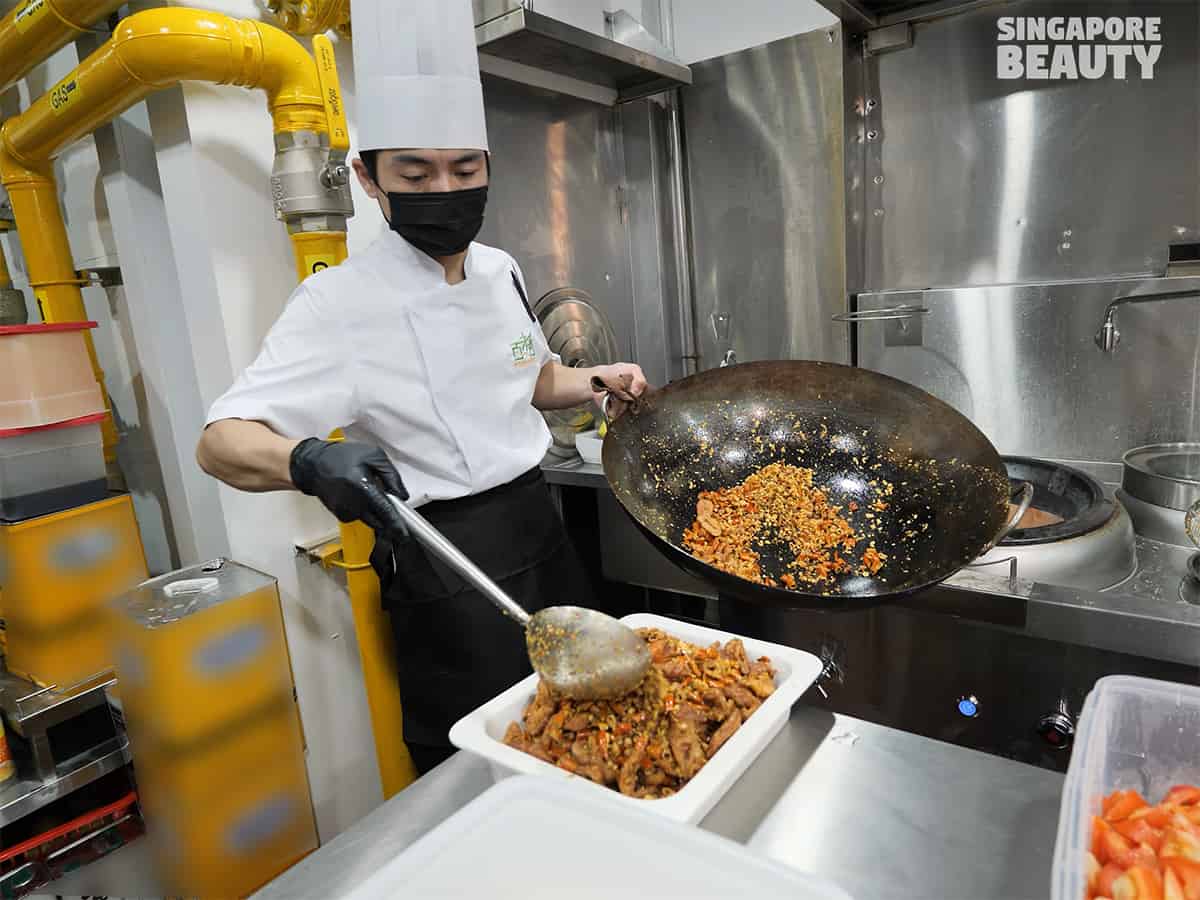 Every dish on the buffet style spread display is also freshly cooked with a large Chinese wok in small portion for better taste and fast turnover. We are impressed by the cut ingredients that are stored in tight lid clear containers, making the spacious kitchen bright, clean and immaculate. The kitchen also has clockwork like special planning with designated cook zone, preparation area and wash zones.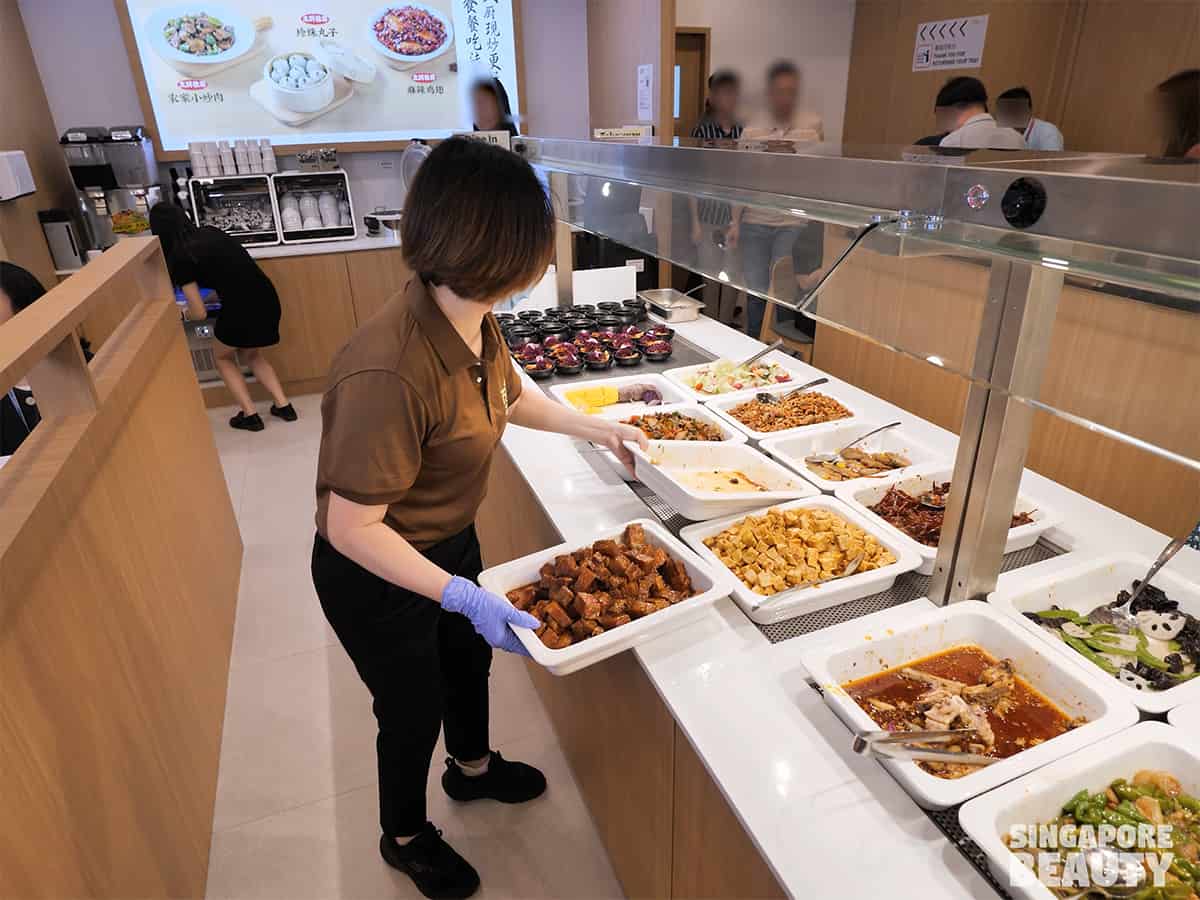 We were told that all the dishes are cooked from scratch daily. As part of their SOP on quality control, food will be removed from the spread, if it sits on the spread beyond their stipulated time duration. This is to ensure the taste and quality is at their optimum at any one time for their guest. From our observations on their opening day, the foods were quickly wiped out by the lunch crowd, within minutes of exiting the kitchen to the heated steamer buffet style like display. The Chefs were quick in their cooking to keep up with the pace of food replenishment.
Here's how you Build-your-own-Chinese-Platter works at Hundred Grains. Start by getting a partitioned plate within their disinfected cabinet from the entrance of the restaurant. The white plate is for dine in and the black plate is for takeaway. Get your own silver ladle and head over to the buffet spread style food display. Now, proceed to pick, choose and scoop food onto slots in your plate. When you are done, drop off your personal used silver ladle in a black holder near the check out machine. The friendly staff will weigh the food platter, you can tap for payment and check out. Next, proceed to the free flow zone.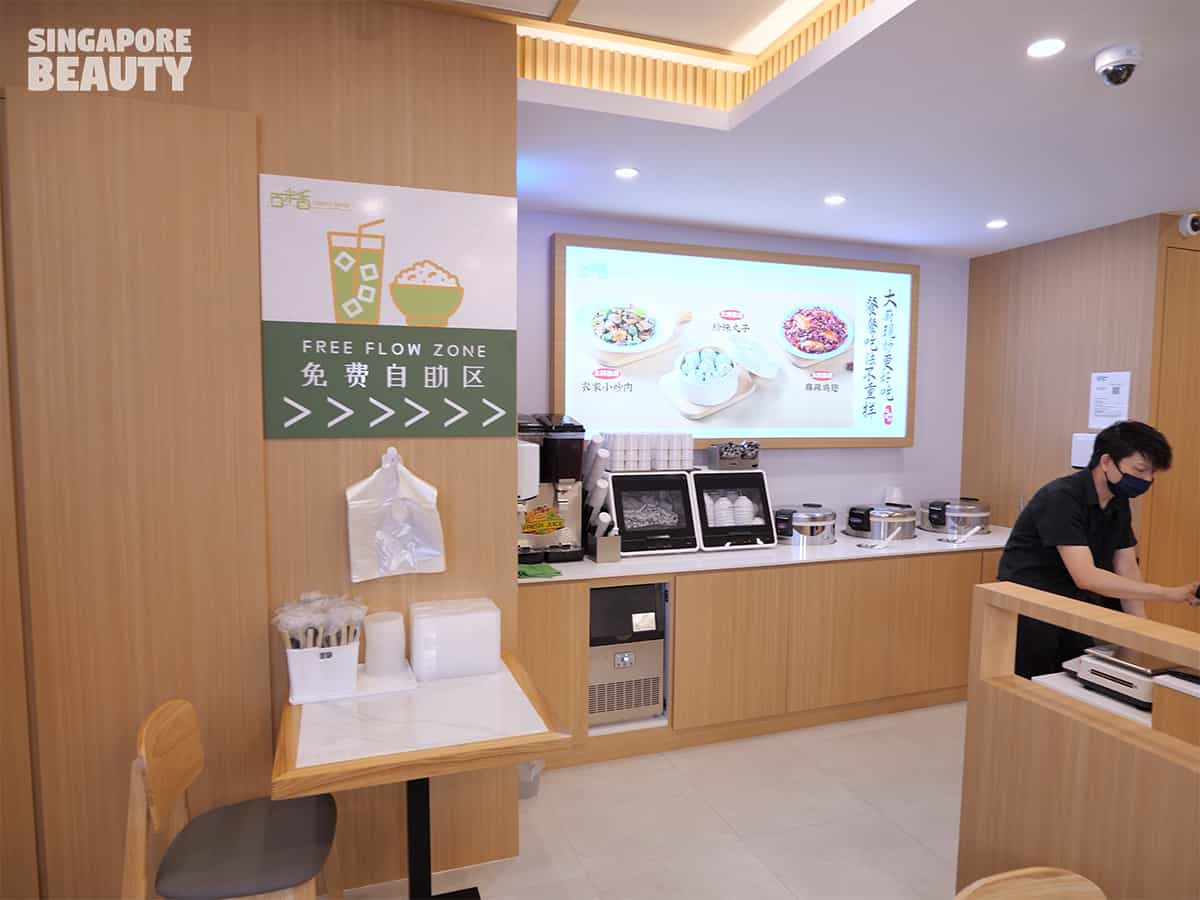 This is the free flow zone for unlimited top up during lunch and dinner. You can head over to this section after making payment for your platter. This free flow zone is neatly packed with drinks dispenser machine, ice maker machine, disinfection cabinet for utensils and cutlery such as soup spoons, chopsticks and bowls. There is also a takeaway table with carrier for the takeaway partitioned black boxes, plastic cups with lids, utensil package, soup bowls and lids for takeaways boxes. You can either DIY or ask the friendly staff for assistance at this takeaway table.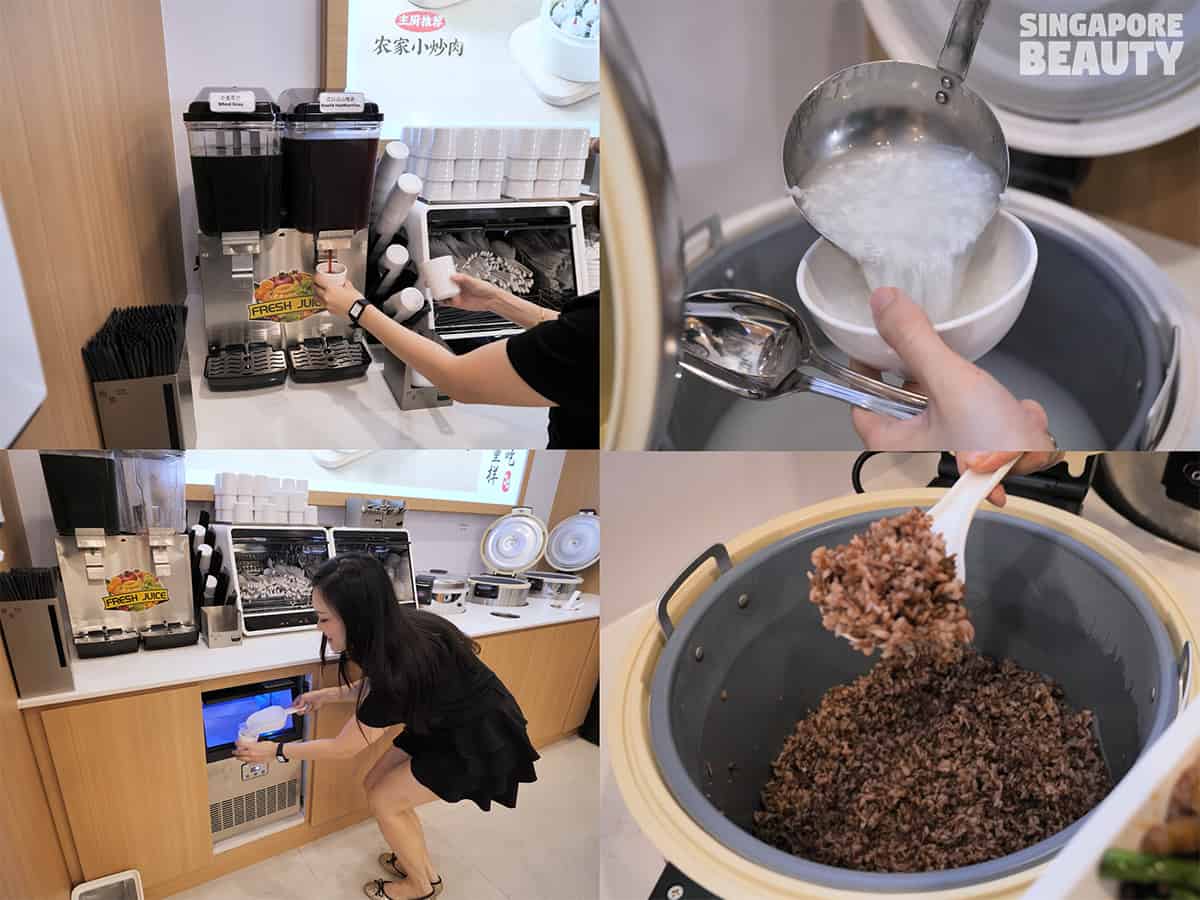 At Hundred Grains free flow zone during the lunch session, you can get 3 options of carbs such as steamed pearl white rice, multigrain brown rice, congee and others on rotated menu daily. For dispenser drinks, they have a rotated menu of 5 choices such as pineapple, soursop, lime, and some homemade drinks such as wheatgrass and roselle drink. The ice cubes machine is located below the drinks dispensers. For dinner session, in addition to the lunch session's items, they even have fruits and desserts such as green bean soup, white fungus with ginkgo, ice jelly or others on a rotated basis.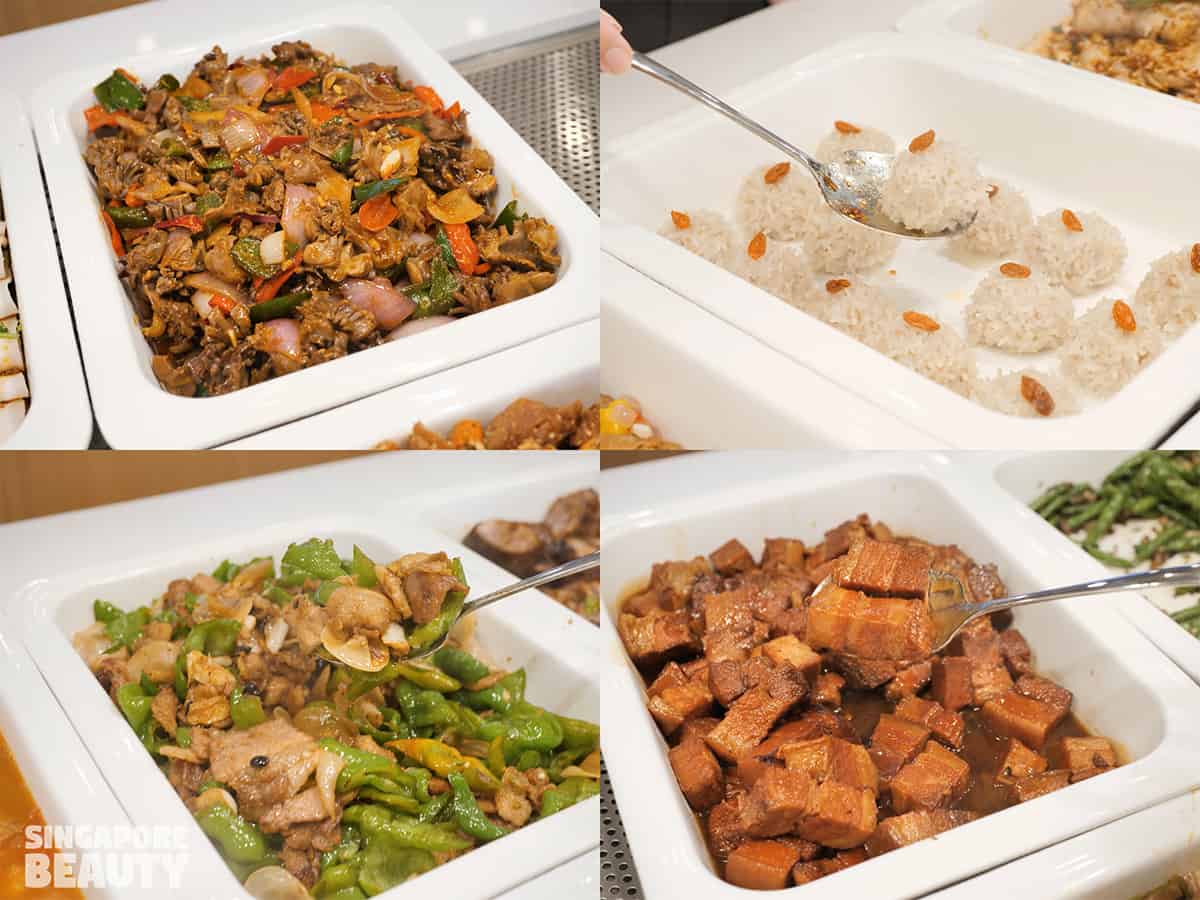 Their signature Hunan dishes also known as xiāng cài (湘菜) such as braised pork, pearl meatballs, home-style stir fried pork with chilli pepper and hot & sour chicken gizzards are must try here. These are the signature dishes you can find in some of the Hunan restaurants in Singapore. Braised pork are savoury and melt in mouth type. Pearl meatballs are a chewy surprise with marinated minced meat paste center. Home-style stir fried pork with chilli pepper has a salty and mild bitter kick from the black bean dice used to stir fried the pork. The green pepper has a sweet aroma with a grassy kick.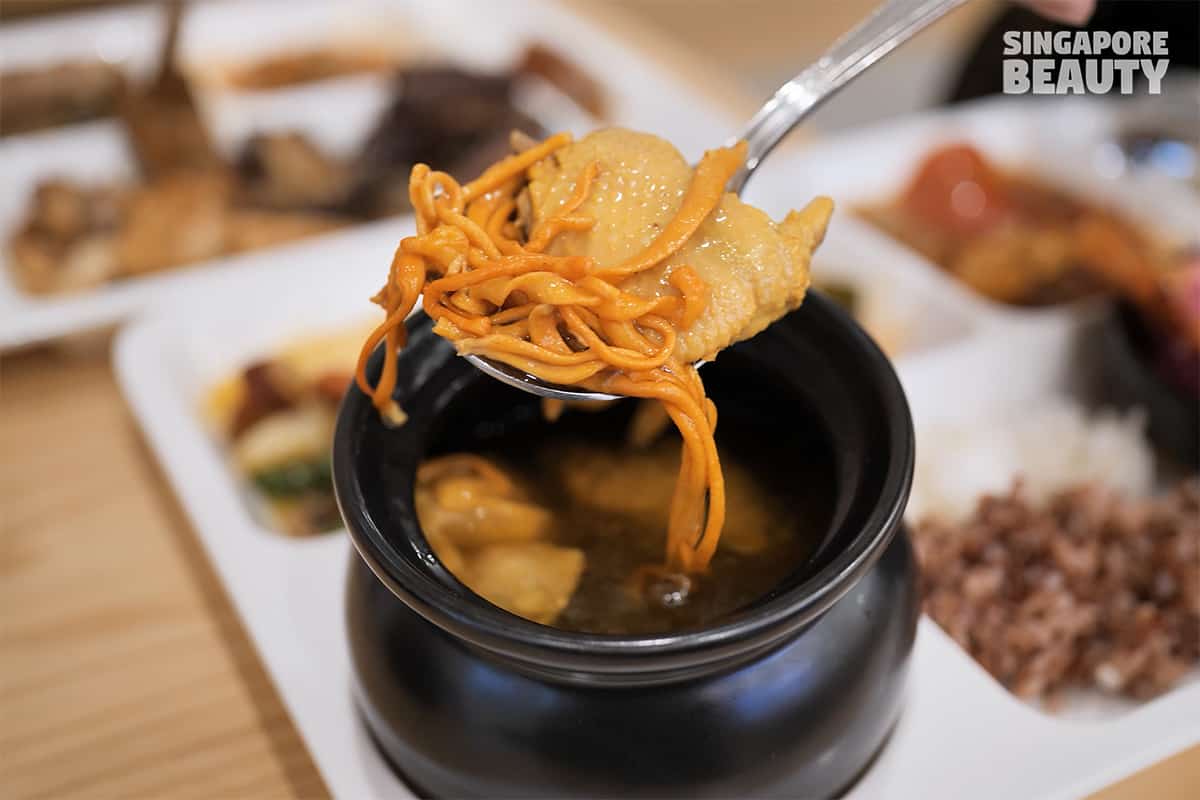 They also have Cantonese dish also known as yue (粤菜、广东菜) and more other Sichuan and Hunan dishes too. Cantonese cuisines are known for their natural flavours using fresh ingredients to enhance the food's natural taste. These cuisines are less oily and focus on nourishing soup. We tried their soup of the day, lotus root pork rib soup and cordyceps flower chicken soup. The soups have natural umami sweetness and a subtle sour undertone, feels nourishing and clean tasting like home cooked soup. These are the signature dishes you can find in some of the Cantonese restaurants in Singapore.
They also have Sichuan dishes also known as chuān cài (川菜) such as sour cabbage fish in golden broth, ChongQing spicy chicken, mala crispy pork intestines and sliced pork with garlic sauce. These are the signature dishes you can find in some of the Sichuan restaurants in Singapore. Sour cabbage fish in golden broth are thick chunks of slippery white fish in a sour and fragrant soup. ChongQing spicy chicken and mala crispy pork intestines has that superb crunch balanced with a rich burst of fatty flavours and numbing sensation from the aromatic peppercorns. Addictive salty kick with a little bitter and spicy flavours from the crispy dried chilli pepper. Sliced pork with garlic sauce has a sweet garlicky flavour with springy thinly sliced pork belly.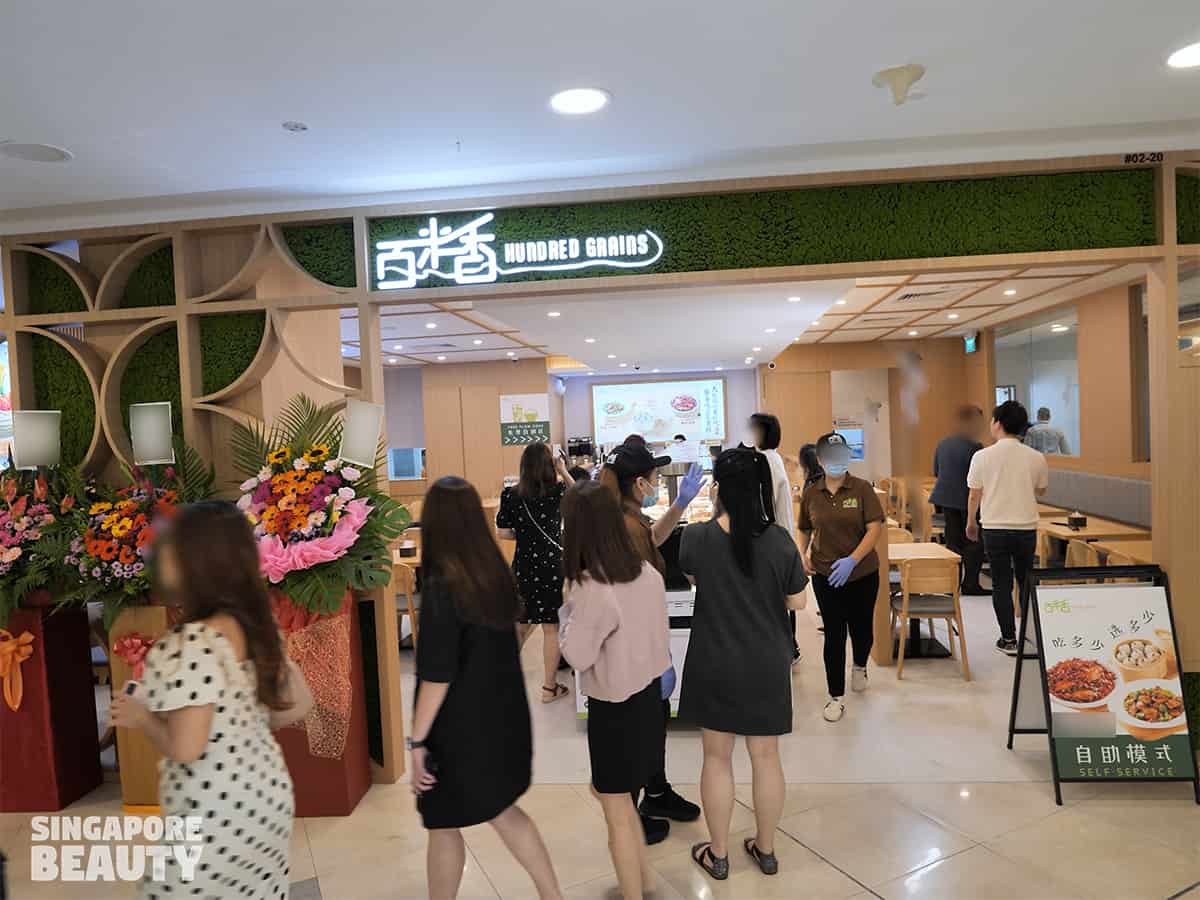 There are also so many exquisite dishes such as prawn ball salad bowl, toothpick beef, sweet skin duck, spicy ginger chicken feet, stir-fried tripe. Not to forget, mouth-watering chicken, boneless fish with two peppers, crispy pork belly in chef's special sauce, steamed pork ribs with fermented bean sauce, sweet & sour belt fish and tomato braised beef brisket. Also try their unique picks like millennium pork and crispy lotus root sandwich. If you need some crunch, go for fruit & vegetable salad, stir-fried shiitake mushrooms with Cantonese vegetables, stir-fried lily bulbs with asparagus and ginkgo nuts, pea shoots in superior broth and dry-fried green beans. Lastly, get some homely dish home-style tofu, Sichuan stir-fried chicken with tea tree mushroom, pickled vegetable mashed potatoes, mapo tofu and braised eggplant in gravy. And so much more Chinese restaurant food. The frequent top-up of new dishes makes every visit a unique experience. If you are ready for the hottest Chinese restaurant with piping hot Chinese restaurant food. Do visit Hundred grains 百米香 at Alexandra Retail Centre.
Address of HUNDRED GRAINS:
460 Alexandra Rd, unit 02-20
Alexandra Retail Centre
Singapore 119963
Opening hours:
Monday to Saturday – 11am to 3pm, 5pm to 9pm
Sunday closed.
Price $3.98 per 100g for both dinner & lunch, meat and vegetables.
Soup & special dish in black saucers are charged at per unit price.
For Lunch, Free flow zone has carbs such as steamed pearl rice, multigrain brown rice and congee, 2 types of dispenser drinks such as homemade drinks and cordials.
For dinner, they have additional fruits and desserts at the free flow zone in addition to the lunch free flow food items.
Brought to you by Hundred Grains 百米香