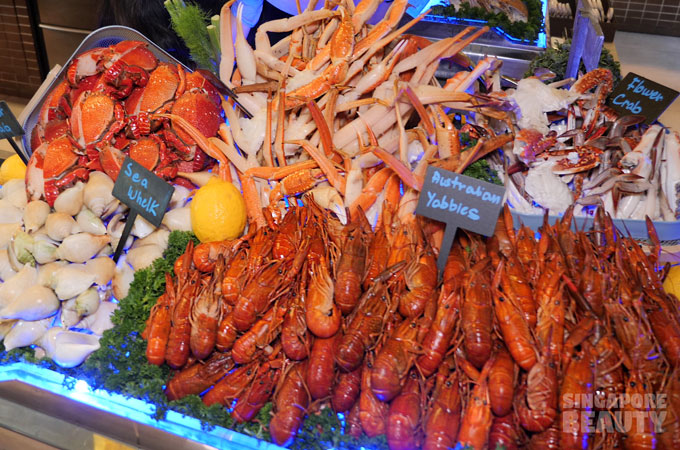 The She11 We seafood buffet is back again for a limited period only from 26 Jul till 1 sept 2019 at Escape Restaurant & Lounge, One Farrer Hotel. As the name implies, there will be 11 types of seafoods on rotational basis for the buffet period. If you are going over for a specific type of seafood, do check with them during reservation for the availability.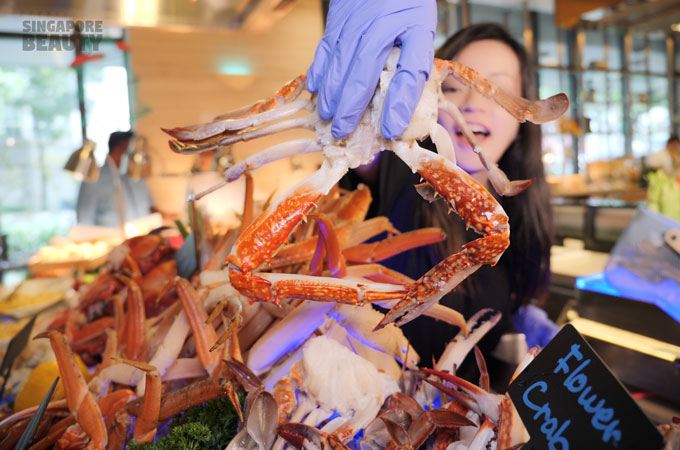 5 star hotel experience at Escape Restaurant & Lounge serving up international cuisine and local epicurean delights of more than 80 choices.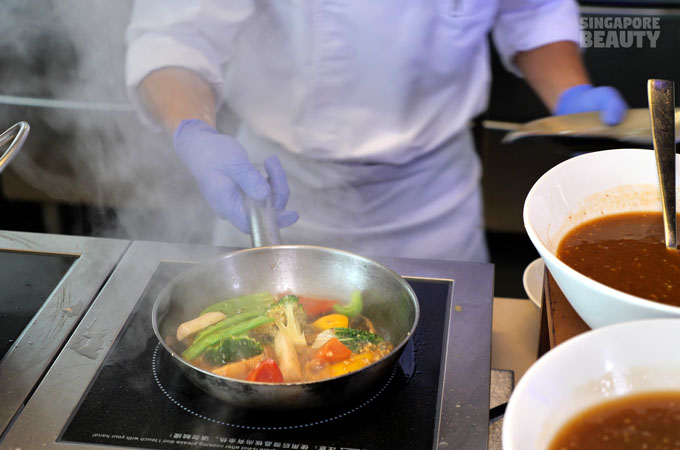 Live station – stir fry seasonal greens with oyster sauce or sambal.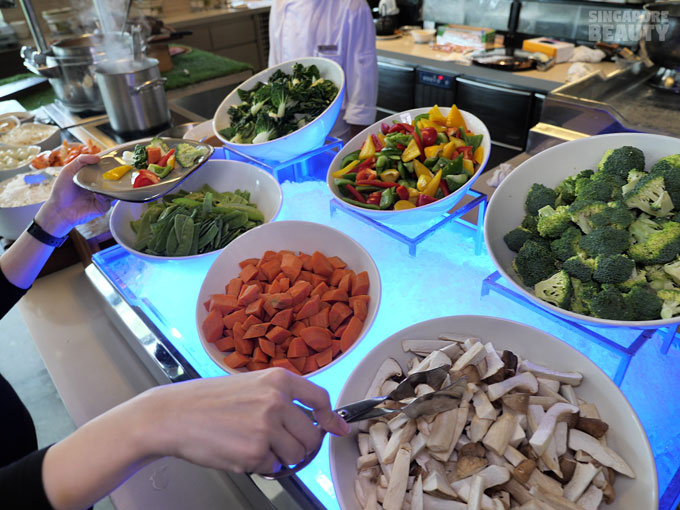 Choose from 6 types of greens to personalise your own zichar style vegetables.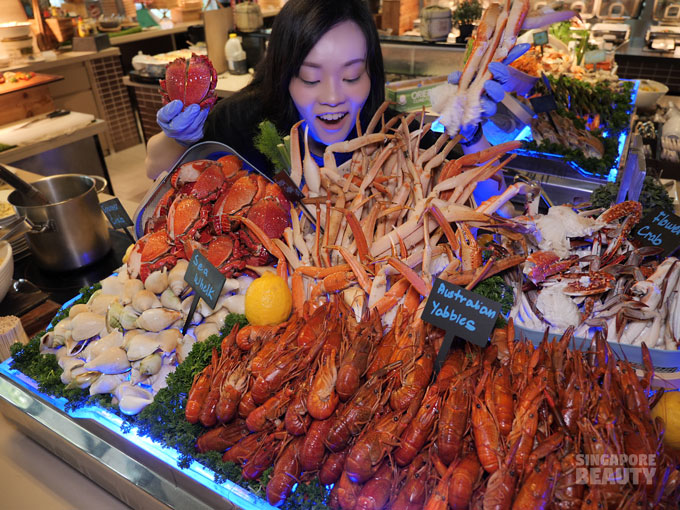 11 seafoods on a rotational basis such as sweet sea prawns, mud crab, spanner crab, sea whelk, Australian yabbies, snow crab legs, half shell sea scallops, green mussels, flower crabs, crayfish, live Japanese oysters and many more.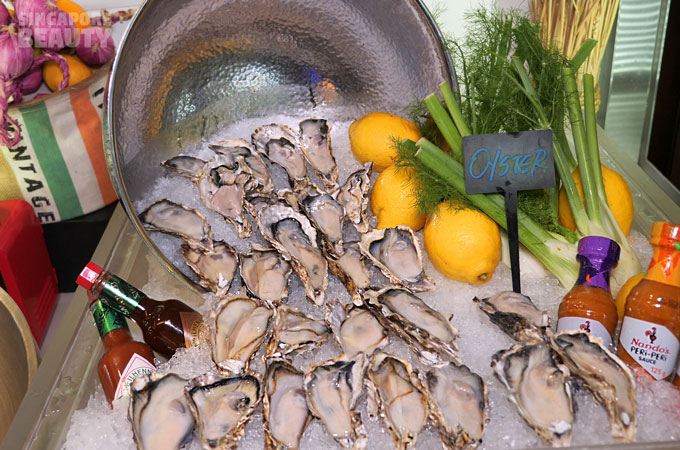 Live seasonal Japanese oysters on rocks- plump creamy oysters freshly shucked for you to eat to your heart's content.
Unlimited sweet sea prawns to go with your Asian delight!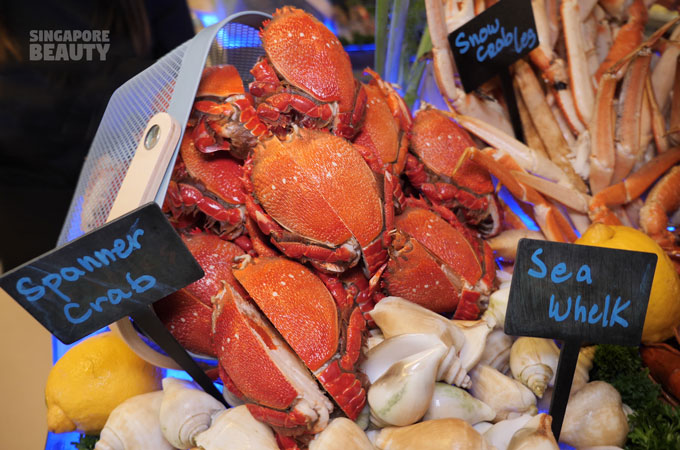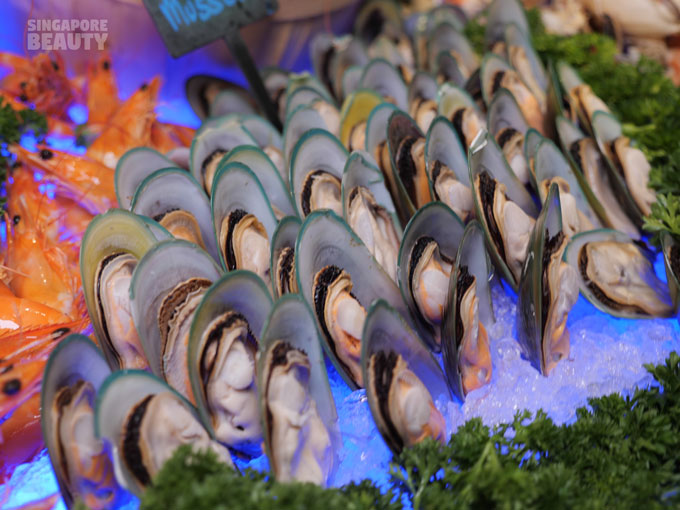 So many seafood to choose from, you will be spoilt for choice.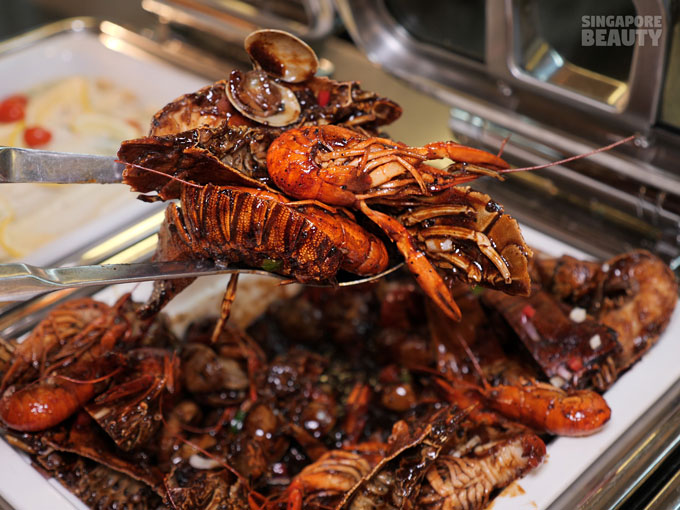 Local station – 5 types of cooked food on a rotational basis with selects such as seafood fried rice with conpoy, braised glass noodle with seafood, wok fried greens, black pepper crayfish, braised pork, steamed fish, lemon grass Venus clams and more.
Carving station – Roasted grain fed ribeye with mixed herbs and mustard black pepper sauce.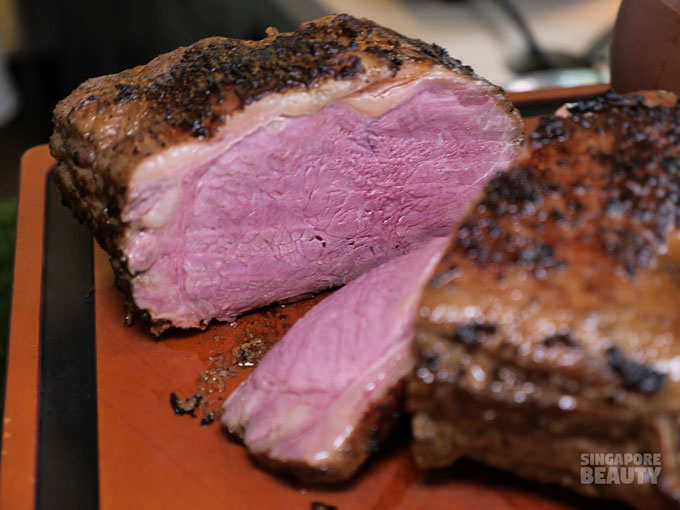 Feast on unlimited slab of medium rare ribeye steak.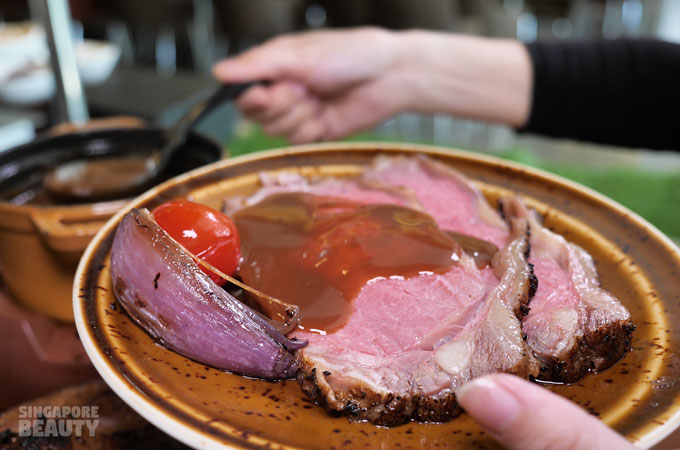 Drizzle on some in house black pepper sauce to complement the ribeye.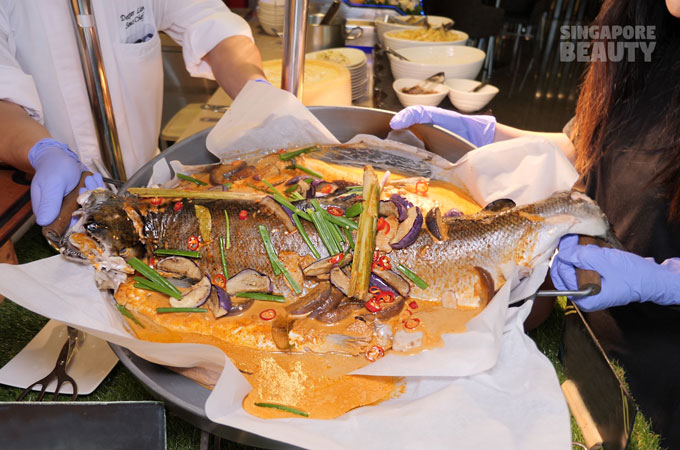 Baked salmon with Thai red curry and seasonal greens.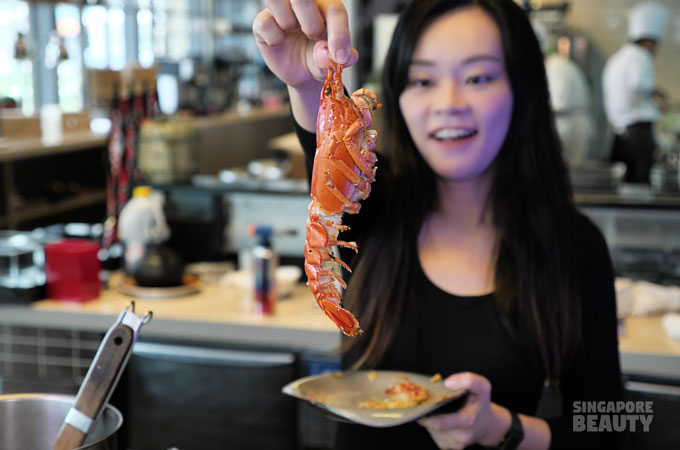 Get ready for the kitchen to table service – baked salted egg "lobster thermidor". Limited to ½(half) lobster per guest.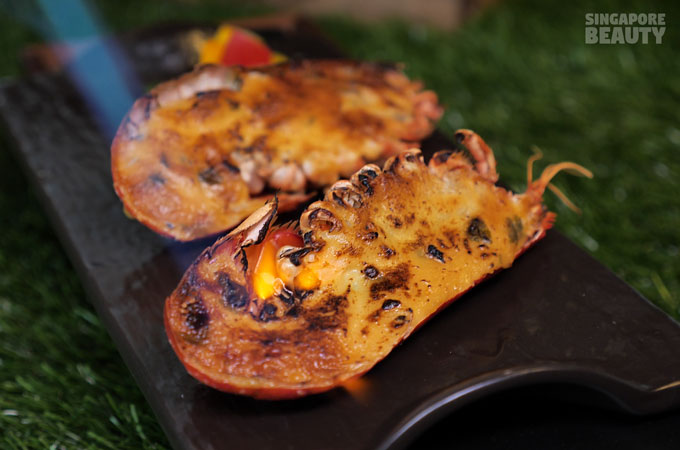 Baked and torched to achieve a lightly roasted salted egg flavour.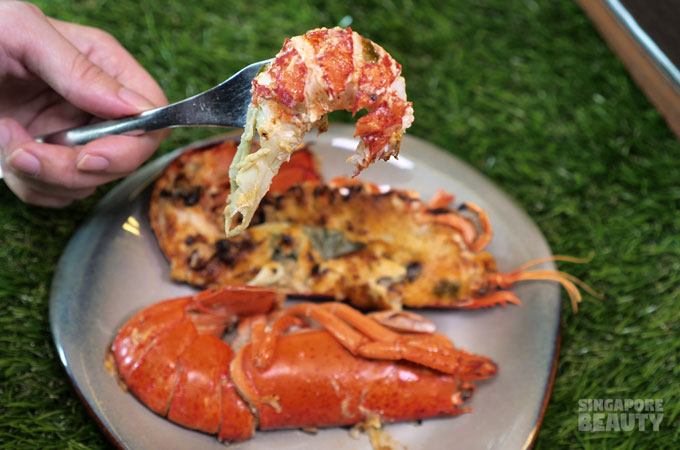 Creamy and grainy texture of salted egg with the sweet lobster flesh.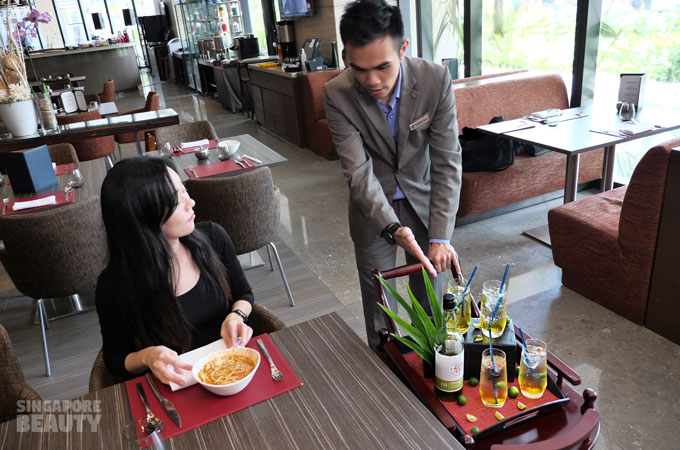 Bartender special tableside mocktail service – one mocktail of palamansi (concoction of pandan, calamasi and fizzy soda) will be served for each diner(part of buffet).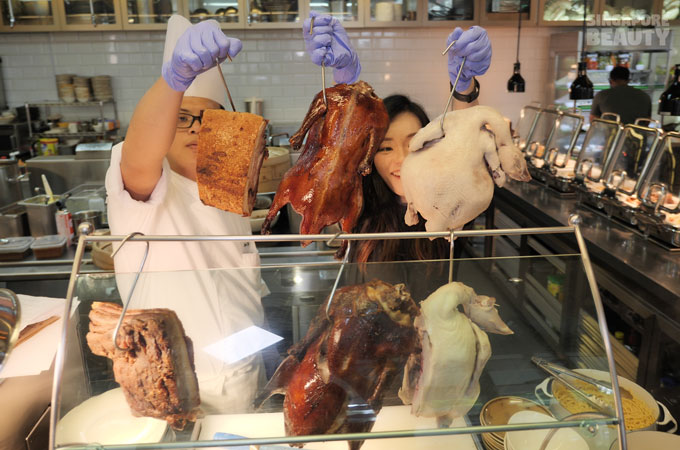 Roast station – indulge in 3 types of mixed roast from their selection of poached chicken, roasted duck, pork belly, soya chicken or roasted Kurobuta char siew. Roasts are served on a rotational basis and only 3 types of roast are available daily.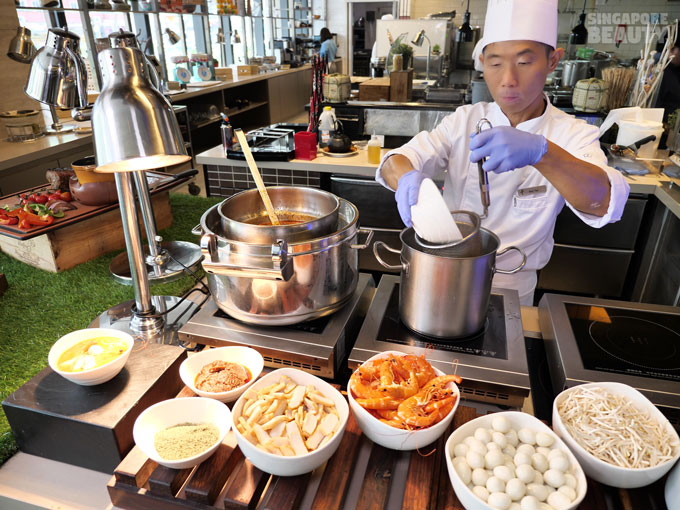 Noodle station – Laksa with condiments of your choice.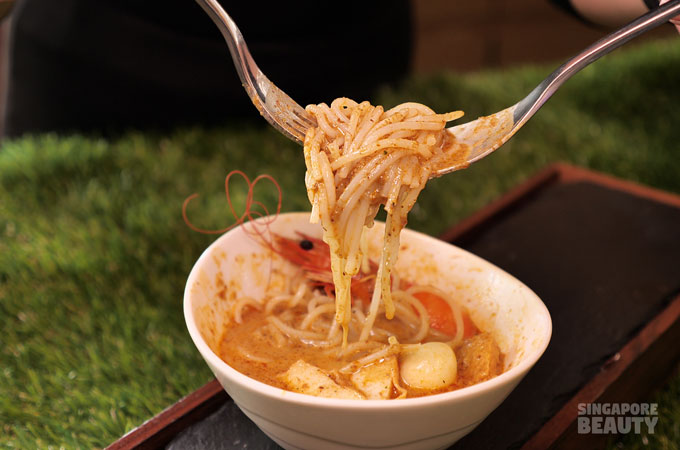 Pick your own seafood, bring it along to pair with some flavourful thick laksa broth and thick beehoon.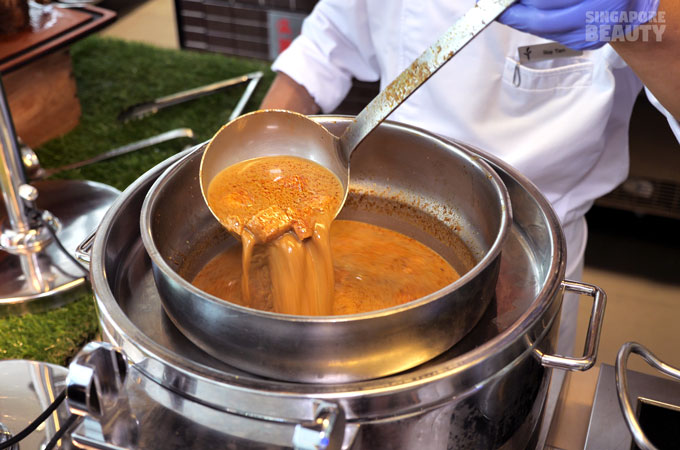 You can never go wrong with some intense laksa gravy on seafood.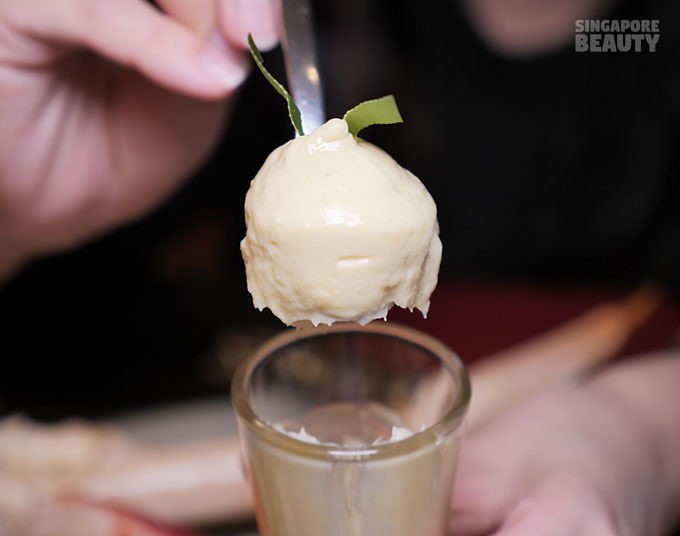 Signature Durian Pengat dessert is also available on a rotational basis. Enjoy these before the durian season comes to an end. Highly recommended. Please check for availability for this item during reservation.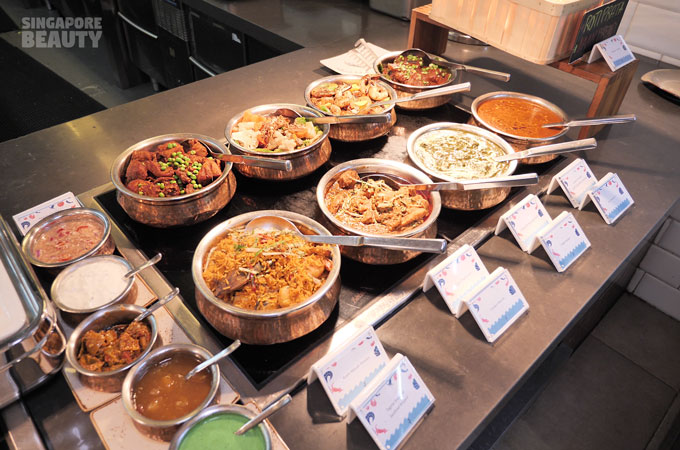 Want more? Check out the Indian cruisine, tossed appetizers, master butcher premium cold cuts platter, airflown salad bar, Japanese sushi and fresh cut sashimi, Mini Bara Chirashi bowl, traditional farm cheese, fresh bakes, pizza, steamed dim sum, finger food, soup station, European station, SEA delights, desserts and cake table, old school heritage bites, DIY chendol and fresh cut tropical fruits.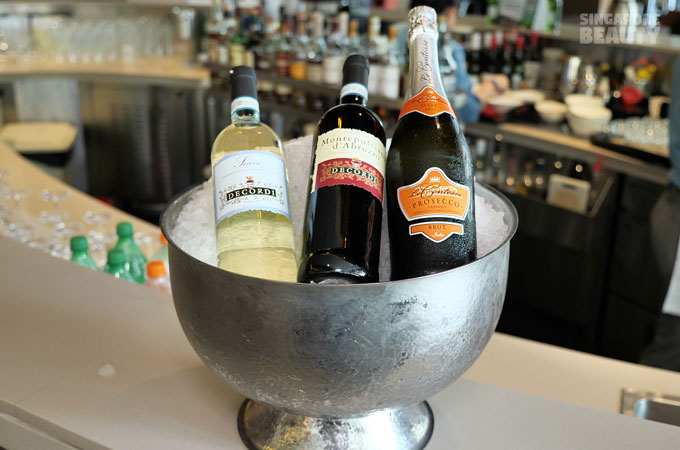 Enjoy some selected red wine, white wine and sparkling in this sweltering weather at 50% off 2nd bottle.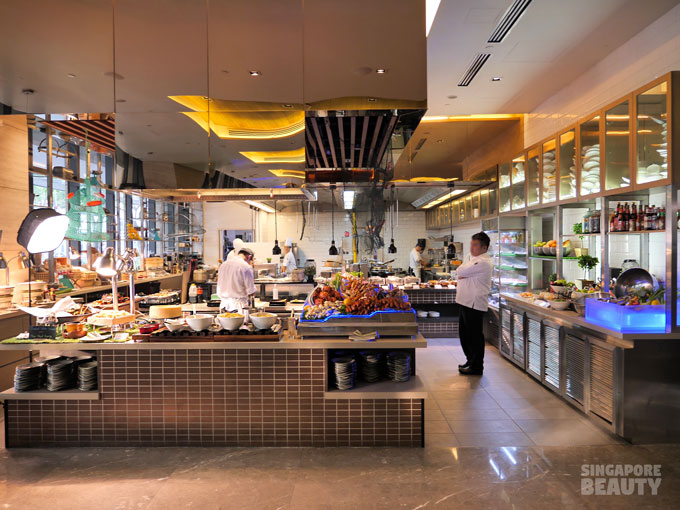 This She11 We seafood Feast buffet style is available for dinner daily from 26th July till 1st sept 2019 daily. Get 50% off $88++ (adult price) for 2nd diner when you quote SingaporeBeauty. The 50% off is limited to a maximum of 8 pax per table/reservation. Reservation is a must. Book under separate reservation if you have more than 8 pax and want to enjoy the promote.
Make your reservations today and head over soon to enjoy She11 We Seafood Feast buffet style at Escape Restaurant & Lounge, One Farrer Hotel, the 5 star experience you have been waiting for.
Dinner buffet price
Mon-Sun
Adult $88++
Kids (7-12 years old) $44++
Dine time:
No time limit. From 6pm – 10pm, do come early!
Special:
Free ½ salted egg "lobster thermidor" per pax
Promo 1:
Get 50 % off $88 ++ (adult price) for 2nd diner when you quote SingaporeBeauty. The 50% off is limited to a maximum of 8 pax per table/reservation. Dinner only. Call and say the password Singaporebeauty when you make the reservation. Limited redemption daily.
Promo 2:
In conjunction with this She11 We Seafood Feast buffet style, the second bottle of selected wine is at 50% off only with every purchase of selected red/white wine and sparkling.
Buffet operating hours:
Monday – Sunday: 6pm – 10pm
Location:
1 Farrer Park Station Road
Singapore 217562
Reservations:
Call (+65) 67057828 for reservations/ email them at escape@onefarrer.com.
Reservation is a must.
Brought to you by Escape Restaurant & Lounge, One Farrer Hotel