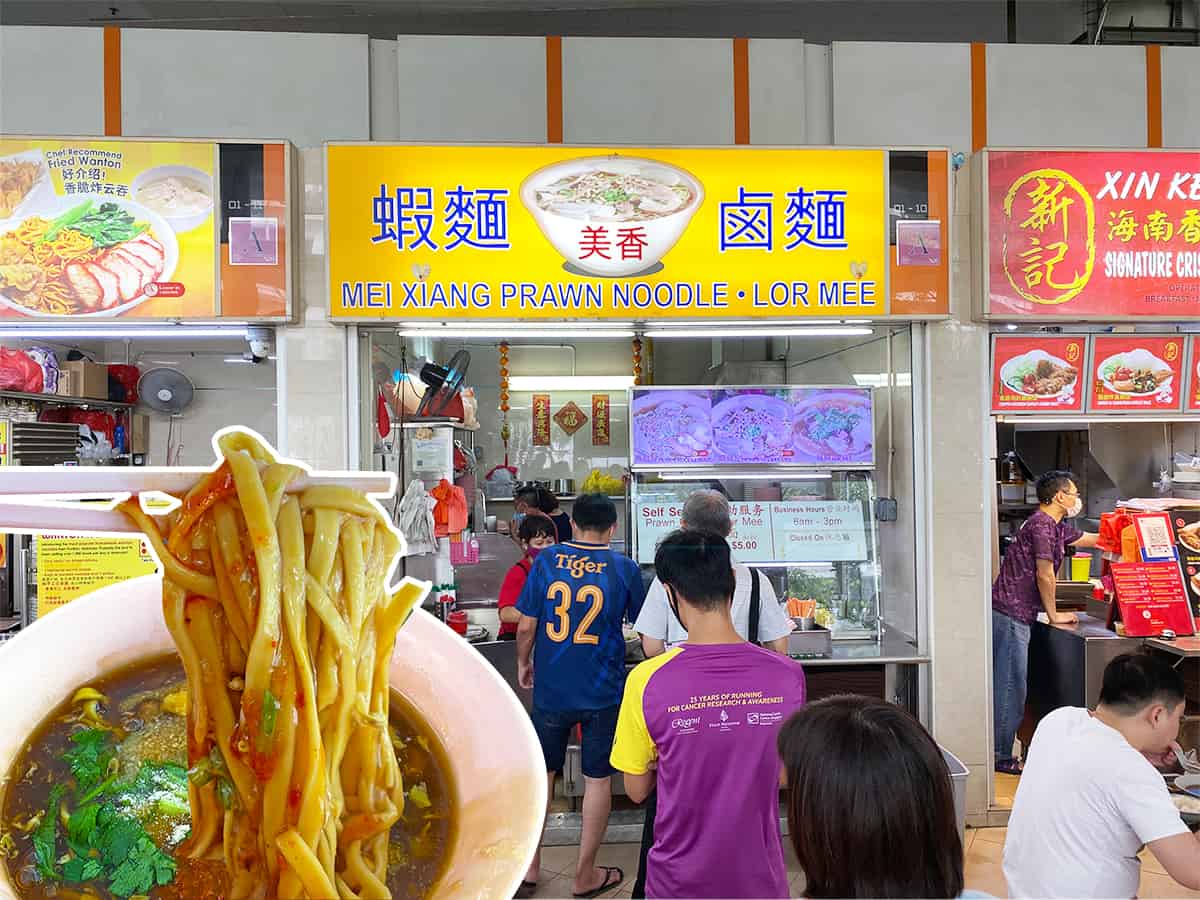 Mei Xiang Prawn Noodle. Lor Mee 美香蝦麵卤麵 is a stall selling budget prawn mee and lor mee from $3 at Bedok Interchange Hawker Centre. Lor mee is one of Singapore popular hawker food to eat as it is usually cheap and has a variety of ingredients. A typical lor mee is usually served with flat yellow bean noodles or fat round noodles in a savoury dark gooey gravy made from starch.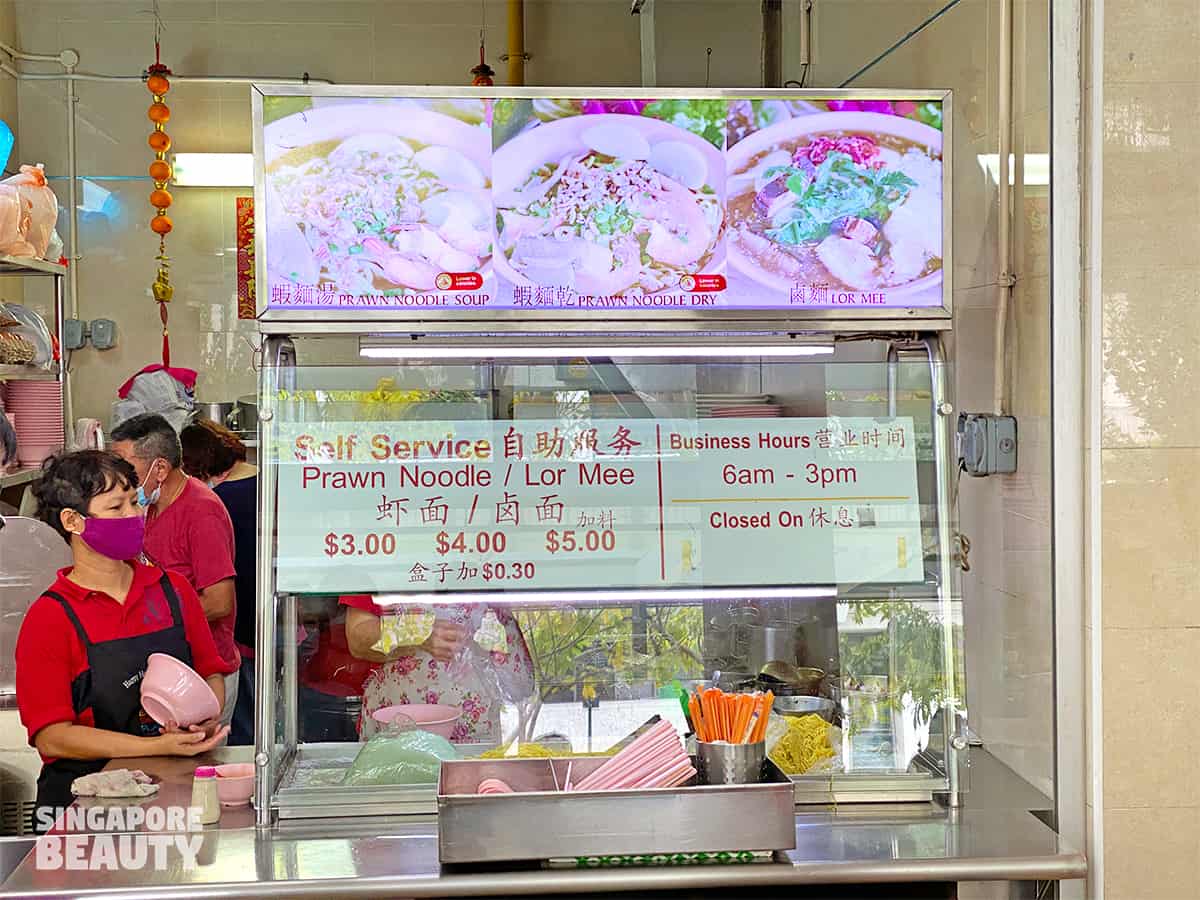 Here is the menu of Mei Xiang Prawn Noodle. Lor Mee 美香蝦麵卤麵 with noodles starting from $3. They only have 3 dishes on their menu – prawn mee soup, dry and lor mee. Although they also sell prawn mee, it seems like their lor mee are more popular as you glance across those seated at the tables.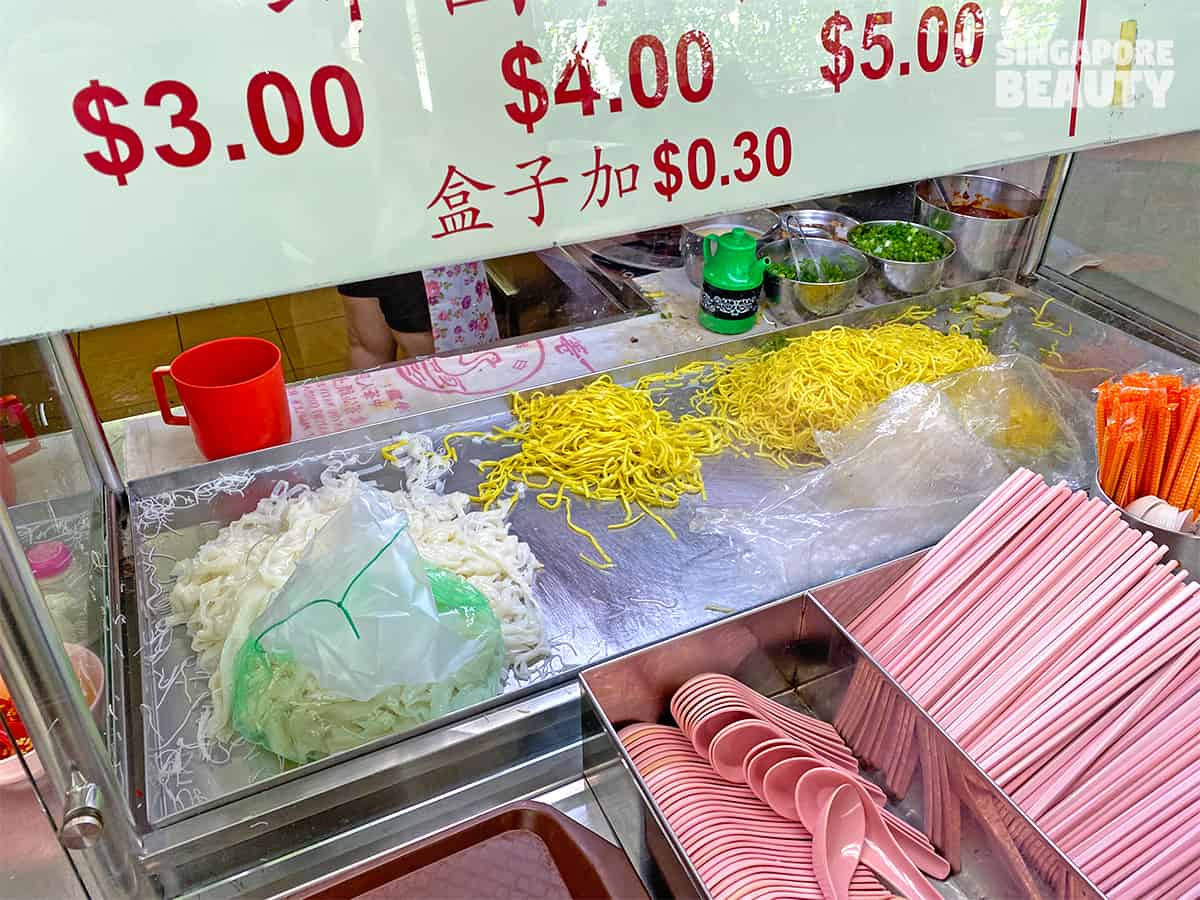 Here are the choices for carbs noodles to go with the Mei Xiang lor mee. They have the flat Hokkien mee, fat round noodles and kway teow flat rice noodles and bee hoon thin rice noodles. The kway teow is mostly for the prawn noodles, our locals seldom order that with lor mee. There are also lor bee hoon where the carbs are thin rice noodles. It is a Hokkien dish originated from Zhangzhou, Fujian Province in China. The noodle is usually topped with some celery, black vinegar, minced garlic puree, red cut chilli, some chilli paste with a kick and a dash of pepper. As for the thick gravy noodle, it is usually made with corn starch, spices and eggs.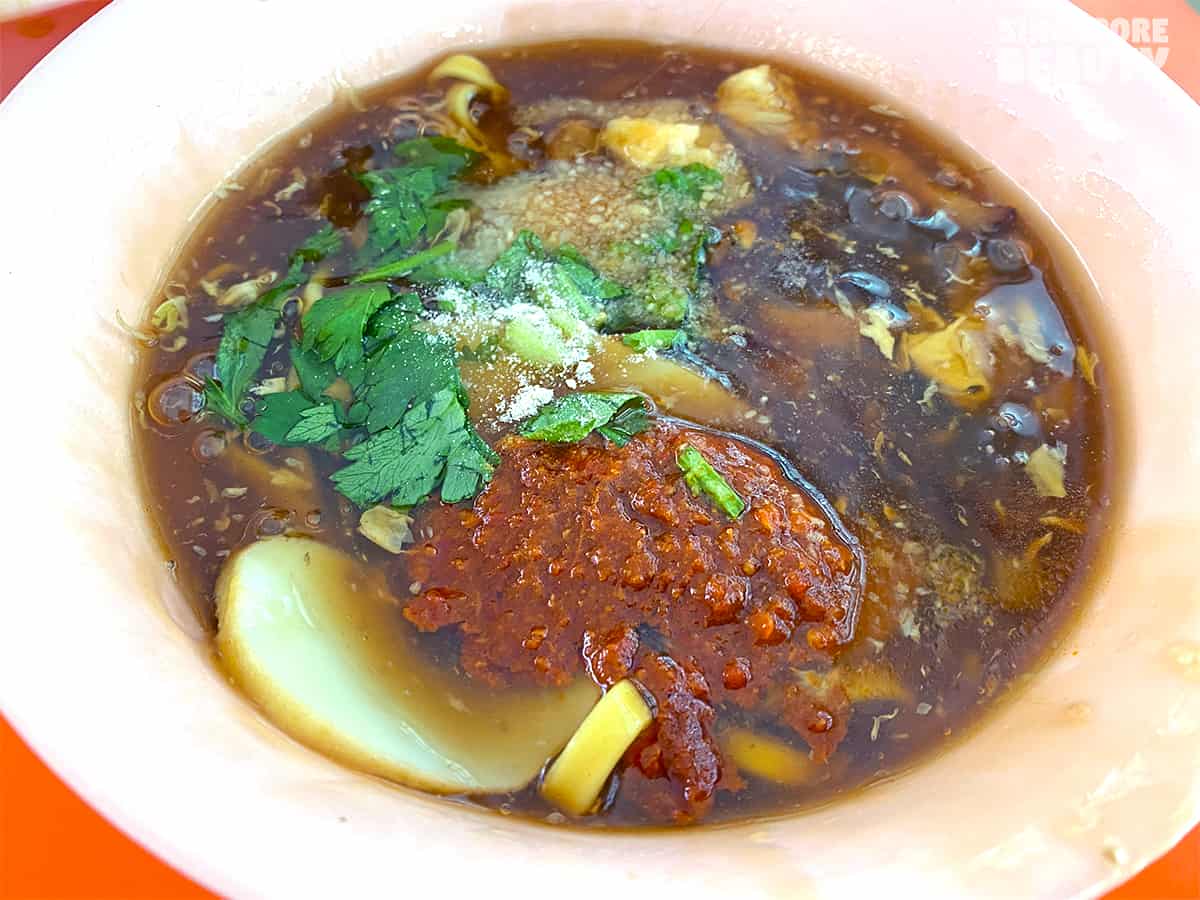 Located at Bedok interchange hawker centre, Mei Xiang Lor Mee ($3) comes with yellow flat noodle, braised pork belly, braised lean meat, fried fish nuggets, slice fish cakes in some dark gooey gravy. It came topped with a luxurious amount of minced garlic puree, sambal chilli sauce and some chopped chinese celery. These three musketeers of Lor mee give the noodle dish a mellow yet spicy and tangy flavour.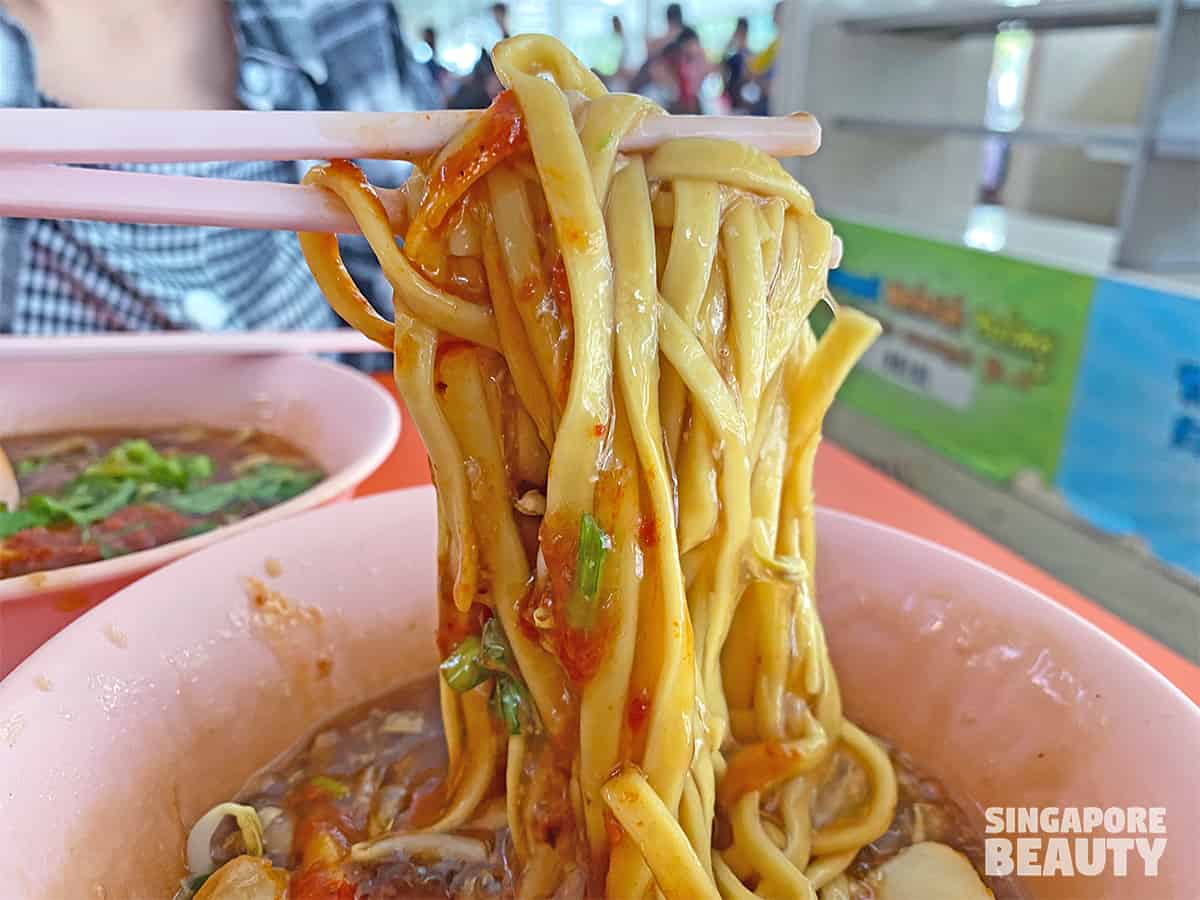 This is a type of old school lor mee with very simple ingredients. The flat yellow noodle is cooked just right with the right chew and bite. Each strand of noodle is well separated and coated with a thin velvety glaze of savour sauce. You can almost slurp up the noodles with the gravy with your chopsticks only. There is a decent amount of fat bean sprouts that gives it a subtle crunch and releases a sweet flavour. Surprisingly, there is not much of the alkaline and bitter flavour from the yellow noodles.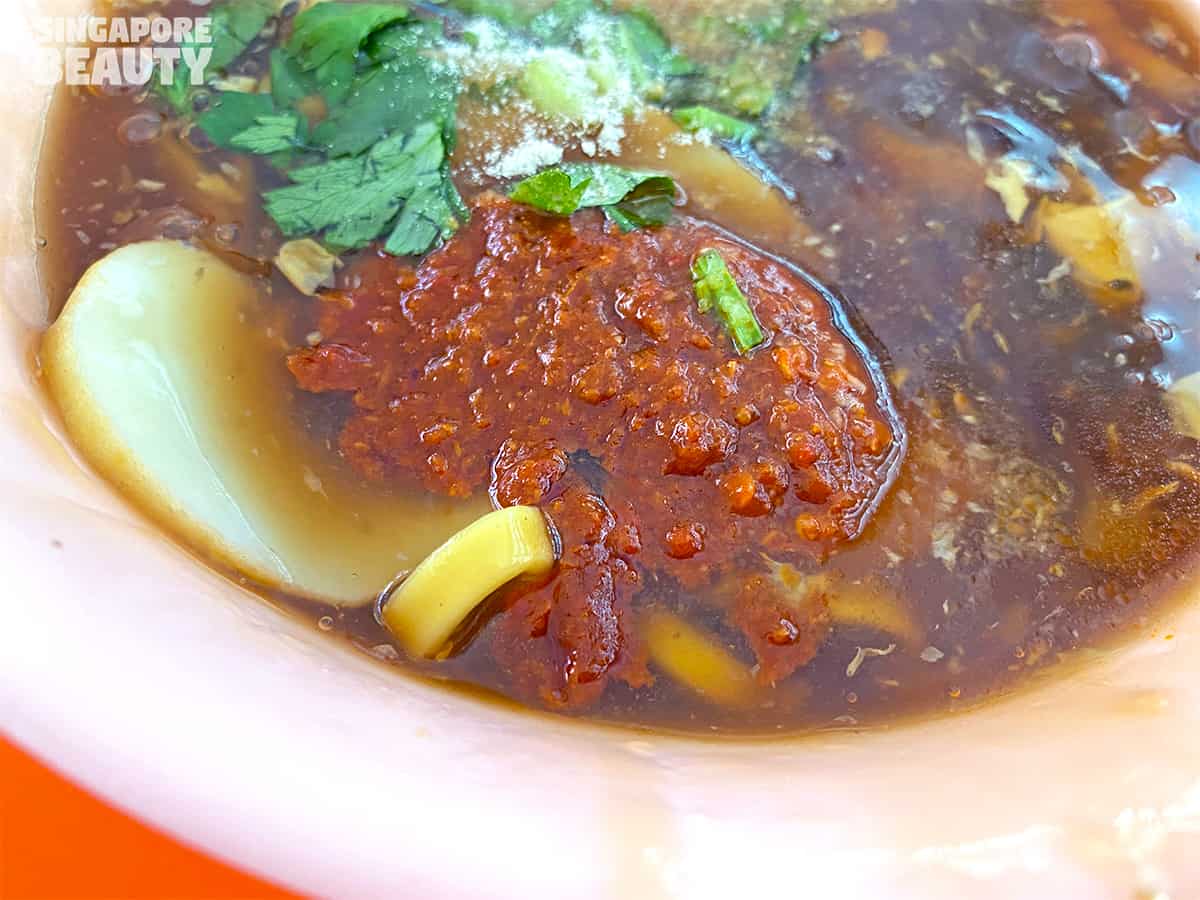 The chilli sauce is sambal type with a nice smoky flavour and definitely has a kick. It also adds an umami flavour to it with it shrimp flavour. The chilli sauce is the soul of this bowl of lor mee, together with the garlic and vinegar.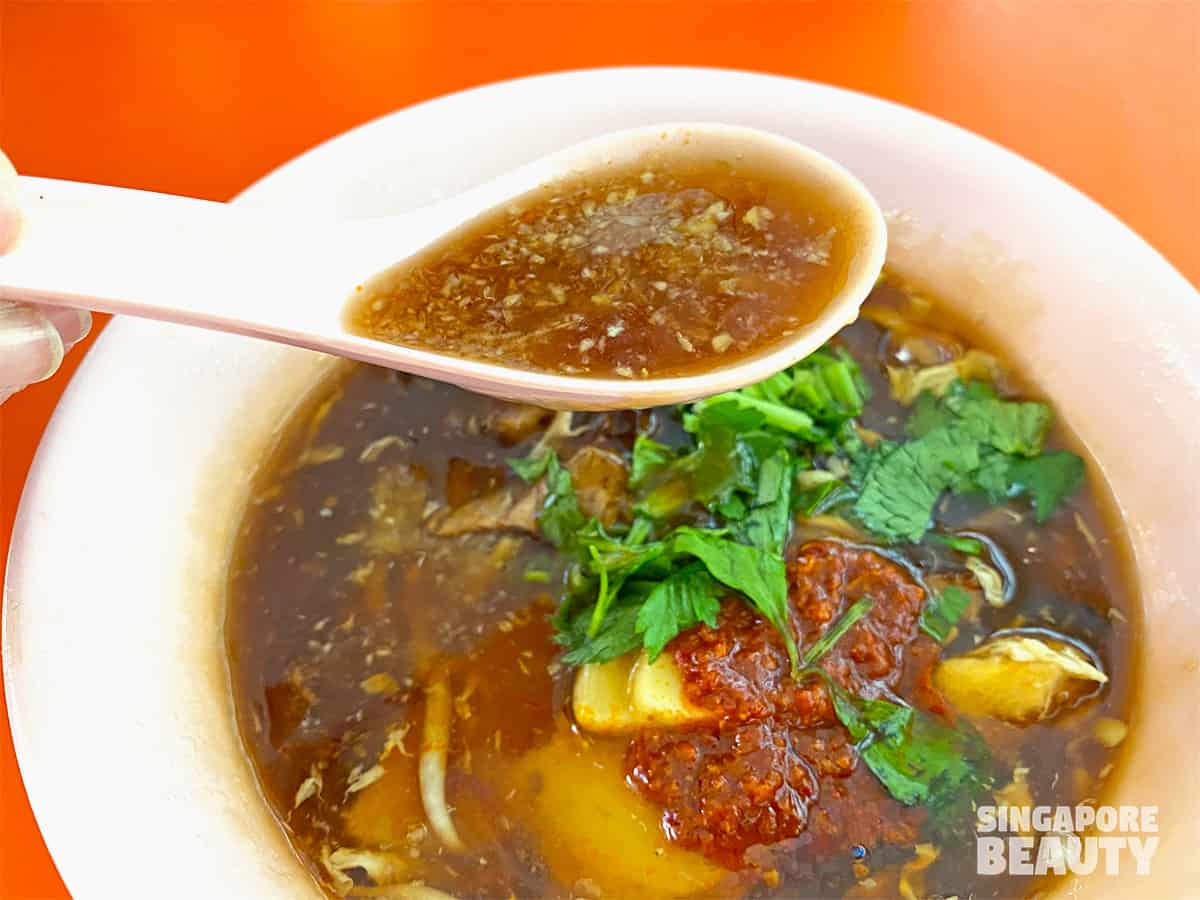 The garlic in this lor mee is very finely pureed into almost a paste. It kind of blends into the gravy and add this subtle pungent sweet flavour to it. The chopped up Chinese parsley is lightly bruised and releases a nice sharp peppery flavour.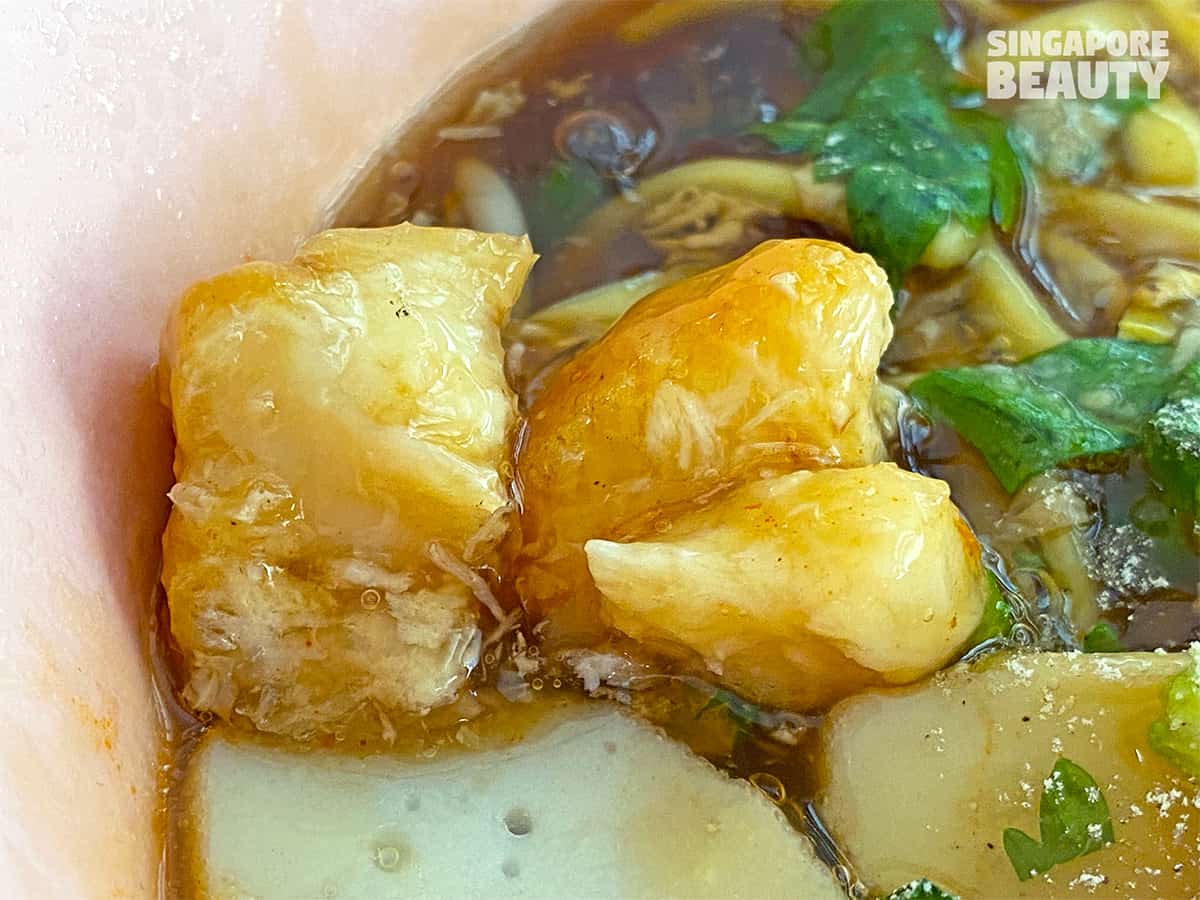 The fish nuggets are coated in a light flour crust. The fish meat has a nice flaky texture and soaks up the gravy well. It has a soft spongy crunch to it.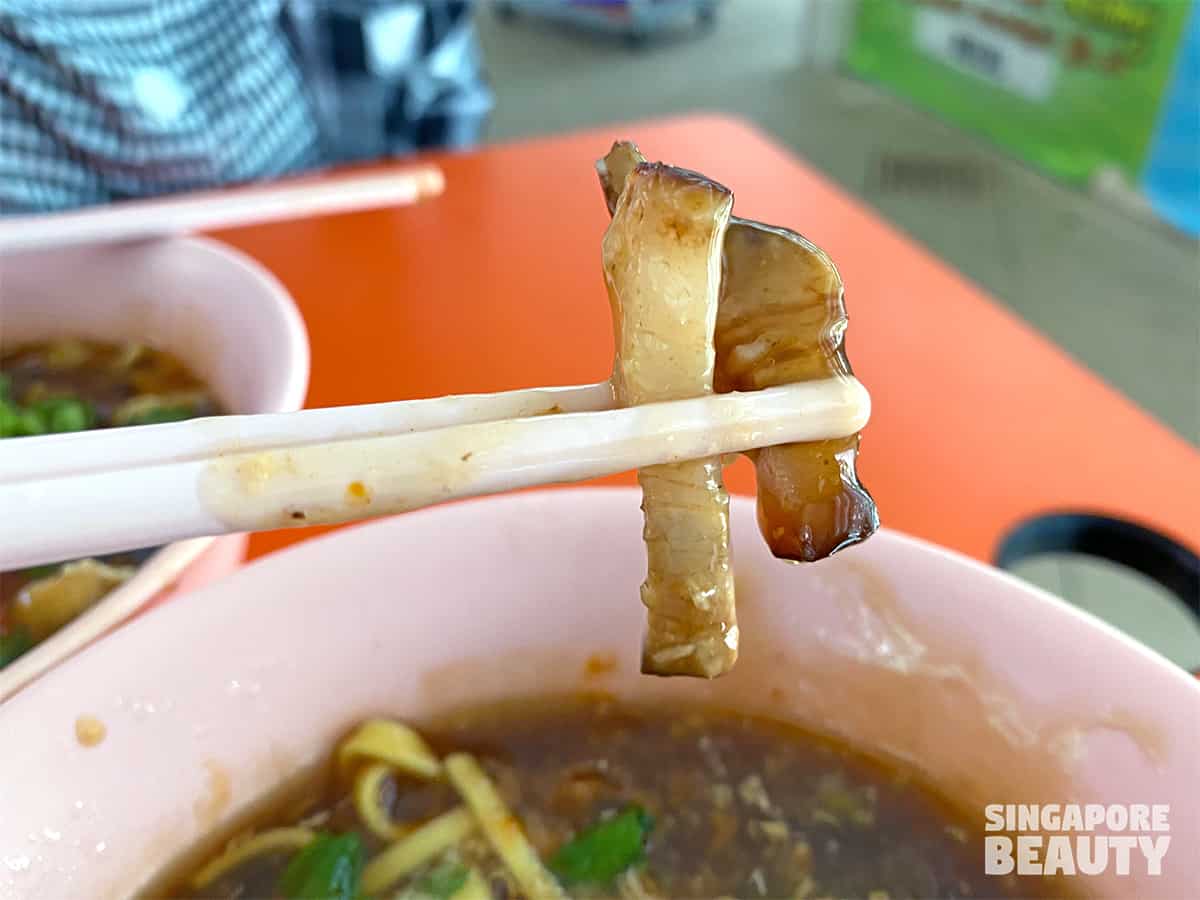 Mei Xiang Lor Mee has a reasonable portion of braised pork belly that are cut into fries-like-stick. These braised pork belly has a mild five spices powder aroma to it. The fats are the chewy type.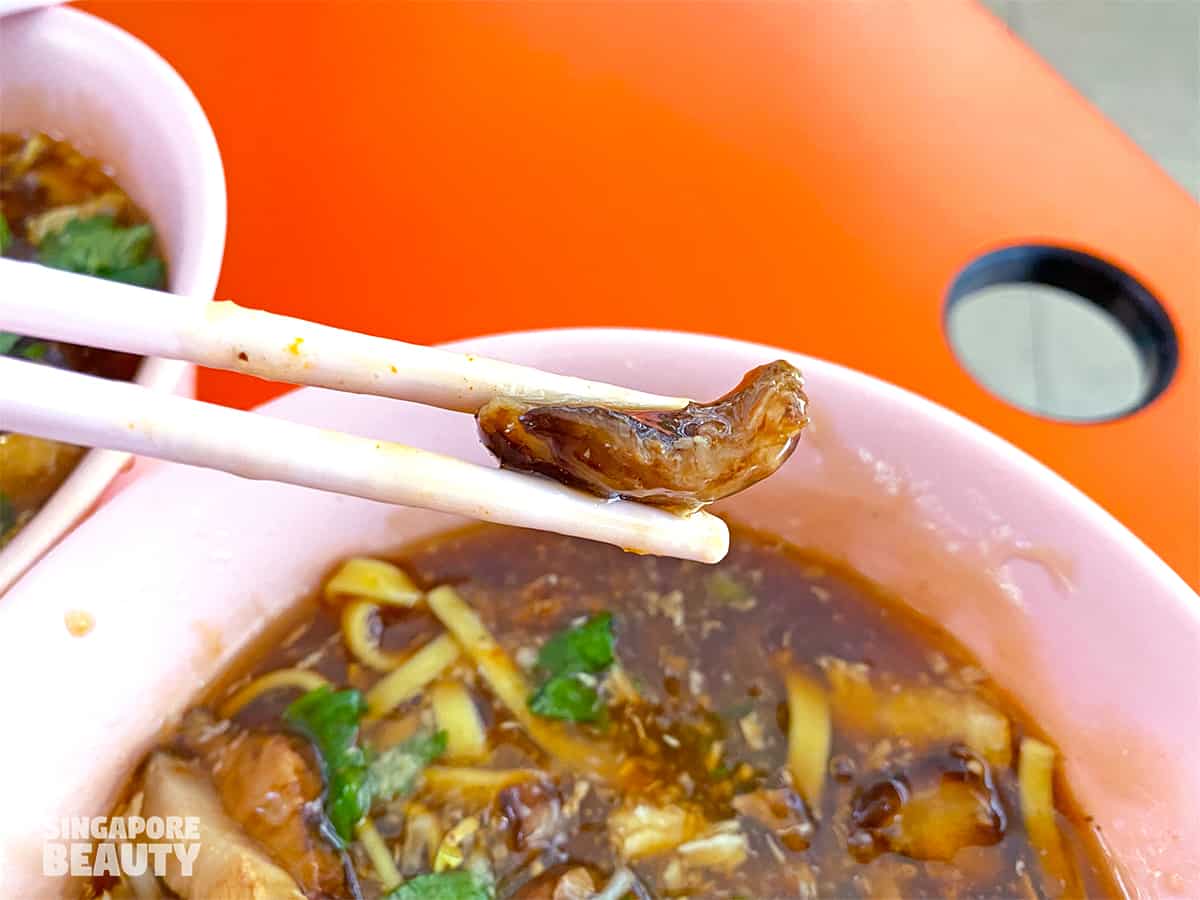 They also have some morsels of super lean braised meat. I guess these are there to give it a different texture to the noodles. These are almost like hand shredded meat chunks and is a little on the tough side.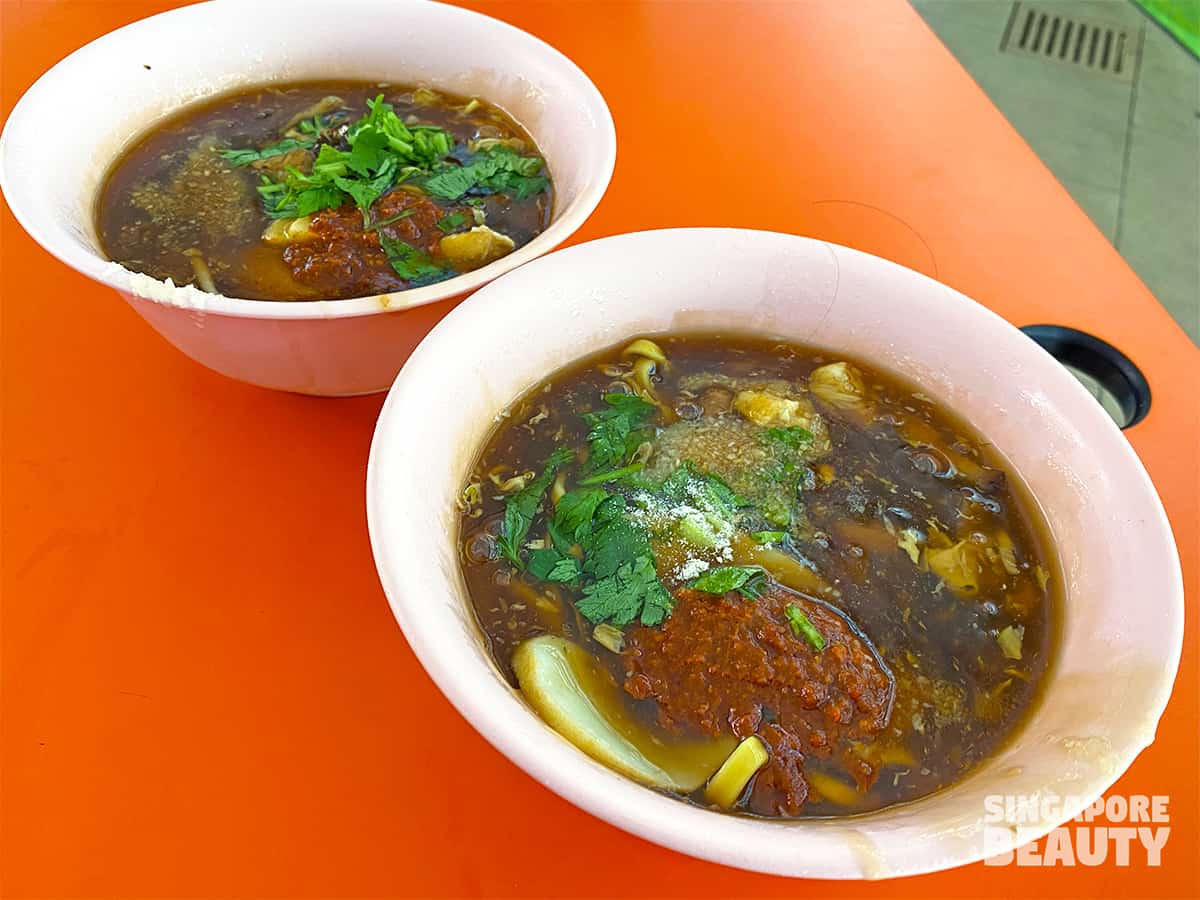 A typical bowl of Lor mee in Singapore usually has a variety of ingredients such as ngoh hiang, beansprouts, fried savoury dough bites, fish cakes, fried dumplings with a morsel of minced meat, braised hard boiled egg, fish meat chunks, braised pork belly and more. Ngoh hiang is a type of deep fried hand roll. The recipe usually call for seasoned minced meat, chestnuts, fish paste, prawn paste, five spice powder encased in a thin sheet of soften beancurd skin. It is then fried till dark amber hue and cut to bite size pieces and eaten with a sweet sauce timcheong. Ngoh Hiang is a Hokkien and Teochew dish that is also originated from Fujian, China.
Mei Xiang Lor Mee Review: Although it does not have most of the ingredients of a typical bowl of lor mee, example it is missing the ngoh hiang and braised egg, it is still positively good in terms of flavour and the price.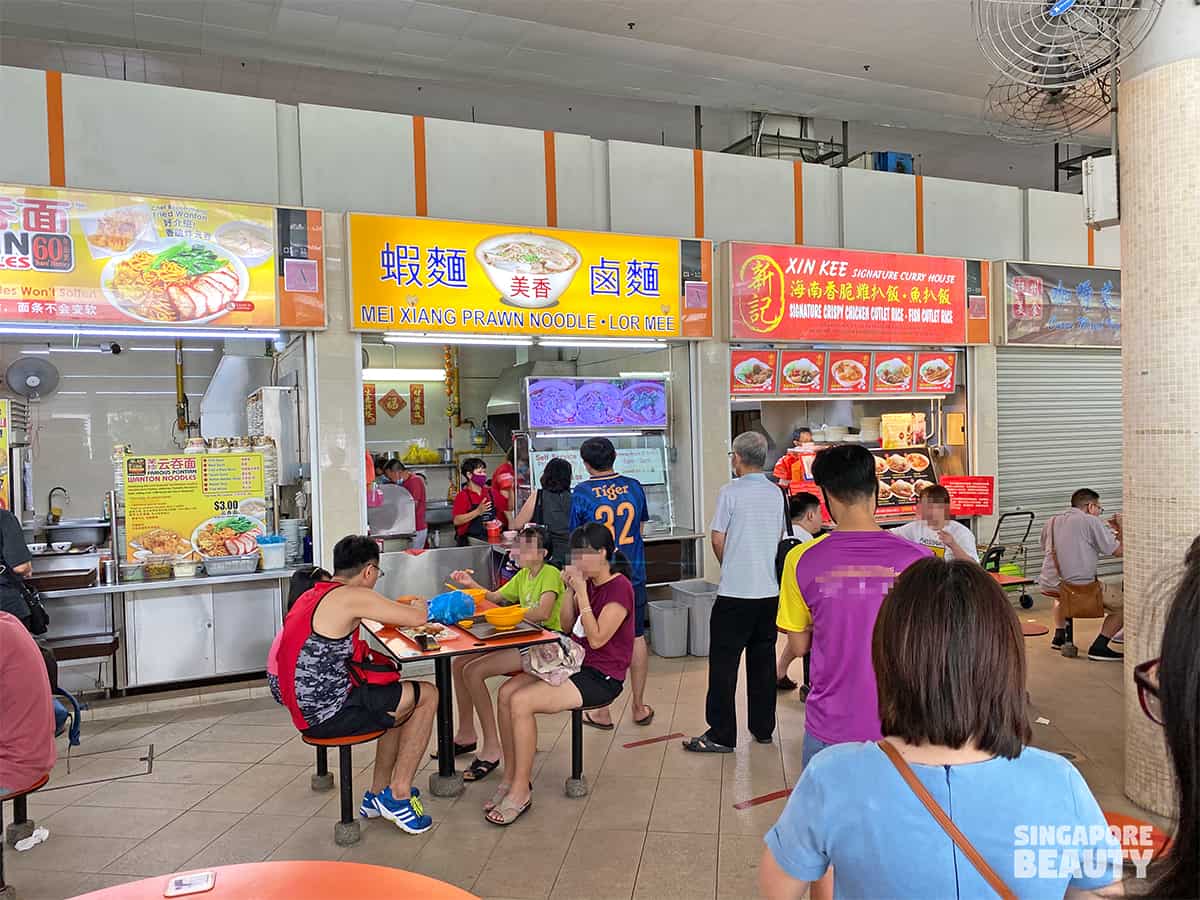 But for the price of $3, I am happy to camp with a bowl of Mei Xiang Lor Mee.
Location of Mei Xiang Lor Mee Prawn Noodle美香蝦麵卤麵 :
Bedok Interchange Hawker Centre
Blk 208B, New Upper Changi Road, Singapore 460207
Unit no: #01-10
Opening hours : 6am to 3pm
Closed on date (to check on the stall front)