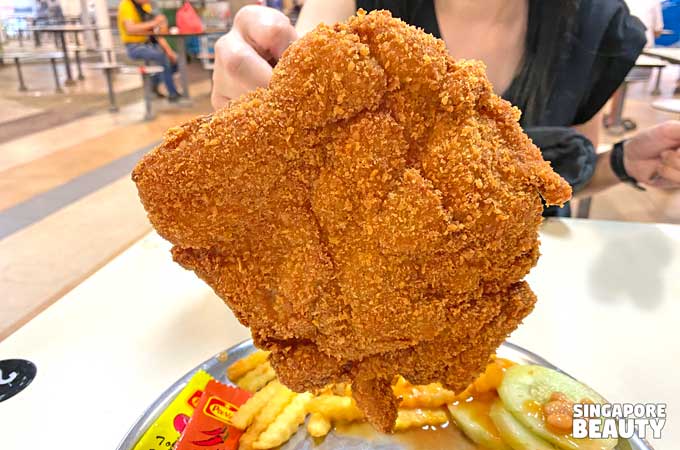 No. 1 Western food (驰名西餐) specialized in selling old school western food with their chicken cutlet as the best food in the menu as voted by their regulars. This is a popular hawker stall that is very much loved by the aunties after their grocery shopping at the nearby Tanglin Halt market. Although there are many others who prefer Chef Hainanese Western Food, a few foot away from them, they also have their loyal group of supporters as evident by the many metal plates dotting the hawker centre.
No. 1 Western food used to be helmed by Mr Ong Choon Chiang and his wife. The history of this western food is 50 years and still counting. Mr Ong used to peddle his western food along Queenstown before moving to this stall at Tanglin Halt Food centre and has since being there for more than 40 years. The stall is now helmed by the second generation of the Ongs and serving up the same old nostalgic western food. Food stall as old as this in Tanglin Halt is not surprising as this is a relatively old estate dating back to the 1960s.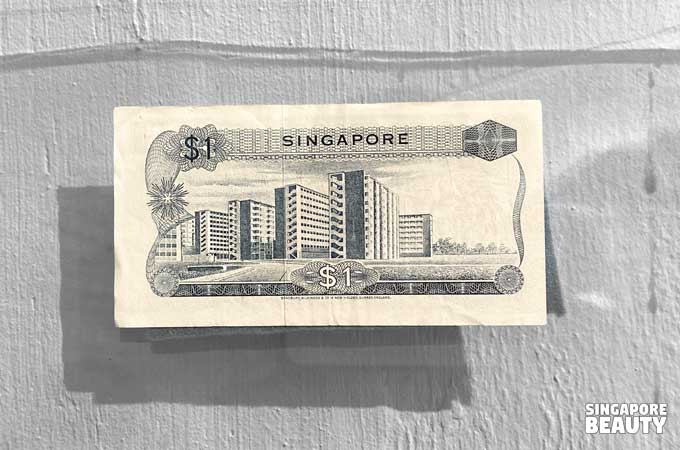 History Of Tanglin Halt Estate
Tanglin Halt estate was built in the 1960s with many block of 10 storey HDB. It is also known as chap lau (Hokkien) (十楼)meaning ten storey by the old neighbours staying there. These ten storey HDB is also printed on our old $1 dollar notes. However, the neighbourhood is undergoing some serious changes with many residential block and commercial building set to be demolished by 2021. Here's how Tanglin Halt got her name. Tanglin halt is along the belt of Tanglin road where the KTM railway line used to run. The trains would pit stop or "halt" at the Archipelago Brewery (currently occupied by IKEA). This is how Tanglin Halt gets her name.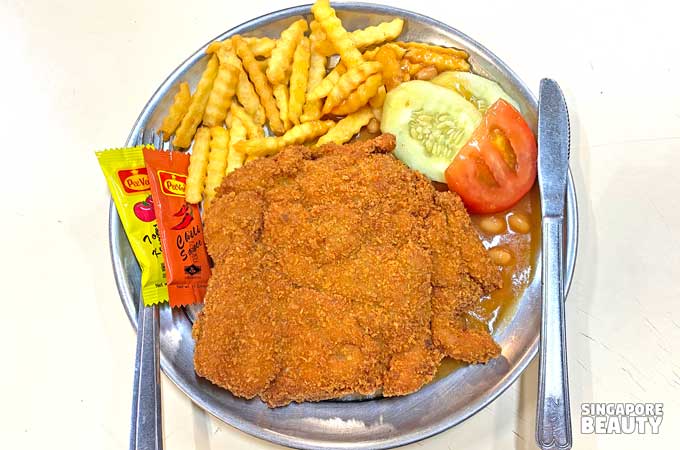 This is a no frill plate of old school western food with it usual suspects of main protein, with sides of crinkled cut fries, cucumber slice, wedge of tomato, a dollop of canned baked bean in tomato sauce, 2 packet of sauce, fork and knife wrapped in a napkin. Everything about this is so old school, you can't help but feel like time has come to a standstill, holding this plate of western food. This is the popular pick – chicken cutlet($6).
The other items on their menu are lamp chop ($7), chicken chop ($6), beef steak ($7), fish and chips ($6), pork chop ($6) and sausage & egg ($3).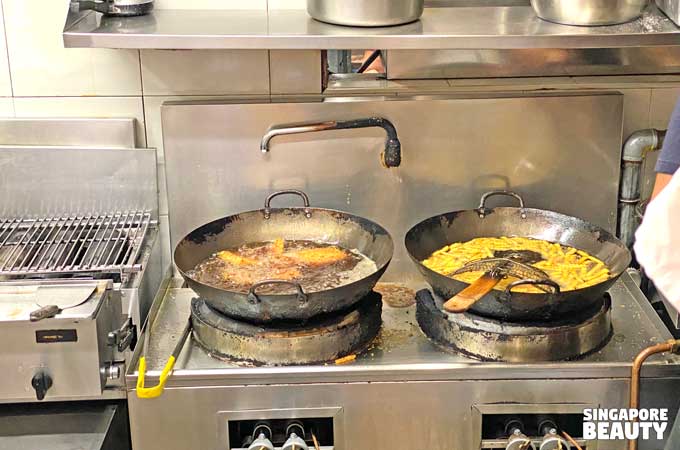 It is not hard to see why the chicken cutlet is their top choice amongst their diner. The chicken cutlet is marinated and coated in a layer of breadcrumbs. Freshly deep fried in a wok of hot oil upon order and served immediately with the sides.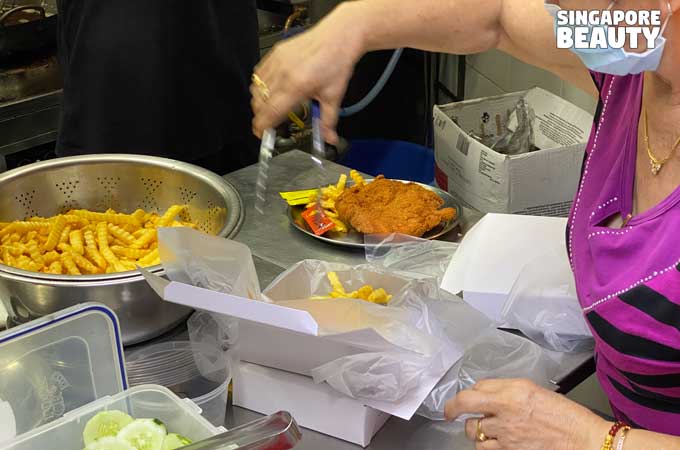 The frozen crinkle cut fries are also fried in small batches and drained in a metal strainer to keep them light and crunchy.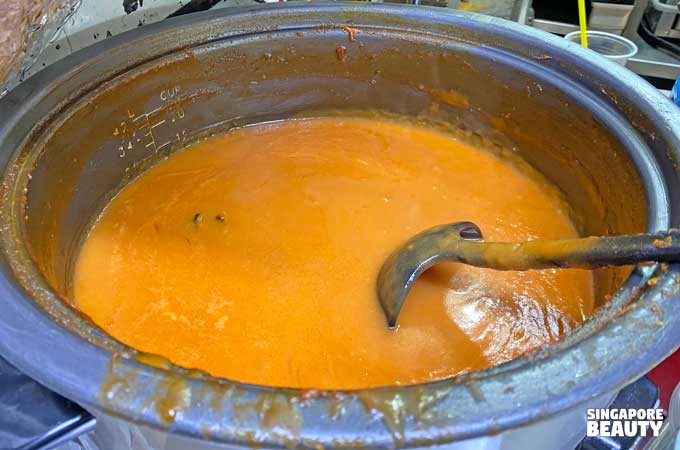 This is their special sauce that kept many coming back for more. The sauce is kept simmering in a rice cooker.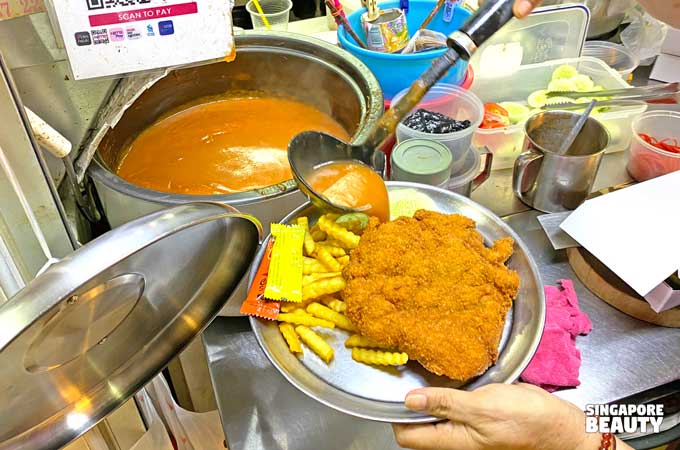 This gravy is slathered over the baked beans, cucumbers and tomatoes in each plate. It has a light diluted Maggi curry flavour in a tomato sauce base. It presents itself as a translucent amber glaze over the cut cucumber and tomato. The sauce tastes sweet and is mildly savoury. It is hard to figure out what exactly the flavour is except that it is a very old school taste.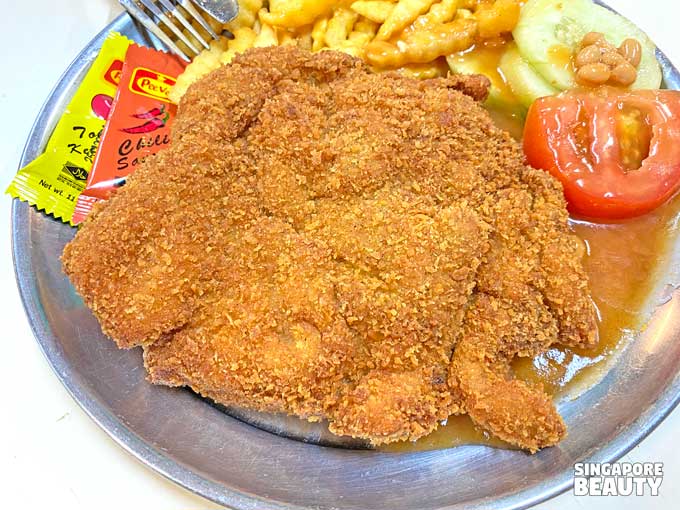 The cutlet is exceptionally crispy and the sheer size of it occupying ¾ of the plate already won me over. Besides the monstrosity of the width of the cutlet, the thickness is also amazing.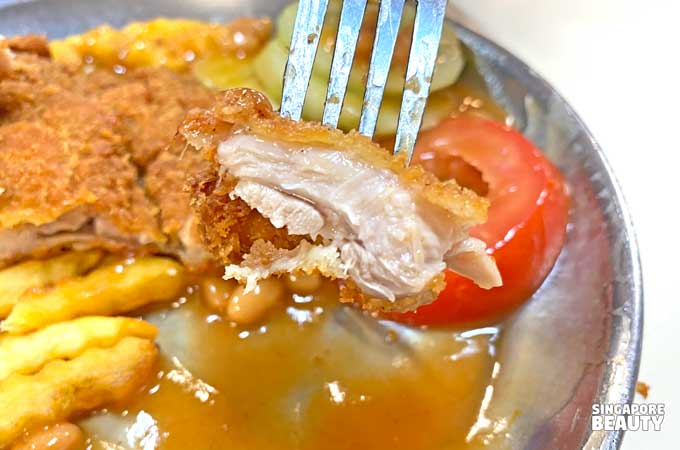 As with most of the chicken cutlet, you expect it to be on the dry side of the spectrum. However, this chicken cutlet begs to differ. The meat is fork tender and still juicy after deep frying.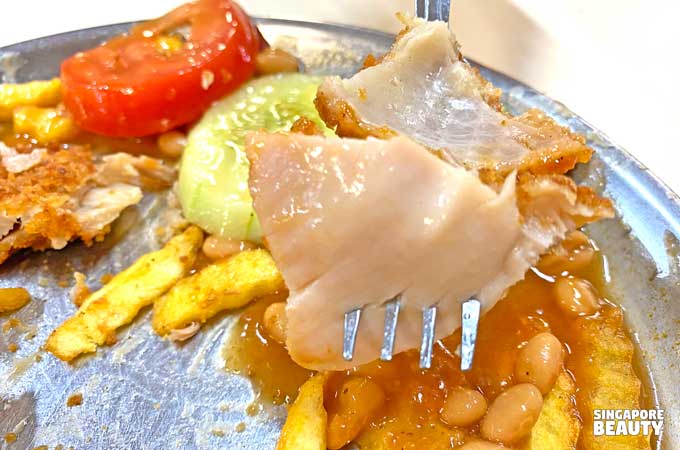 The cutlet has a thin and almost golden crust held together by a translucent soft skin of the chicken.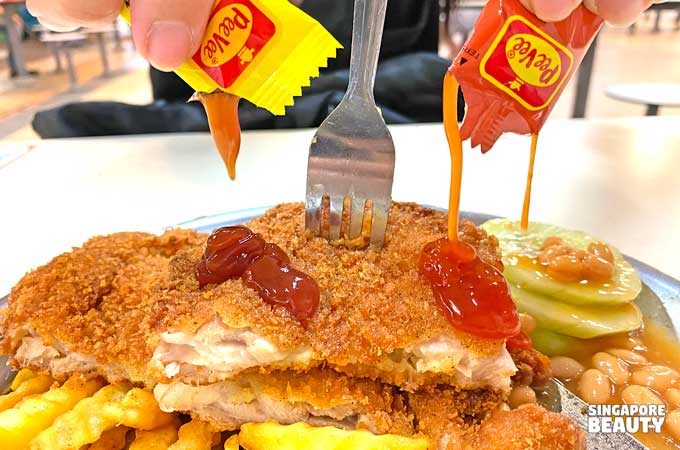 It comes with 2 sachet of chili and tomato sauce to add some extra savoury kick to the cutlet.
This old school western food may not please those with a palate for strong savoury flavours. The components such as the meat, fries and beans are kind of muted down in terms of flavours. However, having said that, No. 1 Western food still has a large group of followers who are after that hard to replicate old school flavour that is fast dimishing in modern Singapore. Let's keep the traditions going by supporting them whenever you are near Tanglin Halt Hawker centre.
Operating hours:
12pm to 8 pm daily
Closed every Wednesday
Location:
No. 1 Western food (驰名西餐)
Tanglin Halt Market
1A commonwealth Drive #01-13 Singapore 141001