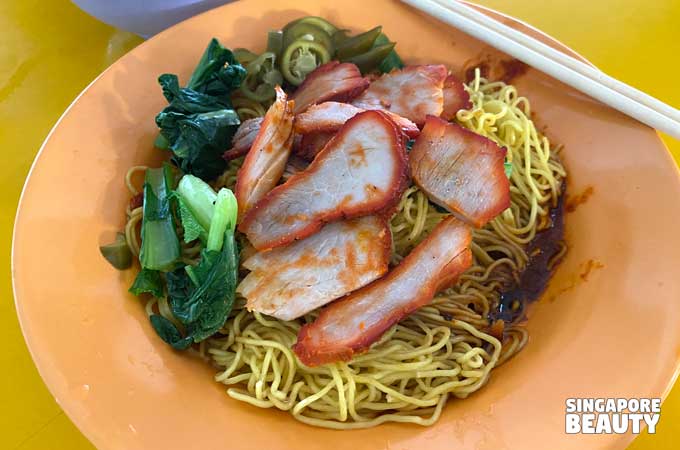 Guangzhou mian shi wanton noodle 广州面食 is a popular supper place for wanton noodles other than the usual supper food such as roti prata and Teochew Congee. This current hawker stall is run by son-mother combo with the mother doing the cooking and the son taking orders and packing the orders. This is now the third generation running the stall to continue this family legacy of old school wanton noodles.
Guangzhou Mian Shi Wanton Noodle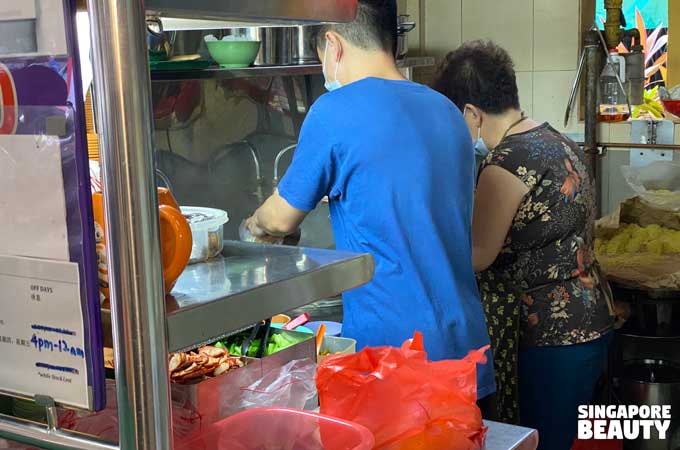 They are considered as a famous wanton noodle stall with many supporters such as Singapore popular filmmaker and food channel making recommendation to try this wanton noodle.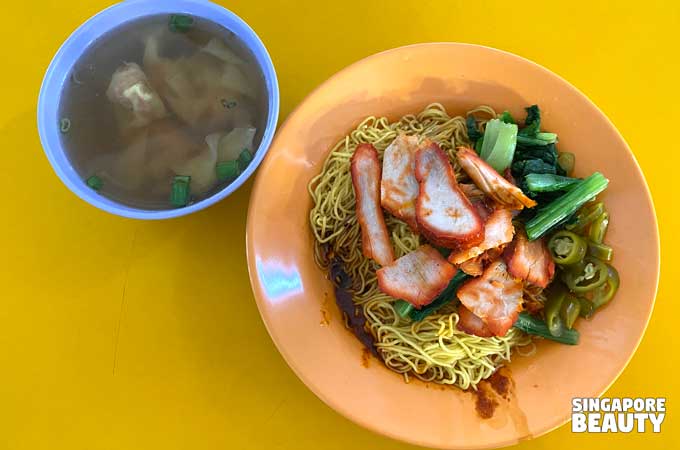 This is the old school wanton noodle ($3) with wanton noodle that is fatter than the usual yellow egg noodle sitting in a pool of dark savoury sauce, ketchup and sambal chilli sauce. The sides are blanched chye sim, char siew, pickled green chilli and a bowl of wanton dumpling soup.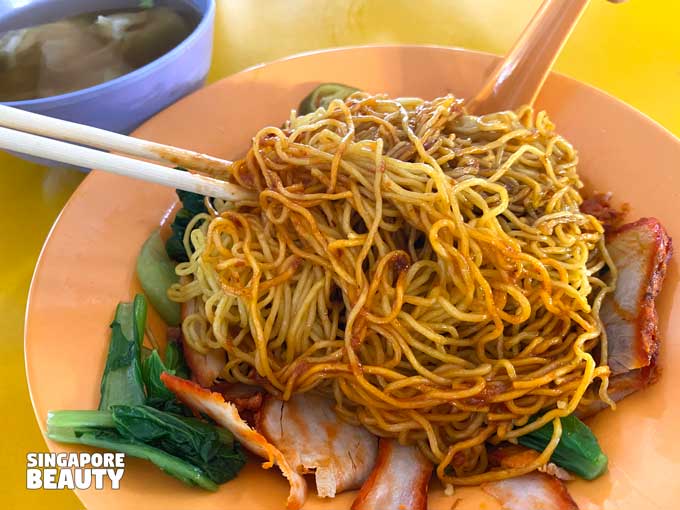 The texture of the noodle is springy mee kia – Hong Kong style wanton noodle with a bite. These noodles are springy and thicker than our average wanton mee with a weak alkaline flavour. The noodle is coated with the savoury sauce making it extremely flavourful.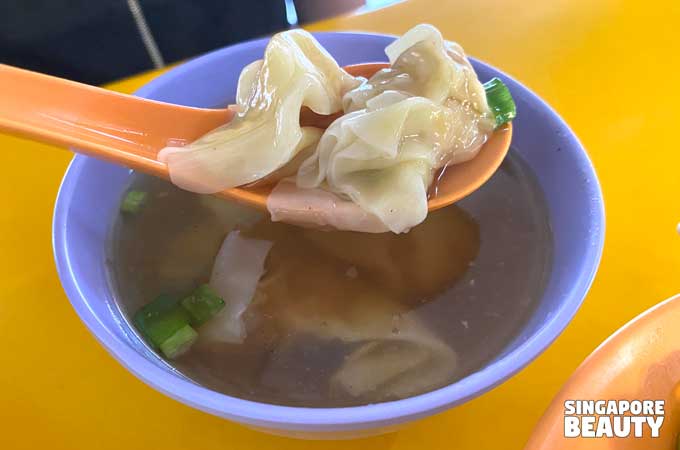 The wantons are marinated minced pork tightly hand wrapped in a thin skin made of flour, egg, salt and water. The wantons have mild umaminess and goes well with the savoury anchovies soup base.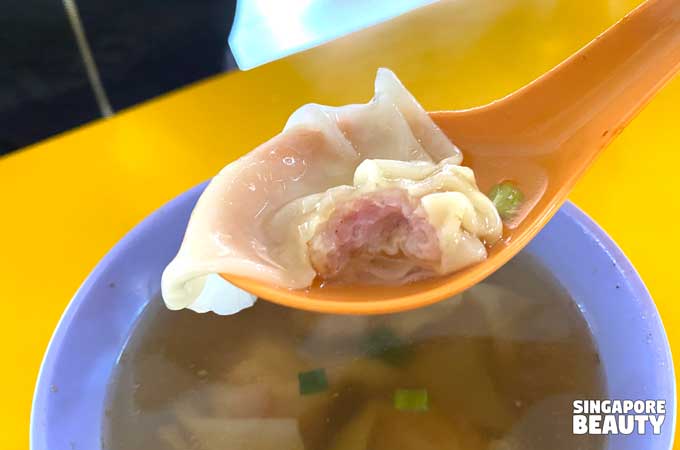 The meat of the wanton has a springy bite to it due to the high fat ratio to lean meat used in the fillings. This is the wanton that keeps many coming back for more besides the texture of the noodles. Plump and slippery pockets of savoury wanton that does not feel doughy.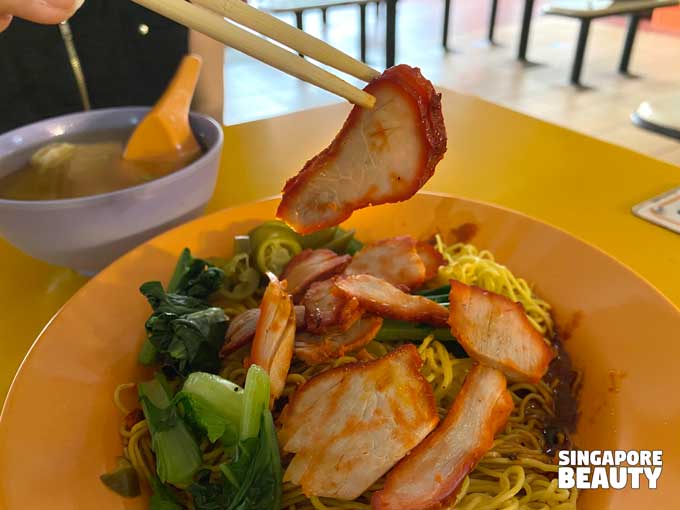 The char siew are the old age version without the char honeyed edges that many are used to in the Hong Kong Style wanton noodles. They are less greasy with a signature red tinge that surrounds the whitish slices of meat. Many would refer this to the "cardboard" paper char siew that are dry and tough. However on the other side of the camp, many love these types of char siew for their chewy texture and natural flavour of pork. The char siew are sliced thin and serving is considered generous for the price.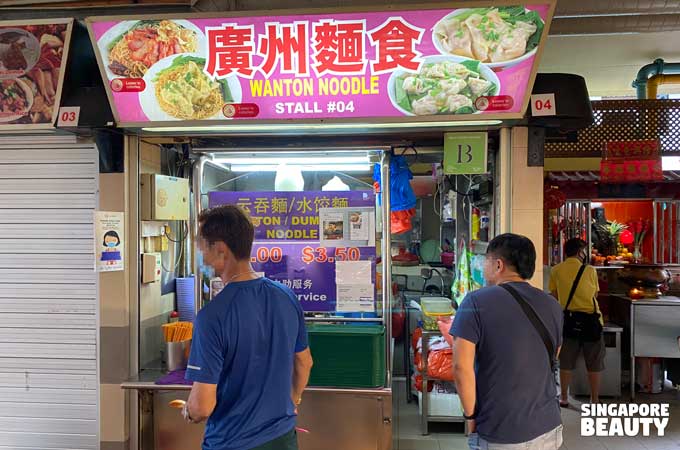 广州面食 Guangzhou mian shi wanton noodle only sells 2 type of noodles – dumpling or wanton. Dumpling noodle has minced pork with shrimp in the dumplings whereas wanton noodles only have minced pork in the wanton. Do head over and try this popular supper place whenever you are near Commonwealth.
Opening hours:
4pm to 12am
Closed every Sunday & Monday
Saturday whilst stocks last.
Location:
Guangzhou Mian Shi Wanton Noodle 广州面食
Tanglin Halt Market
48A Tanglin Halt Rd, #01-04, Singapore 142048