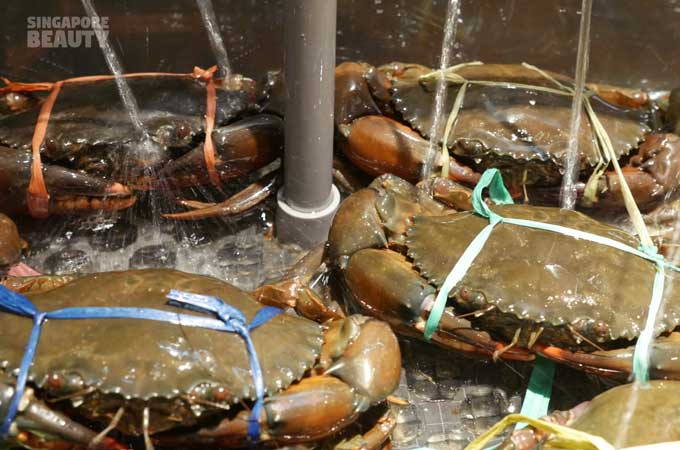 Get ready to sail with the New Thai Tanic – seafood BBQ buffet restaurant loaded with live seafood to DIY waffles. They claim to be Singapore's first live seafood buffet restaurant. It is a newly opened restaurant that serves seafood so fresh that you have to catch them yourselves. This ship is definitely not sinking but sailing strong and picking up good critics along the way.
[Restaurant no longer exist]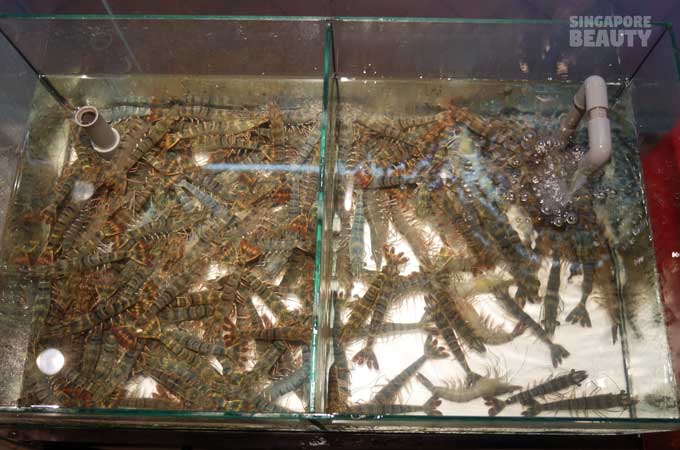 The shop front displays the live seafood section. In the clear glass tanks, there are live prawns and mud crabs kept alive with air pump and water.
Using the tongs provided, you get the live catch of your choice, place them in a "knock-out" box of crushed ice before you barbeque them.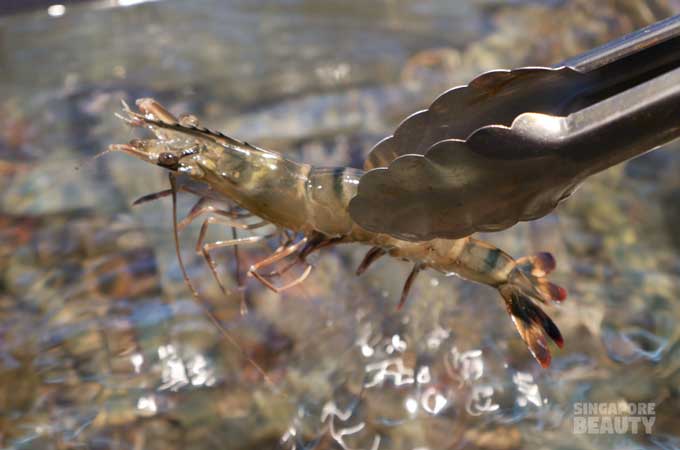 Be prepared to be splashed or jumped upon by a prawn if you are not careful with your catch. Try to be gentle with your catch or they can get nasty on you! Revenge of the prawn.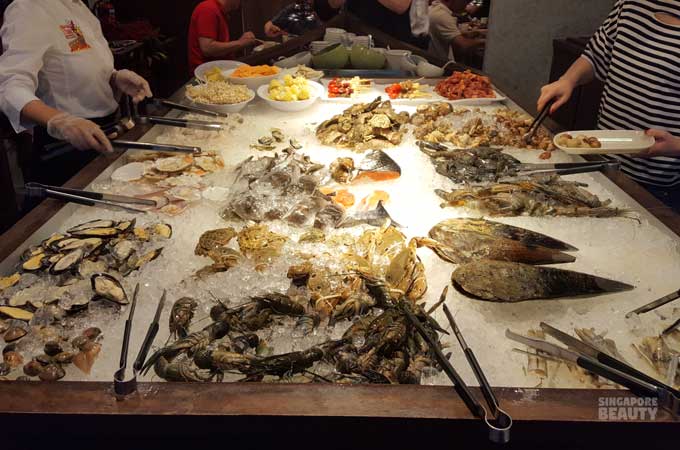 An island counter in the shape of a ship is loaded with treasures from the sea and land. A large variety of seafood is laid atop a bed of crushed ice to keep them fresh.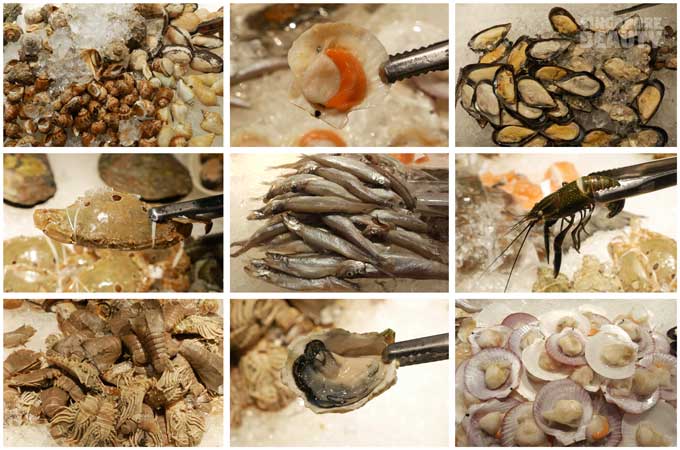 Seafood available are baby lobster, slipper lobster, tiger prawn, jumbo prawn, soft shell crab, flower crab, three-spot swimming crab, shellfish(oyster, giant clams, mussels, scallops, bamboo clams, shells etc), squid, baby octopus, salmon, shishamo and many more of their seasonal freshest catch for the day.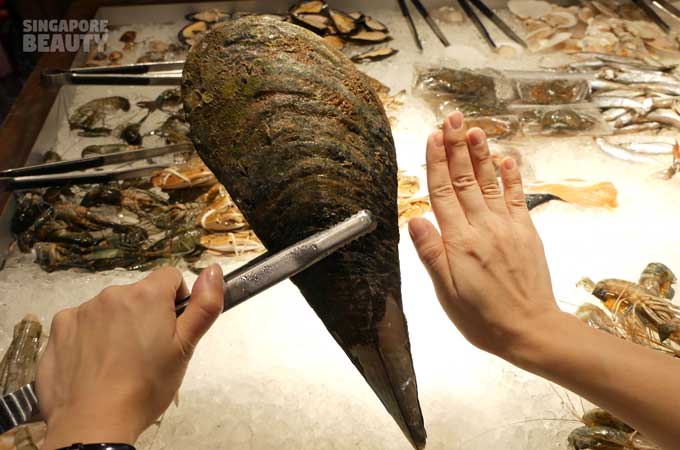 The king of the shellfish has to be the Giant Axe scallop. This shellfish is like the Darth Vader Star Destroyer among the other shellfish. It is the size of 2 palms or more. Try this if you are the adventurous eater.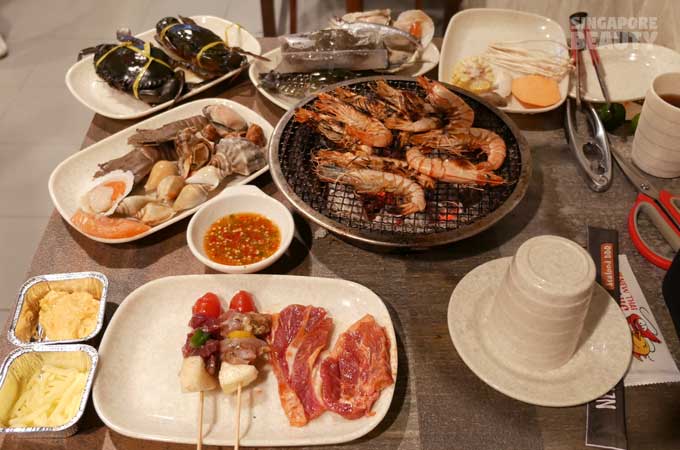 Let's get started.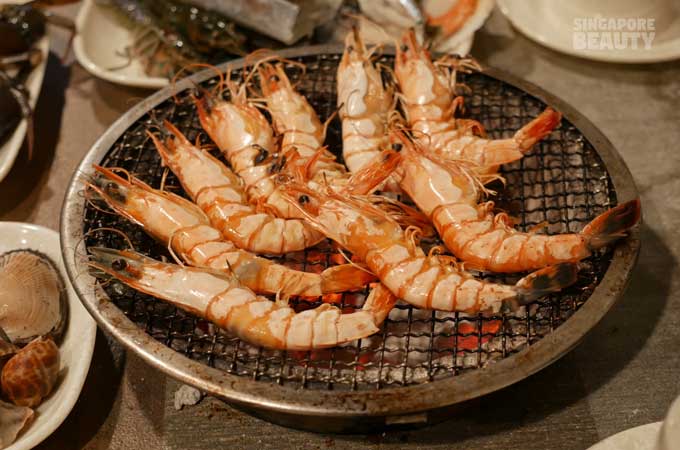 Starts the grilling with the "knock-out" prawns as the waitress mentioned that these little buddies will "wake up" if they stay on the plate for too long.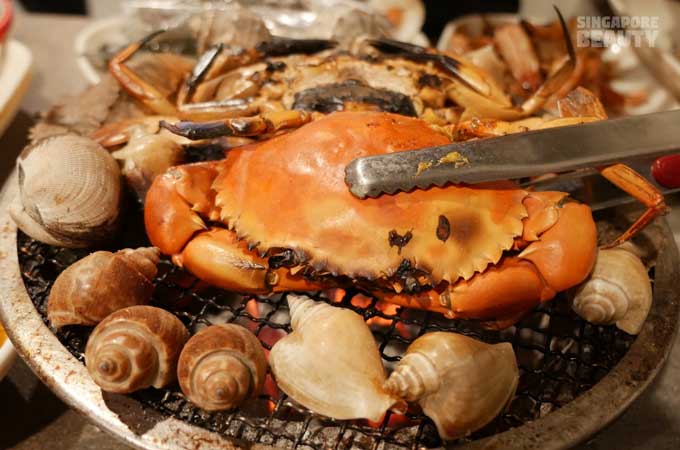 Do remember to remove the strings tied around the mud crabs before you char-grill them as the strings will emit an unpleasant burnt smell.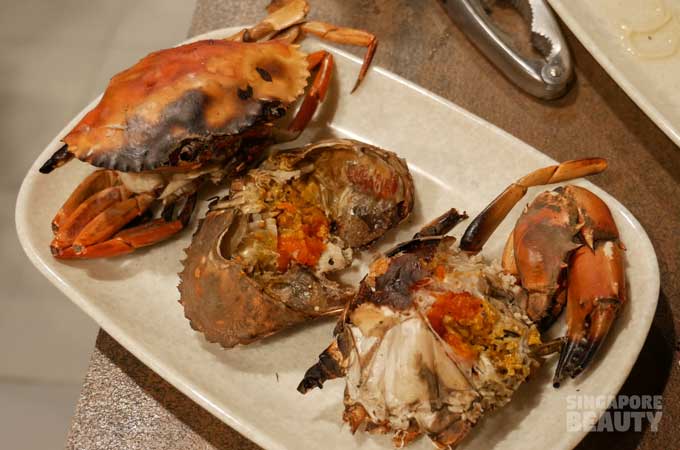 I am certainly lucky with this catch.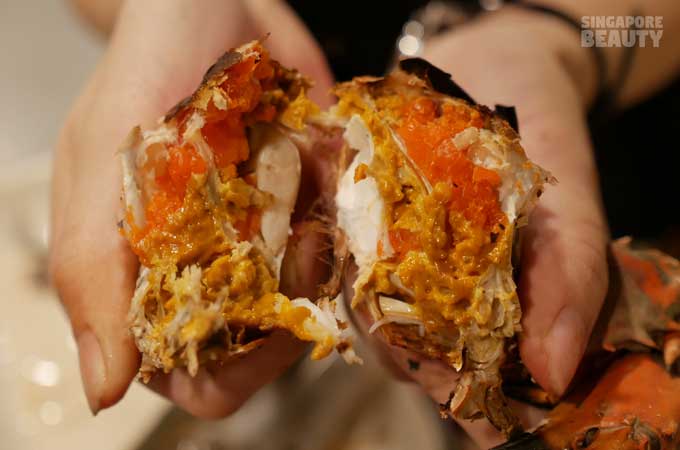 Look at the roe in the female crab. These taste like salted egg yolks and rich like "foie gras".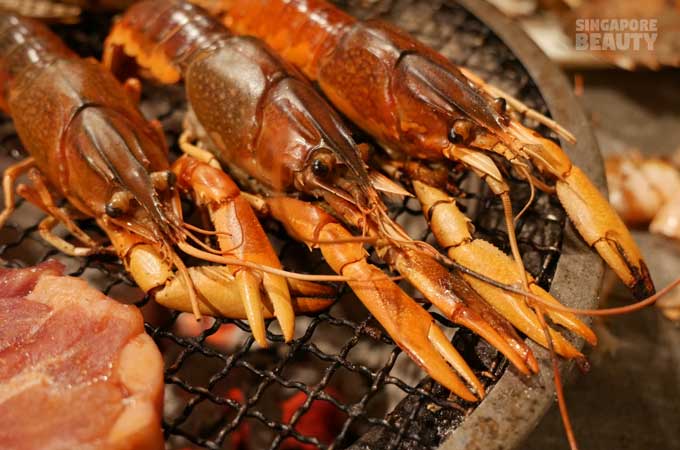 How about some salt and pepper baby lobsters? These goes well with the chilli pepper sauce provided.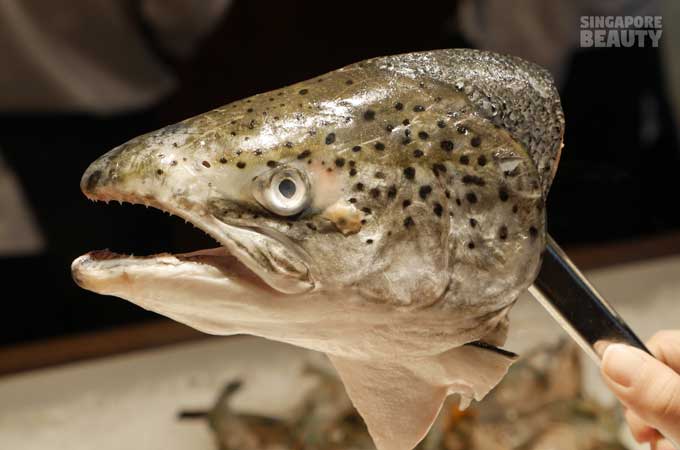 You can even grill the salmon head with a sprinkle of salt and pepper or with the blend of melted cheese.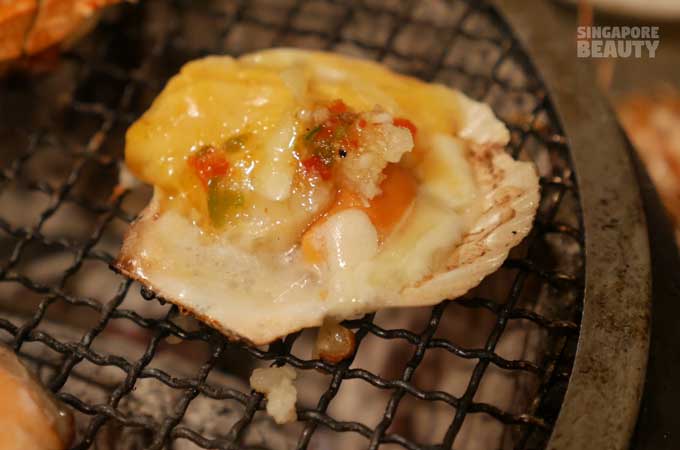 Grilling the scallop topped with shredded cheese, a squeeze of tangy lime juice, chopped garlic and Thai chilli. The explosion of flavours is heavenly.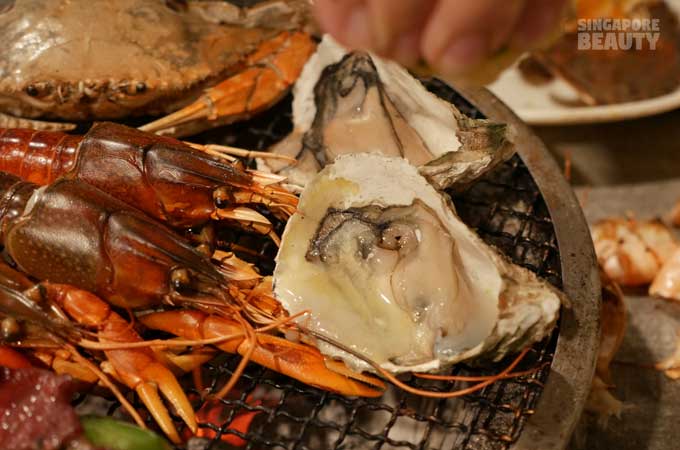 Rocking a plate of oysters all by myself, they just slide down your throat. At this point of time, I wish they serve beer too, maybe Chang beer.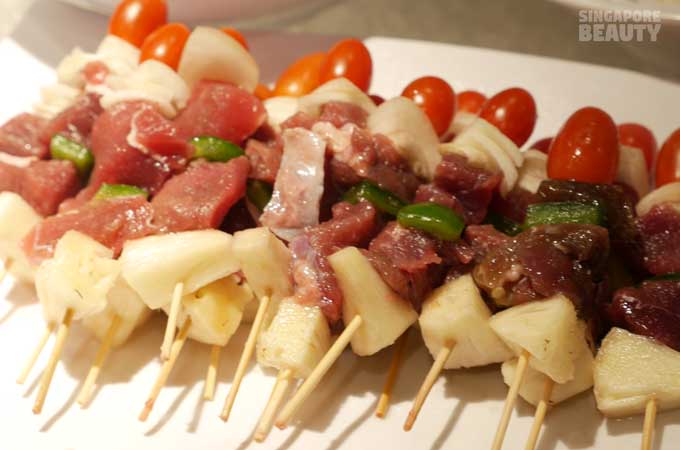 Also on this island, you can find kebab, ribs, enoki, sweet potato, sweet corn, pineapple and king oyster mushroom. New Thai Tanic offers different types of meat from time to time.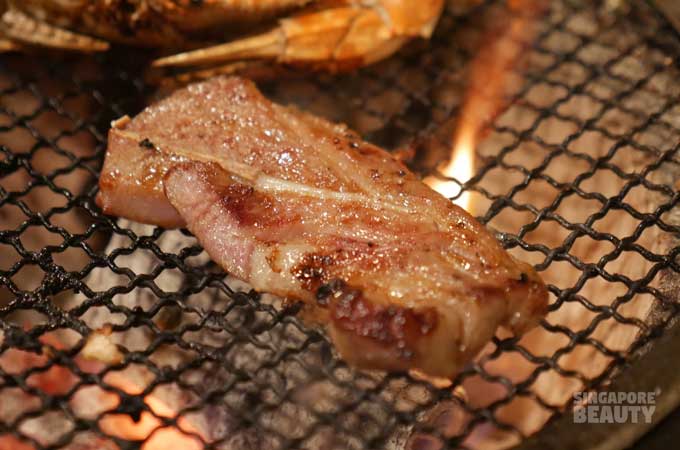 These are the best companions to the marinated ribs. I love those with soft bones for the extra crunch.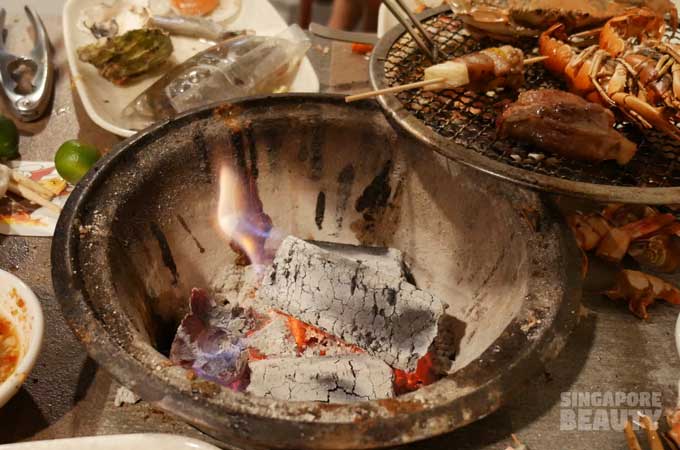 All these char-grilled to perfection on white charcoal. These charcoals heat evenly and burn cleanly with less smoke.
The Thai chilli sauce compliments the seafood perfectly with its tanginess and heat.
The drinks, salad, desserts and fruits stations are rolled out along the side of the restaurant. They offer a good choice of drinks from ice lemon tea, Fanta grapes, Fanta orange, Sprite, Coca-Cola to plain water for the health conscious. At the salad station, you can DIY your own garden salad with cherry tomatoes, cabbage, lettuce, peas and croutons. Top them off with shredded cheese and a dressing of your choice.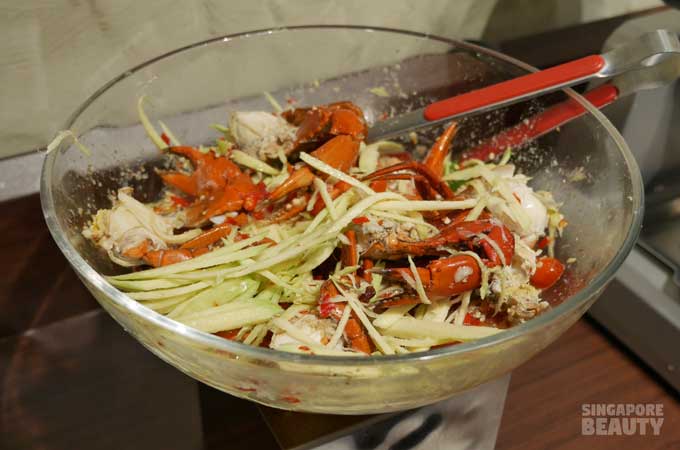 I prefer to try their chef's crab mango salad. Since this is a Thai restaurant, this must be good.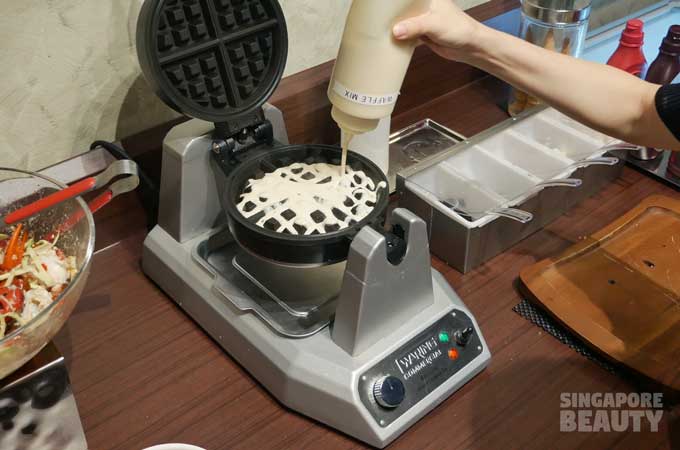 Dessert time! With a Belgium waffle maker and a clear instructions of how to do it, what can go wrong? This is the most enjoyable part of this dining experience- to handcraft my own waffles.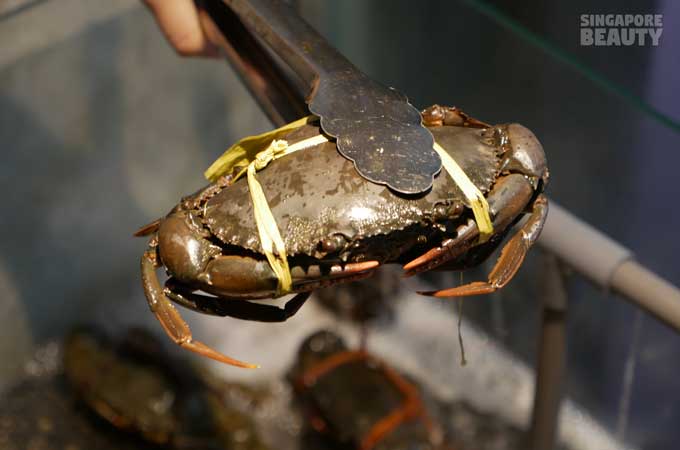 Or is it the catching of the live seafood (Sorry, am I being a little sadistic here)?
The making of a perfect waffle is a no-brainer here. The waffle mix is of a perfect consistency. On the waffles maker, when the green light lit up, you are ready to go. Pour the mix onto the hot waffle iron, close the maker and flip the waffle iron over. The waffle lets out jets of white steam while cooking and the maker beeps when the waffle is ready. The perfect golden brown waffle can be achieved at a setting of 3, crispy on the edges and soft inside.
Lay the piping hot waffle on the wooden board, add a scoop of ice cream and your favourite toppings. The selection of ice-cream is generous. 6 flavours (yam, mint, sweet corn, mango etc) to choose from, among them is the over-hype chendol ice cream with bits of green jelly. I will stick to my classic double chocolate flavour.
Toppings available are rainbow sprinkles, crushed Oreo, bite-size marshmallows and chocolate rice balls. A drizzle of some Hershey chocolate and strawberry syrup will be perfect. If you like it plain, maybe you can have it with the classic golden syrup.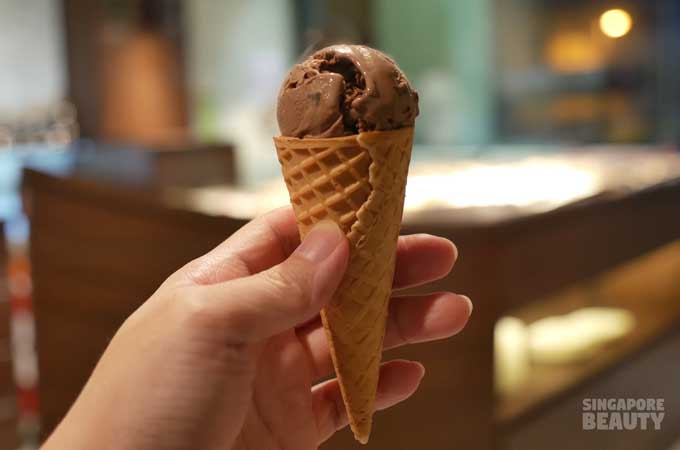 Maybe another ice cream cone as well and a slice of watermelon.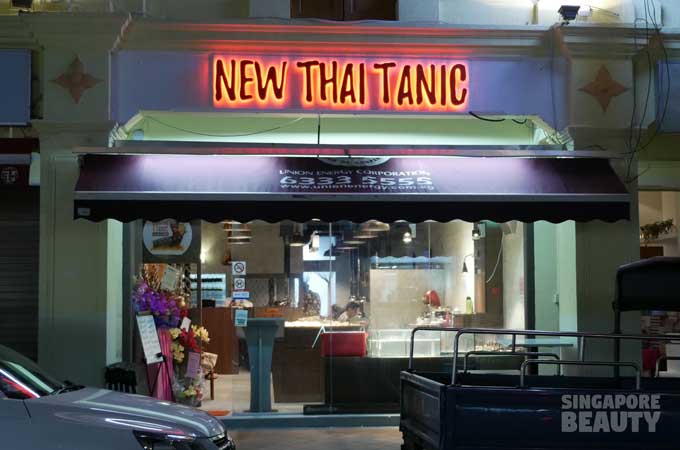 Do swim (pun intended) by soon for New Thai Tanic's latest promotion (Check below for the latest promotion). I suggest that you make a reservation with the captain for a good seat on board. Miss this ship, you probably got to wait for a long time before such a good deal anchors again.
All the live seafood are free flow, inclusive of drinks and ice cream. Best of all, this is buffet style with no time limit*.
20-30% Promotion starting from 15th September 17
2 pax 20% off Buffet price
4 pax 25% off Buffet price
6 pax & above 30% off Buffet price
Usual price for Adult ($59.90++), kids($?)
Current promotion is 15% with 150mins time limit.
*these information are correct at the time of publication.
Where?
[Restaurant no longer exist]
Operating Hours?
3.30pm – 11.30pm
Walk-in Only
This is not a sponsored post. We paid for our own buffet.