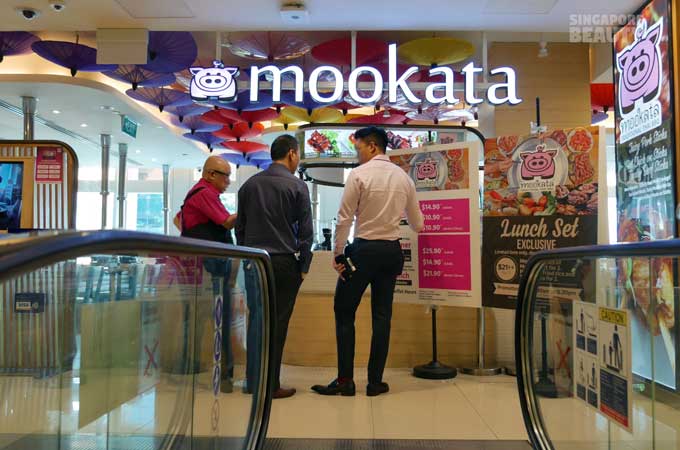 [The branch at Bugis Junction is closed] Mookata is a combination of barbeque and steamboat that originated from Thailand. This is popular among young and old alike. Food trends come and go, but seems like Mookata is here to stay. Mookata used to be on the pricier buffet end when it first landed in Singapore. Like set menu for two will set you back by $34.90, but not this time round.
Mookata is running a Eat-All-You-Can deal for the month of August September. This is buffet style with free flow drinks and ice creams at only $14.90++ for adults, $10.90++ for children/ senior citizens). Only available for Lunch 1130am- 430pm, Monday to Friday (excluding Public Holidays and Eves). You get to eat your fill!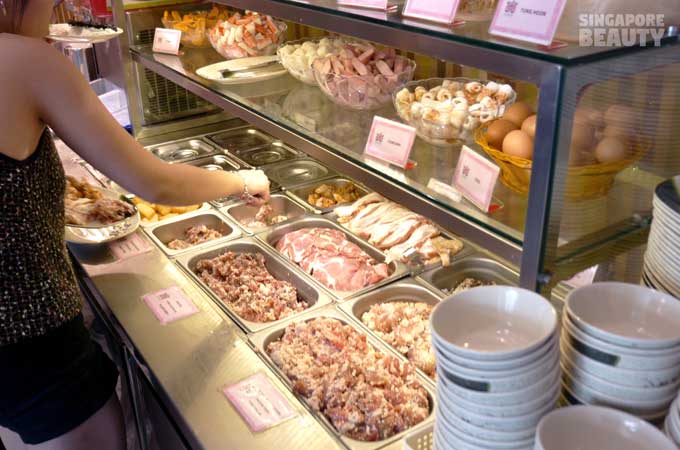 Buffet at this cheap price cannot be good right? But I am so wrong, the buffet spread is considered good for this price. The 3-tier buffet counter has meat, surimi, vegetables and more.
Meat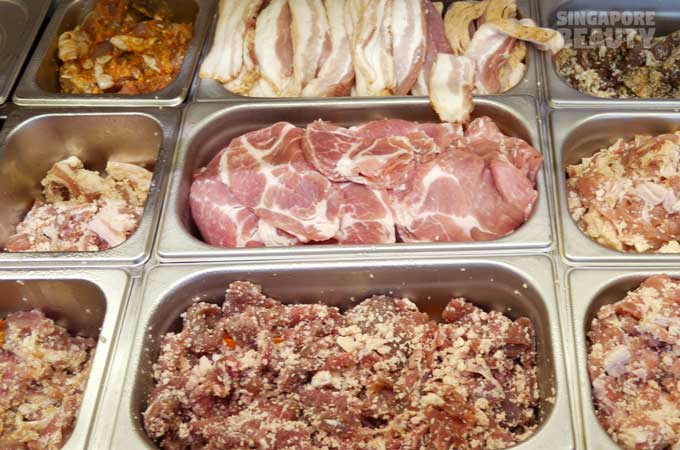 They have black pepper chicken, chicken thigh, tom yum chicken, pork collar, bacon, pork suriyaki, pork belly, garlic pork and sliced beef. I must applaud them for the variety of the meat which are well marinated. Pork collar, bacon and pork belly are my favourites. The meat is tender and juicy even after grilling, and these cook fast so you don't have to wait too long to savour them.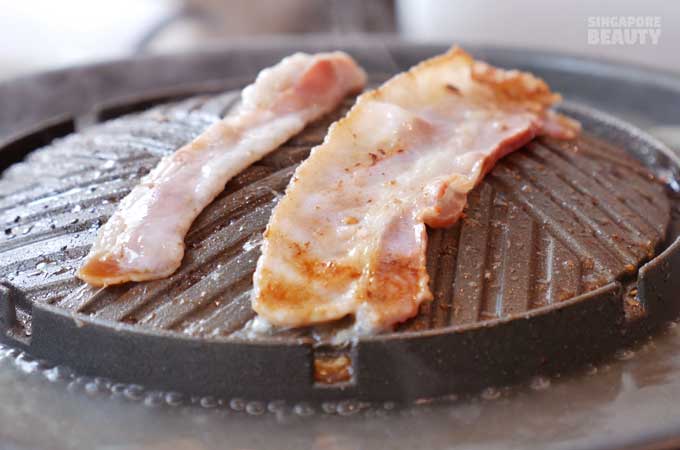 When the bacon curls up and slight browned at the edges, you know these are ready. The fat starts to melt and waft tantalizing smokiness of pure grilled goodness.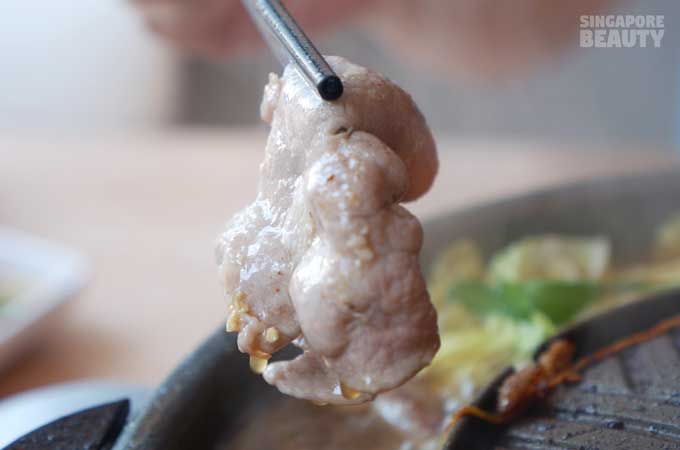 Pork suriyaki is the only meat you do not grill as these are best for shabu-shabu. They are fresh and succulent.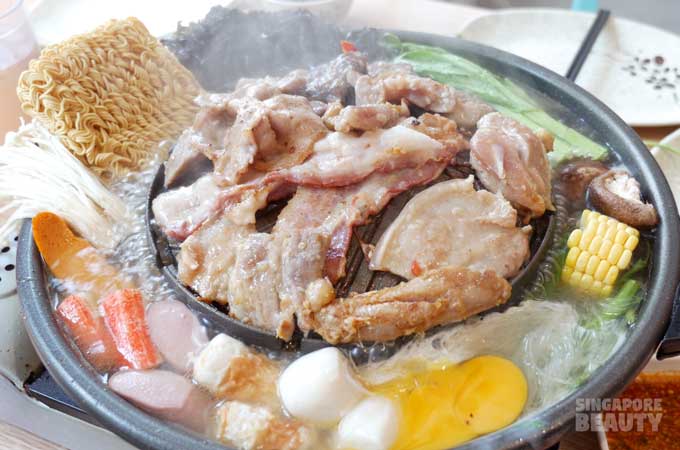 All the juices from the meat trickle like mini streams into the broth where the vegetables are and converged into a large ocean of hearty indulgence.
Surimi
Otah, crab stick, fish ball, hotdog, chikuwa and cheese tofu. These are the usual suspects in a buffet spread. Nothing to shout about except they are fresh and tasty. If you are a fan of cheese tofu, you can pile your plates here. They also have shredded cheese as add-on, you just need to check with the waiters. You get the best of both worlds here, the Korean cheese style bbq and Thai mookata.
Vegetable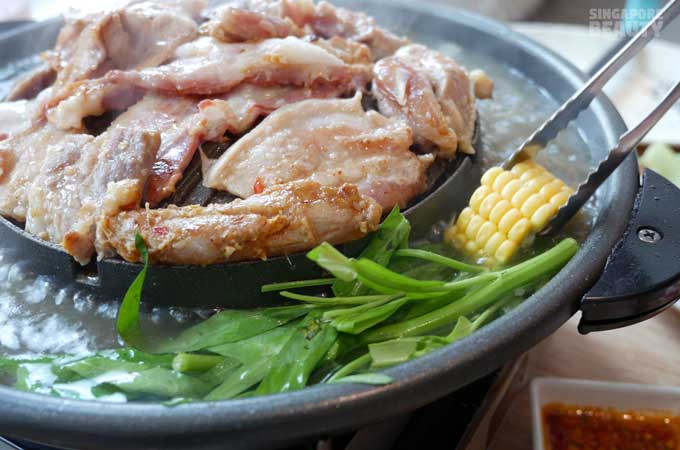 Seaweed, golden mushroom, corn, shitake mushroom kang kong, Chinese cabbage and xiao bai cai. Get the broth boiling first before adding the vegetables into the broth. The juice from the meat will be soaked up by the vegetable making them more savoury.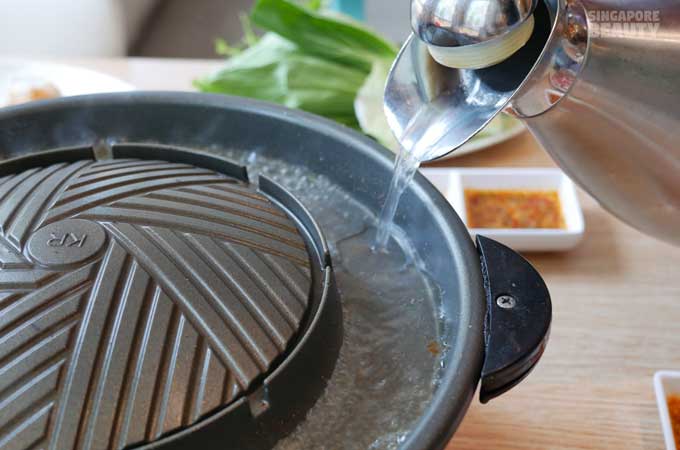 The broth boils away too fast for my liking. But fret not, the broth is also free flow so feel free to add and slurp as much as you like. The longer it boils, the richer and more flavourful the broth is.
Others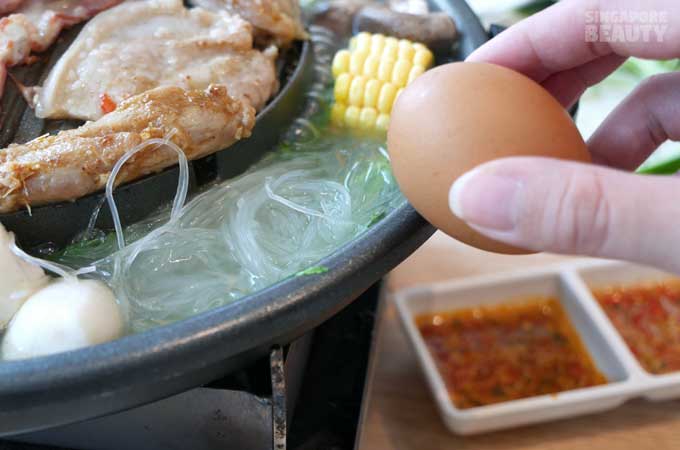 Rice, rice noodle, tung hoon and eggs. Add tung hoon and the noodles last for them to suck up all the goodness in the soup. You can also make omelette when the broth is running low.
Thai Chilli Dip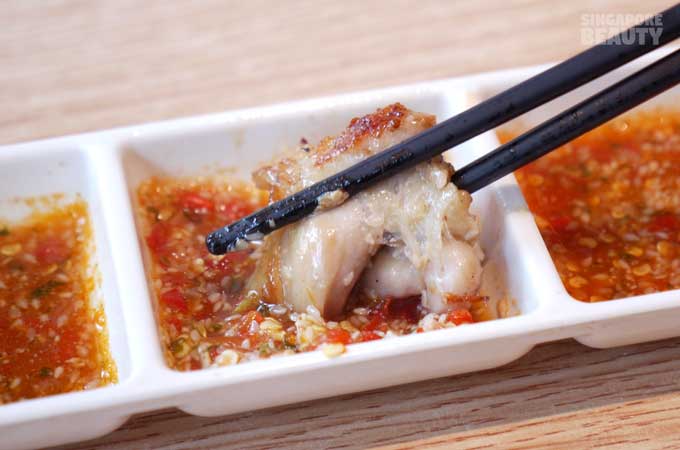 There are 3 level of spiciness. I have a high tolerance for spiciness and they are not spicy enough for me.
Cooked Food Section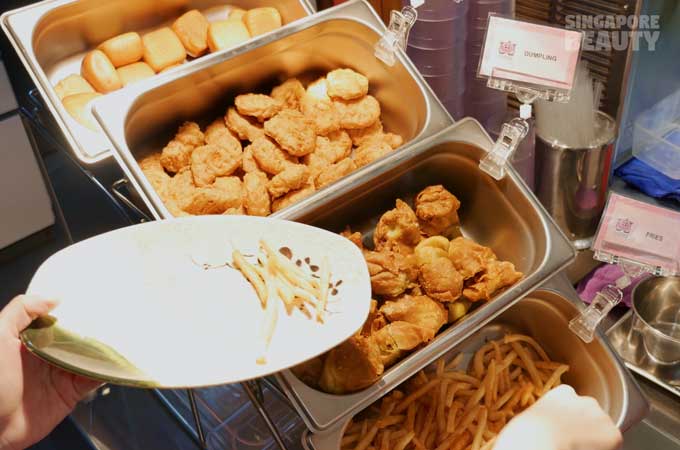 Fried dumplings, nugget, mini bun and fries under a heat lamp to keep them nice and warm.
Drinks and Ice-Cream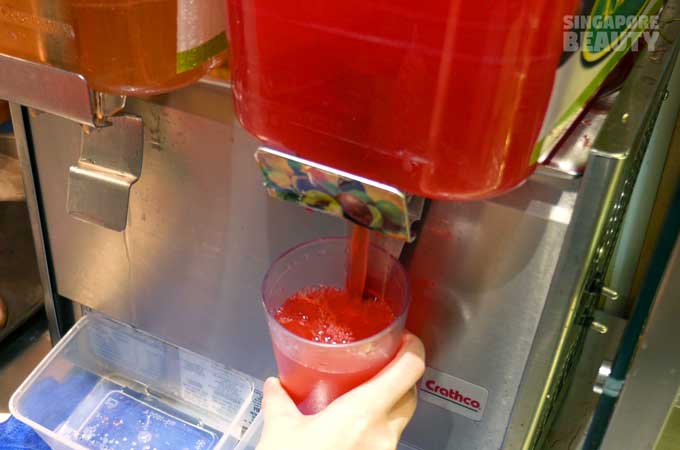 Choose Lychee flavour or fruit punch for drinks. I prefer the fruit punch as the flavour is more fruity and milder in sweetness compared to the lychee flavour.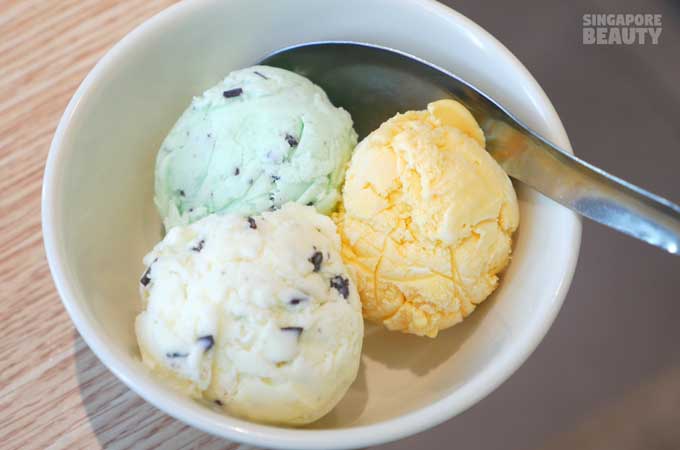 The ice cream comes in 4 flavours, mint with chocolate chips, mango with mango bits, chocolate chipped and double chocolate ice cream. Double chocolate chip ice cream seems to be the most popular because it was almost empty.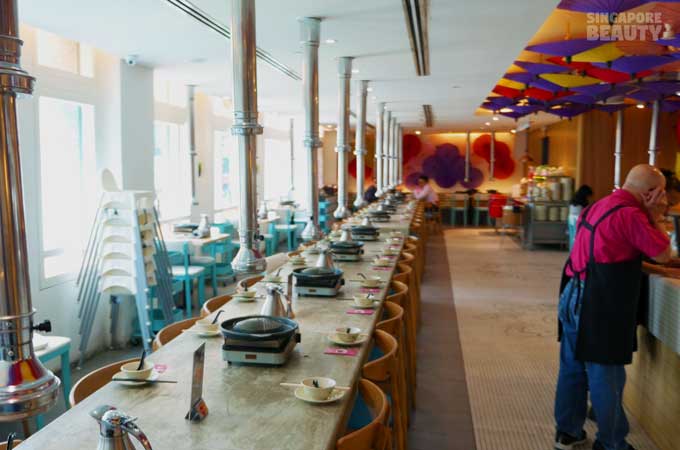 The restaurant has a good flow and view. You can choose the seat by the windows for a view or snuggle up at the cosy booth seating. For large group gathering, you can choose the long table that stretch from one end of the restaurant to the other. Great for team lunches or corporate lunches.
I am somehow amused and disturbed by this long table as it reminds me of the famous painting by Leonardo da Vinci, The Last Supper.
For the value and the quality of spread, very likely I will be a returning customer. Do swing by for lunch or just a meat up (pun intended) with your friend at Mookata.
Location:
Mookata
200 Victoria St, 53, Singapore 188021
#02-53 Bugis Junction
[The branch at Bugis Junction is closed, check out their other outlets]
How to get there:
Bugis MRT station
Time of Buffet:
11.30am – 4.30pm
Monday – Friday (excluding Public Holidays and Eves)
2 hours limit.
$14.90++ for adults, $10.90++ for children/ senior citizens
– This is not a sponsored ad. We paid for our own meal.