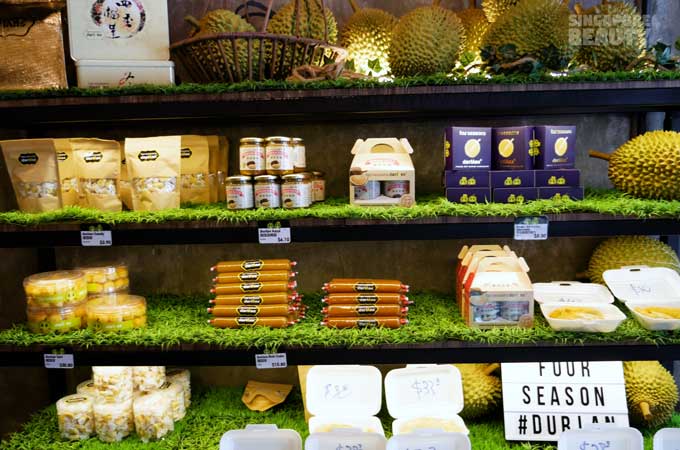 Mao Shan Wang Cafe by four seasons durian is no longer in operation at Chinatown branch. Mao Shan Wang durian is considered the cream of the crop in the durian empire. Some love its taste and some just shy away from it. Some say it is an acquired taste that once you try it, you will go head over heels in love with it. The ways durians are sold have also evolved with times, from selling out of a van to a makeshift store by the road. A café that specialize in durian pastries to coffee, this could be one of the first few in Singapore.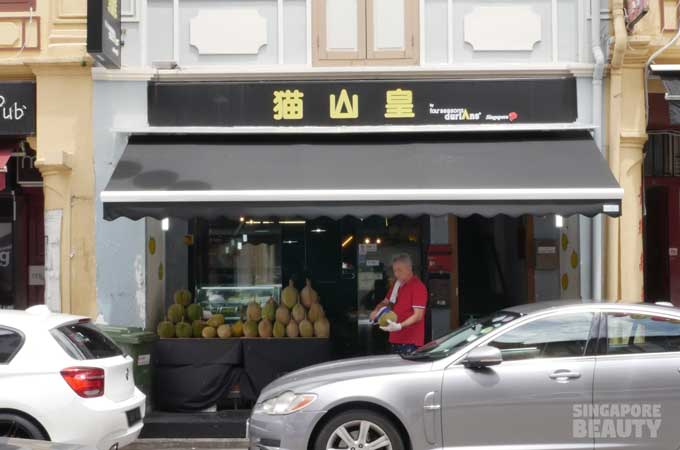 This gem is hidden within a row of shophouses at Temple street located in Chinatown. If you find it hard to navigate using GPS, you can sniff your way there literally. I was at the junction at Temple street and was led to the café by the aroma of the durians.
Greeted at the café by two mountains of durians stacked in a pyramid order, you can be assured that this café serves some authentic durian pastries.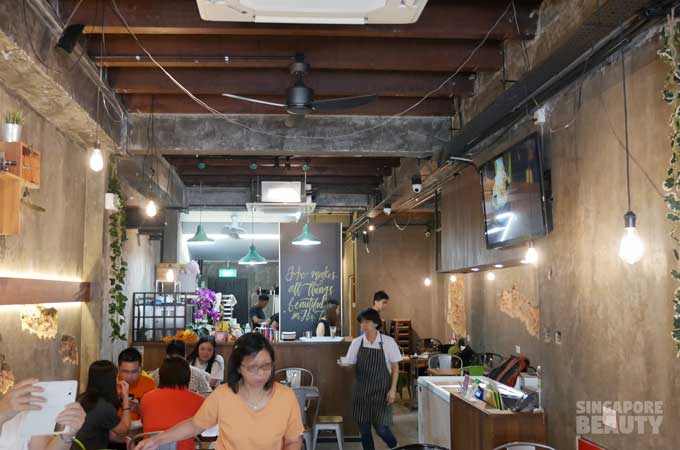 With exposed beams, chiseled brick walls, cozy light and unpretentious furniture, this place feels nostalgic, like in the back alley of some durian plantations. A humble café that serves some Instagram-worthy pastries and desserts.
Mao Shan Wang Takeaway Cup ($6.80)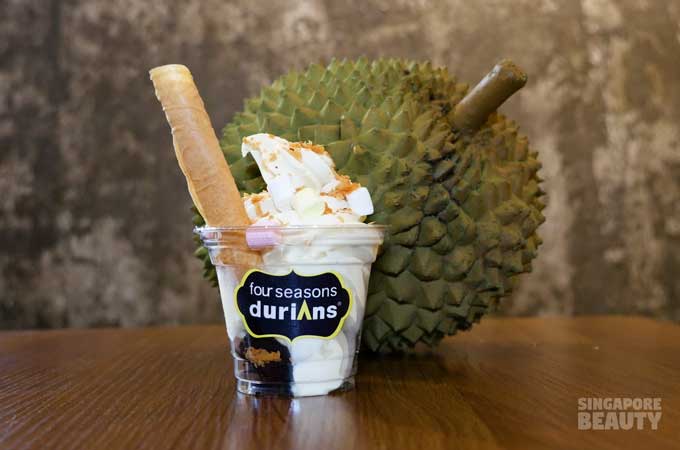 Lined with some cubed brownies and a good dose of soft serve Mao Shan Wang ice cream, topped with roasted coconut shavings, a stick of love letter and some bite size marshmallows. The soft serve with hints of subtle durian flavour is not overly sweet and well complimented with the sweetness from the marshmallows. The crunch from the love letter and roasted coconut shaving adds a texture to the cold creamy soft serve. Having tried toasted marshmallows, I wish the marshmallows are torched to add an element of surprise to the chewy texture. This is a good companion to bring along for a stroll along the touristy Chinatown stretch, enjoying this Singaporeans' favorite fruit in the form of an ice cream.
Napoleon ($8.80)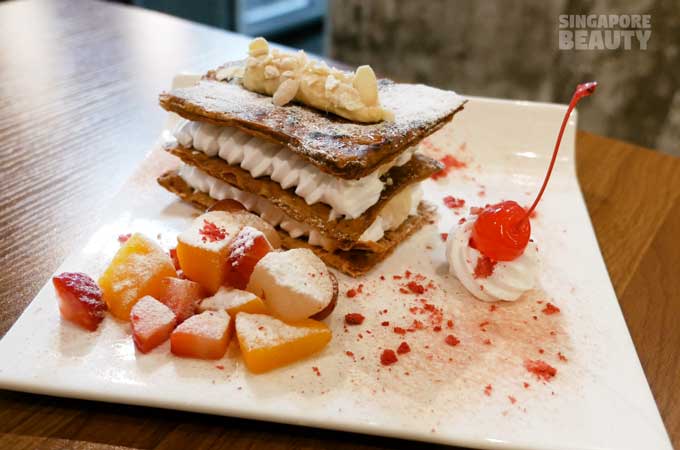 This is a twist to the French pastry Mille-feuille. 3 layers of puff pastry with a fibrous durian paste with heaps of whipped cream and garnished with icing over toasted almond bits. The durian paste is overwhelmed by the amount of whipped cream and I prefer the layers of puff pastry to be light and buttery.
The best way to eat this is to pick it up with your hands or if you are ready to make a royal mess out of it, use a fork and knife by all means.
Durian Fudge Cake ($5.80)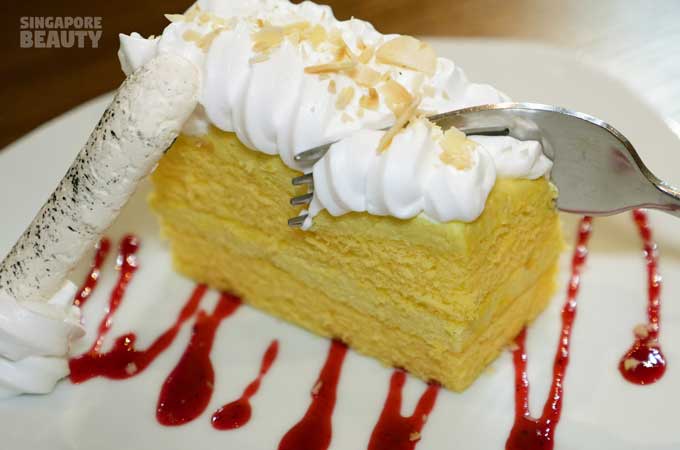 Traditional sponge cake layered with durian paste plated on a drizzle of berry concentrate. Topped with whipped cream and a sprinkle of almond flakes. The cake is fluffy and light. A decorative stick of meringue for some crunch.
D24 Durian Mochi ($5.00 for 4 pcs)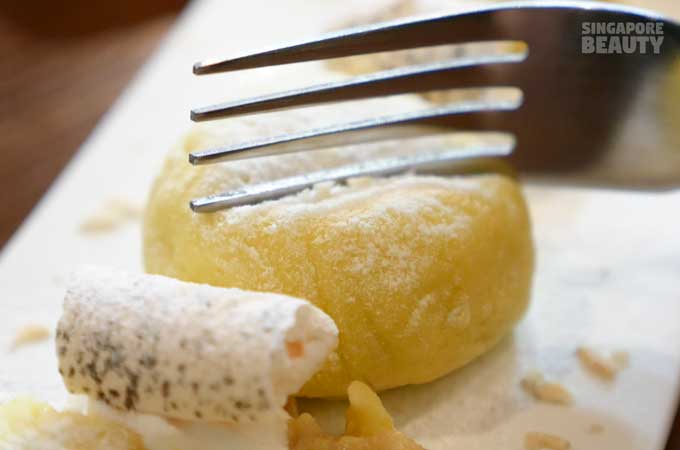 This durian mochi is dusted in icing and served cold. It is chewy and of similar texture to a snowskin mooncake with durian filling. Durian flavour is mild and not overpowering. I shall try the Mao Shan Wang Durian Mochi on my next visit which may be richer and more flavourful.
Mao Shan Wang Ice-Cream Puff ($15.80)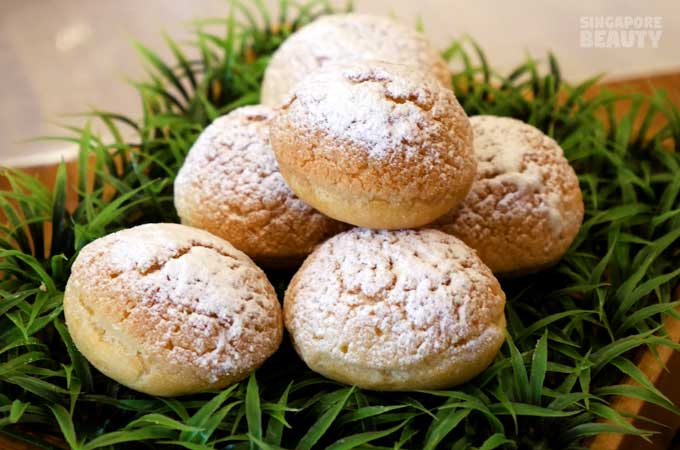 They always say save the best for the last.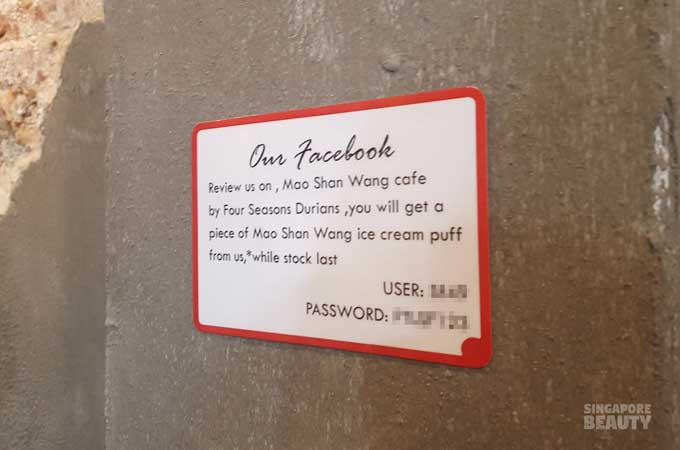 If you are not convinced, you can review them on their facebook and try a piece of Mao Shan Wang ice cream puff on the shop, while stock last. Sadly, I did not manage to get a piece as they ran out of stock and got a hazelnut puff from them instead. This taste nothing near the Mao Shan Wang puff that I am looking forward to trying.
I was about to leave the shop and something caught my eyes. The puffs are nested atop a blanket of greens and served on a wooden tray. Bite size fluffy puff with a creamy and rich durian filling. If, I have not tried them, how do I know? Well, I made a polite request to 2 ladies patrons if I can take a picture of the puffs, they readily agreed and insisted that I should try it too.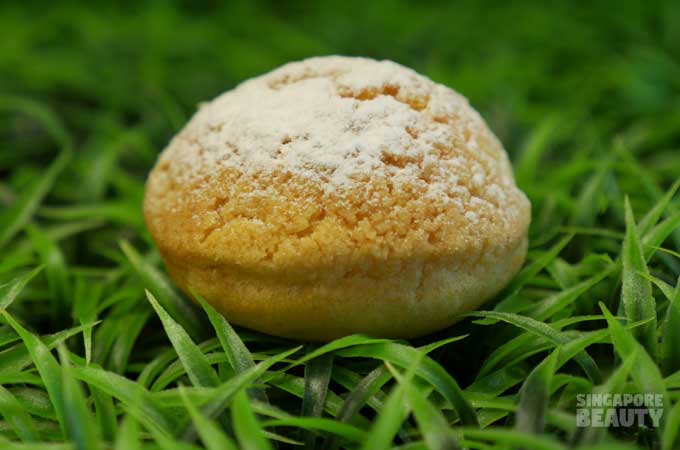 Thank you for your generosity my ladies.
My honest opinion is that if you are there to try their Mao Shan Wang items, this is the one puff that you have to order in this café, the rest you can save for the next trip.
Other items on their menu are cinnamon donuts w/chocolate sauce ($5.60 for 7 pcs), Mao Shan Wang Delight ($15.80), Mao Shan Wang Ice-Cream Puff ($15.80), Hong Kong Pancake ($8.80), Butter and Milk Waffle ($13.80), Charcoal Waffle ($15.80), Red Velvet Waffle ($15.80), Chocolate Lava Cake ($13.80) , Mao Shan Wang Durian Mochi($8.80), Durian Strudel ($15.80), Charcoal pizza($18.80), Mao Shan Wang Coffee($5.00) and some other beverages.
Location?
Permanently closed49 Temple Street, Singapore 058594
How to get there?
3 mins walk from Chinatown Mrt station, Exit A
Opening hours?
Monday to Friday: 11:00AM – 10:00PM
Saturday: 11:00AM – 11:00PM
Sunday: Closed
– we paid for our own Mao Shan Wang Durians & Desserts.