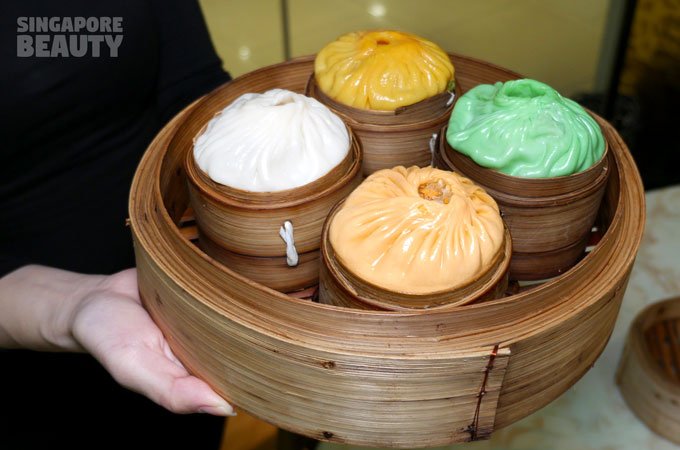 [Restaurant ceased operation] Looking for buffet with a good spread and authentic xiao long bao in a cosy setting?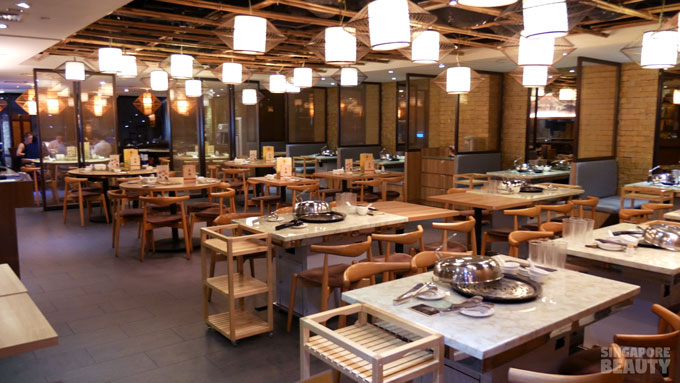 Come to NanXiang Chinese Restaurant (南翔) located at Ten Mile Junction or otherwise known as Junction 10.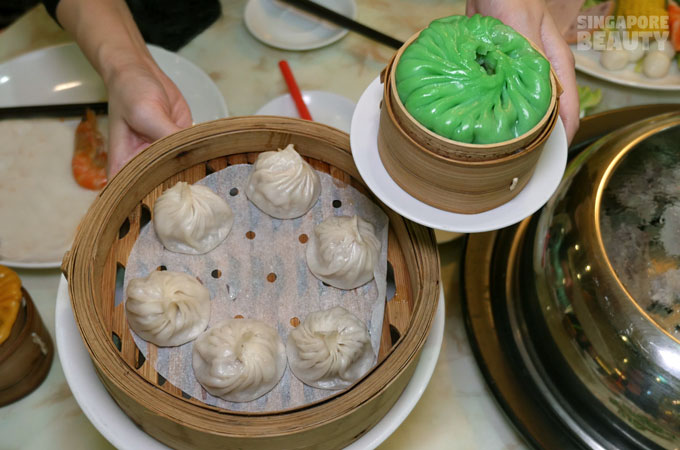 These xiao long bao ($6.80/6 pcs) are made with fresh minced pork fillings with ample amount of broth contained within the skins of the bao.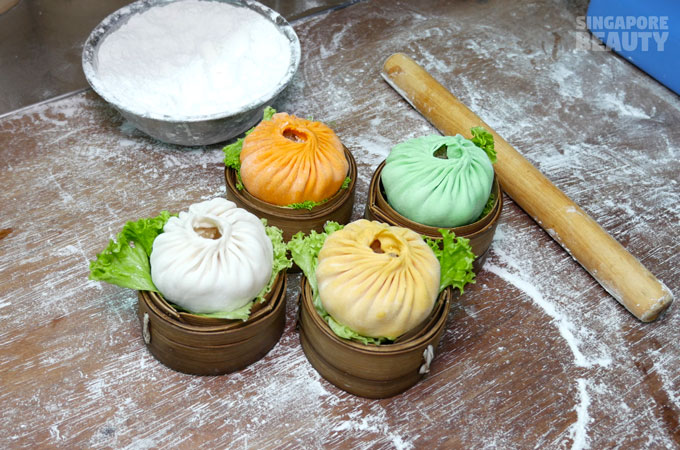 Besides the bite size xiao long bao, they also serve XL xiao long bao (Promo Price of $4.80 per pc for buffet diners, U.P $8.80 each) in 4 flavours. These are naturally coloured using pigments from greens such as carrot (orange), pumpkin(yellow), broccoli(jade green) and original (snow white).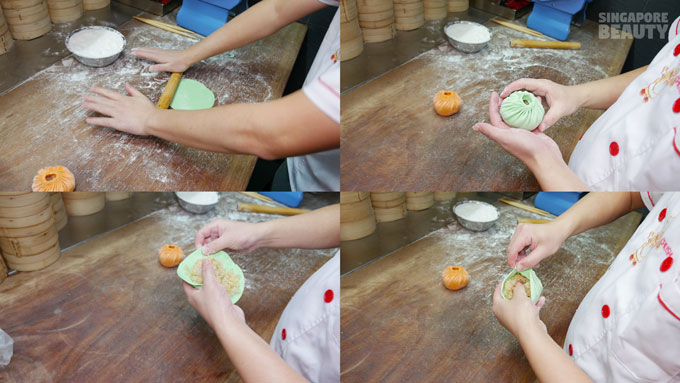 These XL xiao long bao are handmade to order by their in house head chef. This chef has headed the popular Nanxiang branch in Tokyo and has since relocated to Singapore's Nanxiang branch to bring us the tasty XL xiao long bao.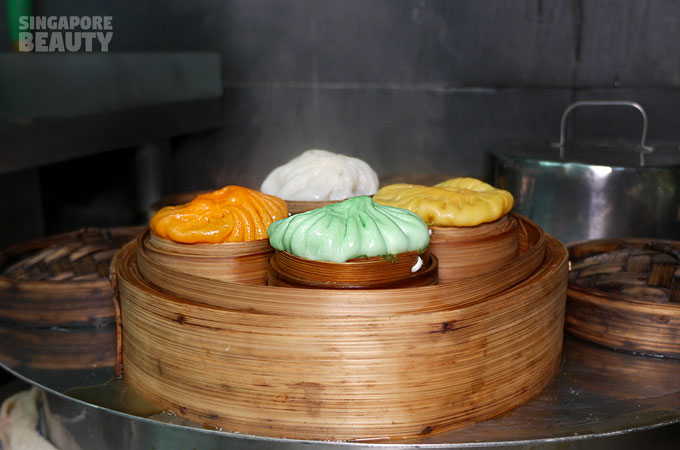 Served in traditional bamboo steamer, it came piping hot and looks delicious.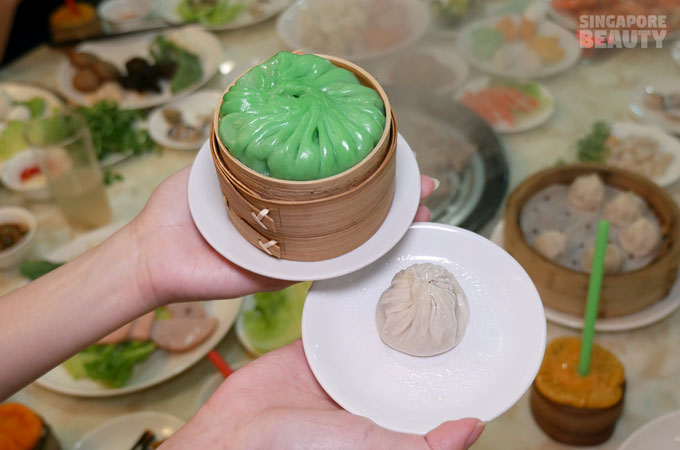 This is a xiao long bao on steroids, about 4 times the size of an average xiao long bao. Imagine the amount of soup it can hold. Yum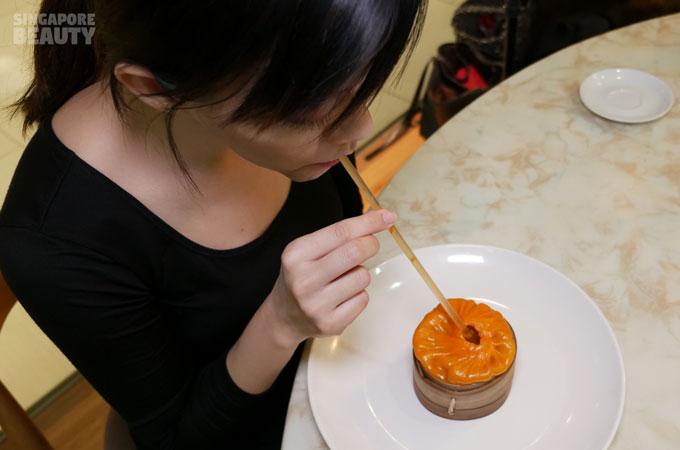 It holds a full load of piping hot soup and meant to be sipped slowly using their straw provided. The soup is robust with conpoy and fresh crab roe. The melted sea cucumber adds a collagen-like and velvety consistency to the soup.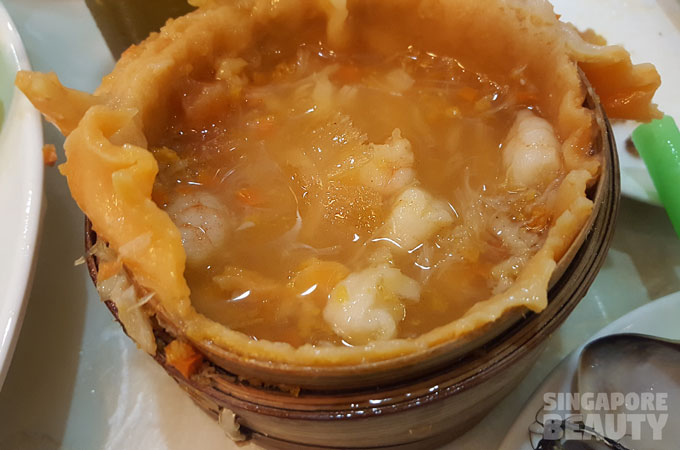 These XL xiao long bao holds double boiled chicken consommé with shark's fin, sea cucumber, prawn, scallop, conpoy and fresh crab roe. It has a marine umami-ness to it and robust flavour of salt-cured meat. The colour of these XL xiao long bao also indicate the greens used. For example, orange coloured XL xiao long bao contains bits of carrots, yellow ones with bits of pumpkin and jade green ones with bits of broccoli.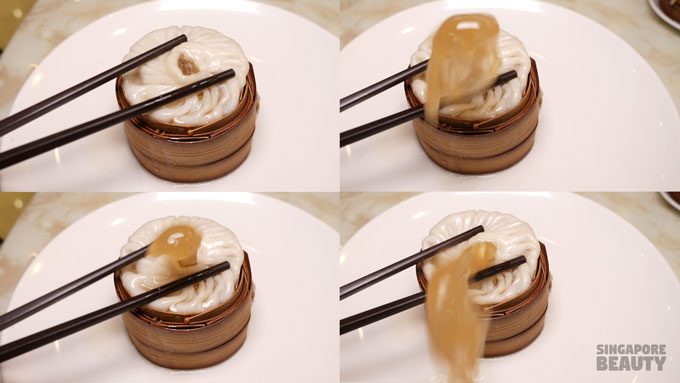 These explosive soup dumplings are filled to the brim and will spurt when you press them gently. Eat them with caution and slurp every drop of that golden soup within the skin.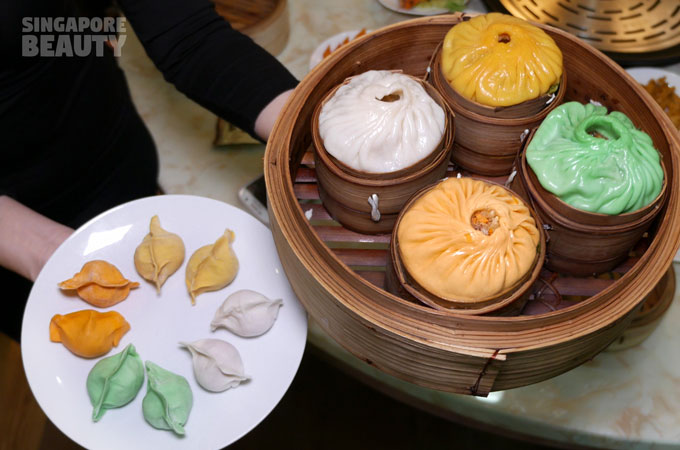 These are Nanxiang's Four Seasons meat dumplings (free flow with buffet) and Nanxiang's King Size Dumpling Soup XL xiao long baos in comparison. These folks at Nanxiang made such colourful and nutritious meat dumplings that is both pleasing to the eye and to our palate as well.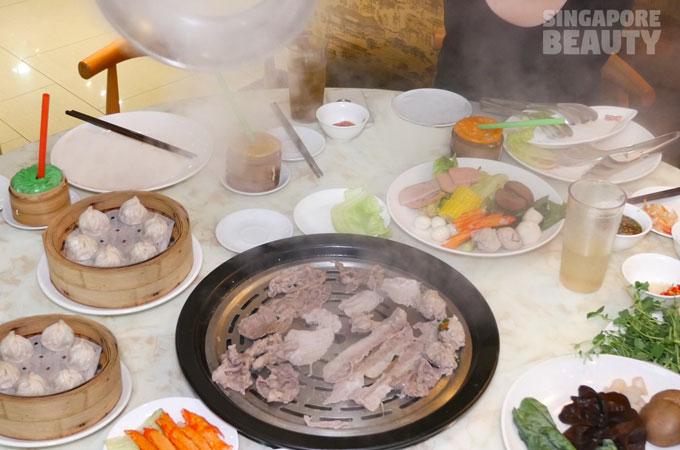 If you want to feast without guilt, you should also come to Nanxiang Chinese Restaurant for their steamed style buffet. They have over 40 variety of food at their buffet counter, finger food and free- flow drinks are included. We had their dinner buffet which includes meat, greens, seafood, surimi, fungi and dim sum.
At the buffet counter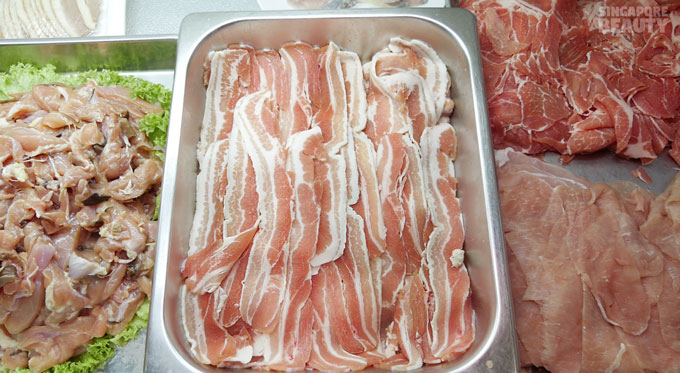 Meat – Selection of meat includes sliced pork, marinated minced pork, pork belly, sliced beef (only for dinner), mushroom chicken fillet and quail eggs.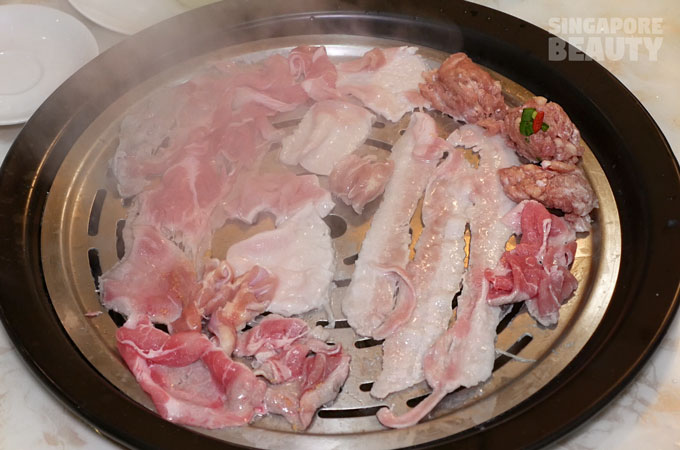 These are great for steaming as they have a good ratio of fats to meat and will remain tender when cooked.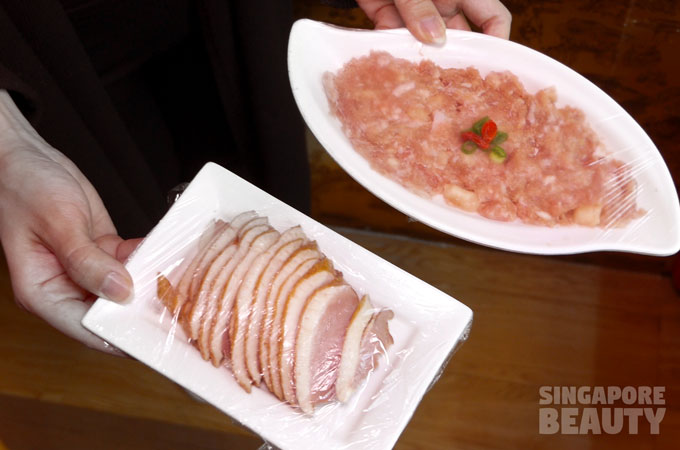 The smoked duck and marinated minced meat have an umami flavour to it. These go well with fluffy steamed rice.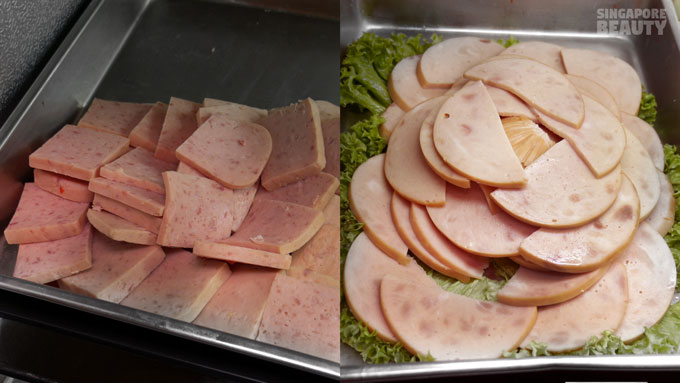 They also have savoury sliced honey baked ham and luncheon meat. Add these to your lettuce wraps to add a punch to the healthy greens.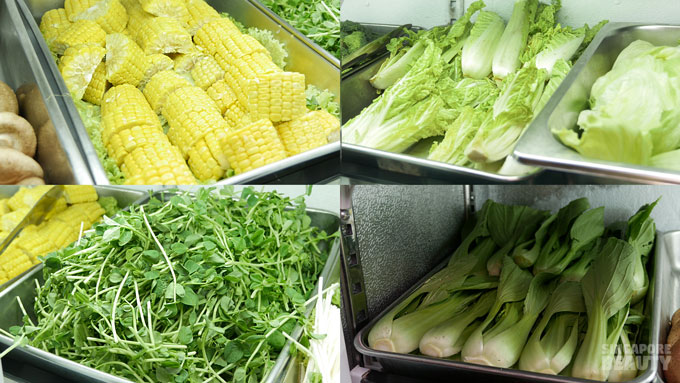 Greens – Selection of greens includes premiums such as dou miao, kai lan, sweet corn cobs, nai bai(white cabbage), cai xin, broccoli and okra. Fresh crisp greens to add a crunch to the meat.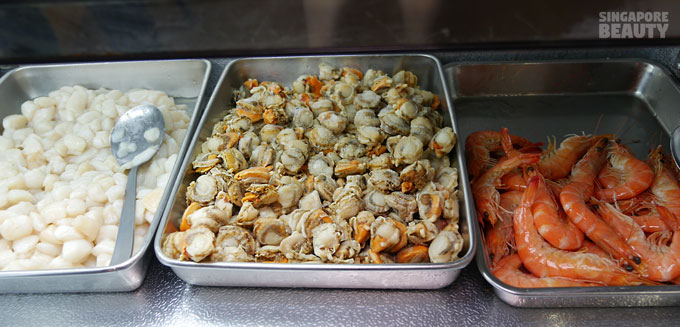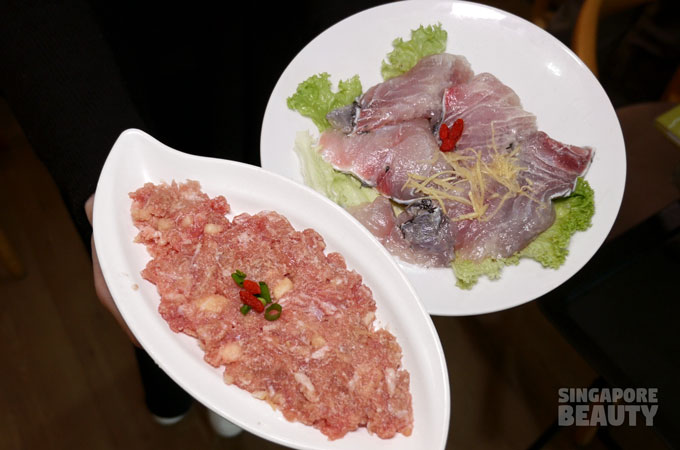 Seafood – Selection of seafood includes clams, flower clams, mussels, sliced fish with ginger, prawns, adductor muscle of scallops and fan scallops (seafood only available for dinner).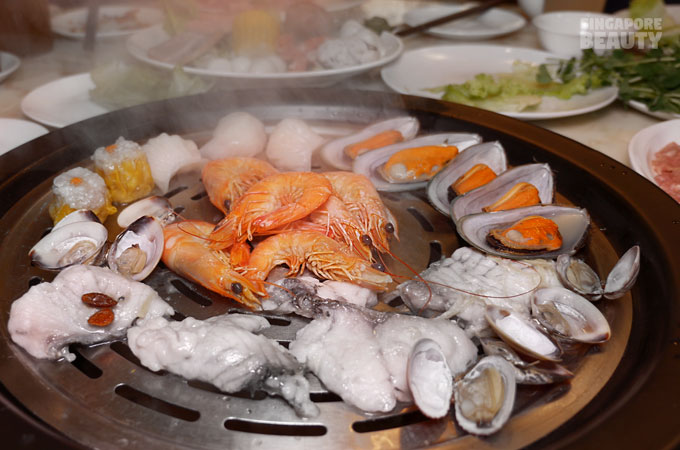 The prawns and scallops are the best bets for these spoilt for choice selections.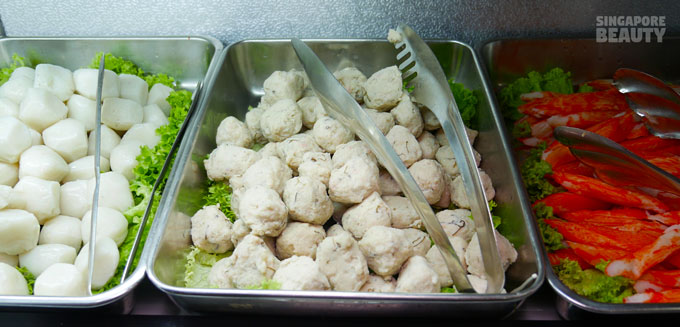 Surimi – Selection of surimi includes fish balls, black moss meatballs and mock snow crab leg sticks. These black moss meat balls are handmade in house and black moss are one of the delicacies found in the Chinese lunar new year Peng Cai (新春盆菜). These black moss balls are made from a blend of black moss, minced pork, squid, Chinese sausage, dried shrimps and fish paste. The mock snow crab leg sticks used in this buffet counter are also used in Japanese restaurant atop those maki sushi.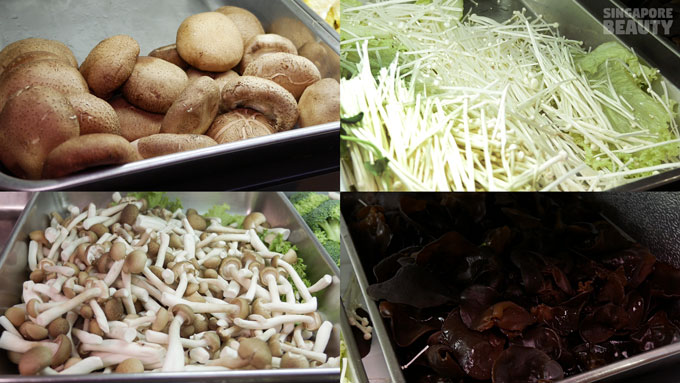 Fungi – Selection of fungi includes black fungus, enoki, shitake mushroom and Bunashimeji. Time to load up on your antioxidant. Steam these with the marinated minced meat and let them soak up the delicious meat juices.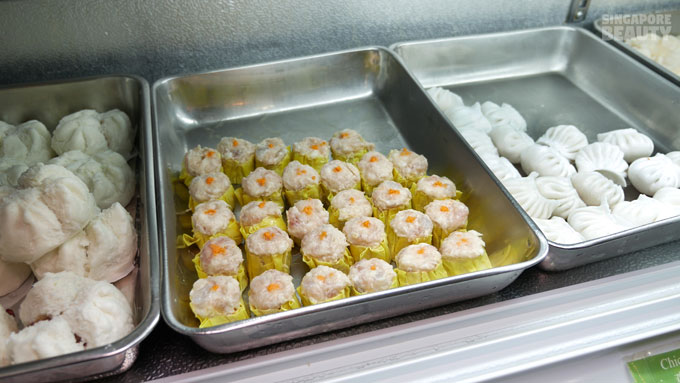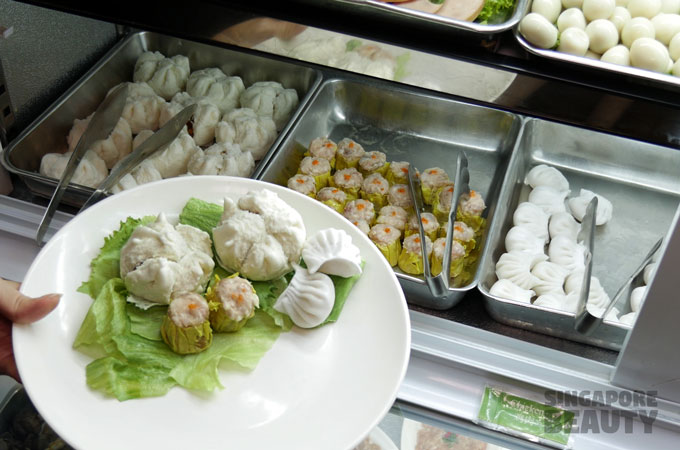 Dim Sum – Selection of dim sum includes Chinese dumpling (烧卖/Shao Mai), prawn dumpling (蝦餃/Har Gow), Chinese steam BBQ pork buns (叉烧包/Char Siu Bao) and NanXiang's four seasons pork dumplings (四季饺子/ Jiao Zi).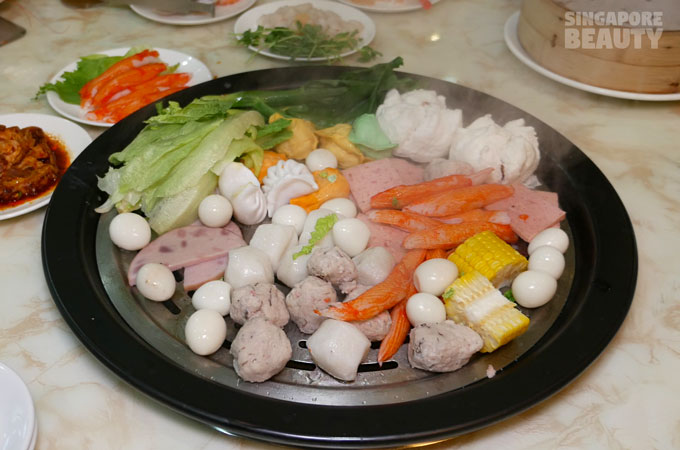 Prawn dumplings are bite size crunchy prawns wrapped in a springy translucent skin when cooked. Dip these in their sweet gooey chilli sauce to enhance the natural sweetness from the prawns.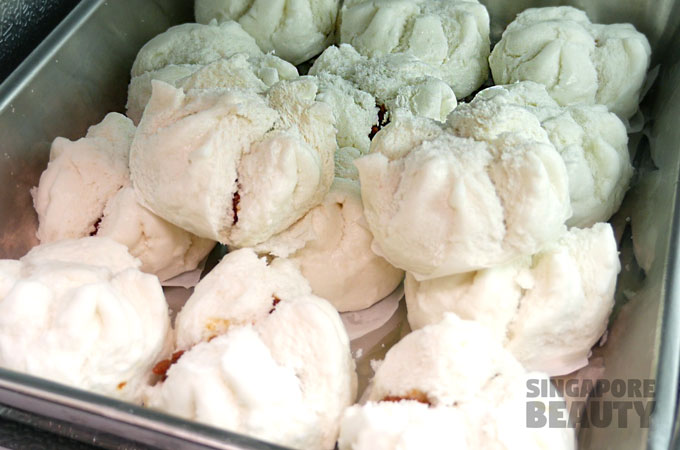 Fluffy and steaming hot, sweet and savoury, smoky addictive BBQ pork buns that melts in your mouth. These BBQ pork buns are so good.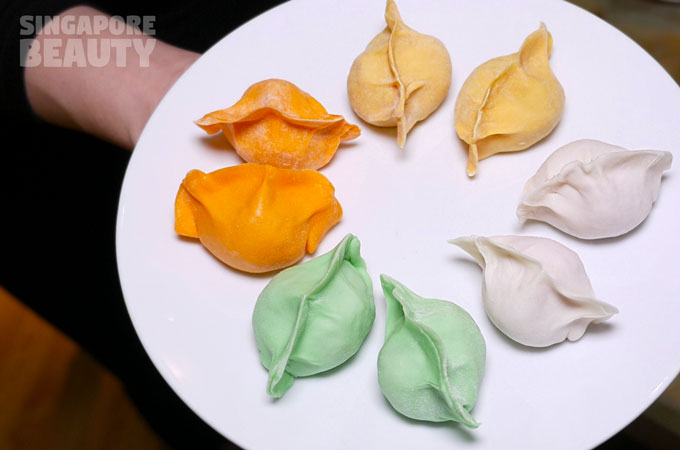 NanXiang's four seasons pork dumplings (四季饺子/ Jiao Zi) are the new kids on the block. These are new additions to the already exploding selections of food to their buffet counter. Made, launched exclusively on our visit and for everyone who is going to support NanXiang. These colourful pork dumplings uses the same vegetable concentrates to naturally flavor the skin as their XL king size soup dumplings. The good news is these are free-flow until further notice. So grab the chance and feast on these handmade premium pork dumplings in original, pumpkin, carrot and broccoli flavoured skins.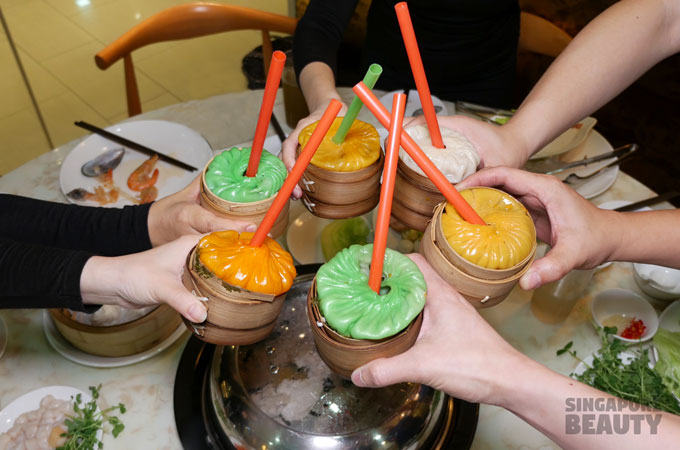 Here are more reasons for you to cheer to.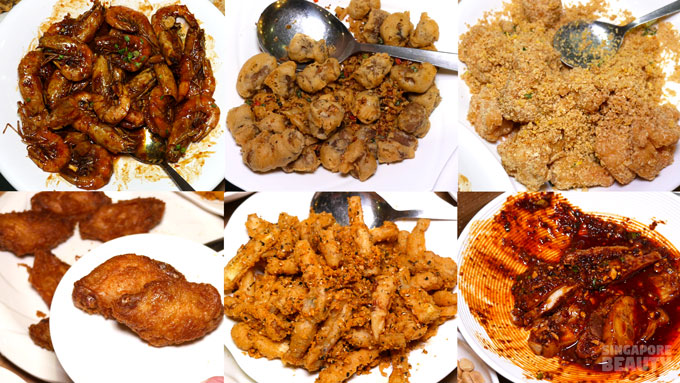 This buffet also includes starters! We had crispy egg plant with roasted sesame, hot and spicy chicken, deep fried mushrooms, salted egg pork cutlet, Red Braised King prawn, fried prawn paste chicken wings (Har cheong gai) and shark fin soup. Delish.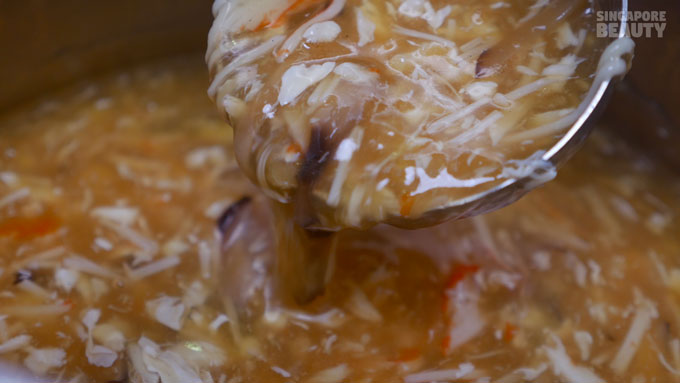 Do remember to add some red vinegar and pepper to the shark fin soup to get the best kick out of it.
Done feasting of all the steamed items? Do not forget to savour the bowl of congee at the end of the steamed buffet.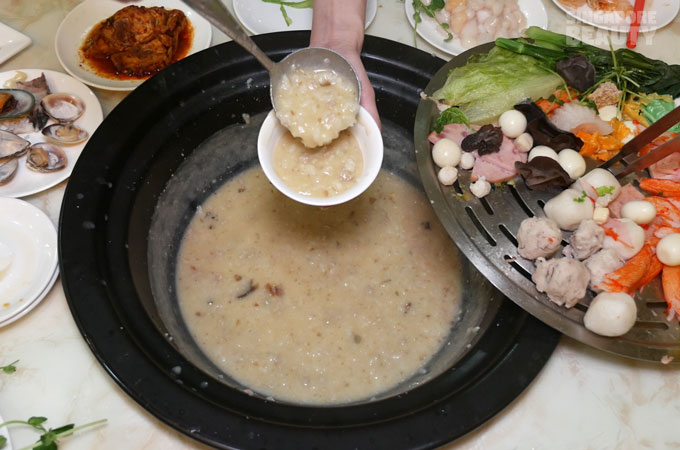 This congee is slow cooked with all the juices that ooze through the steamer to flavour it. You get to choose either scallop or century egg minced meat congee. Our choice is century egg congee. You can also add scallops from the buffet counter to this congee to have the best of both worlds.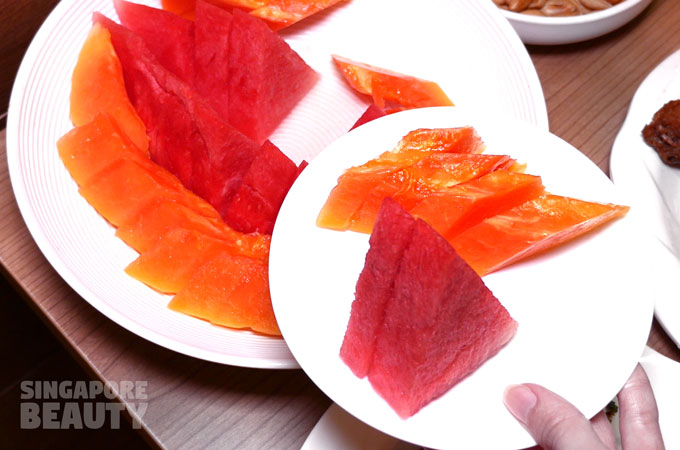 However if you prefer to end the buffet with fruits, help yourself to the free-flow cut fruits of the day too.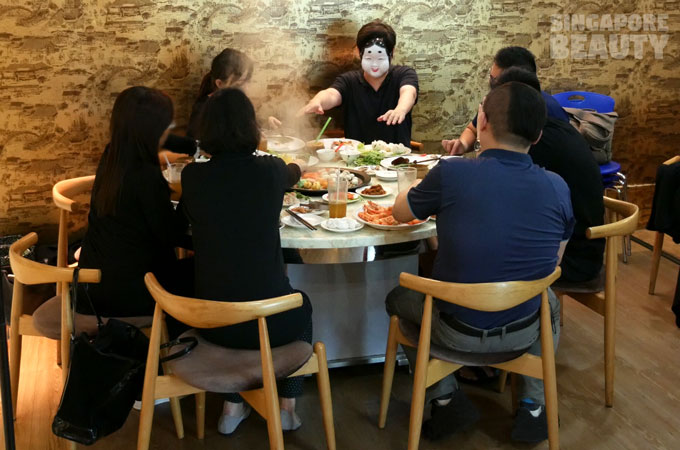 You need to be here with your friends and family for their spacious layout, nice ambience and no time limit to the buffet too! You can enjoy your food relaxed and with ease.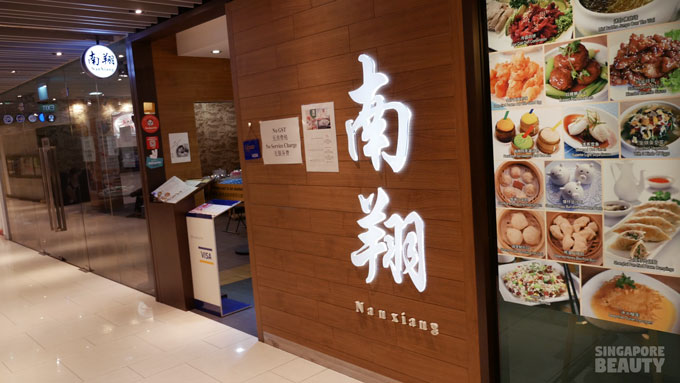 With good varieties of food at a break neck nett price for lunch and dinner buffets, what is not to like about this buffet at NanXiang Chinese Restaurant? Hurry and make your reservations today!
Buffet pricing:
Monday to Friday
Lunch: Adult:$13.90 Nett, Child:$8.90 Nett (Exclude seafood and beef)
Dinner: Adult:$23.90 Nett, Child:$14.90 Nett
Saturday to Sunday & PH
Lunch or Dinner: Adult:$23.90 Nett,Child:$14.90 Nett
Free flow drinks such as Coke, Pu-Er tea, Sprite & water chestnut drink.
No G.S.T and No Service charge.
Child: 5-10 years old.
Address:
[Restaurant ceased operation]
Ten Mile Junction, 1 Woodlands Road, #02-18
Singapore 677899
Reservations:
6892 7915
Operating Hours:
Monday to Friday from 11.30am to 10.00pm
Saturday & Sunday from 11.00am to 10.00pm
Brought to you by Nanxiang.