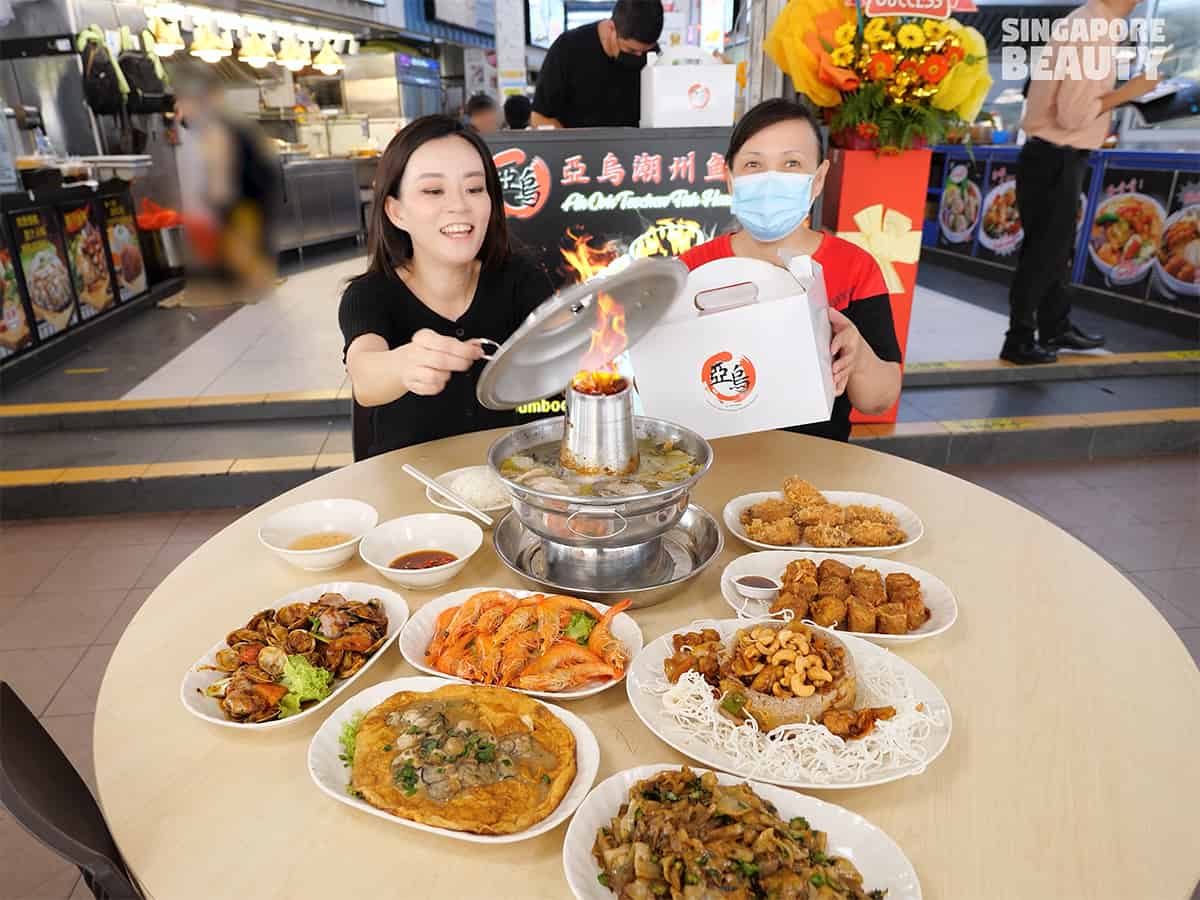 Ah Orh Teochew Fish Head Steamboat has opened a new outlet at 560 Macpherson Road. This 2nd outlet is helmed by the third generation of Ah Orh Seafood restaurant which has been around since 1919. With the 103 years old Teochew fish head steamboat secret recipe from his grandfather, he is now cooking delicious old-school Teochew fish head for every fish lover in Singapore.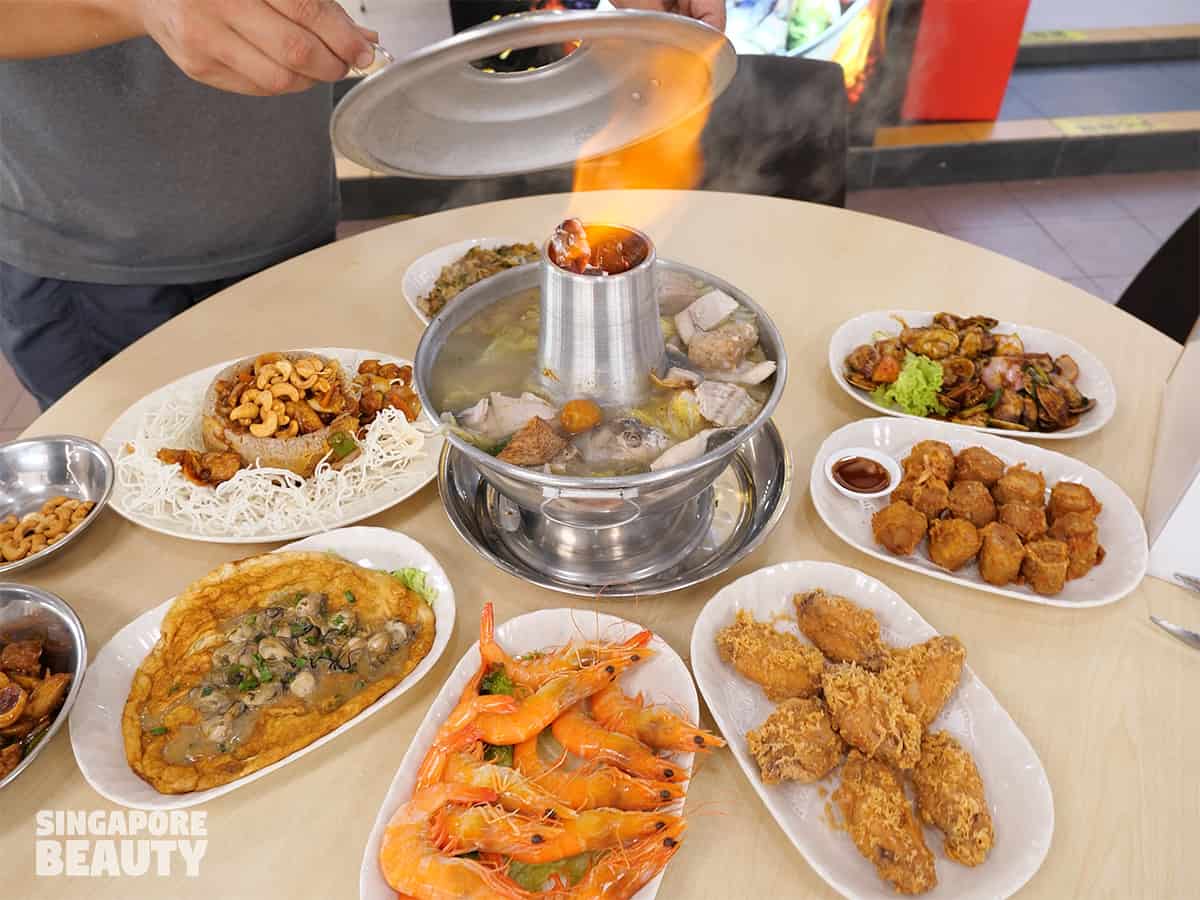 Ah Orh Teochew Fish Head Steamboat is popular for their charcoal fish head steamboat, Teochew style fish head steamboat to be précised. The above spreads are the popular items ordered by regulars according to the chef. From clockwise, sambal lala, five spice prawn roll, prawn paste chicken, Teochew style cold prawns, oyster omelette, special prosperity yam ring and Teochew style fried kway Teow.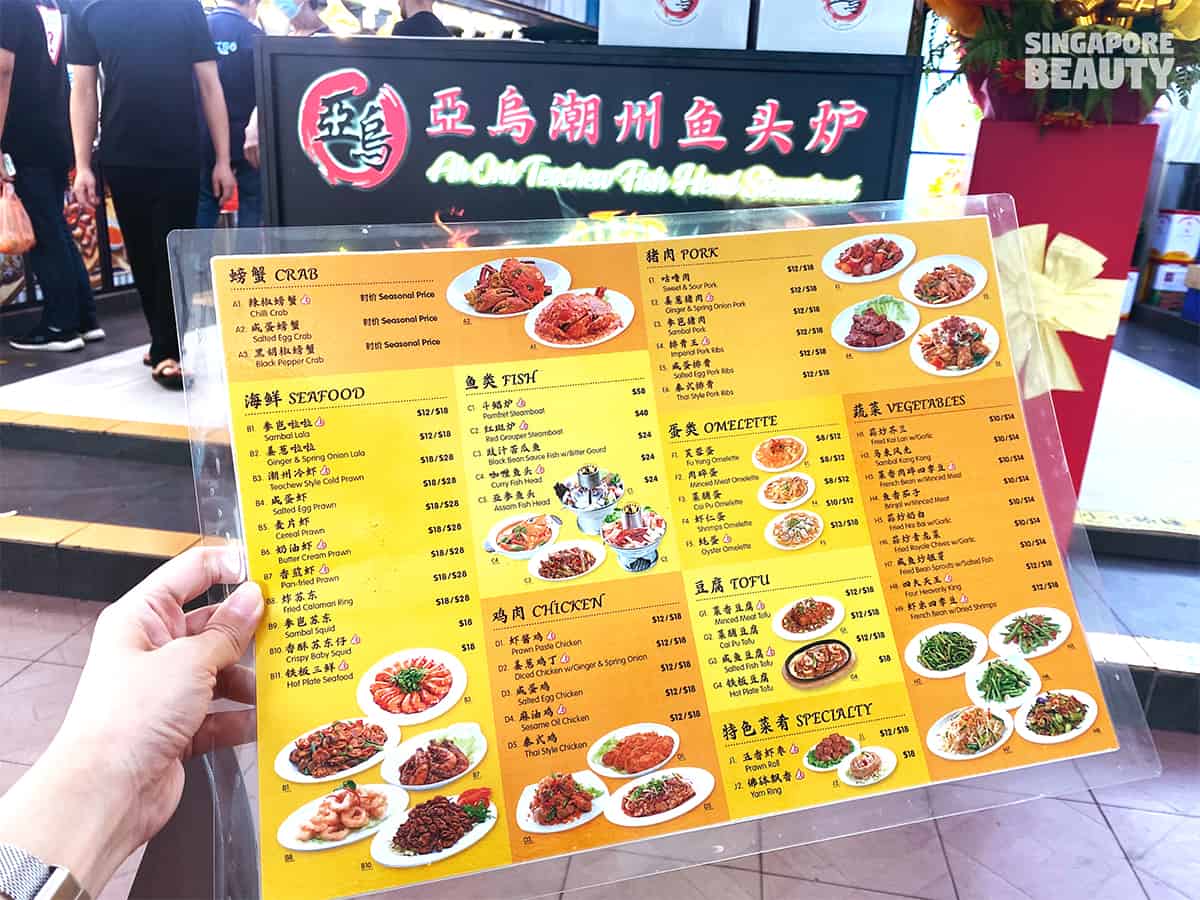 This is Ah Orh Teochew Fish Head Steamboat Singapore menu. The menu consists of more than 70 dishes on their menu from crabs, seafood, fish, chicken, pork, omelette, special dishes, vegetable, noodles and rice. Seafood, chicken, special dishes and pork starts from $12 onwards. Fish head dishes such as Assam / Curry Fish head are at $24 each. Seasonal vegetables in local flavours start from $10. The signature fish head steamboat with premium fish such as pomfret or red grouper are at $58 and $48 respectively.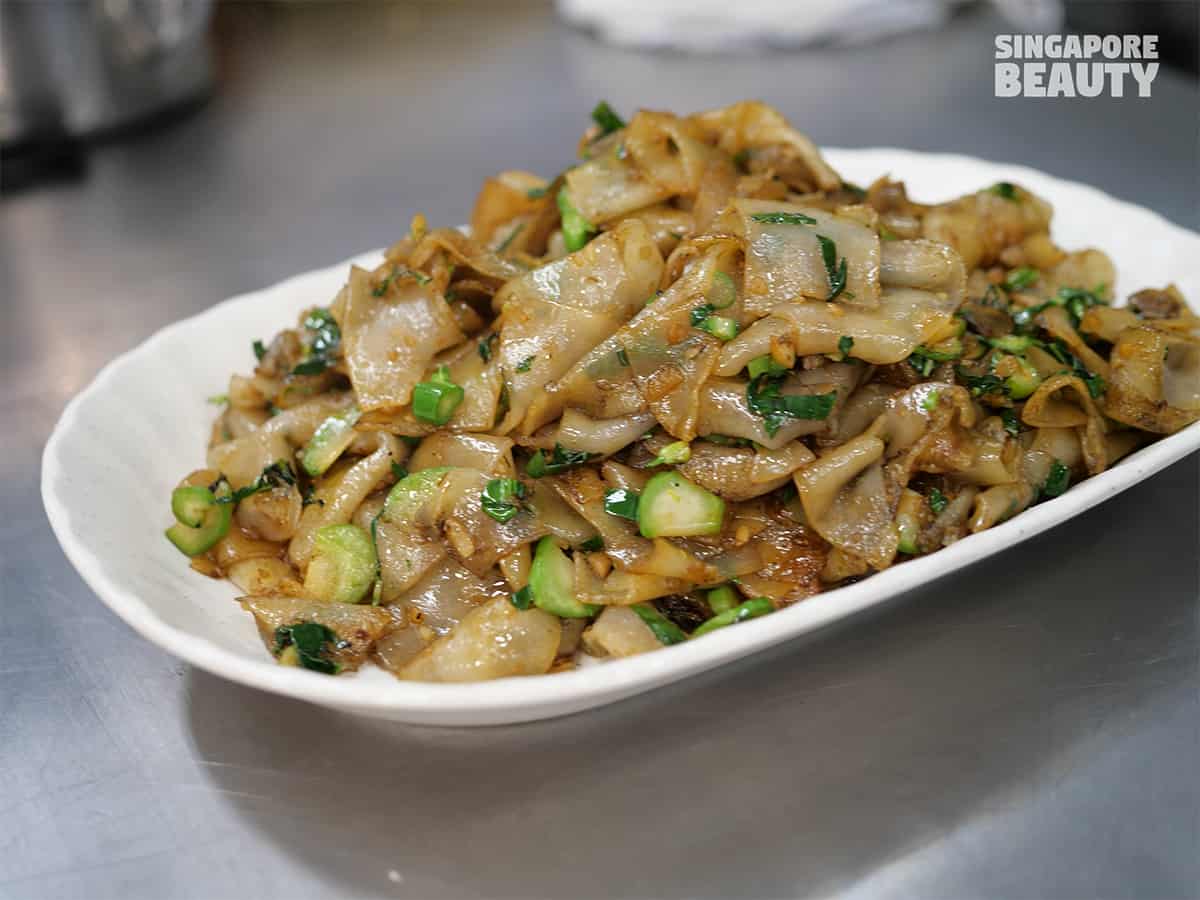 Featured above is Ah Orh Teochew Fish Head Steamboat signature noodle – Teochew Style Fried Kway Teow ($6) with preserved chye poh and chopped kailan vegetable. The sweet-salty flavour is infused into the wide flat rice noodle making it very addictive. The savoury kway teow has a nice even char and smoky aroma with good amount of wok hei.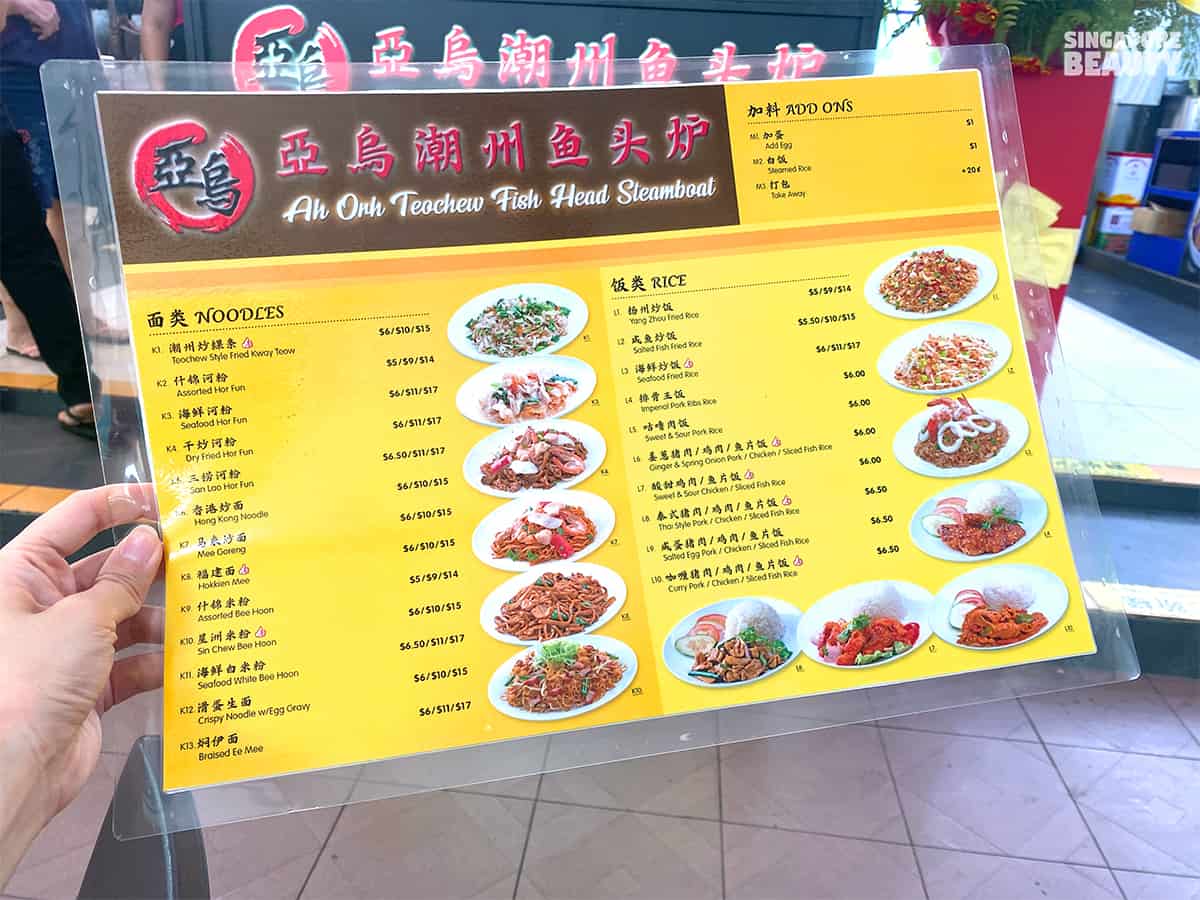 For those who are there for a quick lunch, get piping hot zi char noodles and rice from $5 onwards on their menu. With 23 variety of noodles and rice with various meat and seafood combo, from comforting Teochew style fried Kway teow to curry pork rice, you will be spoilt for choice for every lunch there.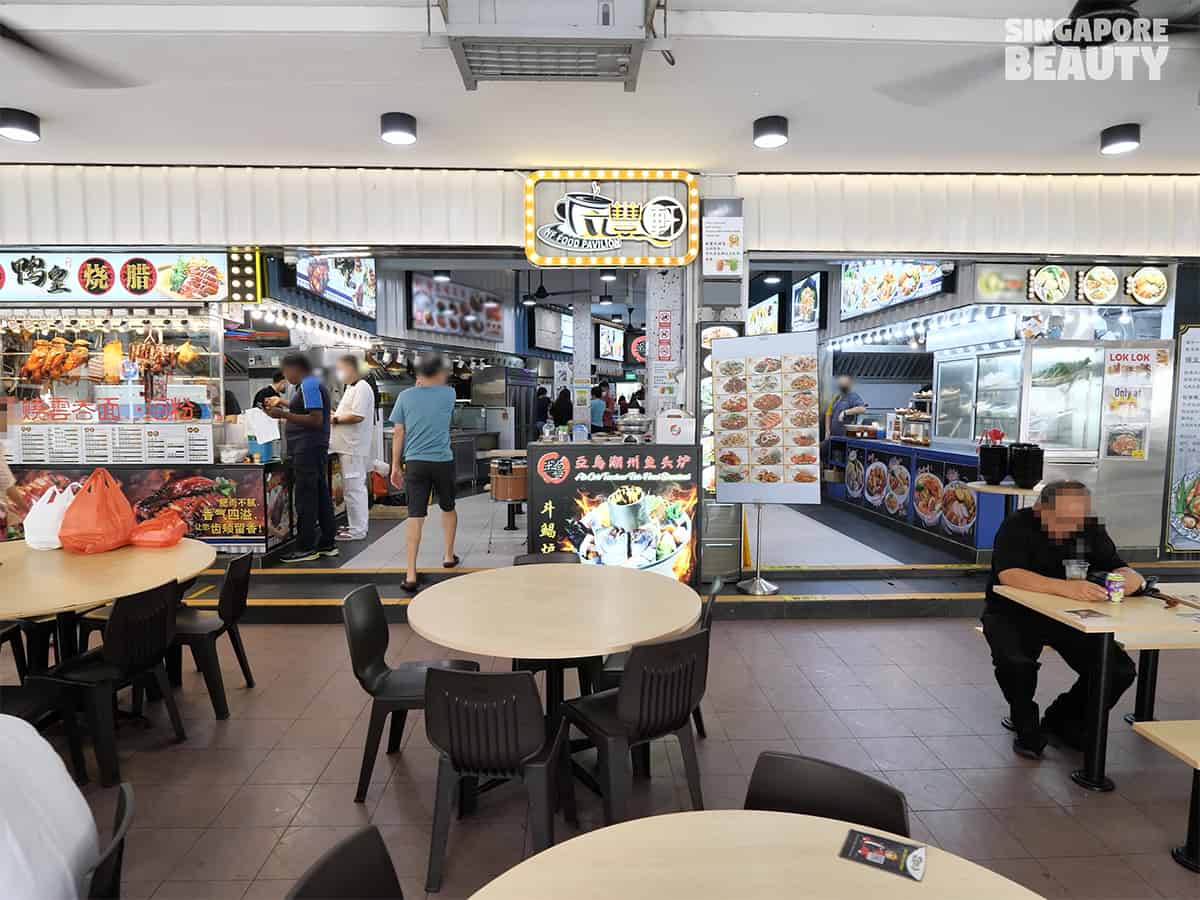 Ah Orh Teochew Fish Head Steamboat is located at 560 Macpherson Road within NF Food Pavilion coffee shop. There are plenty of seats for small groups of 4 to bigger round tables for larger groups. I find it pretty windy within the coffee shop with plenty of ceiling fans peppered along the dining area. Orders are made from the standalone Ah Orh Teochew Fish Head Steamboat light box counter at the entrance to the coffee shop. If you are hosting a big group, do call to make reservation for tables.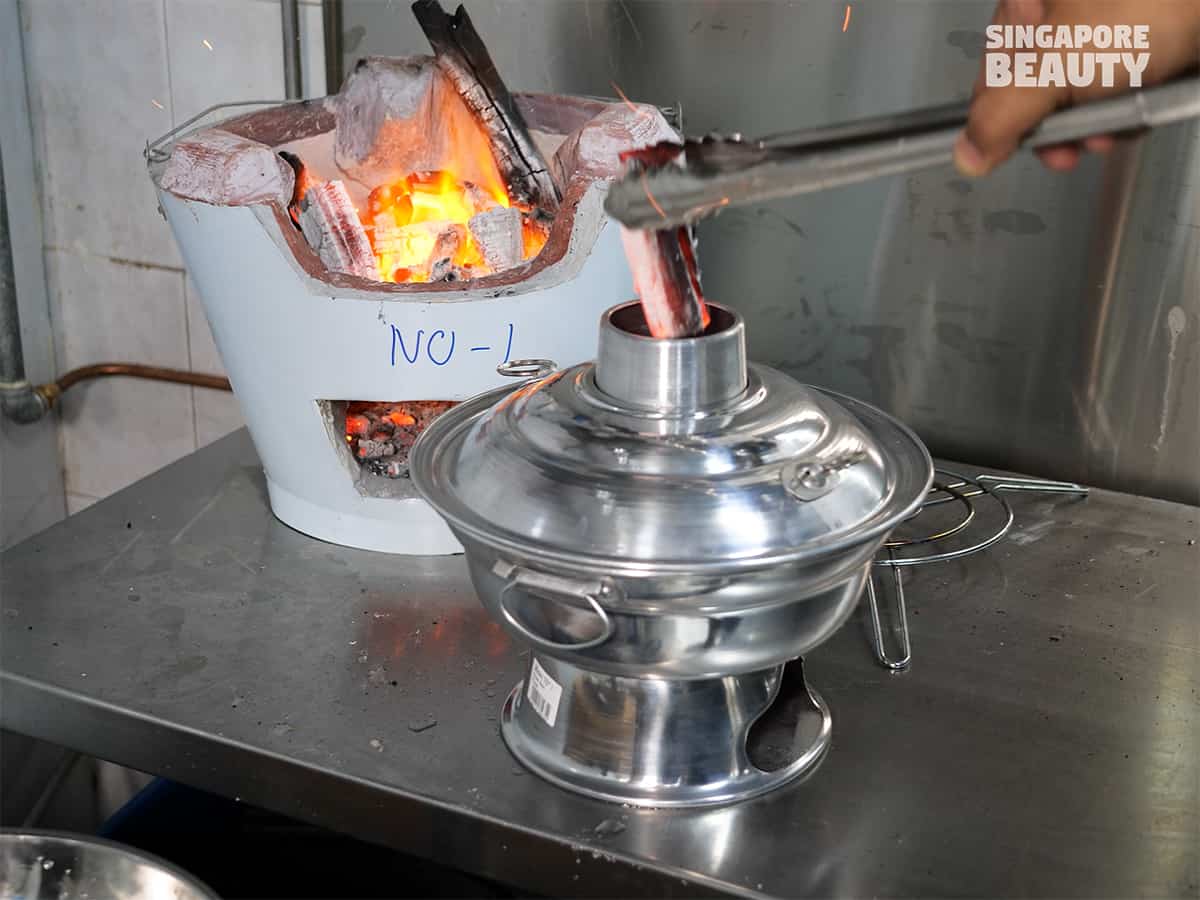 Here's our Ah Orh Teochew Fish Head Steamboat review of their signature steamboat. Their steamboat is the old-fashioned chimney type where the red hot coal is inserted into the core of the steamboat pot. This keeps the fish head steamboat on a constant simmering consistency while you enjoy the dish. The charcoal also imparts a unique smokiness and aroma to the steamboat which many fish head connoisseur love.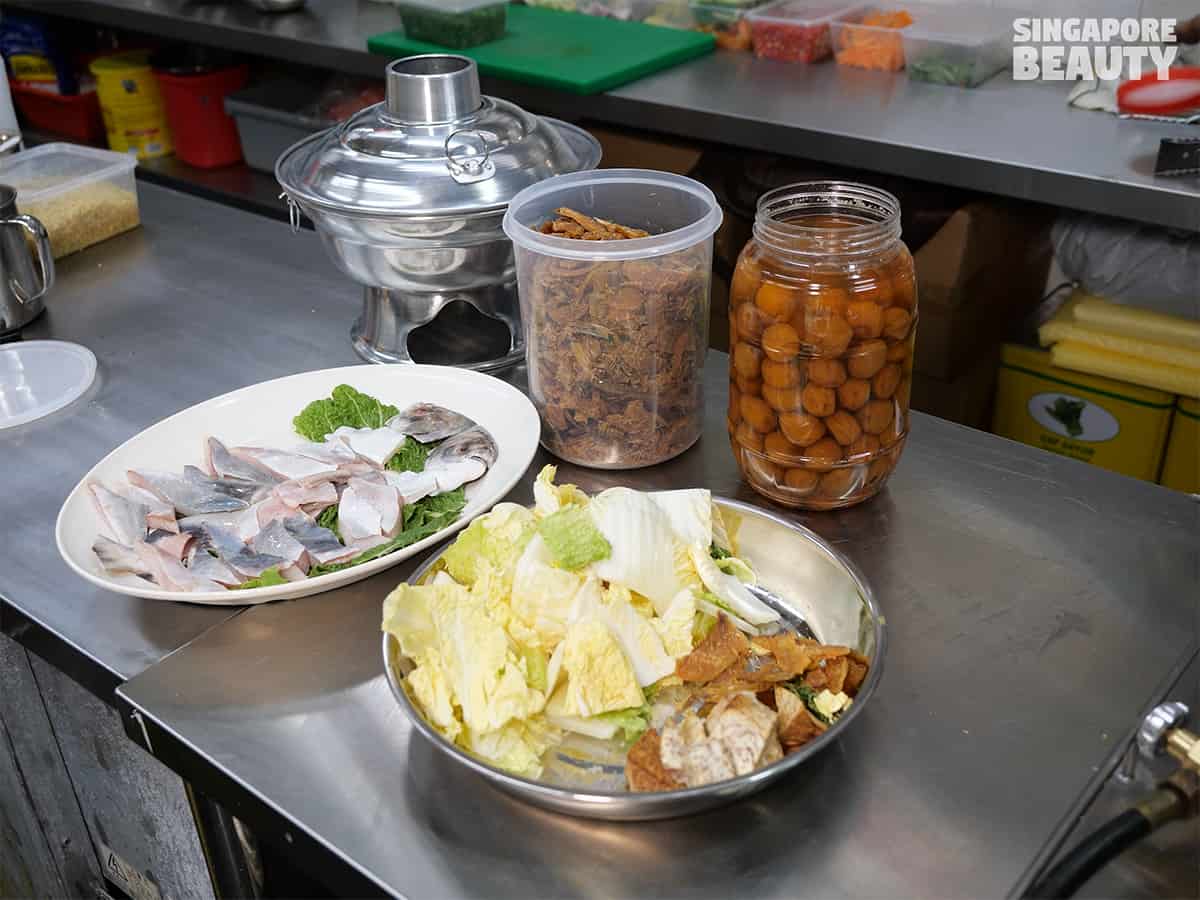 The chef has extended a special invitation to their kitchen to understand how the secret Teochew steam fish head recipe makes their steamboat special. These are the ingredients used in the steamboat that makes it so good. One whole fresh pomfret, Napa cabbage, yam nuggets, sour salted plums and more. The dried flat fish aka ti po is the crucial ingredient that adds to the umaminess of the broth.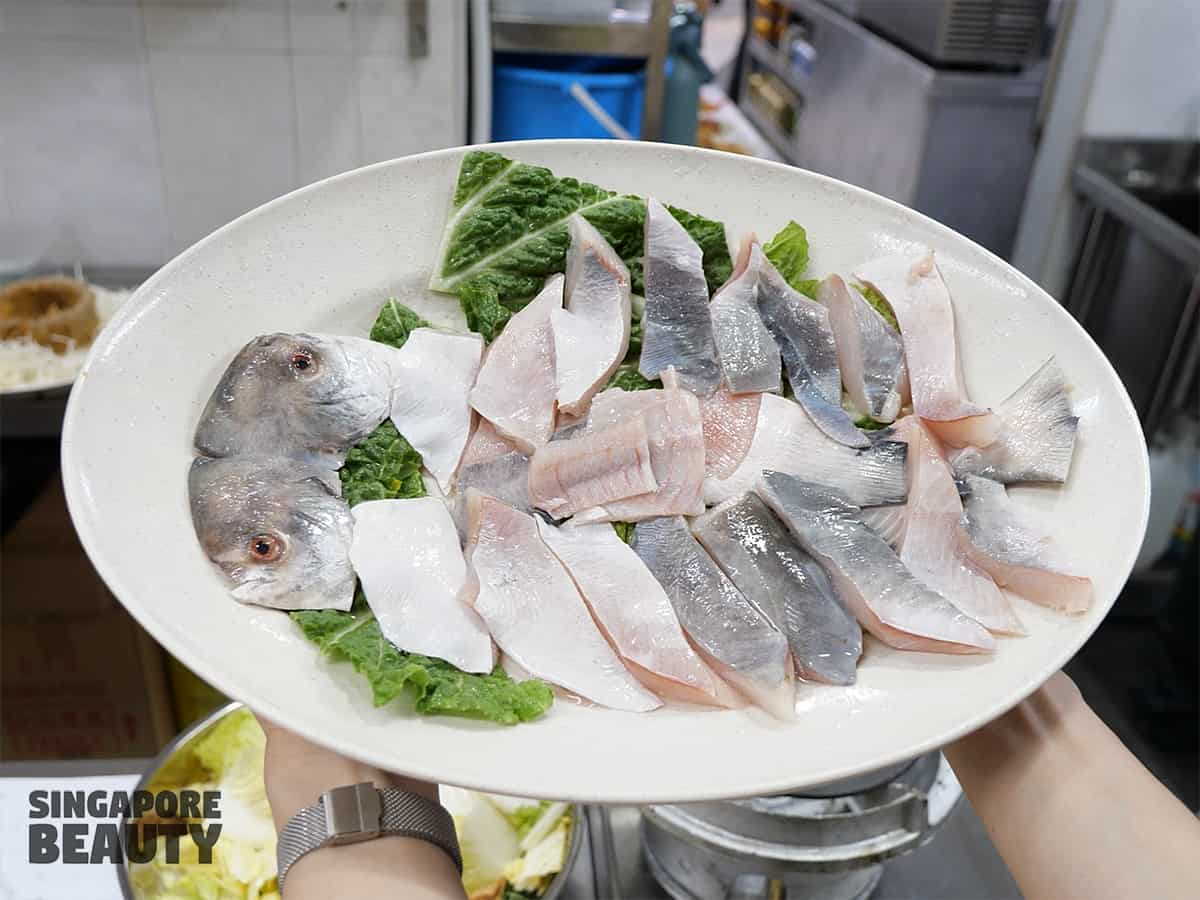 This is the whole pomfret used in the pomfret fish head steamboat. Besides the 103 year old recipe and secret ingredients, the must have is their daily catch fish. The fish needs to be the freshest they can get for the steamboat to taste good. The fish is cut into large fillets and deboned for ease of consumption.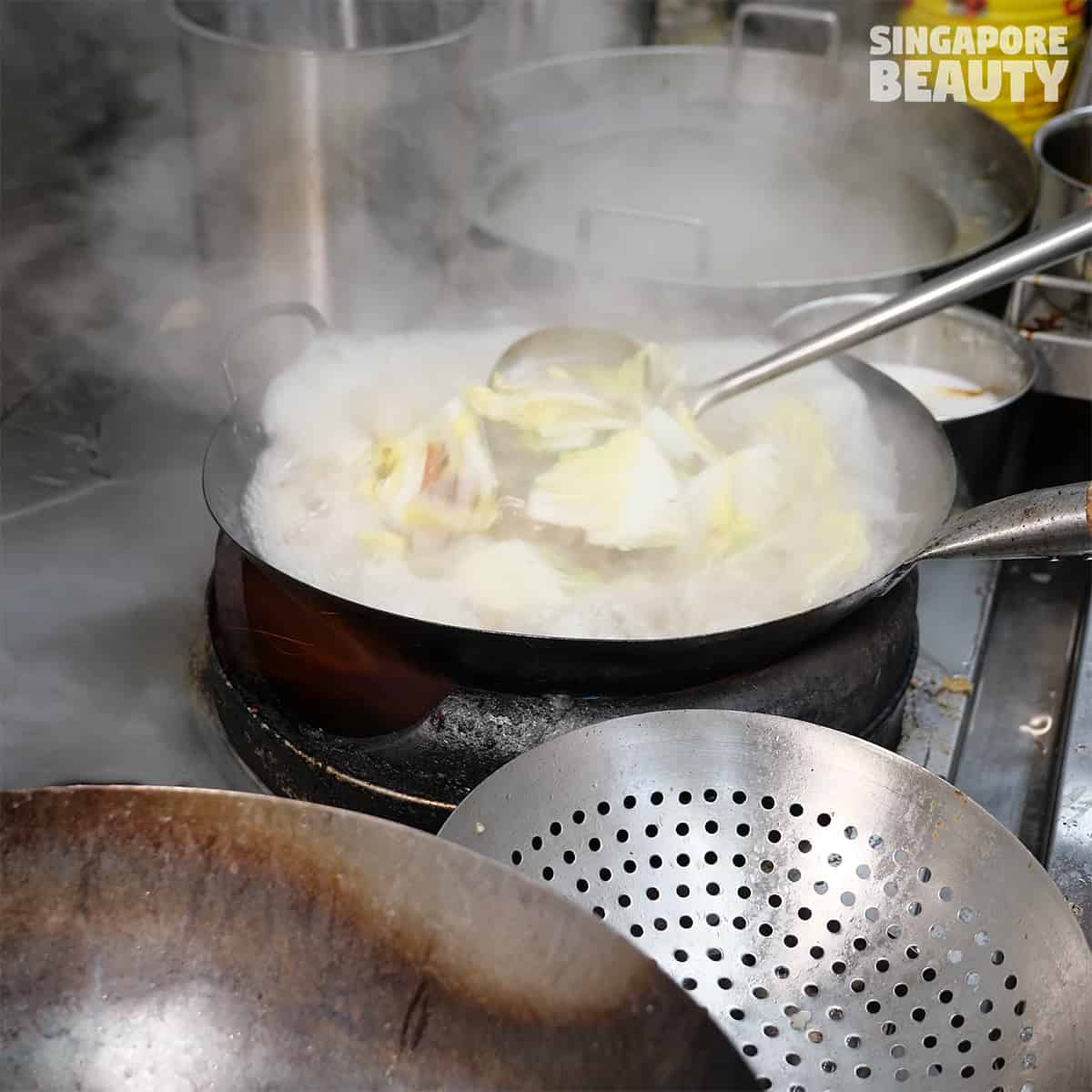 The broth used for the steamboat are boiled from scratch daily using big pork bones, chicken and more. The soup takes around 4 hours of boiling according to the chef to achieve a thick and rich consistency. The sliced pomfret is quickly cooked and added to a steaming hot wok of this broth together with all the rest of the ingredients.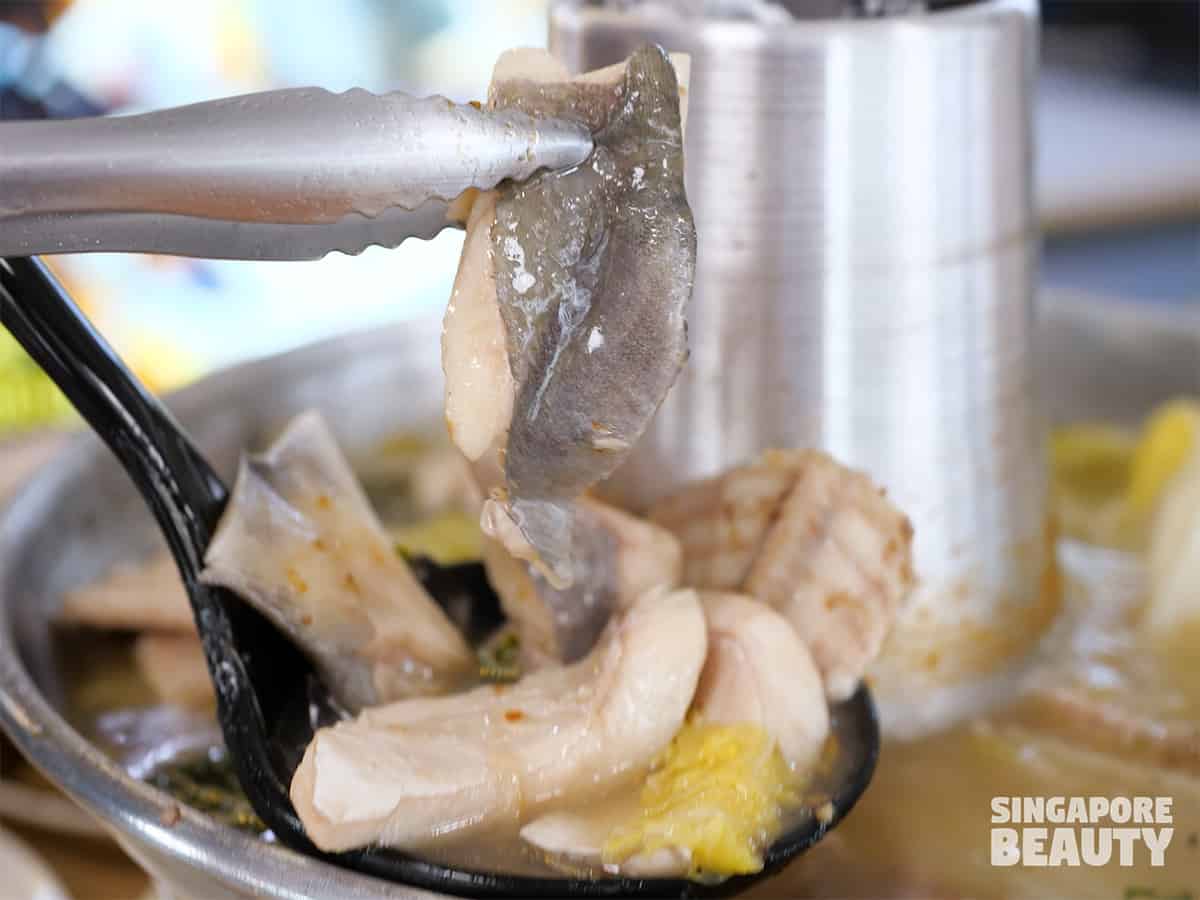 The pomfret is well deboned and are sliced thick. Meat is mildly sweet and delicate with no fishy flavours. The doneness of the sliced fillet is great in my opinion maintaining the tenderness of the fish texture.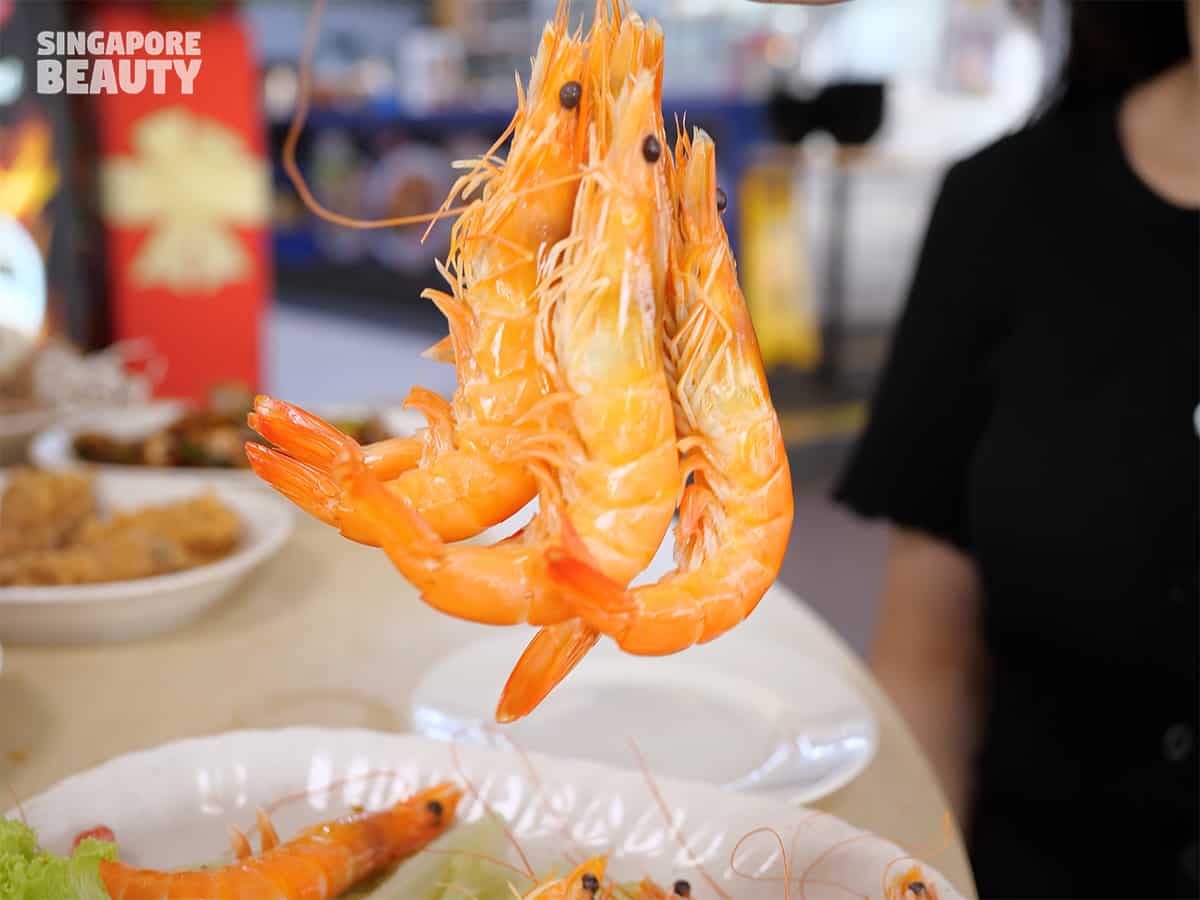 The Teochew Style Cold Prawn ($18/$28) at Ah Orh Teochew Fish Head Steamboat is a must try. I am sweep away by the juiciness and freshness of their prawns. According to the cook cum owner, these prawns are a work of art as the time needed to cook these prawns are very precise, in order to achieve this kind of texture and flavour.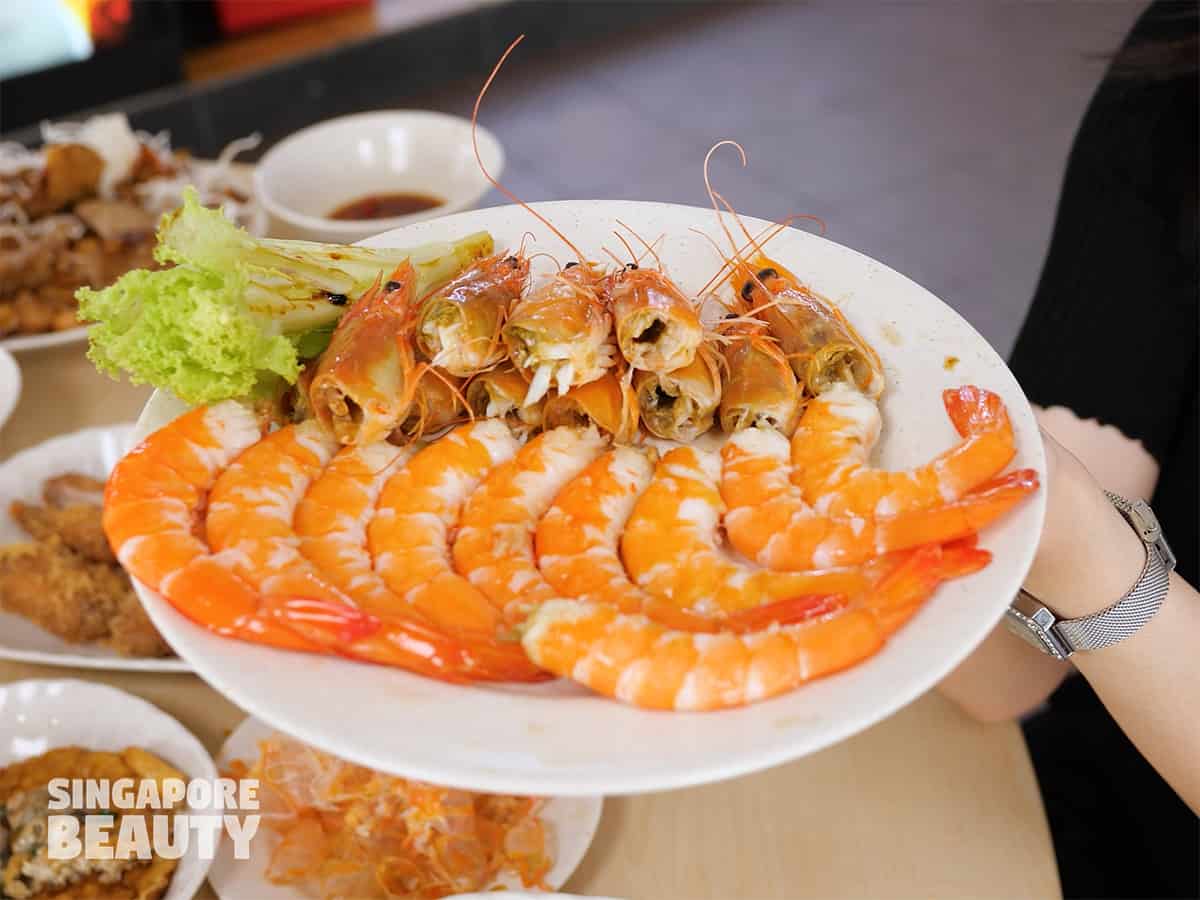 The cold prawn head is bursting with head butter. Meat is sweet, succulent and crunchy. This is one of the dishes that will keep me returning together with their signature Teochew style fish head steamboat.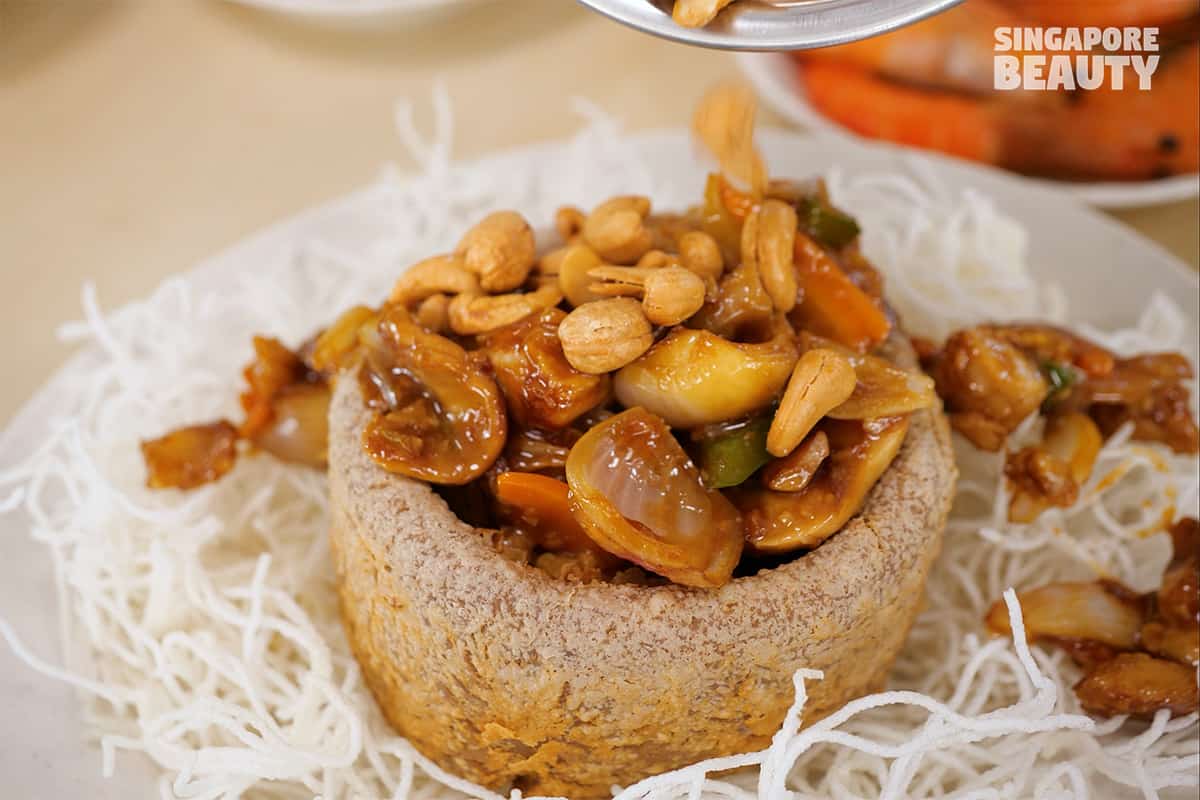 Stumble upon this very old-school dish in their menu and I knew I had to order to try. This is a must have dish at every celebration and during Chinese Lunar New Year in our grandparents era. It is also known as prosperity yam ring basket symbolises bringing home good fortune.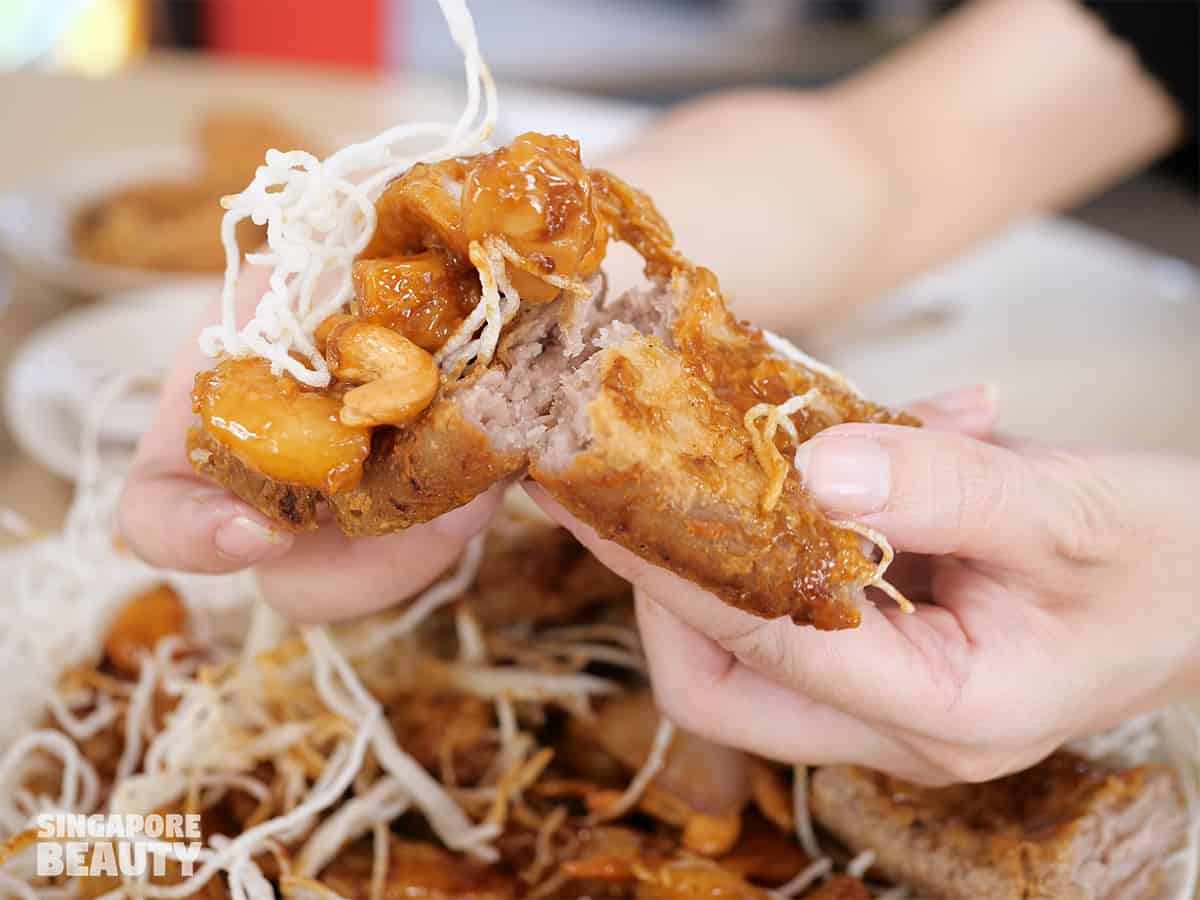 It is a handmade yam paste ring and deep fried to crispy on the outside and soft and fluffy inside. The ring is filled with stir fried sauced vegetables, prawns and topped with crunchy cashew nuts.  If you are bringing your parents and grandparents here, this will be a very meaningful dish to bring back some fond memories.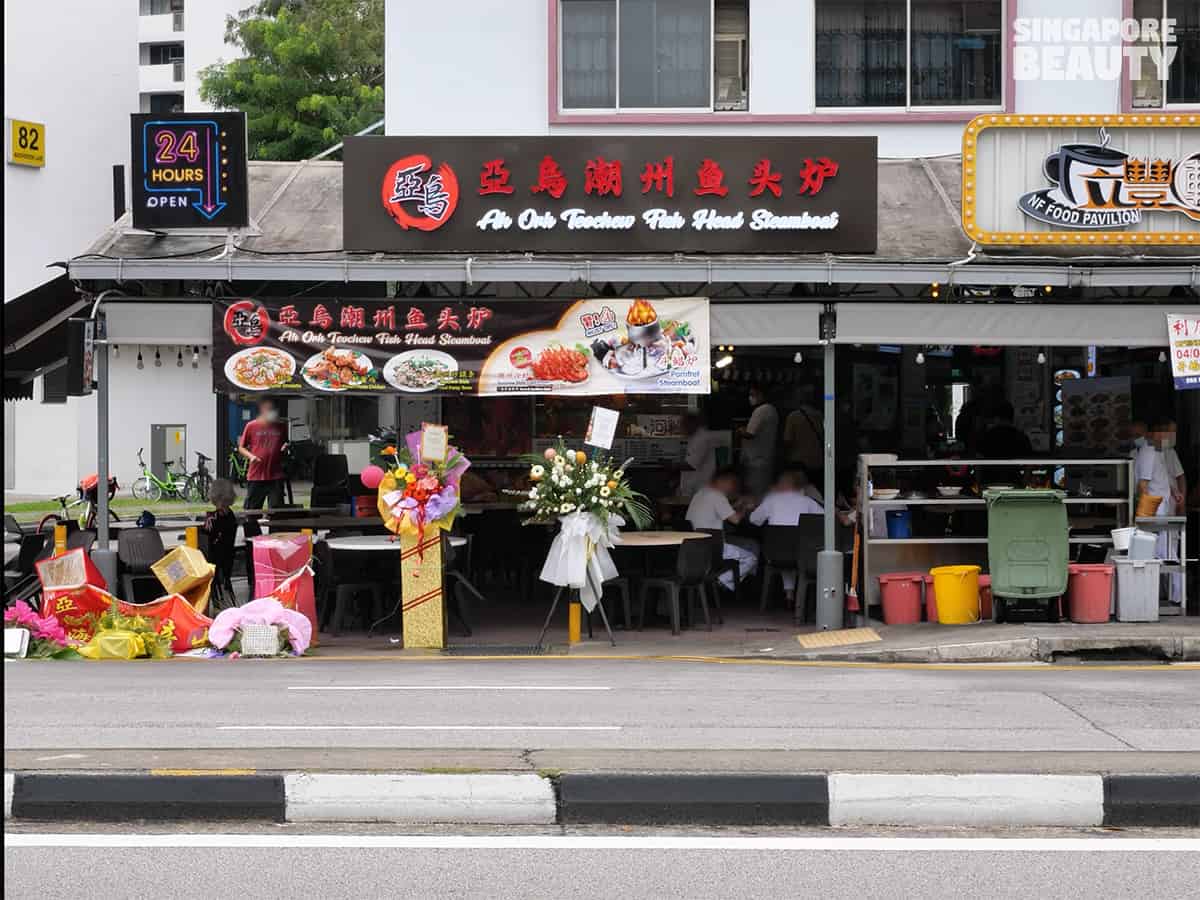 This is Ah Orh Teochew Fish Head Steamboat at 560 Macpherson road 2nd new outlet. There are 2 open air carparks near this outlet if you are driving. Their first outlet is at 739 Bedok Reservoir Road. Head over to try this award winning fish head steamboat that is made with a 103 years old recipe and remember to try their Teochew style cold prawns too.
Address of Ah Orh Teochew Fish Head Steamboat :
New 2nd Outlet
560 Macpherson Rd
Singapore 368233
Open daily 11.30 am to 9 pm.
For reservation, please call: 8895 3060
Other Outlet
739 Bedok Reservoir Road, Singapore 470739
Open daily 12 pm to 9 pm.
For reservation, please call: 8013 8262
Brought to you by Ah Orh Teochew Fish Head Steamboat 亞烏潮州鱼头炉