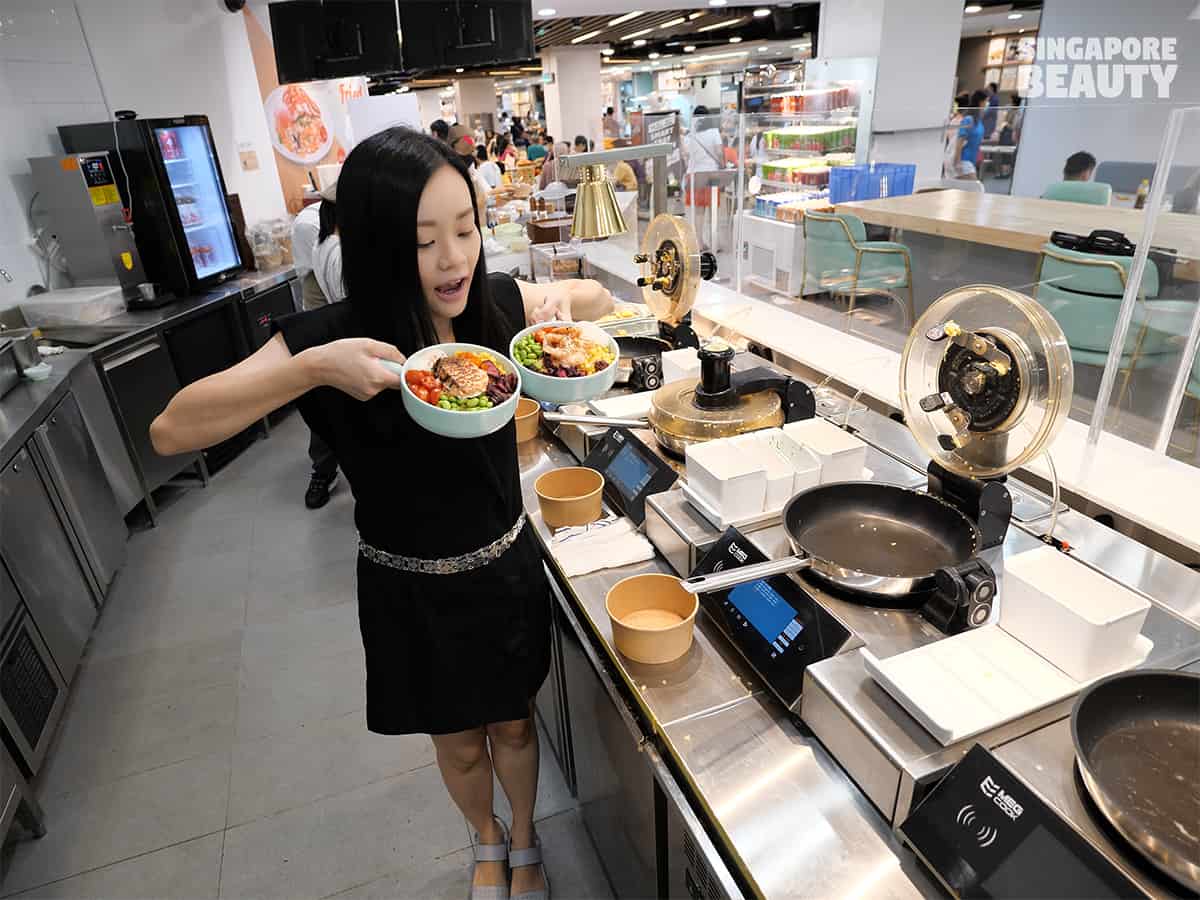 Bowl & Bowl – Singapore's first Robot Cafe with egg fried rice & fried porridge is now opened. It is located at Toa Payoh inside Gourmet Paradise food court @HDB Hub as a standalone café with its own seating.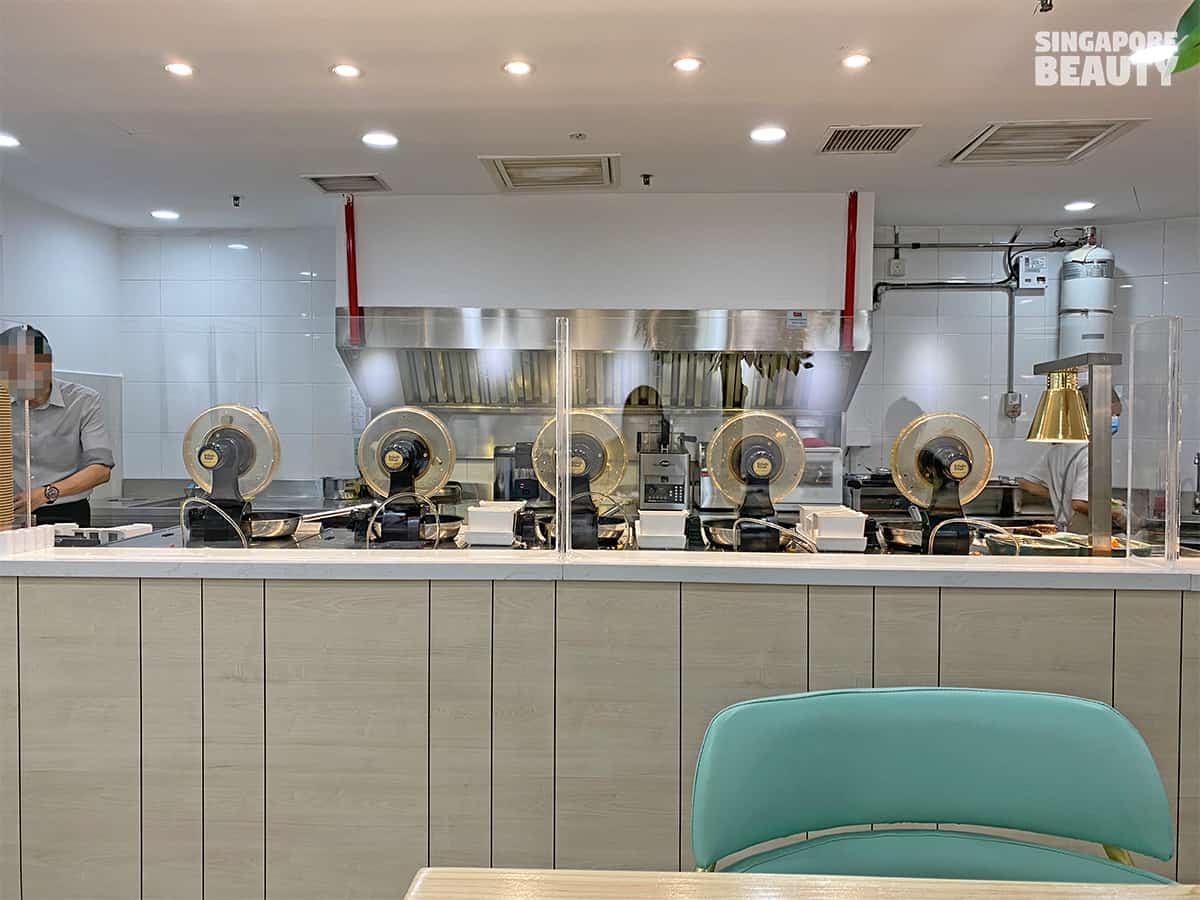 To get to the location of Bowl & Bowl, you need to take the escalator to the basement of Gourmet paradise and keep left. At the café, you will be greeted by large show kitchen with 5 robots that are lined along the frontal of the show kitchen.
Here is where you can watch the café robot stir fry your orders of fried rice at Bowl & Bowl.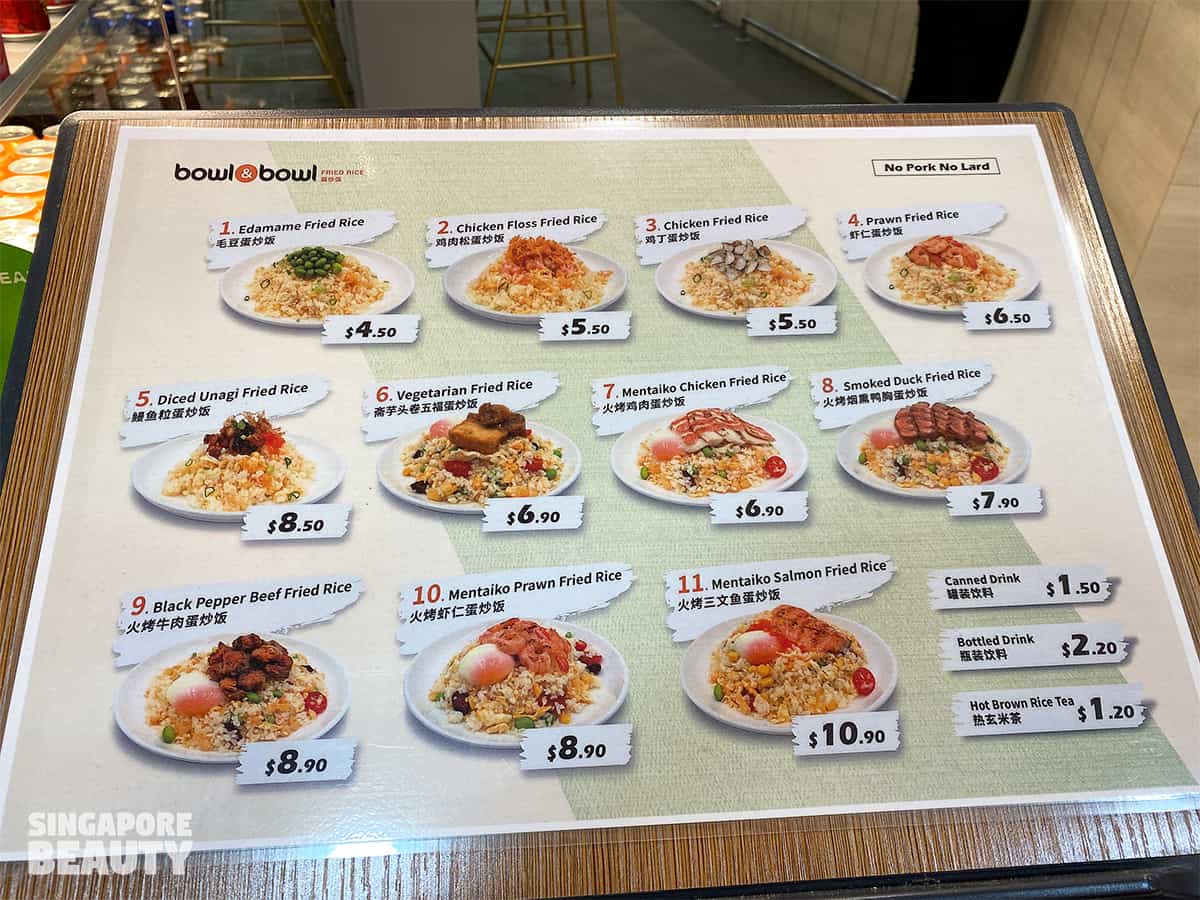 Here's the fried rice menu of Bowl & Bowl. There are a total of 11 variations of fried rice toppings. Edamame, chicken floss, chicken cutlet, prawn, diced unagi, vegetarian, mentaiko (chicken, prawn or salmon), smoked duck and black pepper beef.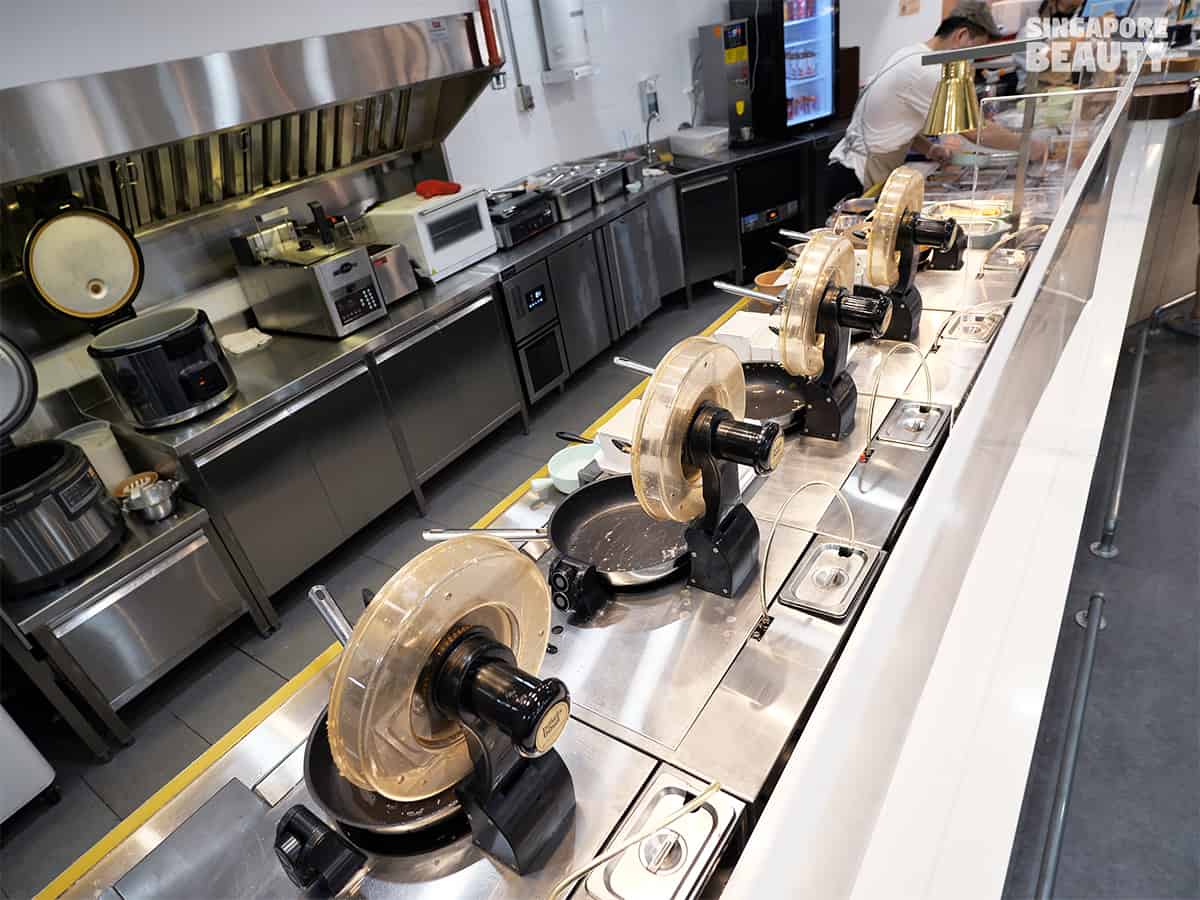 There are a total of 5 robots with frying pans responsible for the fried rice and fried porridge.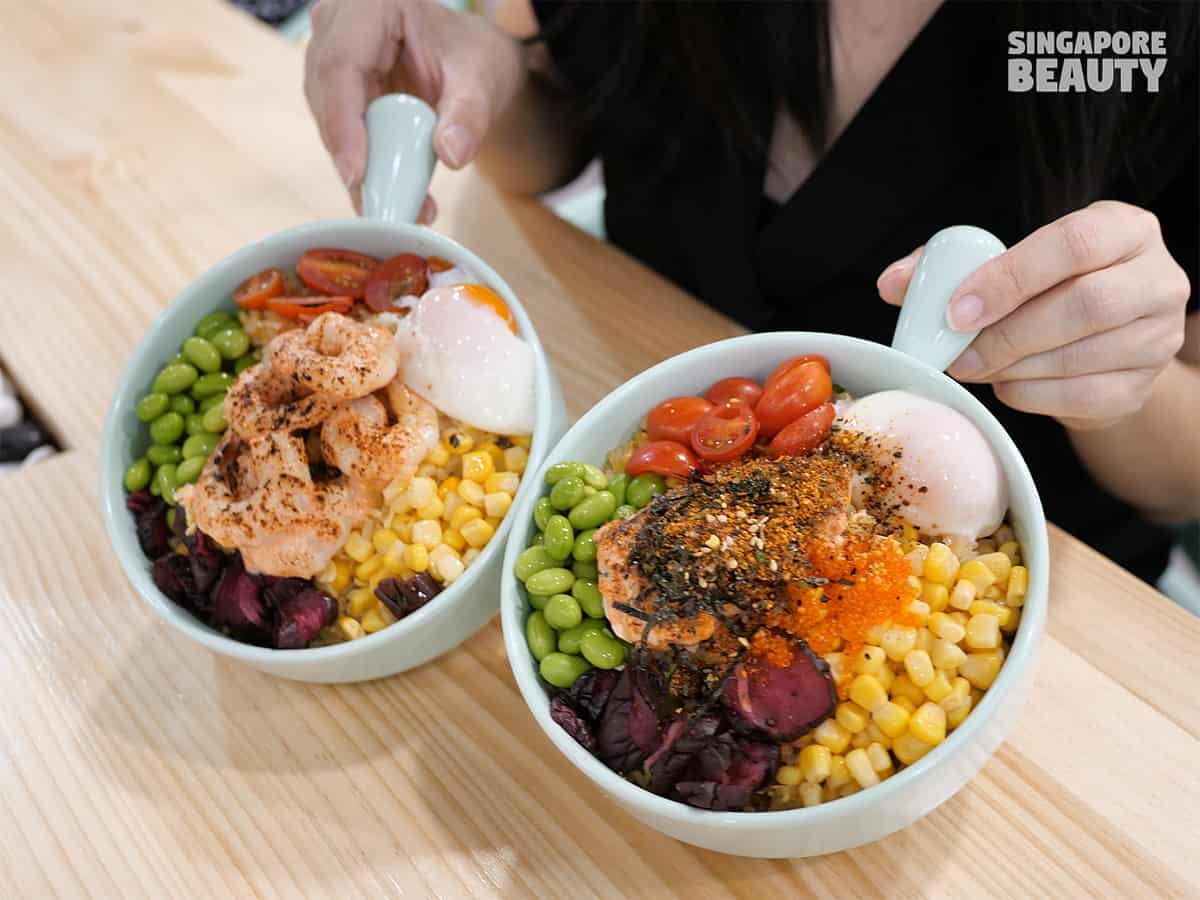 The best sellers for Bowl & Bowl are the mentaiko prawn & salmon fried rice bowl.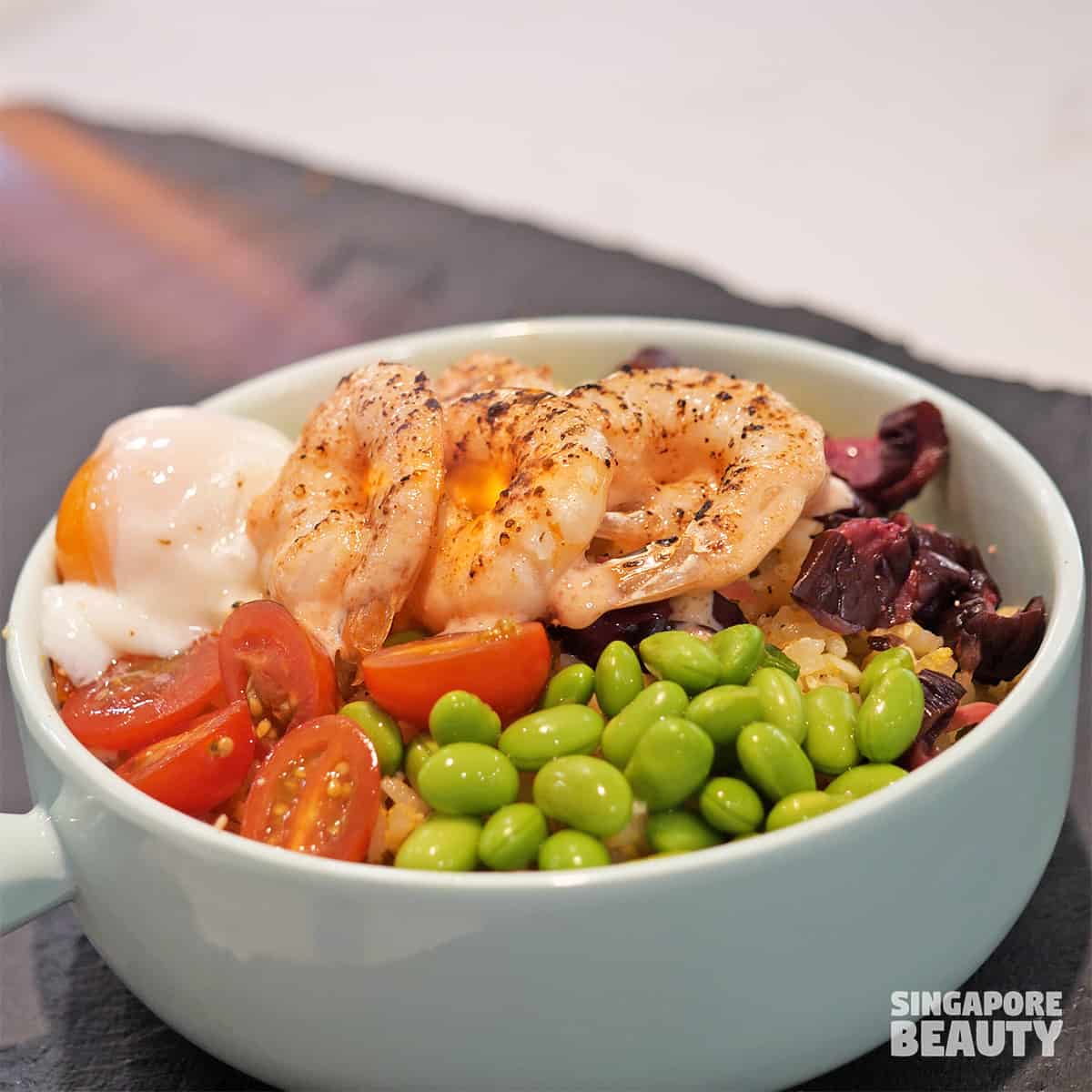 Mentaiko prawn fried rice bowl is topped with edamame, cherry tomato, picked plums, onsen egg, sweet corn and mentaiko prawns.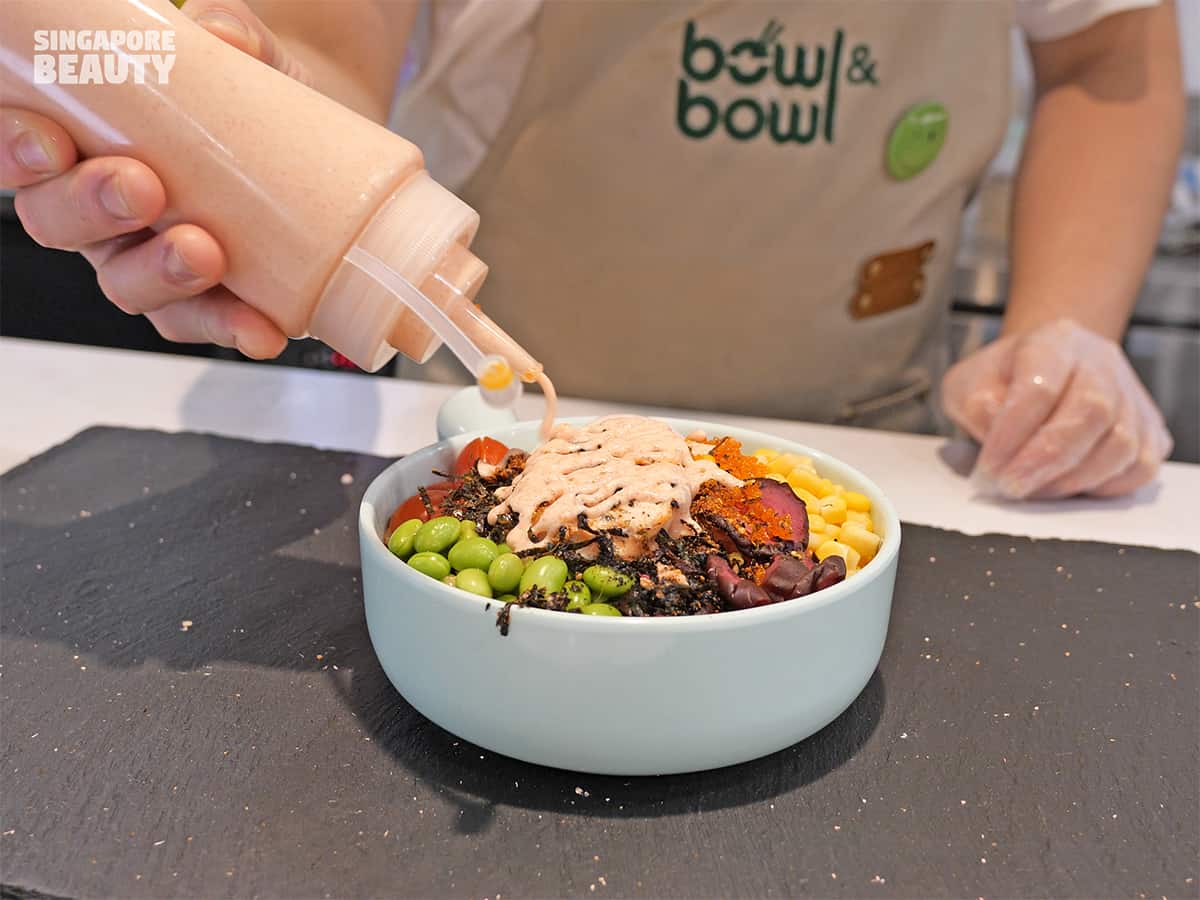 The prawns are laddened with mentaiko and torched to a creamy and smoky consistency. The sweet prawns are of a good size and are the crunchy type.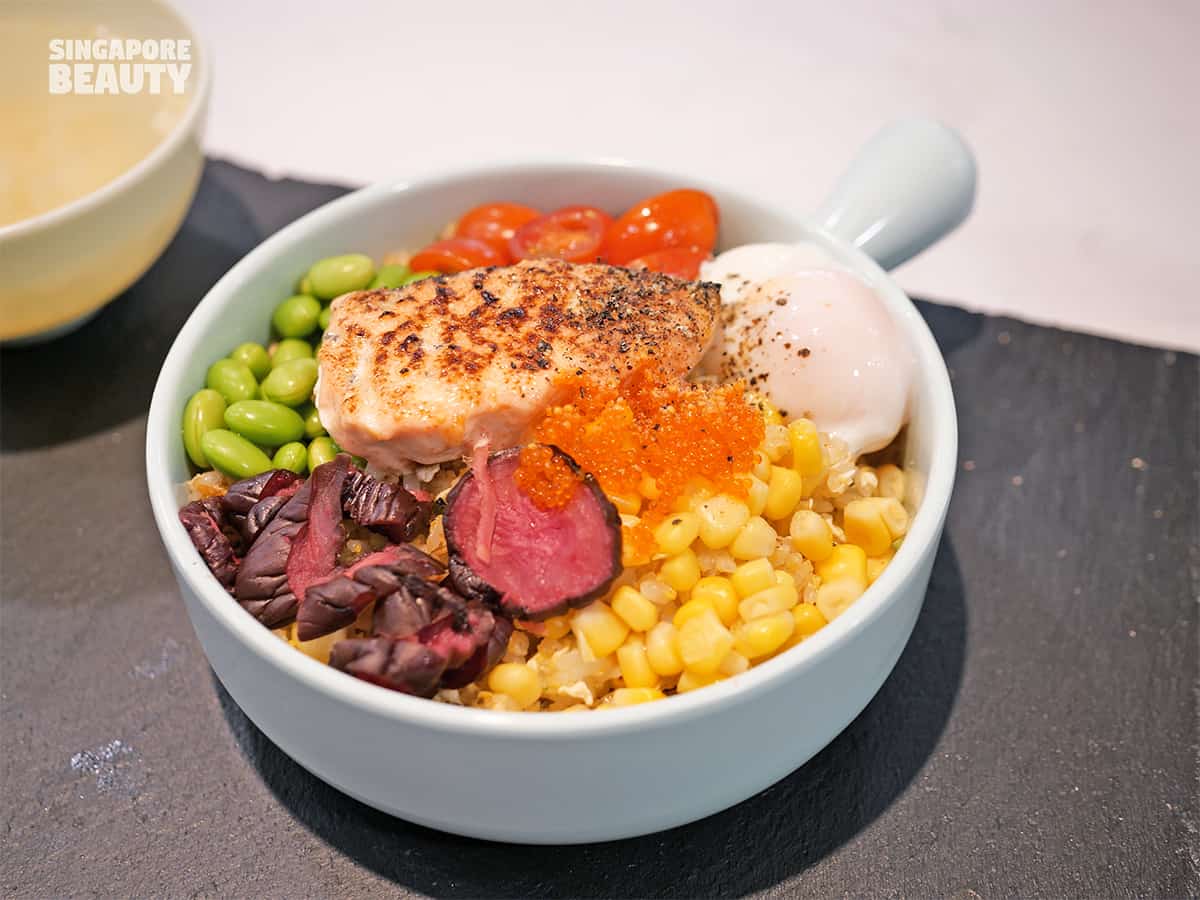 Bowl & Bowl Mentaiko Salmon fried rice bowl comes with a salmon steak, more toppings and a spoonful of crunchy flying fish roe. The salmon steak is poached to retain the moist in it.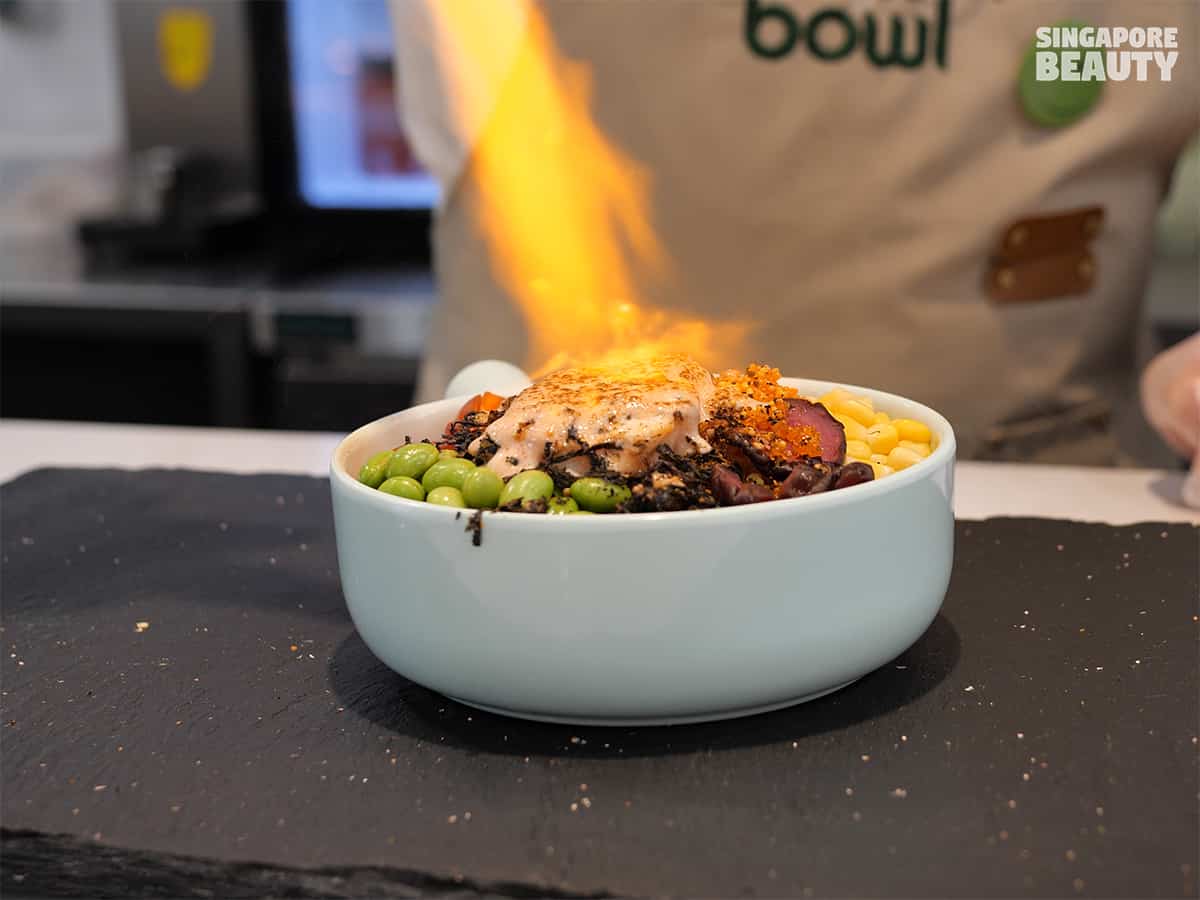 The salmon steak is oozing with creamy blanket of torched mentaiko with a nice char flavour to it.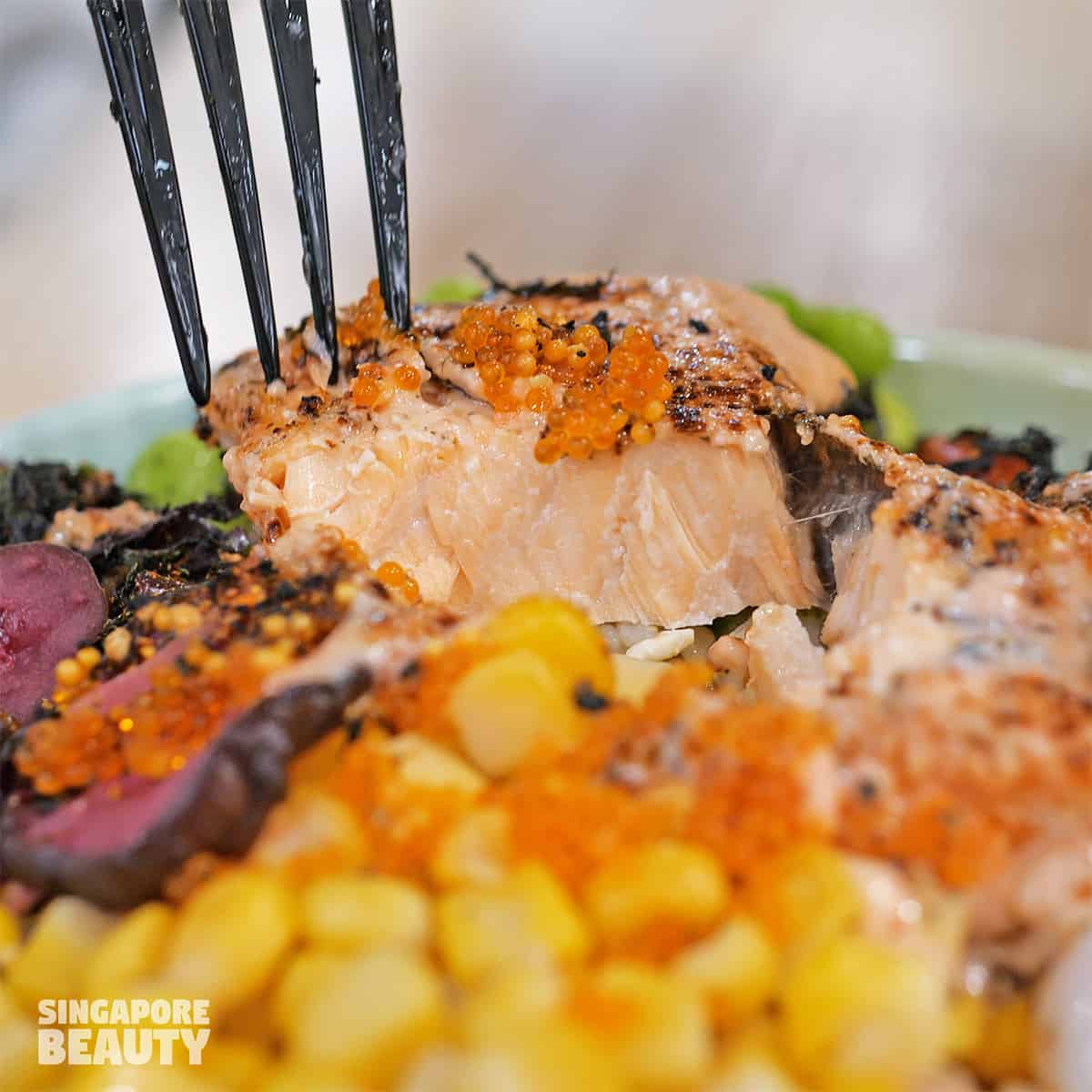 The meat is single portion, of a considerable thickness and moist too. These Bowl & Bowl mentaiko salmon bowl is limited to only 120 bowls daily to keep the salmon in their optimum freshness.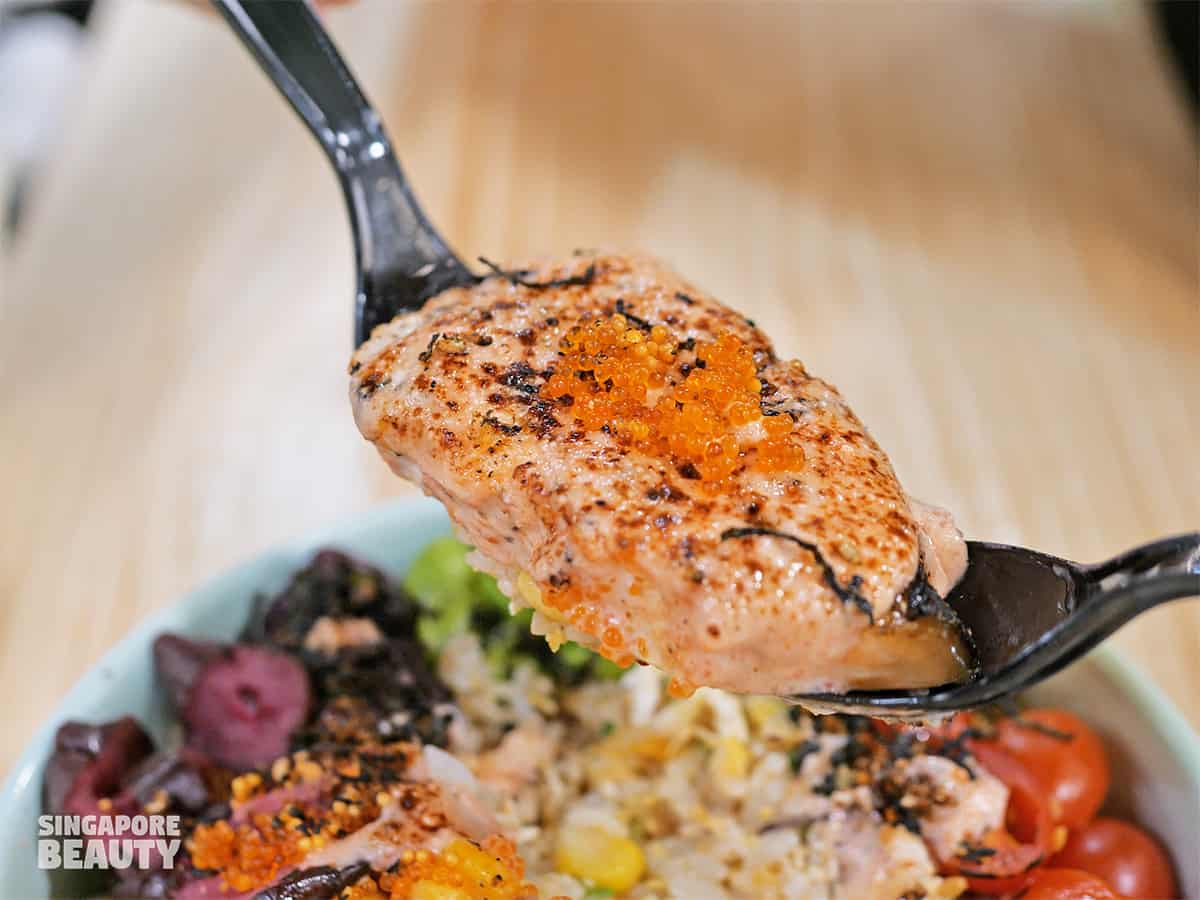 Many love the Bowl & Bowl additional flying fish roe as these add a saline crunch to the soft tender salmon.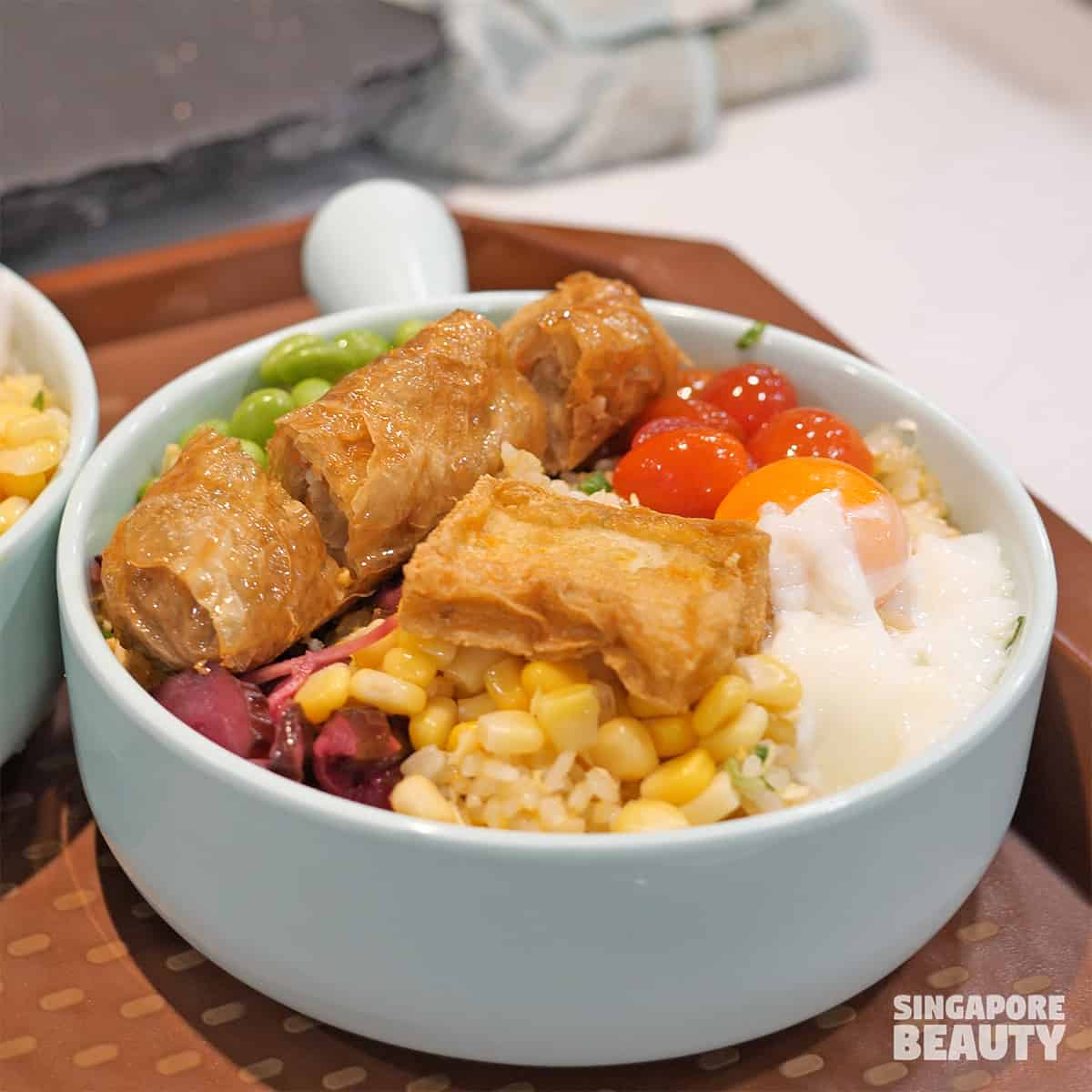 They also have more traditional fried rice toppings like ngoh hiang, fishccake and fried tofu. The above is actually the vegetarian fried rice.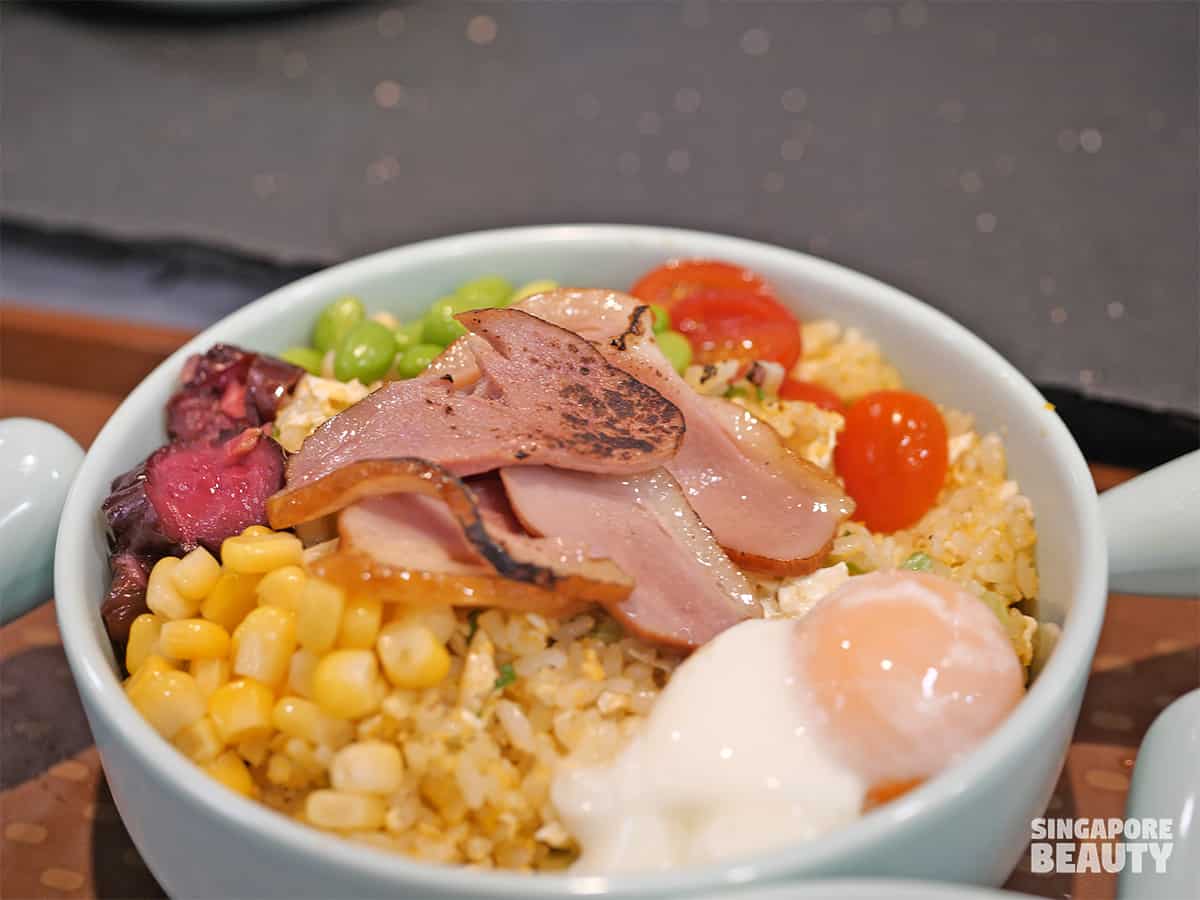 They also have smoked duck fried rice. If you love ham and bacon, this is as close as it can get to those. Smoked duck has a deep smoky flavour and goes well with some savoury egg fried rice.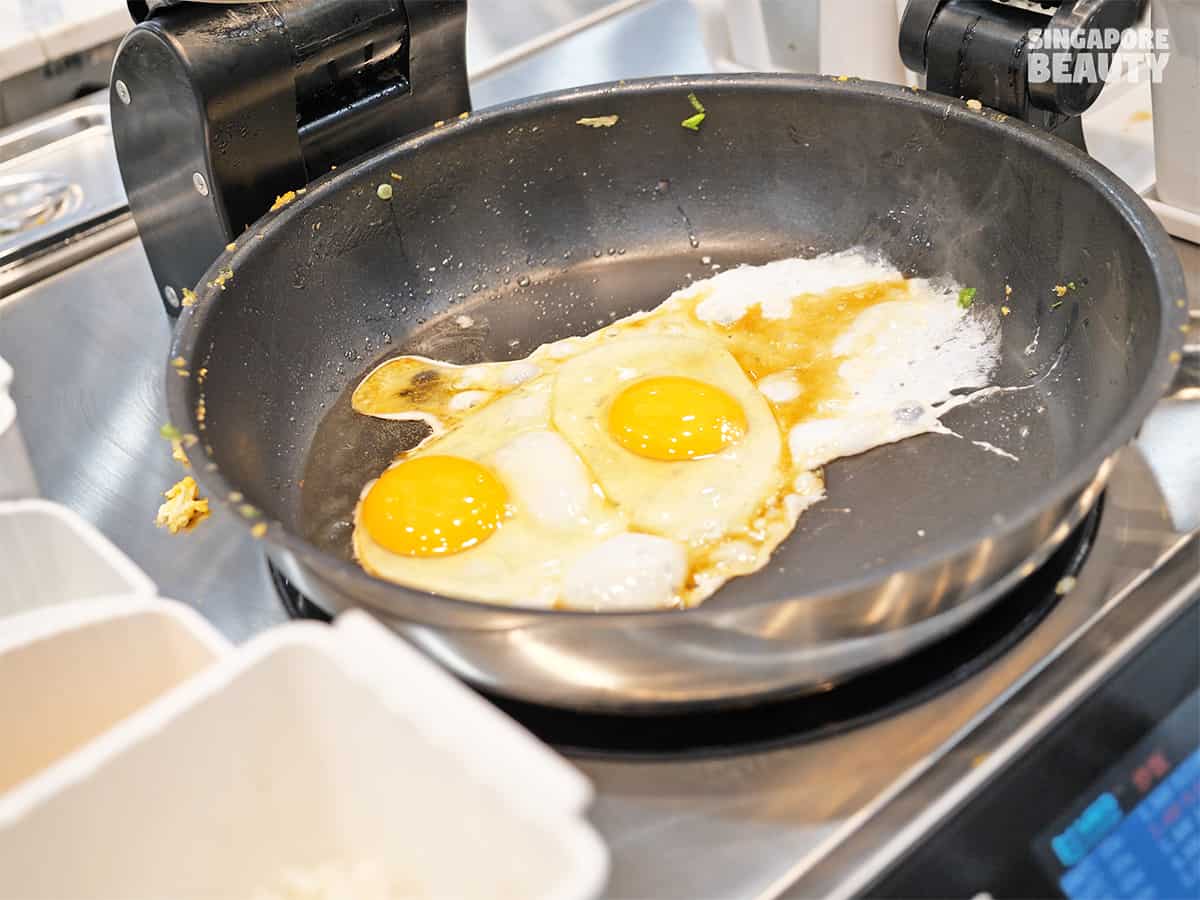 Here's how the Bowl & Bowl robot cooks your egg fried rice. The pan is oiled automatically through a connected oil shaft to the lid. 2 large eggs are tossed into a pan that is sizzling hot.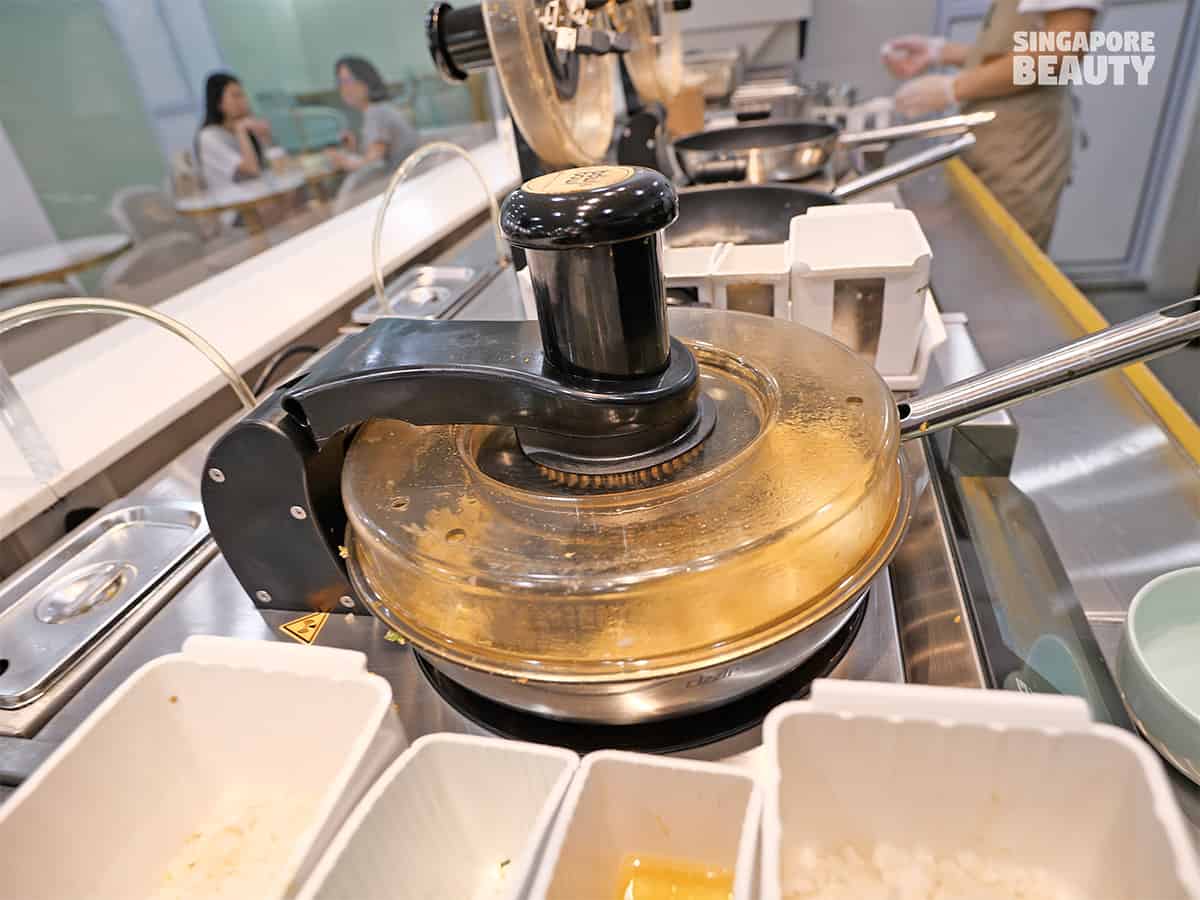 The robot hand then shuts the lid and begins to stir fry the egg into the scrambled egg type.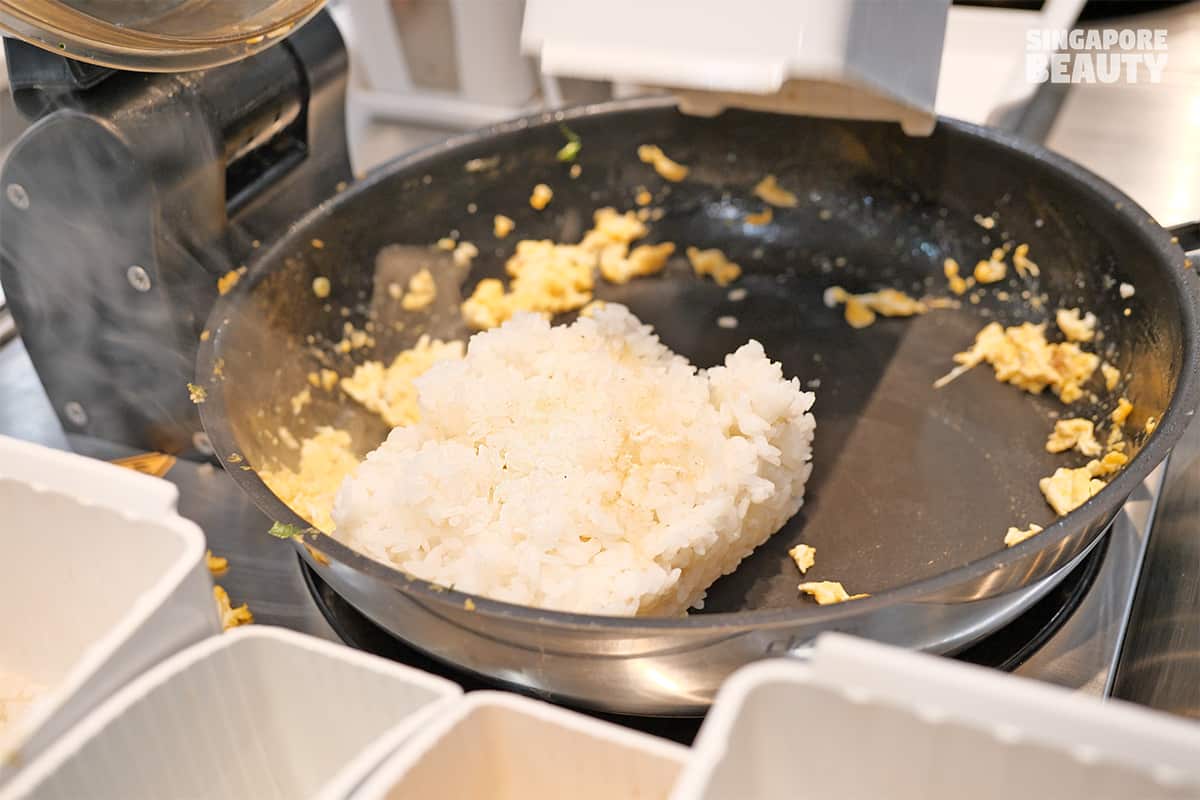 Steamed short grain rice is then tossed into the eggy pan and stir fried for a second time with the lid closed.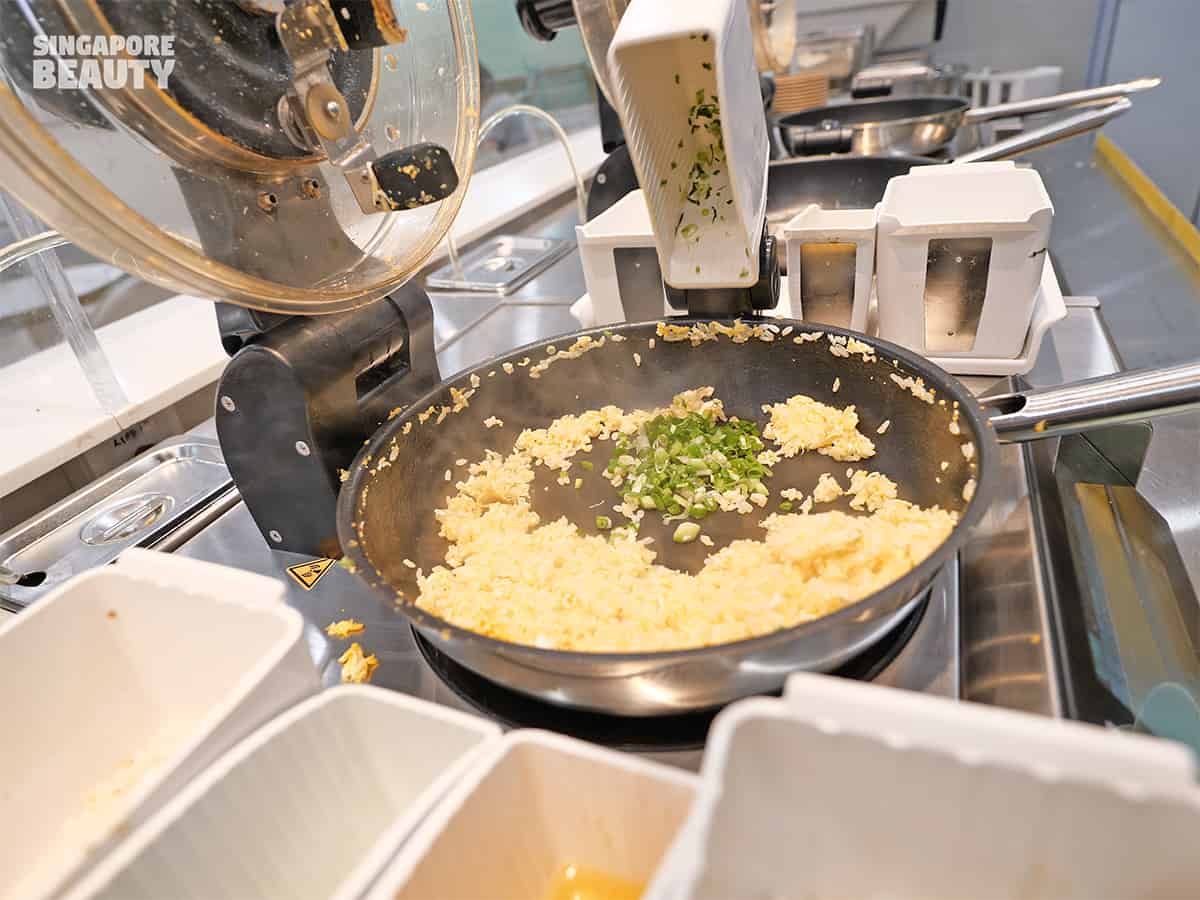 When the egg fried rice is fried to a golden brown hue, sweet scallions are added to add an onion flavour to it.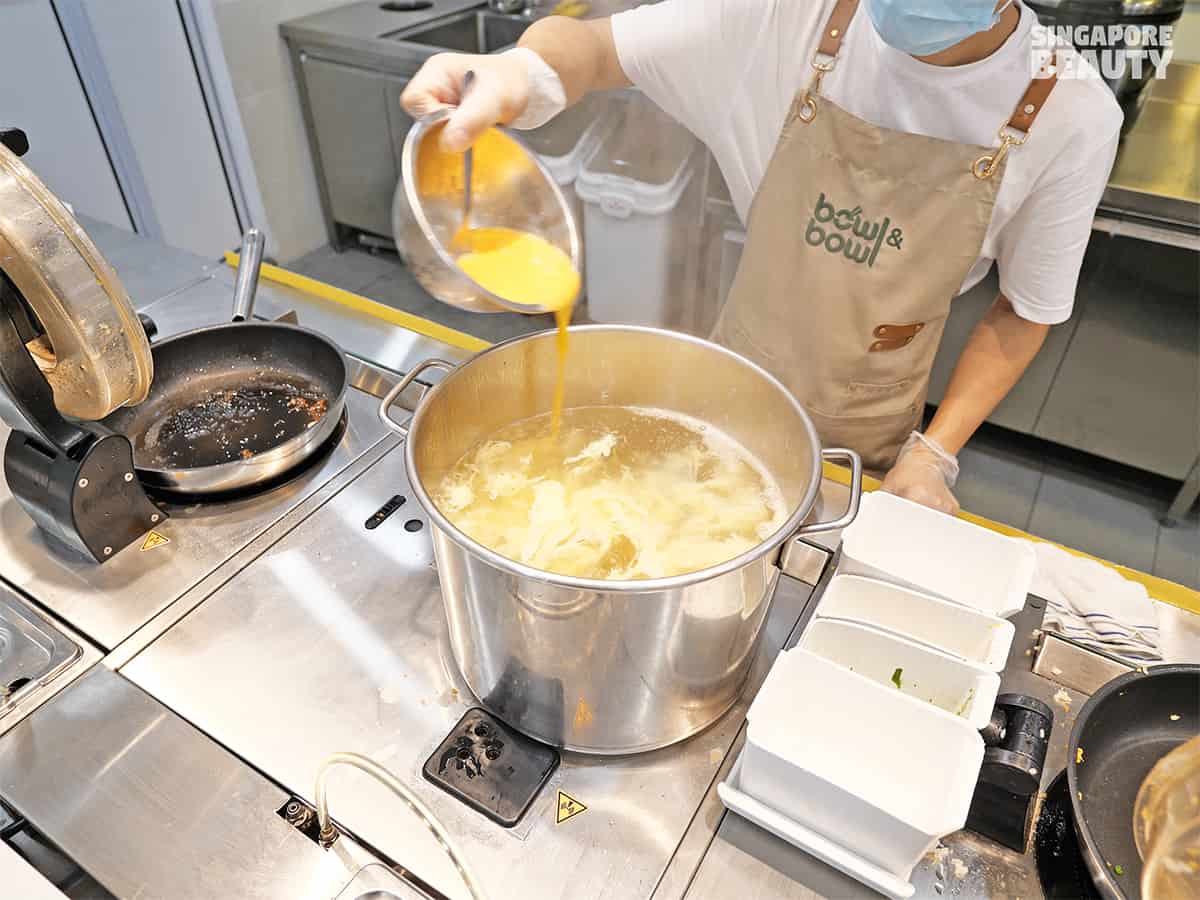 Each bowl of fried rice comes with a single serving of complimentary soup of the day – either silken egg soup or seaweed soup.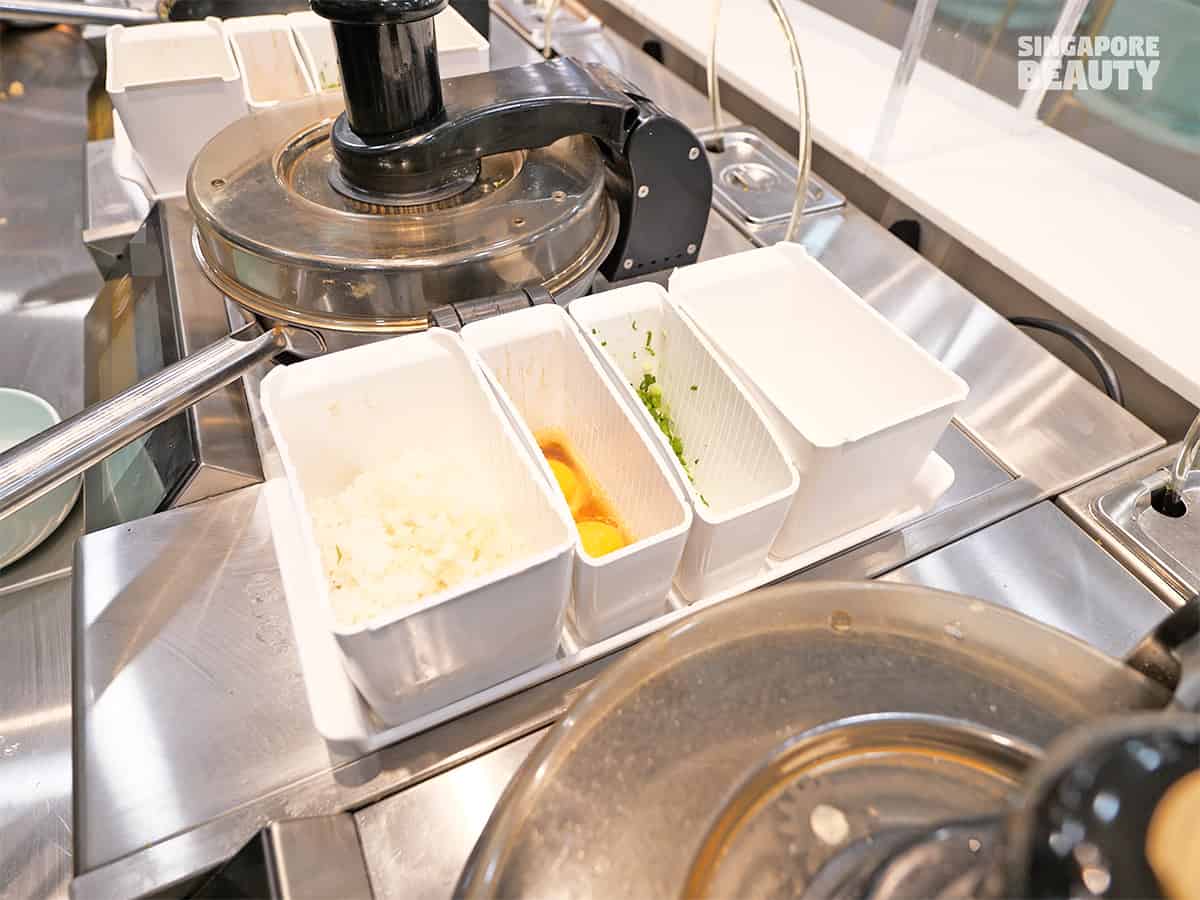 All these fried rice are done without the chef having to personally add ingredients into the frying pan. This is the Bowl & Bowl food train, where the chef loads it with freshly prepared ingredients for each order.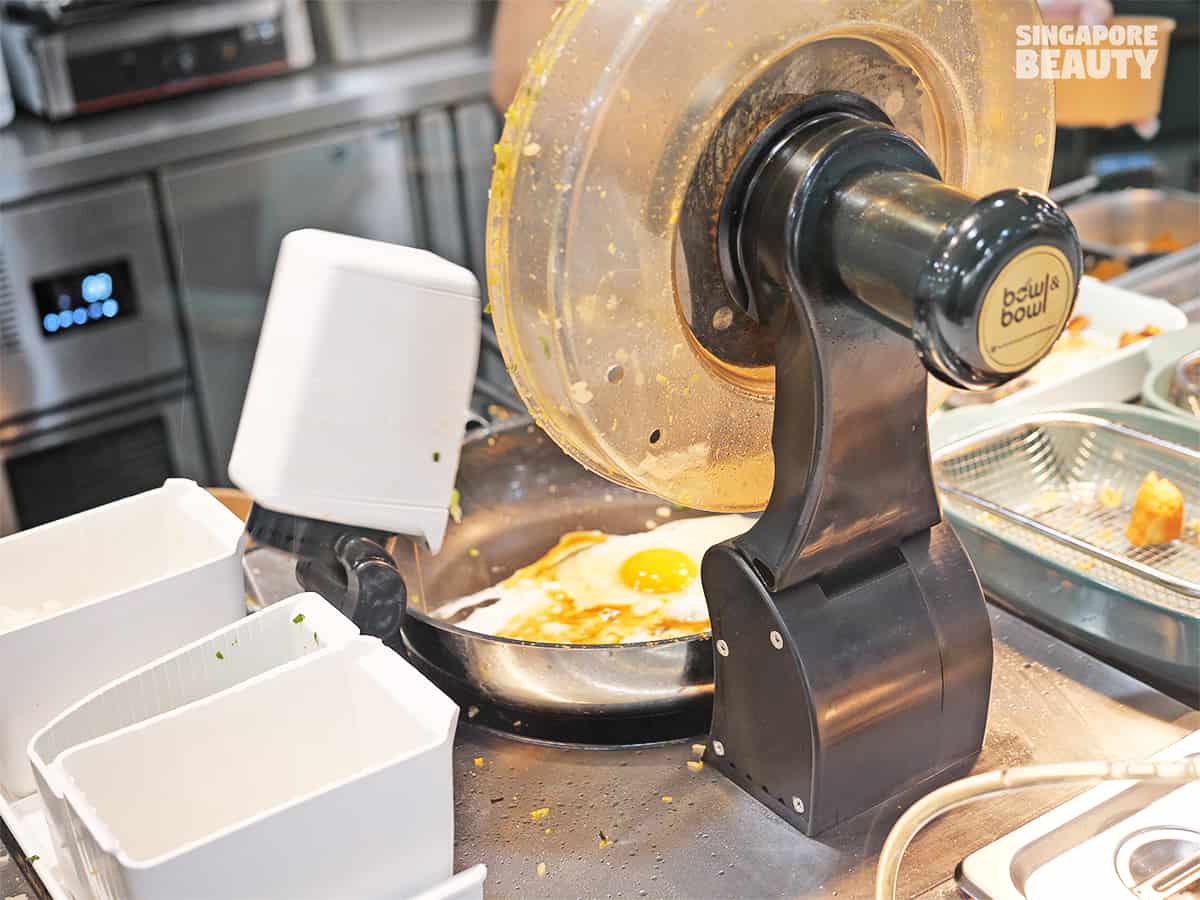 The food train is able to adjust itself on its track to automatically toss the ingredients at the calculated time into the pan without human intervention.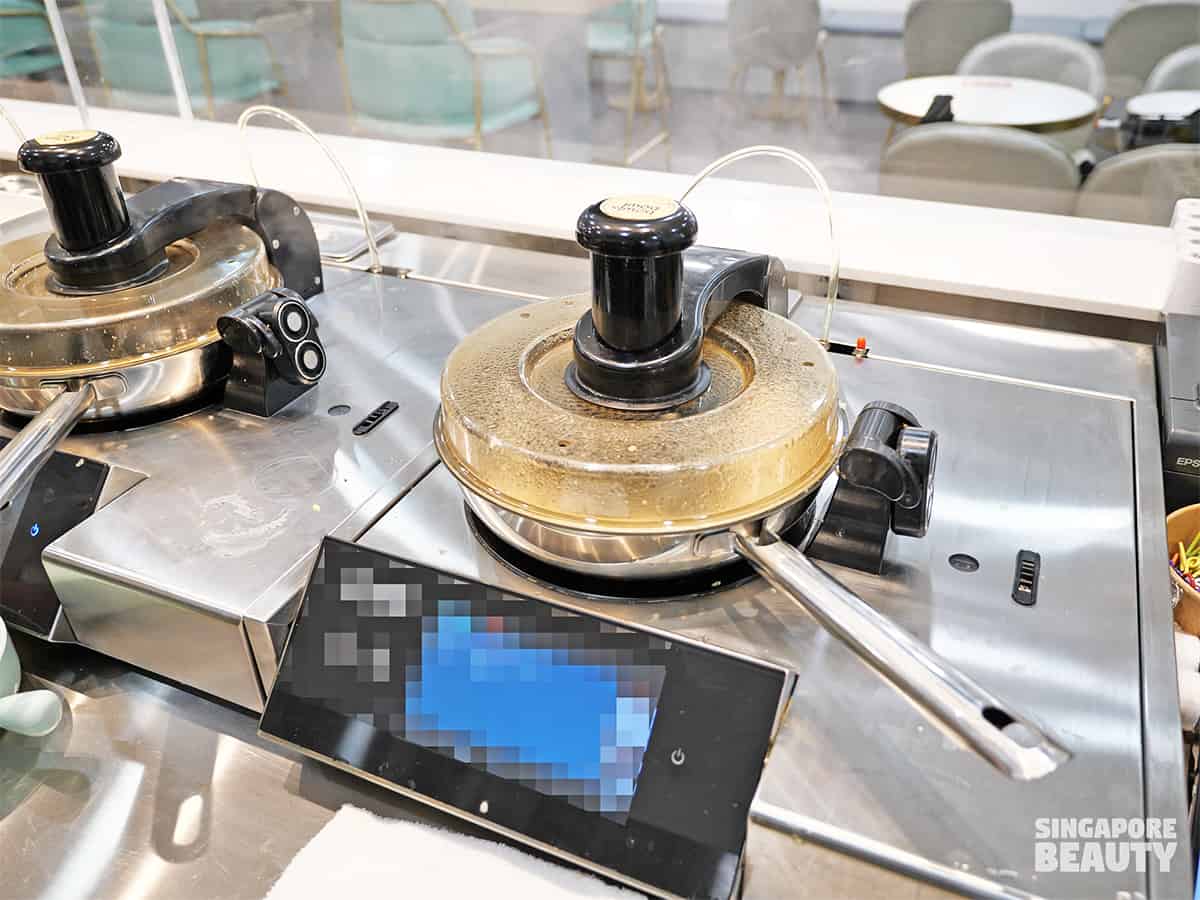 This Bowl & Bowl is the brainchild of a team of engineers and chefs to make this robot fried rice and porridge café happen.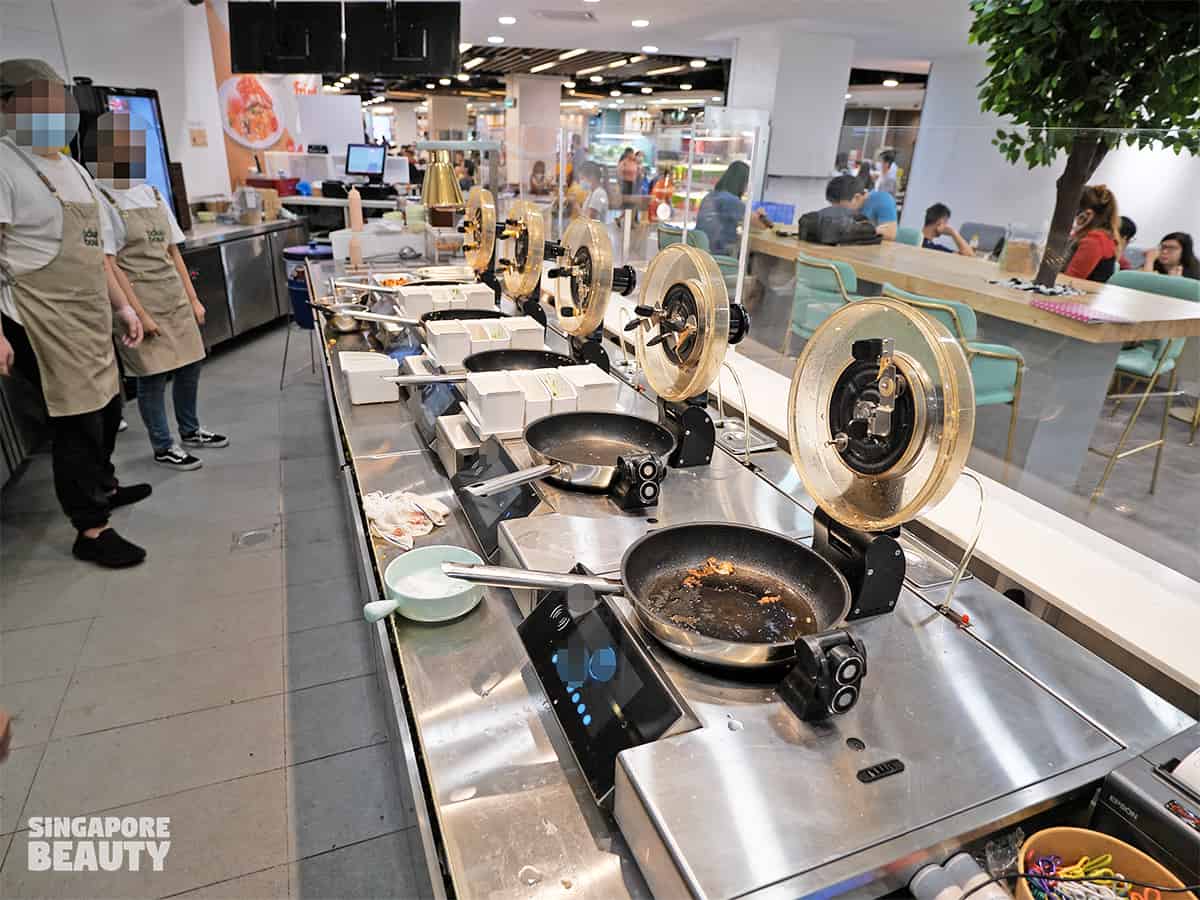 These are the 5 robots responsible for your orders while the humans watch on and assist accordingly. These are actually automated frying pans with stirrers attached to the lids and computerized programmed with auto tossing arm of food trains by the side of each machine.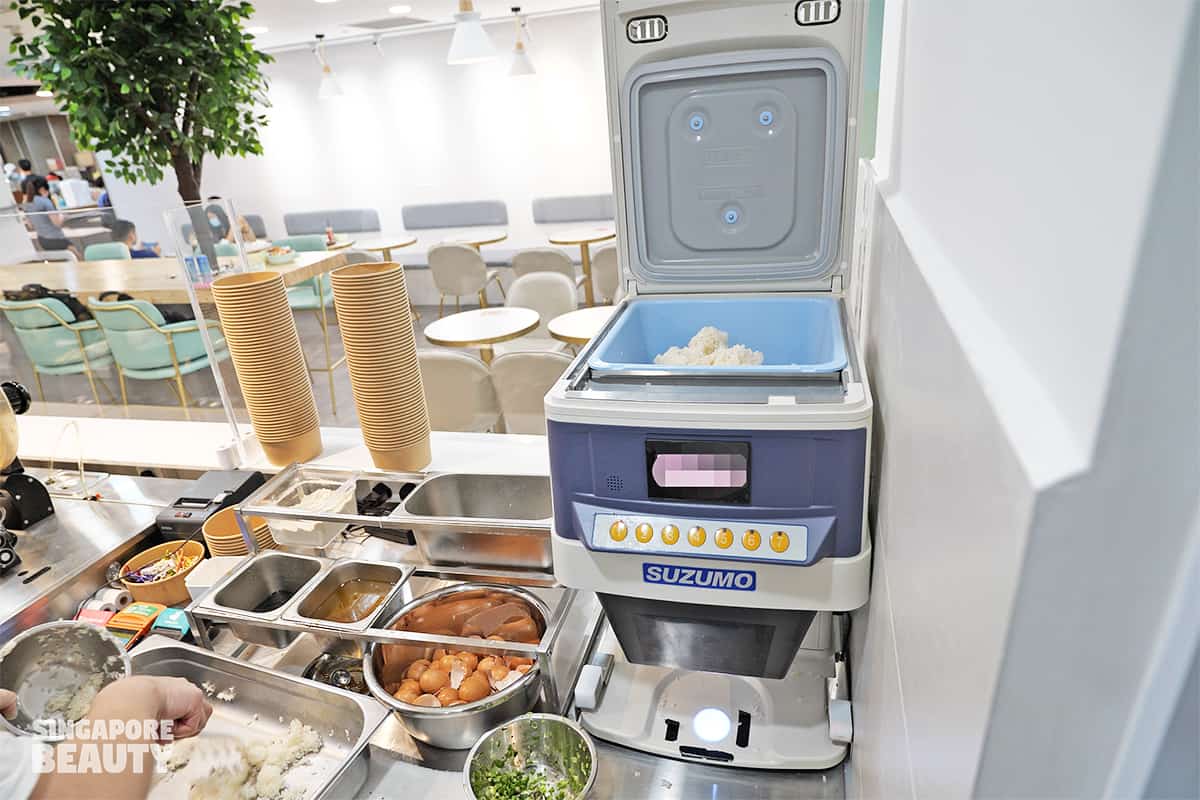 In order to have the consistency and designed fried rice flavours that is curated by the chefs, every portion of rice has to be precisely measured by this rice dispenser. Rice is top loaded and dispensed into a collector container that will later be loaded on the food train.
These Bowl & Bowl robots are also able to cook fried porridge.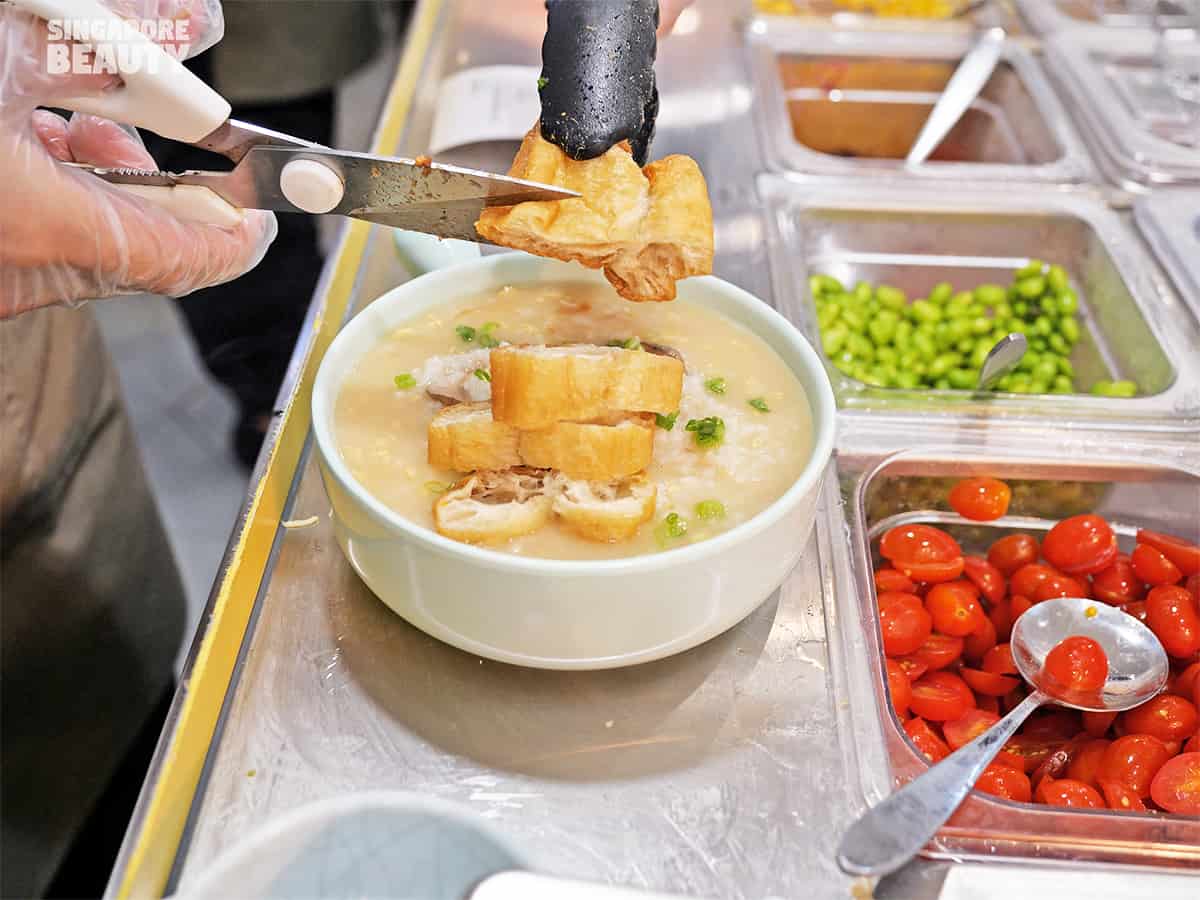 Topped with fried cruller to soak up the savoury porridge.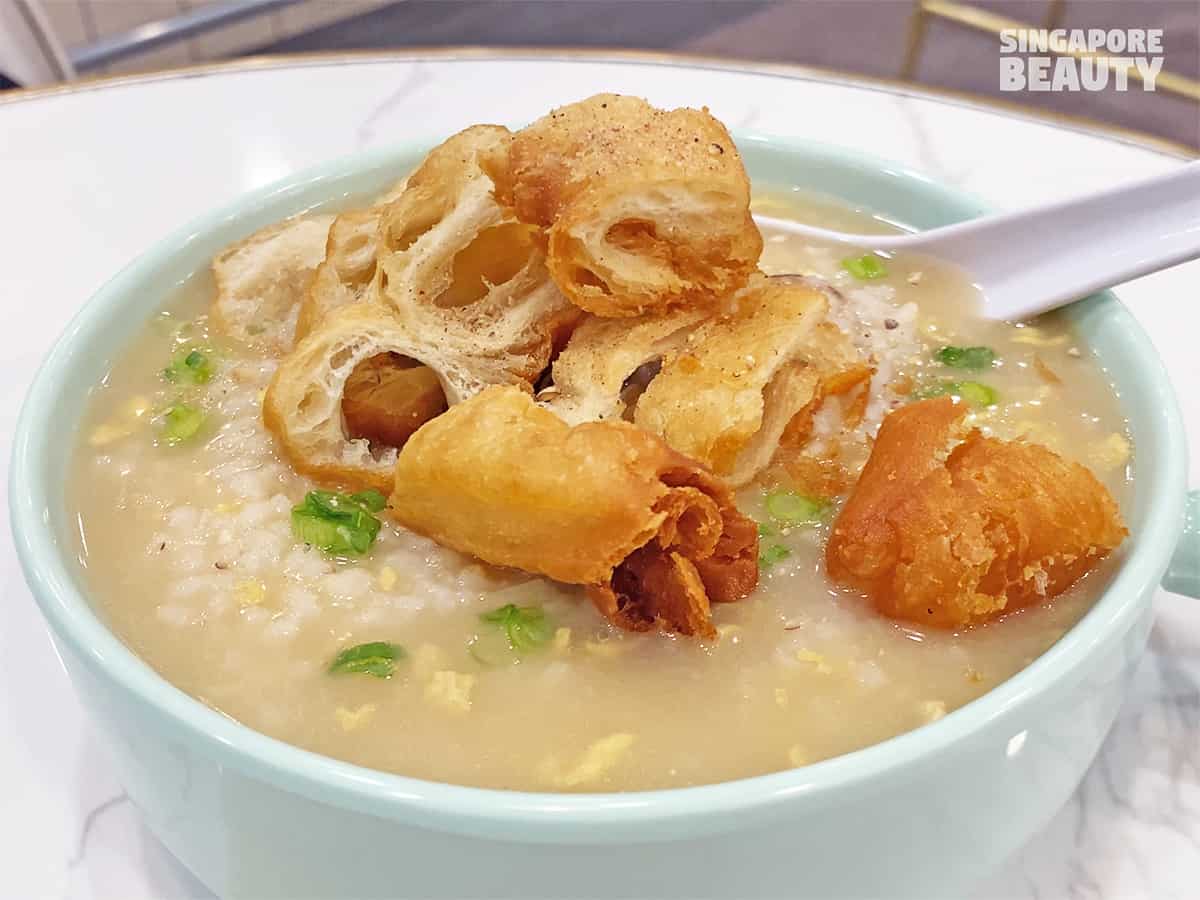 The fried porridge is the thick type with visible soft grain of rice almost like a marriage of Cantonese and Teochew porridge.
This bowl of porridge is made by stir-frying shredded cuttlefish and shrimps to release the aroma. These ingredients are then added to the pan with rice grain, stock, mushroom and egg to create the fried porridge.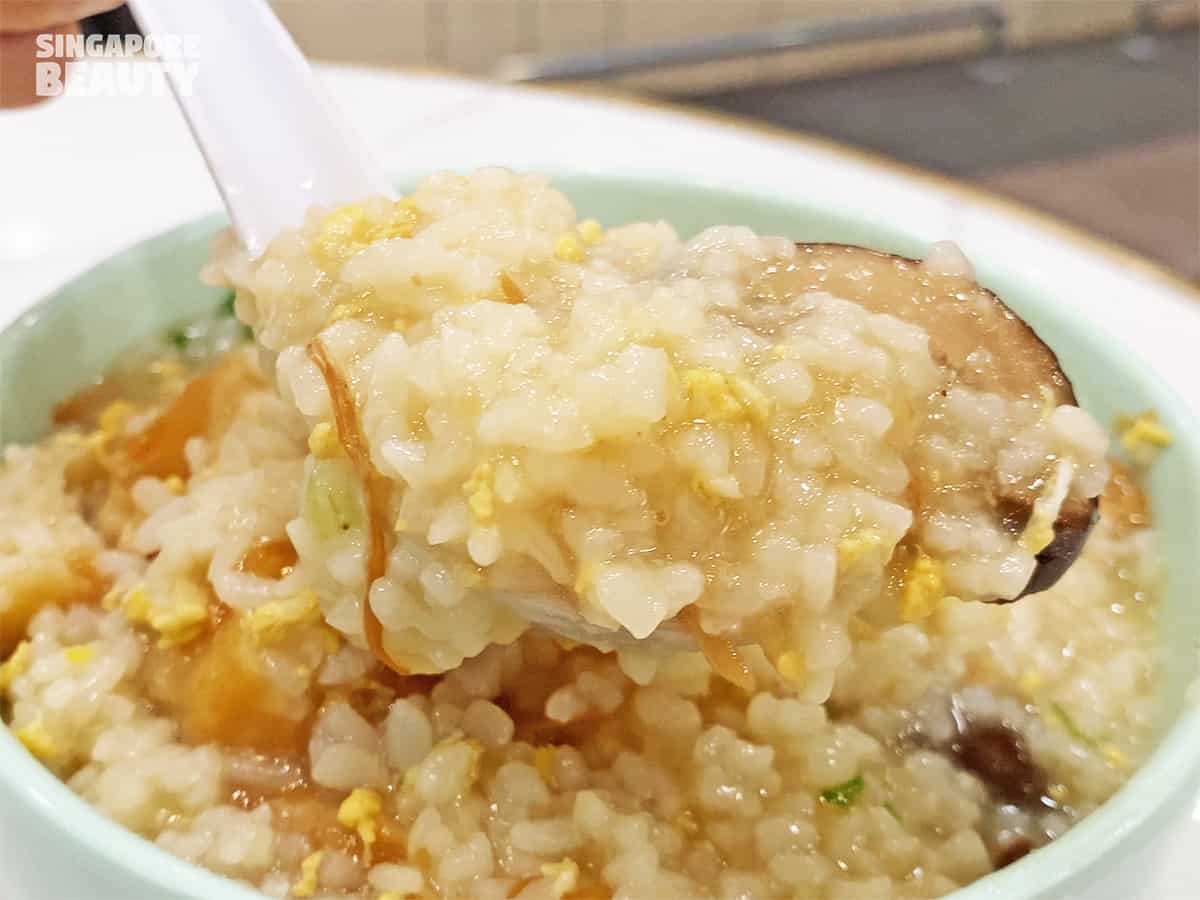 The gooey and rich porridge is very filling with the amount of grains in it.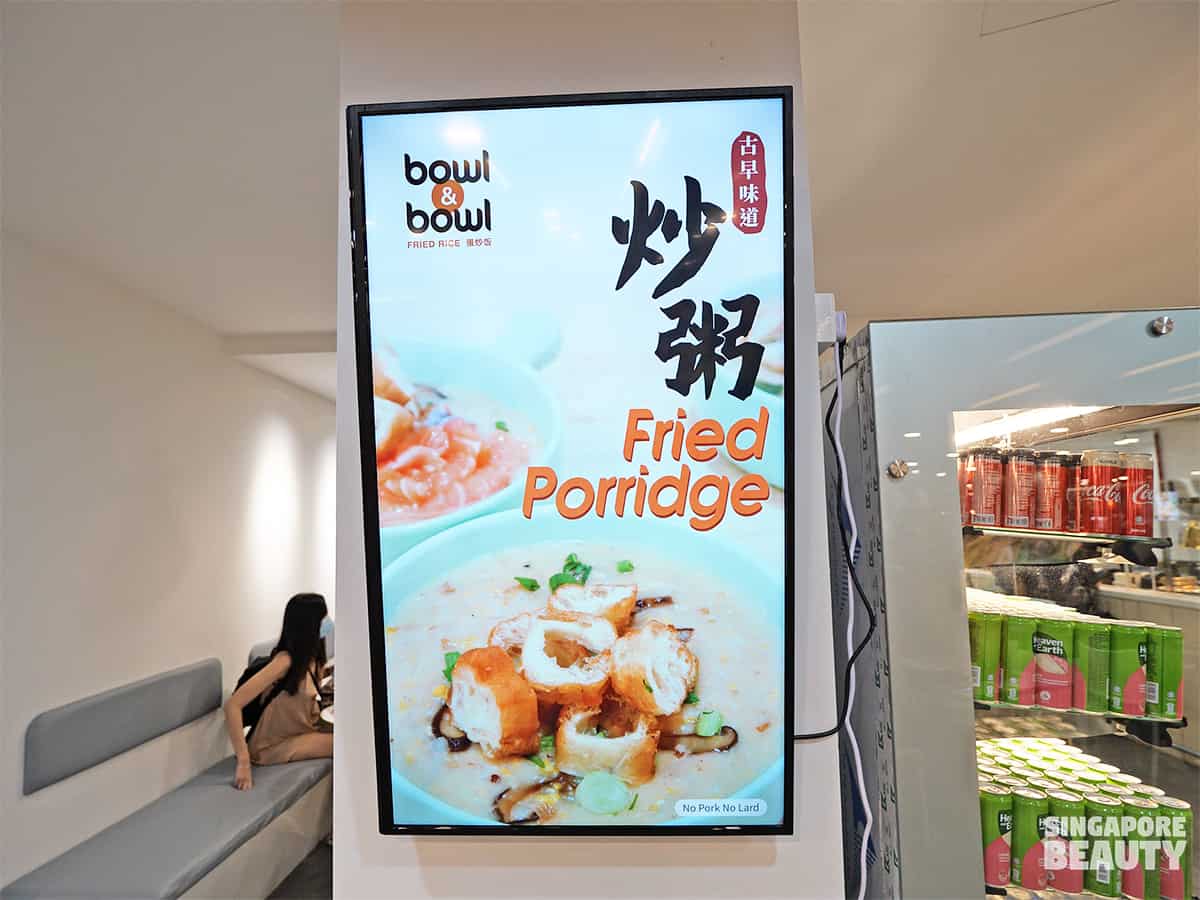 This is their morning best sellers and limited daily, very often sold out in two hours before noon. By the way, they start at 10.30am in the morning daily.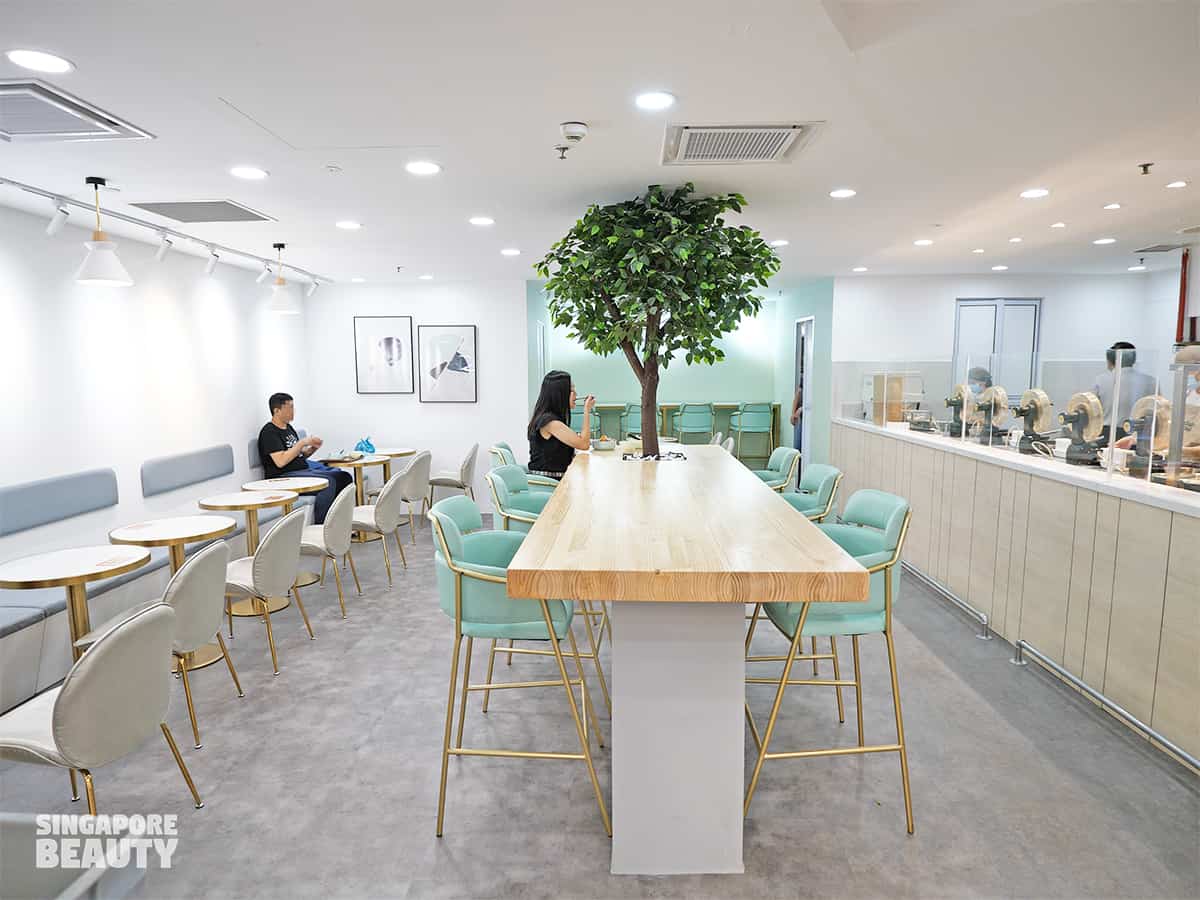 The interiors are spacious and painted in an aqua blue or some say Tiffany blue hue. With classy, elegant and delightful cushioned bar or cosy dining options.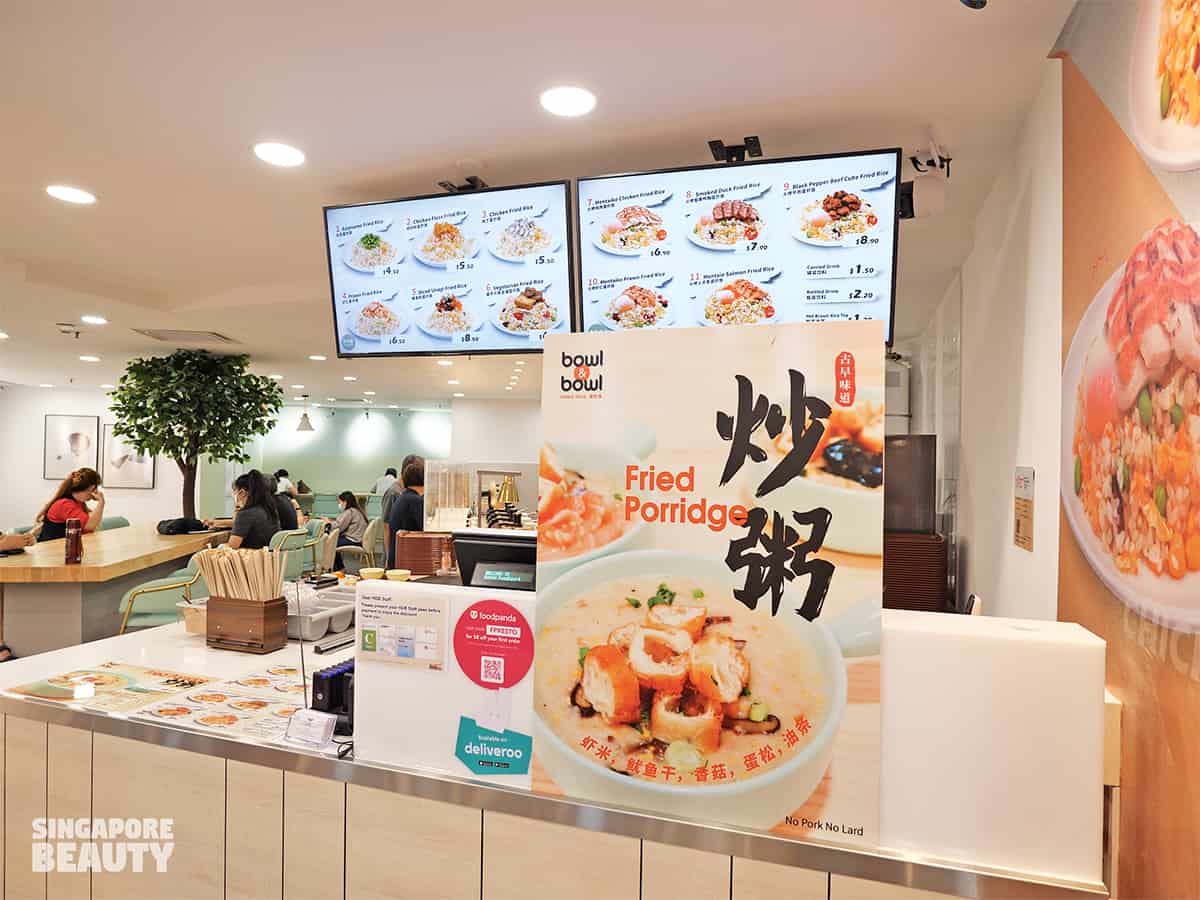 Do come over and try Bowl & Bowl signature fried rice bowls and fried porridge. It is a fun experience watching robots do their magic of frying a bowl of fried rice.
Bowl & Bowl location:
Gourmet Paradise @ HDB Hub
480 Toa Payoh Lor 6, #B1-01, R2
Singapore 310480
Opening Hours:
10.30am to 9.30pm daily
Bowl & Bowl number: (+65) 9817 9106