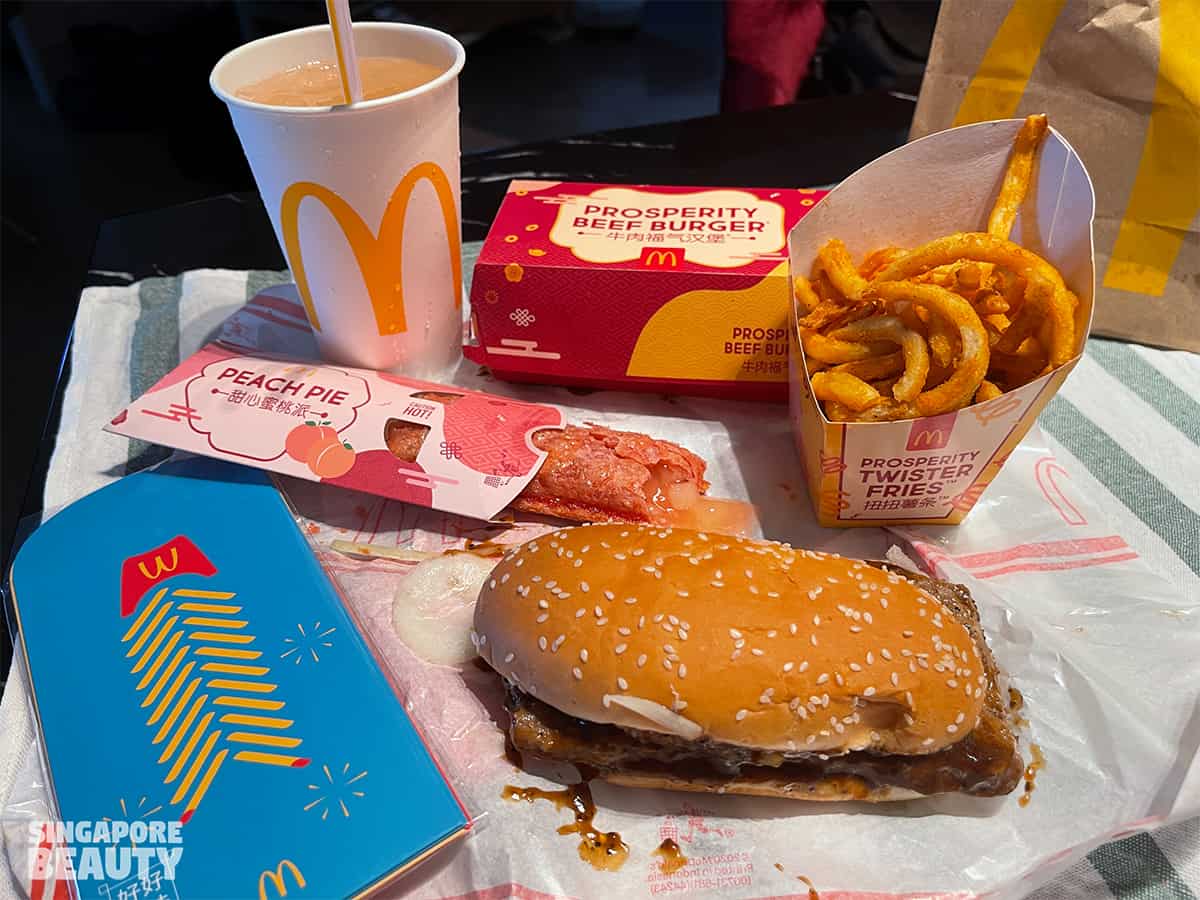 It is a yearly affair to have McDonald Prosperity Feast to usher in CNY in a no fuss way. This year 2021, we can start enjoying the Prosperity burger from the 28 Jan 2021 onwards all the way into CNY.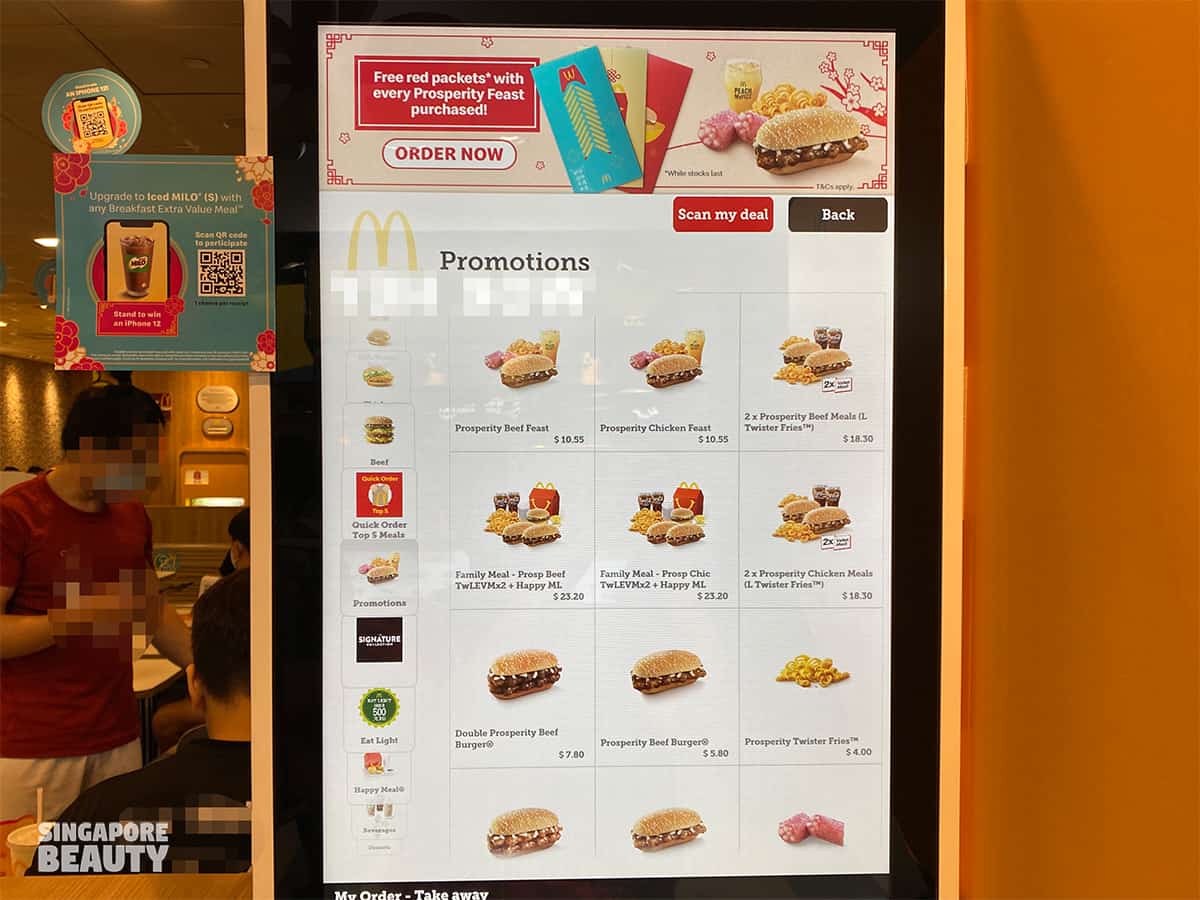 Here's the menu of McDonald Prosperity Feast that is only available during the Chinese New Year season yearly in Singapore.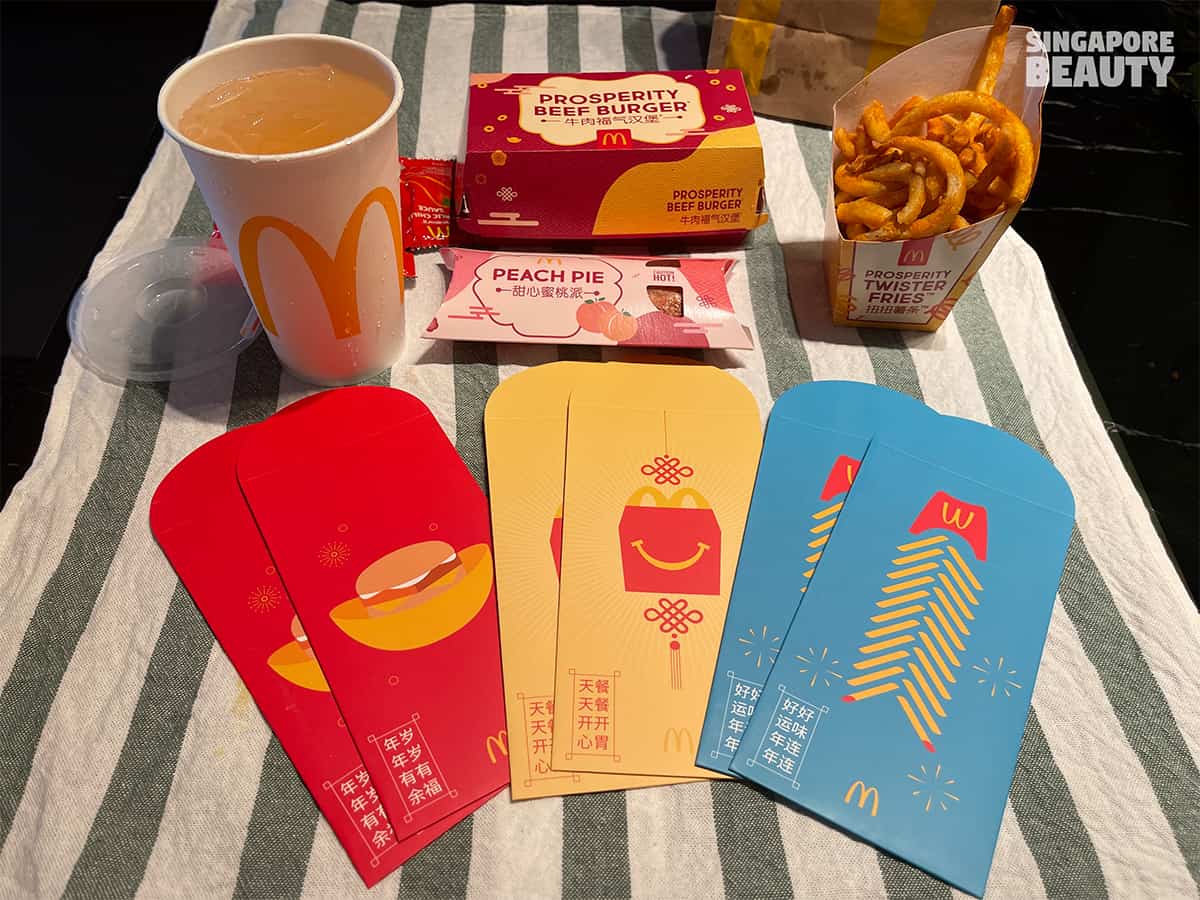 The Prosperity Feast (price from $10.30) consists of either a beef or chicken Prosperity Burger of your choice, medium Twister Fries, Peach Pie, Peach McFizz and also a set of free red packets with every purchase at McDonald whilst stocks last.
These 6 McDonald's Limited Edition 2021 Red Packets comes in 3 designs in 2s, with well wishes like firecrackers in the form of fries, happy meal box cny Chinese knots and gold ingot with hamburger top.
This is how the back of the red packets looks like with well wishes like years of abundance, days of prosperity, happy days, hearty meals, boundless good luck and endless good food from McDonald, I guess?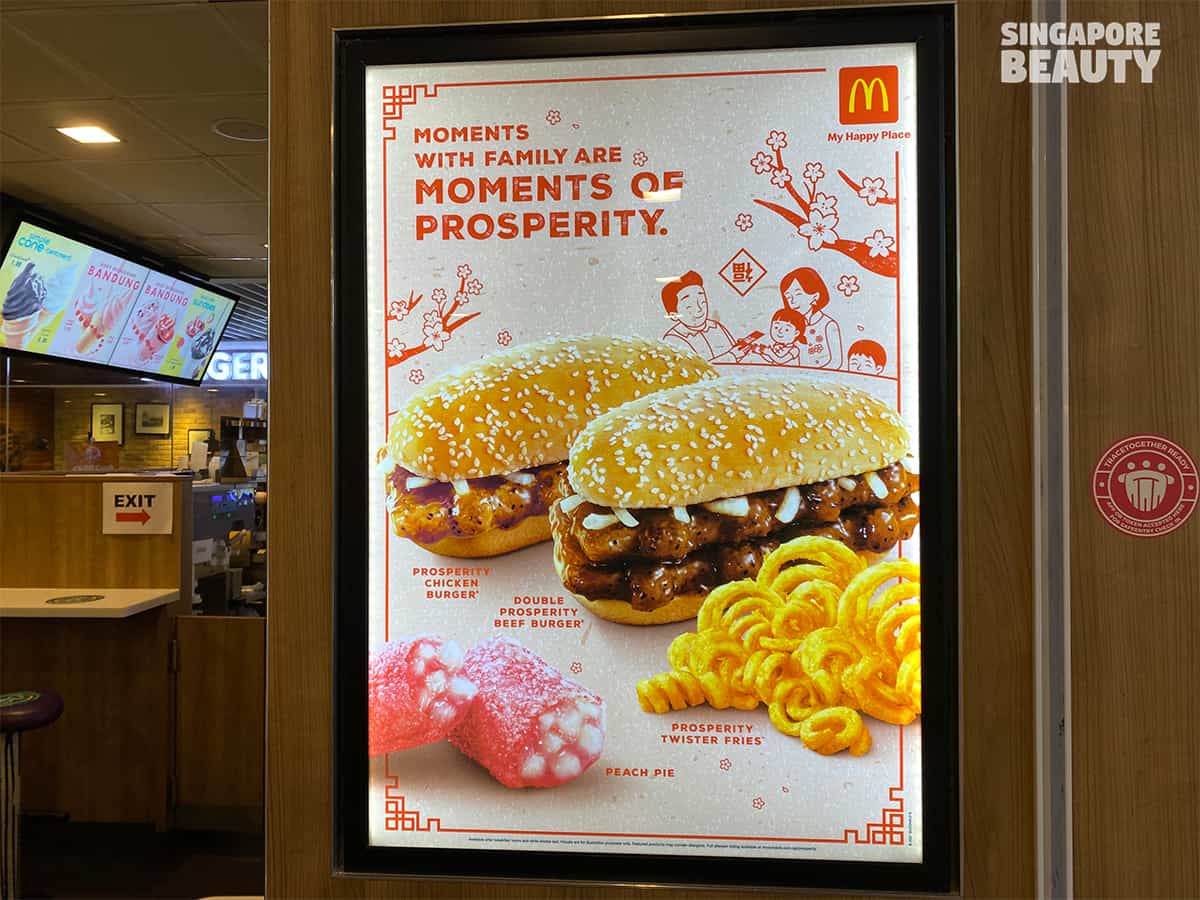 The prosperity Burger is priced from $5.70 for single and $7.70 for double patties. It is available in either beef or chicken versions.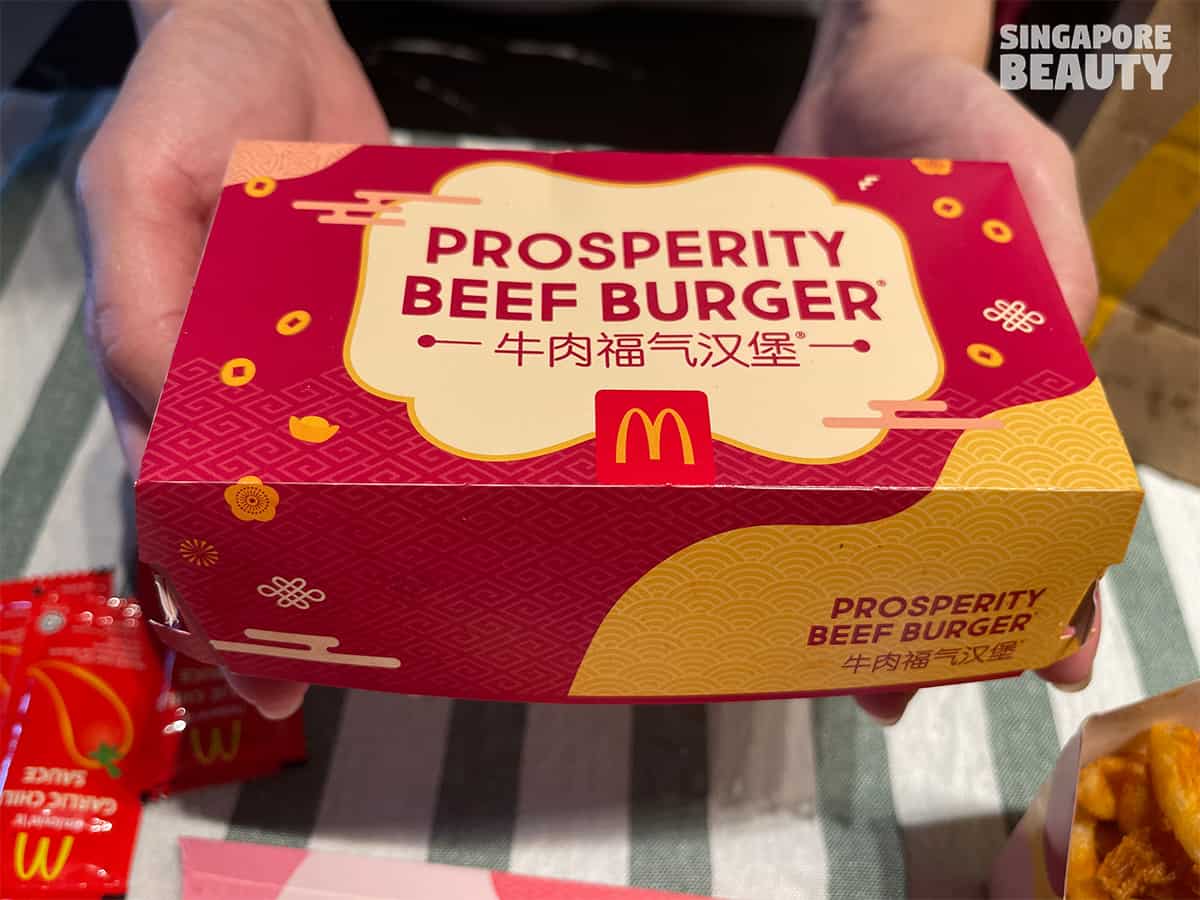 The 2021 prosperity burger comes decked in a festive red and yellow box littered with Chinese knots, ingots, ancient coins, peony and oriental prints.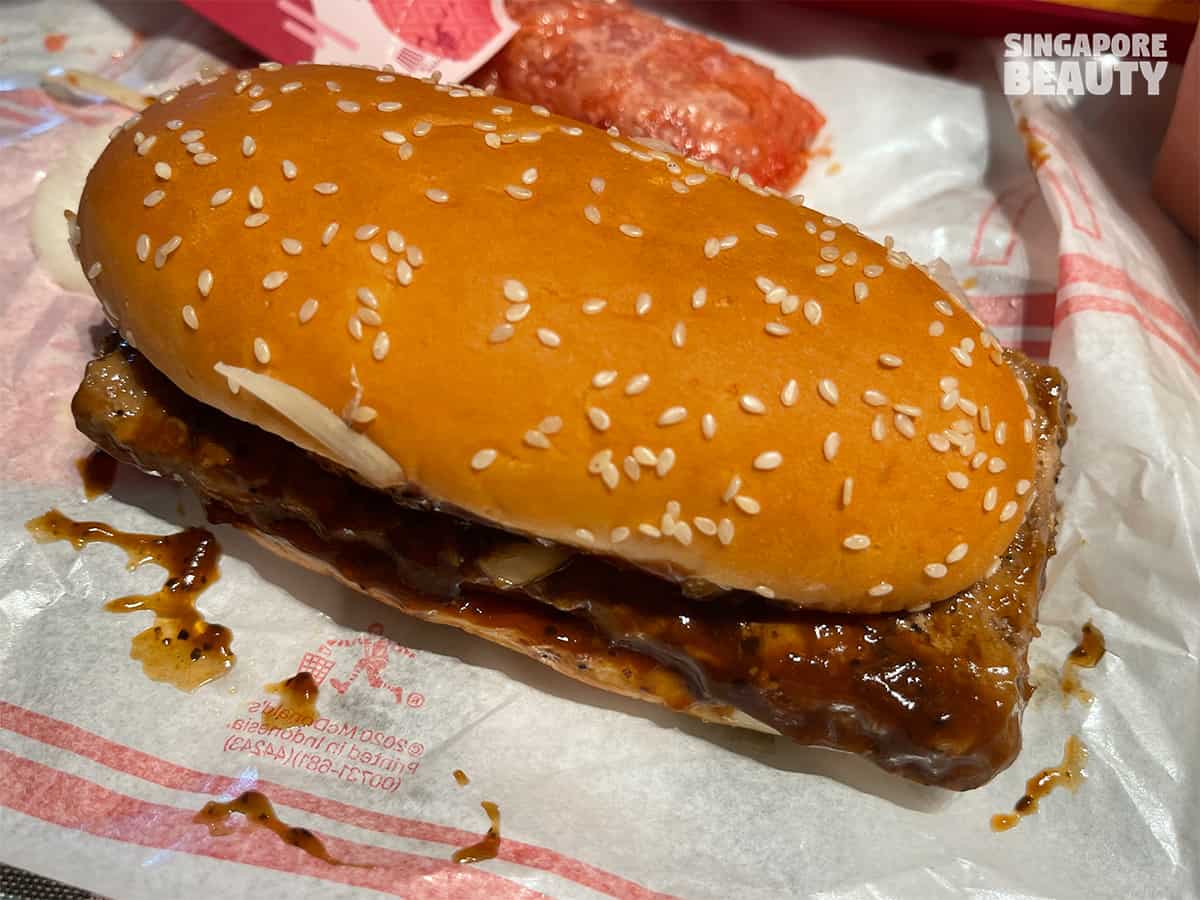 Wrapped in a thin grease paper with red ribbons design, the prosperity burger is a sesame top bun with a saucy thick chunk of meat patty peeping out in between that fluffy burger coat.
We have with us here the beef patty drenched in a glazed of black pepper sauce. The sauce has visible grounded black pepper with hint of heat and sweet savoury kicks.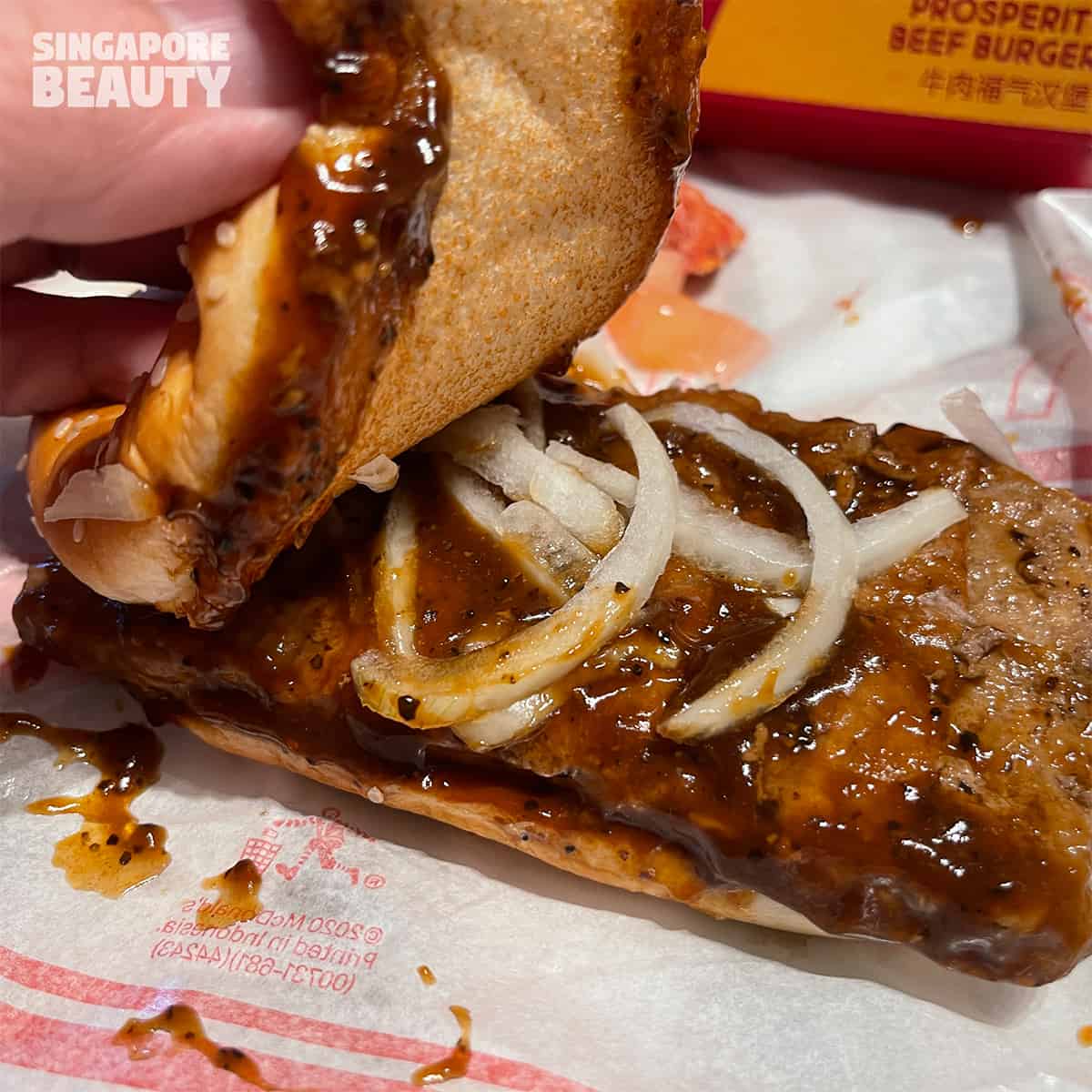 Within the prosperity burger, there are some fresh onion rings for the extra sweet bite and a mild spicy kick. These raw onions complete the experience of a black pepper beef patty burger. Kissing is not advisable after this burger.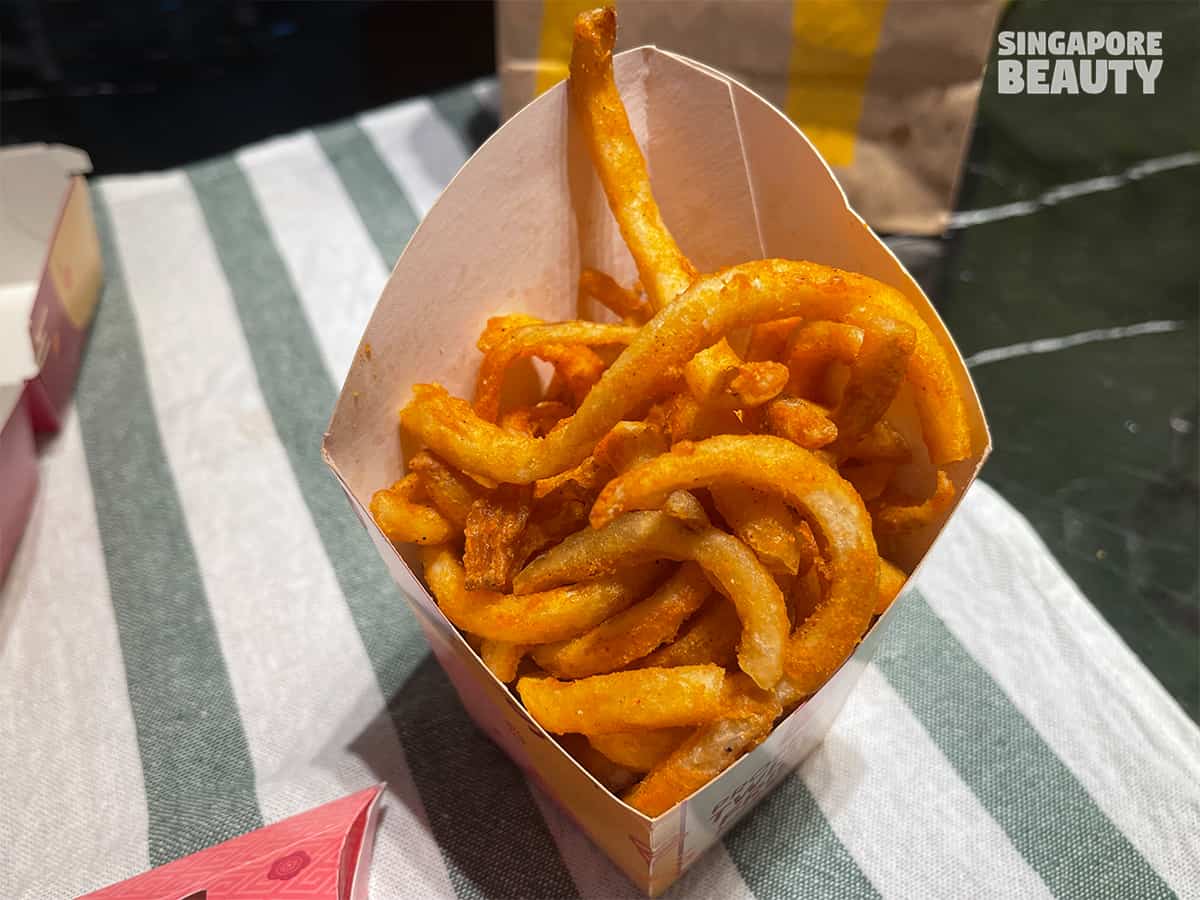 The curl of the fries like telephone wires also adds some fun to eating it. On some days, you get the loose bits like mine which is kind of ok unless you need that full curly fries for the gram, the shape of the fries does not change the umami flavour.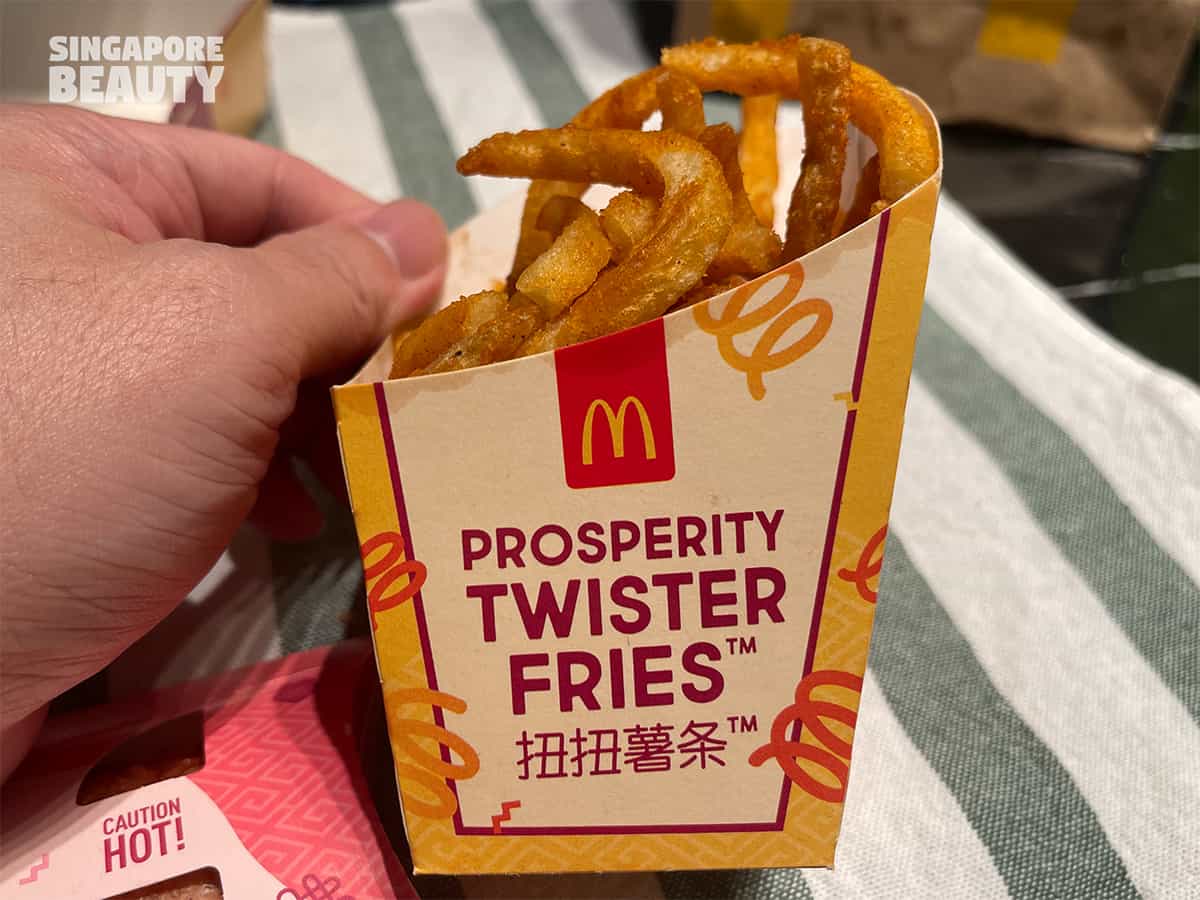 Prosperity Twister fries are curly fries that has a golden crust outside and some soft potato centre. This is a slightly more sinful version of their normal shoe string fries with a more savoury coating and crunch.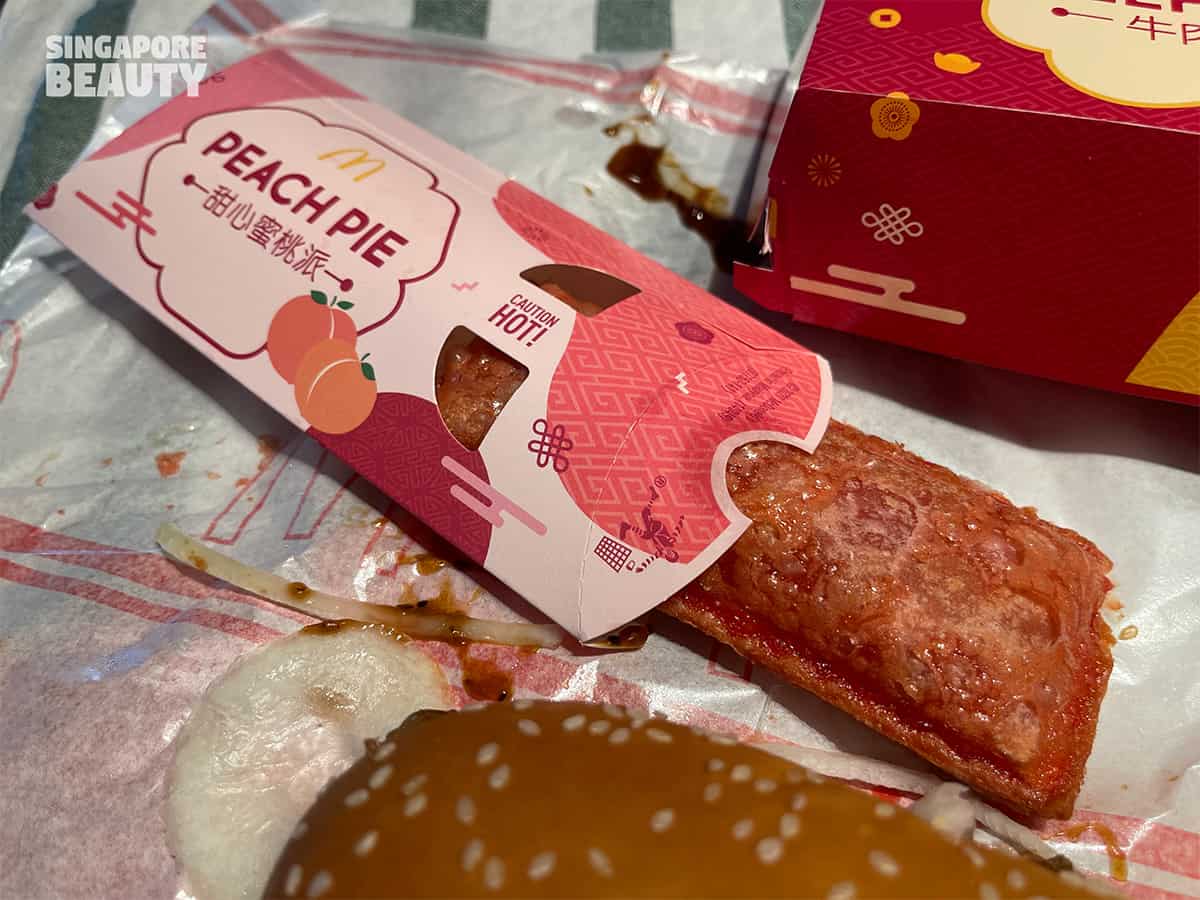 The peach pie is dressed in a younger pink blossom box. This fruity delight is encased in a super crunchy pink shell with sweet smelling fillings.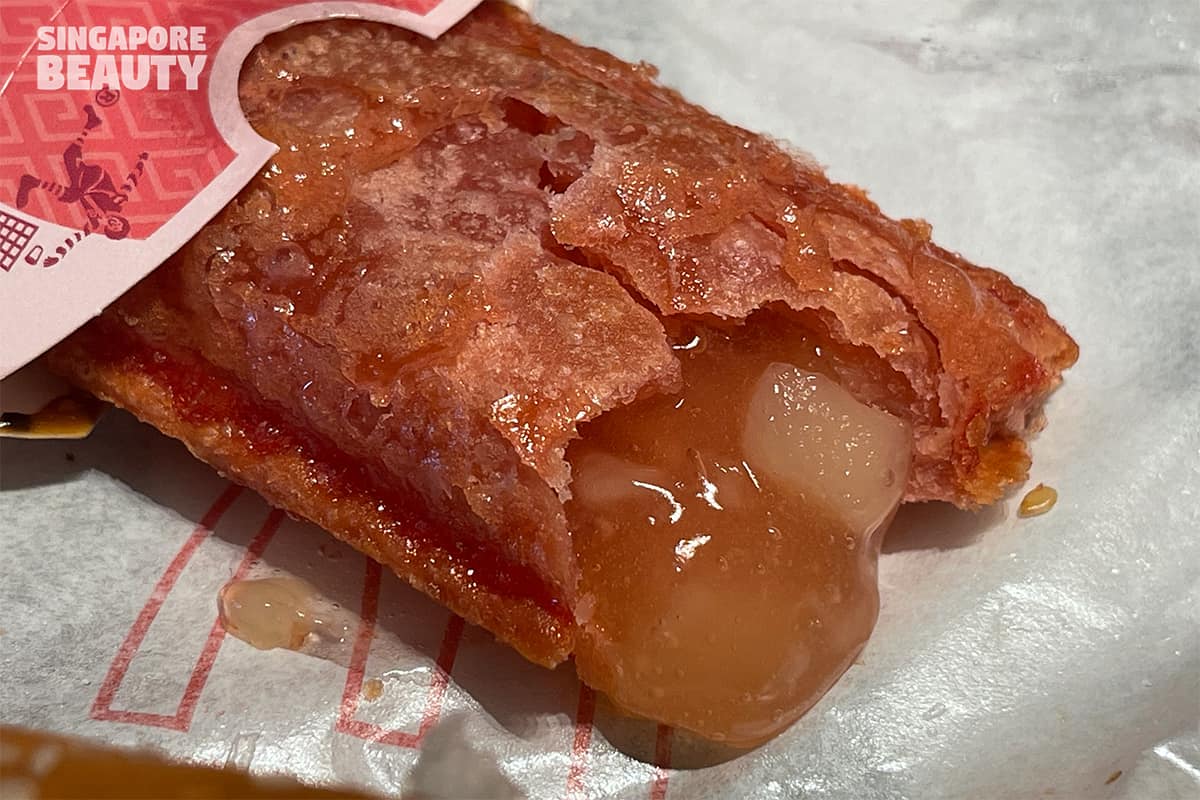 The fillings are cubes of peaches with a sweet smelling gooey glaze. For those with a sweet tooth, this will appeal to them. Some say this peach pie smells like some of the home fresheners found in Don Don Donki.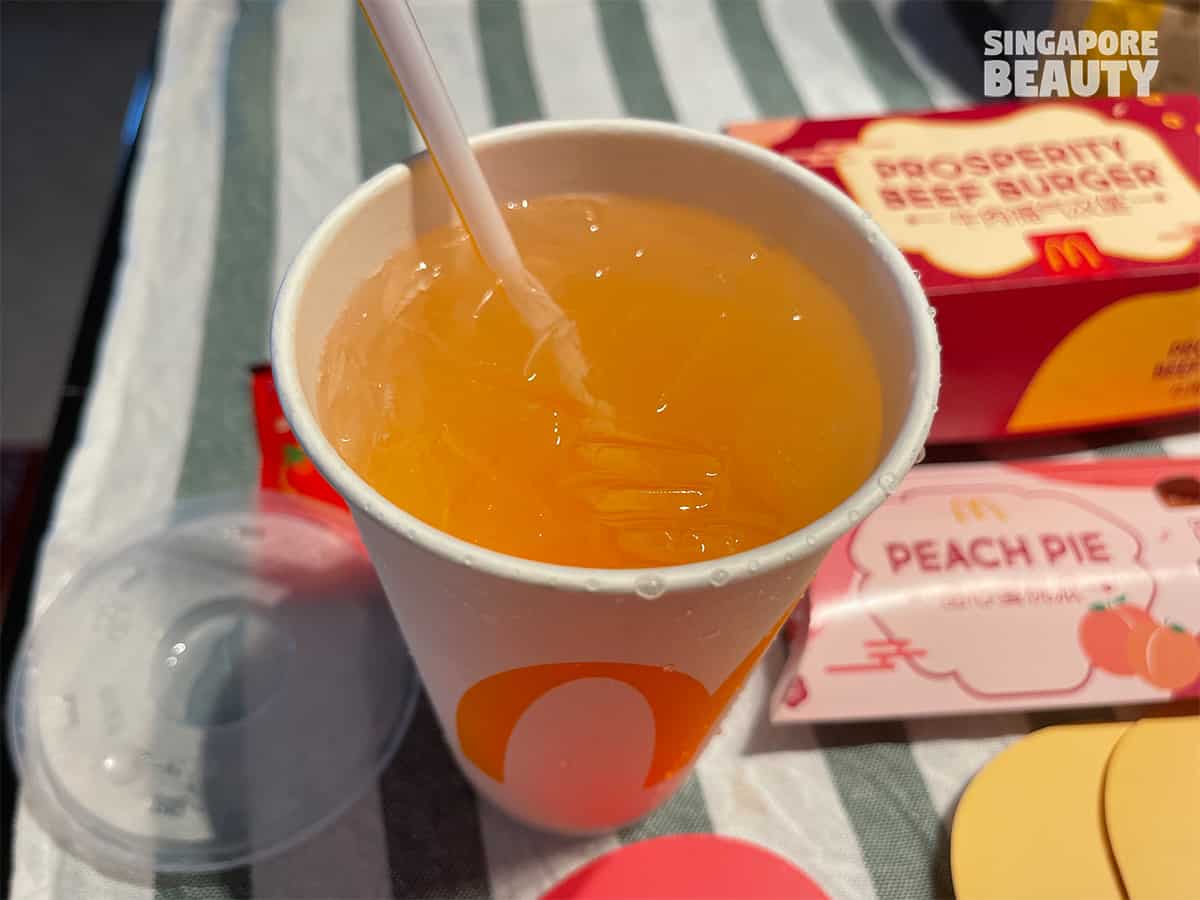 The Peach McFizz is a refreshing sparkling drink with peachy flavour. Love the light bubbling sensation with each sip.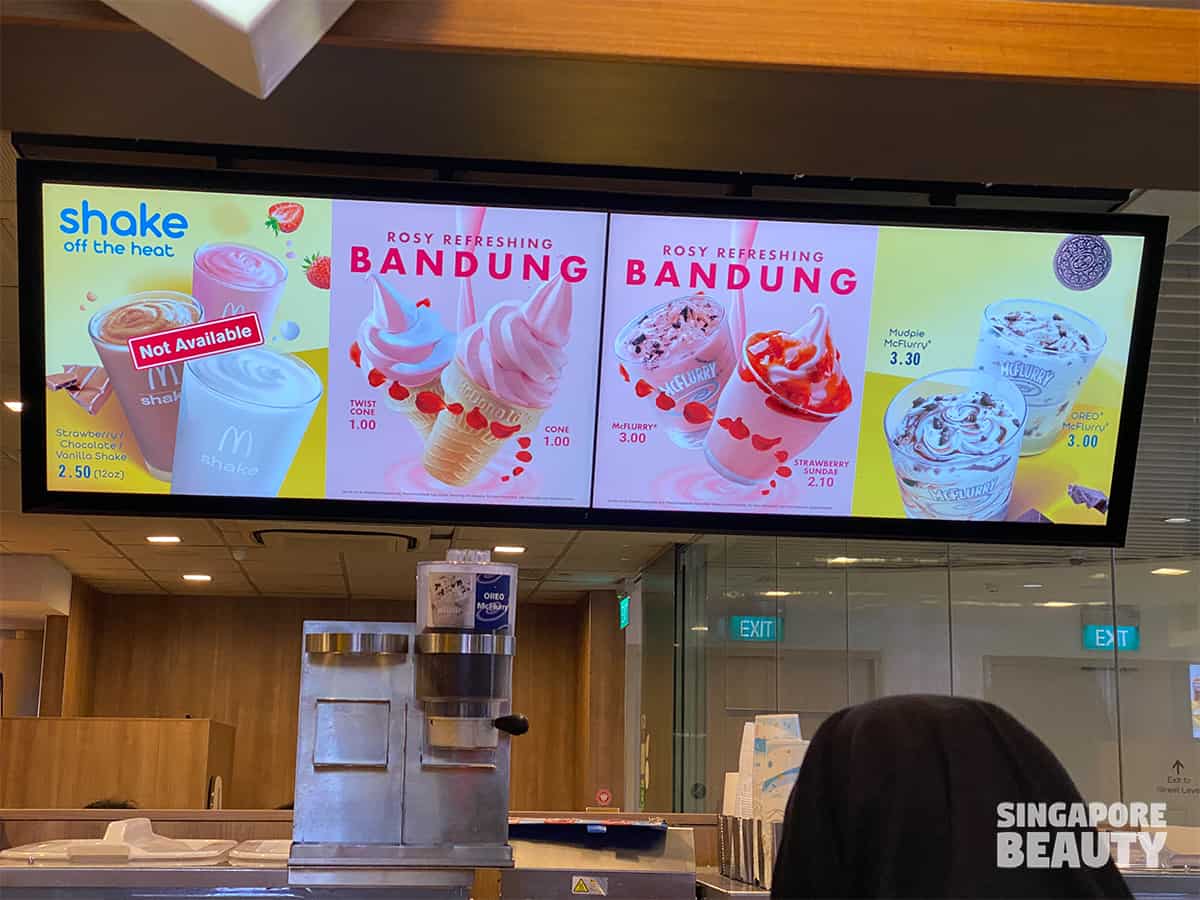 Together with this CNY, they have also launch some eye catching festive desserts menu such as Bandung Cone and Twist Cone, Bandung Chococone, Bandung Strawberry Sundae, and Bandung McFlurry at all McDonald's dessert kiosks. Come home to McDonald this 2021.