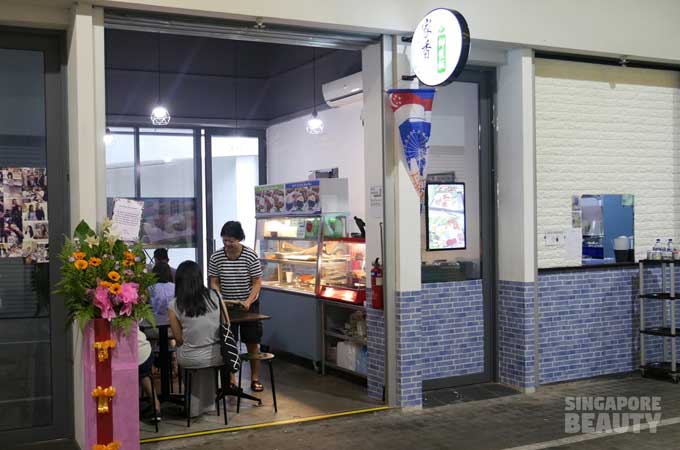 [Restaurant rebranded to Simple.簡] In Singapore, we have nasi lemak in the form of a burger, sushi, ice cream and even cake. The hype on variations of nasi lemak is getting out of hand, so lets bring back the traditional nasi lemak with a twist. This recipe is inspired by the creator's grandmother who is skilled in cooking Malay and Nyonya food.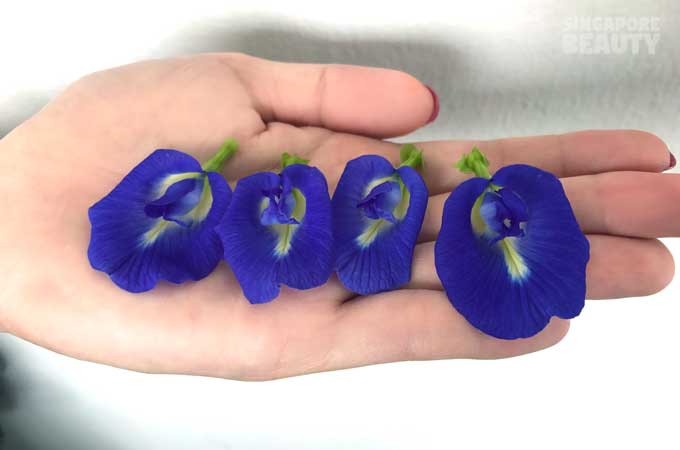 I am sure many of us have seen the Nyonya Kueh Salat made with the natural coloring by juicing the butterfly blue pea flower (Bunga telang) giving them their distinctive bluish hue. Instead of making Kueh with the butterfly pea flower extract, the chef has improvised and used it in Nasi Lemak instead.
According to Jia Xiang Nasi Lemak, the butterfly pea flower's extract is rich in anthocyanin and has the following health benefits:
1. Rich in antioxidants
2. Boost eye health and brain power
3. Healthier hair
4. Strengthen immune system
5. Lower blood pressure
Blue Rice Set B2 ($4)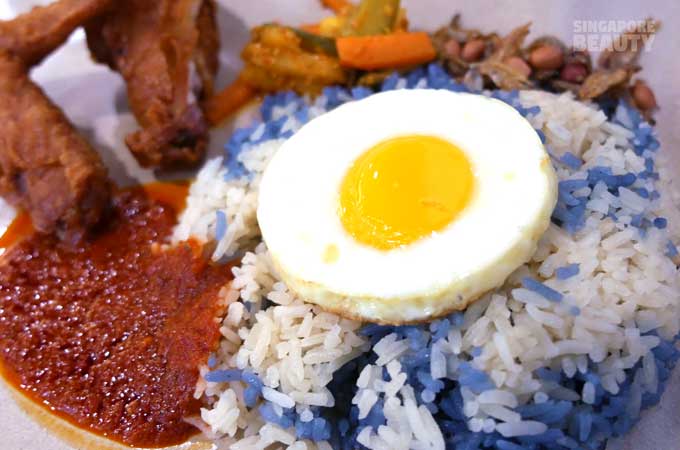 A generous mix of white and indigo blue rice infused with 100% natural butterfly pea flower extract.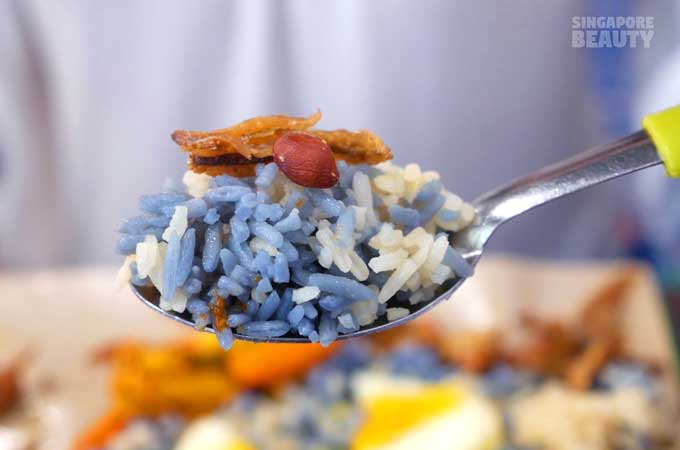 The rice has a subtle hint of cloves and strong citrus flavor from the lemon grass.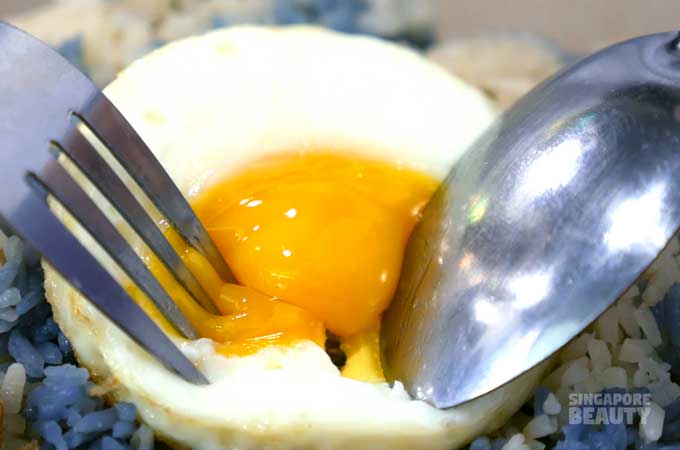 Consist of a fried golden egg with a runny yolk, crunchy anchovies, nuts, 3 joint wing, achar and sambal chilli.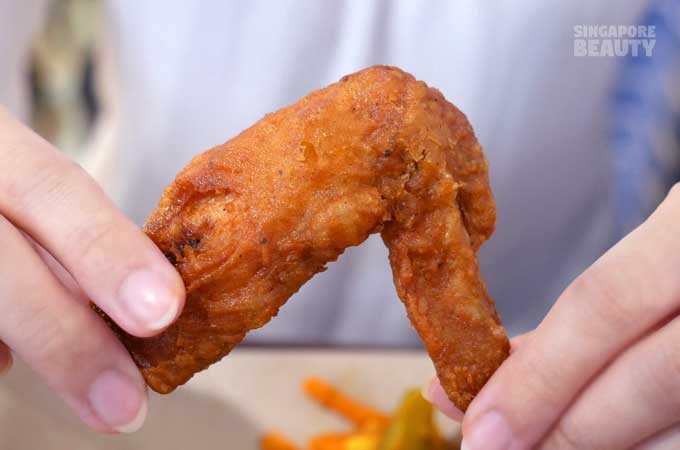 3 joint wings are usually freshly fried in batches. These piping hot, crispy and well marinated wings are worth waiting for. Crunchy nyonya achar is well pickled with a hint of sweetness and sour undertones.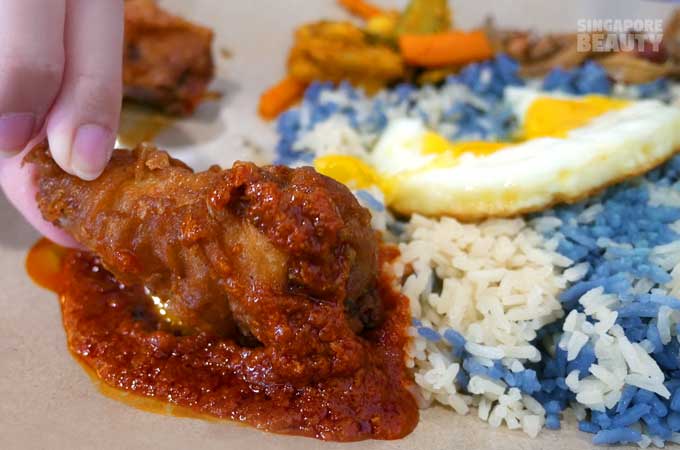 Sambal chilli is sweet and savory, a perfect companion to enhance the aromatic fragrance from the butterfly pea flower blue rice.
Chicken Rendang Rice ($5.00)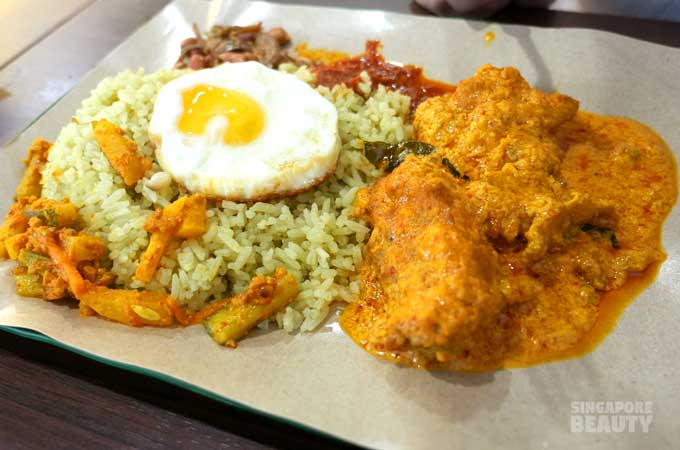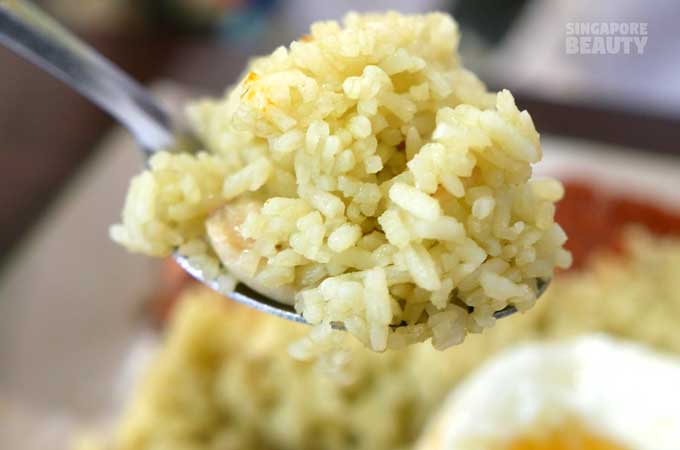 Pandan infused rice with garlicky undertones. The rendang chicken is tender and coated with a rich coconut gravy and deliciously nutty aroma from the curry leaves. This set has an egg, sambal chilli, achar, anchovies and nuts. Chicken rendang is available on Tuesday and Saturday only.
Iced Butterfly Pea honey Lime Tea ($2.20 for cold/$2.00 for hot)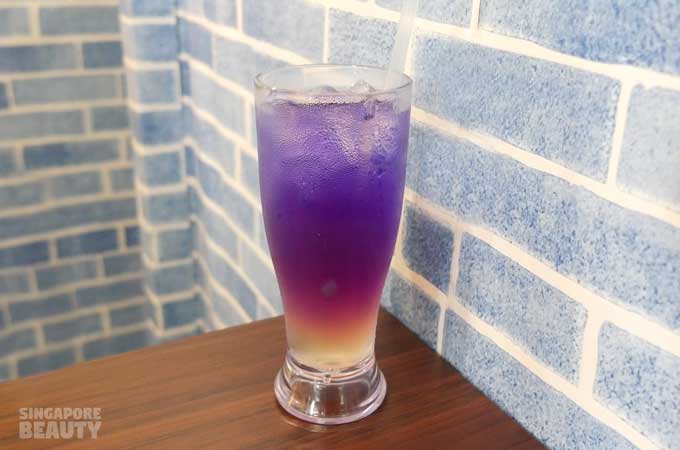 Homemade with 100% natural butterfly pea extract with no artificial colorings. This is a layered drink made of butterfly blue pea extract, lime juice and honey. This ombre drink is refreshing to drink and fun to watch. Watch the magic as you mix the concoction.
Iced Pandan with Chia Seeds ($2.20 for cold/$2.00 for hot)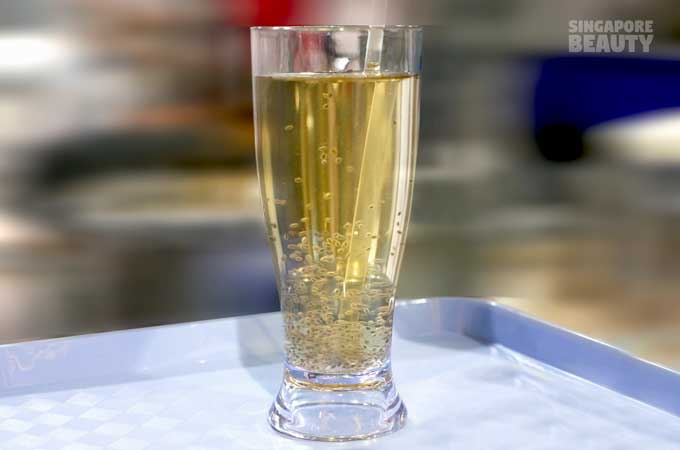 Homemade with 100% natural pandan extract. The honey rock sugar, strong pandan extract and chai seeds make this an excellent detox drink. Do swing by to take away this drink after lunch.
Snow Pear Drink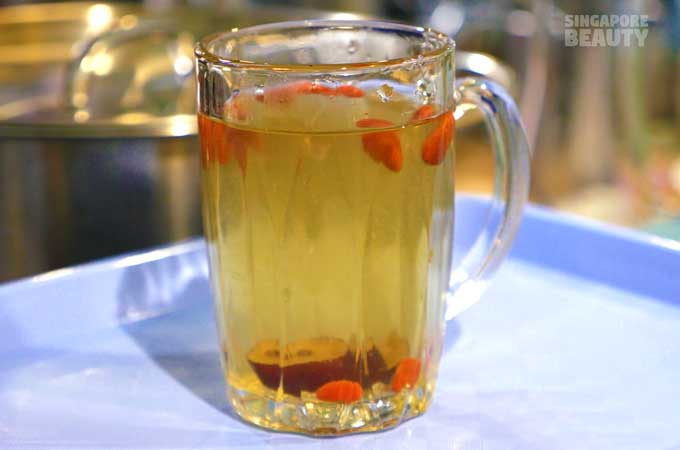 This tea brewed with snow pear, red dates and wolfberries is a good "cooling" drink in our warm weather. Available on Saturday only.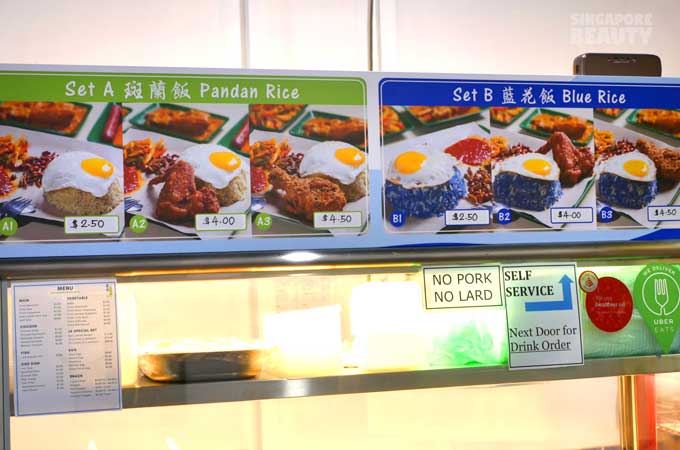 At the time of this writing, food served here is 100% no pork and no lard! Tasty nasi lemak with a twist and good value for money too. Jia Xiang Nasi Lemak can be ordered via ubereats, honest bee and they do catering too.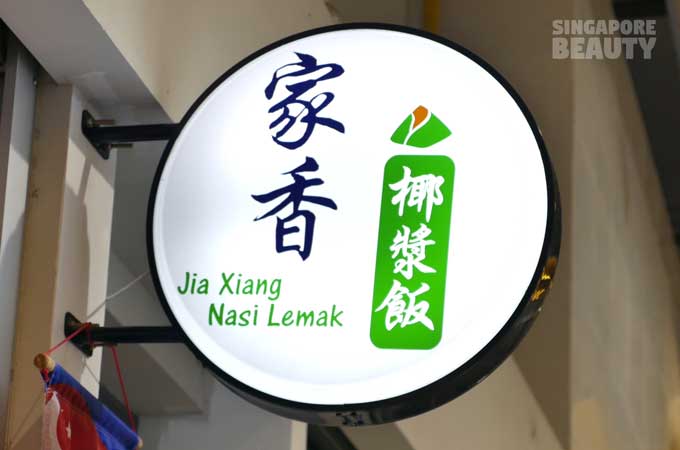 Contact them for more details at 9889 3466.
Where?
Their new location is now at:
CT Hub 2, 114 Lavender Street, #01-08/09, Singapore 338729
Opening Hours?
Weekdays 9am to 3pm
Saturday 10am to 8pm
Sunday closed
Call 9639 2486
They have rebranded to Simple.簡
This is a non-sponsored post. Paid for our own meal. Boss offered giveaways for our Facebook followers.