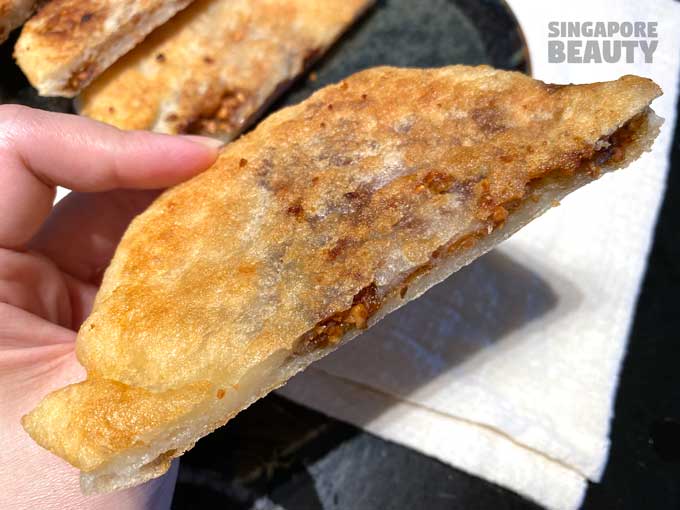 Hotteok also known as Hoeddeok is a popular street food in South Korea. Hotteok is a sweet Korean pancake that is crispy on the outside, chewy and sweet inside. Traditionally, hotteok is filled with chopped up nuts (such as peanuts are walnuts) together with a hint of cinnamon powder and lots of brown sugar. This is sweet dessert like snack is best enjoyed on a cold day and is usually served folded in a cup for ease of takeaway. To enjoy the molten like brown sugar fillings with nutty flavours, the hotteok is best eaten right off the grill pan.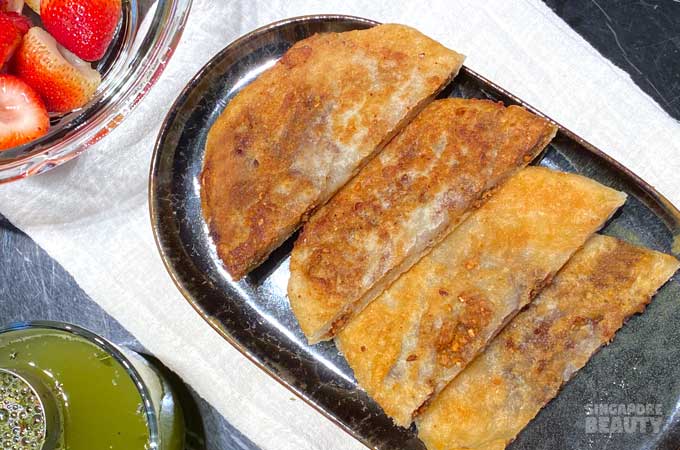 Since we are unable to travel to South Korea to enjoy this sweet snack, we have tried to recreate this delicious pancake here. This is a great idea for breakfast or as tea time snack. This can be prepared in advance and reheated to bring it back to life again. To store this hotteok, you can either put them into an airtight container or a ziplock bag or store them in the freezer.
Here is how a hotteok is made. This recipe makes 2 hotteok great for 2 pax. Sieve ½ cup of all purpose flour, ¼ cup of Tapioca starch, a pinch of cane sugar and salt into a mixer bowl and mix well. For the tapioca starch, you can replace with glutinous rice flour, if you do not have tapioca flour. Mix 6 gram of instant yeast with ½ cup of warm water in advance and let the yeast water develop for 10 mins.
Combine the yeast water into the sifted flour in the mixer bowl in a clockwise motion till a soft wet dough is formed. Let the dough sit covered in the mixer bowl for 30 minutes to 1 hour if there is time to spare, otherwise 30 minutes is sufficient.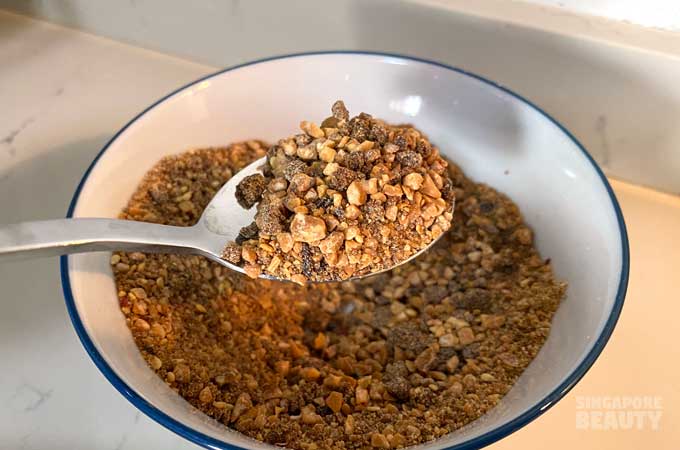 While waiting for the dough to develop and rise, prepare the fillings for the hotteok. Since we are preparing the tradition Korean street food type of Hotteok, our filling shall be a mixture of 2tbsp of crushed toasted peanuts, a pinch of sesame seeds, 4 tbsp of brown sugar and a pinch of cinnamon powder. If you do not have cinnamon powder, you can omit it. The filling can also be mixed shredded greens like cabbage, onions, carrots with a pinch of salt, mozzarella cheese with cheddar cheese or even local flavours like curry potatoes, canned sardines. The crispy dough seems to go well with any fillings.
After 30 minutes, the dough should balloon to twice its size and stretchy with lot of air bubbles. The texture should look and feel like those roti prata dough, soft and sticky.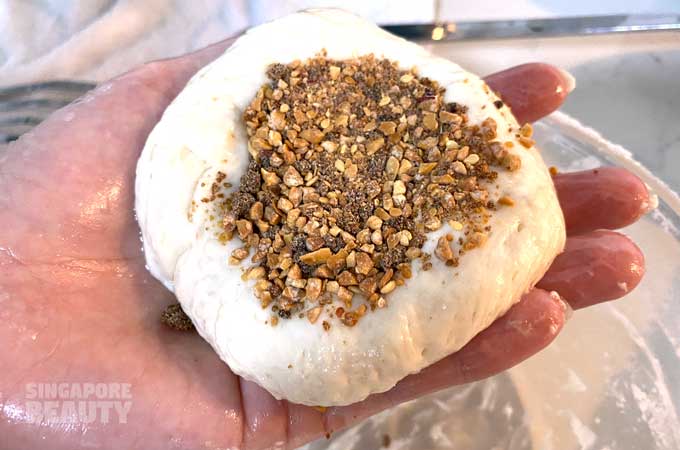 Grease the hands with vegetable oil and grab a ball of soft dough. Flatten the soft dough and scoop a tablespoon of fillings into the centre of the flatten dough.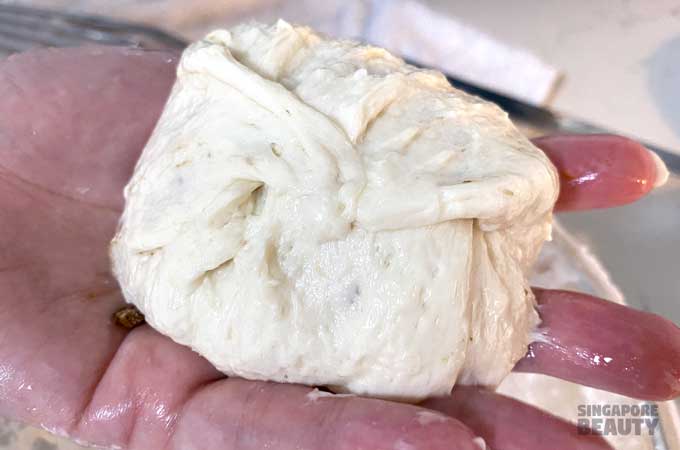 Seal the fillings by pulling up the edges of the dough into a ball.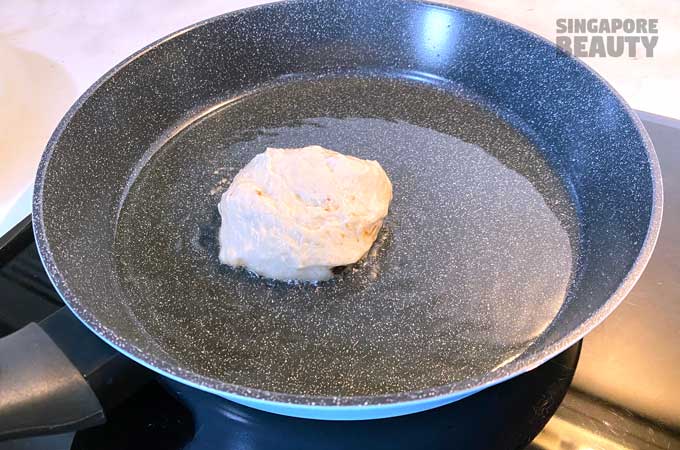 Heat up a pan with sufficient vegetable oil to cover the face of the pan and lower the dough ball with the sealed end onto the oil. Pan fried it slowly on low heat. While frying, flatten the dough ball into a disc with a circular hotteok press or meat patty press.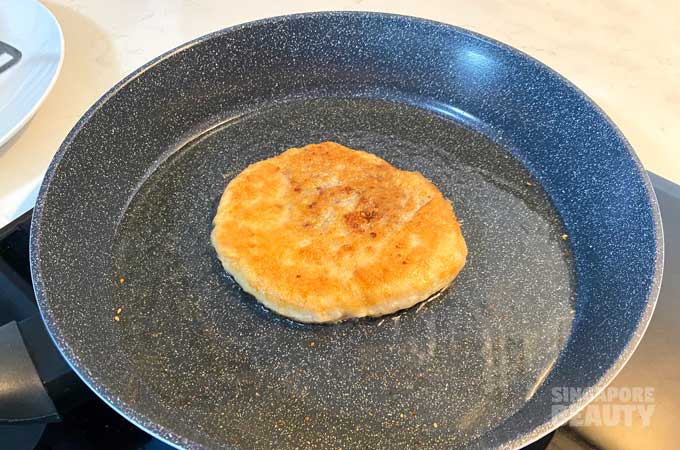 We do not have a hotteok press, so we used a flat skimmer to flatten the hotteok. Handy tip to share, as the dough is very sticky, be sure to oil the skimmer before fattening the dough, or else it will stick to it for dear life.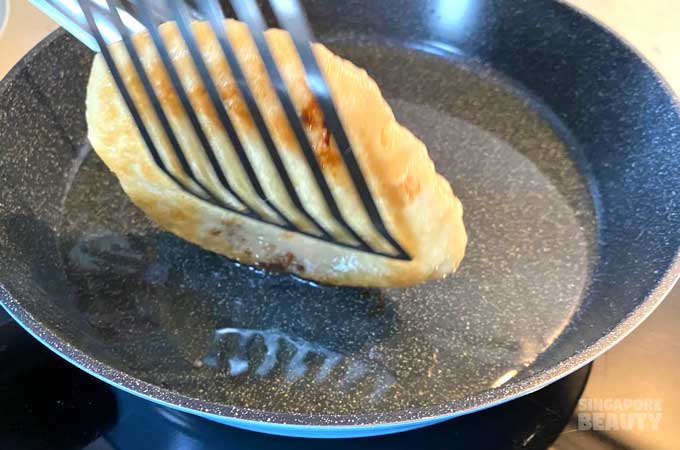 Let it pan fried till golden brown and get ready to flip the hotteok.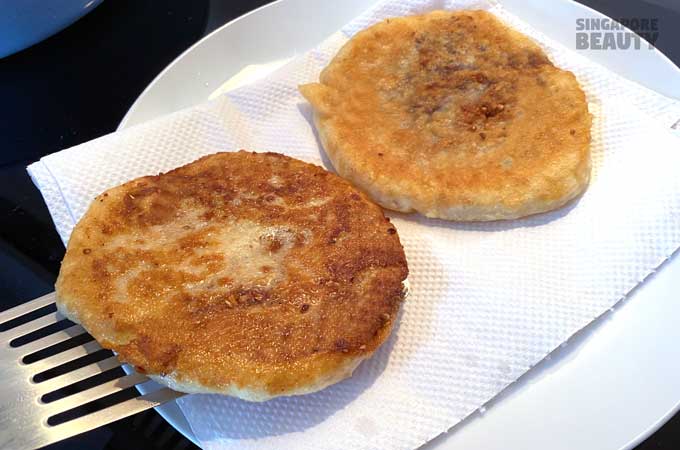 After flipping the hotteok, increase the heat to medium and press the disc of pancake again to release the remaining oil. Lay the hotteok on a kitchen towel to cool down and draw out excess oil.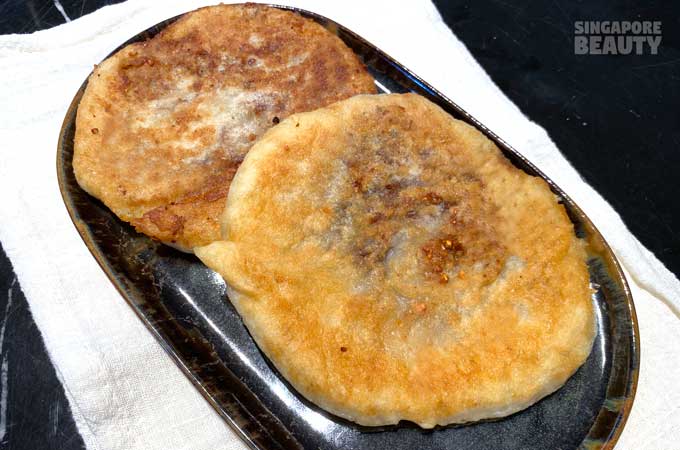 Korean Hotteok sweet pancake is now ready to be served.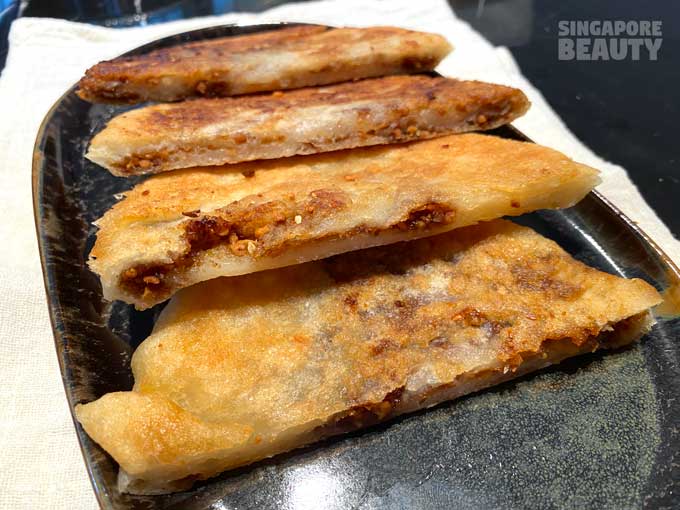 Beware of the piping hot molten brown sugar fillings when you bite into them, they may burn your lips. These are best enjoyed with a cup of matcha or some flora tea. Crispy on the outside and chewy inside with a sweet brown sugar filling, this is so addictive and fun to eat.