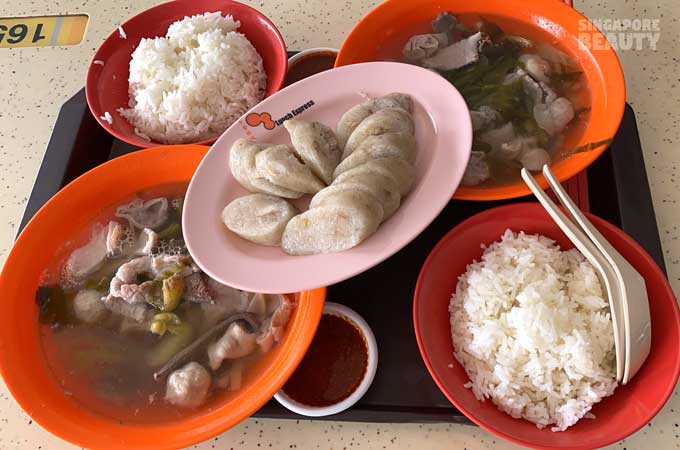 A trip to the Tiong Bahru market is not completed without getting yourself a bowl of hot pig's organ soup. For those who are familiar with the demographics of Tiong Bahru Market, Koh Brother Pig's Organ soup is a crowd favourite dish among of us. They are also Singapore first pig's organ soup that is awarded The Michelin Bib Gourmand Singapore 2019.
The stuffed glutinous rice sausage (特制栗子糯米肠) with chestnuts and pork belly is also a must order at this store. The serving comes in small, medium and large at $2, $4 or $6. This serving above is $4 good for 2 pax to share.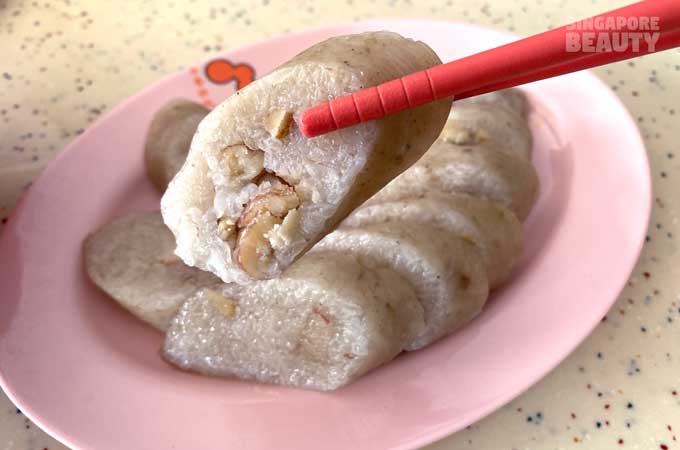 This is a pig intestines stuffed with glutinous rice, chestnuts and bits of pork belly.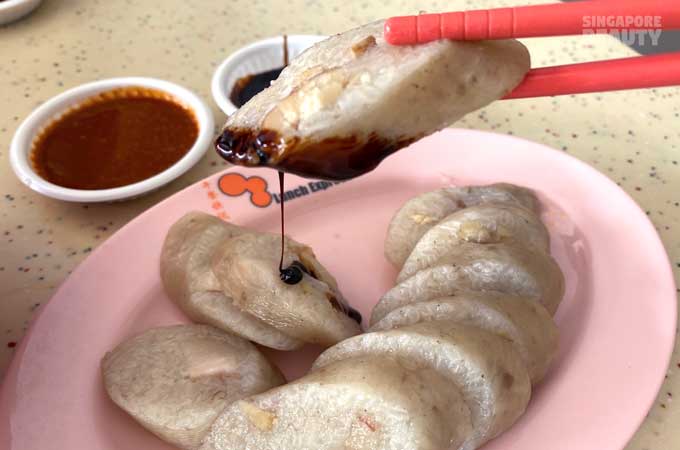 It is served with a rich sweet gooey black sauce. The chewy texture of the densely packed glutinous rice with the sweet caramelised flavour of the dark sauce is a match in heaven. The chestnut adds an occasion burst of nutty and creamy flavours. The pork intestines with its elasticity and greasy flavour add an interesting chew to it. These stuffed sausages are hot items in this store and be sure to go there early to get your hands on some.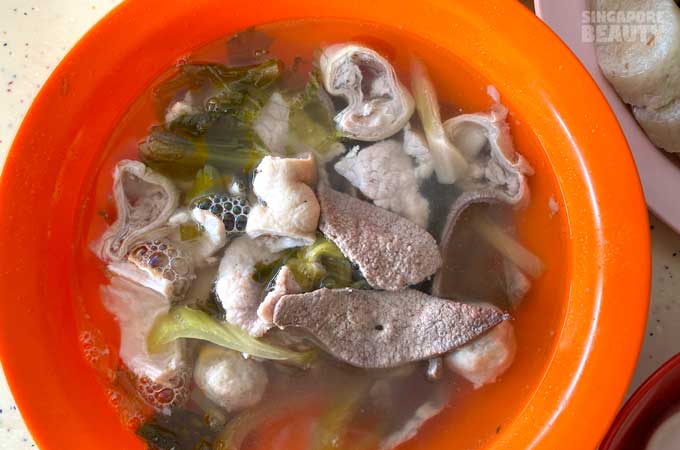 The other star dish of this store has to be the pig organ soup. It comes two sizes either in small or large bowl ($4.50 or $5.50 respectively). I ordered the $4 version as shown above. The pig organ soup comes in rich mix offal consisting of lean meat, large intestines, small intestines, pork balls, liver, pork heart, tripe (pig stomach) and a good amount of salty preserved mustard greens.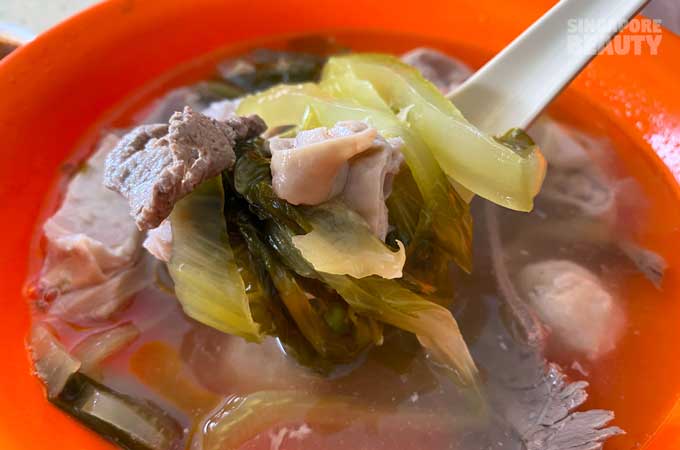 The salty preserved mustard greens and some pork bones are used in the brewing of the Teochew's style clear broth for this pig organ soup. It has lost most of the salty flavour but retain the soft munch of cabbage and a hint of tartness. The salted mustard has some olive green leaves that literally melts in your mouth and is a delightful break from the rich pork offal flavours.
These are the chopped up large pork intestine that has a creamy milky flavour to it. These large intestines are cooked till soft and melts in your mouth without much chewing. The intestines are well cleaned without the bitterness and porky flavour that it usually has.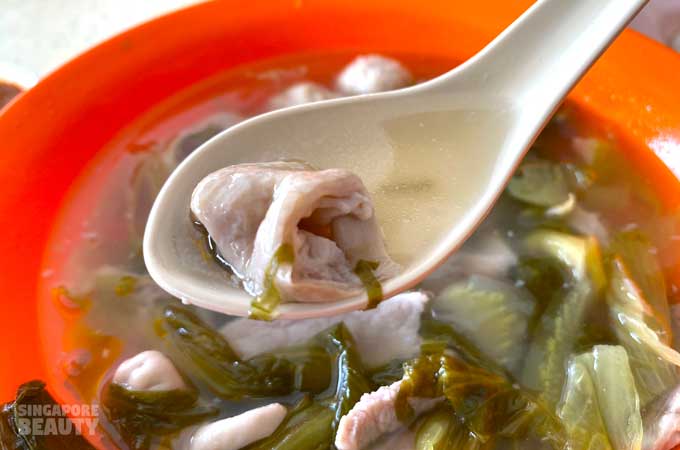 The small pork intestines are chewier compared to the large intestines. It has a mild pleasant porky flavour to it that many converts of this pig organ soup loves.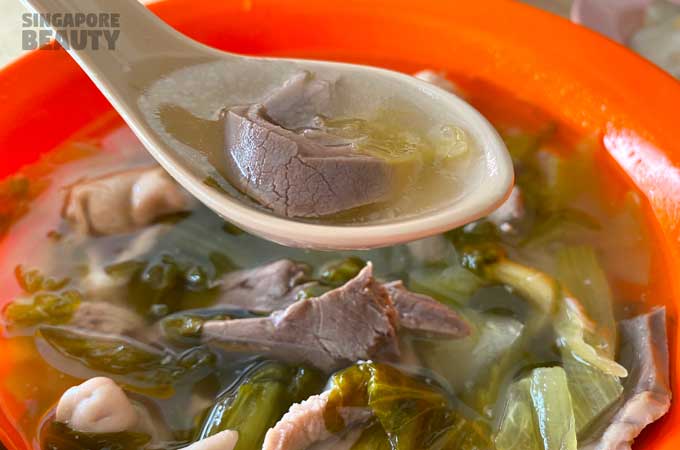 The pork stomach has a combination of texture – the cakey layer and chewy skin layer held together by some loose fat tissues.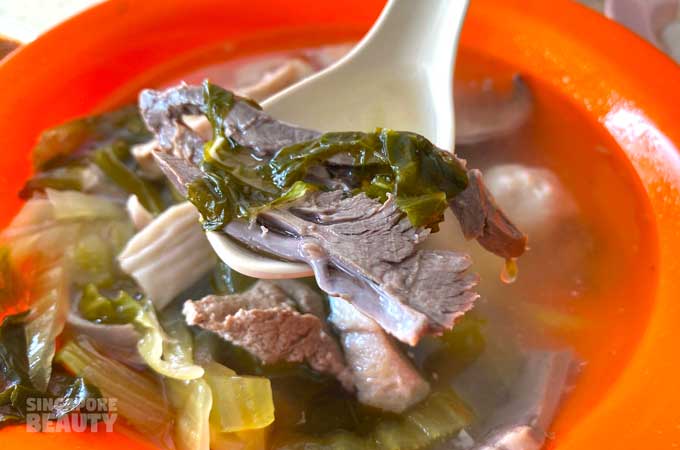 This dark piece of offal is the pork heart. The pork heart is tough and dense and is a good contrast to the other softer offal.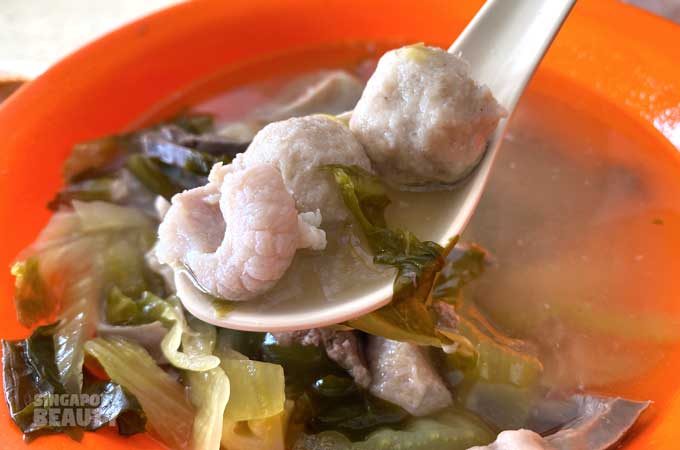 The pork balls and lean meat are the usual ban mee types. Thin slices of lean pork that is soft and tender with a subtle slimy texture to it.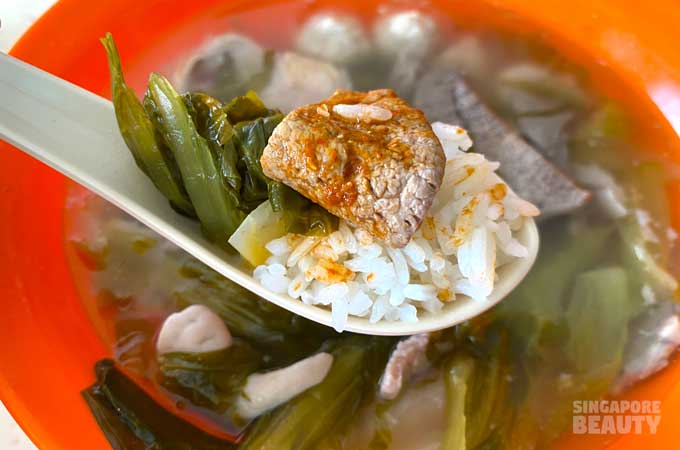 The pork liver are those thinly sliced and has a chalky texture not the slimy half cooked type in your bak chor mee.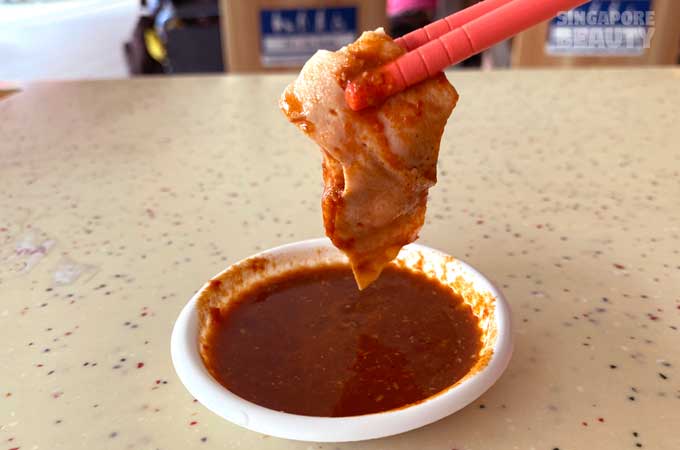 The tangy chilli sauce has a vinegary flavour texturised by some finely grounded chilli flakes.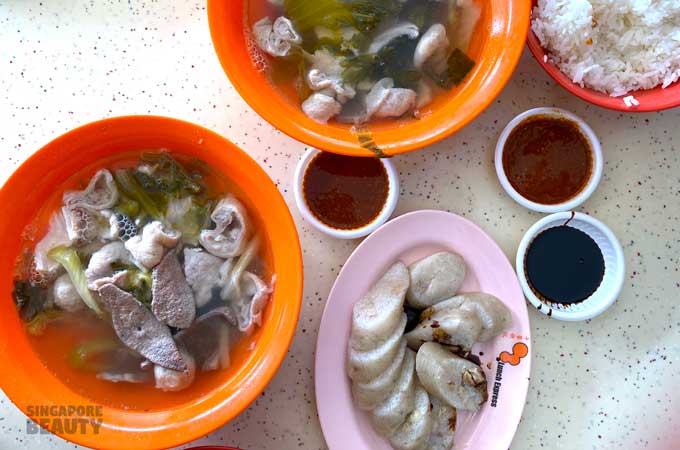 The Koh Brother Pig's organ soup is so distinctly characterised by it clear umami soup with rainbow bubbles and a treasure cove of mixed pork offal.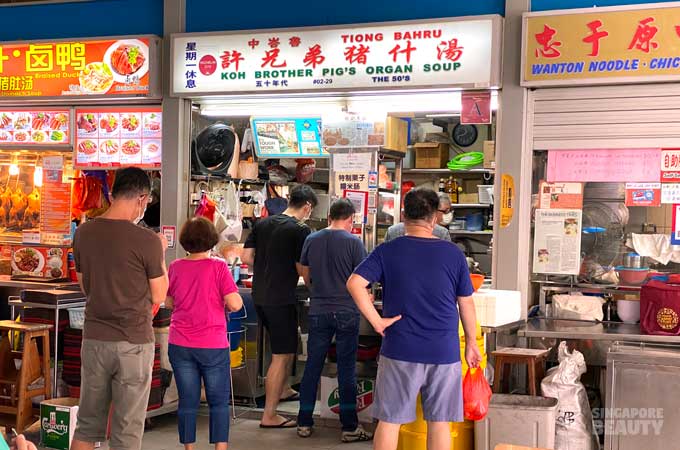 Try this pig organ soup when you are near Tiong Bahru Market and Food Centre.
Operating hours:
Lunch hours: 9am till 1.30pm
Dinner hours: 6pm till 8.30pm or whichever earlier when the items are sold out.
Monday closed.
Location:
Koh Brother Pig's Organ Soup
30 Seng Poh Road #02-29, Singapore 168898
Tiong Bahru Food Centre
Telephone:
(+65) 8113 7218