Long Jiang Chinos is no longer in operation. Long Jiang Chinos serves Chinese cuisine that retains the good old nostalgic taste with a modern touch to every dish. Every dish is the brainchild of numerous R & D by the head chef and their team before they are presented to the diners.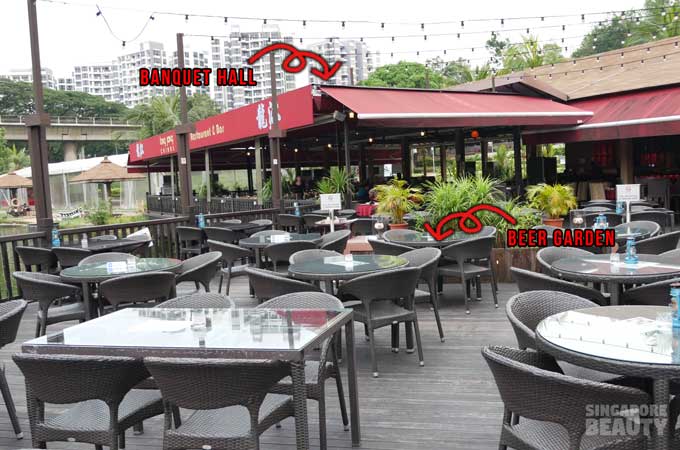 It boosts of a private dining*, outdoor banquet hall and an alfresco beer garden. Nested within ORTO park amongst lush greens and overlooking a lake, this is a truly unique dining location.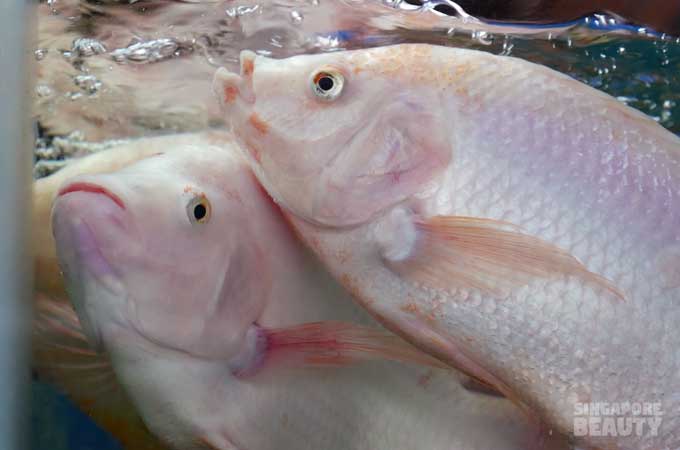 At Long Jiang Chinos, only the freshest ingredients are used and live seafood is their forte. For seafood lovers, this is recommended when you visit Long Jiang Chinos.
Seafood Hotpot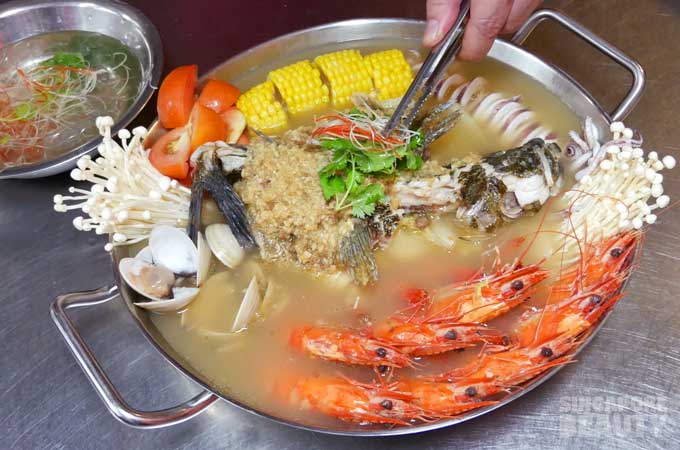 Seafood Hotpot ($128) served in a large wok over low heat to simmer the food while you eat.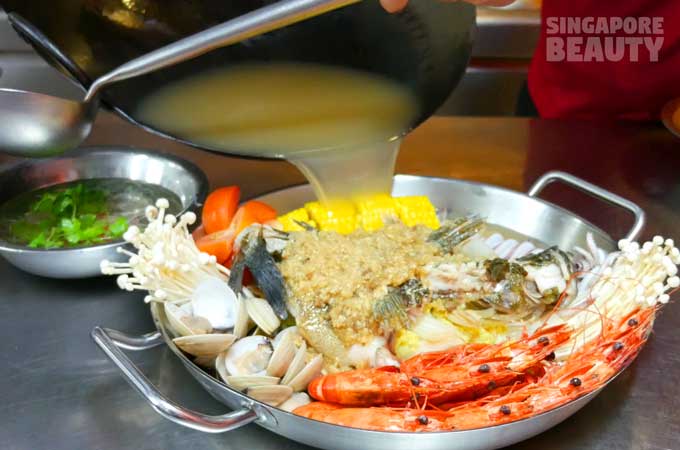 The chicken bone broth is simmered for hours and is refillable. Broth is aromatic and has a strong resemblance to the Chinese New Year abalone chicken broth at our reunion dinner.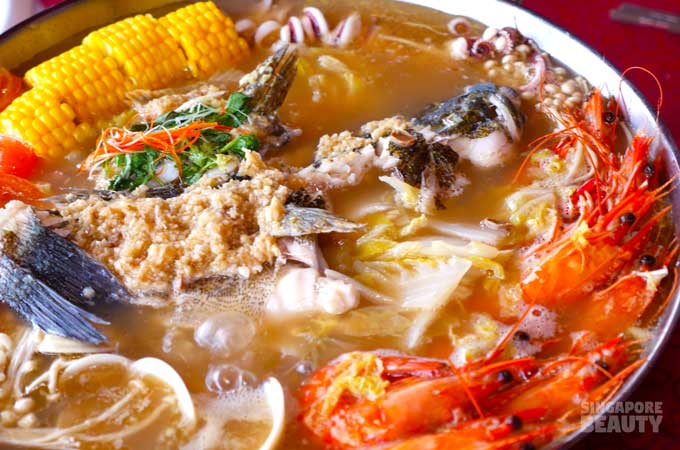 The ingredients used are of top notch in this hotpot, one good size fresh Soon Hock Fish, live prawns, whole squid, clams, sweet corn cobs, ripe red tomatoes, enoki mushrooms and sweet cabbages.
The Live Soon Hock Fish is steamed to perfection with fragrant minced garlic oil topped with some iced crunchy carrots and spring onions shreds. Soon Hock is known best for its delicate meat and is always steamed to savour the sweet and tender flesh. One of the premium freshwater fishes with a hefty price tag, this is served only in exquisite Chinese fine dining restaurant. To have this in a hotpot at this price is a steal!
The live prawns are fat and juicy. You can savour the goodness within the prawn head and the body is full of oomph. Look at the prawn head and the eyes, they speaks thousands of the freshness of the prawn. You can eat this whole and no need to devein it. Best prawn you can find in this park.
From premium ingredients to generous portion, this is a hotpot that is worth every cent of your money. This is good for 3 to 4 pax.
Cheesy Crab Bee Hoon with Crab Roe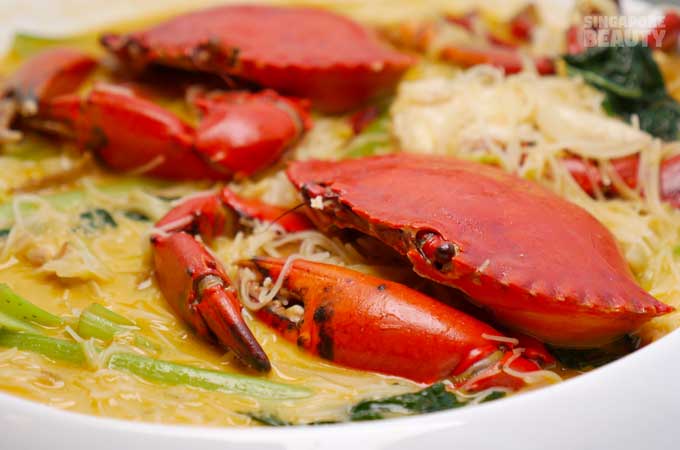 Cheesy Crab Bee Hoon with Crab Roe ($44.80) served in a hot claypot. This claypot keeps the food warm while you eat. 2 India mud crabs to flavour the cheesy broth. Only mud crabs with roe are used for this dish. Although smaller crabs are used, the meaty firm flesh make up for it. You can taste the sweetness of the meat too.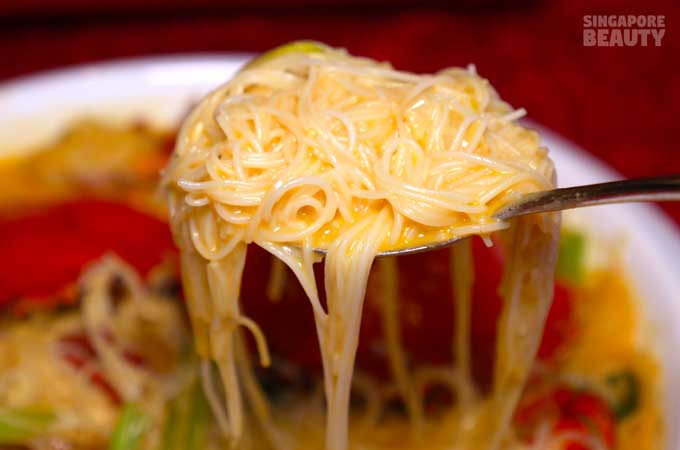 Creamy cheese, the roe and the sweetness from the crabs all soaked up by the bee hoon. I like the consistency of the bee hoon as it is not overly soft and just of the right bite. The cai xin add an overall refreshing factor to mallow out the savoury broth. The cheese used in this dish is well proportioned to the other ingredients, the aromatic cheese enhances the roe infused gravy. I love cheese but not one that is overpowering. This dish has just the right balance. This is not your usual condensed milk claypot crab bee hoon, try even if you are not a cheese lover.
Crispy Fried Kampong Chicken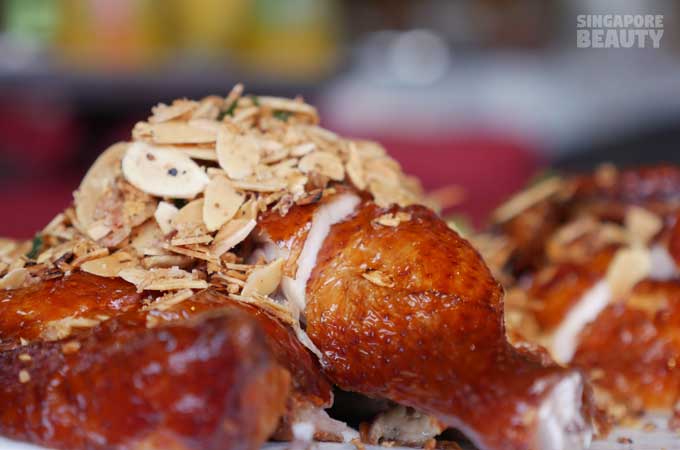 Crispy Fried Kampong Chicken $36 (Full) $18 (Half) very traditional Cantonese style fried chicken that is very rare nowadays. Without trying too hard, the chef has graced this chicken with generous roasted almond flakes that has some subtle hint of garlicky undertones. You can wolf down a bowl of steam rice with these aromatic seasoned almond flakes. The texture of the meat is firm and has a bite. Very meaty chicken with crispy skin. Look at how the skin glistens in the light. This is the place to relive Cantonese fried chicken with salt and pepper by old school Chinese banquet restaurant. Very rare find and highly recommended.
Stir Fried Fine Beans & Crispy Shredded Yam in Guangzhou Style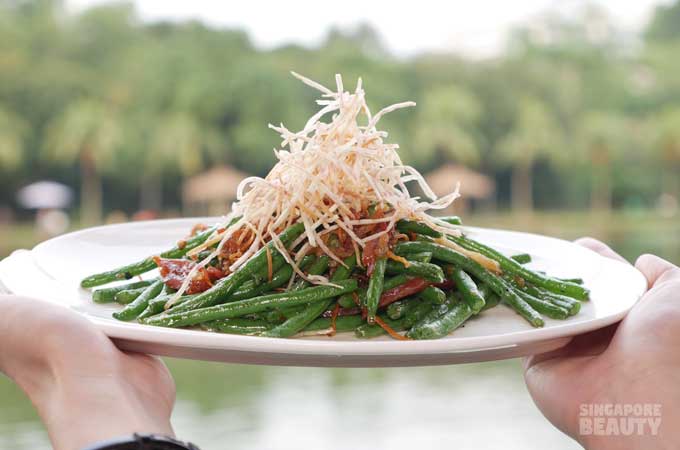 Stir Fried Fine Beans & Crispy Shredded Yam in Guangzhou Style ($14) has shredded lap cheong(Chinese stuff sausages), crispy yam and young crunchy long beans. Sweet and savoury.
Fish Skin with Salted Egg Yolk & Pumpkin Barley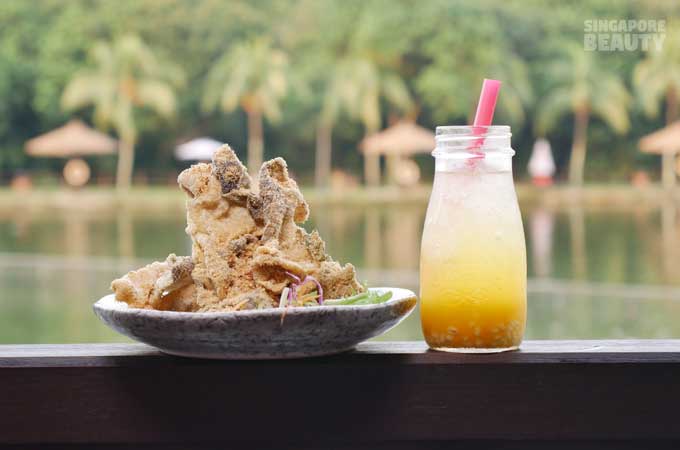 For drinks, try the Homemade Pumpkin Barley ($2.20). With real barley and cubes of sweet golden pumpkin, this drink is refreshing and cooling. Thick, silky and of a good consistency. Serving is on the small side and limited quantity per day as these are homemade. Order some of these beauties when you are there.
Fish Skin with Salted Egg Yolk ($8.80). This is a good start before your mains to whet your appetite. Large crispy fish skin heavily dusted in salted egg yolk. They should sell this in a take away bottle. Delish!
Baked Bombe "Alaska"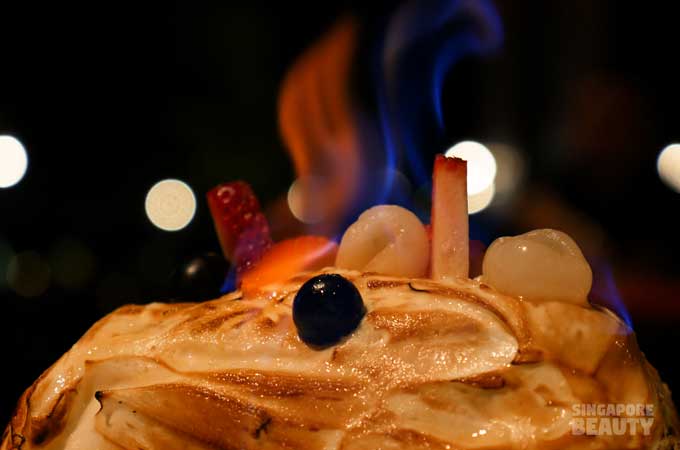 Baked Bombe "Alaska" ($26 Half). No this is not Alaskan crab dessert. In trend with the latest hype on flaming food, Long Jiang Chinos has this flaming ice cream log cake. Set fire on ice? The result is a smoky meringue crust and vanilla ice cream atop a slab of good old brownie.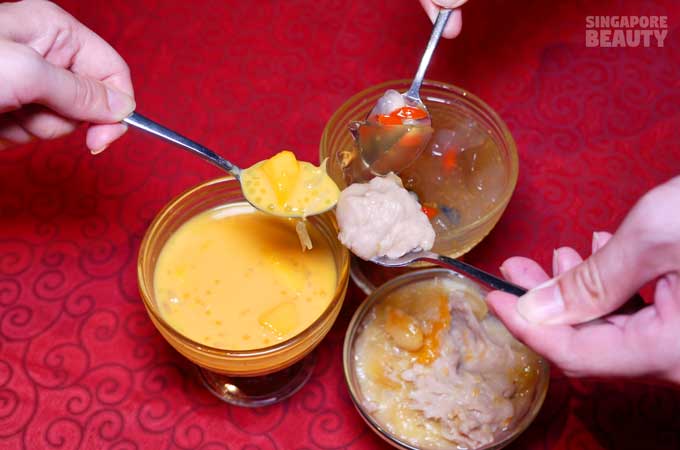 If you still have room for desserts, try their in-house Yam Paste with Gingko Nuts ($3.80). Due to the short shelf life and complexity in preparation, you will not find many restaurants serving this nowadays. Long Jiang Chinos are the few who are still serving this dessert in single servings.
As Mid-Autumn festival is around the corner, you get a complimentary box of 4 assorted traditional baked mooncakes with bill above $200** or one box of 4 Teochew mooncakes with bill above $250** while stocks last.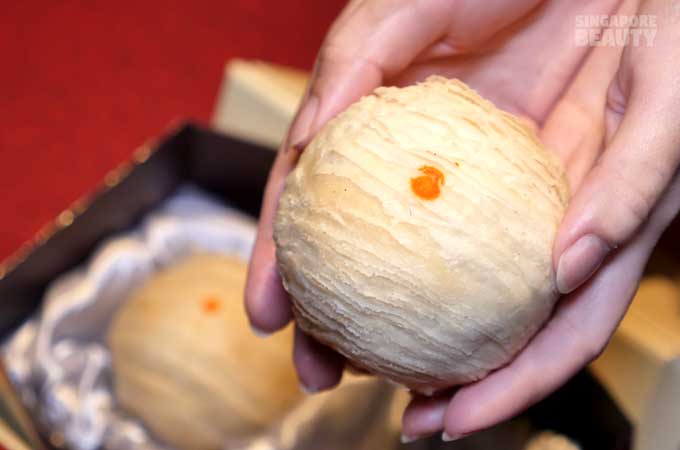 We tried their special in-house crispy yam paste mooncake. This "Orh Nee" yam paste mooncake has a light flaky pastry crust and fine yam fillings. Great as gift for elder as it is low in sugar or for someone who appreciate the classic Teochew mooncake.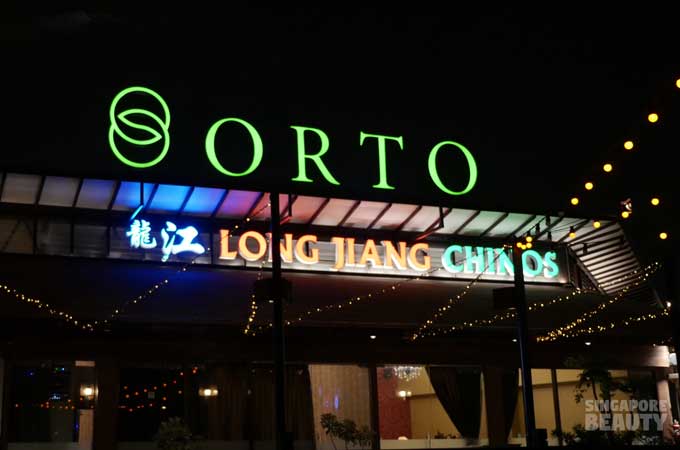 Do make Long Jiang Chinos your choice for hosting family or corporate dinners.
*For private dining room, a minimum spent of $600 on food is required.
**The bill amount is before GST and service charge.
Address:
[Restaurant ceased operation]
81 Lorong Chencharu, Singapore 769198
Opening hours:
11:30am to 2pm, 5:30pm to 10pm Daily
Reservation:
6757 7887
This was a media tasting at Long Jiang Chinos.