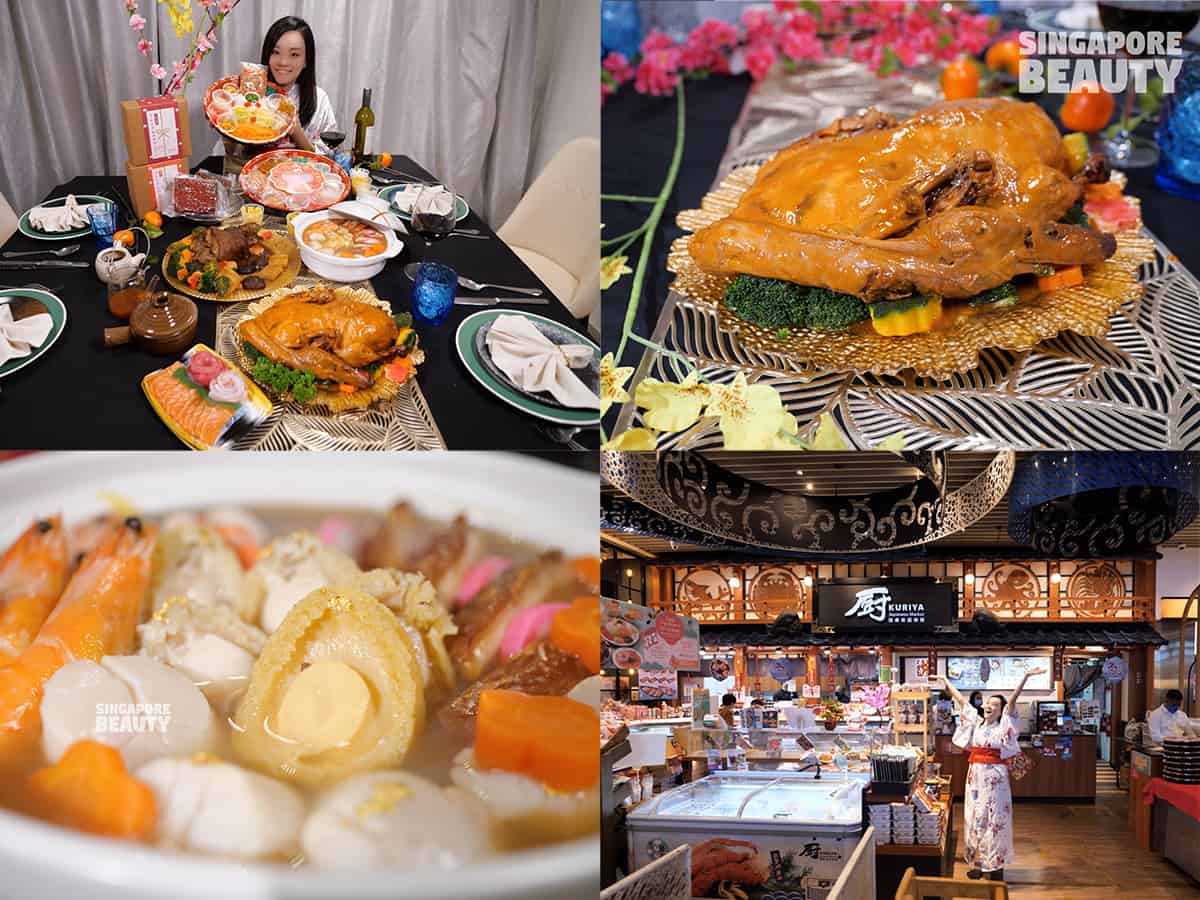 Kuriya Japanese Market is celebrating Lunar New Year with Japanese inspired menu of CNY delights. The new menu includes Japanese Treasure Pot, Petite Treasure Pot, Invigorating Fruits Yu Sheng, Abundance Yu Sheng, Blessings Yu Sheng, Arima Sansho Pork Knuckle, Yuzu Prosperity Duck, Abalone Stuffed Roast Chicken, Party platters, Fortune Bundles, Japanese Premium Bak Kwa and more.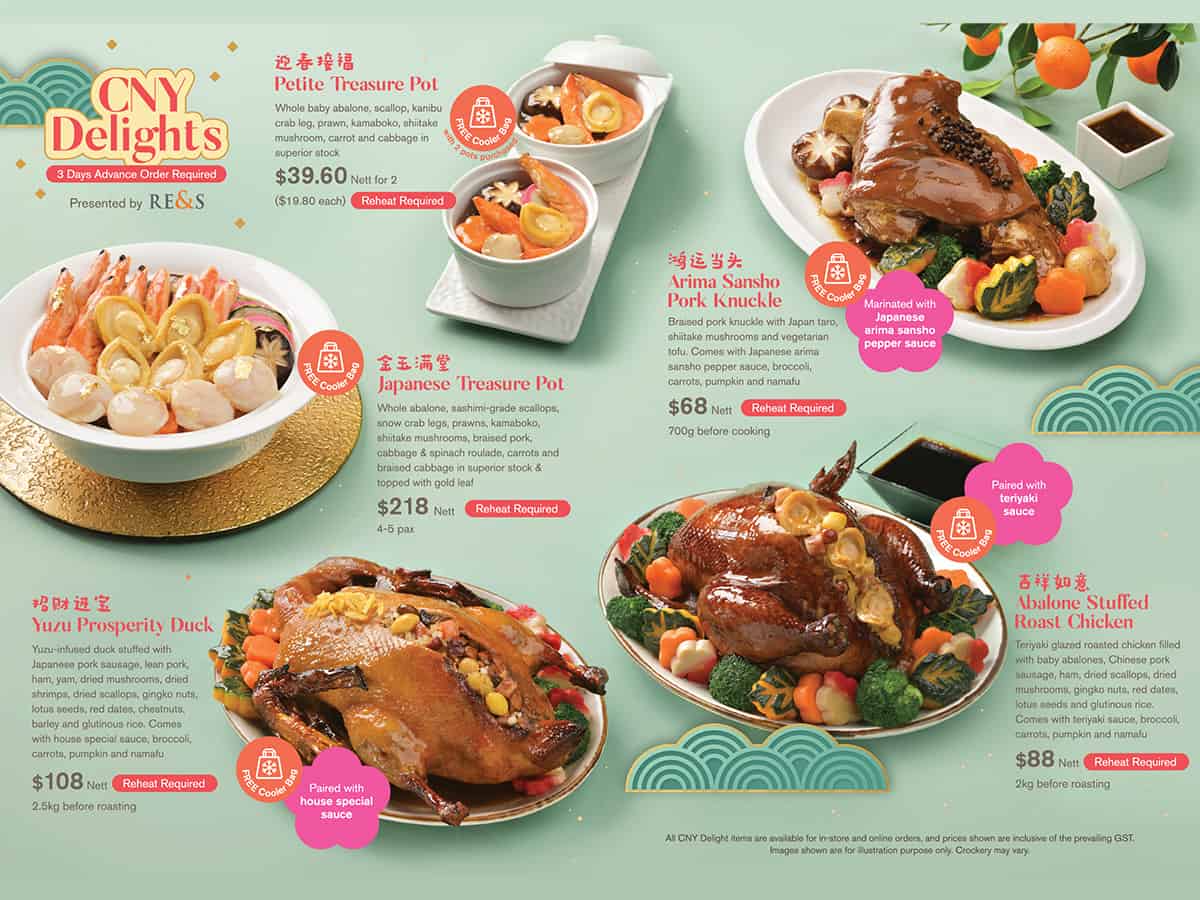 Here's Kuriya Japanese Market menu for Chinese New Year with individual prices of the Japanese inspired must-haves from RE&S. Curated CNY delights are available for collection from 5 Jan to 5 Feb 2023. You can either opt for self collection or delivery, with 3 days advance order in store or online. Delivery charges apply. Get $10 off with minimum spend of $100 by entering promo code "SGB10" at Kuriya Japanese Market's online checkout.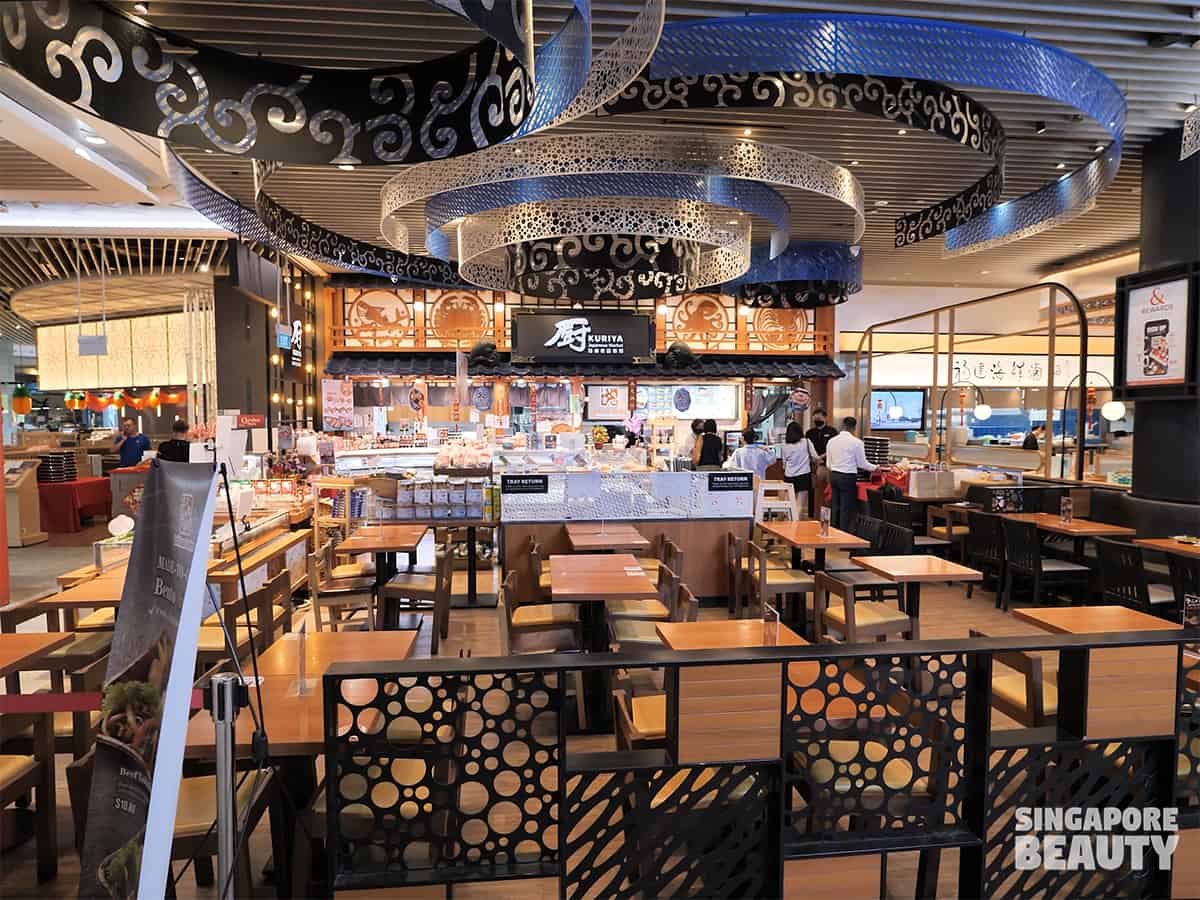 Kuriya Japanese Market has 11 outlets island wide. The locations are at Waterway Point, AMK Hub, Causeway Point, Chinatown Point, Great World, Guoco Tower, Jurong Point, Nex, Northpoint City, Paragon and Tiong Bahru Plaza. This is their Waterway Point outlet with dine in for their ready to eat bentos, sushi and sashimi.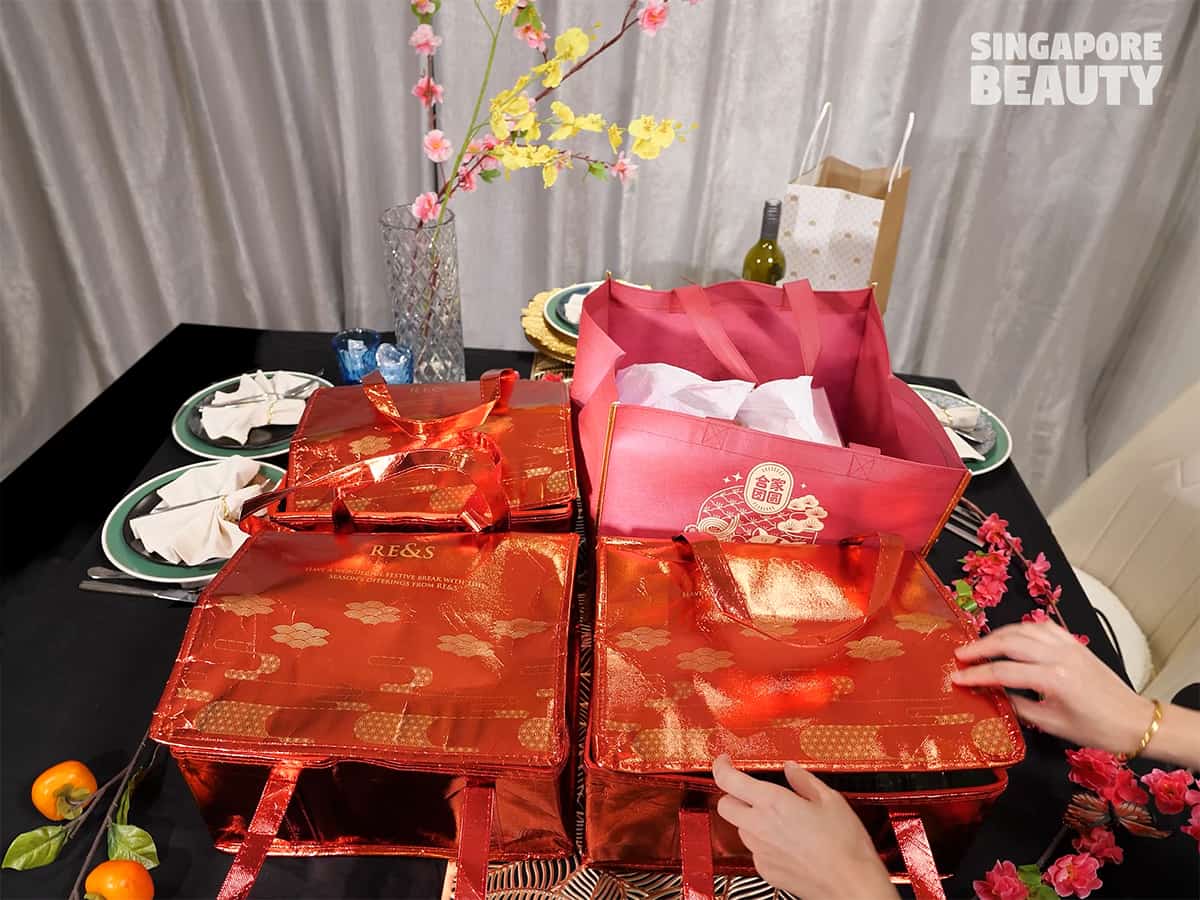 Kuriya Japanese Market CNY delights for Reunion dinner is available for delivery or self-collection. Delivery charges applies from $20-$22 per location with CNY surcharge $3 between 15th Jan to 24th Jan 2023.  The food are vacuum packed in a cooler bag. These are only available for takeaways as reheating is required by steaming, sous vide or microwave for different types of food. Just follow the instruction on the food packaging and timing accordingly.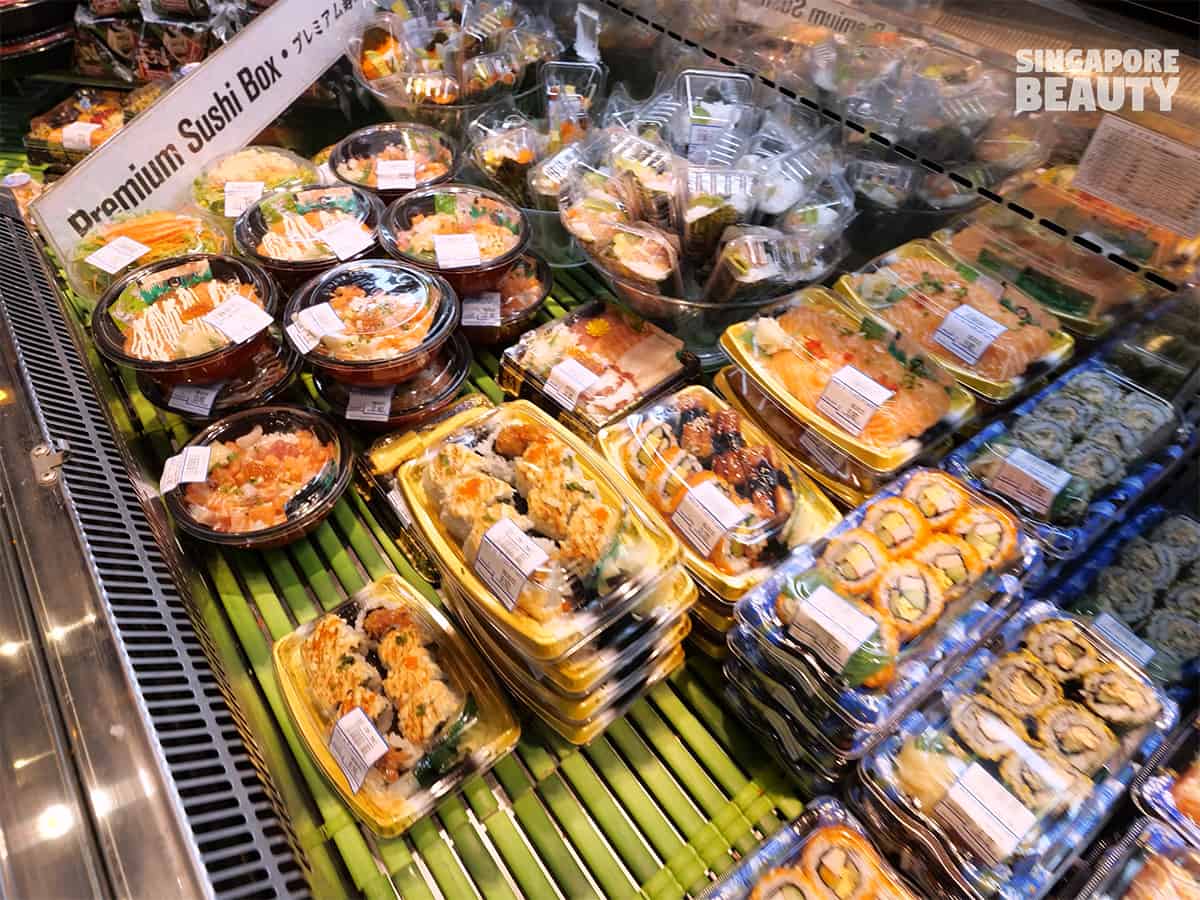 They are popular for their variety and air-flown Japanese delights such as premium fish and seafood thrice weekly from Japan. Seasonal fruits, sake, frozen food, condiments and seasoning are also available, should you need to whip up an authentic Japanese feast at home. Add on to your feast with these ready to eat premium sushi box, bentos, sashimi, party platters and more at their pick your own food chilled display counters. These are handmade fresh daily by their in-house trained chefs.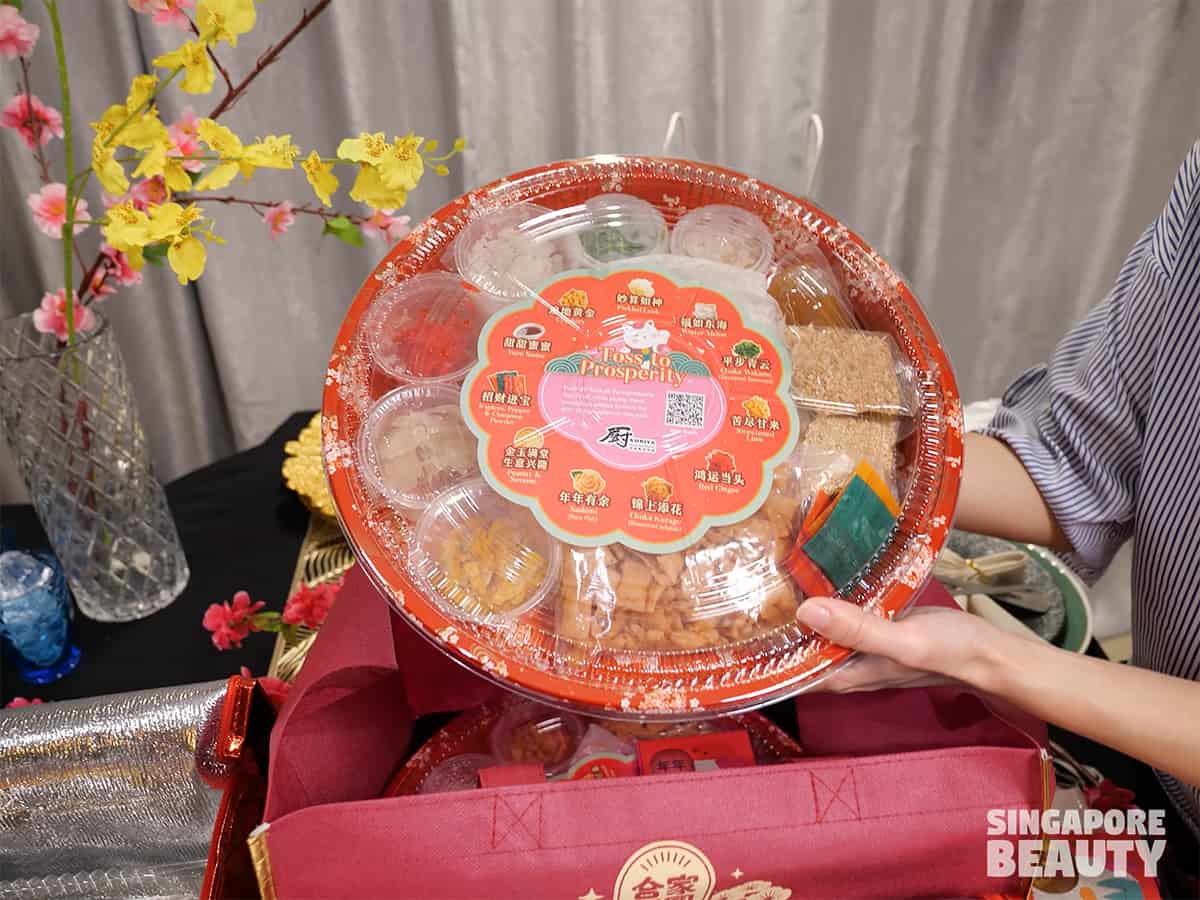 Kuriya Japanese Market have some online exclusive such as this Yu Sheng fruit platter. There are 3 choices for Yu Sheng – Invigorating fruits Yu Sheng ($58.80 nett) comes with 6 types of julienned fresh fruits, Abundance Yu Sheng ($61.80 nett) comes with 3 types of sashimi and  Blessings Yu Sheng ($50.80 nett) comes with 2 type of sashimi. These are all good for 6-8 people to share.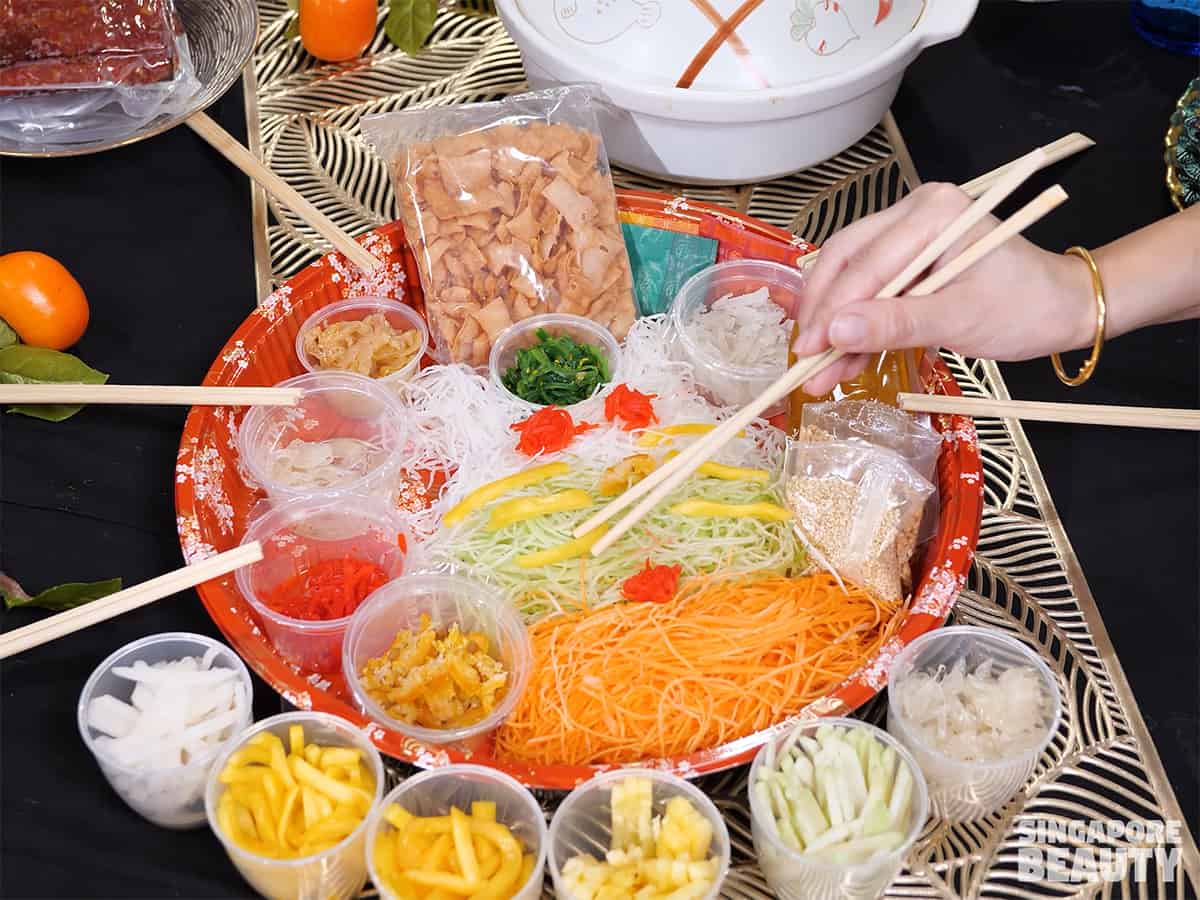 Invigorating Fruits Yu Sheng ($58.80 nett) comes with 6 types of julienned fresh fruits cups. The cups are sealed individually for freshness. Indulge in fresh fruits Yu Sheng with julienned pear, guava, mango, jackfruit, pomelo and pineapple with a base ingredients of shredded greens, seasoned seaweed, seasoned jelly fish and more. Make your own rabbit pattern Yu Sheng to usher in the year of the rabbit with their base ingredients. This fruity Yu Sheng is an online exclusive, be sure to add this to cart if you are ordering online. Toss and Huat ah! This Yu Sheng with greens and fruits is refreshing and makes a great appetiser before a big feast.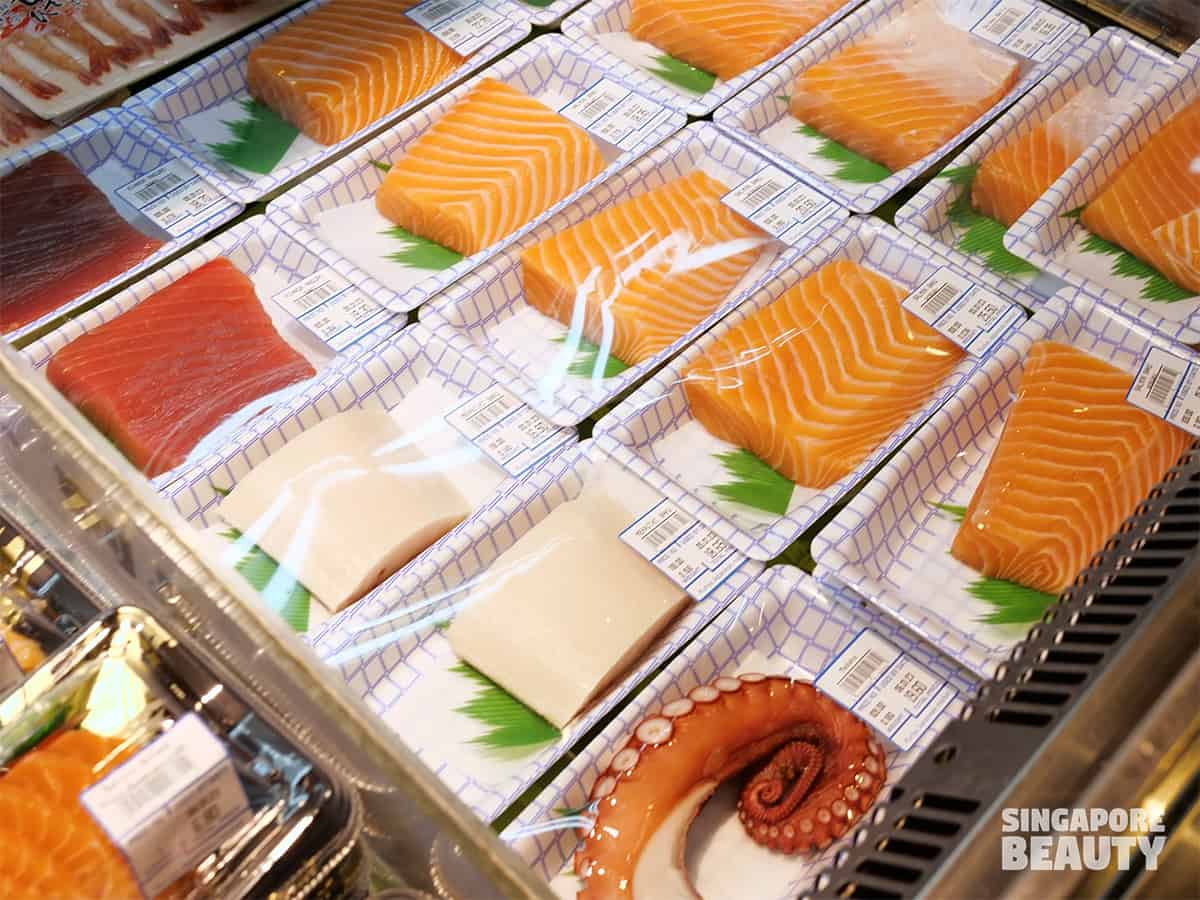 Choose your favourite sashimi as add-ons and have the chefs slice for you. Add-ons available for their Yu Sheng are crackers ($2) and sashimi (8 pieces from $6.80) – salmon, tuna, octopus, swordfish, Japanese sea bream, Amberjack, scallop or sweet shrimps(10 pieces).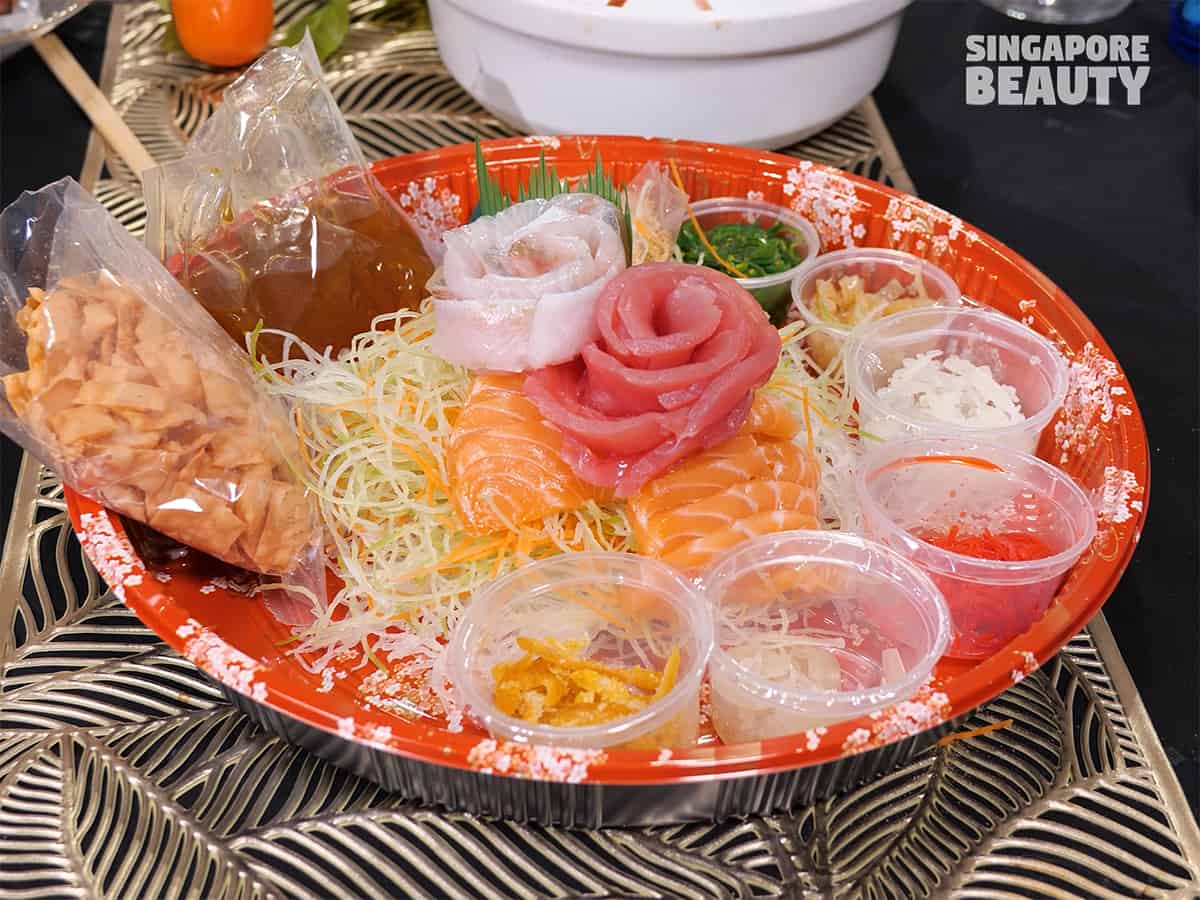 Abundance Yu Sheng ($61.80 nett) – comes with three types of sashimi – Salmon, Tuna and Amberjack. These are sashimi that is sandwich-packed with dual ice packets to retain the freshness. Each Yu Sheng base ingredients are packed in a round sakura printed platter with 8 condiments and 1 packet of shredded greens strips – carrot, white radish & green radish. The 8 other ingredients includes sweeten orange peels, pickled leeks, red ginger, winter melon, seasoned jellyfish and seasoned seaweed. There is also 1 large bag of crackers, 1 pouch of yuzu sauce, 1 sachet of 5 spices powder, pepper and cinnamon powder.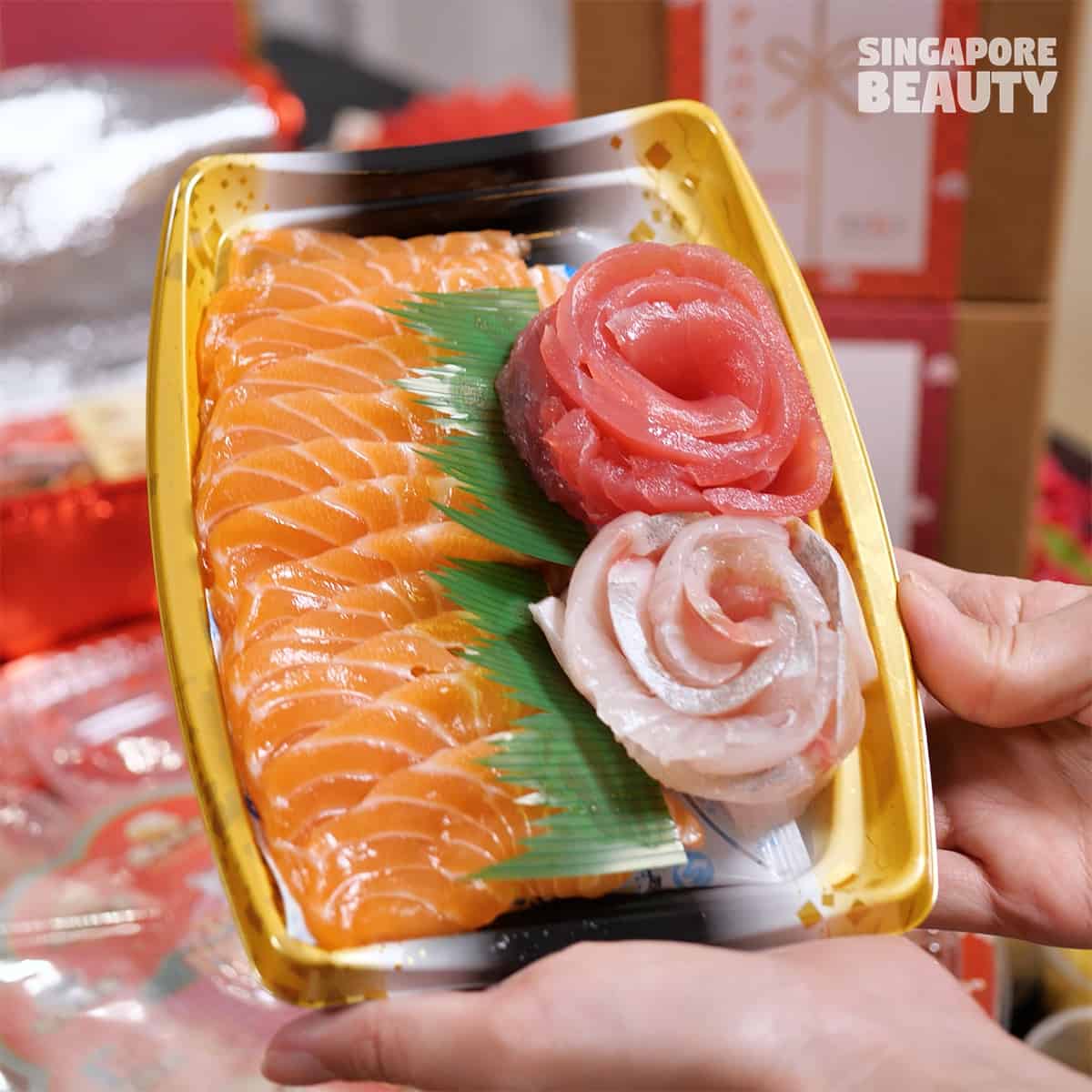 This is the platter of sashimi that comes with Abundance Yu Sheng. Tuna and Amberjack are presented as two sashimi rose for you to top your Yu Sheng with. The sashimi are of a good thickness, springy and fresh too. I had the urge to eat them with some wasabi and soy sauce! Signature Yuzu sauce is made with ingredients from Japan and goes well with their Yu Sheng platter. Get a packet of ang pow collectibles with each order of Yu Sheng whilst stock lasts.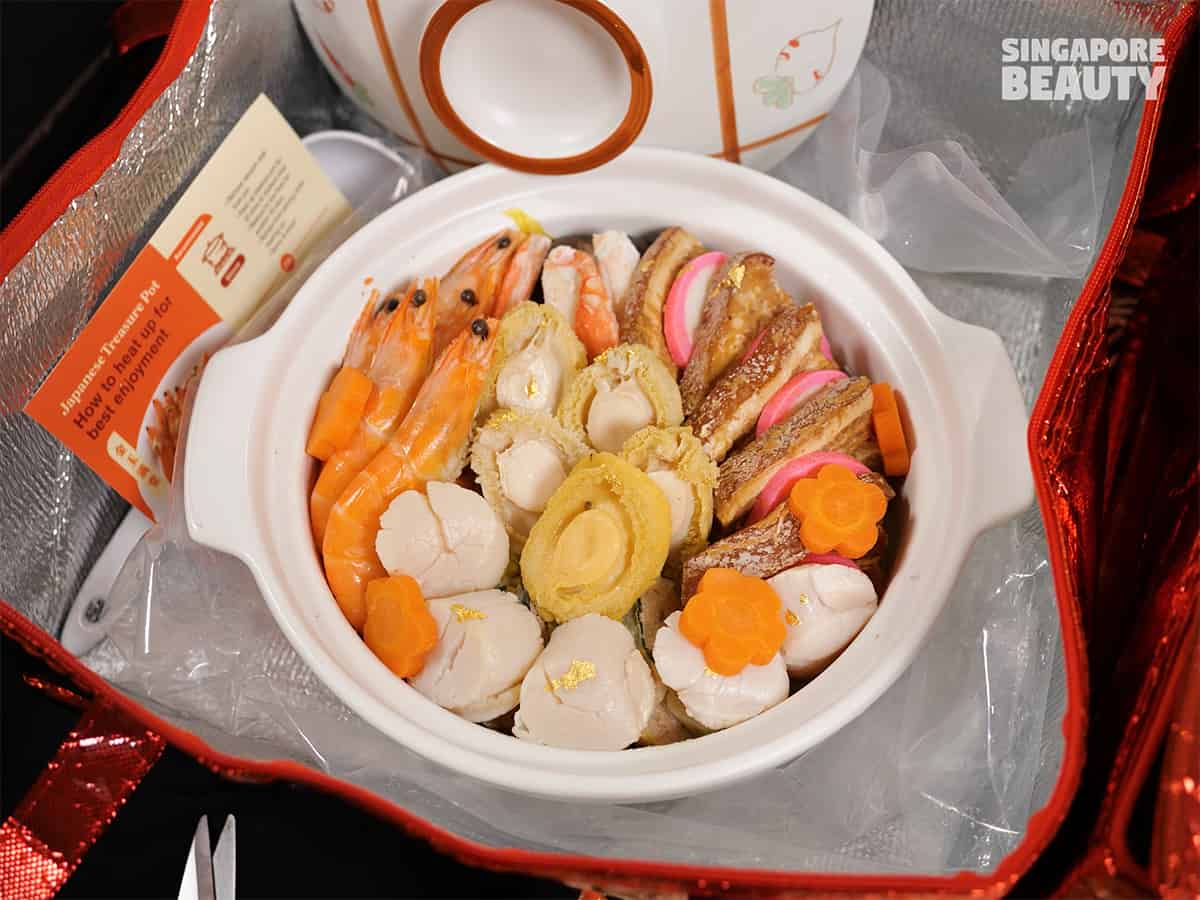 Japanese Treasure Pot is delivered vacuum sealed in a claypot with lid with a ladle and reheat instructions in a metallic red foil cooler bag. The claypot included is in cream colour with smooth finish and some painted radish and fish prints on the lid. This is a good size claypot of 22 inches diameter that can hold quite a lot of ingredients. Ingredients are well plated and filled to the brim!
Kuriya Japanese Market has curated this sumptuous pot of Pen Cai for CNY menu 2023. This Japanese Treasure Pot ($218 nett) includes whole abalone, snow crab legs, sashimi grade scallops, braised pork, shiitake mushroom, kamaboko, cabbage & spinach roulade, carrots, braised cabbage and fresh prawns in superior broth. Check out these seafood goodness with fold leaf on them. Abalone are springy and the scallops are a big mouthful of springy bliss. The sweet prawns are fresh and crunchy. while the braised pork are tender and well marinated. The cabbage & spinach roulade taste similar to our Local ngoh hiang but it is steamed till the cabbage are soft and melts in the mouth. The broth are kept warm and comforting in this claypot for you to sip on while enjoying other dishes.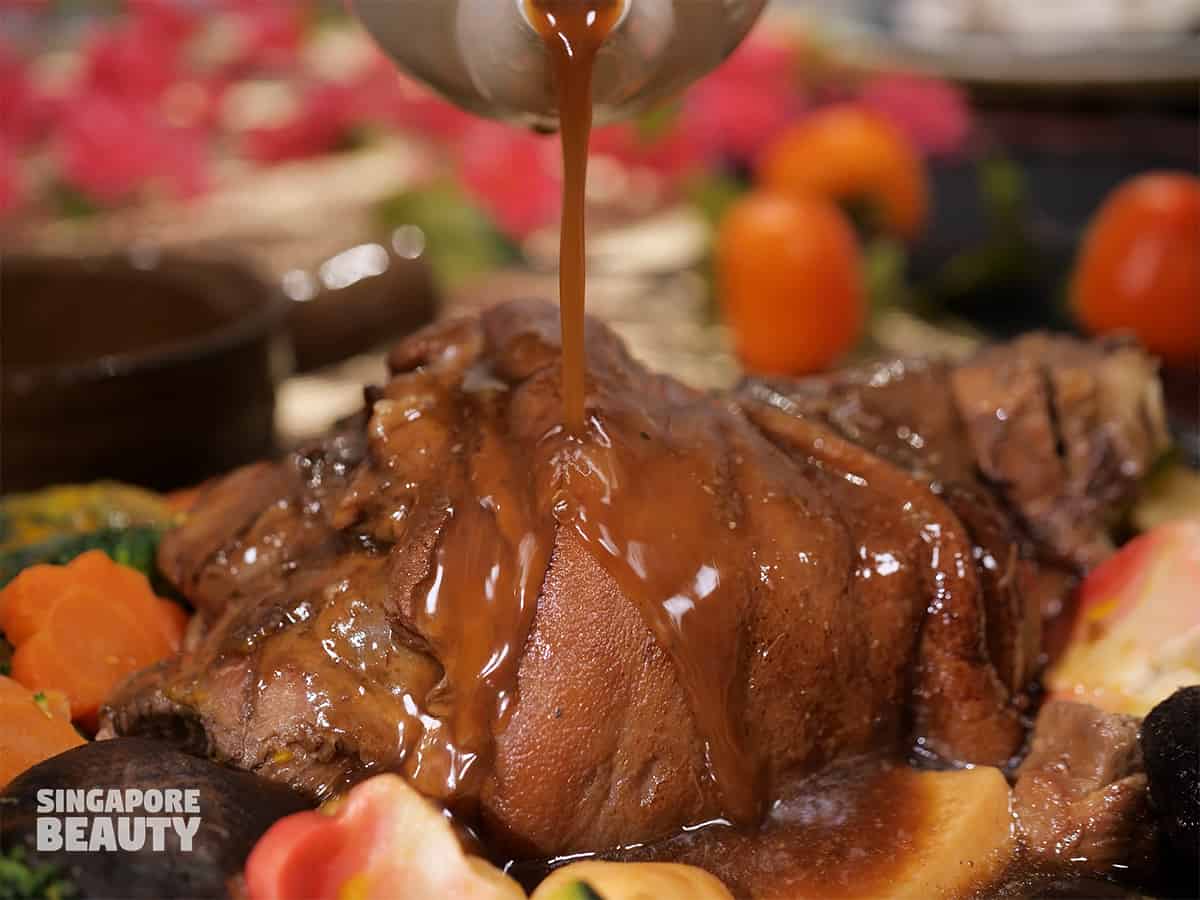 Arima Sansho Pork Knuckle ($68 nett) – braised knuckle with Japan taro, shiitake mushrooms and vegetarian tofu. This comes with a pack of garden green – pumpkin in a leaf shaped, carrots and namafu in sakura shape and broccoli. Fork tender with fall off the bone meat, enjoy with Japanese Arima Sansho pepper sauce. Pork knuckles are known to be a good source of collagen and gelatine.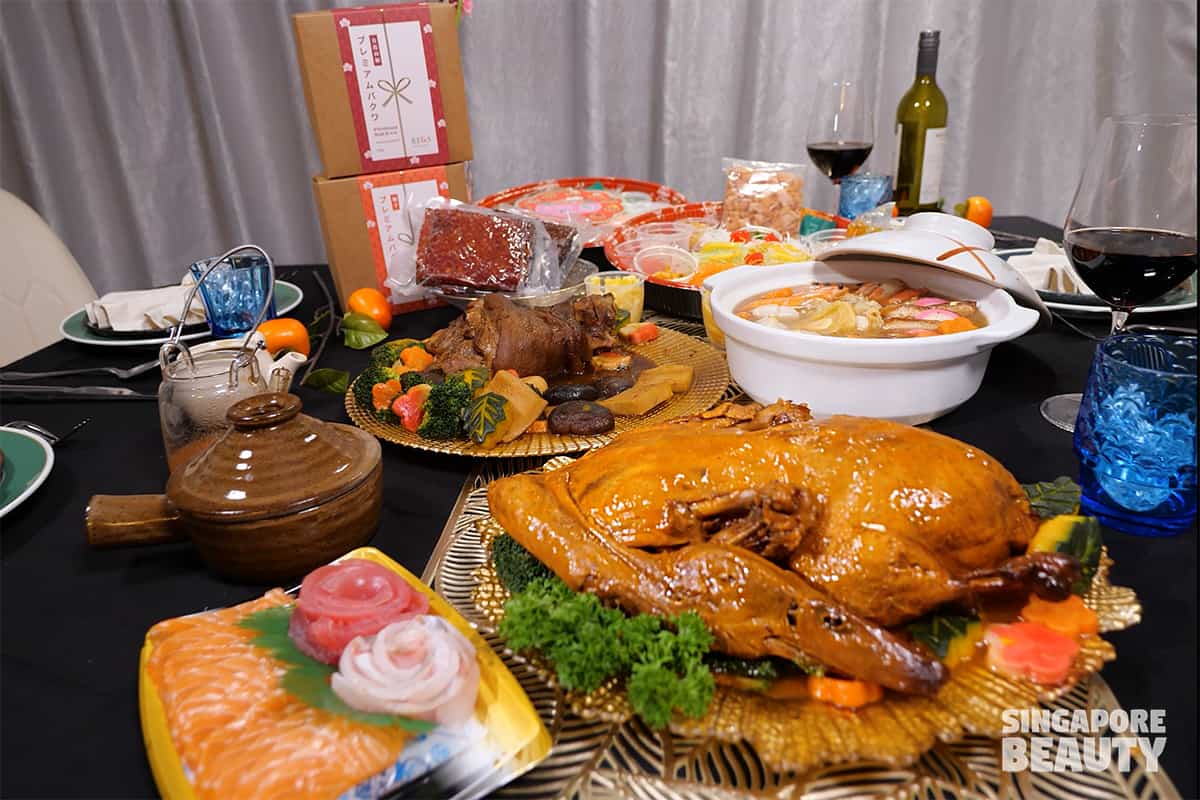 Yuzu Prosperity Duck ($108 nett) – stuffed duck with house special sauce. This 2.5kg huge yuzu-infused ducks needs a big pot to reheat. It comes with a packet of garden greens – pumpkin in a leaf shaped, carrots and namafu in sakura shape and broccoli. Stuffed with 13 ingredients such as Japanese pork sausage, lean pork, ham, dried scallops, dried mushroom, yam, dried shrimp, red dates, gingko nuts, barley, lotus seeds, glutinous rice and chestnuts. The stuffing is extremely flavourful with yuzu tone and a medley of texture and flavours. Duck is tender, juicy and great for sharing with a large group.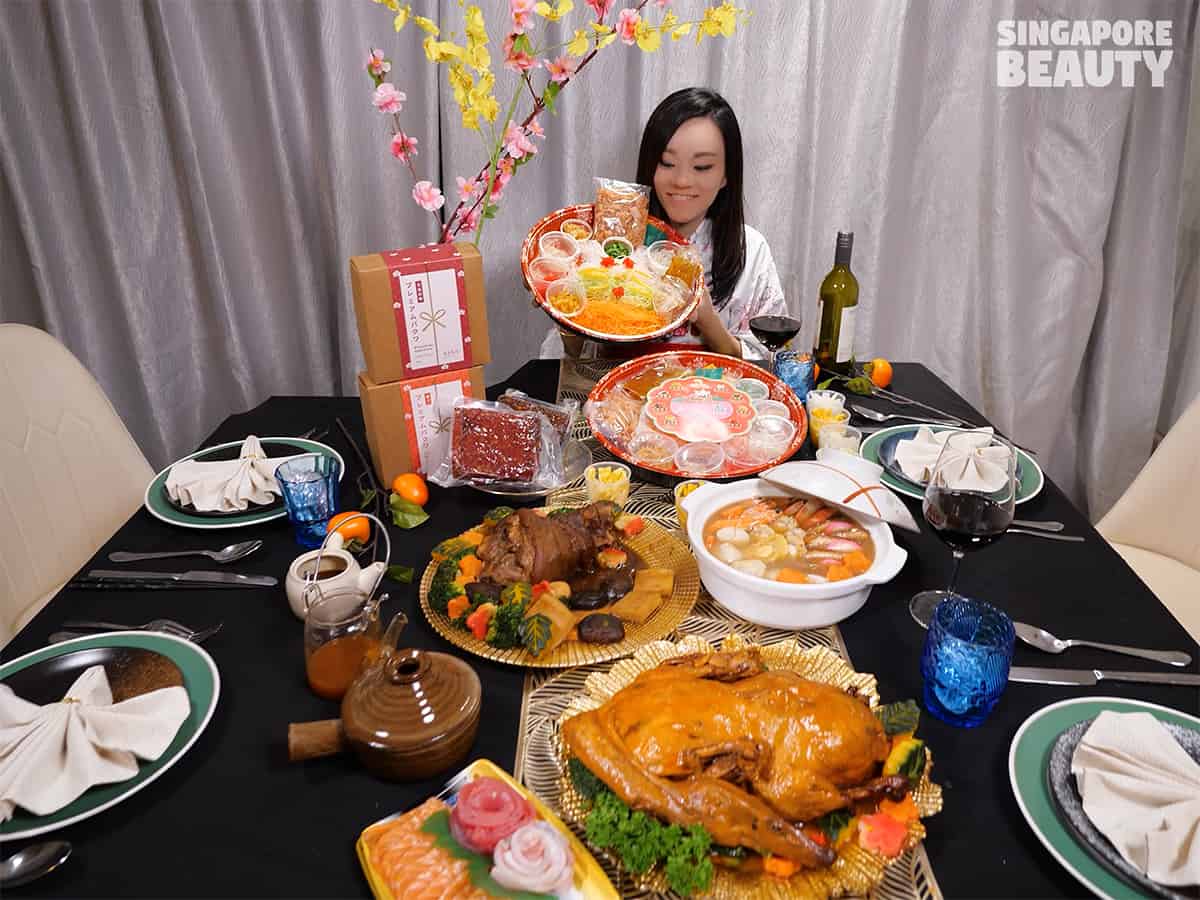 Enjoy this Lunar New Year Japanese feast in the comfort of your home with their home delivery or self collection service. This spread of CNY Japanese delights are good for 6-8 people. Do note that advance order of 3 days are required for these special CNY delights from Kuriya Japanese Market. Get $10 off with minimum spend of $100 by entering SGB10 Kuriya Japanese Market promo code at checkout. They also have Premium Bak Kwa in a Japanese gift box with choice of Arima Sansho or Yuzu flavour. Barbecued using Bincho-tan charcoal.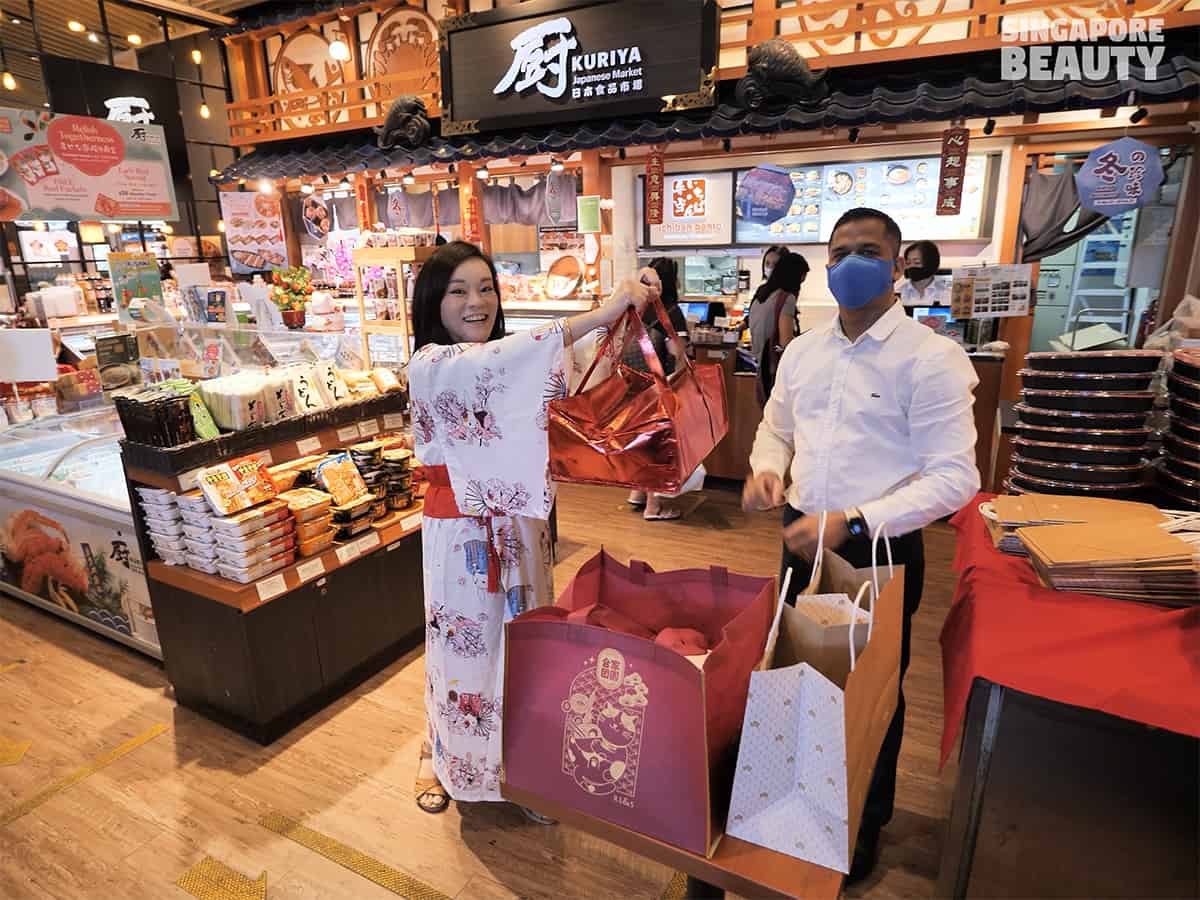 Kuriya Japanese Market has 11 outlets in Singapore serving authentic Japanese food. Check out their stores for more Japanese food. Featured in this article is one of their outlets at Waterway Point. Celebrate Lunar New Year with Kuriya Japanese Market's CNY Delights at the nearest store today! This is how to order from Kuriya, here's the link to order online – https://festive.kuriyajapanesemarket.com.sg
Address of Kuriya Japanese Market :
(Featured outlet) Waterway Point #B1-20, Call : 6385 8347
Locations of more outlets :
AMK Hub #B2-52 , Causeway Point #B1-17, Chinatown Point #B1-23, Great World #B1-133, Guoco Tower #B2-11, Jurong Point #B1-77, Nex #B1-03, Northpoint City #B1-152, Paragon #B1-K26 and Tiong Bahru Plaza #B1-137.
Opening hours :
Business as usual throughout Chinese New Year
except Eve -21 Jan (close at 5pm) and 1st day – 22Jan (closed).
Brought to you by Kuriya Japanese Market