How's Catering has a new Chinese New Year Mini Buffet menu 2023 for 8-10 people to usher in the festive seasons. From traditional buffet style that includes a set up in your home to a fuss free flexible IHEAT Mini Buffet that can be enjoyed anywhere in Singapore. Featured here is their new creative IHEAT mini buffet that is a 13 course Halal certified mini buffet for the Chinese New Year.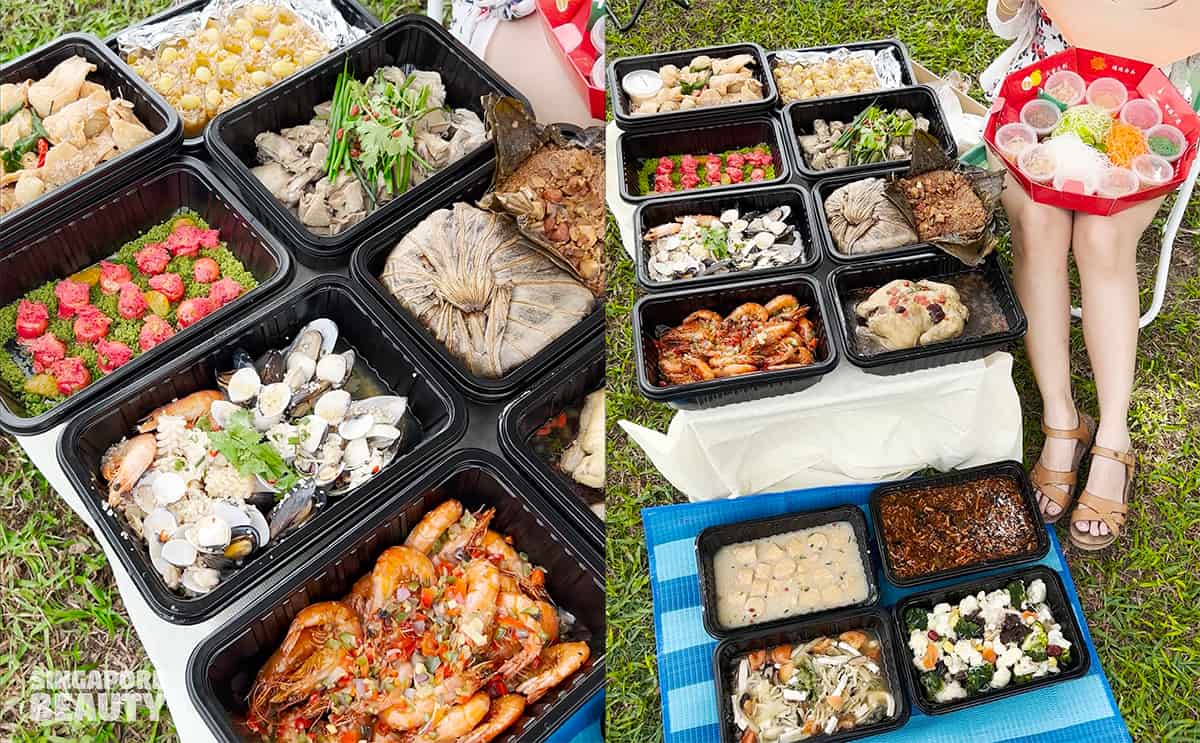 How's catering Chinese New Year Mini Buffet with IHEAT consists of seafood, meat and dessert feast in 13 course spread. The portion are large and certainly enough to fill hungry tummies during this season where feasting is encouraged. We decided to bring this outdoor with warm sun, green lawn and sea breeze to test how user friendly this mini buffet is.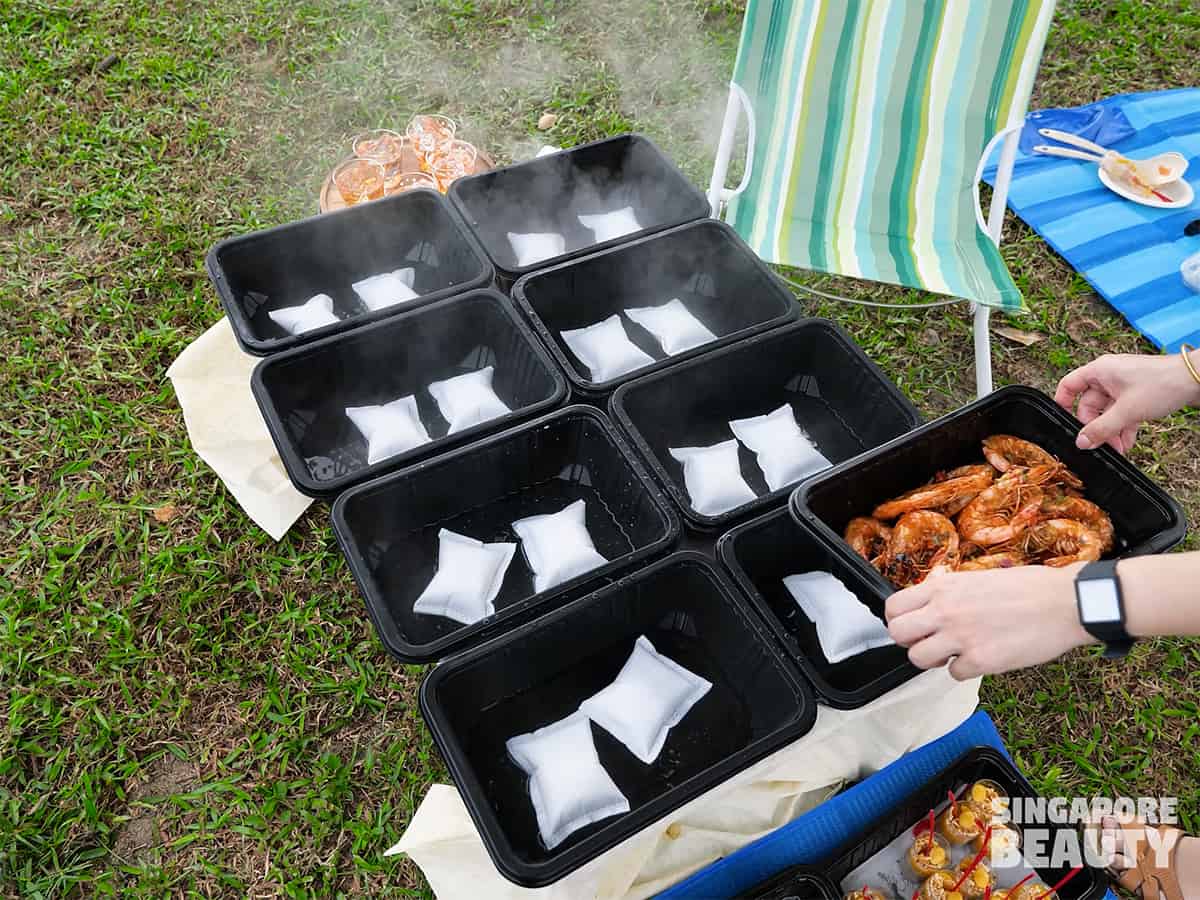 How's Catering is one of the brands under Neo Group who is one of the OG in Singapore's catering scene. They understand the essentials of a good well planned mini buffet. No one likes lukewarm food in a buffet, Hows Catering has tackled this problem with a creative IHEAT process. The food comes in self heating containers where you can have hot food anywhere.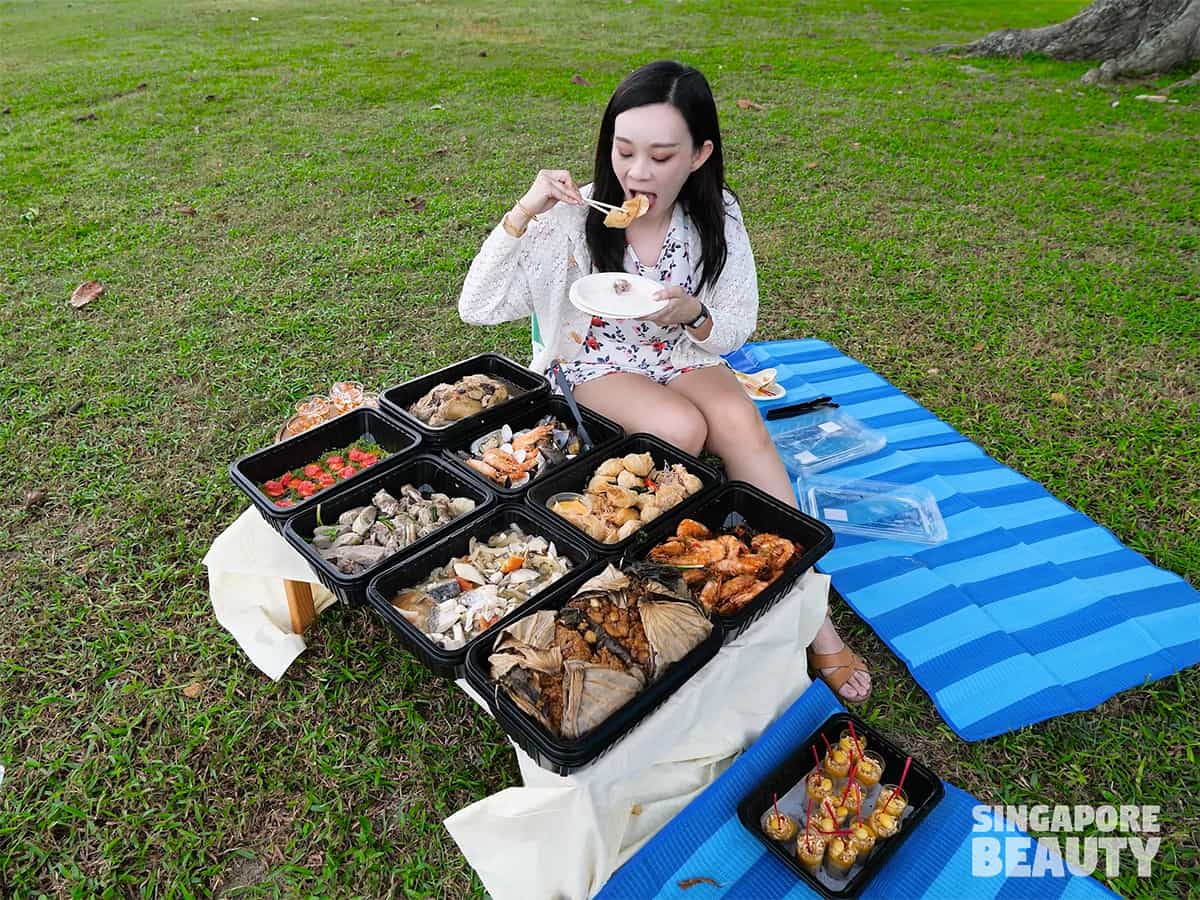 Here's How's Catering review of the menu for Chinese New Year IHEAT Fortune Mini Buffet. This buffet consist of 13 courses of traditional and creative dishes. For CNY, it is considered good fortune to have seafood, fish, chicken, duck, pumpkin and yam. This mini buffet ($398+) serves 8-10 people with a considerable amount of food that is tasty and auspicious.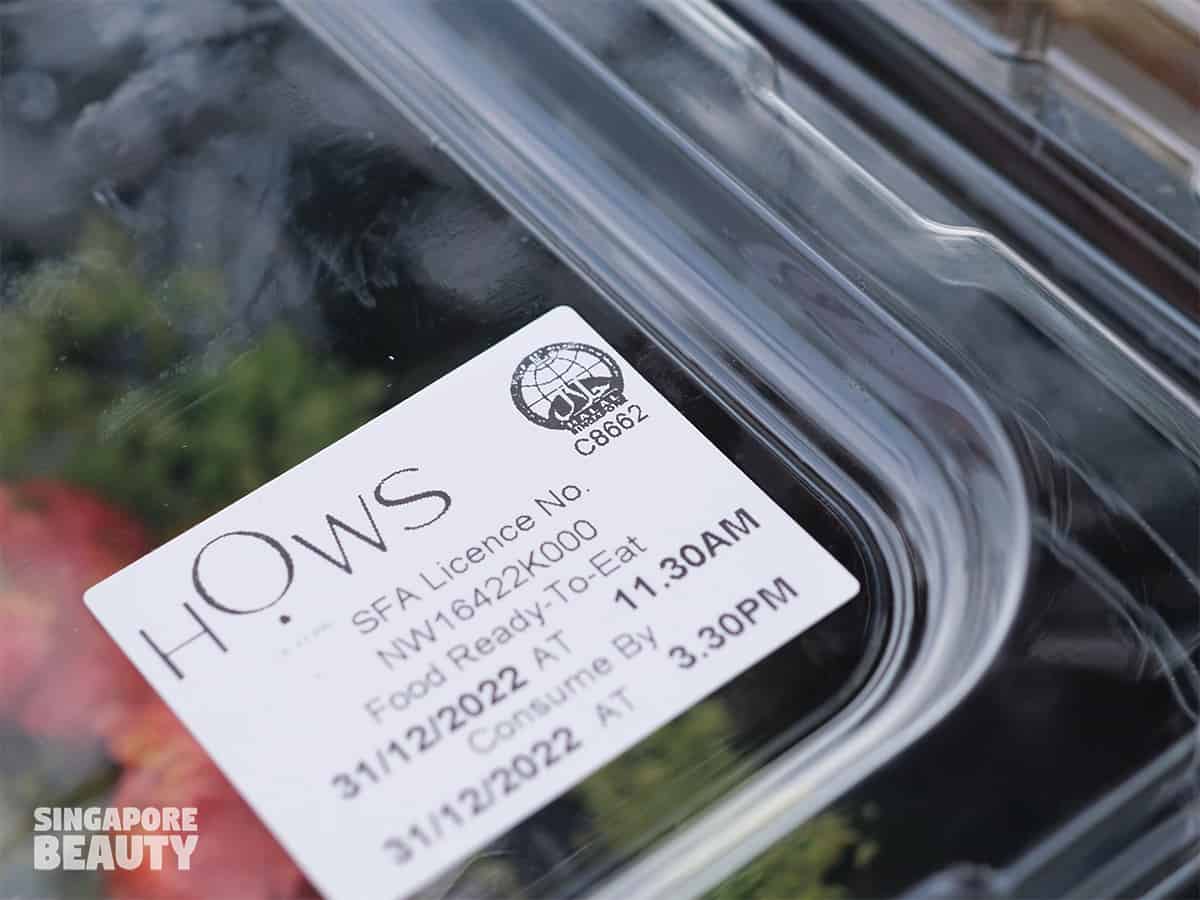 Since Singapore is a multi-racial country with diverse religious, dietary and culture preferences, it is a bonus to know that How's Catering is a halal catering in Singapore. You can now invite all your guests with peace of mind that will please everyone in terms of the choice of food.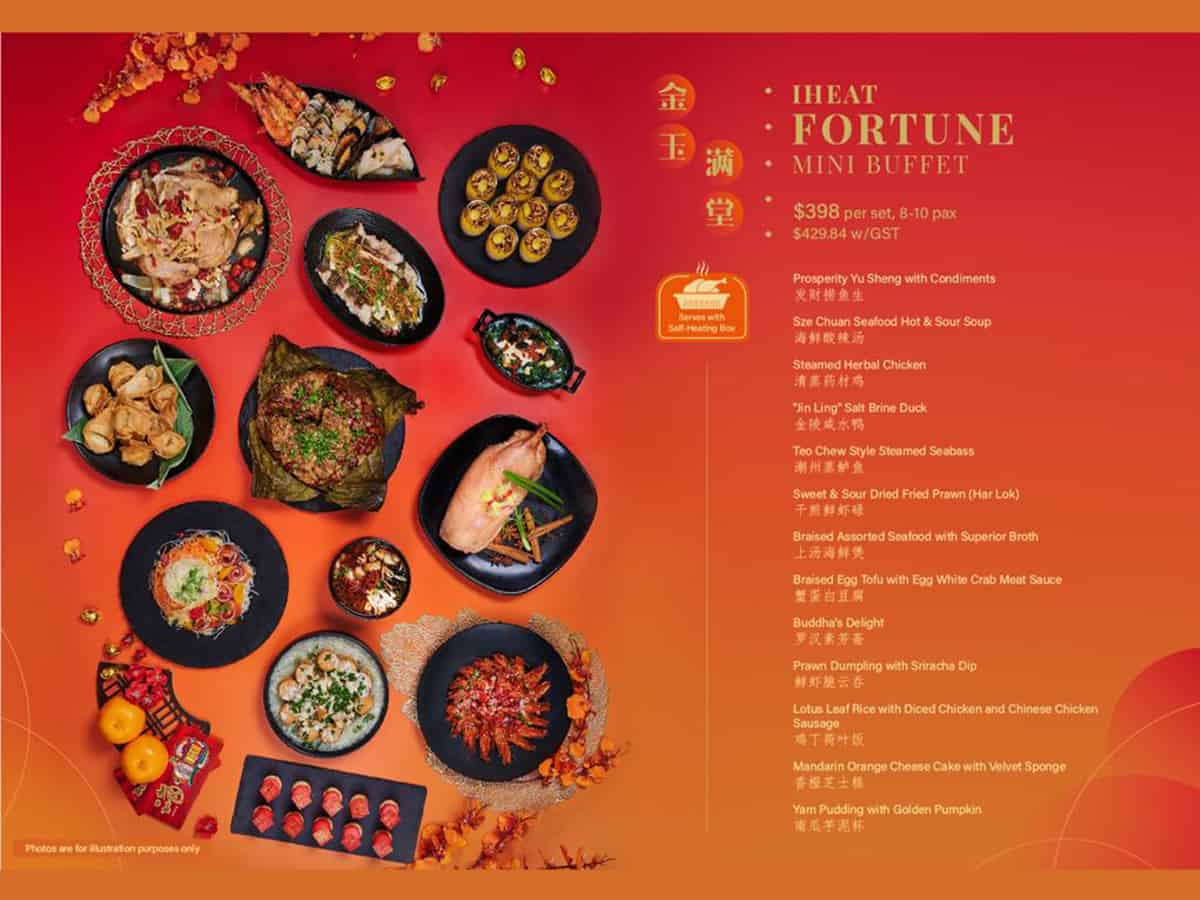 This is Hows Catering Menu for Chinese New Year 2023 at $398+  for 8-10 people. This 13 course menu includes Prosperity Yu Sheng with condiments, Sze Chuan seafood hot and sour soup, Steamed herbal chicken, Jin Ling salt brine duck, Teochew style steamed seabass, sweet and sour dried fried prawn, braised assorted seafood with superior broth, braised egg tofu white crab meat sauce, Buddha's delight, prawn dumpling with Sriracha dip, Lotus leaf rice with diced chicken and Chinese chicken sausage, mandarin orange cheese cake with velvet sponge and yam pudding with golden pumpkin.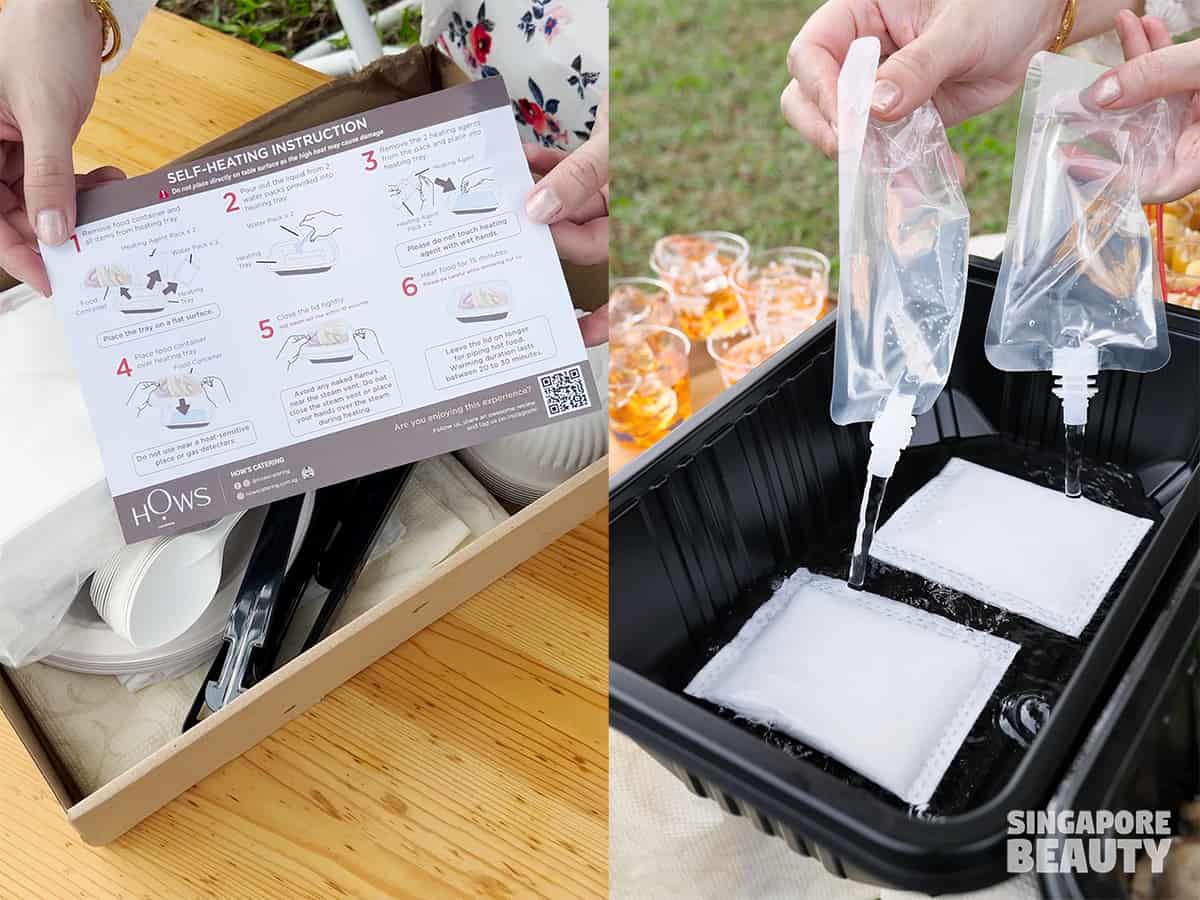 To get the feast started, bring out the food delivered to you in thermal bags. Activate the IHEAT Fortune mini buffet's self-heating by following the instructions. Just put 2 heating packs into heating tray, add water from the water pouches provided and the self heating pack will start releasing steam within seconds. Place food container over heating tray, cover and heat for 15 minutes.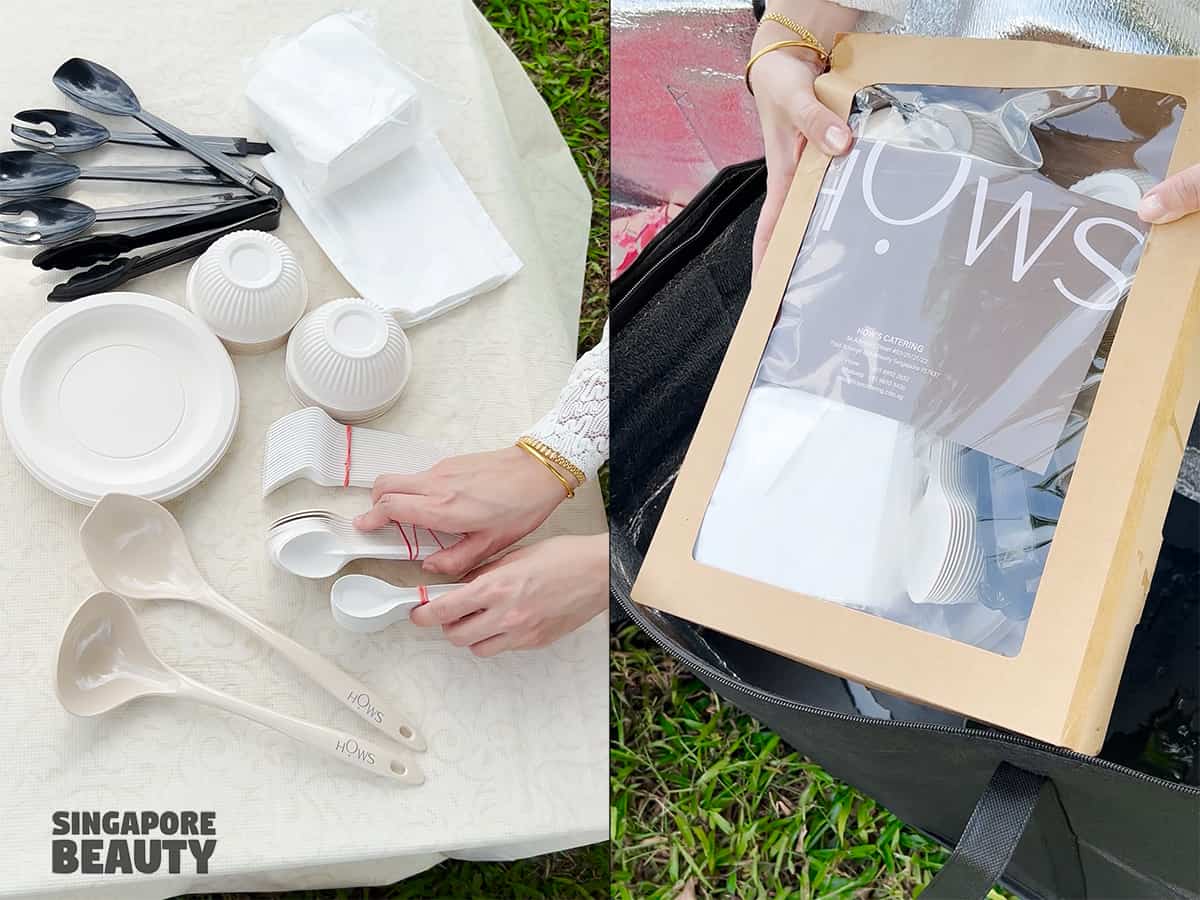 This IHEAT Fortune Mini Buffet are equipped with all you need party wares such as table cover, utensils, cutlery, dessert spoons, Chinese soup spoons, chopsticks, tongs, sharing scoops, ladle spoon, plates ,bowls, napkin and trash bags organised in a clean clear see through box. This proves to be a fuss free and clean experience. After the feast, you simply clear the tables by wrapping up the table cloth and into the jumbo size trash bags provided.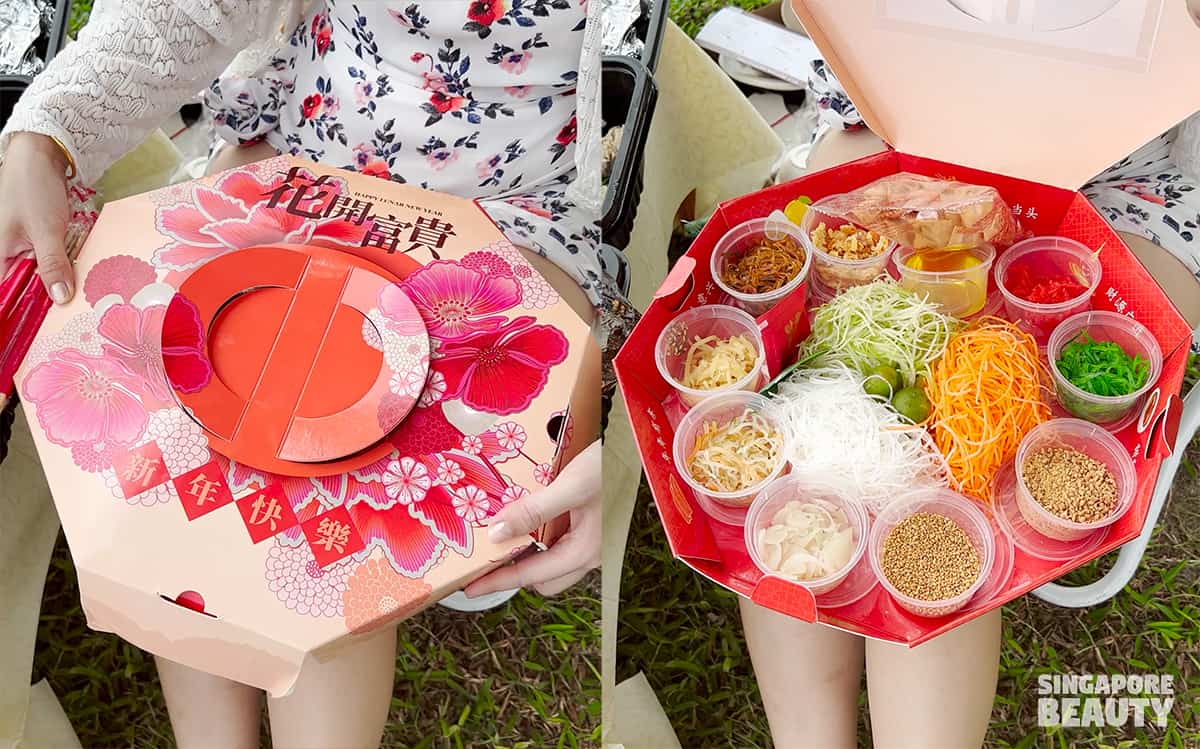 Prosperity Yu Sheng with condiments – Get the moods lifted instantly with some lou-hei to usher in more huat, luck and good health for year 2023. The Yu Sheng platter is served in a floral octagon coin like tray that shouts bountiful blossom of happiness with a carrier handle on the cover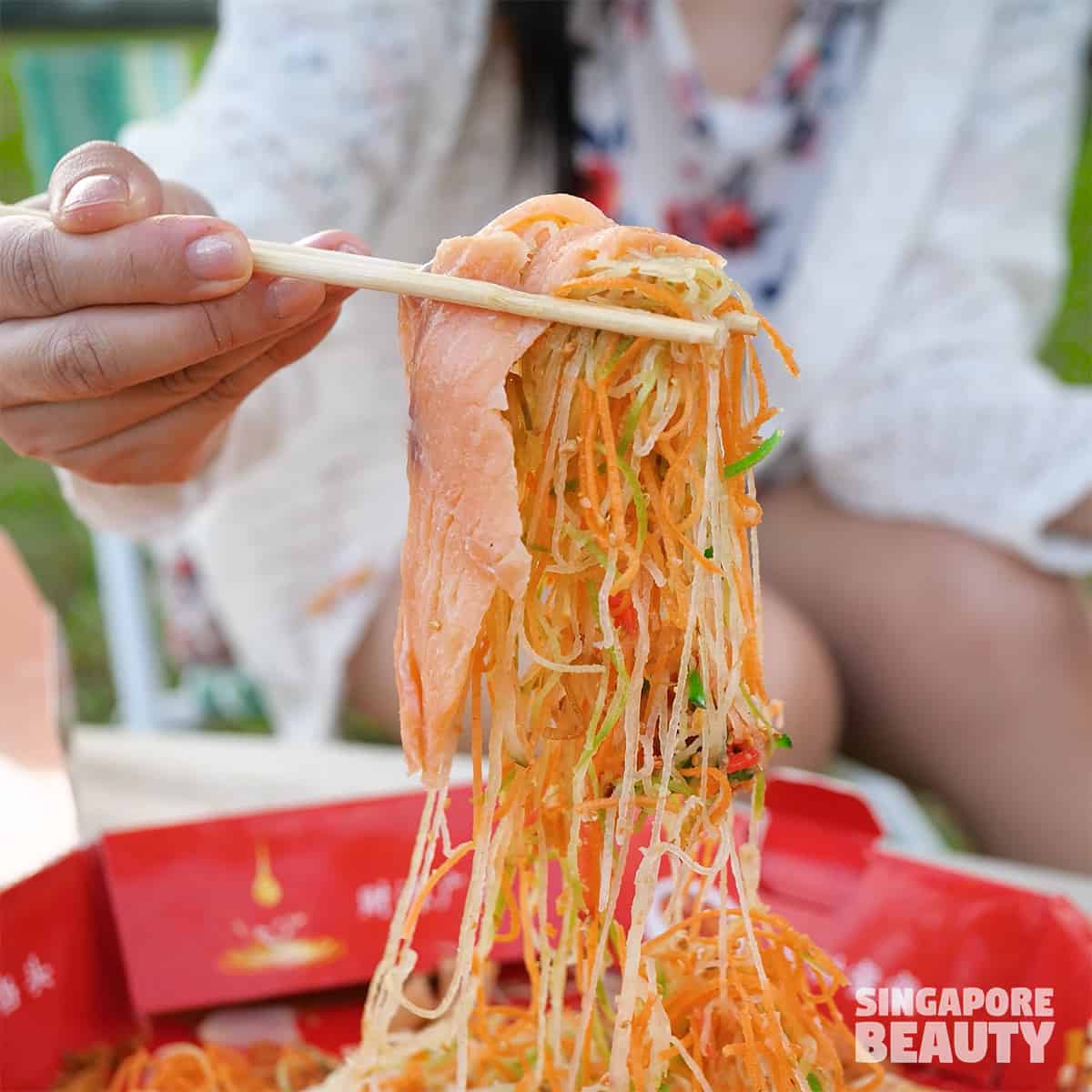 It comes with all the condiments to make a tasty yusheng with an iced vacuumed smoked salmon sashimi to top the Yu Sheng. Add a splash of lime to the salmon for more zesty kick that bring out the sweetness of the smoked salmon.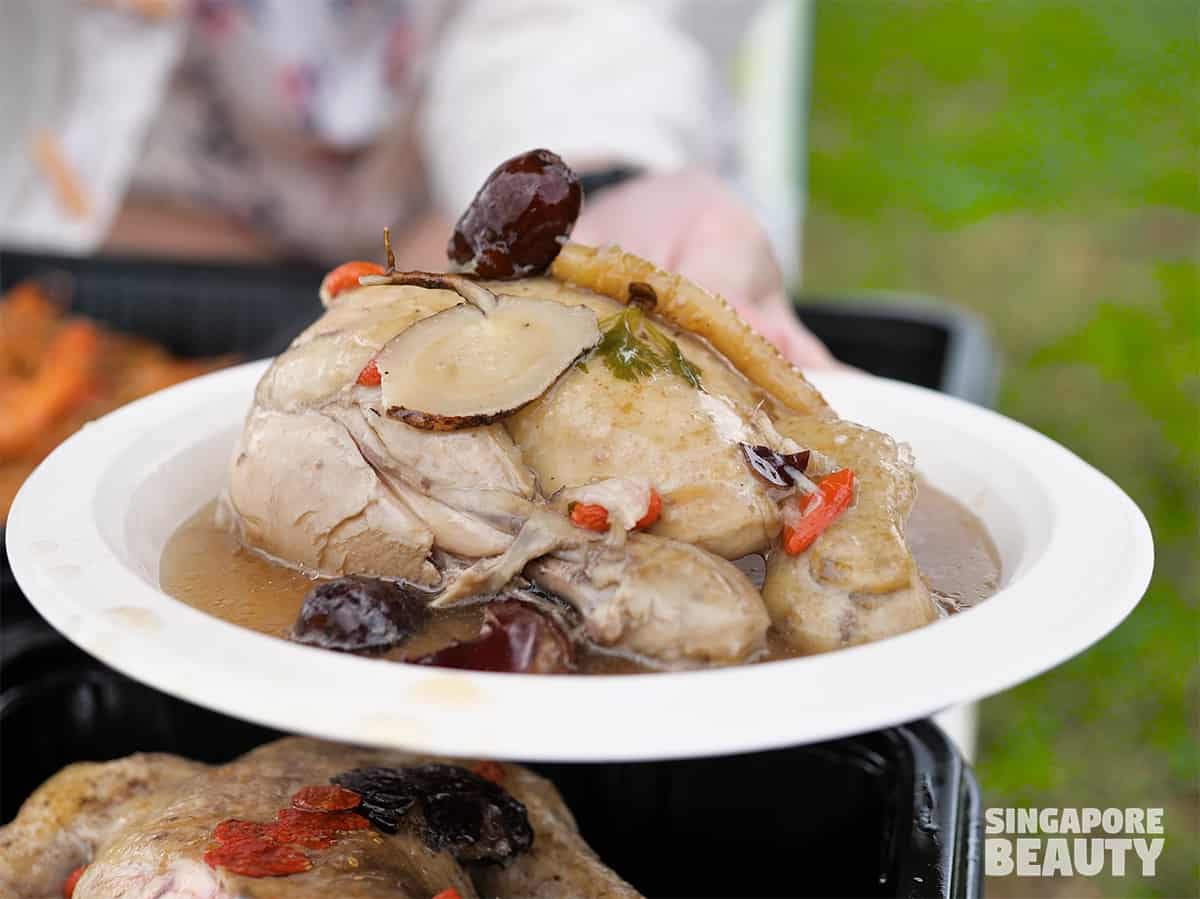 By the time you are done with your lou-hei, the IHEAT Fortune Mini Buffet is now hot and piping. Remove the covers from the food containers and enjoy the hot food. Steamed herbal chicken is one of my favourite dish, so I will dive right into this first. This dish is well flavoured with premium ingredients such as ginseng, danggui, goji, red dates and more herbs. The soup is rich with the clean flavours and feels very nourishing with each sip. Chicken is stuffed with the herbs so that the meat becomes infused with aroma as well. Fork tender with springy texture that can be enjoyed easily with the cutlery.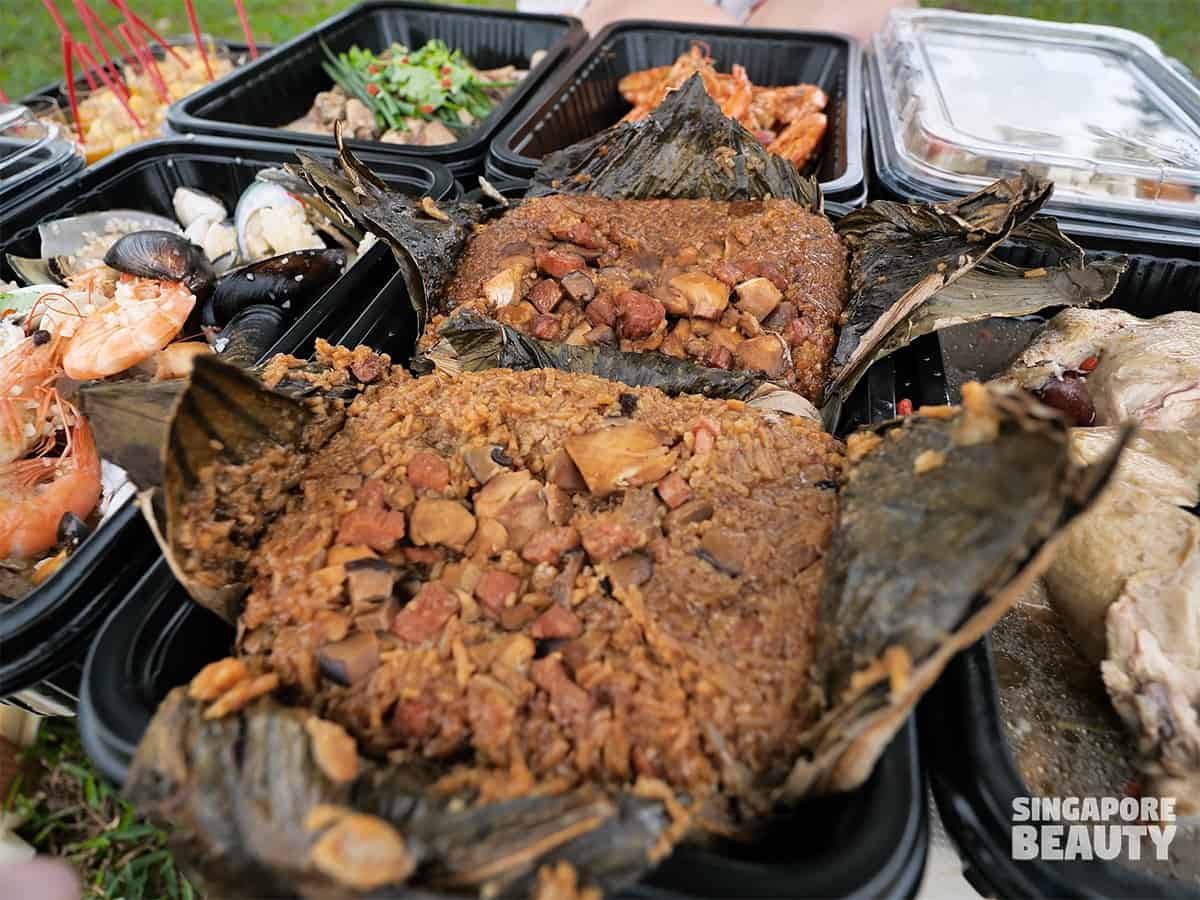 Lotus leaf rice with diced chicken and Chinese chicken sausage – I love the way How's Catering has kept the traditional must have food during Chinese New Year intact. To retain this traditional dish, Chinese chicken sausage and real lotus leafs are used to wrap and steam the rice. Those who made this dish for CNY will know how laborious it is to create this. The lotus leaf is not easily available, you need to buy and prepare all the ingredients in advance. The soaking, frying of the ingredients, preparing of lotus leaves, assembling and wrapping is no easy feat. The result is aromatic lovely lotus leave scented rice with intense flavours from the cured meats, shiitake mushroom, braised chicken and more.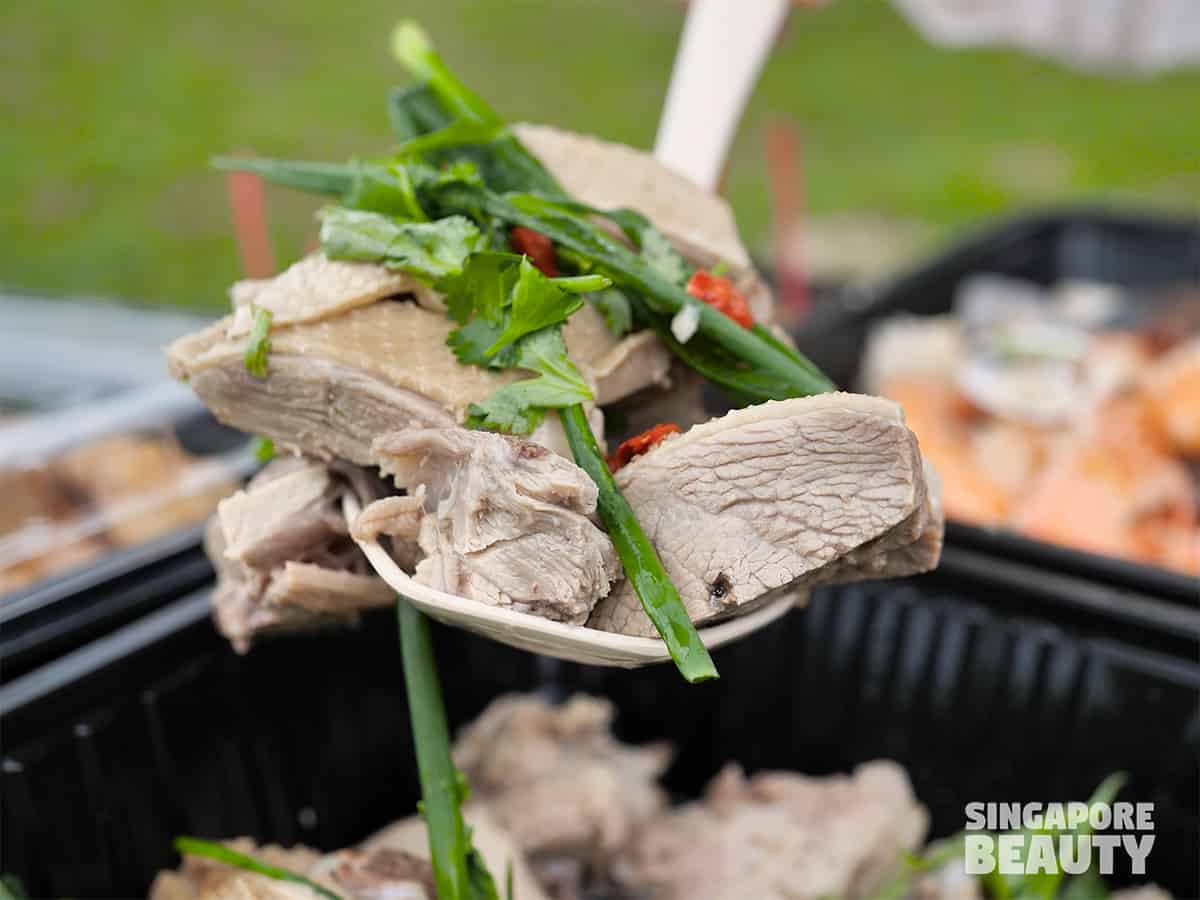 Jin Ling salt brine duck – the looks are deceiving with a natural hue of cooked duck. This duck has an addictive briny flavours that is infused into the meat. The lean meats are really tender with a melt in the mouth type of fatty skin with mild springy texture. This is a dish that really surprises my taste buds with the tender texture and strong flavours.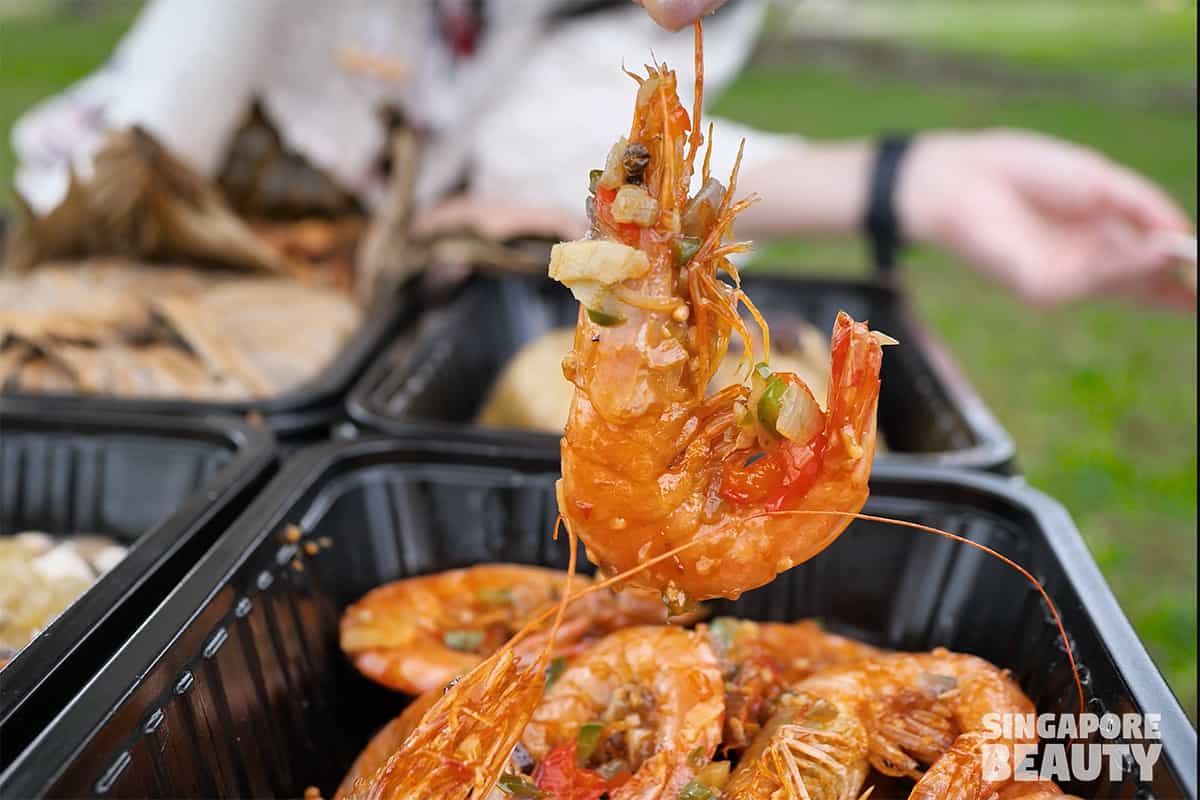 Sweet and sour dried fried prawn – This dish is also affectionately known as Har lok by the Cantonese. These are deep fried fresh prawns in a very appetising sauce like those in sweet and sour chicken cutlet. This used to be a popular dish in the older days which is served only at Chinese weddings and birthdays in a Chinese cuisine restaurant. The frying of the prawns intensifies the sweet aroma of the seafood flavours. The prawns are crunchy and firm with a tangy sauce.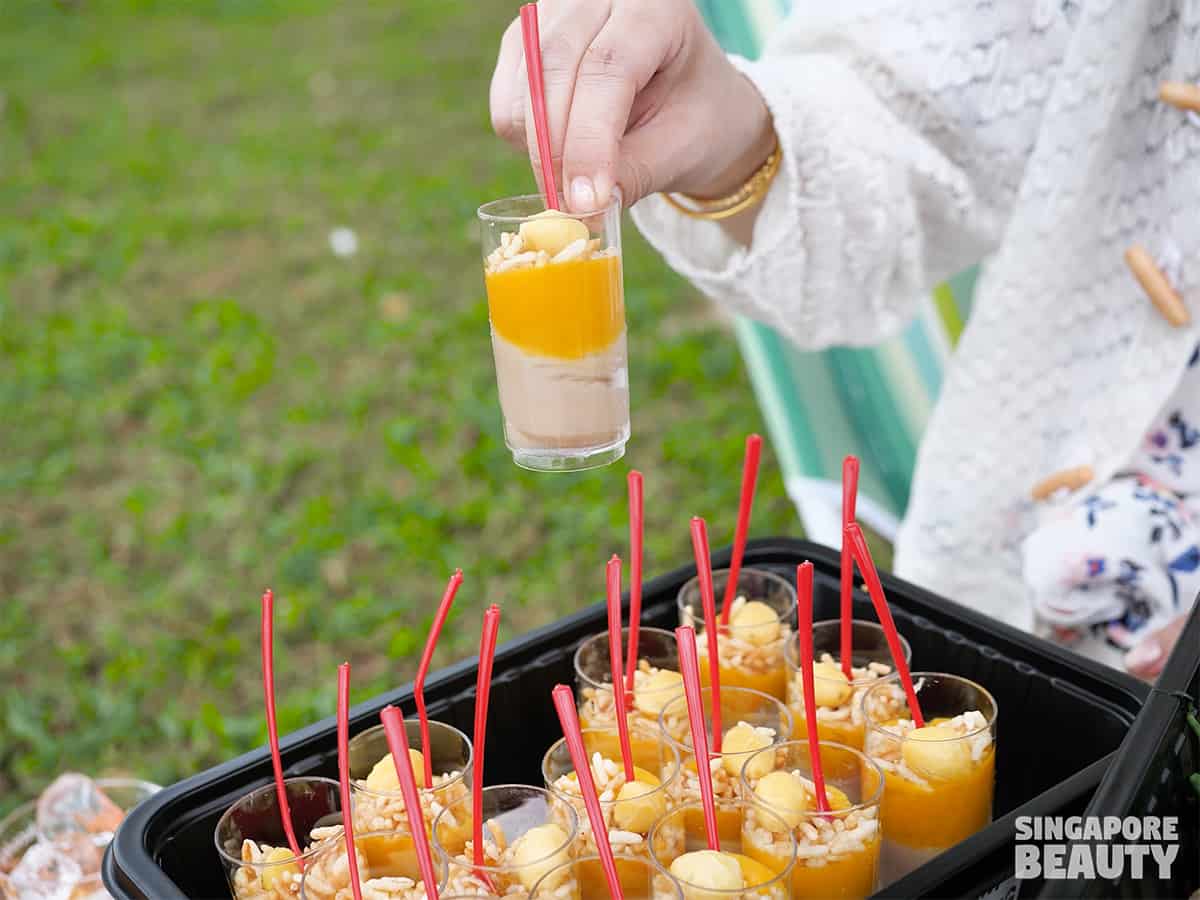 Yam pudding with golden pumpkin – Served in dainty shot glass style with a thick rich base of yam paste, sweet golden pumpkin puree topped with golden rice pops and a gingko nut. Even my grandma approves this dessert and took a second serving. It is that good!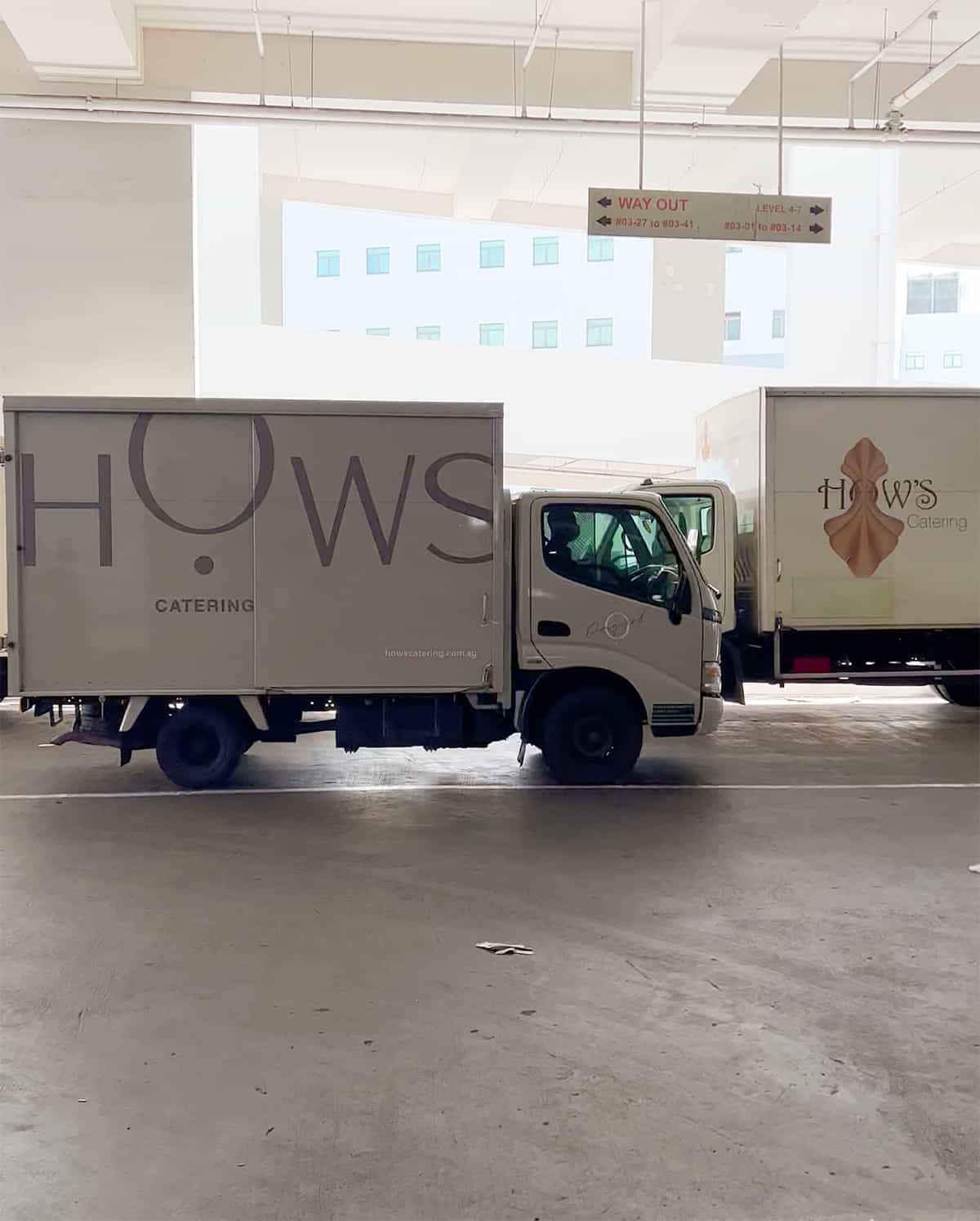 How's Catering is a fully Halal certified buffet caterer in Singapore. This is your chance to try the featured unique halal IHEAT Fortune mini buffet in their Chinese New Year menu 2023. They also have IHEAT Spring mini buffet that starts from $289+ for 8-10 people and many other customised buffet selections. Traditional buffet spread catering with metal trays, warmers, decorations and tables are also available for big group gatherings. Delivery charges and gst applies, saving expected if self collect at their central kitchen. To order for door step delivery, please call them on their hotline at 6852 2852. Happy Chinese New Year 2023 and let the feasting begins!
Address of How's Catering :
8A Admiralty Street, #03-20/21/22
FoodXchange, Singapore 757 437
For Delivery or Order call : 6852 2852
Brought to you by How's Catering