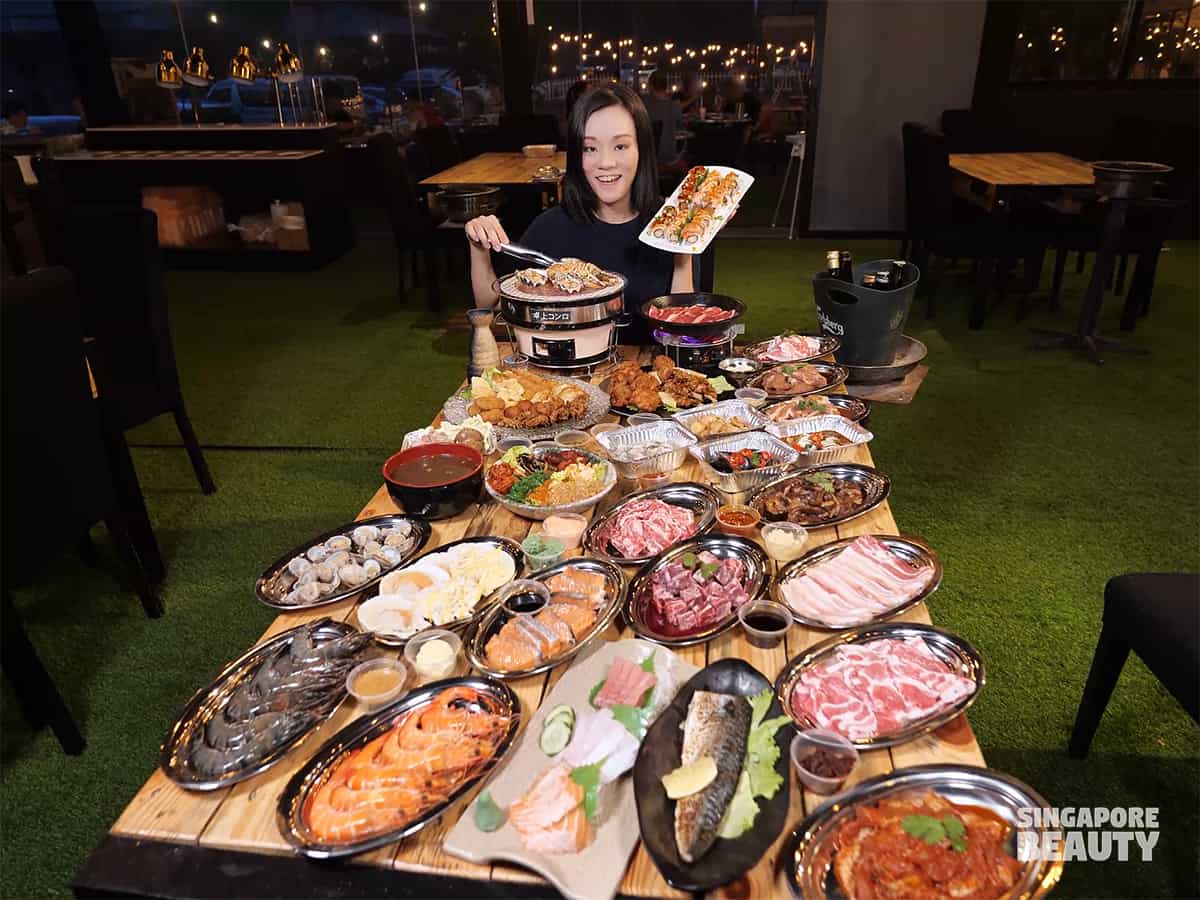 Kujaku Yaki has relocated to 8 Port Road from Ridout Tea Garden at Queensway with a new menu as well. They are famous for the Japanese BBQ Buffet with free flow teppanyaki, sashimi, unlimited seafood and meat grills, hot station Japanese food, appetisers and lobster redemption. With 7 type of Teppanyaki, 17 cuts of meats, sukiyaki seafood boats, seafood, 15 type of Japanese condiments, 8 types of cooked food, sashimi and maki, you will be spoilt for choice.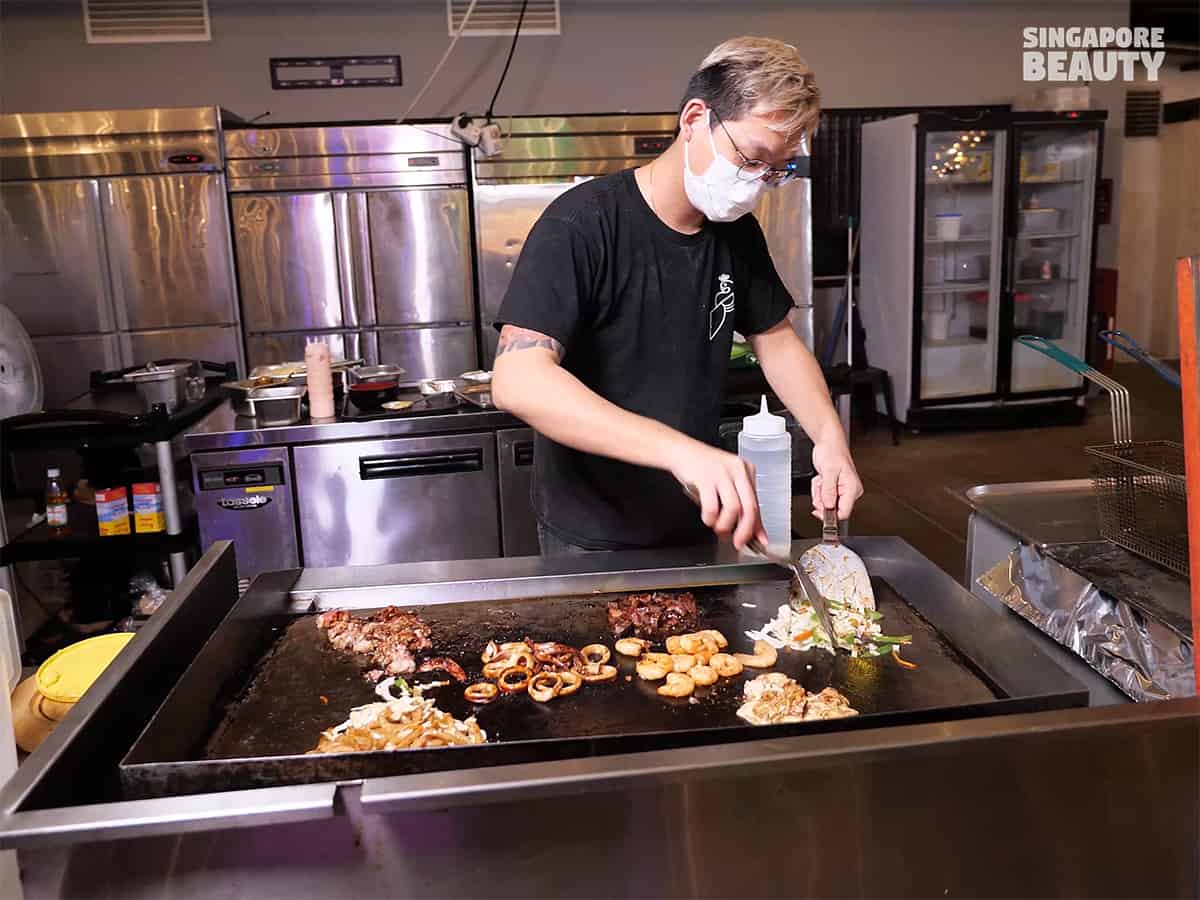 Kujaku yaki also has a Japanese Teppanyaki with aburi hotate topped with mentaiko mayo, Ika sugata yaki (squid in ginger soy), yaki udon, kaki shio, yasai itame (stir fry assorted vegetables and teriyaki steak, salt & butter oyster, cheese mentaiko hotate, salt & pepper marbled cubes, garlic butter prawns and more. These teppanyaki items are on rotational basis and vary with various marinated seafood or meats daily.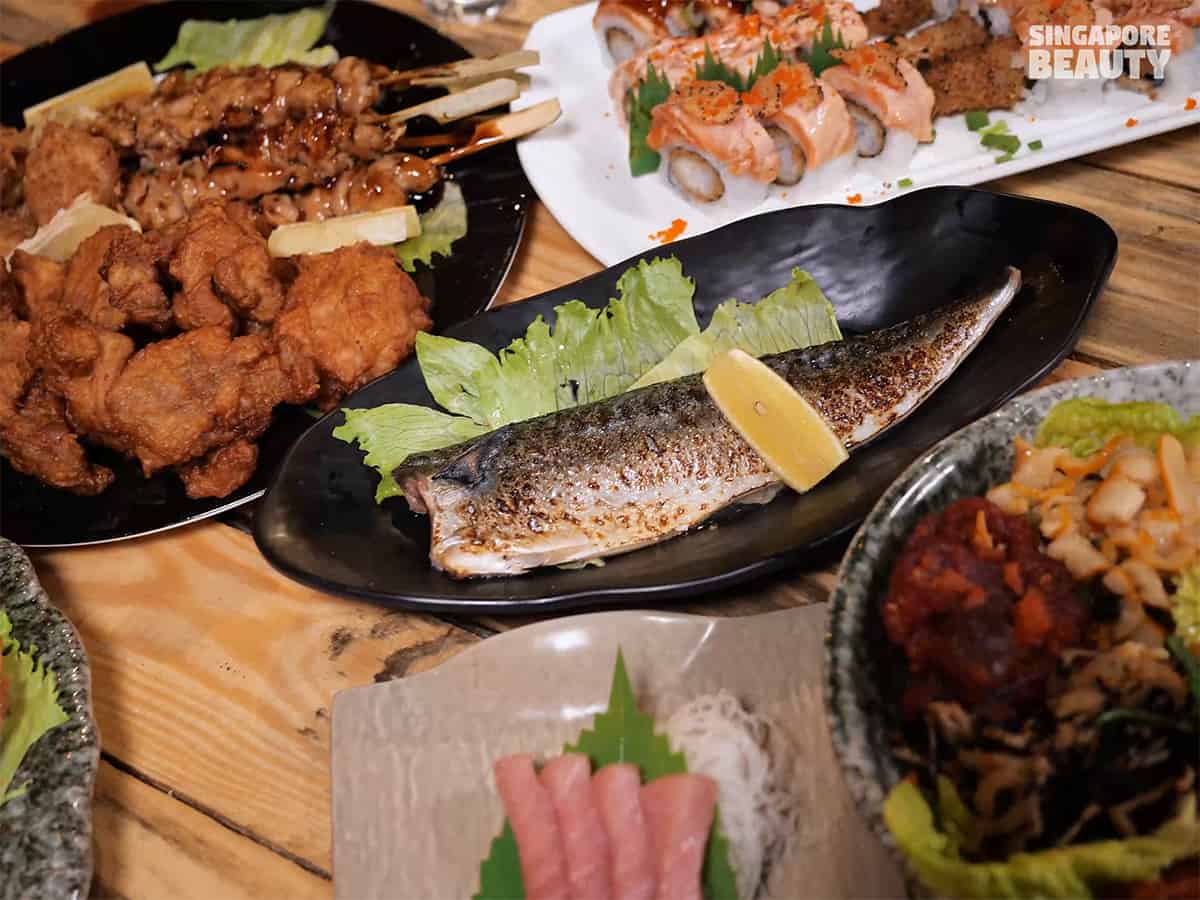 Kujaku Yaki Hot station menu includes curry cheese rice, tempura moriawase, ebi, oyster croquette, gyoza in la-yu, karaage, yakitori, garlic fried rice, takoyaki, yakitori, shio saba yaki, cheese spring roll, salmon katsu, tori kaarage and ika geso. The selections of food are on a rotational basis so that the diners get a variety of hot food to enjoy.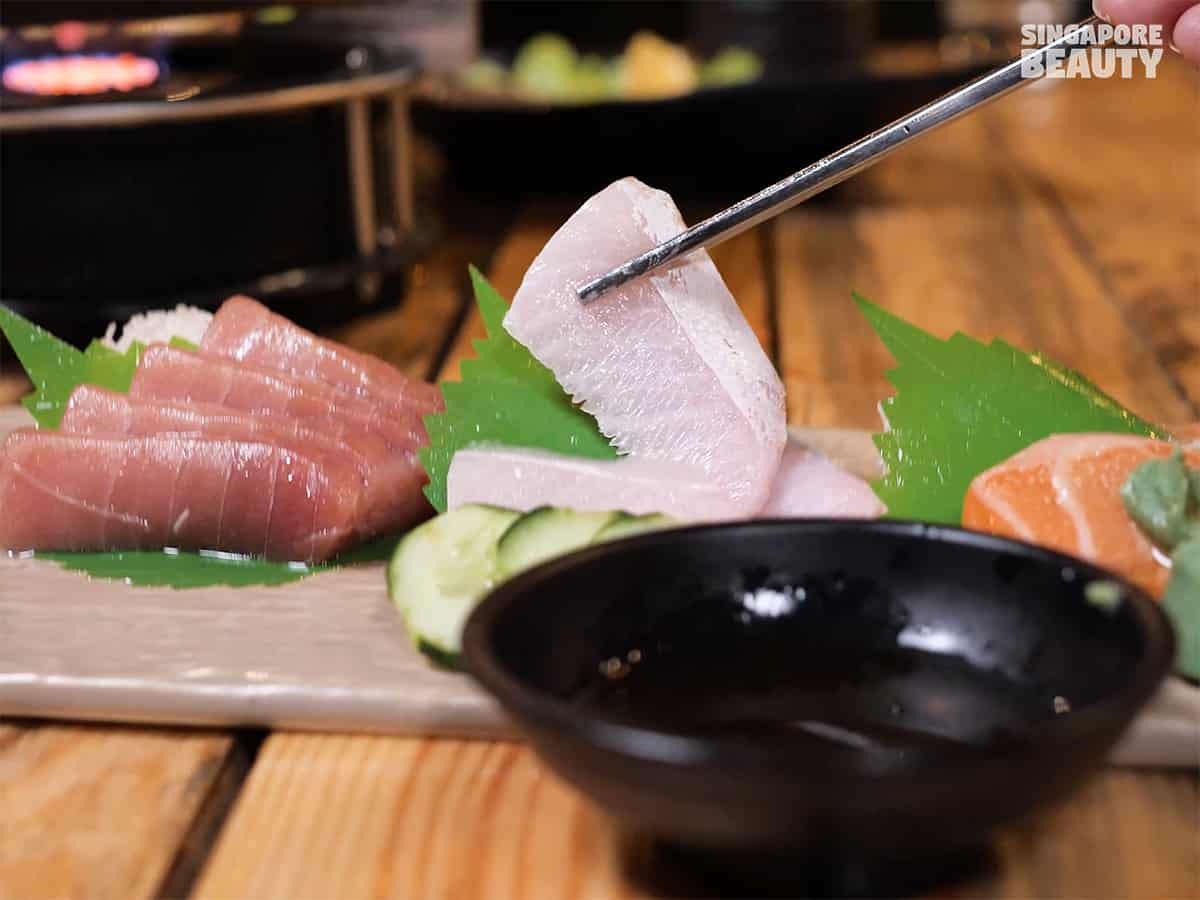 Kujaku Kai is great place for Japanese bbq and those who are targeting the free flow fresh sashimi, maki and starter. These are made in house by their Japanese trained chef to assure freshness. The slices of sashimi are thick cut ones and melt in the mouth types. The fatty salmon, tuna, swordfish (Mekajiki), yellowtail (hamachi) are great with soy sauce and a pinch of wasabi. Various house made maki and sushi available too.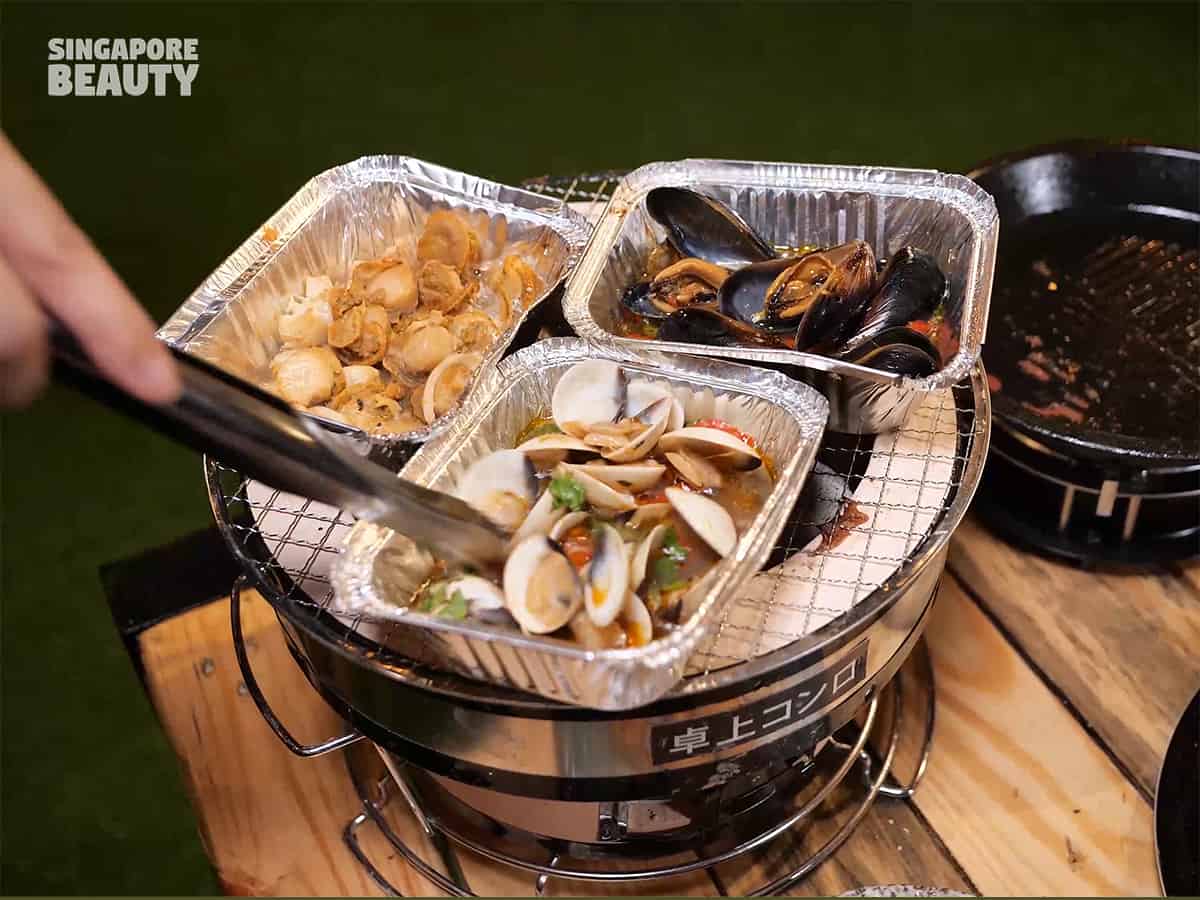 Seafood sukiyaki boats are their unique creation that lets you enjoy a warm soupy experience of seafood in savoury soup base such as miso, beef veg, sukiyaki pork, garlic butter scallops, clam soup and more.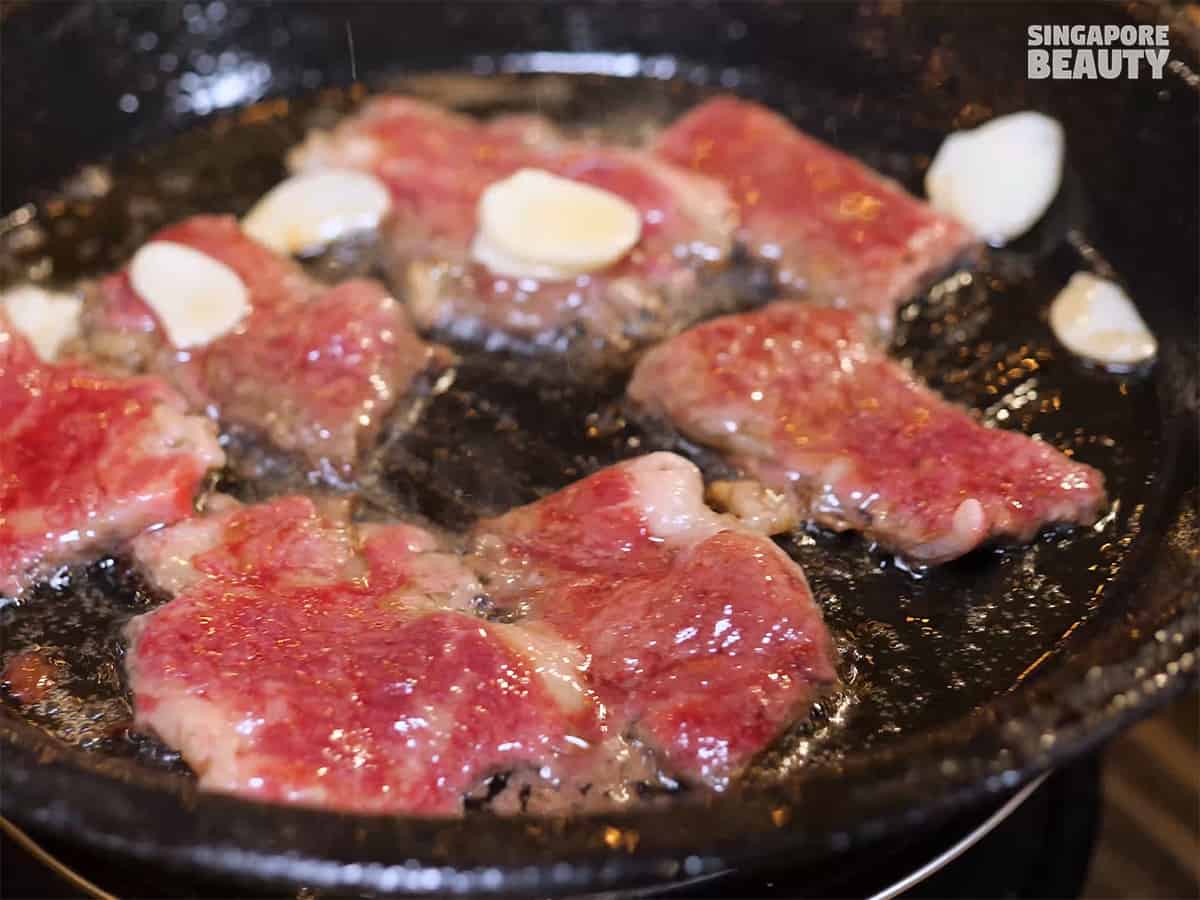 At Kujaku Yaki, they are popular for the variety of meat(beef, pork, chicken) and seafoods available. This is a meat lover paradise. There are teriyaki steak with garlic, marbled beef teppan, striploin, Irish ribs, ribeye, Angus chuck, Chestnut pork belly, pork collar and more. Check out the marbling on their marbled beef. The fat melts and cooks the beef in its own fat, super tender, buttery and savoury. Toss in some garlic for some extra caramelised sweet flavour.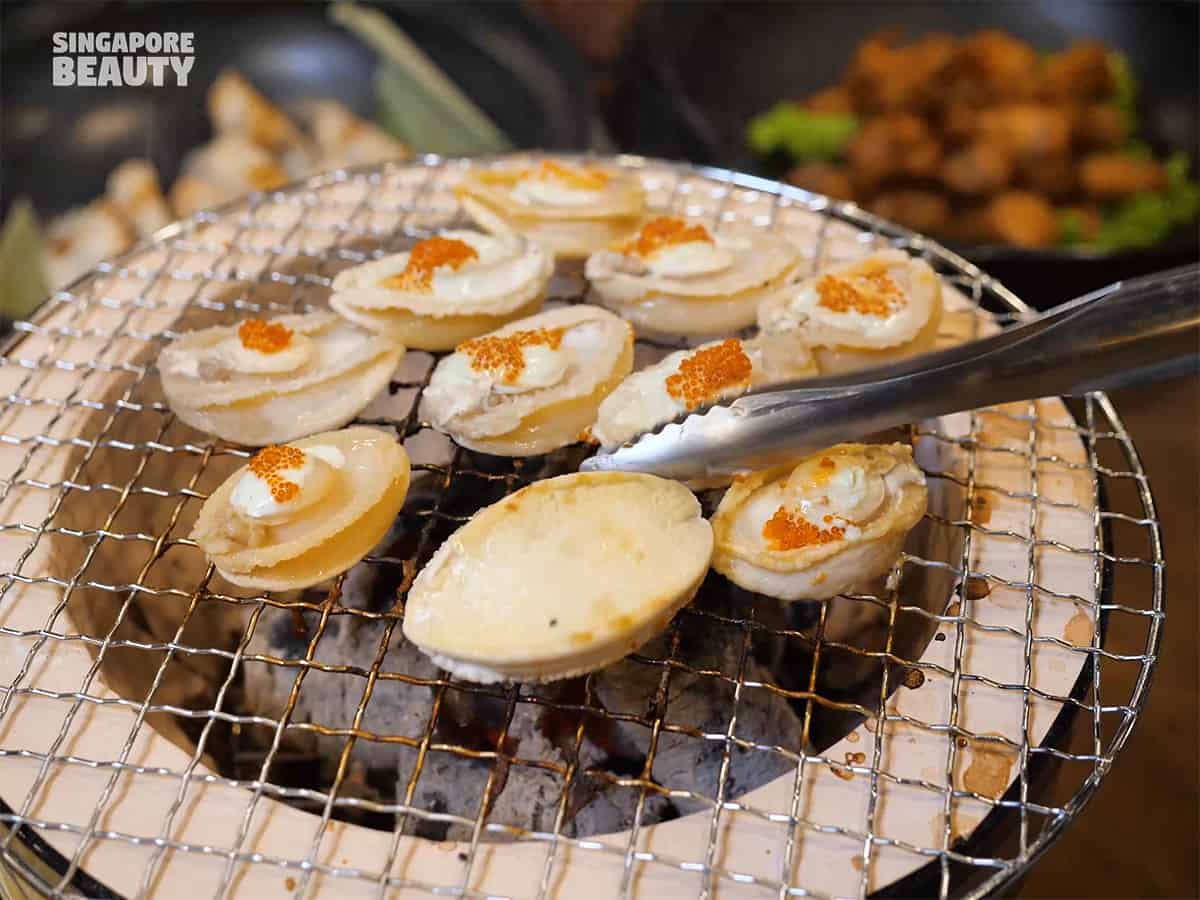 The seafood selection includes free flow abalone at this buffet. These are the baby abalones that are great for grill as well as sukiyaki. Grill these last with the pot's remaining heat to get them tender and nice. These are some of the items that get the bang for your bucks. These are available daily and free flow or whilst stocks last for each day. Be sure to grab some of these premium gems.
The redemption includes half a lobster per pax. You can choose to have them grilled with the mentaiko mayo and mozzarella cheese or any other sauce from their condiments station. Other seafood such as scallop and oysters are free flow as well. Grill them with cheese, butter, garlic or any condiments you fancy. When they start bubbling in their own juice, the seafood are ready to be enjoyed.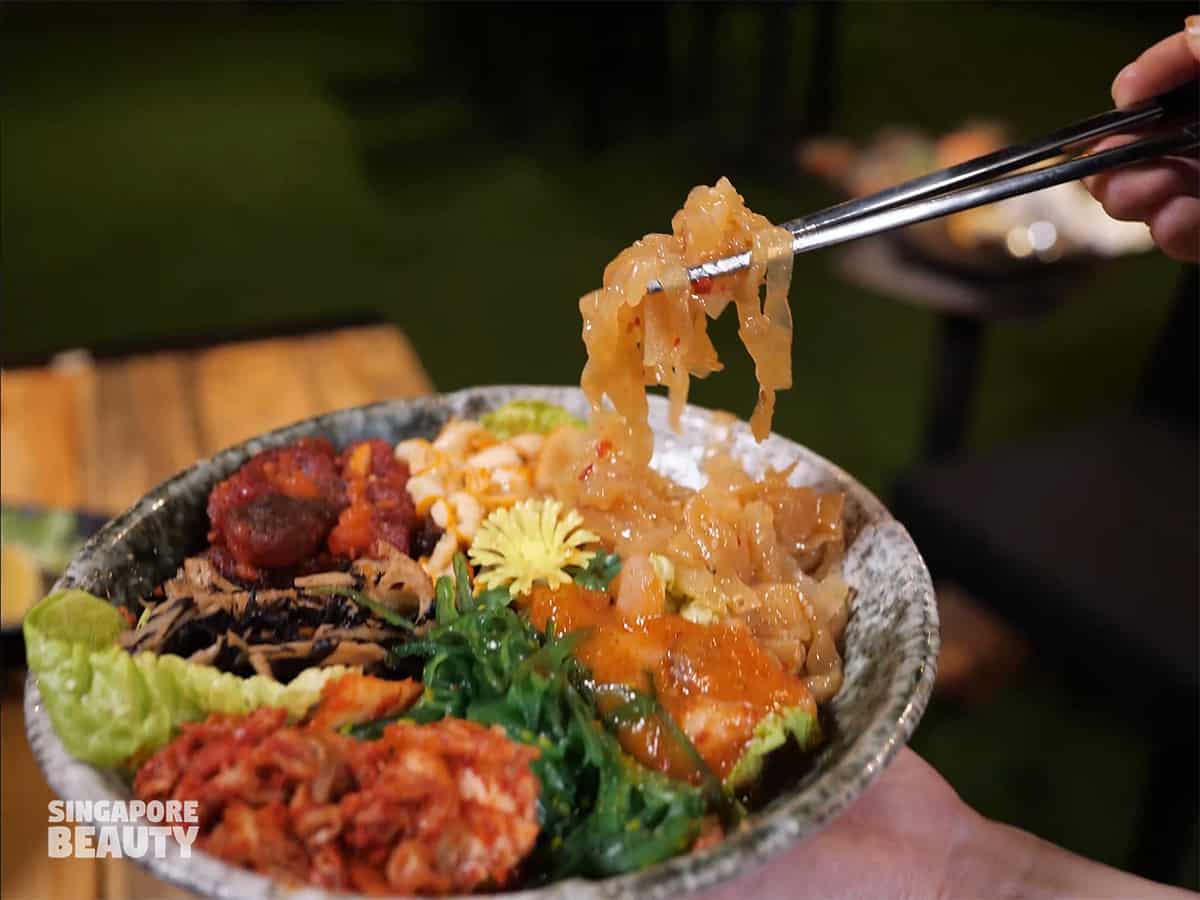 They also have starter and appetisers such as chuka hotate, chukka idako, chukka kurage, seaweed, kimchi and seasoned baby squid. Get an assorted bowl of these to enjoy and share while grilling the meat. These are excellent food to go with their sake as well.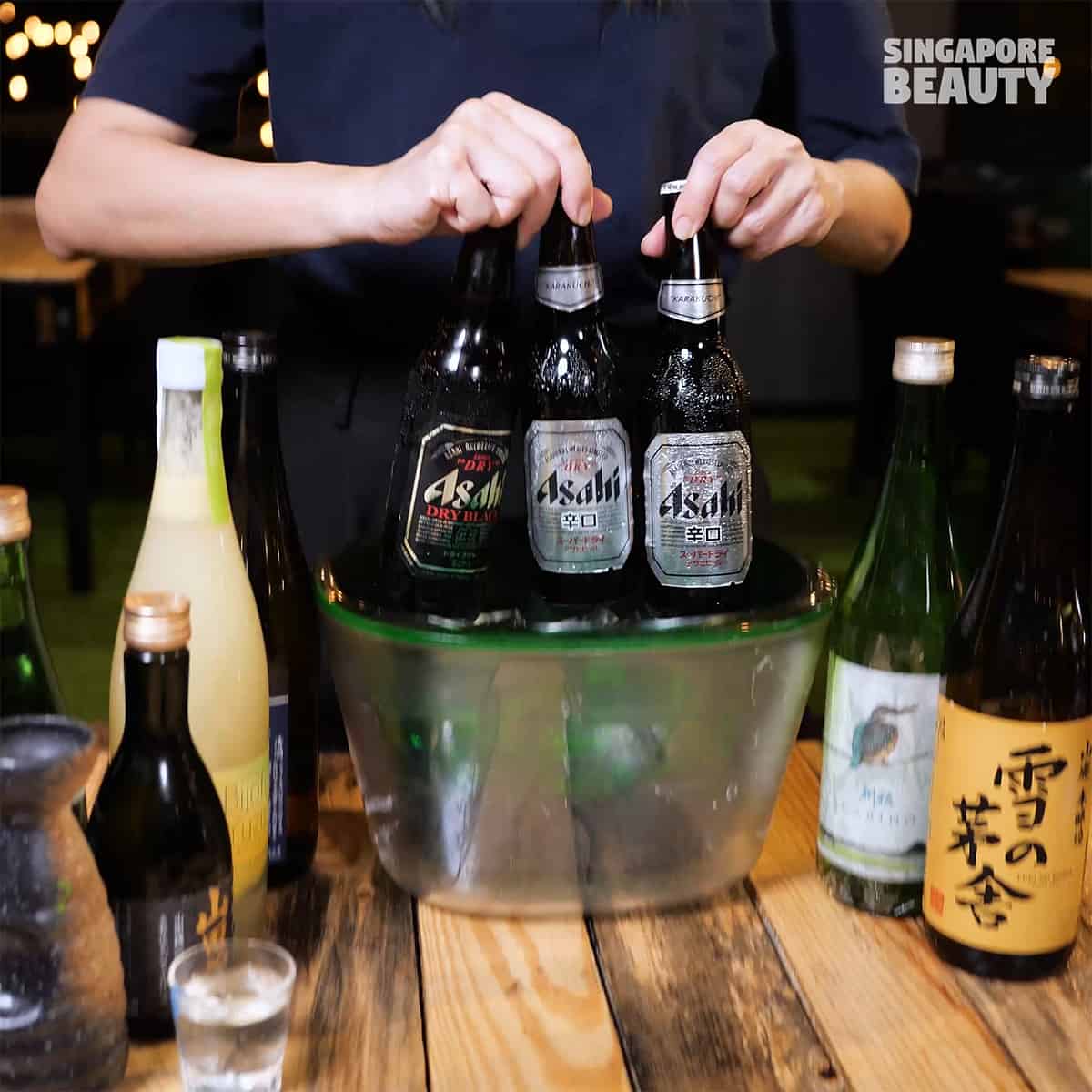 For those who love Japanese sake, they also have it as add on items. Get some Asahi beer promotion at 3 bottles for $18. Free flow ice cream and can drinks at $3 per pax.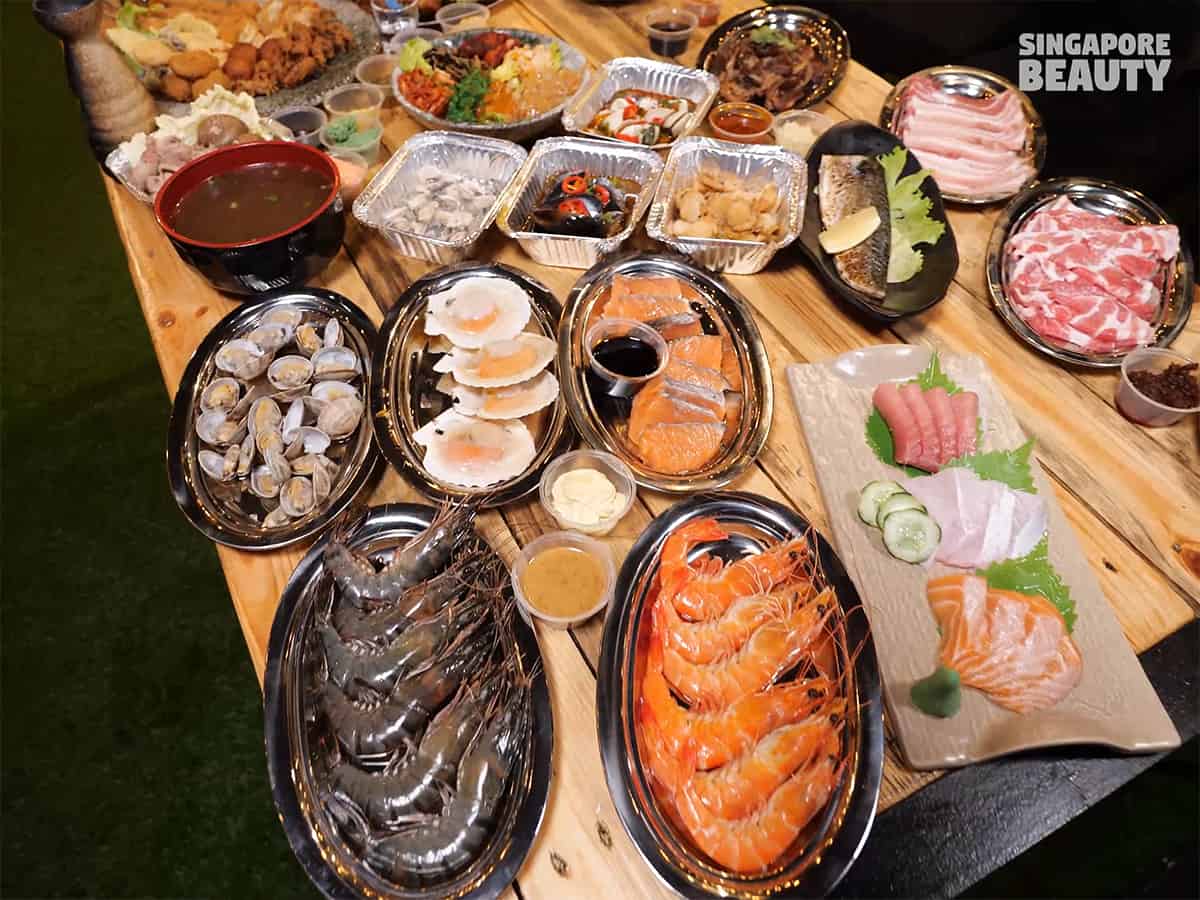 Enjoy Seafood grill (available for dinner only) with tiger prawns, oyster mentaiyaki, scallop mentaiyaki, Asari clam Shio, seafood sukiyaki boats, spicy hotate, salmon teriyaki, saba shio and more.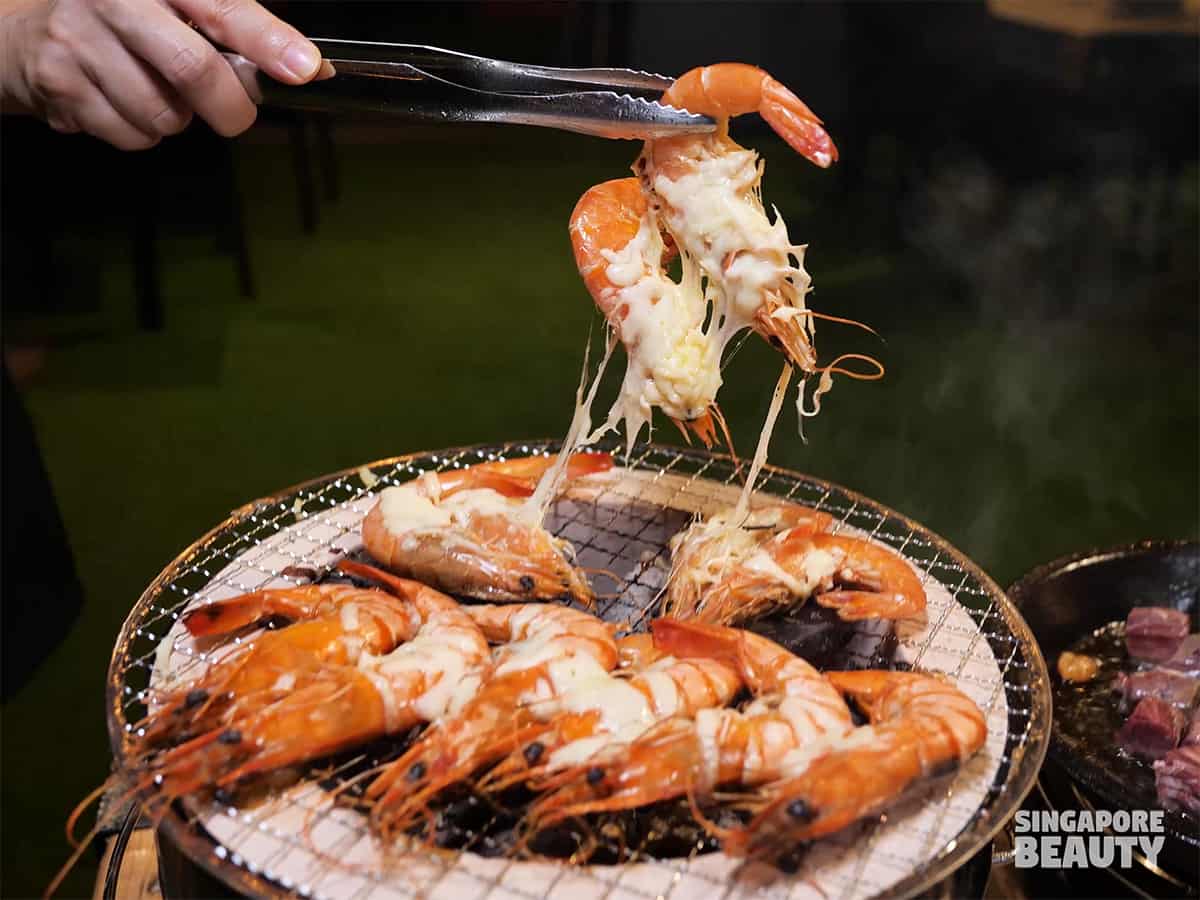 Grill some tiger prawns with cheese, salt and pepper to enjoy the natural sweetness of the meat with the savoury contrast from the cheese. Crunchy and stringy cheese pull to complement each other.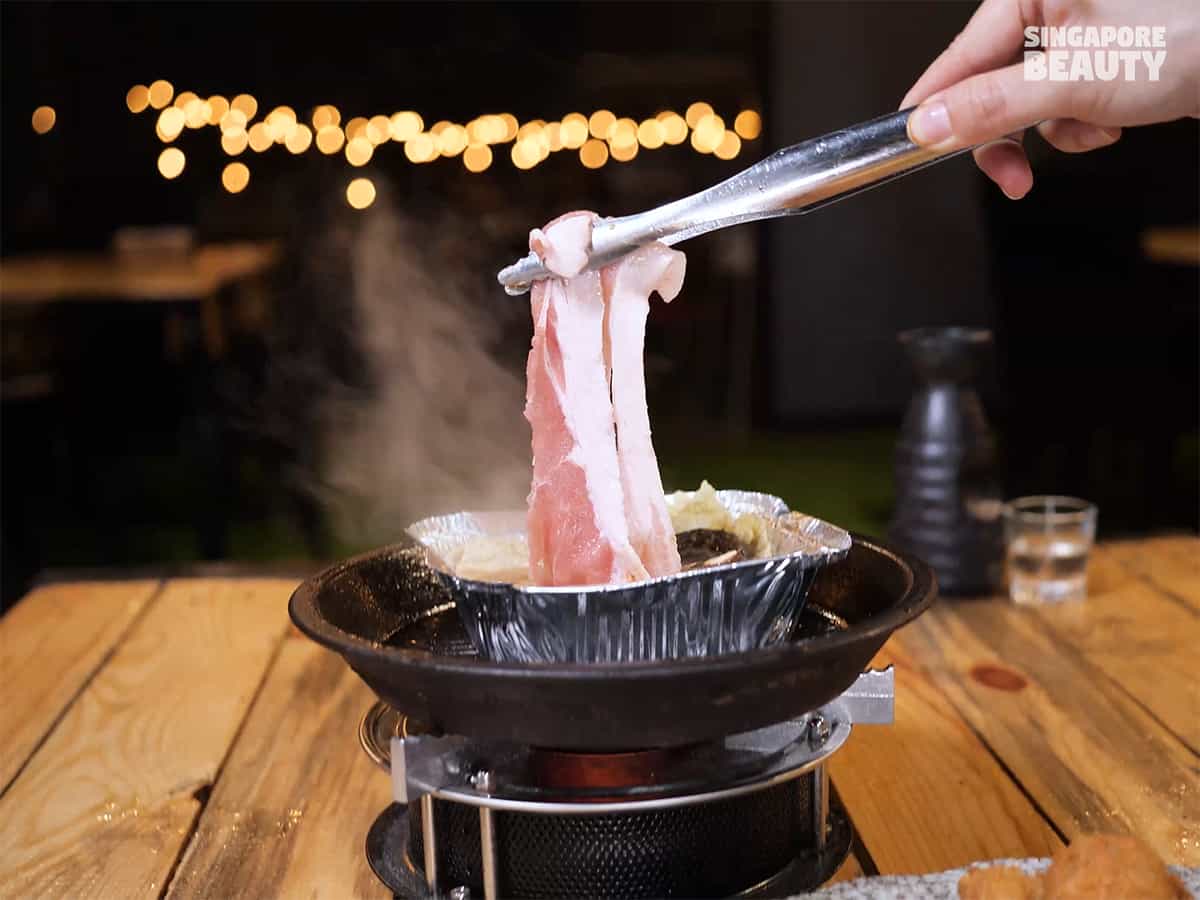 Sukiyaki boats are also available for you to do some shabu shabu. The soup base available are pork sukiyaki and beef vegetable sukiyaki. These boats comes with some enoki, shiitake mushrooms, carrots and radish for some added sweetness to the soup. Get their chestnut pork collar, pork belly, salmon chunks and Angus chuck roll for this mini sukiyaki.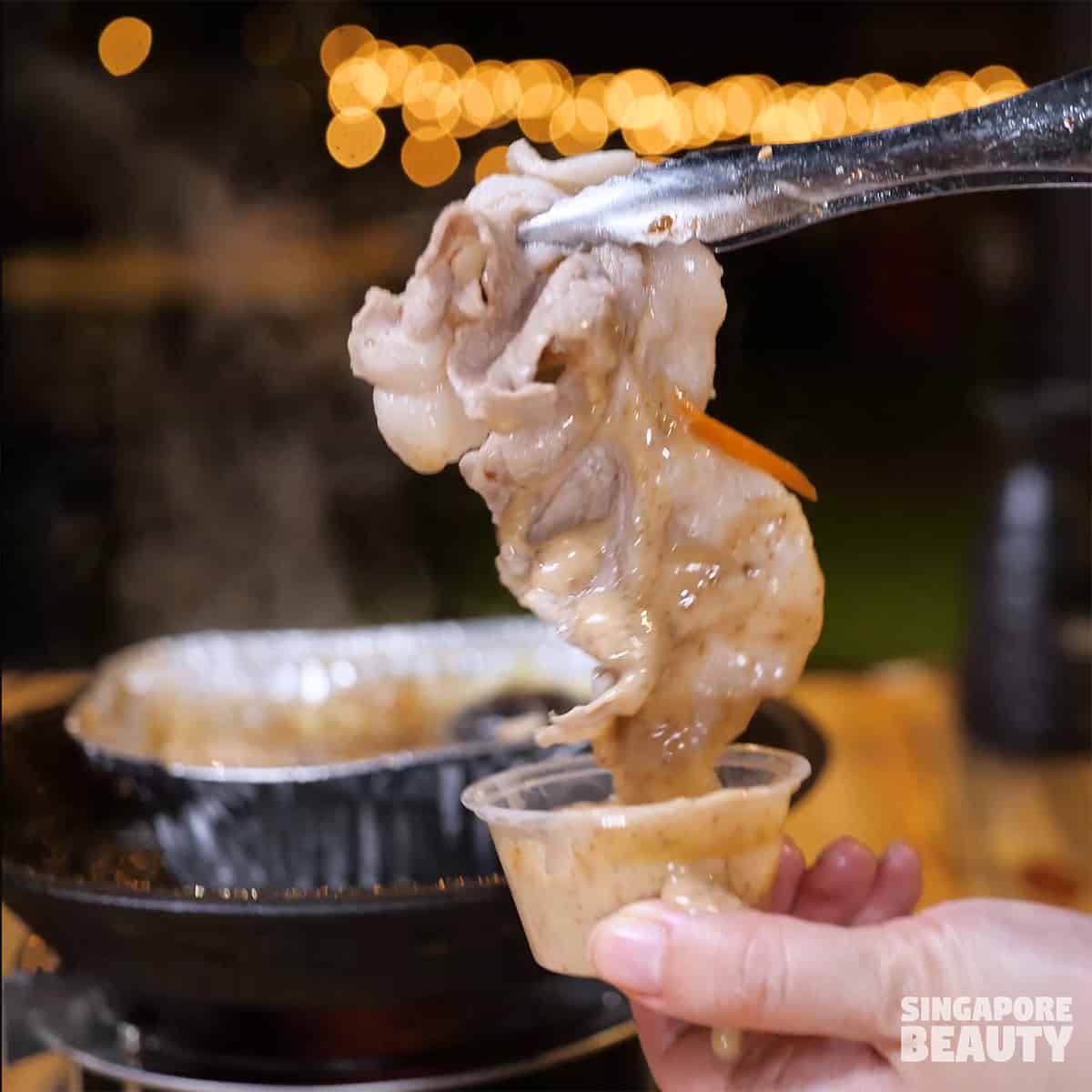 15 type of Japanese dip to go with your grilled meats, shabu shabu meats, ready to eat tempura and seafood. Check out their roasted sesame dip, mentaiko mayo, Yuzu ponzu and more. Coat your piping hot sukiyaki meat with their roasted sesame sauce for the ultimate tenderness meets burst of aromatic sesame nuttiness.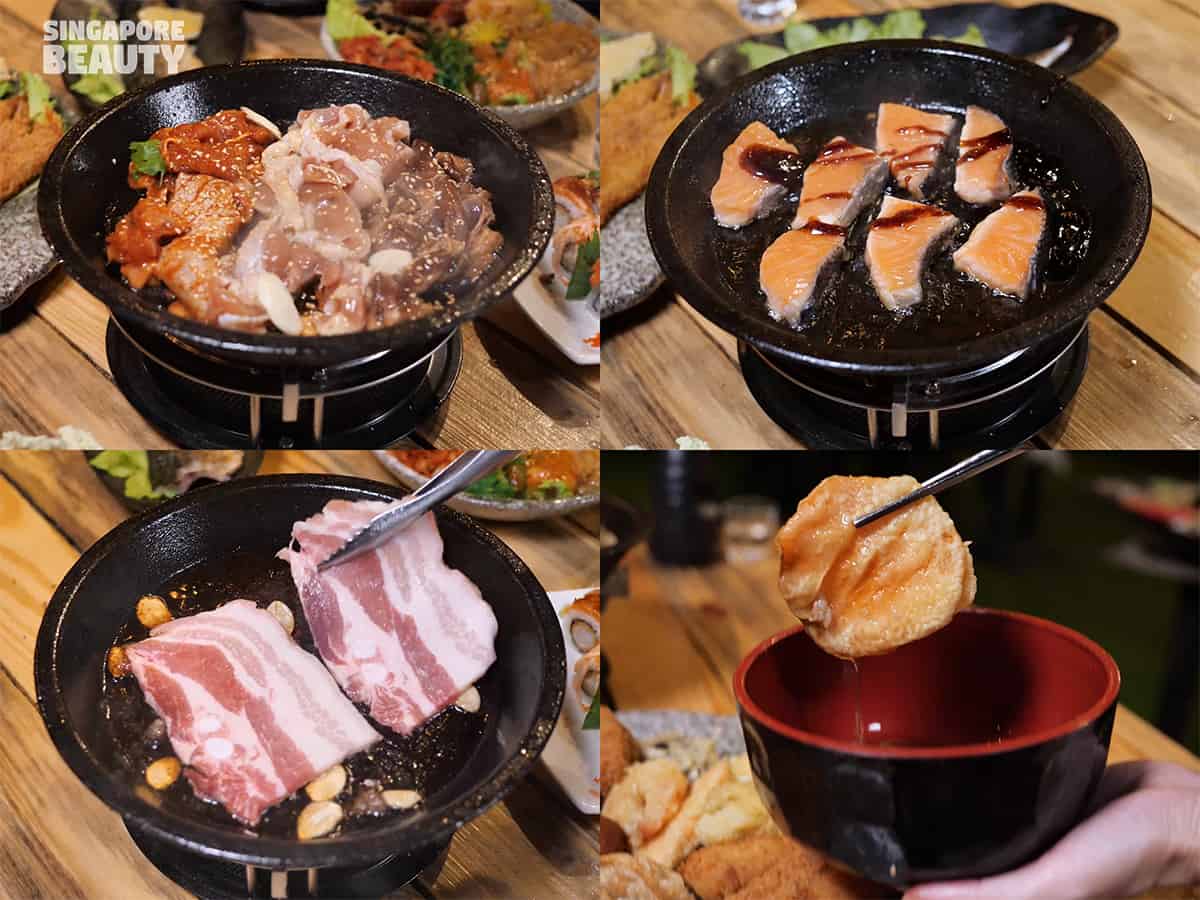 There are so many other foods available such as teriyaki thick salmon steaks, marinated meats, thick cut pork belly and assorted tempura. There is something for everyone in this Japanese bbq buffet.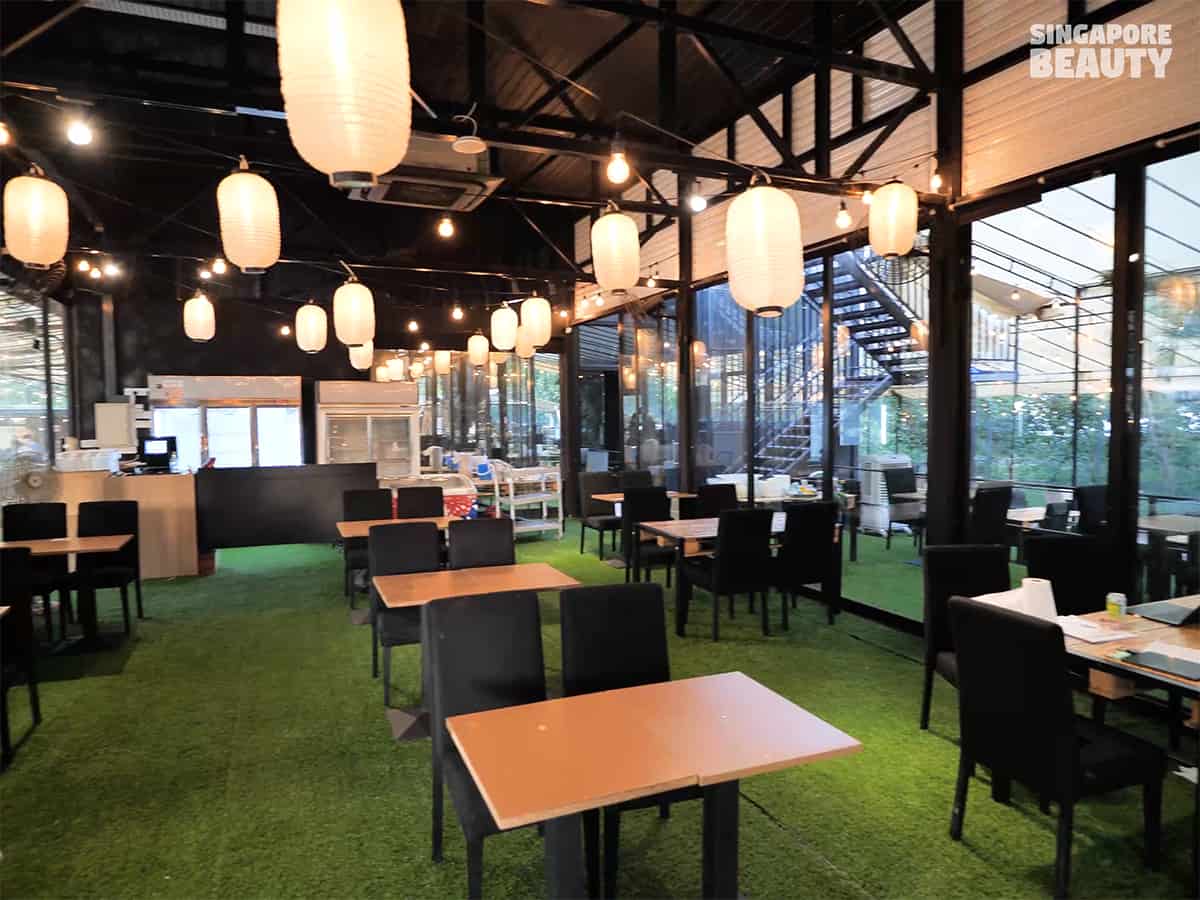 Head over to Kujaku Yaki today to experience this all in one Japanese buffet with teppanyaki oysters, yasai itame stir fry assorted vegetables, torched cheese mentaiko hotate, crunchy garlic prawns, teriyaki whole squid, marinated premium meats inclusive of marbled beef, chestnut pork, steaks, sukiyaki boats, assortment of seafood of your choice. The seafood choices includes oysters, scallops, clams, squid, prawns and more. More other choices such as clam soup, hot station cooked food, sashimi, maki and appetisers. See you there at this sheltered al fresco setting Japanese buffet.
Kujaku Yaki Japanese BBQ buffet price list
Weekday (Mon-Thurs)
Adult Lunch $27.90++ ($32.84 Nett)
Kids Lunch $17.90++ ($19.69 Nett)
Adult Dinner $45++ ($52.96 Nett)
Senior (60years old & above) Dinner $42++ ($49.43 Nett)
Kids dinner (7-12 years old) $28++ ($32.96 Nett)
Weekend (Fri-Sun)
Adult lunch $32.90++ ($38.72 Nett)
Kids lunch $20.90++ ($24.60 Nett)
Adults dinner $51++ ($60.03 Nett)
Senior dinner $48++ ($56.50 Nett)
Kids dinner $34++ ($40.02 Nett)
Free flow Soft drinks ( includes ice cream) $3++
Surcharge for PH, PH eve, Festive Seasons etc) +$5 per pax
Things to note
-Abalone is available daily
-Weekday & weekend lunch with limited selections of meat, cook food & lesser seafood options.
-Weekend & Weekday dinner is full menu
-half lobster redemption only available on weekends dinner (Fri-Sun)
-Asahi beer promotion 3 btl $18++
Other brands Heineken, Asahi black,1664
Dine in time : 120 minutes
Opening Hours :
(lunch) 12pm -2.30pm
(Dinner) 5pm -10pm
Whatsapp 8180 2370 for reservations
Address of Kujaku Yaki
8 Port Road
Singapore 117540
Labrador Park
Brought to you by Kujaku Yaki