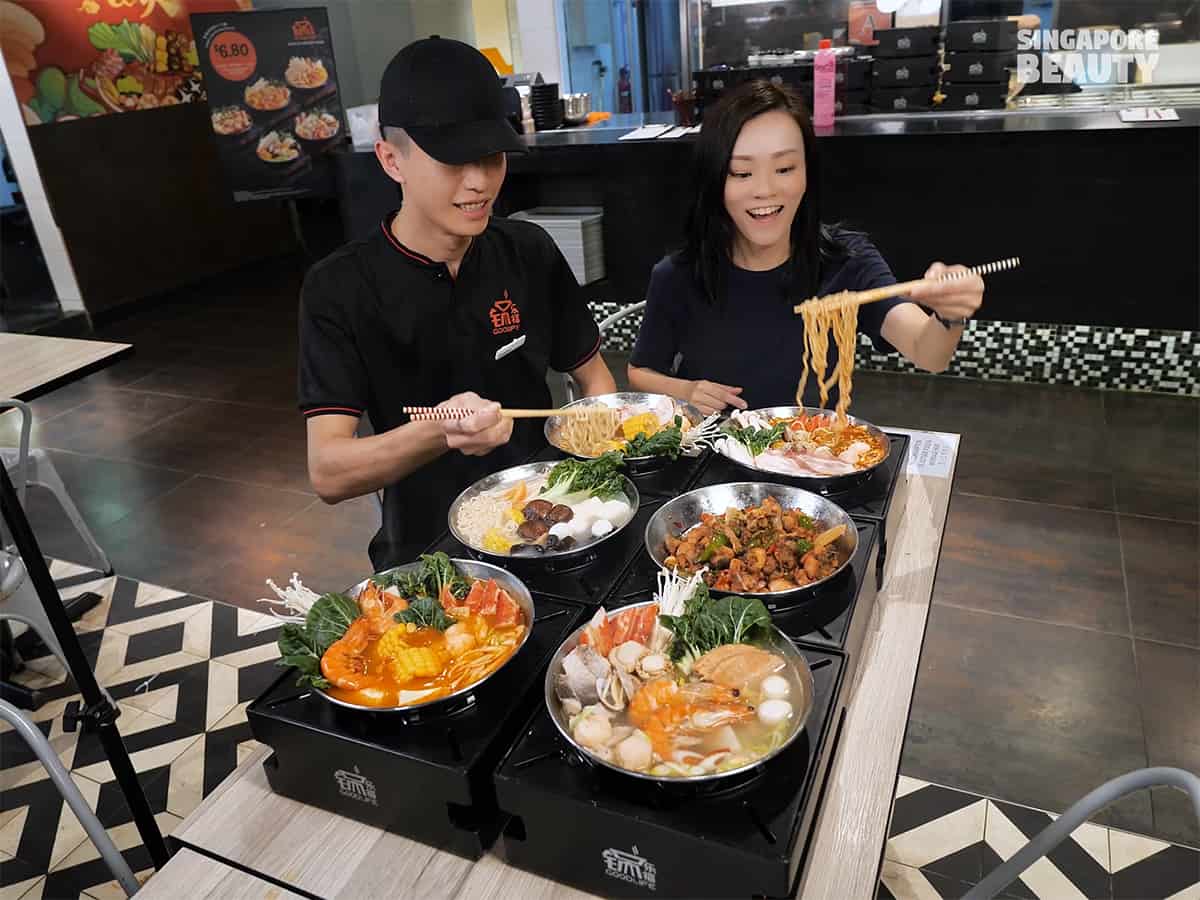 Goodlife Mini Pot serves personal hotpot from $6.80 for the month of January at both of their outlets at Bishan Junction 8 Food Junction food court and Jurong Point Kopitiam. Get to enjoy a piping hot mini hotpot of your choice of vegetables, meat & 1 carb. They have 3 other combo starting from $8.80 to $12.80, all served on a heated base like a personal mini hotpot. The uniqueness of this mini pot is that you are able to select your ingredients for the hotpot but at food court prices. There are days when you feel like you need an energy boost and decides to go on an all meat lunch diet, you can get all your meats here with the miniport. There are also days where you decides to eat clean, you can choose an all vegetable combo and enjoy it piping hot too. Pocket friendly prices for a mini hotpot, what more can we ask for?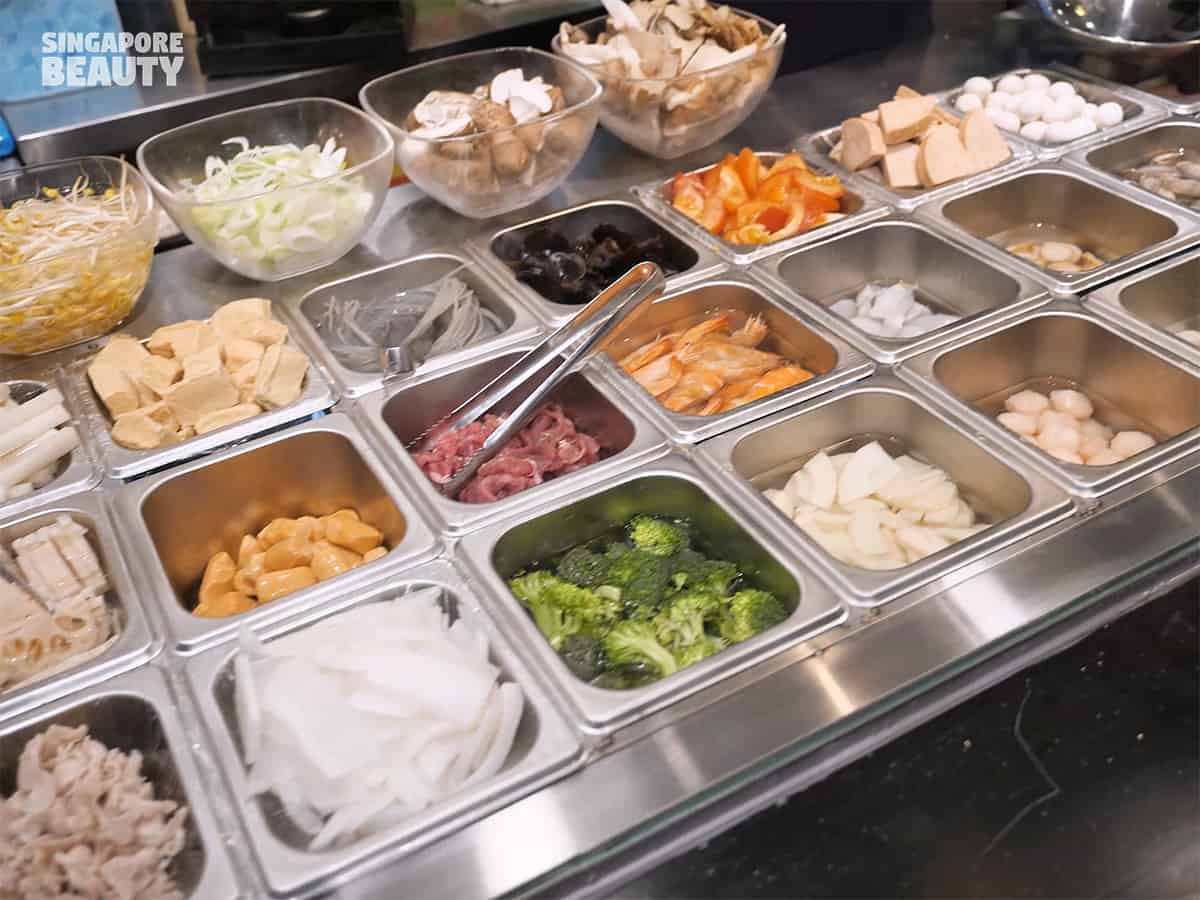 Goodlife Mini Pot is serving a $6.80 mini pot which includes your choice of 6 vegetable, 1 meat, 1 rice or noodle, promotion is only for month of January and available at both their stalls at Bishan Junction 8 and Jurong Point.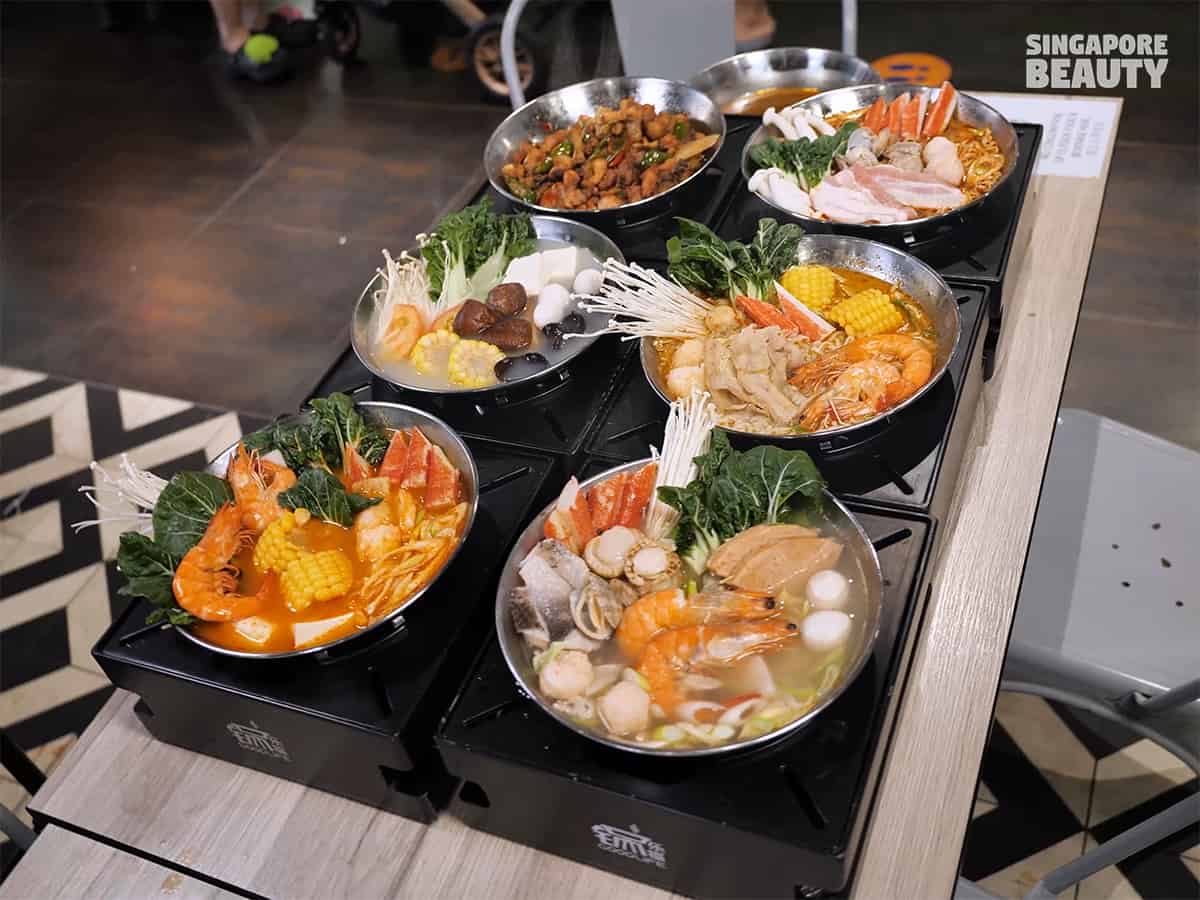 Goodlife Mini Pot can be customised with 5 different broths to choose from. The broths are boiled daily with big bones and chicken for the basic soup base. The 5 soup choices are fragrant spicy, sour spicy, white curry, seafood base and vegetable soup.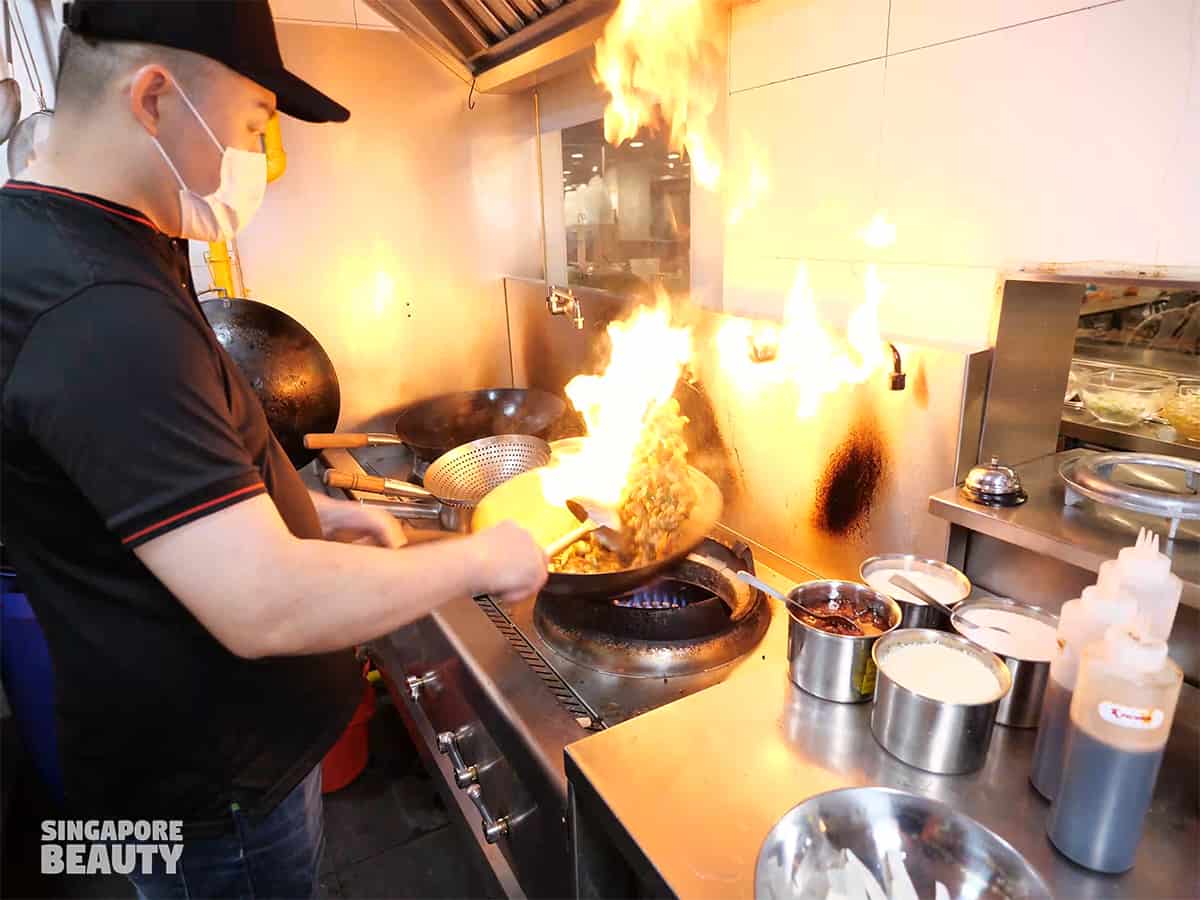 Goodlife Mini Pot also has a popular dry pot chicken with chilli that is stir fried with a lot of wok hei in it. The chickens are marinated for a day and stir-fry quickly in a wok. The chicken morsels are tossed in fire to impart a smoky flavour to each bite.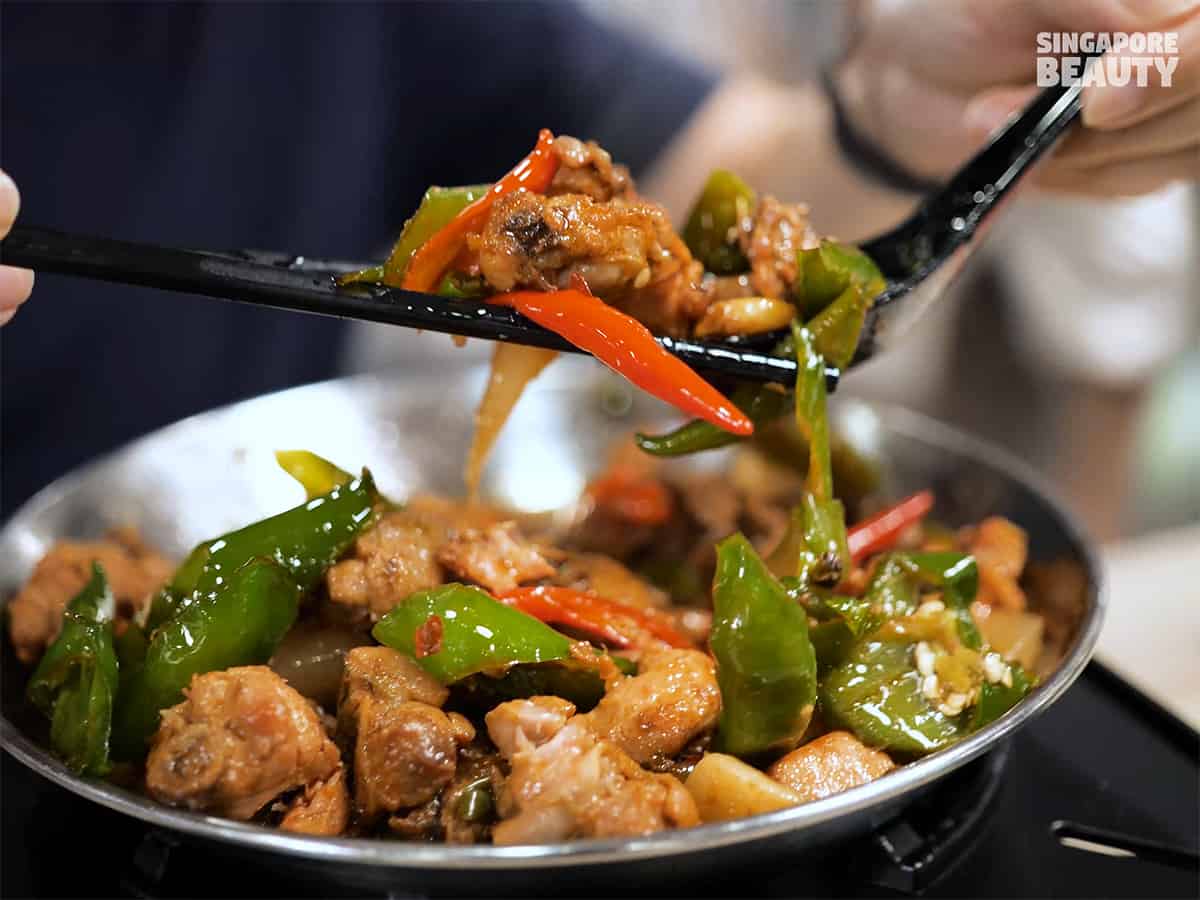 Dry Pot Chicken in Chilli ($12.90(S)/$26.90(L)) is stir-fry with 5 types of chillies. The chef challenges spicy lovers to try this very spicy chicken mini pot dish. The chicken bites are coated in rich umami chilli oil and infused with juices from the cut chillies. This dry pot chicken dish is a joy to eat and the heat from the chilli hits you after you have ingested the savoury bite. The heat lingers on your tongue with a tingling sensation.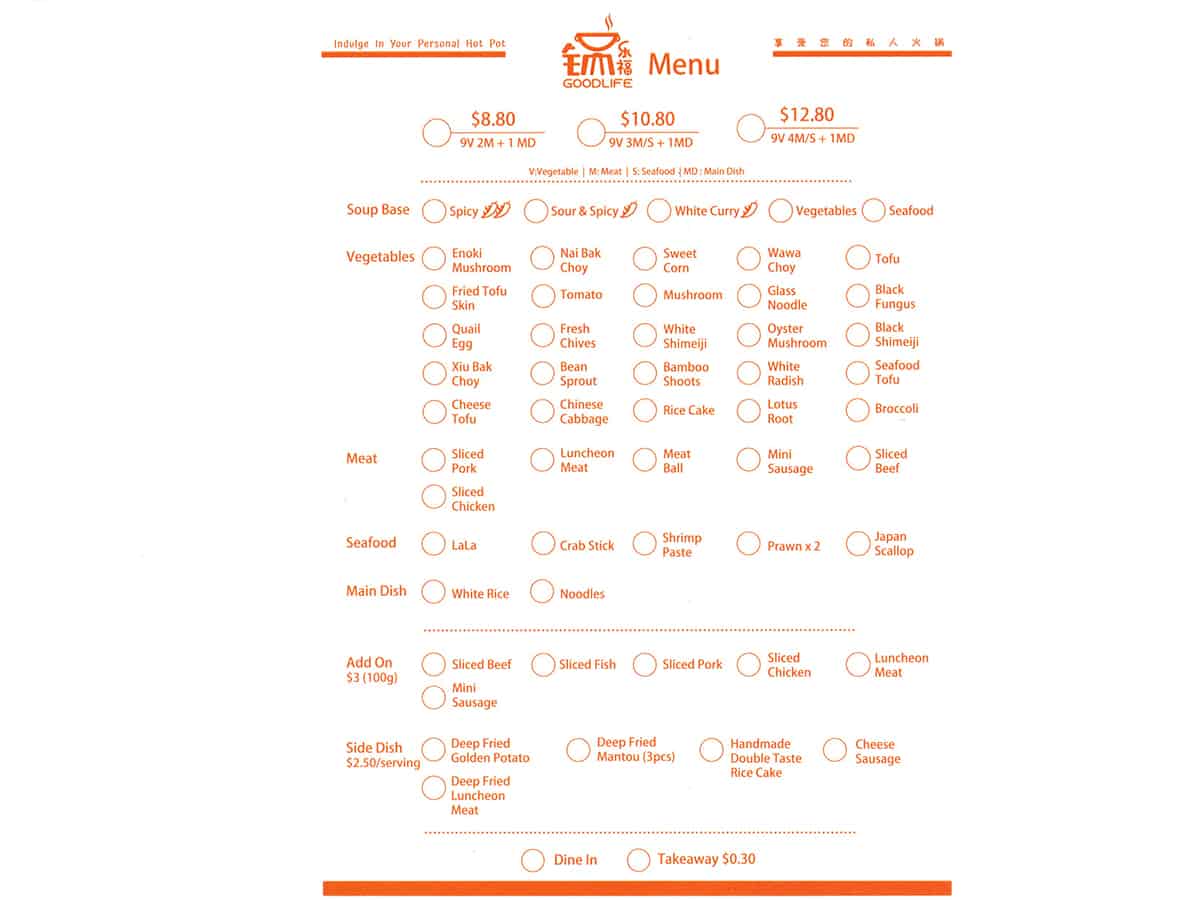 Here's the menu of Goodlife Mini pot. It comes in 3 price combo – $8.80, $10.80 & $12.80. How to order Goodlife Mini Pot? This is what an $8.80 combo comes with, 9V 2M +1MD and for a $10.80 combo, it comes with 9V 3M/S +1MD. This is what the combo means, for example, under $12.80 – it indicates 9V 4M/S +1MD which translate to your choice of 9 vegetables, 4 meats/seafood and 1 main dish. Choose from 38 ingredients from soup bases, vegetables, meats, seafood and carb.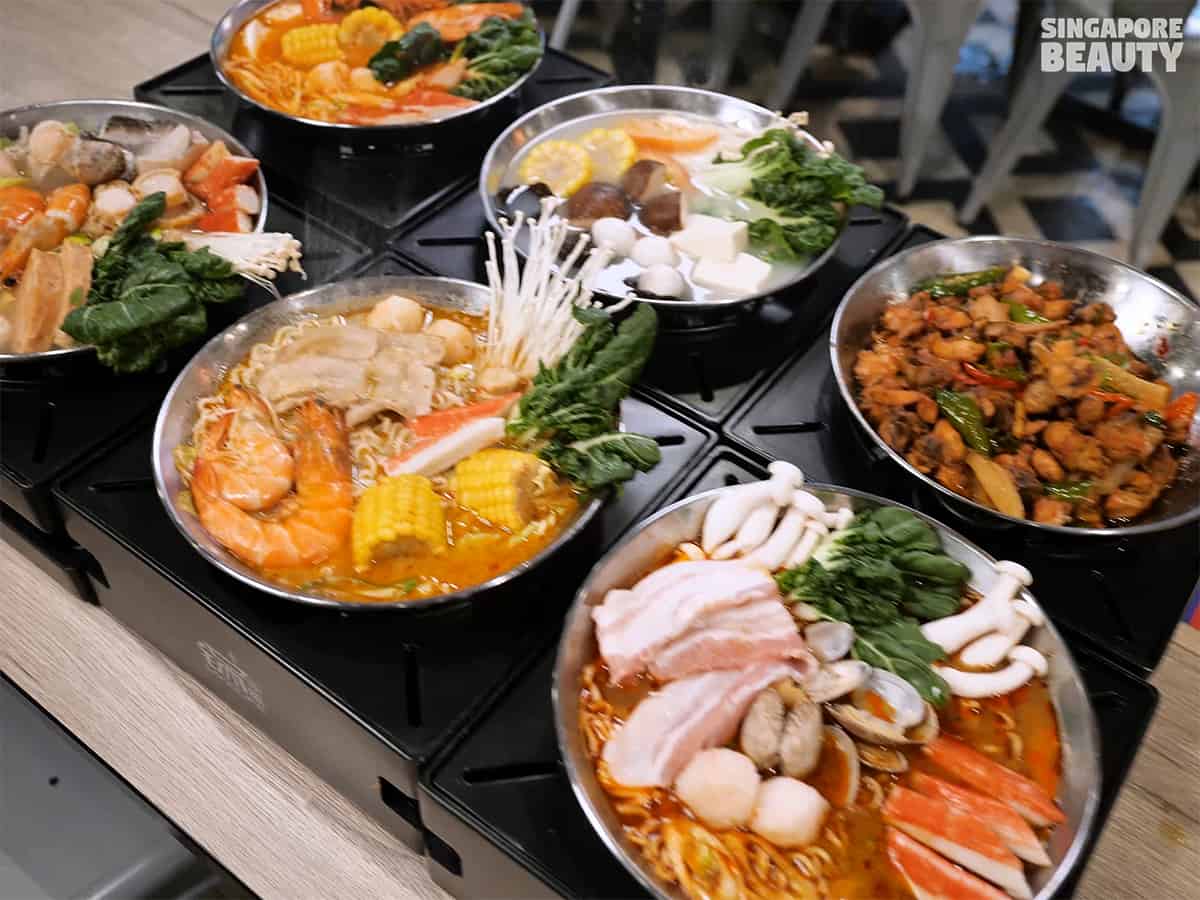 Next choose from 5 types of soup bases for your mini hotpot. The soup bases available are Spicy, sour & spicy, seafood, white curry and vegetables. There is an indication of the spicy level of each soup base with chilli icon. The more chilli icon, the spicier the soup.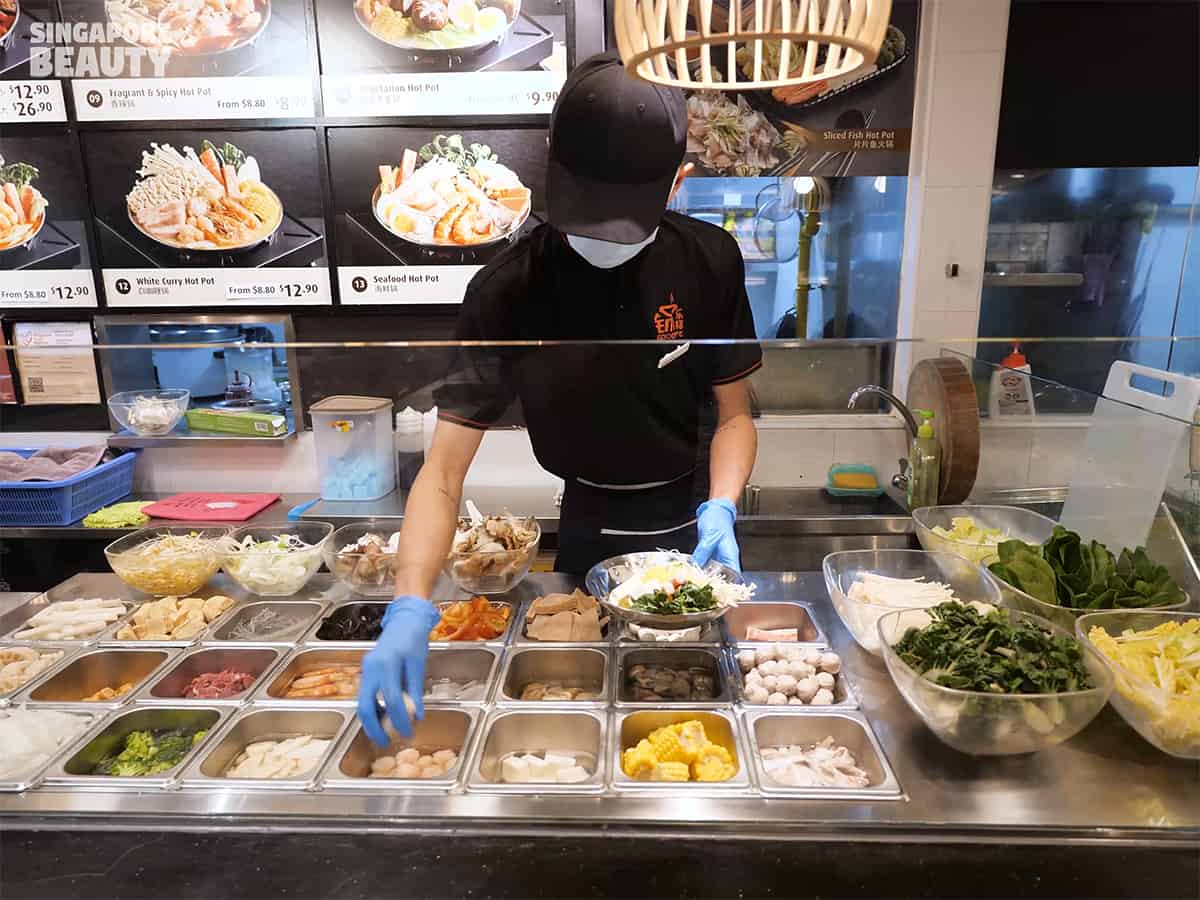 There are 25 type of ingredients categorised under vegetables (V) such as enoki, fried tofu skin, quail egg, xiao bai cai, cheese tofu, nai bak choy, tomato, fresh chives, bean sprout, Chinese cabbage, sweet corn, mushroom, white shimeiji, bamboo shoots, rice cake, wawa choy, glass noodle, oyster mushroom, white radish and lotus root.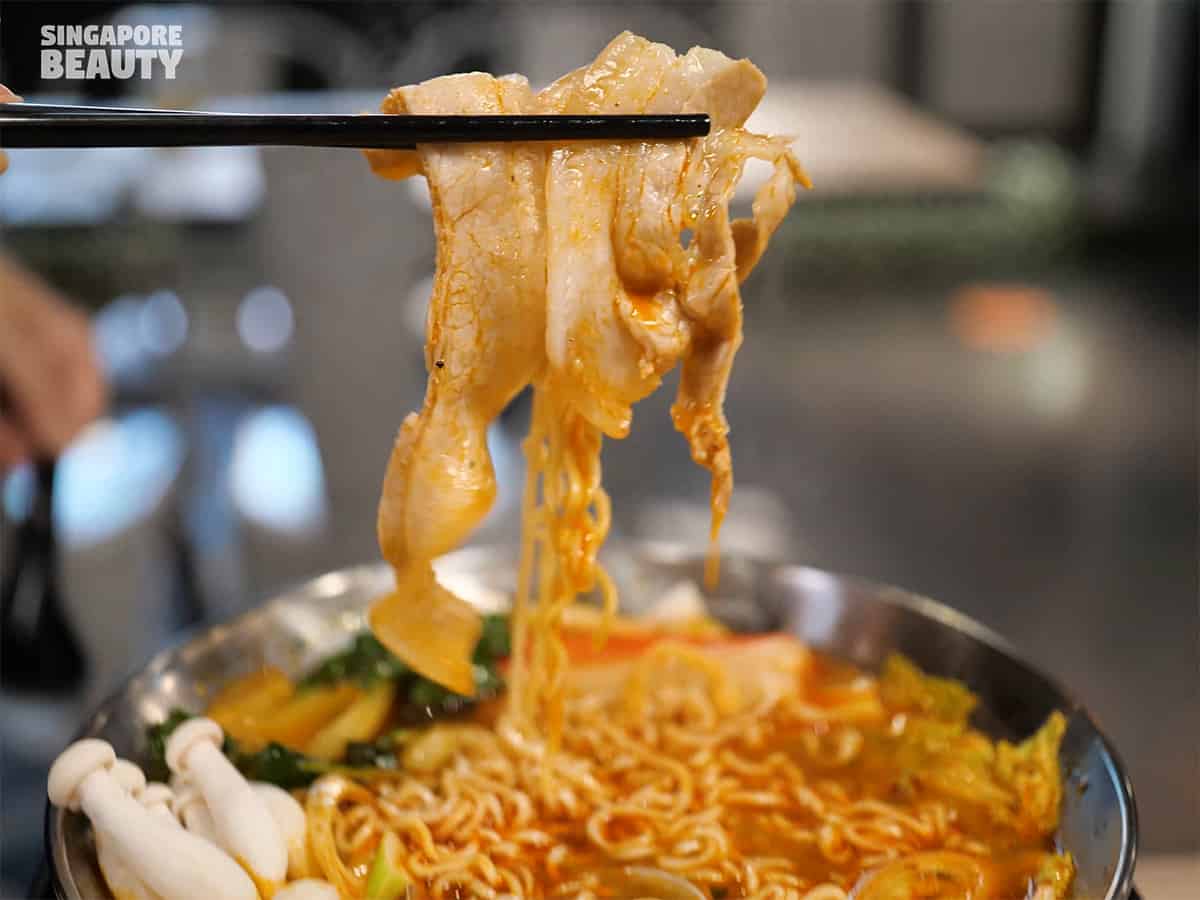 For meat lovers, you can choose from 6 types of meats (M) such as sliced pork, luncheon meat, meat ball, mini sausage, sliced beef and sliced chicken. If you want to load up on your meats, you can also add on to the combo by ordering add ons from $3 per 100 grams of meats.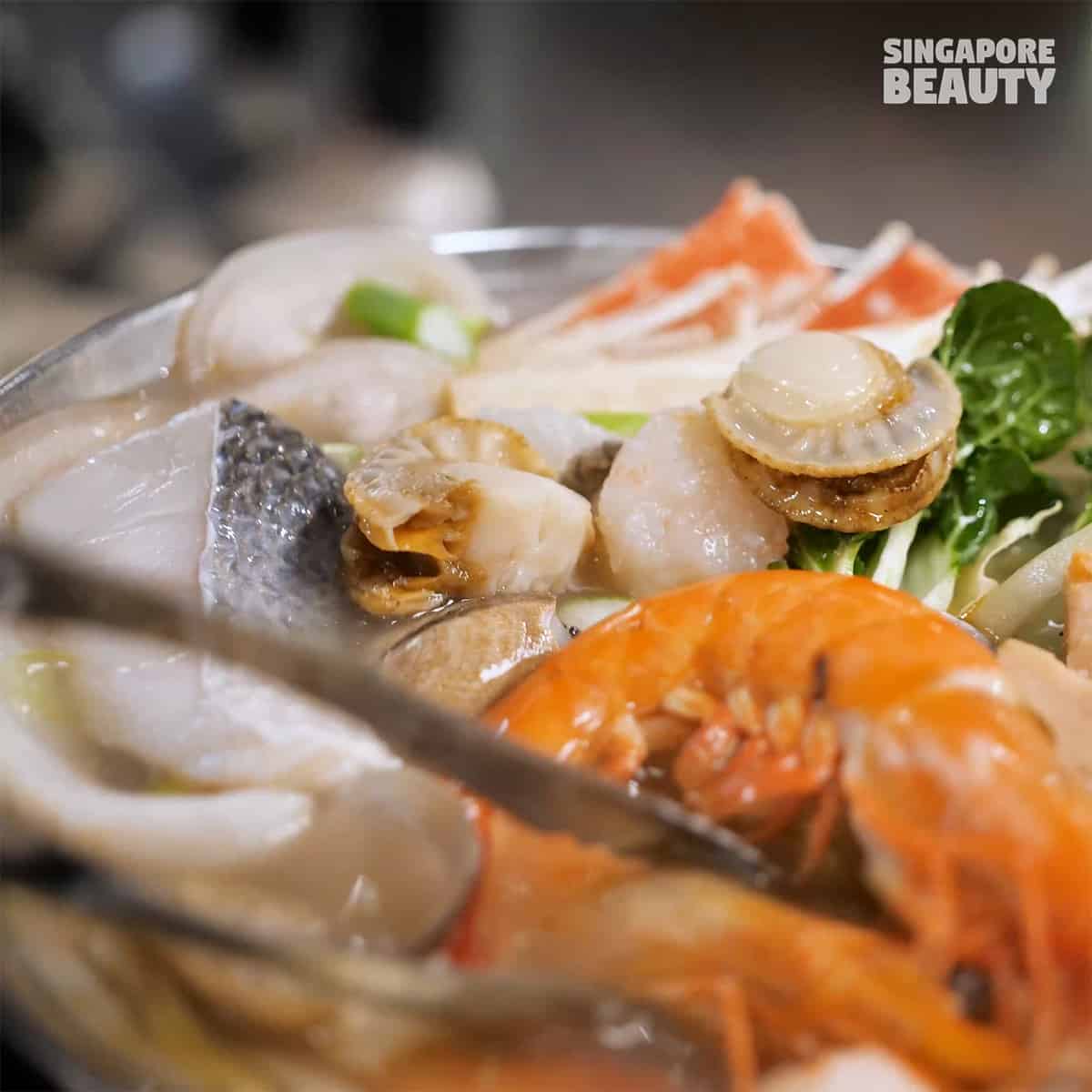 For seafood(S) lovers, there are 5 choices such as lala, crabstick, shrimp paste, prawns and Japanese scallop. You can also add on $3 for 100grams of sliced fish.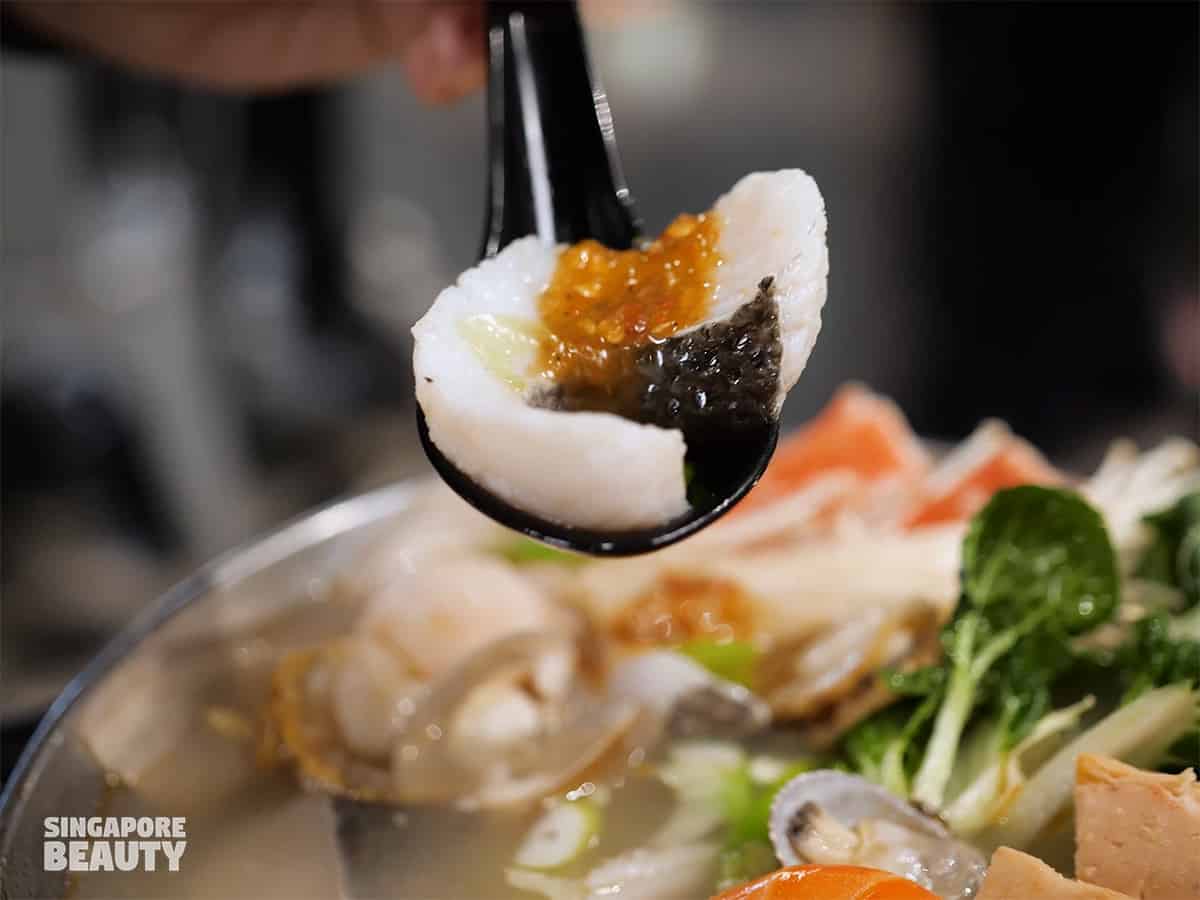 The sliced fish goes exceptionally well with their in house chilli sauce. The chilli sauce has a nice peppery tangy kick to it with some hint of fish sauce, cilantro and parsley. The special chilli sauce, you have to ask for it, as it is not displayed at the counter. It goes well with any seafood.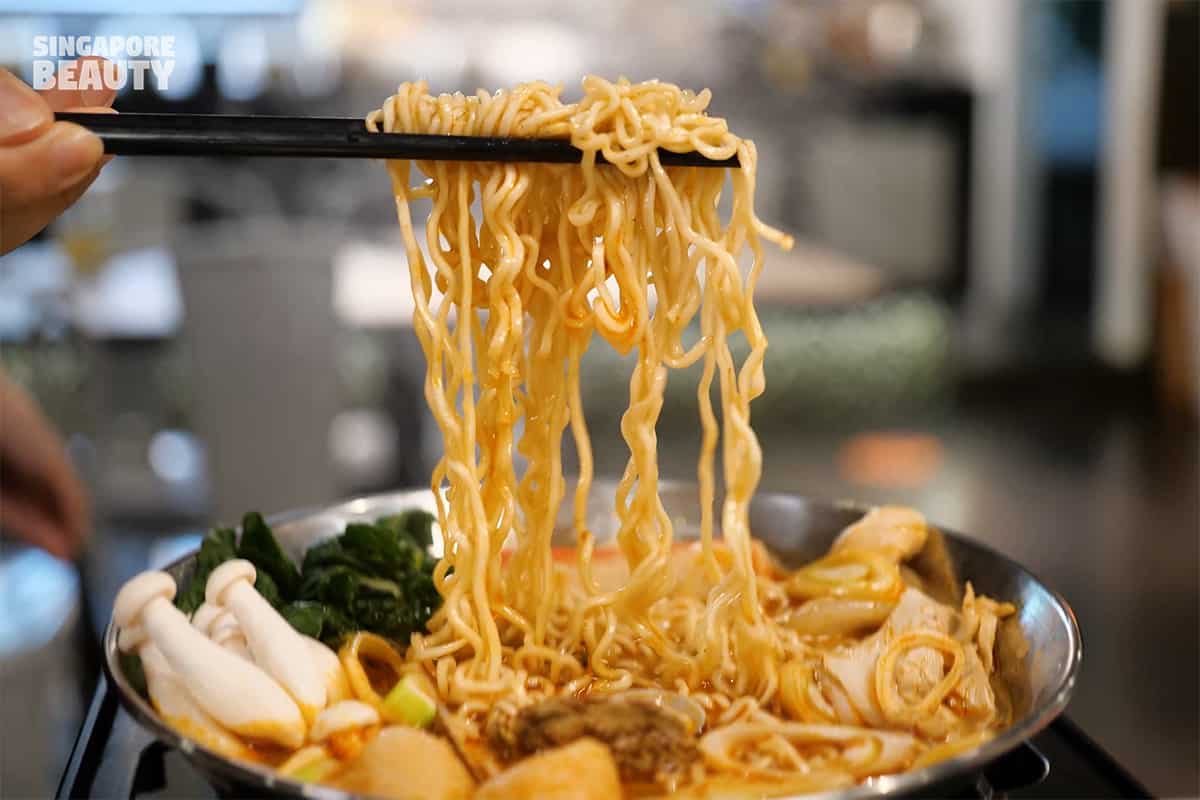 The carb are categorised under Main Dish (MD) – choices are white rice and noodles. The rice used is those fluffy chewy pearl rice that is short grain and round in profile. Get a side of dry pot chicken with chilli if you are getting the rice. These two are the perfect combination. The noodles used are maggi noodles according to the chef for its springy texture.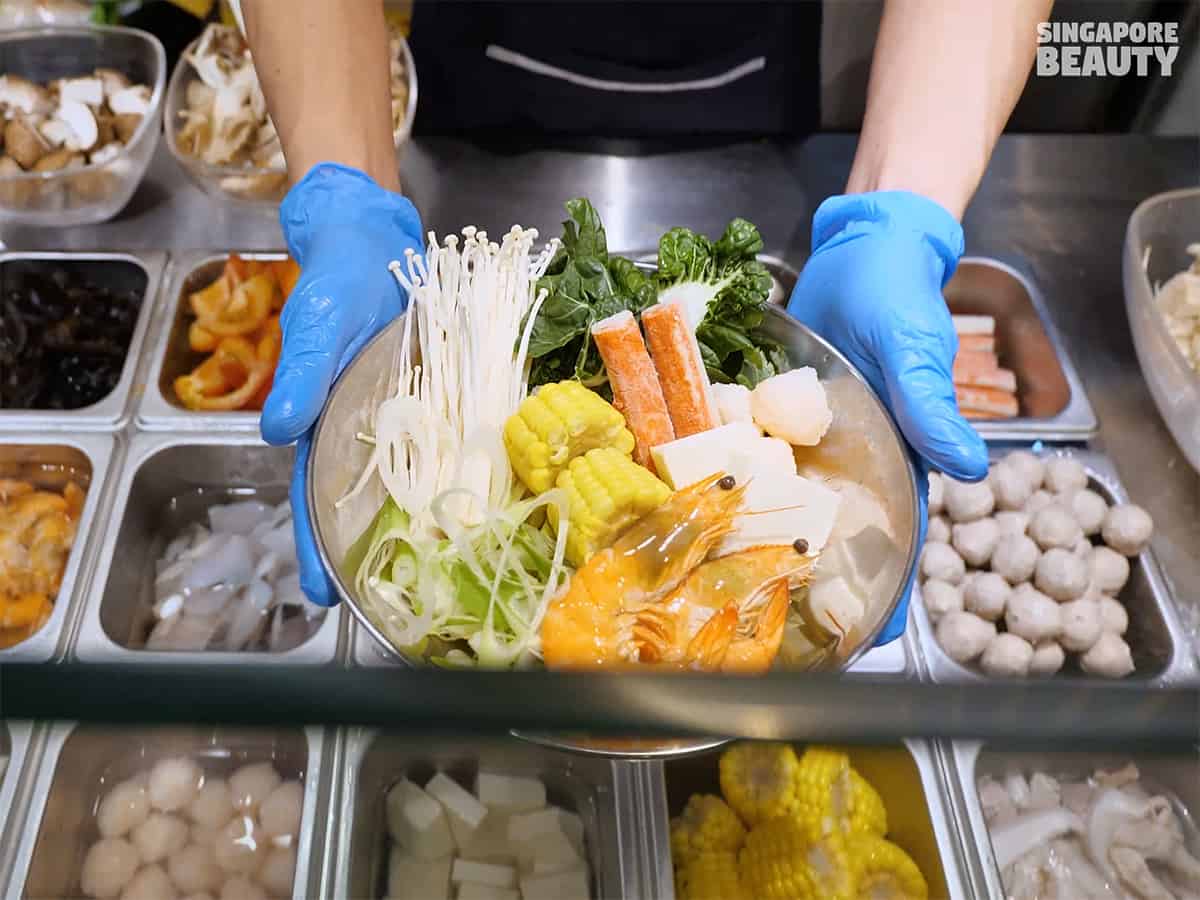 Start by picking a combo, next tick the circles indicating the choice of vegetables, meats, seafood and main dish. After making payment and the server will proceed to assemble your choice of ingredients based on the list in a mini pot. The ingredients will be cooked by the kitchen chef and served over a lit warmer base like a mini hotpot. Since it is a food court, you will collect the mini hot pot with the tray provided and you are free to sit at any available table.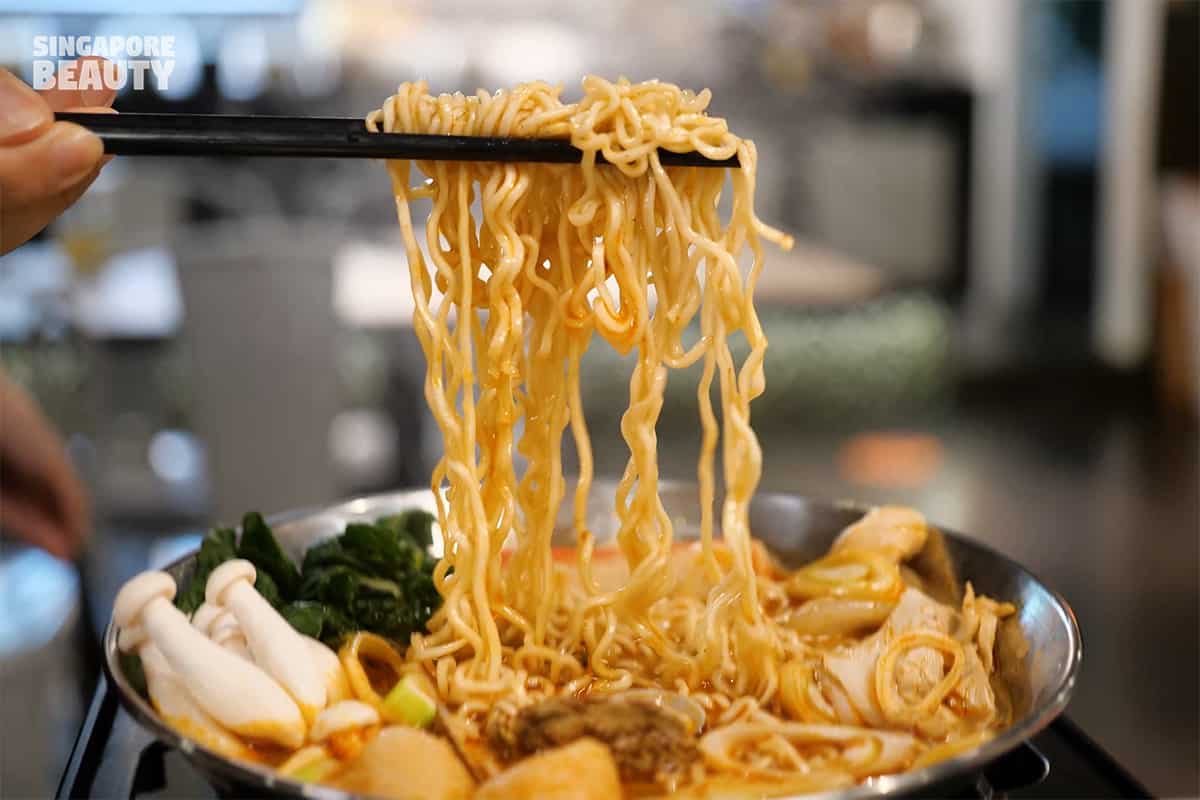 The selection of ingredients that goes into each soup base is flexible and can be chosen by you. Here are some of the popular ingredients chosen by the regulars of Goodlife Mini Pot. The chef recommendation is the fragrant spicy soup base and white curry. These are the soup base with a stronger flavour that our local enjoy and goes well with any of the 38 ingredients they have.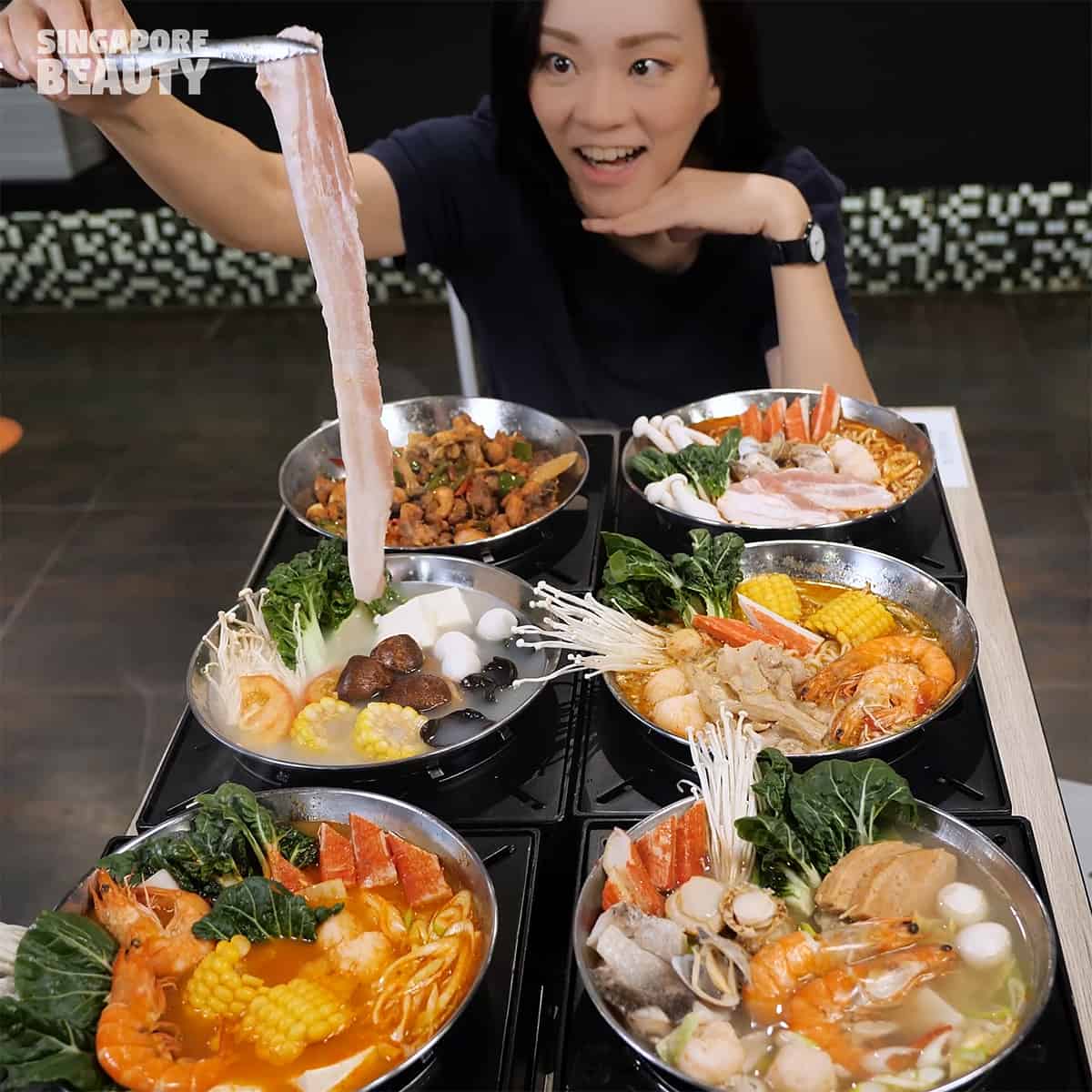 Here are the popular combos from $6.80 to 12.80. Sour and spicy soup with crunchy prawns, silky tofu, crab sticks, corn, xiao bai cai and more. Signature spicy hotpot with sweet clams, springy noodles, pork belly, enoki, crab sticks and prawn paste. Seafood hotpot made with shrimps is loaded with a variety of ingredients such as Japanese scallop, prawn ball, clam, prawns, Tioman chunks and more. White curry mini pot with luncheon meat, sliced chicken, fish ball and more. Vegetable soup is a clear base pork bone soup with a variety of vegetables of your choice.
Head over to Goodlife Mini Pot at Bishan Junction 8, Level 4, Food Junction or Kopitiam @Jurong Point stall #03-42 MR4 to enjoy this personal mini hot pot experience! The unique selling point of this mini pot is that it is served on a heated base and the ingredients can be chosen according to our preference. Enjoy this piping hot pot of goodness at food court prices.
Address of Goodlife Mini Pot :
Bishan Junction 8, Level 4, Food Junction stall 7, Singapore 579837
Kopitiam @Jurong Point, 1 Jurong West Central 2, #03-42, Singapore 648886 (Kopitiam MR4)
Brought to you by Goodlife Mini Pot 锅乐福