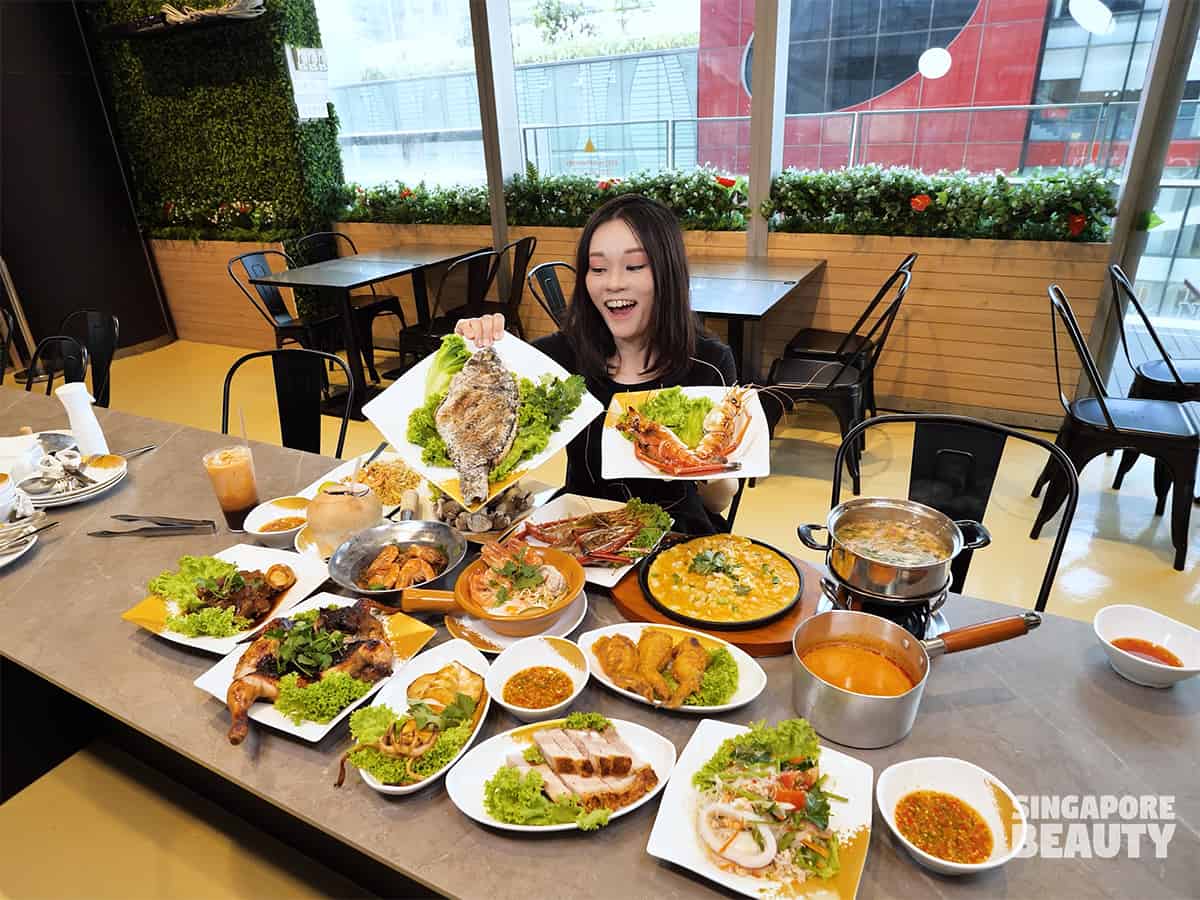 Soi 47 Thai Food now has a new location in Orchard Road, this is the latest & newest outlet. Good news for Thai street food lovers, who love a good tasty Thai feast. With a wide variety of food to cater to every taste palate, you will be spoilt for choice here. This is also a popular lunch and dinner hotspot in Orchard Central with great tasting and affordable Thai food choices.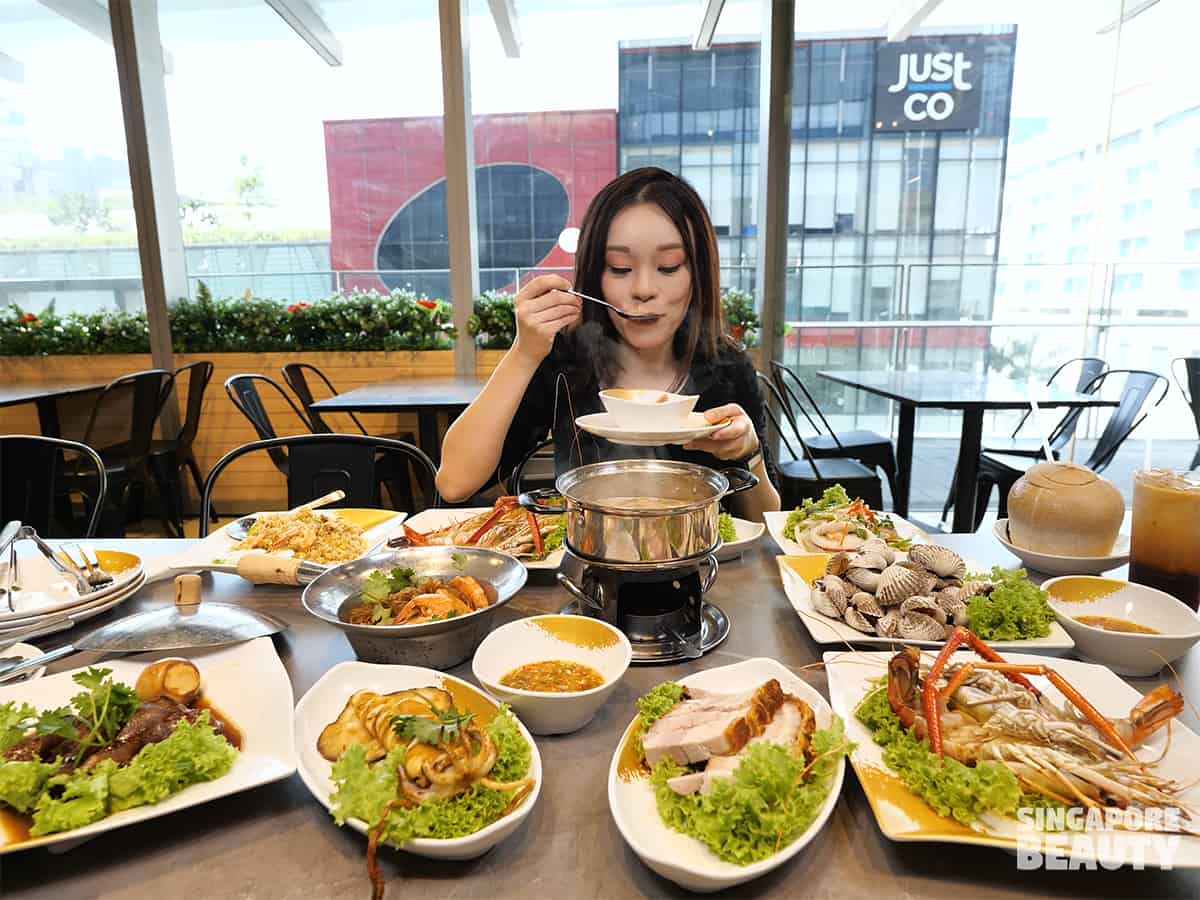 Here are some of the Soi 47 Thai Food review from their menu. There are a large variety of seafood, Thai food, authentic cuisines and even some unique Thai street food. The menu consist of various authentic Thai cuisines including deep fried finger food, salad, soup, vege, omelette, rice, noodle, seafood, chicken, beef, pork, desserts & drinks. Tasty Thai food at affordable prices for all to enjoy, yes certainty worth many return visits!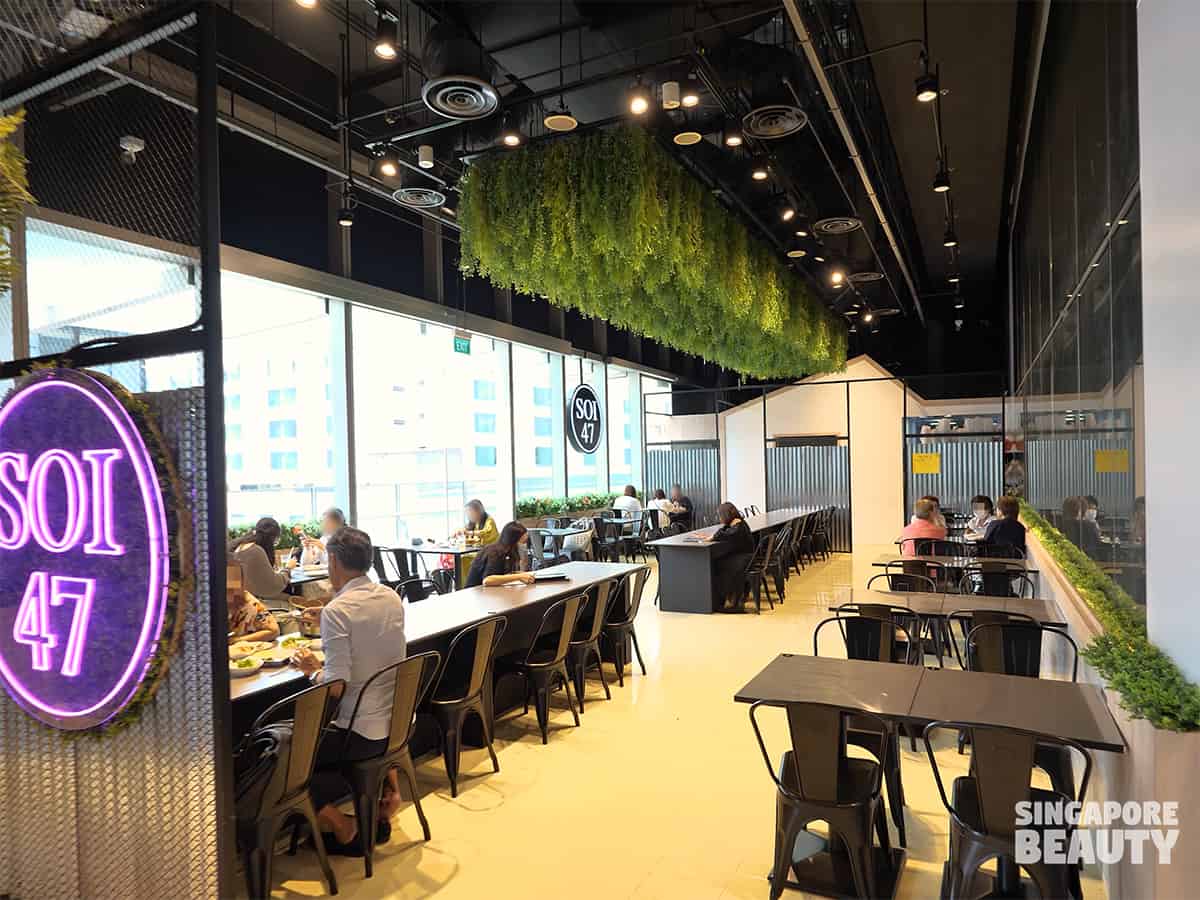 Overlooking Orchard road and surrounded by Orchard skyline view, this Soi 47 Thai Food outlet is definitely worth visiting. It is fully air conditioned and spacious too. The whole restaurant is brightly lit by the soft natural light from the full curtain walled windows with some warm ambience down light. A great place for a conducive relaxed meal with your love ones with soft background music.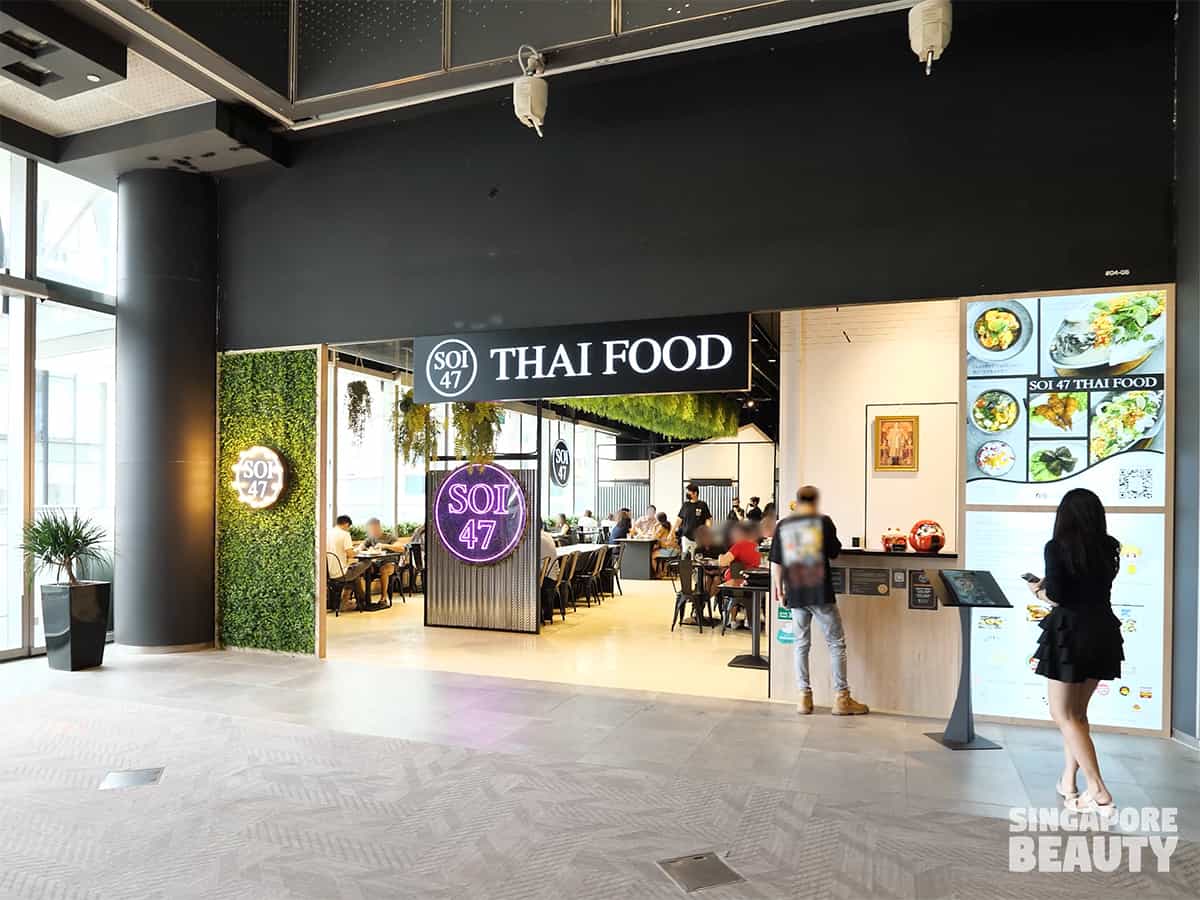 Soi 47 Thai Food is located at Orchard Central Singapore right next to the lift, this place proves to be very convenient for families with elderly and young in tow. The spacious lobby entrance also gives one a feel good liberating feeling to want to dine in this location. The clean, proper and comfortable setting is perfect for casual business lunch or bonding with love ones.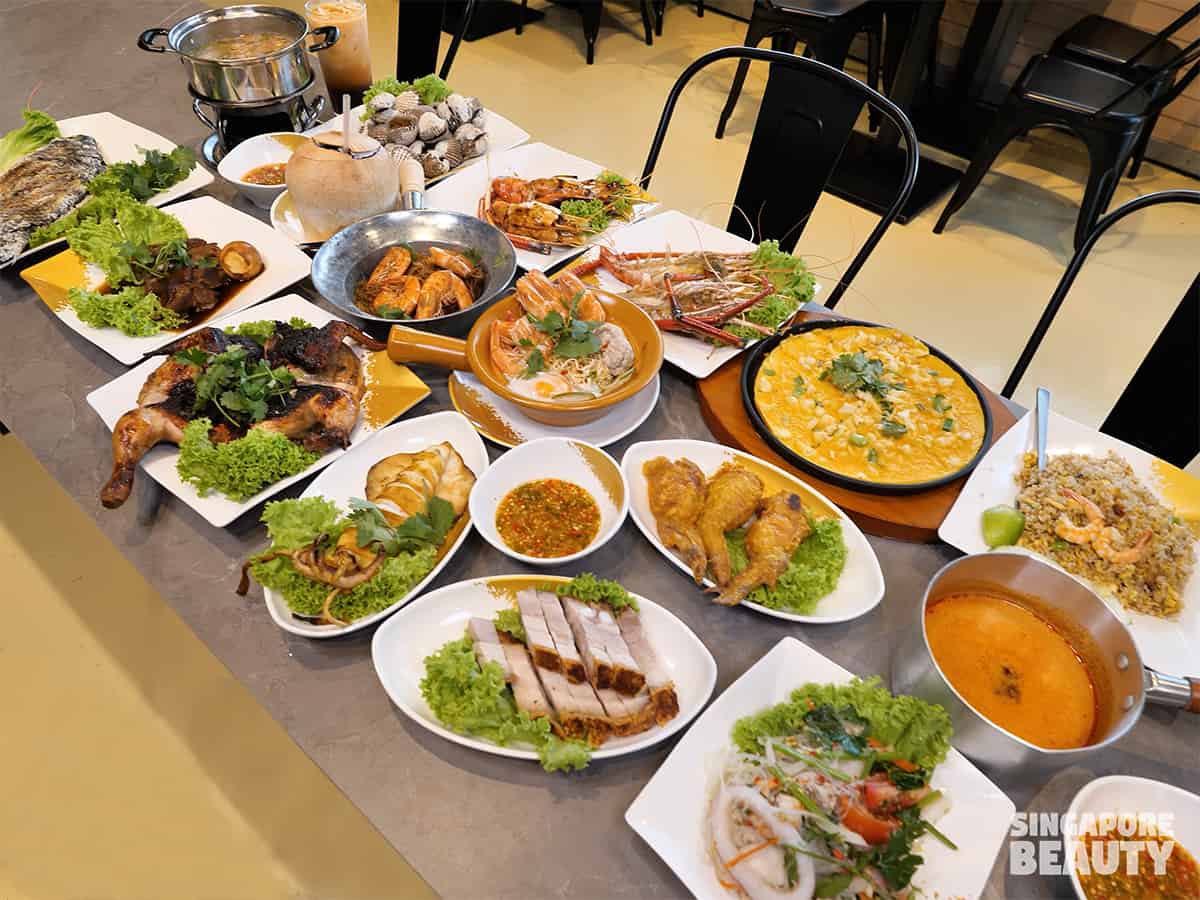 Here's what we had (from top row left to bottom right), Tom Saap with pork ($6), Jumbo cockles ($16), bbq river prawn ($15 for 2pcs), crab meat omelette($20), Salted fish fried rice ($6.80), Fresh Thai coconut ($4.50), claypot tang hoon with prawns ($12.80), claypot tom yam mama with prawns & meatballs ($11.80), stuffed chicken wings with minced chicken ($7.30 for 3 pcs), bbq salt crusted fish ($19.80), braised pork knuckles ($12), bbq whole chicken ($15), bbq sotong ($12), roasted pork($10) and seafood salad($10).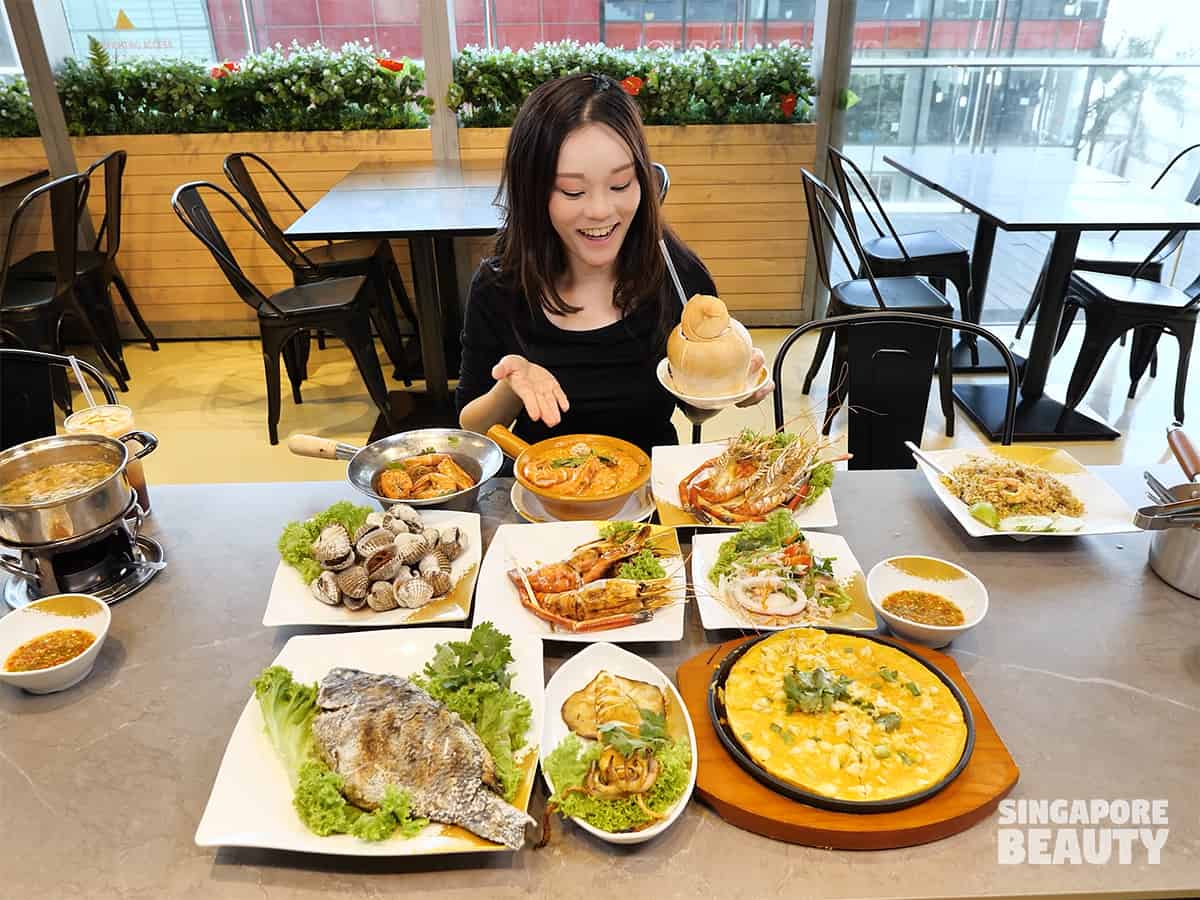 If you are looking for some place to enjoy affordable tasty seafood, head over to try Soi 47 Thai food's seafood menu. With a variety of seafood such as jumbo cockles, whole squids, whole fish, crab meats, Thai river prawns, gong gong, lala and more, this is a seafood paradise. Get these seafood cooked in a variety of way – bbq, steamed, fried, baked, on hotplate, in soup or even poached.  Thai food has now become my new seafood hunt whenever I am in orchard looking for a place to eat seafood.
BBQ Salt Crusted Fish – a whole fish is stuffed with bruised lemongrass and rubbed with salt in the belly to let the flavour permeates the meat. The fish is then encased with a thick layer of sea salt before going on the grill.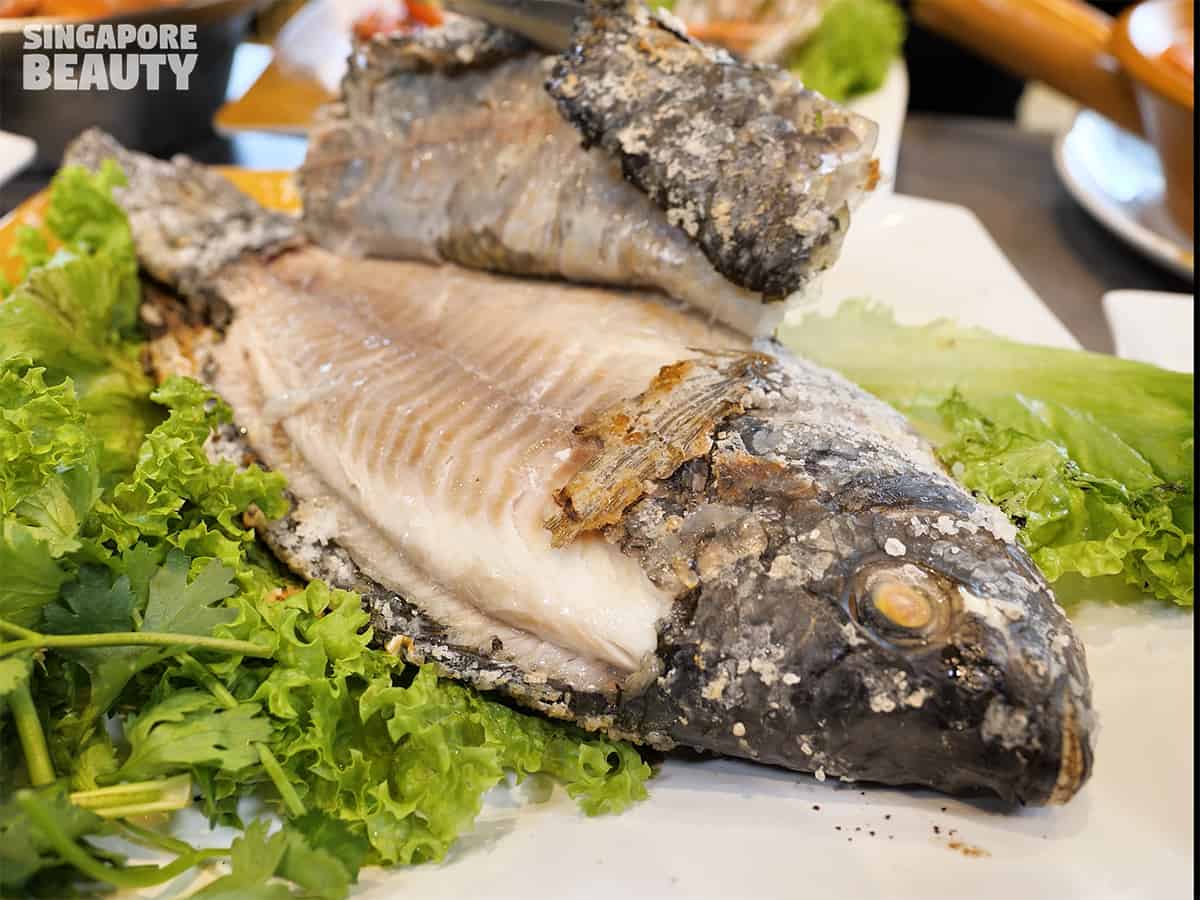 The salt after grilling has harden on the surface and also melted into the meat. To enjoy, lift up the crusted skin of the fish and eat only the meat underneath. The meat is superbly moist, saline and flavourful with the aroma of citrus from the lemongrass. Good for 2-3 pax to share and is a must try!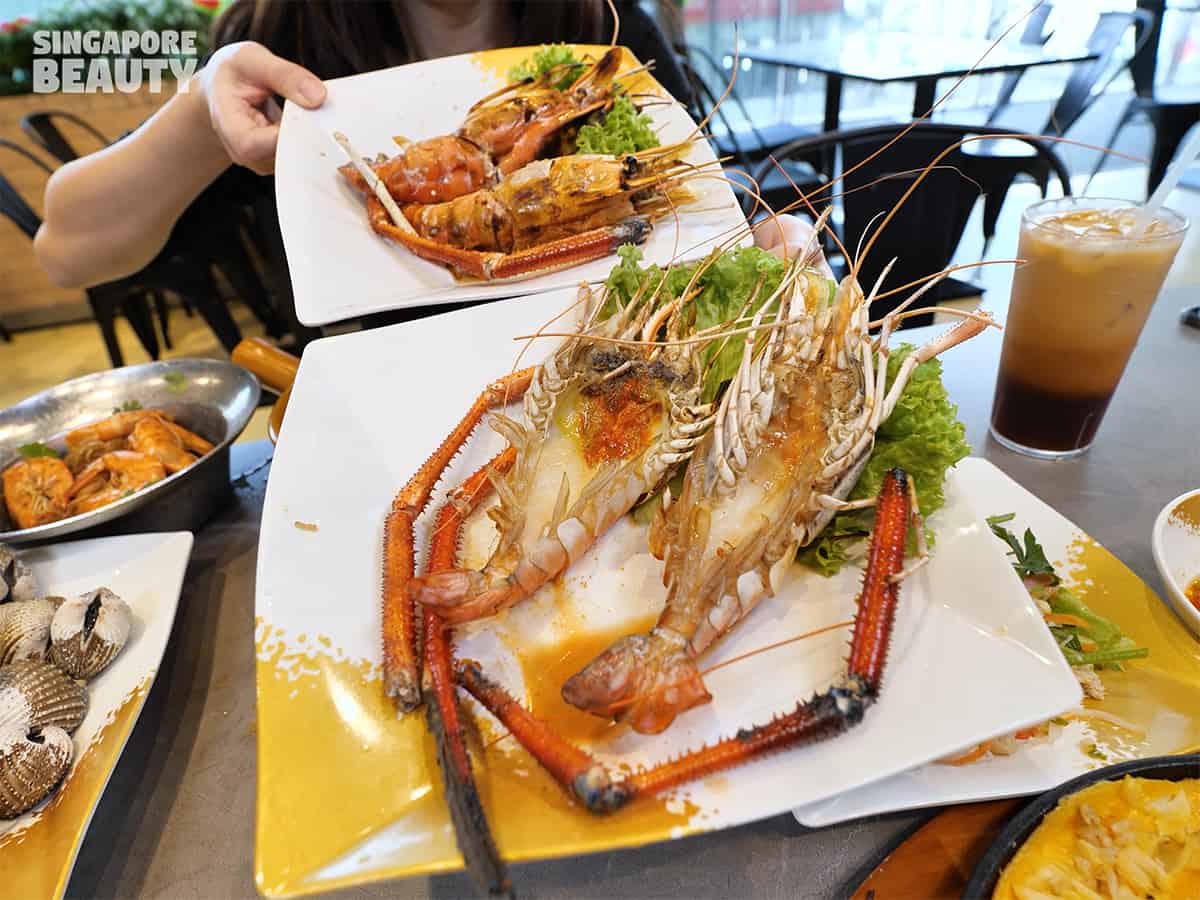 BBQ River Prawn is grilled till the head butter melts into almost a dipping sauce for the meat. The head butter has a rich custardy texture and bitter sweet flavour. The meat of the prawn is grilled perfectly with the texture resembling those of the lobster where the meat comes off in chunks. Sweet and succulent, prawn lovers will delight in these.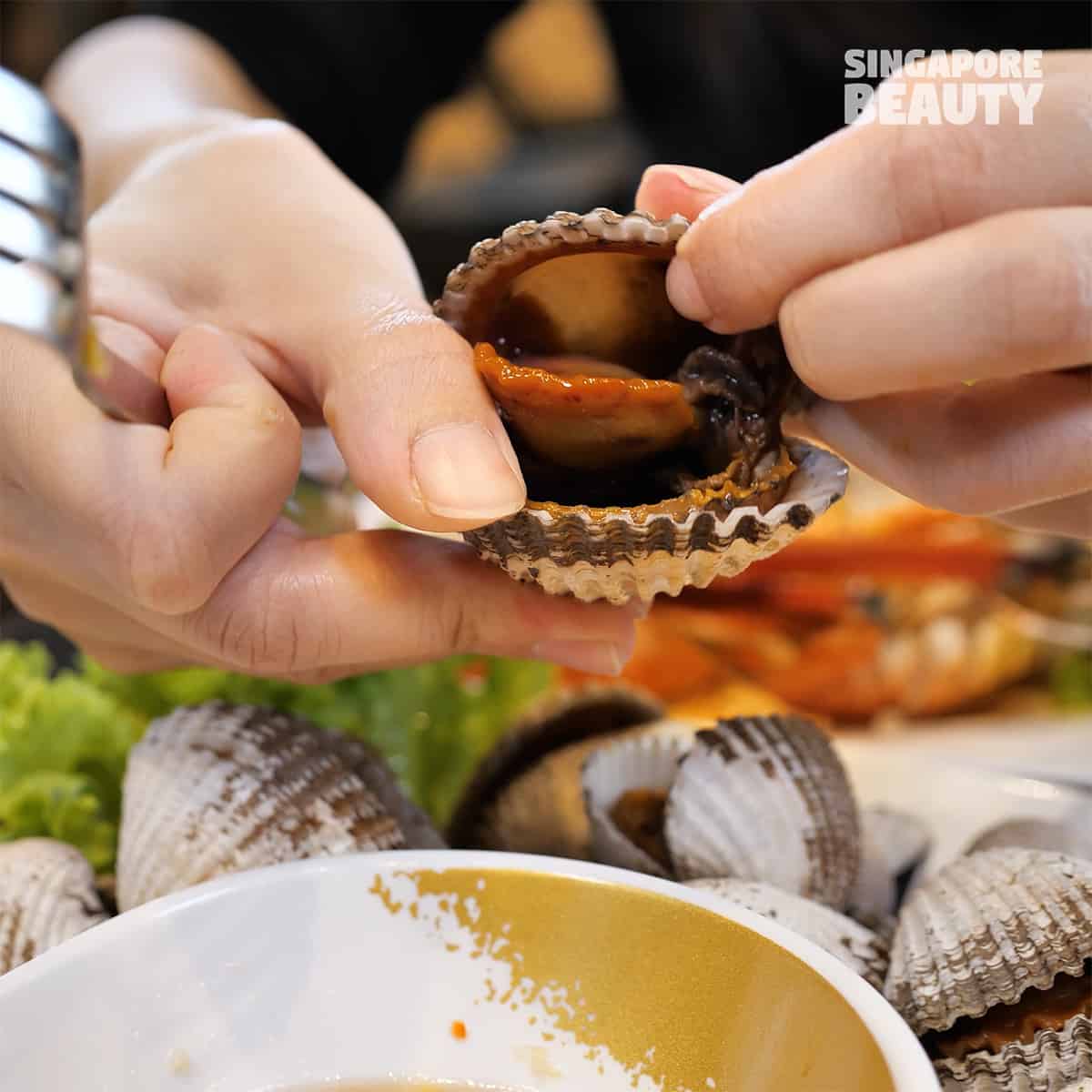 Jumbo Cockles – these are not our daily char kway teow hums, these are large jumbo size sea hums! The satisfaction of these hums compared to our normal size ones are like on a scale of 10 to 1. The slippery, gooey burst of the contents held together by the thin layer of membrane is so enjoyable that only cockles fans like myself can relate to.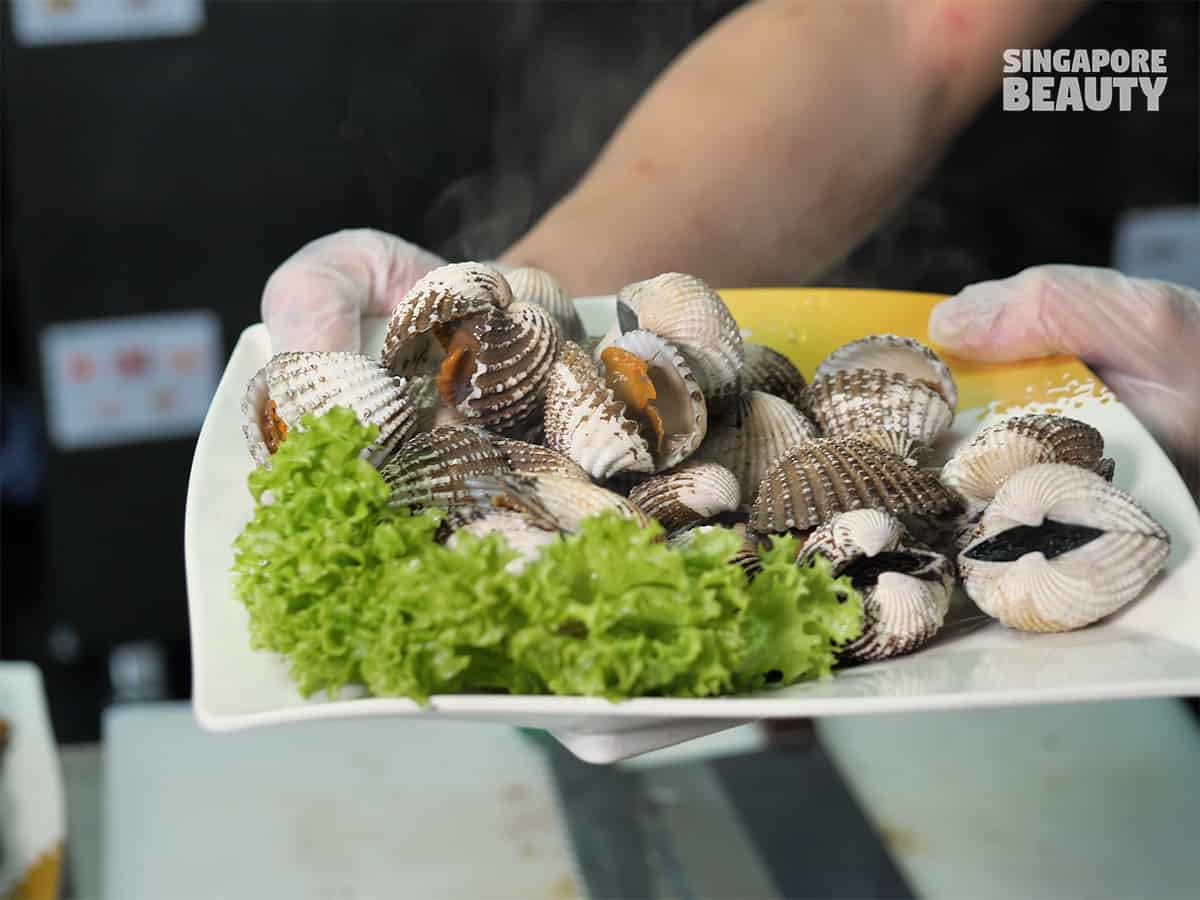 Eat them while they are served steaming hot after poaching from the kitchen. We watched them prepared the cockles by vigorous washing the shells against one another to get them "squeaky clean" revealing white shells with weathered grains. The poaching was also done with extreme precision to retain the juice from the cockles but also ensuring it is safe to consume. The taste of the cockles are clean, tender & no foul weird muddy taste, which we rejoiced in for a good sea hum experience.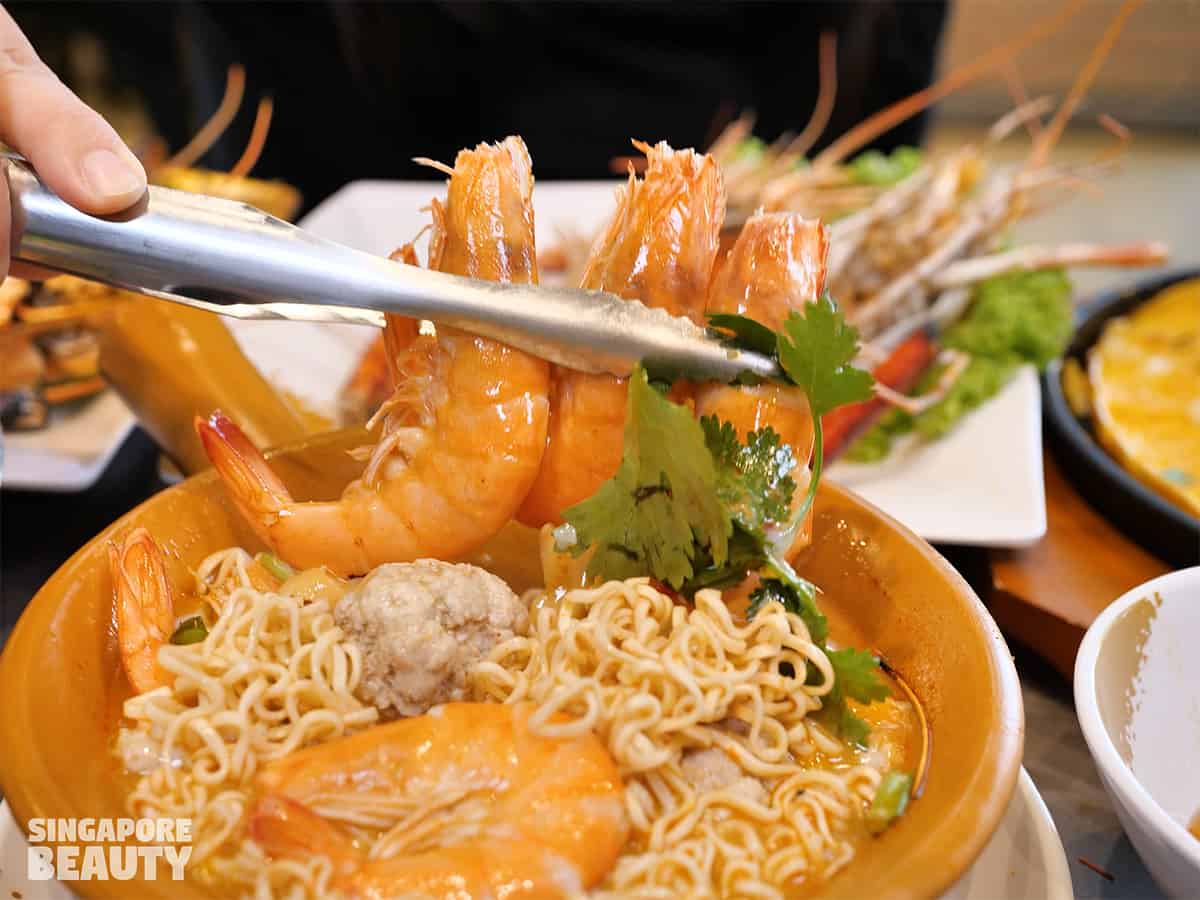 Tom Yam Mama with prawns and meatballs are the comforting Mama noodles in their home-made tom yam soup. The noodle has a great springy texture that you can easily slurp with a pair of chopsticks. The soup in hot and flavourful with a mild heat and the tang of a good tom yam soup. The prawns are of a good size, crunchy and fresh tasting ones. Meatballs are also served with the single portion noodles. I must commend them for the generous serving of ingredients for this single portion mama noodles and definitely worth the tag. Please go get this new item on the menu while you are there at Soi 47 Thai Food!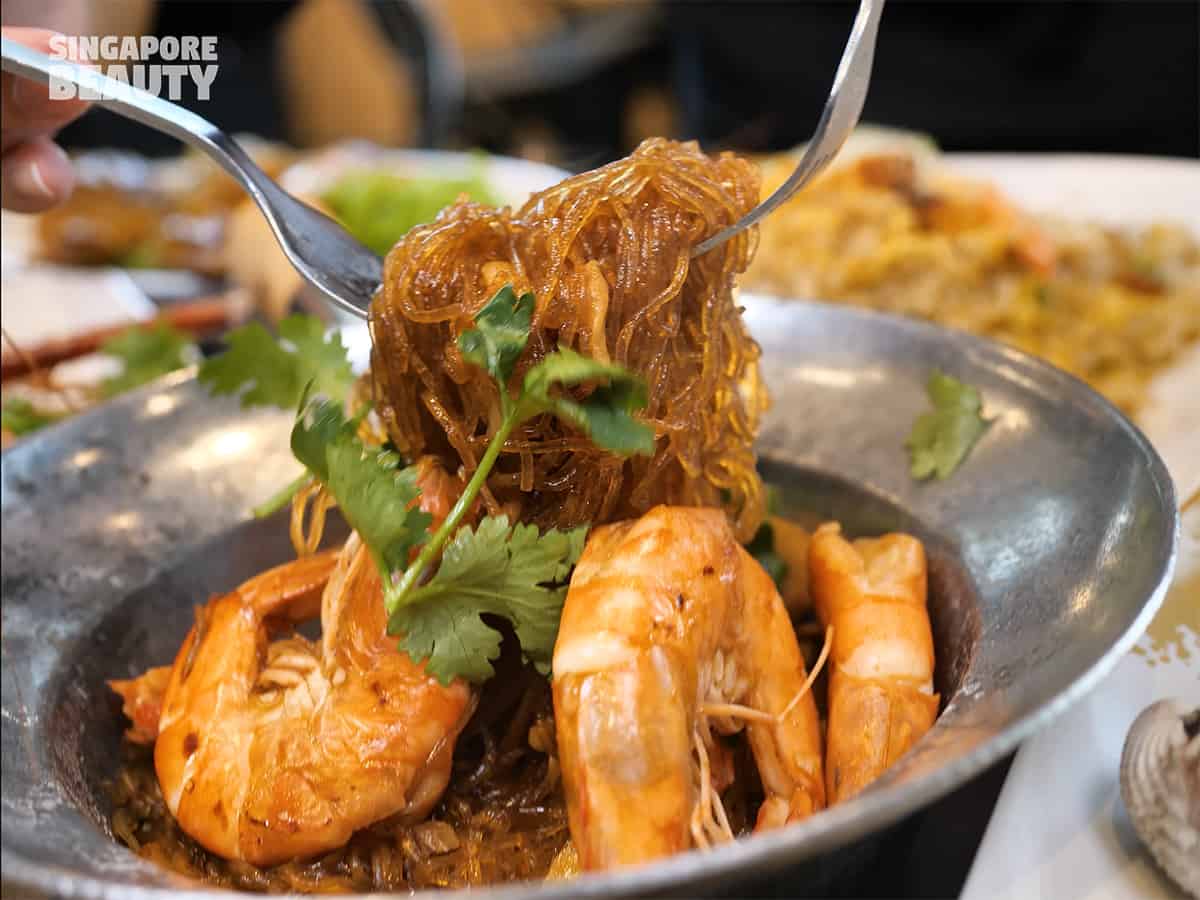 Claypot Tang Hoon with prawns is served billowing with steam on the table. The tang hoon are stir fried in a sweet dark sauce with a springy texture. Prawns are deveined and open backed for ease of eating. You cannot go wrong with this dish if you are looking for something comforting on a cold day. This is something I will eat even if am not feeling hungry.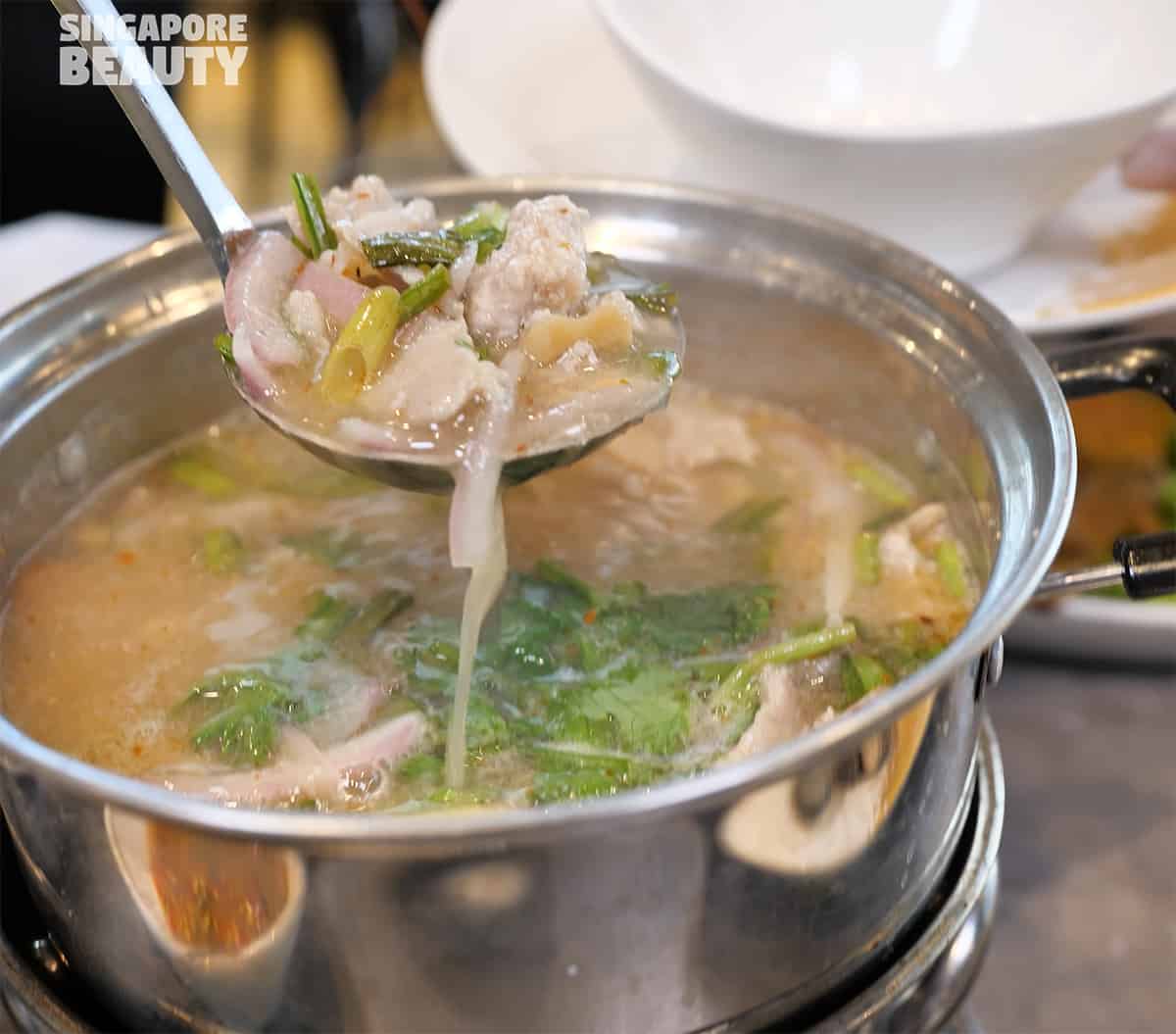 Tom Saap with pork is tender pork chunks served in a spicy & tangy soup. My closest representation of this would be like having bak kut teh with the heat from pounded chilli. It also has an element of citrusy zest of lemongrass and the flavourful savoury fish sauce. Pork ribs will be a nice option to this appetizing soup base and maybe a bowl of rice too.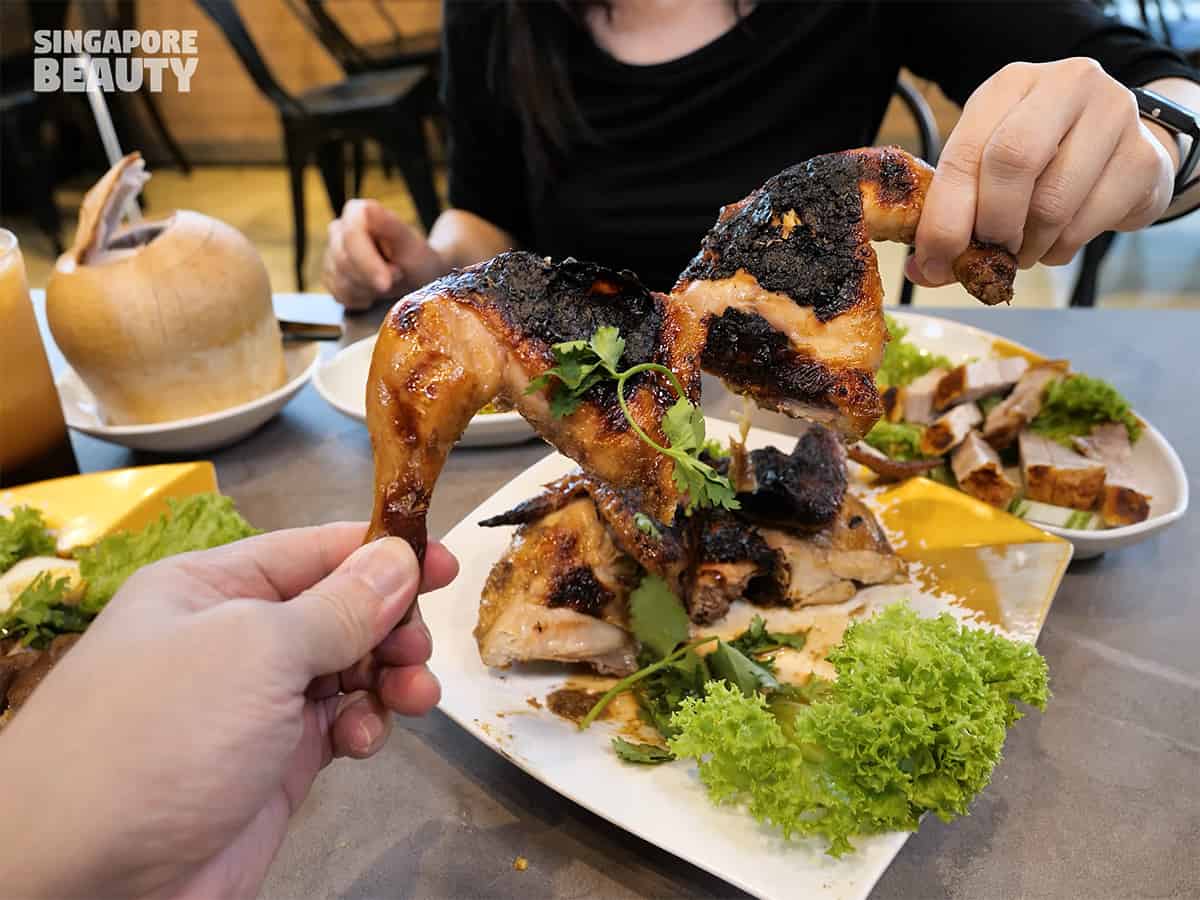 BBQ whole chicken has a nice char aroma with juicy meat underneath that skin. The meats are marinated with a sweet flavour almost like baked honeyed chicken but with a nice char aroma that we enjoyed. Dip it in the in-house spicy and tangy chilli sauce for more shiokness.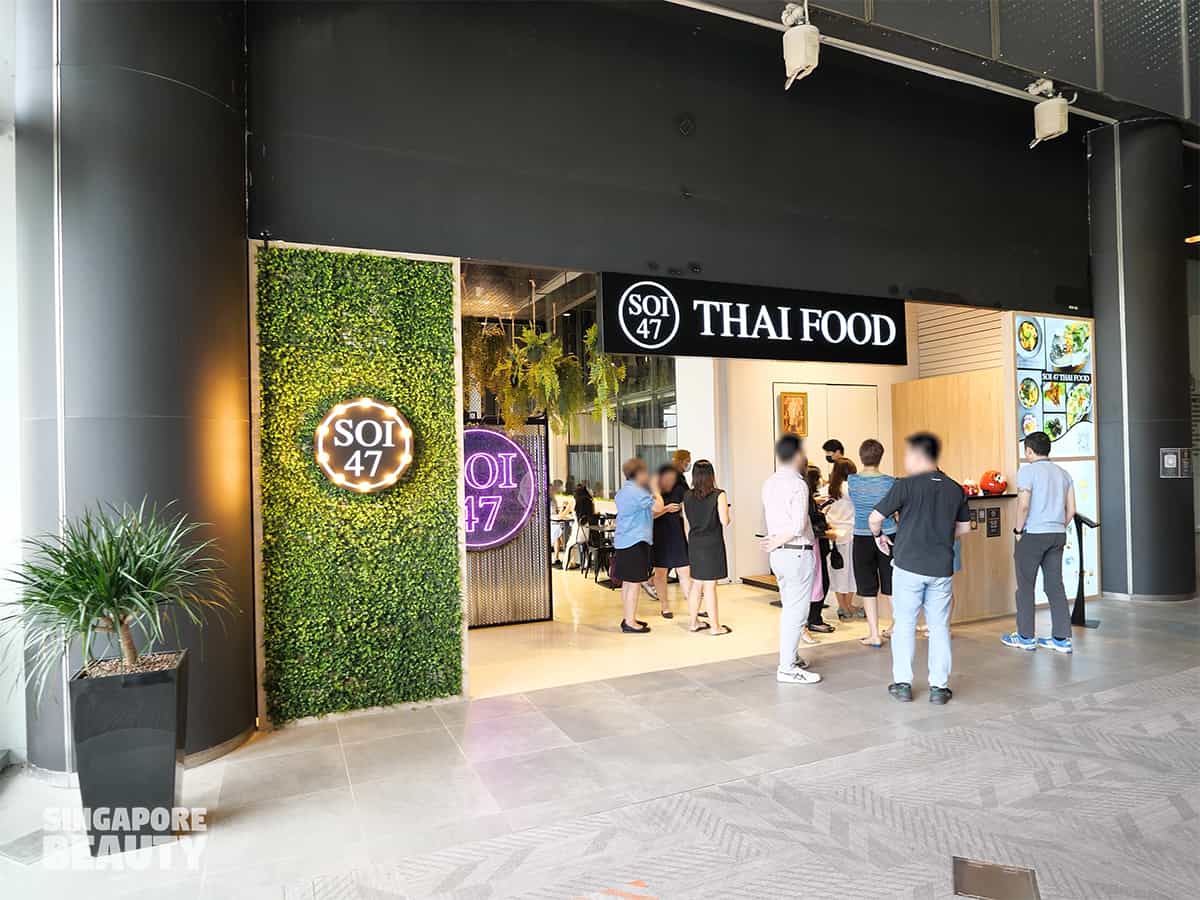 Head over to Soi 47 Thai Food at Orchard central now for authentic Thai food. Must try are their bbq seafood, tom yam soup, salted fish fried rice, bbq chicken, roasted pork, desserts and the list goes on. So much good affordable food and so little stomach space, you need to return for more visits to try all on their menu. With many outlets island wide, choose one nearest to you!
Address of Soi 47 Thai Food :
(Featured outlet)
⌂ 181 Orchard Road, #04-08
Orchard Central, S238896
For reservation, call: 6555 4747
Opening hours: 11.30 am to 3pm, 5.30pm to 10pm daily
soi47 menu : facebook.com/soi47thaifood/menu
⌂ 27 Yong Siak Street, (near Tiong Bahru estate)
S168654
Call: 6588 4747
⌂ 6 Eu Tong Sen Street
Clarke Quay Central #02-78
S059817
Call: 6788 4747
⌂ 47 Toa Payoh Lor 6, #01-130
S310047
Call: 6266 4747
⌂ 111King George's Ave
S208559
Call: 6255 4747
Brought to you by  Soi 47 Thai Food