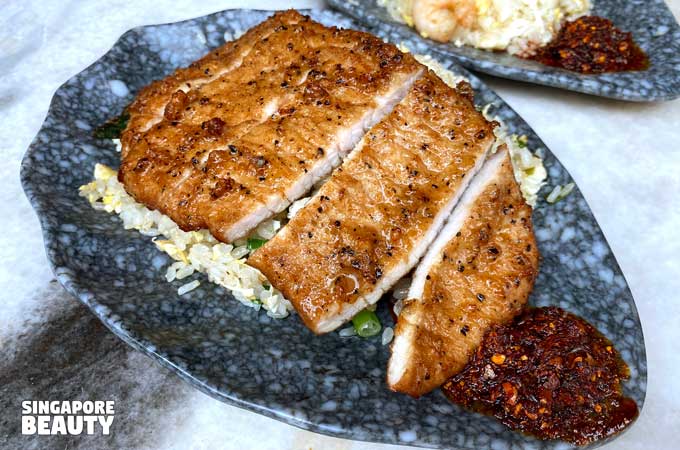 King of Fried rice has opened his second new outlet at Kopitiam Square, Sengkang today, 30 Aug 2020. Their first outlet is at basement of Golden Mile Tower. He is famous for his fried rice with many regulars spotting the similarities to the restaurant standard type of fried rice from Din Tai Fung. Their menu includes affordable pork chop egg fried rice rice, shrimp fried rice and other base flavours for fried rice. They do not have Food Panda or Grab Food delivery for now.
King of Fried Rice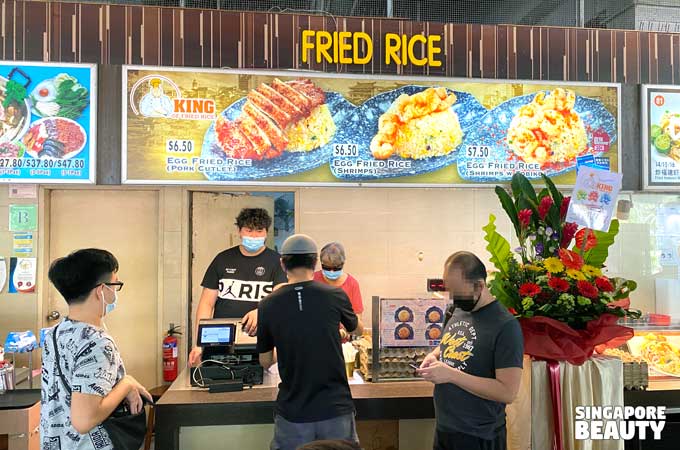 Voted as the best fried rice in Sengkang by his supporters, it is worth your trip down to try this. With so many raved reviews on the King of Fried rice on social media such as Instagram and Facebook, you got to try this now or later. Unlike its Golden Mile outlet, sitting space is plenty here.
From the opening hour 11.30 am till late, the queue has been insanely long but orderly. We also pay our respect to the King and joined the maddening crowd of eager new converts to this new royal fried rice.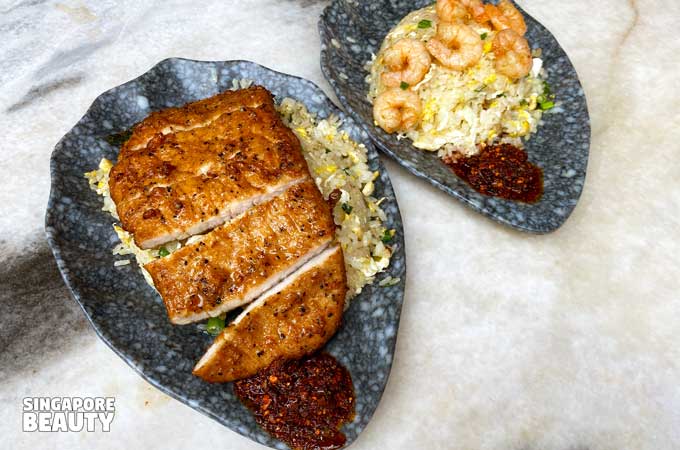 The egg fried rice with pork cutlet or shrimp is a must try food here in Sengkang Square at $6.50 each. The dome of smoking hot fried rice is peeping underneath a slab of golden brown pork chop. Pretty value for money if you ask me.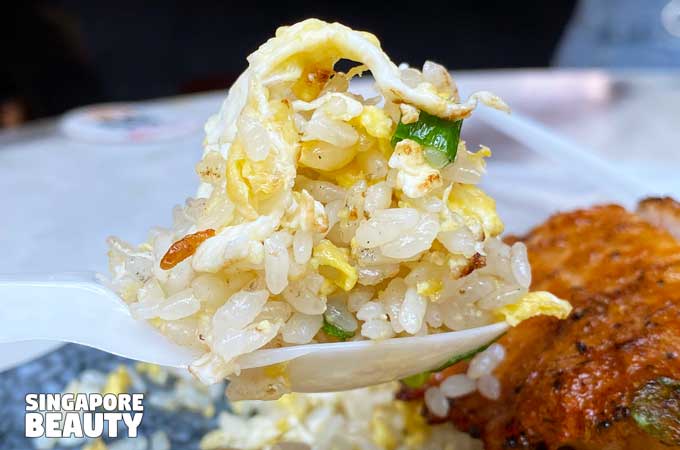 Chewy short grain pearly rice with sharp burst of salt granules, inter-mingling with eggs and spring onions. Eggs are nicely incorporated amongst the rice grain with generous amount of whites n yolks in tender aromatic laces and chunks. Light wok hei to it and nice aroma of some Chinese cooking wine that lingers inside your mouth. One can easily polish off a plate of rice and the amount is very filling too. Every mouthful is a burst of different flavours, eggy aroma with fragrant rice grains and super fresh chopped spring onion. Good balance of sweet and savoury.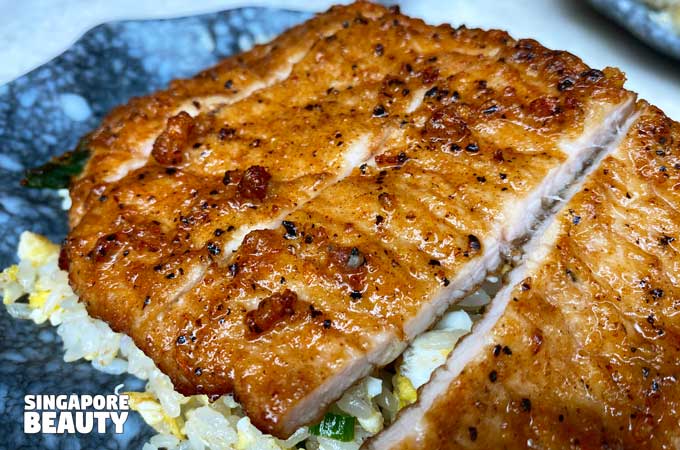 The dome of fried rice is topped with a generous slab of pork chop seemingly marinated with five spice powder. Chopped into ribs of pork chop for ease of consumption.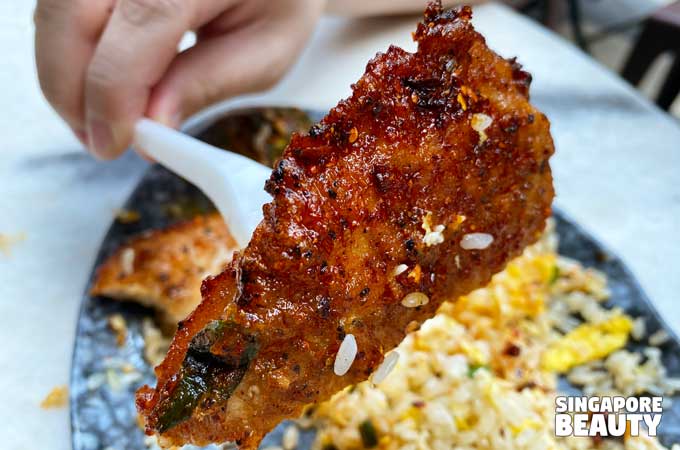 With edges nicely crisp up, the outside of the pork chop provides a contrasty texture to the tender loin meat inside. Even though the colour of the pork chop looks caramelised, the flavour is not overly smokey but has a nice mild honeyed flavour to it.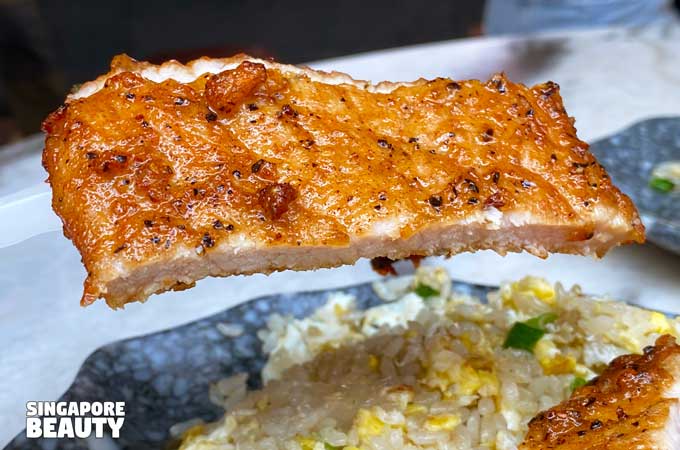 It is an enjoyable bouncy chew with moist scallion flavour to it. The marinade of the chop brings out the pleasant sweet porky flavour of the meat. The meat is well seasoned with a mild umami to it.
This chilli oil is on the saline side which I like and helps to complement the flavours of the main ingredients like shrimps n pork chop which has a sweet savoury flavour. Do not go overboard with the fiery red chilli oil as it is on the saline end with prominent texture of crisp chilli flakes n salt granules. The heat is non-existence but in place is a smoky deep chilli flavour that is brought out by spooning hot oil on dried chilli pepper flakes and some other grounded spices, my guess.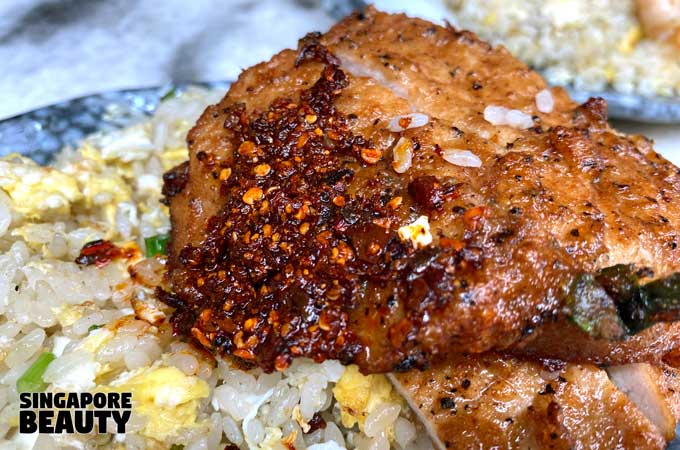 The texture of larger chilli flakes goes very well with the smooth slightly moist rice grains. A dollop of this chilli oil will go a long way. Will add this to the must eat dish whenever I am around Sengkang Kopitiam Square.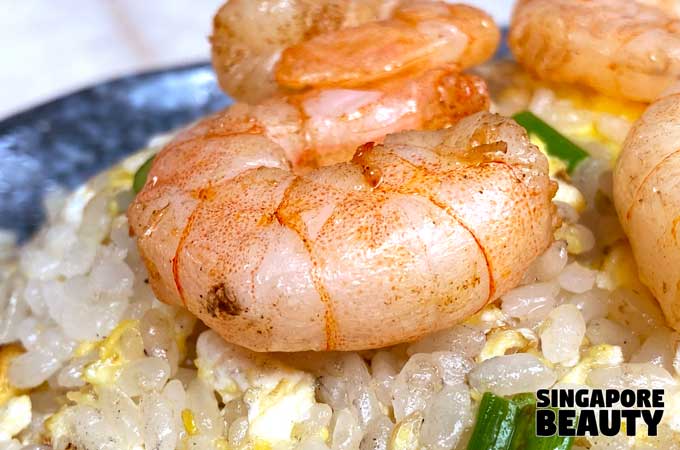 Prawn is sweet n lightly toasted. Mild crunch to it with a light shrimp flavour.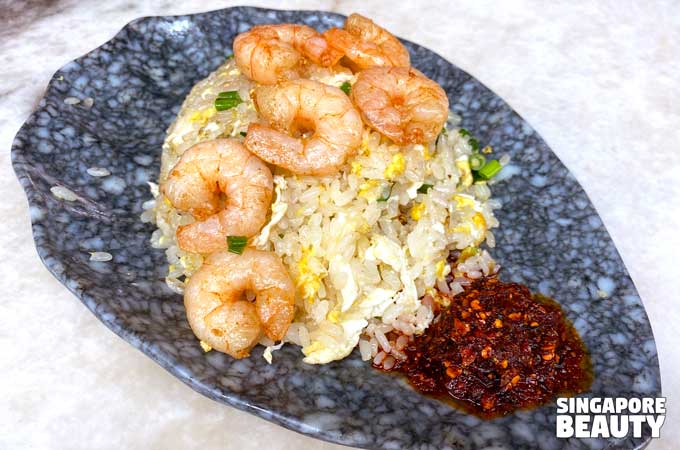 They also have other flavours of fried rice on the King of Fried Rice Special side menu that serves X.O, Mala or Tom Yum flavoured fried rice. If you are feeling fancy for the day, add tobiko too.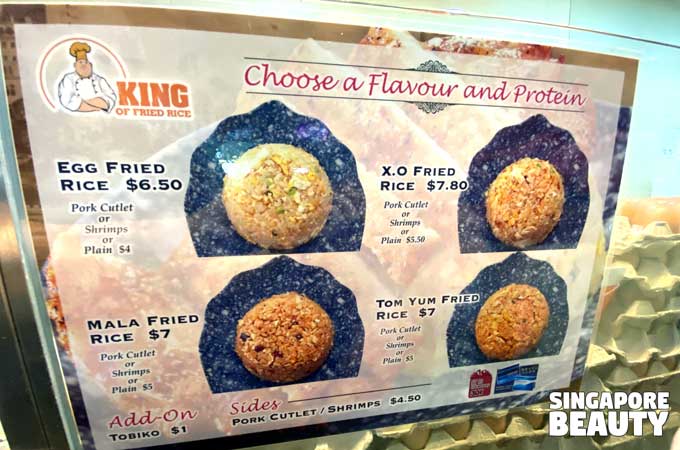 The only downside is the waiting time (wait can be up to 1 to 2 hours during peak hour). The rice is fried in small batches to ensure the consistency of the quality.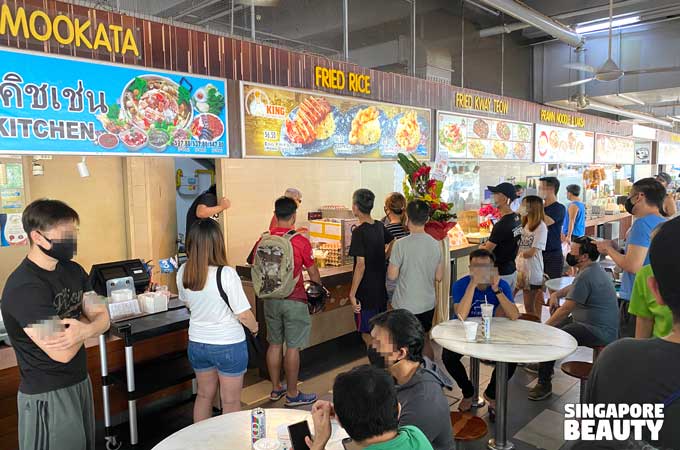 Hope that they will continue to uphold good standard fried rice and not bow down to the crowd pressure of trading quantity over quality. Hail to the King of Fried Rice today.
Operating Hours:
11.30am till 10pm
Location:
Kopitiam Square
King of Fried Rice
10 Sengkang Square, #01-48,
Singapore 544829
Number: 8266 1638