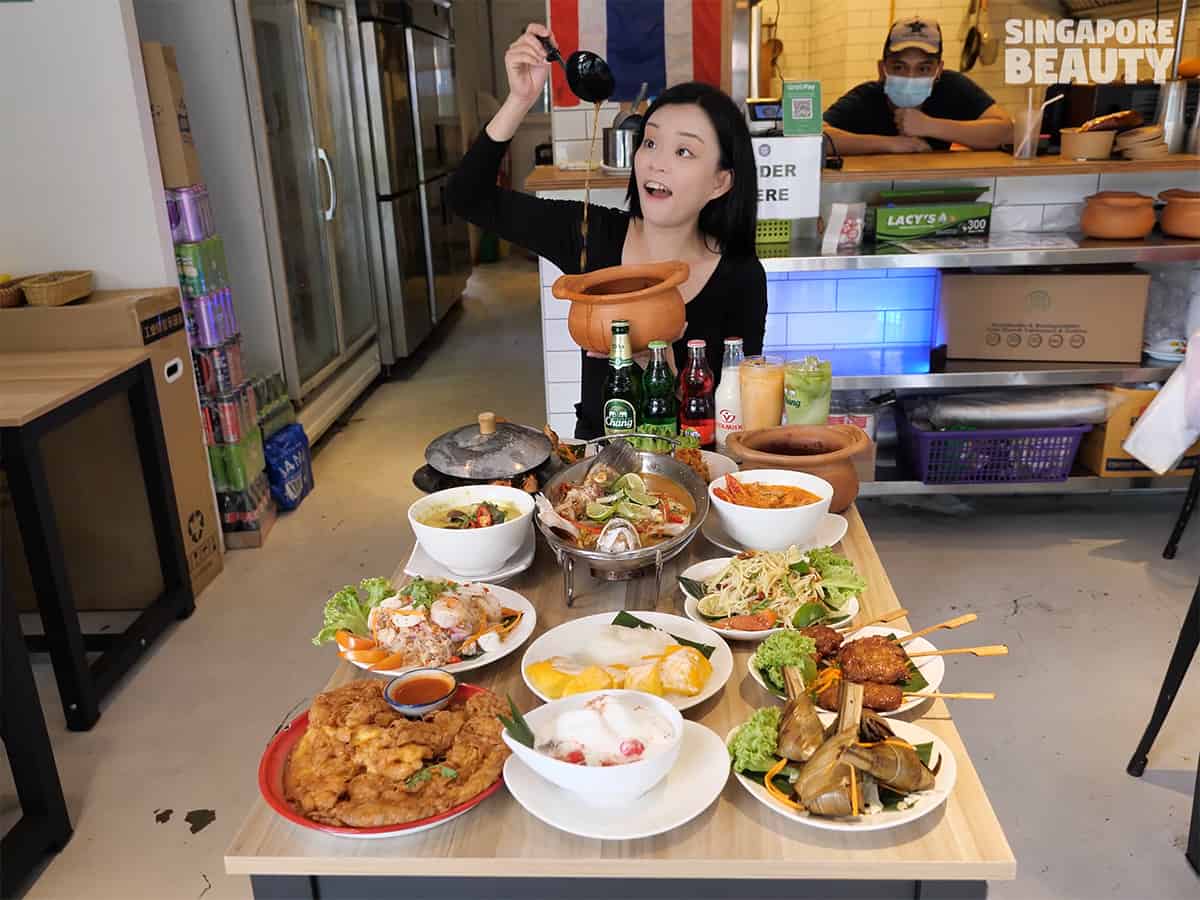 Kin Kin Thai 888 serves affordable premium Thai food made with love with over 86 types of Thai dishes from starters, salad, soup, curries, meats, noodles, seafood, rice, egg dishes, greens, sides, desserts, drinks and even vegan options for Thai food.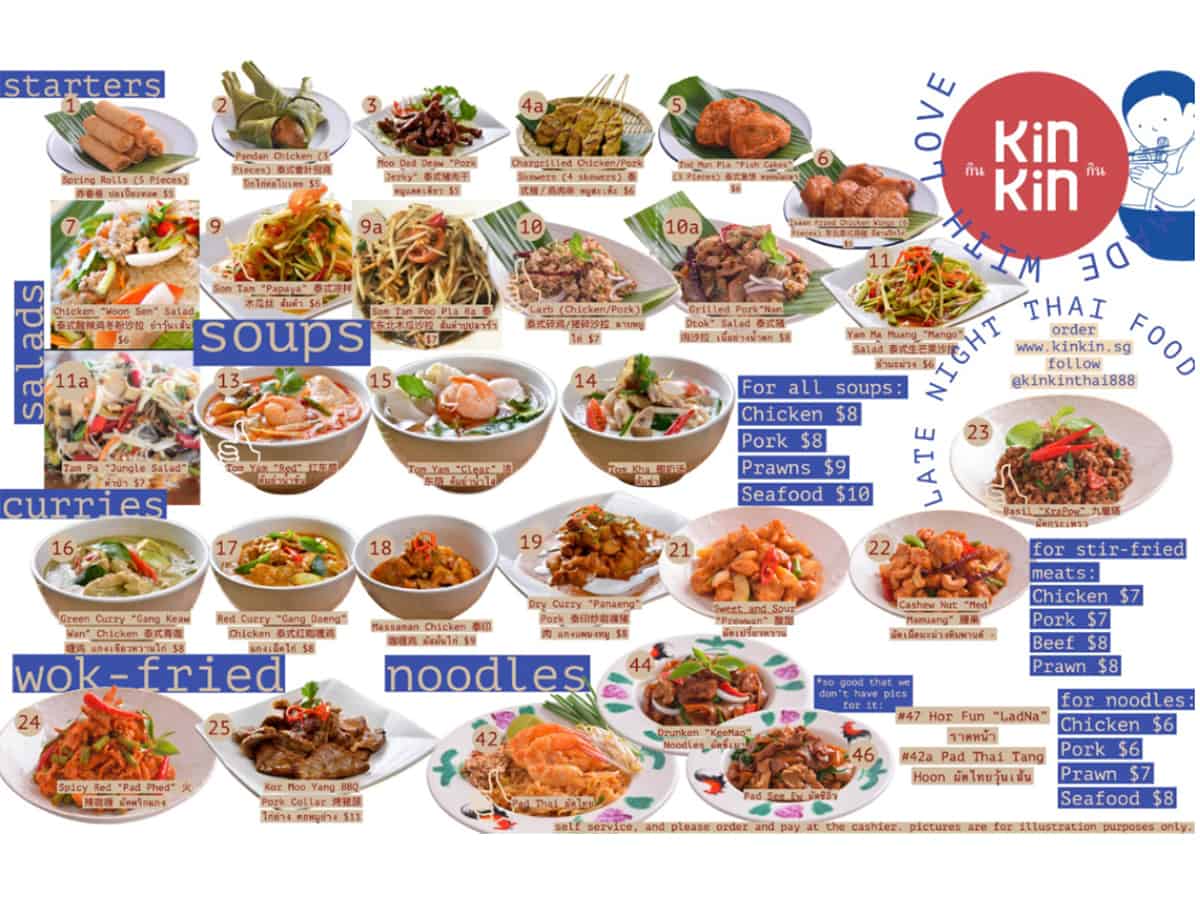 Serving one of the best Thai food in Singapore, Kin Kin Thai 888 is a humble Thai food spot serving traditional national dishes of Thailand on their menu.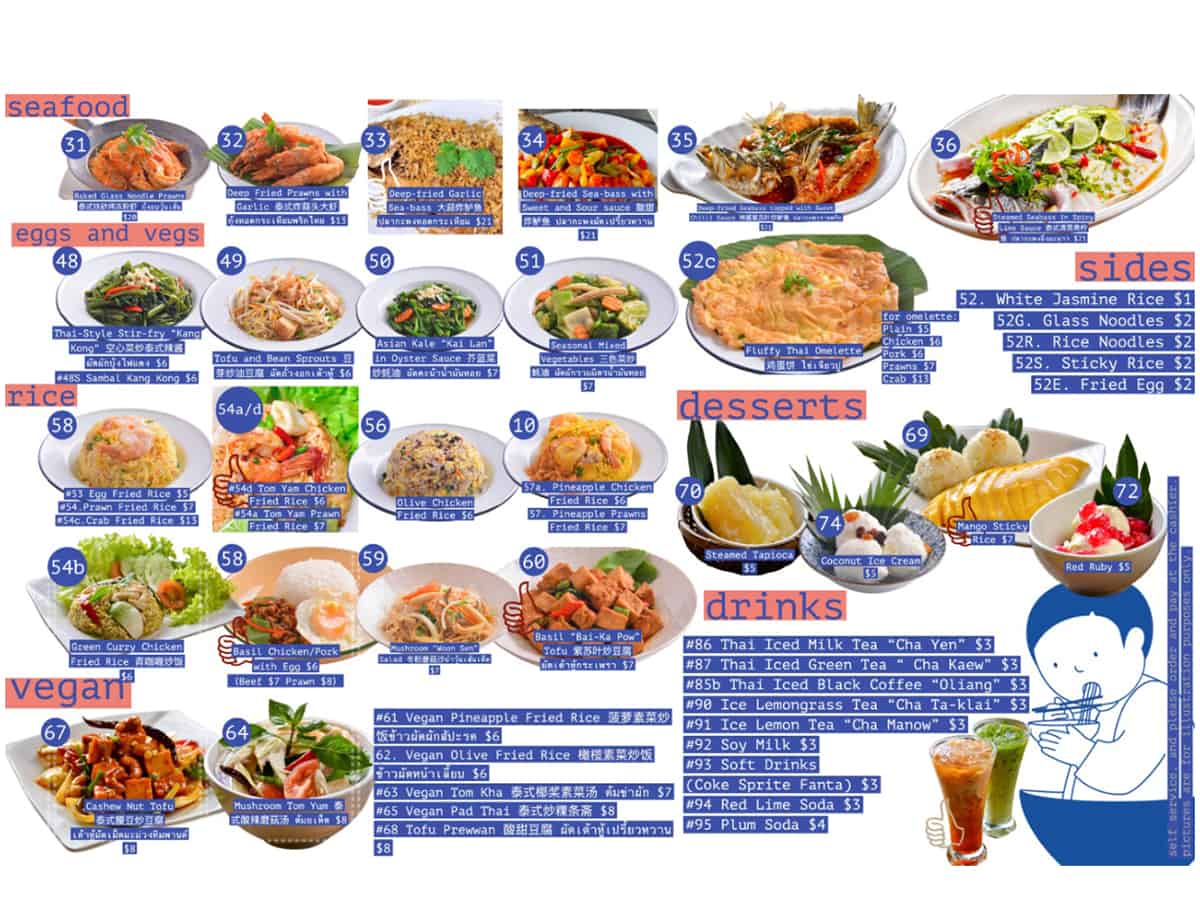 Since dine in is not available during this phase 2 of heightened alert, Kin Kin Thai 888 is now available for delivery on whatsapp, foodPanda, Grab & Deliveroo. Here's a pictorial menu of their signature dishes. For a full menu, please contact them on whatsapp.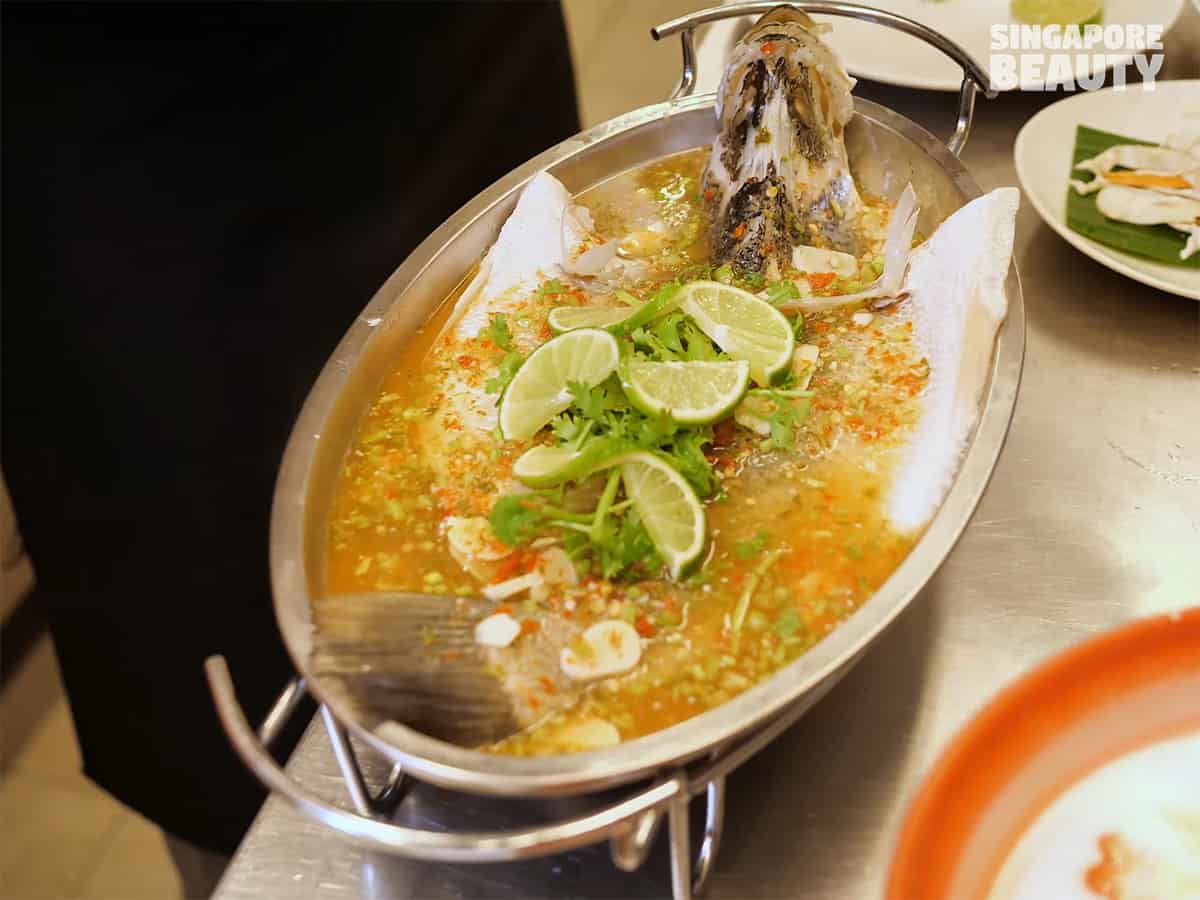 Kin Kin Thai 888 is also having a promotion for the month of May for any whole fish dish at $15 nett for dine in. Top up $3 for takeaway. Their whole fish dishes includes fried seabass topped with basil sweet chilli sauce or garlic, steamed seabass with spicy lime sauce or in soy sauce with ginger and sour plum.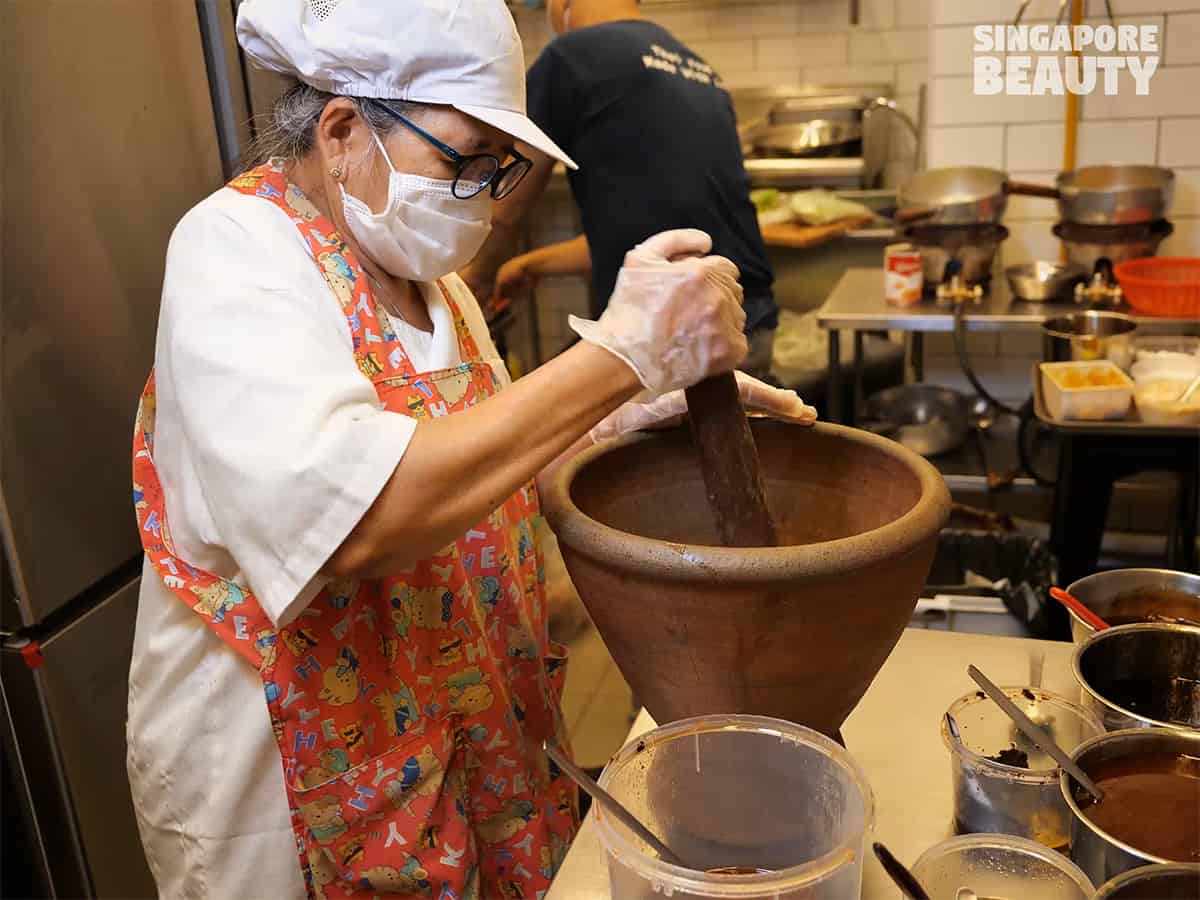 Enjoy some authentic Thai Food prepared by Grandma with nostalgic homely food that breathe life into your soul.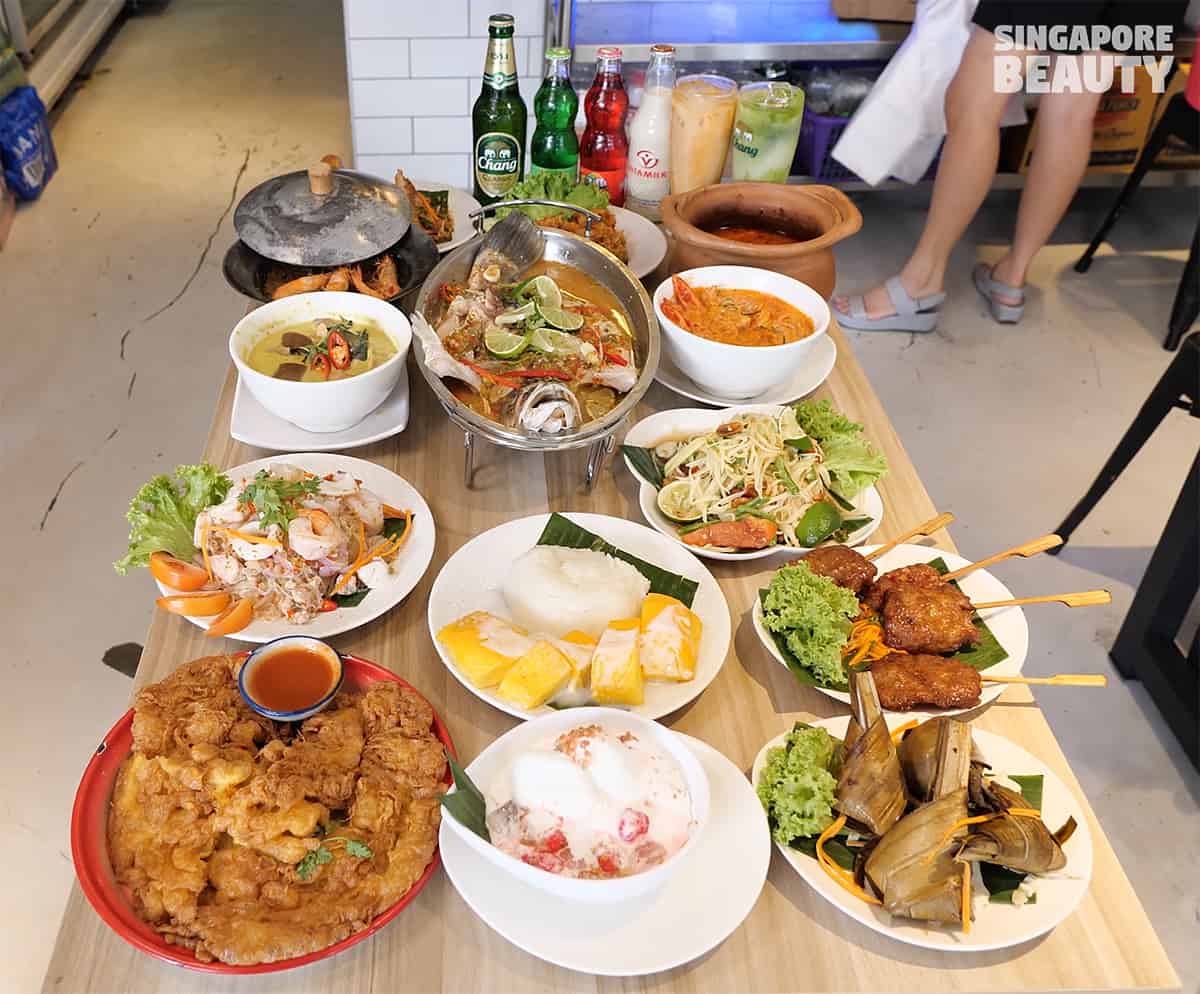 Welcome to Kin Kin Thai 888 and immersed in the rich culture of Thailand dishes in Singapore. Let's get the Thai food feast started.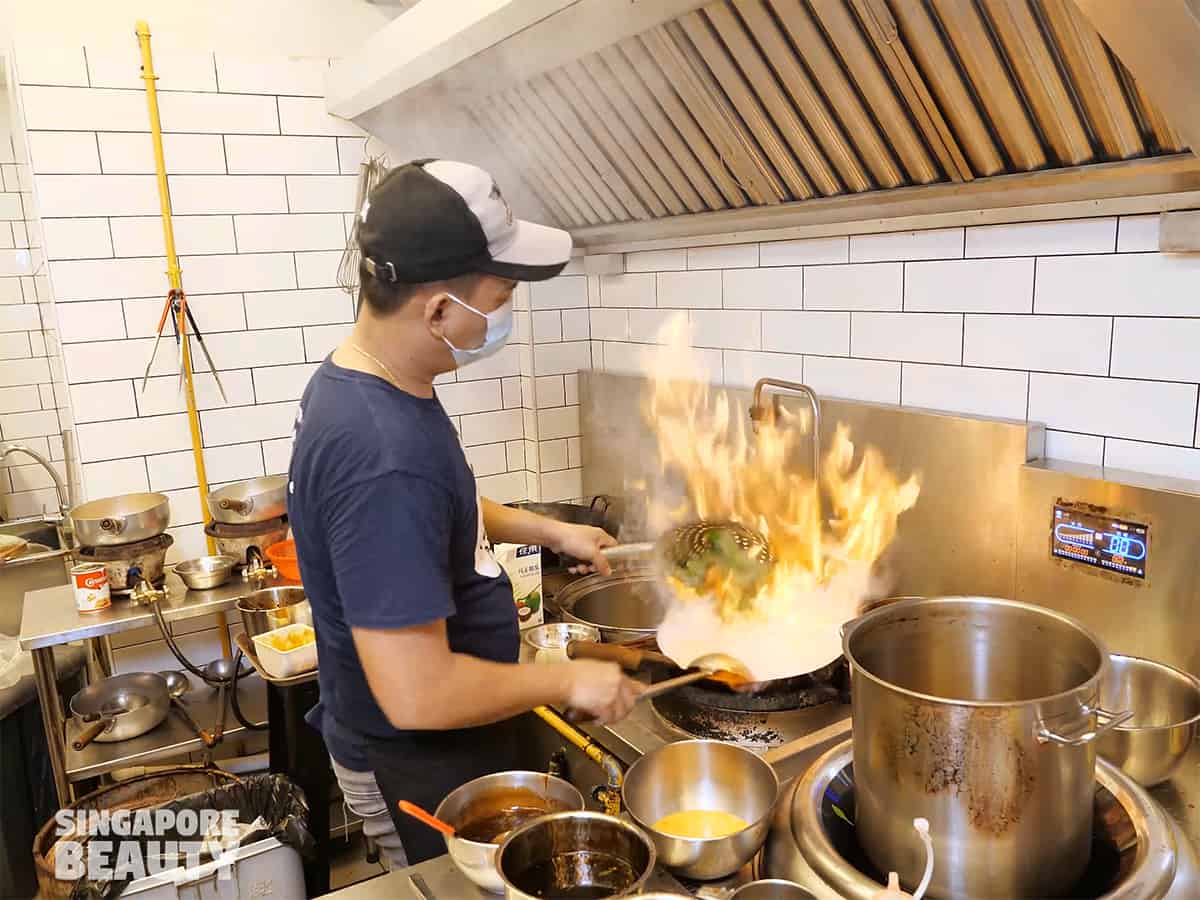 Cooked fresh for each order by a family of Thai Chefs, you can be assured of some presence of wok hei-ness in their dishes as the hot flames licks each dish cooked in the wok. This open kitchen is a showcase of a seamless network of culinary display of whipping up Thai dishes by a Thai family from the young chef with more than 10 years of experience to a wise grandma with traditional recipe.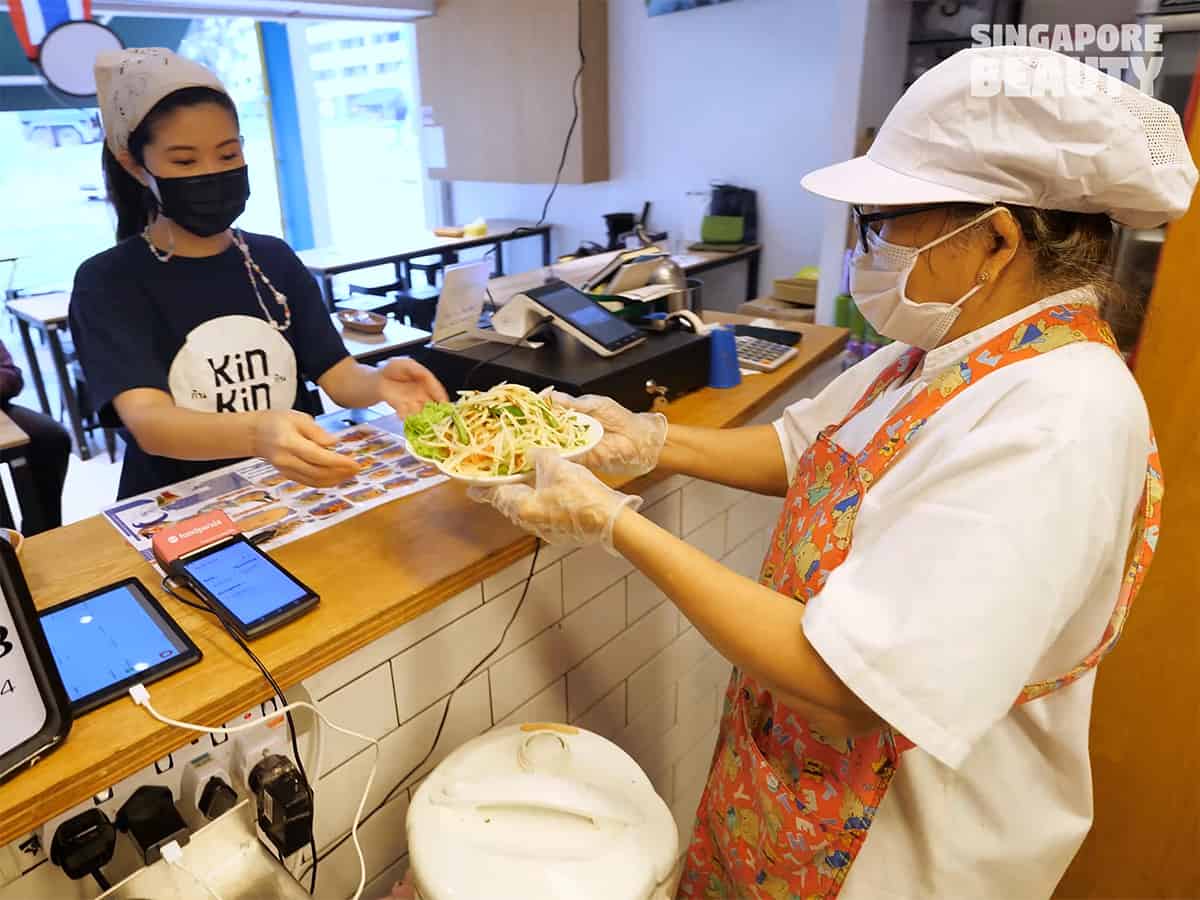 Food are served piping hot from this open kitchen to the hungry customers.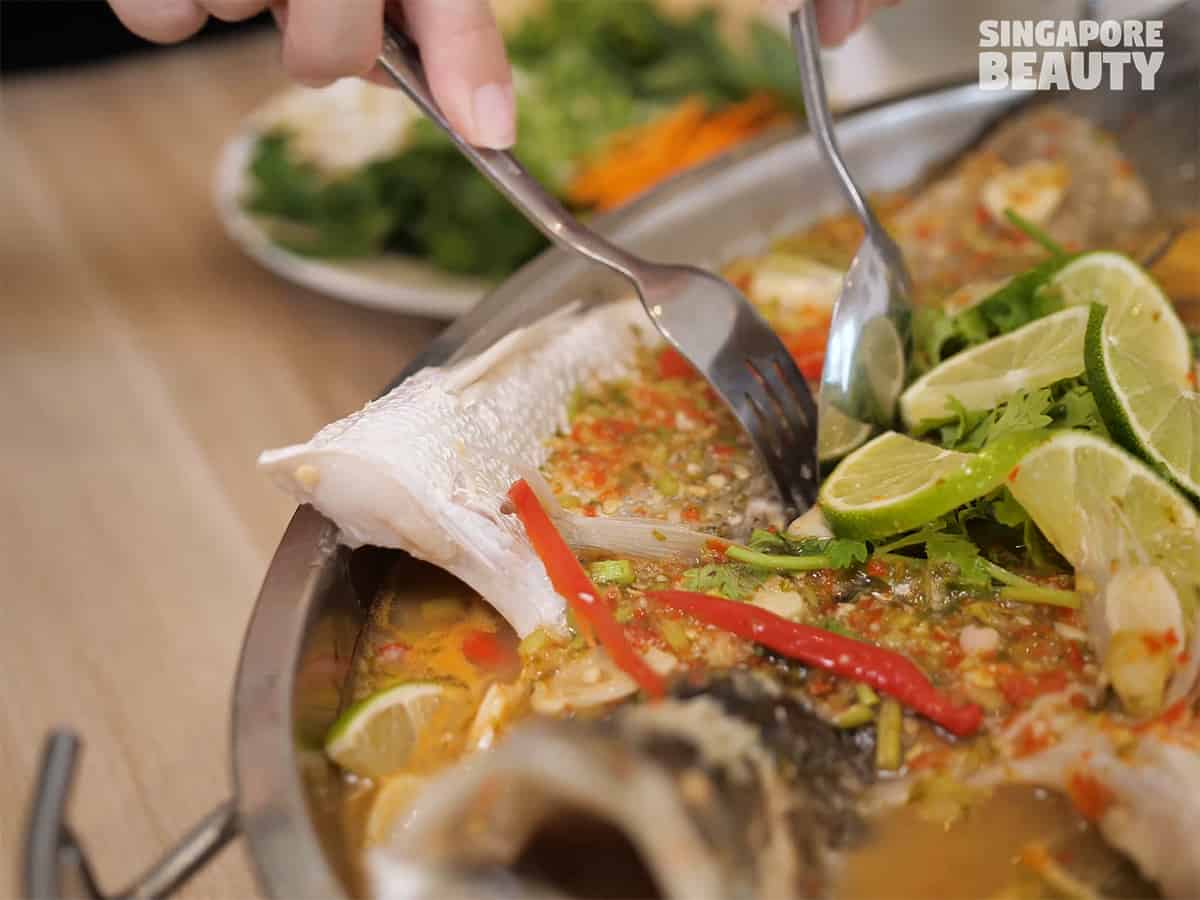 Some of the must try on their menu is the steamed seabass in spicy lime sauce. A whole seabass is butterflied and steamed to order. The tender whole fish is then drizzled with a piping hot gravy of garlic, lime, chilli, coriander and more.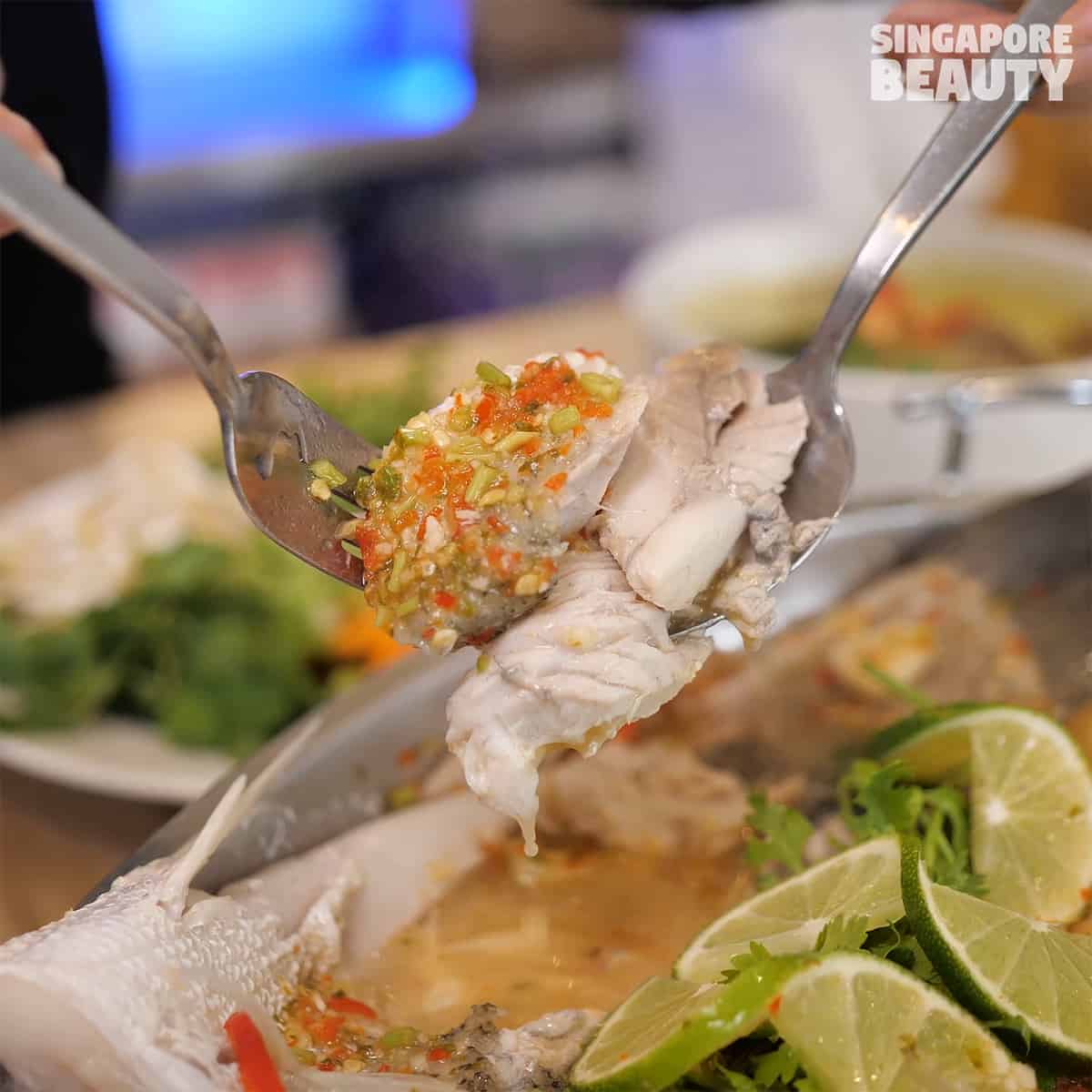 Enjoy these tender chunks of delicate Thai lime fish meat with a zesty, garlicky and spicy kick. Very addictive dish to go with their steamed Thailand jasmine rice.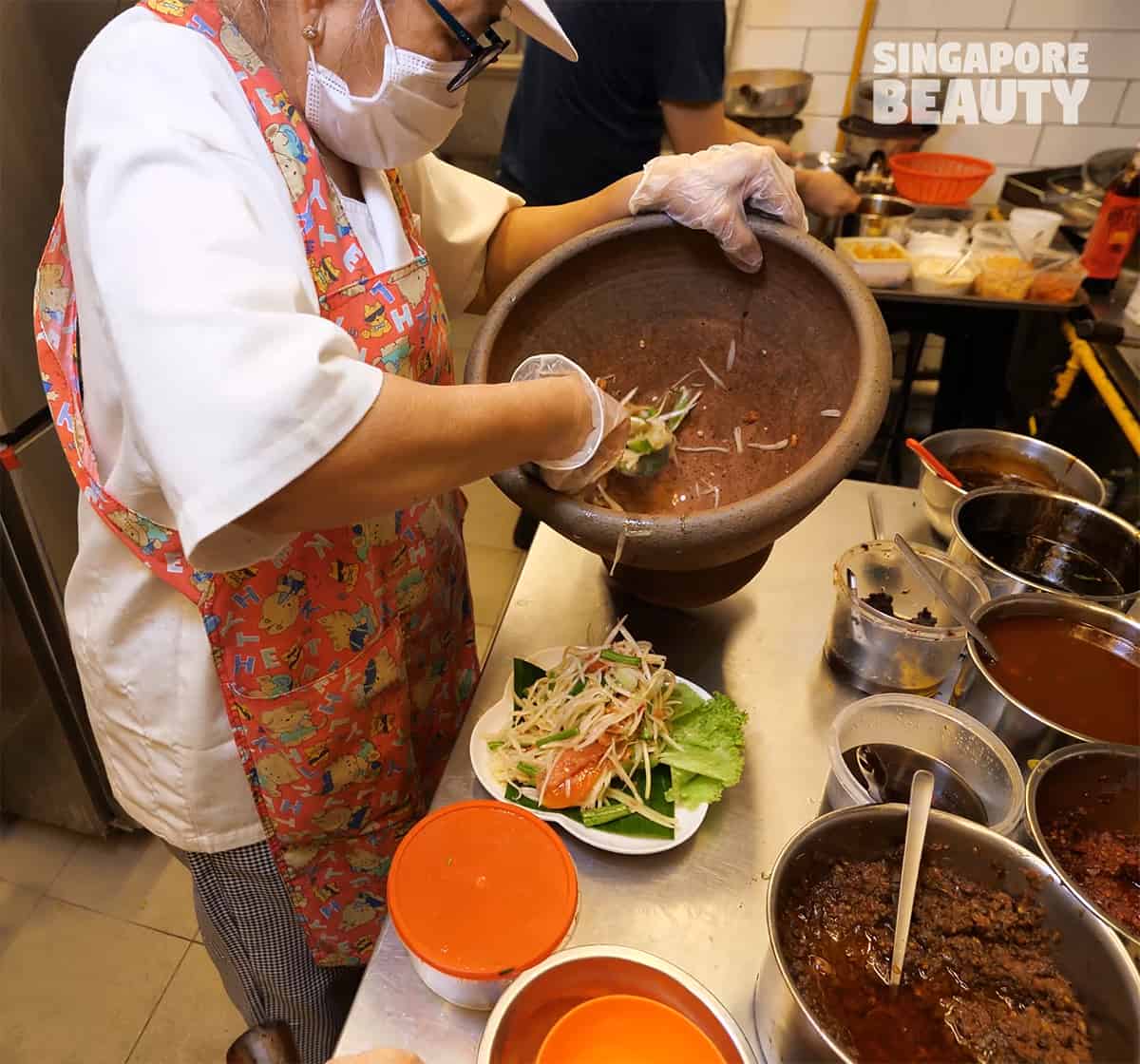 Som Tam Poo Pla Ra (papaya salad with fermented crab) is an in house speciality prepared by grandma, shredded papaya, long beans, tomato are tossed with freshly juiced lime, fermented fish sauce and crab. This is a Thai salad that is rarely available in Singapore and can now be found in Kin Kin Thai 888 on a limited quantity daily. The ingredients are pounded to release the flavours and given a good mix within the traditional earthenware mortar & hardwood pestle known as "pok pok". The salad dish is loved by many for its acidic, salty and sour murky flavours from the fermented crabs and fish sauce. However for some, it may be an acquired taste. To each his own.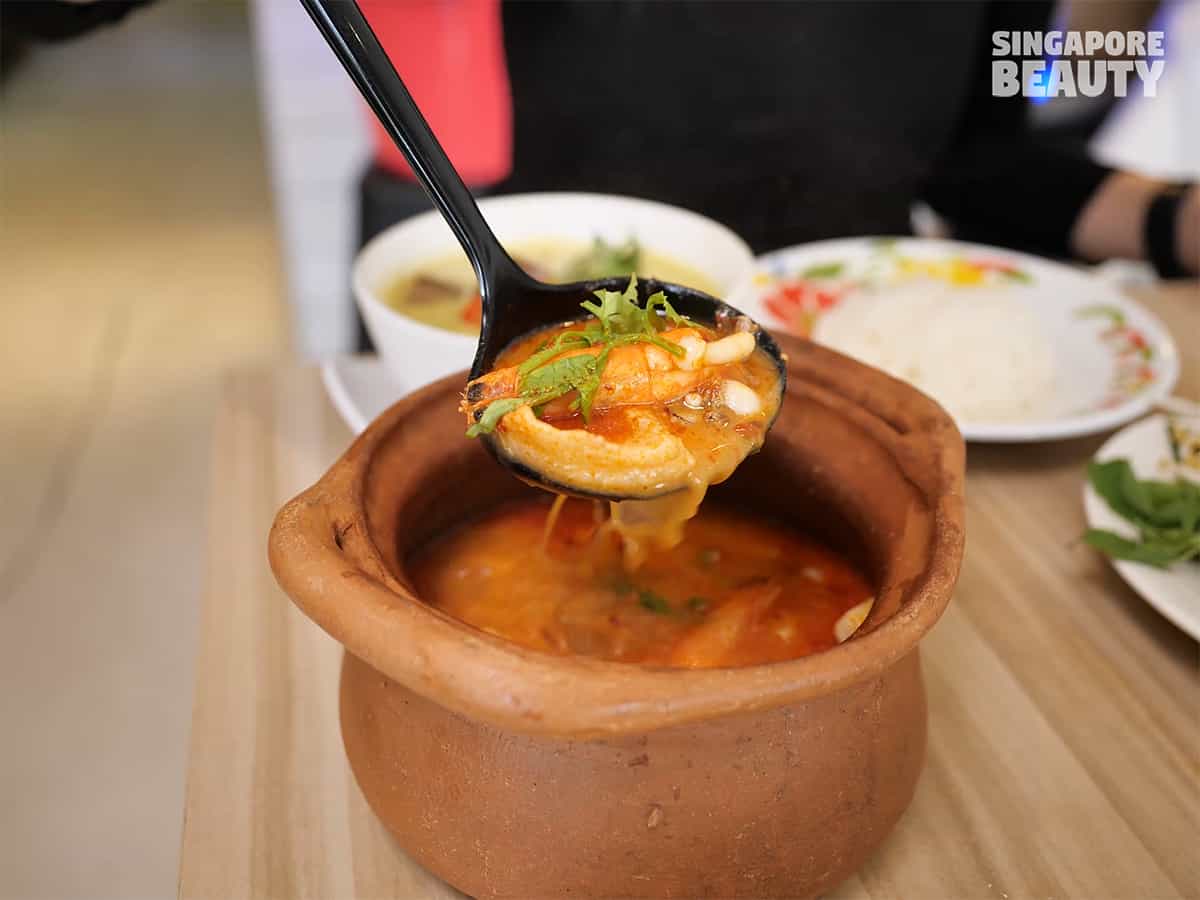 Kin Kin Thai 888 is also popular for it signature Tom yam "red" with all the seafood such as prawns, squid and fish in a rich tom yam soup with a mild spicy kick. The gravy has a light and refreshing kick, almost like an assam curry.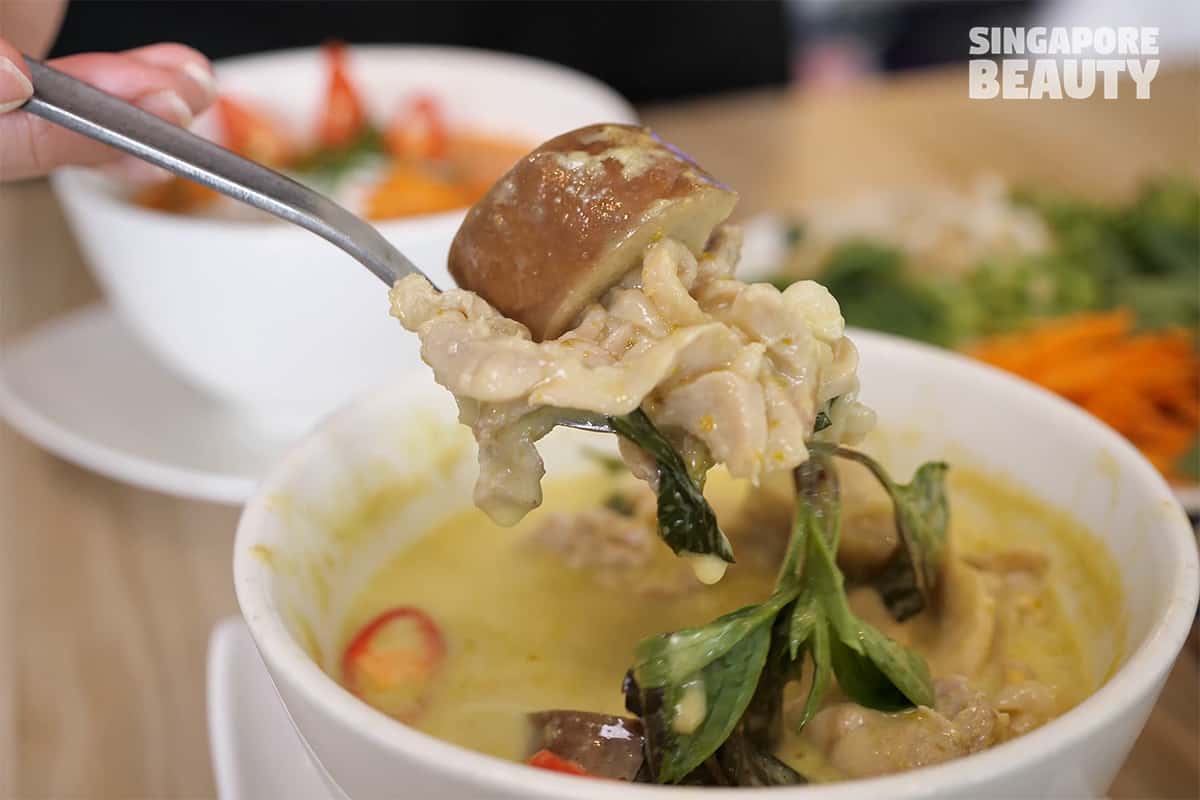 For those who loves a richer, sweeter and more lemak "fatty" gravy, try their Gang Keaw Wan (green curry chicken). This curry is coconut based is made with tender chicken fillets, pepper, Thai aubergines and basil. This curry is available as red curry that is made with red chilli paste.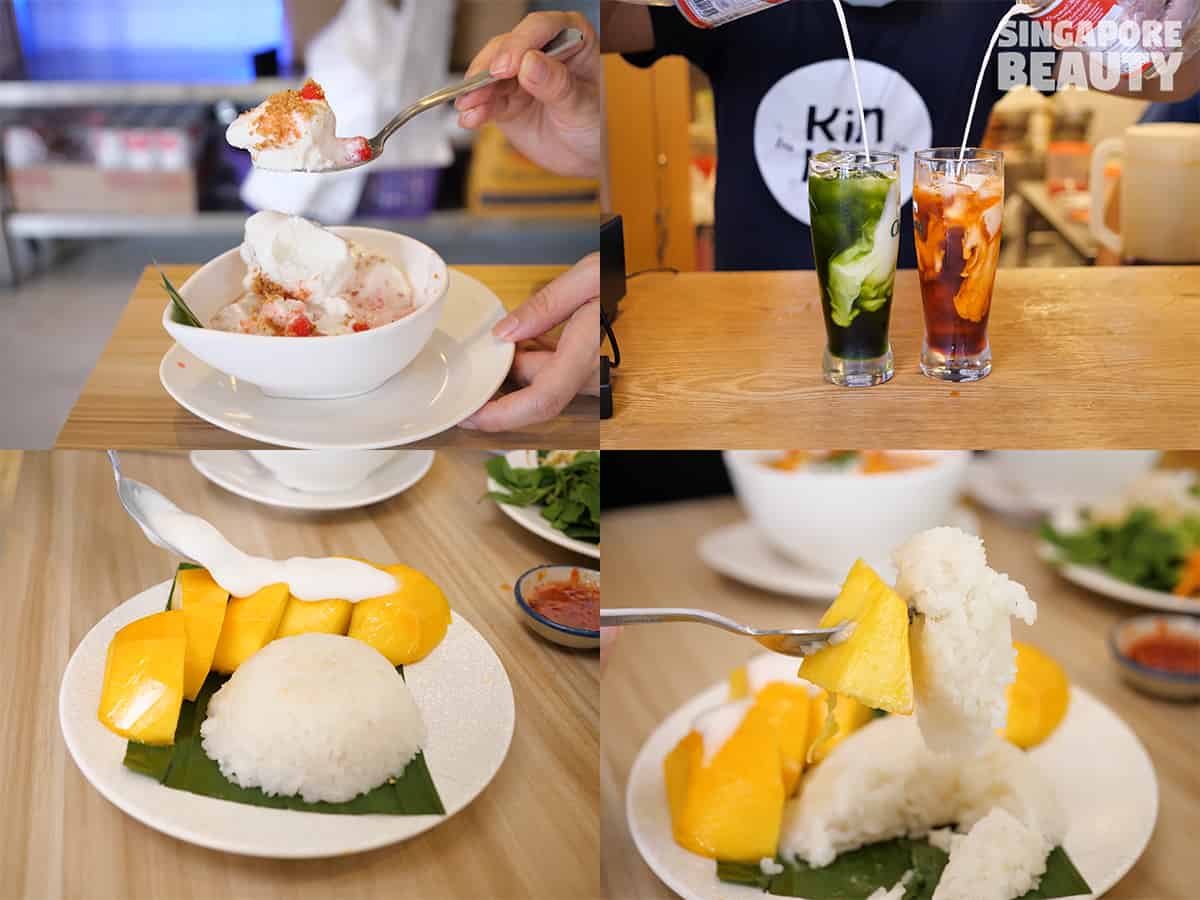 End your meal on a sweet note with the Red ruby with scoops of coconut ice cream. This is a unique twist to the usual red ruby that is topped with shaved ices or coconut gravy. The coconut ice cream lends an extra velvety texture to contrast with the refreshing crunch from the crushed peanuts and red ruby fruit cubes. It is going to give you a brain freeze with each bite. Get your hands on their Mango sticky rice with sweet chunks on chewy rice, Cha kaew & Cha Yen (Thai iced milk tea) to complete the Thai cuisine experience.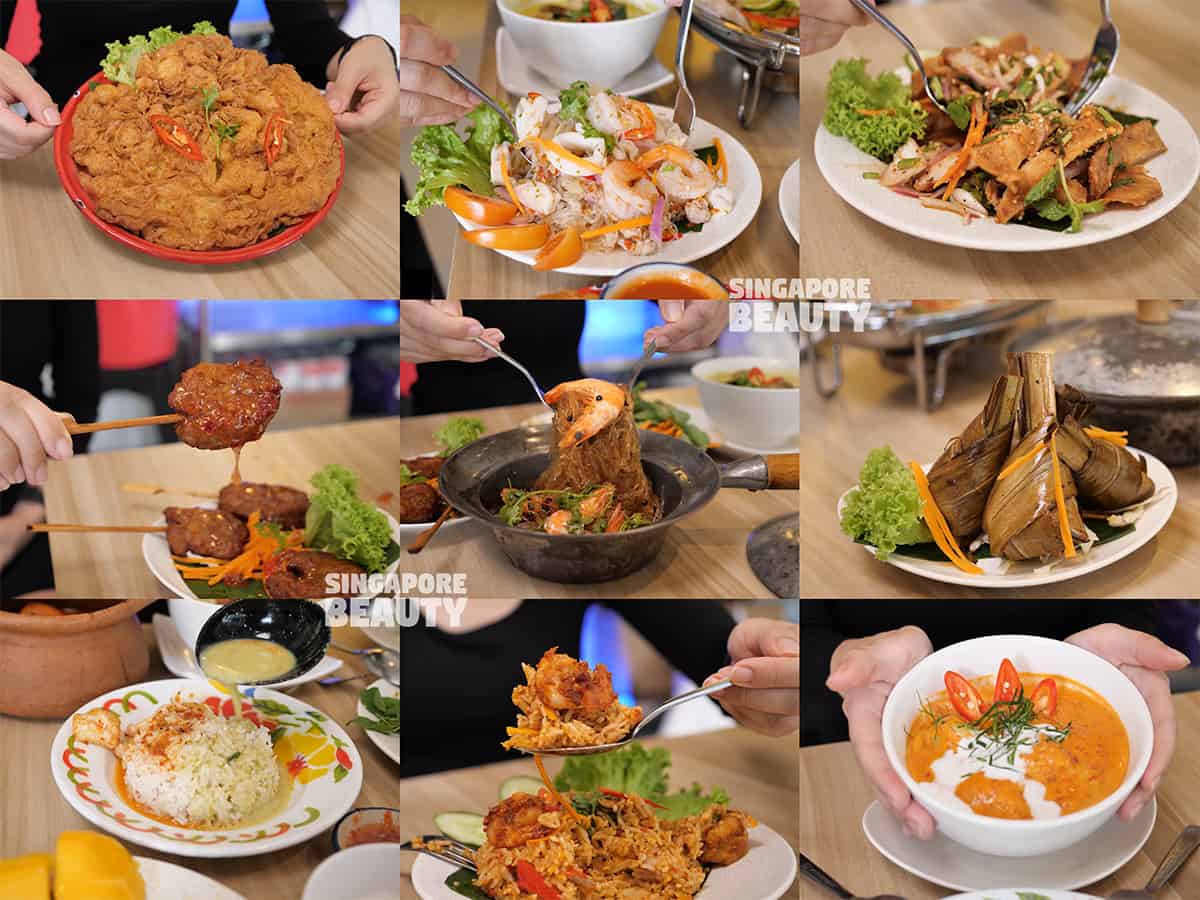 Fluffy Thai crab omelette with airy pockets of umaminess, Baked glass noodle king prawns with springy noodles infused with black peppercorns, Tom Yam prawn fried rice with sambal prawns, Dry curry Panaeng Pork with thick and luxurious gravy, Moo ping chargrilled pork skewers with gooey goodness, Woon sen (seafood salad), Nam Dtok (grilled pork salad) and so much more.
Come home to authentic Thai Food at Kin Kin Thai 888 at Bedok with rare traditional Thai dishes cooked with love by a 3 generation family from Thailand. Head over today to takeaway these Thai dishes and enjoy with a Thai food lover.
Location of Kin Kin Thai 888:
539 Bedok North Street 3
#01-591 Singapore 460539
Call: 9449 7176
Brought to you by Kin Kin Thai 888