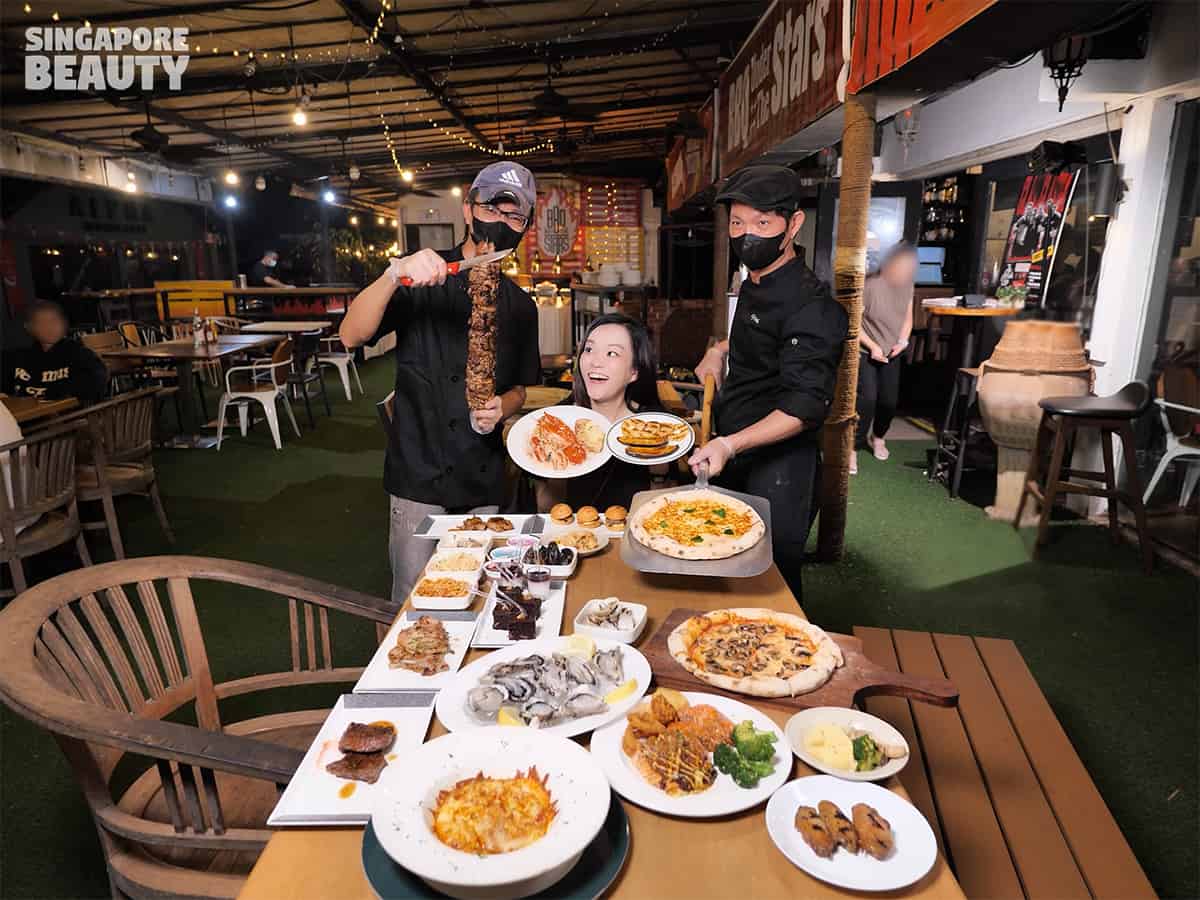 BBQ Under The Stars at HorseCity Turf Club Road is Singapore first Italian charcoal BBQ Buffet with an all you can eat menu and certain limited servings items. Enjoy a plethora of charcoal barbeque items from premium steaks, Italian food, hand stretched pizzas, hot food buffet line, sides and even grilled desserts. You also get to enjoy giant meat skewers arrosticini abruzzesi, fresh daily air-flown oysters & half lobsters on their limited serving menu.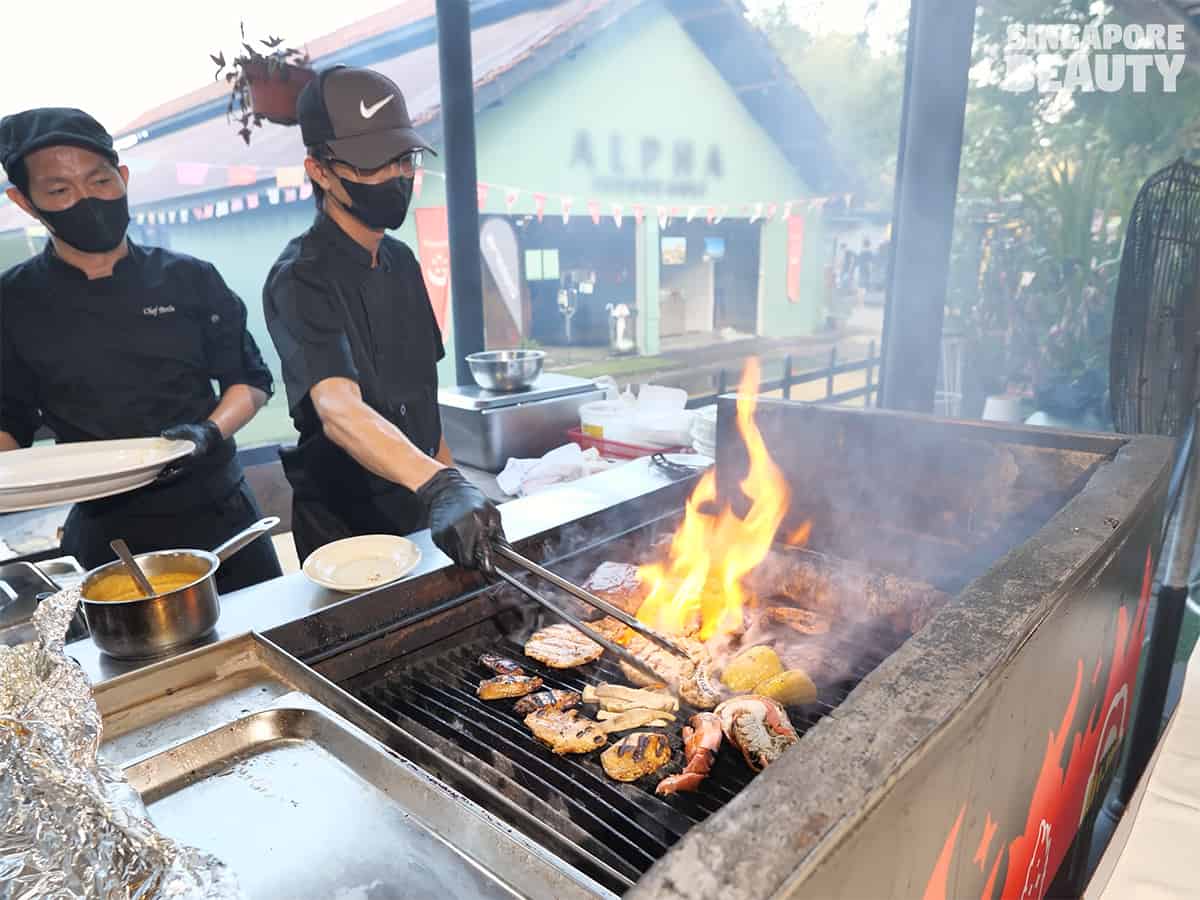 Enjoy a plethora of grill-for-you steak & seafood right before your eyes with charcoal. Under the Stars all you can eat bbq buffet barbecue items includes giant meat skewers arrosticini abruzzesi, halved lobster, sweet prawns, salmon steak, Tuscan ribeye steak, trio beef sliders, pork chop, chicken chop, pork ribs, chicken mid wings, king oyster mushroom, corn, banana and pineapple.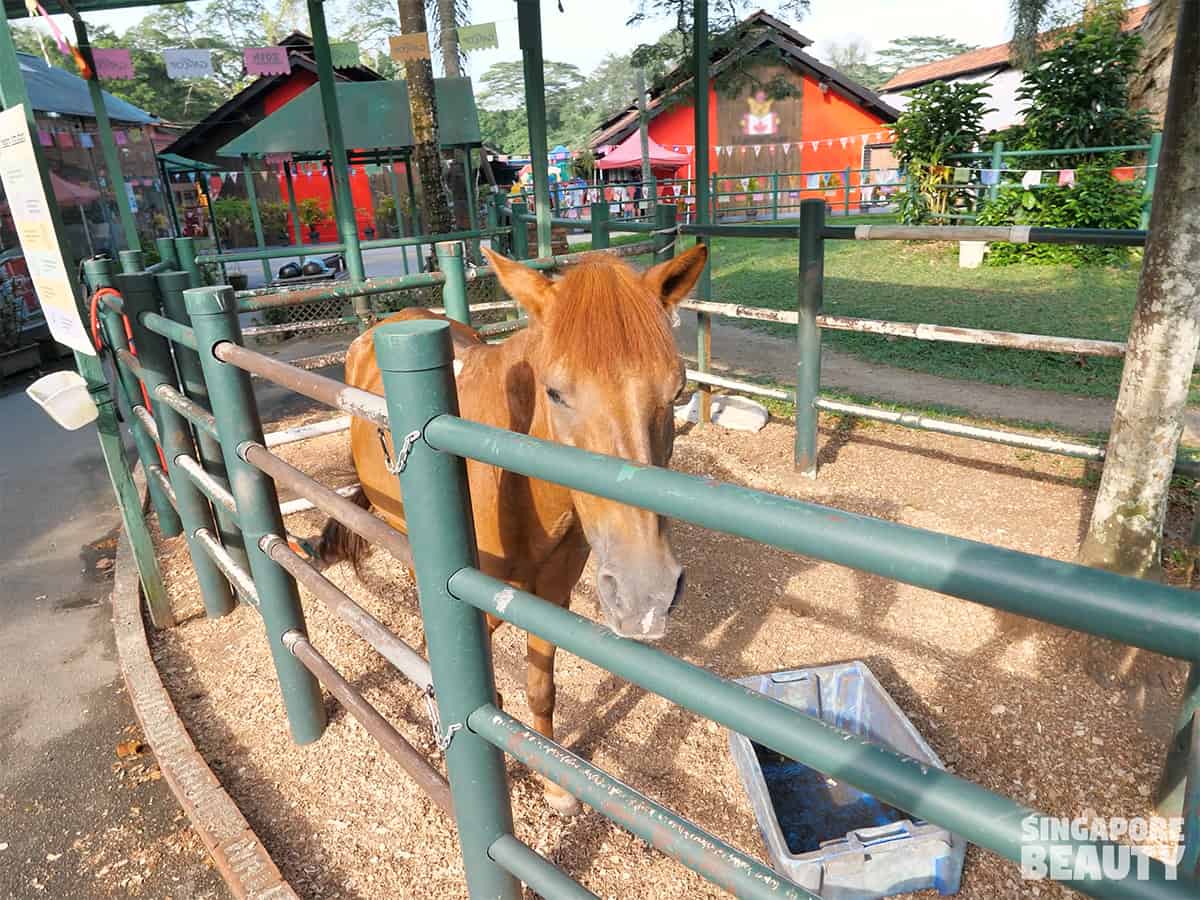 BBQ Under The Stars is located in HorseCity Mr Gallop at Turf Club Road. You will be greeted by this cute pony en route to BBQ Under The Stars at selected time in the day. This friendly little guy is shy and gentle, you can selfie with him at a respectable and safe distance for both of you.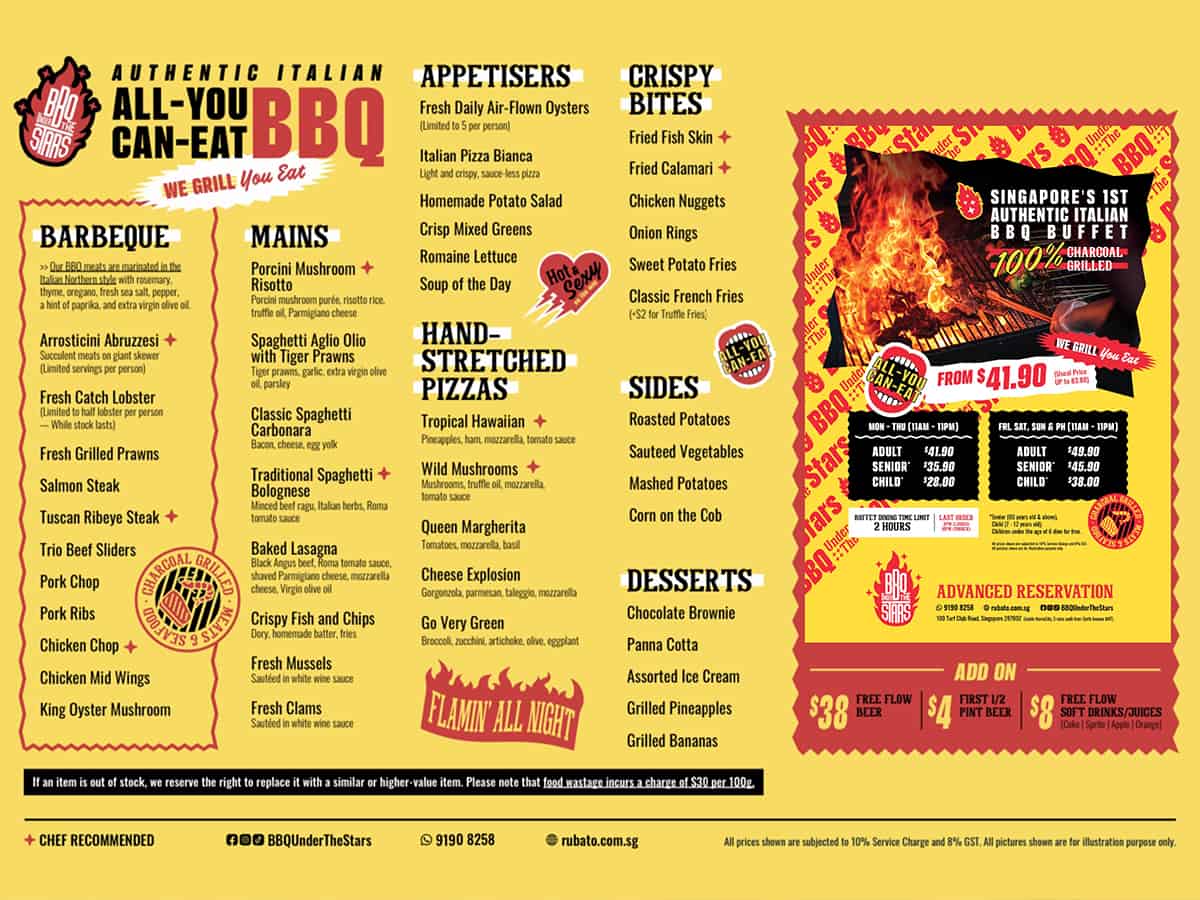 This is BBQ Under The Stars menu with the buffet price. You can make reservation with them using the link indicated at the end of this food review or via a phone call. The menu includes more than 30 items with some limited serving food and add-on ala carte deals. If you are someone who enjoys free flow beers, try their add-on $38 tap beer or $8 for some free-flow fizzy drinks. They also have concession buffet price for seniors and children at a lowered buffet price from $35.90++ and $28++ respectively. Adult buffet price starts from $41.90++. This prices will be available till 14 September 2023.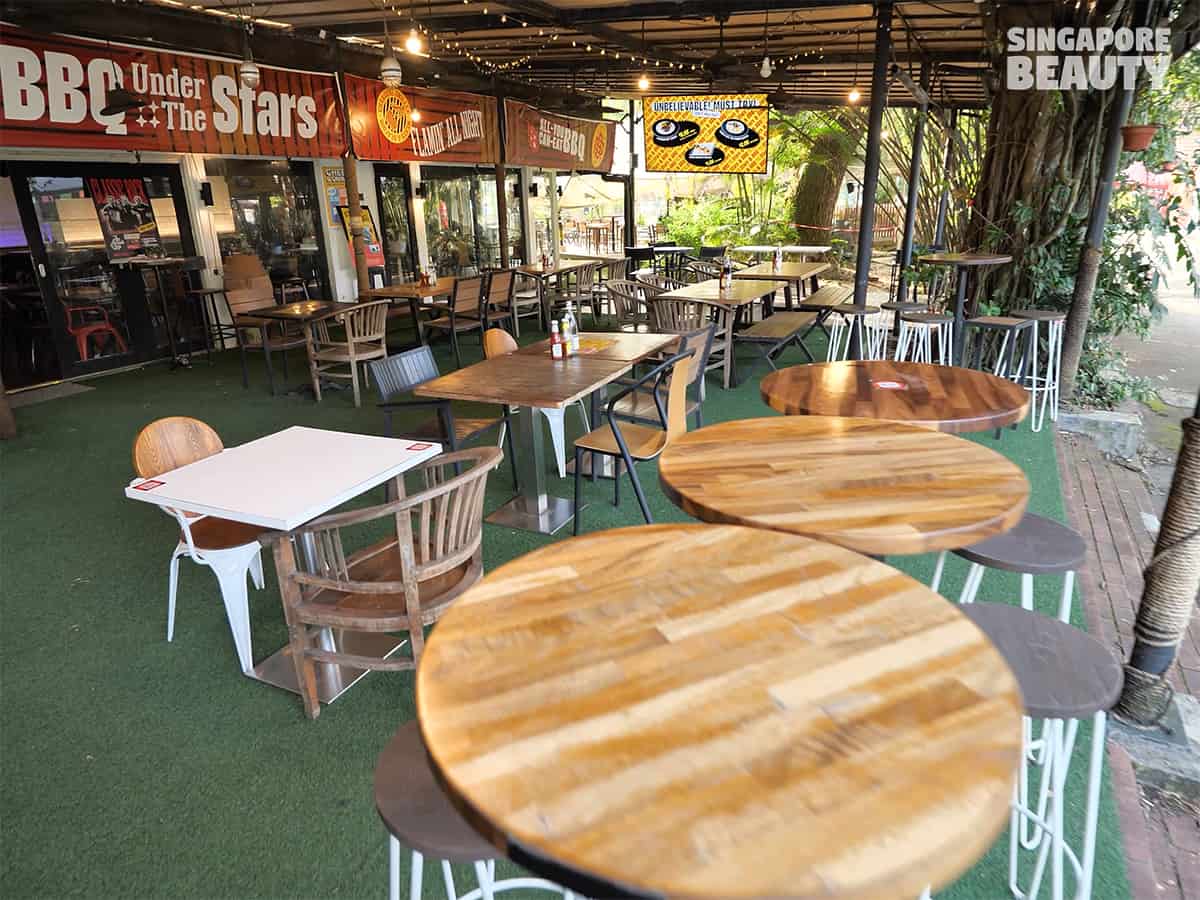 We love the indoor air-con hall & dine among nature outdoors concept at this bbq buffet. This buffet place is set amongst rustic barn houses surrounded by nature and lots of lush vegetation. During the day, you can hear crickets chirping, horses clip clopping, dogs' woofing and children's laughter as it is also near a children day care house. The outdoor dine area is near the bbq grill where you can smell the aroma of grilled food with relaxing music and some gentle breeze. You can choose the bar seats, couple table seats or long garden tables for large gathering at their outdoor area.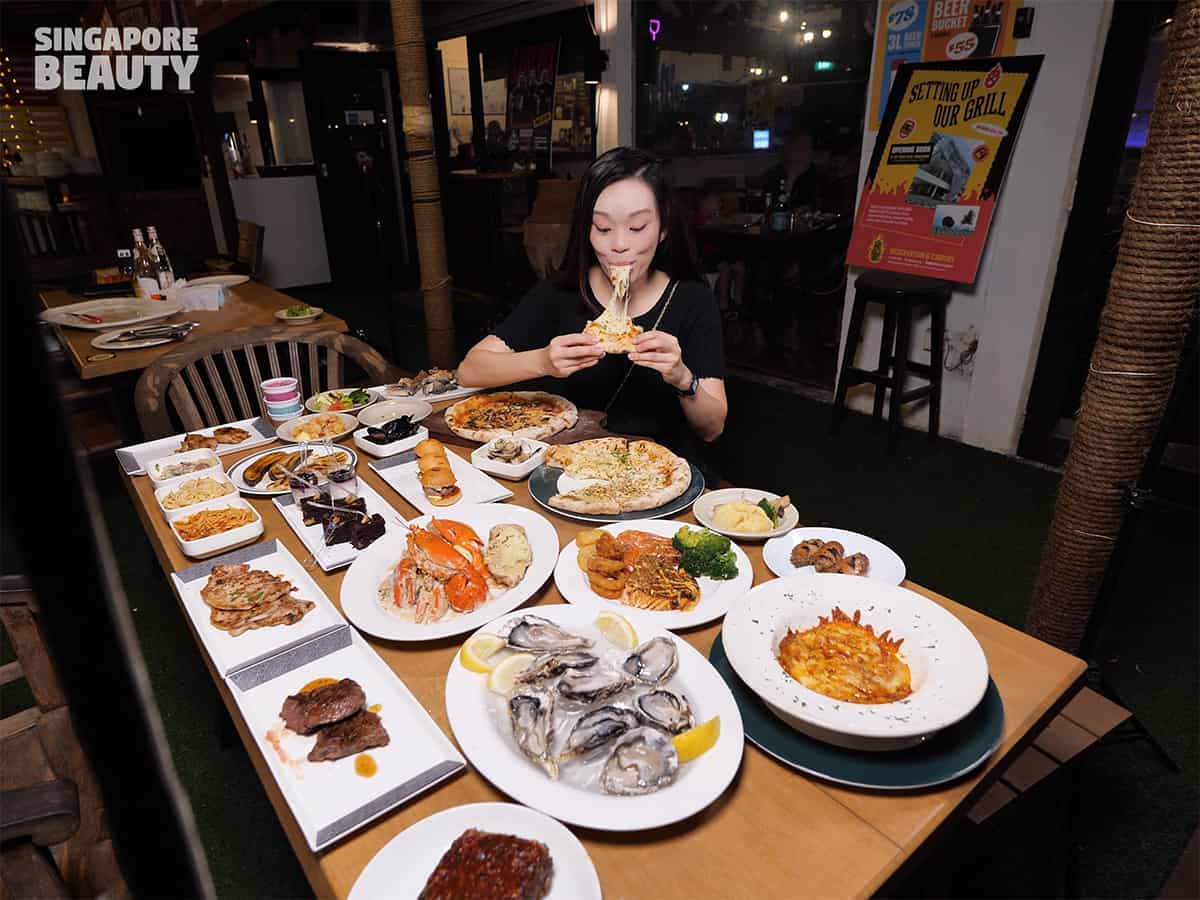 This is our BBQ Under The Stars reviews after trying most of their signature dishes at this Singapore First Italian Charcoal BBQ Buffet At HorseCity Turf Club Road. The outdoor dining experience is great at night where you can enjoy the peaceful setting of rustic barn houses and the chirping of crickets amongst nature with the gentle night breeze. The highlight of this buffet is the grill-for-you service by the bbq chef and table service with food served to your table. You get to enjoy a variety of seafood, steak and Italian food by the famous Rubato group. They are not halal certified as they serve alcoholic drinks and other meats.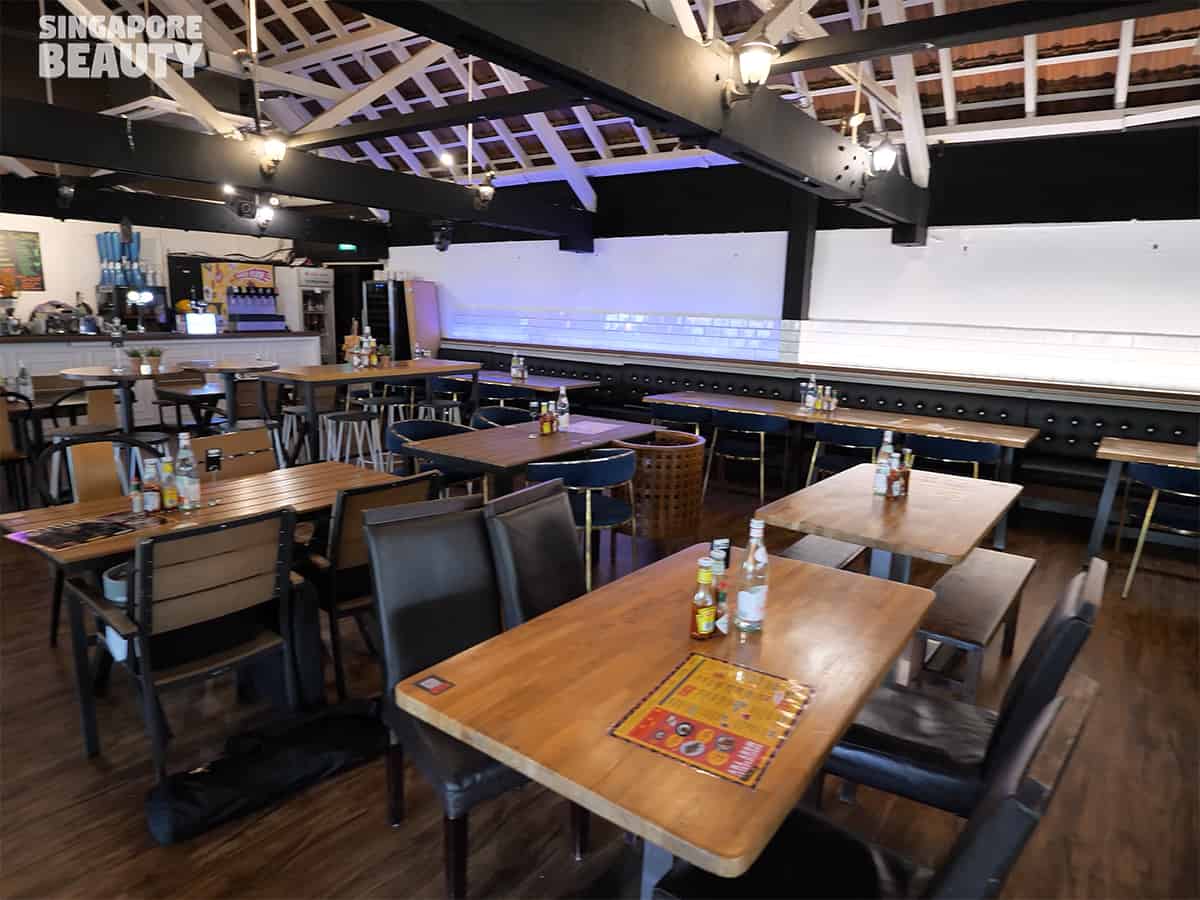 For those who loves air conditioned indoor dining, you can choose their indoors where it is more of a cowboy barn house bar vibes with a full-fledged bar counter with bartenders. Their air conditioned indoor is more of chill area with warm cowboy barnhouse ambience with dimmed lighting. This is a great place for date nights, a relaxed family outing or just to unwind from a long work week.
If you are looking for some authentic Italian food, handmade specially to order hand stretched pizzas and a bbq-for-you Italian food feast to impress your date or celebrate a happy occasion, try this buffet. This buffet is by the famous Rubato Group popular for their Italian cuisine, now in buffet style. Their promise to serve restaurant standard food in this buffet to wow your taste palate.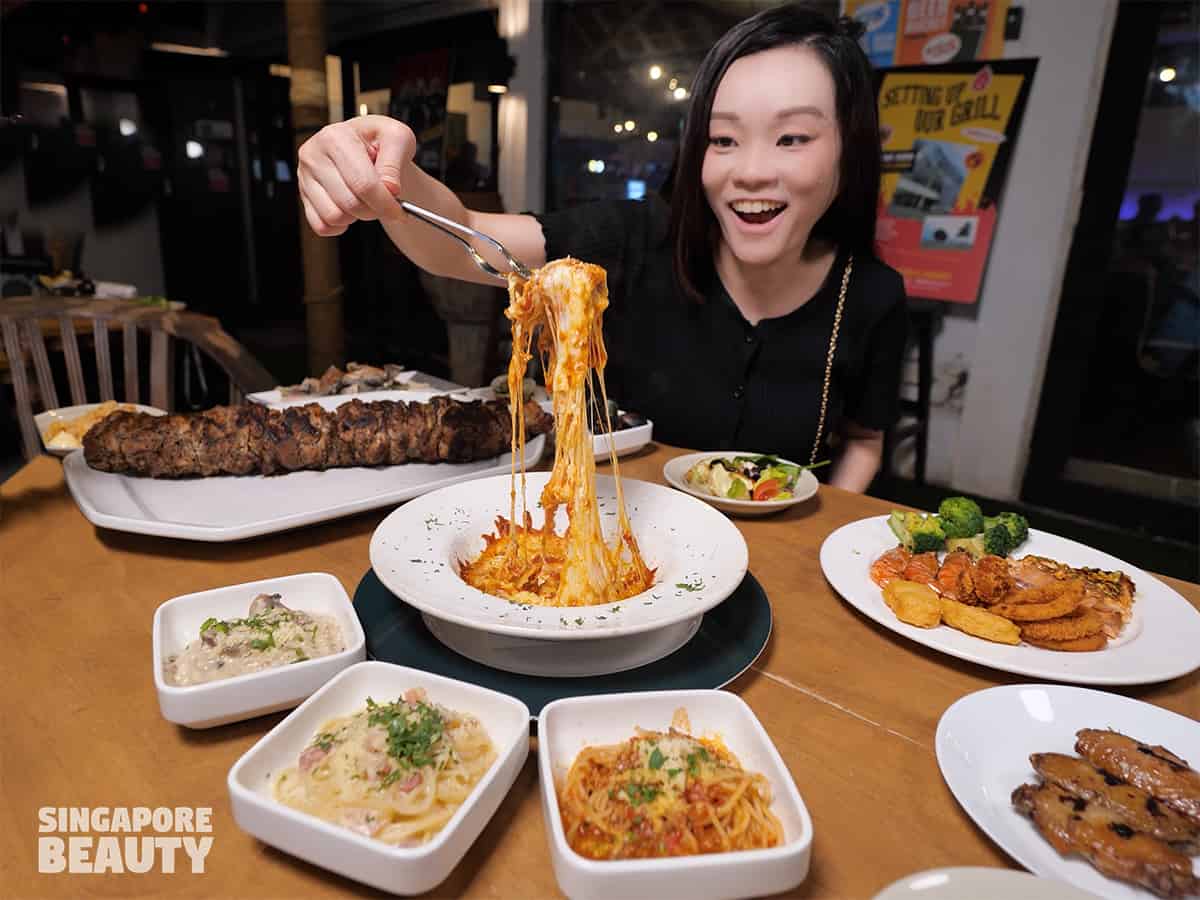 The Italian food by Rubato group includes Italian pasta, steak marinated in Northern Italian style, grilled seafood with herbs in olive oil and thin crust hand stretched pizza. They have all the top popular traditional Italian food such as Porcini mushroom risotto, classic spaghetti carbonara, lasagne and 5 types of thin crust pizza. Check out their savoury & creamy classic spaghetti carbonara with bacon, cheese and egg yolk, Al dente pasta traditional spaghetti Bolognese with minced beef ragu, Italian herbs & roma tomato and luscious porcini mushroom risotto. Baked lasagne with black Angus beef has some serious cheese pull that is sure to put a smile on your face.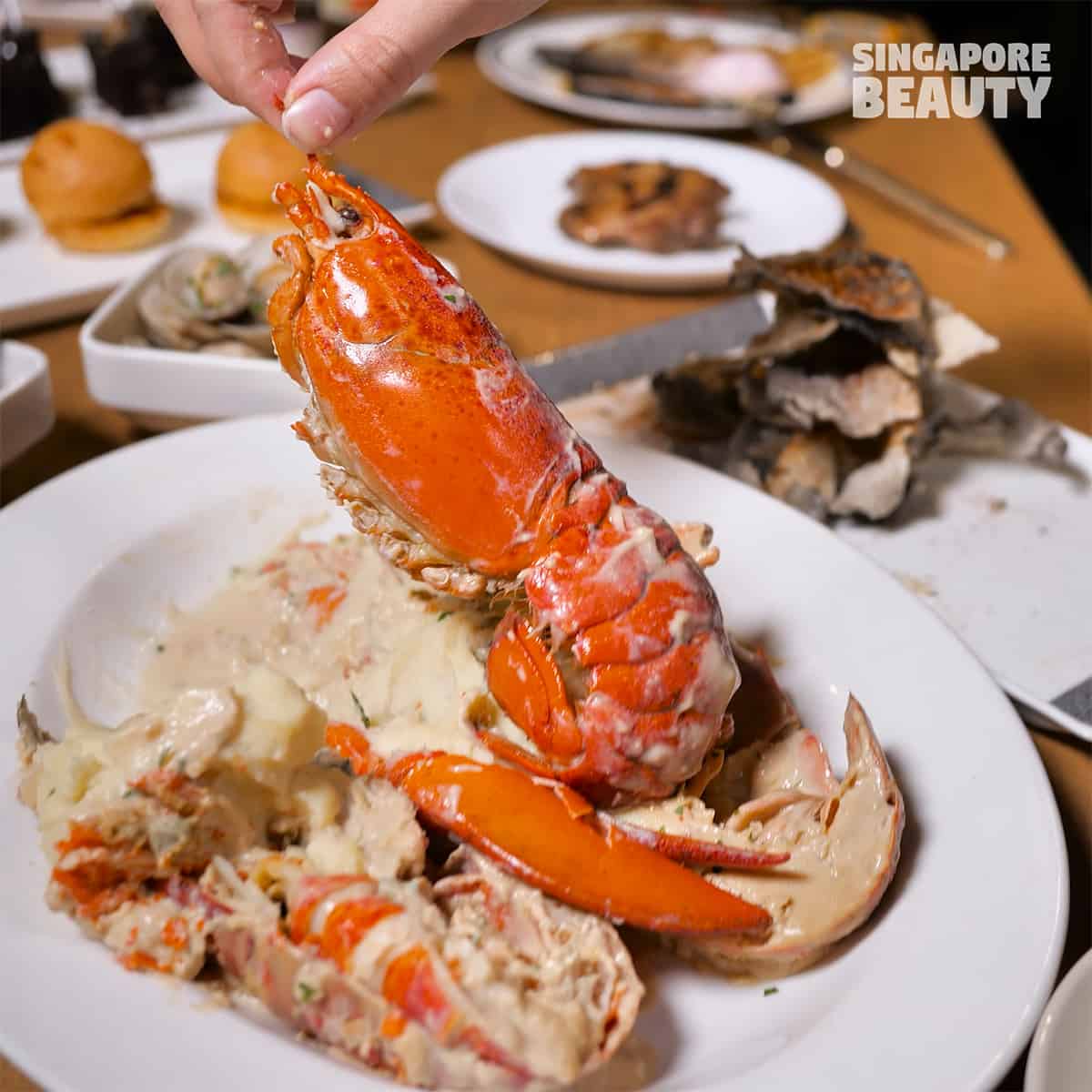 Redeem halved Boston lobster for each adult diner with meaty claw in Chef's special salted egg sauce while stocks last. They will replace item with similar value or higher-valued item if this is out of stock. Do check with them if you are heading over with this item in mind. The lobster is dressed in a buttery, mildly saline egg based sauce and topped with soft mashed potato for extra creaminess.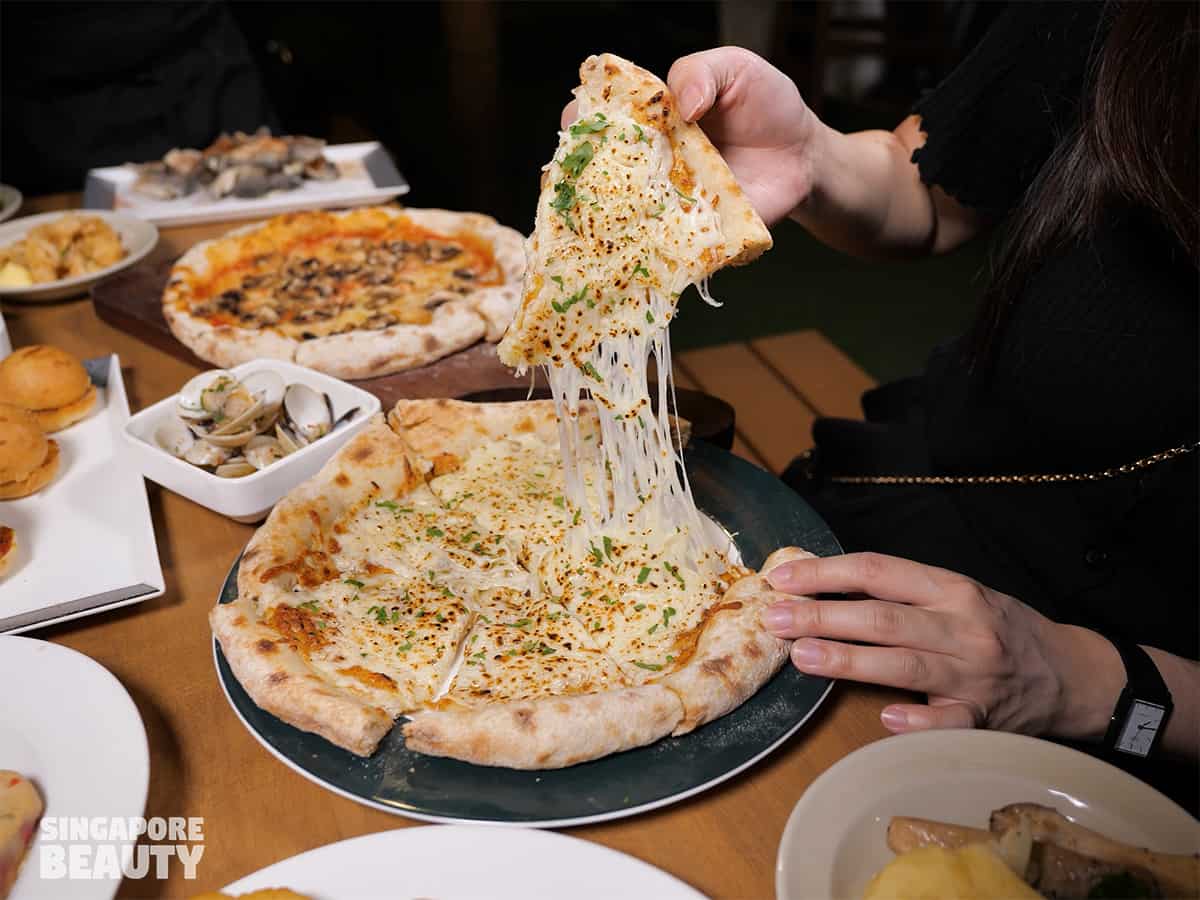 This is their amazing hand-stretched pizza – pizza Quattro formaggi aka Cheese Explosion – that is freshly baked to order. It is made with hand kneaded dough top with tangy roma tomato sauce and 4 type of cheese such as gorgonzola, parmesan, taleggio and mozzarella cheese. You get a mixture of earthy, salty, buttery and tangy notes with these 4 types of cheese with character. How about some wild mushroom pizza with earthy truffle aroma?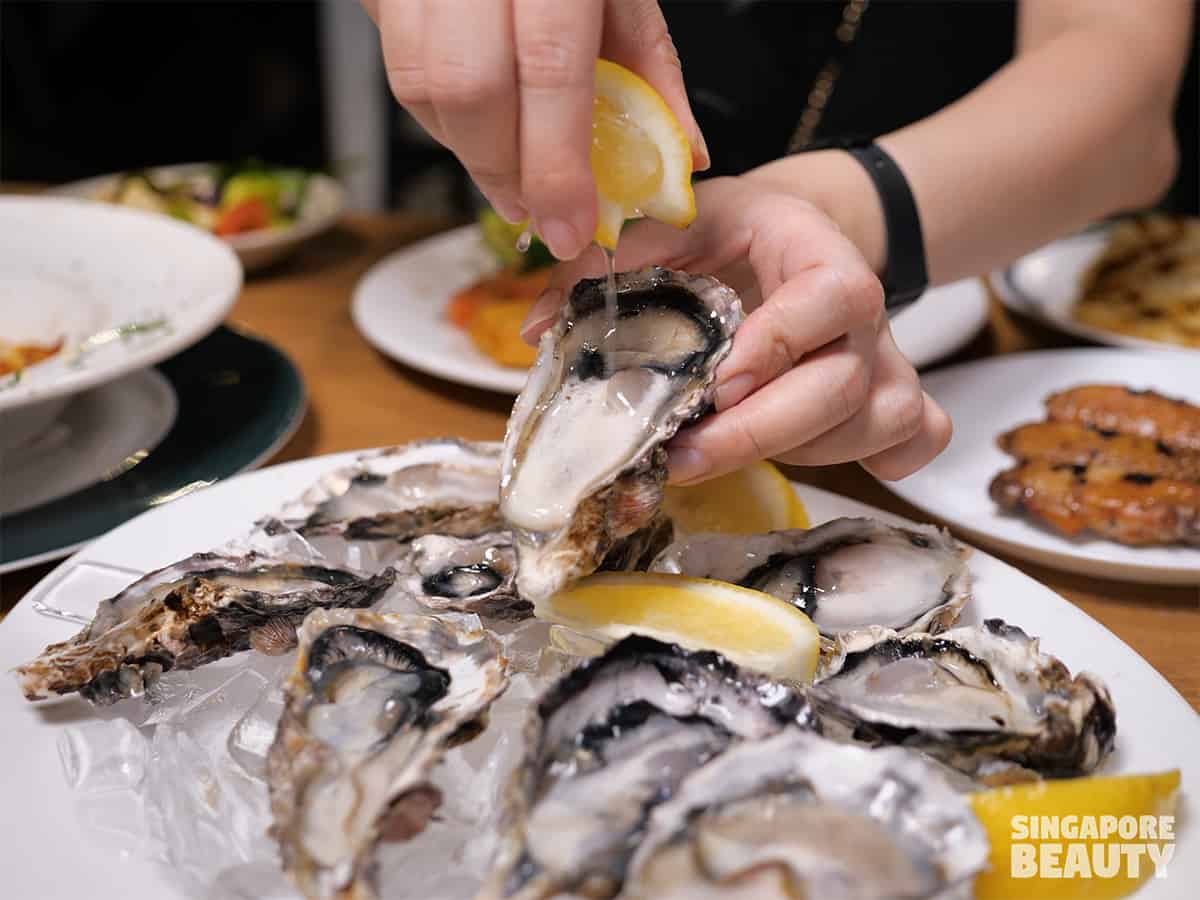 At BBQ under the Stars, you also get to redeem fresh daily air-flown oysters for every adult diners for this buffet. These are briny and cool freshly shucked oysters set on a bed of ice with some zesty lemon wedges. Slurp these oysters with some sharp lemon juice for the instant lift me up shiokness. Limited servings of 5 pieces per adult diners.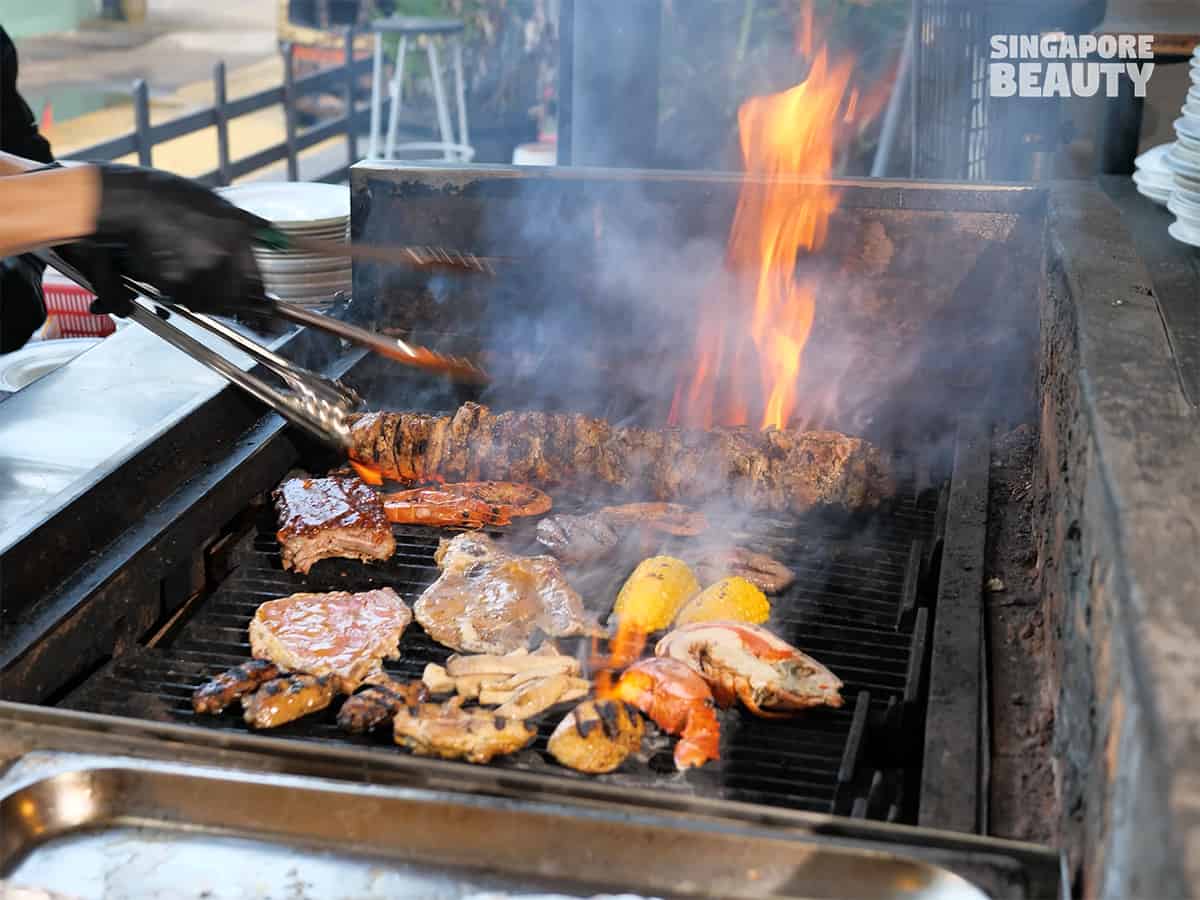 Get this giant meat skewers – Arrosticini abruzzesi – made with marinated chicken and pork. These skewers are almost 1.5 foot long and grilled over charcoal. Charred on the outside, moist and tender inside with a smoky aroma. The special Italian Northern style marinade with rosemary, thyme, oregano, fresh sea salt, pepper, a dose of paprika and rubbed with extra virgin olive oil to seal it all in. Limited serving per pax.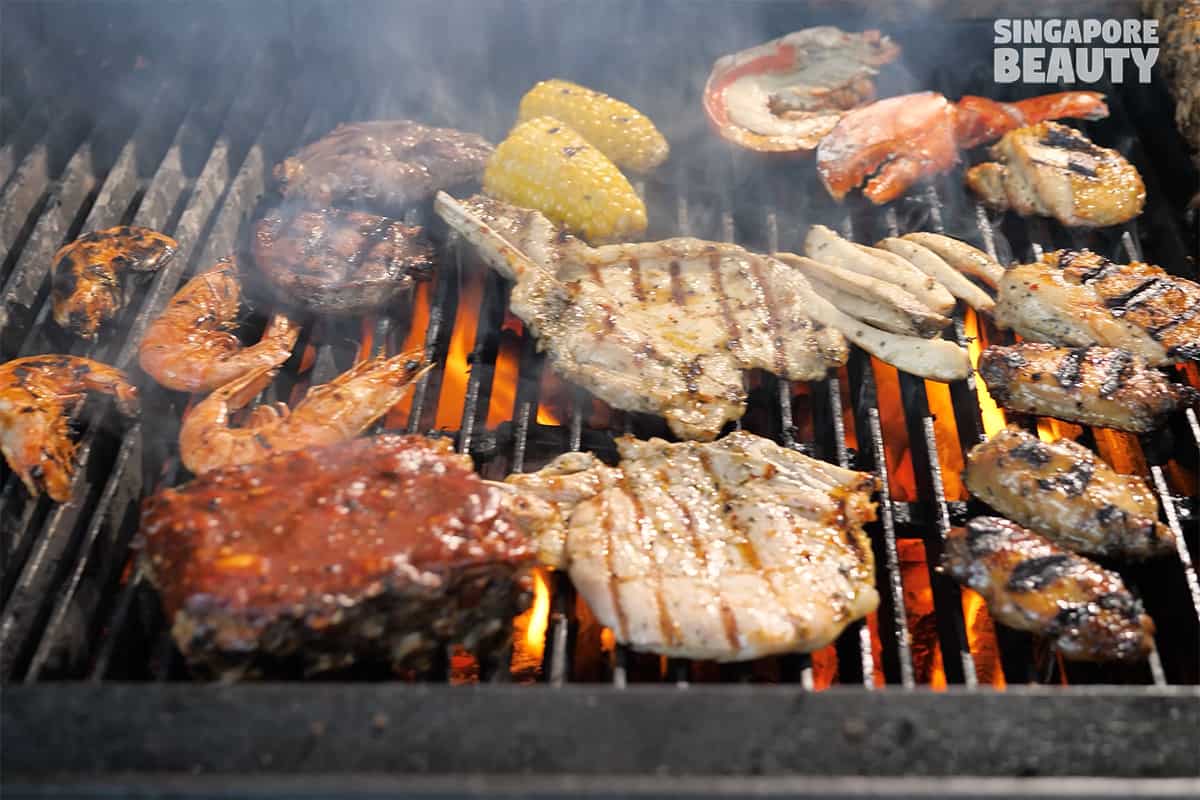 They also have bbq seafood such as charred & smoky sweet prawns. Barbecued hot off the grills, juicy and tender pork chop. Glazed BBQ Pork ribs – fall off the bone type – with a rich tangy & honeyed sauce. Barbeque Tuscan ribeye steak with extra virgin olive oil, charred and smoky outside, soft and juicy inside. Chicken mid wings with pretty charred marks and a bitter sweet char on the springy honeyed skin. Also try their whole salmon steak with crisp skin that is moist & fatty with Japanese teriyaki dressing from their buffet line.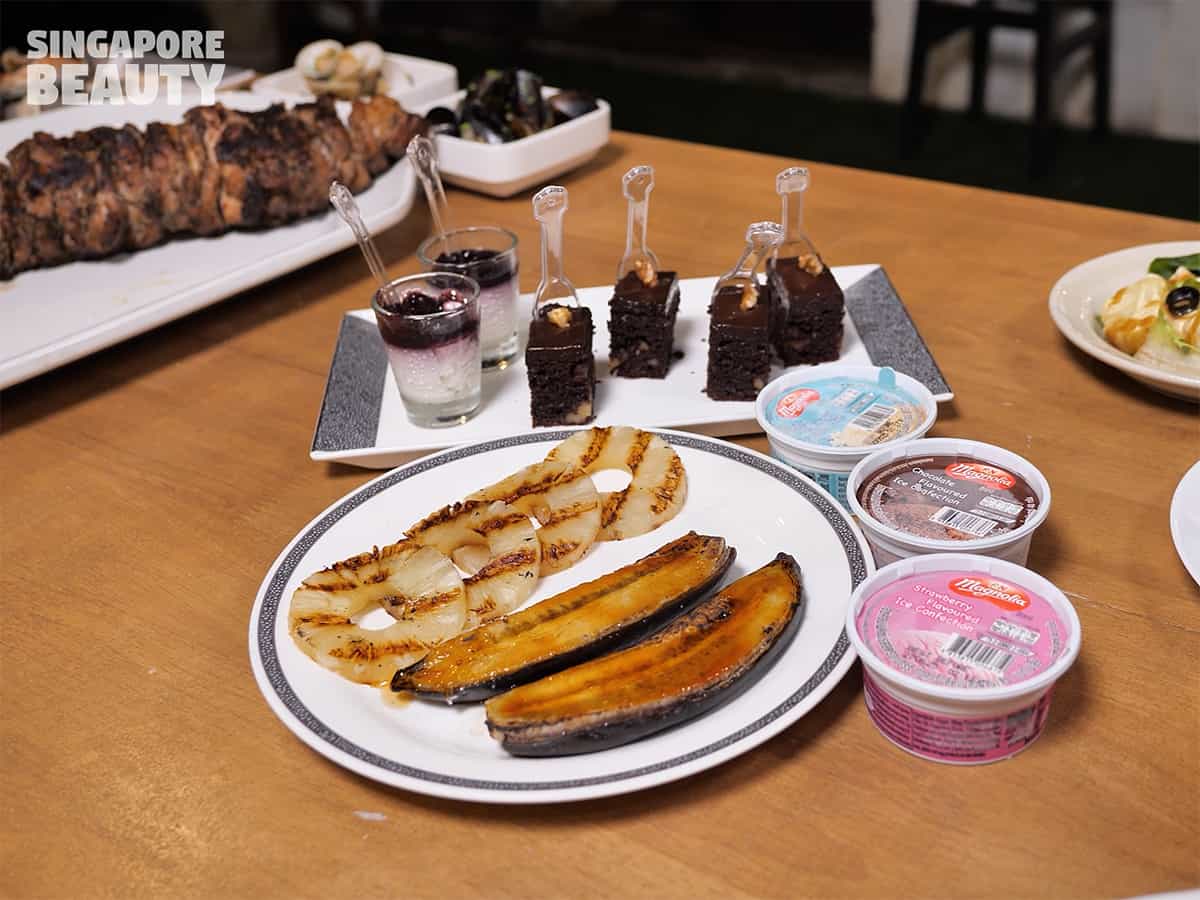 End your Italian buffet feast on a sweet note with some unique desserts. Be wowed by hot off the grilled caramelised sweet banana with icy cold Magonali ice cream. The crunchy burnt caramel top with soft warm banana is delightful too. Grilled pineapple has a refreshing honeyed kick and is a palate cleanser after enjoying all the grilled meats & seafood. Not to forget their creamy and rich Panna cotta, soft & luscious chocolate brownie and more.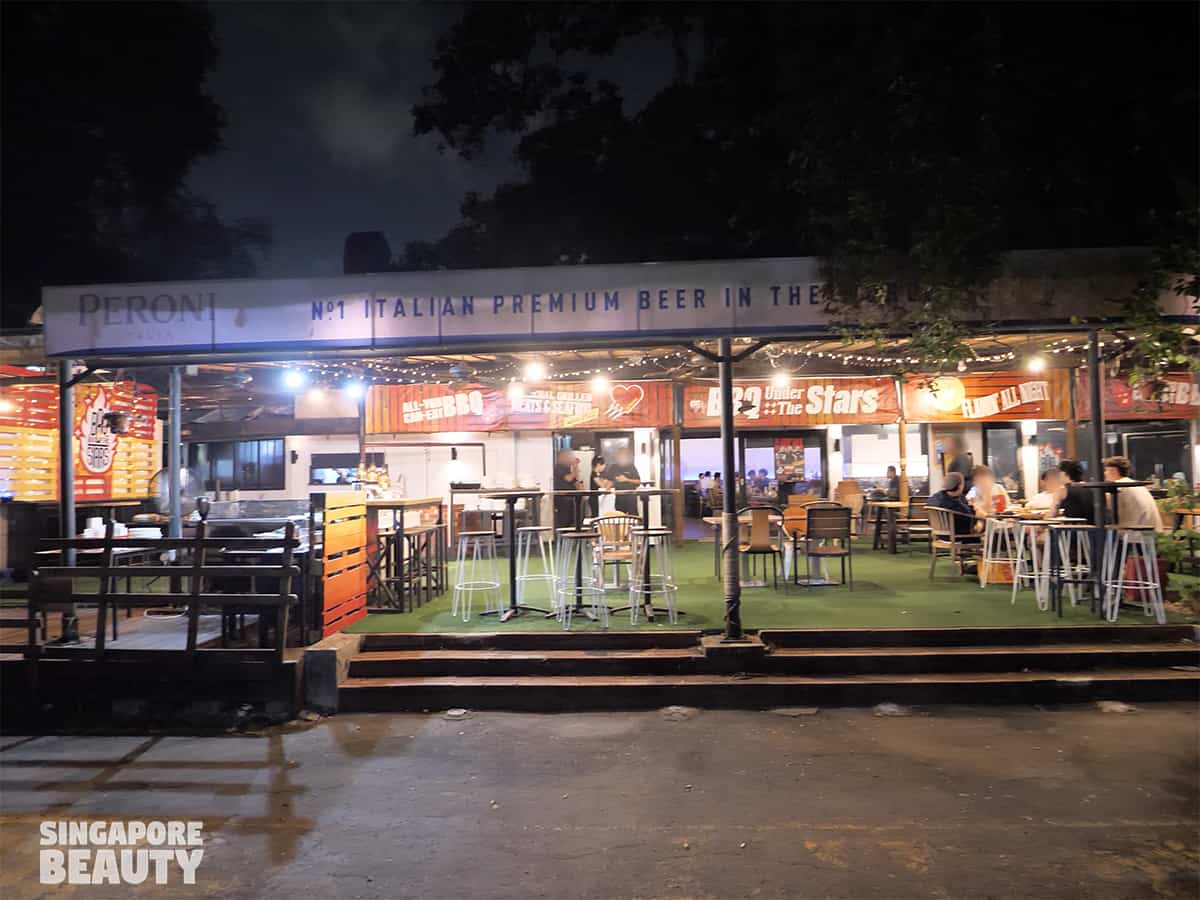 Head over to BBQ Under The Stars with all you can eat Singapore first Italian charcoal BBQ buffet at HorseCity Turf Club Road today. Sit back & enjoy table service on bbq seafood, meats and Rubato's restaurant standard Italian food and ready to eat buffet line in indoor air conditioned barn house or outdoor under the stars.
Address of BBQ Under The Stars:
100 Turf Club Rd,#01-01, HorseCity, S287992
Special Buffet price for BBQ Under The Stars till 14 Sept 2023:
Mon-Thurs
Adult $41.90++
Senior $35.90++
Child $28++
Fri-Sun & PH
Adult $49.90++
Senior $45.90++
Child $38++
*Senior (60 years and above), Child (7-12 years old), Children under 6 dine for free.
Do note that from 15 Sept 2023 & onwards, half lobster redemption will be gone and buffet price will be revised as follow:
Adult/Senior $49.90++
Child $35.90++, Children under 6 dine for free.
Dine in time: 2 hours
Drinks not included, top up $8 for free flow soda or $4.20 for large bottled San Pellegrino sparkling mineral water
Opening hours: 11 am to 11 pm daily
Last order for lunch 3pm, for dinner 10 pm.
For reservation, pls call: 9190 8258 or
book via https://www.restaurants.sg/modules/booking/book_form_section.php?redirect=1&data=&bkrestaurant=SG_SG_R_RubFestivo
(this link directs to an external website that we are not affiliated with and have no control over it)
Brought to you by BBQ Under The Stars
BBQ Under The Stars