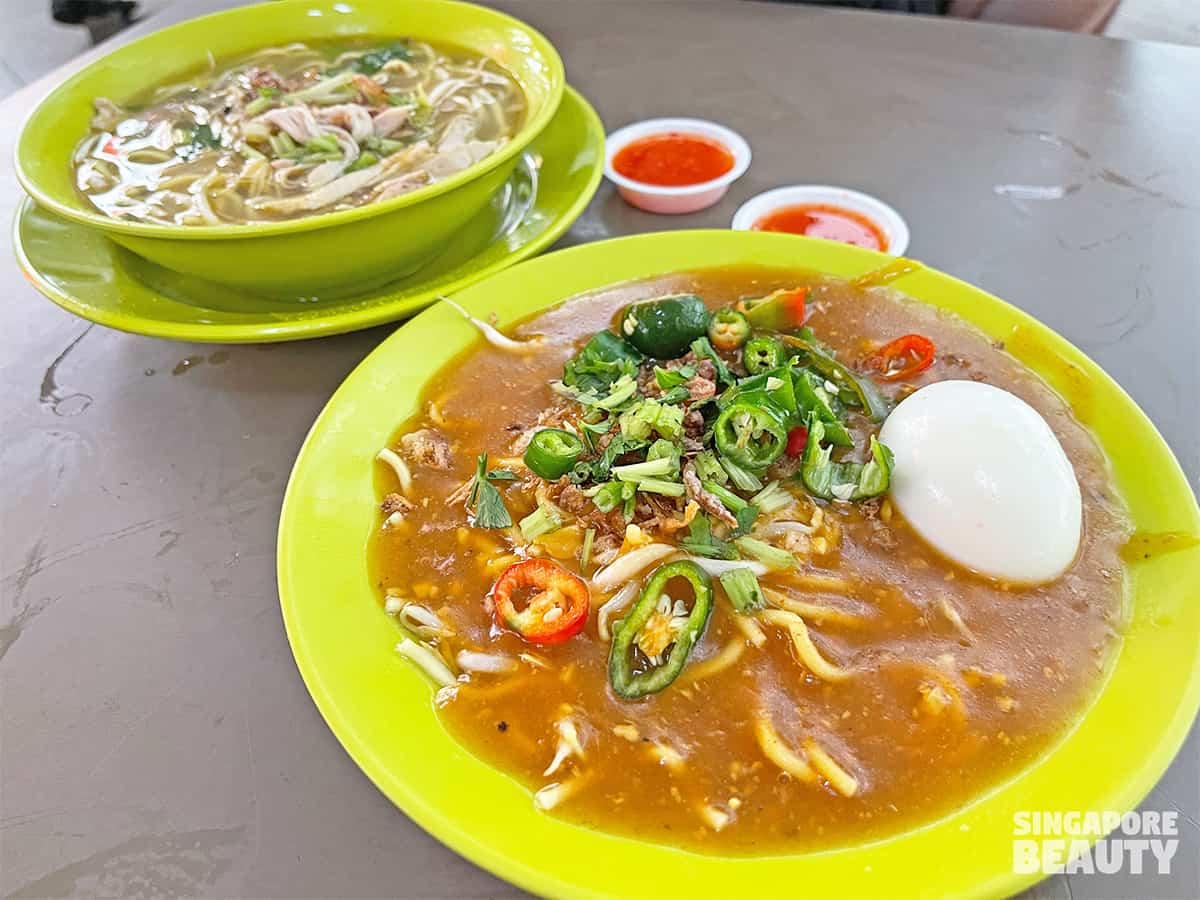 Inspirasi is a hawker stall at Bedok Interchange Hawker Centre that sells four type of authentic Malay fare that commands a crazy queue daily but is definitely worth the wait.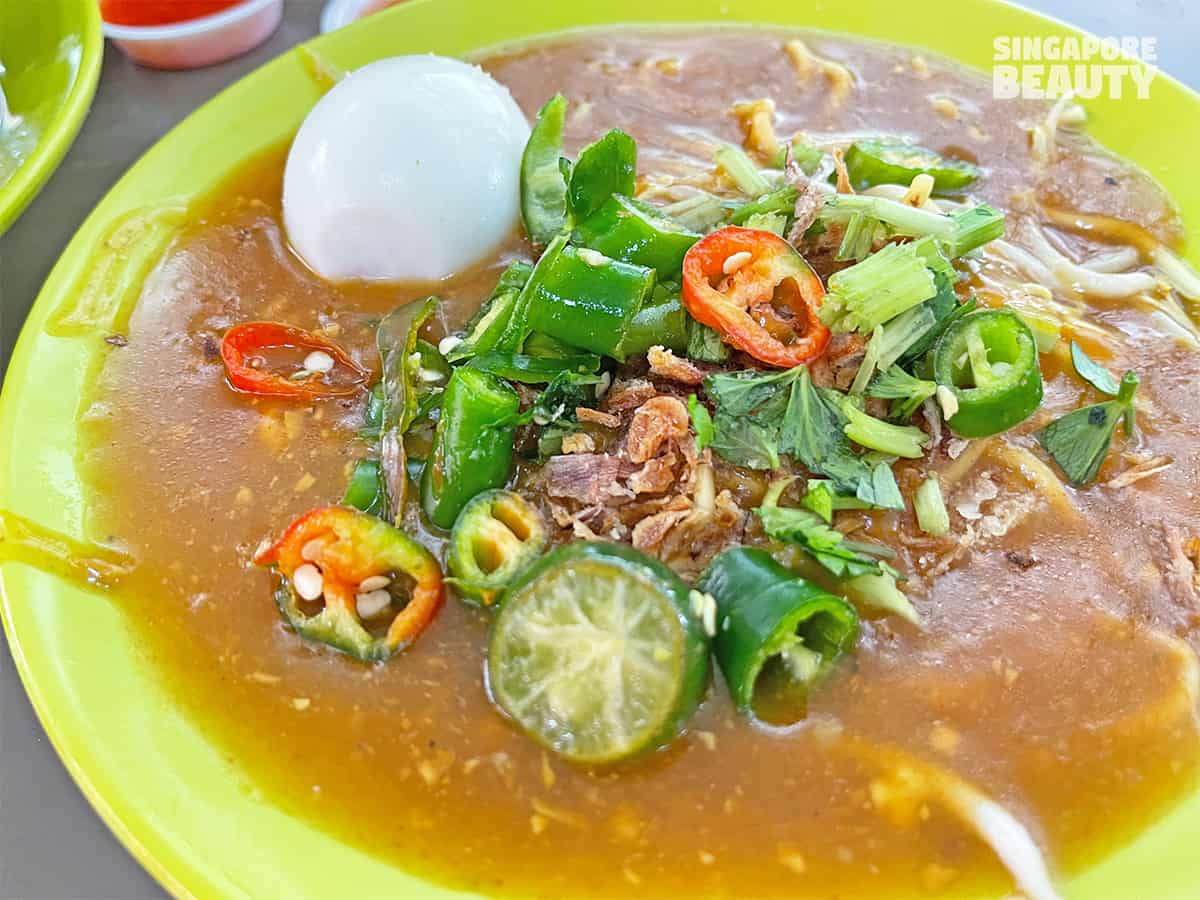 Inspirasi is one of the most popular stall in Bedok that is highly recommended if you have craving for mee rebus. The menu of Inspirasi only consist of 4 signature dishes – mee rebus, mee soto and chicken porridge and soto ayam.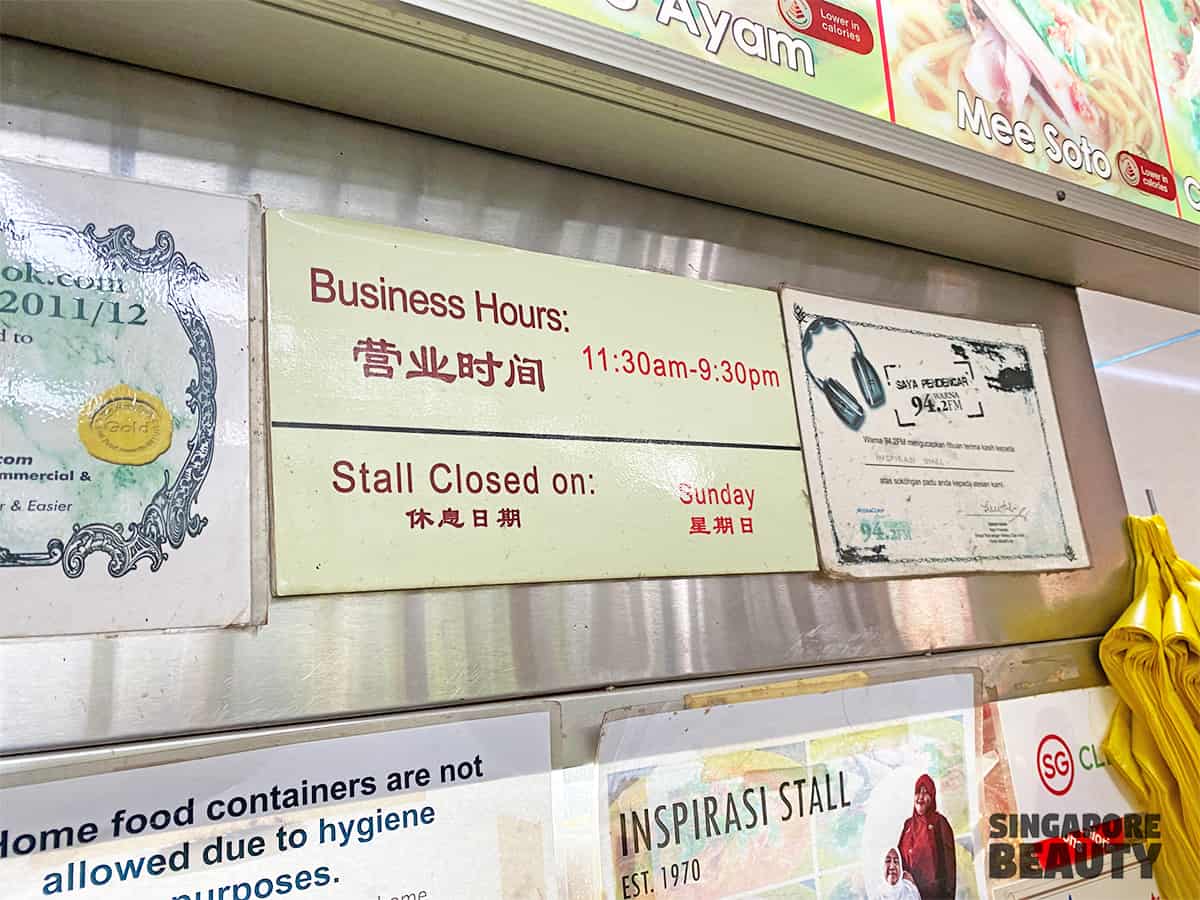 Inspirasi opening hours are from 11:30AM to 9.30PM or earlier till sold out and closed on Sundays. It is also the favourite child of many food critic reviews, accolades and countless awards. They are also awarded one of the best mee rebus in Singapore as featured in Best Malay food.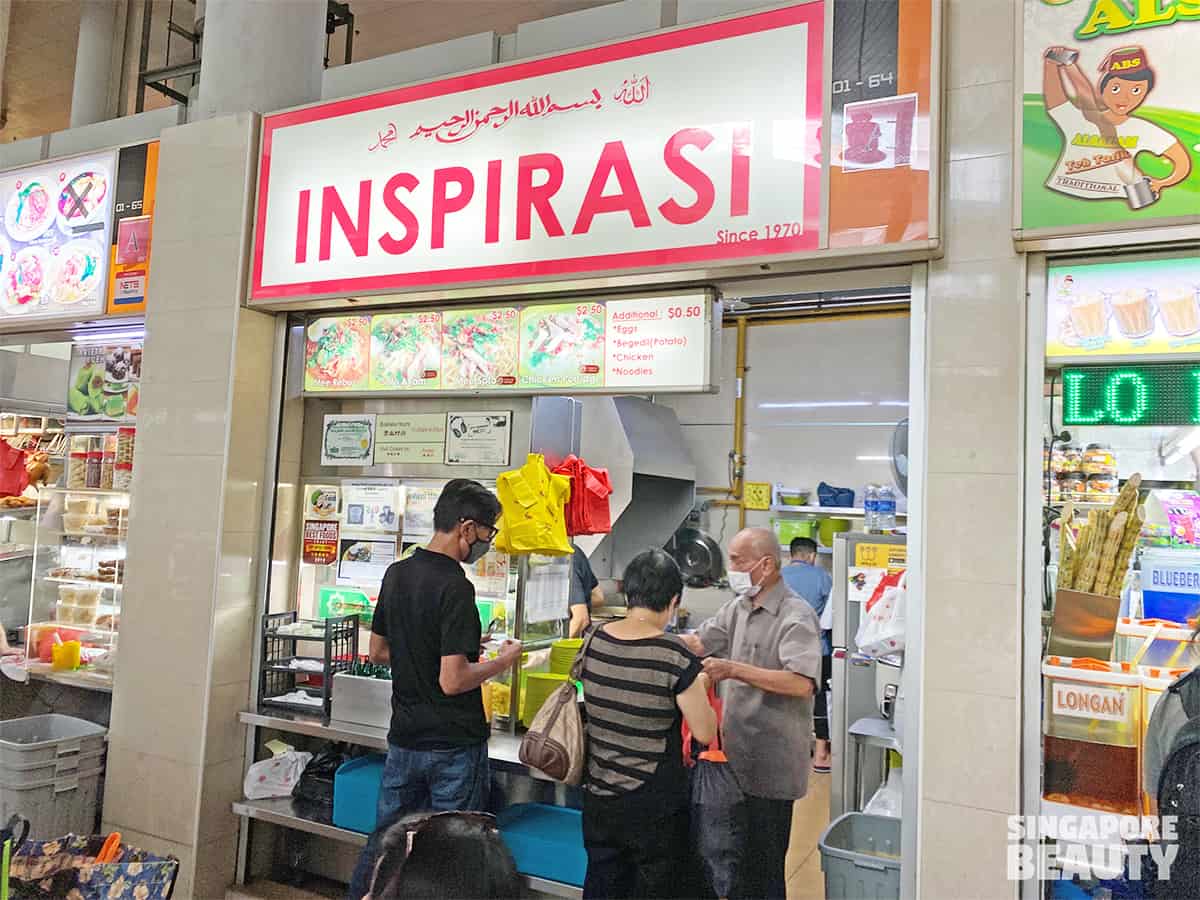 For those who are staying near Bedok interchange hawker centre, you can get food from Inspirasi through delivery platform like Foodpanda and WhyQ. For the best texture, it is still best to enjoy the hot dishes at the hawker centre.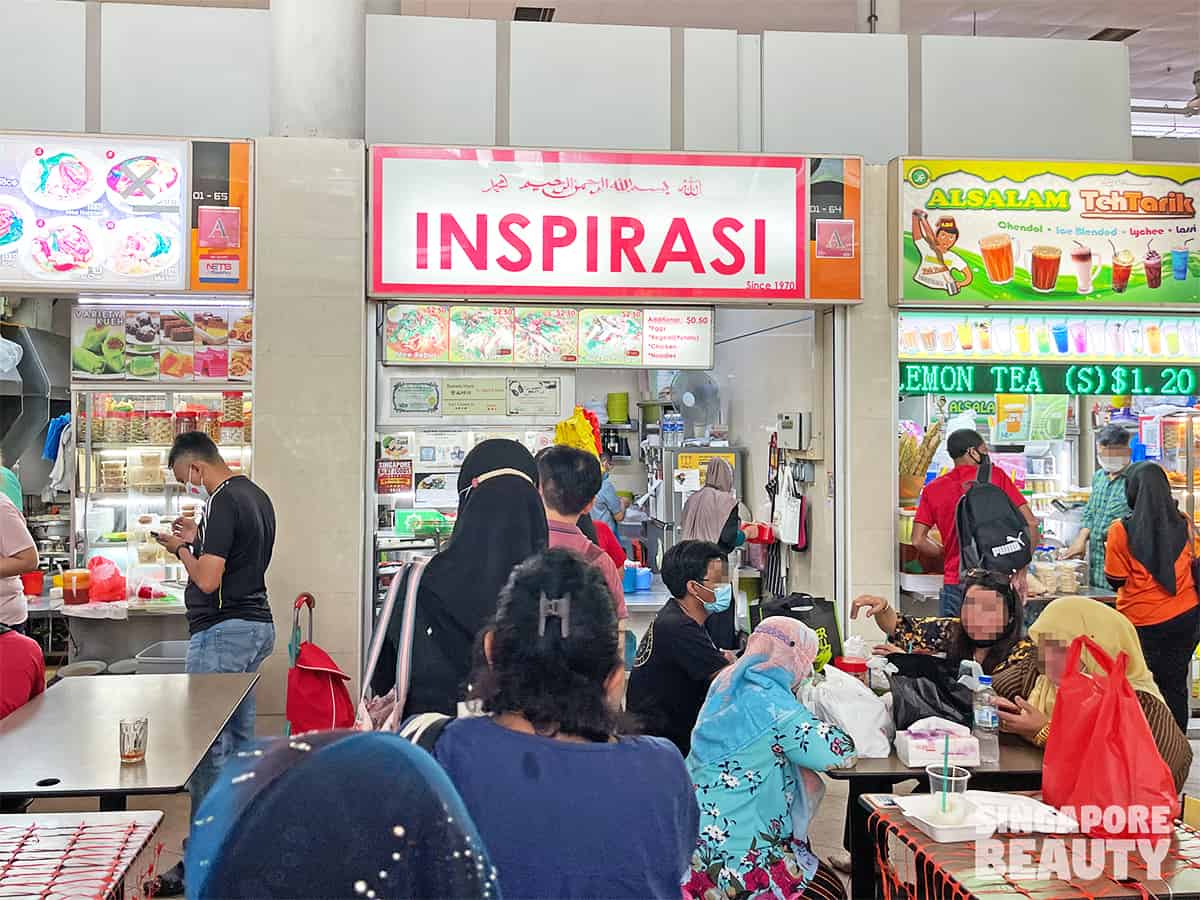 Many say that Inspirasi is a legendary hawker stall at Bedok with a 50 years old recipe. You can see that Inspirasi is very popular among makciks and pakciks who will sip their hot drinks from the neighbouring stall while waiting for it to open for the day.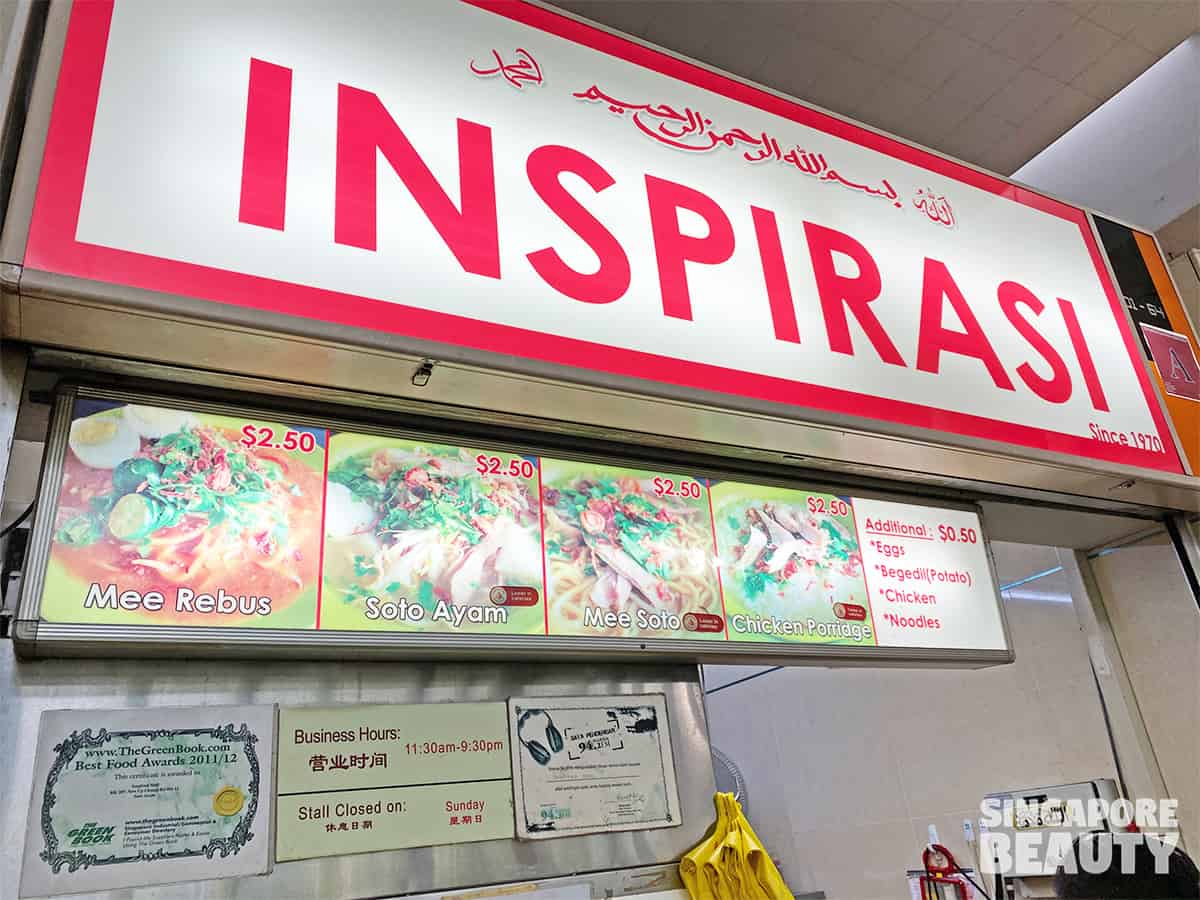 This family run business is started more than 30 years ago by late father of second-generation hawker Rashid Bin Amat and his siblings. With recipe originating from Indonesia, the family business is now helmed by them, with Azizah as the chef who focus on their main four dishes on their menu. These are sold at $2.50 each with additional add ons such as eggs, begedil( potato), chicken and noodles at only 50 cents.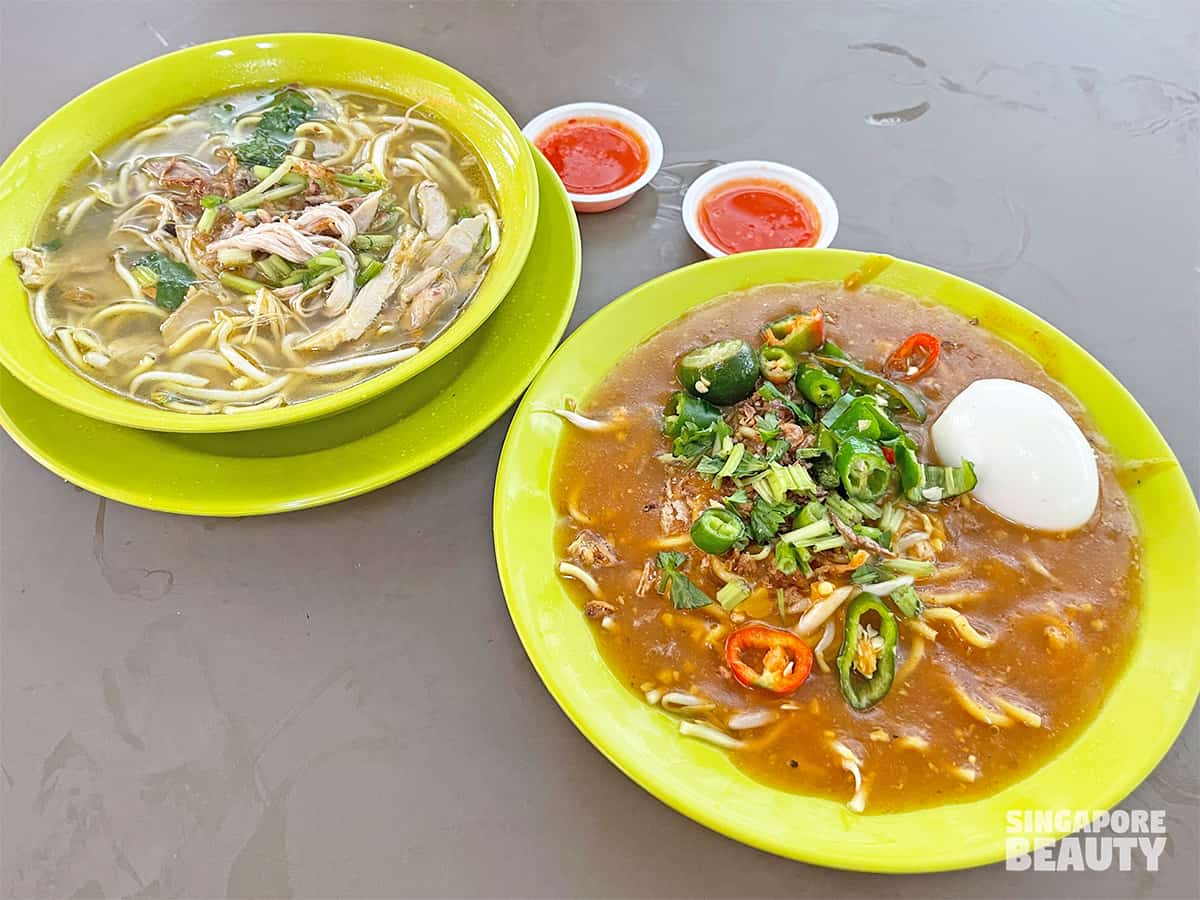 This is one of the cheapest Mee rebus, soto ayam, mee soto and chicken porridge that is savoury and good in Singapore.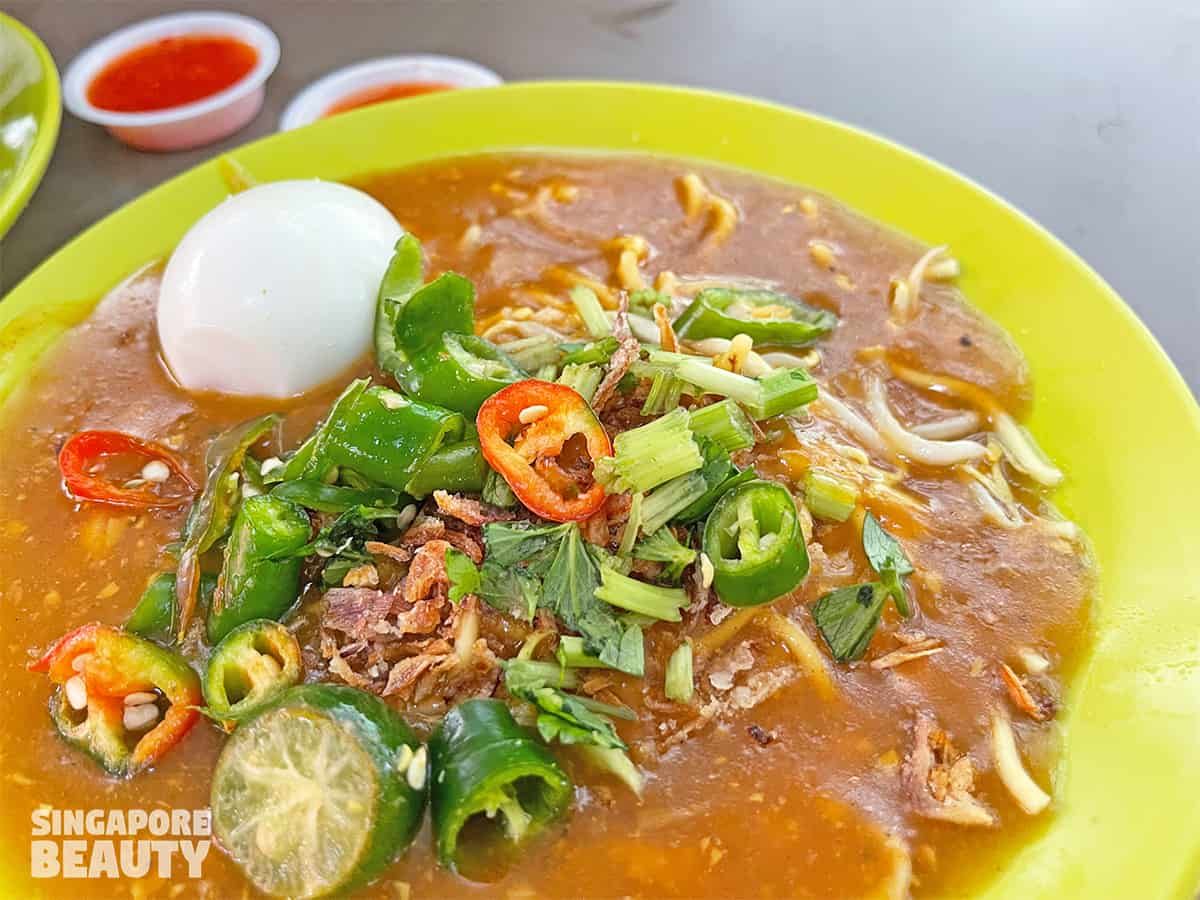 Let's dig in now. We ordered the mee rebus and mee soto for this review of Inspirasi. The soto ayam is sold out for the day. If you are looking to try the soto ayam, you need to be there early when they open for the day.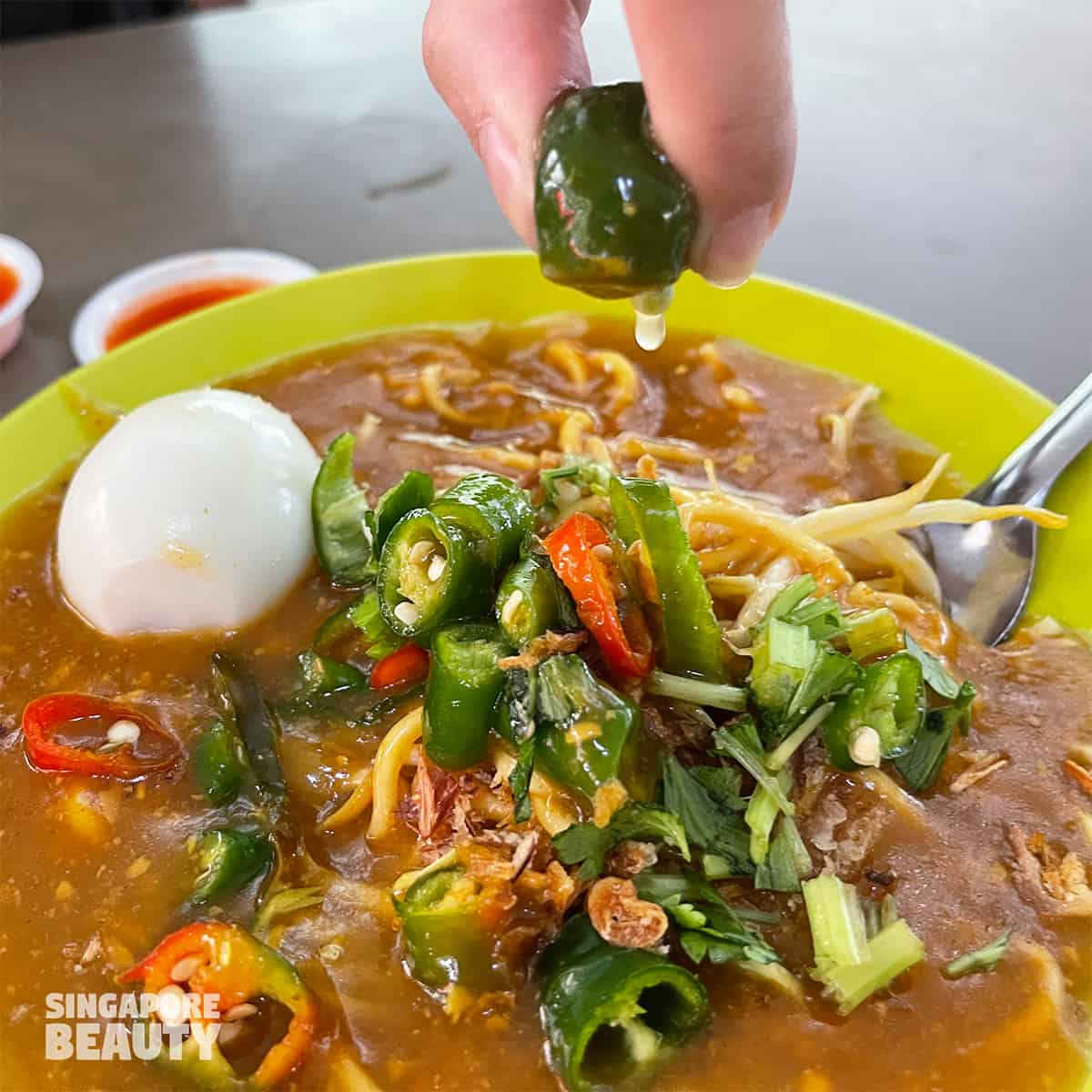 Before you dig in, juiced the lime for an added zesty flavour and tangy kick to the mee rebus.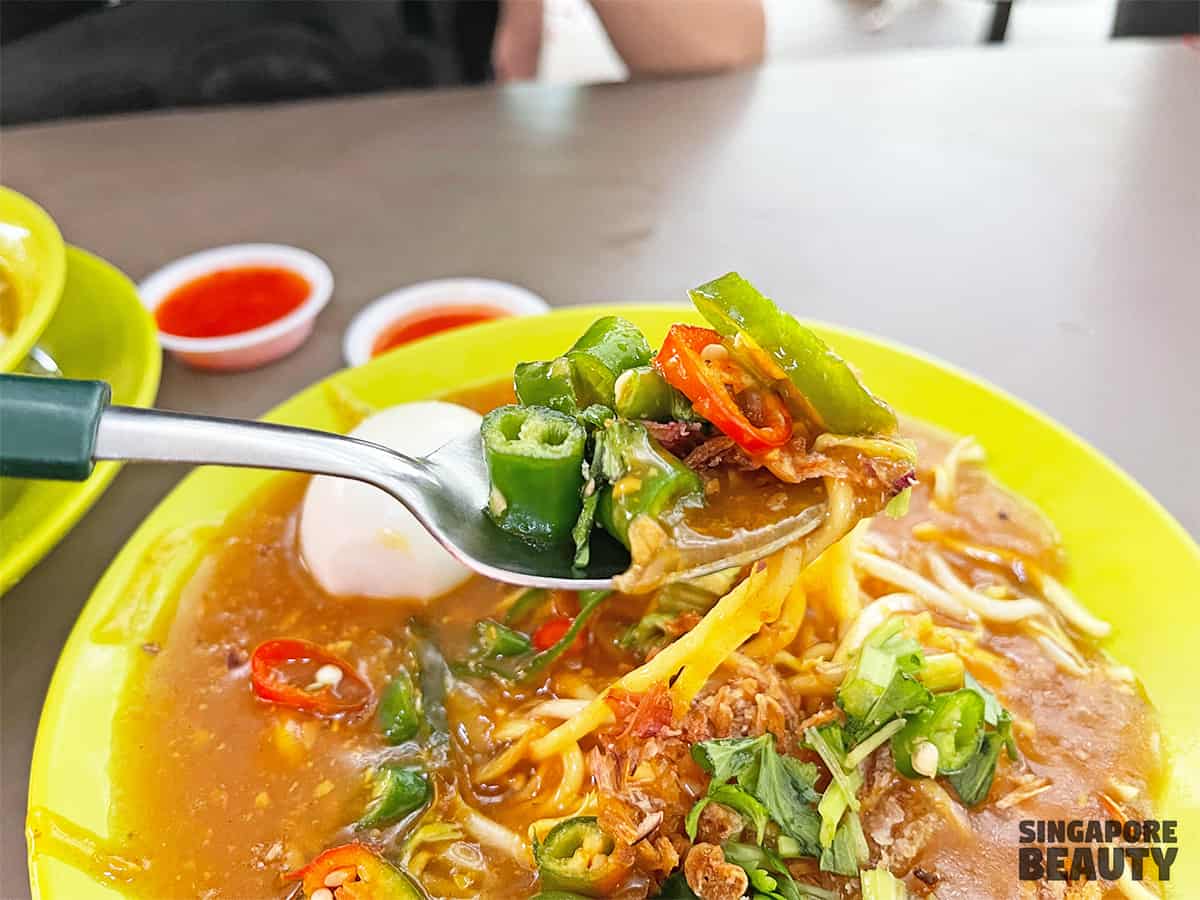 The mee rebus is a dish at Inspirasi that has yellow egg noodles doused in a luxu brown gravy topped with some fresh herbs. Many would just shove these fresh thickly cut green chilli, crisp fried shallots and chopped celery aside and dig into the noodle.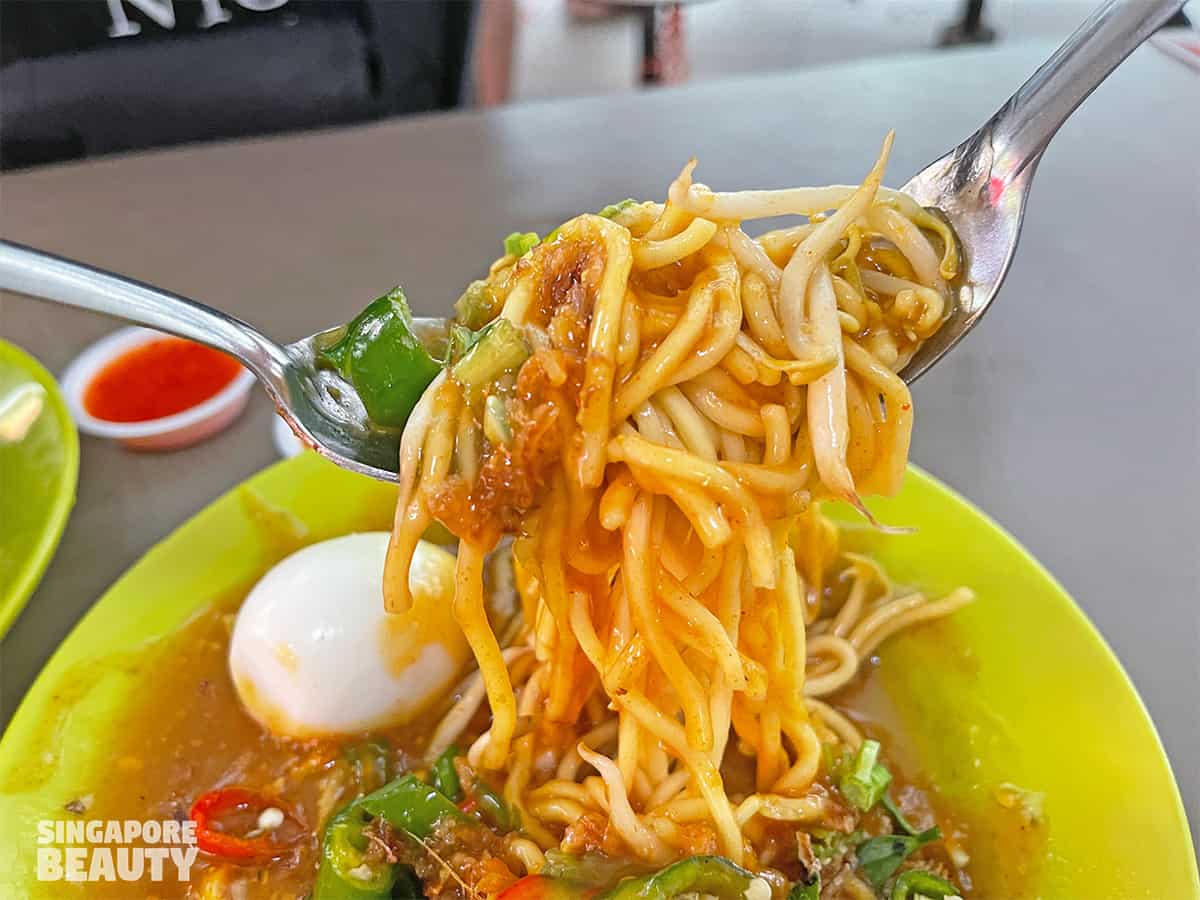 To fully enjoy this flavourful dish, you need to eat the noodle with gravy together with these garnishing. The fresh cut green peppers provide a refreshing, spicy kick and crunch to the dish. The earthy flavours of the green peppers are must have in this mee rebus.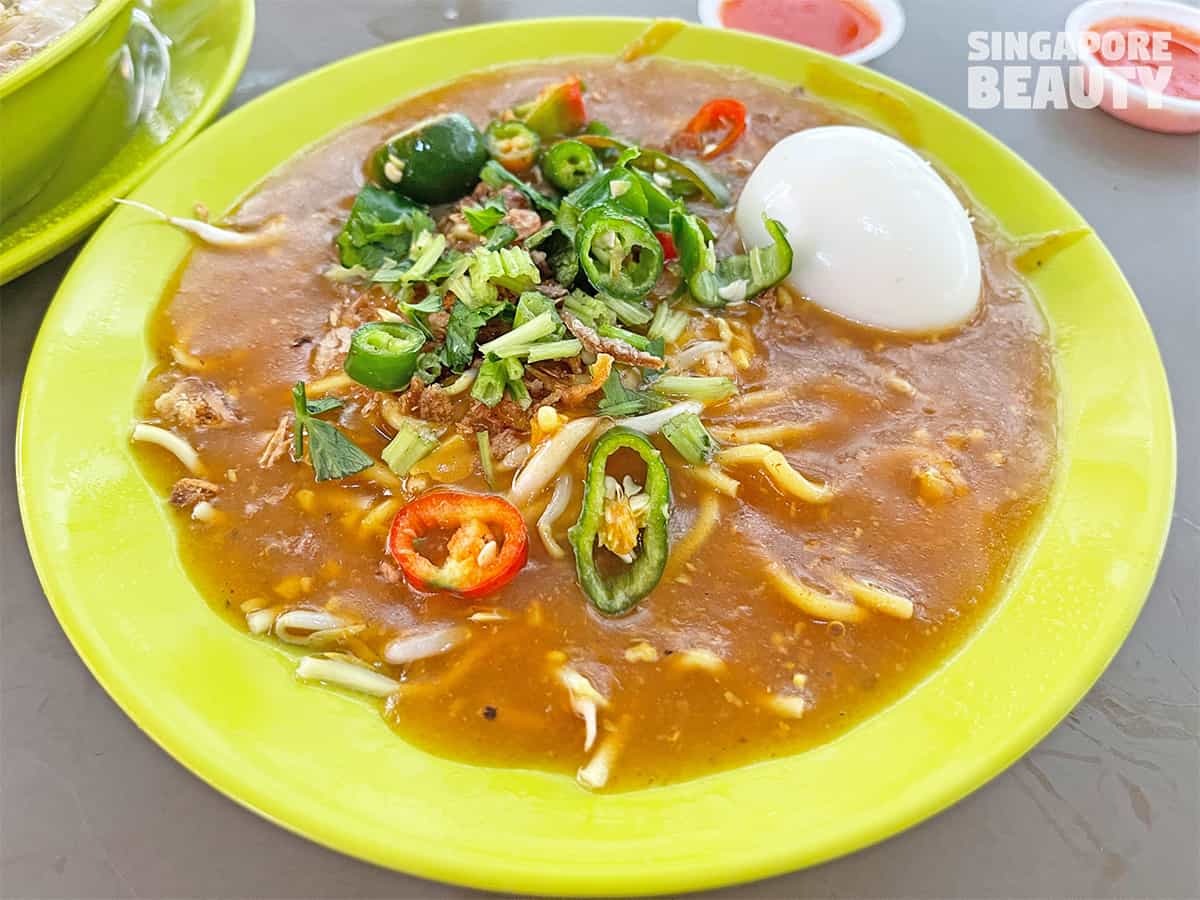 Ever wonder why the gravy of this mee rebus at Inspirasi tastes so good? The gravy is made with chicken bones stock, ikan bilis (dried anchovies), sweet potatoes, fermentated tau cheo (bean paste) and curry powder and more for the extra velvety gravy.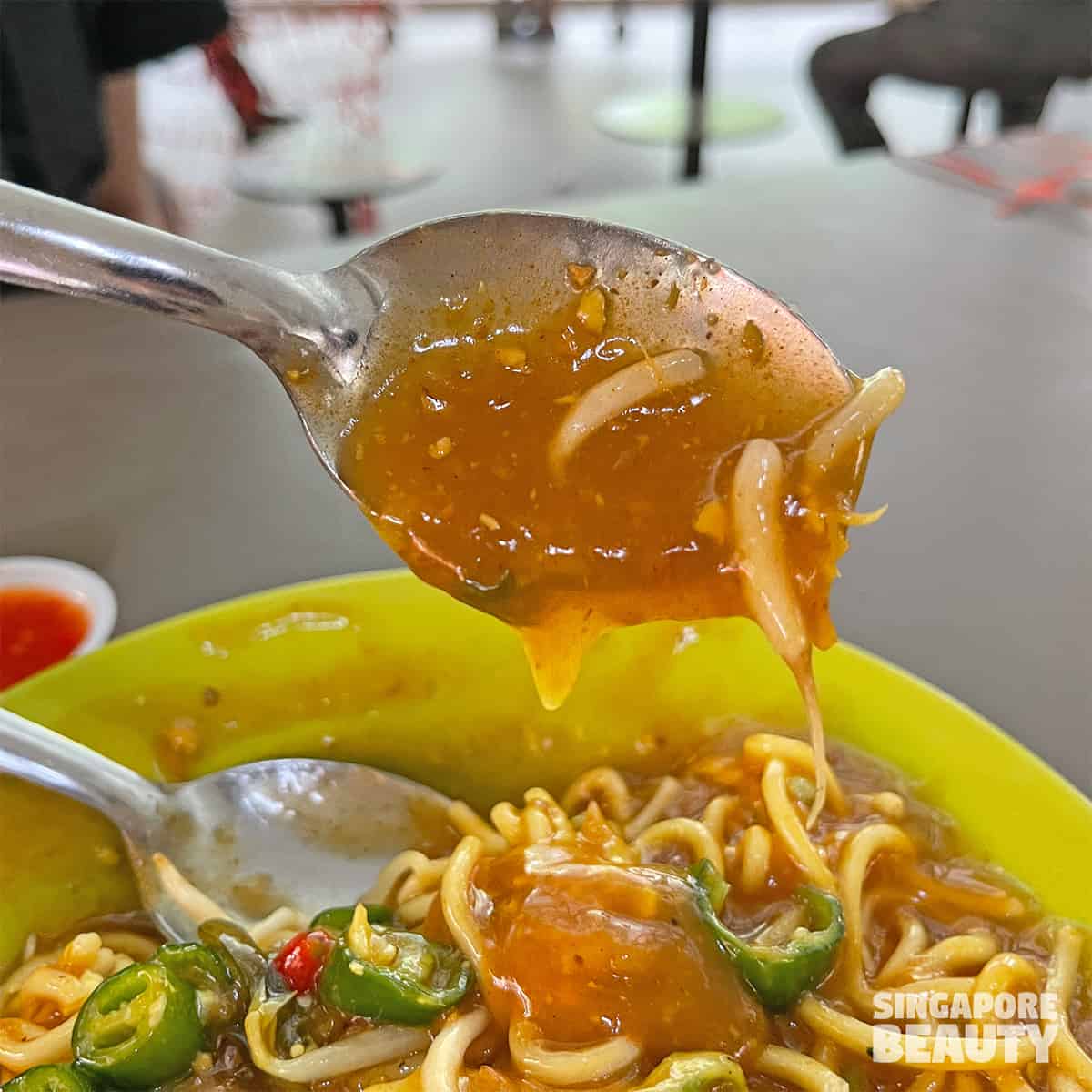 The gooey and rich texture of the gravy is due to the use of sweet potato and stays thick and rich to the last drop. Very slurp worthy indeed.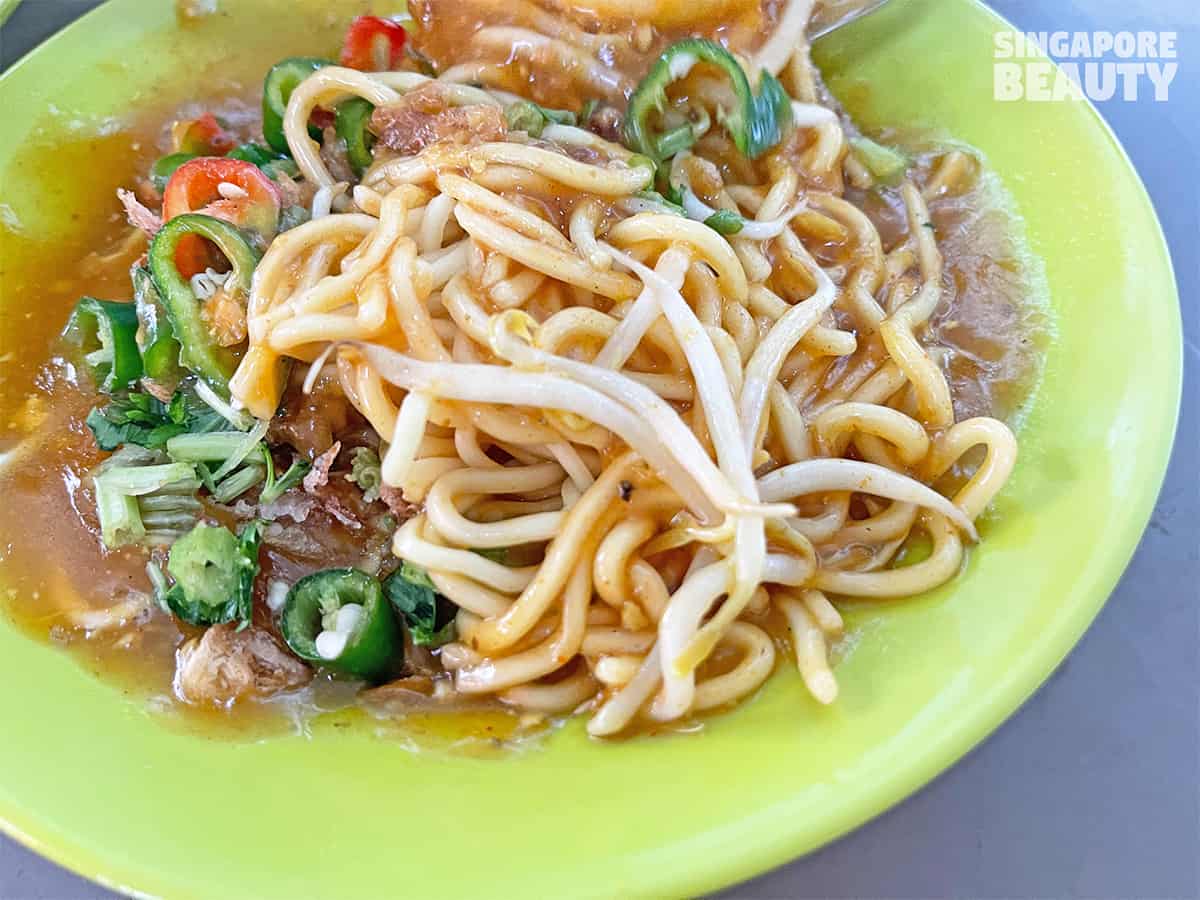 Every strand of the yellow noodle is coated with the savoury brown nutty sauce, together with the crunchy sweet beansprouts, these are a pair made in heaven. The noodles at Inspirasi are slightly springy and chewy with an al dental bite to them.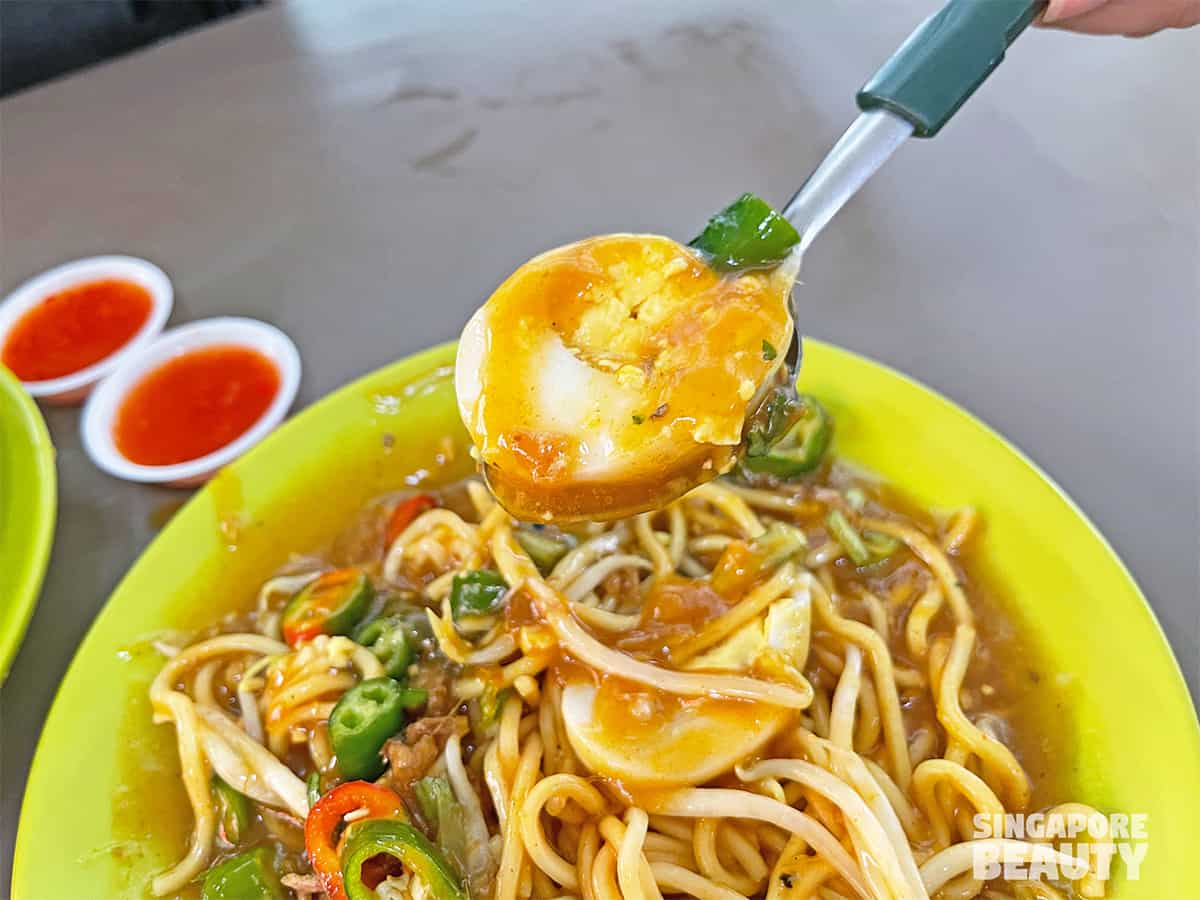 Comes with a whole hard boiled egg as well. I love to coat the egg with the gravy for extra creamy texture and to counter the dry yolk as well.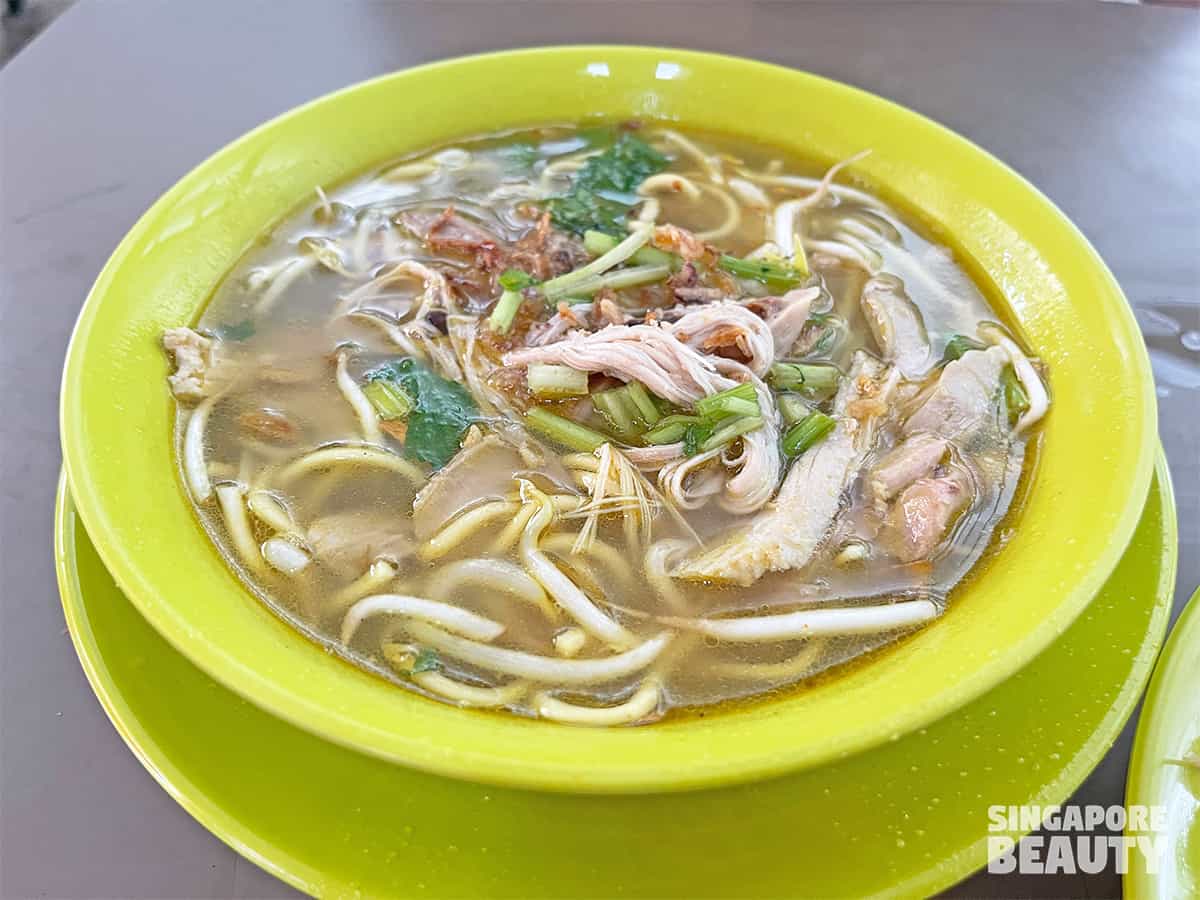 The mee soto is a bowl of comforting yellow noodle soup with shredded debone chicken in a savoury chicken broth.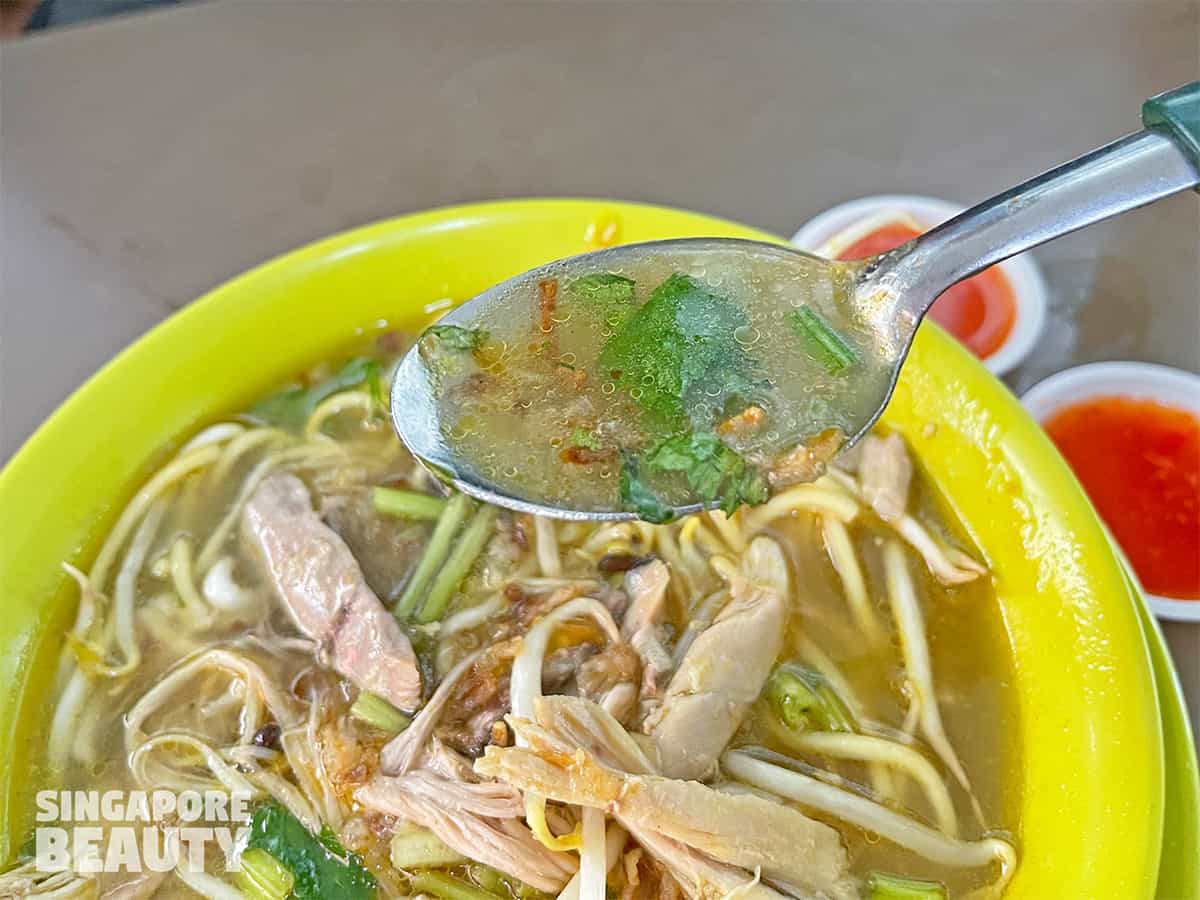 The soul of this Inspirasi mee soto lies in the chicken stock that is boiled for up to 12 hours in a cauldron till the flavours of the chicken bones are all infused into the soup. The soup has a golden hue with the chicken fats all separated into tiny golden spots of chicken essence.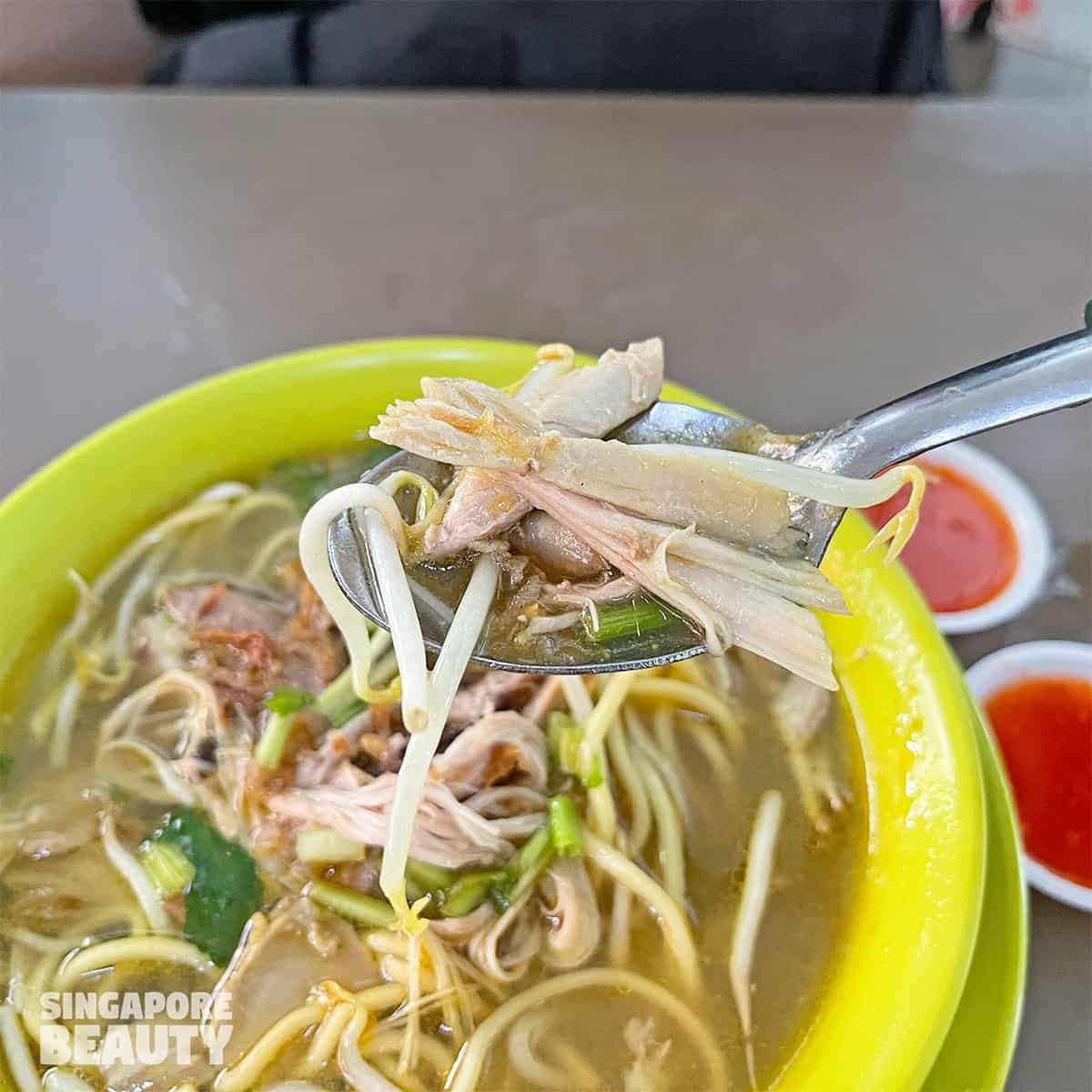 The chicken are shredded and deboned for ease of consumption. These are amazingly tender and moist too. chicken with bean sprout are a big yes for me.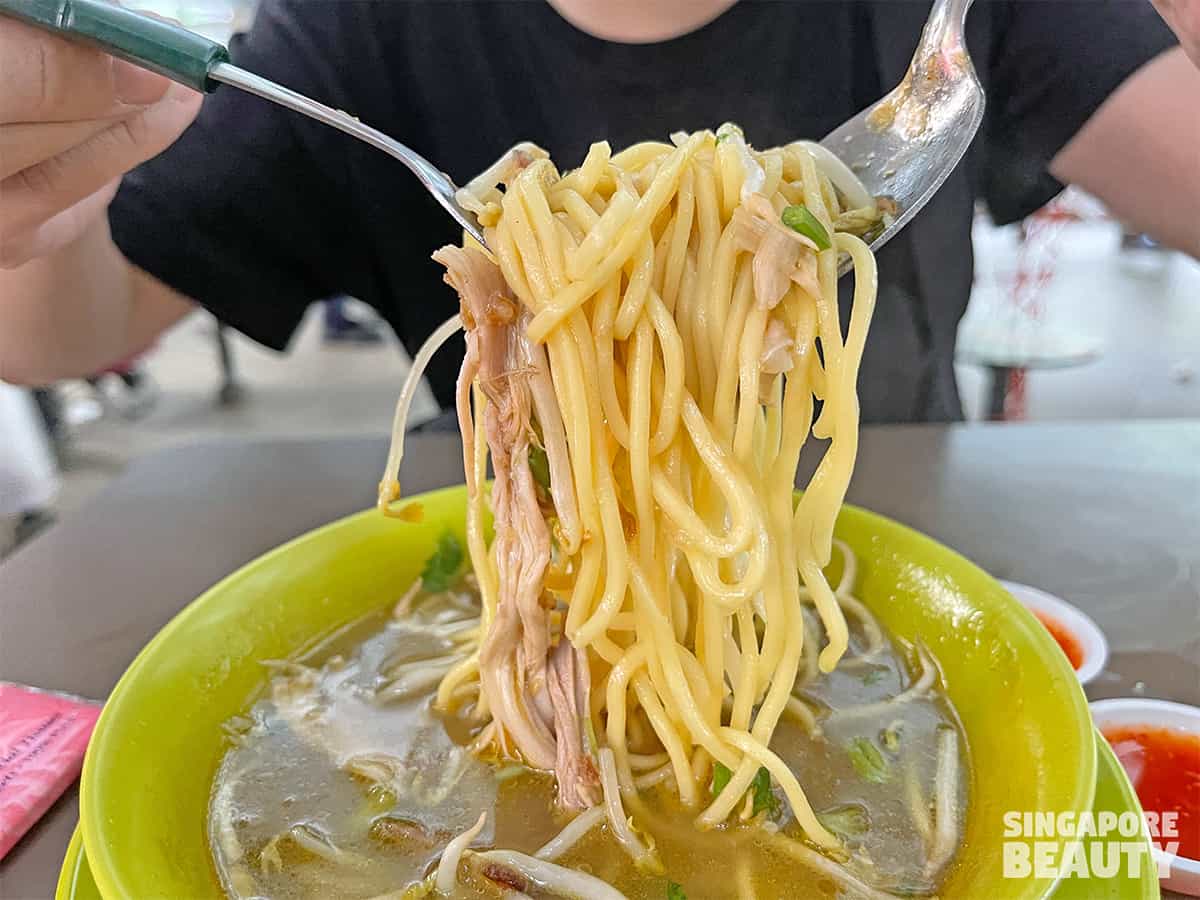 For $2.50, the amount of noodles is also considered acceptable. Great for a late afternoon bite between meals.
Load on the free flow watery looking red chilli at the stall. This chilli sauce pack a punch with a vinegar based. However, it seems to have mallow down in terms of the spice heat level over the years. It is less spicy now but still an indispensable part of the mee soto experience.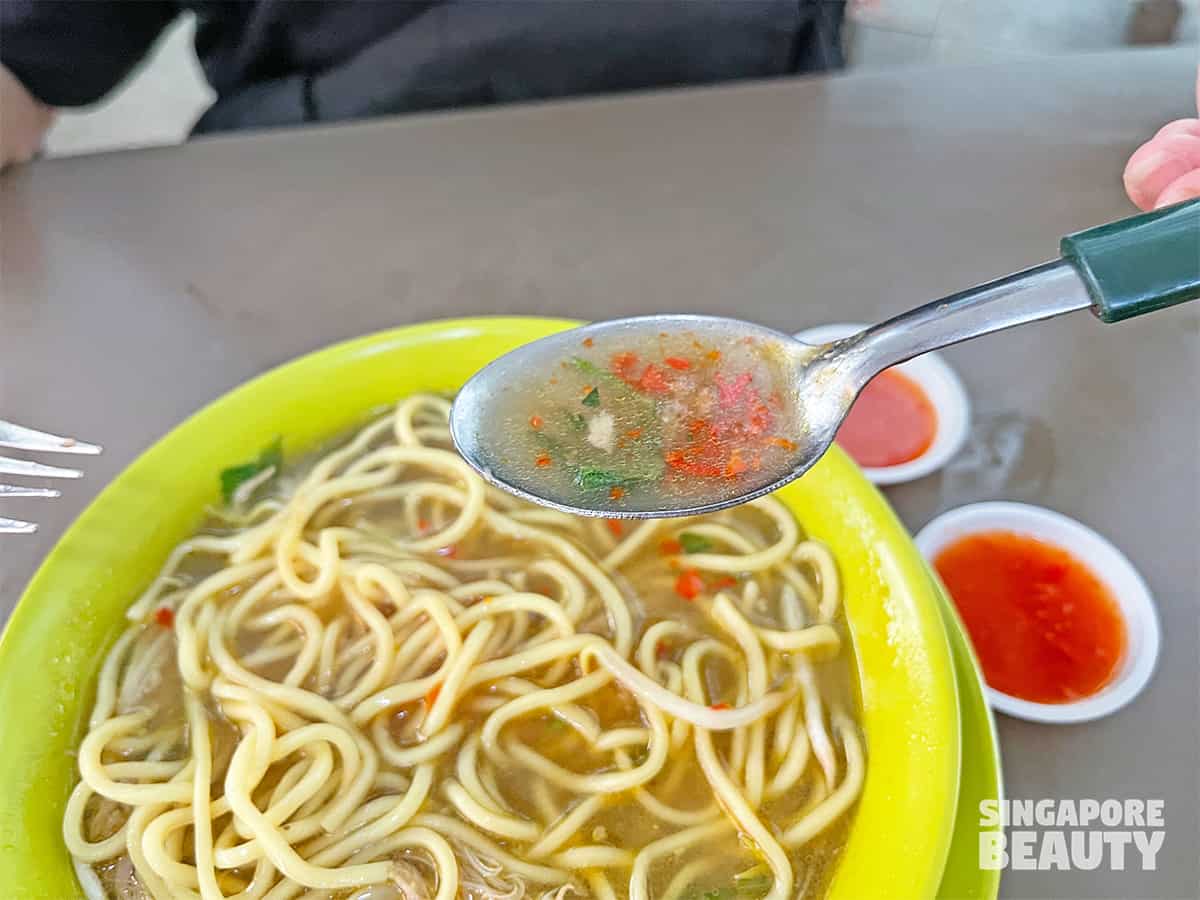 Super shiok and sedap to drink the mee soto chicken soup with chilli sauce mixed into it.
Head over to Inspirasi today when you are craving for good traditional Malay food such as Mee rebus which is cheap and good.
Location of Inspirasi:
Bedok Interchange Hawker Centre
207 New Upper Changi Rd, #01-64
Opening hours:
11:30AM to 9.30PM or earlier till sold out
Closed on Sunday