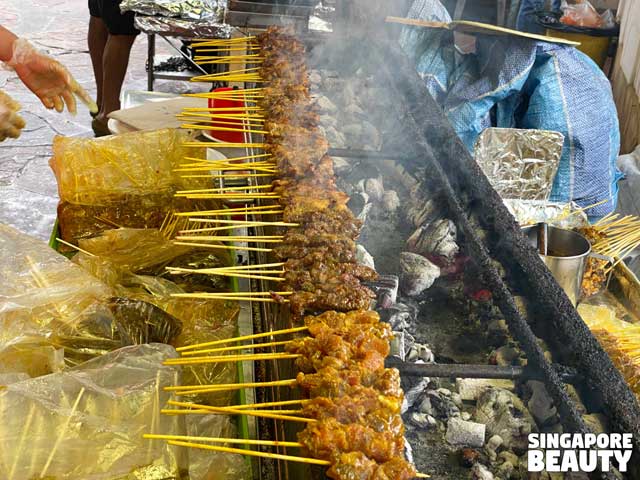 Haron Satay & Chicken Wing aka Haron Satay 30 has come a long way from being razed by a fire in 2013 to the passing of their founder in 2016. Emerging out of all these, is the famous and popular satay holding on to its reign and crowned the title of Singapore Hawker Master in 2011. It is also one of the must eat local satay stall at East coast lagoon food village.
Winner of Class 95's Foodie's Choice for BEST SATAY as voted by their listeners. These are halal satay that are fit for the president of Singapore as they are invited to serve their satay to the Istana. They also have a Haron 55 restaurant at Upper East Coast Road serving satay bentos and platters.
Haron Satay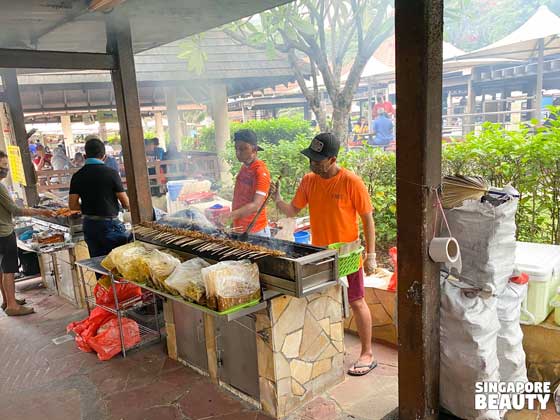 East Coast Lagoon Food Village is famous for the BBQ seafood, fried oysters omelette, barbecued chicken wings and satay. The number of satay vendors here are impressive. They literally lined the edge of the food village with red hot white coals barbecue pits. It can get a little overwhelming when you are in the belly of this satay heaven. There are quite a number of stalls to choose from here.
The hawkers are well versed in many international languages Chinese, dialect, Japanese and Korean to entice you to try the satay from their stall as soon as they see you approaching the vicinity of the satay "battle" grounds. The competition is stiff here with so many good satay stalls around, however the relationships among the hawkers remain an amicable one with the competing hawkers joking with one another.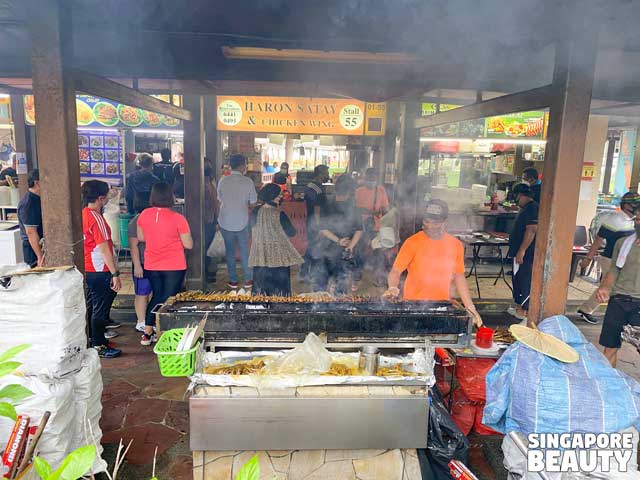 Haron Satay is known to be the favourite among many media reviews. Having heard much about the famous satay stall, I did a beeline for it. Feeling kind of apologetic to the others equally deserving satay stalls who have been so friendly welcoming us into their satay territory.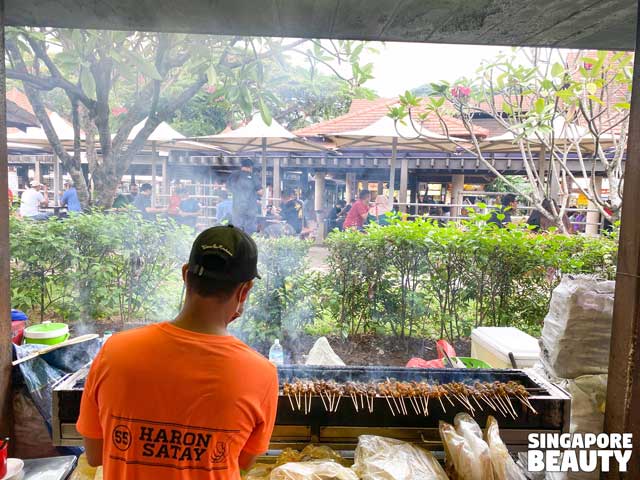 The lack of fan exhaust cause the white fumes from the barbeque pits to be built up within the area. You can be assured that the satay from these stalls have char grilled and smoky flavours as majority of them are using charcoal instead of the electric grill. It is almost like a homely Malay village community with foot-tapping traditional instrumental music playing in the backgrounds with vibrant vocals. Lots of choices for Muslim food like mee goreng, rendang and of cos halal satay.
Haron Satay & Chicken Wing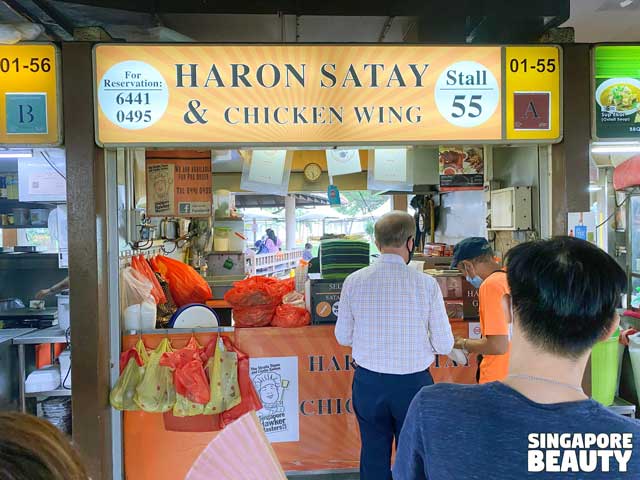 The queue is insane and we were sweating by the buckets when we exited the "zone". We made our order and left with a food pager that will sound when your food is ready. The pager is really a good idea as the barbequing grounds were smoking hot. You have to self service as the crowd is really overwhelming during peak hours. The peak hours for Haron Satay is from 6 pm till 10 pm. Be prepare to wait at least 30 minutes for your satay but as saying goes "all good things must wait".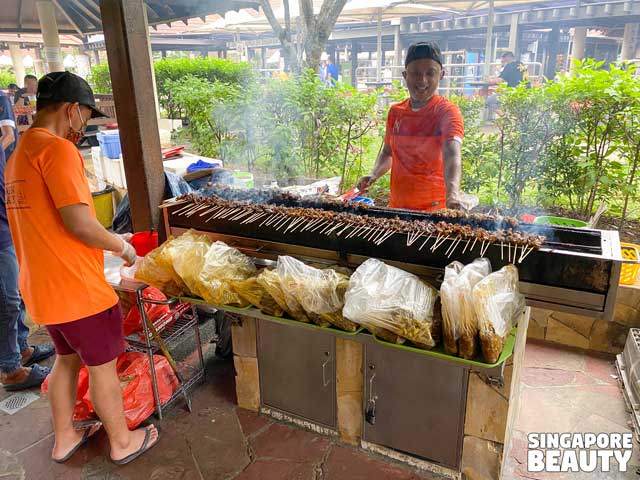 History of Haron Satay
The regulars nicknamed the satay as bakar-ed satay Haron as a tribute to the late Mr Haron Abu Bakar who founded the Satay in 1978. Mr Haron Abu Bakar has shared his delicious satay to as far as Florida and Dubai beyond his home ground, Singapore. He used to supply his satay to our national carrier Singapore Airlines specially for the business and first class cabin.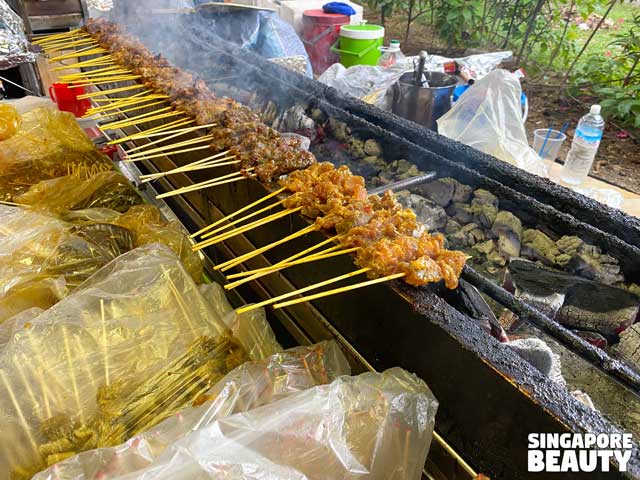 According to them, only fresh meats are used in the handmade satay. The meat are skewered by hand and kept no more than 3 days to maintain the freshness of the batches. Choice of meat includes beef, beef tripe or babat in Malay, chicken and mutton. The meat are marinated and seasoned with their secret spices for at least 30 minutes.
The satay is kind of chunky and reasonable for the price. The satays are grilled evenly on a barbeque trough filled with red hot coals. The stall hand keeps an eager eye on the satay as he rotates them around and flips them skillfully like a fan of satay. These are tender and moist even after barbecuing for about 5-7 minutes.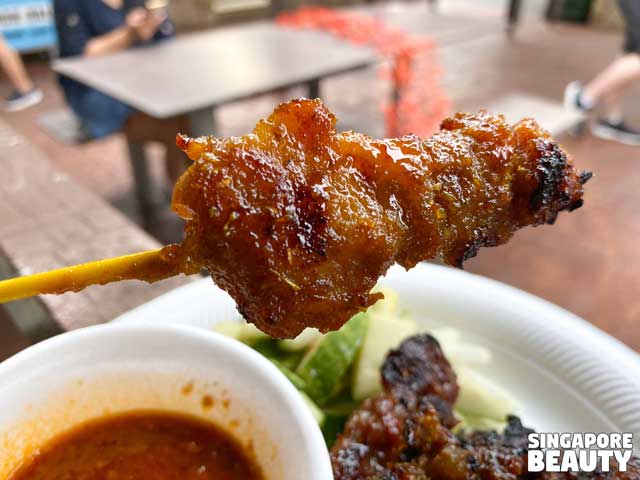 The meat is honeyed and has a malt like glaze to each skewer of meat. The section of the meat looks like the texture of smoked or waxed meat. With a nice chew and succulent texture, that keep many returning. It has a turmeric aroma with an appetizing amber hue.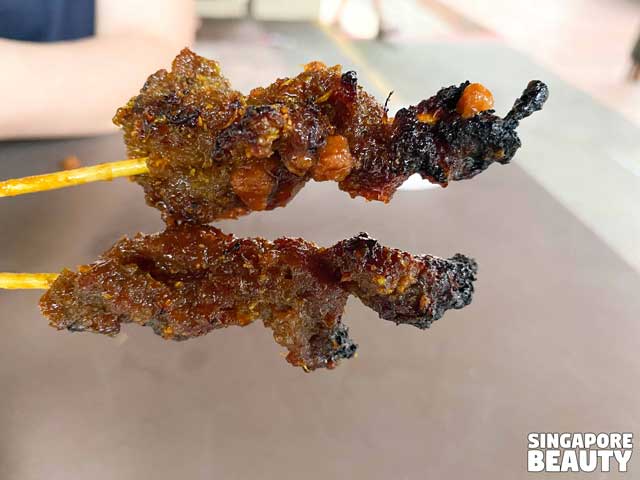 Each stick of satay comes with a good amount of char fond parts and equally good portion of smoky meat. The secret to their delicious satay is keeping the charcoal hot.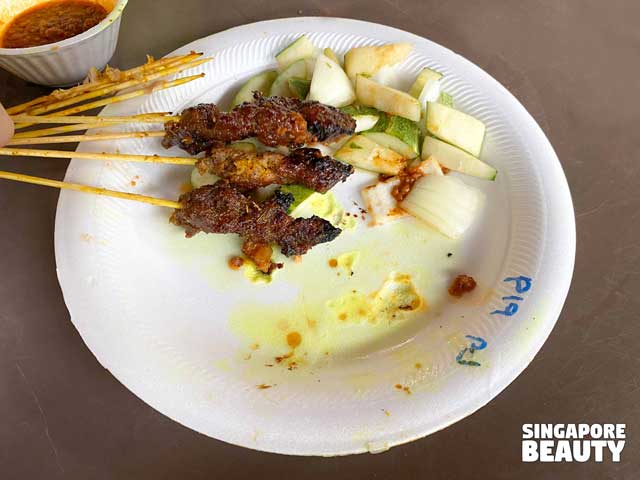 As shown above, styrofoam and hot satay do not go well together. The ketupat that is used are the convenience type with rice in a plastic pouch and not the traditional ones made by the weaving of palm leaves. The plastic type lacks the aroma of the leaves and am not too keen on stuff cooked in plastic, even though it might be food grade. Ketupat are rice dumplings boiled in handwoven palm leaves pouch in the shape of a diamond. If you really need some ketupat in traditional palm leaves pouch, you can consider getting them from Heng Heng which also sells non halal satay.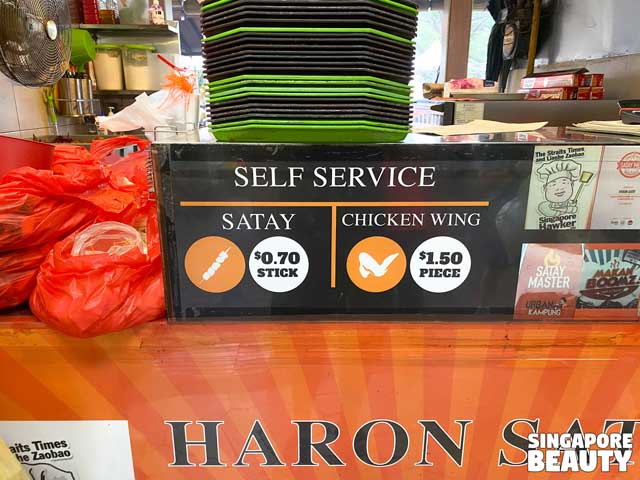 Do note that there is a minimum order of 10 sticks at 70 cents per stick. You are free to mix chicken, beef and mutton satay from Haron menu for this minimum order. We order 10 sticks of mixed satay ($7).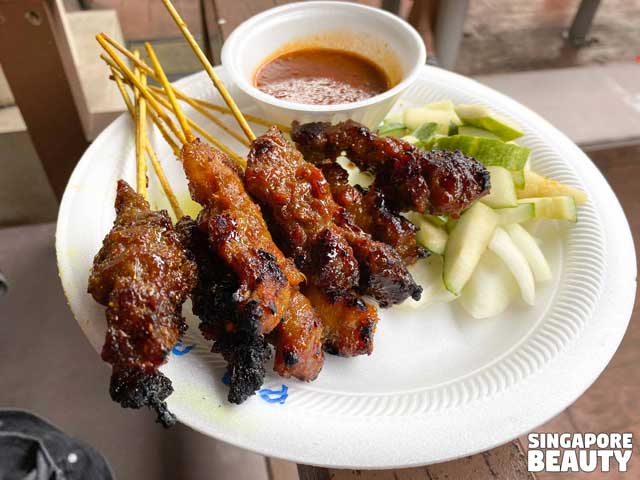 The satay come with some refreshing cucumber chunks, wedges of red onion and a bowl of homemade Javanese-style peanut sauce.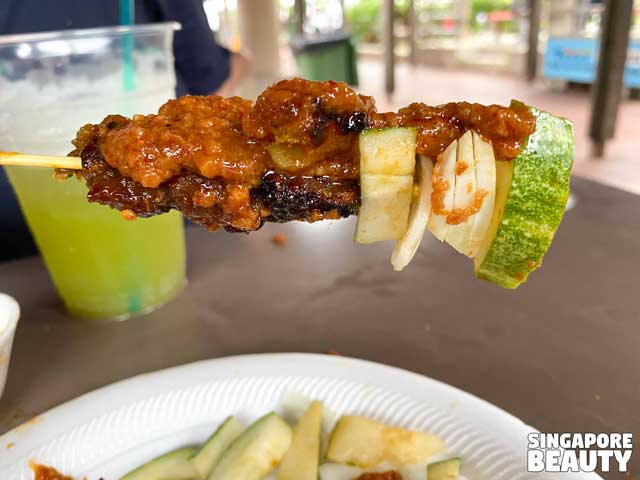 Peanut sauce is also made twice a day in stall to satisfy the massive orders. Thick and nutty with some chunks of almondy shaped nuts still present in the sauce.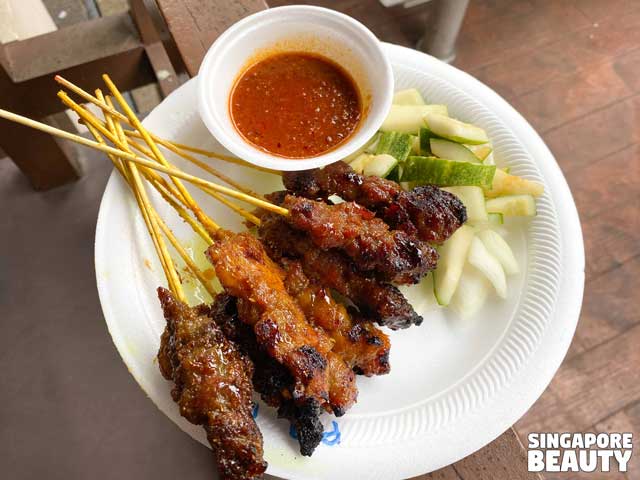 The chicken satay has a golden yellow hue to it, the beef satay has a reddish tint on the skewers ends and the mutton is the one in darkest hue. Of the Trio set of satay, we enjoyed the chicken most of all, followed by the beef and the mutton. The mutton has a gamey flavour to it and also has a chew compared to the others.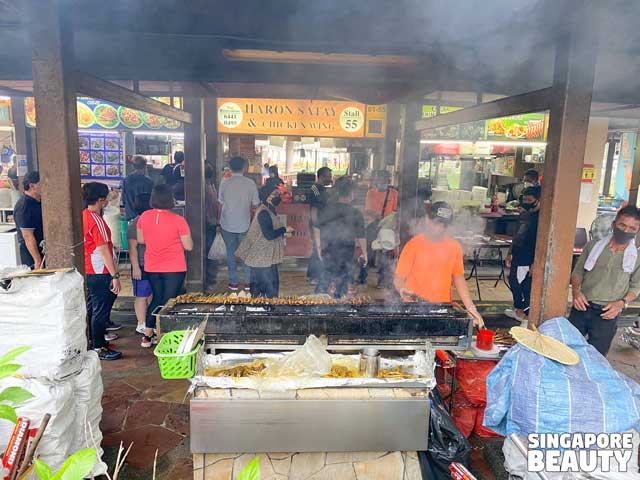 Haron Satay is now helmed by the second generation – a sister duo, Harlina Haron and Shima Salim. They have been operating this traditional satay family business for more than 40 years. Do get your plate of Haron satay when you are there!
Opening hours:
2pm till 11pm daily
Closed on Monday
Haron Satay & Chicken Wing Location :
East Coast Lagoon Food Village
East Coast Park Service Road, unit #01-55, Singapore 468960
Tel: +65 6441 0495