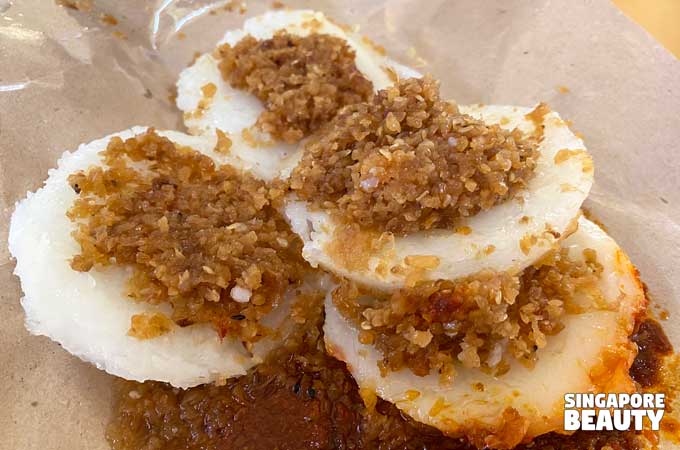 Chwee kueh is a steamed soft water cake made with water batter of rice flour and starch from either corn or tapioca or wheat. It is then poured into individual mini metal sliver mould and steamed at high heat. This is a Singapore breakfast staple for many elderly and young toddlers as the texture is soft enough to be enjoyed by anyone. There are many famous and popular chwee kueh stalls in Singapore such as Jian Bo Shui Kueh(Tiong Bahru), Ghim Moh, Kovan (Bendemeer Market and Food Centre), Sembawang Hills Shui Kway, Ah Ma, Xiang Xiang, Xin Xi chwee kueh (58 Bedok South) and this Chinatown branch of Bedok chwee kueh (New Upper Changi road) with Michelin Guide mention.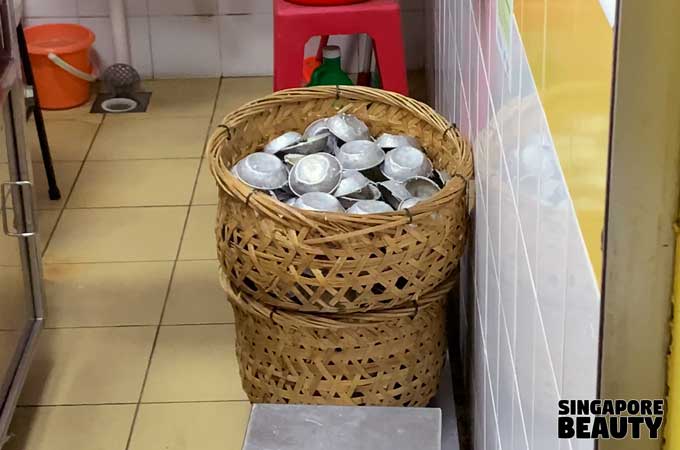 This is a Teochew snack. The name Chwee Kueh水粿 means "water cake" chwee is water in Hokkien and kueh refers to cake in Malay. As indicated by the name, these small kuehs are made up mostly of water and flour, after steaming these are allowed to cool down in their little moulds. These are then stacked atop each other in a woven basket and set aside until they are ready to be plated.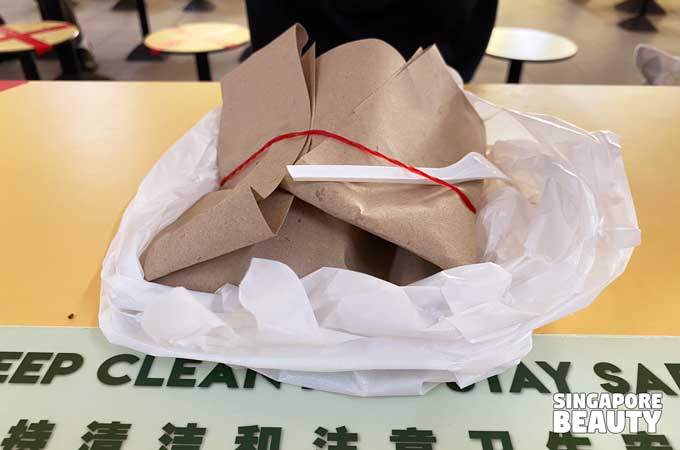 These shui kueh are old school food that are packed in a brown wax paper tie together with a red rubber band and eaten with a mini dessert fork. The more traditional ones usually come with a toothpicks or just a satay sticks as utensil, which works well too and more environmental friendly.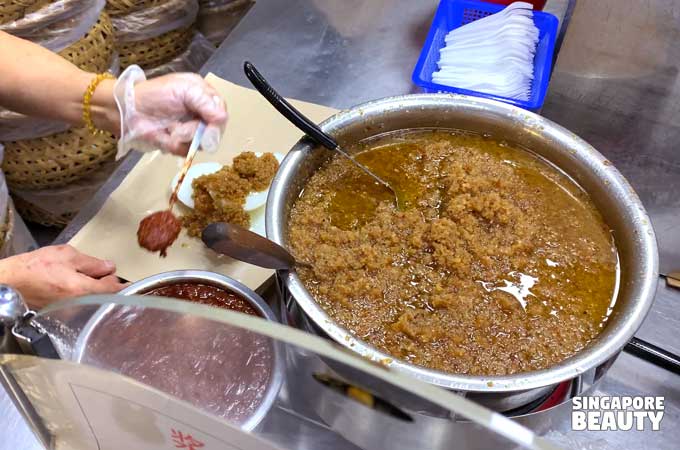 Chwee kueh is topped with sweet and savoury cai poh and a dollop of chilli paste. Cai poh is preserved radish or turnips that is minced. These are then stir fried in shallot oil and sometimes pork lard to give it a nice aroma and umaminess. Here they use vegetable oil instead for health reason. The chye poh is so addictive with its sweet and savoury flavour. The pot of caramelised brown stew shown in the picture is the cai poh which is also preserved turnips.
These water cakes are stacked on top of one another and given a few generous ladle of cai poh. The sticky texture of the rice cake complements the mild crunch from the toppings. The shallot oil from the toppings helps to glaze each and every of the kueh to give it a silky smooth texture. The shui kueh is quite bland on its own with a mild sweet rice flavour.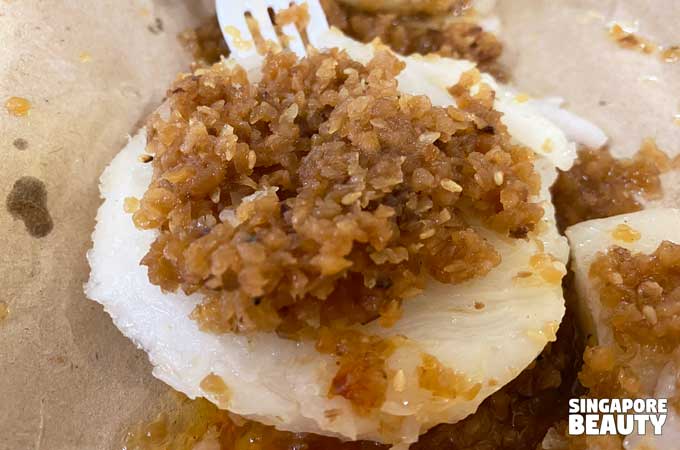 The minced turnip also has nice burst of sesame seeds oil and mild garlic flavour. It is not overly oily and you can still feel the stickiness of the cake which is quite enjoyable. It is like a wobbly jelly with a QQ texture. The cakes sold here are bigger in size than normal mainstream ones.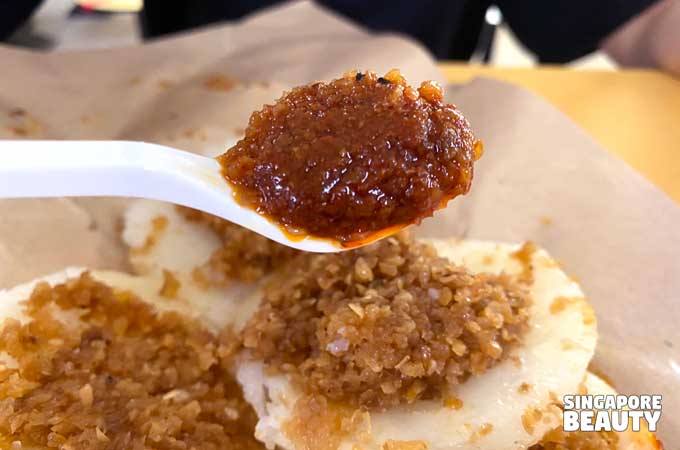 The chilli paste has a kick to it and a mild sambal shrimpy flavour. The heat from the chilli helps to cut away the greasiness if you ever feel any at one point of eating these.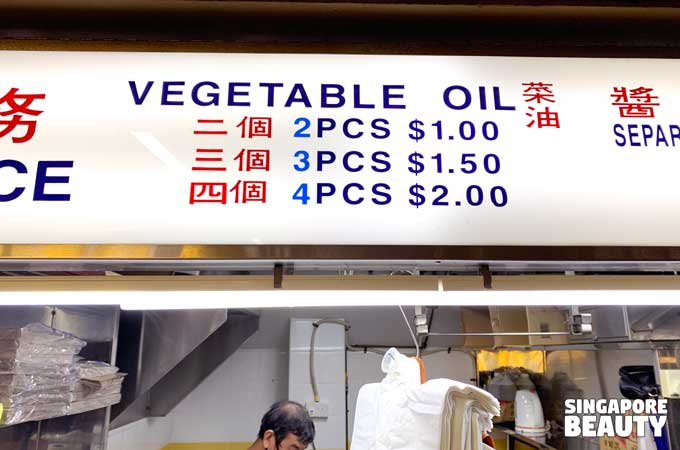 These are sold at 2 for $1 and additional of 50 cents per cake. Usually, I will buy 6 of these as two may be too little for me. However, it is commendable that they are selling at minimum of 2 piece per buy so that young toddlers and the elderly can enjoy too if they are looking for a small bite to go with a kopi or tea.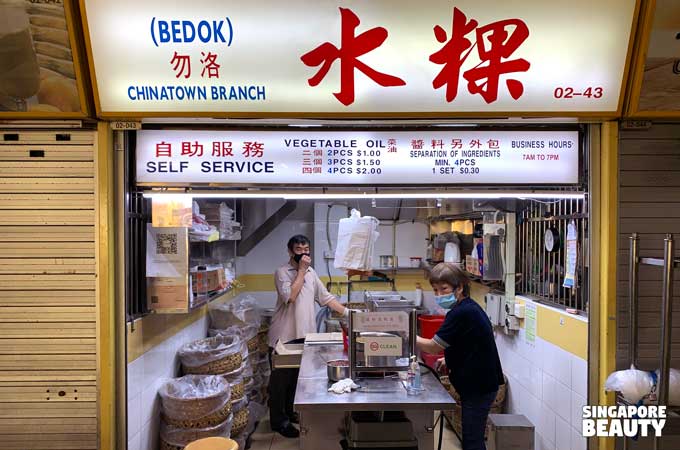 Do pop by to enjoy some of these affordable old school food.
Operating hours:
7.00 am to 8 pm daily
Bedok Chwee Kueh (Chinatown Branch) 勿落水粿 Location:
Chinatown Complex Market & Food Centre
Blk 335 smith street, #02-43, Singapore 050335