Good news for all meat lovers and seafood lovers! Have unlimited servings of meat and seafood at DM Chicken's 2-in-1 BBQ and Steamboat buffet.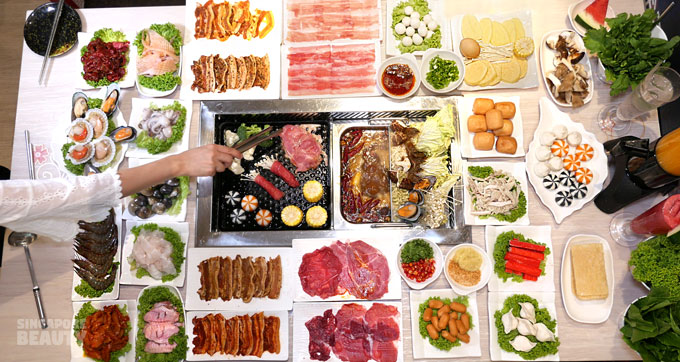 These servings come in manageable portions so that you get to enjoy a variety of dishes.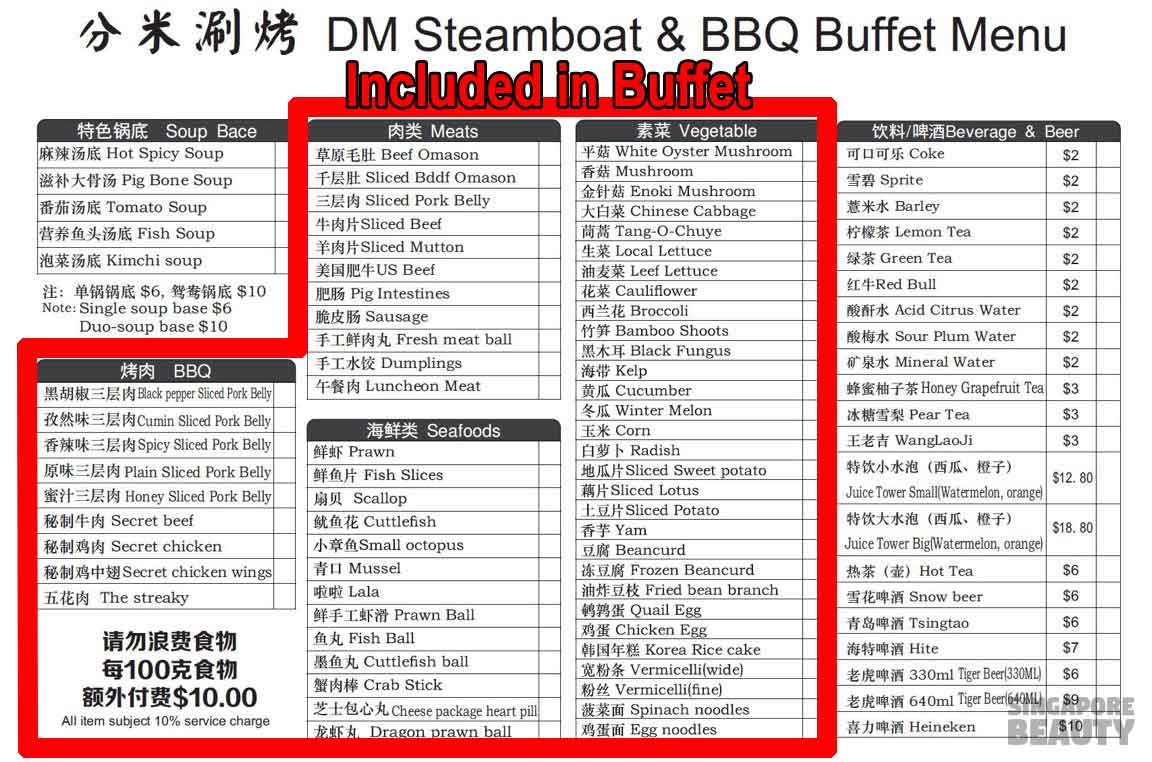 Menu consists of more than 70 selections – appetisers, BBQ meat, shabu shabu meat, seafood, surimi, vegetables – to keep every diner happy.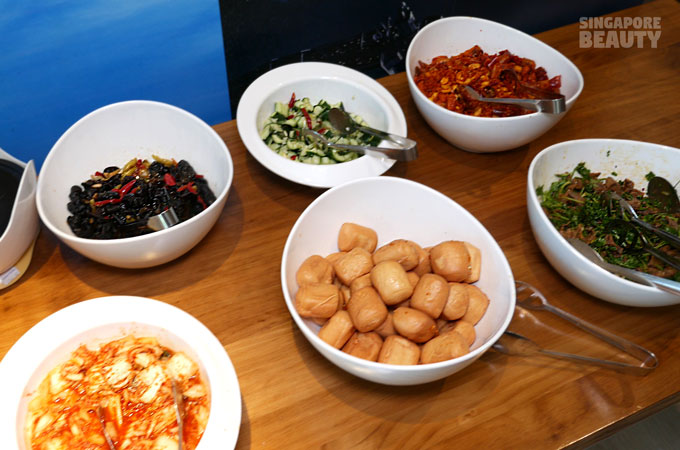 Six appetisers are cucumbers in vinaigrette dressing, mantou(crispy Chinese buns), braised pork intestines with parsley, toasted nuts with red peppers tossed in chilli spice, Kimchi and black fungus in vinaigrette dressing.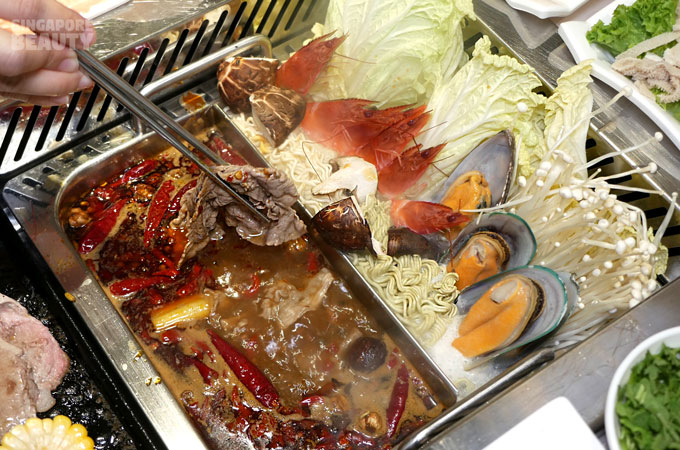 At DM Chicken, you can barbeque and steamboat at the same time. Soup bases available are hot and spicy, pork bone, red tomato, fish head and Kimchi broth. The hot and spicy soup is intensely flavourful with loads of roasted dried chilli, pepper corns, fragrant chilli oil and spices. Customise your preferred level of heat when you send the order. Steamboat is a add-on – single soup $6/ duo soup $10 with unlimited refill.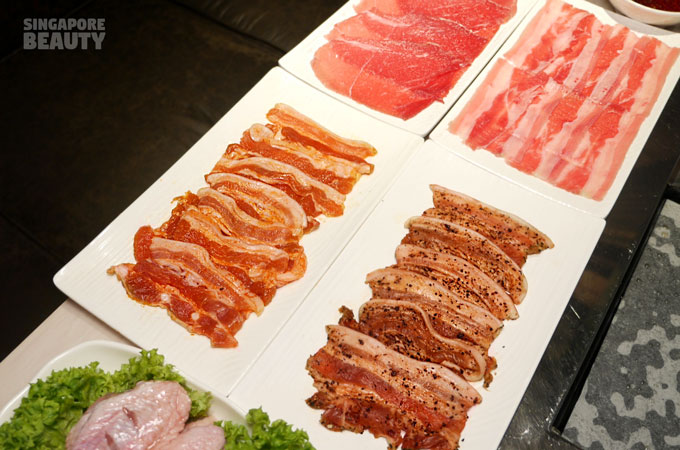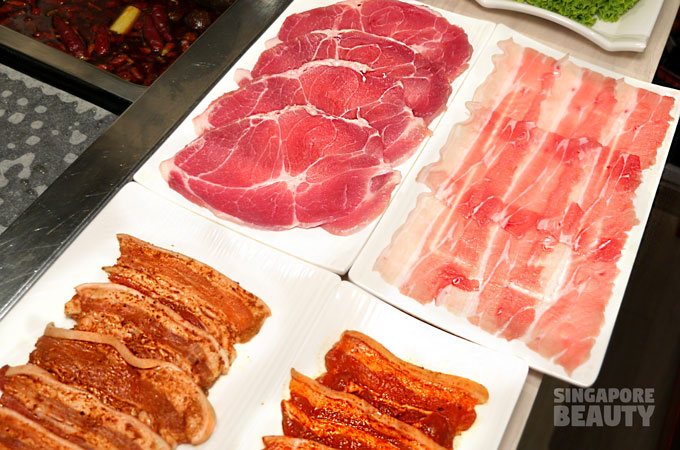 BBQ meats are marinated sliced pork belly in grounded black pepper, cumin, chilli flakes, honeyed flavour and in plain.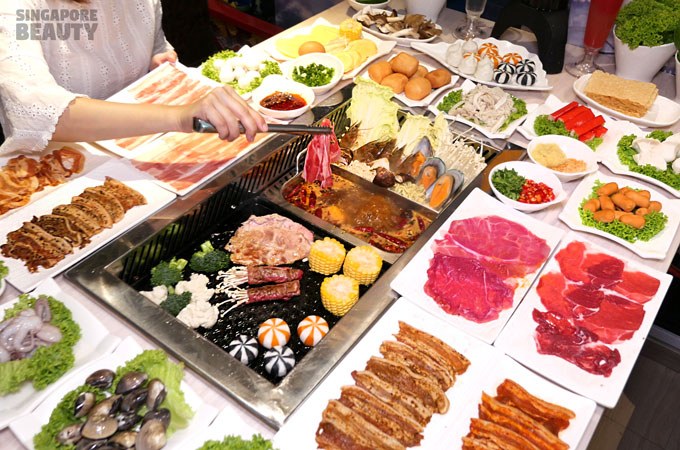 Try the beef, chicken thighs and mid wings in DM Chicken's secret marinade.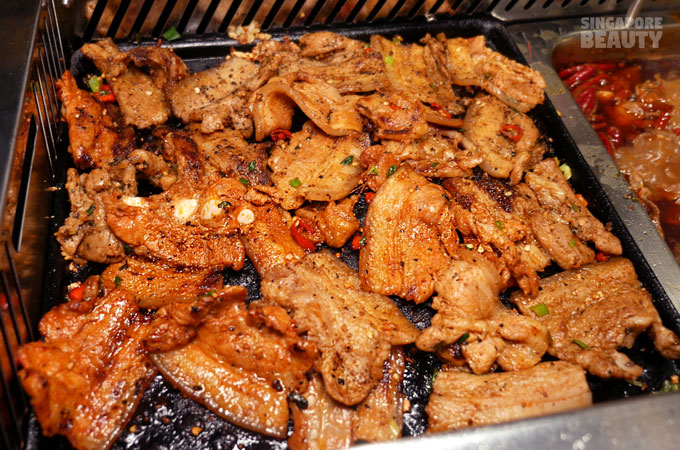 Not to forget the sinfully delicious streaky pork belly with gelatine-like pork skin.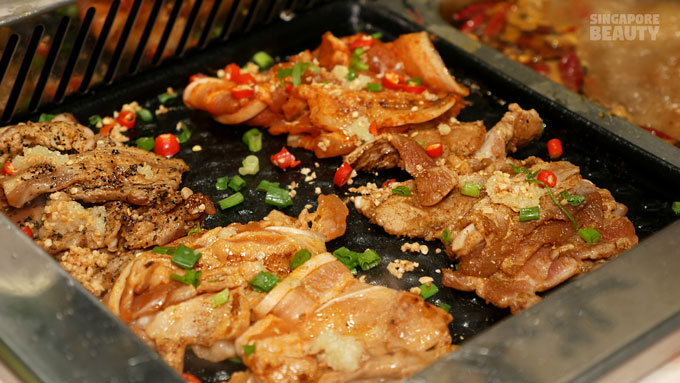 Up the game of barbecued meat with scallions, bird eye chilli and lots of garlic to bring out the flavours of the sizzling meat.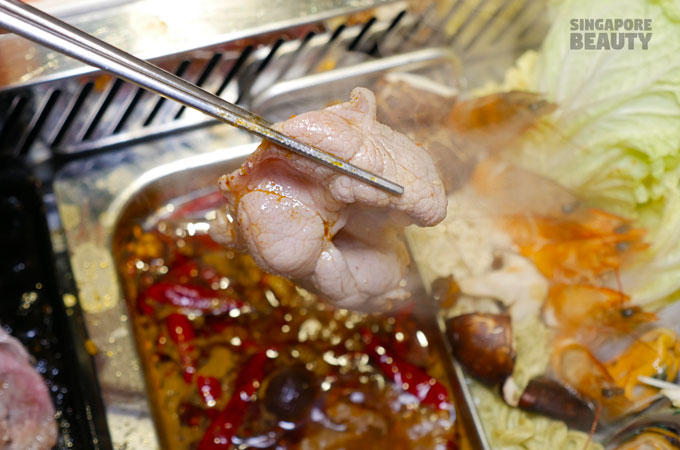 For the steamboat, choose from beef tripe, beef omasum, US beef, sliced shabu shabu mutton, sliced beef, pork belly, pork intestines, sausages, handmade fresh meat balls, handmade dumplings and luncheon meat.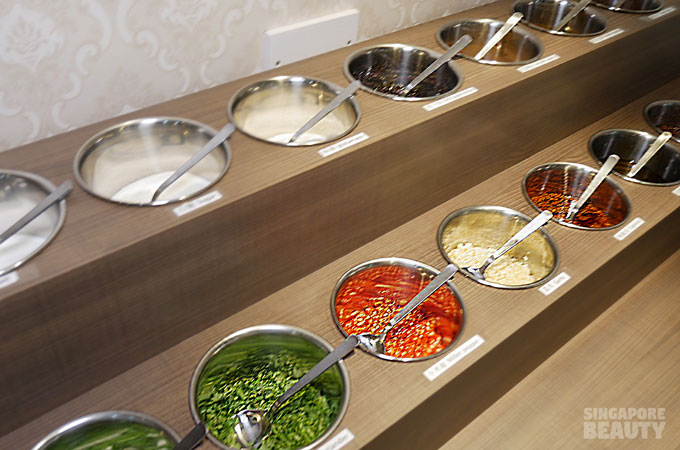 DIY your own meat sauce from the condiments station-scallions, chilli pepper flakes, coriander, chilli padi, garlic, chilli oil, pepper corn oil, sesame oil, vinegar, leek, fermented bean curd, peanut butter dressing, sesame paste, laoganma chilli, seasonings – at no extra cost.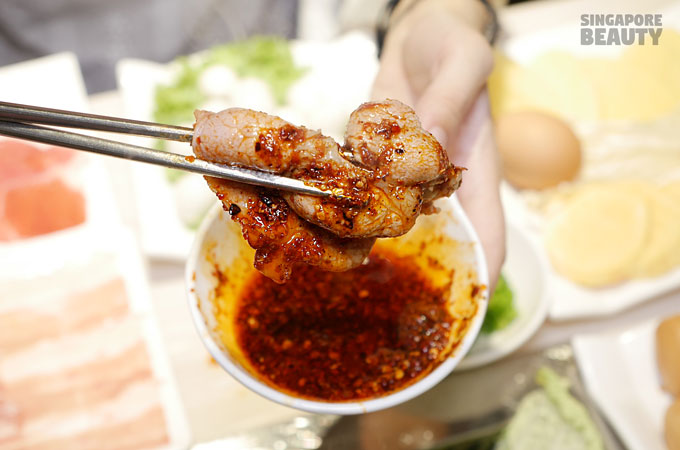 Create your own mala sauce with the dry chilli flakes and fragrant spicy chilli oil.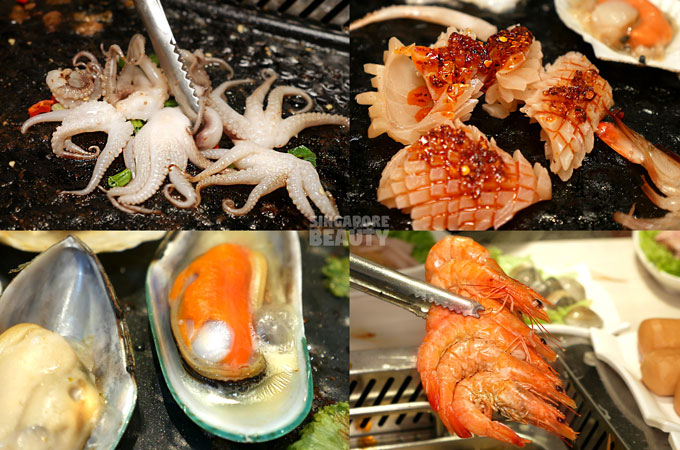 13 types of seafood and balls to choose from for seafood lovers. You are entitled to unlimited orders of prawns, scallops or any seafood you fancy at DM Chicken.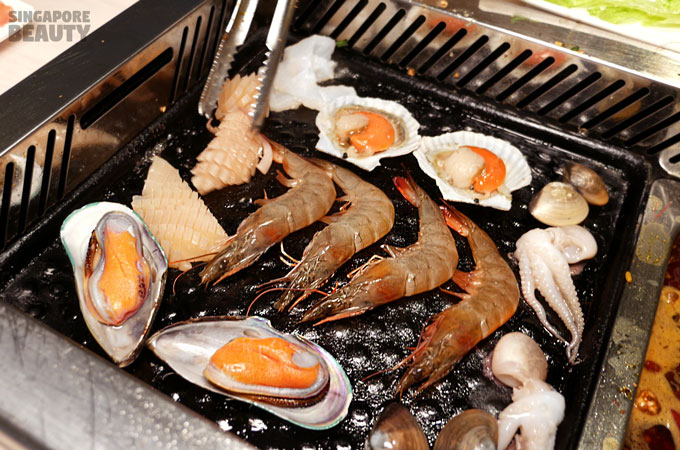 Seafood available are prawns, fish slices, lala, baby octopus, cuttlefish, mussels, half shell scallops, prawn ball, fish ball, squid balls, cuttlefish balls, crab sticks, cheese balls and lobster balls.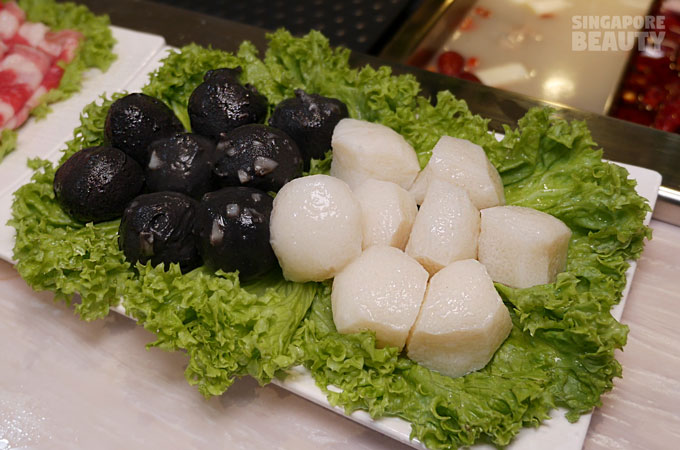 Squid balls with real squid bites in them.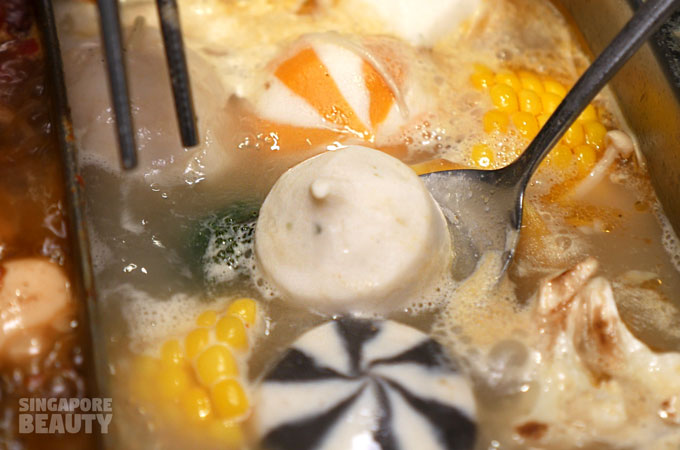 Newly added in the menu are the fish paste and squid paste balls with real fish roe and squid ink fillings.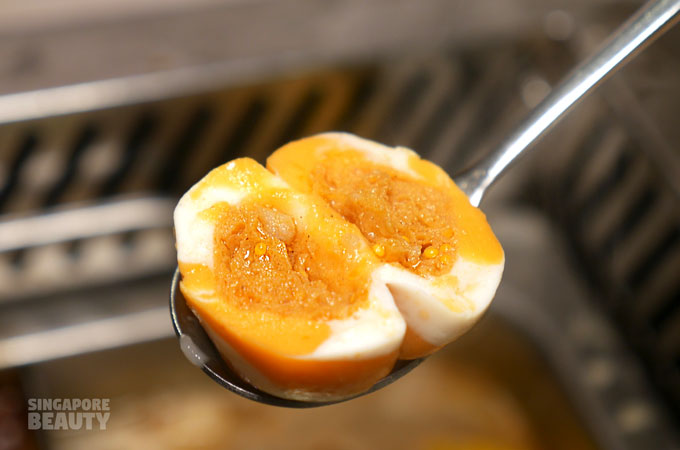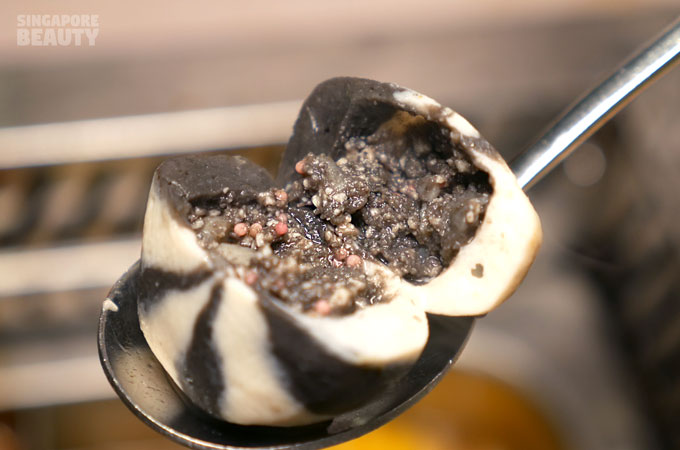 You can feel the crunchy bites of roe as they burst inside your mouth.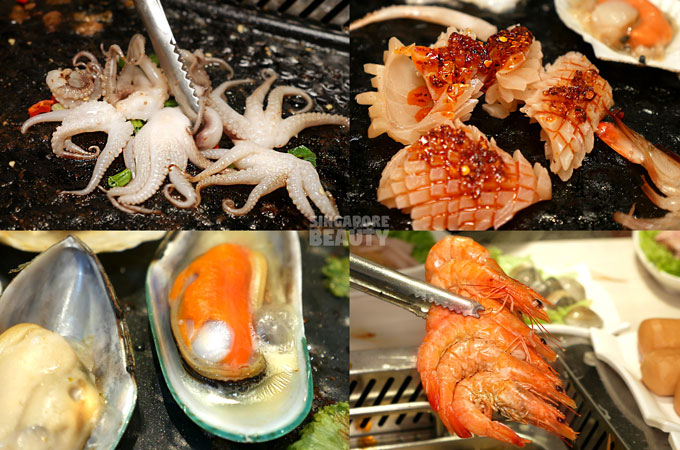 Cook the seafood lightly in the bubbling broth or barbecue them. Your custardy mussels and crunchy seafood (cuttlefish, prawns and baby octopus) are ready to be devoured.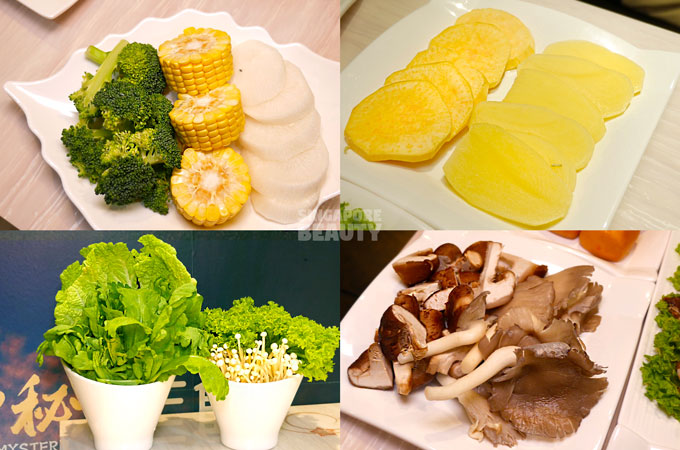 Sides included are oyster mushroom, shitake mushroom, enoki, Chinese cabbage, Tang-O, local lettuce, cauliflower, broccoli, bamboo shoot, black fungus, kelp, cucumber, winter melon, corn cob, radish, sliced sweet potato, sliced lotus, sliced potato, yam, bean curd, fried bean curd, Korean rice cake, potato vermicelli, fine vermicelli, spinach noodles and egg noodles.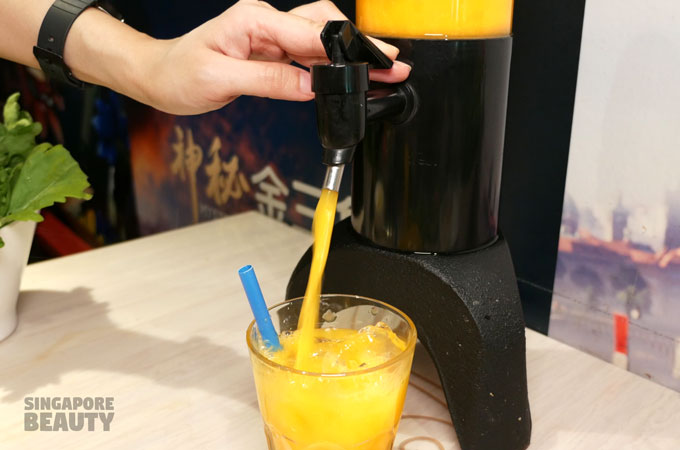 Add-on a watermelon or orange juice tower to complete your buffet. The juice towers starts from $12.80 or you can order other drinks that starts from $2.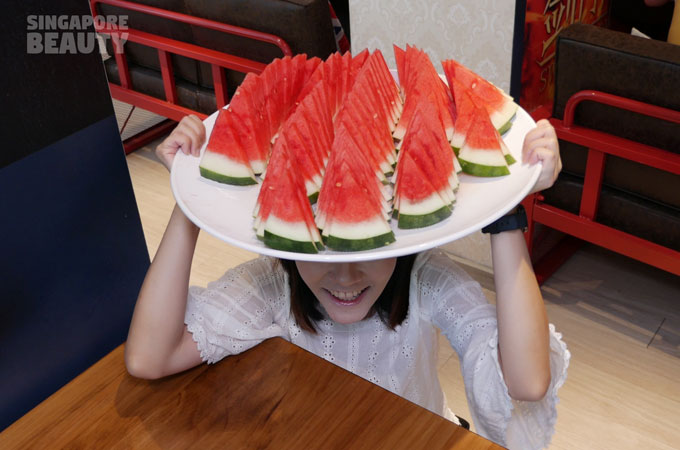 Look out for fruit of the day – cut watermelon – to end your meal on a sweet note literally.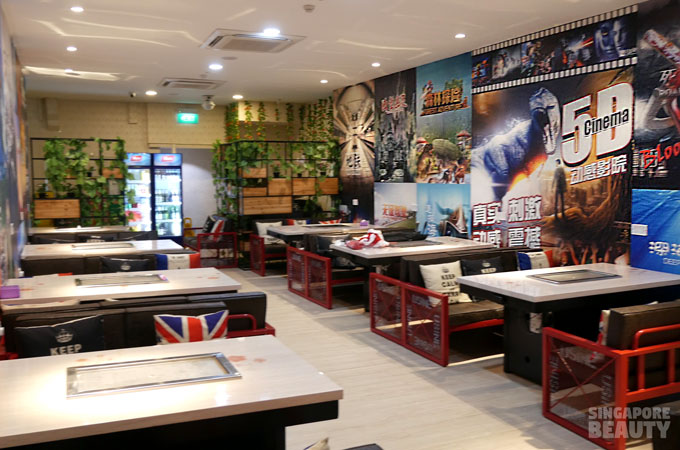 Comfortable cushioned bench with good size table set in a relaxed and cozy interior.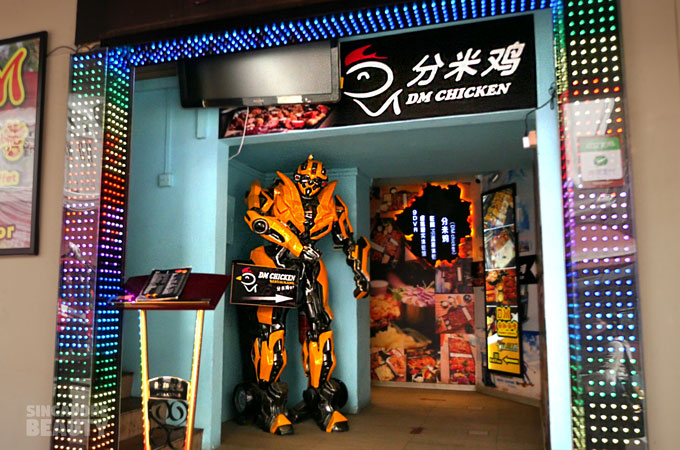 Head down to DM Chicken soon.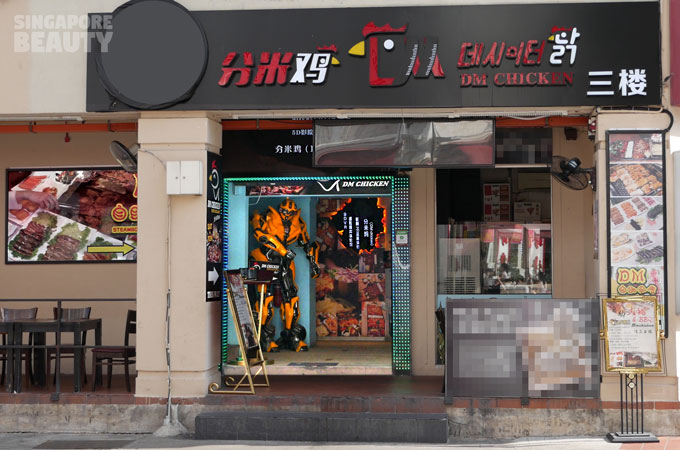 Enjoy the seafood and meat galore buffet!
Monday-Friday Lunch Buffet
Adult at $21.90+
Kids (5-12 years old) at $12.90+
Dinner, PH & weekends Buffet
Adult at $26.90+
Kids (5-12 years old) at $14.90+
Single soup base $6+
Duo- soup base $10+
Table time limit
Minimum 2 pax to dine
Lunch time 11.30-3pm (last order)
Dinner time 3.01pm-1am
Peak hours table time limit
Between 2-4pax -90 mins
5pax and above- 120 mins
Location:
Exit E or exit A from Chinatown MRT.
191B New Bridge Road (take their lift up to level 3)
Singapore 059423
Operating Hours:
11:30AM – 1:00AM
Reservations:
6909 2758
Brought to you by DM Chicken.