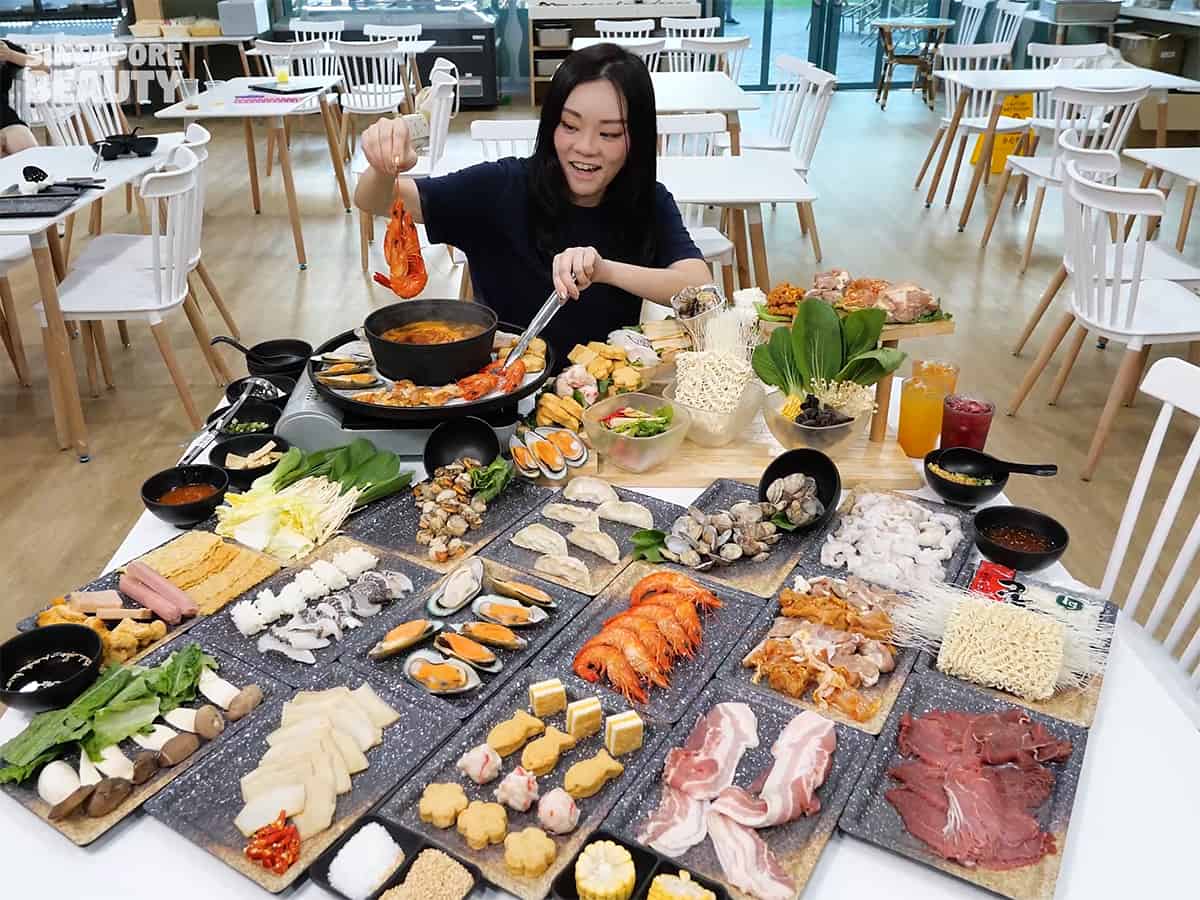 Buffet Paradise is a newly opened BBQ and steamboat buffet with the best of both worlds. This steamboat and barbecue buffet has over 40 food items for you to indulge in. They also have an ice-cream buffet and dispenser drinks included in the buffet. The buffet charges only nett price with no GST and service charge. This buffet is only available daily from 5pm onwards for dinner till late. They even have an add-on beer buffet for their buffet diners!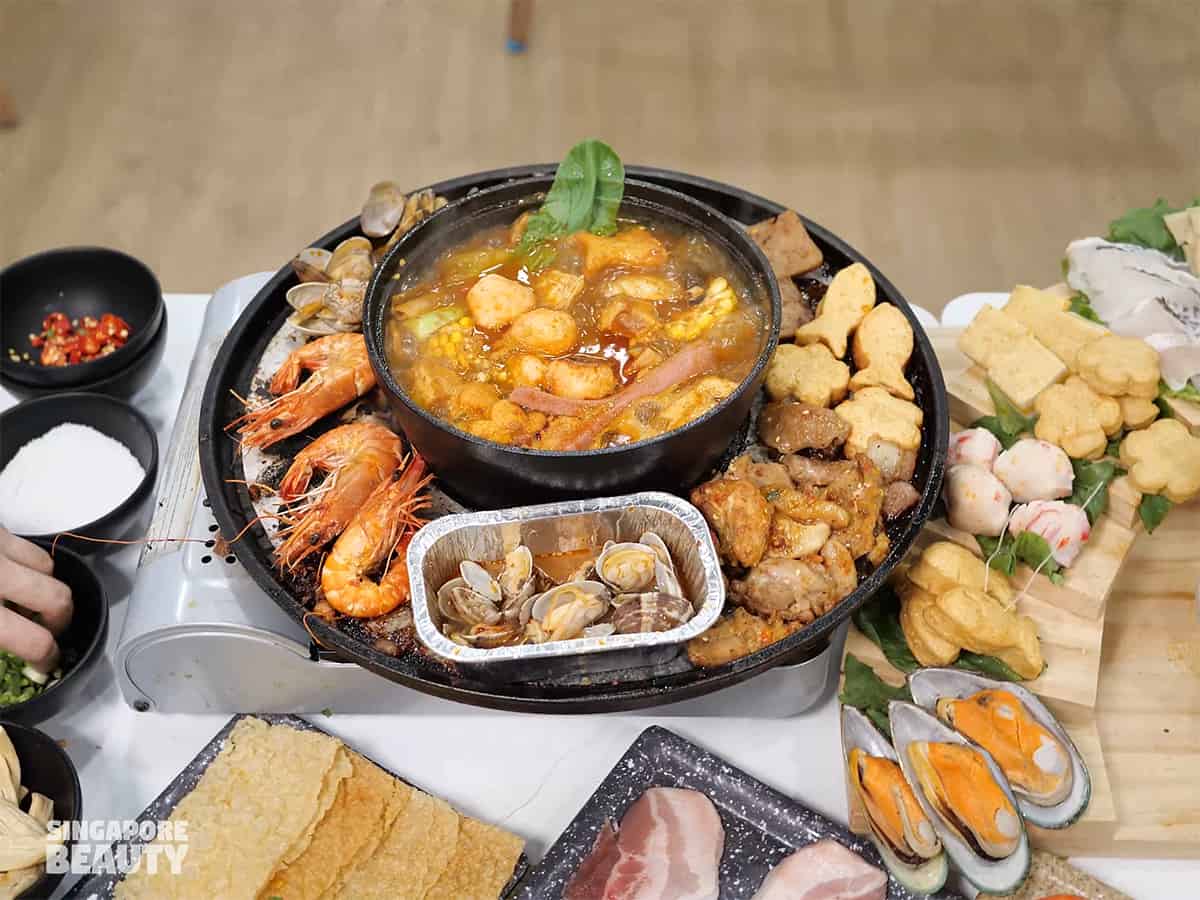 Buffet Paradise is a great place to catch up with friends after work. The cast iron pot which holds the soup base is surrounded by a cast iron grill. This is powered by a portable gas stove. As with most cast iron cookware, it conducts heat evenly and is great to grill with.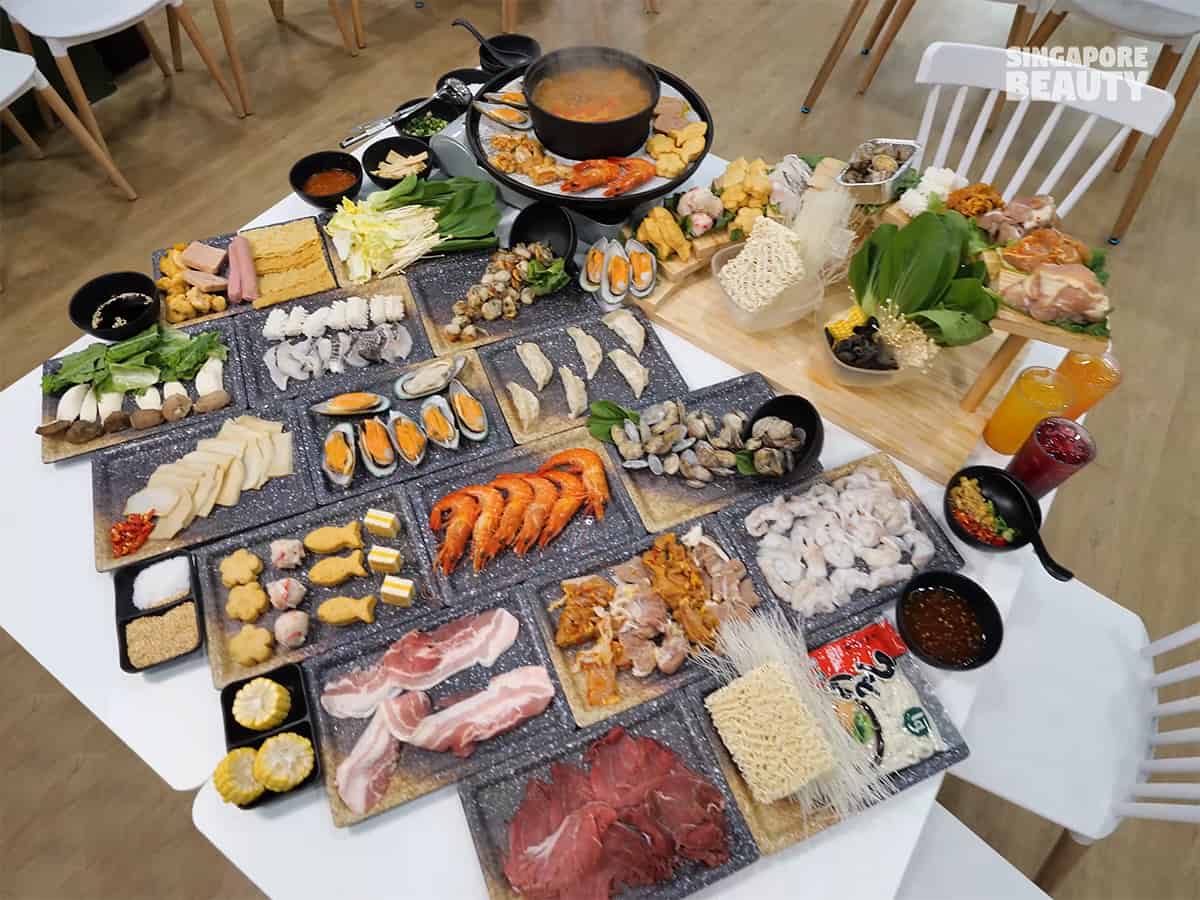 Buffet Paradise lets you indulge in over 40 food items. There are 6 types of marinated meats, shabu shabu meats, 5 types of seafood, surimi, sides, carbs, vegetables, drinks, ice cream and a condiments counter. You can get all these at their staff-assisted food display chiller at the stall.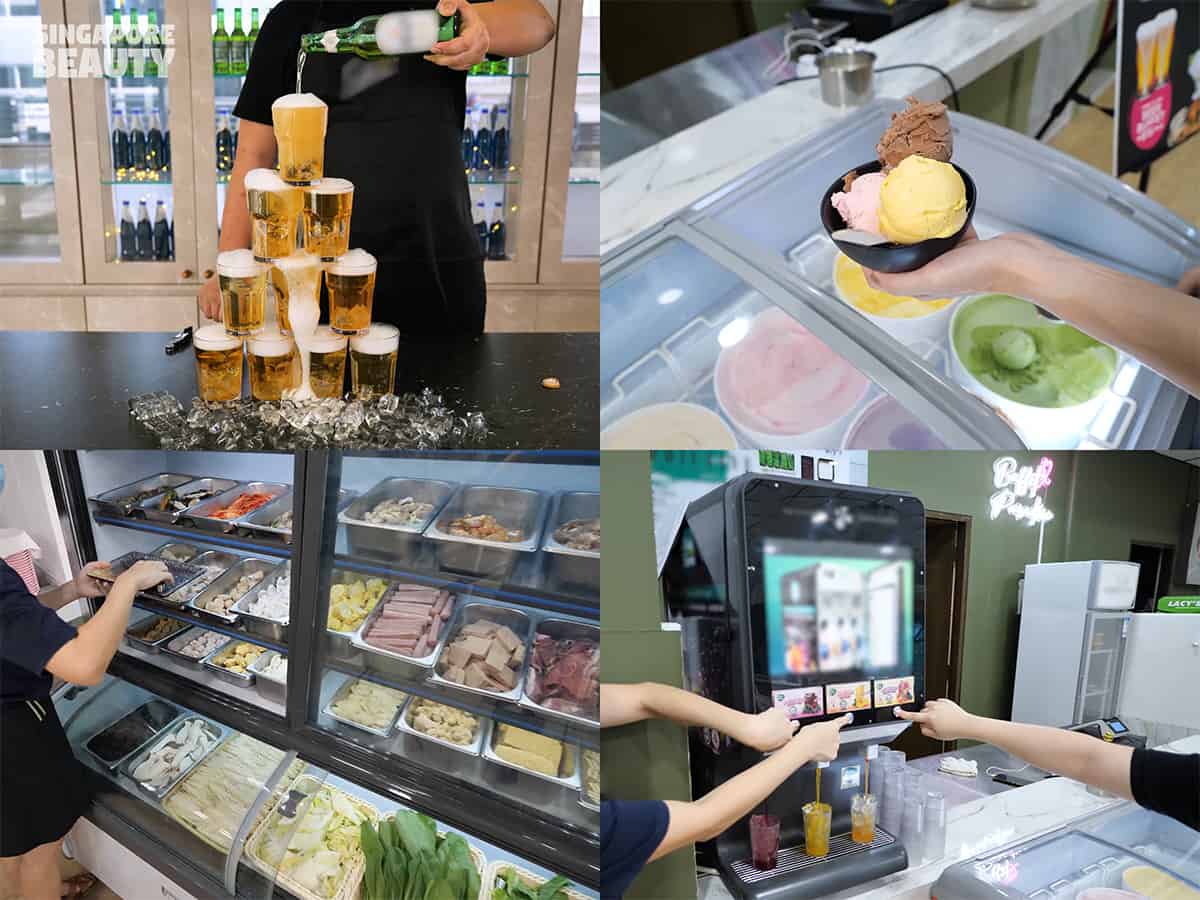 Buffet Paradise knows the best way to relax is to enjoy some free flow beers with hot smoky barbecued food and steamboat. They have an add-on beer buffet at $15 per pax for every buffet diner. The options for the beer are Hoegaarden white Belgium wheat beer and Beck's beer from Germany. For non-drinkers, no worries, just stick to their ice cream buffet and icy fruit cordials drinks which are included in the buffet.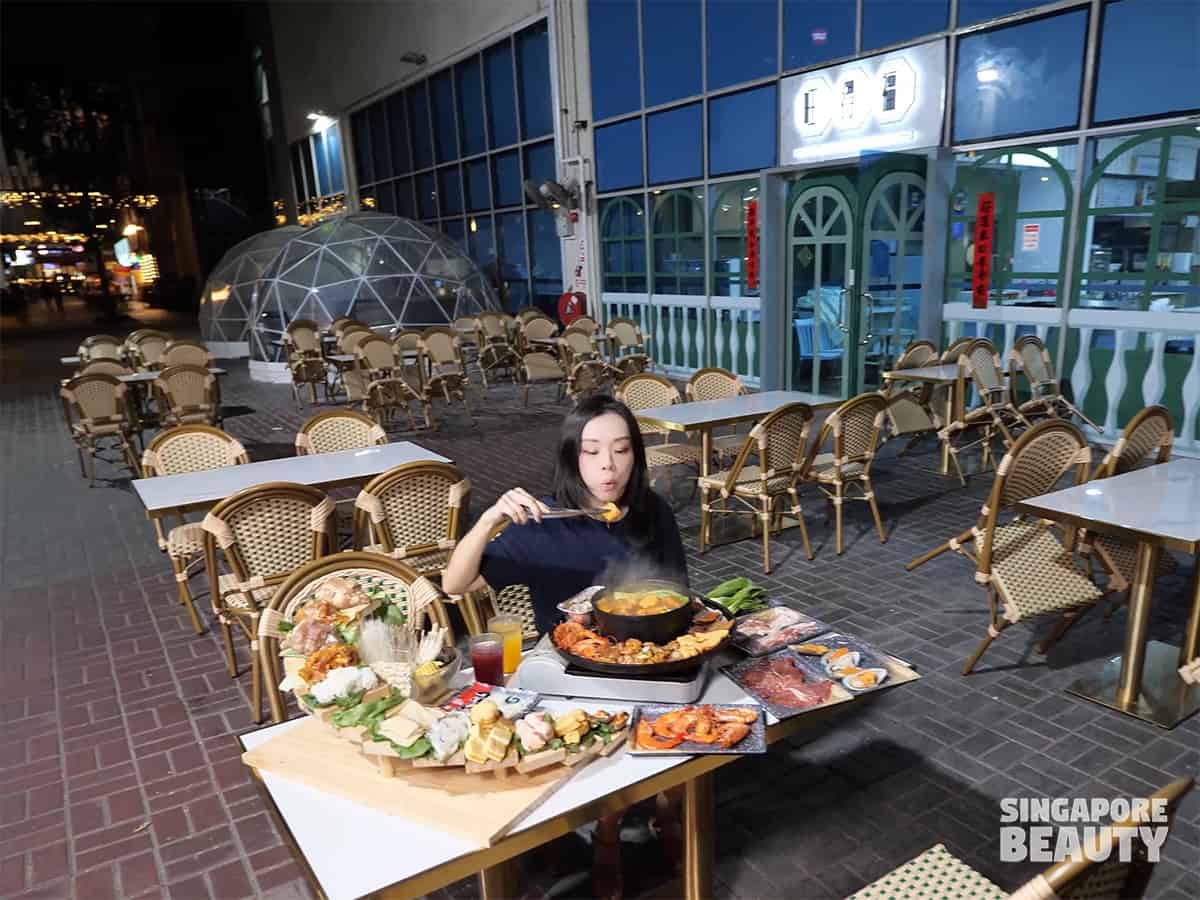 Enjoy al fresco dining or indoor dining with aircon from 5 pm onwards daily. For those who prefer indoor dining, the advantage is that you are closer to the food display chiller and easier if there is a need to refill your food. For those who choose the sheltered outdoors, the perk is that while enjoying your food, you get to people watch as well. It is also kind of windy with the night breeze.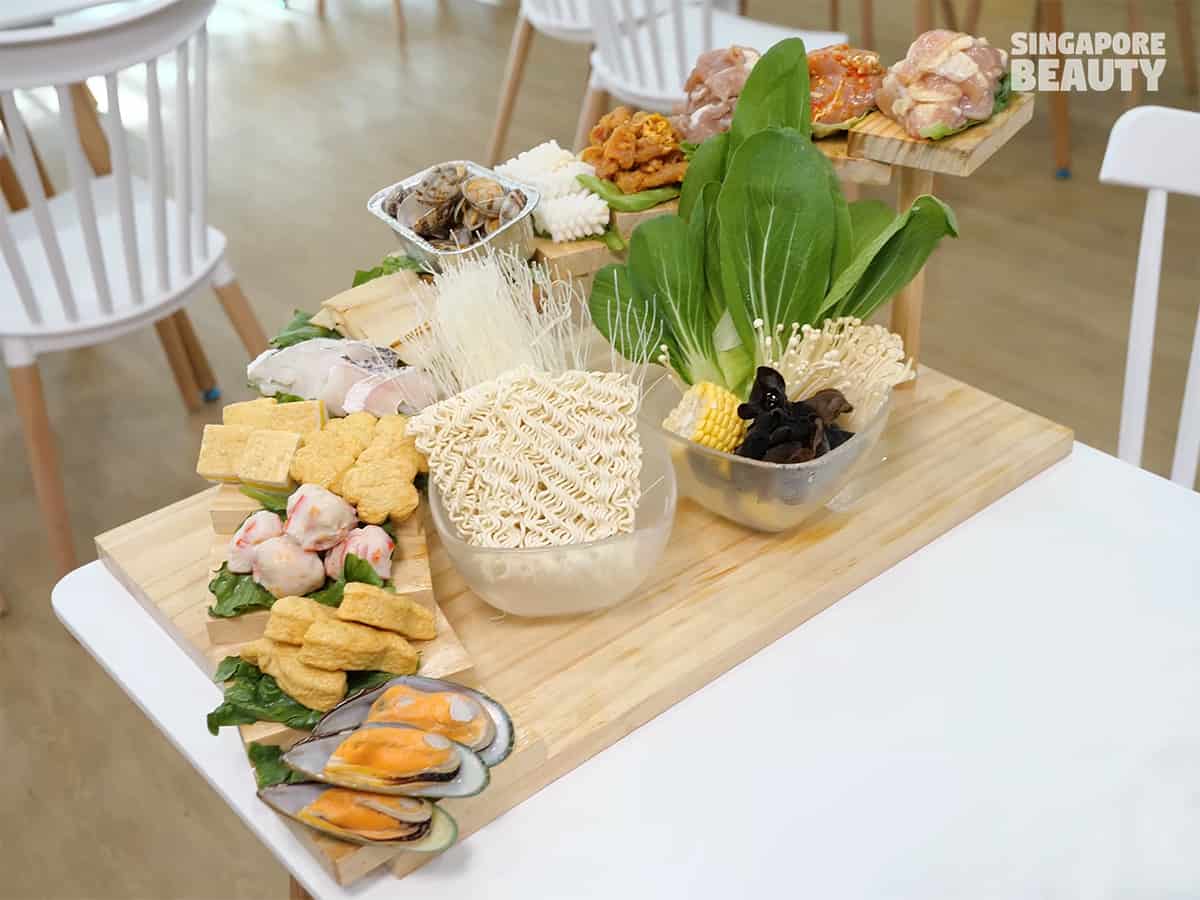 For every table of Buffet Paradise Diners, you will be served with a Welcome Platter to kick off the buffet. The Items in the buffet platter are green lipped mussels, fish shaped surimi, flower cheese tofu, lobster balls, Toman fish slice, abalone slice (mock), sambal lala in mini aluminium pan, squid roll, 4 types of marinated meats, a basket of garden greens and 2 assorted noodles. This is like a taster set with small portion of different food available in the buffet. Most of the items in this Welcome platter are available in their display chiller, if not please check with their service crew.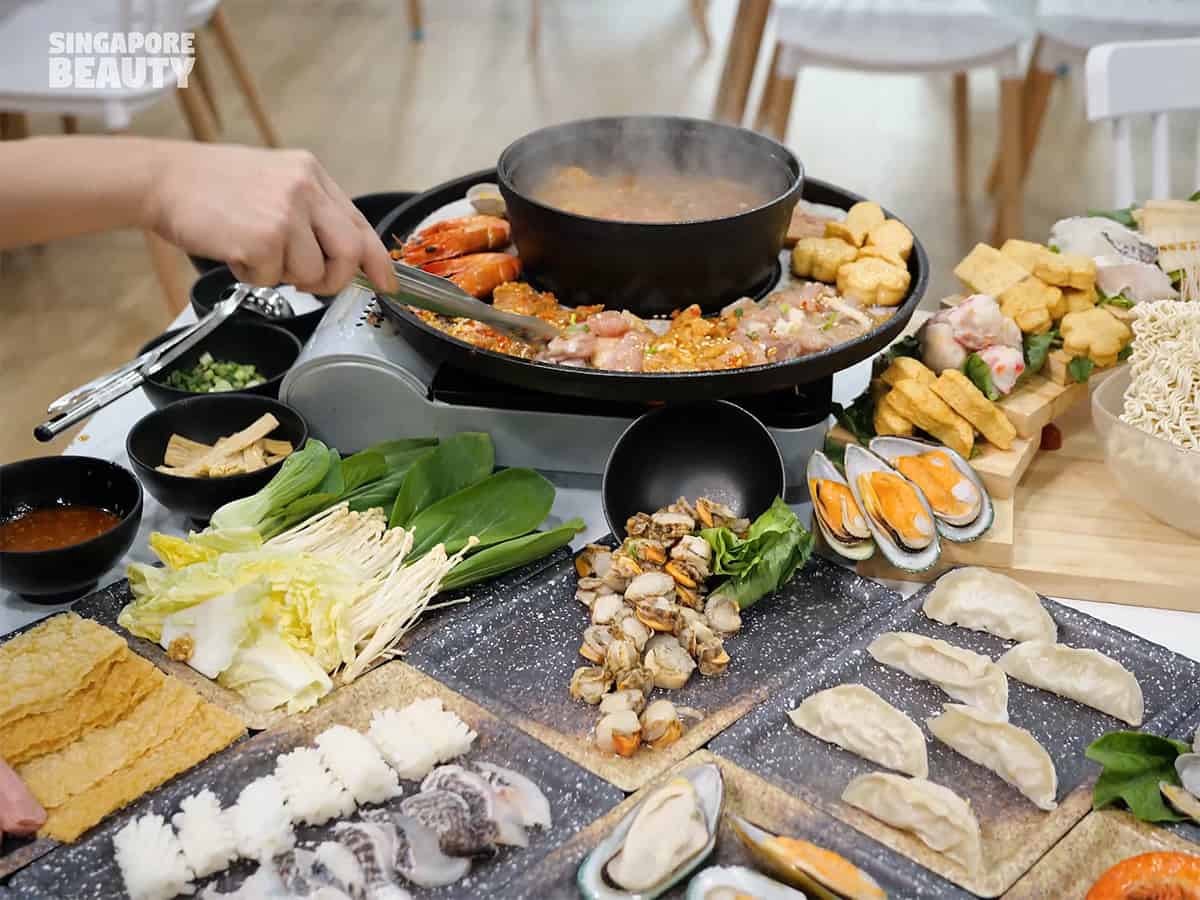 In this buffet, there are 6 types of meats to choose from. The meats are either marinated or shabu shabu type. The marinated meats are the signature marinated chicken, pork slice, mala flavoured chicken, pork slice, shabu shabu pork collar and sliced beef.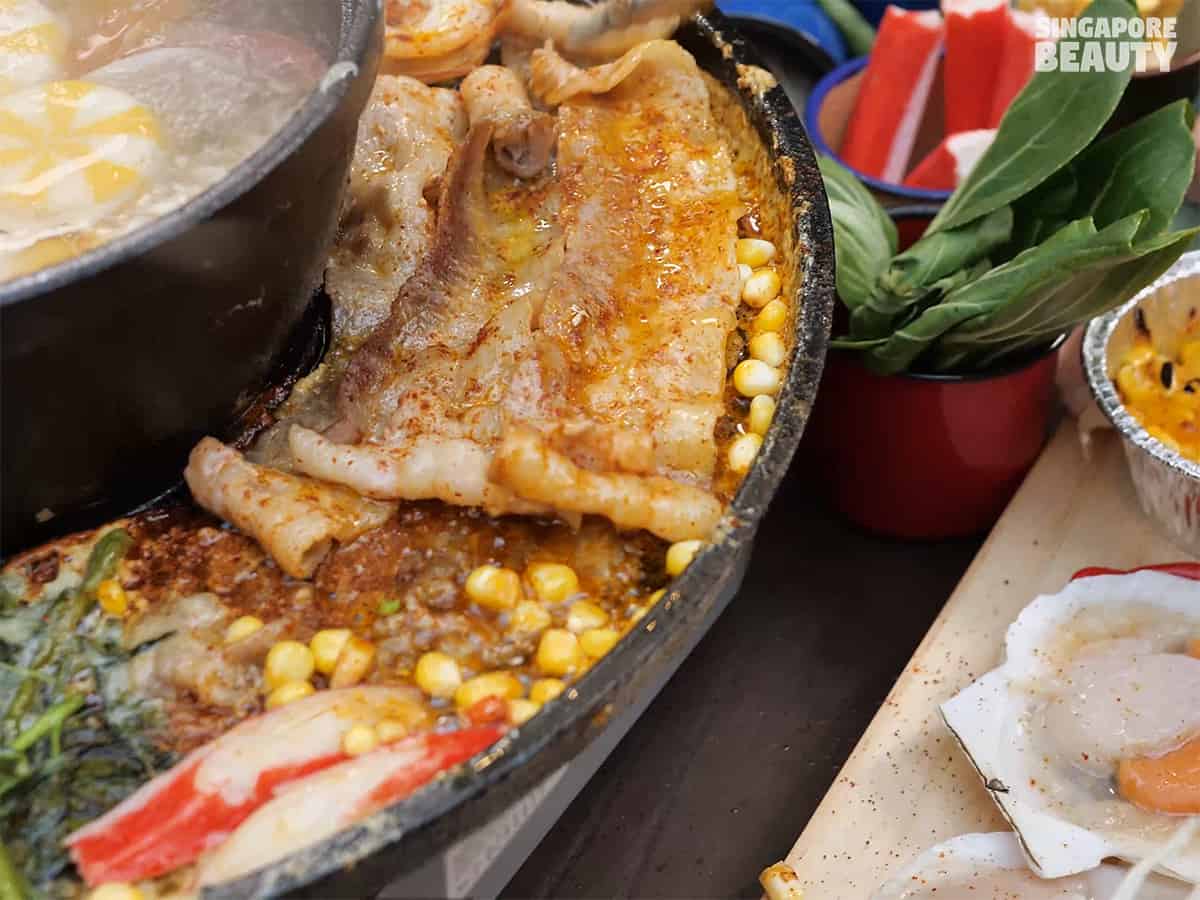 The sliced pork collar are quite long and of a good thickness for either barbecue or steamboat. There are some sauces for meat barbecue if you like them on a more savoury note. For some clean tasting barbecued sliced pork, you can add some minced garlic, salt and pepper before grilling. The meat is tender and has a springy chew to it.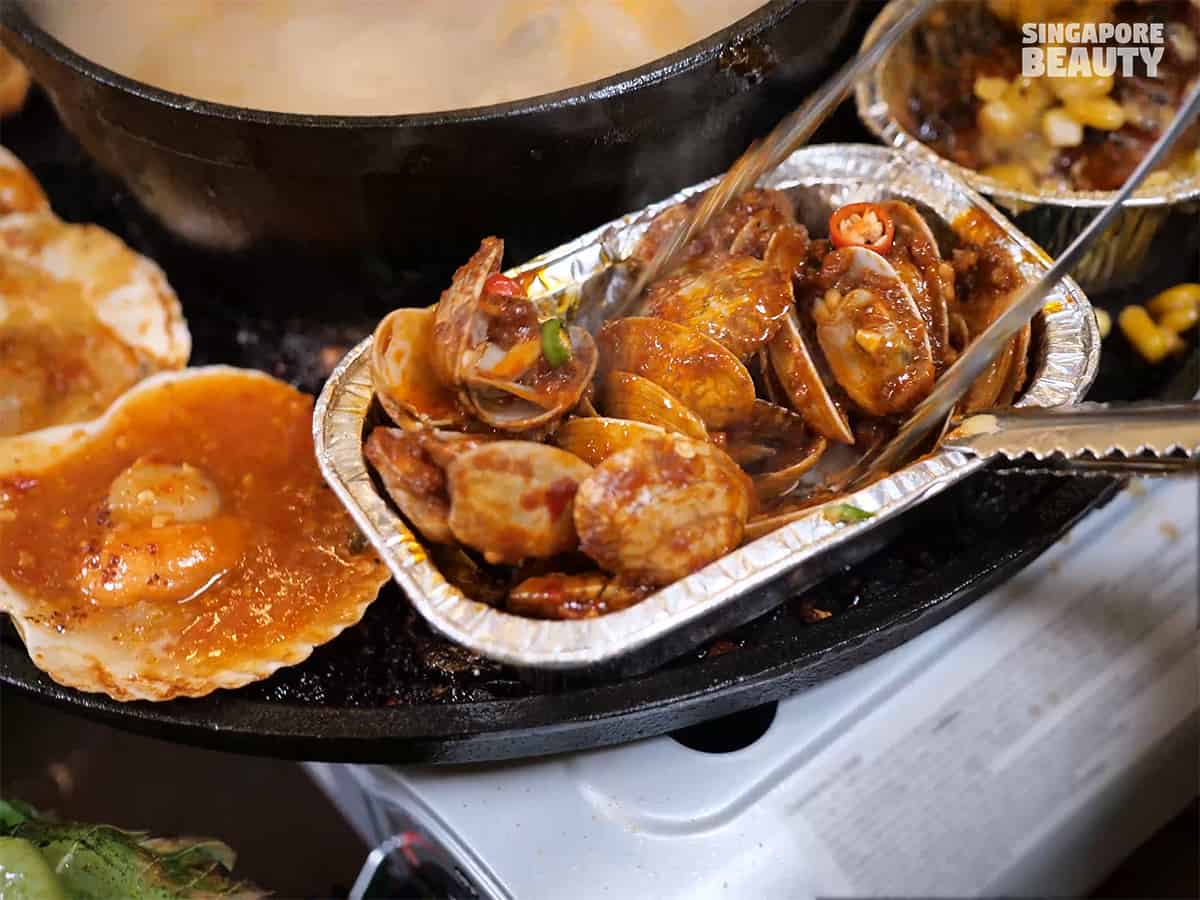 This is the Sambal lala in a mini alum pan. The way to enjoy this is to grill the seafood in the mini-pan. Watch it closely when it starts to simmer, mix the seafood well and enjoy hot off the pan. This takes a little longer to cook as there are sauces within the mini pan. You can also add in Hotate scallop, more Asari Clams, mussels meat, deshelled prawn meat into the pan to cook with the remaining sauce.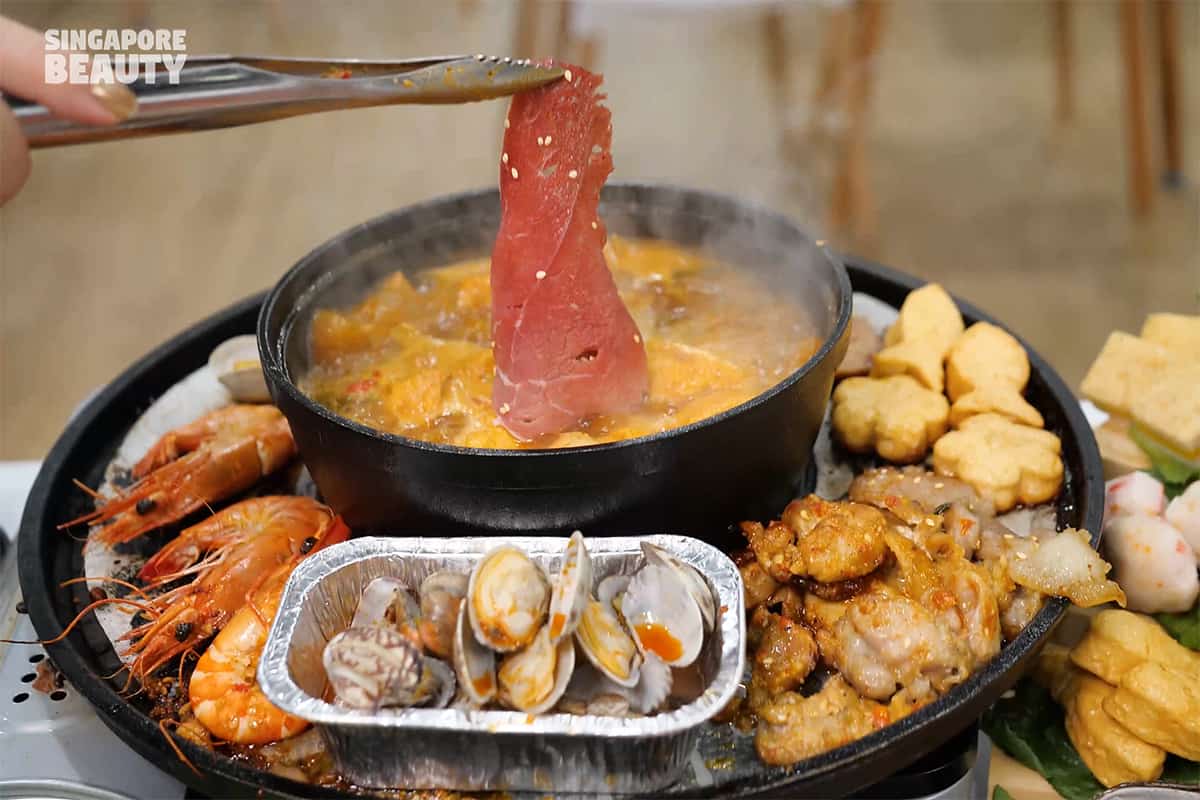 While grilling your seafood pan, you can shabu some sliced beef and pork collar as well. The Tom Yam soup has a citrusy flavour, with a salty kick and a mild sweet undertone. The shabu meat is cut thin to soak up all these flavours and cooks quickly in this cast iron pot. Enjoy a meat galore party with your love ones.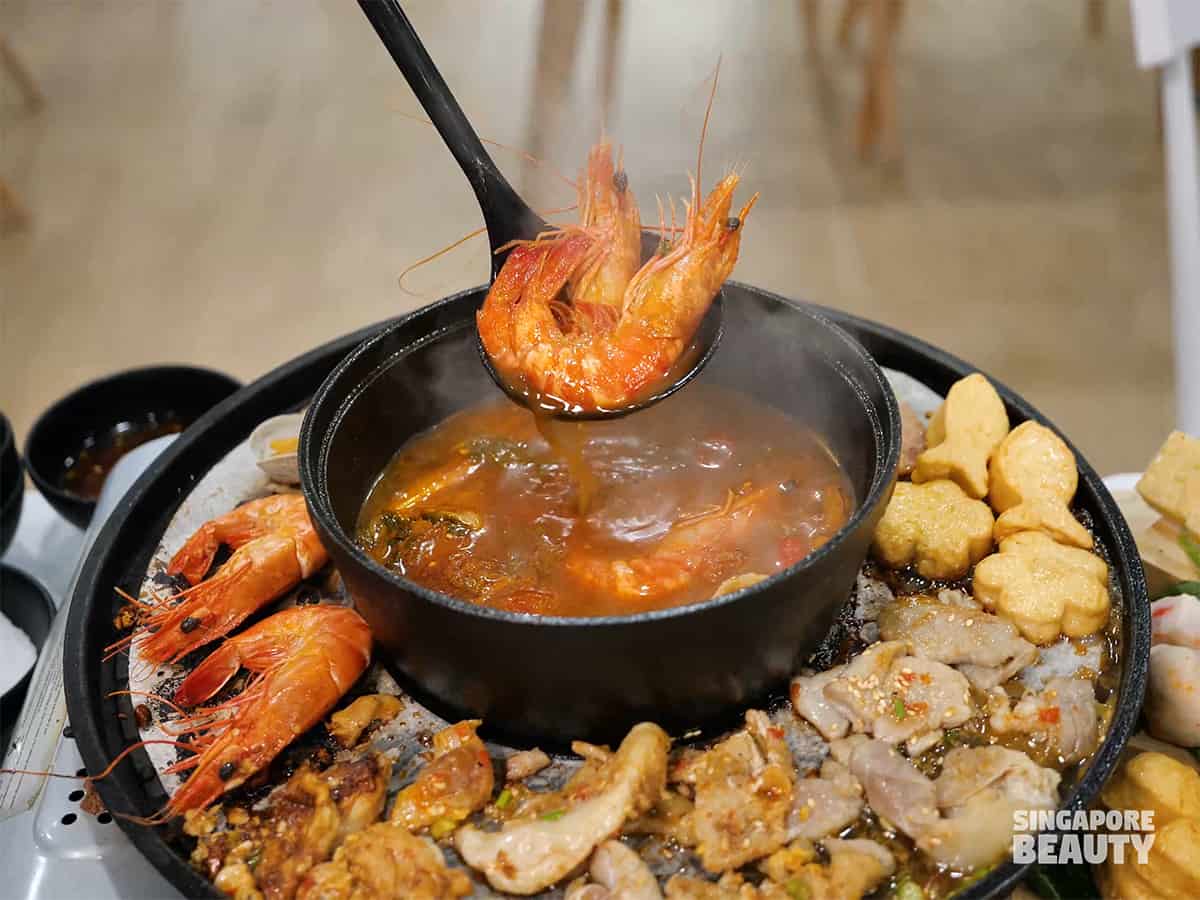 In Buffet Paradise bbq & steamboat, they have two types of prawns – vannamei cooked prawns and deshelled prawn meat. They have the whole vannamei sweet prawns with shells and head on. If you love to suck on the head butter of prawns, this is the prawn type you can go for. These taste good either grilled with smoky prawn aroma or steamboat them for juicy meat. Enjoy your prawn party!
These deshelled prawn meats are normally used to make prawn paste or hand beaten prawn balls. However at Buffet Paradise, this deshelled prawn meat is to cater to those who want to eat prawns without getting their hands dirty. Grab a scoop of these whole butterflied prawn meat and steamboat them. Crunchy prawn meats with tom yam flavour!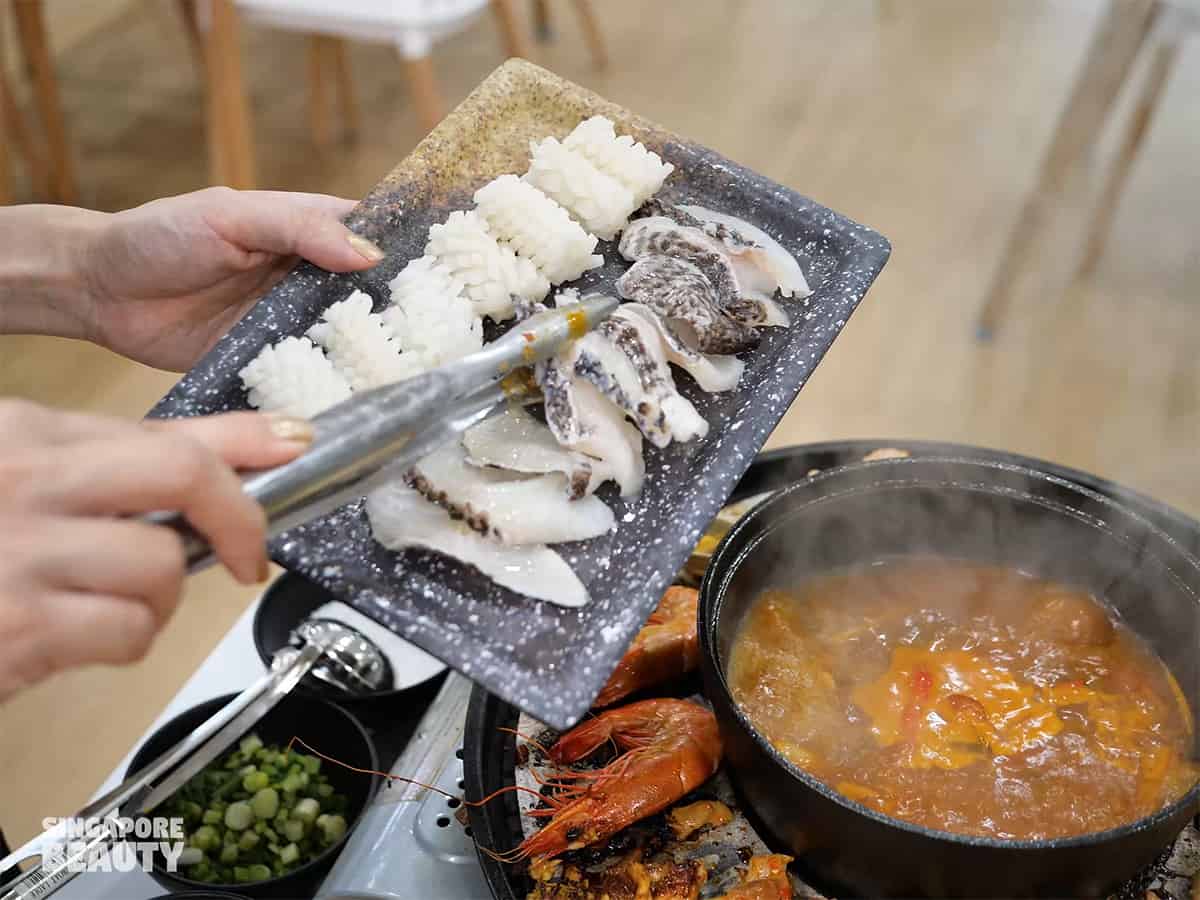 The seafood selection includes prawns, lala, hotate scallop, mussels, squid roll, fresh fish slice and deshelled prawn meat. The Tom yam soup goes well with Toman fish slice. The sliced fish are sliced to a nice thickness with skin on. Cooked Toman fish slice that is sweet and sour, springy skin with gelatinous texture.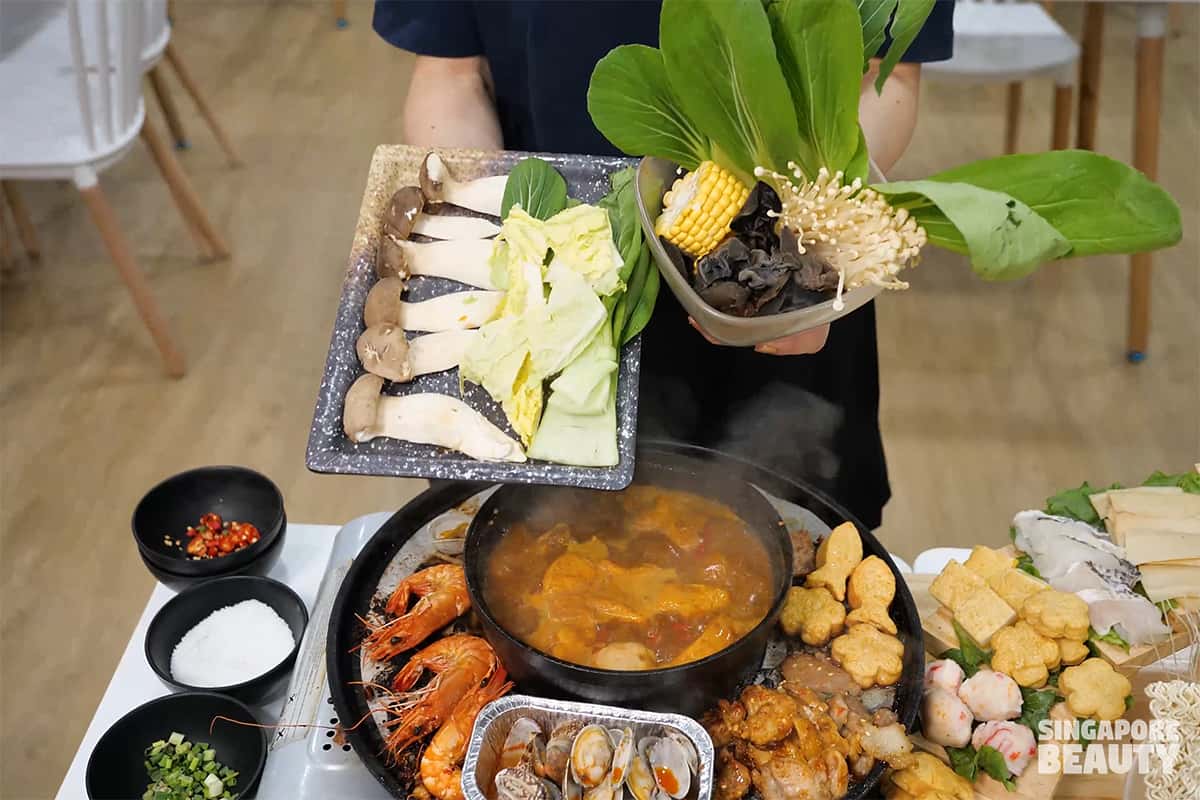 The selection of garden greens and surimi is also of a good variety. The selection of greens includes lettuce, sweet corn, enoki mushroom, xiao bai cai, Chinese napa cabbage, king oyster mushroom and black fungus.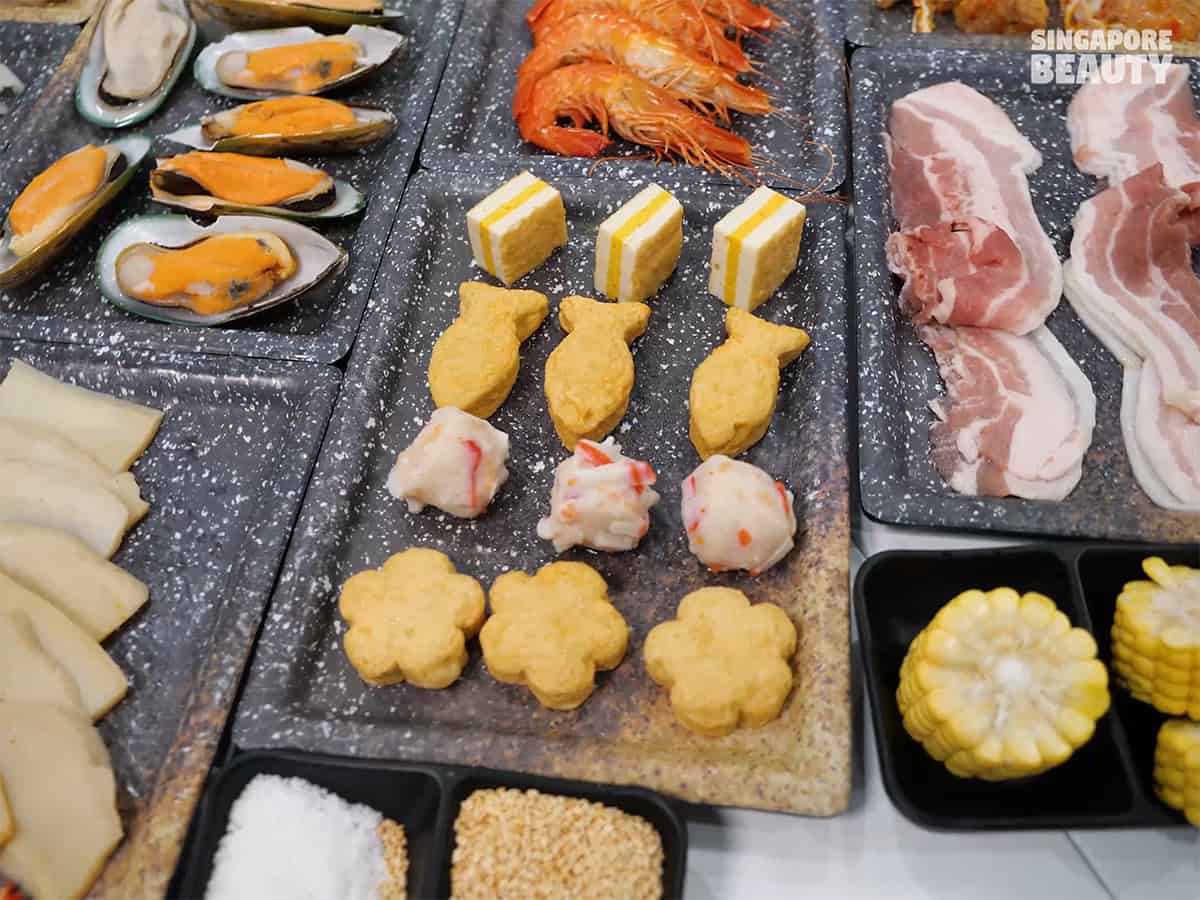 The surimi are classified as sides with choices such as Gyoza Japanese dumpling, pork balls, lobster balls, luncheon meats, hotdog, fish ball with roe, abalone slice, flower cheese tofu, crab stick, Kyoto Yuba, fish sandwich, quail egg, egg. There are also carb choices such as glass noodle, rice, instant noodle and udon.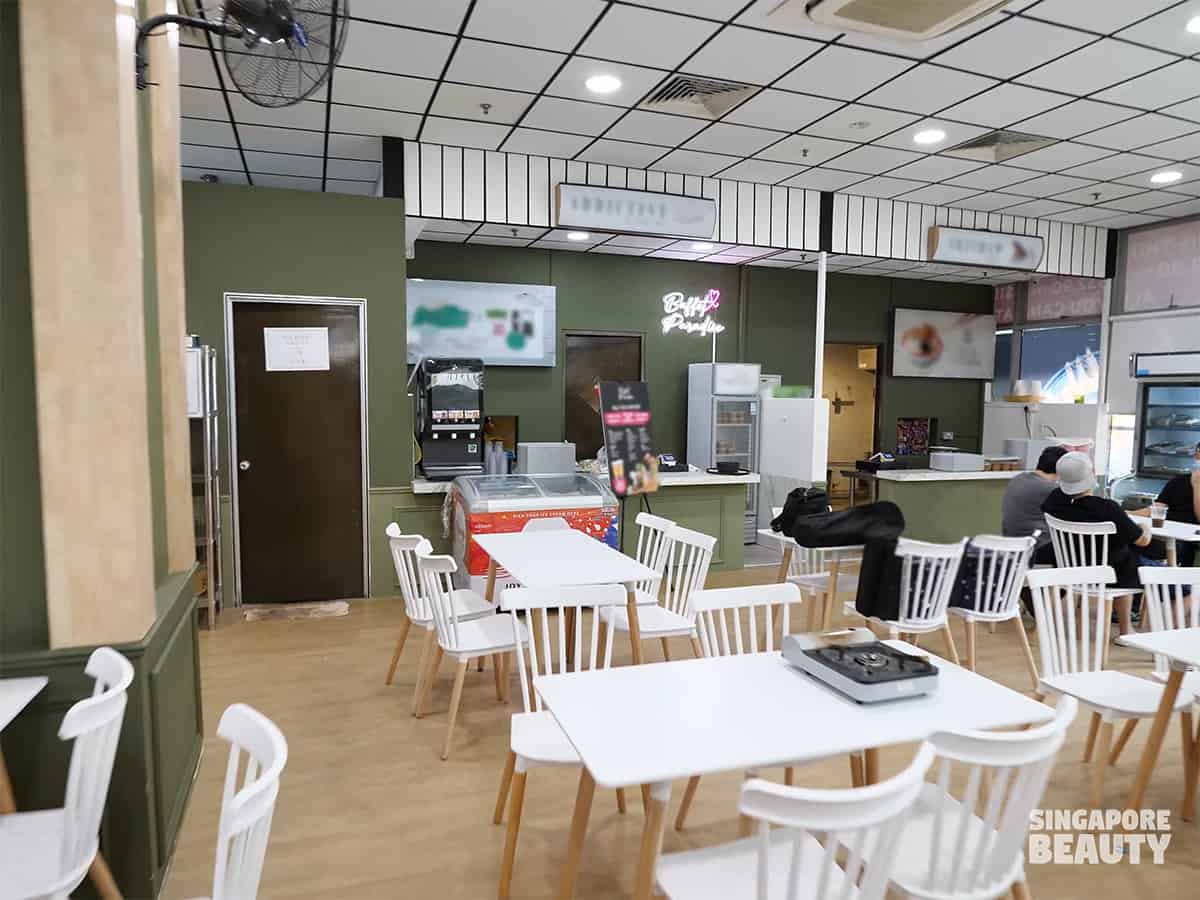 Buffet Paradise bbq and steamboat is located at Tai Seng Street within Sakae Building. It is located inside a food court named 旺得福 with aircon. By day this is a functioning lunch crowd's favourite food court with many varieties of food such as trishaw laksa and more; come night time from 5pm onwards, this turns into a full-fledged bbq and steamboat place by Buffet Paradise. Buffet Paradise runs the whole food court purely for buffet goers only from 5 pm onwards till late.
Address of Buffet Paradise bbq & steamboat :
28 Tai Seng Street, Sakae Building, #01-03, Singapore 534106
(Inside Wonderfull, 旺得福)
Buffet Paradise buffet price:
Monday-Thursday Adult $29.90 nett
Friday-Sunday & PH Adult $32.90 nett
Children $19.90 daily.
Ice-cream, Cordial drinks, Soup, Condiments are included in buffet.
Add on Free Flow Beer Buffet $15 nett (only for buffet diners)
No GST, No Service Charge.
Opening Hours : 5pm to 11 pm daily
Dine in Time : 2 hours
For Reservation call : 97261853 (walk in are welcomed too)
Brought to you by Buffet Paradise