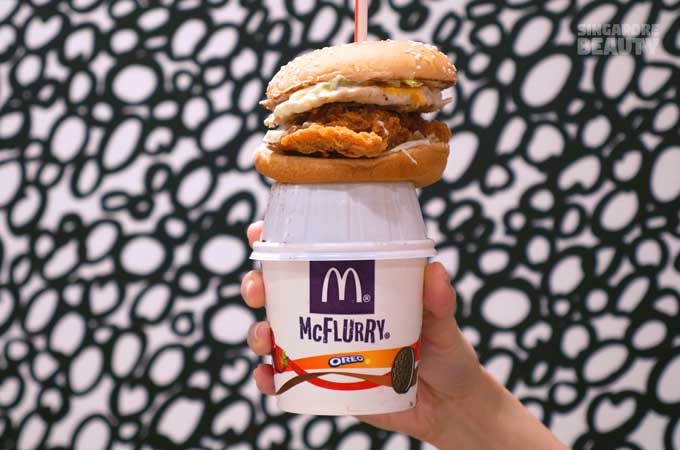 The fast food giant McDonald's has came up with Eggcellent Mcspicy burger following the demise of the Nasi Lemak burger. Gone are the Chendol McFlurry and Bandung McFizz too. The trio are sold out islandwide shortly less than two weeks after its first debut in McDonald's due to overwhelming response. Eggcellent Mcspicy burger and the Dinosaur McFlurry are the new boys in town for a limited time only or while stocks last.
Eggcellent Mcspicy burger ($5.75)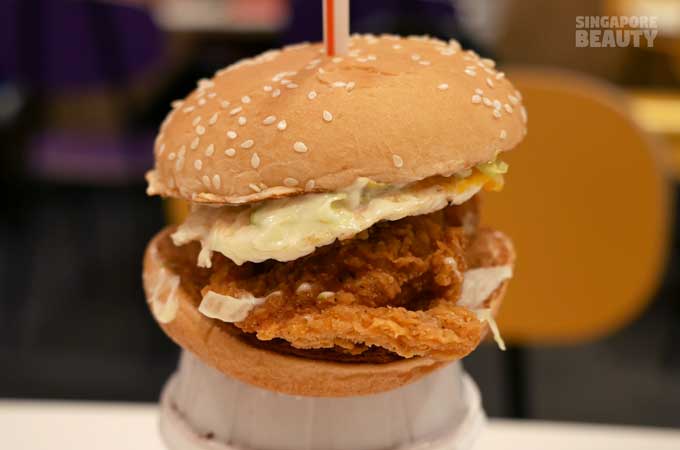 Eggcellent Mcspicy burger is the next burger made just for Singapore. I would say that Eggcellent Mcspicy burger is a distant cousin of Nasi Lemak burger. The cucumber is replaced with shredded lettuce, coconut flavoured chicken patty by Mcspicy chicken thigh patty, other than these, the burger is same same but different. You still have that fresh golden fried egg.
Dinosaur McFlurry ($3)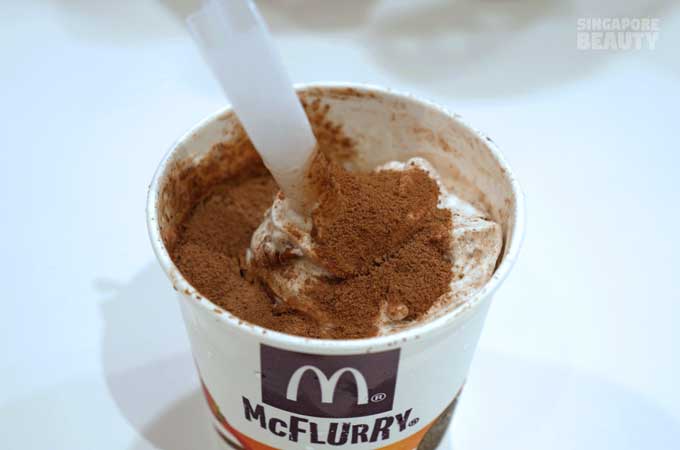 We have heard of dinosaur Milo at our favourite prata shops, but dinosaur McFlurry? Is this going to be a huge sold out again? I need to get my hands on one before it is gone again. Dinosaur McFlurry is the all so familiar vanilla soft serve ice cream with heaps of Milo powder and crunchy rice pops. Take you time to savour this new dessert, or risk rasping and wheezing like you had a pepper spray in your face. I must confess this do taste like tiramisu without the lady finger biscuit, brewed espresso and rum. Simply delish!

McDonald's has good news for all servicemen too. With every Extra Value Meal purchased (after breakfast hours), you get a complimentary Apple Pie or Hot Fudge Sundae. This is McDonald's way of saying thank you to all current or past NS men and to celebrate 50 years of National Service. Just present your IC, 11B or your SAFRA card to redeem from 4 till 10 August 2017.
Since National day is around the corner, McDonald's is also offering the all time favourite Vanilla Cone at only 50 cents from 4 till 10 August 2017.
For those who have not try the Nasi Lemak burger, fret not, who knows maybe McDonald's have plans to bring it back since it is so sedap and popular. Time will tell.
– We paid for our own meal.