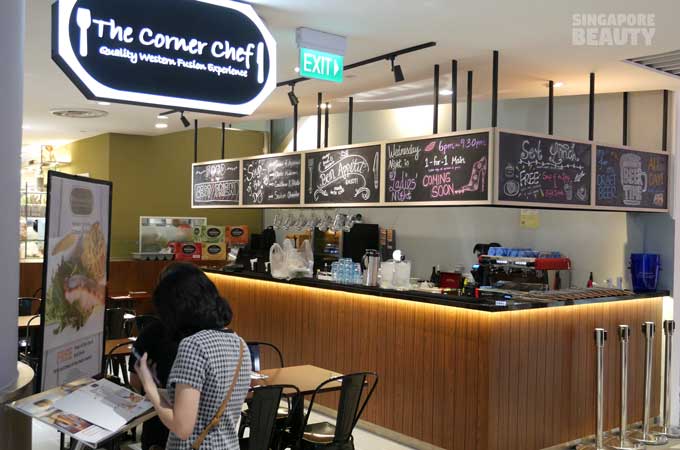 The Corner Chef Fusion cuisine is the combination of diverse culinary style and ingredients to create a unique dish. Singapore being a cosmopolitan nation with dynamic and diverse food scene has no lack of fusion cuisine islandwide. Of course with atas fusion food come hefty price tags. So, where can we get our fix of Italian, American, Japanese, Thai and local favourites all at one place and at wallet friendly prices? Authentic hand crafted fusion food?
Check out this new restaurant at Compass One in Sengkang . With an unpretentious interior décor, it boosts of cosy booth seating and a standing bar. This is an all-day dining restaurant where you can get your lunch, high tea, dinner and happy hours all at one place.
[Restaurant permanently closed]
Seafood Pasta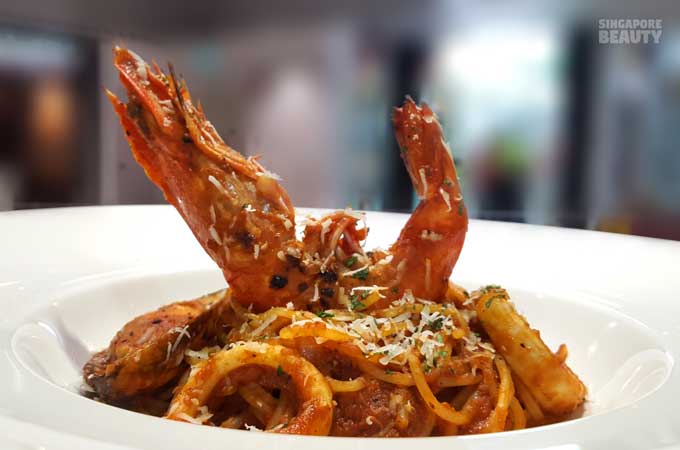 Lunch can mean classic aglio olio, beef bolognese, seafood pasta or carbonara with runny egg yolk and crispy bacon for the more adventurous food lovers.   Seafood pasta ($15) is a steal. Al dente pasta tossed in their signature tangy tomato sauce.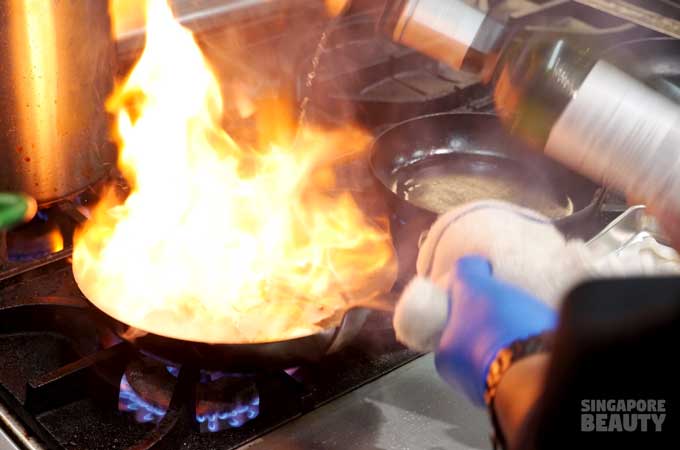 Topped with tiger prawn and molluscs (clams, mussels and squids) sautéed in extra virgin olive oil, chopped garlic and a splash of Italian dry white wine. Oh yes, broth for the sauce is also made from scratch. Chicken bones and mirepoix (consist of carrots, celery and onions) simmered to perfection. Season to taste with coarse salt, ground black pepper and freshly grated cheese.
Mocktail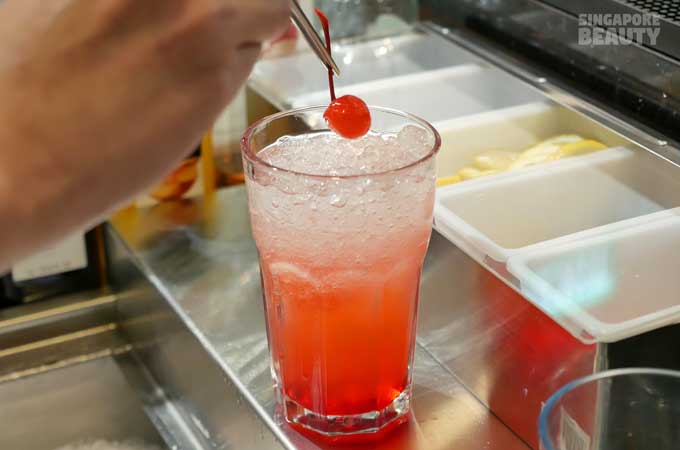 How about a glass of mocktail to wash it all down since it is too early for the booze? Shirley Temple ($5.90) is concoction of grenadine syrup with concentrated real fruit juice and aerated Sprite. This ombre mocktail is fun to watch and drink. Refreshing for a hot afternoon.
Cappuccino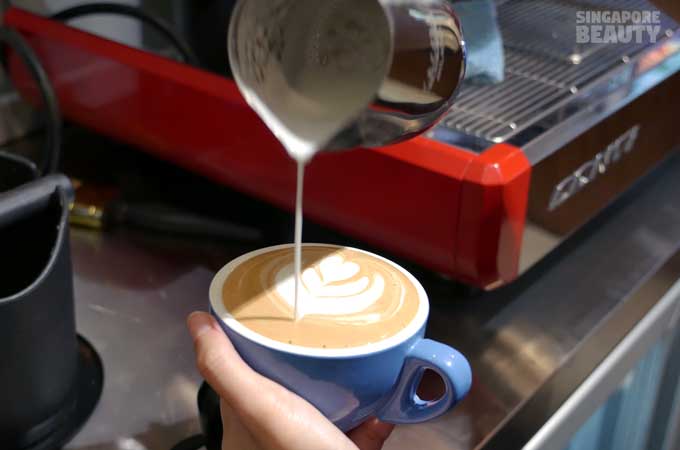 Come tea time if you are dozing off at work, do grab a cup of perk-me-up cappuccino ($5). Using freshly ground coffee beans from Ethiopia, Cuba and Brazil, the barista serves freshly brew-to-order cappuccino. Layer with frothed milk and finish with a foamy heart tulip latte art. It comes with a complimentary cookie. Creamy, nutty and chocolatey. Ladies beware of the white moustache!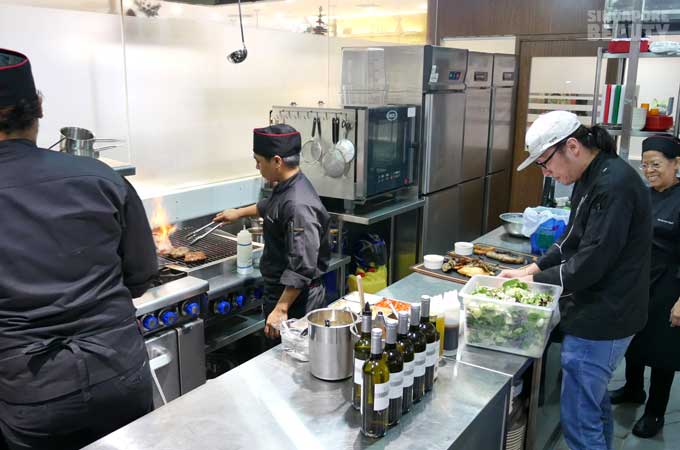 Through the show kitchen, you can see head chef Louis hard at work. Dubbed "Salt Bae of Sengkang" as he is an advocate of using natural seasonings like salt and pepper to dishes. You will see sparks flying literally.
Mixed Seafood Grill (serves 2-3 pax)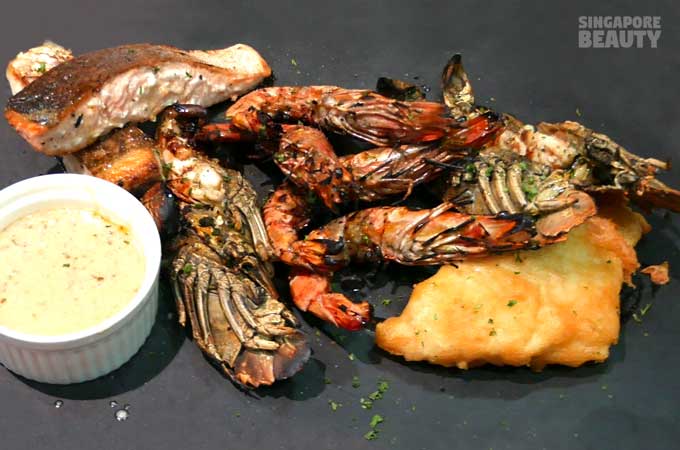 Best value meal and good for sharing (2-3 pax) is their Mixed Seafood Grill ($34) (tiger prawns, slipper lobster, Norwegian salmon, local sea bass, beer battered fish).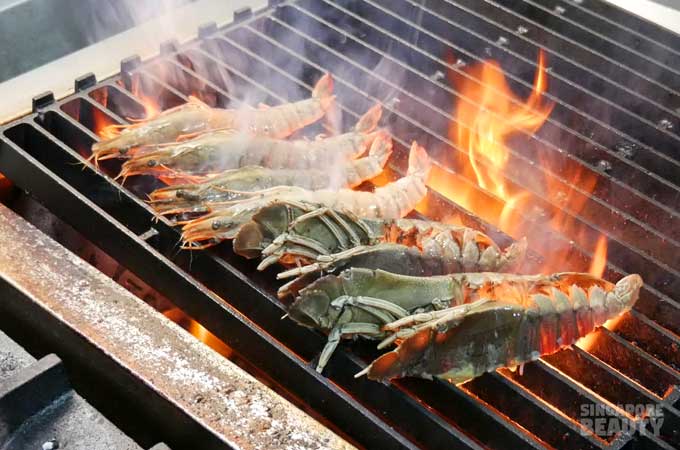 These are grilled over live fire, lightly dusted with coarse salt and grounded black pepper corns.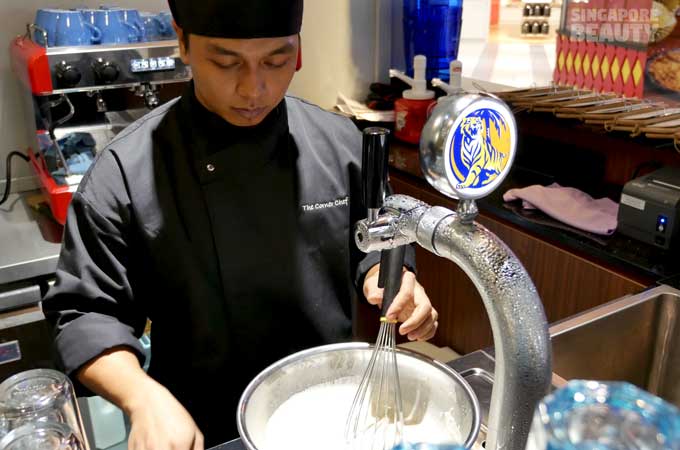 Beer battered fish made with loads of Tiger draft beer is not for the faint-hearted.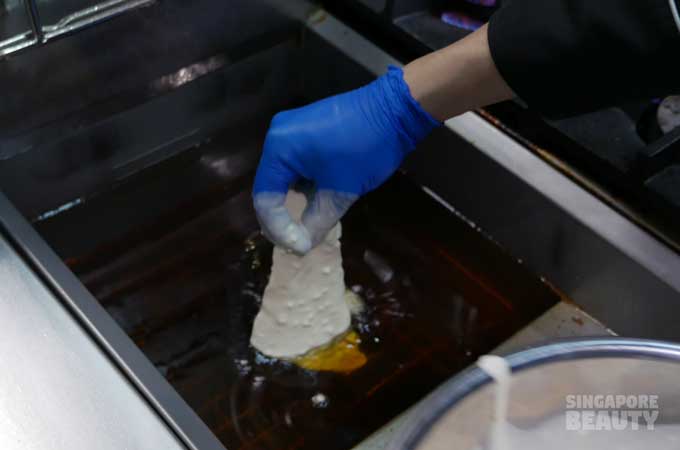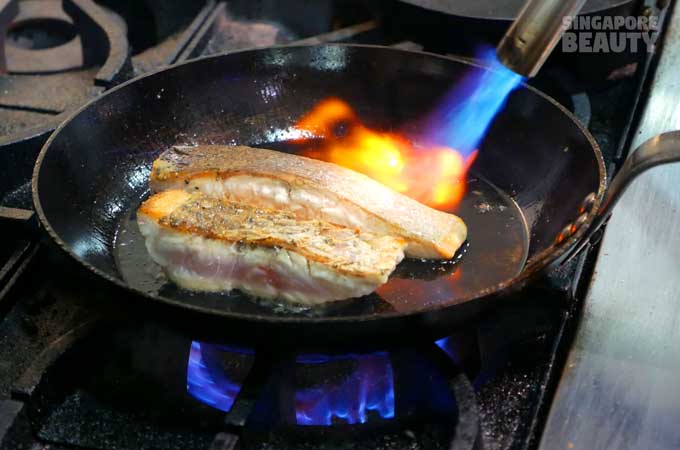 Fish skins are torched to a crispy golden brown.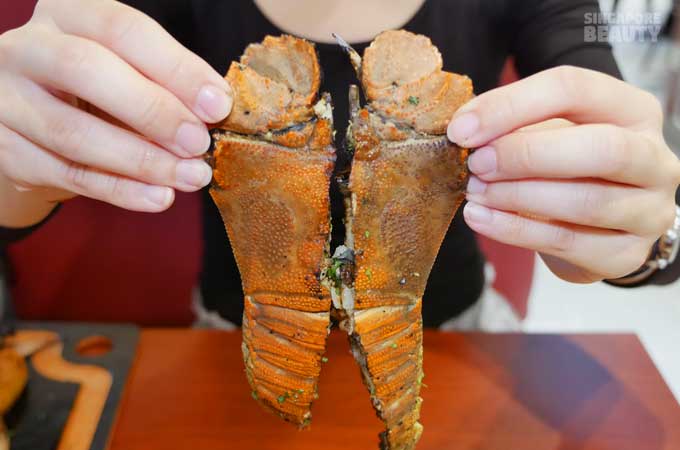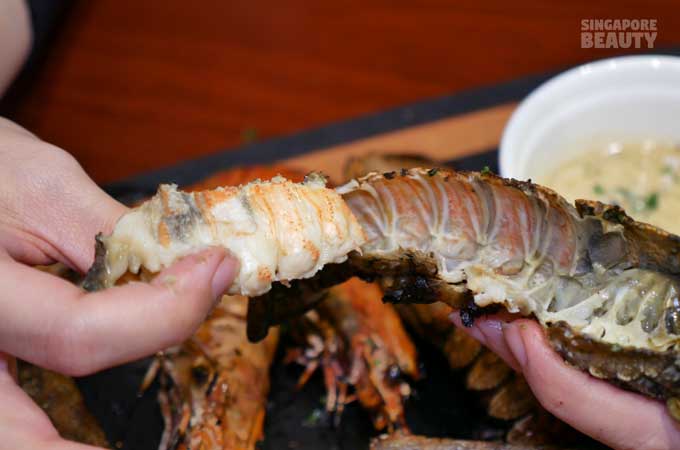 The slipper lobster has a succulent texture with a briny flavour and a mild sweetness to it.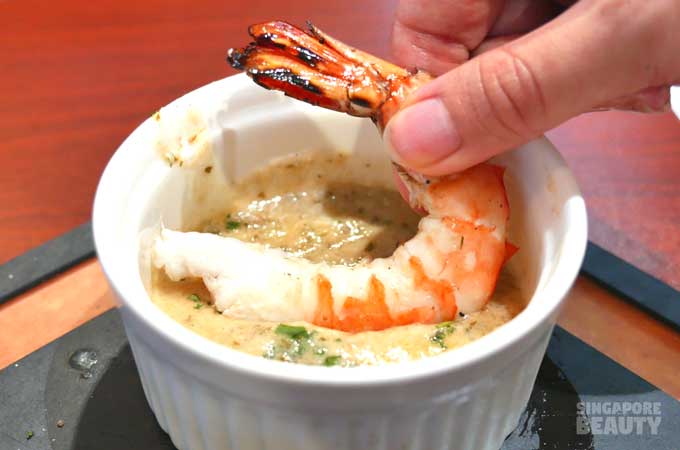 Crustaceans and fresh baits with homemade lemon garlic butter dip. Lemon garlic butter dip is a little mild for my liking though; I prefer it to be more citric to add that depth of flavour to the crustaceans. Easily de-shelled and spots a smoky char-grill flavour.
Mixed Meat Grill (serves 2-3 pax)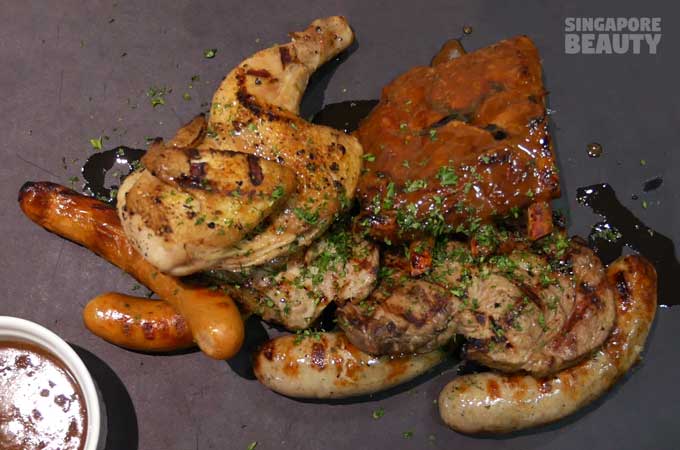 If you are more of a carnivore, you can go for the Mixed Meat Grill ($29.90).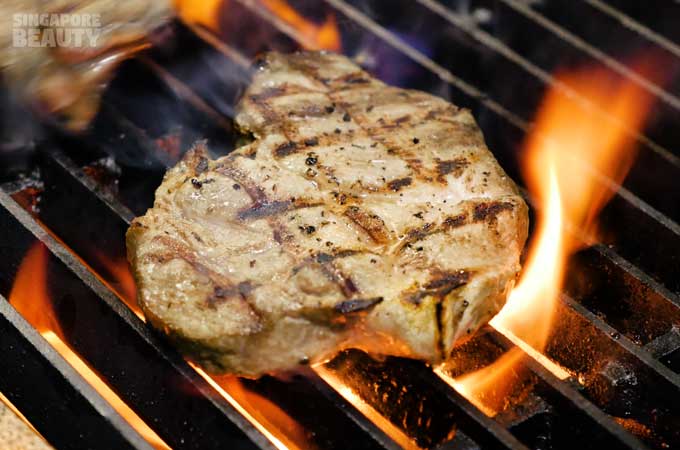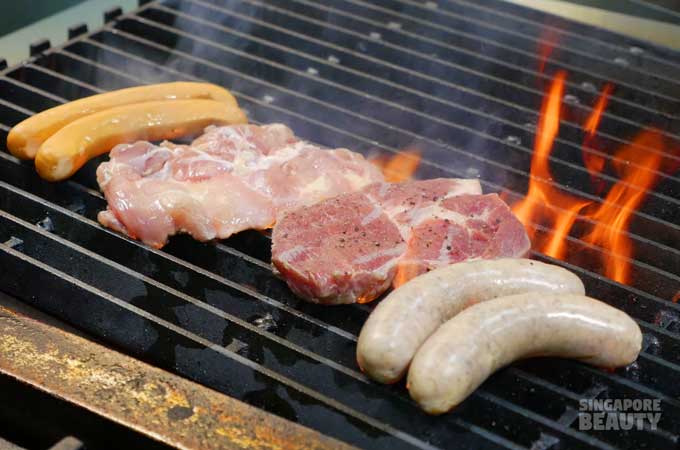 A large platter of gourmet pork and chicken sausages, half spring chicken, pork collar, chicken chop and pork ribs seared and grilled to perfection.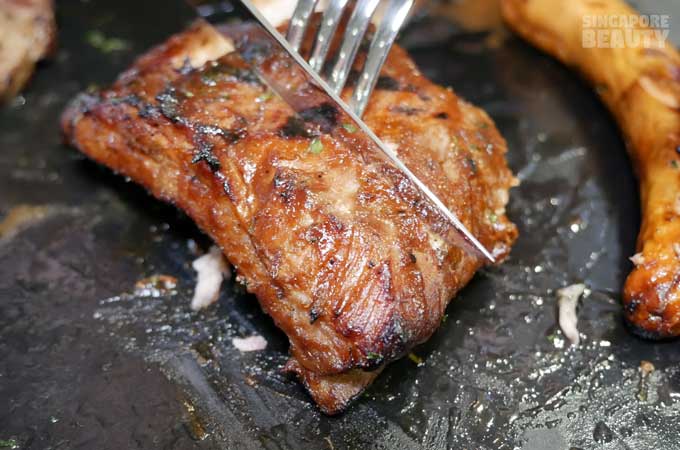 Tender pork collar and pork ribs slides off easily from the bones. Both have a bite to it but not chewy. Chances are you will likely slip into a food coma eating a platter, we suggest to share this among 2 to 3 pax. The serving is generous and good value for the price.
Ladies' Night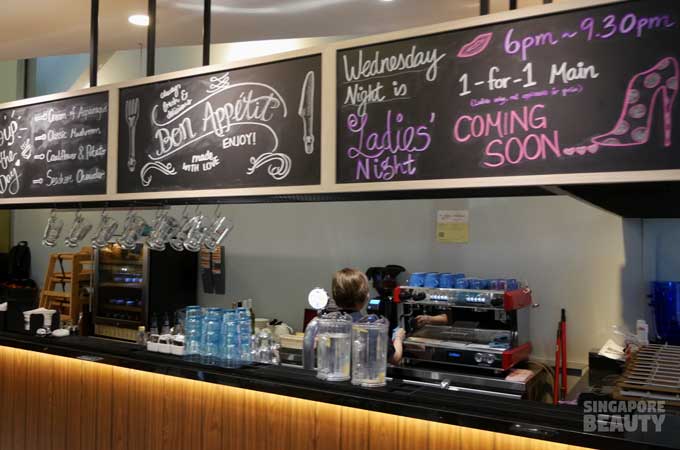 Ladies' night means free drinks in a club. How about ladies' night in shopping mall? Time to ask that besties or date along to enjoy 1-for-1 Mains every Wednesday from 6pm till 9.30pm.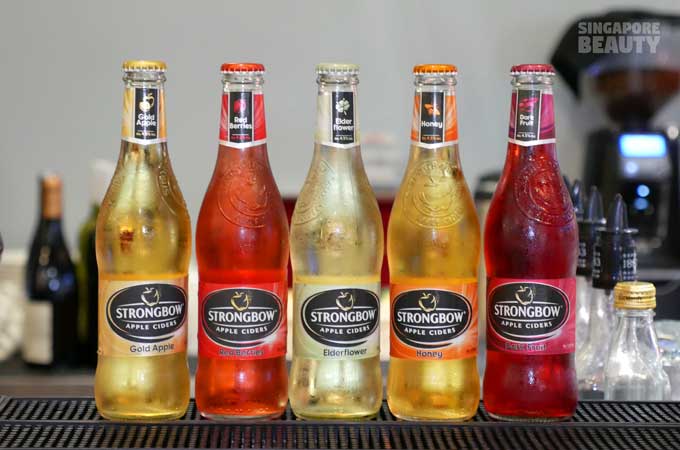 Or you can try StrongBow alcoholic apple ciders ($8/BT) – available in dark fruit, honey, golden apple, elderflower or red berries flavour.
Do swing by for the ongoing 1-for-1 Tiger draft beer by pint ($8.50) or jar ($29.90) while stocks last. It's Tiger Time!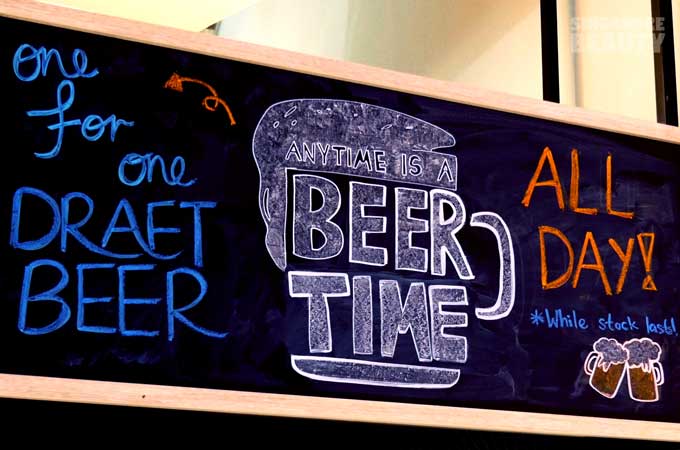 Location:
Restaurant permanently closed
The Corner Chef
B1-34, Compass One,
1 Sengkang Square,
Singapore 545078
How to get there:
Compass One at Sengkang Mrt.
Opening Hours:
Monday – Sunday
12pm – 10pm
* Last order : 9.30pm
This is a food invitation.