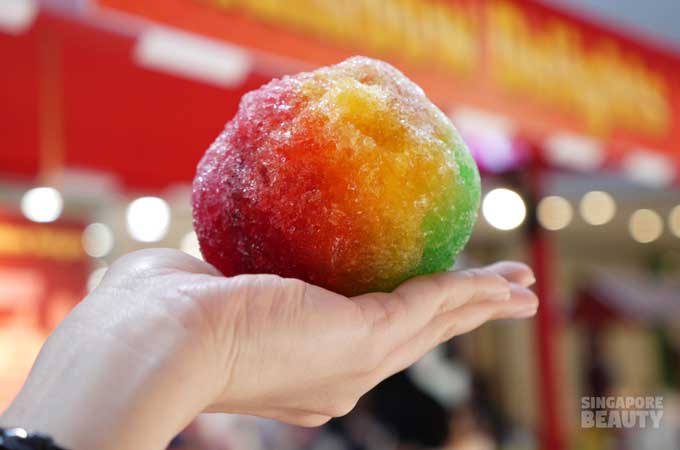 If you are feeling the heat these days, how about some cool treats at the Seletar Mall food festival 2017 sugar rush fair? This is the fair where all the Instagram-worthy and delightful treats meet. There are 8 red and white striped carnival themed carts, each serving up at least 3 types of sweet creations. Let yourself be guided by your fantasy and eat to your heart's content.
Rainbow Delights

I must confess I have a sweet tooth for pretty desserts. The first must try on my list is traditional ice ball ($2) by Rainbow Delights (the first photo at the top). This is a traditional hands-on dessert, we mean literally. You cup the ice ball with both palms and suck the flavoured syrup from it. The shaved ice balls are flavoured with rose, pandan, gula melaka syrup and electric yellow syrup. Not sure what this yellow syrup is, maybe some of you can help me out? Eat this fast or else you will end up with a puddle of water, chin chow (grass jelly bits), atap chee (palm fruit) and longan. This is one of those nostalgic treats that remind us of the good times, where ice balls goes for 5 or 10 cents each outside school gates. Old but gold.
All Natural Berry Ice Cream Frappe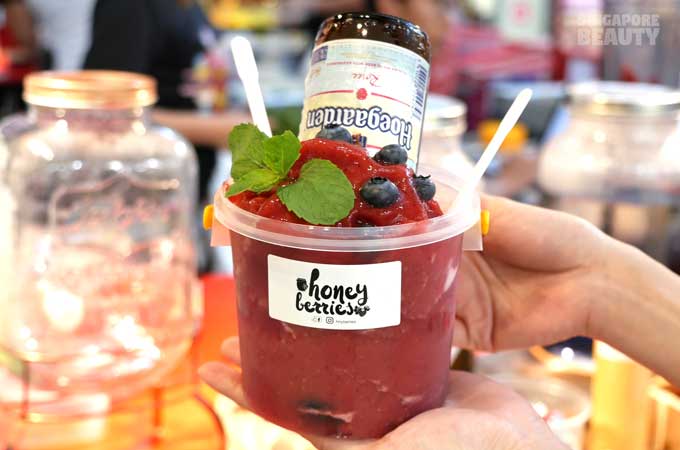 Next on our list is a stark contrast to the traditional ice balls. Introducing the berry-licous BGR (Berry Gelato Rose) ($12) by All Natural Berry Ice Cream Frappe (Honey Berries), a wicked concoction of gelato and power berries drowned in beer. Topped with some refreshing sprigs of mints and blue berries, this is our go-to drink for the day to chill and unwind. You can also try their Cha-Yen (Thai Tea) or Cha Yen Frappe if you are craving for some Thai treats.
Thai Sweet Treats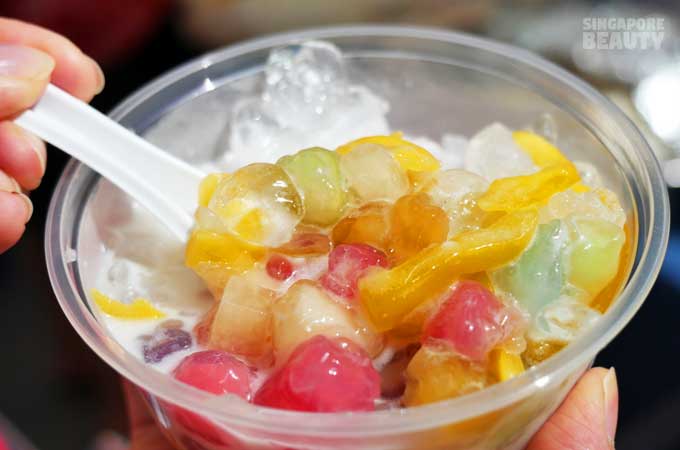 Traditional Thai desserts can be found at Thai Sweet Treats (Azalea). I tried the ice ruby ($3) which are gemstones of crunchy chestnuts coated in chewy coating. Topped with sweet yellow flesh of jackfruit and aromatic coconut milk, these are addictive and fun to eat. There are other creations such as the tako($3), coco mango cups($3) and mango sticky rice($4).
Roasted Gourmet Marshmallow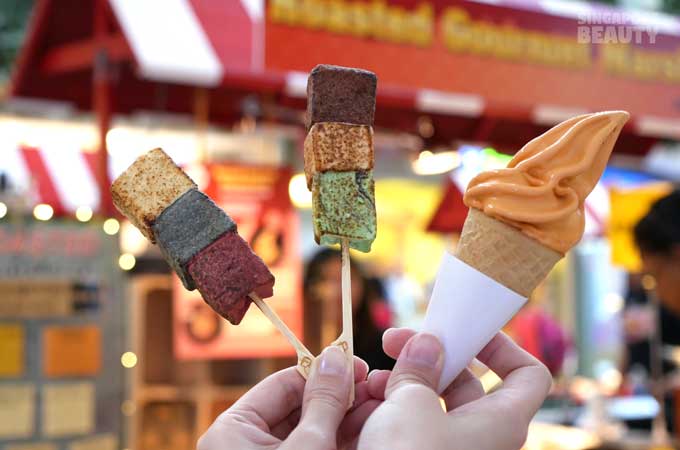 If you are looking for some intense flavours, try the Thai milk tea soft serve ice cream ($4 each or $10 for any 3) by Roasted Gourmet Marshmallow (the Wicked Cream SG). Creamy Thai tea flavoured ice cream served in a waffle cone together with some roasted marshmallows completes the experience. The roasted marshmallows are torched till the skin is crisp while the inside is soft and melty. These marshmallows come in 7 flavours.
1. After 8 mint
2. Chocolat Ferrero
3. Speculoos caramelised cookies
4. Sea salt Melaka
5. Charcoal lemonade
6. Red velvet
7. Roasted black sesame
My personal favourite is the Red velvet. Dun asks me why, maybe it is the cheese and chocolate that make it special. It is like eating a morsel of red velvet cake.
Cartoons World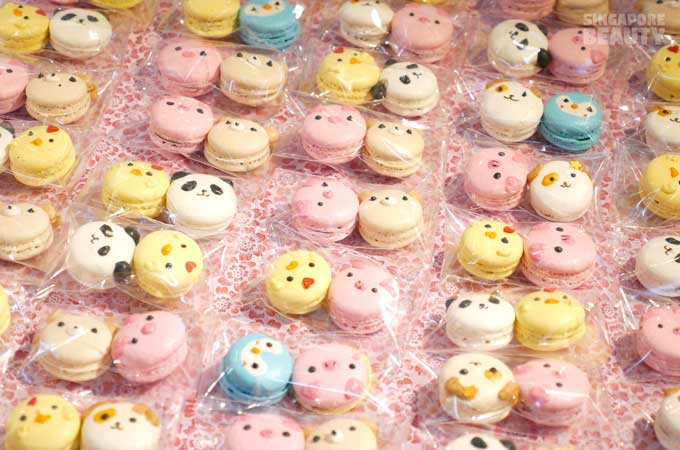 Macarons ($3.90 for 2 pieces) by Cartoons World (Angel Baker) are something you cannot miss because they are so cute.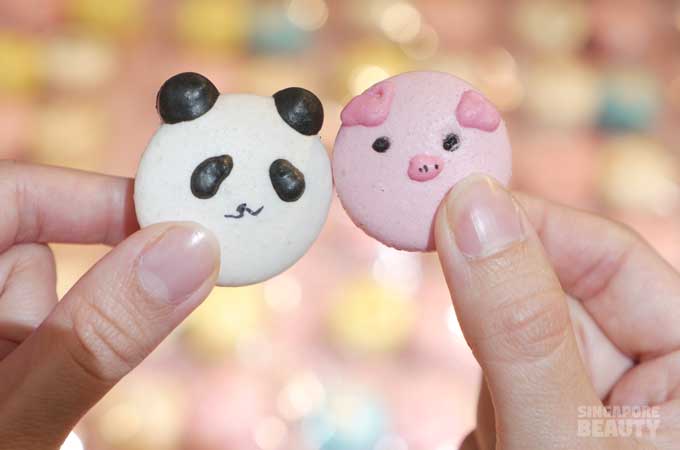 Sweet treats are getting more creative and colourful this summer. These are like works of art, each piece is hand crafted with love.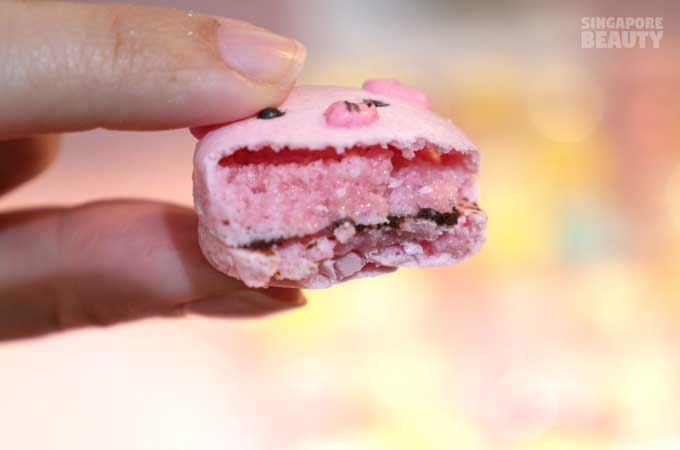 Made with almond powder and dark chocolate ganache, it is nutty and not overly sweet. These crisp little round biscuits are small mouthful of joys that lift the spirits. Pleasure without the guilt.
Team Muah Chee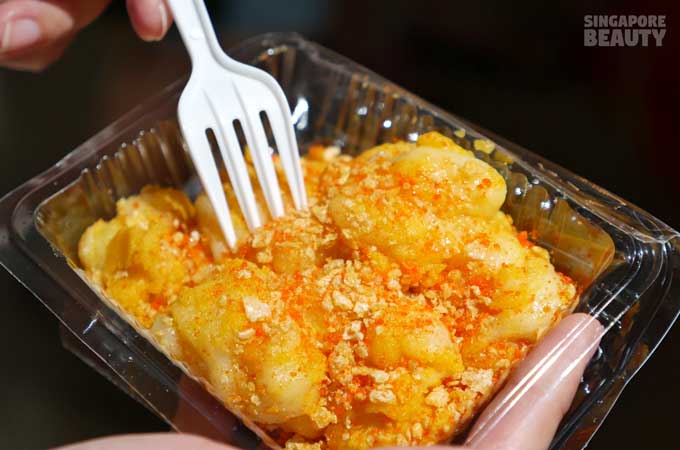 Last stop is at the Team Muah Chee (Boon Kee Kway Teow Mee). My first thought is that what has muah chee and kway teow mee has in common? These muah chee with a twist is the brainchild of Poh Zheng Xiong, the younger generation of Boon Kee Kway Teow Mee. The traditional muah chee ($2) has nothing to shout about, it is the usual crunchy and nutty texture.
I recommend the traditional muah chee with the salted egg topping ($5). The chewy texture of the muah chee topped with smashed salted egg yolk and sprinkles of orange-coloured palm sugar, is the best combination. Savoury balanced by the sweetness from the palm sugar. This clever combination tasted like snow skin moon cake and I give credit to this young muah chee-preneur. Highly recommended.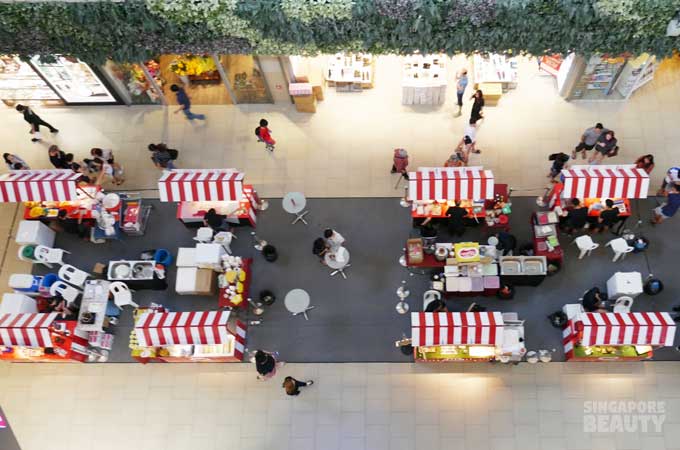 This fair is held at the Seletar Mall atrium from now till 30 July 2017. Do swing by soon before it is gone.
The Seletar Mall
33 Sengkang West Avenue
797653 Singapore
Bus Services: 50, 163 & 163M
LRT: Fernvale LRT (SW5)
Shuttle Bus schedule here