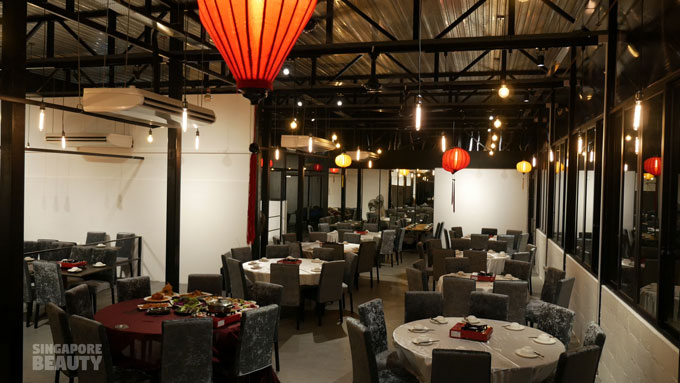 [Restaurant replaced by The Three Peacocks] Dragon Tooth Gate seafood restaurant (龍牙门) is a newly opened traditional Cantonese restaurant in town. Serving Ala-carte buffet style Cantonese cuisine and live seafood steamboat in a chill longhouse surrounded by lush greens.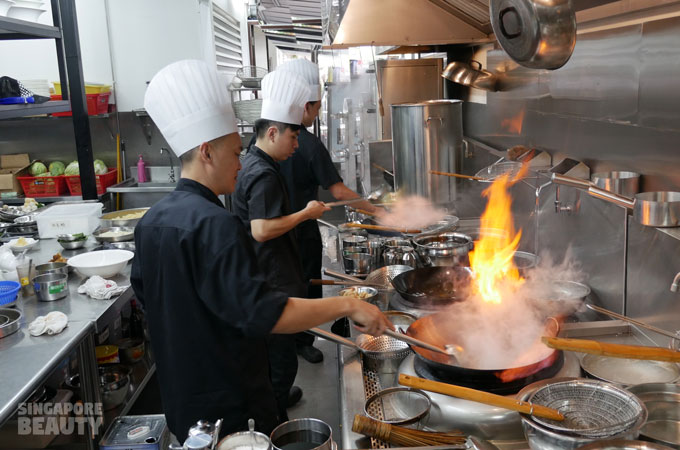 Although newly established, the commercial kitchen is helmed competently by veteran ex-chefs from Singapore's top ten popular Chinese seafood and fine dining restaurants.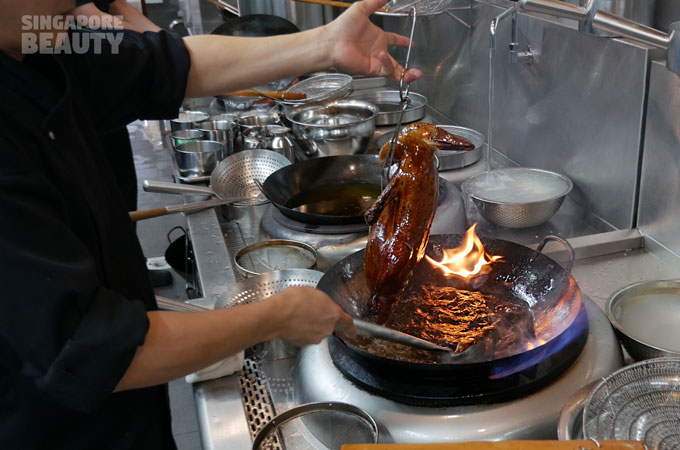 You can expect some legit Chinese cuisine served in their no nonsense kitchen.
Looking at the spread of food, this Ala-carte buffet is fit for a king! Serving up a list of curated dishes that consist of appetizers, shark fin & soup, premium seafood & fish, prawns, meat, chicken, vegetables & beancurds and rice & noodles.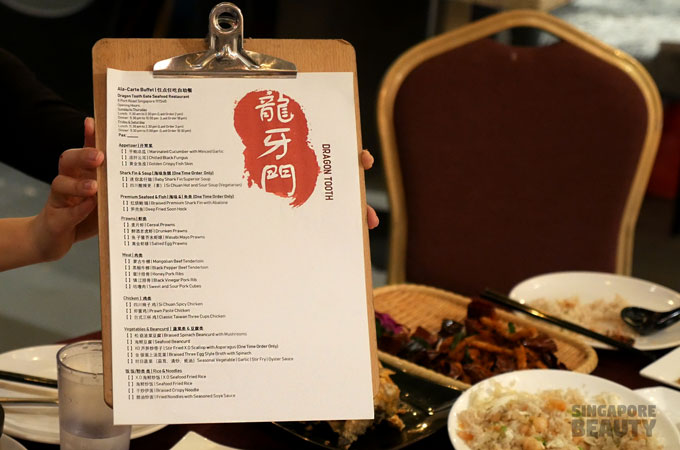 Some of the dishes here may be oddly familiar to dishes you had in some popular restaurant due to their past culinary portfolio. The only exception is that these dishes are modified to suit the ever changing palates and increasing demands from our local diners.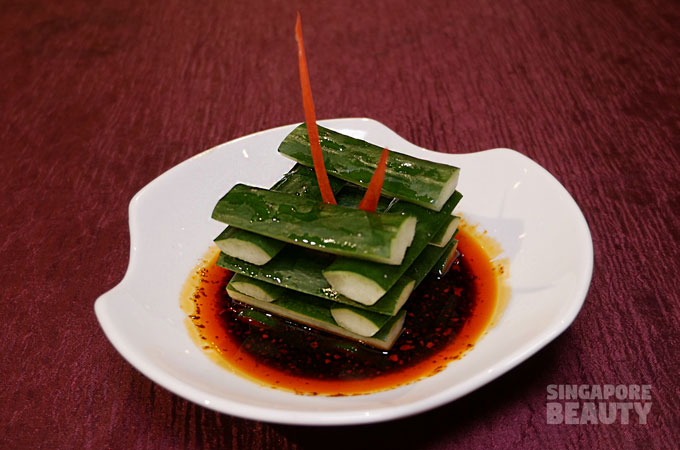 Marinated Cucumber with Minced Garlic 手帕凉瓜 – Refreshingly light crunchy cucumber spiked with chilli flakes and garlic in chilli oil to kick-start your feast.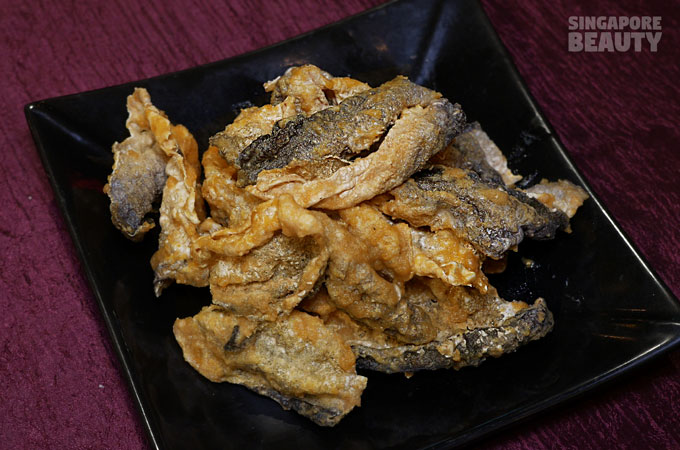 Golden Crispy Fish Skin 黄金鱼皮 – Thin crispy savoury fish skin that is slightly addictive. Other appetizer-Chilled Black Fungus.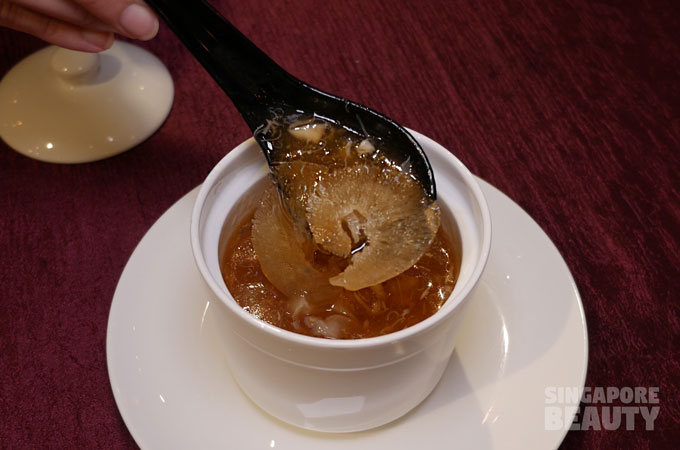 Traditional Baby Shark Fin 迷你盅仔翅 in superior rich silky broth that is prepared with chicken, ham and pork. Topped with some soft gelatinous textured fins. (Add on Delicacy bundle @ $10 per pax, one time order only)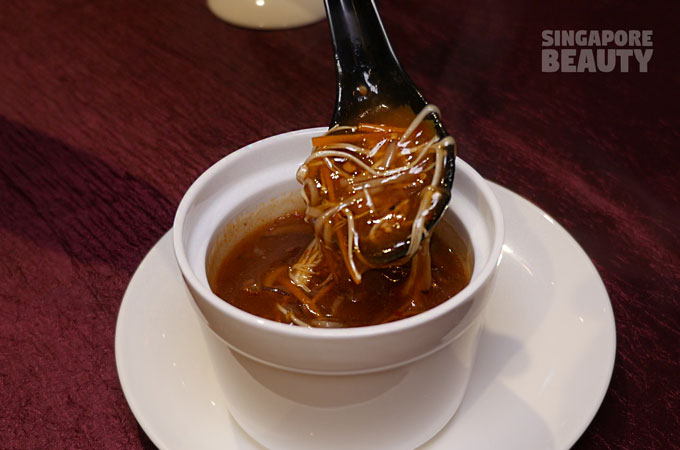 Sichuan Hot and Sour soup 四川酸辣更 (素) with a thick consistency of paper thin strands of silky tofu, enoki, carrots with strong zap of black vinegar in flavourful chicken broth. (One time order only)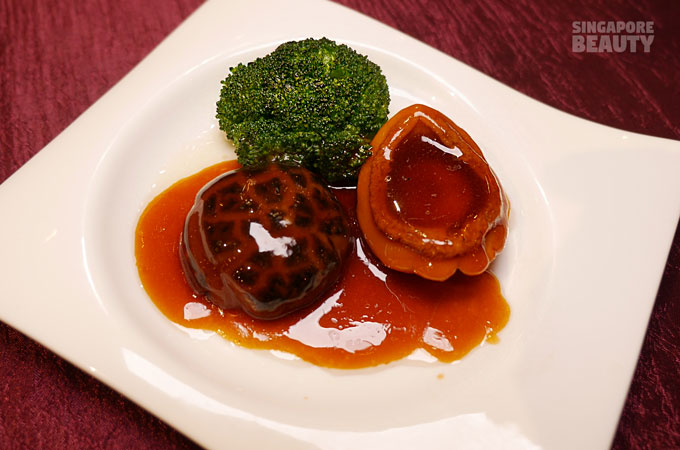 Braised Abalone 红烧鲍 – Tender abalone and shiitake mushroom glazed with thick abalone sauce. (Add on Delicacy bundle @ $10 per pax, one time order only)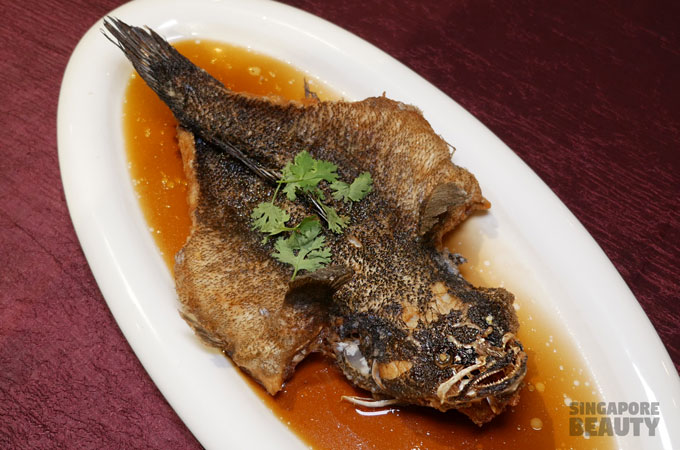 Deep Fried Soon Hock 笋壳鱼 – Crispy savoury skin and firm flesh in light soya sauce drizzled with hot oil. (Add on Delicacy bundle @ $10 per pax, one time order only)
Drunken Prawns 醉酒老虎虾 – Sweet tiger prawns simmering in strong herbal and wine broth. Served hot in an earthen pot.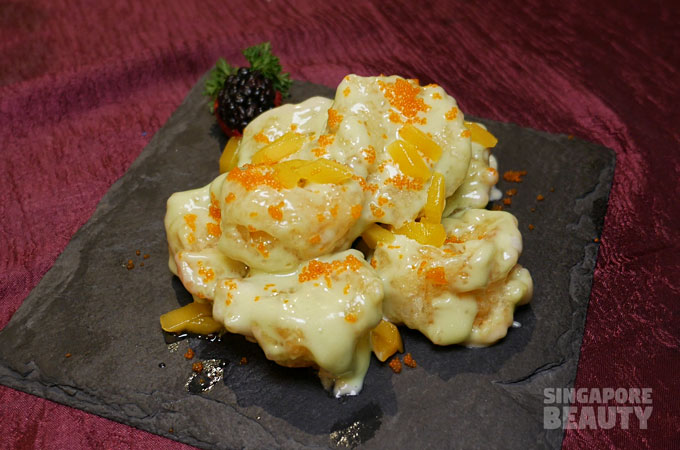 Wasabi Mayo Mentaiko Prawns 鱼子酱芥末虾球 – Crunchy deep fried prawn coated with jade green wasabi mentaiko mayo dressing.  Other Prawns includes Cereal Prawns and Salted Egg Prawns.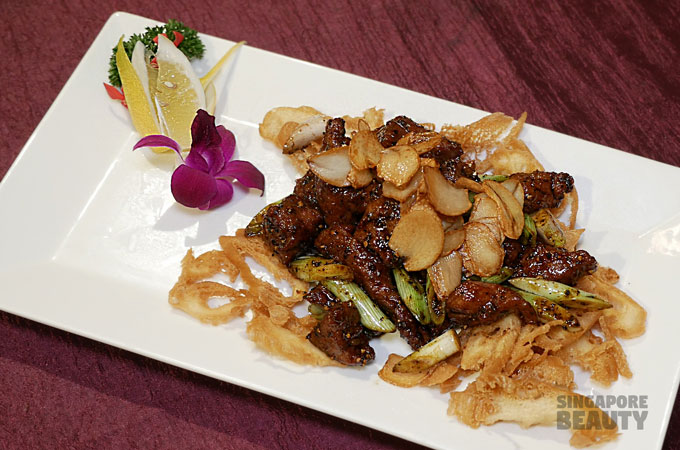 Black Pepper Beef Tenderloin 黑椒牛柳 – Beef Tenderloin topped with loads of fragrant garlic chips and crispy Chinese donut.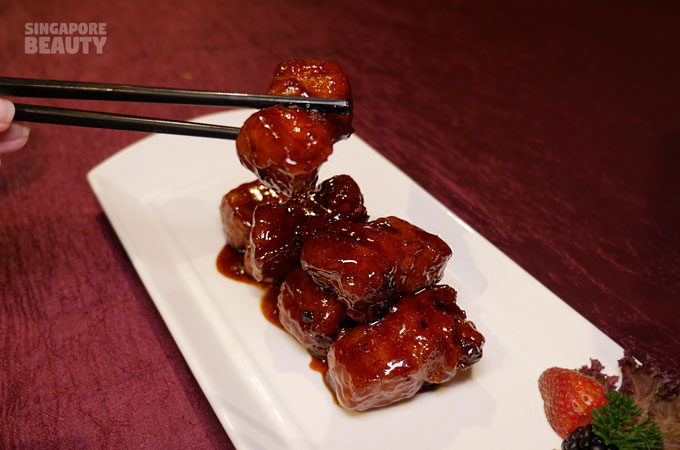 Black Vinegar Pork Ribs 镇江排骨 – Ribs that has a bite to it and melt in your mouth fats. With a sharp and tangy honey glazed coat.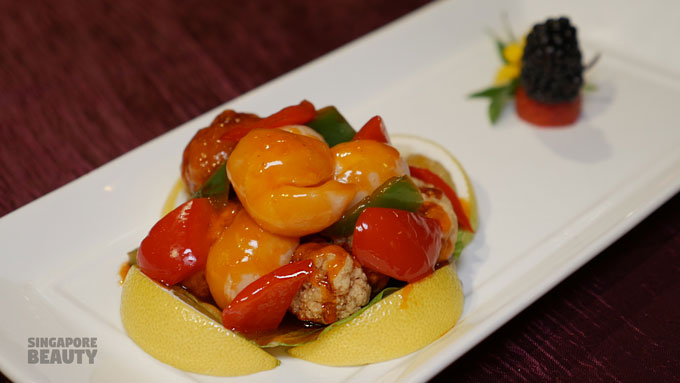 Sweet & Sour Pork Cubes 咕噜肉 – With a good amount of fats and lean meat lightly coated and deep fried. Eat these with the sweet bell peppers and lychee that are drizzled with sweet and sour tomato based sauce. Other Meat includes Mongolian Beef Tenderloin and Honey Pork Ribs.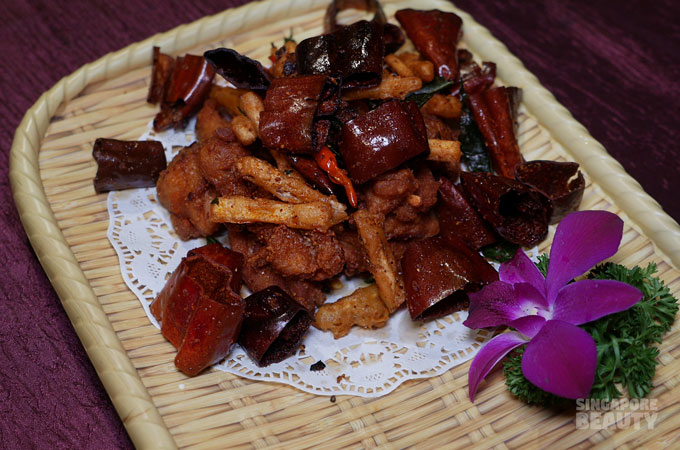 SiChuan Spicy Chicken 四川辣子鸡 – Crispy deep fried chicken spiked with fragrant Sichuan bell peppers and creamy deep fried yam sticks.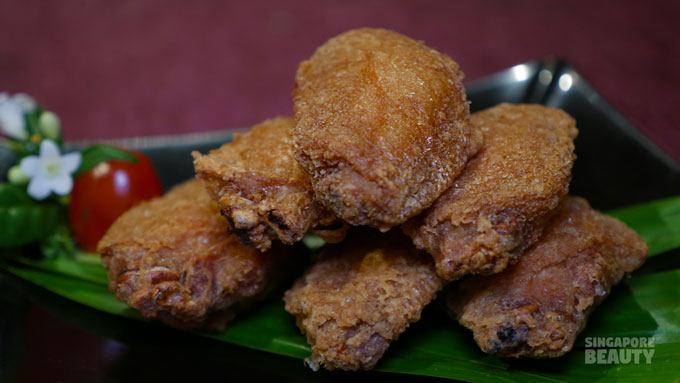 Prawn Paste Chicken 虾酱鸡– The good old school prawn paste chicken with juicy flesh and savoury skin. Other chicken includes Classic Taiwan Three Cups Chicken.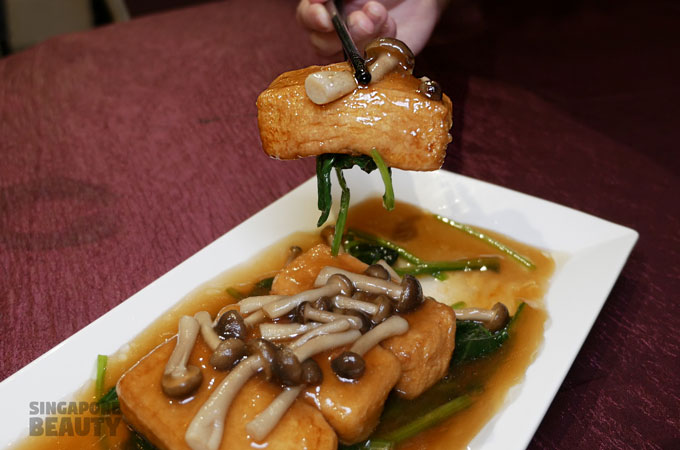 Braised Spinach Beancurd with Mushrooms 松菇波菜豆腐 – Soft custardy homemade tofu encased in a chewy skin topped with oyster sauce atop a bed of young tender green spinach.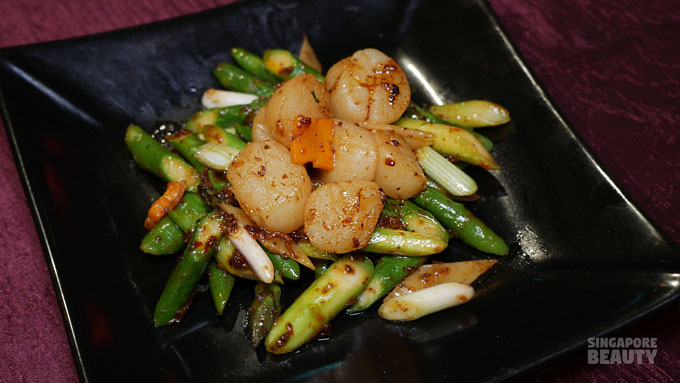 Stir Fried X.O Scallop with Asparagus XO芦笋炒带子 – Young tender asparagus shoots and plump scallops sautéed in X.O sauce (one time order only). Other Vegetables and Beancurd includes Seafood Beancurd, Braised Three Egg Style Broth with Spinach and stir fry seasonal vegetable (in garlic or oyster style).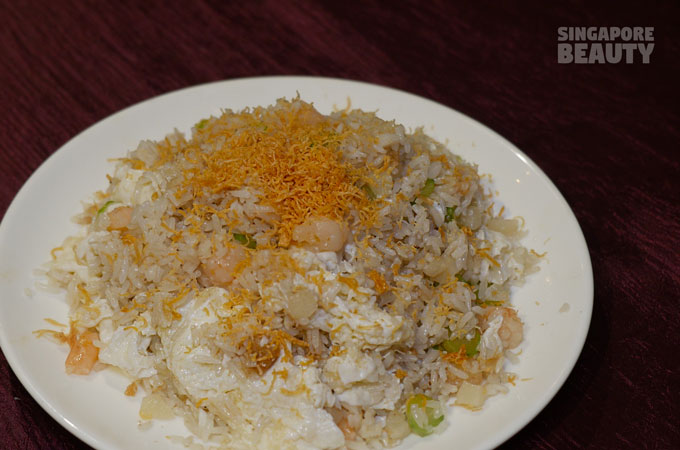 X.O Seafood Fried Rice X.O海鲜炒饭 – The Billionaire's Fried rice with egg white and freshwater shrimps topped with shredded crispy conpoy. Other Rice and Noodles includes Seafood Fried rice, Braised Crispy Noodle and Fried Noodles with Seasoned Soya Sauce.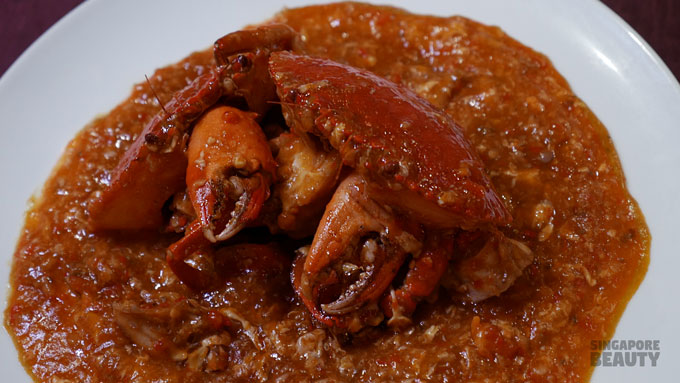 Singapore Chilli Crab 新加坡辣椒螃蟹 – Mud crab in tomato based sweet chilli crab sauce.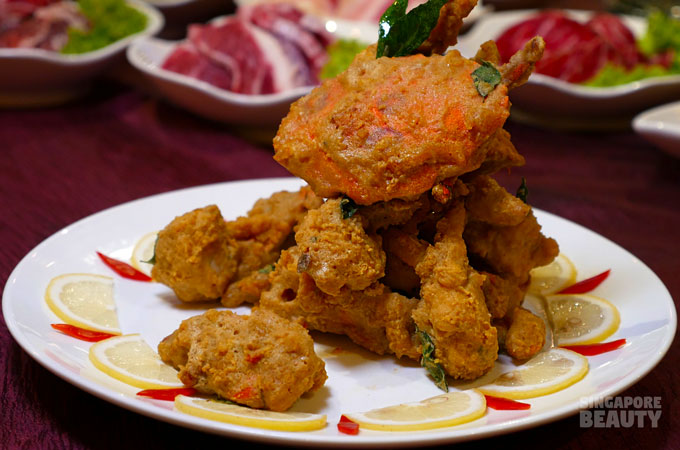 Salted Egg Crab 金沙螃蟹 – This is a unique salted egg crab dish that has a crispy, rich and saline crust with a hint of fragrant curry leaves.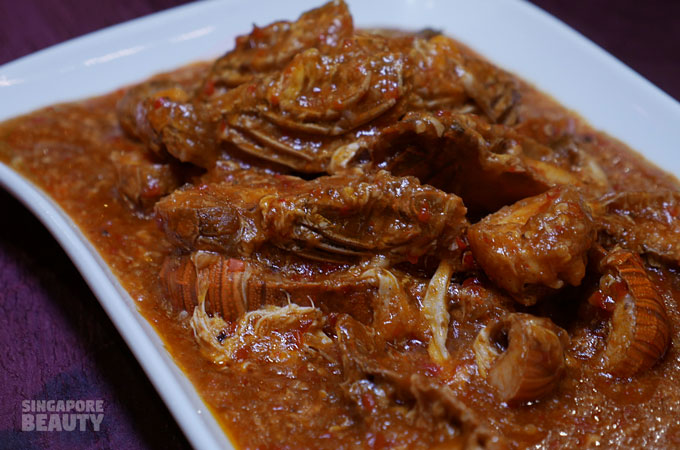 Chilli Crayfish 辣椒虾婆 – All time favourite crayfish in Singapore's signature chilli crab sauce.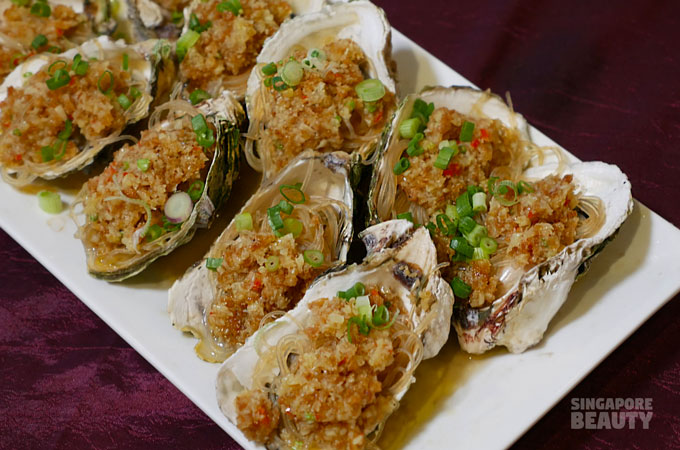 Steamed Oyster 蒜香粉丝鲜蚝 in Garlic and glass noodles – Bite size oysters topped with Sautéed diced garlic and glass noodles that soaks up the briny juice from the oyster.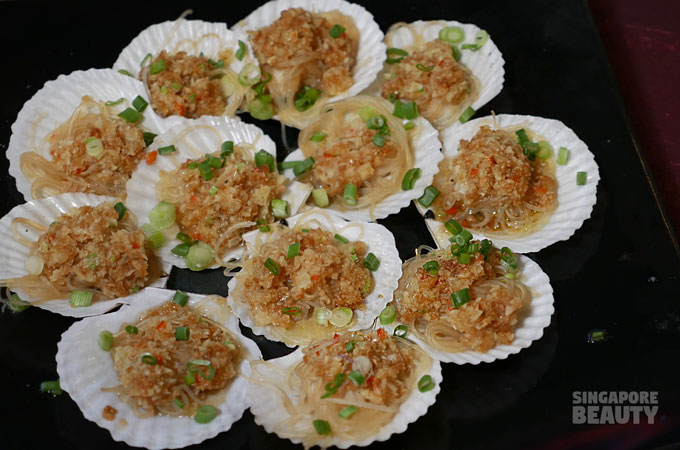 Steamed scallops 蒜香粉丝扇贝 – same style as the steamed oyster, great for seafood lovers!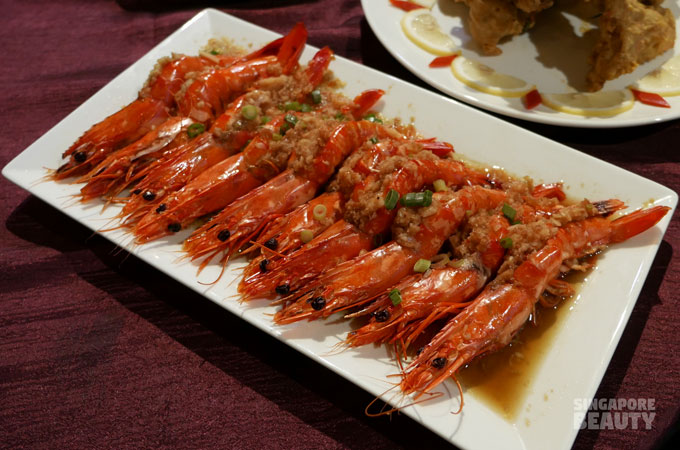 Steamed Garlic Prawns 蒜蓉蒸虾 – Fillet deveined prawns steamed with diced garlic and topped with Chinese cooking wine and hot oil.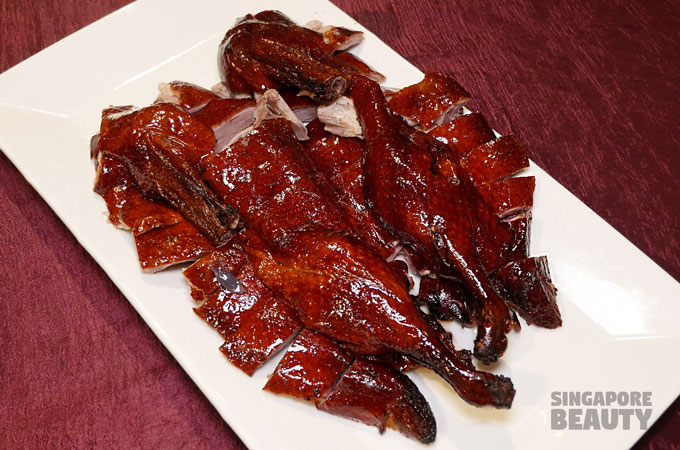 Cantonese Roasted Herbal Duck 粤式脆皮烤鸭 – Flavourful herbal duck that is not overly oily. Tender flesh infused with the goodness of spices.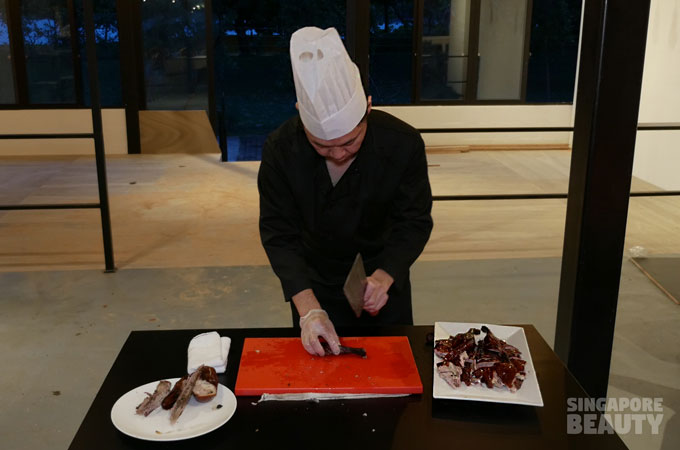 Freshly roasted in house Herbal Duck plated by the roast master and served to you in style.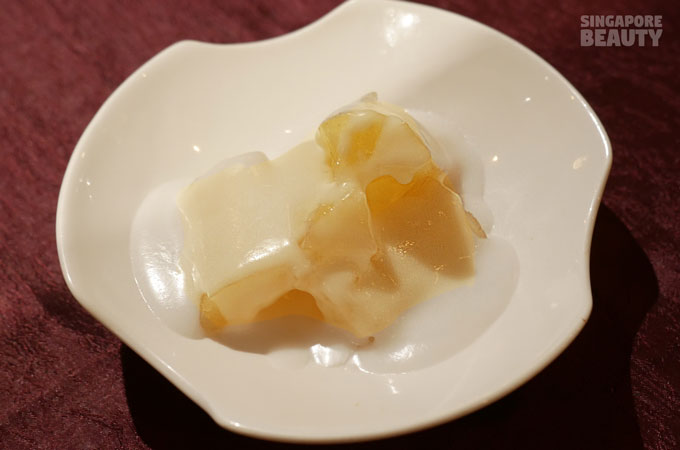 Dessert is Steamed Candied Tapioca in Heavy Coconut Cream 椰奶糖心薯. I am divided on this dessert. My ideal of an ideal dessert will be some warm and creamy Yam Paste (Orh Nee) with Gingko nuts or pumpkin puree.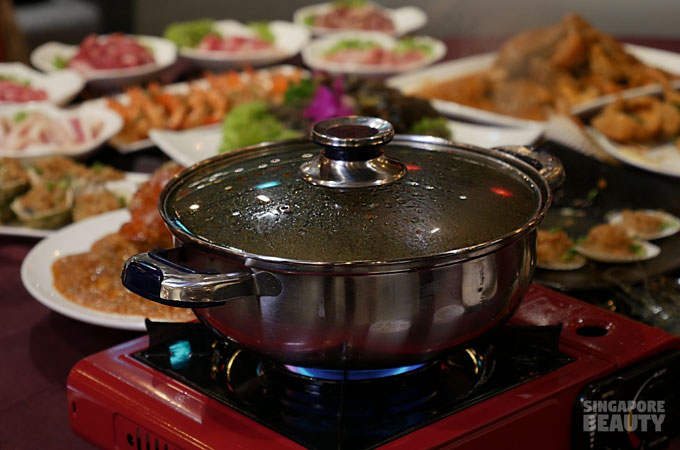 Besides the Ala-Carte buffet cooked Chinese cuisine, steamboat is also available in this buffet.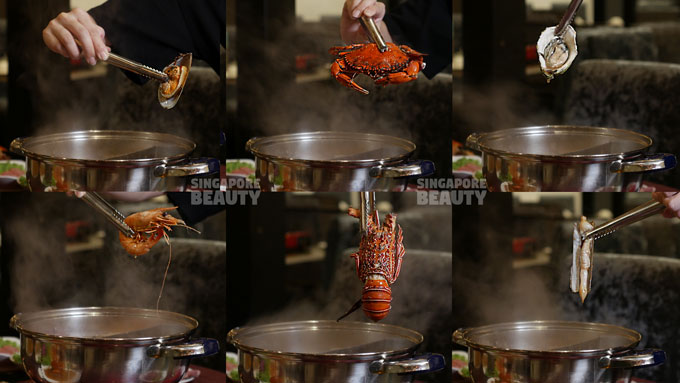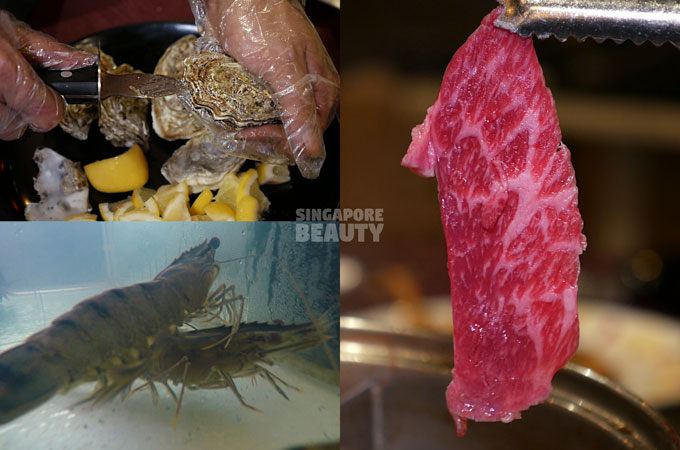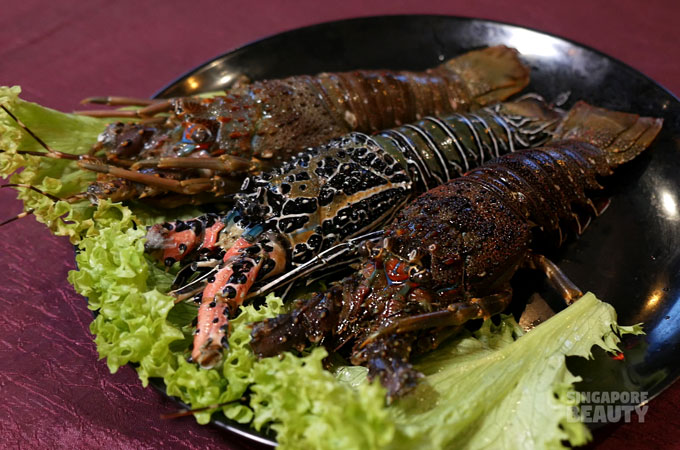 To add a steamboat to Chinese Ala-carte seafood buffet, top up $10 per pax to enjoy Wagyu (1 set), baby lobster (1 per pax), live oyster, live tiger prawns, live mud crabs, unlimited meat and seafood (tiger prawns, oysters, crayfish, clams and mussels). Latest Update: Free-flow baby lobsters from 1st Feb to 11 March 2018! Hurry!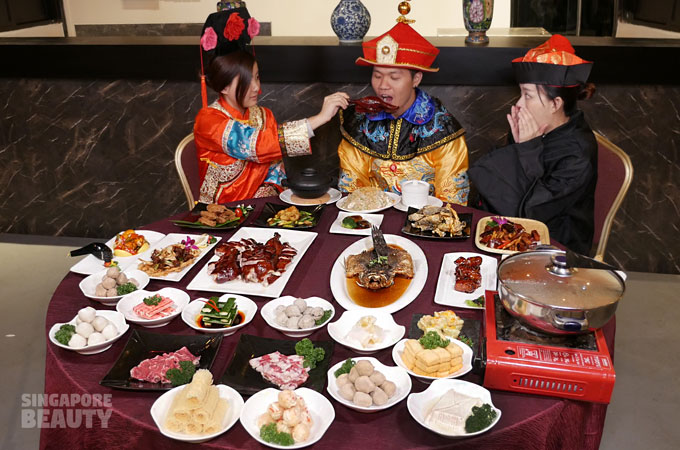 Choose from 4 types of soup base Herbal Chicken, Mala (hot and spicy), Teochew style (with salted vegetables) and Tomato base.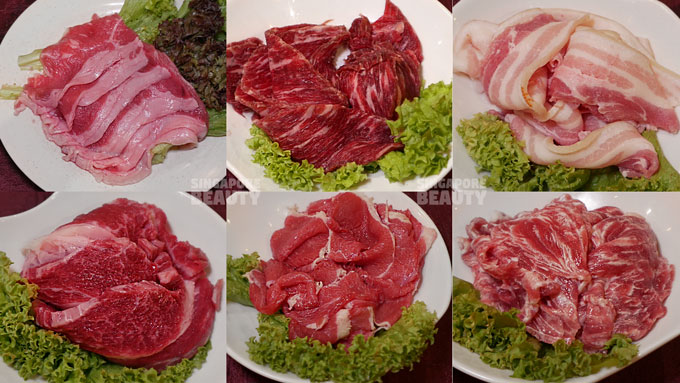 For meat lovers, chicken thighs, pork belly, beef (brisket, sirloin, ribs) are available for the steamboat. Surimi, seasonal vegetables and fungi are available as well.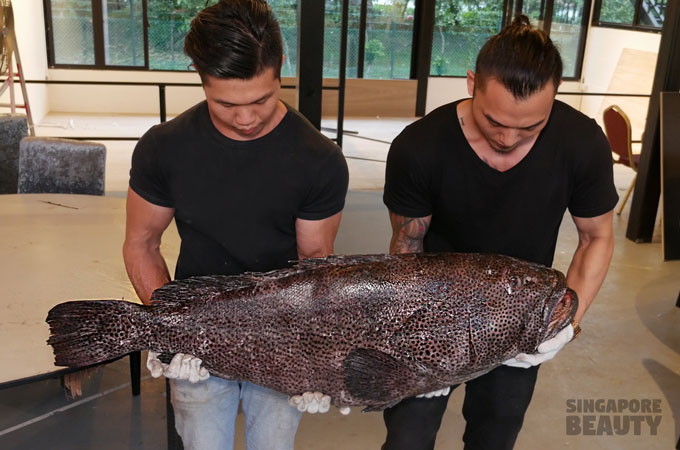 Want more? How about a 30kg grouper? Limited to one set of fillet per table. Top up $3.99 per pax for free flow hot drink – choice of Chrysanthemum tea/ Oolong or cold drink Homemade Barley Tea.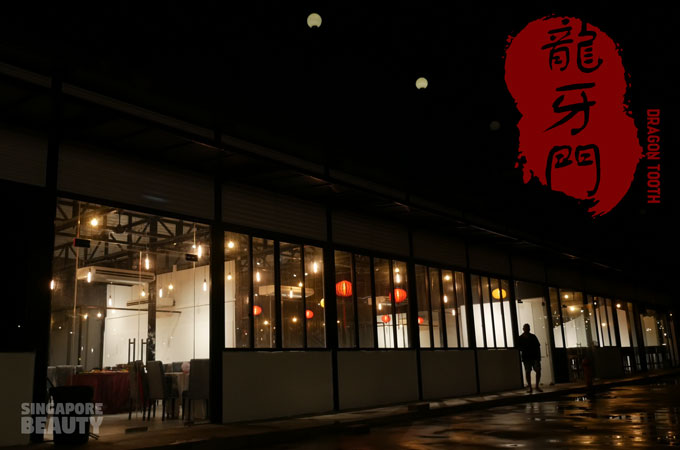 Head down to Dragon Tooth Gate today to enjoy this feast fit for a King! Great venue and choice for large and cosy gatherings for this upcoming Chinese Lunar New Year. Reserve a slot for your reunion dinner with them now.
Buffet Price and timing:
Ala Carte Seafood Buffet @ $42 Nett
Hong Kong /Singapore Style Seafood (Crayfish, Scallops, Oysters, Crab, Bamboo Clams, Tiger Prawns, Mussels, Clams)
Choice of Cooking Style – Hong Kong Typhoon Shelter (避风塘), Steam (Garlic & Soya Sauce), in Chilli crab sauce, Golden Sand (salted egg yolk) & Black Pepper.
Includes Cooked Meats, Vegetables, Noodles, Rice
Add on Steamboat @ $10 per pax
Steamboat – Waygu Beef (1X) – Baby Lobster (1X) – Mud Crab, Live Tiger Prawns, Live Oyster – Free Flow Meats and Seafood (Tiger Prawns, Oysters, Crayfish, Clams, Mussels)
Just in! Free-flow baby lobsters from 1st Feb to 11 March 2018!
Add on Delicacy Bundle @ $10 per pax
Abalone, Shark fin soup and single serving of Soon Hock.
Operating Hours:
Lunch: 1130am-230pm (Last order 2pm)
Dinner: 530pm-10pm (Last order 930pm)
Friday & Saturday (extended dinner hours till 11pm(last order 1030pm)
Time Limit:
180 minutes
Location:
8 Port Rd, Singapore 117540
15mins walk from Labrador MRT station.
If you are driving, parking is free.
Restaurant permanently closed.
[Restaurant replaced by The Three Peacocks]
Reservations:
(WhatsApp Only) (+65) 91385079
Brought to you by Dragon Tooth Gate Seafood Restaurant