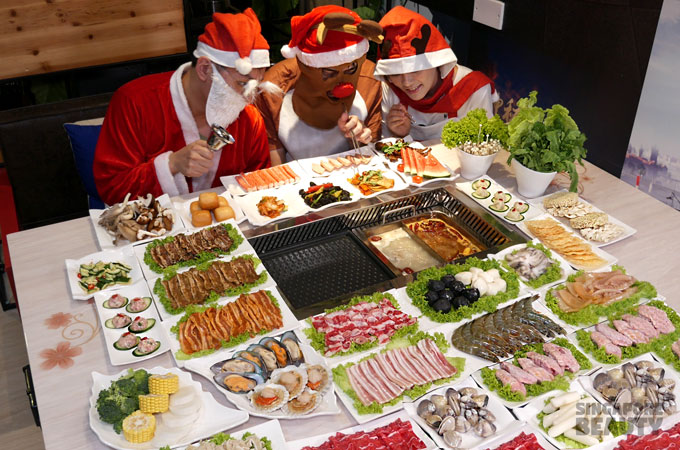 DM Chicken is calling out to all meat lovers and seafood lovers to gather at their restaurant to celebrate the festive season with lots of good food at affordable prices. You can try their newly launched 2-in-1 grill and hotpot buffet. Look at the spread of food!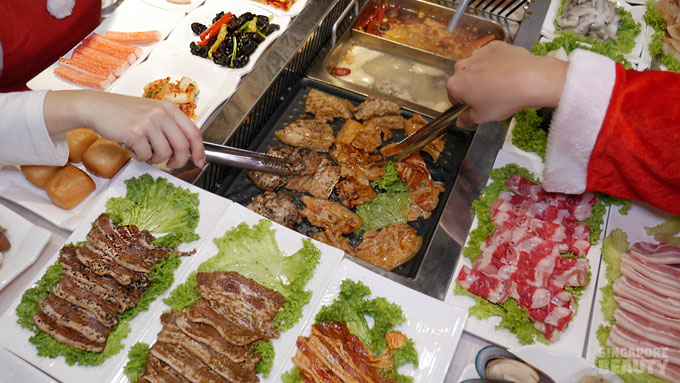 With more than 60 dishes from appetisers, BBQ meat, shabu shabu meat, seafood, surimi, soup bases to vegetables to choose from, you will be spoilt for choice.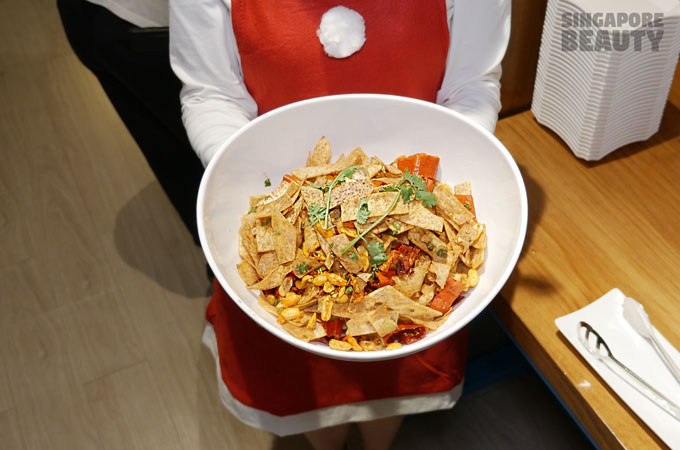 The appetisers consist of fresh crispy paper thin taro yam chips with toasted nuts, red peppers tossed in special mix of grounded spices. You will fall in love with these taro chips as they are so addictive. I will not hesitate to stock up on these as CNY snacks.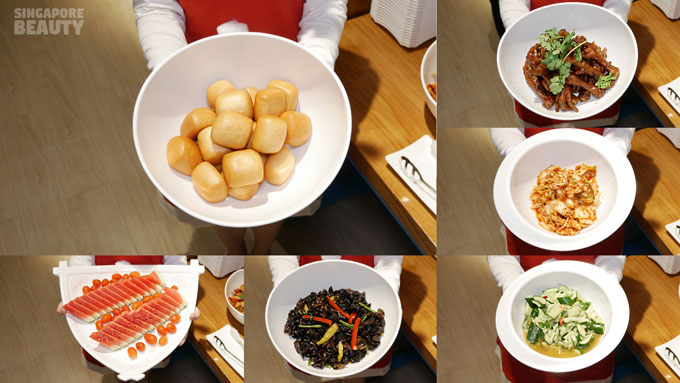 Also look out for the other appetisers such as deep fried golden man tou pillows, cucumber in special vinegar dressing, braised chicken feet, Korean kimchi, black fungus with bird eye chilli in vinaigrette and freshly cut watermelon with cherry tomatoes.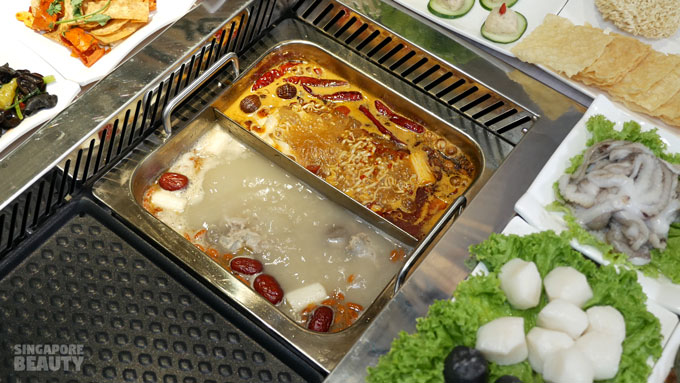 DM Chicken has brought in new sets of grills cum hot potting. The set of 2-in-1 hotpot and grill is designed adjacent to each other for ease of cooking. You can grill and hotpot at the same time without worrying about oil splattering on your hands when you reach for the meat in the conventional old fashion hot pot surrounded by the grills.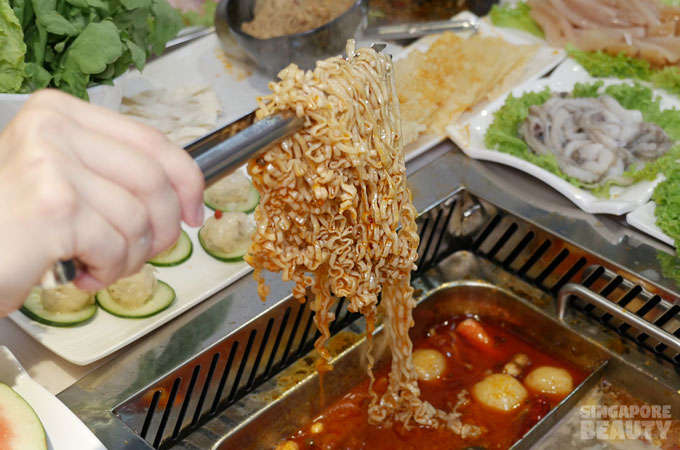 Hot pot soup bases available are signature mala soup, pig bone broth, tangy tomato soup, fish soup and kimchi soup. We tried the signature mala soup made with real spices, to give you the layered and robust broth. Bubbling hot soup with roasted dried chilli pepper, pepper corns, fragrant chilli oil and spices. Hot!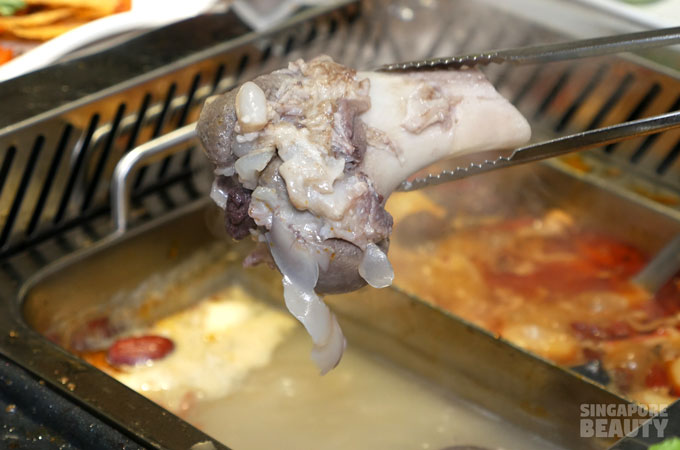 We also recommend the pig bone soup made with dates, wolfberries, leeks and real pig bone. We are lucky to get the pig bone. You can suck the soft mushy marrow out of the pig bone and eat the cartilage if you are a fan of these delicacy.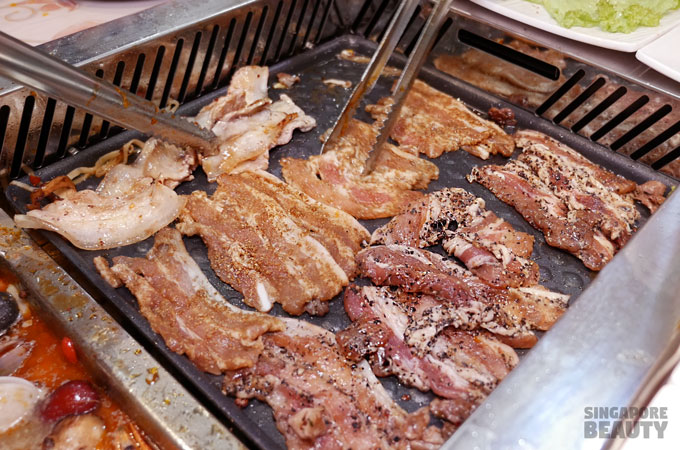 These sets have air convection systems that circulate above the grills and hotpots to filter the amount of grease and fumes released into the surrounding air resulting in a less fume and grease hot potting and grill experience. It works something like an air curtains that prevents grease and fumes from escaping.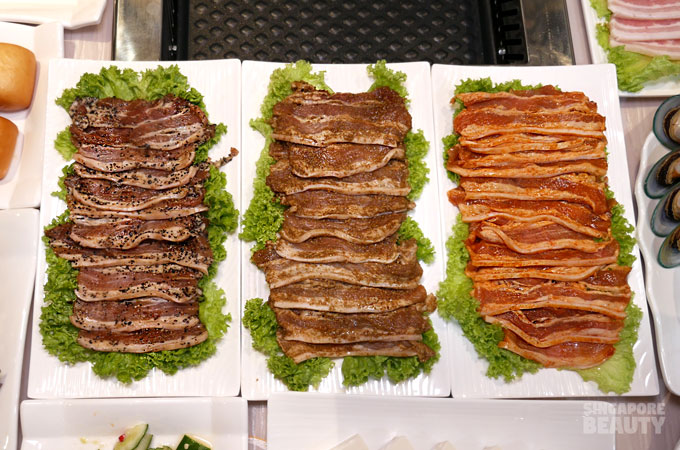 BBQ meats available are sliced pork belly in black pepper, cumin, spicy flavours and in its naked glory. You can also try the beef, mutton and chicken mid wings in DM Chicken's secret marinade.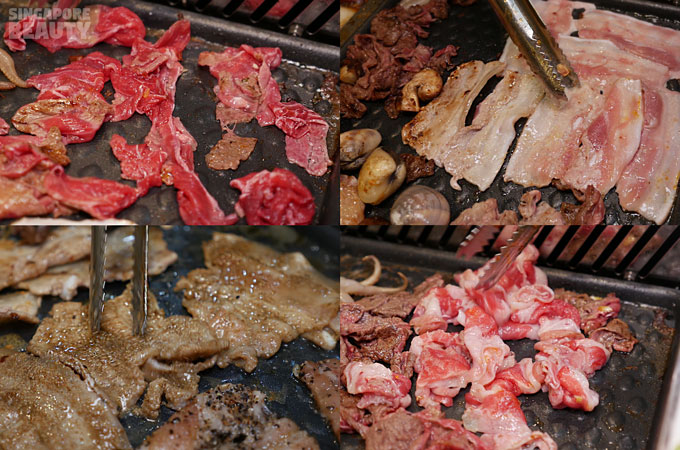 Watch your meat as they sizzle away.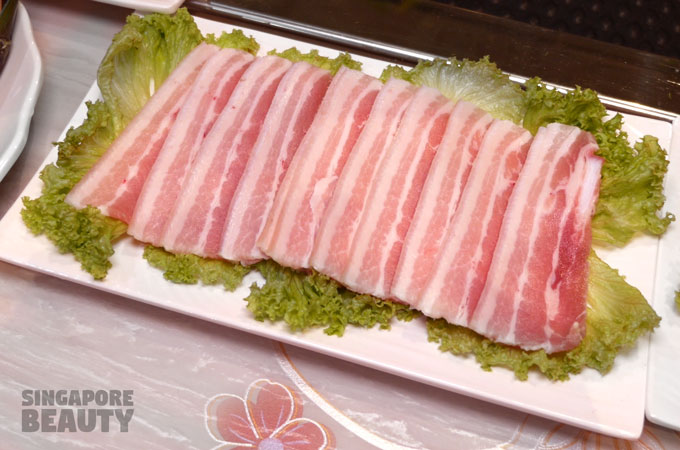 For the hotpot, the meat available are beef omasum, US beef, sliced shabu shabu mutton, pork belly, pig intestines, Taiwan sausages, handmade fresh meat balls, handmade dumplings, quail eggs and eggs.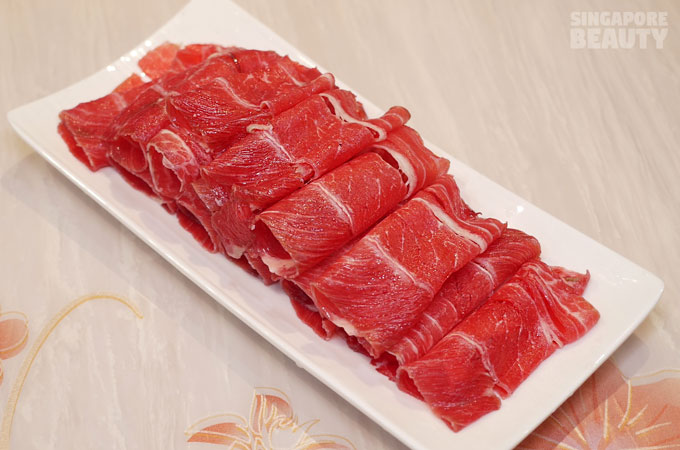 Freshly sliced paper thin mutton for shabu shabu.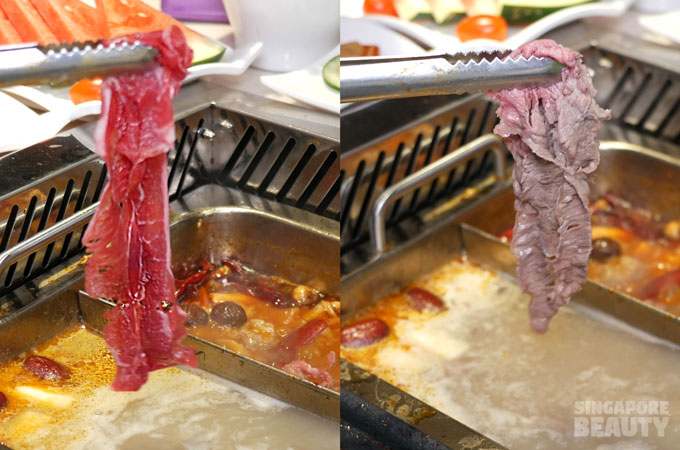 Dip the sliced shabu shabu mutton thrice in boiling soup and enjoy!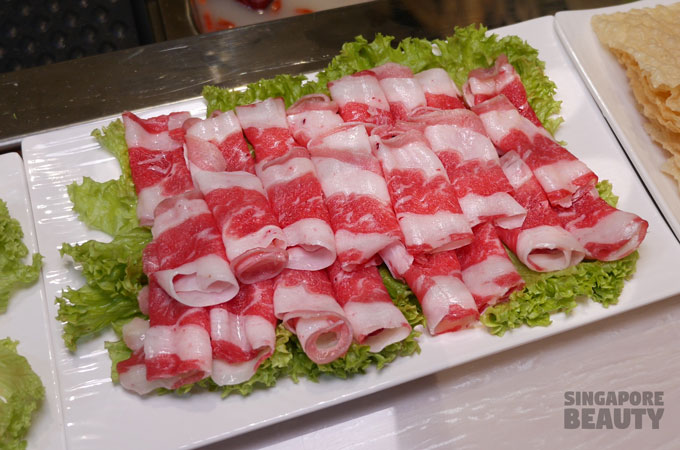 These thinly sliced US beef are great for shabu shabu. Soft and tender when cooked.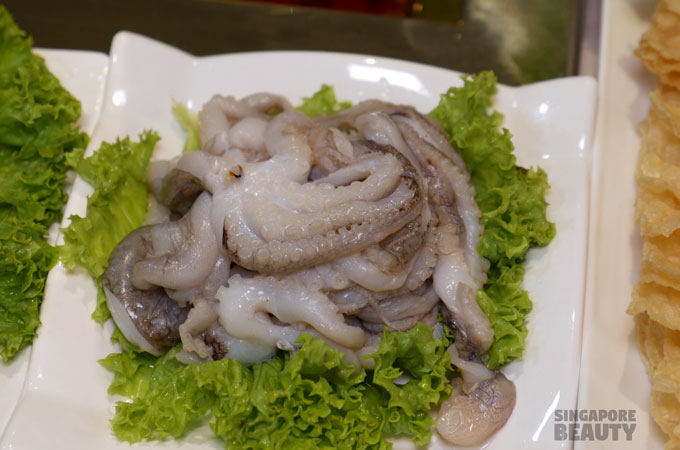 Seafood lovers will rejoice over their choices of seafood.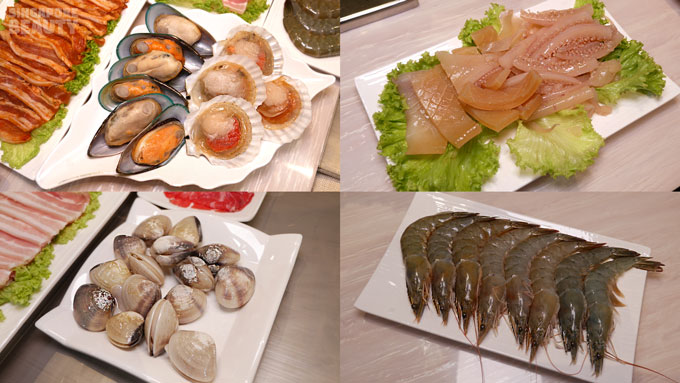 Seafood available are prawns, lala, baby octopus, cuttlefish, green lipped mussels, half shell scallops, prawn ball, fish ball, squid balls and fresh sliced fish.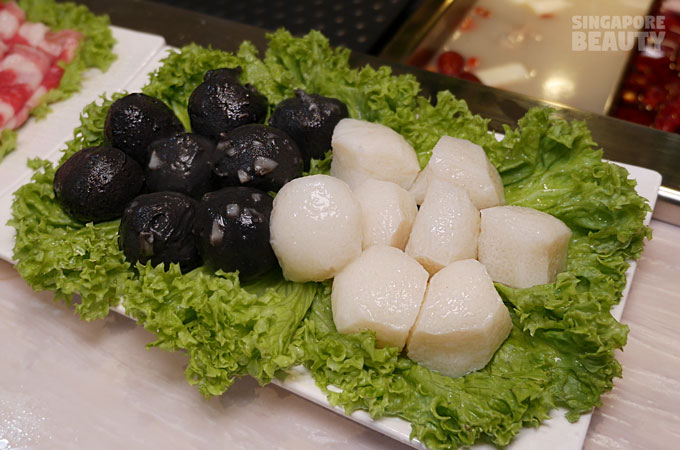 Squid balls with real chopped squid bits in them.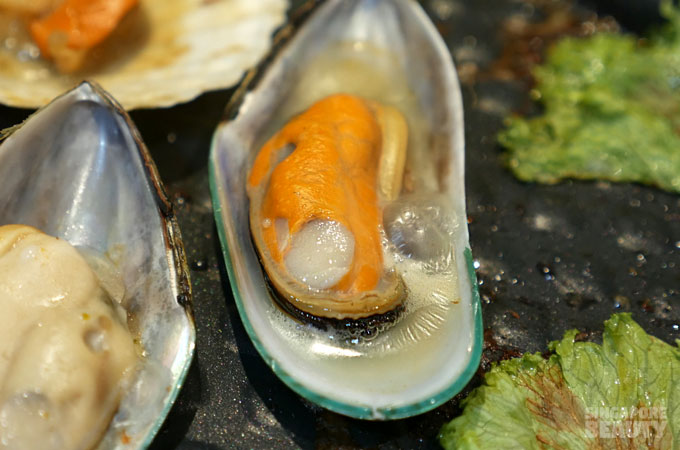 Look at the bubbling juicy mussels cooking in their own briny broth.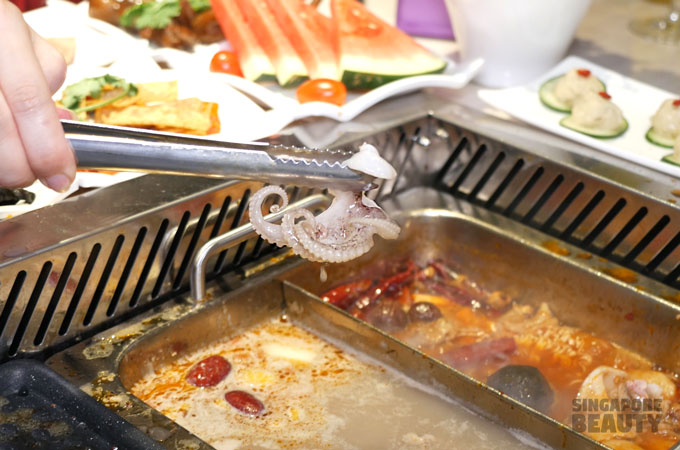 The crunchy baby octopus is ready to be eaten after dipping it briefly in the boiling broth.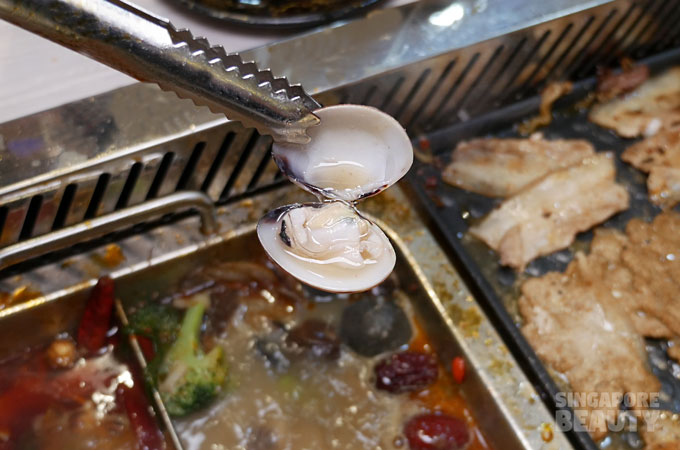 How about some succulent lala in pork bone broth? These lala are fresh, fat and juicy!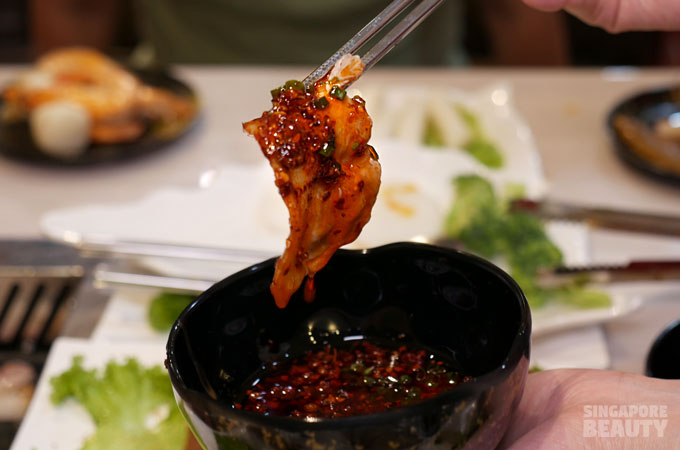 Condiments available are chopped green onions, coriander, chilli padi, garlic, chilli oil, pepper corn infused oil, sesame oil, vinegar, leek infused oil, fermented bean curd, peanut butter dressing, sesame paste, laoganma chilli, msg, sugar and salt. Mix and match from the 16 condiments to create a customised dip for the meat!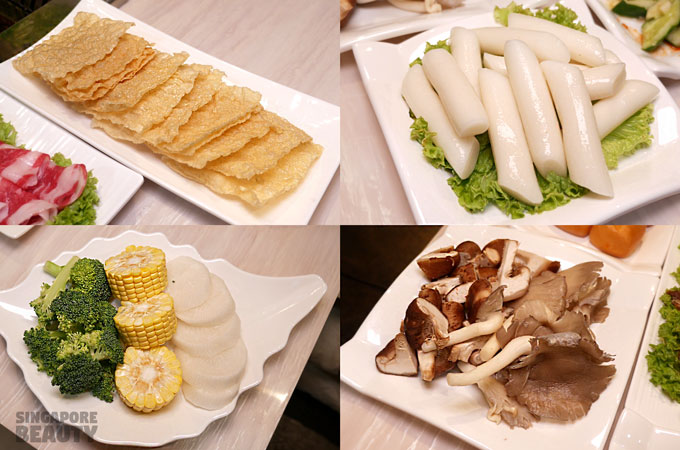 The greens available are white oyster mushroom, shitake mushroom, enoki, chinese cabbage, Tang-O, local lettuce, cauliflower, broccoli, bamboo shoot, black fungus, kelp, cucumber, winter melon, corn cob, radish, sliced sweet potato, yam, bean curd, fried bean curd, rice cake, potato vermicelli, fine vermicelli, handmade noodles and egg noodles.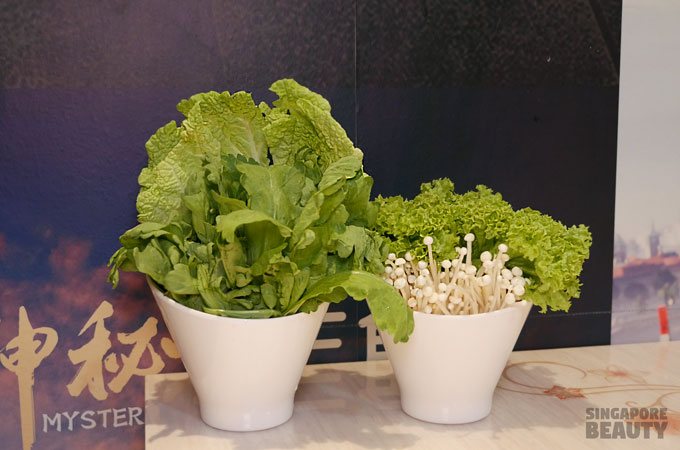 If you are a fan of Tang-O-the Chinese New Year veggie, you can find them here. These bouquets of veggie are so pretty.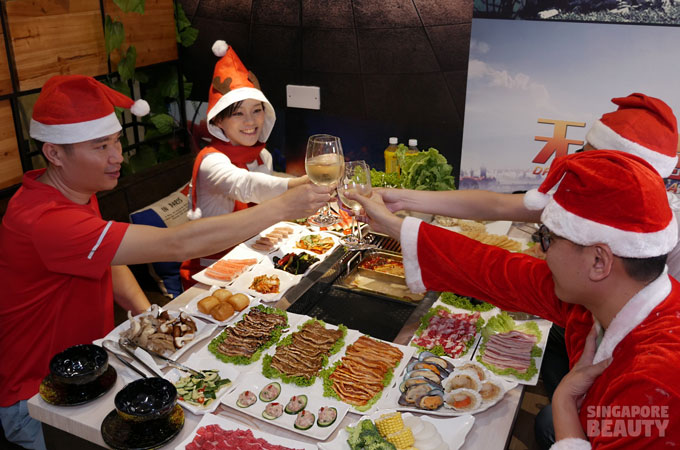 Good news! Dm Chicken is launching this at a promotional price stated below.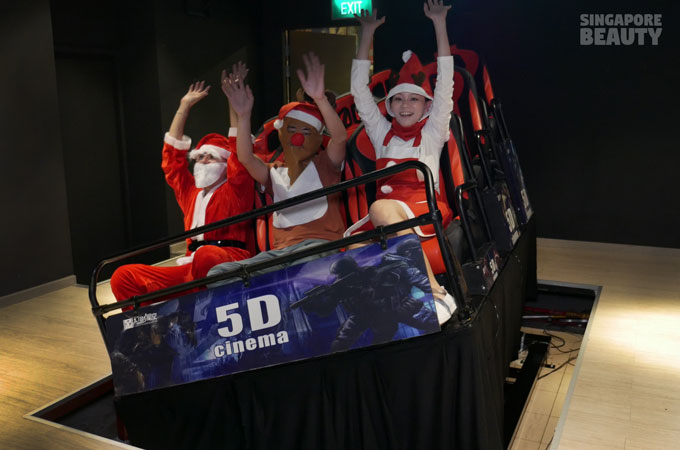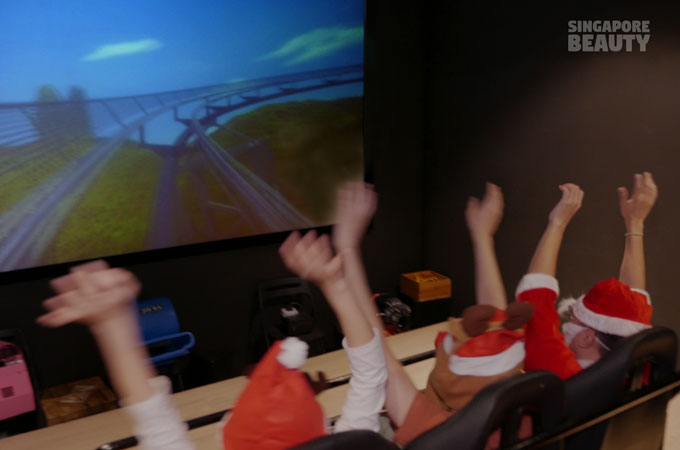 and a free 5D movie experience too!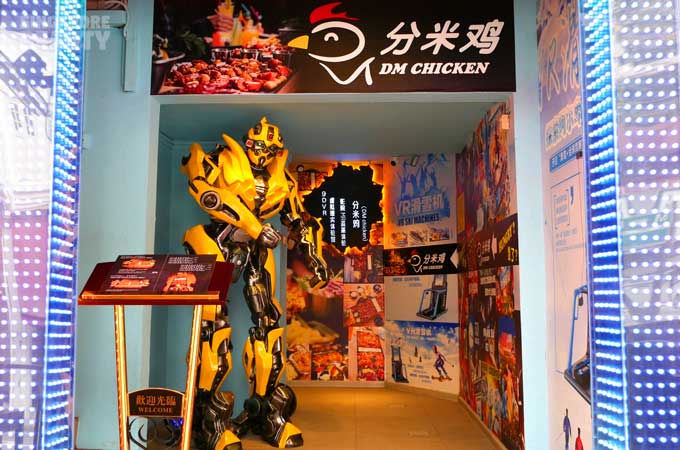 Head down to DM Chicken today, this is an offer too good to be missed. Yes, it is happening now!
Monday-Friday Lunch Buffet
Adult at $21.90+
Kids (5-12 years old) at $12.90+
Dinner, PH & weekends Buffet
Adult at $26.90+
Kids (5-12 years old) at $14.90+
Single soup base $6+
Duo- soup base $10+
Table time limit:
Minimum 2 pax to dine
Lunch time 11.30-3pm (last order)
Dinner time 3.01pm-1am
Peak hours table time limit:
Between 2-4pax – 90 mins
5pax and above – 120 mins
Location:
Exit E or exit A from Chinatown MRT.
191B New Bridge Road (take their lift up to level 3)
Singapore 059423
Operating Hours:
11:30AM – 1:00AM
Reservations:
6909 2756
Brought to you by DM Chicken.