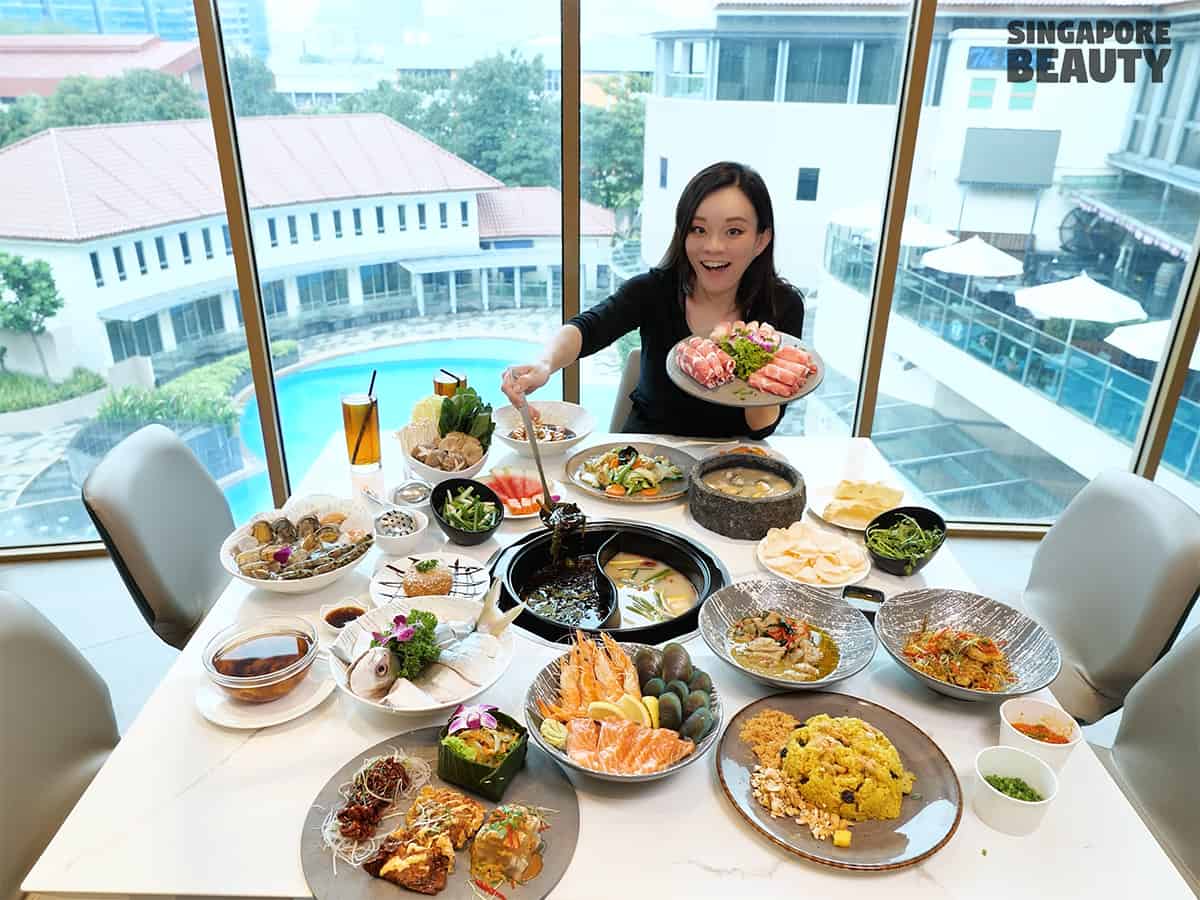 Qi Xiang Hotpot is serving 2 sets of Festive feast to celebrate this Chinese New Year 2023. They have Qi Xiang Fortune set and Lucky set that can serve up to 8 people. If you are planning for 2023 reunion dinner 2023, you can check out their Chinese New Year menu. For Chinese New Year lunch 2023 reunion meal, they have a 1-For-1 promotion that you can try. This is exclusively available at Qi Xiang Hotpot Chevrons outlet only.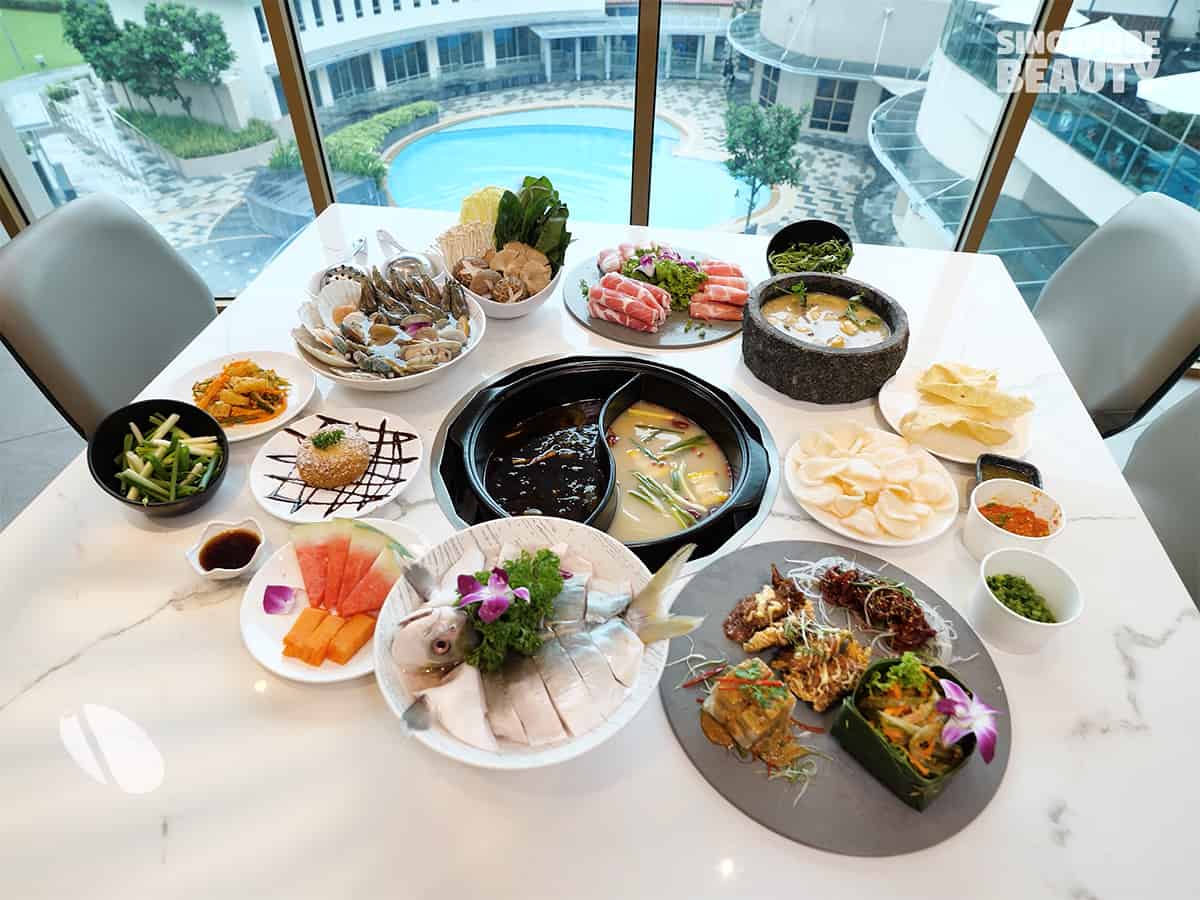 This is Qi Xiang Lucky Set Meal ($288++) for 3-4 people. This is an 8 course set meal that includes steamboat and cooked Chinese Fusion cuisines. You can enjoy the best of both worlds with this set overlooking a nice pool view.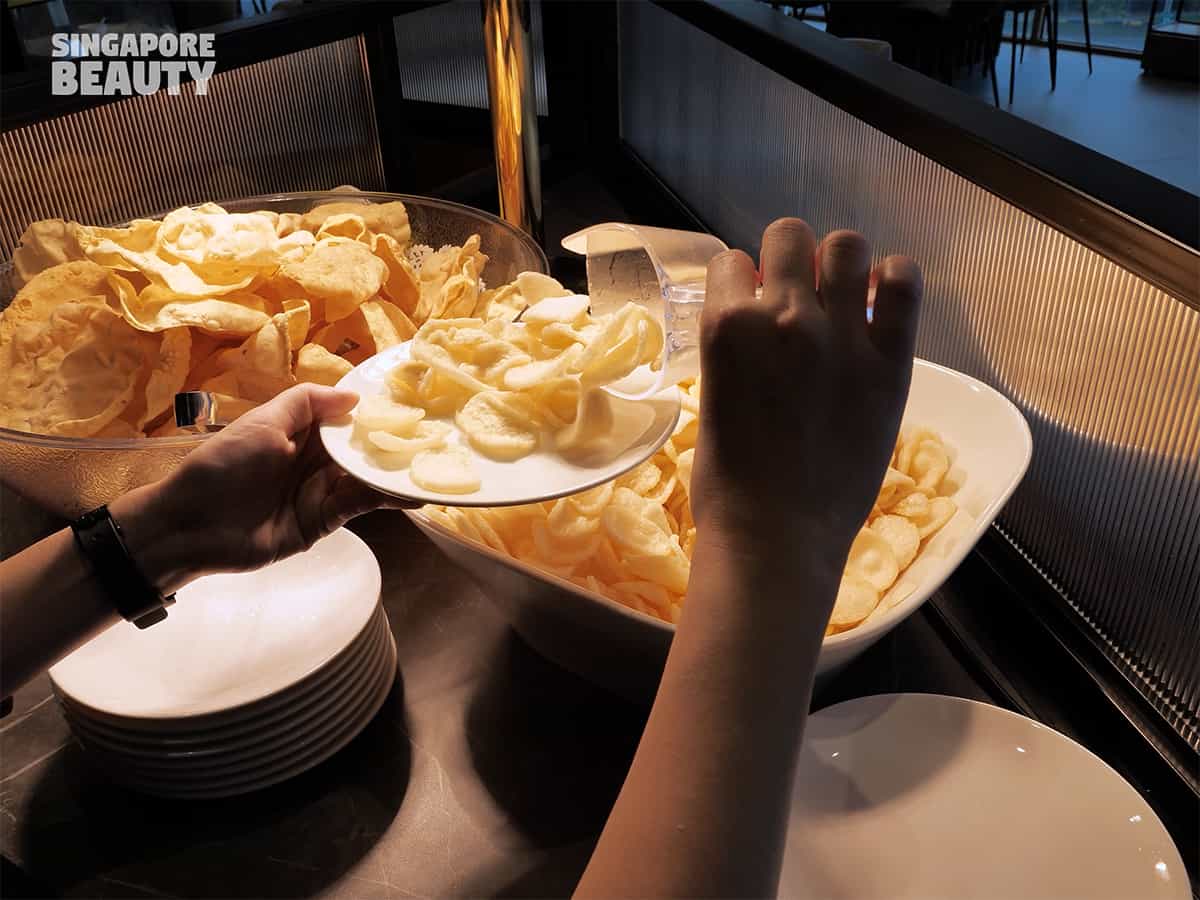 This CNY feast also includes an all you can eat Qi Xiang buffet sides dishes such as homemade achar, cut fruits, prawn crackers and poppadom from their side buffet tables. The poppadom are freshly fried and super crispy. The prawn crackers are bite size ones and is delightful crunchy with an umami shrimp flavour.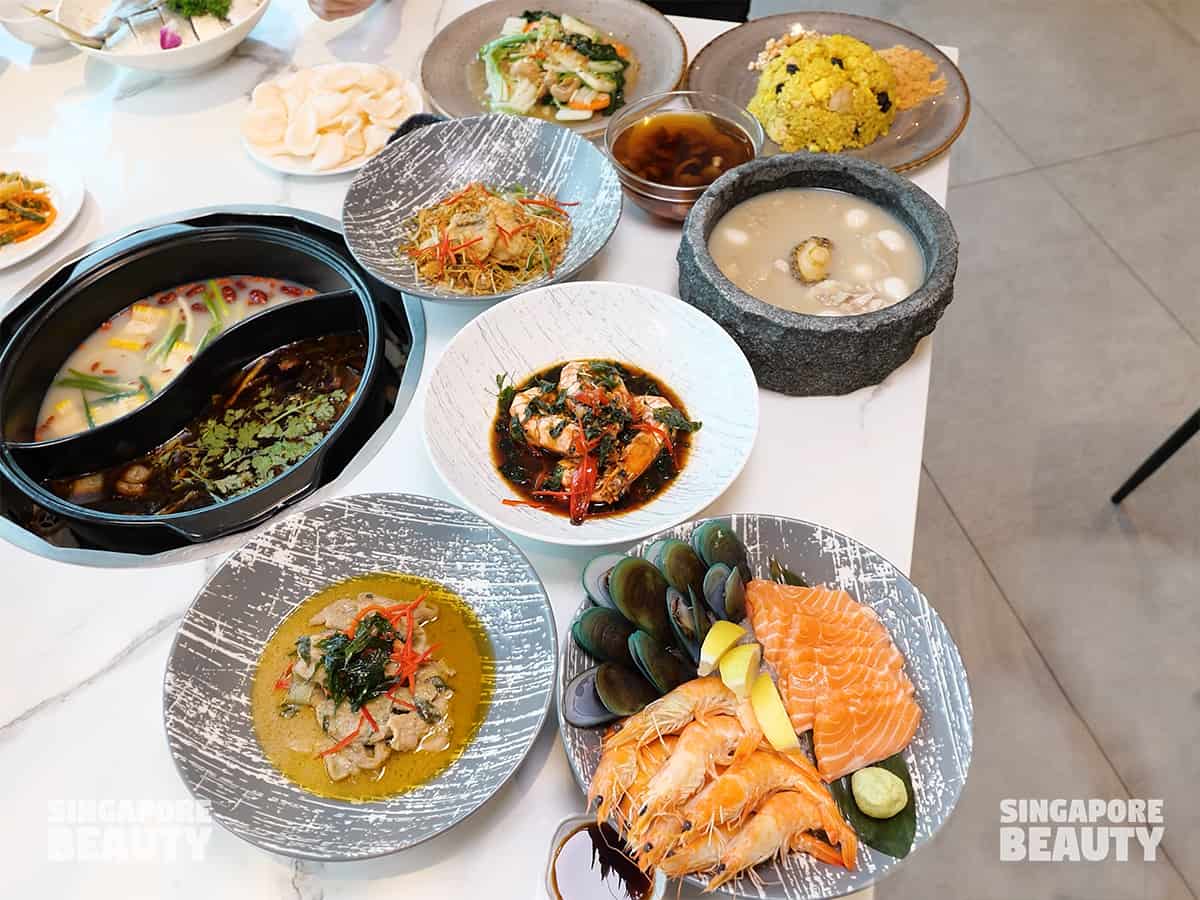 For Chinese New Year lunch 2023, get this 1-For-1 Lunch promotion ($88) at Qi Xiang Hotpot. Featured above is the portion for 1 person (excludes hotpot). If you are going for this promotion set, I was told that you will be getting double the portion showed above, as it is a 1-For-1, meaning paying only $88++ in total. In my honest opinion, this portion is good enough for 2 people to share and the price is a steal.
Qi Xiang Hotpot Chinese New Year menu 2023 – Lucky Set meal ($288) for 3-4 people with an add-on of a single serving of Qi Xiang Fortune set meal ($88). This feast is good for 4-6 people to share during your Chinese New Year Lunch or Dinner.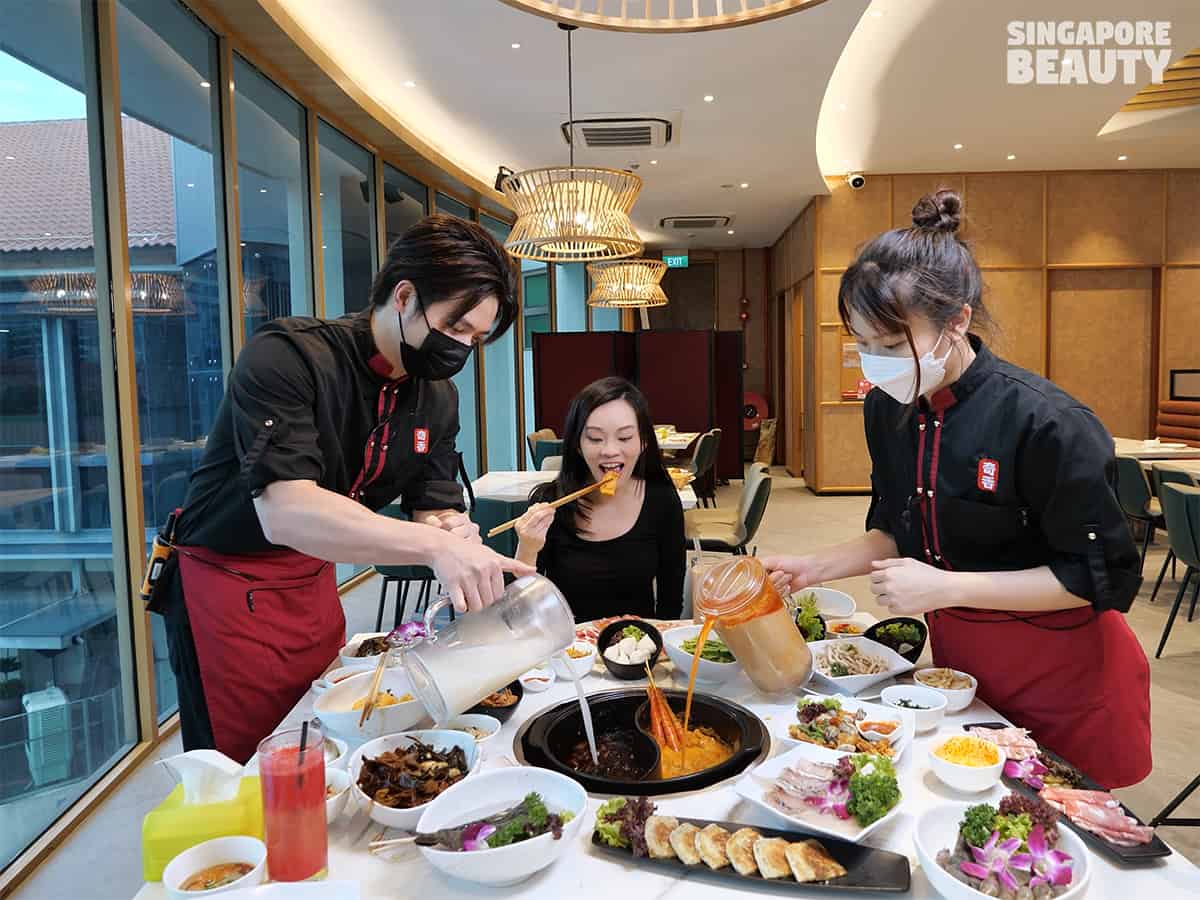 Here's our Qi Xiang Hotpot review after dining at The Chevrons outlet. We are wowed by the variety of dishes we can choose from for their hotpot, an interesting collection of local dishes, fresh ingredients, great service and ambience. Most importantly, their signature chicken hotpot that we are so in love with, is uniquely found only at Qi Xiang Hotpot which keep us returning for more. They also have periodically irresistible promotions that gives you a bang for your bucks.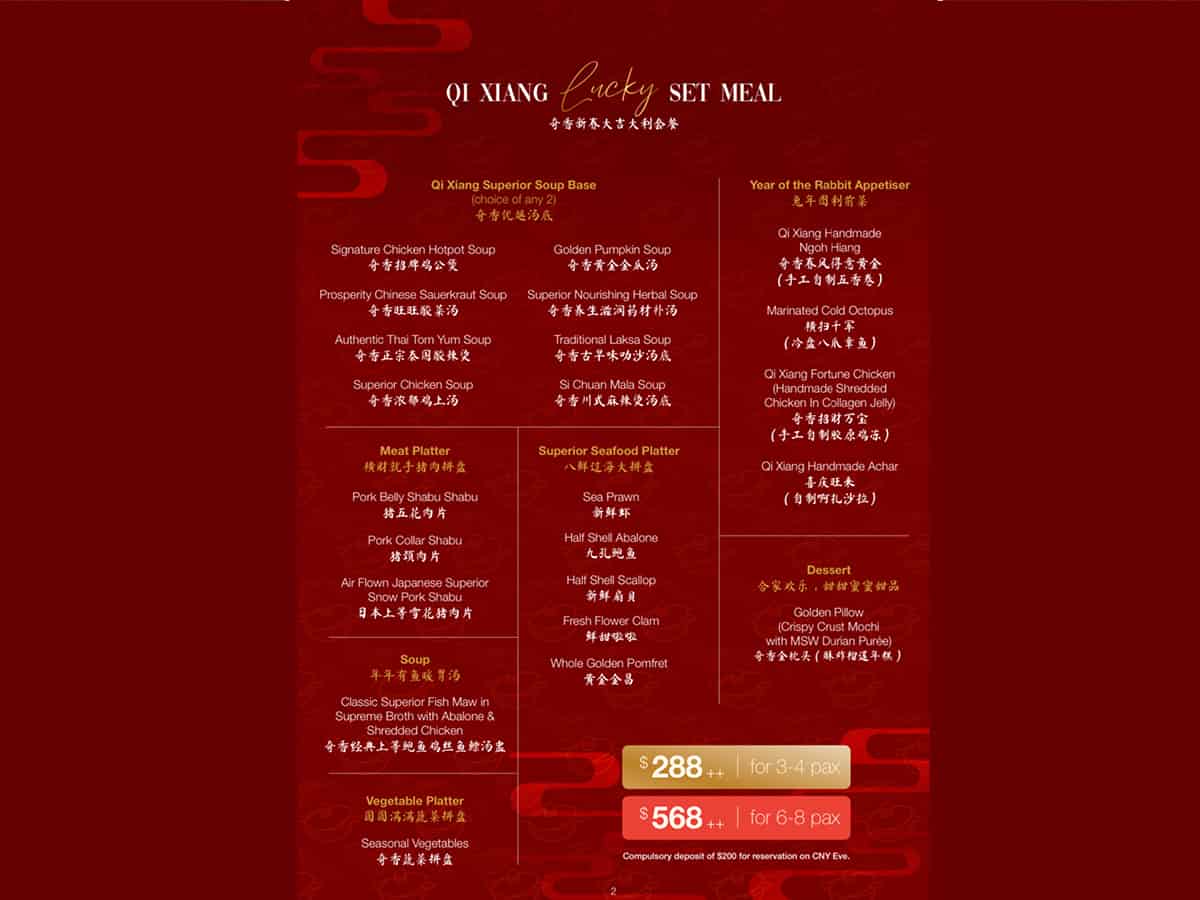 This is Chinese New Year Menu for lunch and dinner 2023. This menu consist of 8 course feast inclusive of a spread of all you can eat sides from their buffet table. Lucky set meal feast ($288++) caters to 3-4 pax, ($568++) caters to 6-8 pax. To add on more cooked food, you can also add on a single serving of Fortune set ($88++) or more ala carte dishes from their menu.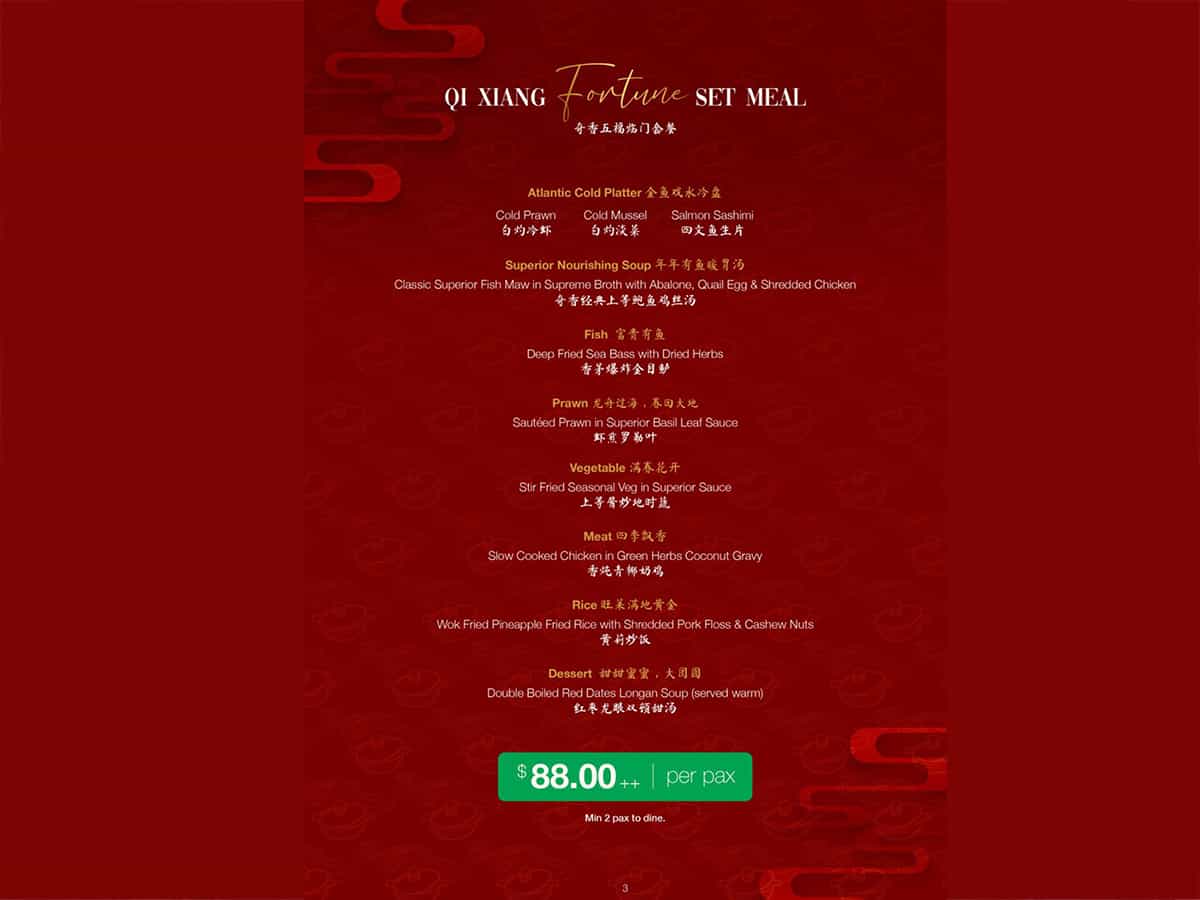 Qi Xiang Hotpot Fortune set meal Feast ($88++) for 1 person. If you are going for dinner, this set requires minimum 2 people to dine. They also have an all you can eat sides of achar, cut fruits, prawn crackers and poppadom for dinner (for lunch only crackers and poppadom). 1-For-1 promotion for this over lunch, great for festive lunch with your colleagues over these festive seasons. Lunch hours are from 11am till 2pm daily and runs from now till 5th Feb 2023. The 8 course menu includes Atlantic cold platter, Superior nourishing soup, fish, prawn, vegetable, meat, rice and dessert.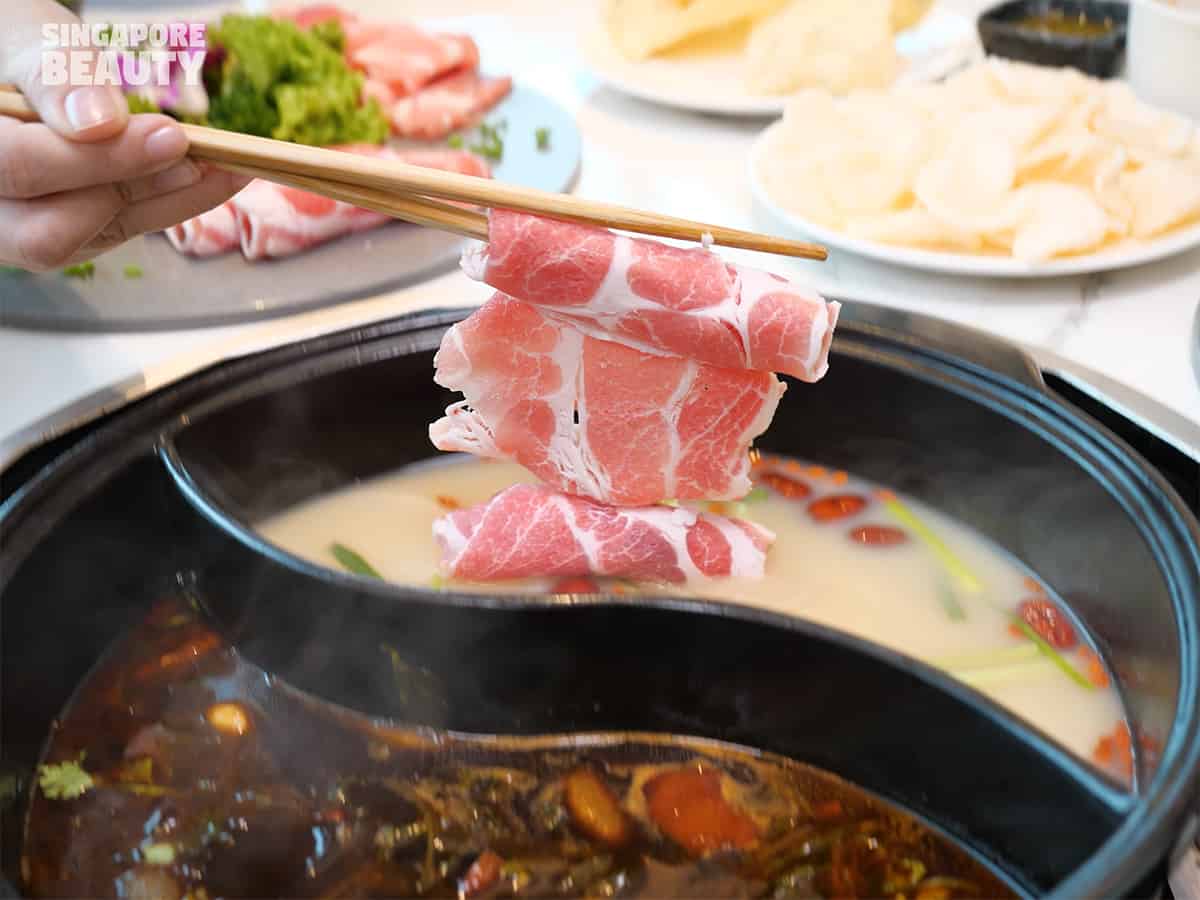 From the Lucky Set Feast – Indulge in Air flown Japanese snow pork shabu shabu meat. These are served freshly cut in delicate rolls on a marbled platter. There are 3 types of meat on this platter – Air flown Japanese snow pork shabu shabu, classic pork belly and pork collar. These meats are buttery and melt in the mouth type. They have a nutty flavour after cooking and very tender premium cuts of pork.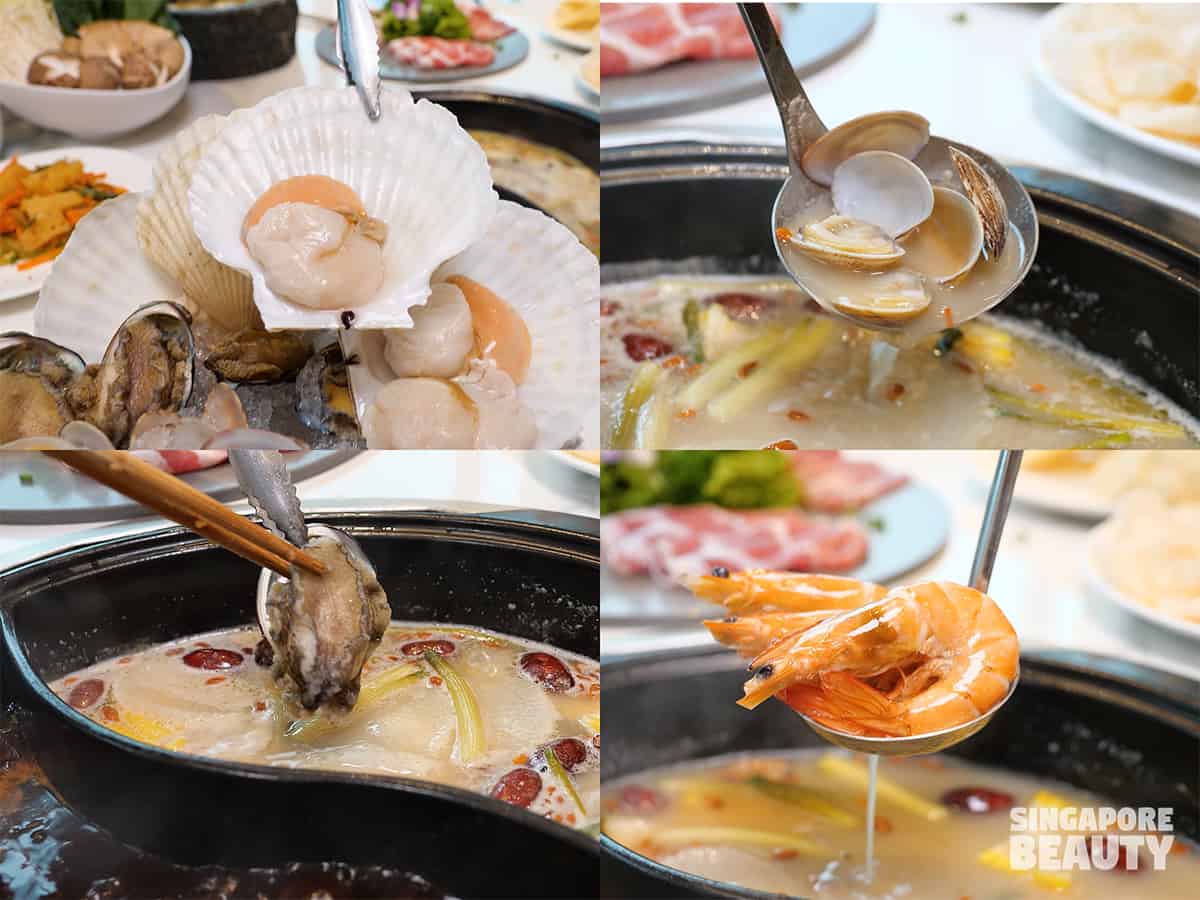 From the Lucky Set Feast – hotpot this sea gems and enjoy some sweet seafood with their savoury soup bases. The seafood bowl includes half shell abalone, sea prawns, half shell scallop and fresh flower clams. These seafood pairs well with the Superior chicken hotpot soup, seafood with meat broth brings out the best flavours in these sea gems. These sweet and crunchy prawns have some serious head butter in them and best paired with their housemade dips.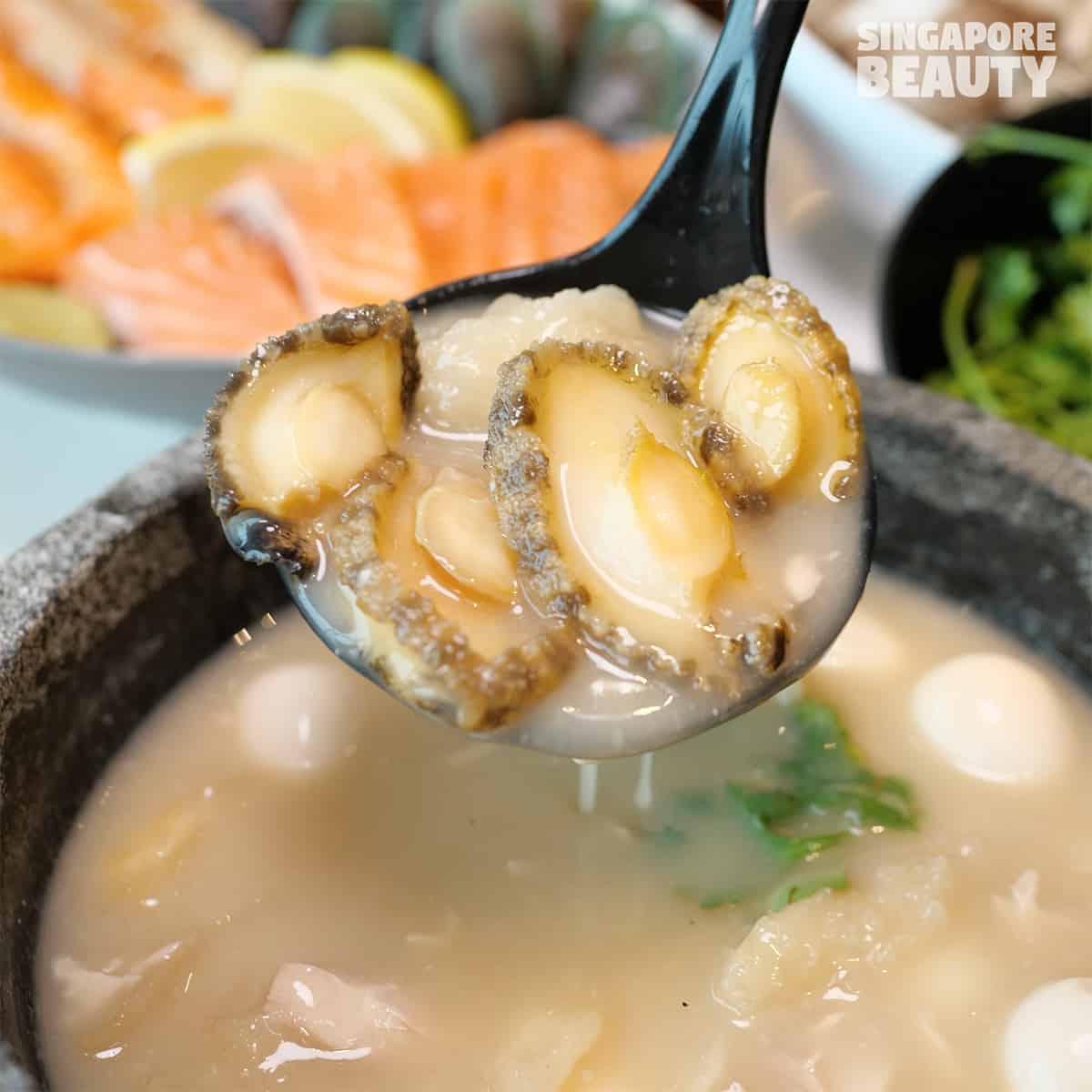 From the Lucky Set Feast – Classic Superior Fish Maw in Supreme Broth with Abalone and Shredded Chicken. This is a rich chicken stew with collagen full fish maw, snappy abalone, creamy quail eggs and tender chicken thigh chunks. Enjoy this with a drizzle of tart vinegar and a dash of white pepper to bring out the rich flavour of this stew. Best enjoyed when it is piping hot.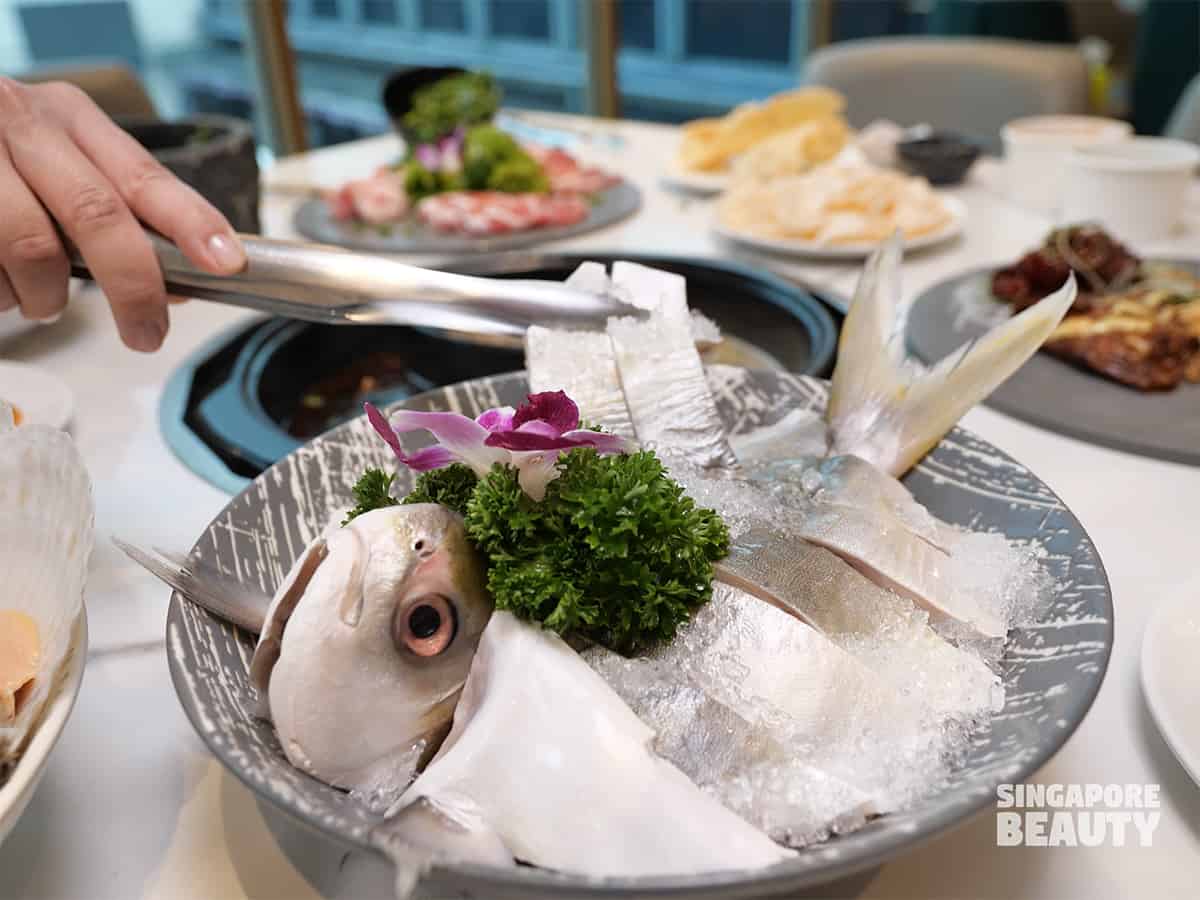 From the Lucky Set Feast – Whole Golden pomfret is served sliced for your hotpot convenience. During Chinese Lunar New Year, this is a must have for abundance and well wishes for the coming 2023. This is a good size pomfret with some serious thick slices of meat. Served a top some crushed ice to keep it in the optimum freshness while hotpotting. Meat is deboned and fresh, best paired with their seafood sauce from their condiment bar.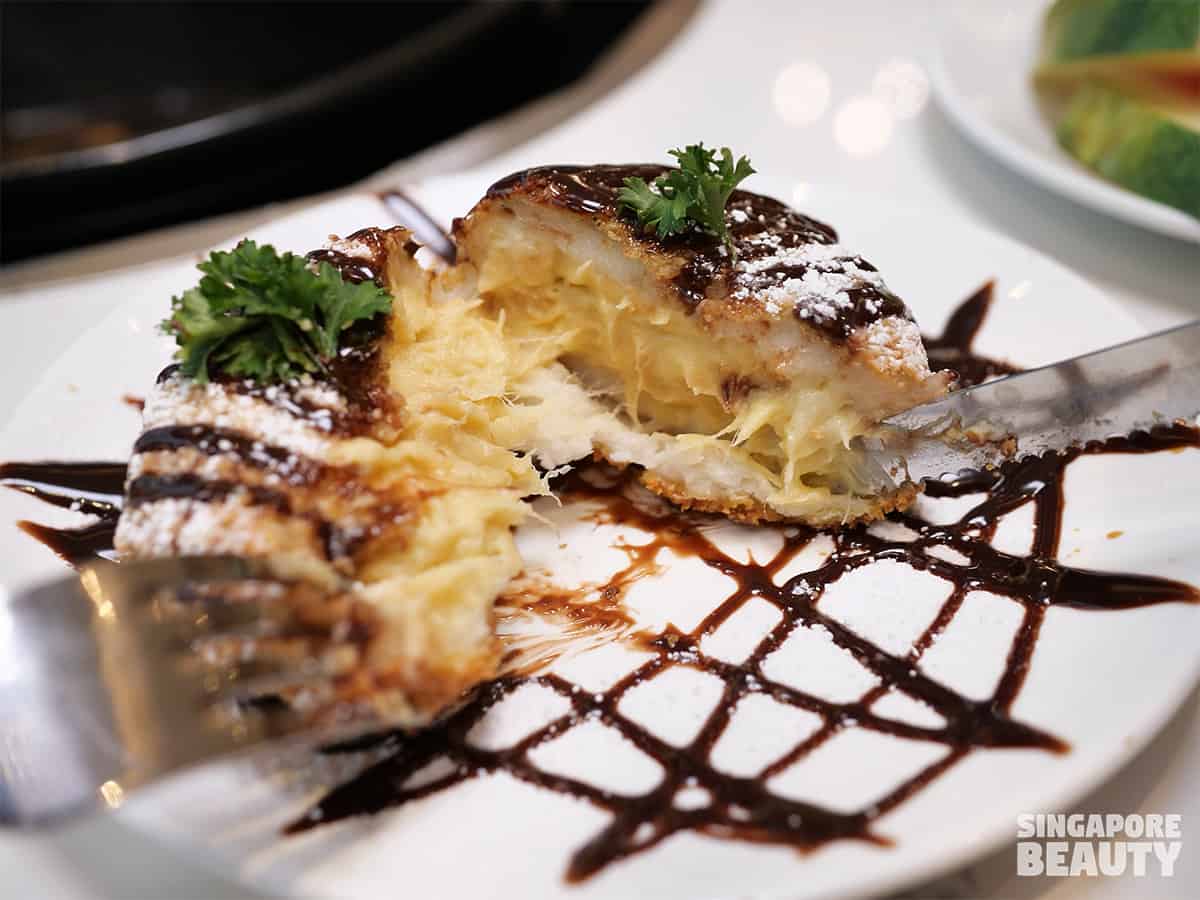 From the Lucky Set Feast – Golden Pillow is the dessert that you should make a nose dive for to end your meal on a sweet note. This is some serious Mao Shan Wang durian puree stuffed into mochi skin and deep fried to a golden crispy crust. Check out the durian fibres when we open up this sweet golden delight, legit about of real MSW puree. If you crave for more, just add on more of these golden pillow ($7.90++), festive seasons is all about sharing good food and indulgence with love ones, so why not?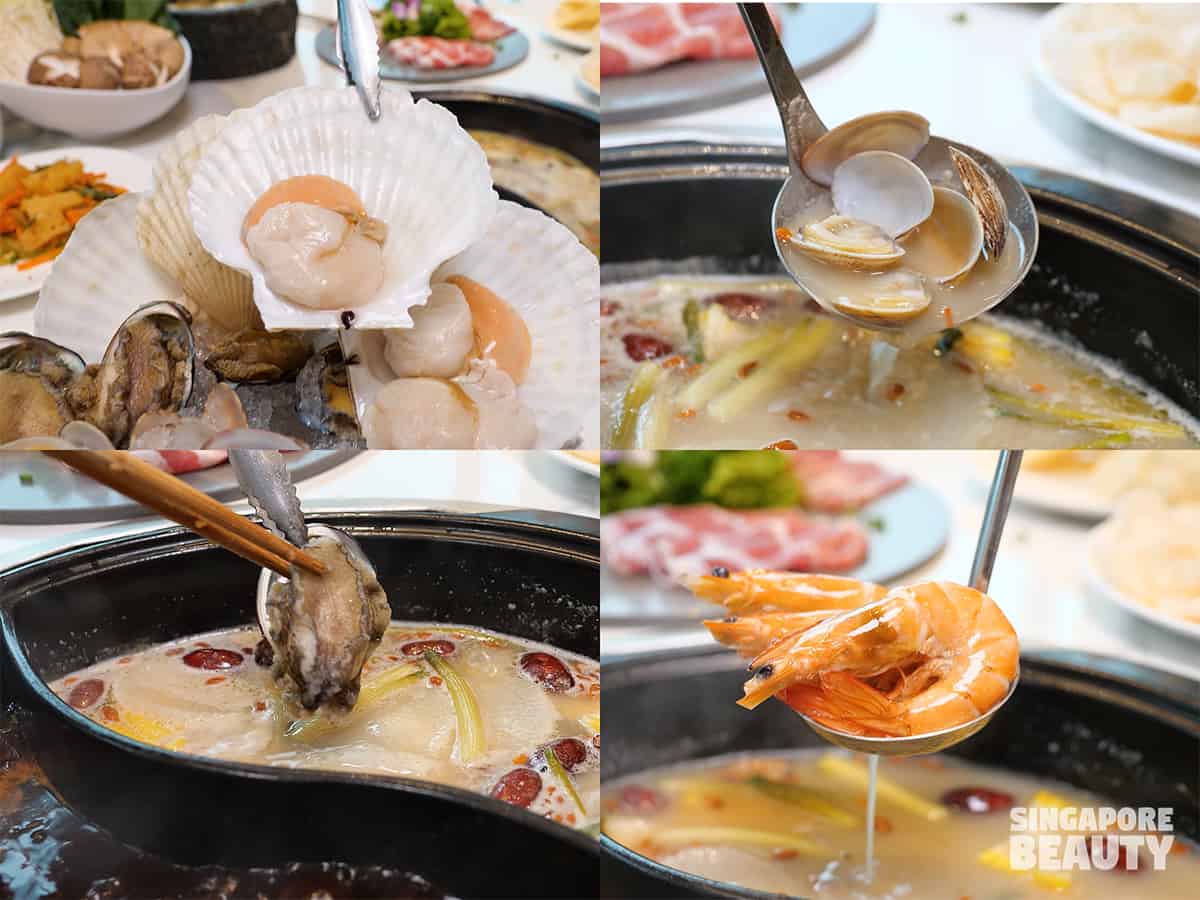 From the Fortune Set Feast – Atlantic Cold Platter consist of cold prawns, cold mussels and salmon sashimi. The cold prawns are sweet prawns bursting with juices. Salmon sashimi are the thick cut type with some fatty grains. I enjoyed these delicate sashimi with a springy texture, almost melt in mouth and very fresh too.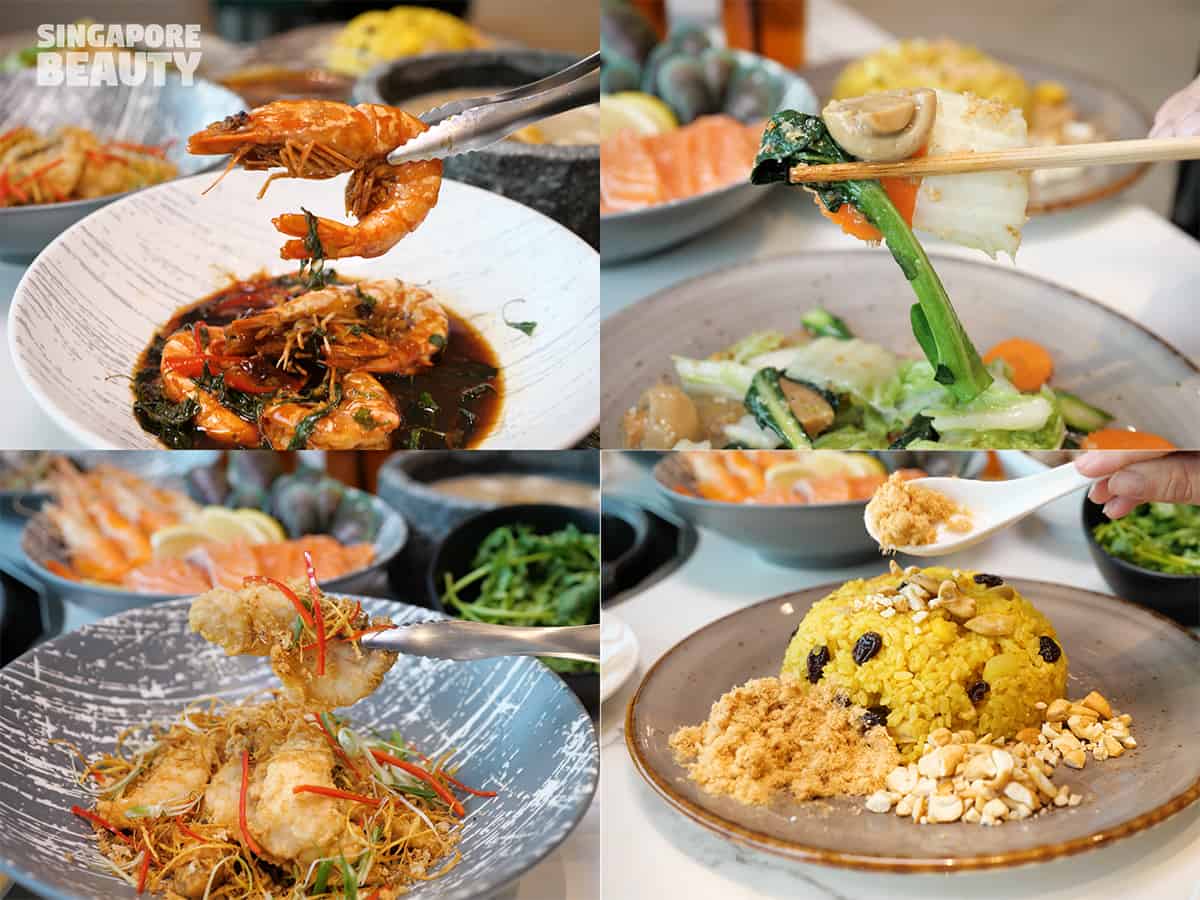 From the Fortune Set Feast – this set includes Atlantic cold platter, superior nourishing soup with fish maw and abalone, deep fried sea bass with dried herbs, sautéed prawn in superior basil leaf sauce, stir fried seasonal veg, green curry chicken, wok fried pineapple rice with pork floss & cashew nuts and double boiled red dates with longan soup.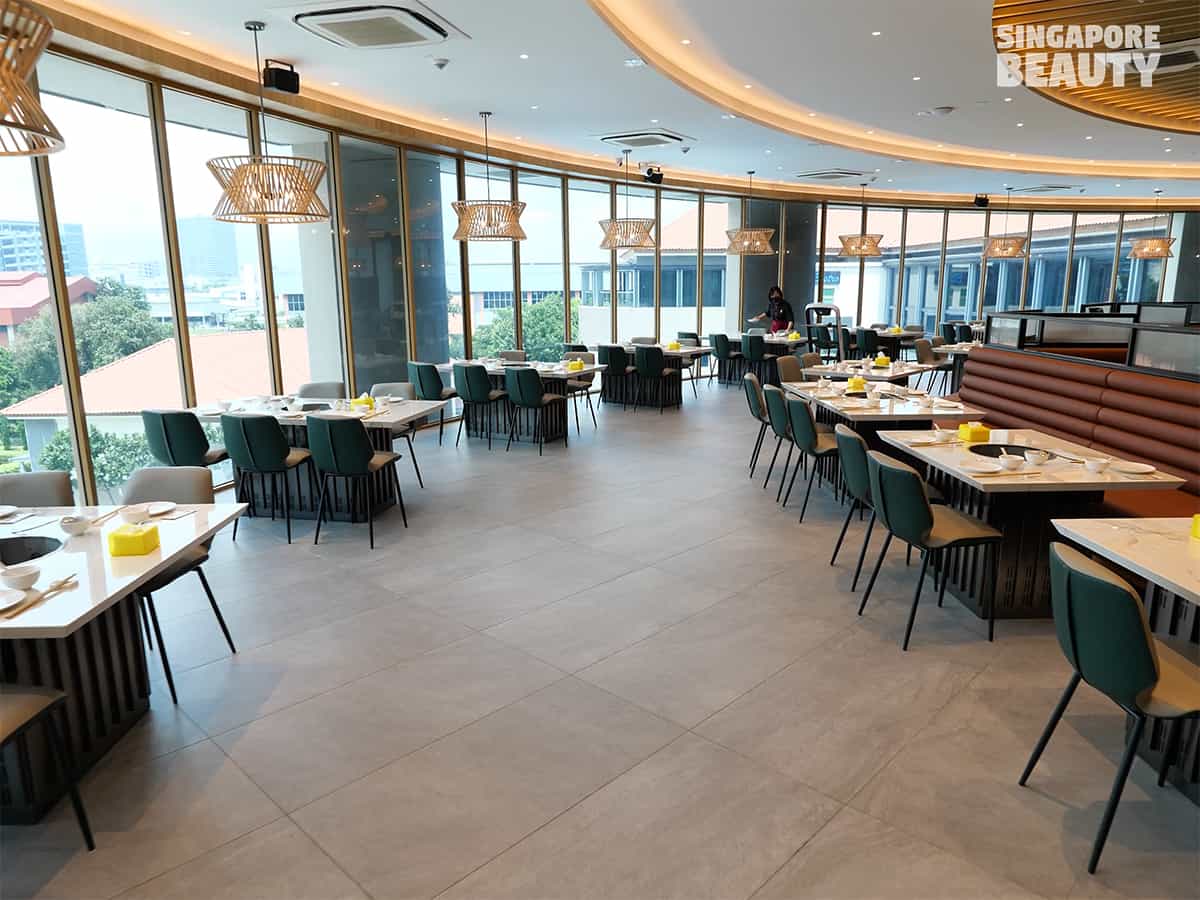 Qi Xiang Hotpot is located at The Chevrons is a recrational club overlooking a resort with a relaxing pool view. The dining layout is set in a curve to maximise privacy for every group of diners with great window views. Service crew is attentive and prompt in attending to diners request so that you can dine in comfort. Spacious layout that can accommodate large group to cosy family gatherings. They also provide catering service, if you prefer to enjoy their food in the comfort of your own home, do check with them if you require catering for this CNY.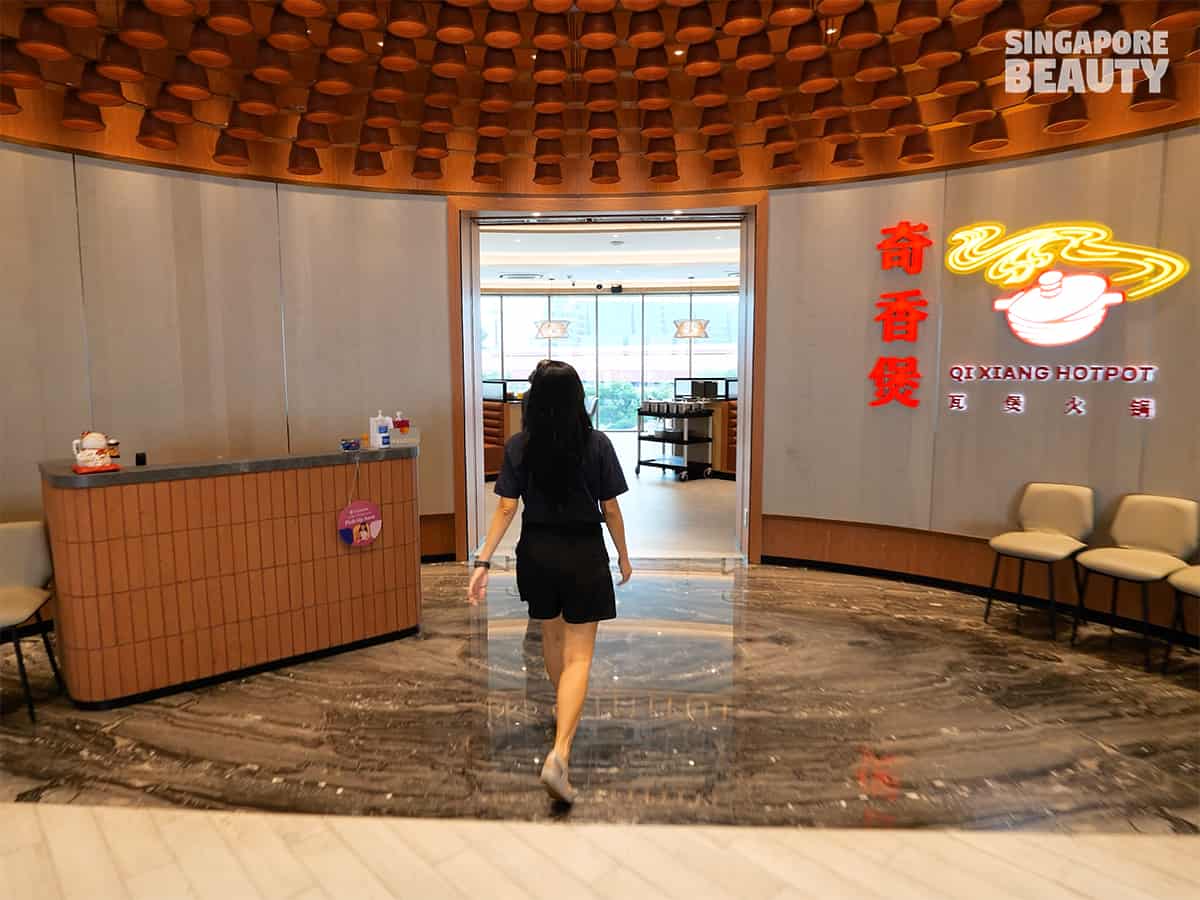 Head over to Qi Xiang Hotpot at The Chevrons today, Singapore most popular chicken clay pot hotpot with an herbal base . Classy environment to impress your love ones and business partners in a Clubhouse. With these 2 new Chinese New menu 2023 with buffet style sides, 1-For-1 Lunch Fortune set meal promotion, this is the time to visit them and usher in your 2023 with Qi Xiang Hotpot Lucky set Feast and Fortune set Feast.
Qi Xiang Hotpot promotion :
1-For-1 Lunch Fortune Set Meal Feast ($88++) (8 course) till 5 Feb 2023
Lunch hours : 11am – 2pm (daily)
Qi Xiang Hotpot Chinese New Year Menu 2023 :
1)Fortune Set Meal ($88++) per pax, minimum 2 pax
2)Lucky Set Meal ($288++) for 3-4 pax, ($568++) for 6-8 pax
3)Ala carte cooked food and classic hotpot still available
4)For Home Catering, please call to arrange with them.
Address of Qi Xiang Hotpot :
48 Boon Lay Way #03-06
The Chevrons, Singapore 609961
Opening Hours :
Fri, Sat & Eve of PH – 11am to 3am (last order 2.15am)
Sun to Thurs – 11am to 11pm (last order 10.15pm)
For reservations call : 6908 4333
Brought to you by Qi Xiang Hotpot