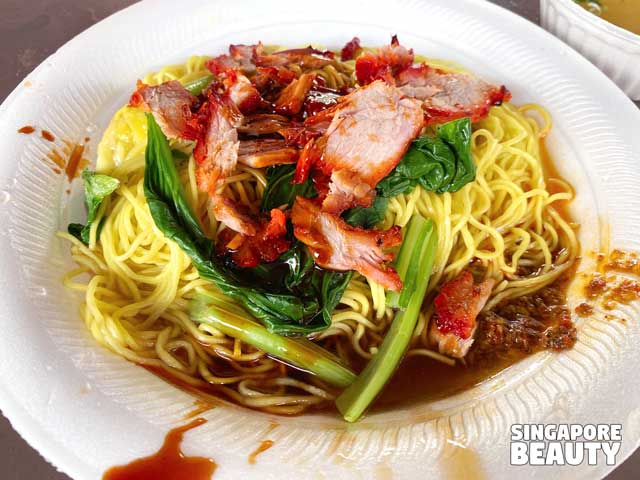 Hwa kee Barbeque Pork Noodle (华记云吞面) sells a different type of wanton mee noodles swimming in a pool a sweet char siew sauce not the usual spicy chilli sauce with pork lard oil. The barbecued pork noodles ($3) comes with a plate of saucy yellow egg noodle topped with sliced barbecued pork and some poached cai xin in a dark green shade on a Styrofoam plate. The plate of noodle is great for small eaters and for the price, I have no complains.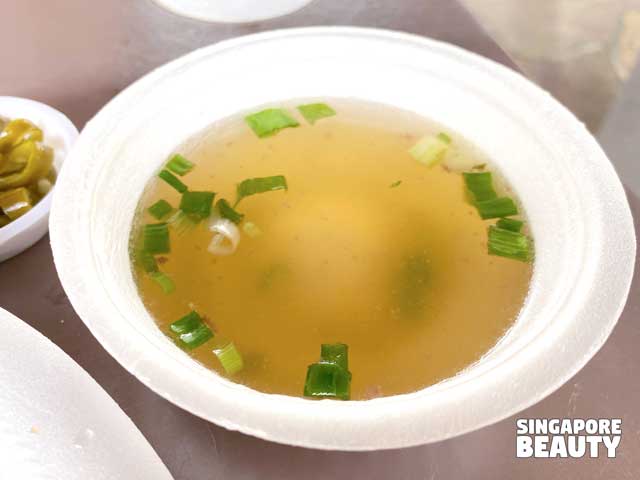 The soup is a clear and very typical of a good wanton mee noodle style with a strong pork bone flavour and has a good amount of umami to it.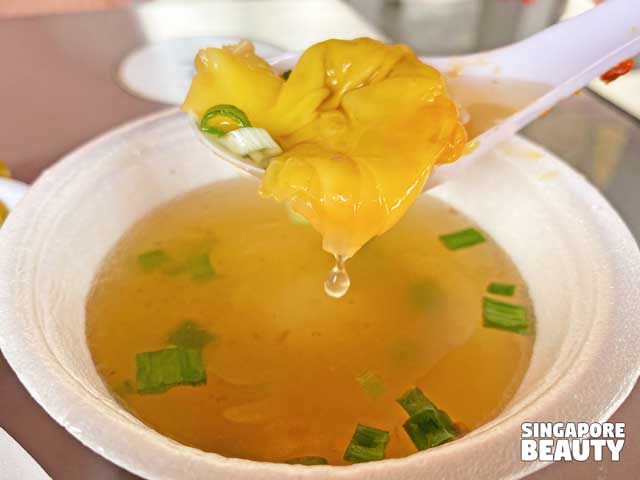 As the name implies, their forte is in the barbeque pork, so the noodle and wanton will probably be the average type. Since they barbecue their own pork on site, you can be sure the pork taste uniquely Hwa kee and fresh in a certain way.
Hwa Kee Barbeque Pork Noodle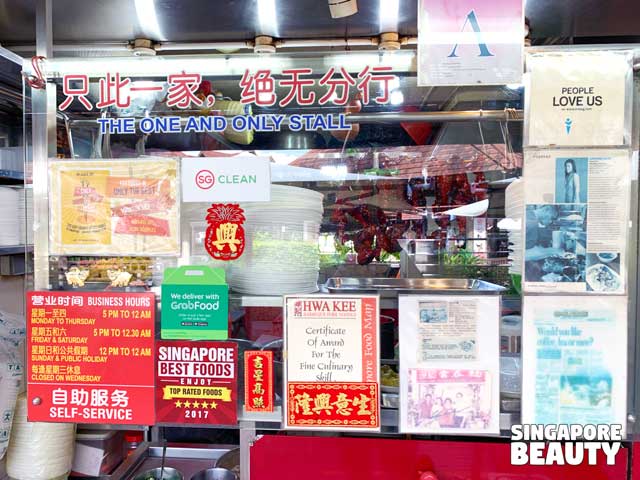 The BBQ pork is known as char siu char siew and is prepared Cantonese style. Char means the roasting fork and siu means barbecue. It is usually pork loin strips marinated with oyster sauce, red food colouring, five spice powder, Chinese Shaoxing wine, light and dark soy sauce, pepper, garlic paste, ginger, maltose and sugar overnight for a more deep of flavour. Good news for those who are staying around the area, they also offer Hwa Kee Barbeque pork noodle delivery via Grab Food.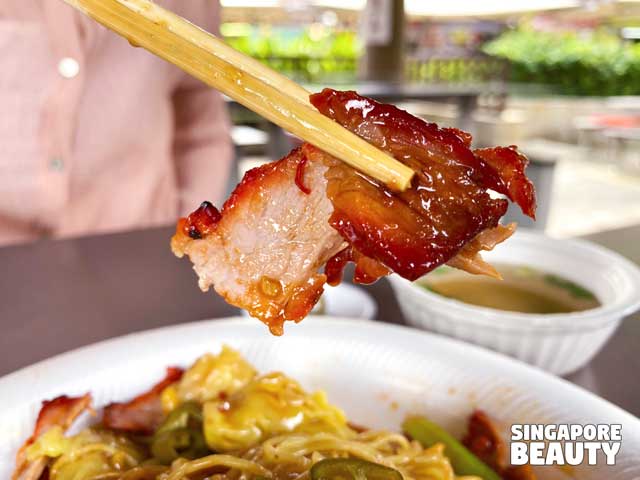 The pork is then barbequed over charcoal and baste with the remaining marinade. It is grilled over low heat till it takes on a caramelized reddish colour with a shiny glaze and a bit of char for the flavour. Cut into bite size and served atop steamed rice or noodles.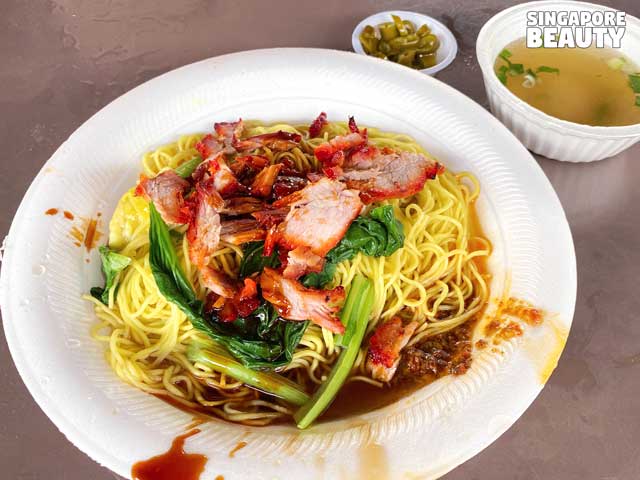 The barbecued pork is characterized by a bright red edge with some lean meat. The edge of each slice of pork is coated with a sweet honeyed glaze with some char bits to it. The char siew is sliced against the grains of the meat and almost falling apart in to smaller chunks and ragged flakes.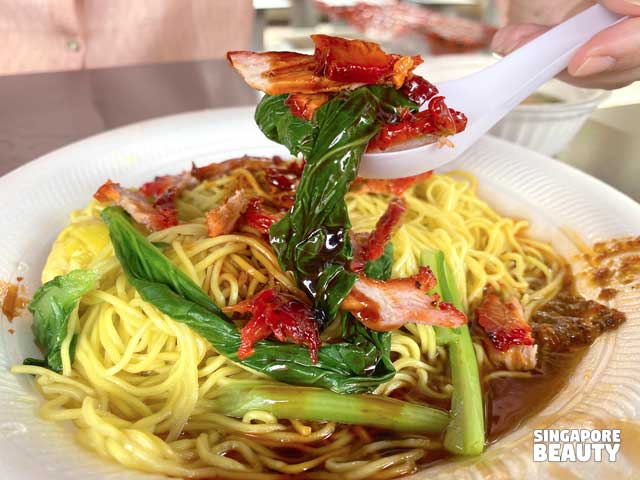 The char siew has a good balance of lean meat and fats.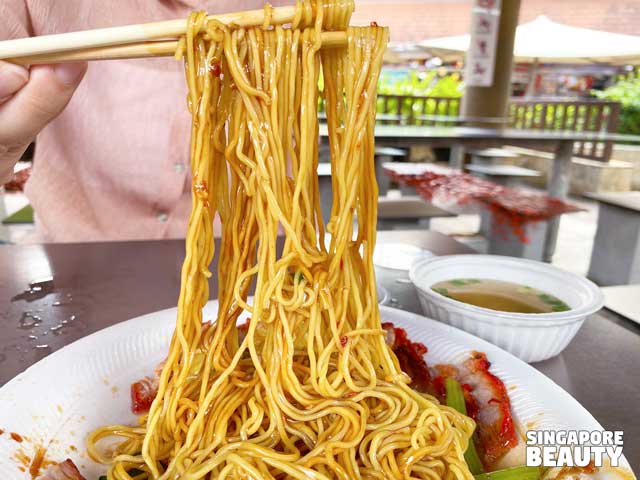 The noodle is swimming in a pool of sweet dark Char siew sauce that has a light spicy almost non existence heat. It taste very old school like those you have when you are young and your mom opts for the non spicy version for your after school lunch. The savouriness and sweetness take the center stage instead of the typical noodle with a spicy kick. The noodle has a certain bite to it and has a firm center and a starchy coating. Their noodles are not the springy elastic type. It has an alkaline flavour which makes your teeth feel kind of gritty and razor sharp chewing them.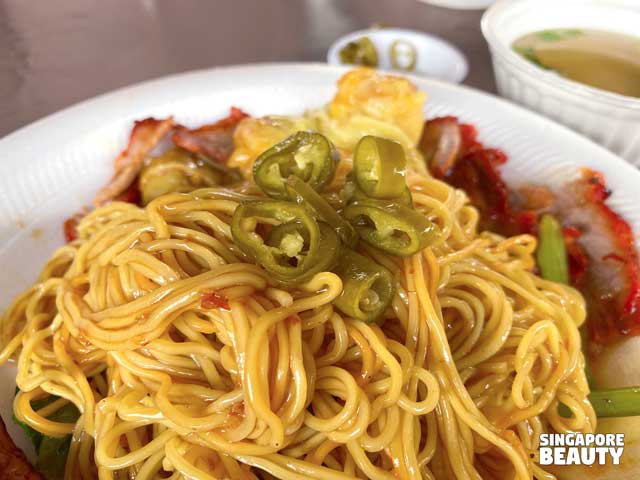 Enjoy it with some pickled green chilli which brings out the sweetness even more.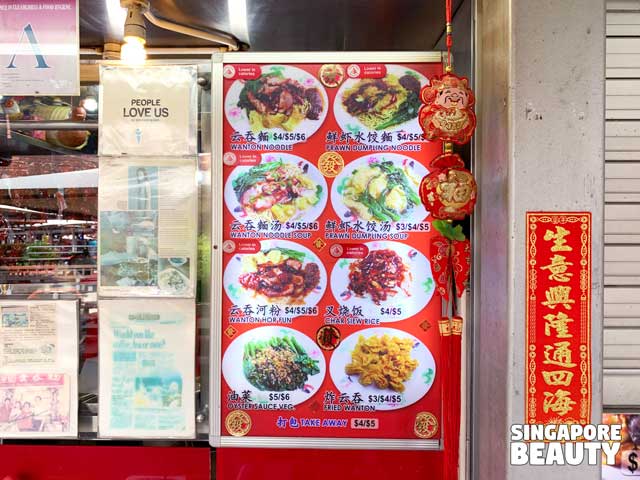 Here's the menu of Hwa Kee barbeque pork noodles if you are looking for more noodles combo.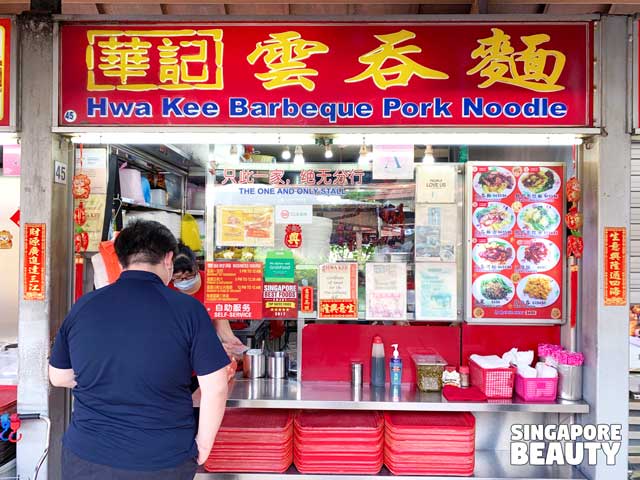 This can be considered as comfort food as the flavour is almost home cooked and very simple, jus t neat sweet. Do head over to give it try if you like sweet wanton noodles with char siew barbecue sauce.
Opening hours:
5pm-12 am (Mon-Thurs)
5 pm-12.30am (Fri- Sat)
12pm-12 am( Sunday & PH)
Closed on Wednesday
Hwa Kee barbeque pork noodles 华记云吞面 Location :
East Coast Lagoon Food Village
East Coast Park Service Road, unit #01-45, Singapore 468960
Tel: +65 64453372