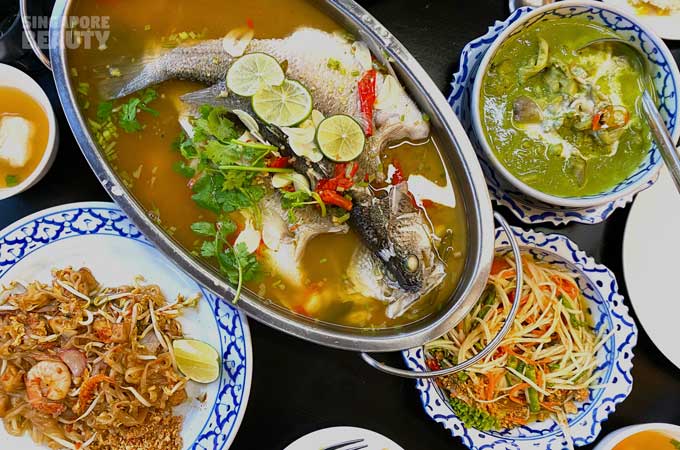 Nagara Thai is located in a HDB coffee shop space with a restaurant setting. They serve Thai cuisine that will appeal to local Singaporean palate. The flavours of the dishes seem to be a fusion of local Singapore and Thailand Cuisine. The Thai cuisines are plated on ceramic dishes. Service is prompt and attentive. They have both air conditioned and ventilated dinning space.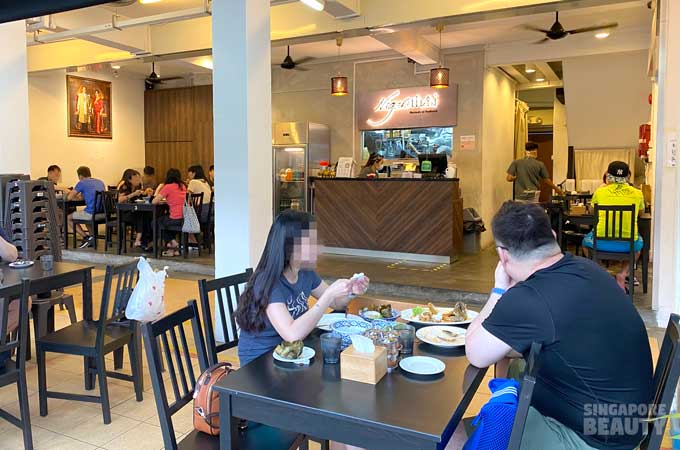 The shop front first storey is naturally ventilated dining space and the second storey is indoor air conditioned dining space. Dinner queues are expected at Nagara Thai Food, so be there earlier to beat the meal time crowds. Here's what we ordered and tried at Nagara Thai to curb our cravings, since we cannot travel to Thailand for the time being. Do note that they only accept cash.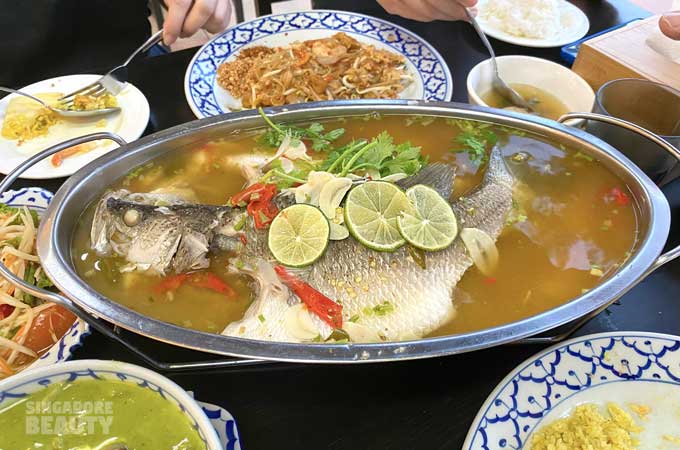 Steamed Seabass with Lime and Chilli ($23) – a good size seabass served simmering on a heated stand in a pool of savoury broth. The steamed seabass is moist, tender and pretty fresh. Topped with sliced green lime and garlic, these served to heighten your senses to the citrusy broth. The broth is tangy, has a hint of chilli and after tone of mild sweetness in it. This broth is similar to the tom yum nam sai soup in the Nagara Thai menu. A tip: if you are ordering this dish, you can skip the tom yum soup and order another dish in the menu for more variety.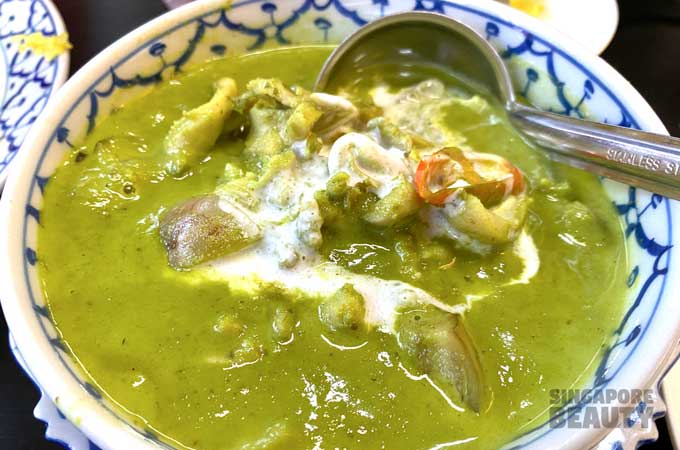 Green Curry Chicken ($8) – generous amount of sliced chicken in a rich stew of green curry. The texture of the chicken slice could be better if they use the chicken thighs instead of lean meat. The taste and aroma of coconut cream is very prominent in this dish. The flavours of the lemon grass, coriander and other ingredients in the green curry are kind of muted down.
The high viscosity of the gravy helps to coat each slice of chicken as you pick them up from the curry. To fully enjoy this, drizzle a generous amount of the rich and creamy gravy atop a plate of steamed rice.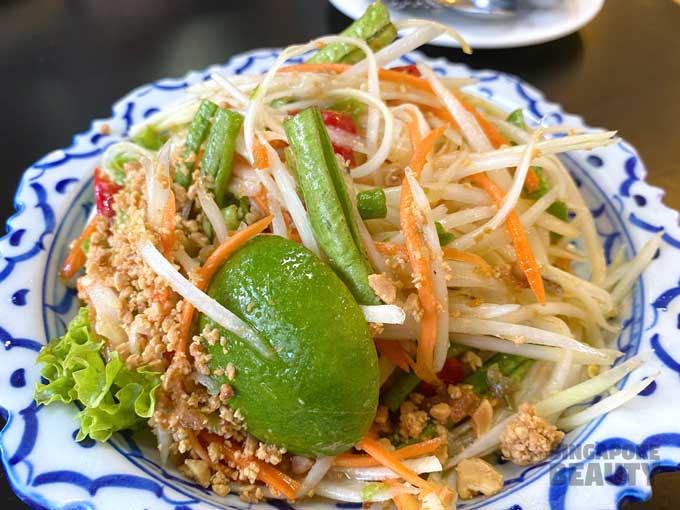 Papaya Salad ($5) – is a mix of finely shredded papaya flesh, sweet crunchy carrot, beany long beans, crushed peanuts and chopped peanuts in tart flavoured dressing. This is definitely a great appetiser to get you salivating and yearning for more food. The crushed nuts and chopped peanuts add a body to the light salad. This salad is also a refreshing dish for hot days as it is served chilled.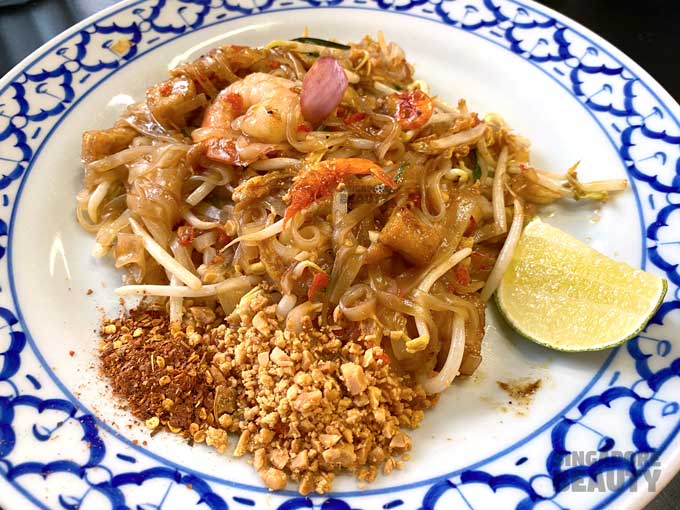 Phad Thai Noodle ($6) – single serving of a chewy plate of thin gooey rice noodle that is not overly greasy or sweet. This tastes very similar to a fusion of our local char kway teow (CKT) with fat bean sprouts and Phad Thai with the flavour of Thailand, such as the spicy dried chilli powder, the crushed peanuts, the crispy sakura shrimps and a wedge of citrusy lime. The consistency of the Phad Thai is moist and less on the wok hei.
Pineapple Fried Rice ($6) – golden plate of pineapple rice served with fresh sliced pineapple topped with a blanket of chicken floss. The rice are evenly coated with aroma of curry powder, some mixed greens and chunks of sweet canned caramelised pineapples. Simple and no fuss, like an old school plate of clean savoury fried rice that we get in a school canteen.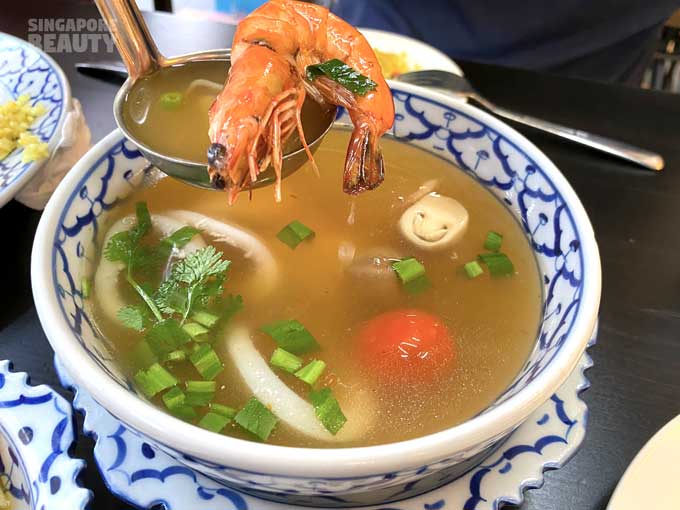 Tom Yum Nam Sai seafood ($6) – citrusy with a mild hint of herbs and spices such as lemongrass and galangal. The seafood are squid rings, prawn, fish chunk, cherry tomato and straw mushrooms. The umaminess and the tangy flavour will keep you wanting more of it with each slurp.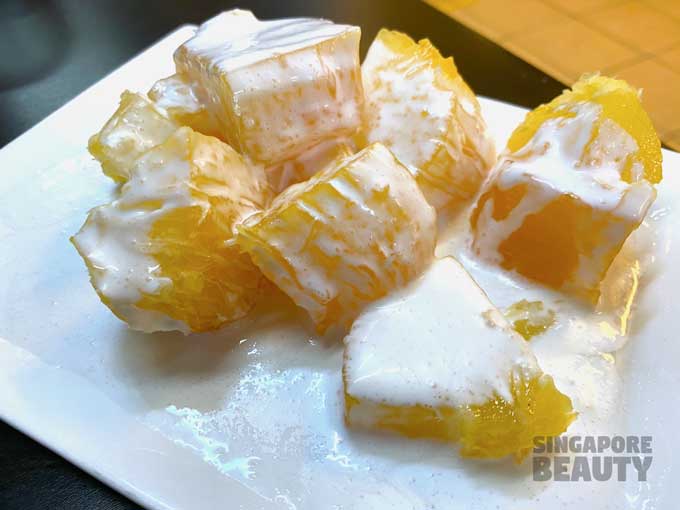 Sweet Tapioca with coconut milk ($3) – honeyed chunks of firm yet melty block of real tapioca in light creamy dressing. The dressing has a mild salty flavour that brings out the caramelisation of the tapioca chunks. The single serving is great for sharing among 4 pax after the main dishes since there are about 7-8 mouthful of tapioca flesh. Must Try.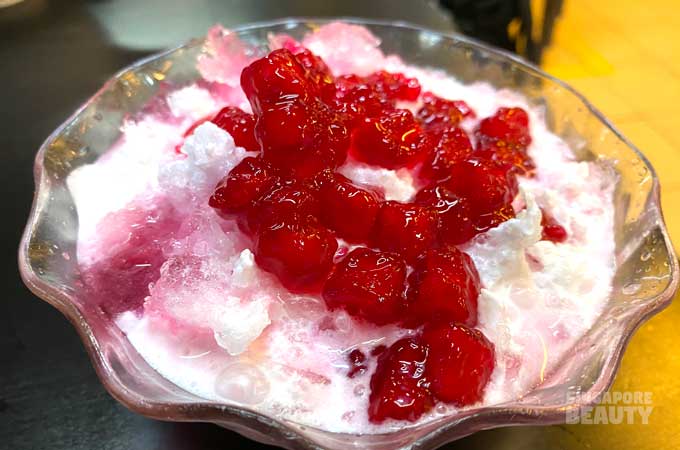 Red Ruby ($3) – red cubes of chestnuts encased in a jello like coating. These are served in a hill of coconut infused shaved ice. The flavour of the flora rose syrup is very prominent and pleasant. This seems like a fusion of Thai Style red ruby dessert with our local Bandung drink, using coconut milk as the base instead. The desserts are a must try at Nagara Thai AMK & TPY and end your meals on a sweet note literally. The cravings for Thai Cuisine is curb for today and am contented as the damage is mild with the pocket friendly prices.
No GST & Service Charge
Nagara Thai Operating hours:
Lunch hours: 12pm till 3pm
Dinner hours: 5.30pm till 9.45pm
Location:
Nagara Thai
177 Toa Payoh Central #01-110, Singapore 310177 (branch we visited)
Or 529 Ang Mo Kio Ave 10,#01-237, Singapore 560529
Telephone:
(+65) 6256 8522